Today the word "JDM" is probably one of the most overused and ambiguous terms in the automotive world – particularly when it comes to Hondas. In the beginning it was pretty simple. As the abbreviation suggests, JDM meant Japanese Domestic Market. As Japanese cars were built and sold cross the world, different options would be offered for different markets. People would (and still do) swap out their factory parts for their Japanese home market counterparts – be it a steering wheel, a set headlights, or even an complete engine. Pretty straight forward right?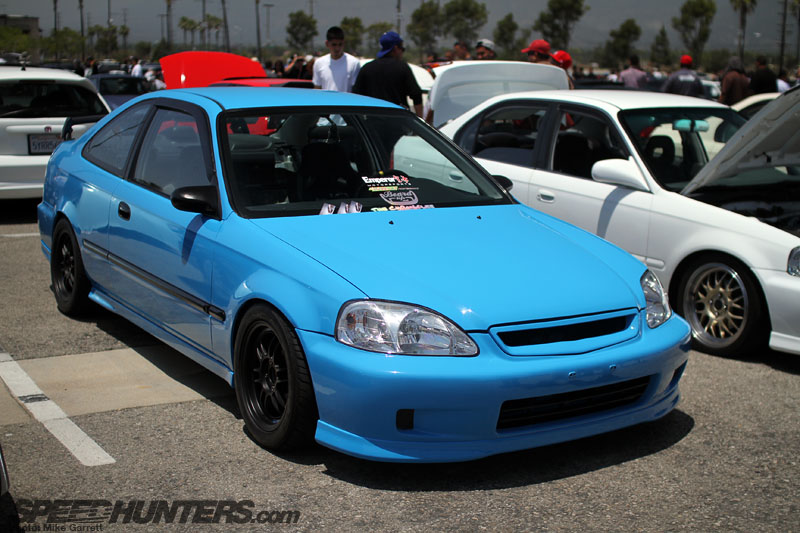 Somewhere along the line things changed. These days I'll pop on to my local Craigslist site where I see people applying the term "JDM" to any Honda that's been modified whatsoever. At one point I even saw someone trying to sell a "JDM" Hyundai Tiburon of all things.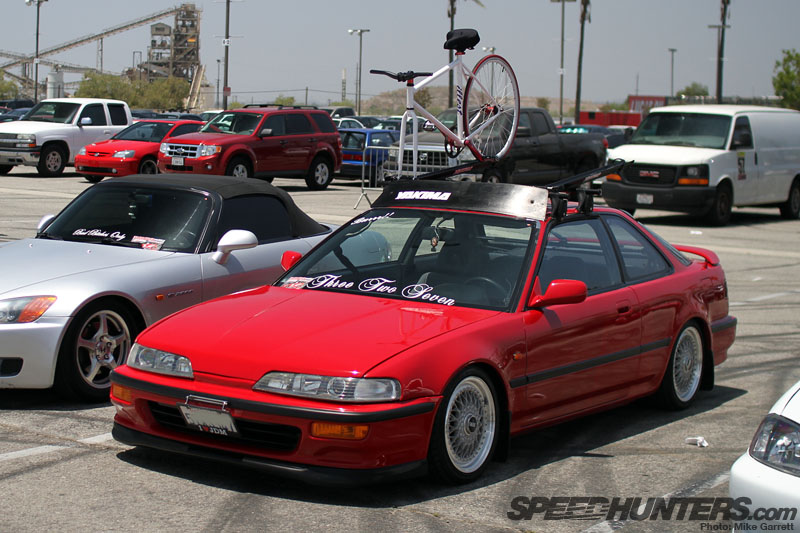 Today if you ask five people what JDM is to them you'll probably get five different answers. It was a question that I was trying to answer for myself as I made my way around the Eibach Meet on Sunday as I counted dozens of "I Love JDM" stickers and license plate frames.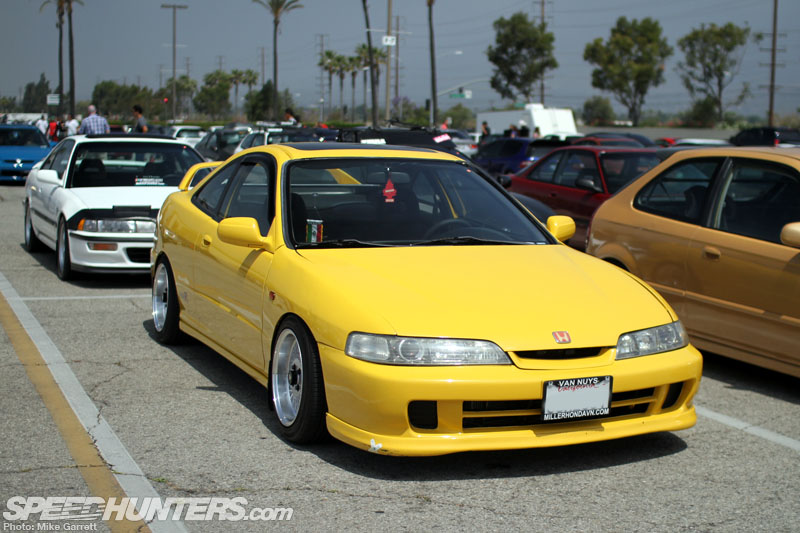 Of course you still have "JDM" modified cars in the traditional sense – like this Integra that lost its US market front end in favor of the popular JDM face.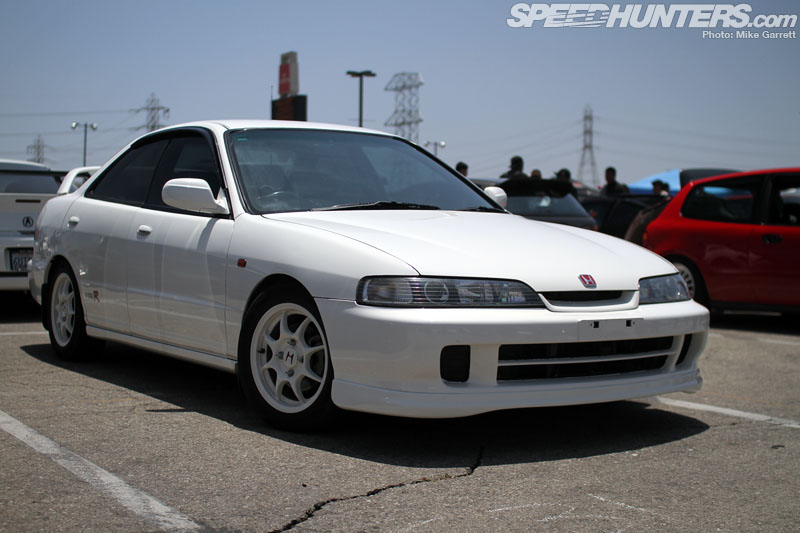 You also have literal JDM cars – like the Honda City I posted the other day, or this bone stock four-door Integra Type R that someone was lucky enough to source from Japan.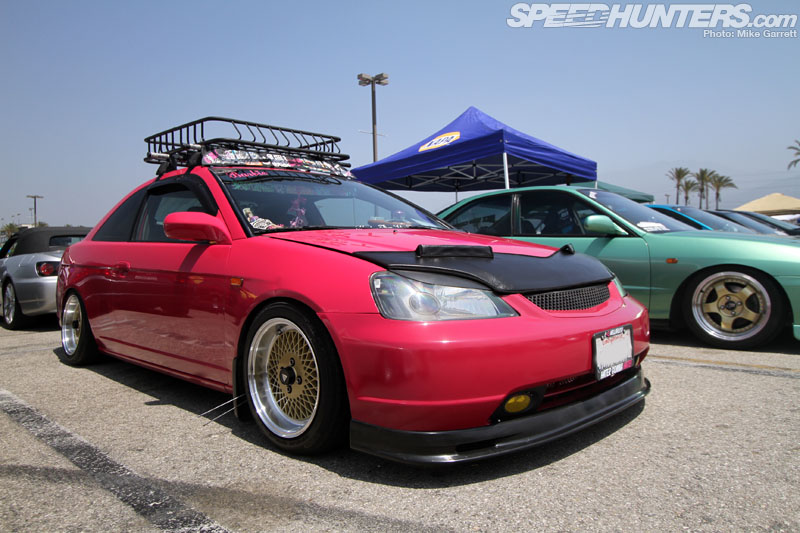 Then there's cars like this Civic Coupe which apparently also falls under someone's definition of "JDM". Part of me asks what exactly stickerbombing and roof racks on a US-built Civic have to do with Japan, but that's what makes events like the Eibach Meet such a mind trip.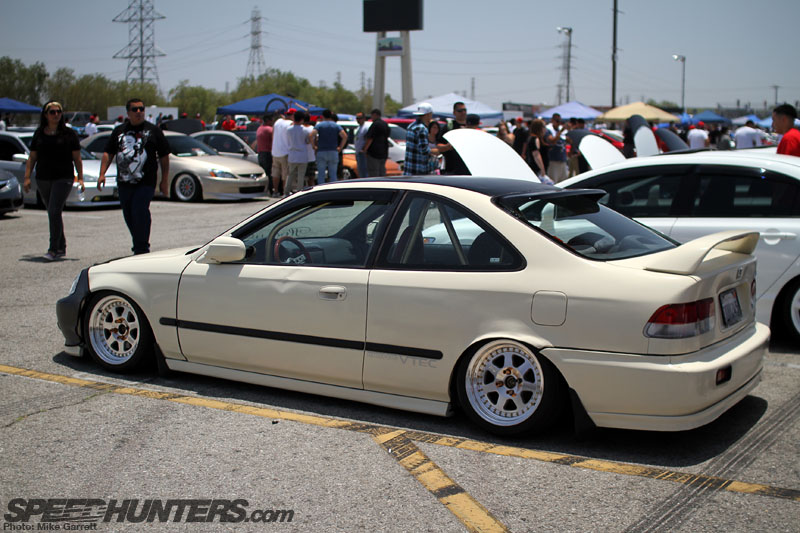 I also got to thinking that these days with the explosion of USDM style in Japan, the lines between "US JDM" and "real" JDM are getting blurred more and more. Who really knows what's going anymore?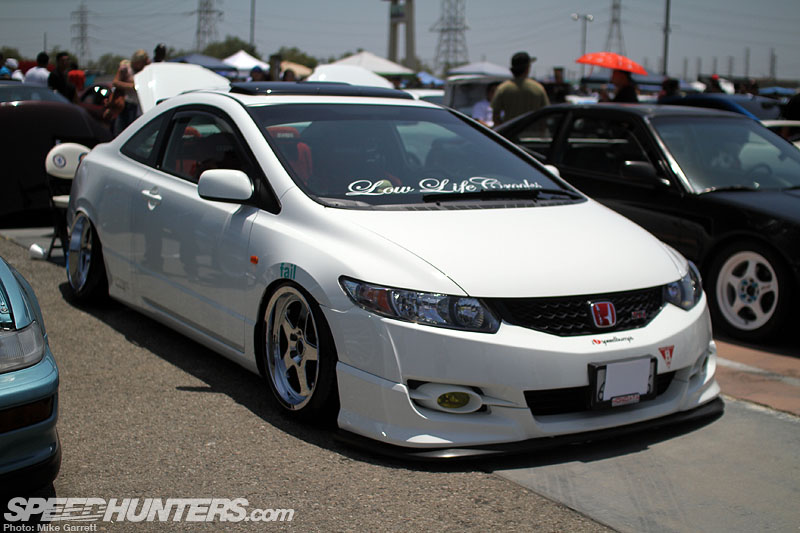 The different interpretations of JDM can be argued forever, but for now let's move on to my remaining coverage from the Eibach Meet.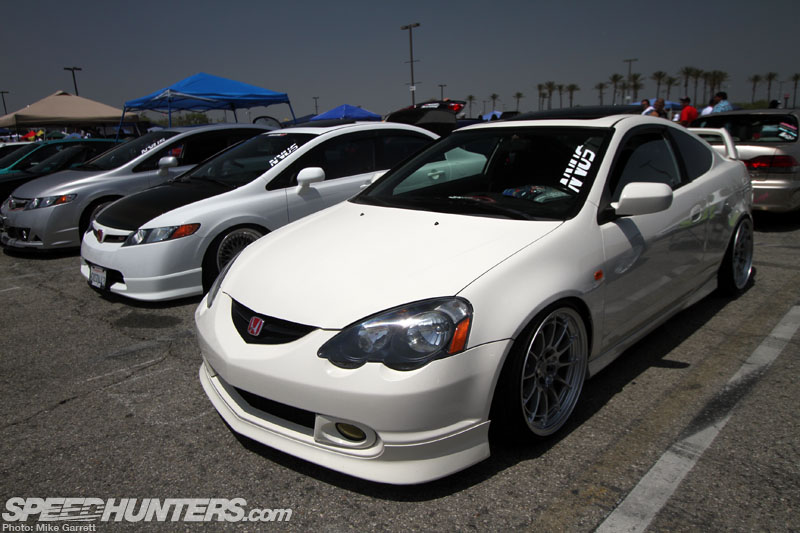 The Acura RSX is another one of those cars that's dipping in price range on the used market. Once again this really opens up the modification possibilities, whether it's an extreme build or something more mild like this one.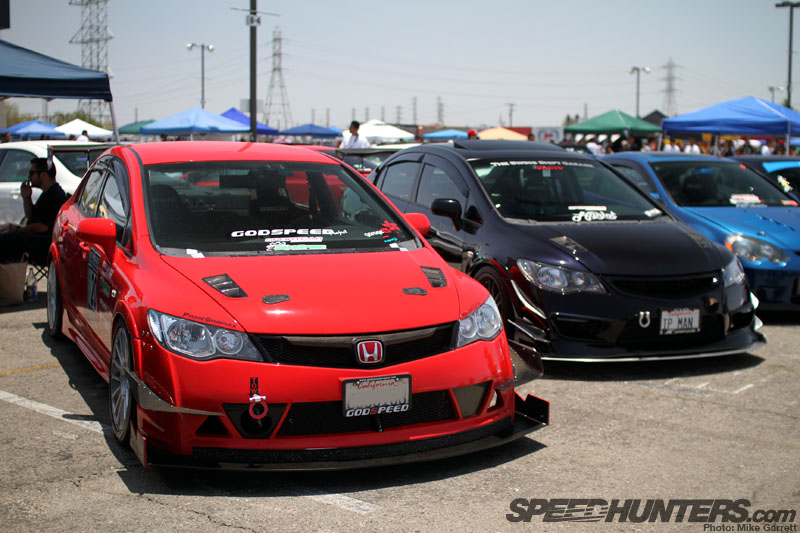 For some reason Honda decided to design a unique front end for the US market eight generation Civic, but judging on the popularity of the JDM conversion I think they should have left it alone…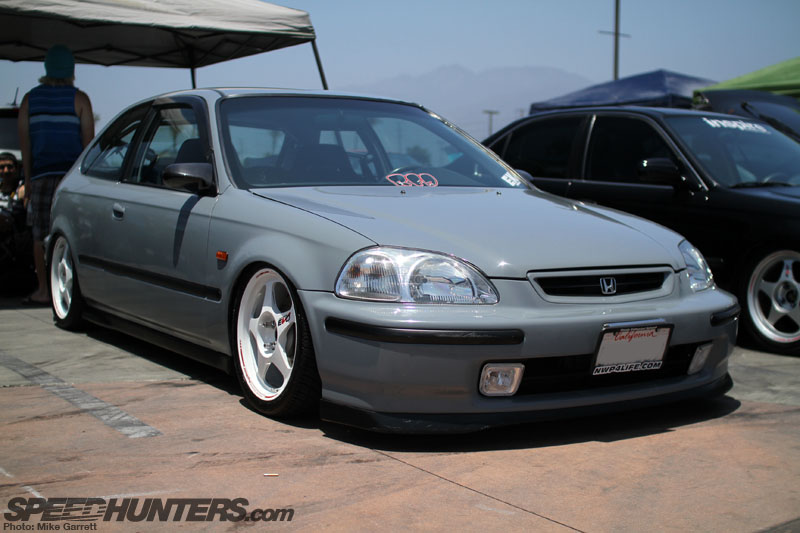 Love this Civic hatchback. It doesn't scream for your attention like some cars at Eibach, but captures it nonetheless with a tasteful exterior.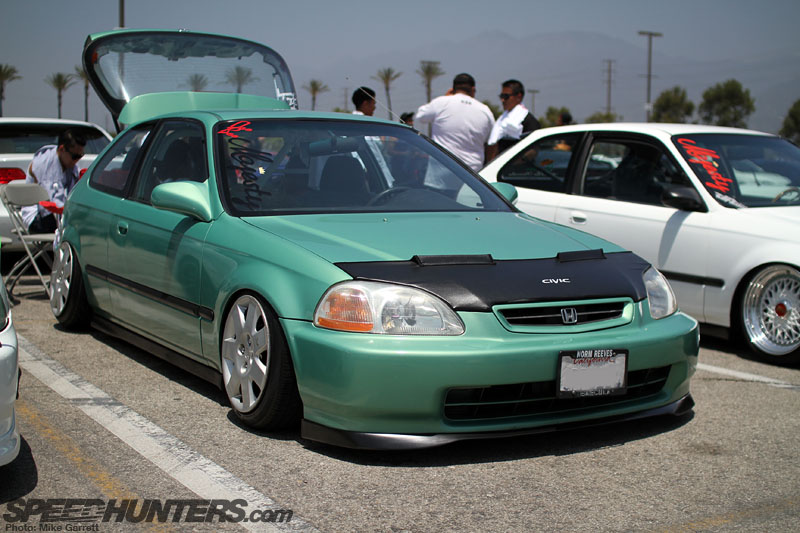 With so many similar cars gathered in one place, people do some pretty strange things to make their car stand out. This guy is sporting a slammed stance with OEM wheel covers and what look to be some massive spacers…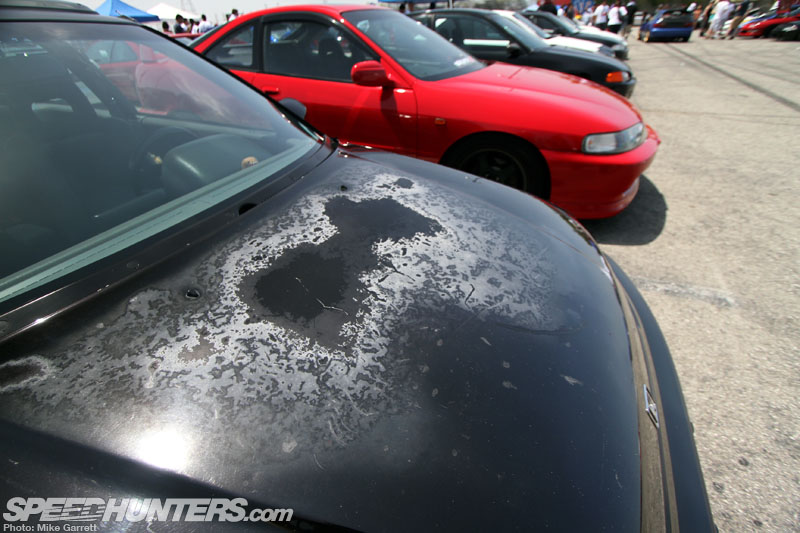 Super hip patina or just a car that's been sitting out in the Southern California sun for too long? You be the judge.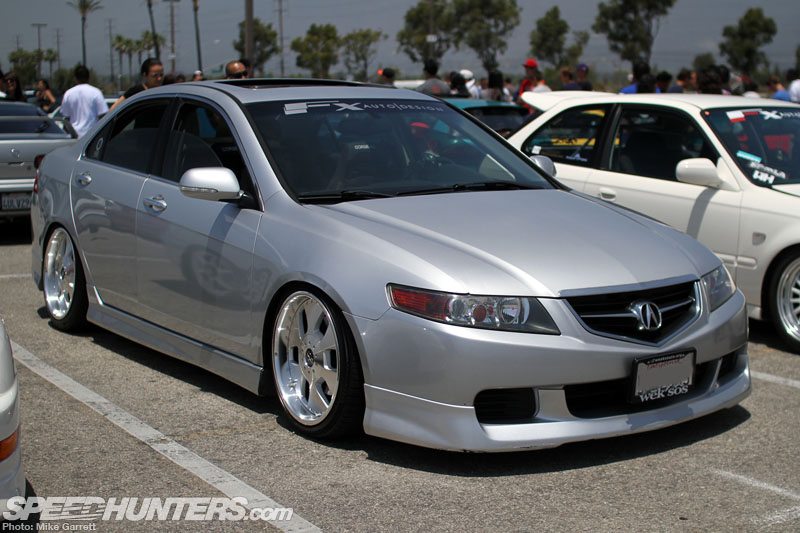 The Acura TSX (or Honda Accord in other markets) is not what many would consider a VIP car – but that doesn't stop TSX owners from adding a bit of bippu flavor to their cars.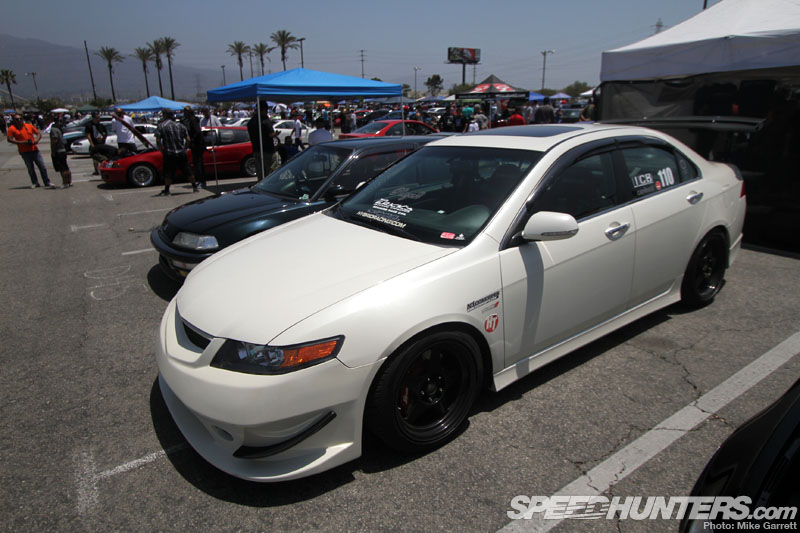 Or you can go in a completely different direction and transform the TSX into a focused, circuit-oriented machine like this one. That contrast between two cars that left the assembly line exactly the same is again what makes Eibach fun.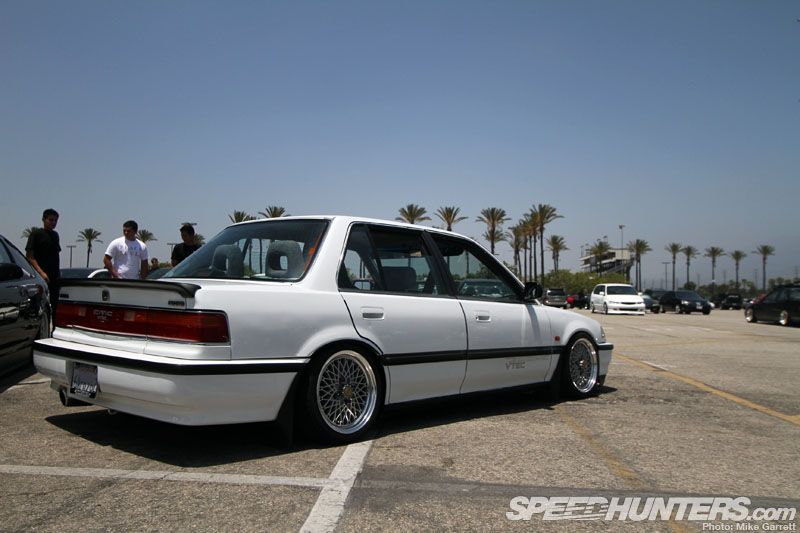 EF Civic sedan on SSR mesh wheels for some vintage Honda perfection.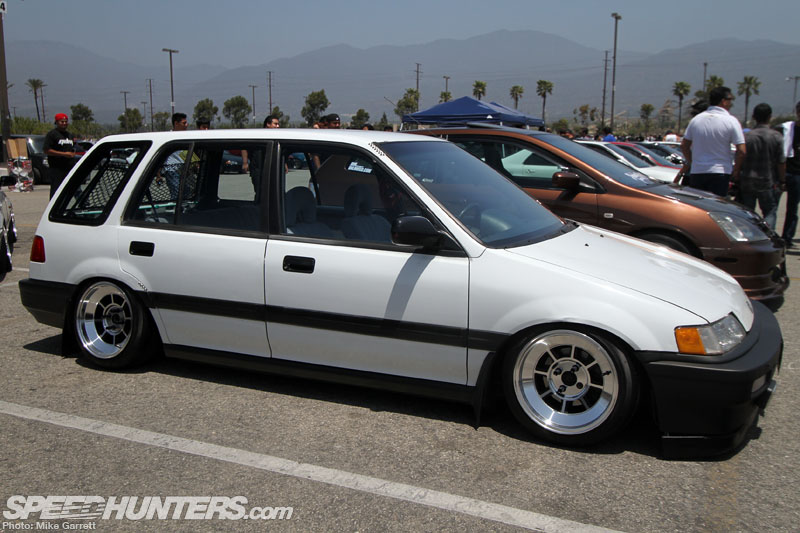 If someone would have told me 10 years ago that the Honda Civic Shuttle or Wagovan would be a popular car to customize in 2012, I would have laughed. Today I'm totally on board.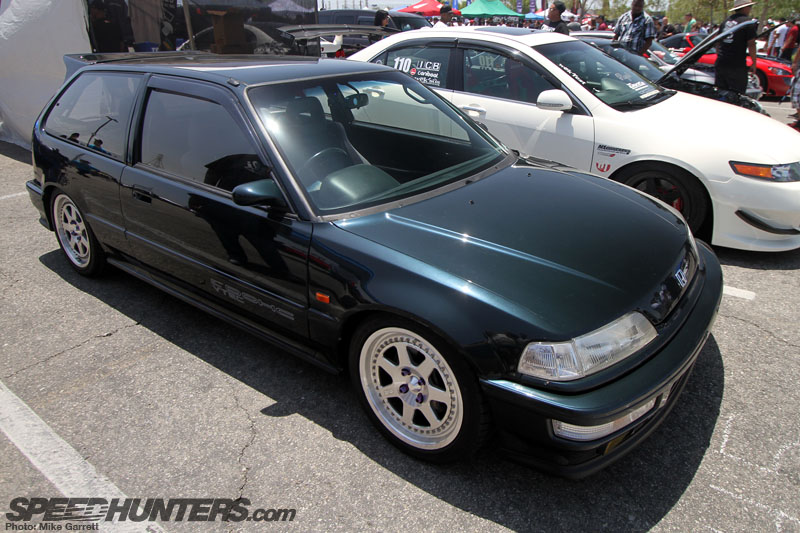 One more little slice of EF Civic heaven.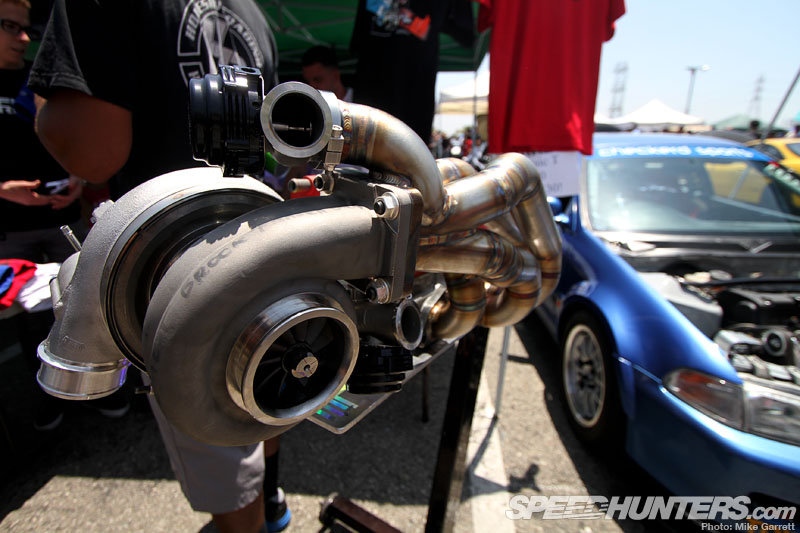 Found this cute little snail hanging out in the Full Race booth in the vendor area. Awww.
Flat black paint jobs may be past their prime in terms of popularity, but there's just no denying the presence of this NSX.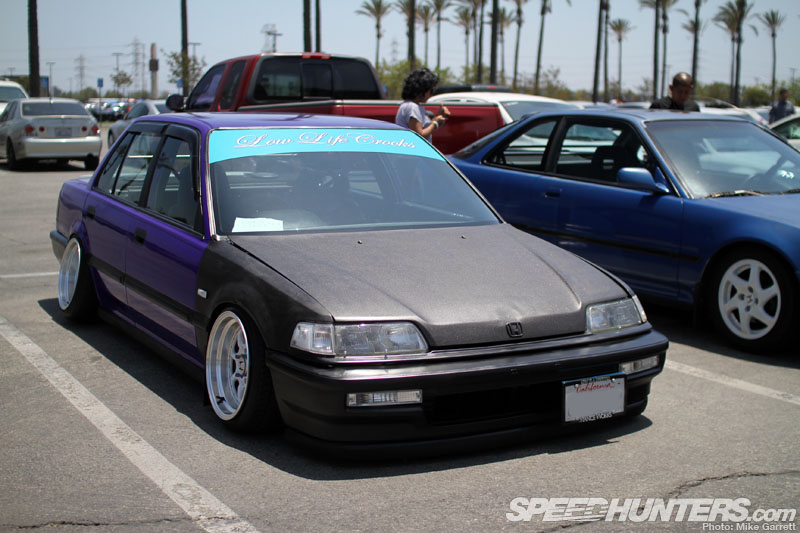 Shakotan Civic, which I'm just noticing now is right hand drive. Perhaps it's because I've spent time in both Japan and the US that I often don't even notice whether a car has been converted or not…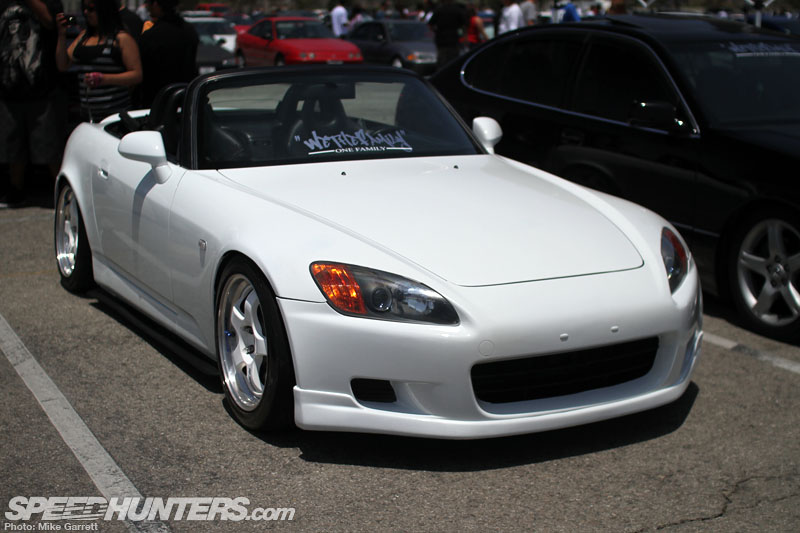 Love this AP1 S2000, although it reminds of how uncomfortable I am when I sit in one. Curse you, tall American genes!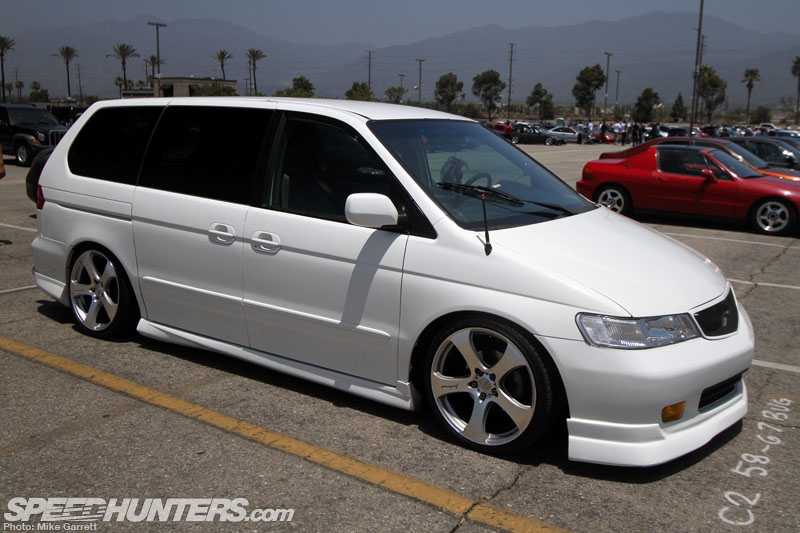 On the other hand, I'd have no problems at all being comfortable in this Honda Odyssey.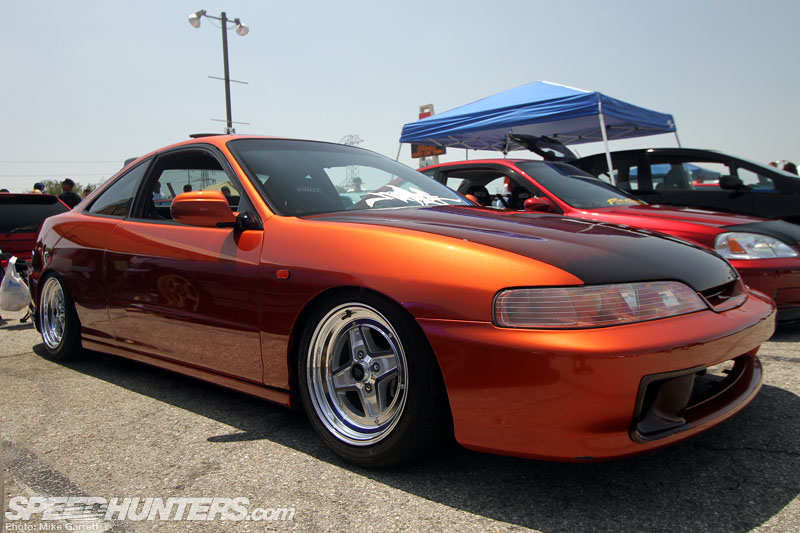 Somehow I really liked this DC2 Integra, shaved door handles and all. The impressive paintwork gave this thing a pretty unique look without trying too hard.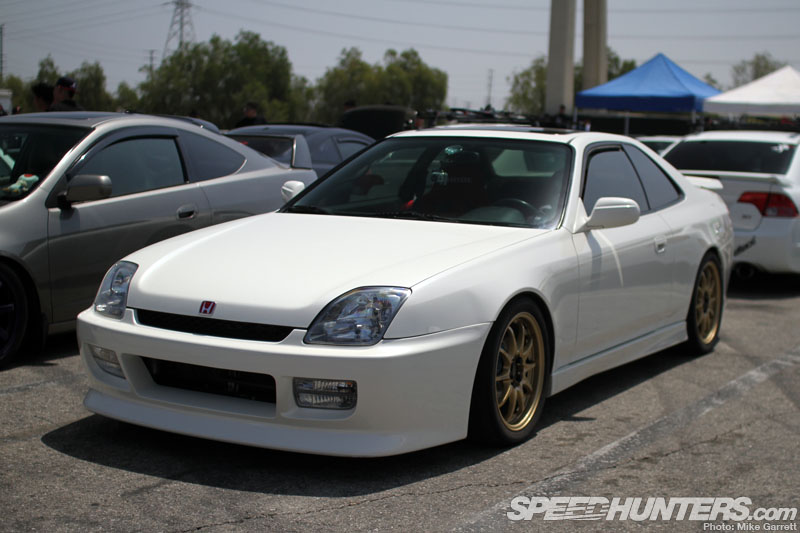 One more shot of Phryxis' nicely-built fifth generation Honda Prelude, just because it's so cool looking.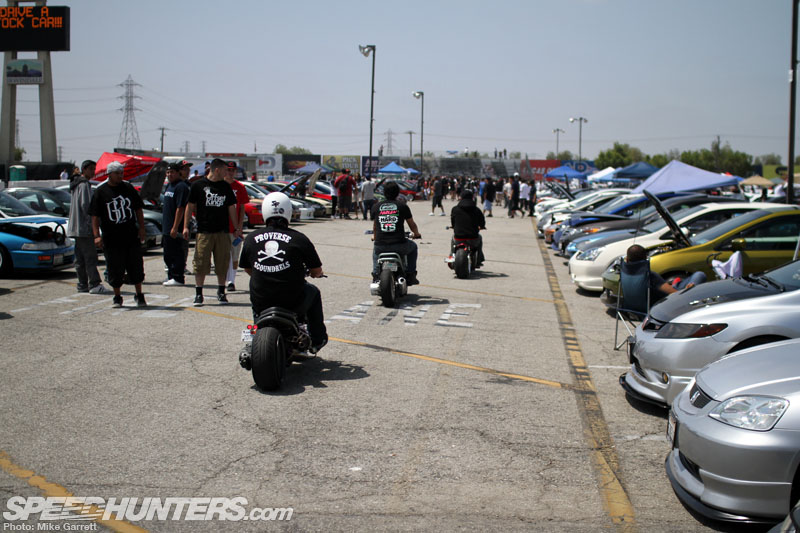 Another view of the Ruckus squad on the move.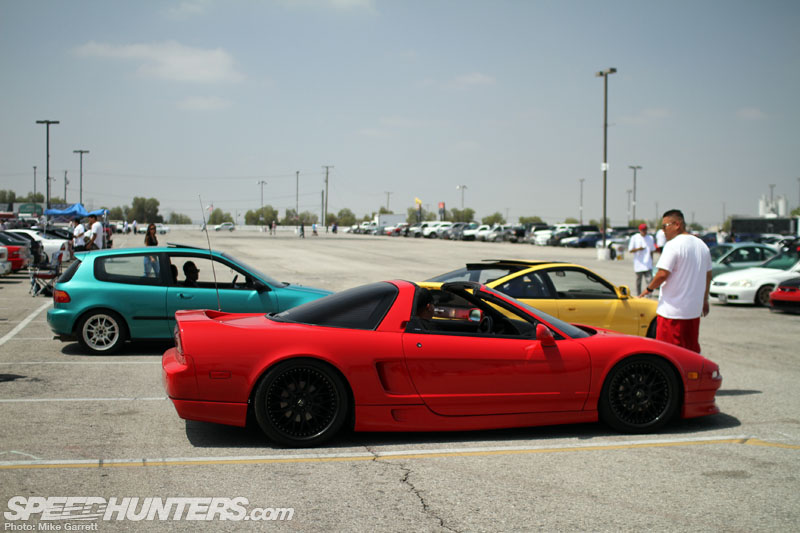 I grabbed this shot as people were rolling in right after the meet officially opened. Shortly after this, all that open space in the background would be full of Hondas.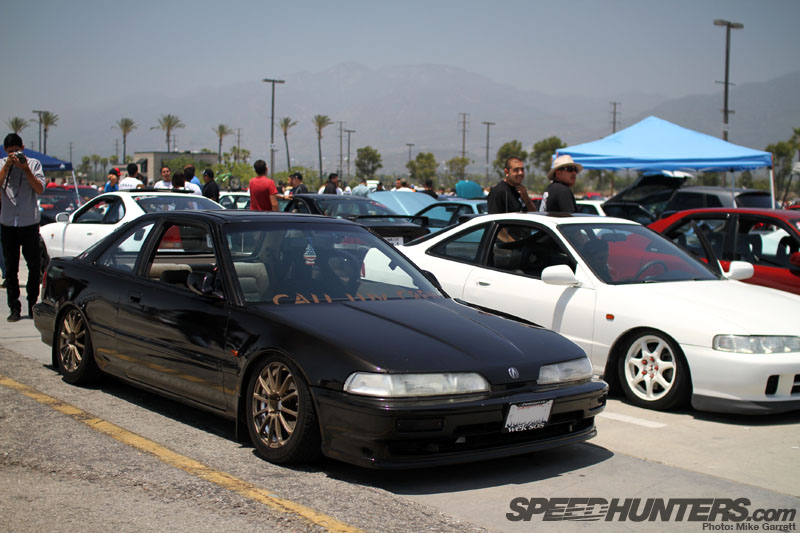 The DA Integra is yet another one of those Hondas that could be considered a "classic". The design is 23 years old already!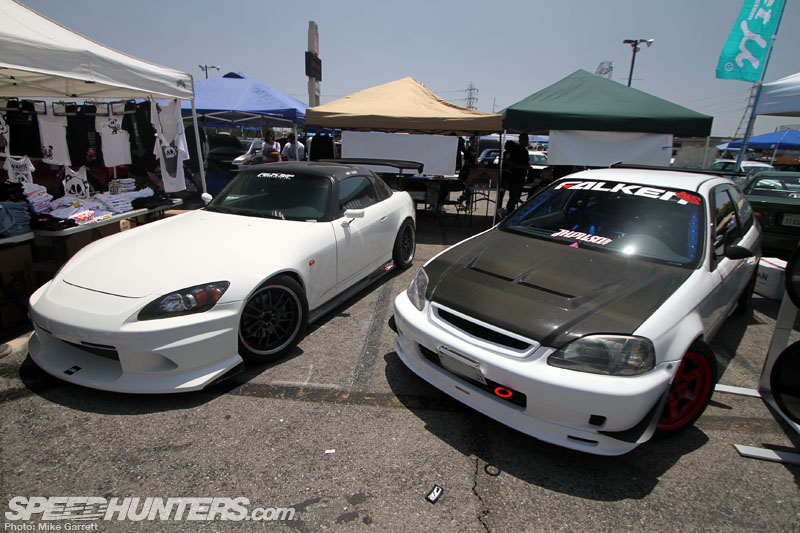 This pair of track buddies were posted up near the Evasive Motorsport booth in the vendor section.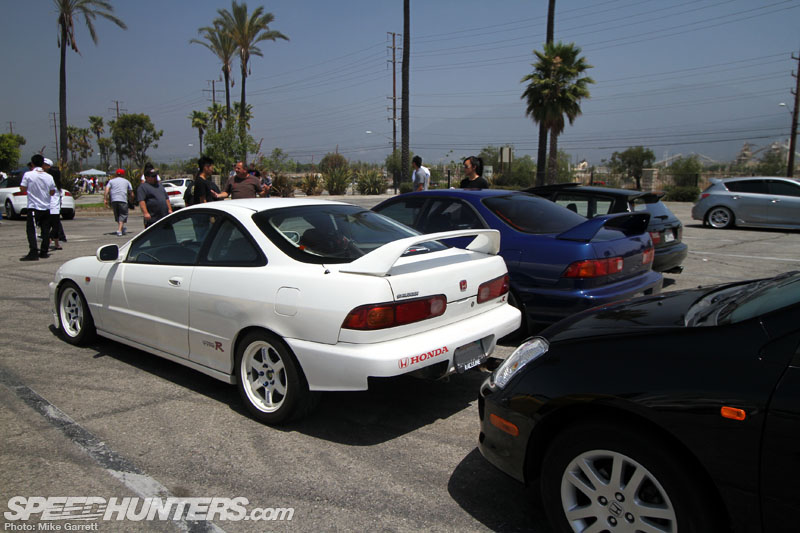 No, Eibach is not just about roof racks, weathered body panels and stickers. In might just be me, but it seemed like there were more "functional" cars at this year's event than years past.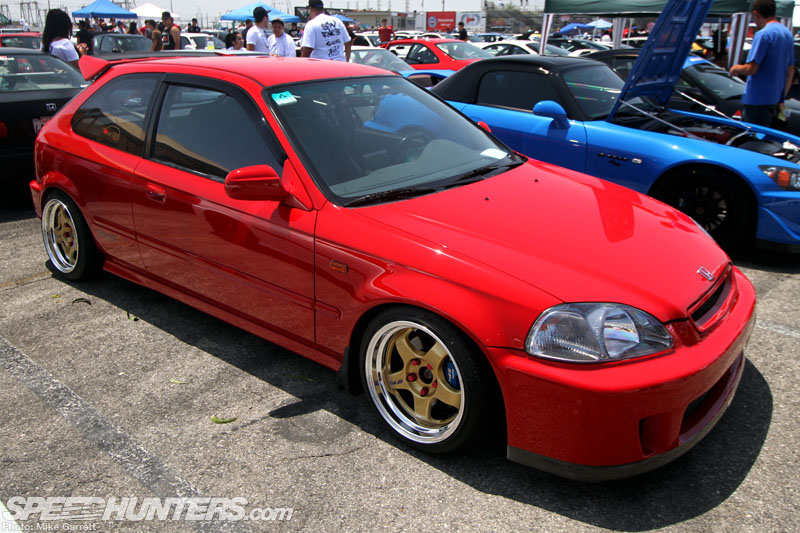 This Civic was another one of my personal standouts from the show, equipped with Work Meisters, Spoon brakes, and a Backyard Special front bumper among other things.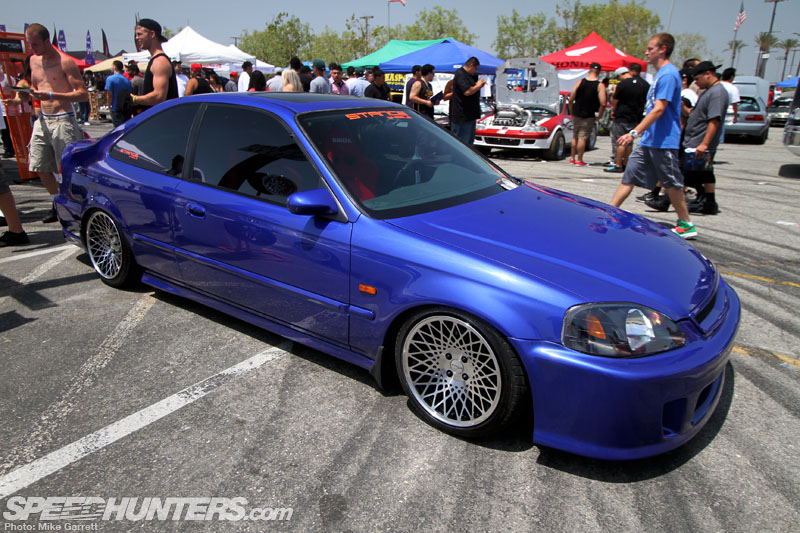 Yes, there is now a company called "Stance Wheels" – seen here modeled on an Electron Blue Pearl Civic Si coupe.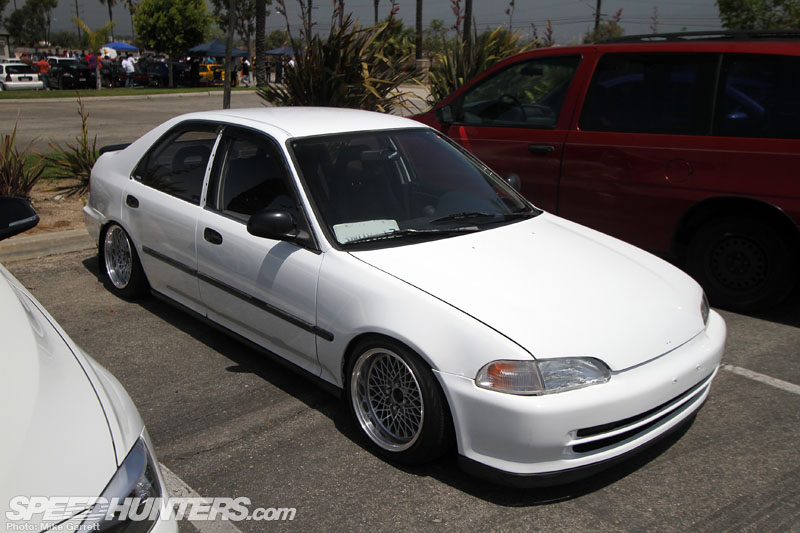 From the cool daily driver department comes this dropped Civic sedan. A friend of mine had a similar car back in my high school days and I have great memories of me and all my buddies practicing our manual transmission driving skills in it. That poor clutch…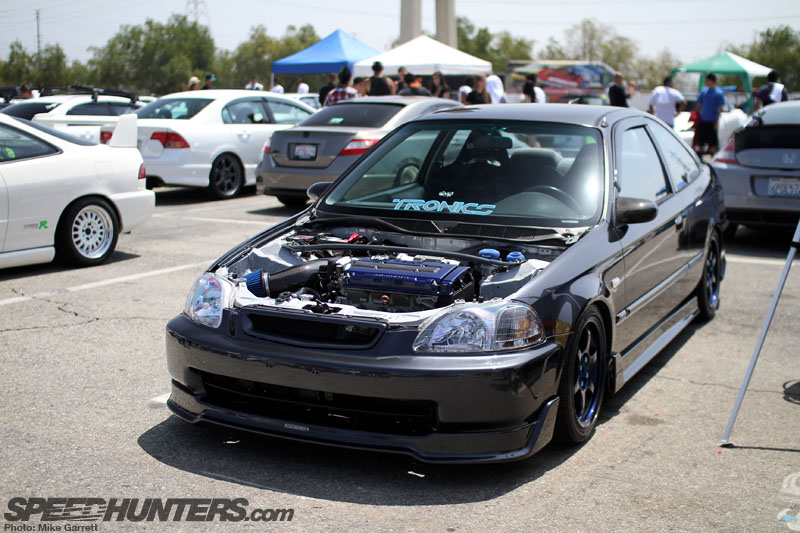 With that random memory, I'm going to wrap up my coverage of the 2012 Eibach Honda Meet.
I hope you have enjoyed, and don't forget to pick up the desktops below.
-Mike