For Honda enthusiasts not just in Southern California but across the United States and even the world, the word "Eibach" is synonymous not just with the the famous suspension company, but with the massive annual all-Honda gathering that's been held in SoCal for over seven years now. Unless you've actually been there, it's really hard to convey just how huge this event has become.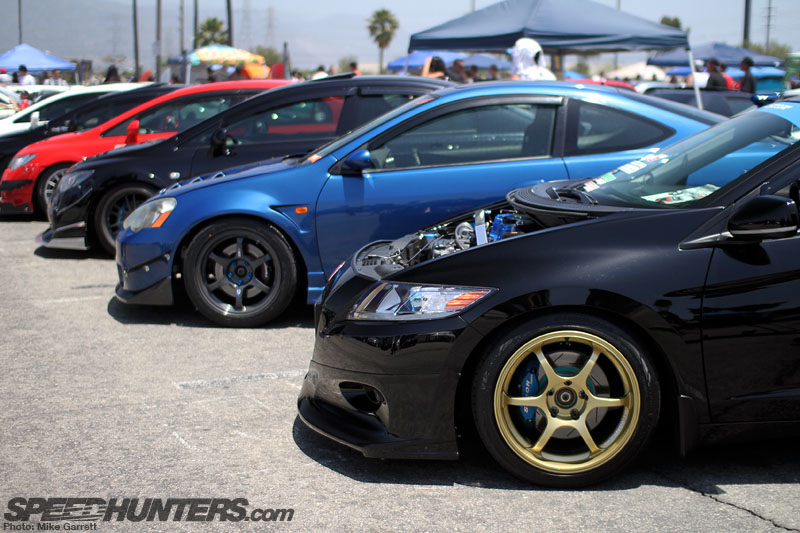 Any one who may think that Hondas have fallen out of popularity hasn't seen the hundreds of cars that jam the streets and the thousands of spectators that have packed into the Eibach Meet over the last few years. It's truly astonishing.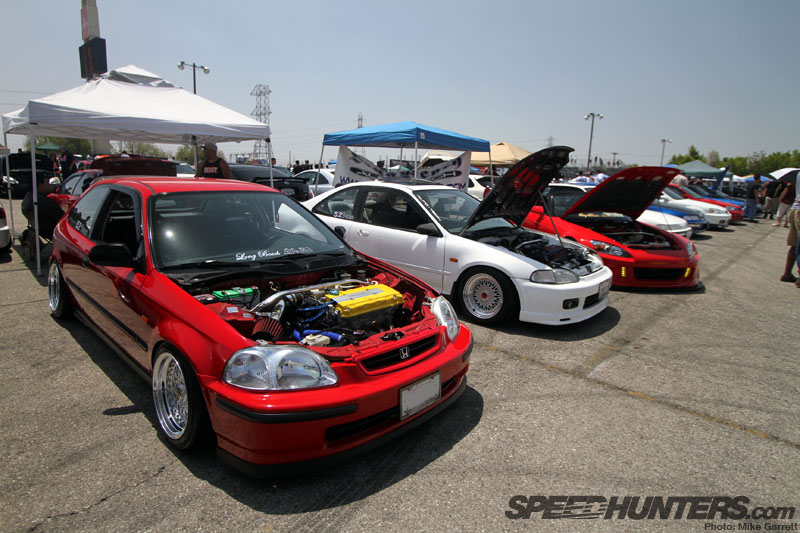 Unfortunately with that growth comes some unpleasant side effects. For the past couple years it was clear that the meet was becoming too large for its traditional home at the Eibach Springs HQ in Corona, California. The quaint industrial park just wasn't made to take on these thousands of people and the event organizers were simply overwhelmed with traffic and crowd control. The same went for the Corona Police Department.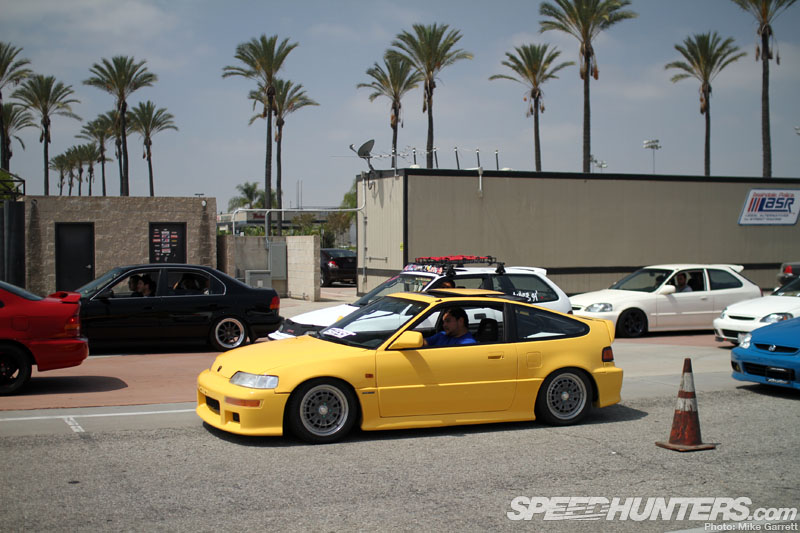 For 2012 it was decided that a new home was needed for the Eibach Meet. But where? Was there any venue out there that could successfully handle the waves of cars and people this event brings? Eventually it was good old Irwindale Speedway that was chosen as the venue for Eibach 2012, with the hope that it's wide open parking lots and convenient location would be more suitable for the crowds.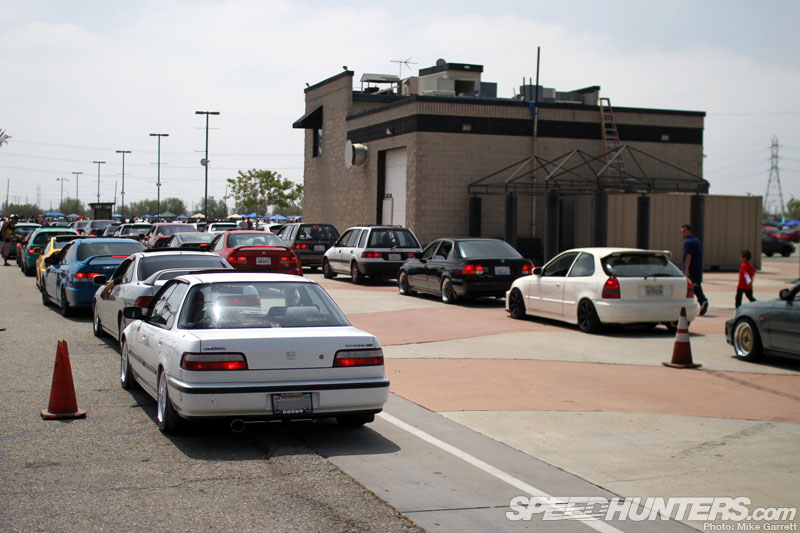 Having no idea what to expect, I hopped on the 10 Freeway yesterday morning and plotted course for Irwindale Speedway. I made sure to arrive as soon as the main gates opened and already I found dozens and dozens of Hondas lined up to get in the lot.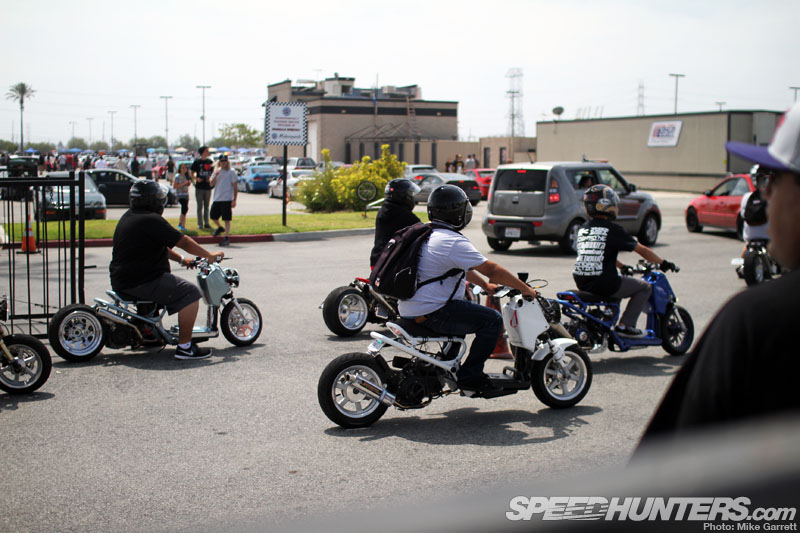 In addition to the seemingly endless stream of Civis and Integras, there was a buzzing pack of customized Honda Ruckus scooters that had joined in the crowd. After taking in the sight and sounds of these little bikes, I made my way to the gate begin shooting the meet…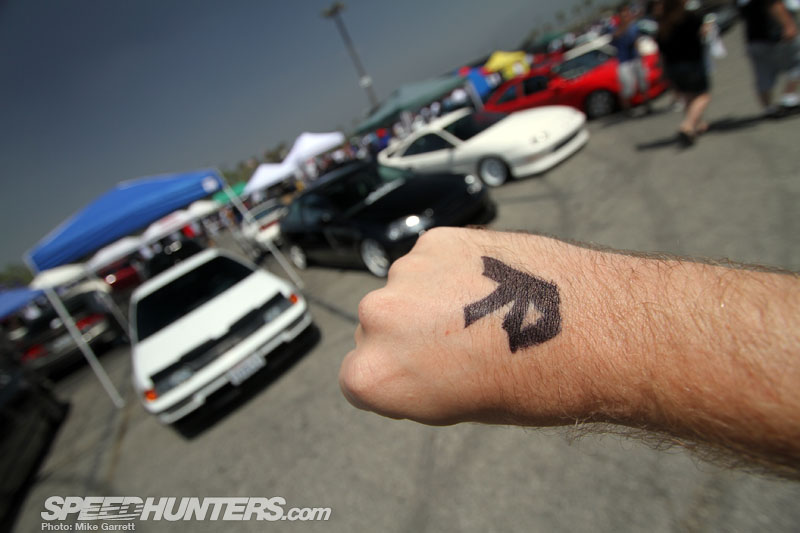 …but not before I had my hand marked for re-entry. While a normal stamp might do for some, a hand-drawn Type R logo was the mark of choice at Eibach.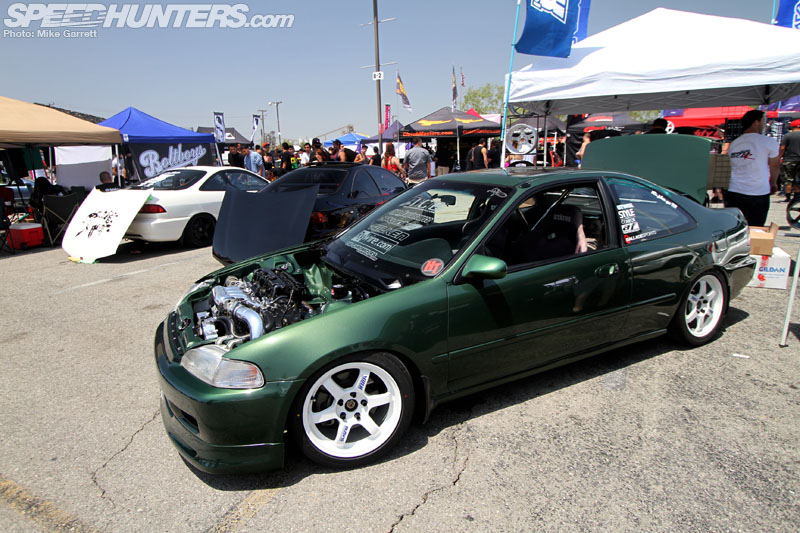 From there I began my journey through the sun-drenched parking lot to look over the machinery. Participants had been rolling in since the wee hours of the morning and the vast lot was already beginning to fill to capacity.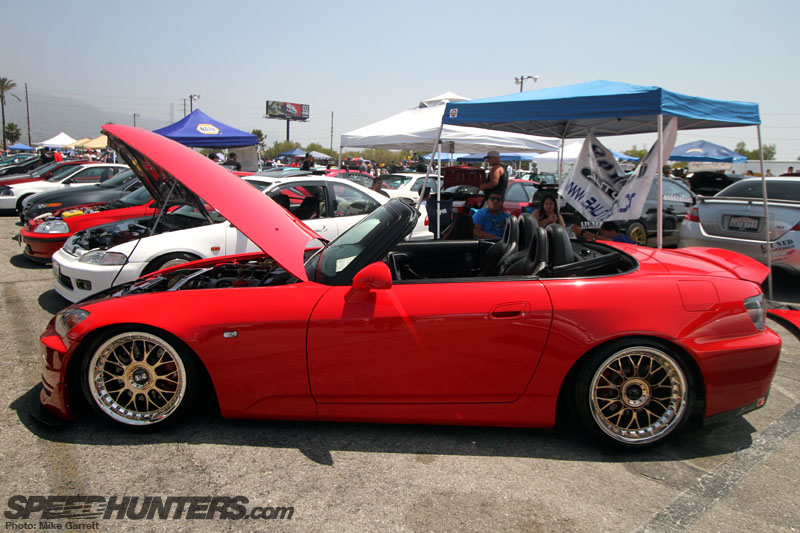 As you'd expect, the Civic and Integra made up the majority of the crowd, but many of  Honda's other greats were on hand. Take the S2000 for example. As the price of second-hand S2000s drops people are continuing to get more and more creative with Honda's top-down sports car.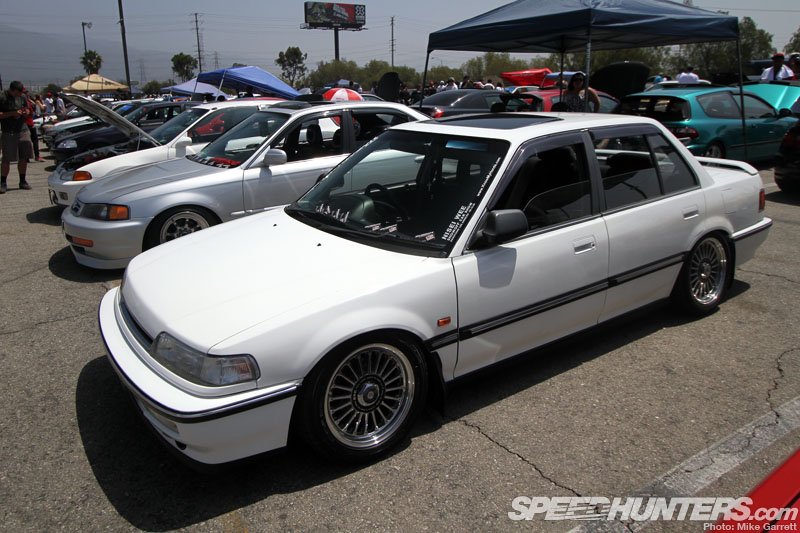 There's no school like the old school. Models from the so-called "glory days" of Honda are always a huge part of Eibach, many of them equipped with choice period correct modifications.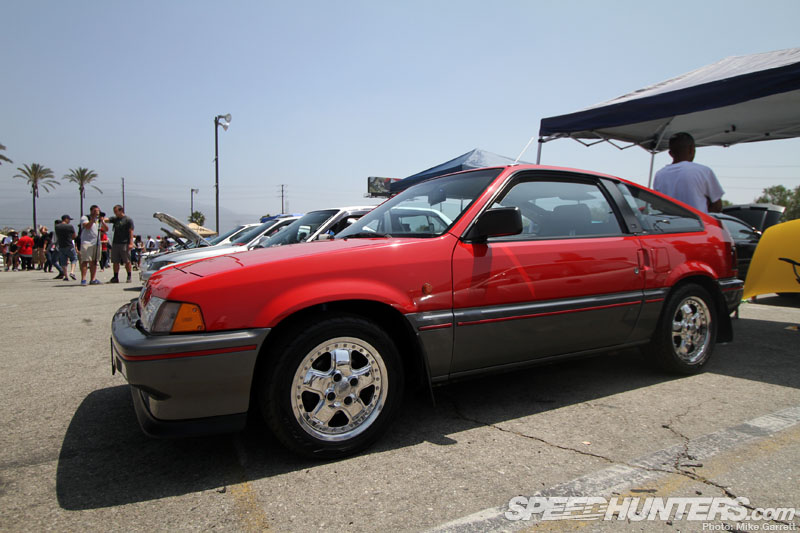 Speaking of the classics, this first generation CR-X really caught my eye. It looked clean enough to be the centerpiece of a mid 1980s Honda showroom. Already these vintage Hondas are being grouped with established Japanese classics like the Datsun 510 and 240Z.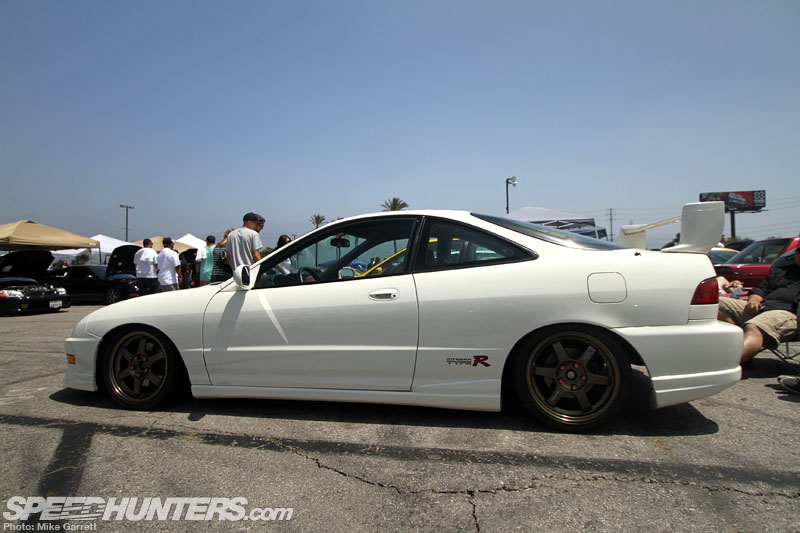 While Hondas stretched as far as the eye could see, it was easy to notice there were certain standout cars. This Integra Type R looked just right with TE37s and the Mugen rear spoiler.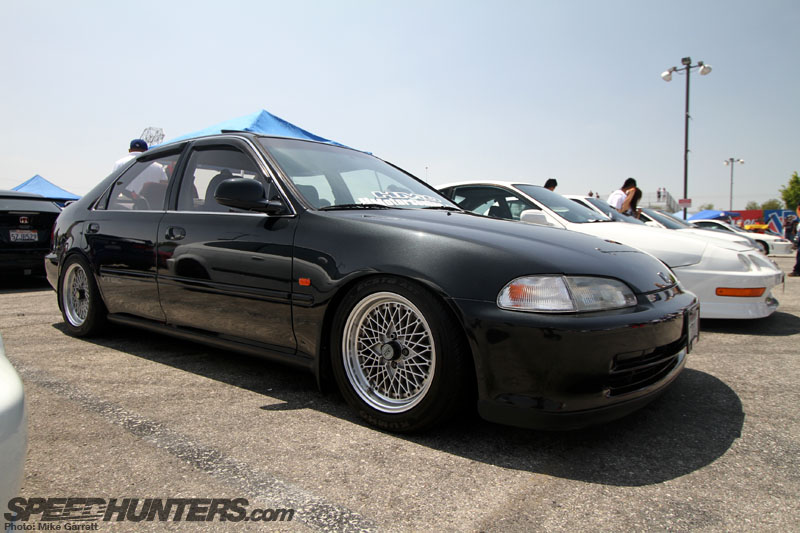 With so many extravagant machines fighting for your attention at Eibach, it's always nice to see the simple, understated cars. Here we have a four-door Civic was looking just right.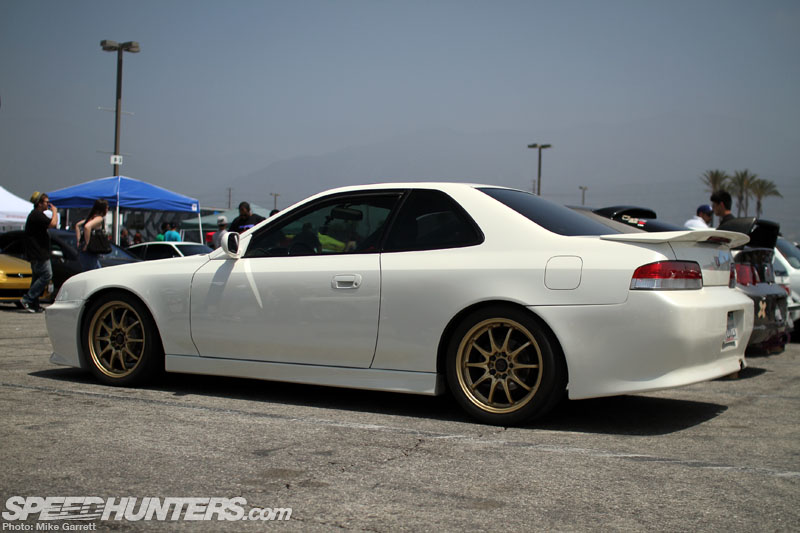 When I hear people talking about the good old days of Honda, the Prelude is always brought up. Seeing a a properly modified Prelude like this one always makes me wonder if Honda has any plans to bring back the much-loved sports coupe. Somehow I doubt it's in the pipeline…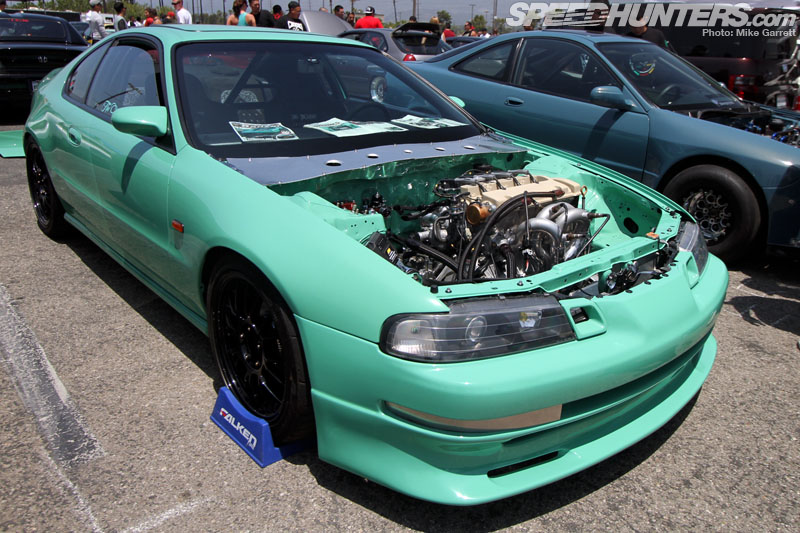 While on the subject of Preludes, let's not forget about Big Mike's incredibly detailed machine. I've seen this car at many different events and finally got a chance to chat with Big Mike a bit yesterday.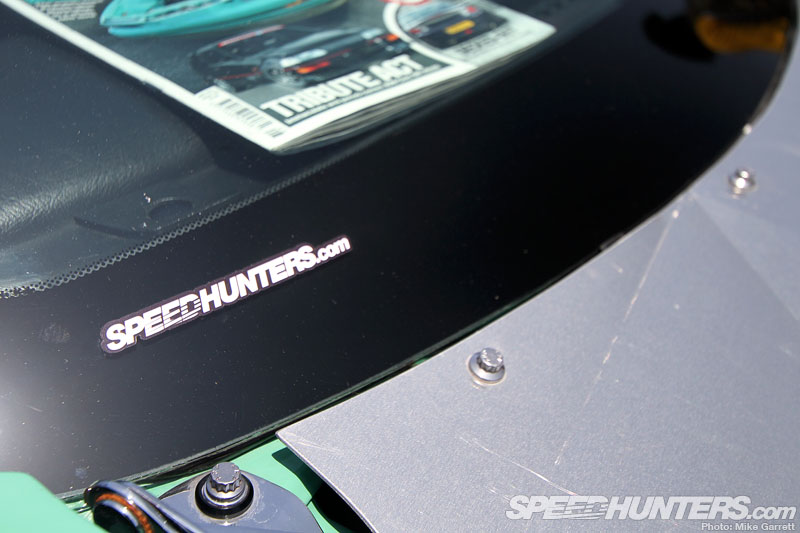 It turns out he's a big fan of Speedhunters and was proud to outfit his car with one of our stickers. Thanks a lot, Mike!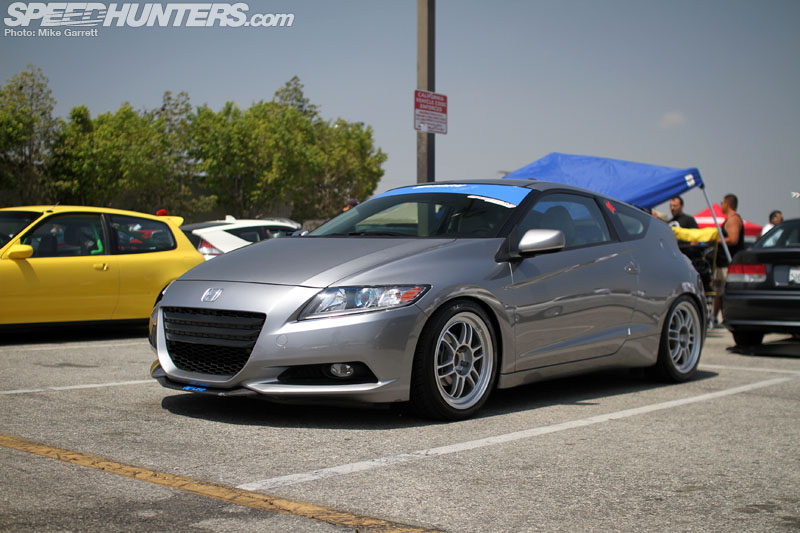 I was pleasantly surprised to see several Honda CR-Zs at the meet in various states of modification. It may not be the triumphant revival of the CR-X that so many were hoping for, but still nice to see some enthusiasm for it.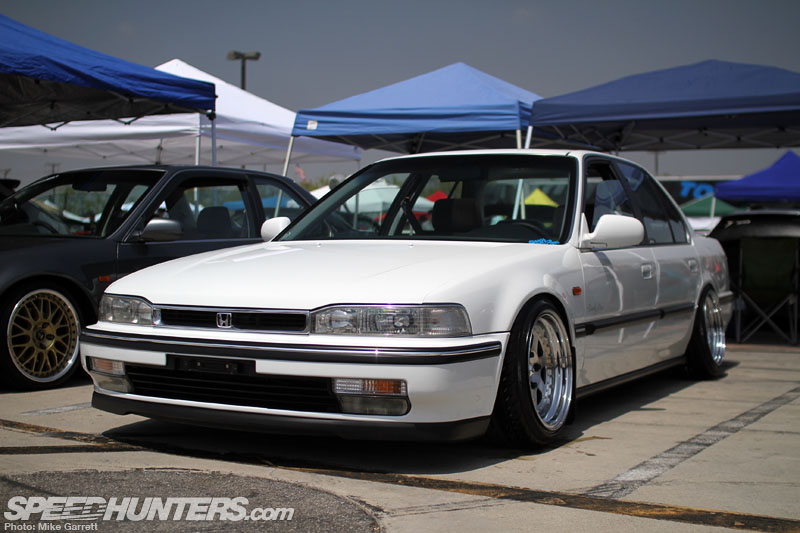 Not only is it cool to see a fourth generation Accord done like this, but just seeing one that's this clean in general is rare sight these days.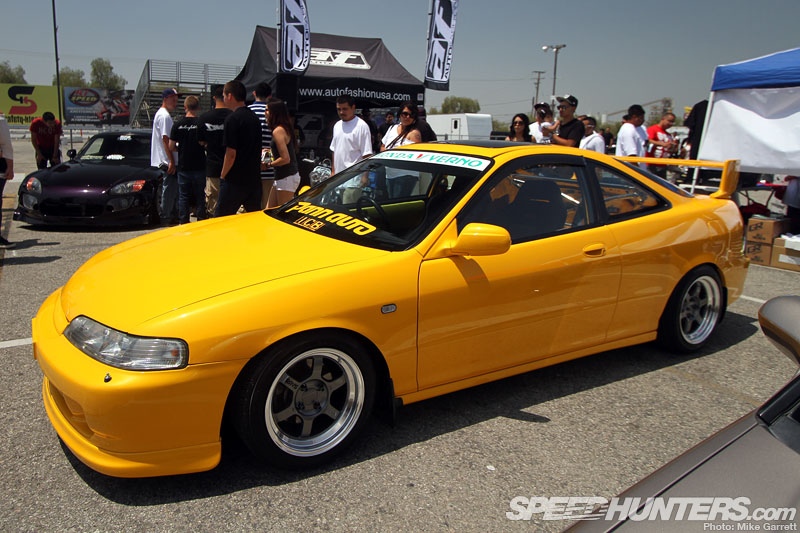 One of my favorite cars of the day had to be this DC2 Integra. You expect to see Rays TE37Vs on a Hakosuka, S30, or other Showa era machine, but to see them on an Integra is quite cool. It's not "Hellaflush" fitment, but the wheels are the perfect size for this application. Thumbs up.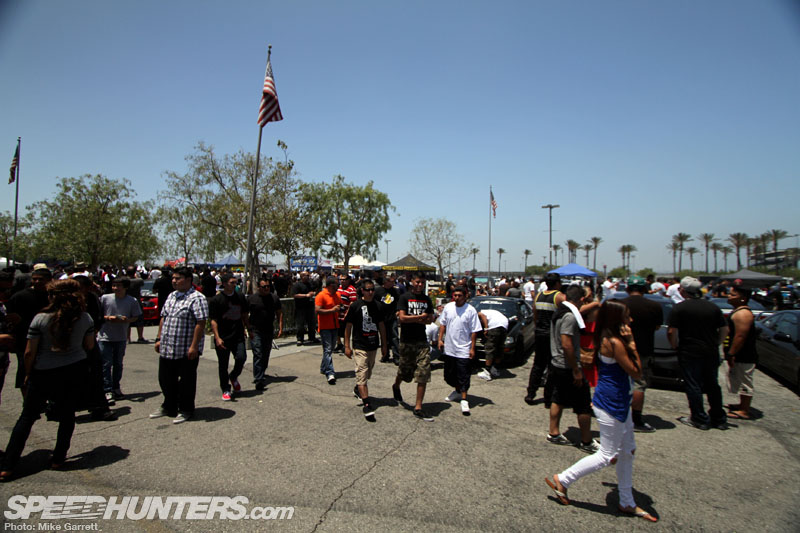 As I continued to make my way around the meet I noticed the crowd continuing to grow. By early afternoon the huge lot had already reached capacity and cars were being turned away by the Irwindale PD. The wise ones came early it seems.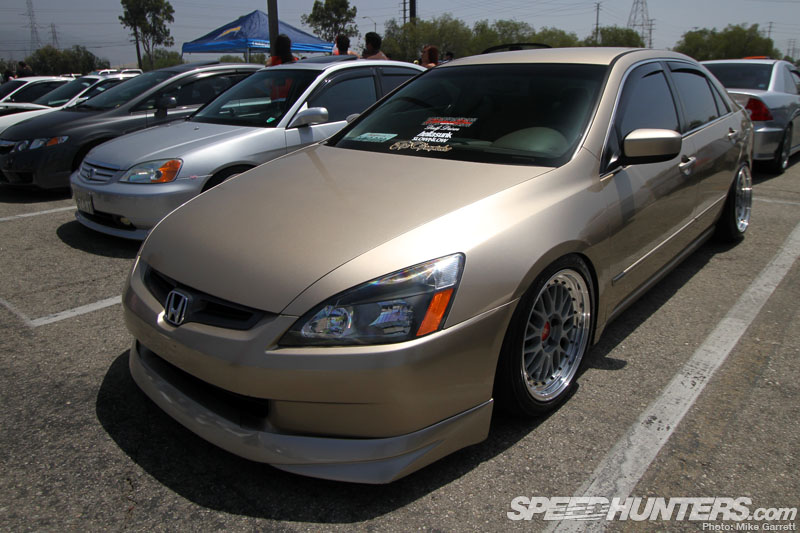 A beige-colored Honda Accord sedan might be the accountant's transportation of choice…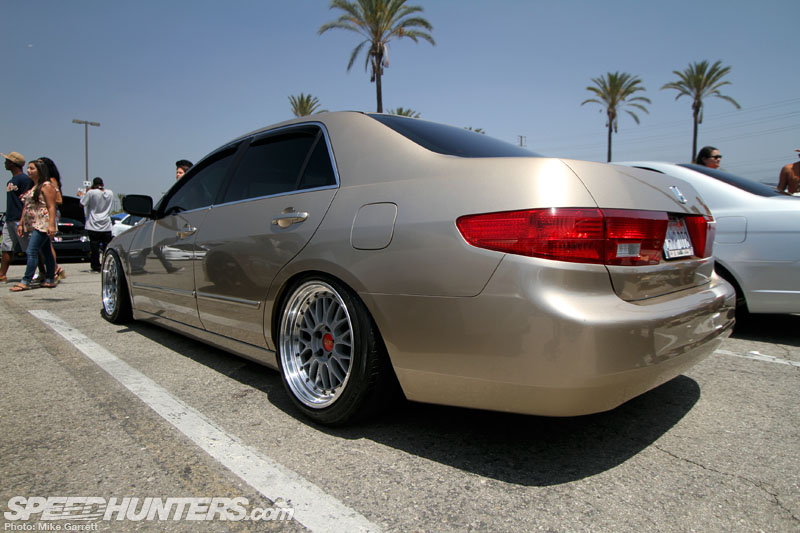 …but throw on an aggressive drop and some wheels and you can really "balance the books". Sorry, lame joke.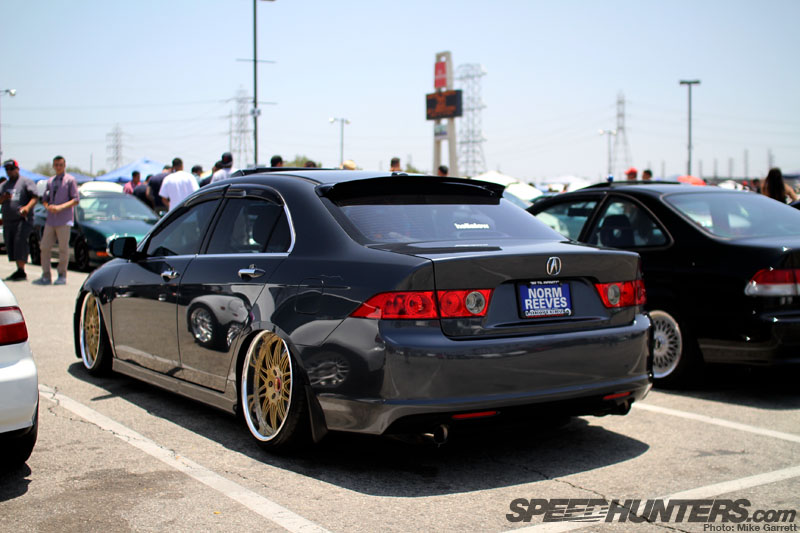 Acura TSX tucking rim. I can't really tell if the "stance" movement is still growing or not, but there were lots of low and wide machines at Eibach.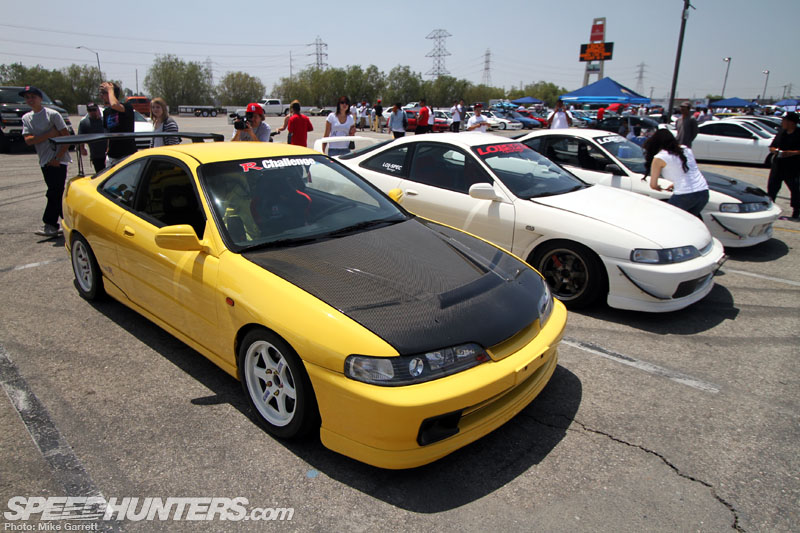 But let's not think for a moment that functional builds have fallen out of style. This group of track-focused Integra Type Rs was impressive to say the least.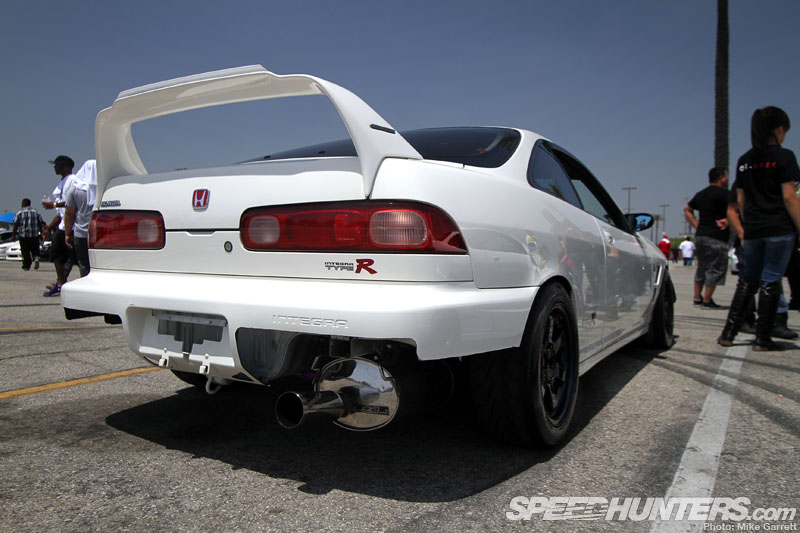 Cut up bumper with fat, sticky Toyo tires and a Mugen exhaust. How's that for function?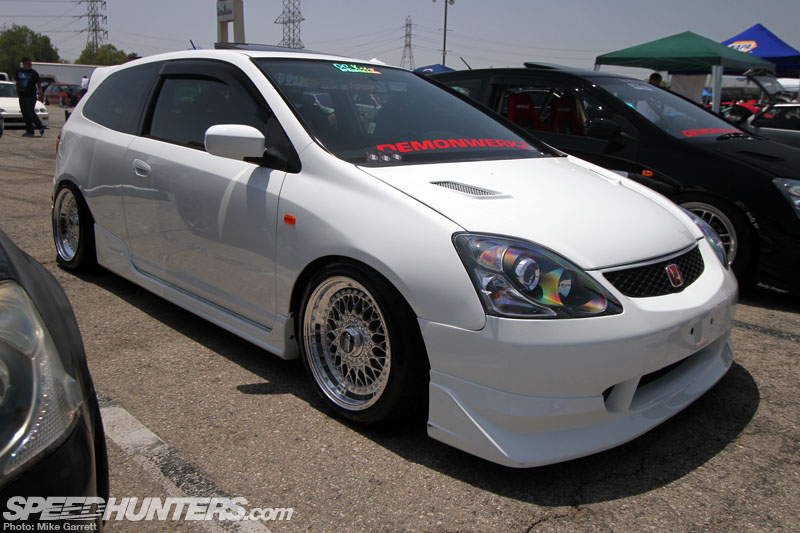 Here we have a pair of EP3 Civics that show the big contrast you'll find in the Honda world. On the right we have a car dumped low on BBS RS wheels with stretched tires…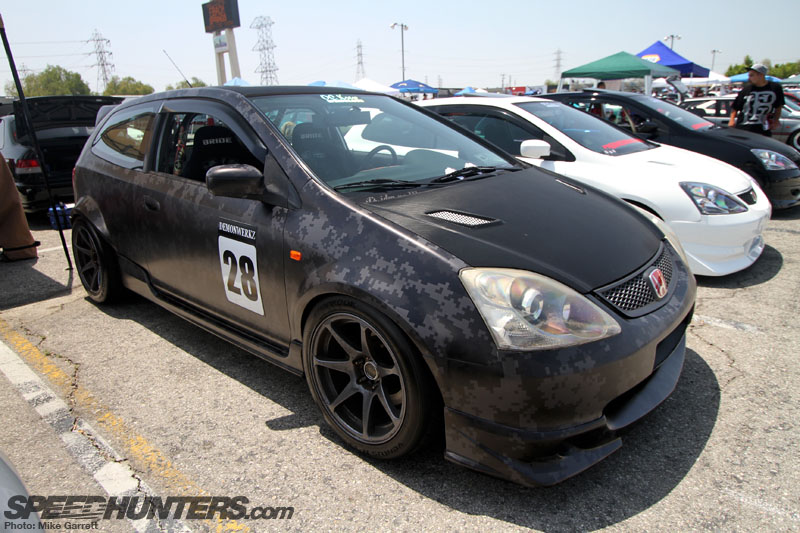 …and on the left another EP3 with widened fenders, serious Hankook rubber and a roll bar. Can't we all just get a along?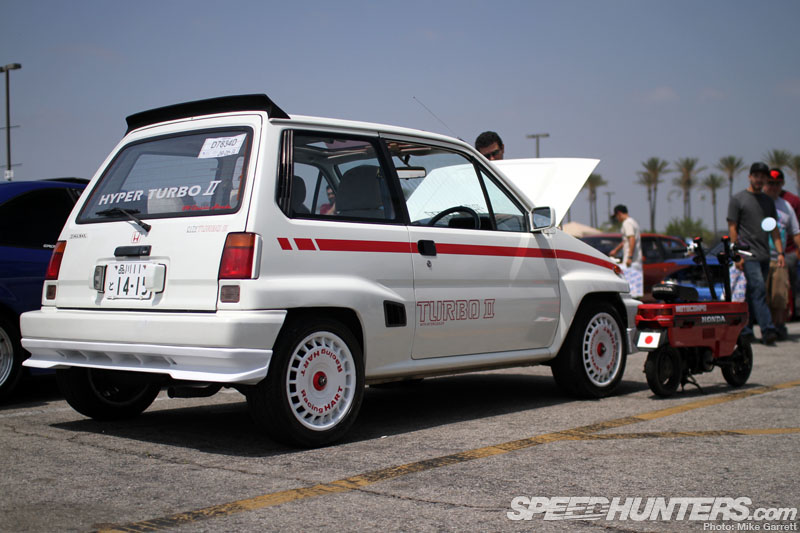 One exotic machine that was drawing some big crowds was this Honda City Turbo II that someone had brought over from Japan.
It even had the equally cool Honda Motocompo bike to go along with it!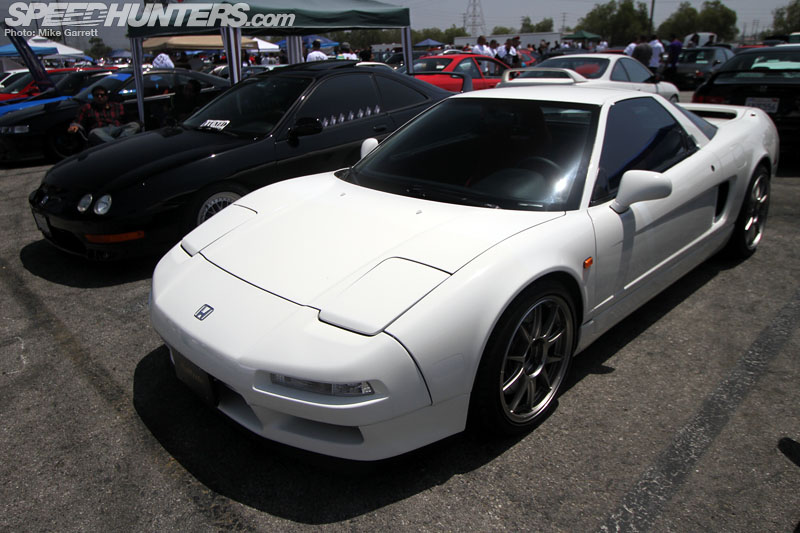 You didn't think I would leave out the NSX, did you? Even a stock one will get you plenty of love at Eibach.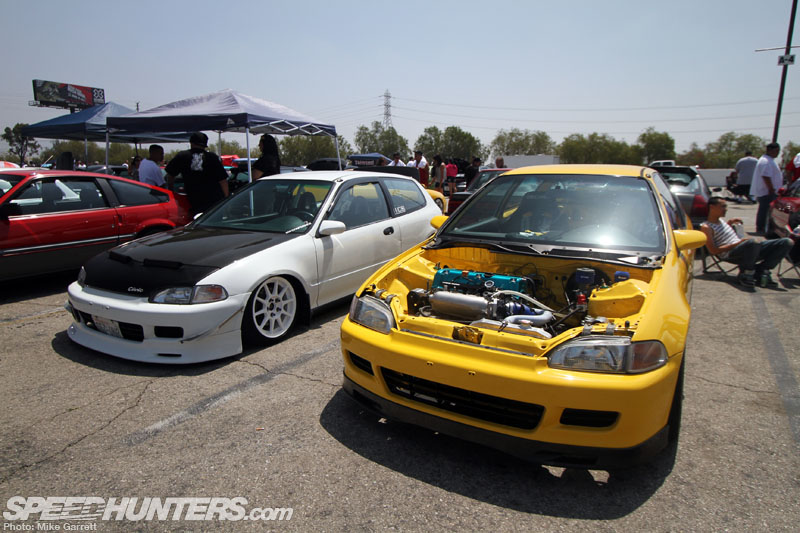 In the end it seemed that not even Irwindale Speedway was enough to handle all the madness that Eibach brings. What was once a simple car meet is now perhaps getting too big for it's own good. Even so, I always enjoy this look at the ever-popular Honda scene and I'll be really interested to see how this event evolves in the future.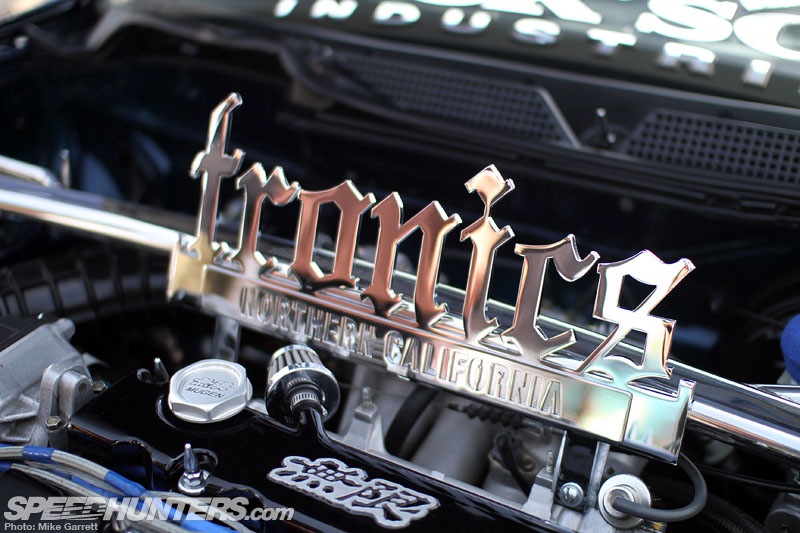 Tomorrow we'll take a deeper look into the 2012 Eibach Meet as I aim my lens toward some of the day's creative engine bay setups…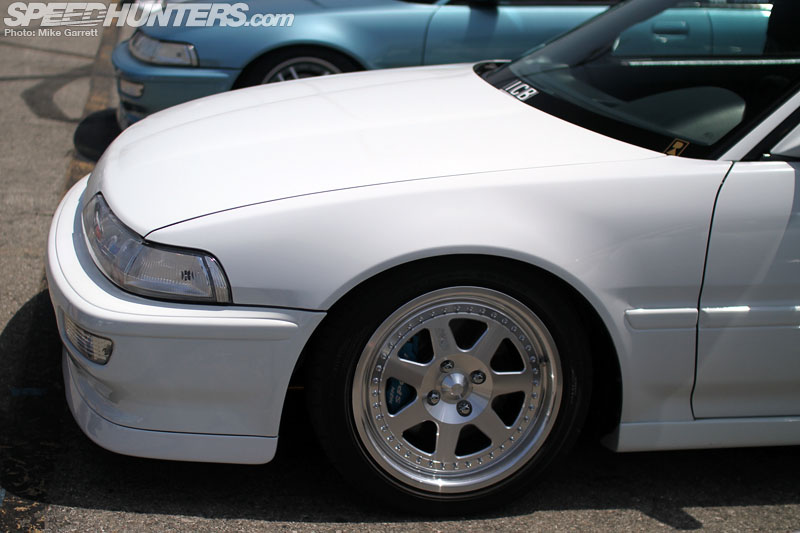 …as well as the diverse selection of custom wheels mounted on these cars.
Stay tuned, and don't forget to check out the desktops added below.
-Mike