In the late 1970s and early 1980s the "Street Freak" was a common sight on the roads of America. What exactly was a Street Freak? Typically it was a Muscle Car – say a Camaro or Charger with wild graphics, an ass-high stance, gigantic rear tires and usually a blower or at least a scoop popping through the hood. History hasn't taken too kindly to the Street Freak, but I always thought they were kind of cool in their own way.
Of course Street Freaks were the last thing on my mind as I made my way around the Eibach Honda Meet yesterday – until I ran into Brian Gillespie from Hasport Performance who was showing off his newest creation.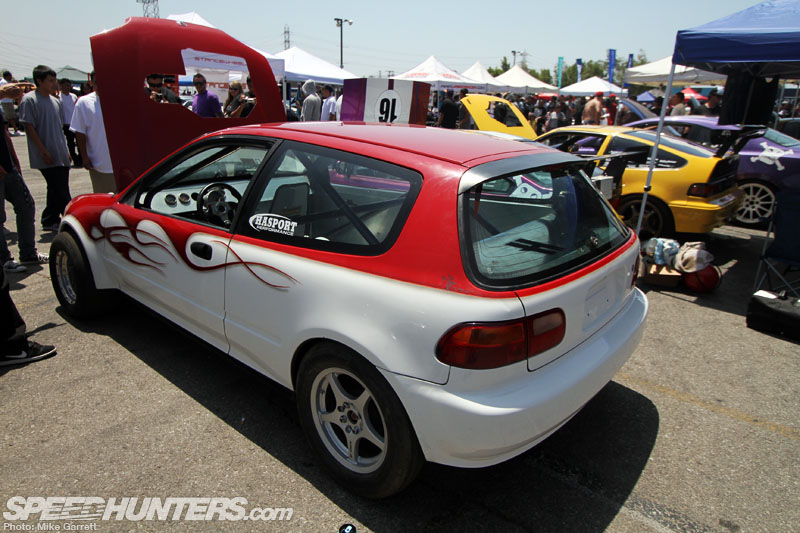 Brian is a veteran of the Honda world, and Hasport is a household name among Honda owners thanks to their line of motor mount kits for all sorts of engine swaps. I'd been very impressed seeing Hasport-equipped cars at various events over the years, but I definitley wasn't prepared for this.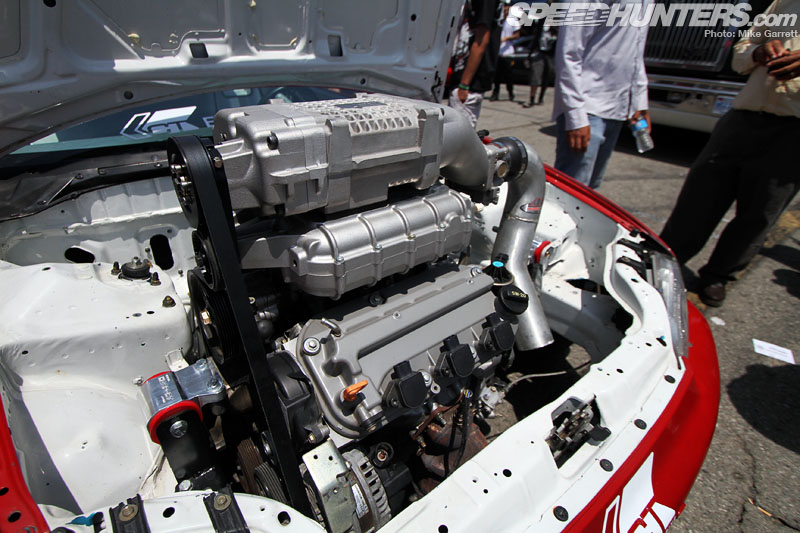 What you are looking at is an EG Civic with a J35 V6 out of  Honda Ridgeline pickup truck. A big V6 into a Civic is crazy enough, but as you can see the motor is also equipped with an enormous supercharger from CT Engineering. It gets even better though. There are also plans to add a pair of turbochargers to the mix – just for fun you know. The motor had been dropped in just a few days earlier and once the car is back at the Hasport shop in Arizona it will be time to make it run.
Right now the Civic is in full race trim, but when it's complete I'm told it will actually be driven on the street. Wild graphics? Check. Hole in the hood? Check. Giant tires? Check.  A Street Freak indeed.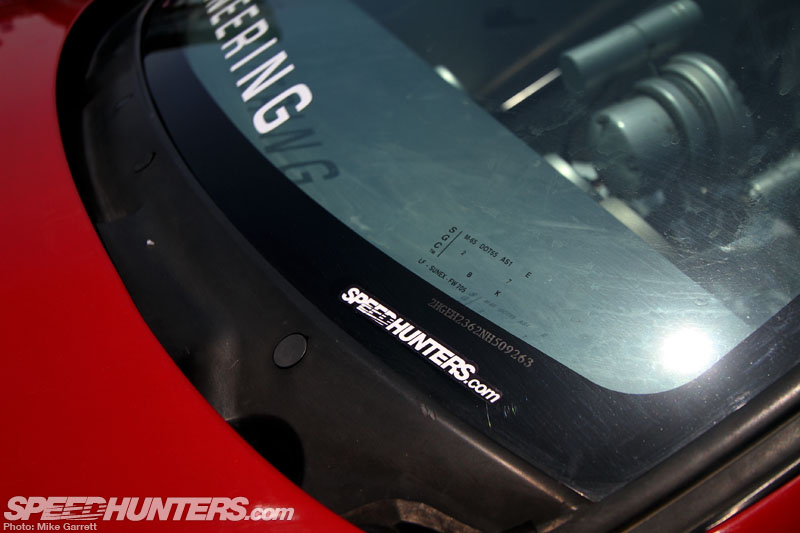 I gave Brian a few Speedhunters stickers which he promptly affixed to the windshield. A good fit I'd say.
We'll certainly have to stay in touch to see how this incredible build progresses
-Mike
More 2012 Eibach Coverage on Speedhunters