Of all the different events I've attended I must admit that stumbling into a small German town for the 50th running of the Wolsfeld Hill Climb was unquestionably one of the most interesting. Still recovering from a brutal weekend at the Nürburgring followed by a quick stint at Hockenheimring I found myself wading through a sea of jetlag and confusion, but by god I made it.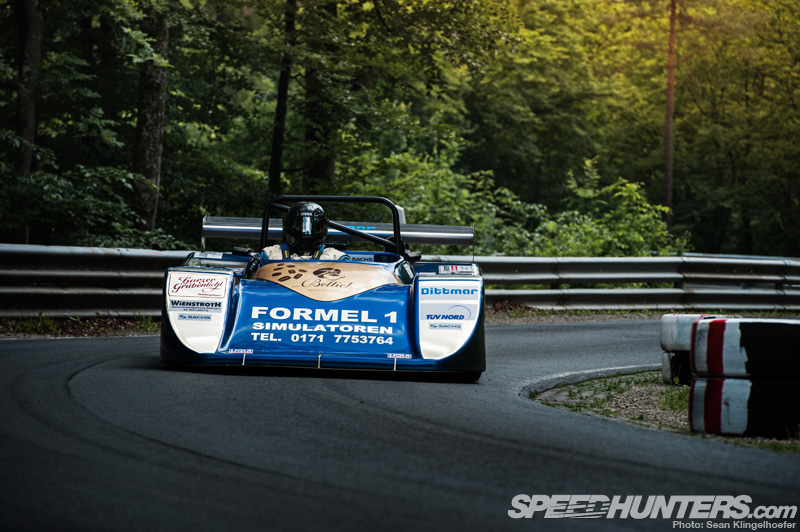 For those of you joining from yesterday's article, welcome back. For the rest of you I'd recommend either going back and reading my first post or at the very least googling "Berg Cup" before we continue. If my memory serves me correctly we left off from a paddock walk the evening prior to the event, which is where I will now continue this journey.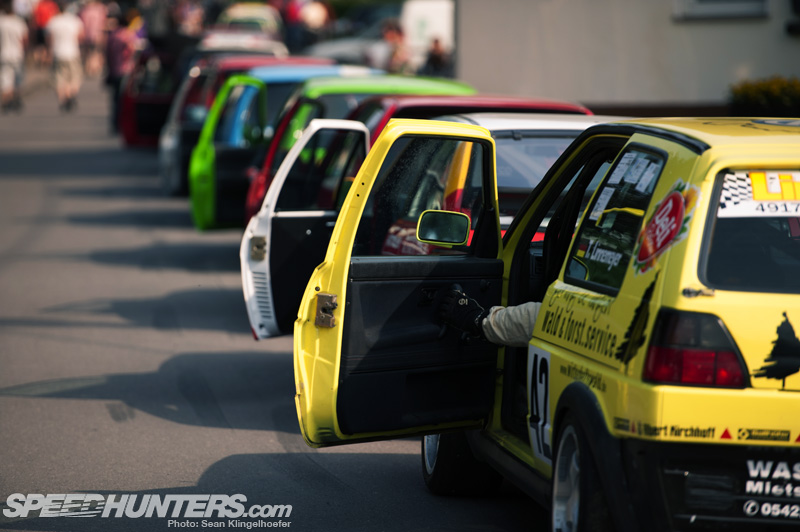 As luck would have it I ended up booking a hotel half a kilometer from the start of the circuit, which was shocking to me at the time given the amount of participants. What I hadn't realized then was that most of the drivers and support crews are camping so they don't have much of an impact on lodging. This meant I could wake up at 8:30, eat breakfast and still walk to the track before the event start at 9:00.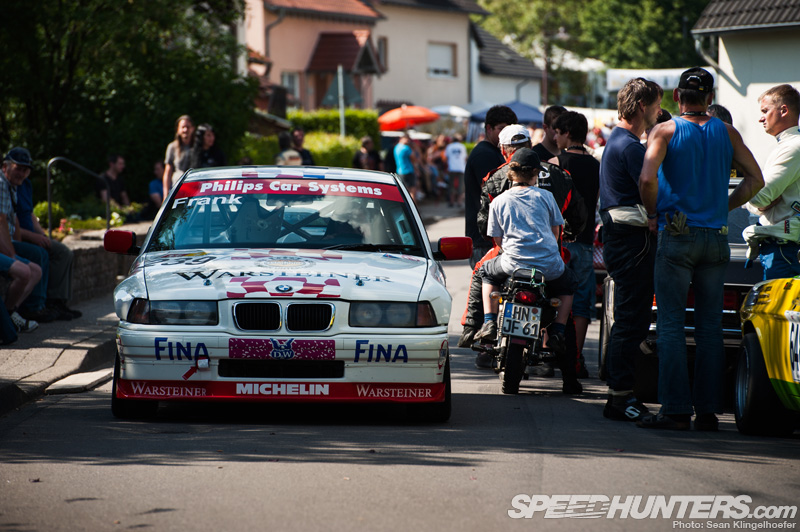 I headed downstairs and quickly gobbled down some cold meat and cheese German style breakfast and hoofed it over to the Berg. Making my way around the last few houses revealed a scene totally unrecognizable from the day before. No longer were the streets identifiable as they were now completely occupied by man and machine.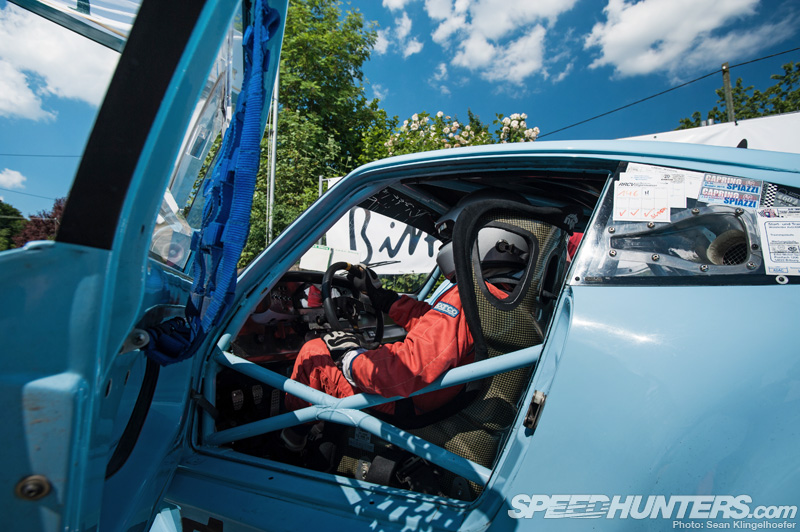 As I got closer to the starting line my anticipation began to build. I knew I was about to witness something incredible, but the magnitude of which I fear I had severely underestimated. Although the engines were still shut off when I arrived you could see the anticipation on the driver's faces. I even saw one driver making a sign of the cross – a reminder of just how dangerous this sport truly is.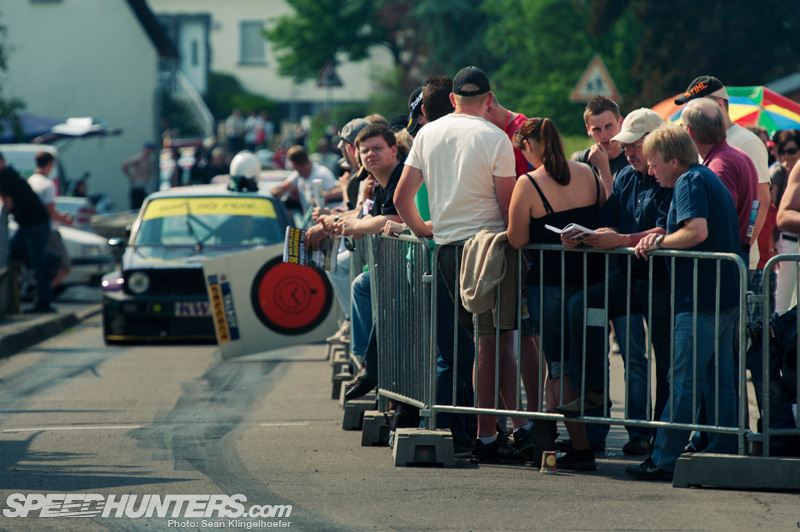 Ironically when I finally made it to the starting line my attention briefly shifted away from the cars. I was momentarily in awe of just how close the spectators can get to the action, as an American who is used to a parking lot between cars and fans this was amazing.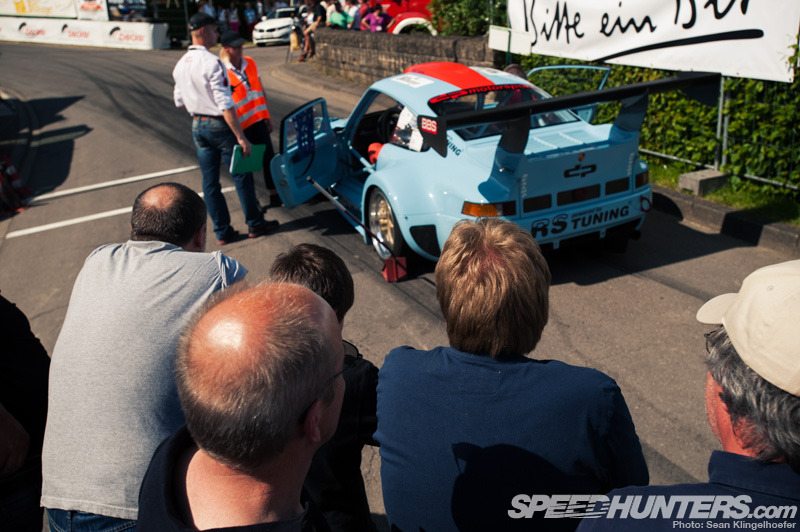 For the cost of entry you gain access to viewing locations that, in some cases, are mere inches away from the cars competing. It's incredible.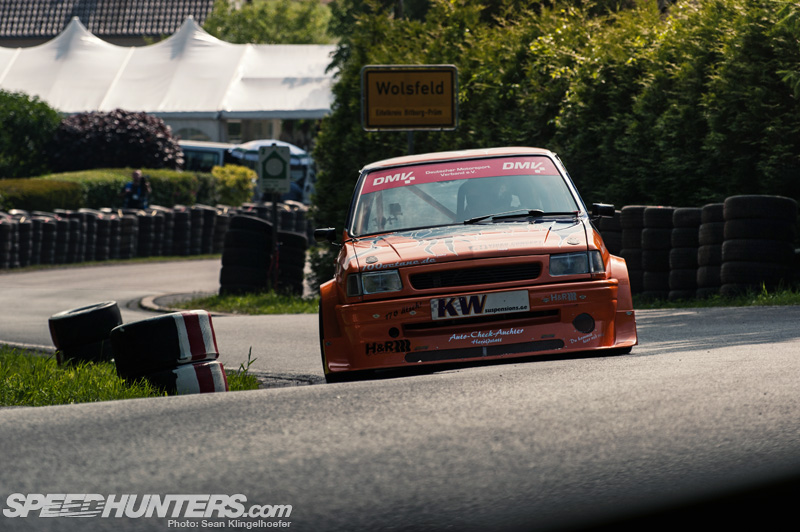 Before long I began my trek up the mountain where my attention once again shifted to the task at hand. In this case the task was making it up the hill along the steep sloped outside of the armco without slipping and falling to a certain death. Getting the occasional shot in here and there was important too, but at this time staying alive took priority.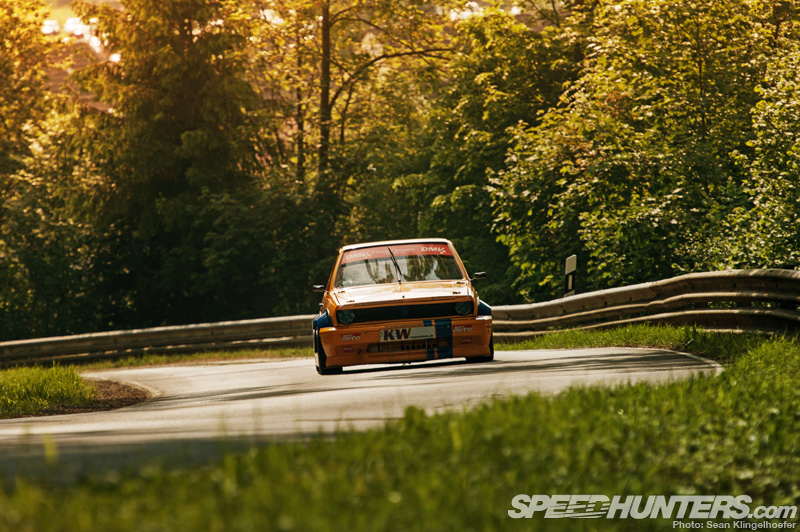 As I moved further away from the town things became increasingly cooler. With every meter of elevation I gained the trees seemed to triple until it eventually got to the point where the pines were acting as conductors of engine sounds. You could literally hear a car echoing off the bark several turns before it would eventually present itself.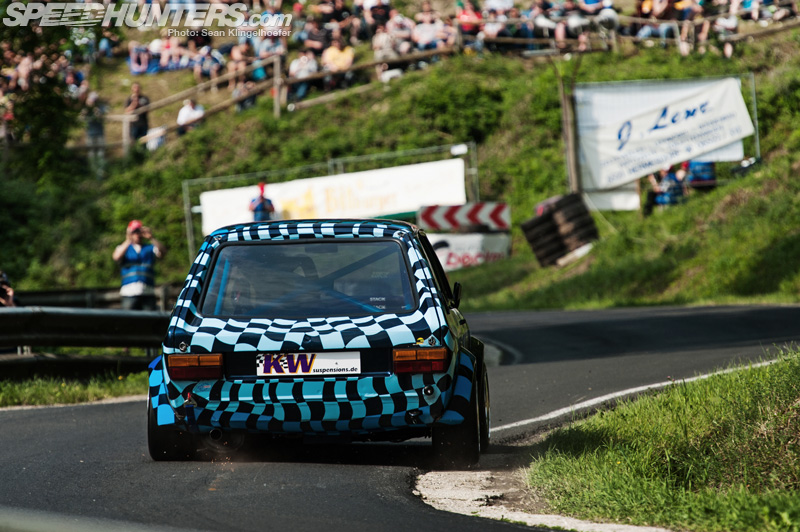 As the cars came screaming, grinding and smashing up the hill, my new found environment made for an excellent game of "guess that engine sound", a favorite pastime of the petrolhead. Though playing alone is not as fun it did save me the embarrassment of guessing incorrectly so often; I cannot recall ever having so many misses. My hit ratio couldn't have bettered 50%.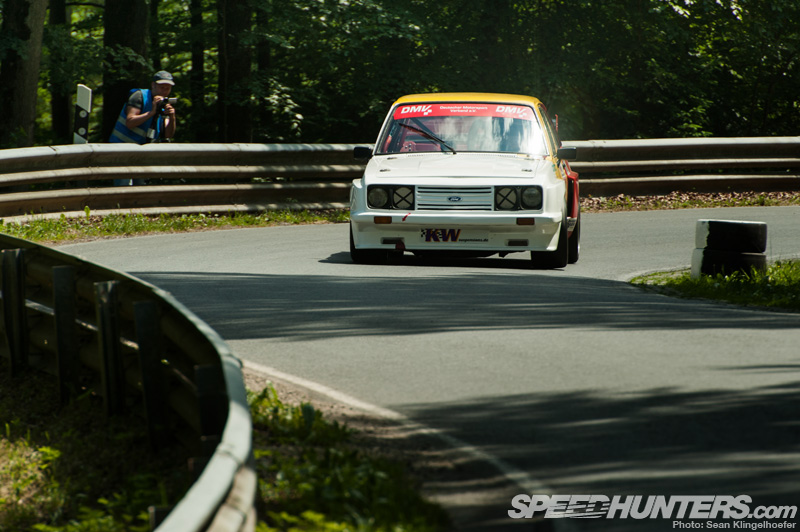 Then again the wide array of cars competing did make things considerably more difficult! While it's nice being an expert about a certain make or model there's something really cool about the discovery of something completely new. I know I already harped on it yesterday but there is some pretty incredible rolling stock competing in Berg Cup.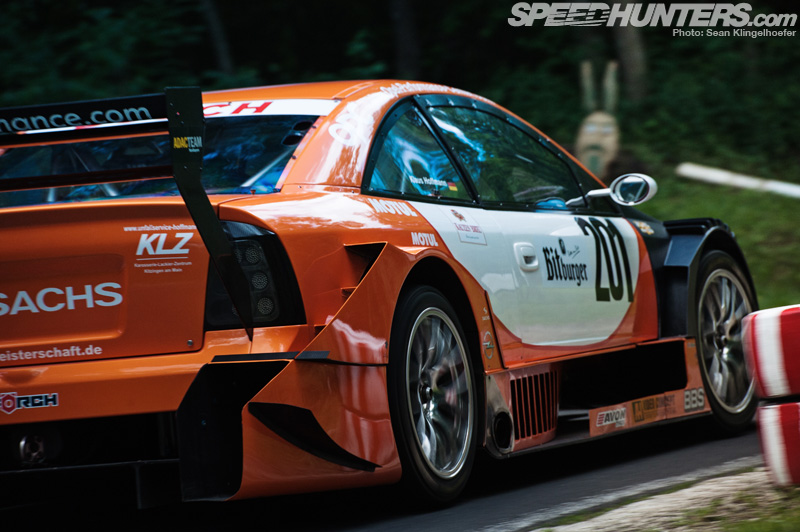 I've seen countless photographs of an Opel Astra DTM car. I've even photographed one in a museum and "driven" one in a racing sim, but seeing such a machine, here, in this place defied words. Every time it went past I couldn't take my lens off it and at less than five meters away I could not only hear the straight exhaust but feel it in my chest.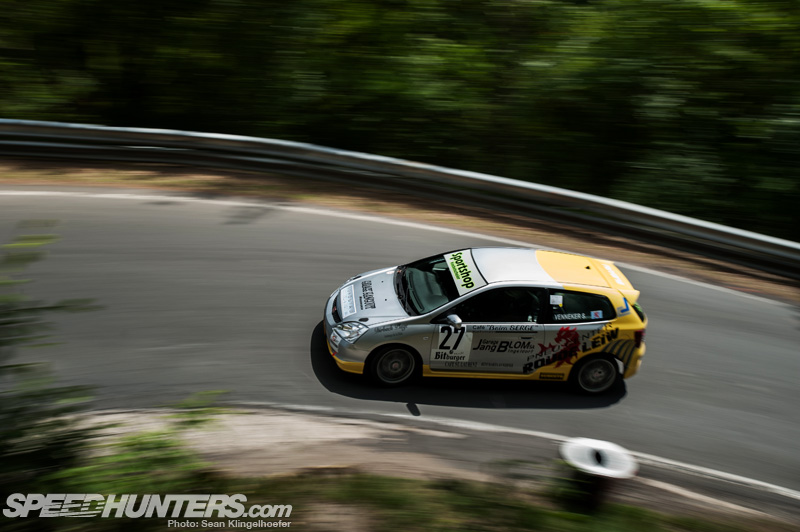 The fact that cars as exotic as former DTM contenders are sharing the same stretch of asphalt with the likes of EP3 Civic Type Rs really puts a smile on my face. Both are pushing the very limits grip, albeit at slightly differing speeds, with the same general disregard for danger. I can think of few other places where one could encounter such a spectacle.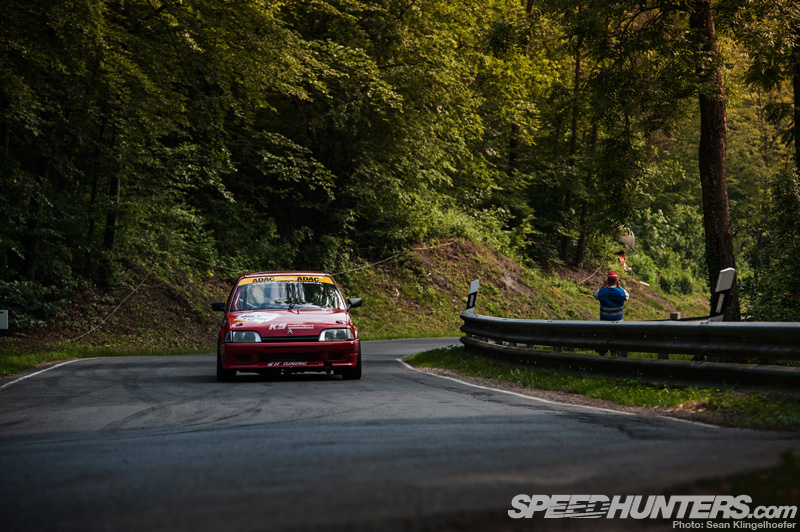 I was in a constant state of awe discovering new cars at a rapid rate. The Citroen AX was one such vehicle, previously unbeknownst to me, that I had taken a new interest in by the end of the day.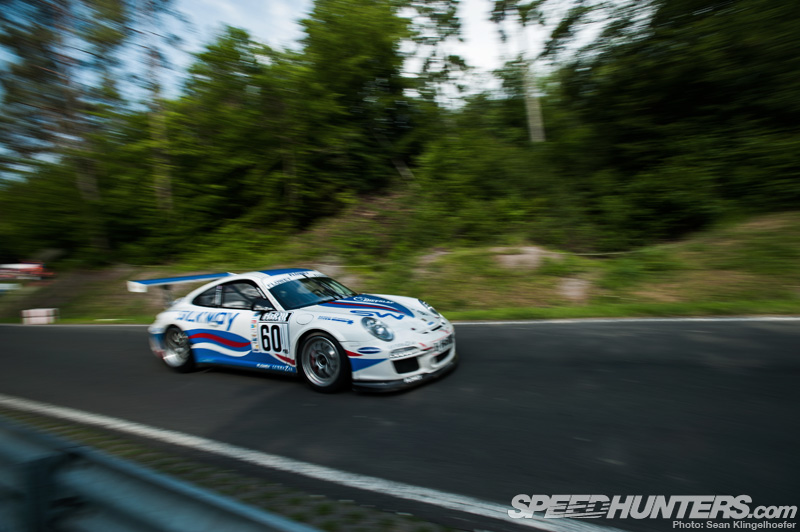 Of course there were also plenty of cars I was more familiar with, like "the swiss army knife of racing" aka a Porsche 911 GT3 Cup Car.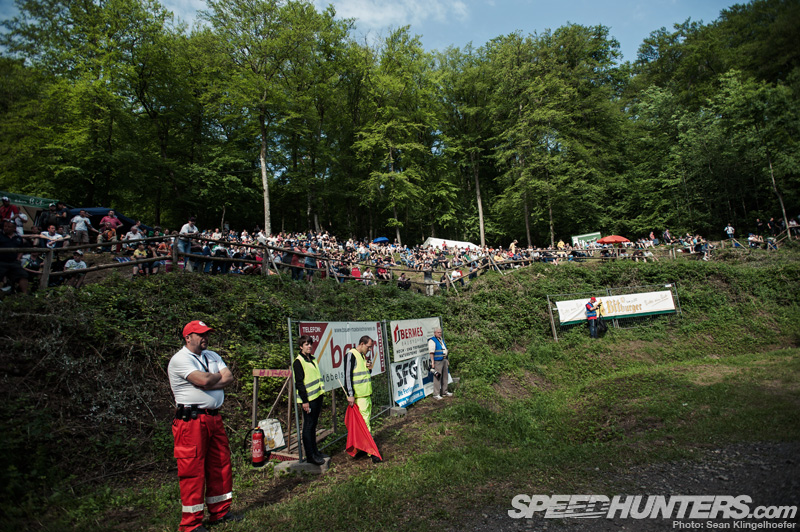 Before long I happened upon the half-way point on the course, aptly named "Bit-Kurve". I say aptly because the town of Wolsfeld is only a few kilometers away from the city of Bitburg, most well known for the beer produced there under the same name – Bitburger. It's a very popular beer in the entire region, even at Nürburgring, but given the proximity to this event the town is converted into a giant Bitburger billboard.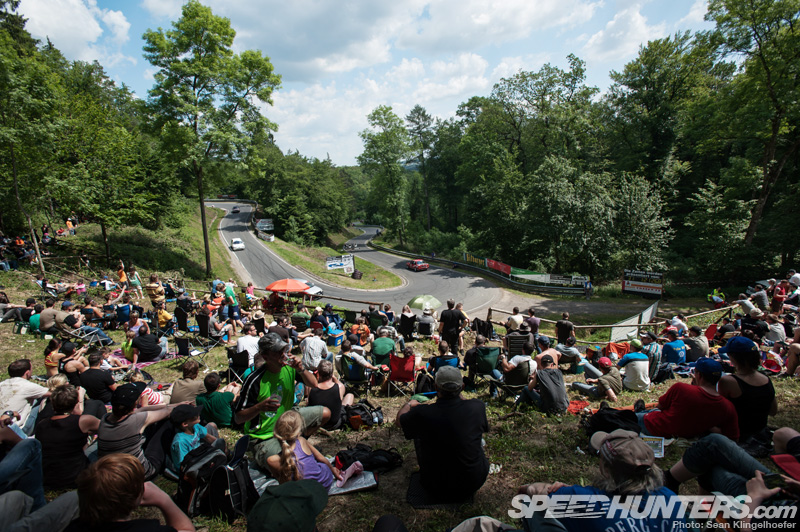 At this point there was an intermission so I took a moment to once again gawk at how good the fans have it. Lining the hillside and the surrounding forest the fans could buy cold beer and enjoy and incredible view of the tightest hairpin on the course with two additional corners also within sight.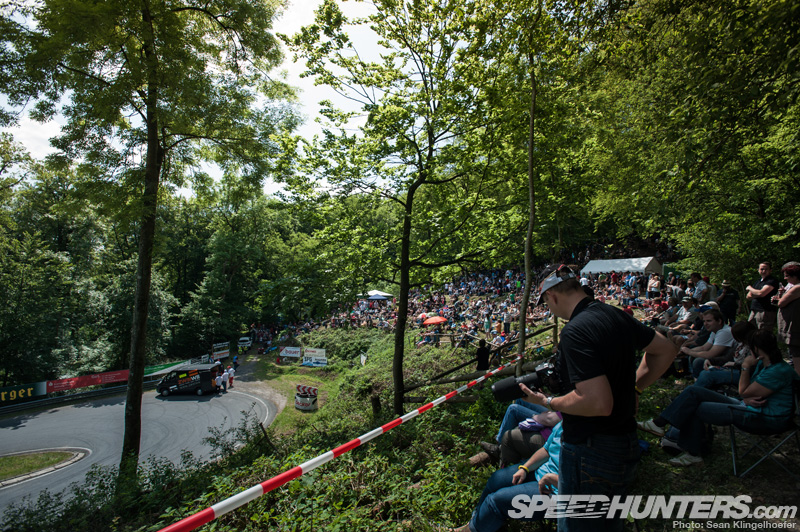 Seeing all the people enjoying nature, beer and motorsport in three equal parts reminded me once more of the Nürburgring. As you can see many of the spectators are were also hunting speed and to be perfectly honest they had some incredible vantage points from which to do so. Being that the track is free of catch fencing I found that in many cases the spectator areas were just as good, if not better, then those allowed only to press.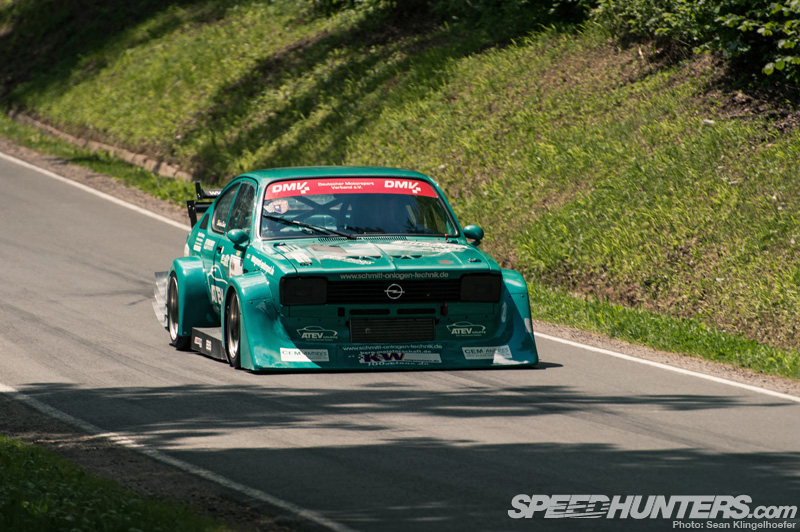 When what I can only presume was a beer break German lunch break, the action resumed. As I was a little closer to the crowd at this point it was interesting observing the spectators and seeing their reactions to the cars. It was clear at hill climb the vast majority of people are there for the love of motorsport, one major difference compared to the N24 where at least half of the woods are occupied by party people.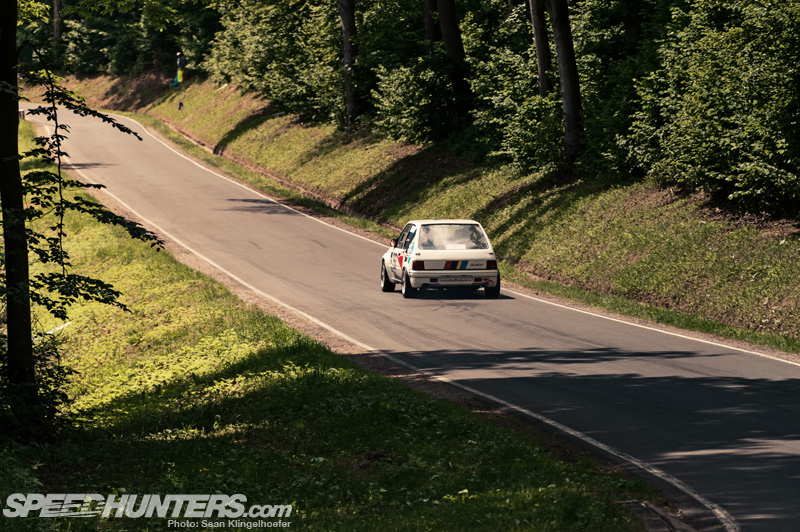 More cars of all shapes and sizes would charge up the hill, one by one, until they reached the ending point where they would wait patiently to be collected by the safety cars…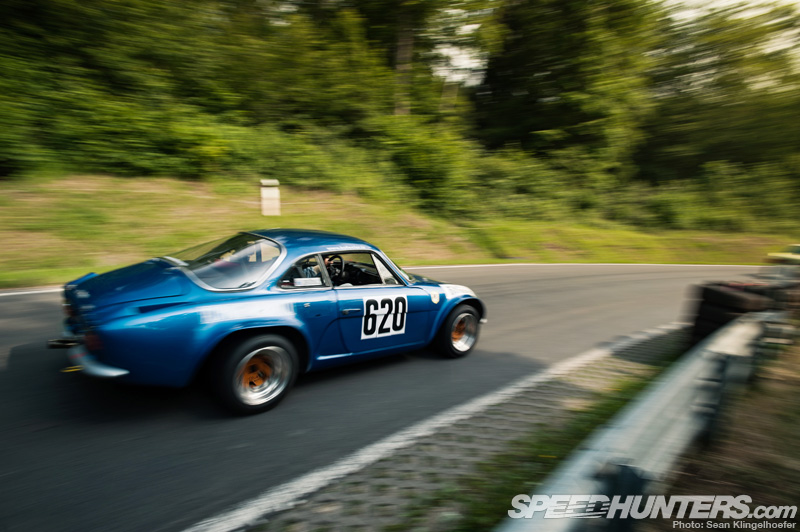 …So they could drive as a pack back down the hill to regroup and begin again.  For spectators this means, aside from beer-o-clock, a nearly non-stop stream of action.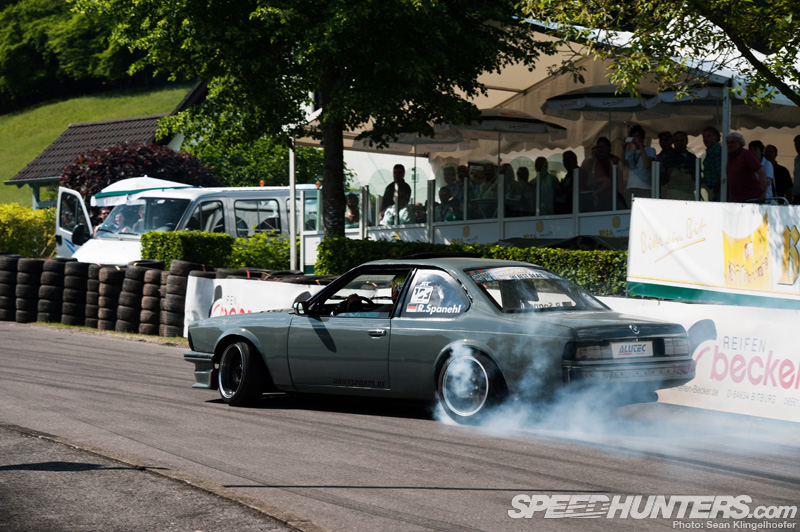 I'm not sure if it's customary at all Berg Cup stops, but for this event there were a pair of drift cars doing demo runs up and down the hill between run groups. When these cars smoked their way sideways up the course the crowd went completely bananas.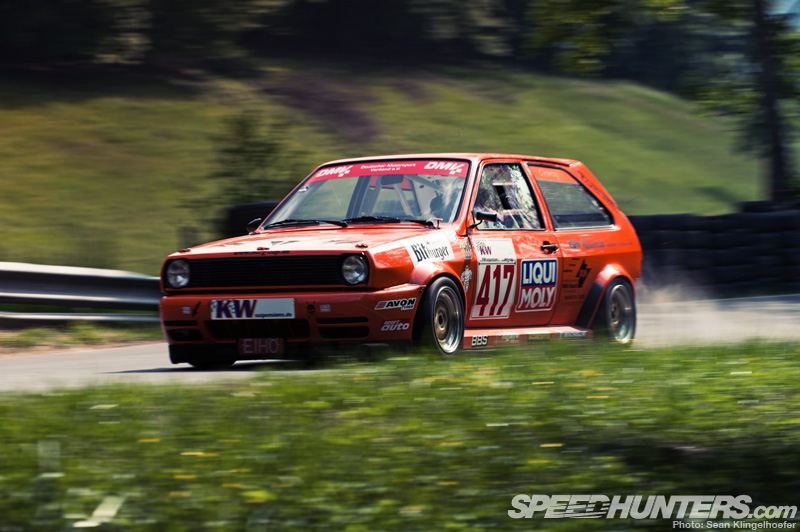 All afternoon cars of differing shapes and sizes would fly through the dirt, jump curbs and slide the hairpins in their homemade racers. The fact that some are faster and fancier is of little concern when you're there, you actually end up cheering for the little guys. I fell in love with the Group H 1300cc class which consists almost solely of VW Polos and Golfs.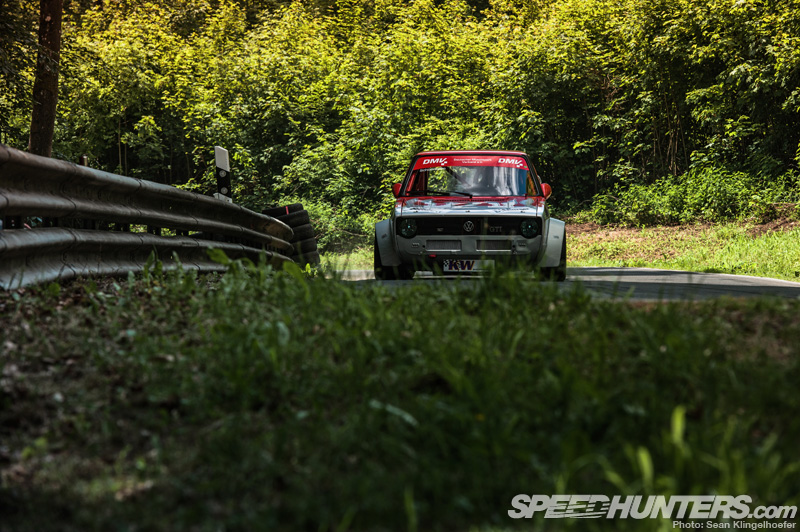 But there are even crazier examples of the same cars in Division II like this GTI in the 2000cc class. Some of the custom wide fenders are so massive they have to be seen to be believed, and in some cases even after seeing it you walk away dumbfounded.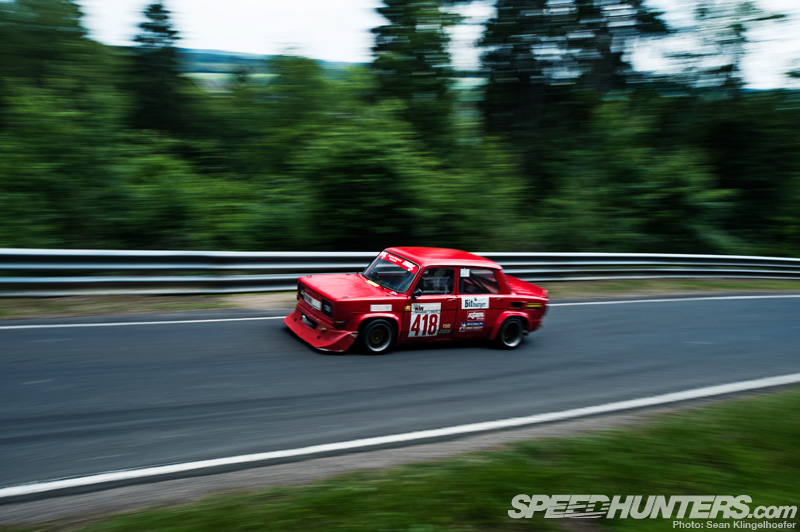 As the day was coming to an end I realized that I had spent many hours essentially hiking through the woods with, because of my language disability, very little idea of what was actually going on. While this was an unfamiliar feeling being separated allowed me to observe things I would have otherwise been likely to have missed.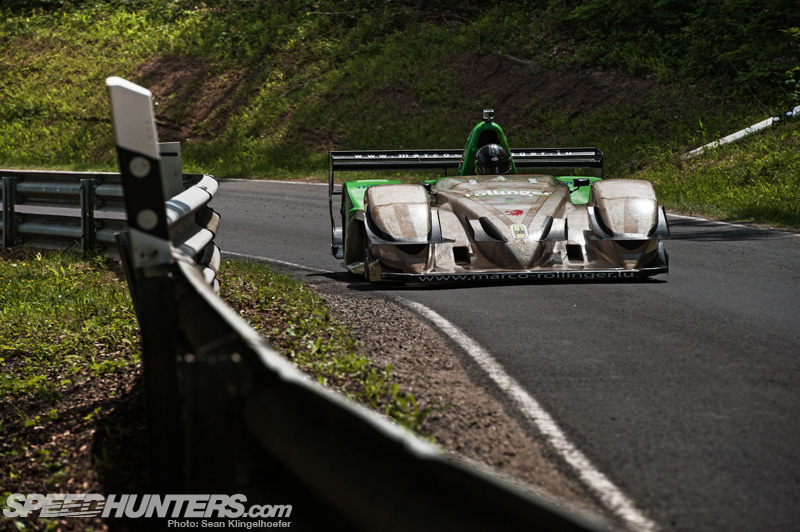 I thought a little more about how the similarities and differences between this weekend and that prior at N24. One thing that really stuck out was how few media outlets were covering this event. During the course of the day I walked from the bottom of the circuit to the top and then back down again and I couldn't have come across more than ten other people in media vests. For such an incredible event how could this be?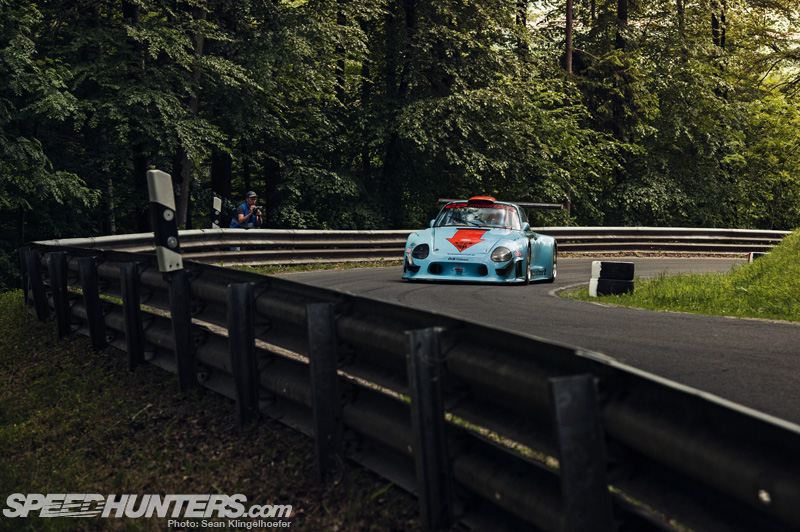 I mean here I am after traveling halfway around the world with my jaw on the ground deep in a forest echoing with horsepower at the 50th anniversary of the longest running hill climb in Berg Cup and it's like no one even knows it exists. The fans, the sponsors and the cars are there but there's hardly anyone to report it.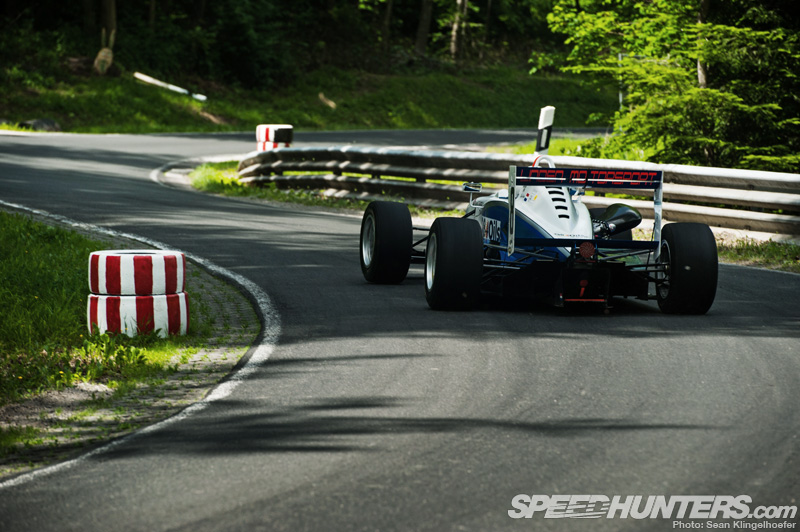 But perhaps greater publicity would only bring in the wrong kind of attention, the kind which could turn Berg Cup into just the sort of business-run motorsport to which it is seemingly the antithesis. There's something brilliant about a bunch of guys coming together and risking their lives without concern for budget or, to certain extent, rules.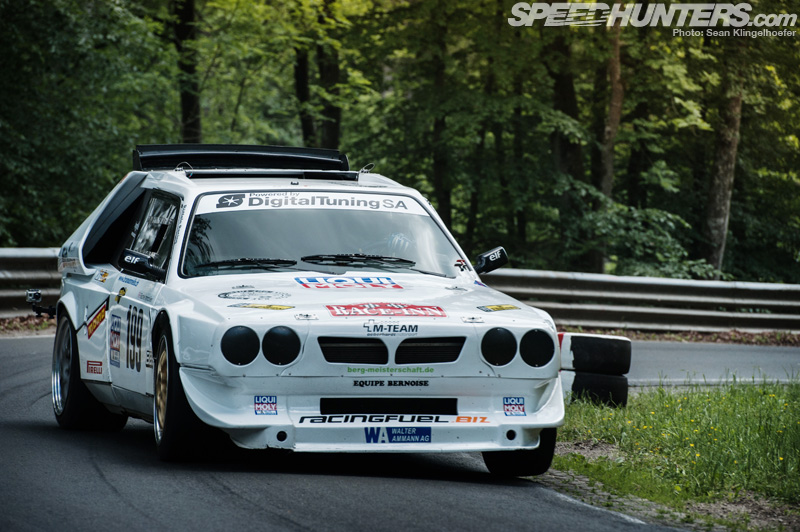 If I'm getting a bit long in the tooth here let me be blunt. If I had to pick one motorsport you absolutely have to see, no matter what the cost, it would be Berg Cup. The cars and circuits are reason alone to check out an event for yourself but given the incredible access you get as a spectator I can't stress enough getting out to an event if at all possible. The fact that it only costs ten euro to do so is mind boggling. For my money this is hands down the best buy in motorsport.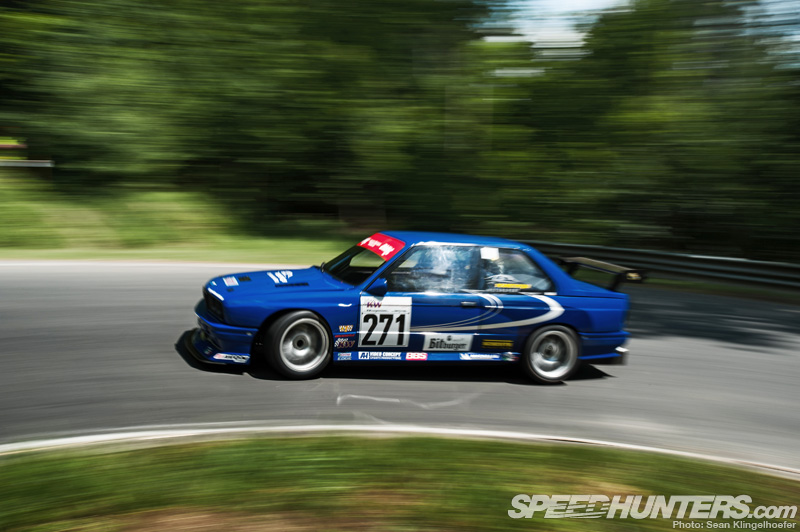 At the end of the day I'm pretty sure somebody, I'm not sure who, won and likely many lost, but none of that mattered. The drivers didn't seem too concerned with how they placed and it was of little importance to the fans and even less to me. It was a celebration of everything we love about motorsport without the politics. It was perfect.
More stories from Sean Klingelhoefer on Speedhunters
More Hill Climb stories on Speedhunters
– Sean