It seems like every weekend I check my Twitter or Facebook and come across a racecar driver showing a photo of a cockpit of a race car and calling it 'My office for the weekend'. I thought it would be neat to show you Speedhunters out there what the offices of the Formula Drift drivers looked like at Formula Drift Road Atlanta. As you can see, smoking at work is permitted for these fellas.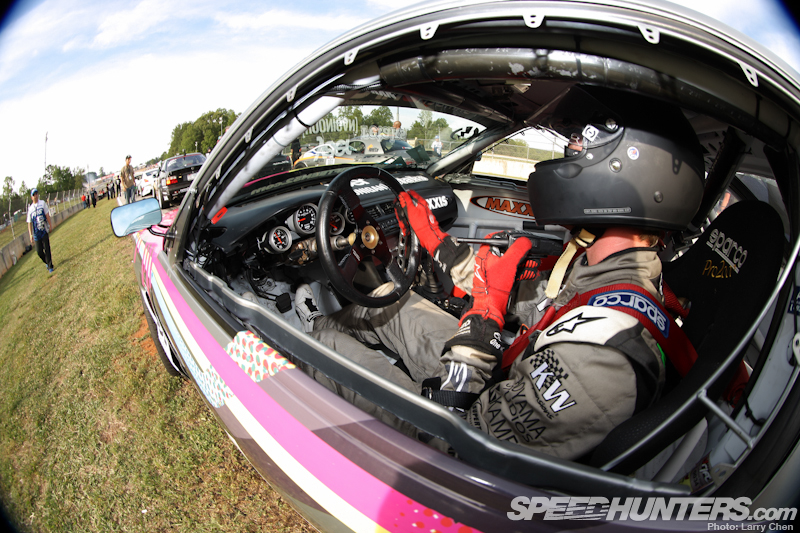 This cubical was fairly new to Ryan Tuerck. This was only his second event behind the wheel of this LS-powered S13.5, but the way he drove it makes me wonder if he has been in the same office for his entire life.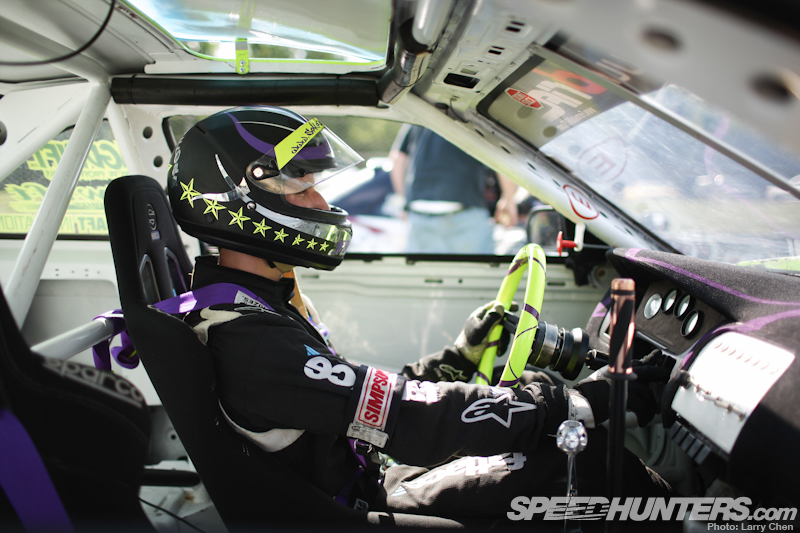 Matt Field must have been one of those kids who collected highlighter pens when he was in grade school.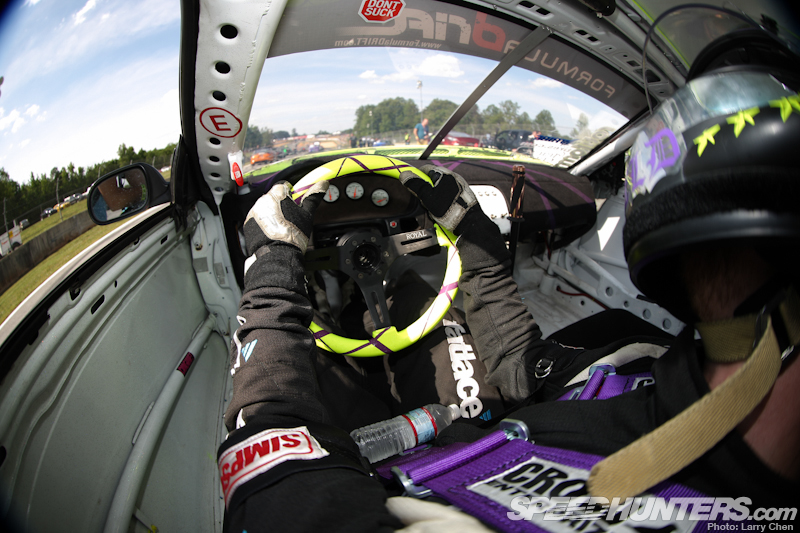 I was surprised his steering wheel did not blind him when he was driving at night.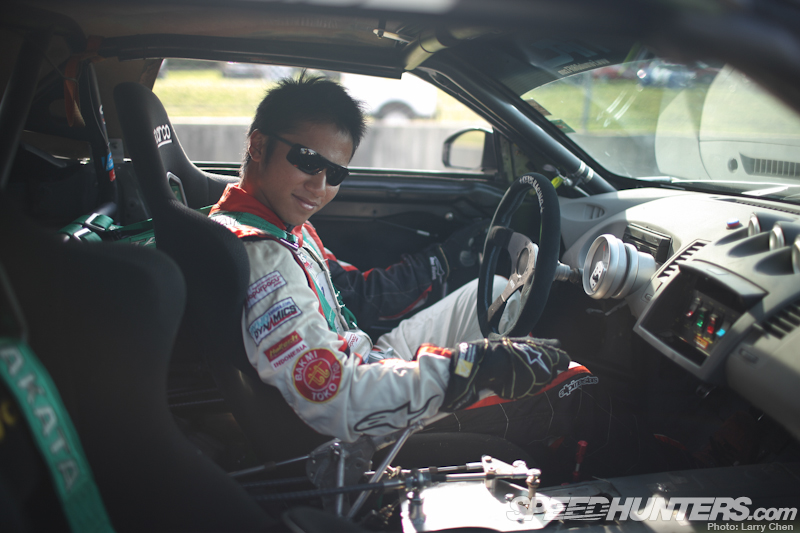 Emmanuel Amandio has the weirdest office I have ever seen. He has two e-brakes and his shifter is on the left, even though his 350Z is left-hand drive.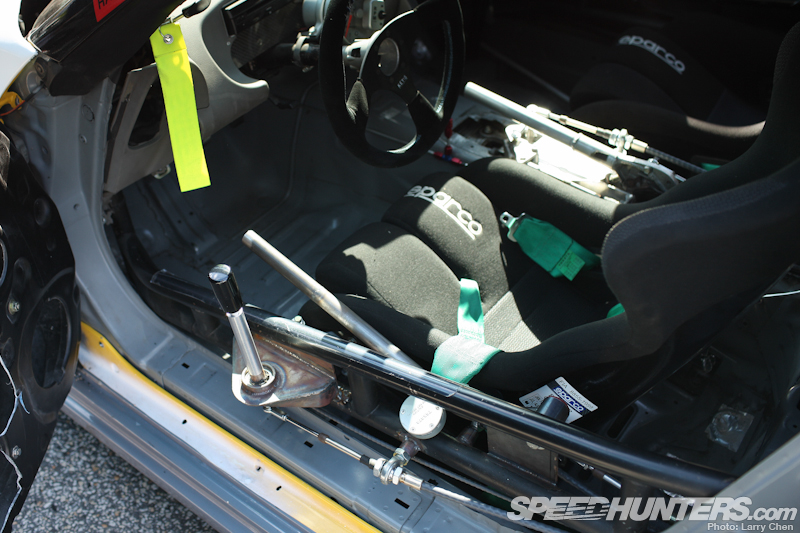 He is not used to driving left-hand drive, so Gary Castillo, the mad scientist of Design Craft Fabrication, cooked up this crazy contraption to make it easier for Amandio to drive this beast.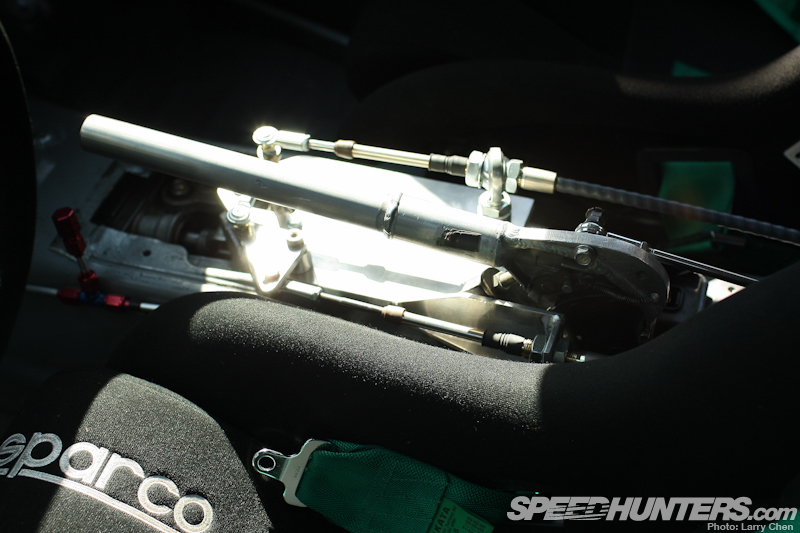 You would think with all that cable there would be a lot of play in the shifting and e-brake, but there is none whatsoever.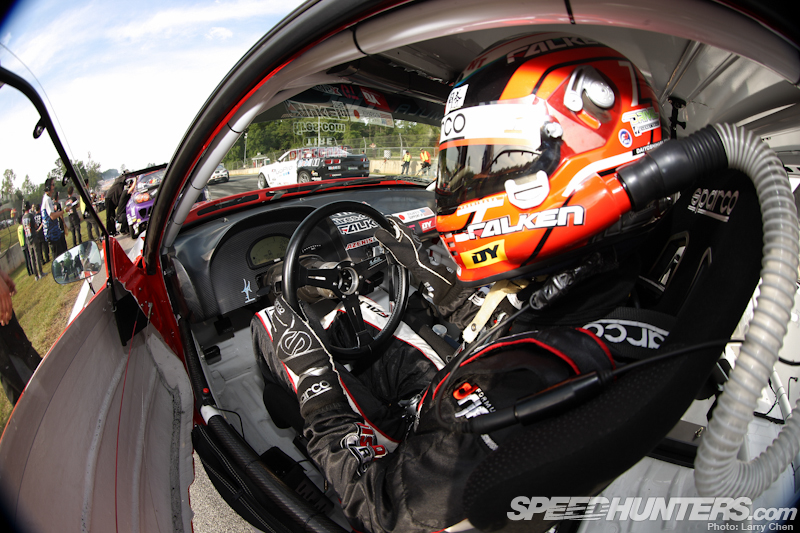 I always thought these helmets made the drivers look like fighter pilots.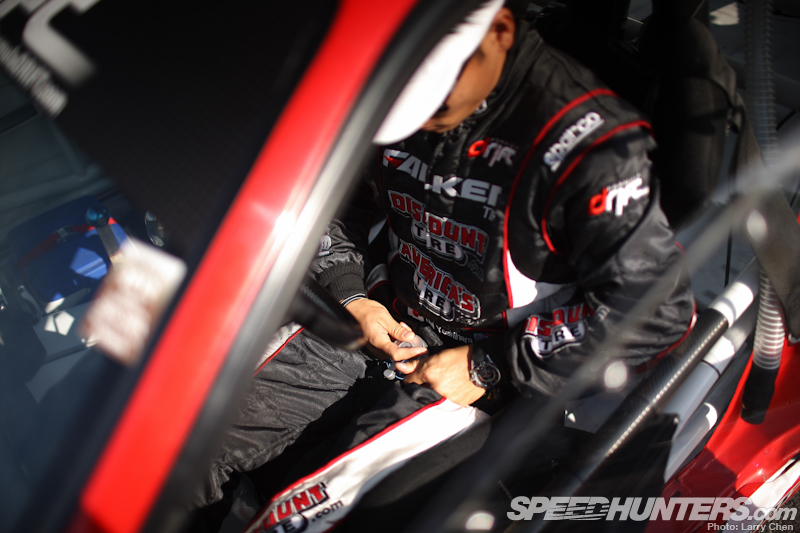 It is interesting that most of the Japanese drivers are used to driving with the window up.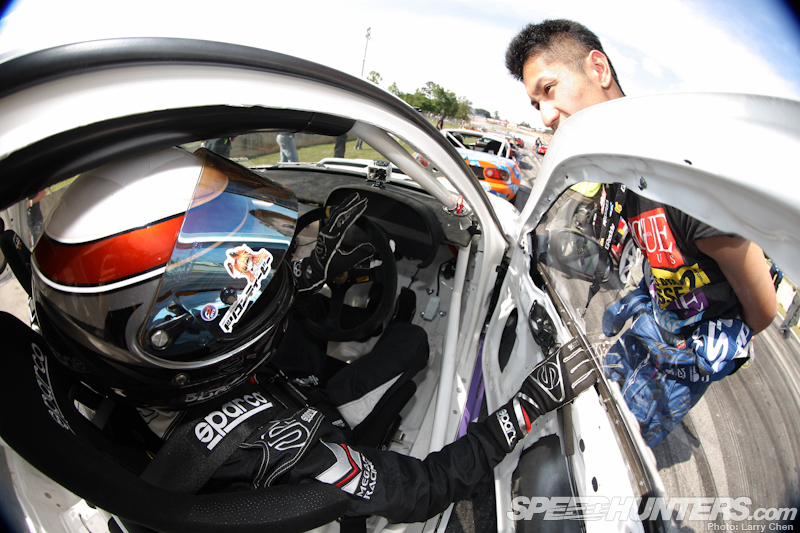 That is why their doors are always open when they are on grid. I guess it is to prevent their arms from getting crushed in case of a roll-over, since they are not running window nets.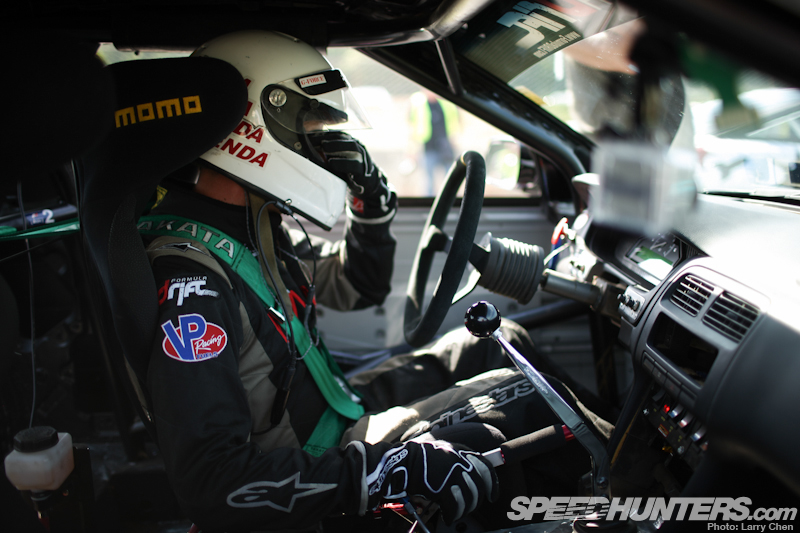 It was so incredibly hot in Dennis Mertzanis' office that he wanted to gouge his eyes out.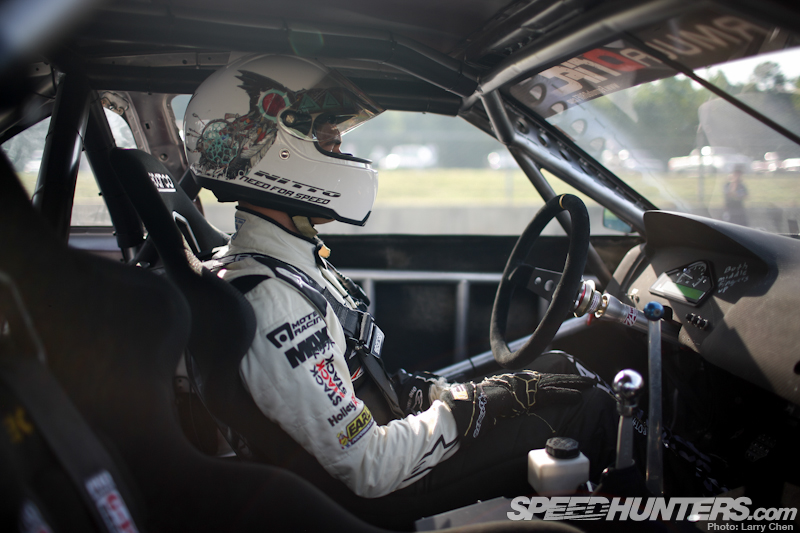 Some kids just wanted to draw on everything with crayons when they were little. I am guessing Matt Powers was one of those kids.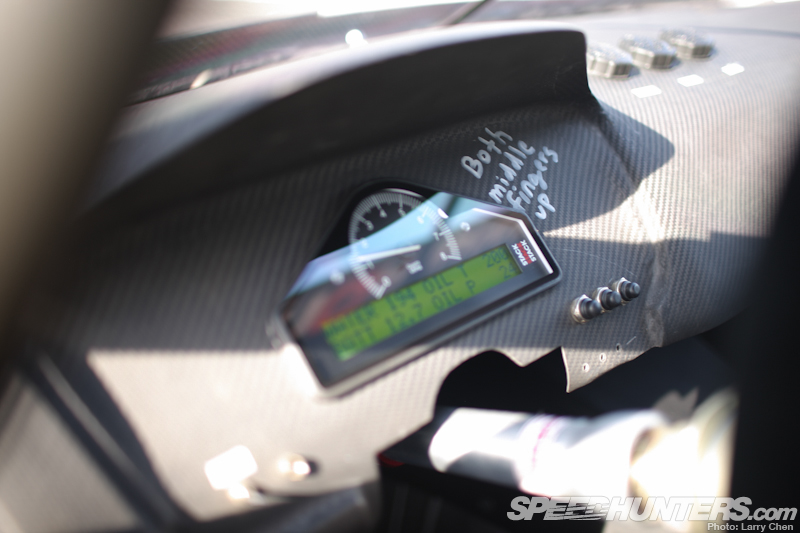 This car is all-new, so he only has a few scribbles so far.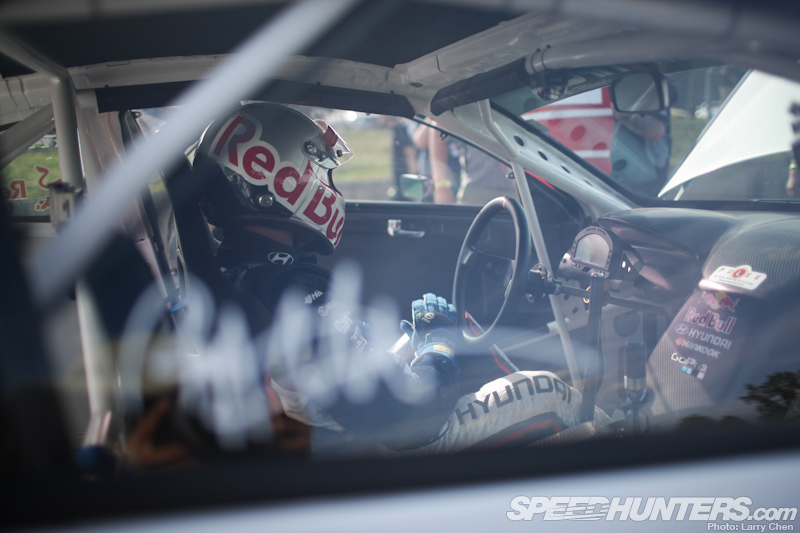 Rhys Millen loves the view from his window office.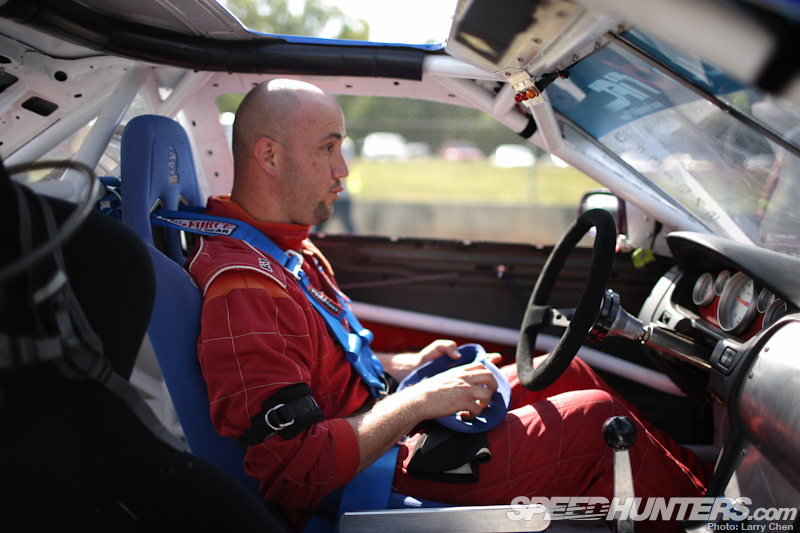 It must have been casual Friday for Jeff Jones' work place.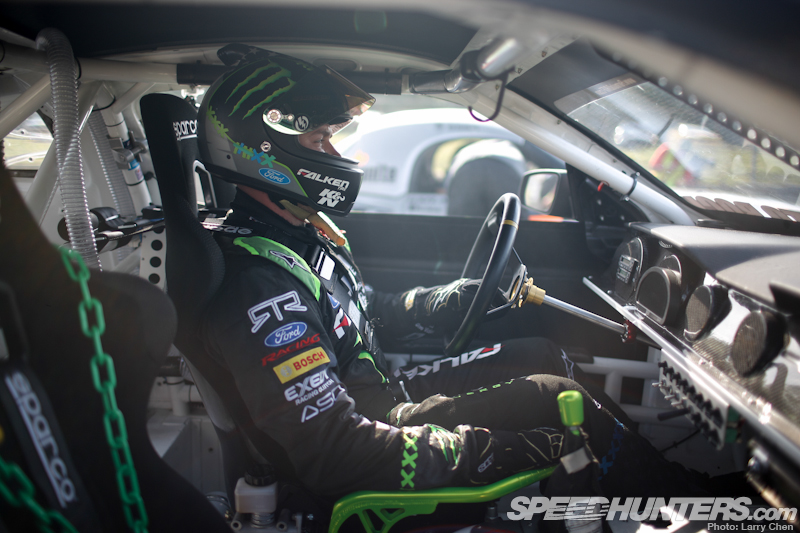 For someone as tall as Vaughn Gittin Jr, I was suprised to see how close he sat to his steering wheel. Maybe it is easier to let the wheel slip through his fingers during transitions.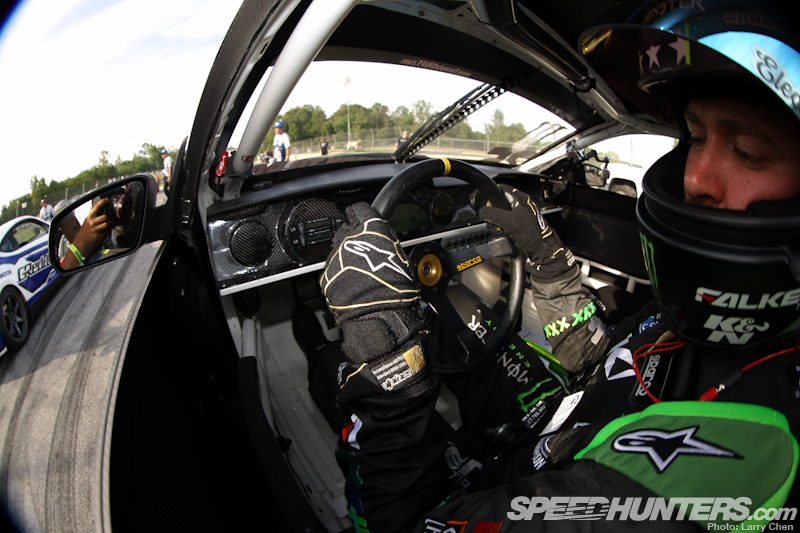 Vaughn is the only one on the grid with a stereo in his car. I often find him rocking out as he pulls up to the line. That is why he is always 'ready to rock'.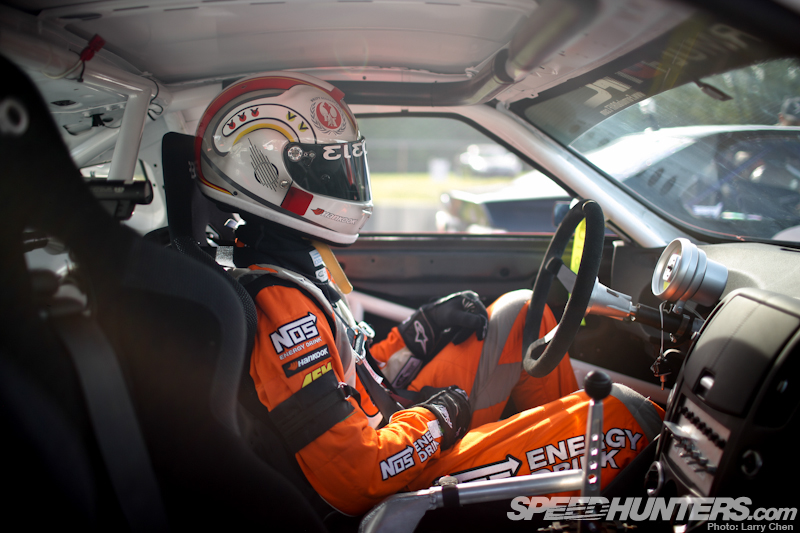 Chris Forsberg, the famous X-wing fighter pilot from the Drift Alliance squadron, locked his S-foils into attack position on the gird.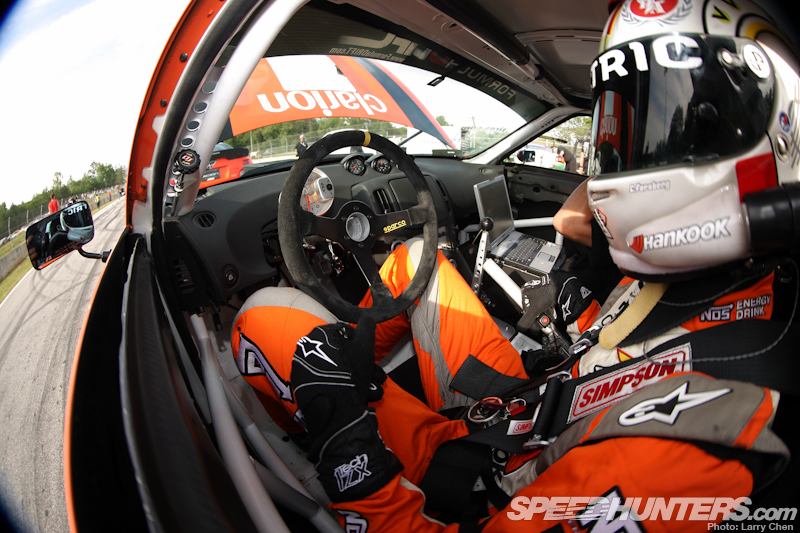 This one was strong with the Force – but he didn't switch off his targeting computer when he starting his attack run.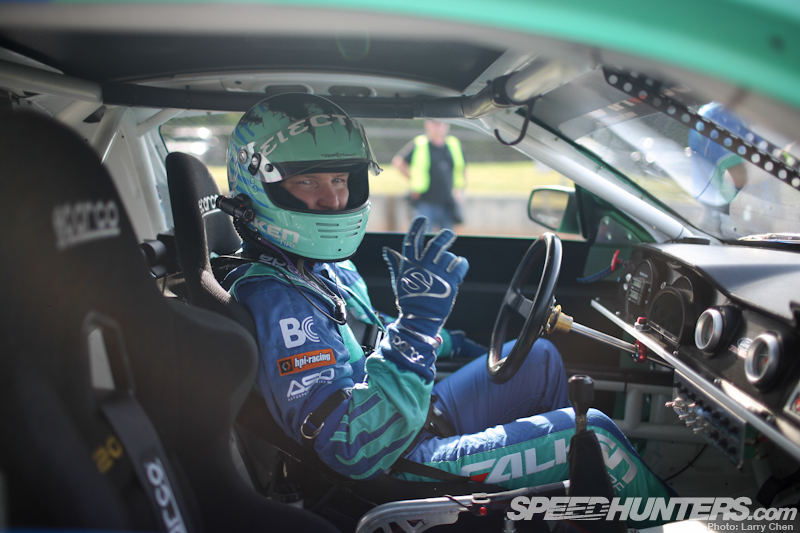 These aren't the droids you are looking for… move along now… Ok, I will stop with the Star Wars references.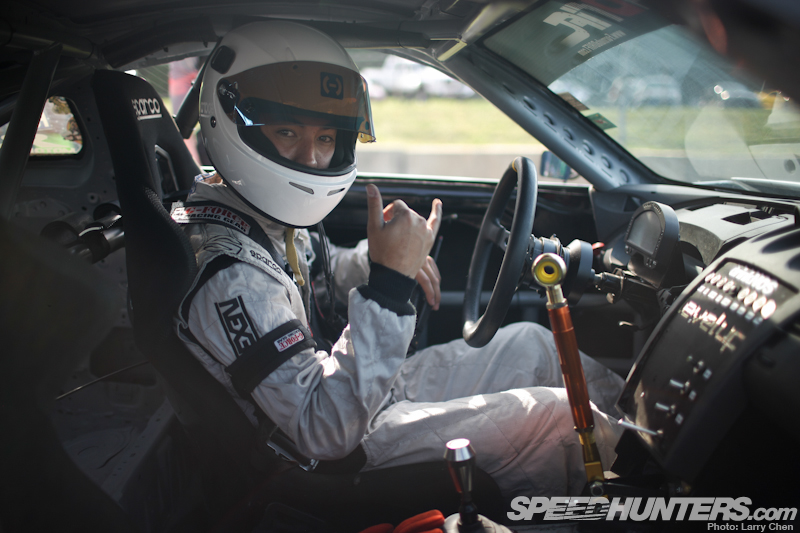 I just love how creative some of these guys get when it comes to their e-brake levers.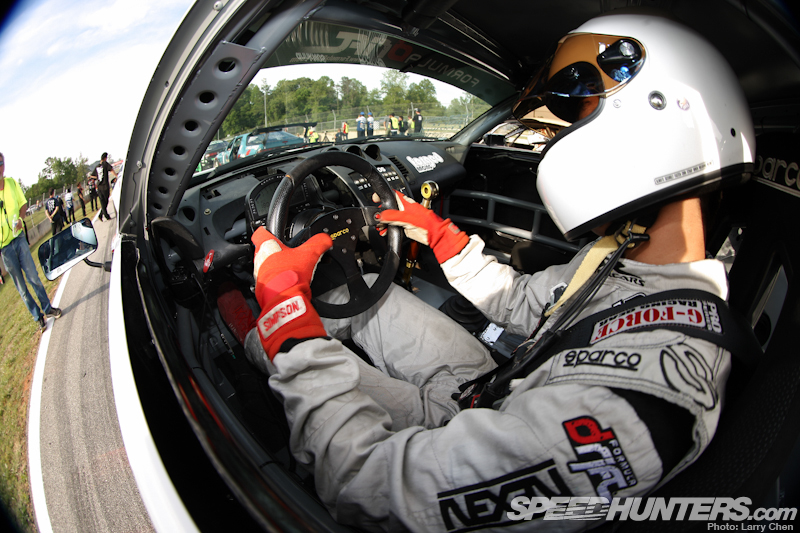 Ryan Kado gave me his best Vin Diesel impression while pushing the red buttons on his Sparco steering wheel.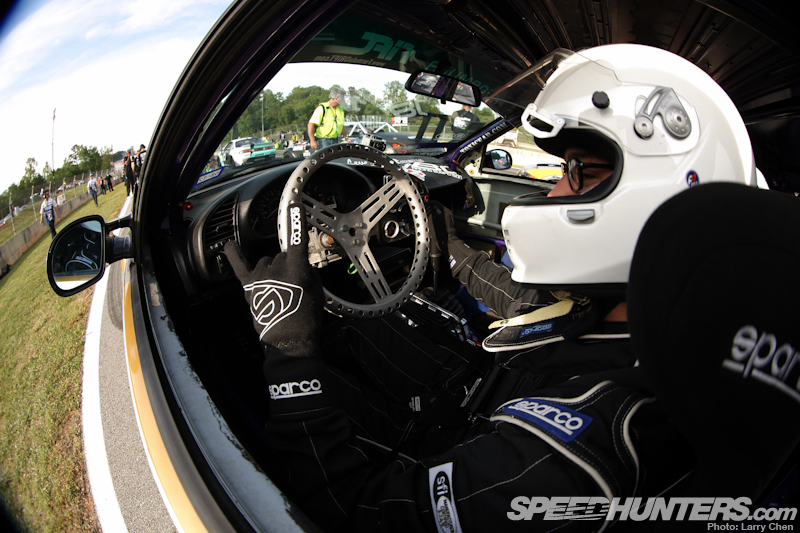 Without a doubt, the Non Stop Tuning BMW E36 M3, driven by Chelsea Denofa, had the coolest steering wheel on the grid.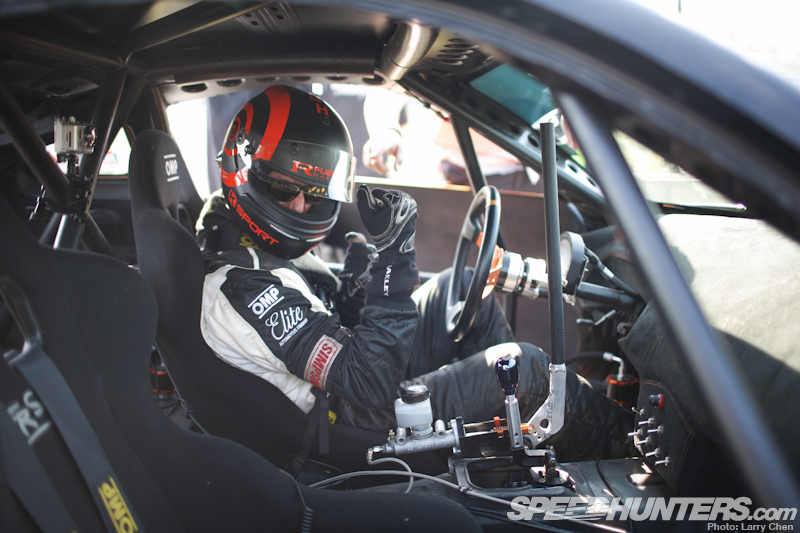 With guns like that I don't know why Corey Hosford needed so much leverage with that huge e-brake handle.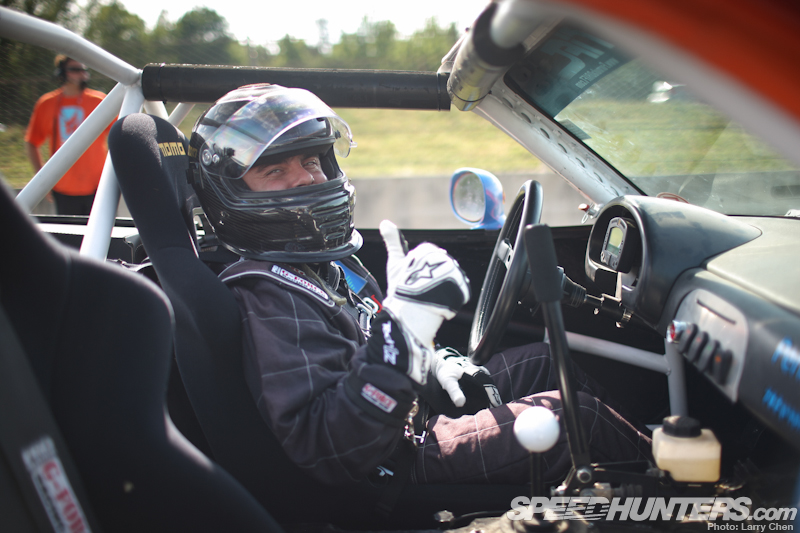 Everyone else was suffering in the heat, while Danny George enjoyed the sun in his LS-powered Mazda Miata.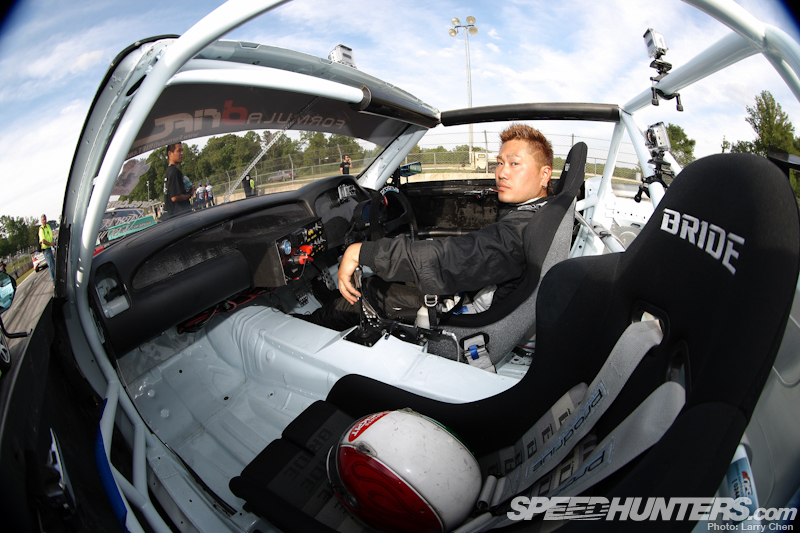 Daigo is another driver who enjoys the wind in his hair. I love race cars that still have the stock dashboard. This one just has a few minor tweaks but it still has the essence of a luxury car. I actually miss the convertibles that were competing in Formula Drift. Now there are only two remaining.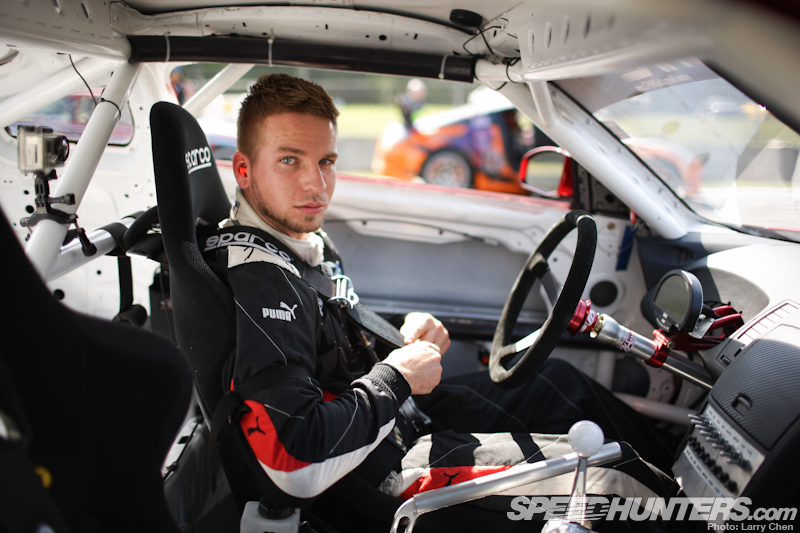 David Brigg's office was not in operation so he was not in the best of moods. Hopefully he will get all the kinks ironed out before West Palm Beach.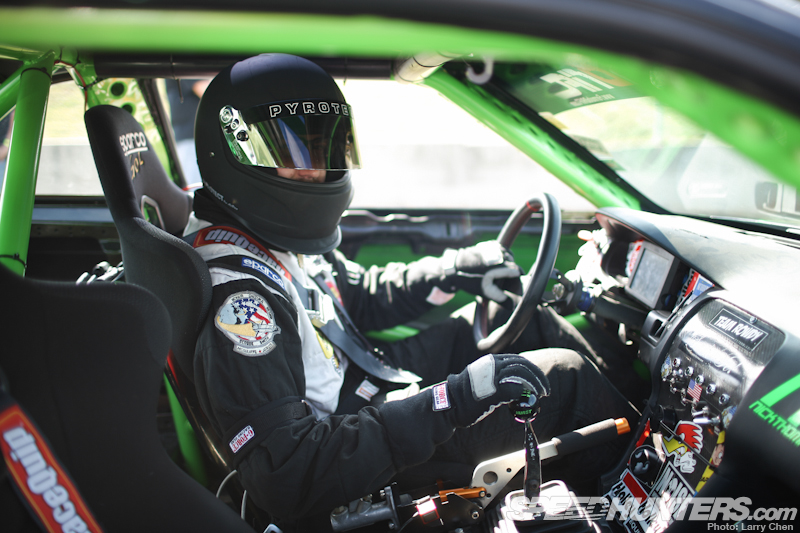 It seems Nick Thomas has quite the sticker collection going on around his center console. However, he seemed to be missing the all-important Speedhunters sticker.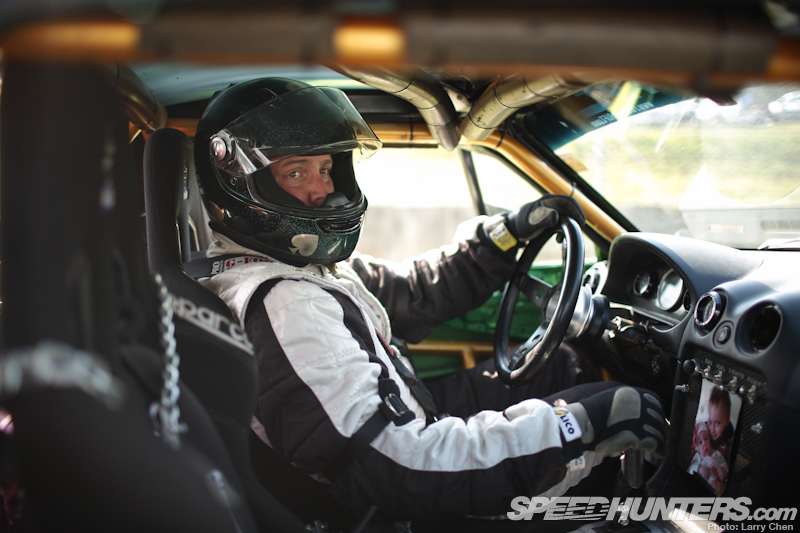 Just like any office, this drifter-dad plastered photos of his family around his cubical. Jarod Deanda, the Formula Drift announcer, has a saying for Jeff: "It's the biggest man in the littlest car".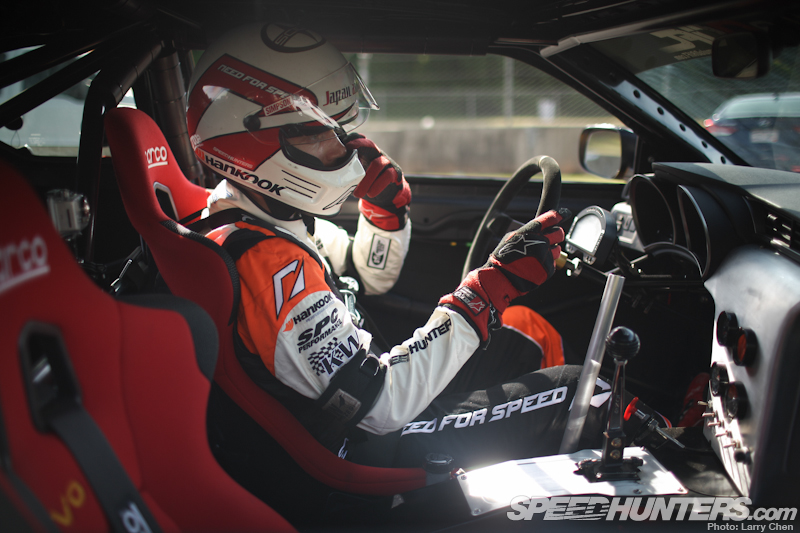 This is one of the few cars that I have ridden in. It actually had much more legroom than the airplane I flew in on.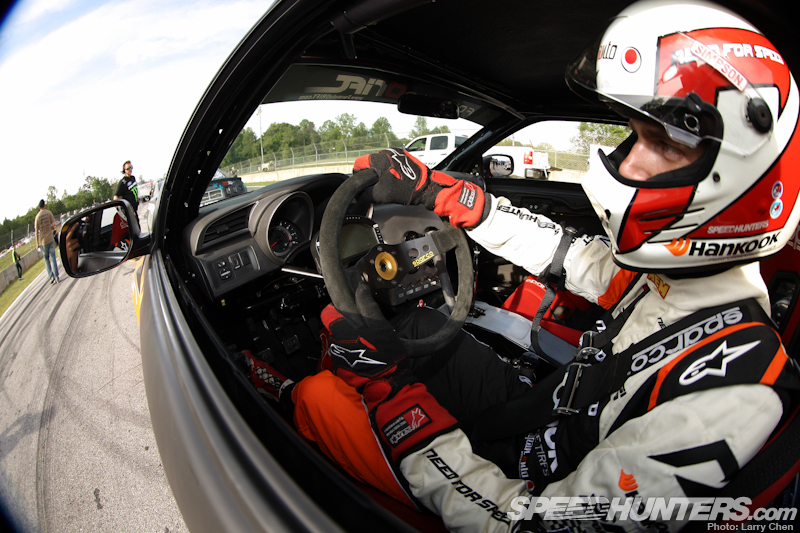 Fredric does this thing where he pretends to drive the course as he makes engine noises.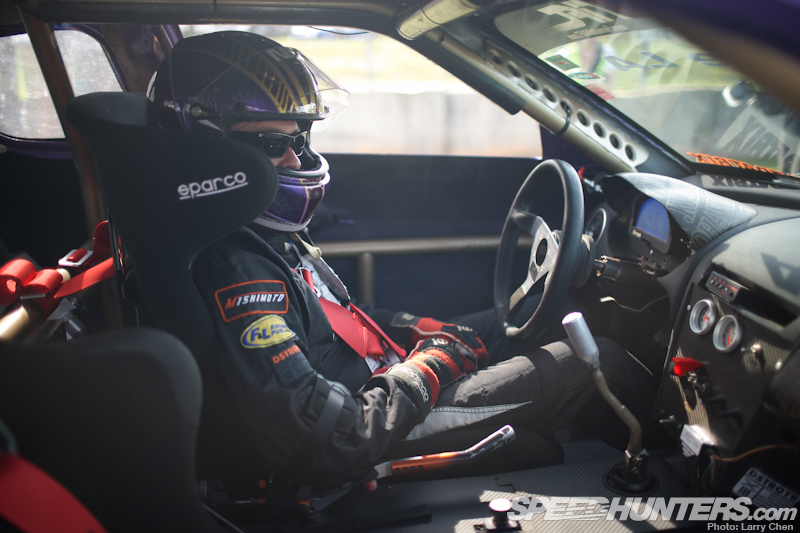 Normally you would see Kyle Mohan sitting in his office chair while wearing a HANS device. Kyle has the unfortunate record for the highest speed crash, at 106mph into the tire barriers at Las Vegas Motor Speedway last year. However, Road Atlanta has much fewer walls and lots of gravel traps to slow you down fast, so it was not as important to wear the HANS.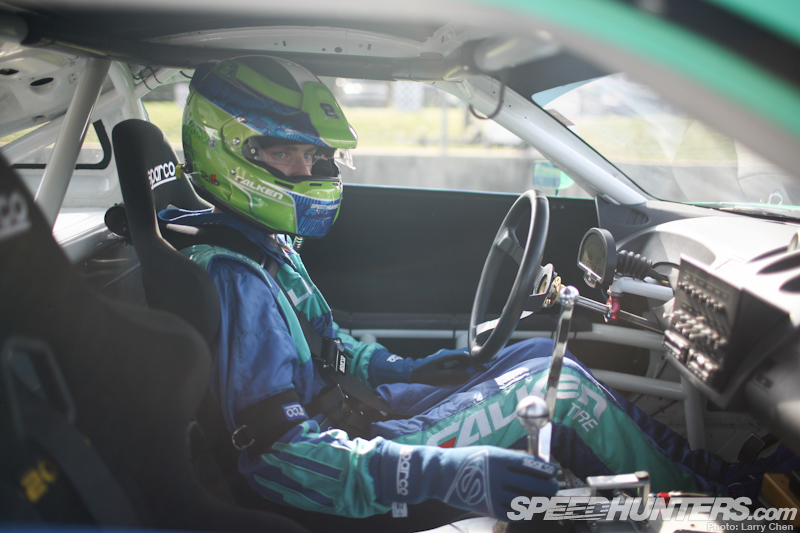 Darren McNamara was not used to his new office. This was his first competition driving on the left-hand side.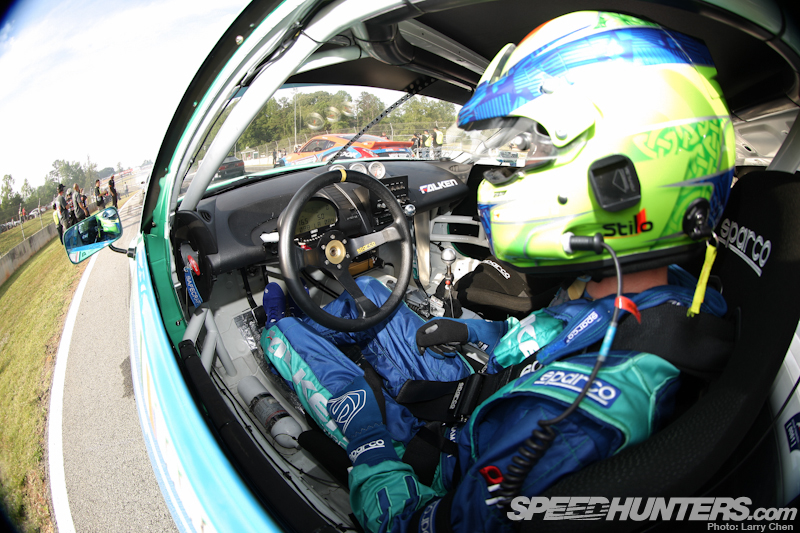 I'm sure he banged his left hand on the door a few times throughout the weekend.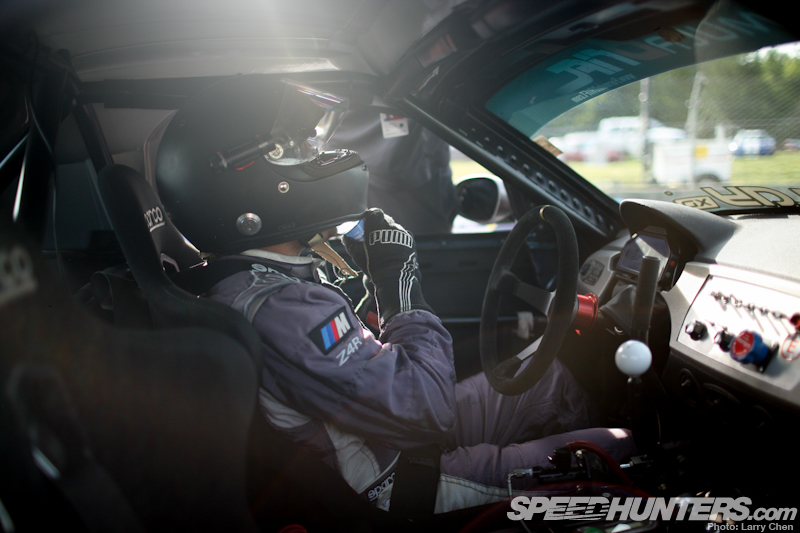 Because the runs are so short none of the drivers have a drink system that would be found in many racecars built for endurance racing.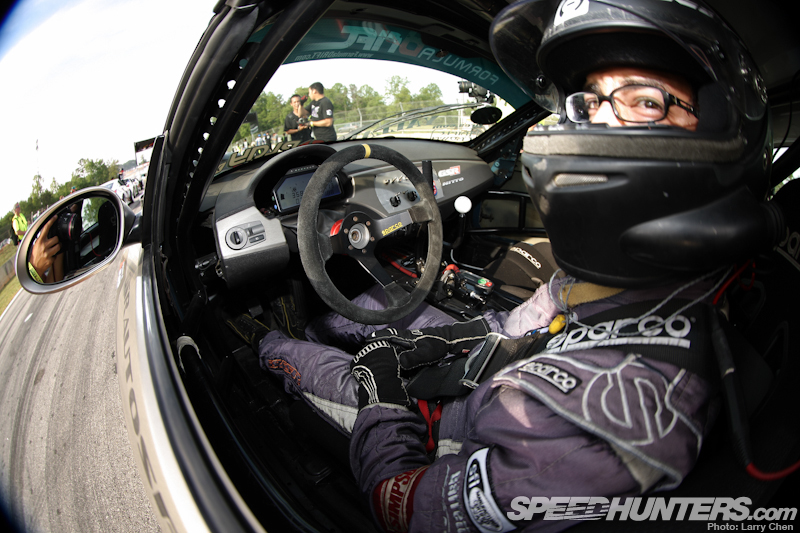 I can guarantee you there is no iDrive knob in this BMW Z4.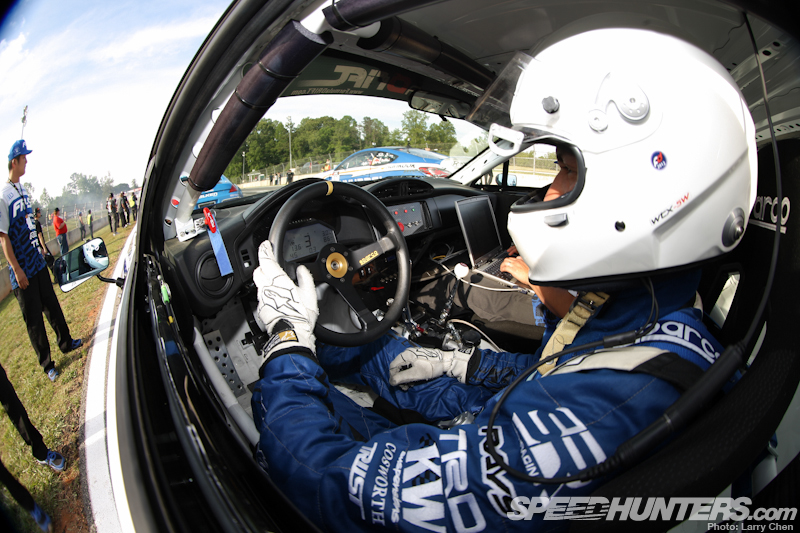 Ken Gushi got a brand new office this year. Most people don't get the chance to sit in one of these awesome machines, but I was lucky enough to check them out way before they came out with Ken in Japan.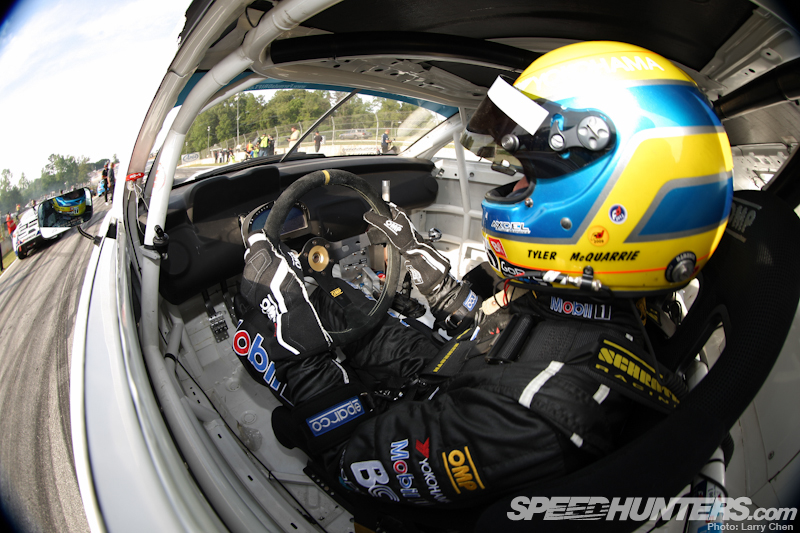 Tyler McQuarrie's Chevy Camaro has an interior that is painted white, maybe to give it a cleaner look. I'm not exactly sure if it has anything to do with heat inside the cabin…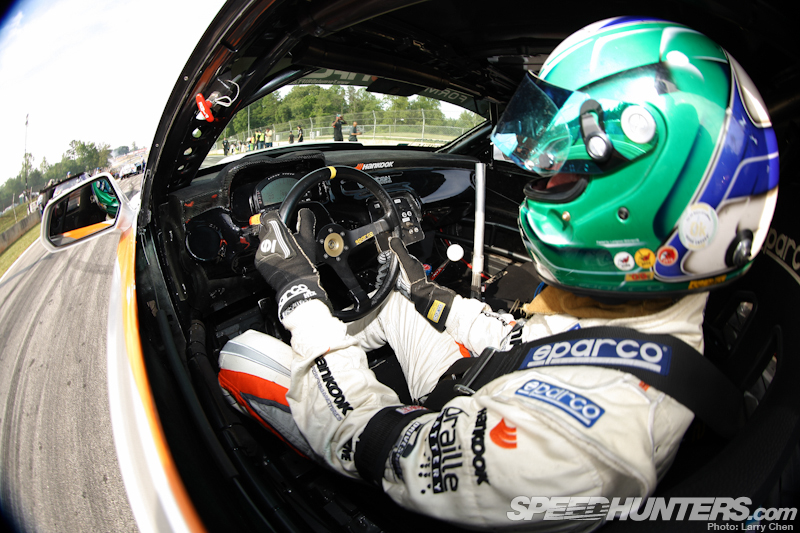 …but the interior of Conrad Grunewald's Chevy Camaro was painted black. Maybe it is less distracting and it does not sting your eyes as much with a bright glow. It definitely looks smaller despite being the same size.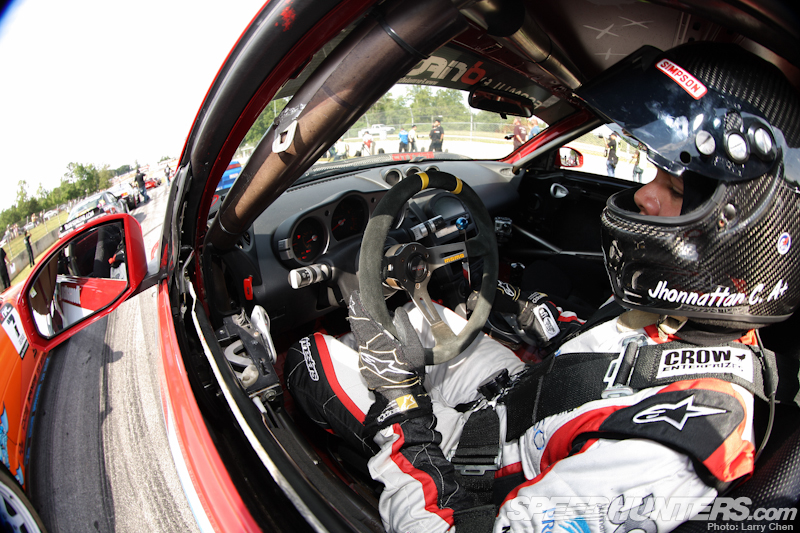 We end this tour with Dominican Republic driver Jhonnattan Castro, and his very stock-looking interior. I could see myself using this 350Z as my daily driver – what do you guys think?
Larry Chen
Larry@dev.speedhunters.com
More stories from Formula Drift Atlanta on Speedhunters