The rapid expansion of the internet into our daily lives has provided as many problems as it has solutions. What was once a large planet with many mysterious cultures and rituals, has now been compressed into a virtual world which hosts the answers for everything. Similarly, the many automotive subcultures of the the world can be explored from the comfort of your own home.  There are websites and blogs for just about everyone's tastes which in my opinion is great. The only downside to this is that a lot of people are no longer building cars for themselves anymore, but rather building them to appease and impress the masses.
Thankfully, Keith Wheldon built this for one person only – himself.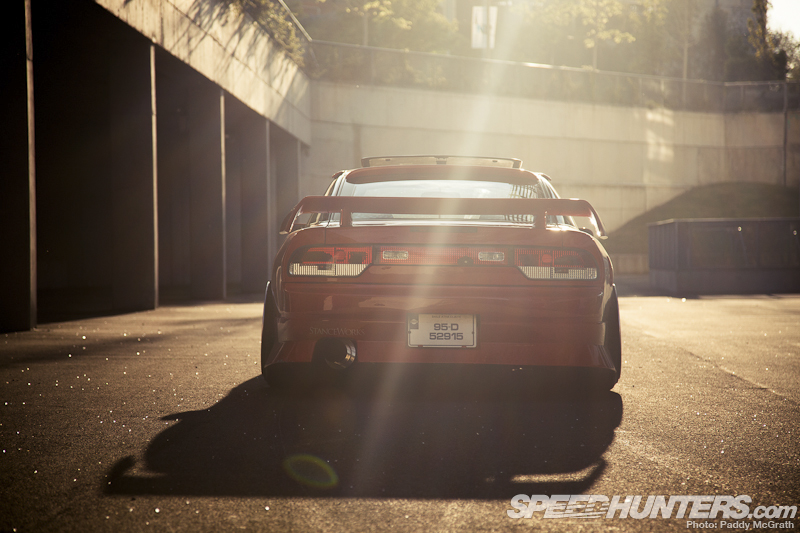 Keith, a panel beater by trade (I've always hated that term, panel artist would be more appropriate) has had this 180SX for a couple of years now, it even appeared in its previous guise as a car spotlight back in 2010.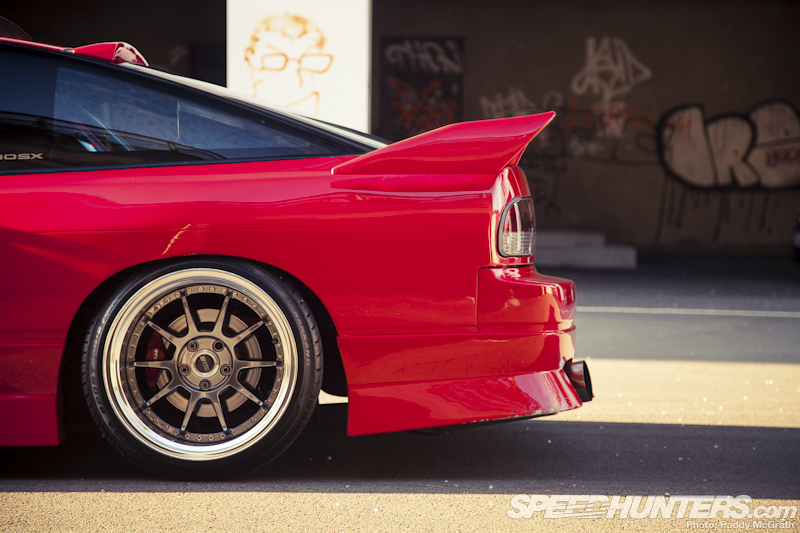 Before I forget, I should preface this story with the fact that this isn't a show car – it's Keith's daily driver.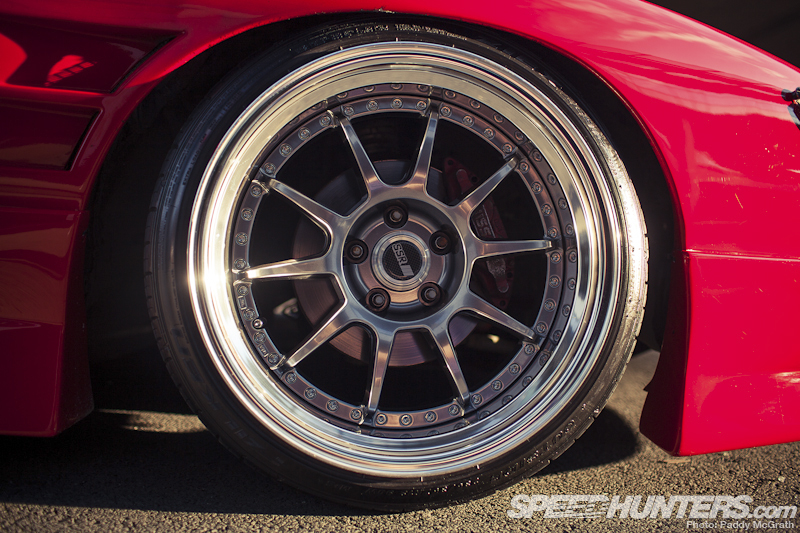 As I sat waiting in the car park of a Travelodge for Keith to arrive, I spoke with a friend about the changes in automotive cultures and how I personally feel that people are often building cars for the wrong reasons. As we chatted back and forth, the distinctive sound of an SR20 approaching us killed the conversation. The sound drew closer until the low slung 180SX finally appeared into view.
They say first impressions are everything – I guess the fact that we were both speechless probably said it all.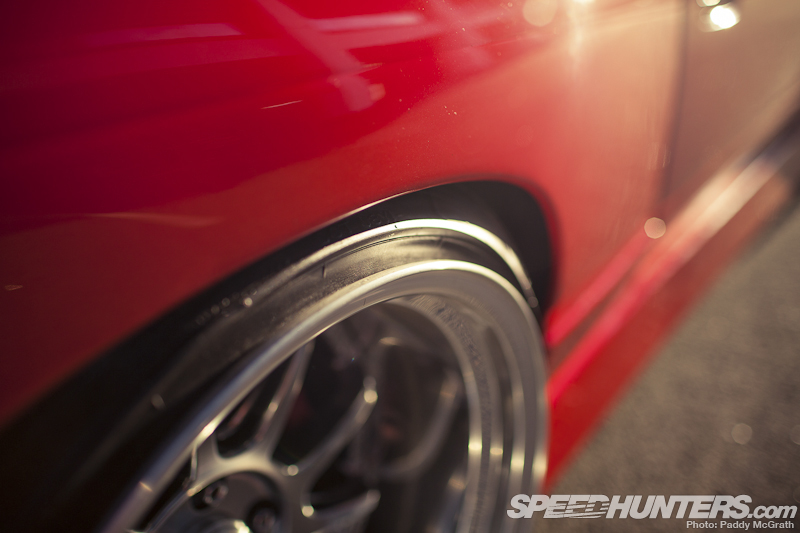 Painted in Audi Brilliant Red, with no less than twelve coats of lacquer, the car immediately catches your attention.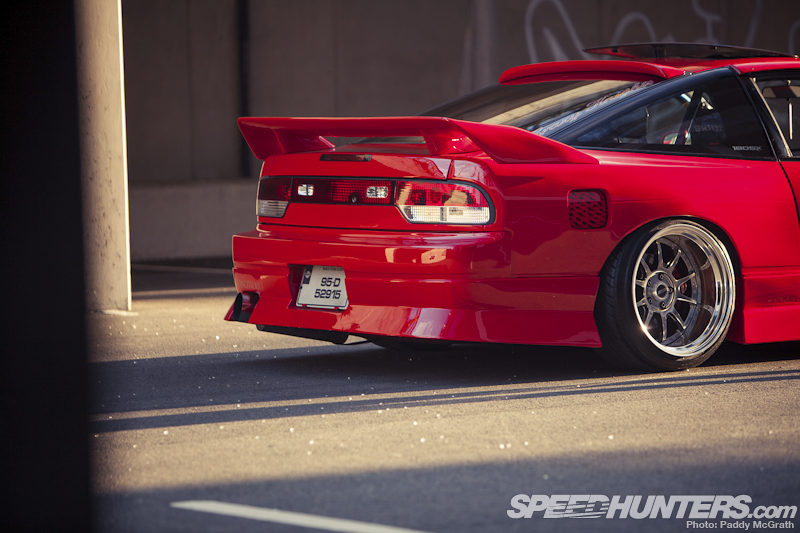 The car is an eclectic mix of styles and parts. The rear bumper and side skirts are URAS …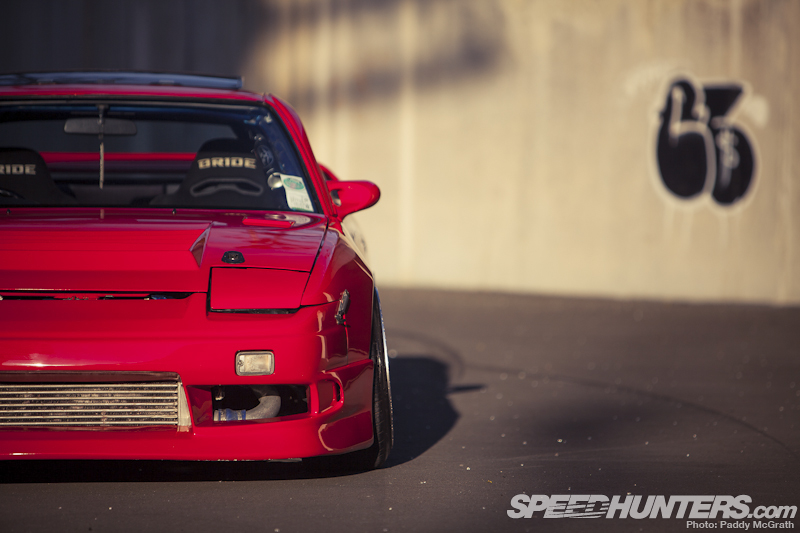 … with the front bumper being an Origin item, just like the front wings.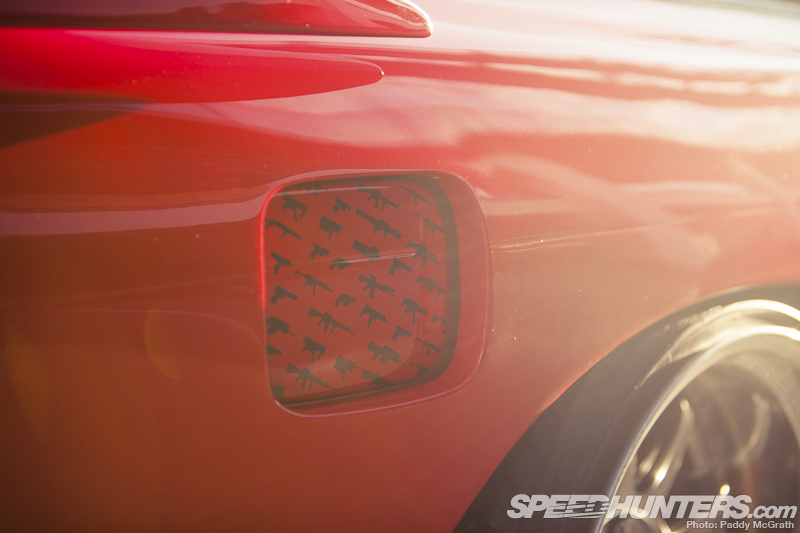 The rear quarter panels have been treated to a set of GP Sport over fenders which have been blended and moulded to the body.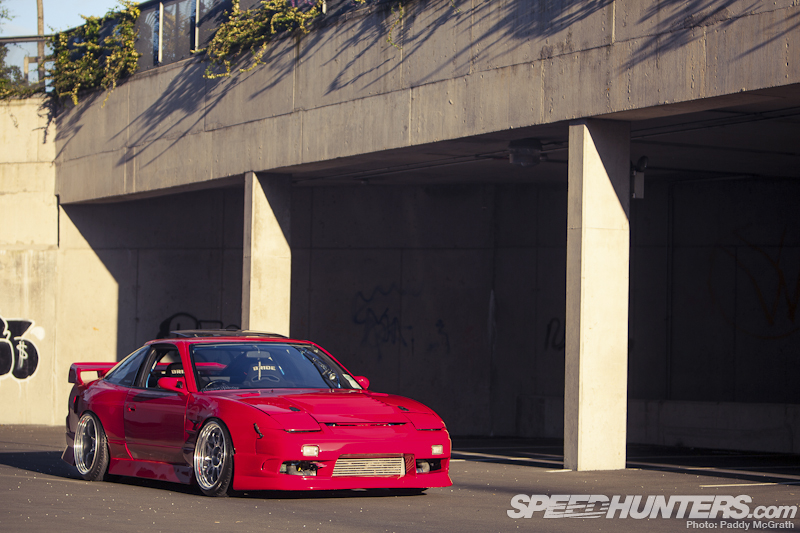 A rather exquisite combination of aggression and subtlety.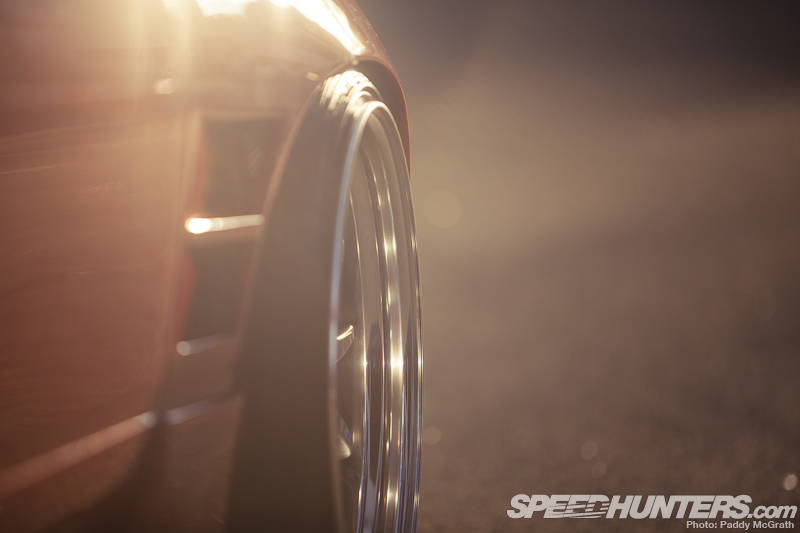 Whilst the car used to run SSR Viennas, Keith was one of the first in Ireland (if not the only person) to pick up a full compliment of SSR SP3s to evolve the car from its previous look.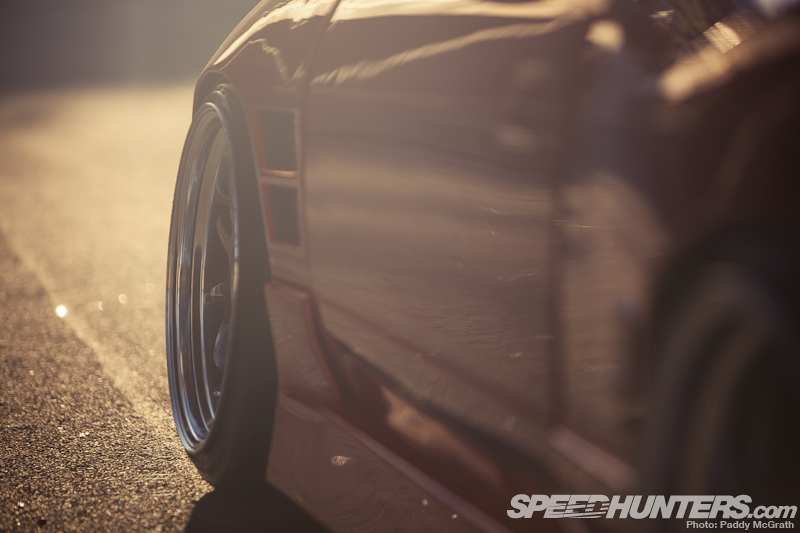 They measure in at 18×9 ET6 at the front and 18×11.5 ET-8 at the back.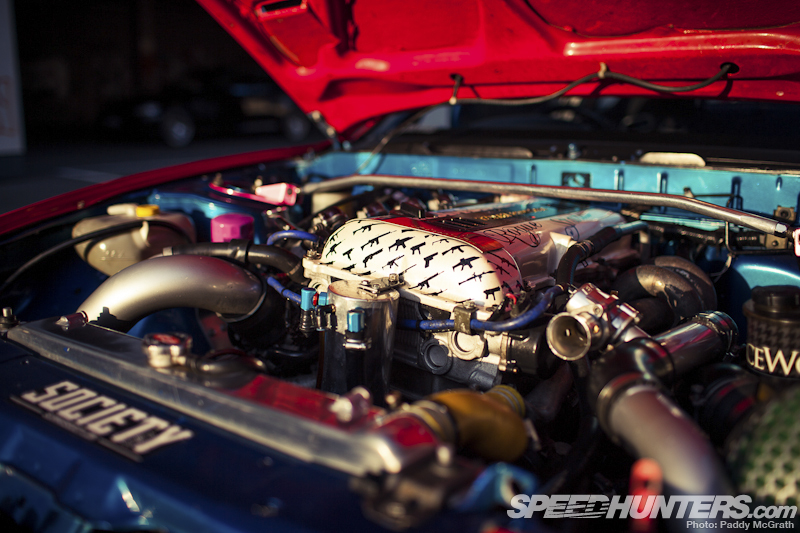 It's not all about looks either. Whilst the Rogue Status decorated cam cover may put some off, what lies beneath will certainly raise an eyebrow or two.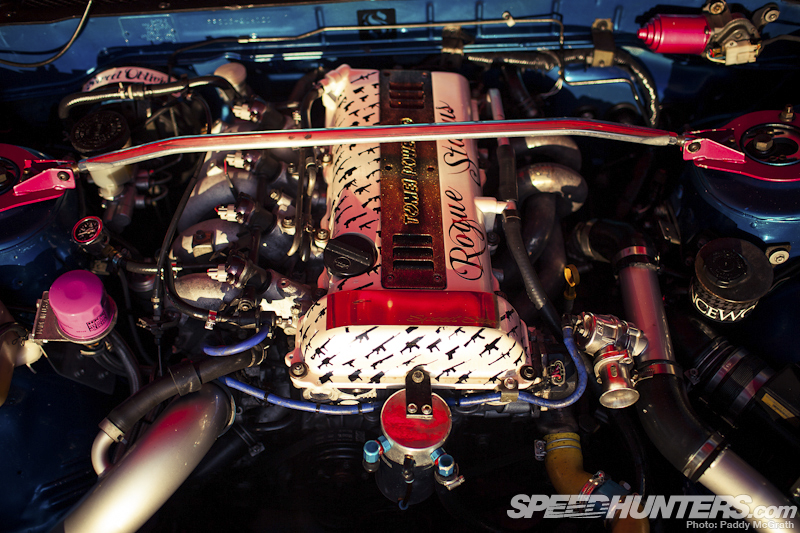 A fully rebuilt ported and polished SR20DET with a HKS GT2540 turbocharger, Tomei 256 cams, Trackday Performance adjustable cam pulleys, Sard 555cc injectors with a HKS manifold, Z32 Airflow Meter and a metal head gasket.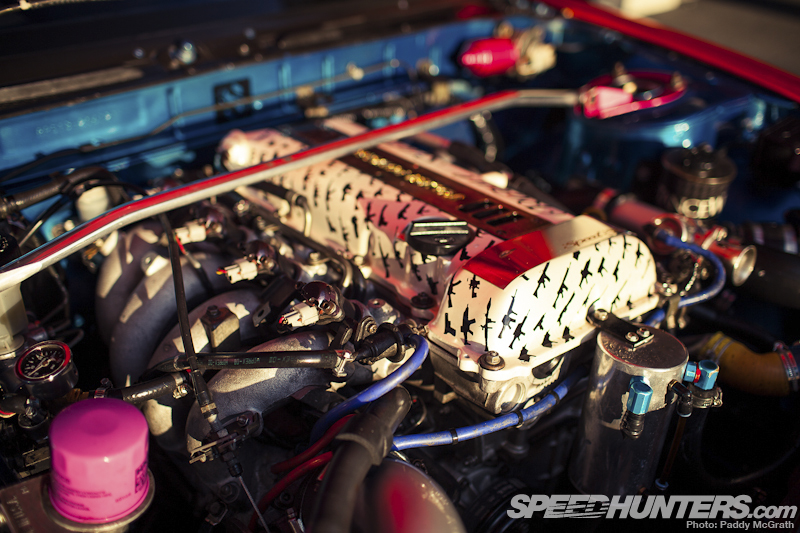 There's a ton of other parts in there too – Nismo, Greddy, Calsonic, Bee*R, Blitz and Apex'i to name just a few.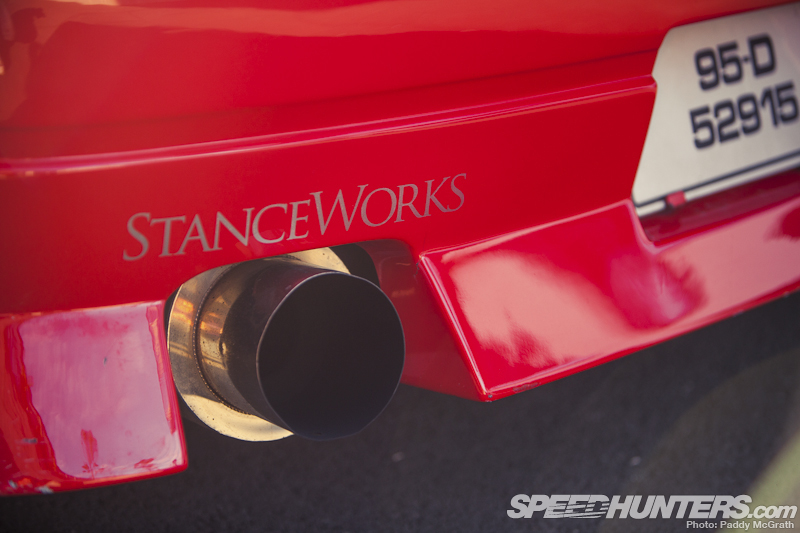 Speaking of Nismo, the decatted exhaust system is one of their own.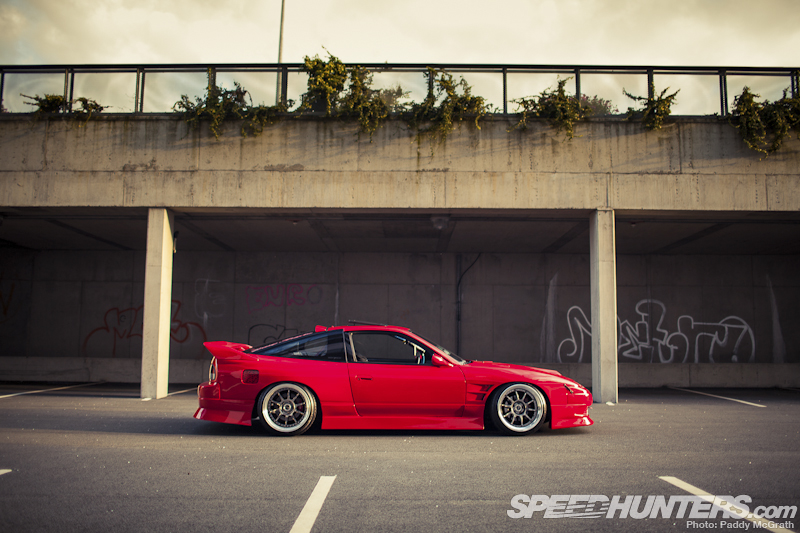 Over the last couple of years, I've sort of went off the JDM car scene – but this has dragged me straight back in.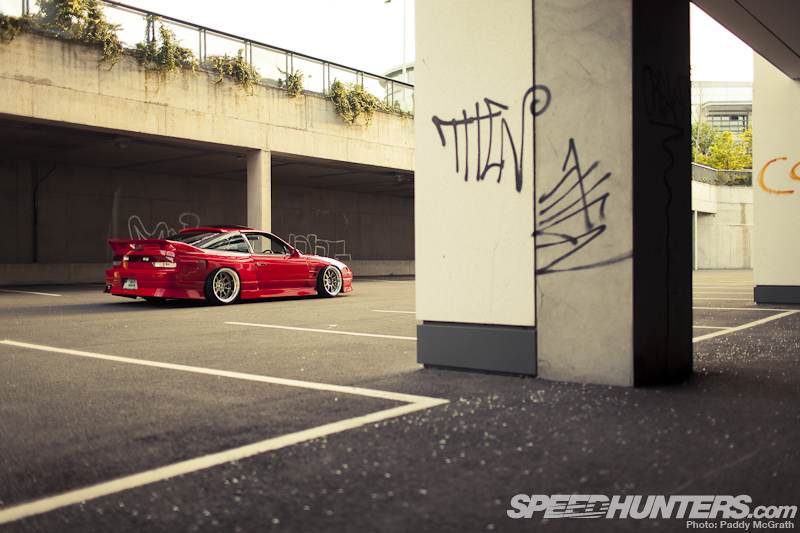 Moving onto the suspension and handling aspects of the car, all the bushes have been replaced with an RSR bushing kit.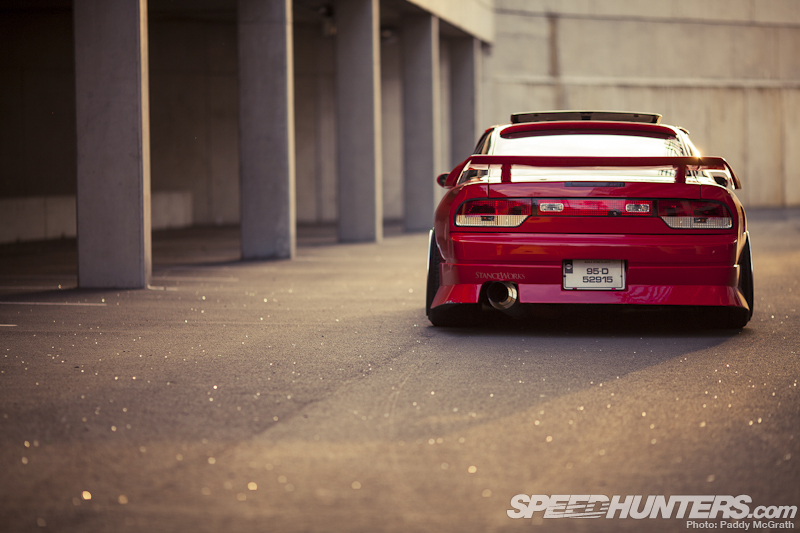 R.Y.O. Hi-Max Coilovers control the height along with Cusco front tension rods and rear upper camber arms, Driftworks camber arms and toe rods, Nismo lower arms and Cusco rear suspension rods.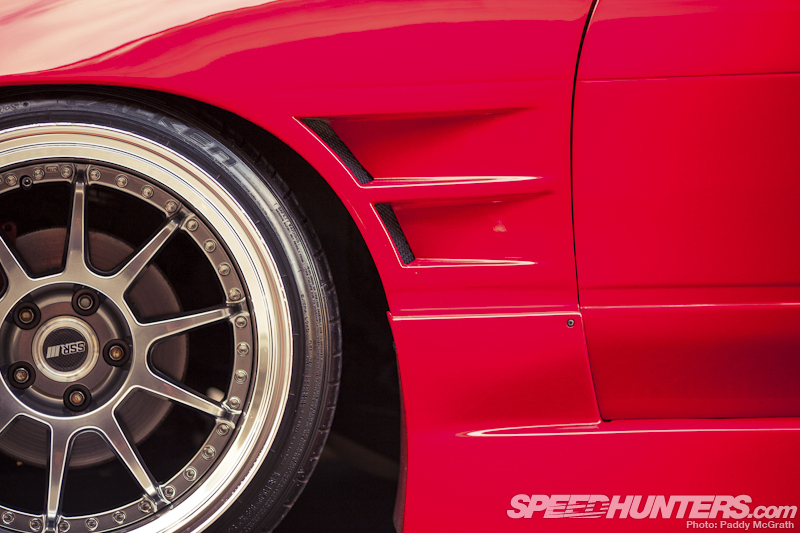 There's also Driftworks subframe bushes, front and rear strut braces and a quick rack steering adapter. There's certainly a lot more here than meets the eye.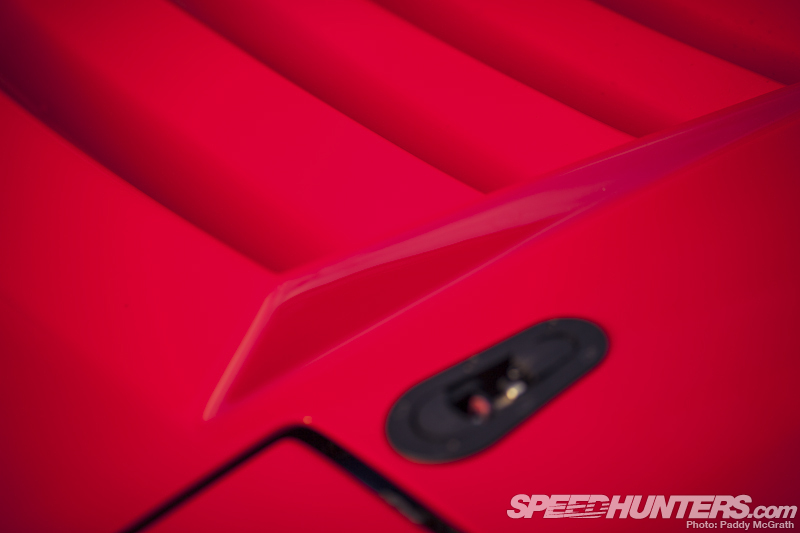 A detail shot of the vented bonnet and aerocatches …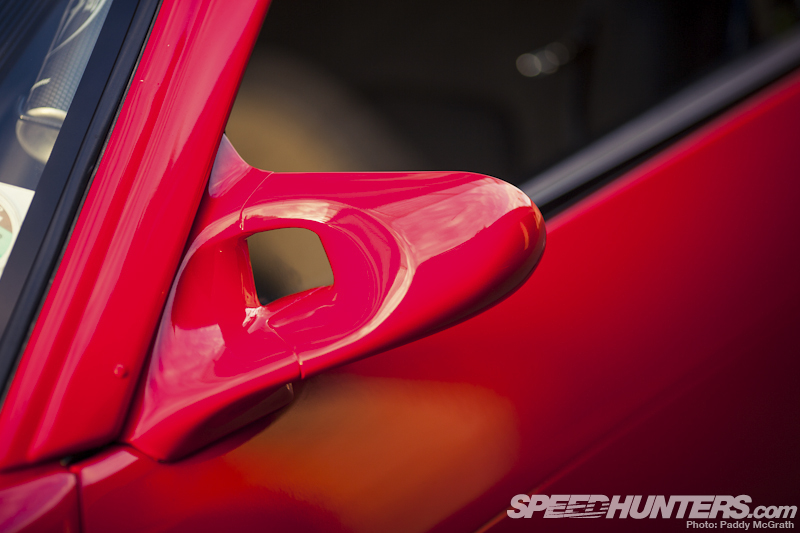 … along with the Ganador mirrors.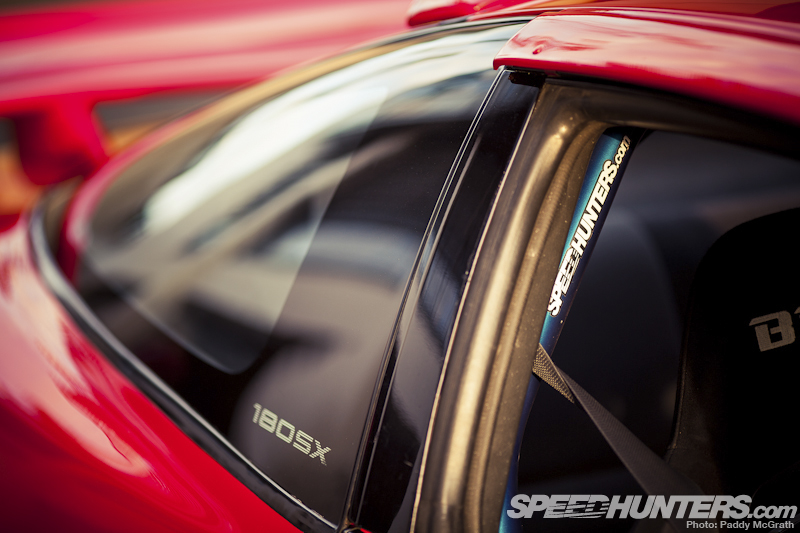 The impressive spec list continues on the inside …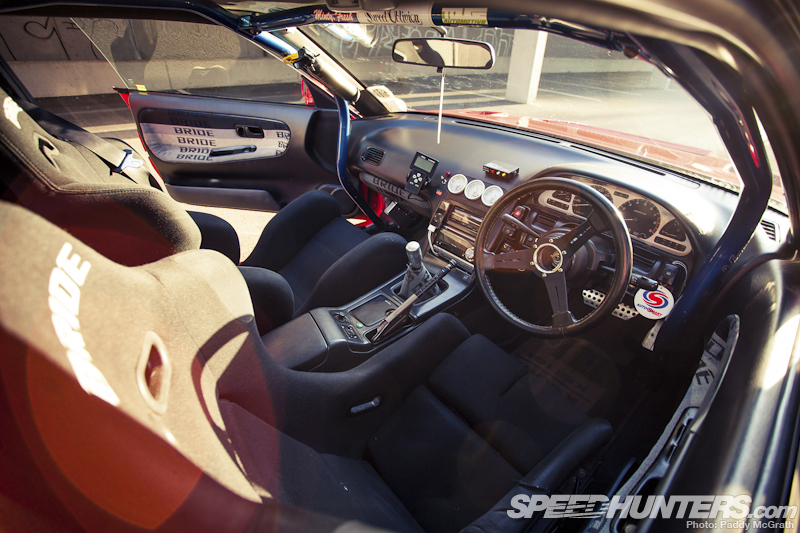 … where to even start? The driver has the holding power of a Bride Zeta fixed back seat whilst the passenger can enjoy the comfort of a Bride Brix recliner.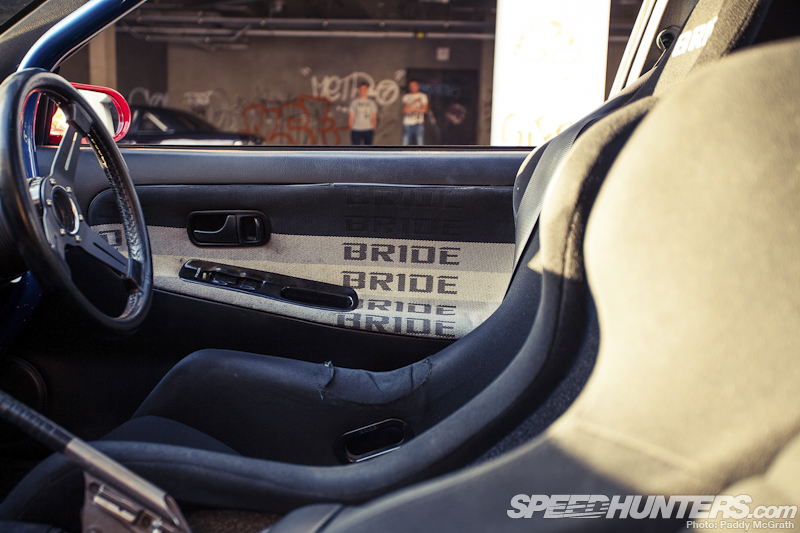 The door cards, glove box and gear gaiter have been re-trimmed in Bride material.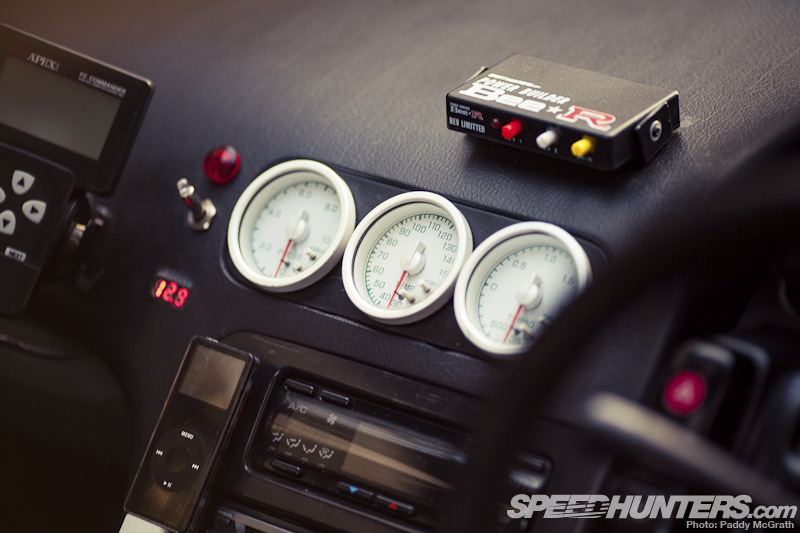 The Bee*R rev limiter can be controlled from the driver's seat, where you can also keep an eye on oil and turbo pressures and water temperatures with the aid of the Greddy gauges.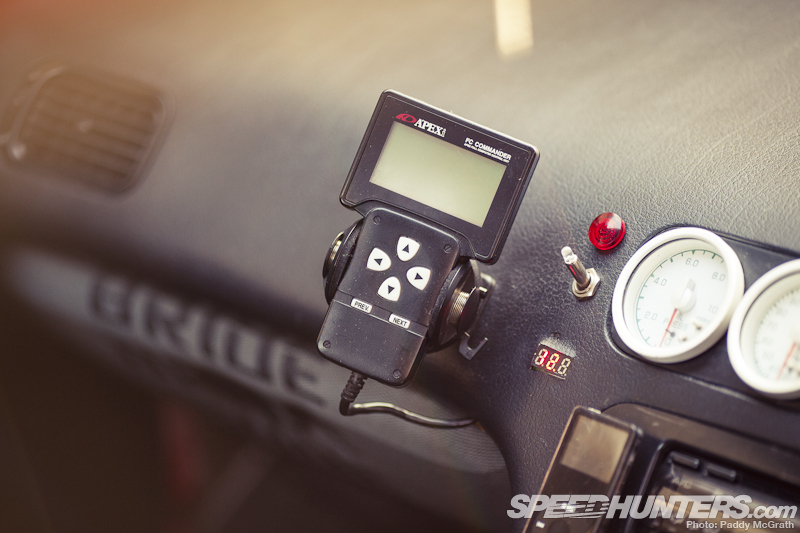 An Apex'i Power FC is located next to a throw switch which I'm not quite sure what it does, but I want to flick it. Must be the big red warning light above it. I'll find out from Keith and edit it in later.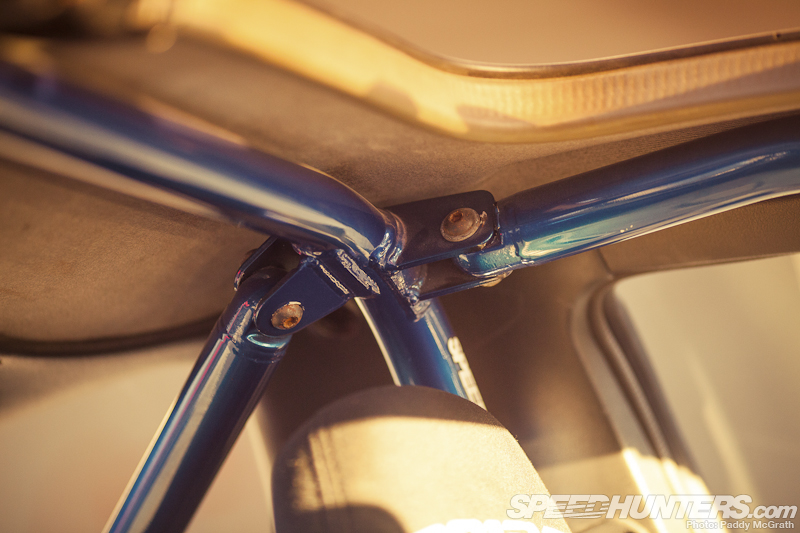 The passenger area is protected by a seven point Cusco roll cage.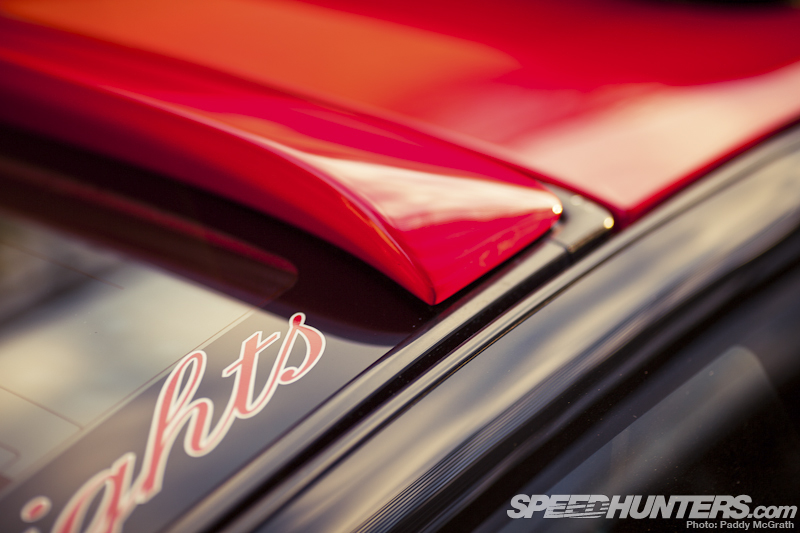 Back on the outside, I nearly missed the Origin roof spoiler …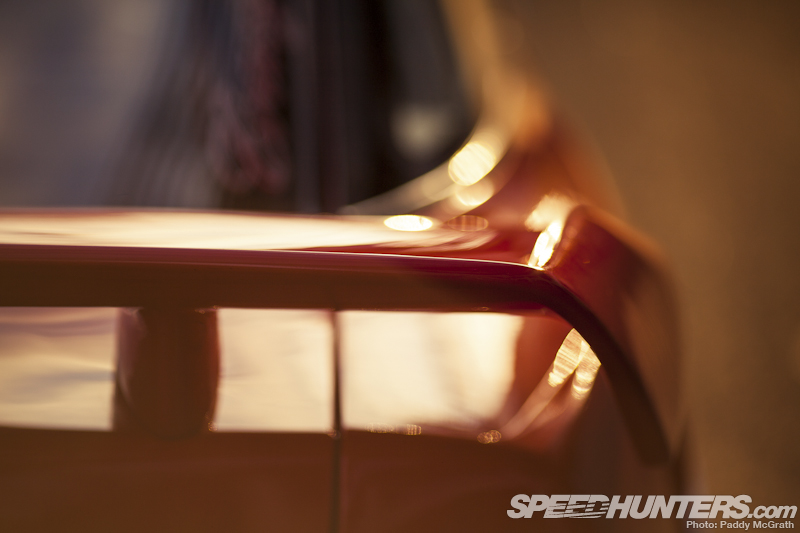 … but the 326 power wing is slightly more prominent. I think it's a really nice alternative to the usual GT wing look.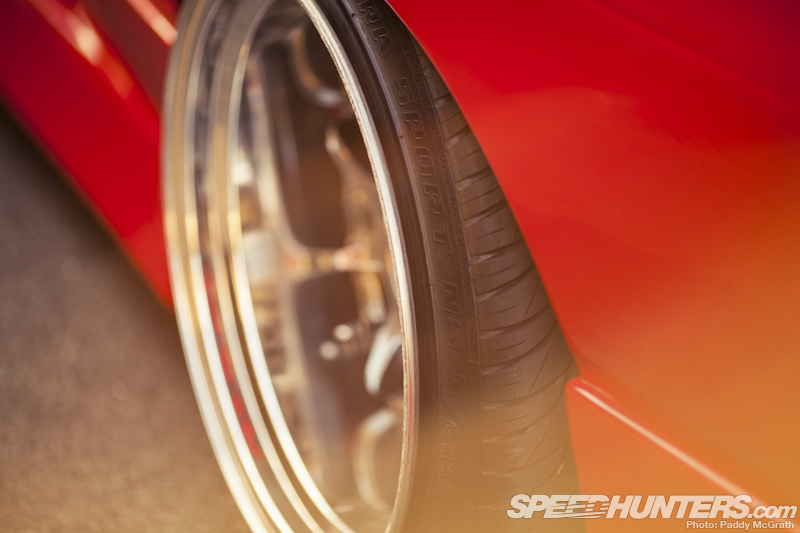 The horsepower produced is delivered to the rear wheels via a lightened flywheel, ORC triple plated clutch and 1.5-Way LSD.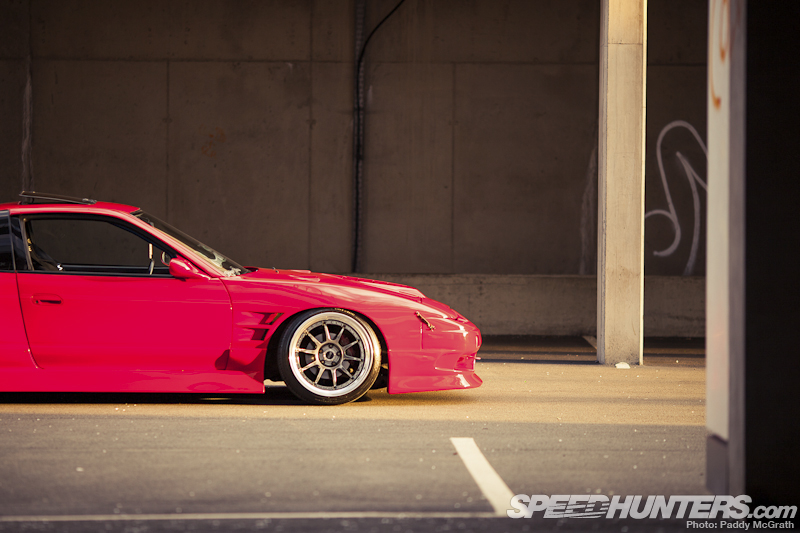 Braking is handled by Skyline calipers & discs on five stud converted hubs with aftermarket brake pads.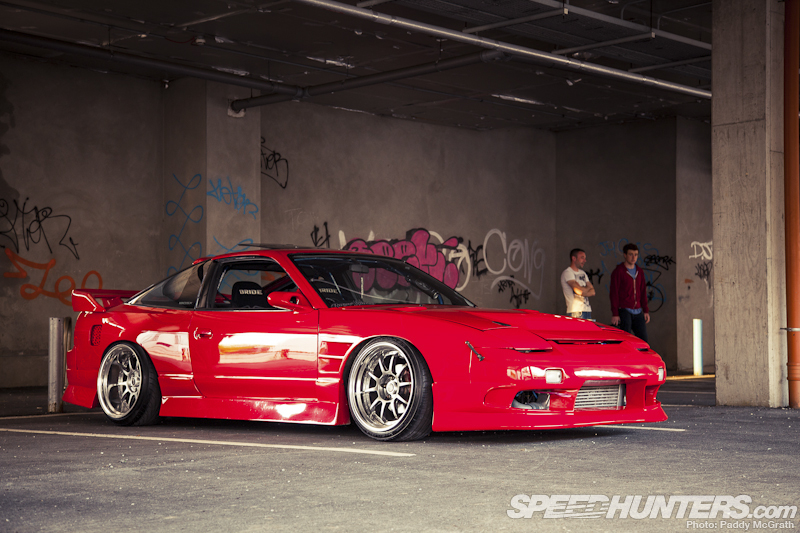 During the shoot, all I can remember is the absolute silence whilst working over each detail of the car.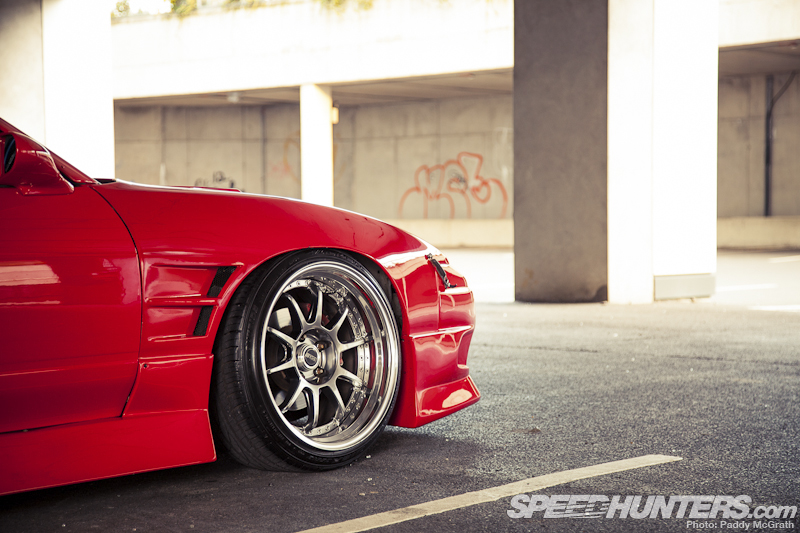 Trying to make the most of the amazing light, I got lost in the work – one of those moments where the world could have been falling down around us and I probably wouldn't have noticed.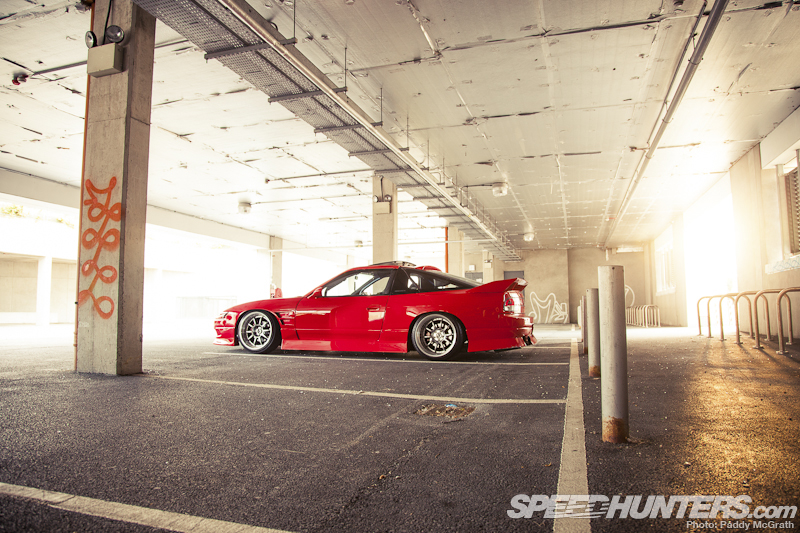 Wrapping things up at dusk, we sat down for a chat about all that's good in the world.
This car has got me thinking and left me with a really positive feeling. It was also a great reminder of why I love cars of all automotive cultures.
Thank you Keith for reminding me why we love what we love and why we do what we do.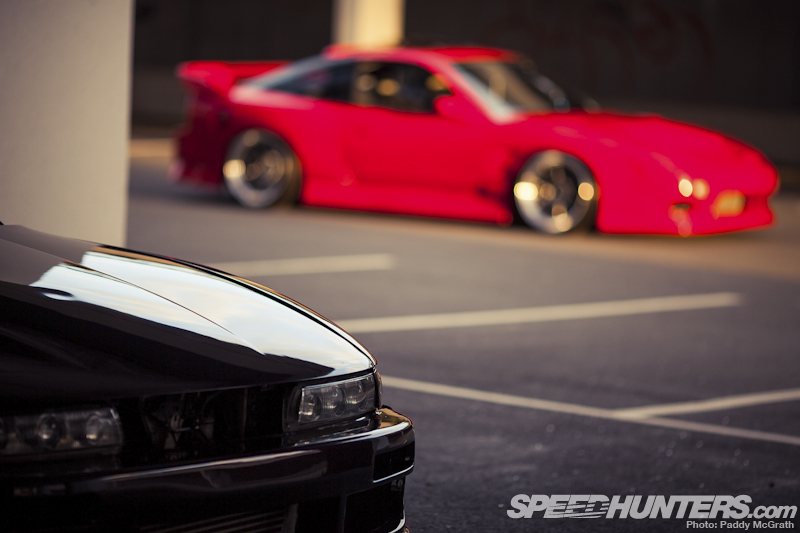 Oh, I forgot to mention that he brought a friend …
–
Paddy McGrath
Street Car Features on Speedhunters
1995 Nissan 180SX
ENGINE
SR20DET; Rebuild; Wire tuck; HKS GT2540 Turbo; Tomei 256 Cams; TDP Adjustable Pulley; HKS Manifold; Sard 555cc Injectors; Z32 AFM; Metal Head Gasket; Ported & Polished; Sard Fuel Pump; Tomei Turbo Elbow; Nismo Engine Mounts; Fuel Pressure Gauge; Blitz BOV; Decat; Nismo Exhaust; Greddy Intercooler; Greddy Front Pipe; Three Layer Radiator with dual Calsonic Fans; Nismo Low Temperature Thermostat; Apex'i Power Fc & Commander; Bee*R Rev Limiter; MoCal Oil Cooler & Relocation Kit; Greddy Boost Controller; Silk Road Engine Damper; HKS Mushroom Filter; Iridium Plugs; Cusco Oil Catch Can; Tomei Plug Cover.
TRANSMISSION
Nismo Short Shifter; ORC Triple Plated Clutch; Lightened Flywheel; 1.5 Way LSD.
SUSPENSION
RSR Bushing Kit; R.Y.O. Hi-Max Coilovers; Cusco Front Tie Rods; Cusco Rear Upper Arms; Driftworks Camber Arms; Driftworks Toe Rods; Nismo Lower Arms; Cusco Rear Suspension Rods; Driftworks Subframe Bushes; Quick Rack Steering Adaptor; Front & Rear Strut Braces.
BRAKES
Skyline Calipers & Discs, Five Stud Hub Conversion; Stainless Steel Brake Lines; Aftermarket Brake Pads.
WHEELS
SSR SP3 – F: 18×9 ET6 R: 18×11.5 ET-8
INTERIOR
Bride Zeta; Bride Brix; Bride Door Cards, Glove Box & Gear Gaitor; Battery Relocated to Boot; Razo Gearknob; Nardi Steering Wheel; Greddy Boost, Oil Pressure & Water Temperature Gauges; Blitz Turbo Timer; Pioneer Double Din & Vibe 6x9s.
EXTERIOR
Respray in Audi Brilliant Red; 12 Coats of Lacquer; All Running Gear Painted; Origin Front Wings; 50mm GP Sport Rear Arches; Fiberglass Vented Bonnet; Uras Rear Bumper; Uras Side Skirts; Origin Front Bumper; Two Skid Plates – Bumper & Sump; 326 Power Rear Wing; Origin Roof Spoiler; Ganador Mirrors; Wind Deflectors; Aero Catches; 50/50 Rear Lights; Raybrig Clear Front Lights; Sleepy Eye Conversion; Tow Hook.