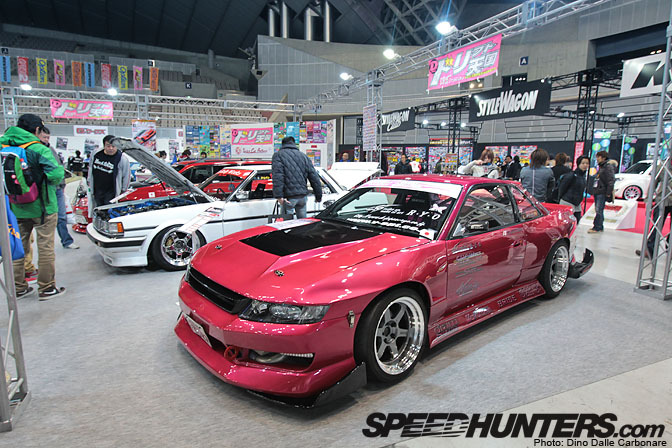 From rotaries we move onto some S-chassis, but since there weren't that many this year I've decided to combine Fairlady Zs to the post too, once again an all-Nissan selection! We start off with the R.Y.O. S13 "Odyvia" which I already ran a spotlight on back in October, when I first laid eyes on it at the D1 final in Fuji.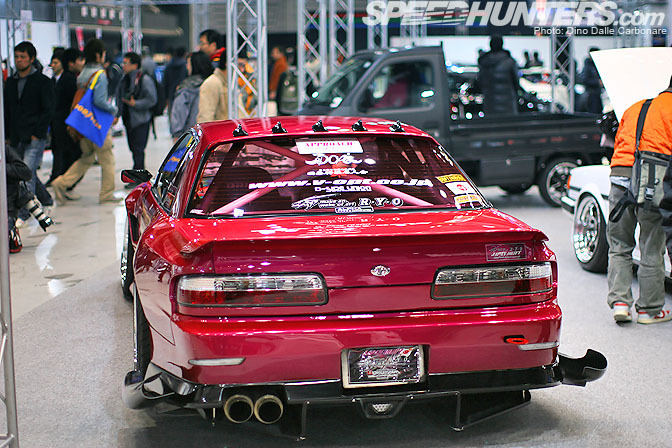 It's as wild looking from every angle and proof that things down in the south of Japan are done a little differently.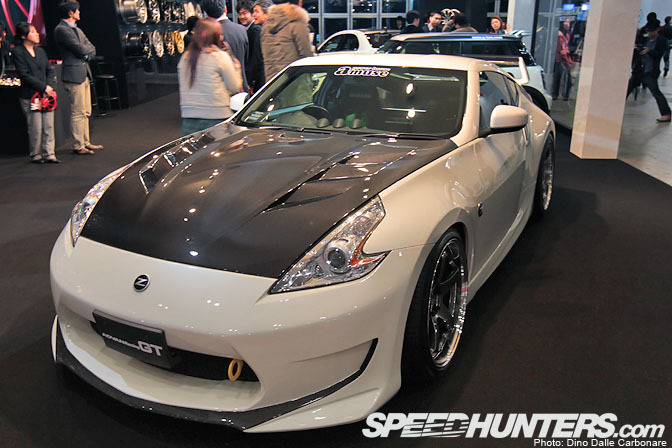 You can always expect to find nice rides on display at the Yokohama booth, and this year…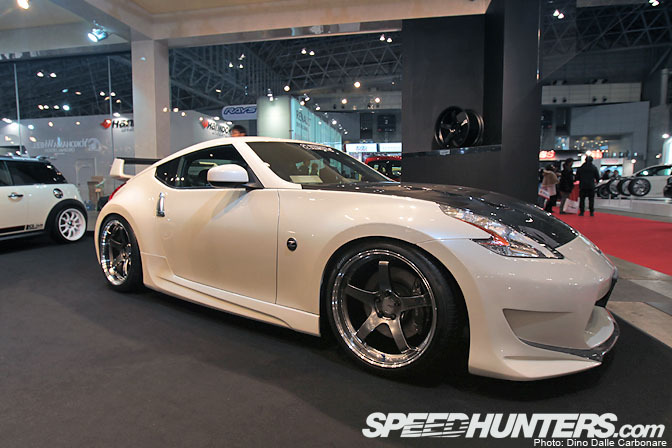 …modeling a set of new Advan GT lightweight 5-spoke wheels, was the Amuse Z34 Vestito.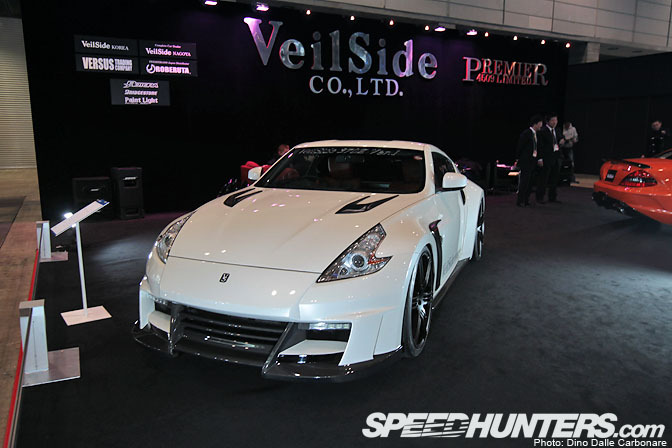 Among all the Benzes at Veilside I did manage to find one Z34, sporting an instantly recognizable Yokomaku-special conversion. Veilside is one of the most recognized names in the JDM tuning word and even if they have shifted their style and interest a little over the years, it's still great to see them exhibit at the Tokyo Auto Salon; it just wouldn't be the same without them!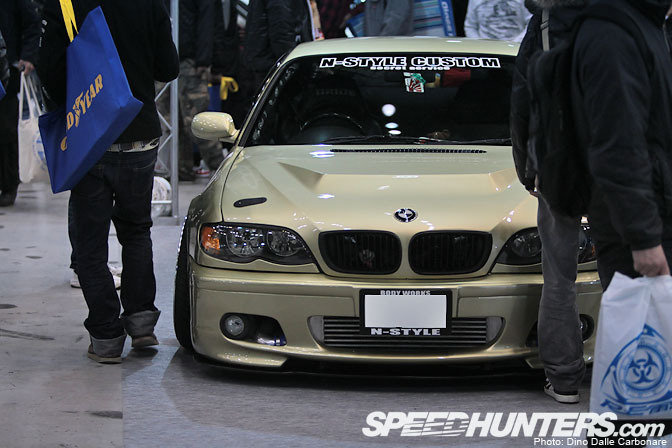 Drifters crash a lot. Nothing new there. If it weren't for them we would have never had so many face or rear end conversions over the years.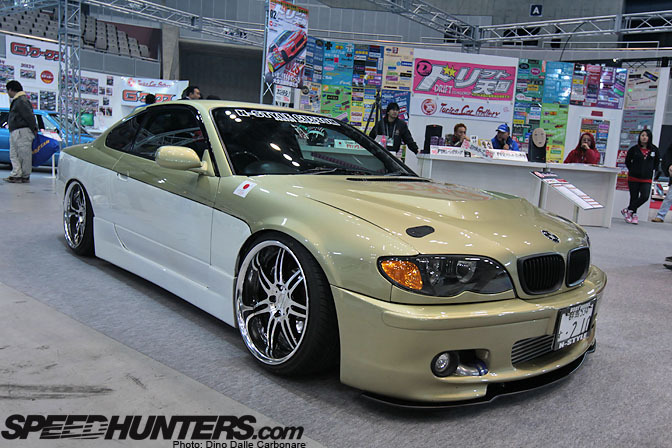 N-Style Customs did a great job of grafting on an E46 front onto this Silvia; an S15 M3?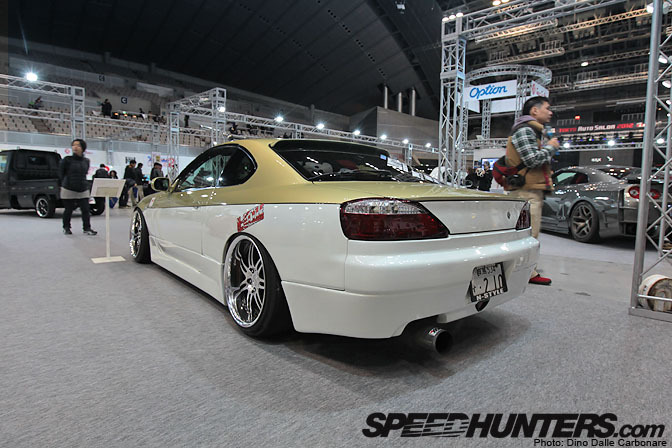 While some may cringe at such off the wall creations, it's certainly different. Until the next crash that is.  Then who knows what it's going to look like.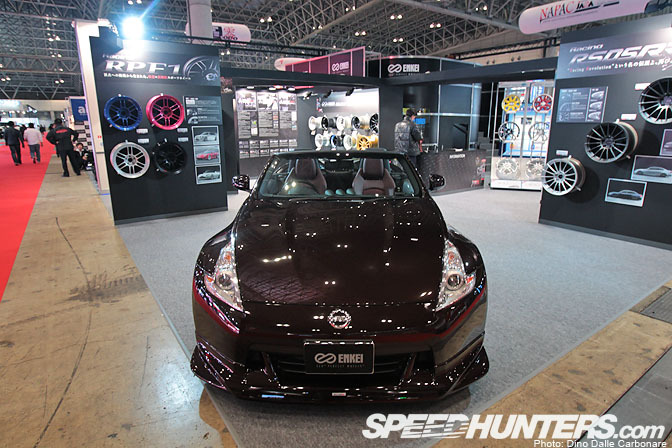 Enkei had this Z34 roadster at their booth running the new deeply concave, multi-spoke RS05RR.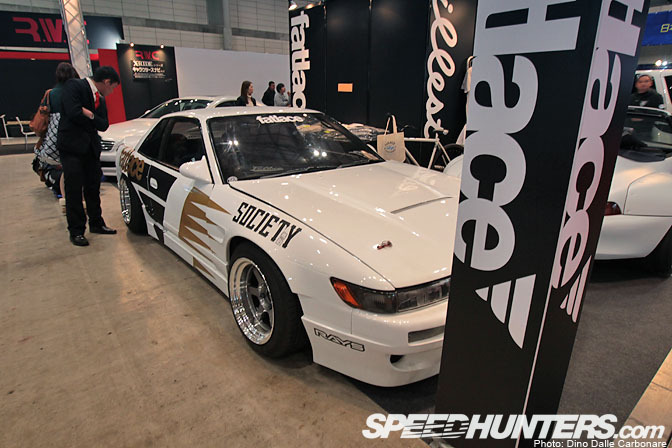 The Fatlace 6666 Customs S13 was built in Japan especially for the show. It looked great slammed on a set of TE37Vs and a great addition to Nakai's new Spearmint Rhino at the Fatlace display area.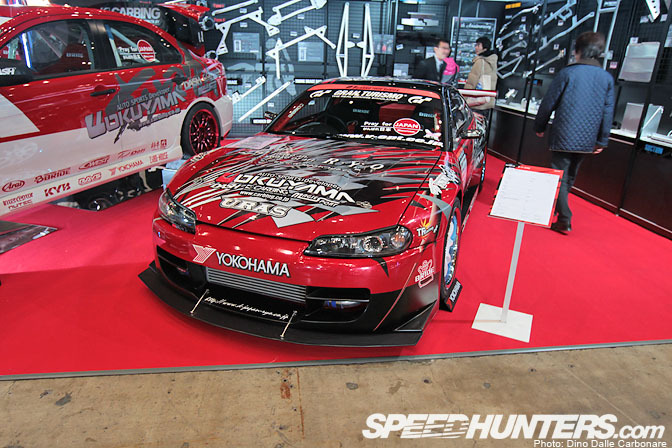 R.Y.O. had another Silvia on display at the show, and to find it I had to head over to the Okuyama booth, makers of Carbing body reinforcement parts. This S15 is an all-new build and different from the widebody car we saw earlier last year at the Nagoya Exciting Car Showdown. Still, an unmistakably R.Y.O. creation!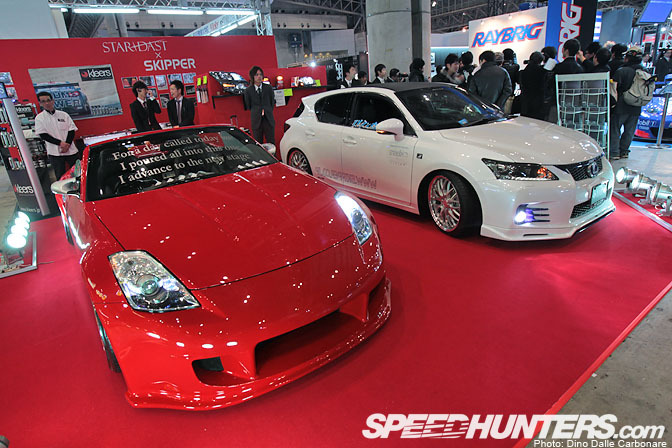 If you want real low, with possibility of on-the-fly adjustments, airbags are hard to beat as this Z33 at the Kleers booth was showing.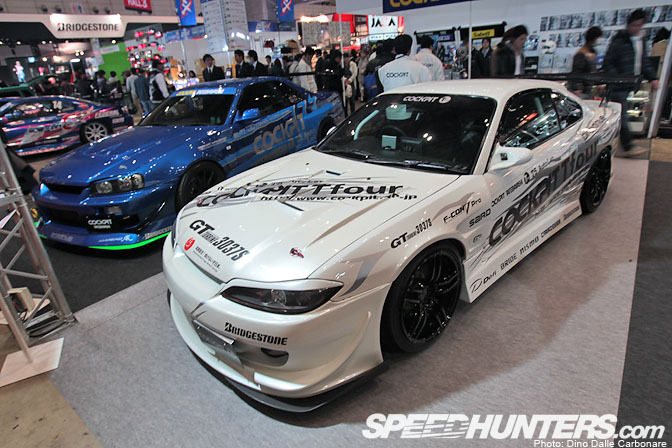 Cockpit is a chain of car accessory stores similar to Autobacs. There are actually quite a few in Japan, places like Yellow Hat, Driver Stand or everyone's favorite Up Garage, which deals exclusively with second hand parts. Sometimes specific branches will build crazy demo cars like this 500 HP S15 from Cockpit four. Other well known Cockpit shops are Cockpit Wako which specializes in GT-Rs, and Cockpit Tatebayashi which caters to Imprezas, Evos and pretty much any other performance car.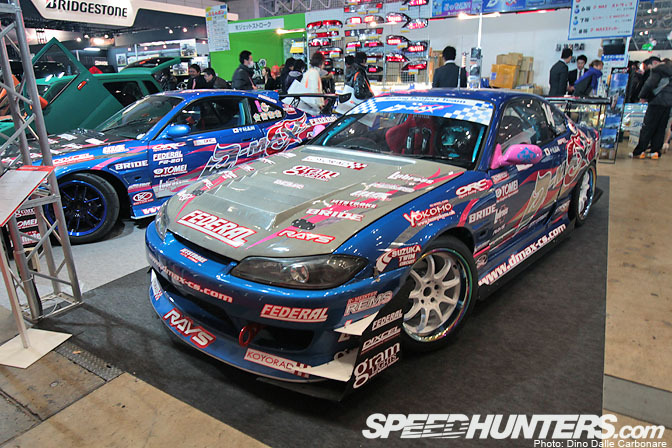 Nakamura's S15 as ever was on display at the D-Max display. It was cool seeing it last month attempting to grip around Tsukuba at the Super Battle!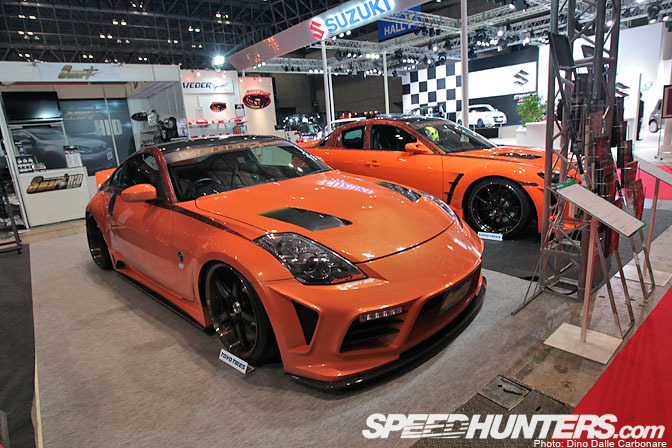 The Weber Sports Z33 in all its orangeness.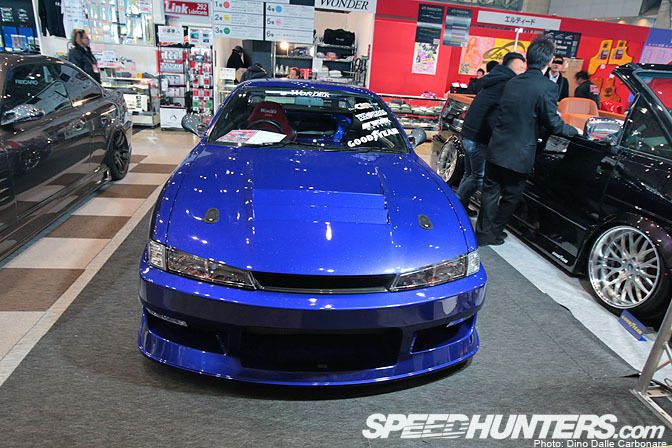 Saitama-based drift shop Car Modify Wonder had the cleanest S14 at TAS.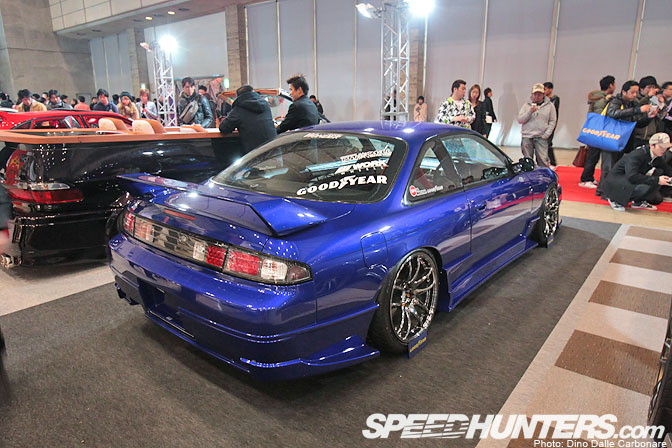 Loved the deep blue paint. It would almost be a pity to drift it and chip that glossy finish!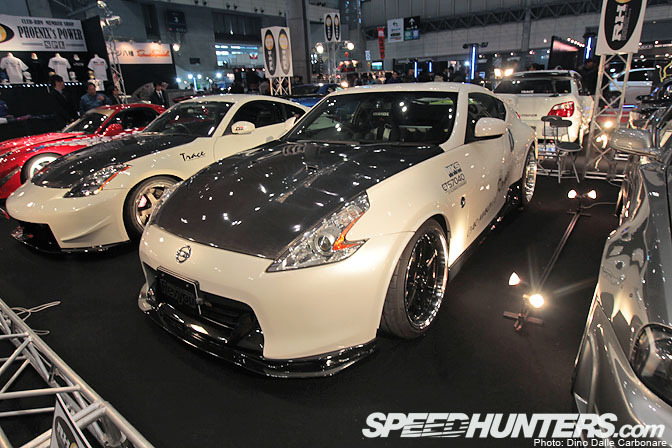 There were a couple of Fairladys in the RH9 section, first up this supercharged Z34 from Car Making Revyou and next to it the Two System Z33.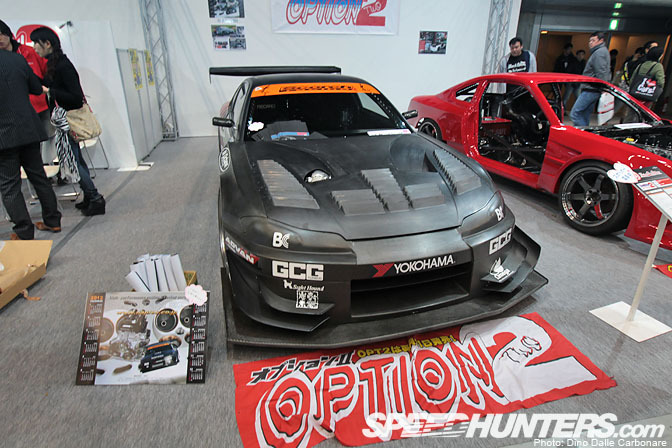 Development on Under Suzuki's Scorch Racing S15 continues. On display at the Option2 area the car was sporting a few aero alterations, the most obvious of which was a new carbon hood with additional louvers to allow for better engine cooling. Very Super GT!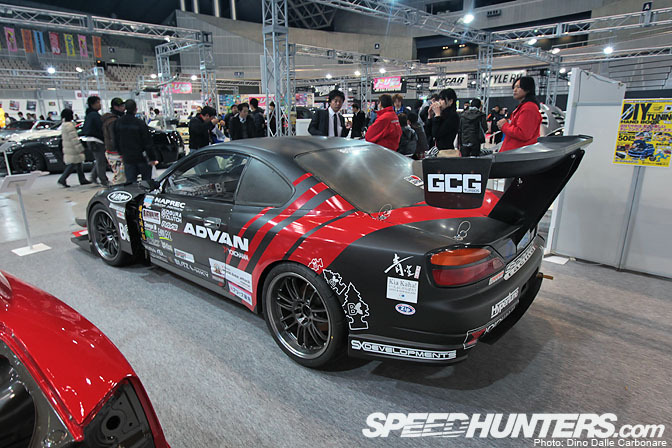 It will be cool to see it in action again at a Battle Evome meeting!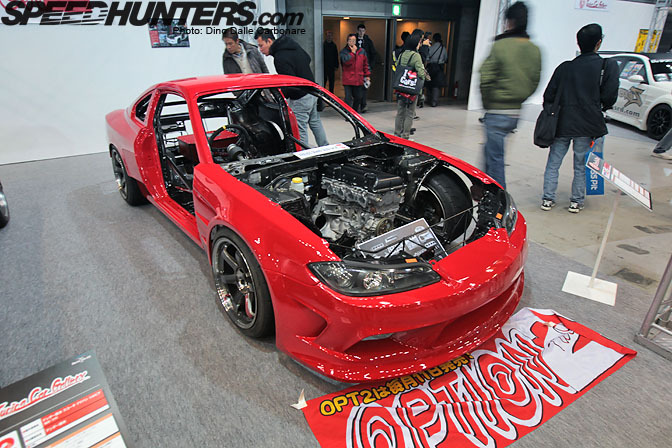 Sitting next to it was this all-new project that Friends Power and GReddy have began working on. I got really excited at seeing this car, not only because of the projected 650 HP it will deliver, but because there are all-new time attack builds of this caliber popping up here and there now. Exciting times to say the least!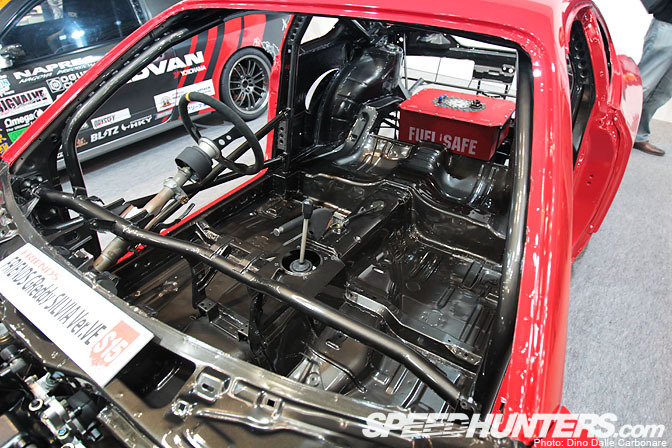 The chassis is a work of art, spot and seam welded, reinforced in various areas and fitted with a welded in roll cage before receiving a nice, almost bronze colored coat of paint in the interior.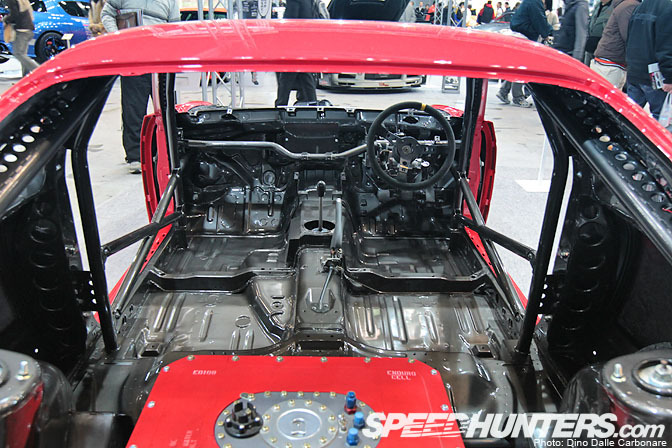 Racing fuel cell is a must at these levels. This joins the Exceed Moat S14, which will be getting an all-new engine this season, as well as the all-new Exceed Moat S15. Thanks to series like Battle Evome and the Word Time Attack Challenge things are getting really exciting for those obsessed with lap times!
TAS 2012 features on Speedhunters
-Dino Dalle Carbonare