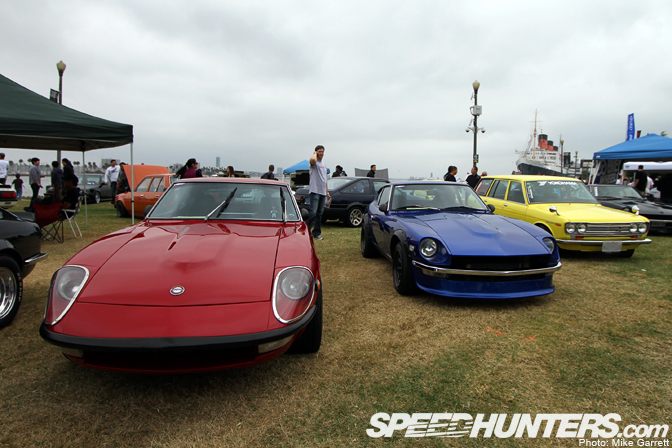 Despite a strange batch of late summer thunderstorms and pockets of rain that hit Southern California over the weekend, the 7th annual edition of the Japanese Classic Car Show went off without a hitch at the Queen Mary in Long Beach.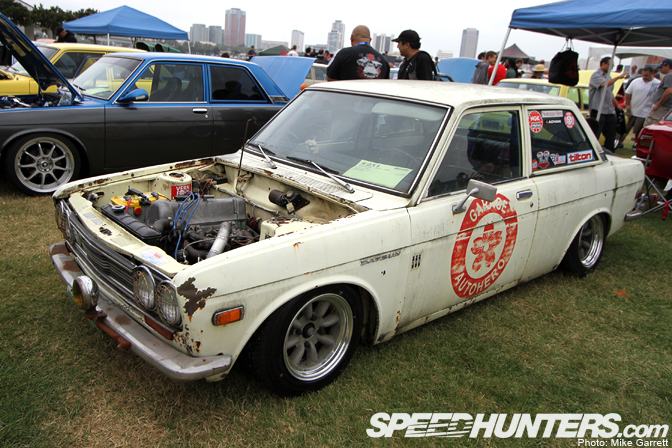 I may have moved away from LA, but there was no way I was going to miss JCCS. If you've seen our past coverage of this show, then you know it's one of the best automotive events of the year. Each year it seems the cars get better, with people traveling farther and farther to be part of the festivities.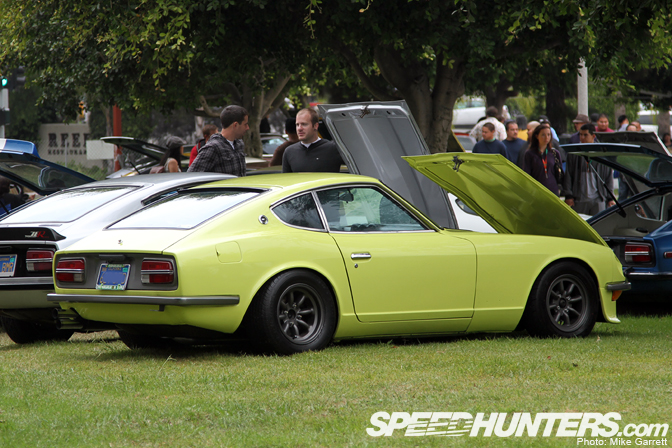 Of course now that I have an S30Z and an 86 in my possession I was even more excited to be at JCCS, with all the great cars to be inspired by. There's Inzane240's car, one that I've been following online regularly.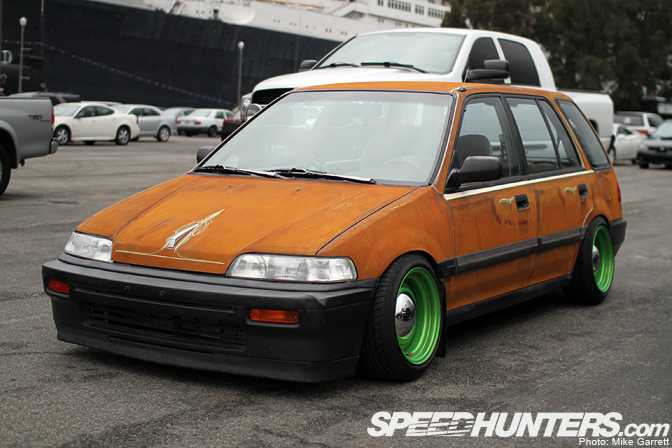 Naturally, the sightings began in the parking lot outside the show. Check out this oxidized and pinstriped Civic Wagon.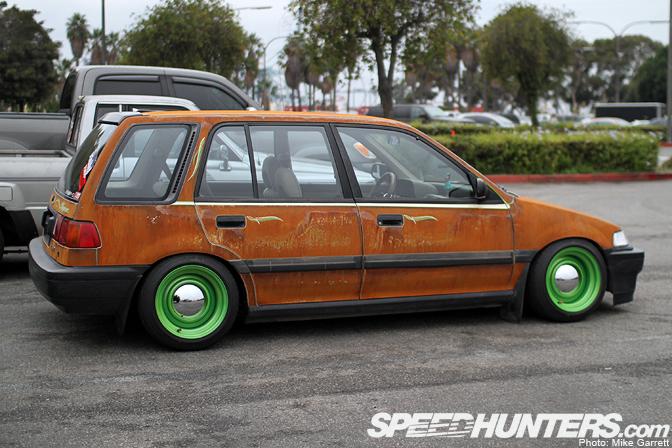 The steelies and Baby Moon combo matched perfectly with the rat rod theme.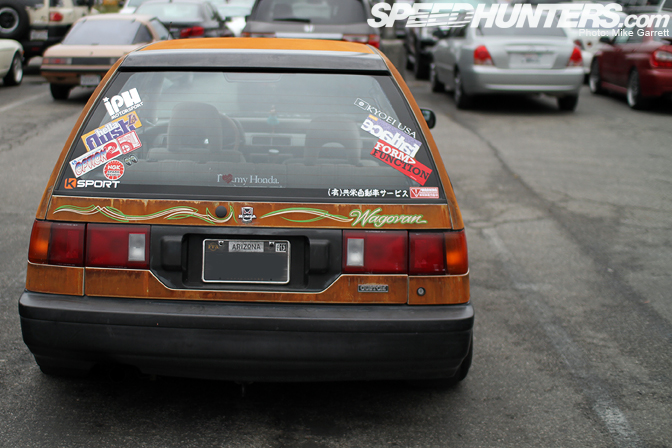 Was it to everyone's taste? No. Was it extremely unique? Without a doubt.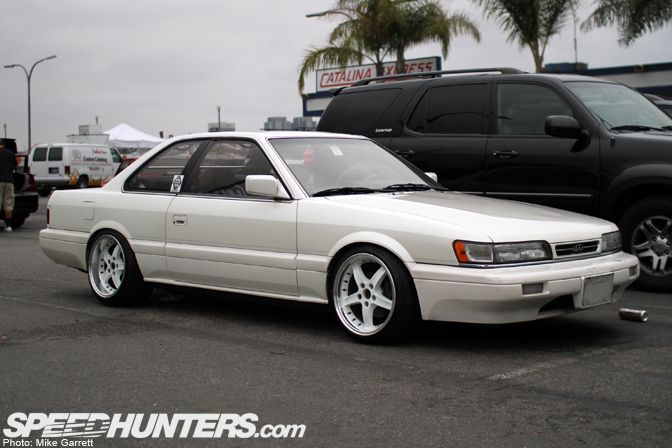 Also spotted in the parking lot was this Infiniti M30 sporting a five lug conversion and some fat lipped wheels.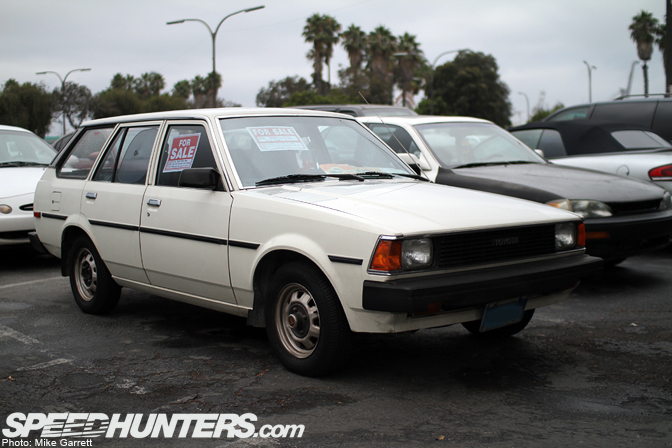 Want a project car? It'd be hard to do better than this bone stock Corolla Wagon.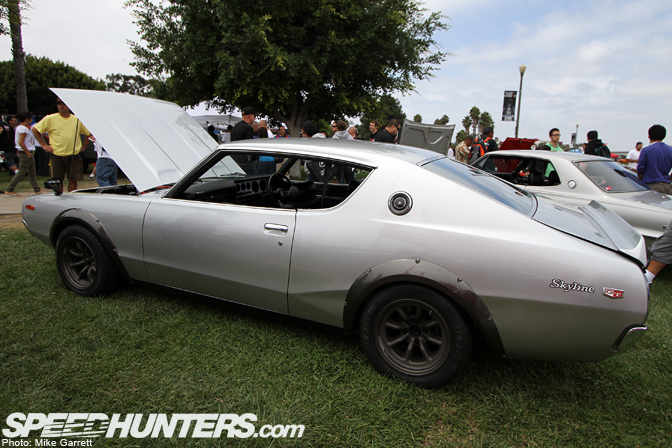 As I mentioned, each year there more and more stunning imported JDM vehicles that pop up at JCCS. This Kenmeri Skyline was one of them.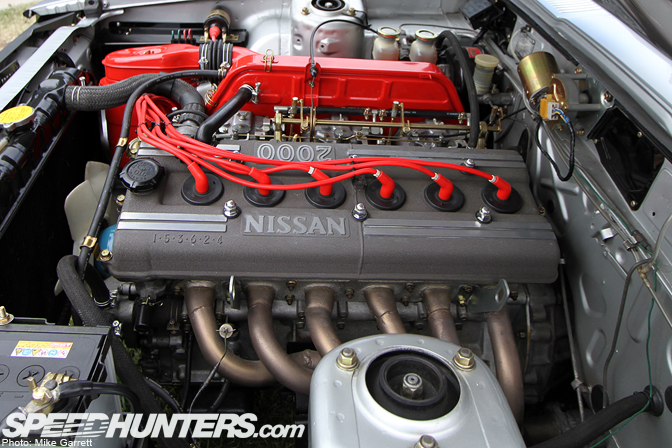 It also happened to be one of three vehicles at JCCS powered by Nissan's legendary S20 engine. I can't recall ever seeing an S20 in the US before, so seeing three of them lined up was quite special.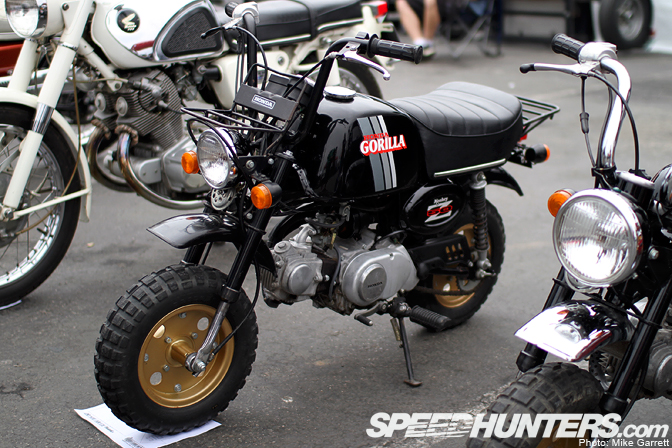 New for this year was the inclusion of vintage Japanese bikes in the festivities. I was particularly fond of this Honda Gorilla minibike.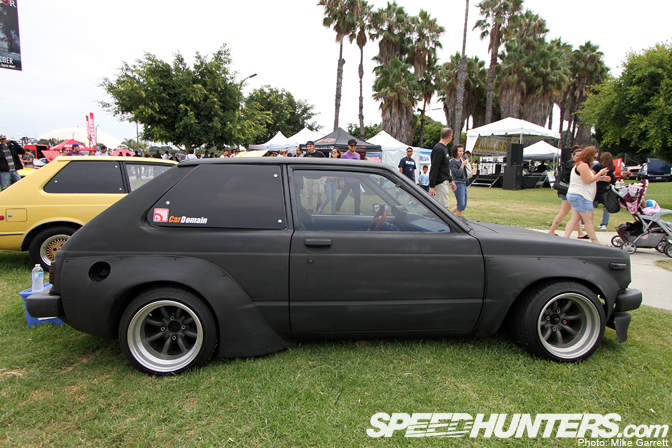 This flat black KP61 Starlet looked sinister with TRD flares and R-Type Watanabes.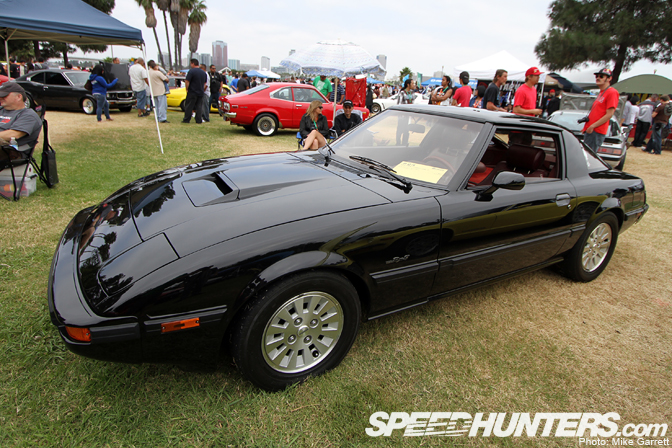 This 1985 RX-7 was in beautiful original condition, save for the hood scoop – which hints at the S5 Turbo II swap under the hood.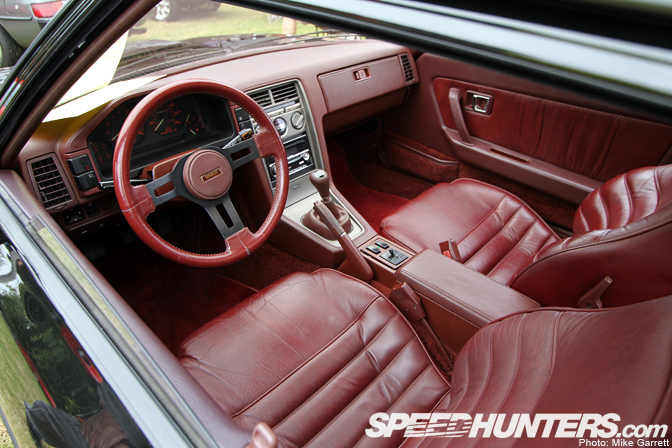 The original maroon interior was equally as mint.
Love the simple look of this two-door 510. It was rotary-swapped if I remember correctly.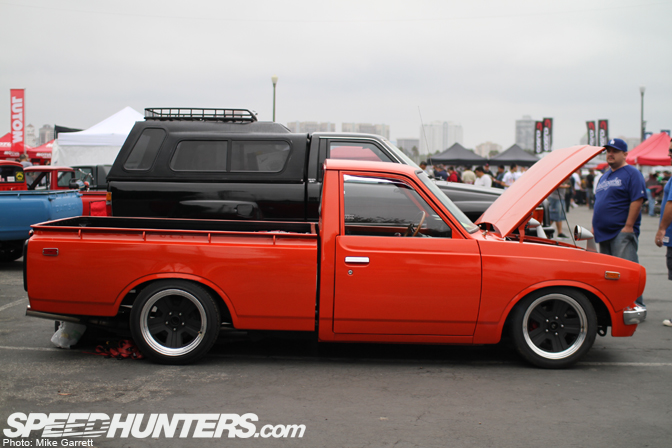 There are always lots of cool pickups at JCCS, and this '73 Toyota Hilux was one of the highlights. Dig that low stance and Mitsubishi Starion OEM wheels.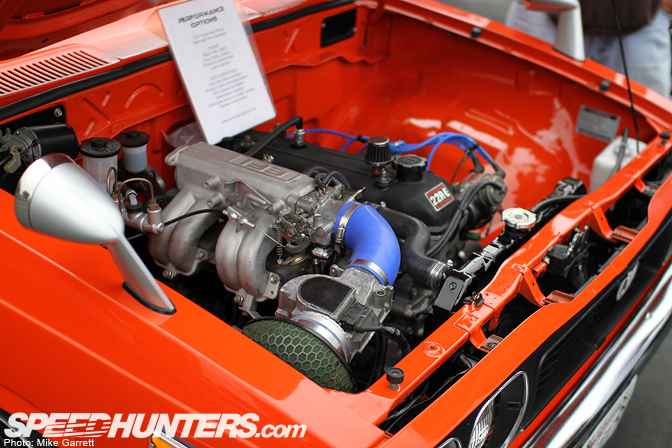 Under the hood was a 22REC swap from a newer Toyota truck. Simple and clean.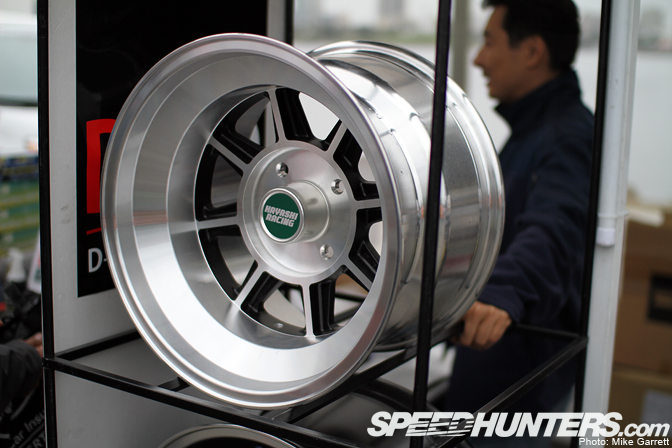 5Zigen USA is now importing brand new Hayashi Racing wheels to the United States. Support the originals!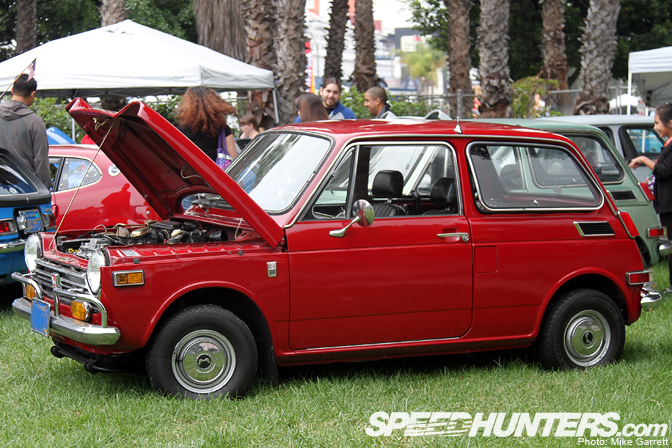 One of several Honda N600s being shown in the Honda section. It's the Japanese Mini Cooper.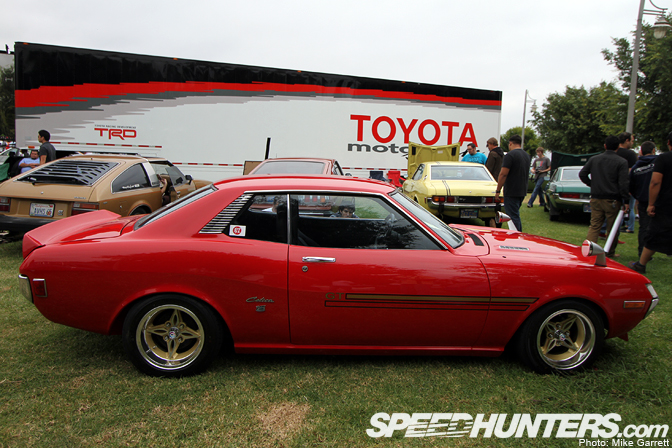 Hopefully this whet your appetite for the rest of the JCCS coverage that's coming this week.
Stay tuned for more legendary Japanese machines from Long Beach.
-Mike Garrett