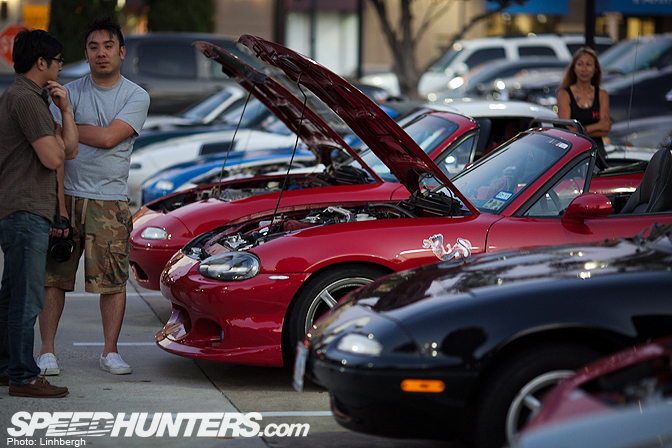 It is no surprise that we Speedhunters love Mazda's rear-wheel drive roadster offering. It is even less of a surprise that I, of all the Speedhunters, love these quirky and happy little cars the most.
So when planning started for my 18 day trip to Texas, I knew I had to contact the guys from Mayday Garage to help organize a local Miata meet in Houston.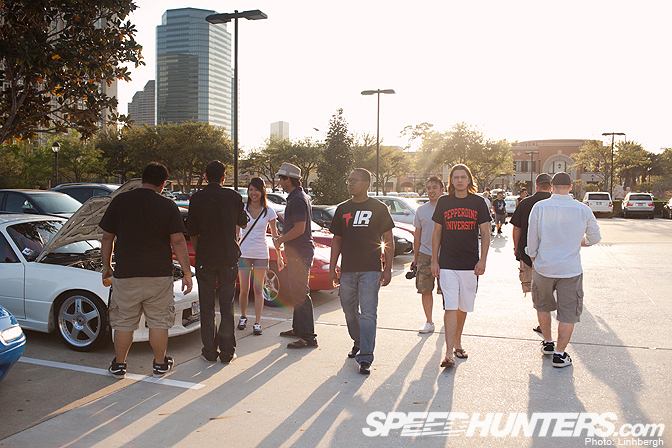 Both the Mayday guys and I posted on various forums to generate interest in the meet. The online response was a bit luke warm. But when I arrived to the designated meeting spot, the turn out was much more than I expected.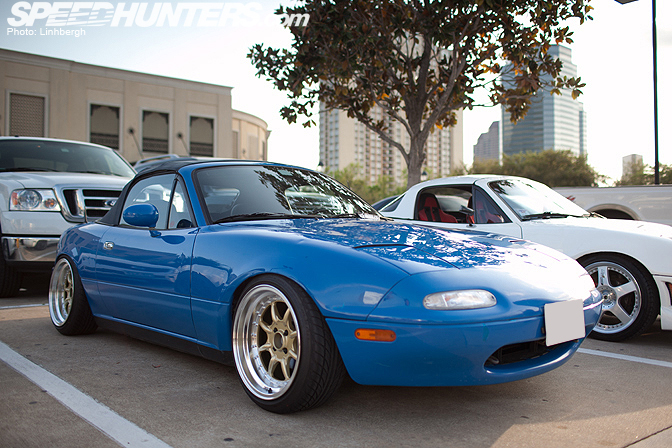 One of the first cars to roll up was this rather low, 1992 Mariner Blue, which was owned by Mayday Garage editor and photographer, David Do.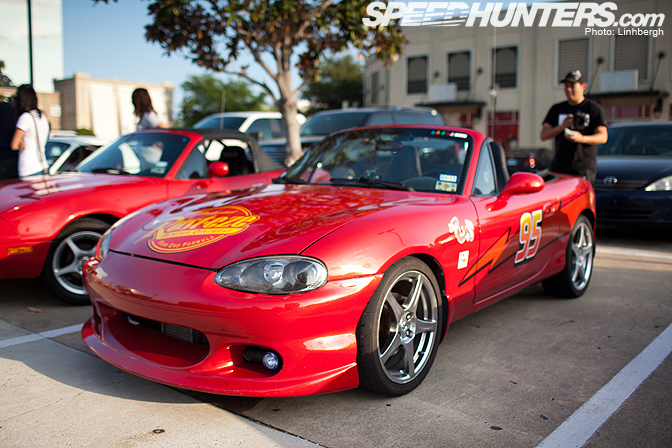 One of the next cars to roll up was this Pixar's Cars inspired Mazdaspeed Miata which is owned by the president of the Houston Miata Club.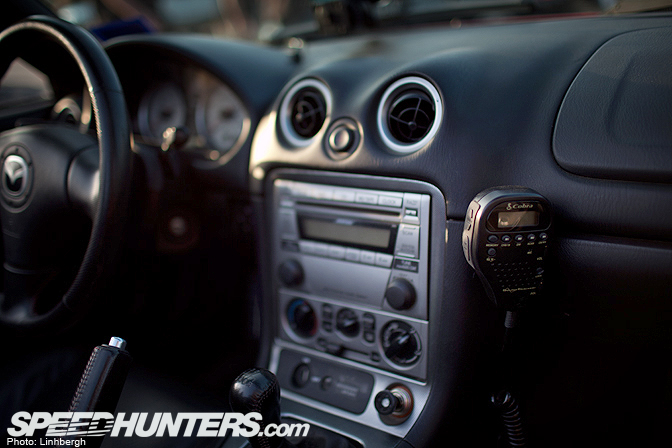 The interior of the "Lightning McQueen" Mazdaspeed was showroom stock except for the small addition of the CB radio. In my first Houstonhunting post, I mentioned just how spread out everything was in the state of Texas. And very often, you find yourself in a car for a long, long time while traveling equally long distances. Interacting with the locals on the highways and byways of greater Houston area with the CB sure helps pass that time.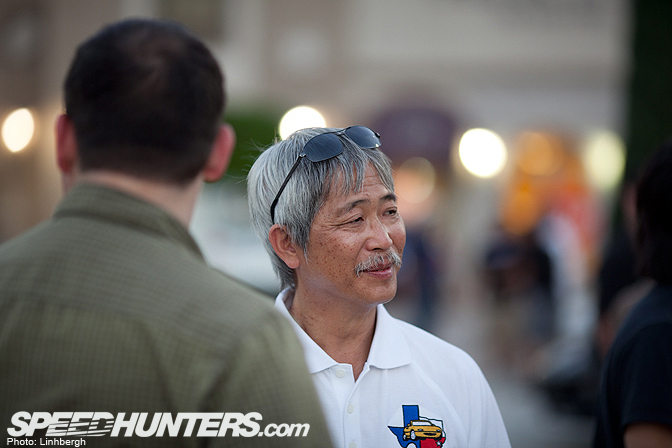 And here is the Mr. President of the Houston Miata Club himself, Charles Joe Shem.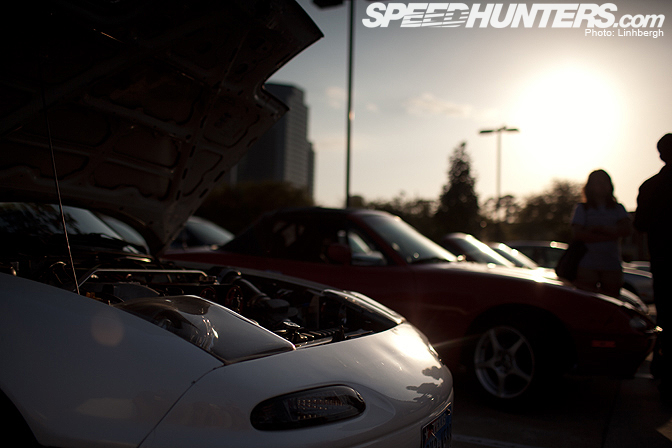 Texas is normally a humid place to be during the spring/summer months. For the past week, the weather has been nothing but perfect: not too hot, not too cold, and clear blue skies with a few puffs of clouds.
I'm hoping the weather stays like that for the next week. Knocking on wood….. now.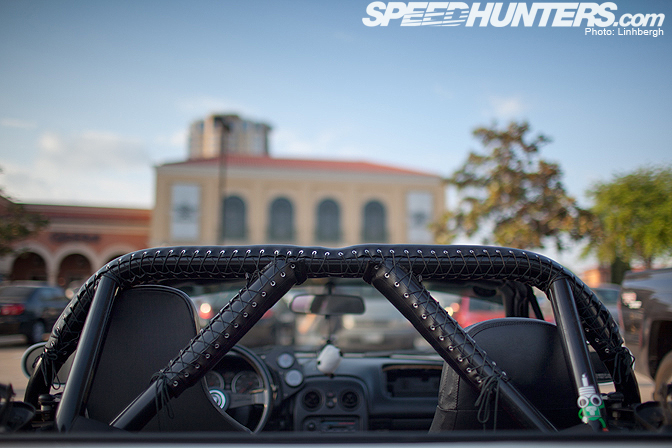 I've never quite seen roll bar padding like this before. Interesting none-the-less.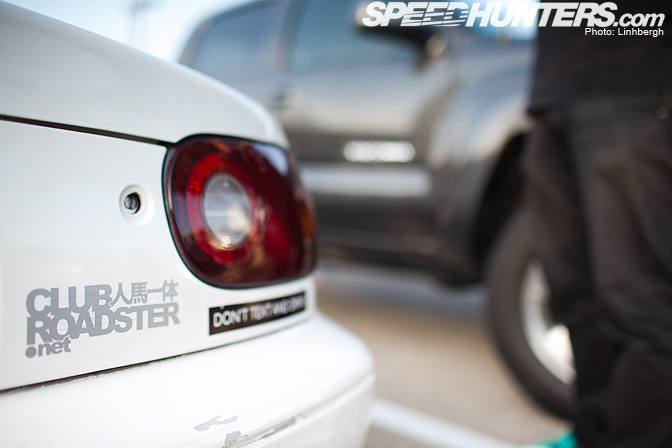 It's surprising how often I spot a Clubroadster.net forum sticker during my travels.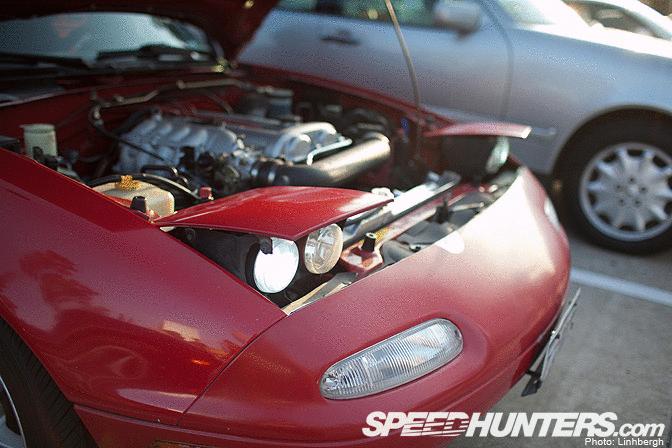 When I saw this sequence of images, it immediately reminded me of a Chinese lion dancers.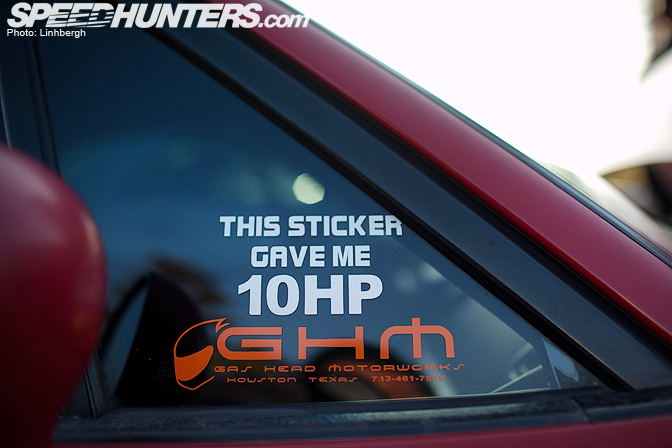 I chuckled at the sight of the "10HP" sticker. So awesome.
Gas Head Motorworks is a Houston based performance shop which strictly works on Lotus' and Mazda Miatas.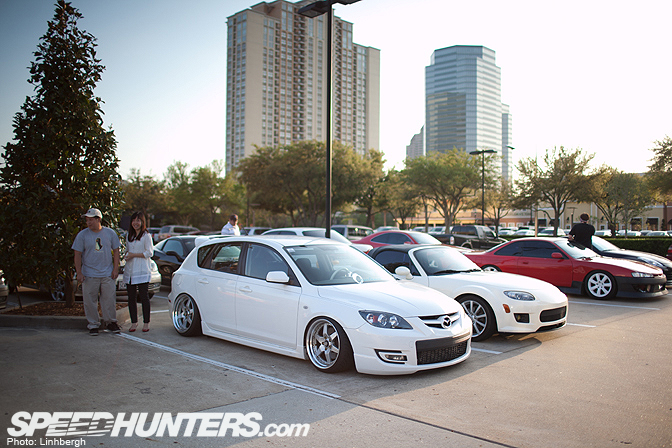 The meet wasn't all just Roadsters. This rather low Mazdaspeed 3, which was in attendance at Import Reactor, showed up as well.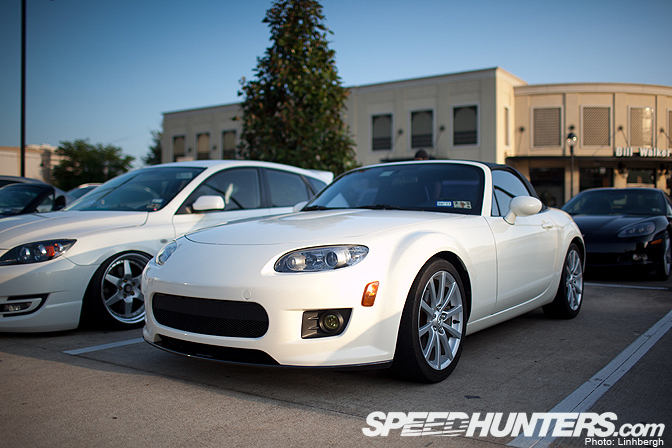 In the world of Miatas, the newest generation is the least represented. It was good to see this lightly lowered Mazdaspeed version out there.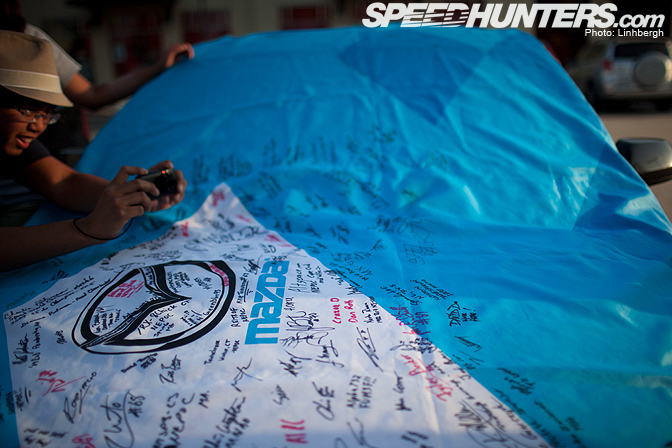 A fellow Mazda owner brought out this Mazda flag to be signed by everyone in attendance at the meet. The flag will be soon traveling the world and everywhere it goes, it'll be signed by the local Mazda communities.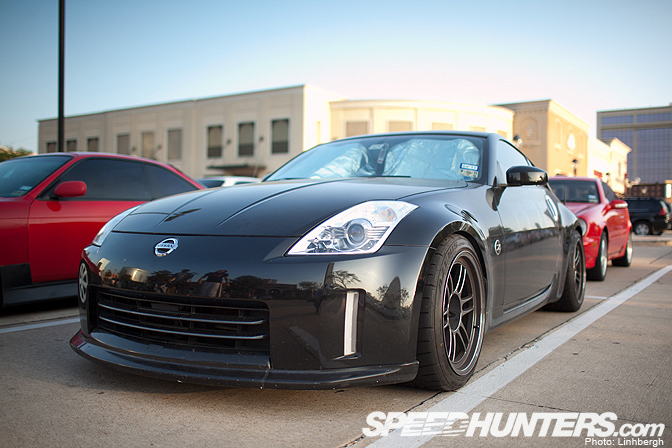 Here's another non-roadster. This Nissan 350z looked like it was ready to tackle on some twisties with its beefy, performance based stance, sticky tires and upgraded brakes.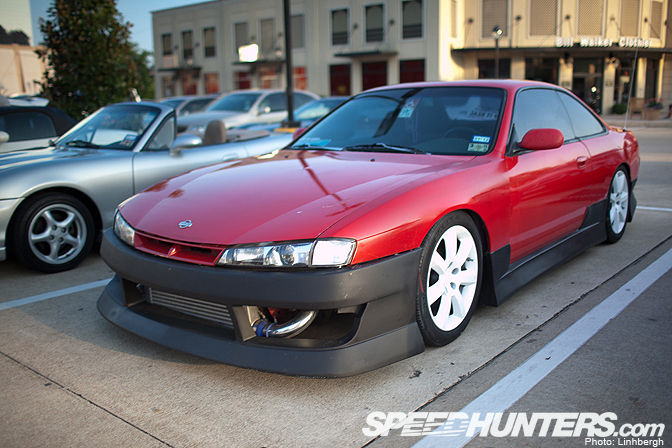 The Mayday guys and I agreed that this kouki S14, rolling on 350z wheels, would look great once the body kit was painted.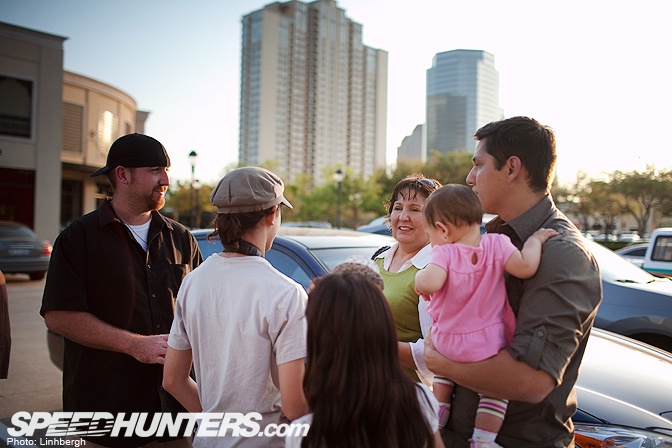 Miata meets, it's a family affair.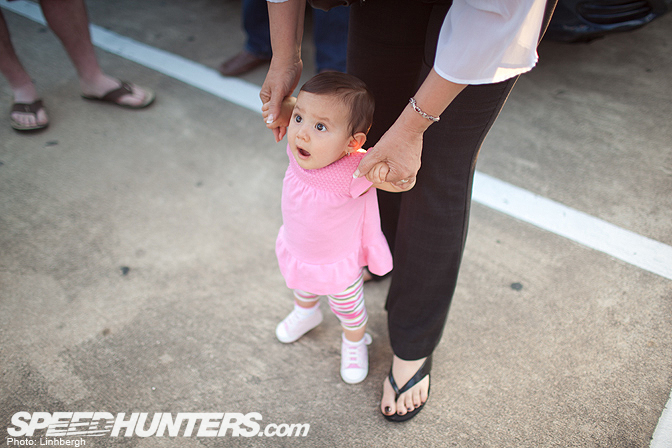 This little girl seemed very excited to see so many Miatas.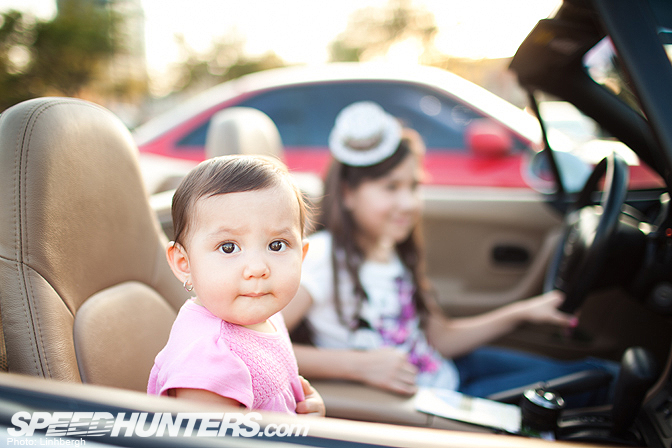 Want a kid to love roadsters when they grow up? Start them young.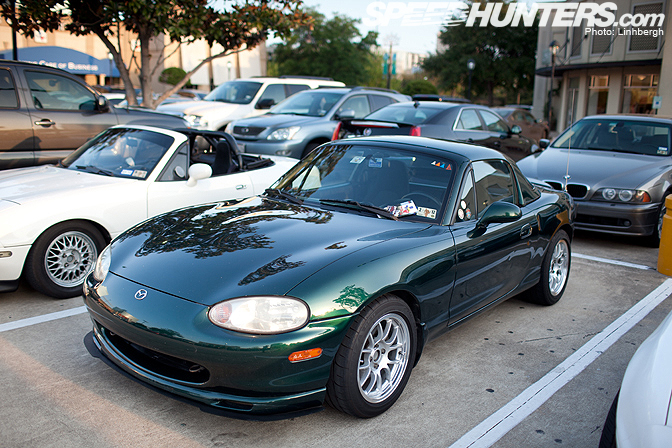 This second gen, is a definite corner carver with its sticky tires, 949 Racing 6UL wheels and front splitter. The great thing about these Roadsters is that you really don't need to spend too much on aftermarket parts to spec it out to "forever-smiling" spec. Even when these cars completely stock, with all their body leaning amazingness, they're still an absolute hoot to drive.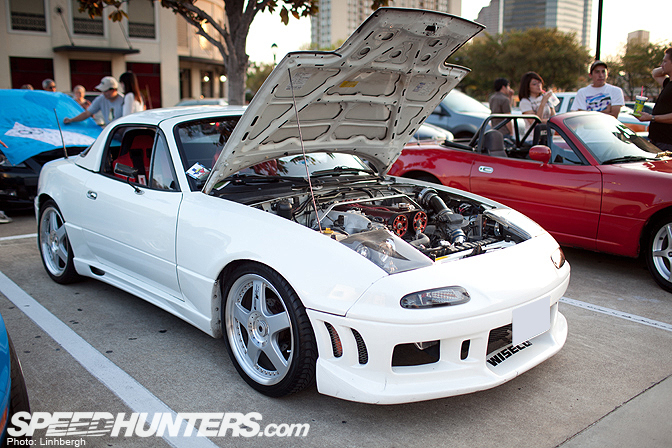 This white Miata might not impress much people with its exterior styling…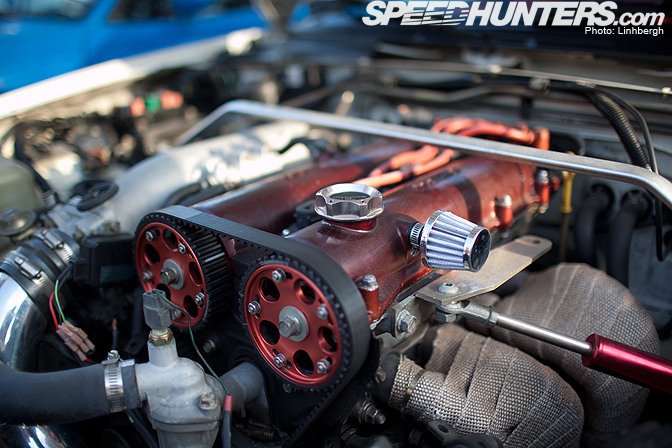 …but its fully built NA motor is something that would definitely impress. Nothing inside the motor has been left untouched.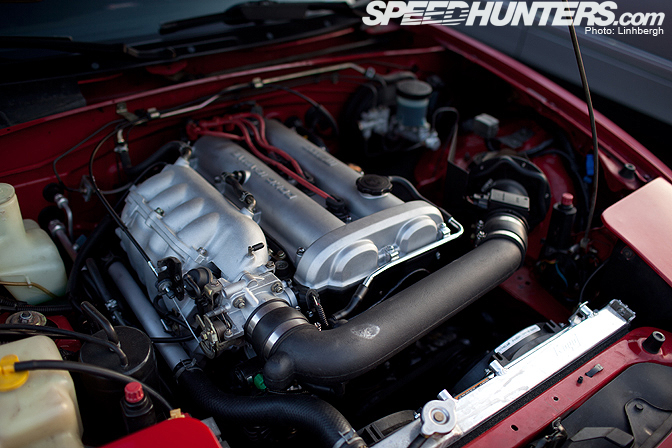 In contrast to the motor above, is this 1.6L motor that has been completely untouched. It looks like it literally rolled out of the factory floor. So clean!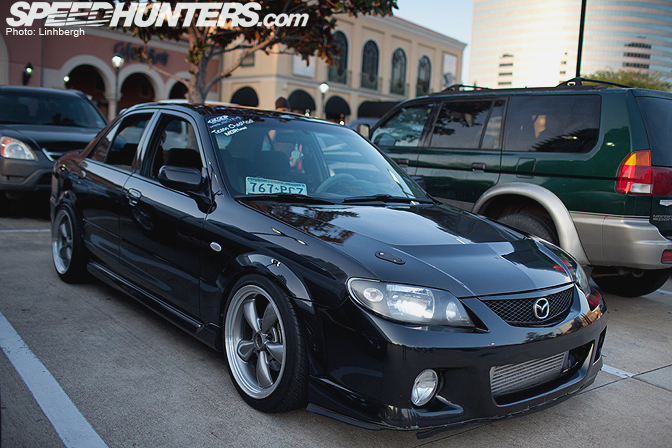 More non-Miatas, A Mazdaspeed Protege lowered on Mustang wheels.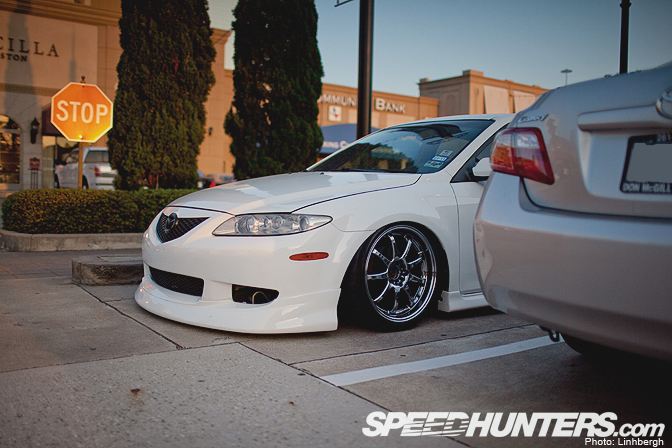 Another Import Reactor attendee….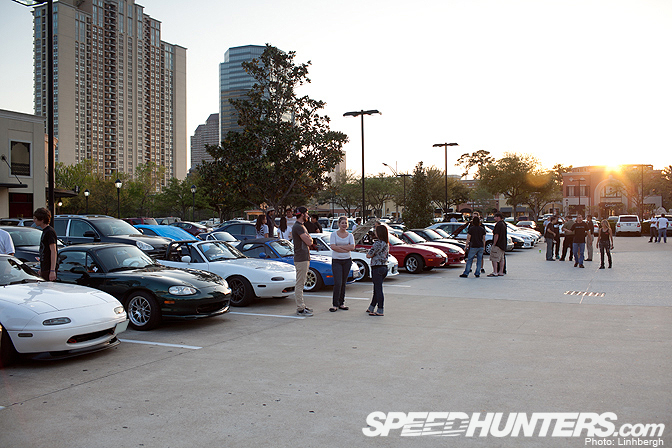 As the sun started to set, the trickle of cars started to slow dow and people started to settle from the excitement of each new car rolling in.
For those of you that frequent car meets often, I'm sure you're all quite familiar with that very rhythm. It's a way of life.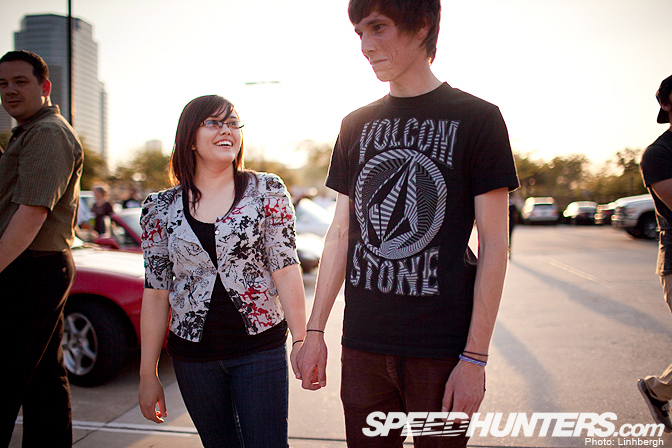 When I saw this couple walking down the aisle checking out the cars, not-so-sneakily did an impromptu engagement style photoshoot.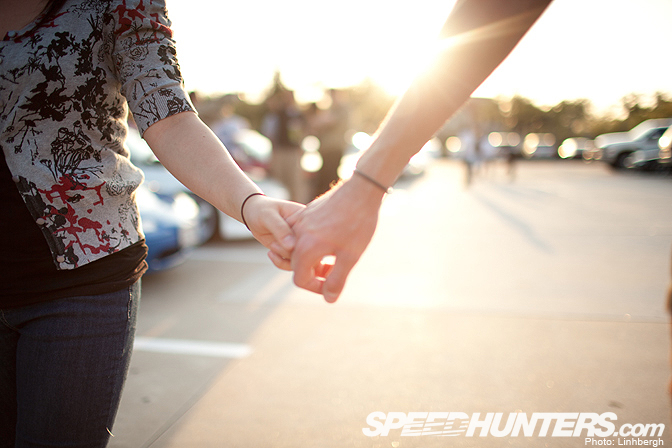 Engagement style shoot money shot –sun flare and all!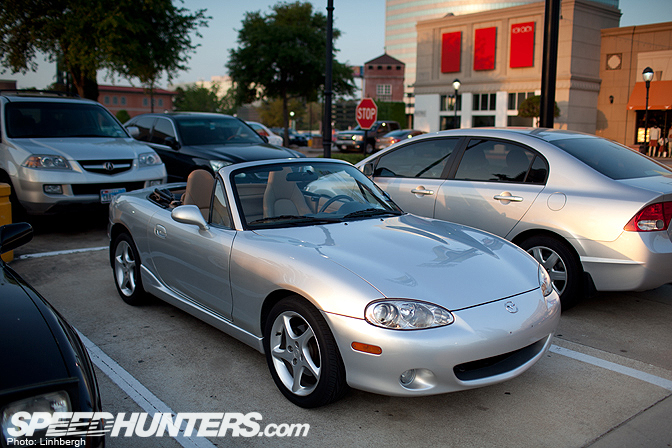 Not all Miatas that came out were modified. This second generation, was pretty close to being show room clean.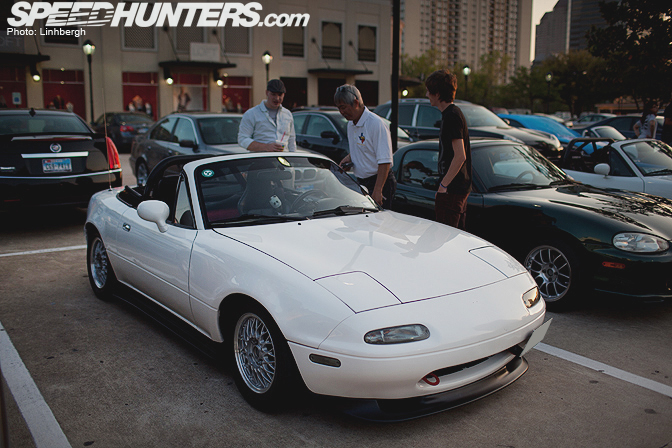 This white NA, with a Garage Vary front lip, looks like loads of fun to toss around some country roads.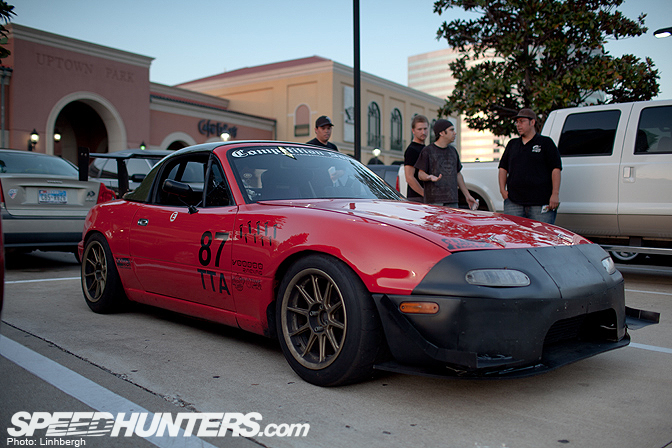 This rather serious looking track car came a bit later in the evening, you'd be surprised to find out that this is the owner's daily driver.
I'll be takeing a more detailed look at the car soon. So keep a look out for that.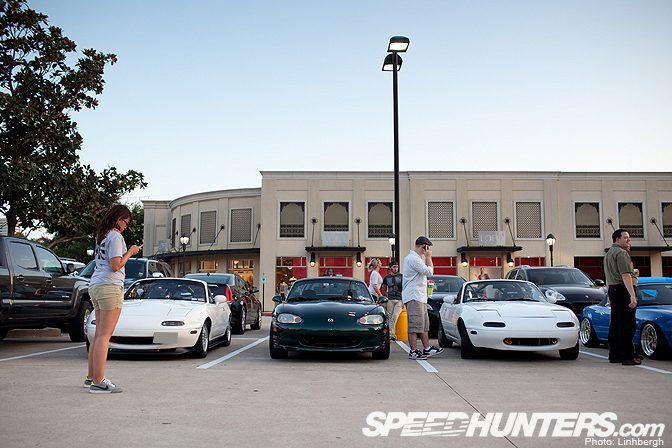 Miatas always look like they're in the best of moods all the time.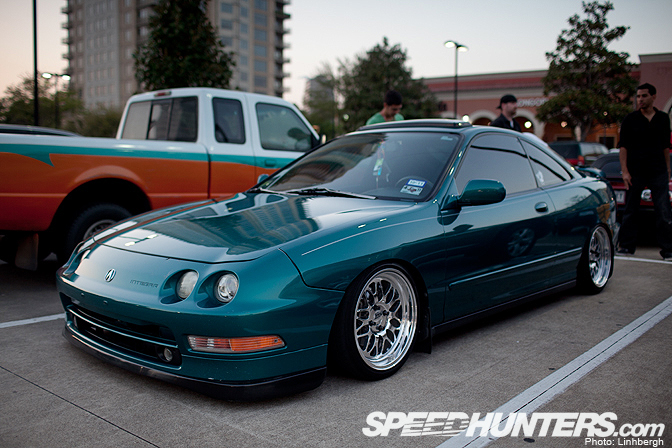 More non-Miatas. This time a super slammed DC2 which was also an Import Reactor attendee.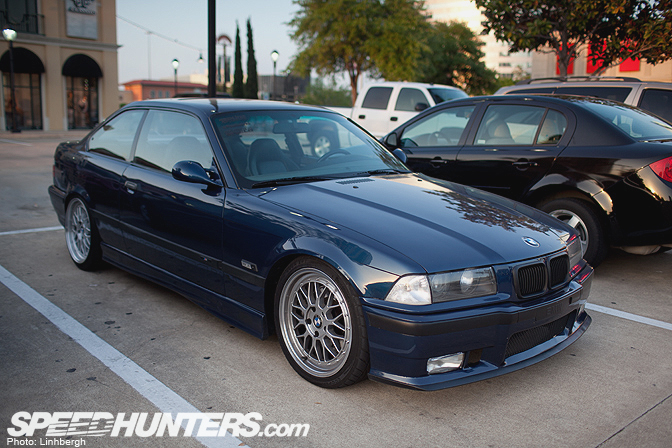 You can't really go wrong with an E36 M3 can you?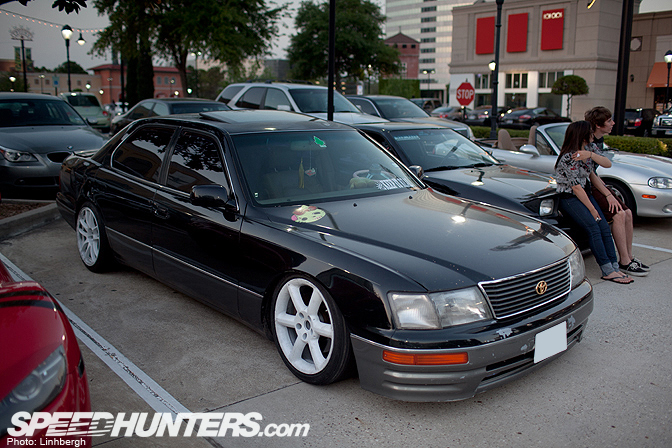 This rather slammed Lexus LS rolled in a bit later.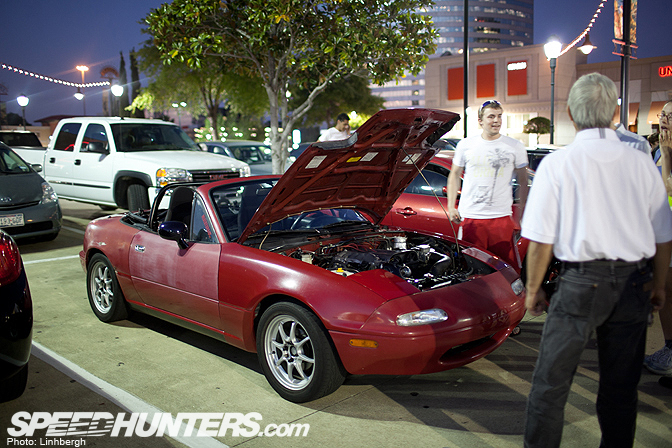 Right before everyone was about to leave the meet area for dinner, this rather unassuming classic red NA pulled up.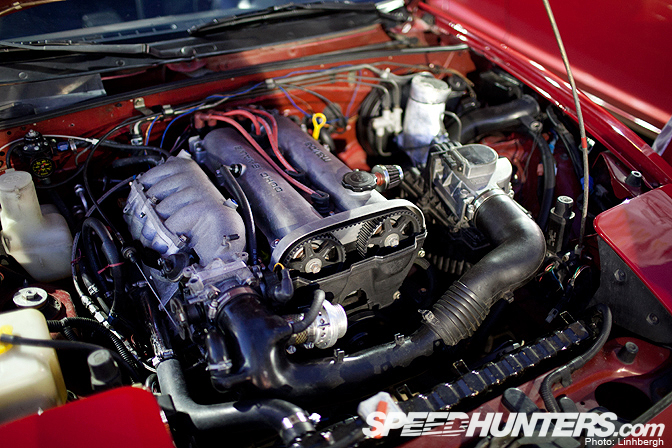 This car is a true sleeper. Inside lies a stock-ish looking engine, but it's actually a fully built 2.0L stroker! The owner plans to turbo charge the car with a goal of 430 wheel horse power.
Imagine that sort of power in a light weight runt like a Miata!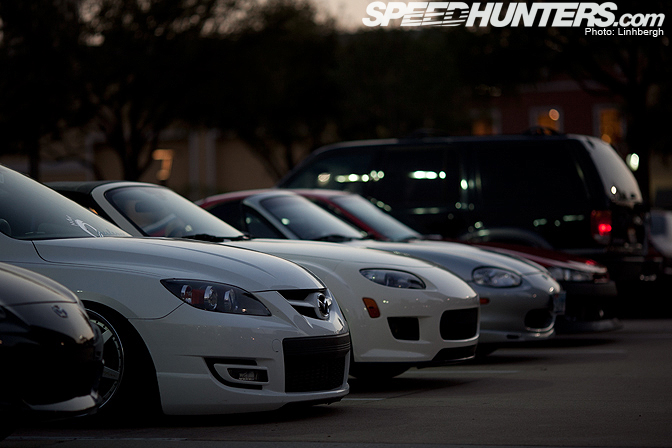 Going to these meets makes me miss my classic red roadster dearly. But it was interesting to see if the Miata community in Houston was any different then the Miata community that I frequent back in California.
So was it? Nope. Houston had exactly the same passionate people whom expresses love for such quirky little cars as anywhere else in the world.
Thank you for the Houston Miata Club for coming out and a thanks to the guys of Mayday Garage for organizing the meet.
-Linhbergh