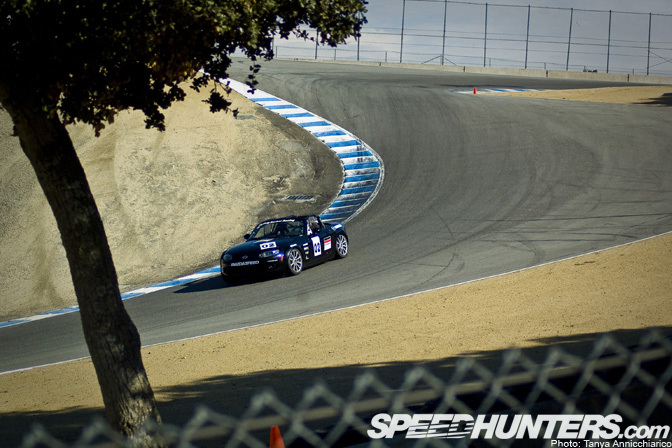 Birthdays are an odd thing to celebrate. If you think about it, we celebrate the fact that you have less time on this planet to enjoy the people and things we love. On the other hand, we tend celebrate these things on your birthdays as well. At the beginning of October I was given the surprise of all surprises for my 30th birthday… a trip to Monterey, California to attend the Skip Barber 3 Day Racing School at none other than Laguna Seca!!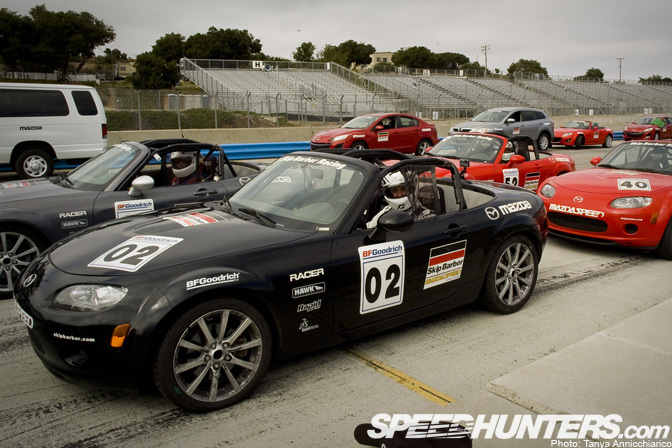 My fiancee and my little girl actually surprised me a few weeks in advance of the actual event and my actual birthday so I could prepare for the time away from work… what a surprise that was! Everyone has a bucket list (whether they think of it as that or not), and going to racing school was just about on the top of my list! Being able to drive/race at Laguna Seca, my all-time favorite track, as well as getting my racing license was on there too! Now 3 things off my bucket list, how is that for heading over the hill of 30?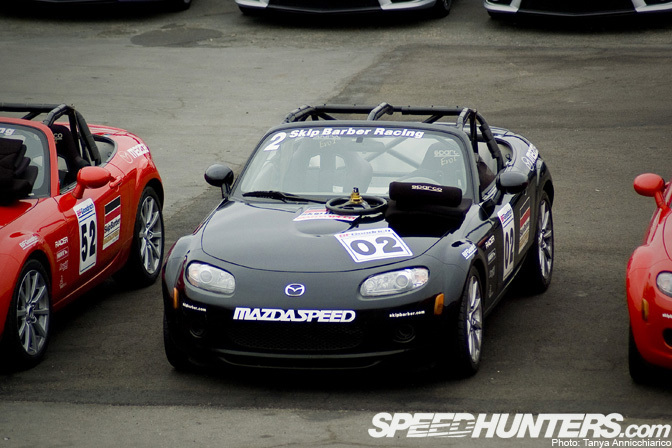 I guess I talk about cars and racing enough at home that Tanya knew exactly what I would have opted for if I was choosing the school to attend. Skip Barber's reputation for being one of the top racing schools puts it at the top of my list, not to mention the Skip Barber books and video's I've read and watched. In the 3 Day Racing School students have the option to drive either the Skip Barber Formula Car or the Mazda MX-5 Cup Car. The Skippy is a bit quicker and a bit more challenging to drive from what I understand, but the Mazda is much closer to what I will be racing once my RX-7 is finished, so it was perfectly suited for me.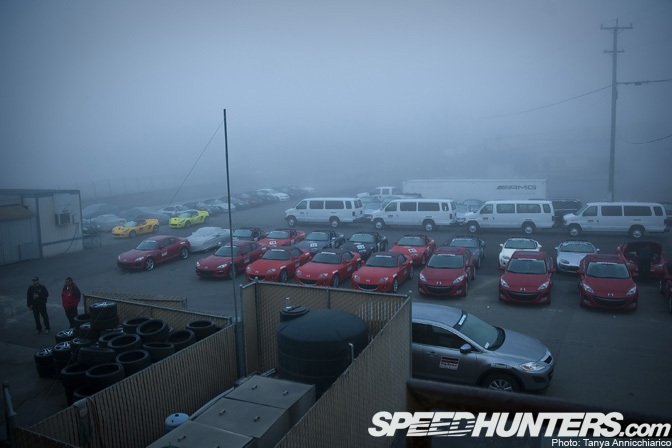 When we arrived on the first day I was bright eyed and bushy tailed, which was strange for me, as I'm definitely not a morning person. The fog was as thick as pea soup! I was worried the track would be slick, and visibility would be crap, but once we got inside they told us that heavy fog is very common especially for that time of the year in Monterey.
I was also a bit concerned about whether I would have enough room to feel comfortable in the car with a helmet on, but once I got there, they brought out the 'big boys' car which has its Sparco Evo 2 bolted directly to the floor pan. I'm close to 6'4", and this thing fit me like a glove! I was immediately comfortable with the driving position and to top it all off, the car was black (every single one of my personal cars have been black)!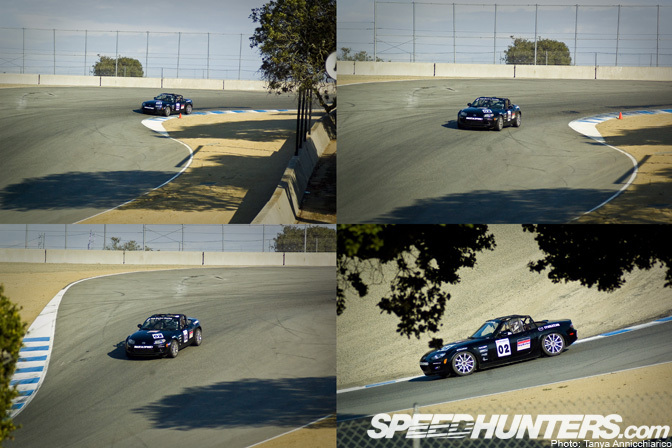 They started the school with a couple hours of classroom instruction to get everybody up to speed on the basics. After that we all got out onto the skidpad for some autocross style warm-ups to get used to the cars. This was interesting as we were mixed with the Formula cars in those sessions.
After the auto-x session and a bit more classroom instruction, they rolled us out onto the track to do some parade laps in the Mazda 3's with the instructors in order to get aquainted with the track. This is where it got interesting for me. Leading up to this event, I had been playing a lot of iRacing, particularily at Lime Rock Park and Laguna Seca. I've probably done thousands of laps at Laguna on the PC, so it was really awesome to see how that all translated into the real world.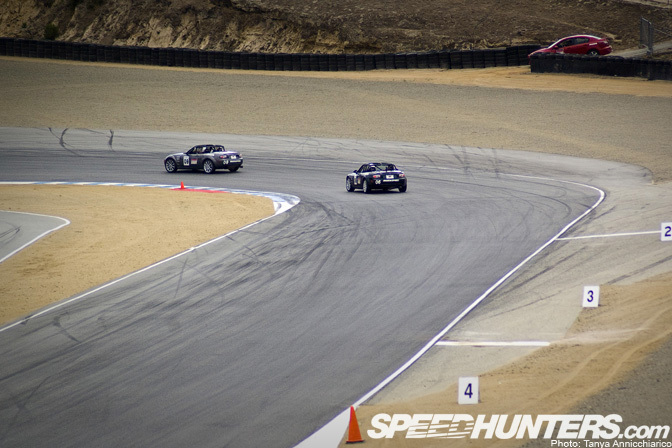 The most shocking difference and probably also the most obvious, was the g-forces I felt on the track that I didn't feel in my sim rig at home. When you've lapped a track thousands of times, you know the track very well visually as well as the timing and rythmn. However, the first time you drive it at real speed, it throws you off since you're not used to feeling all those forces at certain parts of the track.
I was also surprised that in the MX-5, the corkscrew wasn't very intimidating. Yes, just as everyone has always told me, it's a LOT steeper in person than in photos, on TV, or in a sim. The way the corkscrew is cambered, as long as you're committed to it, it's a very fun corner. I looked forward to it every lap. At turn 1, the kink in the main straight was the one that took me 4 or 5 laps to drive it flat out. The negative G's you feel over the crest take a bit of getting used to. I was worried that a crest on a kink might upset the car a bit but that was just me being a chicken sh*t.
Turn 6 is an interesting turn too. It's the last left hander before the corkscrew, and to do it right, you need to be on maintenance throttle as soon as you turn in to get a good run up the hill to the corkscrew. This corner probably took me the longest to perfect, but by the end of the 3 days I could tell whether I nailed it based on if the exhaust of the MX-5 clipped the asphalt or not.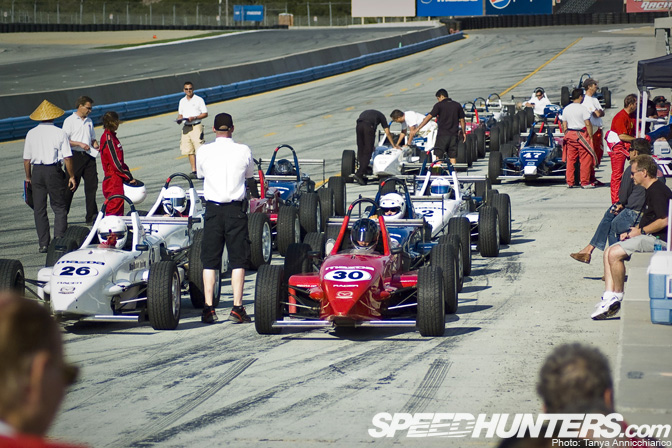 Our class consisted of a little more than 20 people, fairly equally split between the Formula group and the MX-5 group. Here's a shot of one of the Formula groups getting ready to hit the track.
I met some great people in this class, even some local Vancouver racers, so I'm sure I'll be running into a few of them at some point, or seeing them on TV racing in Grand-Am or something else in the future.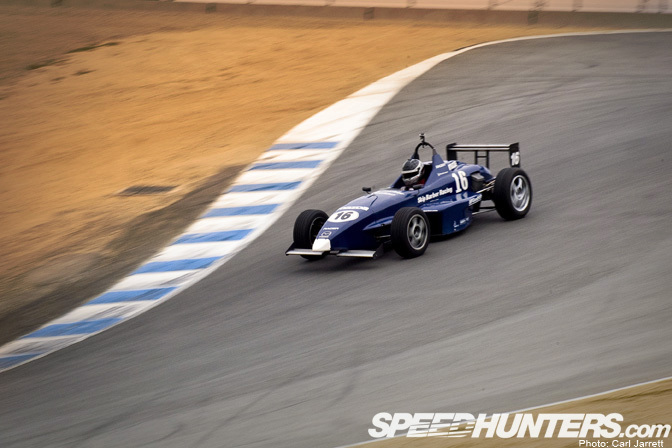 There were a couple of young guns in the class too. Scott Hargrove pictured, is 15 and has never driven a car before, but has a few years of karting experience. With only a few years of experience, he showed some obvious natural talent and smoothness. He was one of if not the quickest drivers in the Formula group. Austin Self who is 14, was also in the Formula run group, and has been racing in karts since he was 4. What I would have given to have that 10 years of racing experience by the time I was 14!!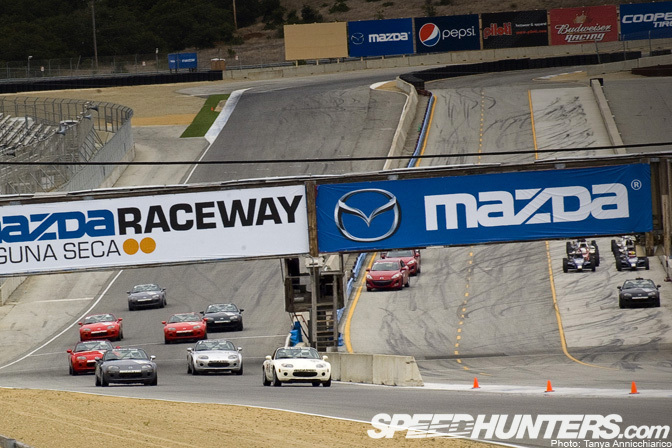 Day 2 and 3 consisted of a mixture of classroom sessions and on-track coaching. What I loved about this school is that even though you were sharing the instructors with 20+ other students, it always felt like 1:1 coaching. The instructors would go post themselves at different corners of the track every session and rotate between sessions. This meant that every time you came in from a track session, you had 5 or 6 instructors give you personal and direct feedback from that specific corner, and by the end of the 3 days, we were left with an abundance of feedback for improvement.
At the end of day 3, we did 3 practice race starts which was huge fun! The instructor would catch us all back at turn 9, and then once came up to the last corner before the straight, then the instructor would pull off into the pits, and we'd drive out onto the front straight and roll until we saw the green flag drop… definitely exciting! I was really impressed with everyone in our class. Even though there were some with no track experience whatsoever, and we had no major mishaps in the race starts or at all weekend for that matter.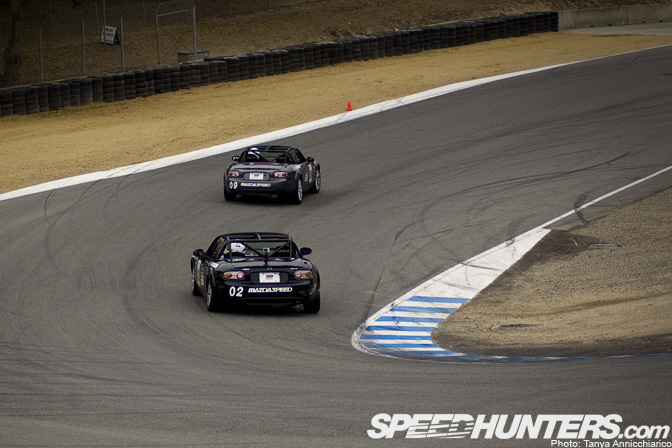 During the 3 days, I think I did a little over 100 laps at Laguna. I was ready to do a thousand more but all good things must come to an end. I came back with lots of great video, and some great photos, so I'm sure I will remember the experience for a long time. I'm now ready for the next event where I can bring my own car down to this amazing race track.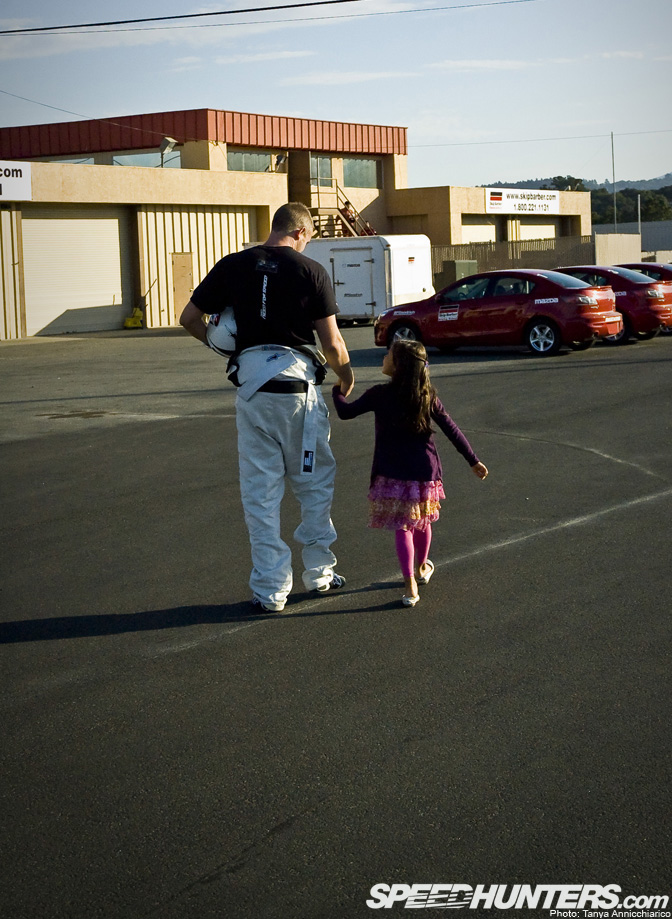 I still grin thinking about those 3 days! I can't thank my family enough for making my 30th birthday an epic one. Having them there with me made it so much more special. I feel extremely lucky to have been able to do something like this, and to be on a track where all the Greats have driven. It literally gave me goosebumps multiple times during these 3 awesome days.
Here's one of my early day 3 lapping sessions:
http://www.youtube.com/watch?v=ibQKuagDsK4
- Carl Jarrett