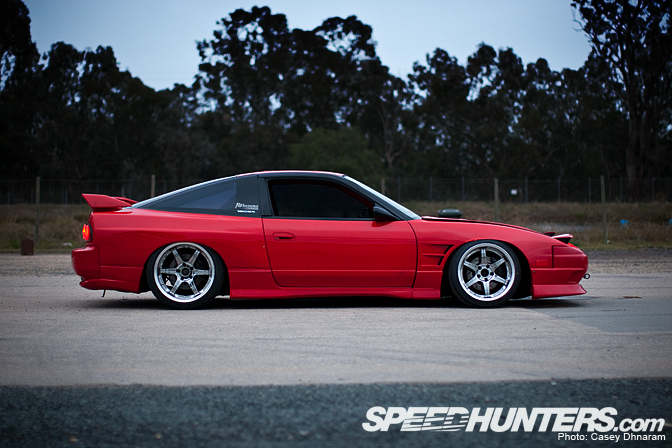 Hello fellow Speedhunters, I'm Nigel Petrie from Australia and this is my first Driver Blog for Speedhunters. It's a quick run through from our local event named Drift Attack.
Drift Attack has grown over the years into a well respected professional drift meeting that consists of Australia's best drivers and cars.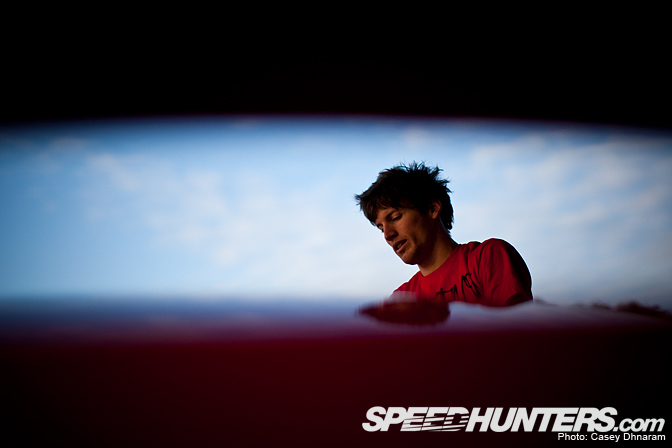 Pre event nerves: here I'm looking rather calm in the middle of the madness. My hair looks like junk because I cut it myself and have done for 8 years… Affording tires requires you to give up some luxuries.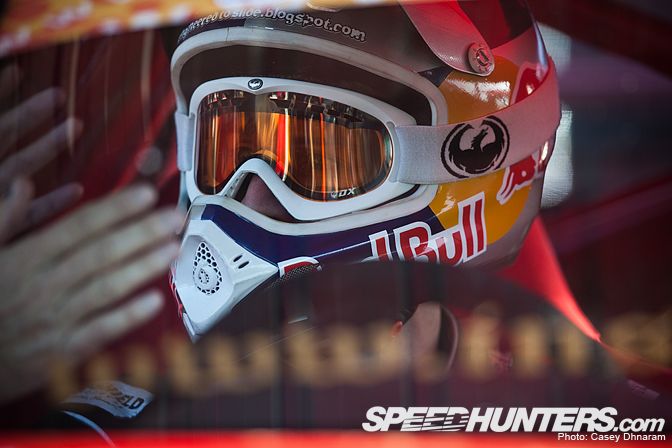 Taking some pointers from my team members, not getting the chance to see any other drivers do the course you rely on feedback from your team, it's no good telling you you're doing well when you actually suck.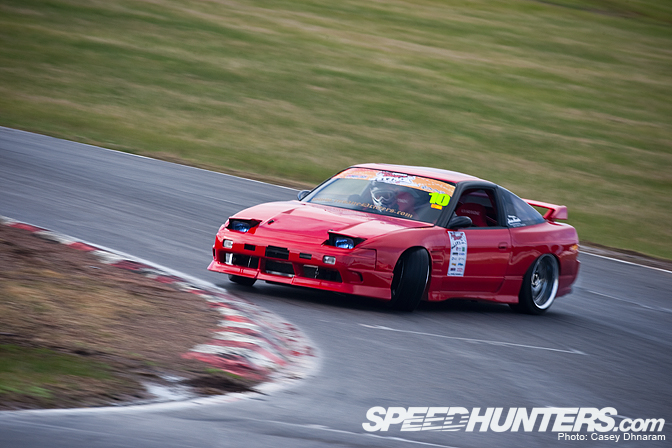 First practice session went well, the track was still damp from the overnight rain, the car felt strong, and the changes I had made over the break seemed to be working out.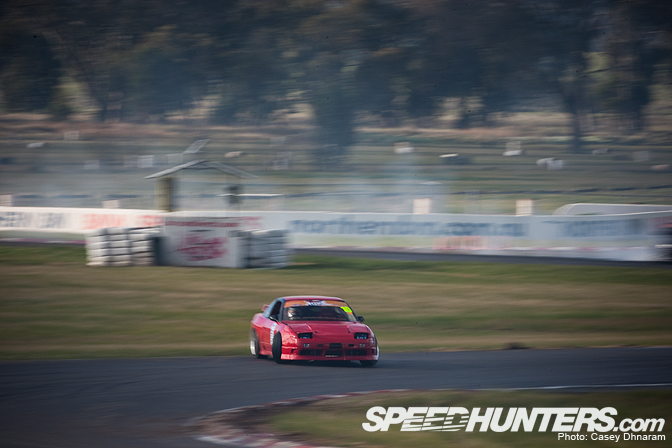 Second and last practice session for the day was very difficult. That's because the track was slowly drying and the slippery section was on the switch back from turn 1 to turn 2 -not many drivers where able to get through without spinning. There was talk of oil down mid corner and it certainly felt like it.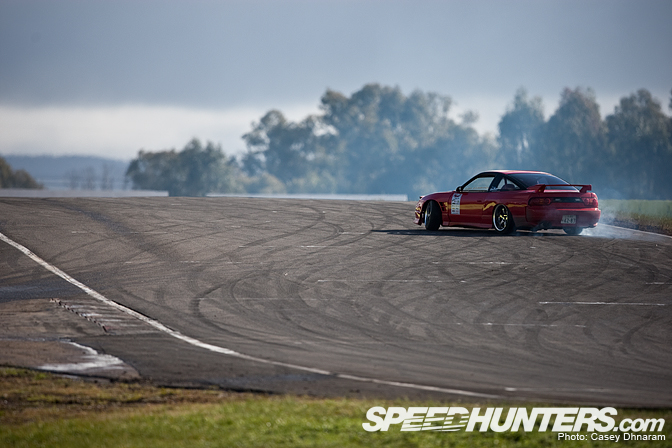 The drive up the hill after the 3rd turn is always fun, the crowd are on your left, the throttles pinned 100% open and your runs nearing an end. Notice the Japanese license plate? This is my lucky plate, I asked a friend to get me a pair of these many years ago, when they arrived the numbers matched my birth-date 62-83, I never do a run without them attached.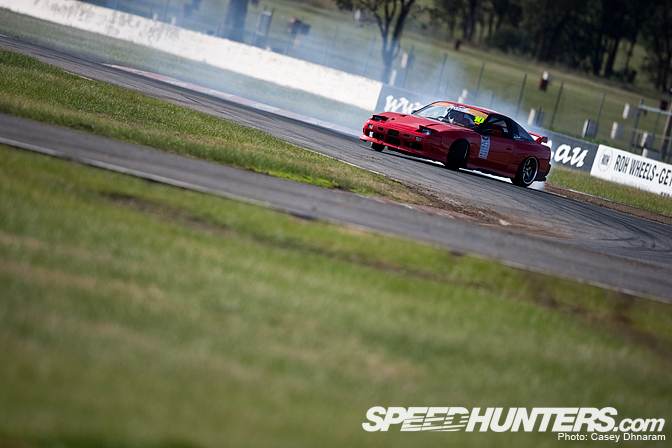 Time for the first qualifying run: I positioned myself mid pack to give the track a chance to dry up then worked hard to get a clean run in. I'll always do a solid first run and then push hard for something special in my 2nd and last run.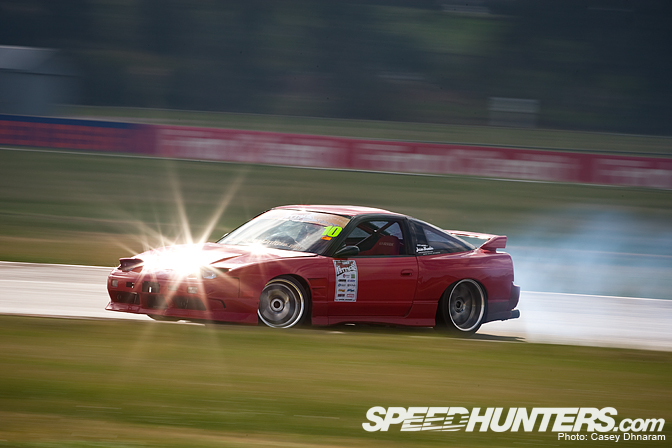 The change to Kouki Aero for this round was done for two reasons, 1: The ability to sit the nose over the ripple strip and nail the clipping point without busted URAS flying everywhere and 2: Because its possibly the best looking style a 180SX can have. The second run is nearing completion in this shot, and I was very happy with my performance and confident I placed well.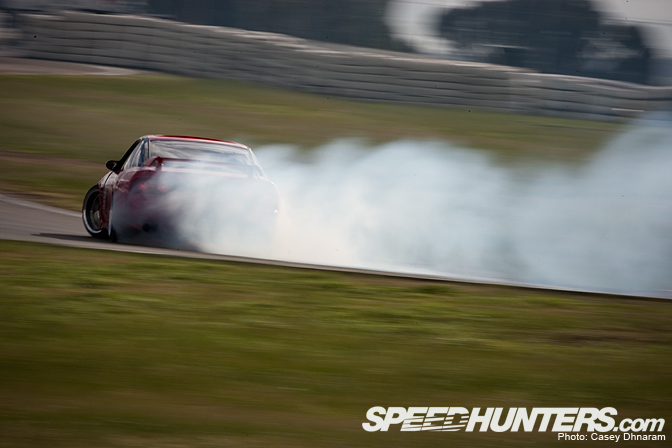 The tires are nearly finished and I'm doing my best to get the most out
of them, no point removing them with tread left.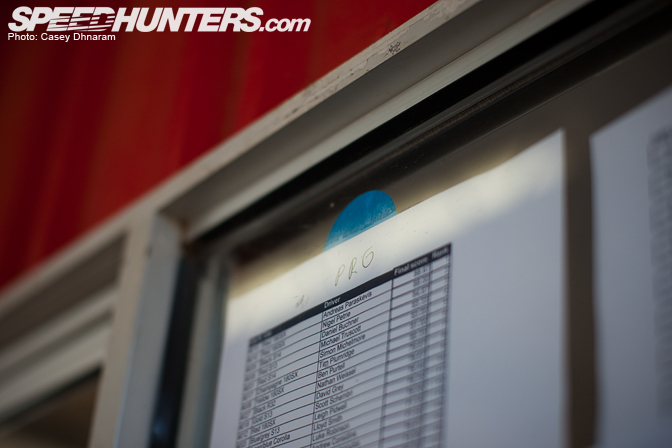 I was over the moon… qualifying 2nd place!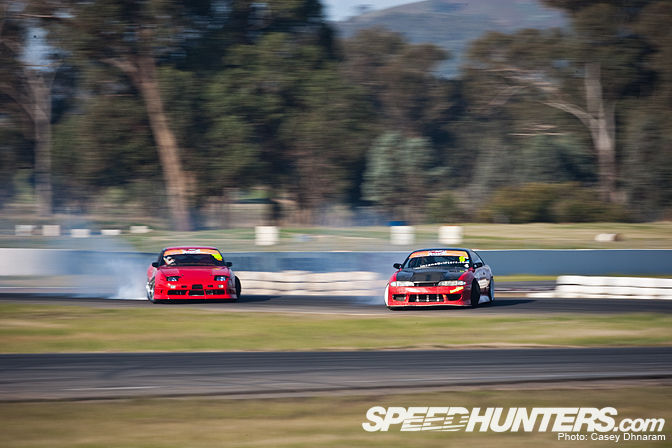 Having qualified in 2nd position, it gave me a by run in the top 32, some people couldn't make it so I was straight into the top 16 battle. I'm up against my team mate John Papa and coming in fast behind him. He put down some of the best runs for the day and we had to re-run to decide the winner. I was extremely lucky to advance into the top 8. Its bitter sweet, you're glad you won but bummed you knocked your best mate out.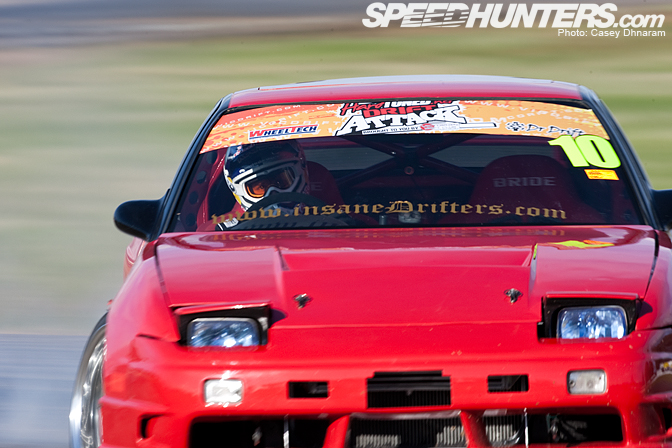 When I look at this picture I re-live the moment, there's nothing I want more than to get the line through the last corner 100% right, flow wide up the hill and over the finish line. Notice my camera on the X bar, capturing all the footage that can be seen on my blog ENGINEEREDTOSLIDE.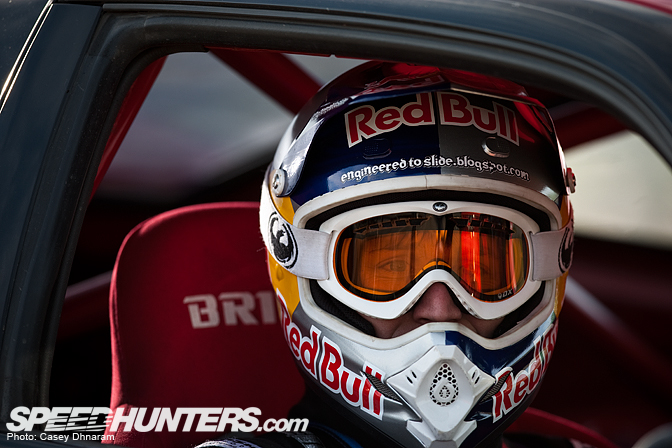 Red Bull helped out myself and 3 team mates at this event; extremely evident from our helmets. We thank them for their support and hope to work closely with them in the future.
Goggles must be worn when your front tires are hard against the guard.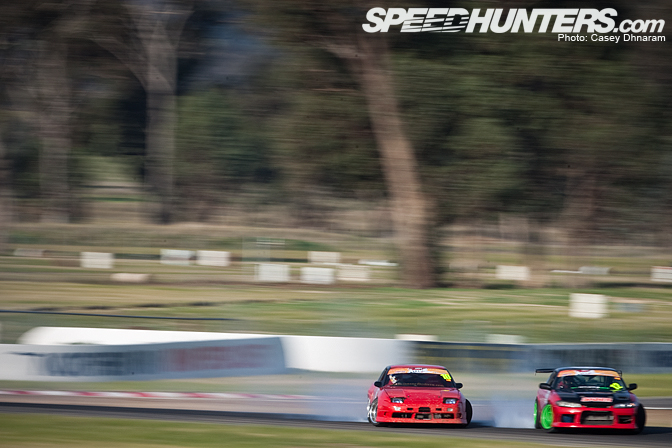 Top 8 battle against Scott Schembri from Project D Drift School, this was a fun match up, we are good friends and enjoy driving together, we kept it tight and had to do a OMT for me to advance into the top 4.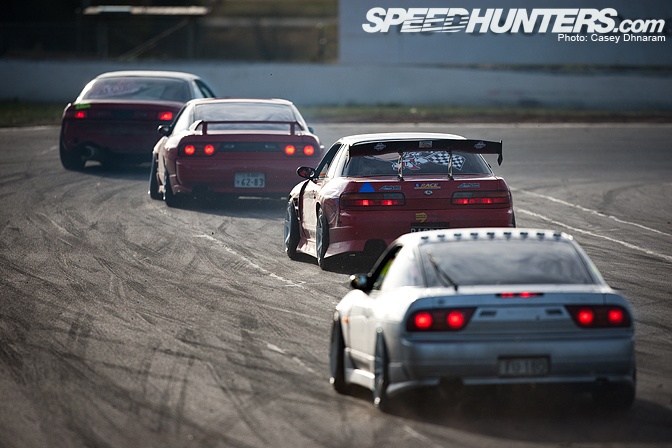 Team drift is always a great spectacle at any event and we pride ourselves on doing well, although this time didn't go as planned, Hai's gearbox broke which forced him to borrow Tom "Biggie" Hall's Silver 180SX then all sorts of dramas followed. We did two laps and decided it wasn't our day so headed back to the pits. I was just glad no one hit me and I could compete in the top 4 battle.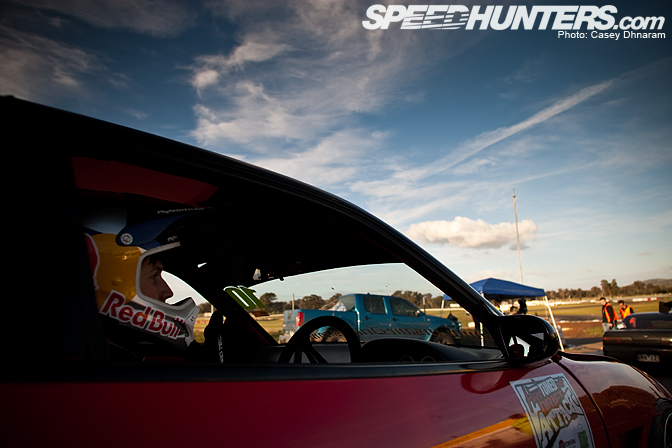 Sitting on the grid, hugged by a Bride bucket and held tight by my harness, there's no other place I'd rather by sitting right now. I've been doing this for a few years and it never gets any easier. I take comfort in the confidence via gained from the earlier battles, surely it couldn't get any harder than the two re-runs I did previously.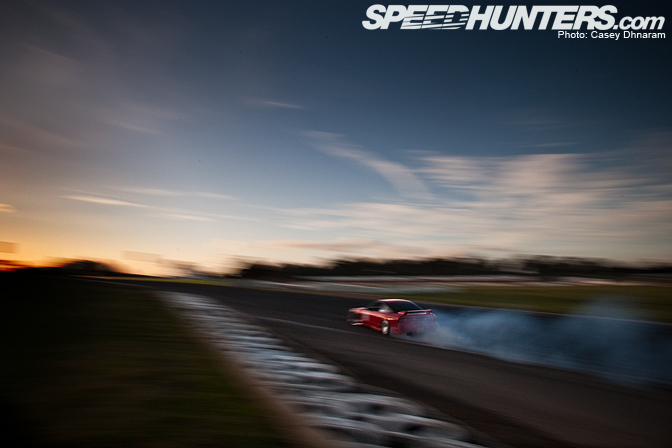 Blasting off into the sunset…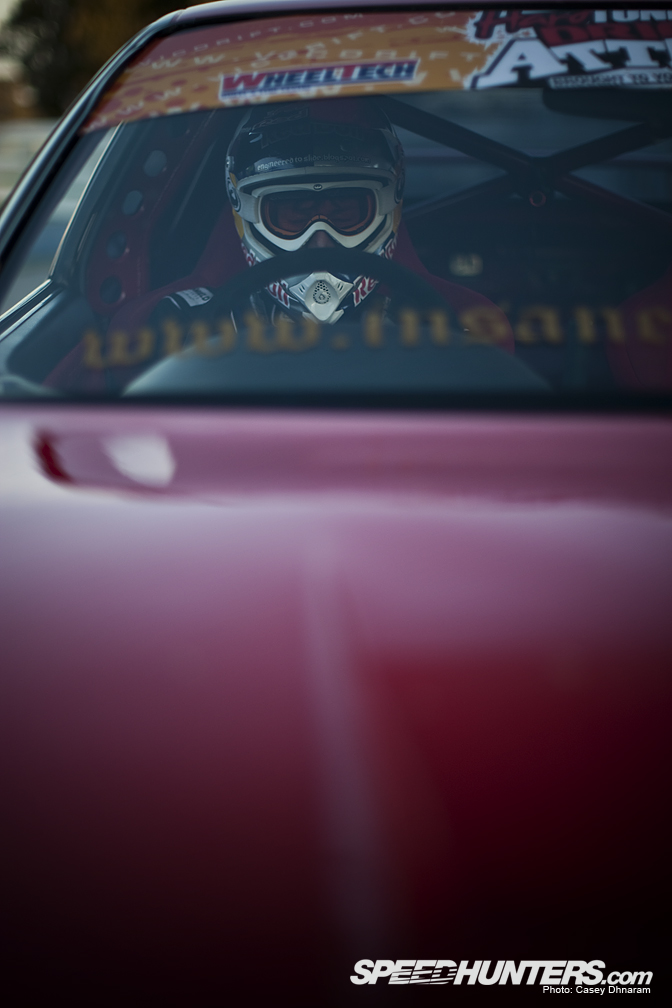 It was an anxious wait, the top 8 battle for street class was being run and I was coming up against Fernando Whierl. Fernando is one of my heroes, having competed at a D1GP Irwindale event he has a wealth of experience but I block it out and work hard to focus on the battle I'm about to be thrown into.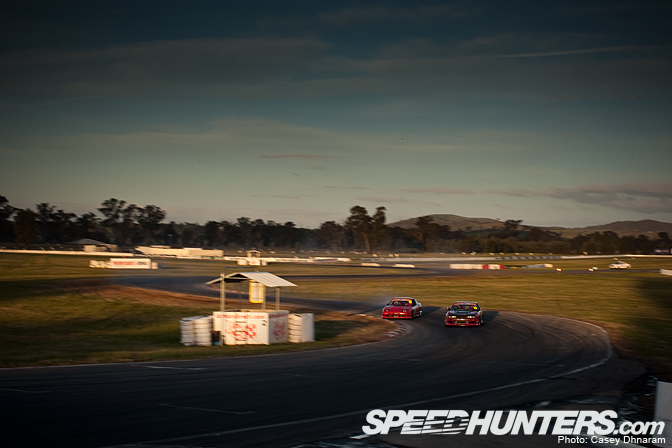 Here I am trying to keep my nose clean, keep the angle and get an advantage. It was a match up I'll remember for a long time, Ferds was fast and I liked this, its easy to flow behind a fast driver.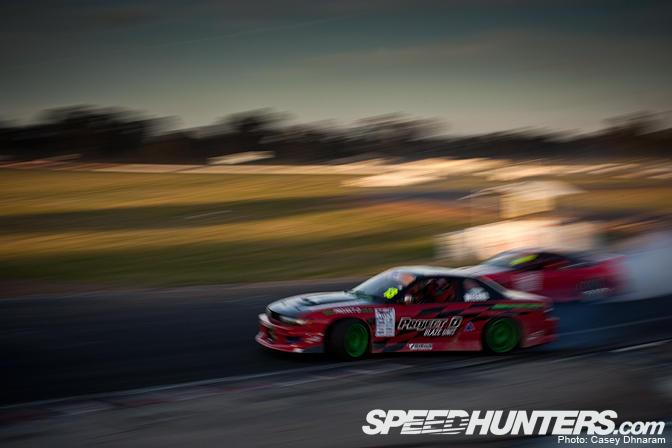 Just like it had done all day, it went to a OMT, I enjoy every minute inside the car so I'm always happy to do it again. The runs just got tighter and tighter, neither of us was going to lie down until we were crowned a spot in the final.
Tim over at the start line leans into the cabin and tells me it's a re-run, I couldn't believe it, I position the car on the start, check the temps and prepare to fight. Running on pure adrenalin I race to the first corner, keeping my front bumper firmly placed on his rear quarter. I was happy with my runs and as we coast back to the start line Ferds signals that I have the win, the start line officials confirm this and I'm over the moon. It's been a dog fight, the whole day and it's been re-run after re-run and I'm staring at the possibility of taking the win.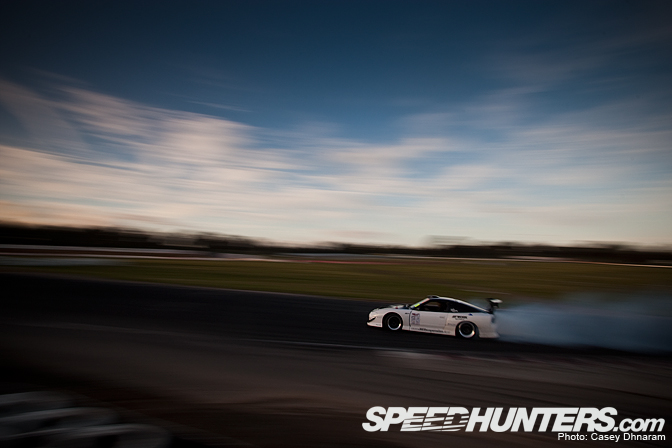 I'm up against QLD driver Josh Coote, such a great guy with an incredibly well put together car. Josh is a dedicated drifter, always thinking about his future in the sport, he has had a lot of mechanical dramas in the past but never stops trying. He takes a different approach on the course to everyone else; it's a slower entry with a faster mid section. It suits his car setup, he's able to get a lot of drive out of the 265/35/18 tires and change gear mid corner lightning fast thanks to a Hollinger Sequential gearbox.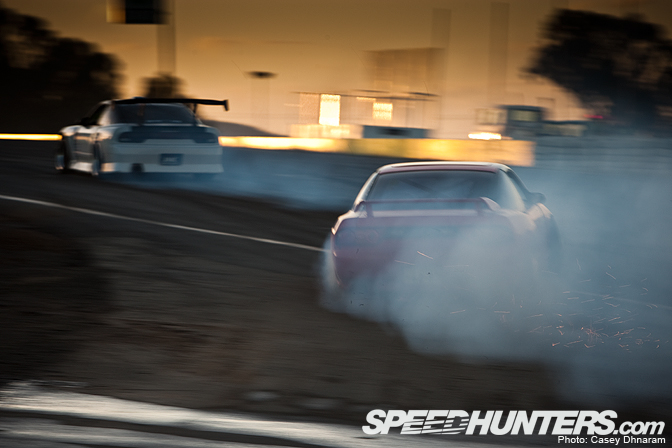 … I can't match the line with my grip levels and run wide ripping the mounts off my exhaust.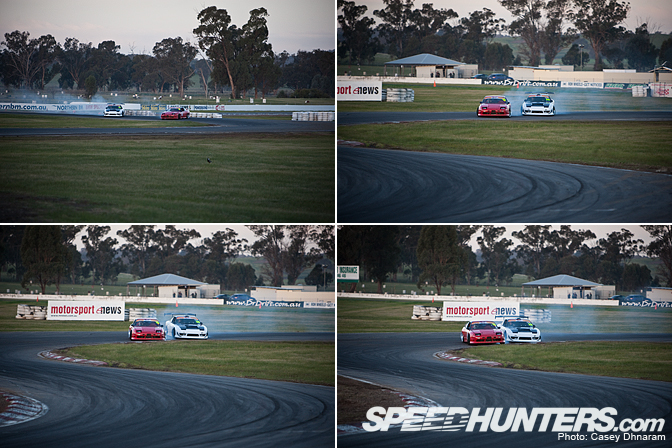 It's evident who the winner is after his chase run, a cut above the rest, I try my best to keep it fast and smooth hoping there's been a mistake behind me to force another re-run.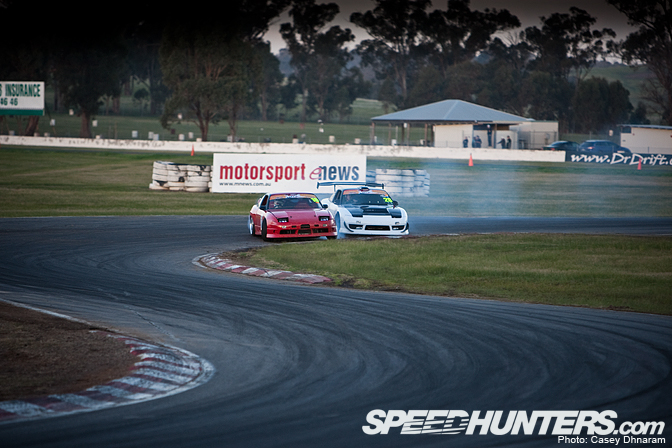 Two very different avenues of styling on our cars: Josh's car sports a full BN Sports Blister kit with a high Carbon wing for down force, he's running Work Meister wheels in 18" all around. My cars a little more 'street' orientated with Origin 50mm Type 2 rear over fenders and 25mm front FRP fenders Type X styling with B.I.M Driftmasters in 17×8.5 and 18×9.5.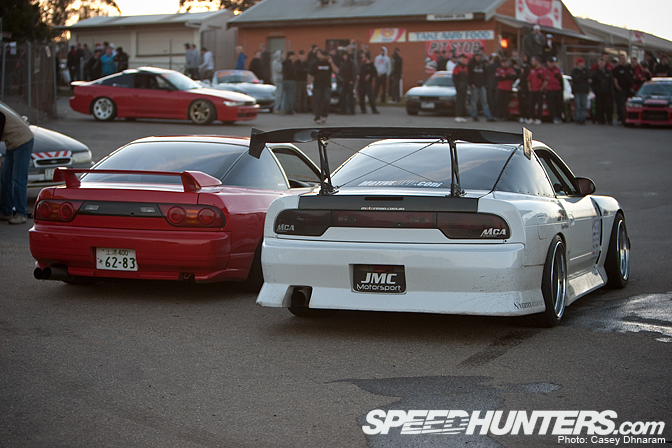 We congratulate each other on our final battle on the way back to the pit area, we aren't 100% sure who has won yet.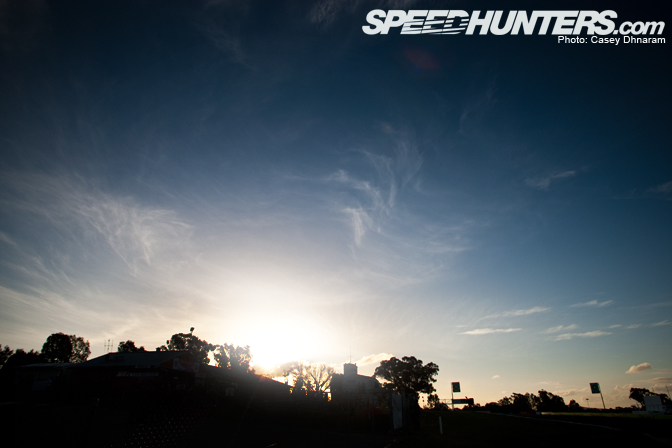 The suns setting over Winton Motor Raceway and it's getting very cold…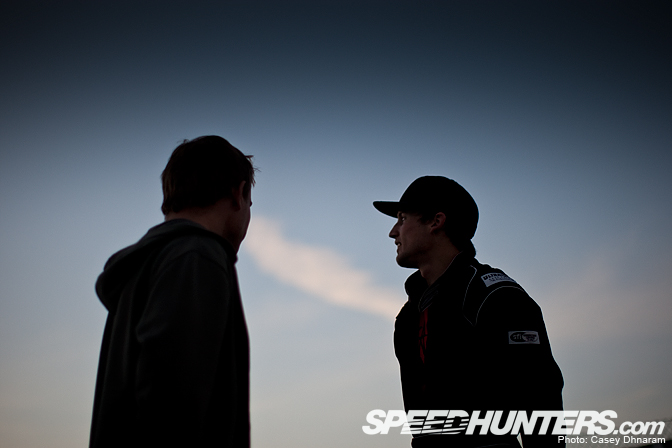 Josh and I chat about the day. It was a wait in anticipation for the crowning of Drift Attack Champion.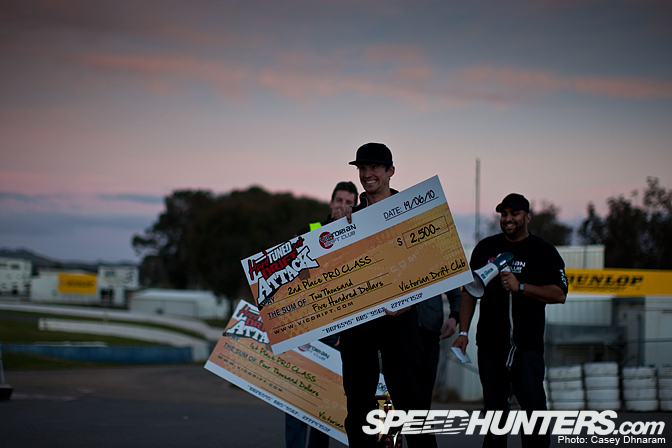 I'm awarded 2nd place, and yes $2,500 makes my smile look ridiculous. To come away from an event and eventually have something to put back in the account is a great feeling, its a lot of expense getting to this stage. Big shout out to Yoshi (the guy with the microphone) this guy is the face of "VicDrift", his efforts in organizing these events are appreciated by everyone, thanks Yoshi.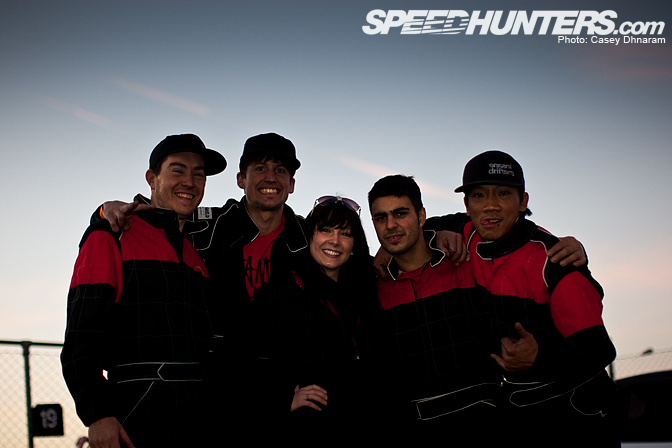 We take the opportunity to get some team photos, from left to right: John Papa, Myself, Amy (who has been the backbone of NSW Drift event organization for Project D) Agess and Hai.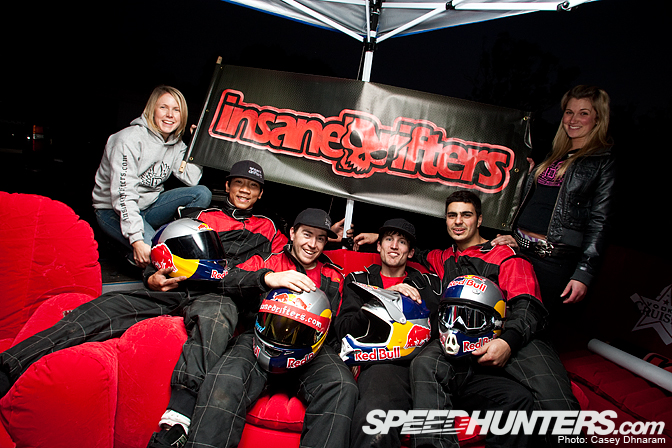 Celeste and Erin have been a great help over the day, we couldn't do it without you girls, thankyou.
Thank you to Casey for the photos, my family for their support, my girlfriend Celia, my team mates for being awesome, Dr Drift for all those late nights on the dyno, Vu and the boys at DT Panels and the faces behind the perfect panelwork, Yoshi, Sean, Trav, Jos, Tim, Kat and all the VicDrift crew.
What a day, I look forward to doing more work with Casey and the Speedhunters crew in the future.
Keep your car sideways and always looking good
- Nigel Petrie.