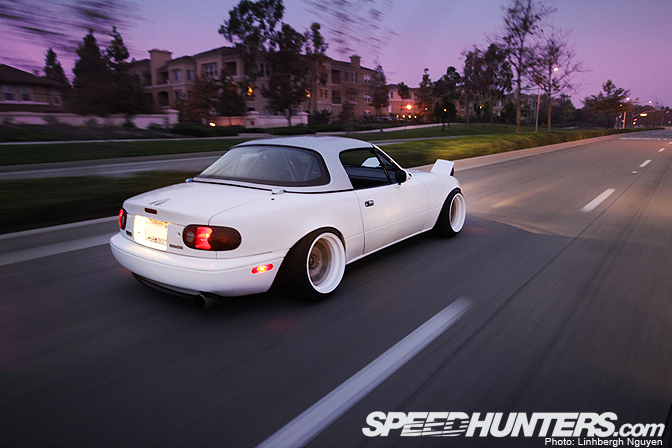 This past month we've seen a whole slew of automobiles dropped to insane lowness. This Miata is no different. This car is like the crispy cornered pieces of brownies that only a select few actually enjoy. And just like any good brownie recipe, the best ones are always the most simple.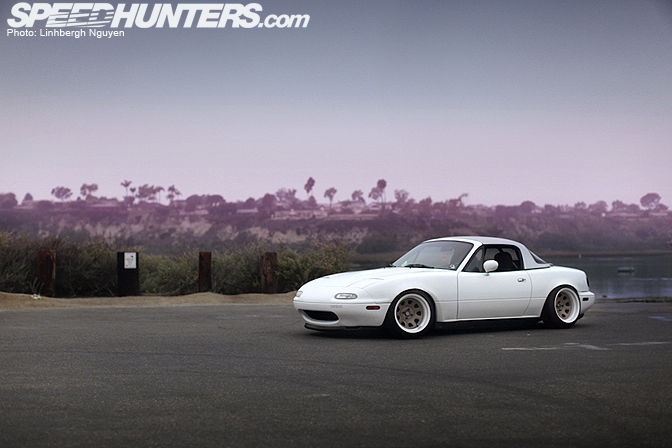 Let's be honest here: this car is as Mazda OEM stock as possible. The engine still retains the stock 1.6L. The exterior additions to this car has been a Mazda OEM front R-Package lip, rear R-package lip, and a OEM hardtop painted glittery silver. Really, the only things not stock is the now rare RSR GTII ExMag exhaust system, Jackson Racing Header and the Boss Frog roll bar.
Like I said, simple.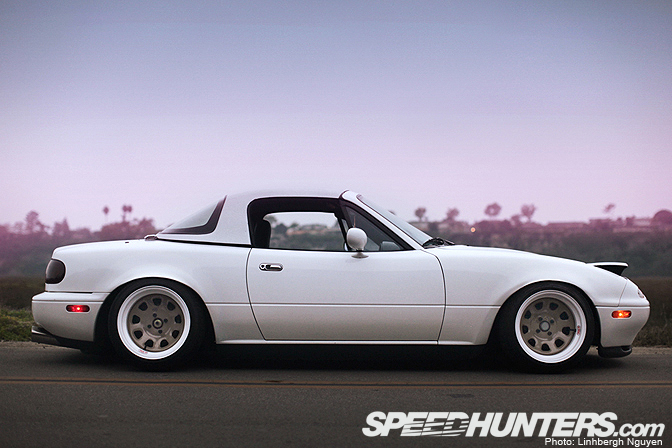 The car's stance has been brought to you by the letter T –for Tein Flex. Despite the lack of travel at this ride height, the ride quality is superb –buttery smooth really.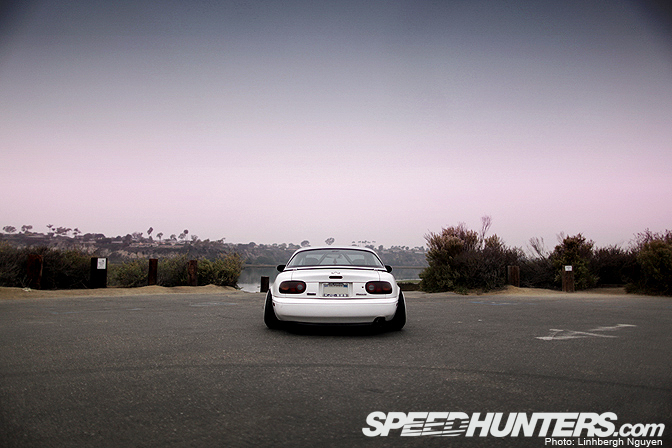 Here's the insane rear negative camber.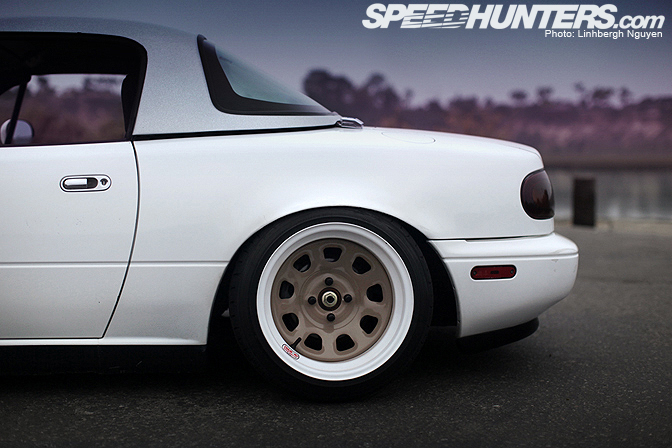 That camber is to fit a set of Diamond Racing 15×10 -20 wheels with 225/45 tires all around.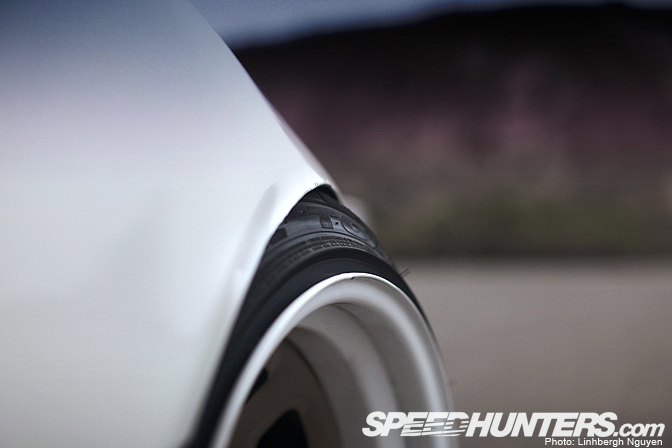 Here's the front fitment….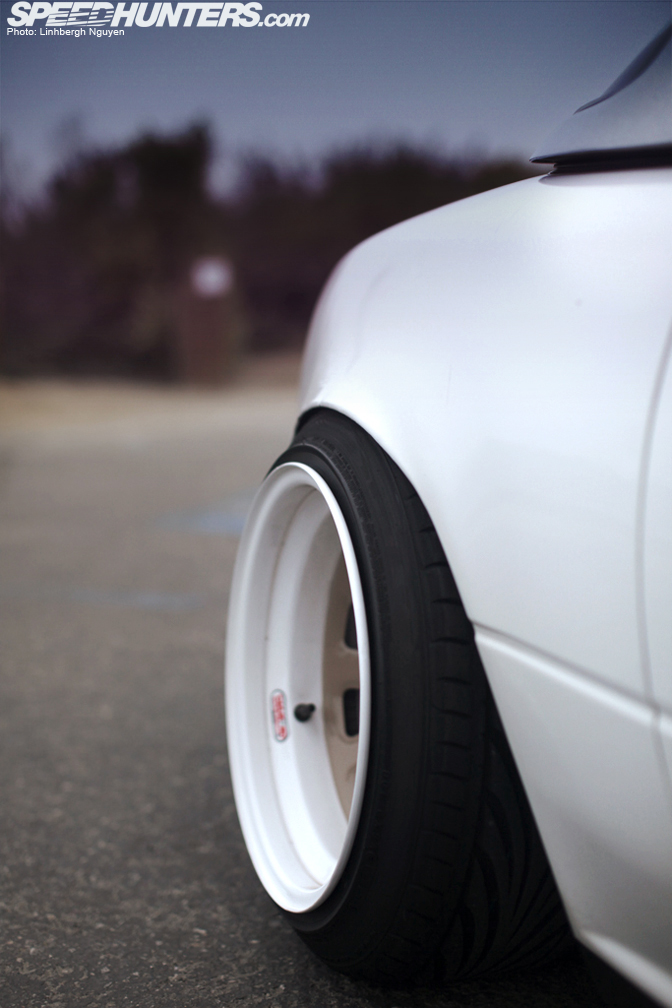 …and the rear fitment. I always maintain this saying about living with a slammed car: "If you're not rubbing, you're not ricing." This car definitely rubs (but only on hard cornering), so there is plenty of that cooked white grain going on here.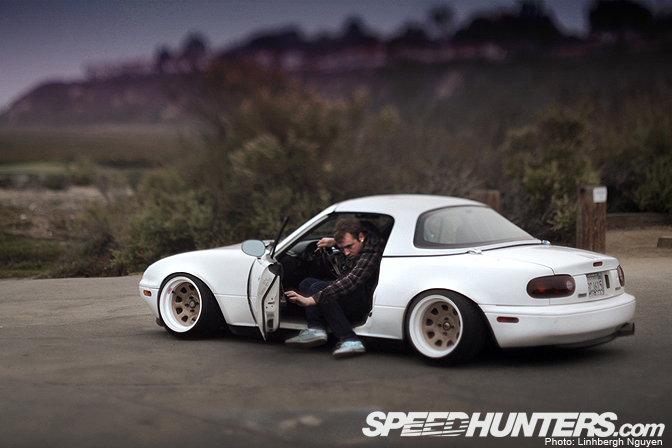 This is the owner, Kyle, a man of a tall stature, getting out is this hot wheel sized car. Every morning it is a question of 'ship in a bottle' –the ship always wins.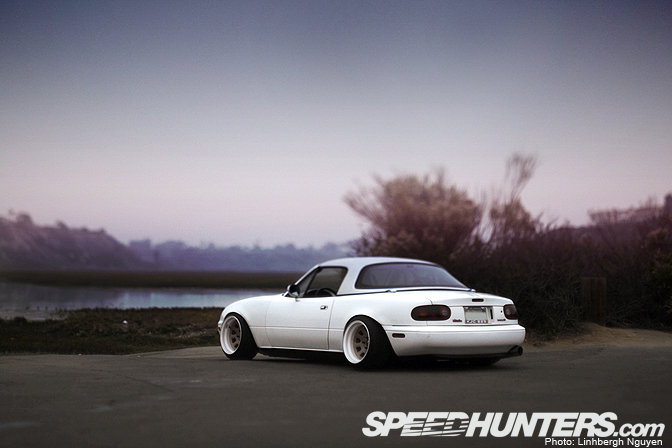 Like the cripsy corners brownies; this car is hard, simple, yet extremely flavorful and delicious. Many people may like the middle chewy section of brownies, or brownies with peanuts or walnuts, or even a with a scoop of vanilla bean ice cream on top. But me? Those crispy corner pieces all day long, please.
-Linhbergh Nguyen