The first time I spotted this car, I was out at Willow Springs with the yellow Nissan 370Z that I was test driving for my driving impression story on Speedhunters. There were a lot of Miatas at the track that day (obviously, because there was a Miata Challenge event happening at Streets), but in the sea of Miatas parked in the Streets of Willow pit area, I thought this black Miata stood out most. This Miata is owned by Tony Pham, a super nice guy from the San Fernando Valley who bought his Miata because it was inexpensive and fun.
Tony knew he definitely wanted to track his car, but he still wanted it to look good! He admits that there are lots of track monster Miatas out there, but not all of them look as cool as they should. (This is true with any car, not just Miatas.) With this in mind, Tony put just a few styling touches on the car, because that's part of the fun of owning a CAR anyway. If he wanted track-only performance, he could just get a shifter kart or something.
From this side view, we can spot his Japan-spec Mazda side markers, and if you look really closely, you'll be able to see his Finishline polished gas cap, awesome looking Garage Vary front lip spoiler, and Mazda R package rear lip.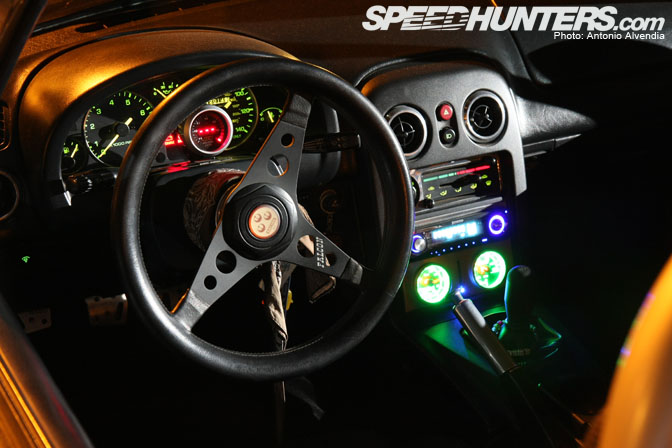 My favorite piece in the interior of Tony's car is the RS Watanabe "Falcon Racing" steering wheel. I own one of these steering wheels also, and I can tell you it's definitely one of my favorite steering wheels in my collection. The way your hand grips the wheel is very cool, because it's not a traditional round shape, and it's not your standard "anatomic" wheel either. The RS Watanabe steering wheel has an angled grip, which makes it feel unlike any other steering wheel I've owned. Super cool. If you want top quality wheels and steering wheels, RS Watanabe is the choice to make. Expensive, but worth it, because you touch your steering wheel every time you drive your car, and people see your rims every time they see you out on the road.
Behind the RSW steering wheel is a Daikei steel boss kit (very cool), and NRG quick release kit (hmmmm….), M Road polished air vent rings, Mazdaspeed shift knob, KG Works hand brake, A-spec spin turn knob, Razo pedals, and a bunch of gauges – an AEM wideband O2 and ProSport boost gauge and fuel pressure gauge set in below the radio.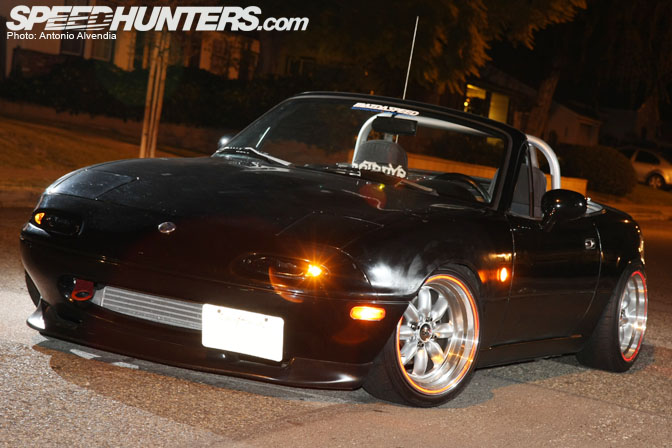 See the front mount intercooler? Yeah! This thing is turbocharged! Turbo + Miata = fun!
When I set up the day for Tony's photo shoot, I actually asked Tony if he could come early, so I could shoot car-to-car shots of Peter Li's Miata from the passenger seat of Tony's car. He graciously obliged, and we set off to shoot Peter's car first. However, it wasn't until we were on the way back from taking photos, when I was riding in my friend Felix's Lexus, that I noticed something really cool an unique about Tony's car!
Well, first of all, Tony's Miata is fast as hell for a street car. That thing moves. He passed us on the freeway so hard, it felt like we were parked! Second of all, right after he guns it, Tony's car shoots out fireballs!!! Siiiiiiiiiiick!!! It looked all crazy to see, as the sun had just set, and this shadowy black car passed us quickly on the left side, and just as he passed us, a fireball shoots out of his exhaust! COOOOOOOOOOOOL!!!
Seriously, Tony's car makes me want to buy another FC3S RX7 again, or even a Miata, as long as I slammed it and turboed it right away. I wanna spit flames on the freeway too! So dope.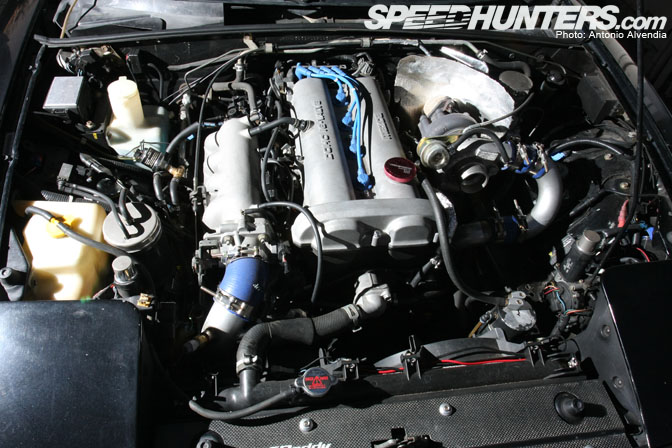 Here's Tony's engine bay. What we're looking at here is a 1.8 liter NA8CE engine, with a turbocharger and supporting parts. The turbo and front mount intercooler are from CX Racing; the turbo manifold and blowoff valve are from HKS; the turbo timer, radiator cap, and radiator cooling panel are from GReddy; the 2.5" downpipe, intercooler piping and exhaust are from Bodywerks; the oil cap, diff mounts, and motor mounts are all Mazdaspeed; and Tony chose an ACT Prolite flywheel, Exedy 3-puck clutch, and Mazda Type II torsen differential to aid him in kicking the tail end of his car out. This whole engine setup is controlled with a Megasquirt standalone ECU, with OEM FD3S 550cc injectors for delivering the fuel.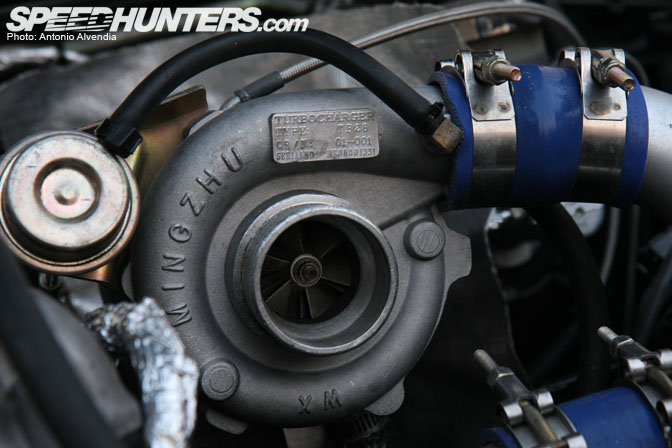 I seriously LOLed when I saw this turbo. I didn't even put my camera down; I just laughed and said "Tony! What the hell is Mingzhu?! That's hilarious!" He just laughed with me and said, "dude, I know, I know… it's a China turbo, but I got it super cheap; the guy from CX Racing hooked me up, and if it goes out, I'll just get another turbo. I don't care! The manifold is HKS. Some people talk *** to me, but hey… it works!" Tony has a great attitude when it comes to his car. He knows that his off-brand T28 turbo is likely to fail someday, but it's okay. Even top brand turbos fail when they get old. Knowing Tony, he'll be prepared to handle it and will most likely have a spare turbo ready to go when this one is on its way out.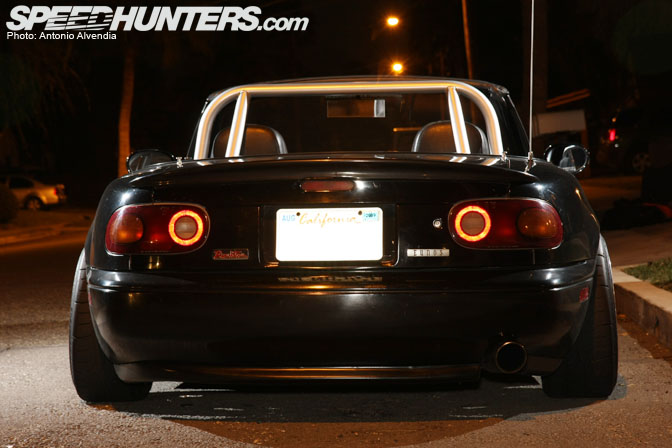 Look at that rear camber! If that doesn't capture your attention, then maybe the JDM Eunos and Roadster badges will. I think the Miata R-package rear lip spoiler looks really good on Tony's car. It's clean and subtle, yet stylish. Just how I like my cars.
You might be wondering what type of suspension this car has. Well, you can clearly see the Autopower 4point rollbar, but underneath the fenders, this Miata has H&R race springs, KYB AGX 8-way adjustable shocks, Secret Element drifting tie rods, and shock hats and bumpstops from Fat Cat Motorsports.
Oh, and it's not a suspension component, but in case you were wondering, that's a Bodywerks 2.5 inch exhaust.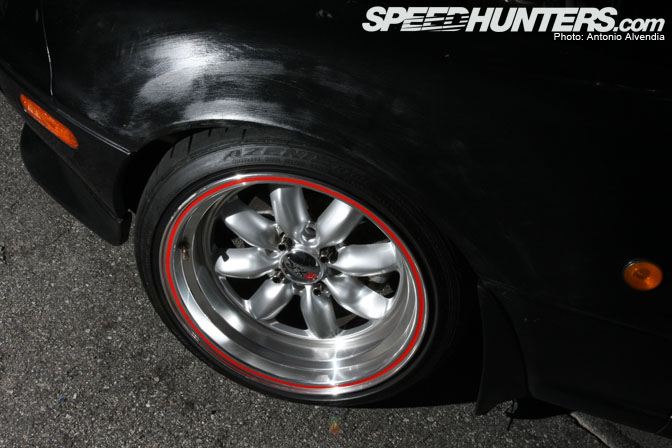 I can't believe that a car could look so nice with cheap wheels! Not to diss his wheels, Tony knows damn well that the wheels aren't very expensive. That doesn't matter. What matters is the fact that they're available in good sizes, and they're cheap enough for amateur drifters to buy several sets of them. Tony's running 16×8 (0 offset) XXR wheels, which I like because they look similar to Panasport 3pc wheels (the face), but they have a stepped lip, which makes them look a bit closer to RS Watanabe. Real wheel experts will be able to tell they're not RS Watanabes right away, but I think these have got to be some of the best looking "budget wheels" out there.  As you can probably see from the tire tread and sidewall, the tires are Falken Azenis RT615s.
Props to Tony for making a really good looking "budget built" Miata, that is stylish and functional. He drives this car every single day… but what's more, he also drives it at grip events and drift events! People from the Roadster community better look out for Tony Pham, he is a great up and coming driver, and he's a really nice and genuine guy, so people are naturally drawn to try to help him out. There need to be more people out there like Tony, and more cars out there that blend style and functionality (and budget) like Tony's crazy flame spitting Miata! RESPECT!
-Antonio Alvendia