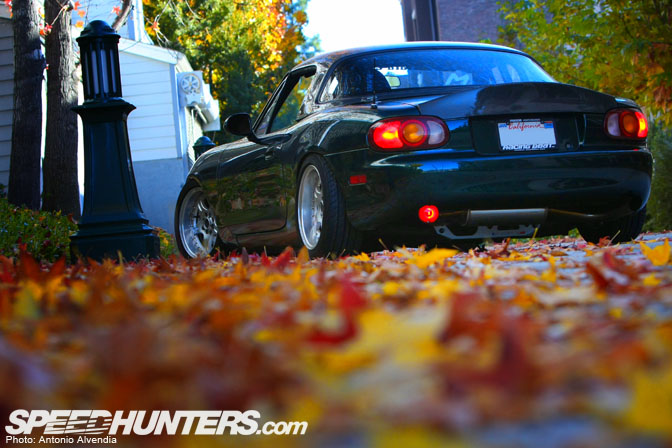 Last Friday night, as we were walking around looking at cars at a Miata meet, I noticed this NB Miata sitting on Precedeo Demon Camber wheels – one of my favorite 5 spoke wheels ever made. Ever. When I asked around to find out who the owner was, it turns out that he was one of the friendlier guys at the meet as well – his name is Leonard, and he drives in the Miata Challenge.
While Leonard and I were talking, we both agreed that we're not normally huge fans of British Racing Green paint (just our personal opinions), but I think this Miata just looks sooo cool! I think the green paint works really well with his car, especially since British Racing Green is a color typically associated to roadsters anyway. For this photo shoot, we cruised around town and searched for spots to shoot. I thought I'd take advantage of the "fall foliage" look, with all the red and orange leaves scattered all over the place (even though it's January).
Don't you think Leonard's car looks right at home with fall leaves scattered about? Makes you want to dig up a Kangol with a button in the front, a scarf, and some driving glasses for a nice brisk drive through the canyons!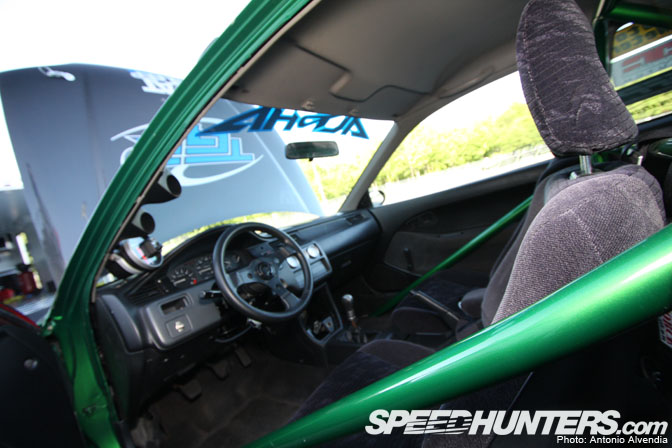 That being said, let's move some of the tree branches out of the way so we can have a look inside the car. As he sits firmly planted in his Momo racing seat, Leonard normally has his hands on his OMP steering wheel and his cool golden hued Anniversary Racing Factory shift knob. Since he doesn't have a horn button on that OMP wheel, he usually just makes use of his middle finger and yells at people a lot.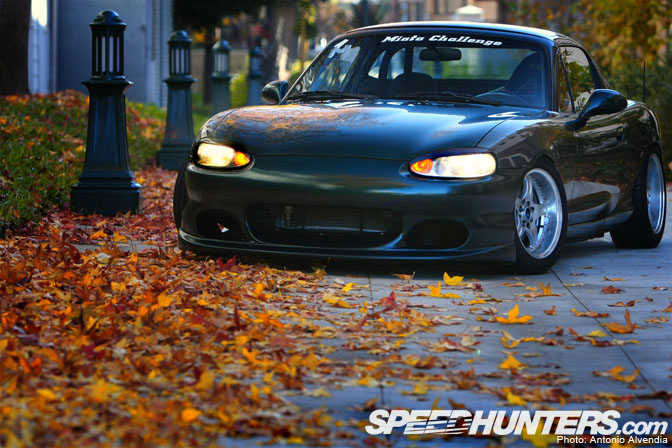 From the front, the car looks very sleek and sophisticated. The exterior looks have been redone with a Bomex front bumper (he told me a great story about how someone dented his front bumper, so he found this Bomex one super cheap and spray painted it himself), DG Motorsports fenders (which he also came up on, pretty cheap… damn, Leonard seems to find deals pretty easily!), and a Key Composites hardtop. Also, the glare from the headlights has been modified with Garage Vary eyelids, which seem to make the normally "smily" look of an NB Miata a bit meaner – I like cars that look like they're frowning and negative (negative offset, that is).
See the sticker on the front windshield? Leonard drove this car in the Miata Challenge event, and since he found out it's going to be a points series, he plans to continue driving it in all the Miata Challenge events he can, so he can get points!
I think it's so very cool to see a nice, low stanced Miata like this being driven at events! I know of other low stanced Miatas that aren't driven at events… and I know of a lot of Miata track cars that don't have a low stance or wide wheels… so it's nice to see that Leonard has taken the best of both worlds, creating a functional, track driven Miata that still looks good!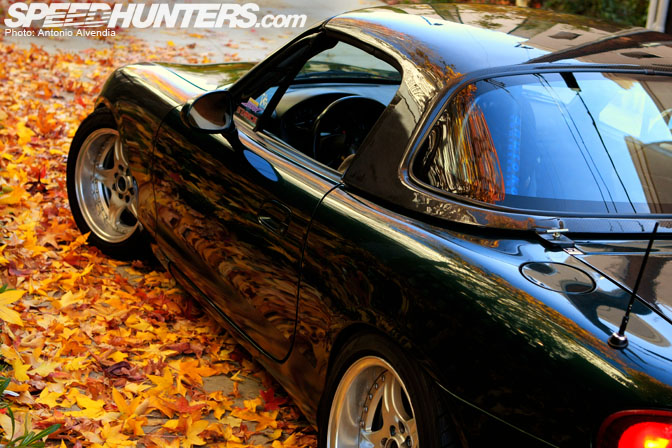 Let's take a closer look at that Key Composites carbon fiber hardtop. Very nice touch! From here, we can also see a better view of the wheels. The car is dropped to the ground with Stance GR+ coilovers.
You can also kind of see the Autopower rollbar inside, behind the glass of the hardtop.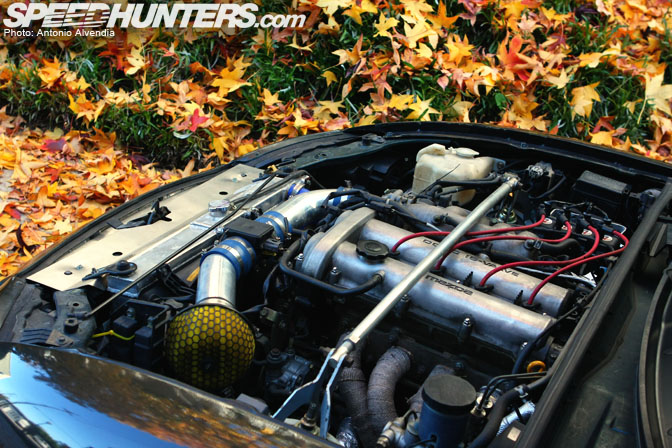 Now let's check out the engine. While Leonard kind of hesitated when he popped his hood, saying, "I drive this car, so my engine isn't really pretty or anything…" I think it looks cool. Don't you guys? It's functional!
Under the hood, he has 10:1 compression OEM Mazda pistons, with a mildly ported cylinder head, with 3-angle cut valve job, using OEM valves. The engine runs with an Greddy Emanage Blue, 265cc (25cc larger than stock) OEM injectors, Ignition Solutions plasma coil packs, a cheap intake pipe from eBay (when he told me that, he said "I bet the other Miata guys are gonna give me sh!t for that intake, but who cares, it's just a stupid pipe. Same thing!" haha) , OBX 4-1 header, and a Roadstersport 2.5″ cat/midpipe.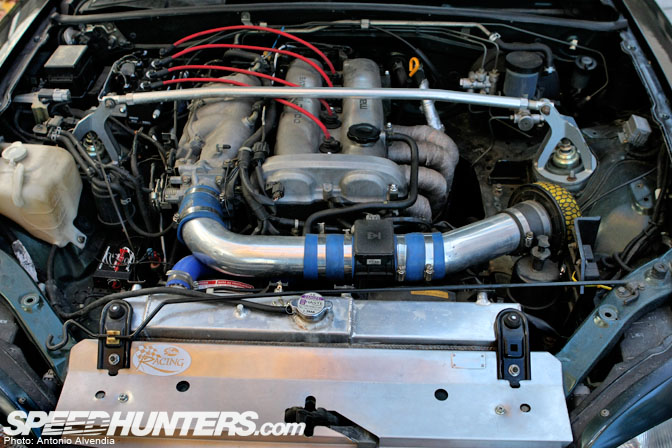 The car also has an aluminum radiator and radiator shroud to keep engine temps cool, not to mention a lightweight flywheel, Exedy clutch, and Tomei Technical Trax 2-way LSD for when the car is being driven in a "sporty" manner. Hell yeah, I love 2-way LSDs.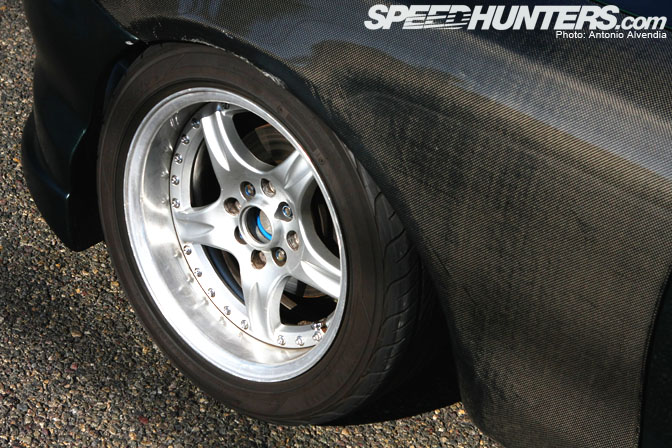 It might not be completely apparent in the other photos, but Leonard's NB actually has carbon fiber fenders. While I'm not normally a fan of unpainted carbon body panels, I think these fenders look pretty good on Leonard's car, due to the dark hue of his paint. When you're looking at the car from certain angles, all you can see is dark body panels and gloss from the paint/carbon… so some people might not even notice that the fenders are carbon until they come close.
From here we also have a better look at those GORGEOUS Precedeo Demon Camber wheels that tuck inside the NB's fenders. Leonard admits that he wants to run wider wheels, and is looking for a wider set (these ones are 15×7, +0 offset) of Demon Cambers… but they are extremely rare, and discontinued in Japan. Plus, he has to compete with S13 and AE86 guys who want them too, because the wheels have both 4×100 and 4×114.3 bolt patterns. (Honestly, I do know a person with 15×8 Demon Camber wheels, but I know he won't part with them. Gotta keep searching…)
Either way, these wheels are so gorgeous, and with the 195/50/R15 Yokohama S Drive tires, they certainly look awesome on this NB. I love the shape of the wheel faces, and the nice, flat lip is just icing on the cake.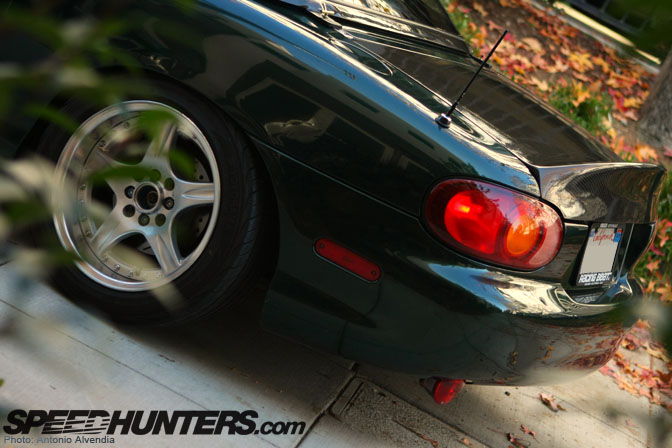 This Auto Konnexion rear trunk lid looks awesome on the back of the car. It adds a bit more style and sportiness to the calm, subdued look of a normal NB rear end. I also like the Euro styled brake lamp underneath the bumper, nice touch!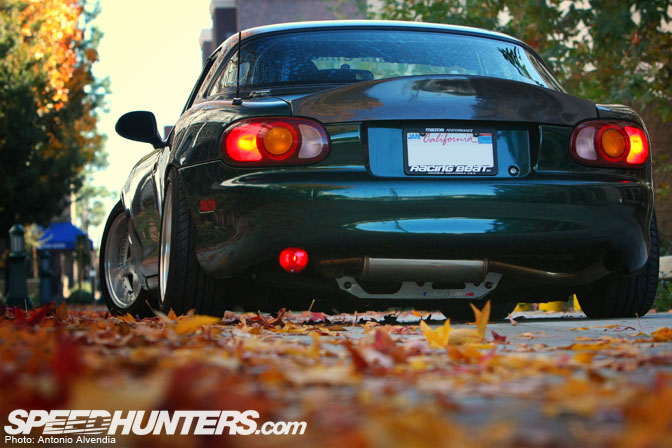 Here's another rear shot of Leonard's gorgeous NB Miata. What I want to draw your attention to is the details under the bumper… check out the AWESOME Integral Kobe Jets N1 Version 3 exhaust… and the super cool Racing Beat rear subframe brace. It's totally noticeable when you're driving behind this NB, and I think it's one of the cooler suspension pieces on the car.
Aside from the subframe brace and the coilovers, other suspension work includes Racing Beat sway bars, 949 endlinks, Trust shock tower brace, and an Autopower rollbar.
Since he's serious about his suspension settings, Leonard made sure to have his car corner balanced and aligned at Hiro's Auto in Costa Mesa. Sure his car is super low, and runs a lot of camber (as you can see in the photo above), but it's also functional for the track, thanks to Hiro's Auto.
In fact, he says that when he's running Streets of Willow clockwise, his car is good for 1:35.xx on S Drive tires, and 1:30.2x when running on his 205/50/15 Kumho V710 R comps.
Leonard isn't finished with the car yet, apparently… because he has a GT2560R turbo sitting in the garage, just waiting to be installed after his next smog test. Hell yeah. turbo Miatas? That's what's up.
-Antonio Alvendia