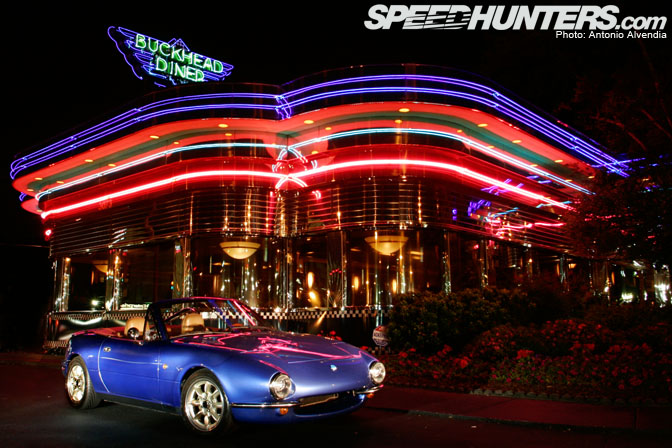 Pit Crew? RS Aizawa? In Atlanta Georgia?! WHAT! Okay! (you have to read that part in Lil Jon's voice)
It's hard for me to imagine I shot this car way back in 2005. After stumbling into it on the internet, I immediately made contact with the car's owner, Peter Brusa, because I knew I'd be going to Formula D in Atlanta, where the car lives. (Peter lives there too.) I originally shot Peter's car for a feature in Grassroots Motorsports Magazine a few years back. However, since it's Mazda month on Speedhunters, I thought I'd dig up these photos once again so I could share them with people who missed the GRM issue it appeared in.
At first glance looking at Peter's car, some people might be confused as to exactly what it is. In case you were wondering, no, it's not a Karmann Ghia. Nope, it's not a Lotus. It's actually a 1995 Mazda Miata, covered in Laguna Blue paint, with a tan leather package (originally referred to as Mazda's C package, Peter tells me his car is one of only 122 made with this combination from the factory.
Of course, you may be wondering what the deal is with the front end – it's a Pitcrew Racing fiberglass front end, which Peter painstakingly imported from Japan.
Can you believe that such a car exists… in Atlanta, Georgia of all places? After all, the ATL isn't normally associated with cleanly built Japanese cars; it's probably better known for its peaches, delicious turnip greens at Cracker Barrel, sweet tea at QuikTrip, lemon pepper wings at JR Crickets, down south barbecue at Daddy D'z, and because it's the hometown of Outkast, Justene Jaro (uhmm.. anyone got scans of her recent magazine feature btw?) and some pretty annoying dirty south rap groups.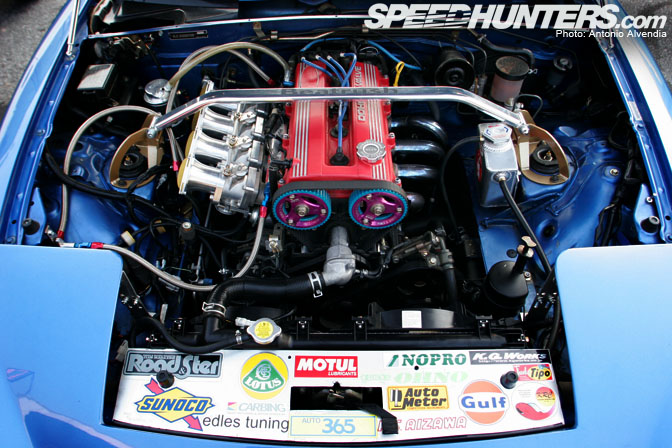 With an engine bay this clean, you could definitely eat off of it! Peter might not be too happy at the thought of someone eating some Waffle House off of his car though. Let's see some of the engine goodies… HKS adjustable camgears, HKS -Con Pro V ECU, lightened flywheel, powdercoated cam cover, billet oil catchcan, KG Works oil cap, R-speed performance plug wires, and a bunch more stuff that I haven't listed.
Just so you don't think this car is all just accessories, maybe I should mention some of its suspension components – Ground Control coilovers, Koni shocks, Beatrush rear PPF lateral bar, Carbing transmission/chassis brace, and a set of Jackson Racing tubular swaybars.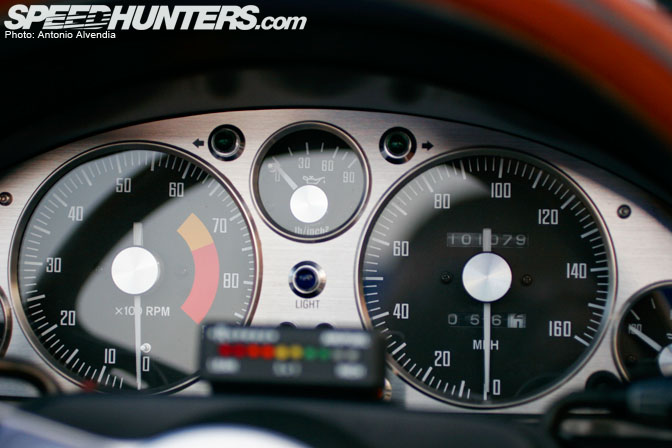 I just love this gauge display. This car has a lot of great details. What we're looking at here is a Version Maruyama AWD gauge face set. These gauge faces make the car look a bit older, for more of that nostalgic roadster feel, along with AWD stainless needle caps for a nice finishing touch. Surrounding the nostalgic font gauges is the incredibly awesome looking KG Works stainless steel gauge cluster bezel. If I owned a Miata, then there's no doubt I would NEED to own one of these KG Works bezels. Sooooo damn cool.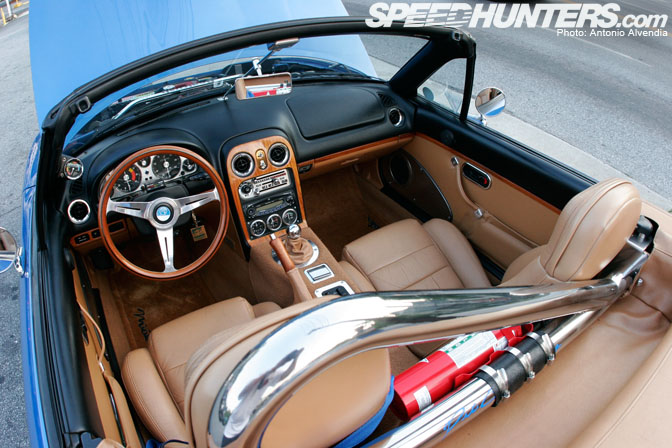 This top view definitely shows that Peter's Miata has a ton of detail inside. I don't blame him for doing so – the interior of a car is the most intimate part of the car… it's what you're constantly touching and feeling. Check out those Nakamae leather door handles – that's definitely different from what you normally see in a Miata.
The chrome vent rings inside the car are from IL Motorsport, and surrounding the air vents is a really classy looking Rosewood center console setup. Notice the AWD stainless steel A/C panel, and the KG Works A/C slider caps? This car has some detail!
To the left of the dash cluster, you'll notice a Speedograph Vaccuum gauge. Hopefully that gauge will be replaced by a matching VDO unit in the future?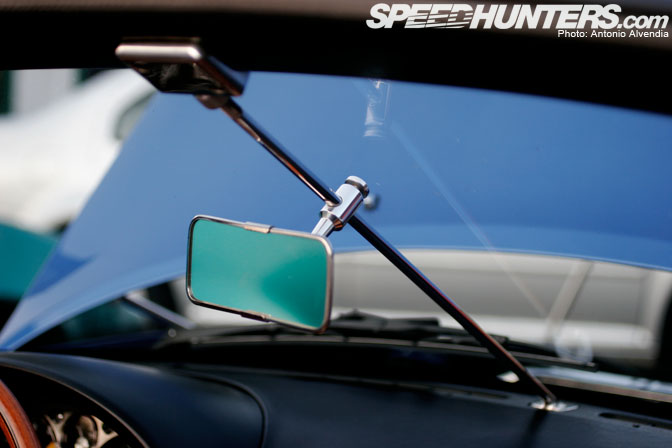 This must be my absolute favorite rearview mirror for the Miata. It's cool as hell! It's accessory details like this that would make me inspired to buy a Miata. Don't worry, I don't think I will be buying one anytime soon, but seriously, this IL Motorsport vintage sliding mirror is cool as hell. When you pull up to a stoplight next to another Miata, chances are the guys (or girl) in the Miata next to you will be jocking your rearview mirror! What an awesome idea, to make the interior of the car look that much cooler.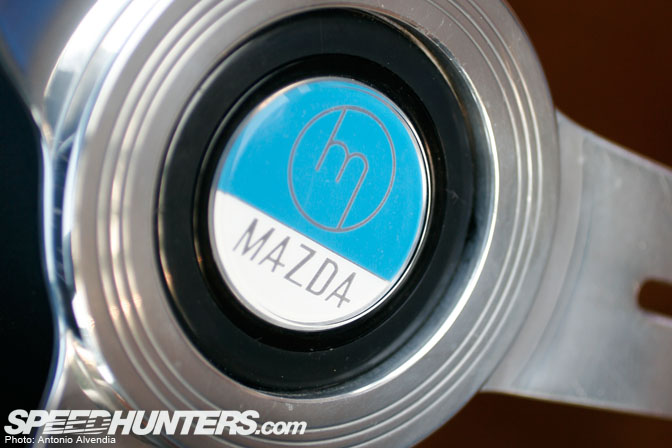 Whenever Peter has road rage, he just lays on the horn, pressing this super cool vintage Mazda horn button. I bet a lot of RX2 and RX3 owners don't even have this rare piece, and they're the ones who need this interesting vintage style adder! Peter certainly did a good job with finding rare bits and pieces for his Miata to keep his car a few paces ahead of (dare I say it) the Southern Cali Miata crowd. The wooden Nardi Classic 360 steering wheel is a nice touch, matching the Rosewood wood trim kit on the center console.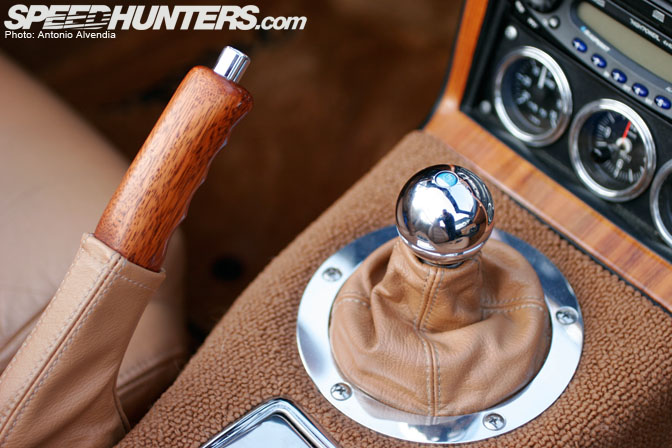 This factory Rosewood brake handle and Nakamae leather boot surrounding it is yet another style adder that sets Peter's car apart from the rest of the crowd. It gives the distinguished gentleman roadster image to the Miata interior, as do the Nakamae vintage center console, leather seat covers, and chrome shift knob.
In front of the shifter are some nice looking vintage VDO gauges: vaccuum gauge, voltmeter, and a clock so Peter can let other Miata owners know what time it is.
The car also has a Blaupunkt CD player and MB Quart reference speakers, but since this isn't Car Audio or PASmag, I won't get too into that stuff.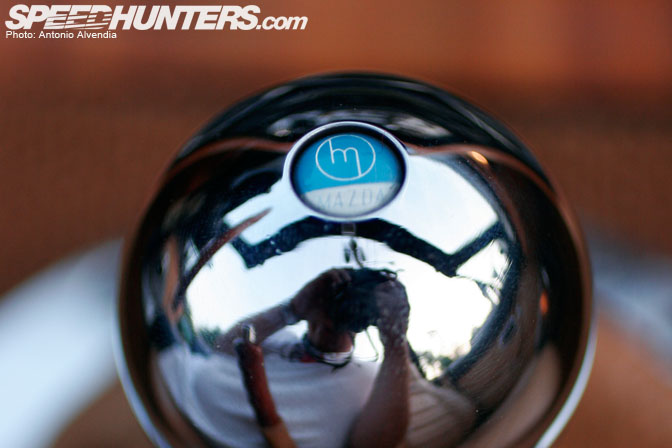 Here's a close up of the custom Sola chrome shift knob, with vintage Mazda logo in the middle. I think this piece looks awesome. I'm a big fan of coordinating the horn button and shift knob on a car. Great job, Peter! Good style, man.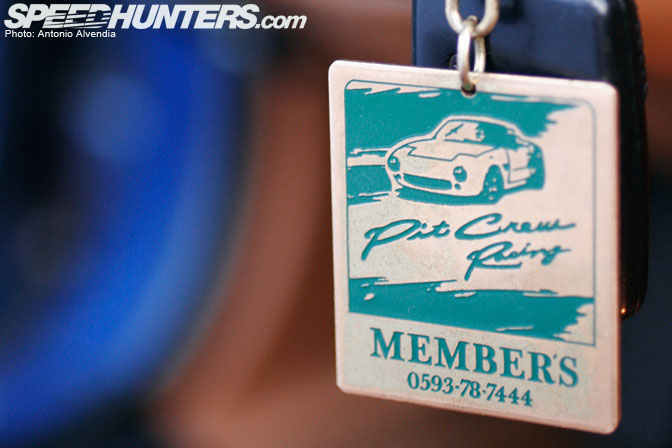 More cool details on Peter's Miata include the Pit Crew Racing "Member's" keychain. Normally grammatical errors such as this would look unprofessional to me, but they're from Japan. I think incorrect grammar adds to the cool points of their parts! haha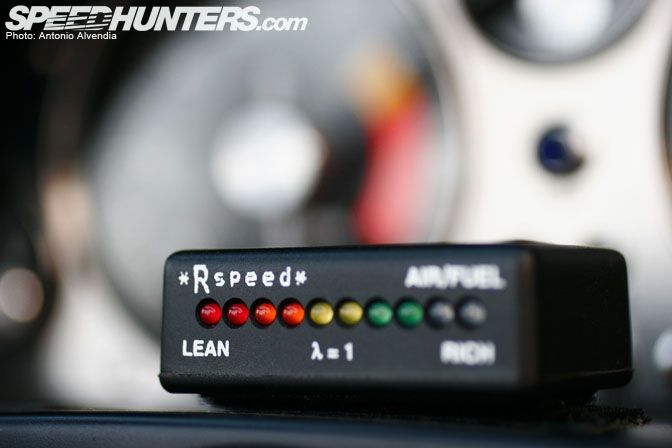 Representing local shops in the ATL, Peter uses an R speed air/fuel ratio meter on the steering column to keep an eye on how his engine is running. I wish this unit was mounted somewhere else, because it gets in the way when I'm trying to admire that gorgeous KG Works gauge cluster bezel.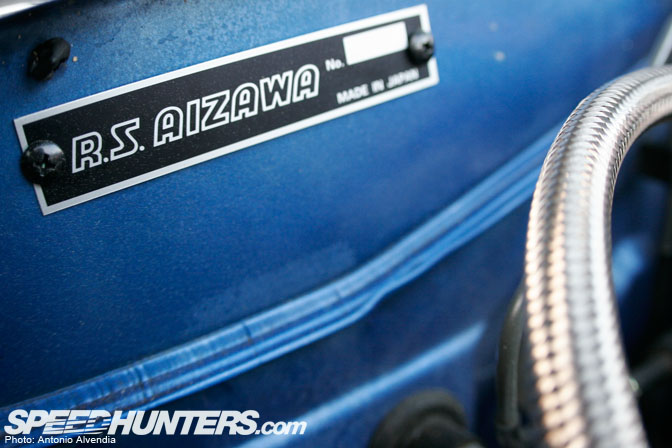 RSA vin plate on the firewall? Soooo cool. Seriously.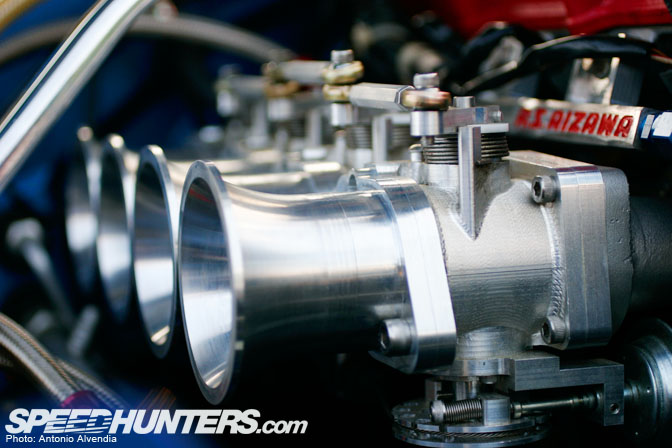 Soooo money. I'm sure all Miata guys who are viewing this are jocking it hard! This here is a rare and expensive RS Aizawa individual throttle body setup. Everything is made from billet aluminum, including the fuel rail, manifold, and air horns. I dig the cool looking linkage above the ITBs, and the throttle cable pulley system is just as slick. Of course, Peter won't settle for mediocrity, so his car also uses stainless steel braided fuel lines with Aeroquip fittings. Baller.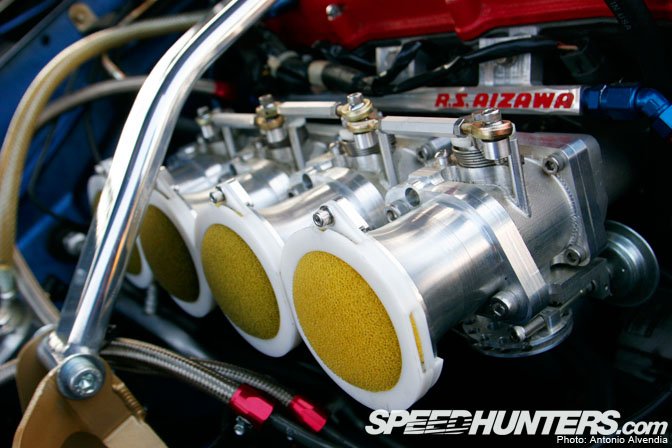 No, they aren't Nerf tennis balls. They're actually air filters, and I think they're some of the coolest ITB air filters I've seen! Nice strut bar too, from Beatrush. Peter is what you call an "automotive label whore." But not a dirty whore, his engine bay is super clean!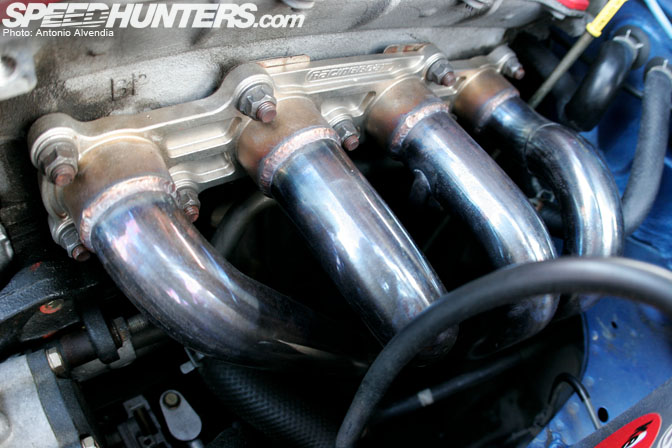 I'm impressed with the flanges on that Racing Beat 4-1 stainless header! Damn, that thing looks beefy!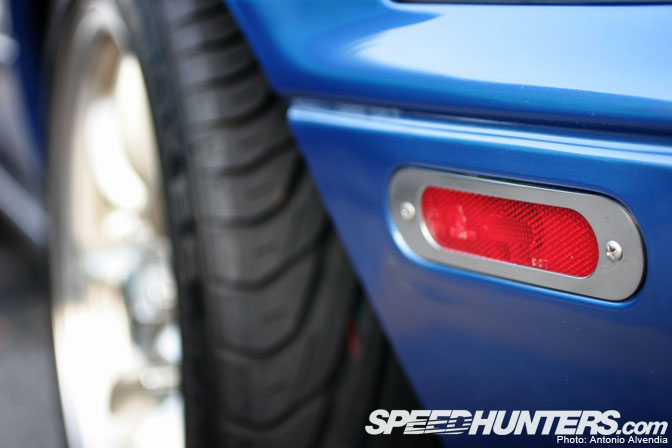 Even the rear sidemarker is covered with a stainless steel plate. This car has stainless everywhere.
The wheel in the background is actually a 15×7 Panasport wheel, wrapped in 195/50/R15 Toyo T1-S tires.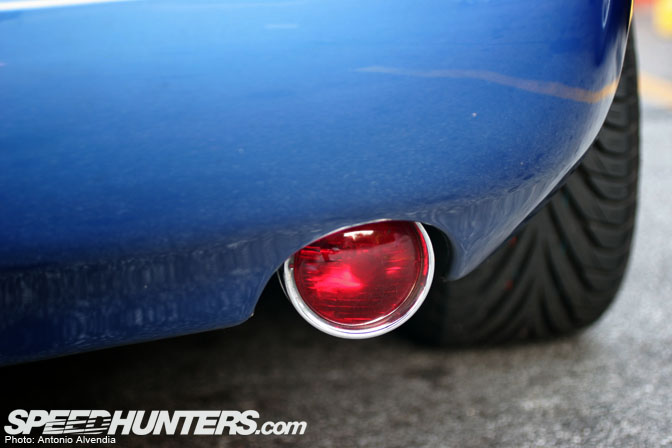 Notice the nice chrome bezel around the rear brake "fog lamp" from Zoom Engineering. Nice touch.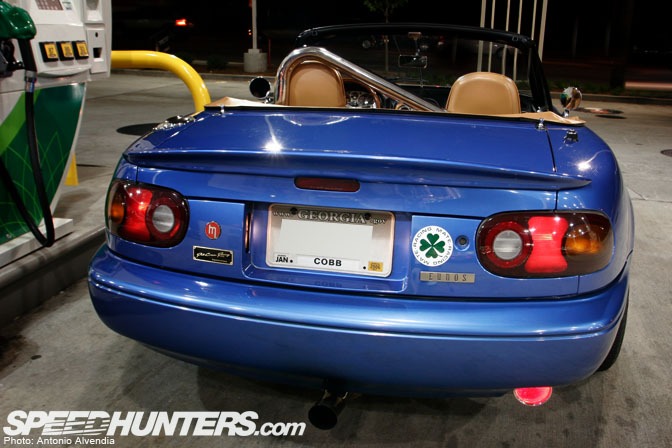 It might be hard to tell from this photo, but if you look at the gas cap on the left side, you'll notice that Peter installed a BSP stainless gas cap as another piece to give the car more of a vintage look. The small lip wing on the trunk is actually a factory Mazda R-package deck spoiler, which looks very nice with this setup. Notice the center exhaust from Zoom? Peter imported that from Japan too.
Continuing the theme from inside the car is a small vintage Mazda emblem, with a Pitcrew racing emblem underneath it. On the right side, we have the factory Japanese Eunos emblem, with a Nostalgic Hero "Racing Mate" sticker above it. Man, that's a lot of emblems/stickers for such a small area, it's sure to keep people driving behind Peter squinting, trying to read what they all say.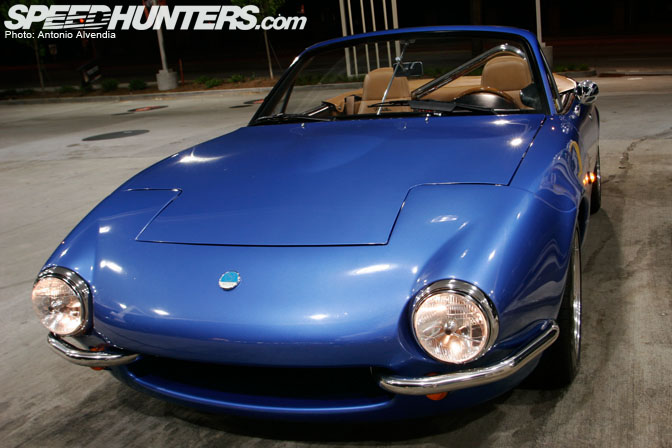 Here's a close up of the Pit Crew front end, and the 7 inch Lucas replica P700 "tri-pod" headlamps, which have 55/65w bulbs in them with city lights as well.
See the chrome bullet side mirrors? Thise are actually chrome mirrors from an Alfa Romeo, which have been matched to Miata baseplates.
Peter knows exactly what I'd say about the wheel size and offset, but I'd have to say that his Miata is very, very impressive because of all the attention to detail in the build and rarity of parts involved. A build of this caliber is a lot more difficult than ones that just involve throwing some coilovers and wheels on the car, so I think Peter deserves some respect for what he's accomplished. Just think, it's not easy to achieve a build with so many rare Japanese parts… and especially when you're located in Atlanta! It just goes to show, where there's a will, there's a way. This is a car that any Miata owner would be proud to own!
-Antonio Alvendia