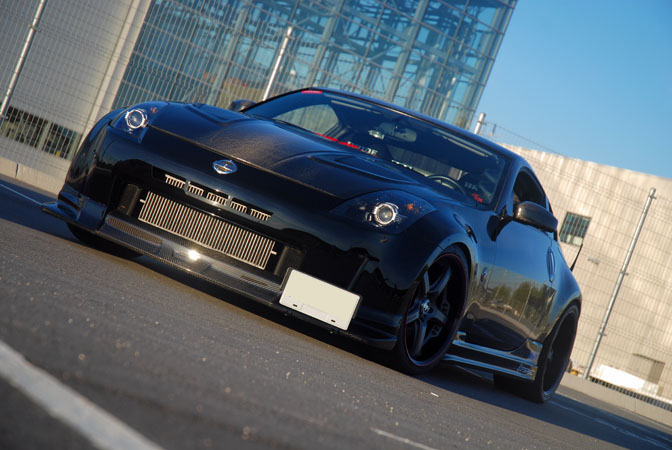 Those of you who've been with Speedhunters since the beginning of the site may remember the coverage we did from the Vancouver edition of the Driven to Perform  car show. There was one car at DTP which created a lot of interest: the Alex Yao built Nissan 420Z TT. People wanted to see more and I'm happy to say we've finally found some time to do a feature on this car. This article was written by Derrick Aynaga, a rather car crazy video game producer on the Need for Speed team… He's an ex Z owner who currently lives the AE86 life… I also thought we could use a little break from all the Mazda madness on the site!….
Derrick:
This is my first contribution to Speedhunters so I decided to start things off right with one of the most heavily modified and well known Nissan Z33s in the Z community. A  420 Twin Turbo you ask?  Didn't know Nissan made a 4.2 liter TT Z?  We'll they don't,  but former owner, and builder of this car, Alex Yao will tell you if there's a will there's a way, and the results are staggering.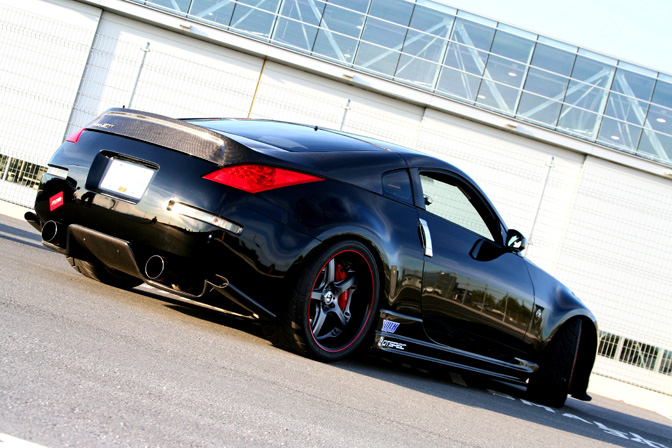 But before we get to the performance nitty –gritty let's talk visuals.  I'm in love with all things Nissan, and am a huge fan of the 350Z, originally released in 2003.  The lines though aggressive, still manage to pay homage to the 240Z while carving out its own unique identity in the process.  It's also fair to say that I am not a fan of heavy body mods on the 350Z.  So what surprises me most about this car is how well the exterior pieces work together to complement and strengthen the original lines.  The carbon fiber C-West lip and side skirts are subtle and flow nicely, accentuating the aggressive offsets of the wheels.  I've always appreciated C-West's approach of form and function as musts, never compromising one for the other.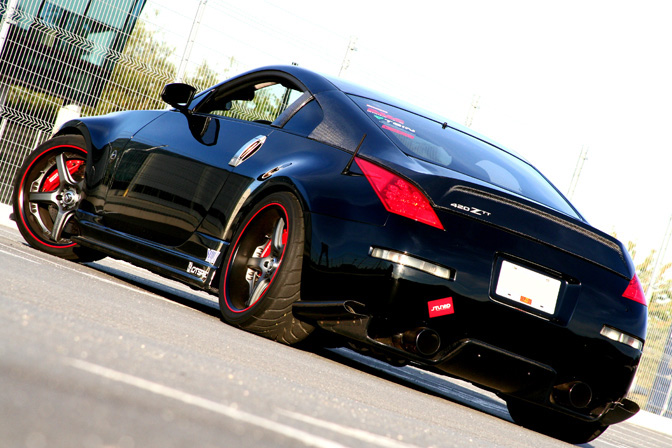 The other carbon fiber highlights are custom prototype pieces from Asuka and include the hood, roof, hatch, and A-pillars.  The B-pillars are from Varis.  The contrast between black paint and carbon fiber come together nicely.  It's subtle to the casual eye but is nothing short of eye popping to the enthusiast. 
Out back is another rare component, a carbon fiber rear diffuser from Top Secret.  It adds yet another unique detail to the package and helps tie in the carbon fiber hatch and integrated spoiler as well as highlights the wheel offsets from a rear view.   It also provides a clean housing for the Greddy Evo TT exhaust that peeks through.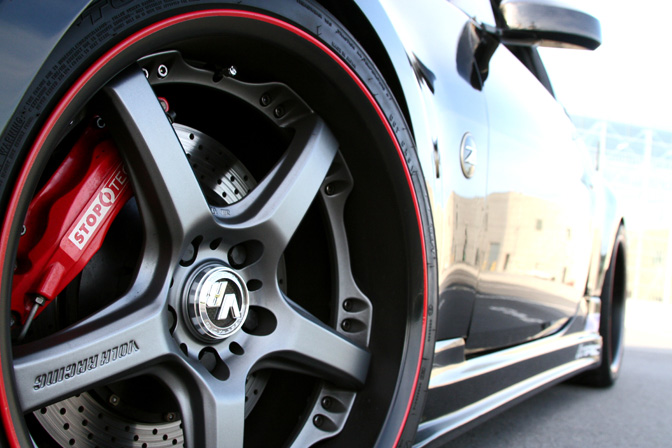 Everyone knows wheels can make or break a car and rarity often helps.  What you see here is a one-off set of Volk Phantom Edition GTS sized in a massive 19X9.5 + 17 up front and 19X10.5 + 18 out back.  The wheels were used to create a retail version available for purchase, but Volk has decided to leave out the red "Time Attack" stripe so these wheels will remain as unique as the car they sit on.  Tires are the super sticky Toyo 888 R-compounds sized 235/35 and 295/30 respectively.  The wheels are filled out nicely with a 14.1 inch Stoptech kit that sits on all 4 corners.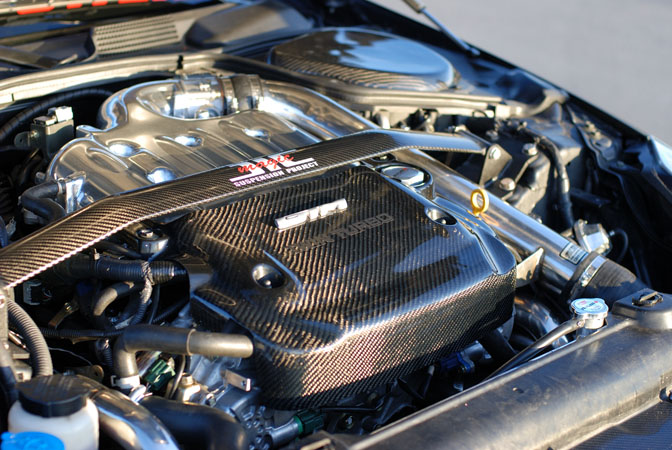 The engine was built by GTM in Southern California, utilizing a custom stroker kit that brings the VQ to 4.2 liters.  The rest of the build is very extensive.  Highlights include:  APS Twin Turbo, JWT cams, GTM / Arias pistons, GTM rods, water / methanol injection, all controlled via an HKS F-con standalone unit custom tuned by GTM.  Now, I've left a lot of other bits out but what exactly does this amount to?  How about 760 rwhp and 713 ft-lbs of torque.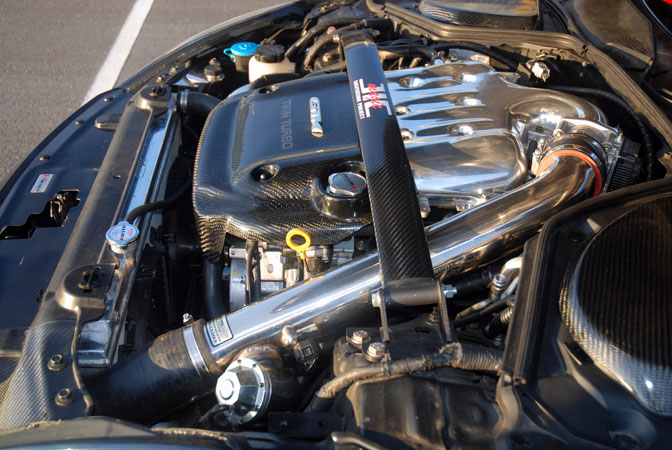 Here's a side shot of the engine bay. Not much room left.  Carbon fiber contrasts nicely against the polished plenum.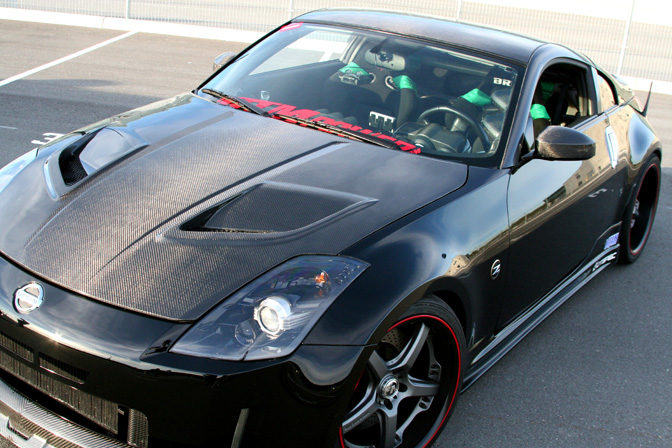 This 420Z TT sits among a very select group of cars, tuned to the extreme, with passion poured into every detail.  You may recall I said Alex was the "former" owner of this car…. he's sold it on and has started a new project…..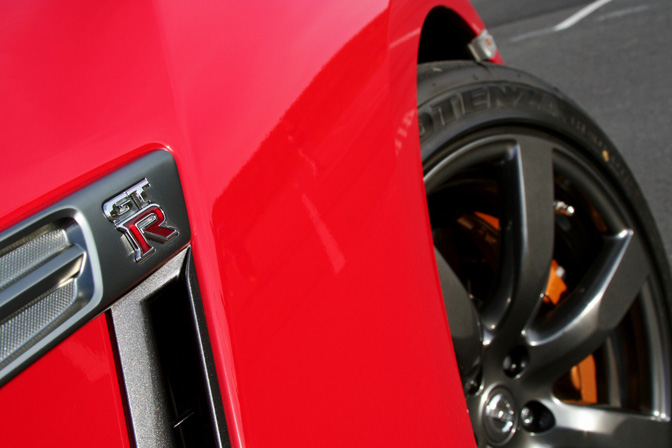 Stay tuned to see how the buildup of this new car is progressing. Special thanks to former owner Alex Yao, new owner Dave Tam, and Harold Boer for their time and pics of their cars.
Thanks for the article Derrick!
:R