As a FWD Honda owner and enthusiast, I really hope you guys out there are enjoying our FF mini-theme like I have. For the rest of you, at least it's almost over! In America I'd argue that the Honda Civic is probably one of, if not the, most-tuned Japanese vehicle around; and as such, often gets a very bad reputation. I hope to help change the bad taste left in many enthusiast's mouths over these cars during the coming weeks, months and years as I showcase some of my favorites along the way; and I'd like to kick things off with Phil Robles' amazing EG.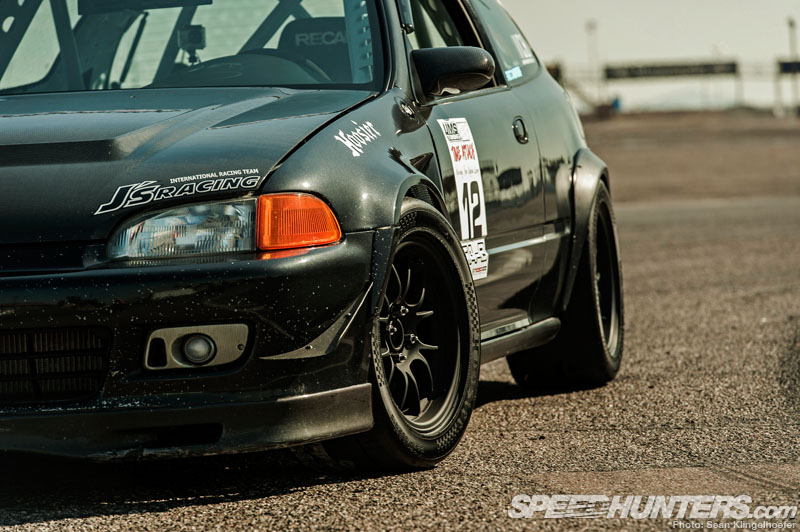 Phil isn't your average Civic owner and the car he's spent the last five years creating isn't your average Civic. He enjoys both form and function but he doesn't let either completely rule his vision. This car lives a very hard life out on the circuits of Arizona and Southern California, but when it's put in the trailer and taken back home again it's pampered and looked after like the finest show cars.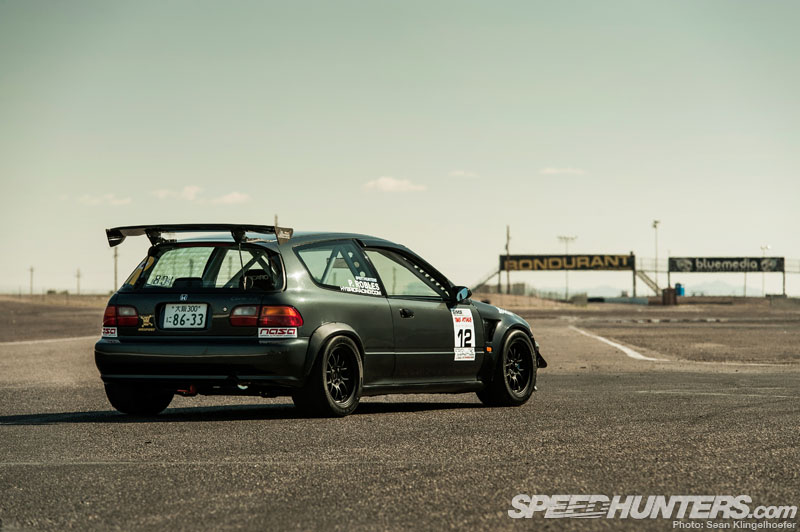 Perhaps the most shocking thing about the combination of this Civic and its owner is the fact that Phil isn't your Internet-age-hip-acronym-texting-youngster typically associated with Honda's boy racer hot hatches. In fact, he's a happily married family man with grown children that are all older than I am. He might not be on the web forums tooting his own horn, but that doesn't mean his car hasn't made its rounds through the message boards.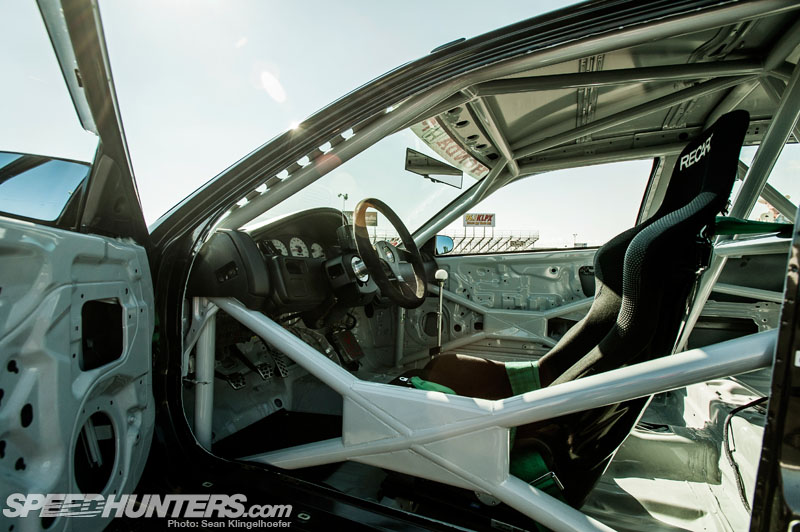 I don't think it takes a rocket scientist to figure out why the car is popular. It is able to appeal both to general petrol heads as well as the most fickle of Honda fanatics. In fact, we even spotlighted the car back in 2010 thanks to a guest contributor, but a lot has changed since then. The car has been down for just over two years and I've been bugging Phil for ages to let me know when I could come by and shoot it… recently, the call finally came.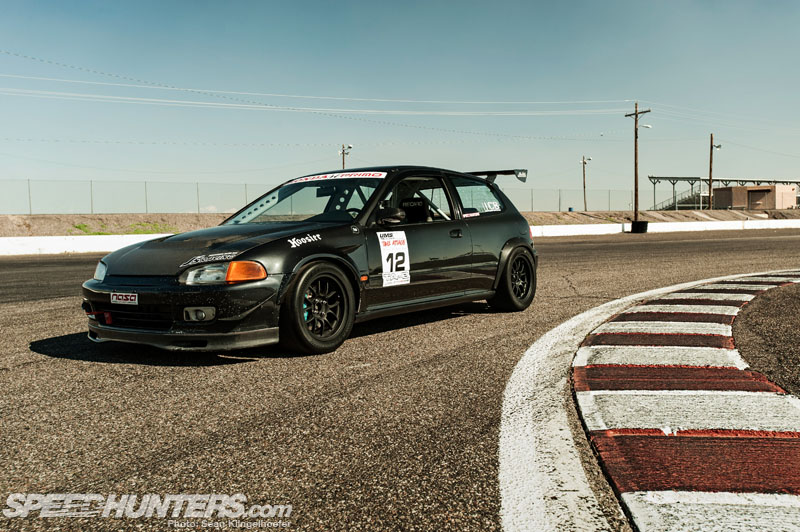 Bearing in mind that I'm incredibly biased to the EG chassis, I can't help but find this car drop-dead gorgeous. In fact, I'd probably put the EG's silhouette in my top-five all time shapes alongside iconic machines like the 911. There's just something about the proportions and simplicity of the design that I can't ever get enough of, which probably explains why I drive one every day.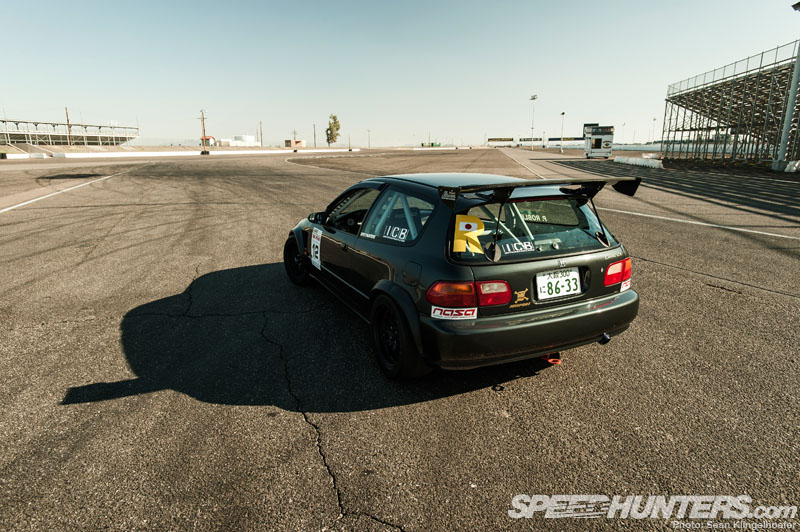 To this day I've owned three of these things and shot countless dozens more. With all that practice comes the experience of knowing exactly where to stand and what lens to use to draw out my favorite lines in the body. However, you'll surely agree that there are a few additions to Phil's car which break up the classic bubble shape that cannot be ignored, like the J's Racing 3D GT wing…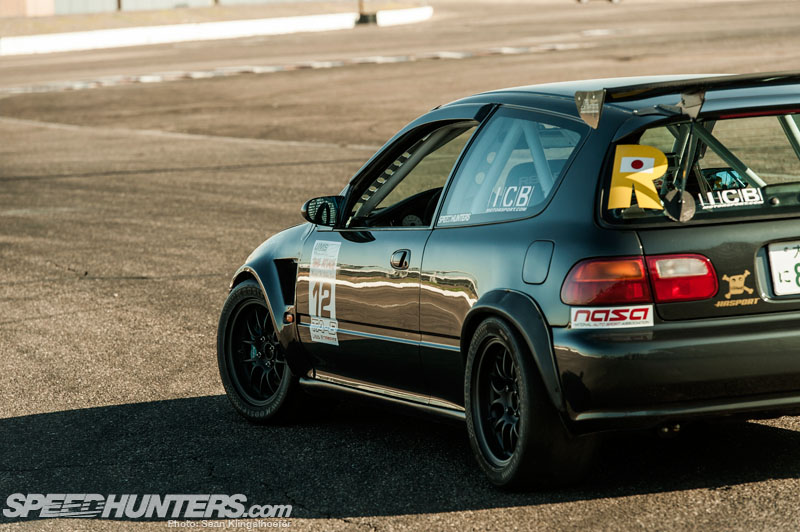 Not to mention the bulbous overfenders. I've seen a lot of things in my day, particularly in the world of Hondas, but I do believe this is the first time I've ever seen overfenders fitted to the rear of a Civic! Ironically, the J's Racing flares which are now bolted to the back of the car were originally intended to go on the front, until Phil picked up the already-widened Chargespeed fenders. Rather than letting a perfectly set of flares to to waste, Phil decided to go ahead and square the car up which allows for swapping of the 15×9″ wheels on all corners to get the most from a set of 275 Hoosiers.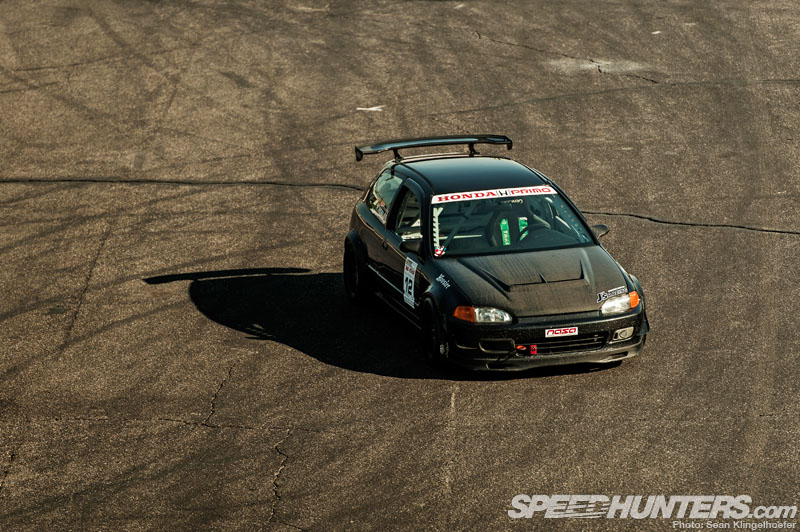 Keen Honda nuts will have already spotted that quite a few other miscellaneous bits and pieces from J's Racing have also been equipped to the car's exterior. Take the front bumper for example that adorns a pair of carbon fiber canards as well as an induction scoop from J's.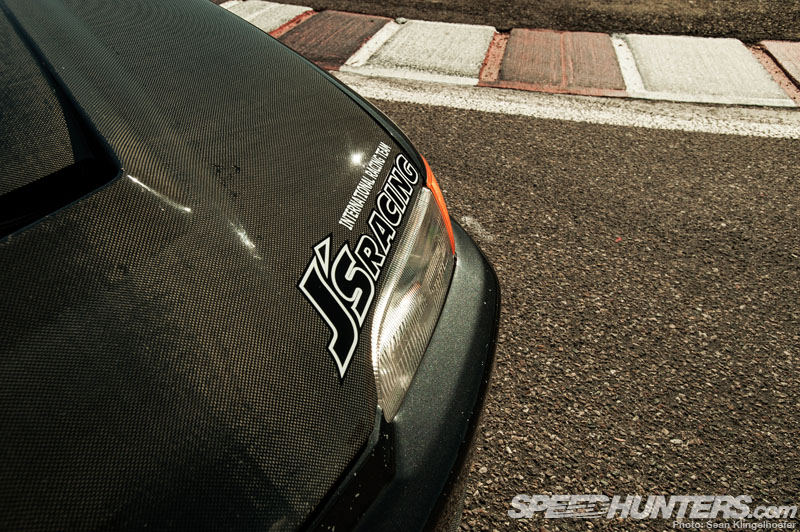 Of course the vented hood is also from none-other than the Osaka Honda specialists…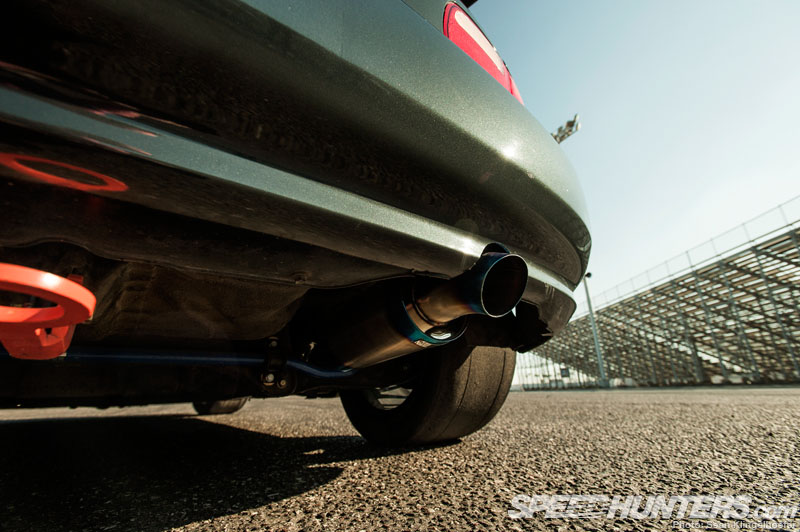 As are the tell-tale orange tow hooks fore and aft as well as the mega-baller 50RS Titanium muffler with a burnt turn-down tip.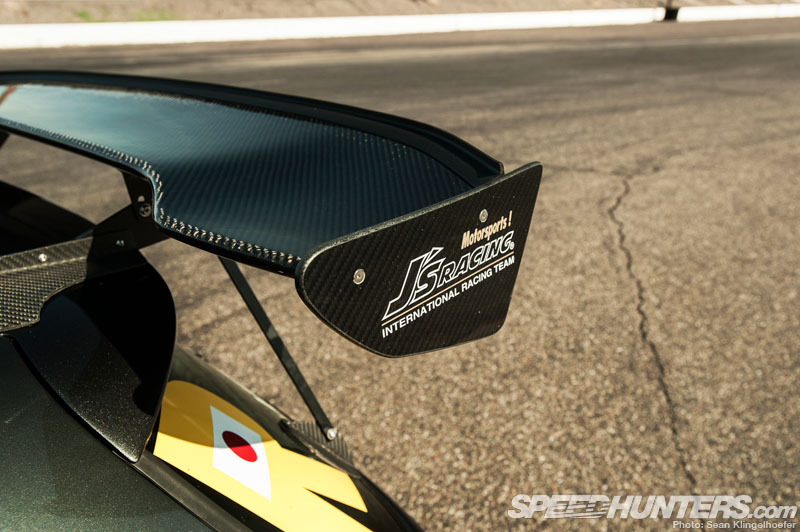 But the crown jewel for most Civic gurus would have to be the legendary adjustable 3D GT wing. I've been longing for one of these for my EK for some time, perhaps one of these days I'll finally pull the trigger and cough up the coin to get one. Maybe.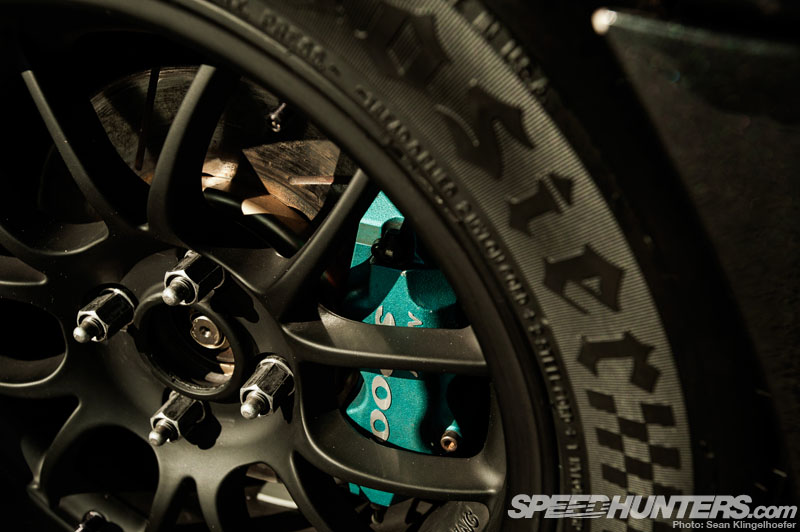 While Phil might have an affinity towards J's, that doesn't mean that his car can't play well with others. A few Spoon items can be spotted even from a distance, like the carbon fiber front lip and mono block calipers – another must-have for many serious Civic guys.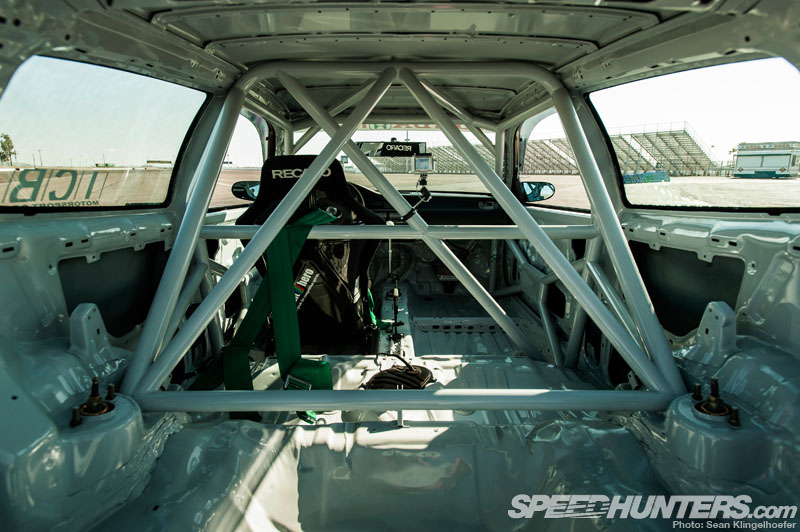 The largest transformation since the last time I saw the car has to be in the interior, where everything has been delicately stripped down and reassembled with only the bare minimum required components. While the car was down, Phil had his bolt-in cage replaced by a proper six-point weld-in unit by the guys at Precision Chassis Works.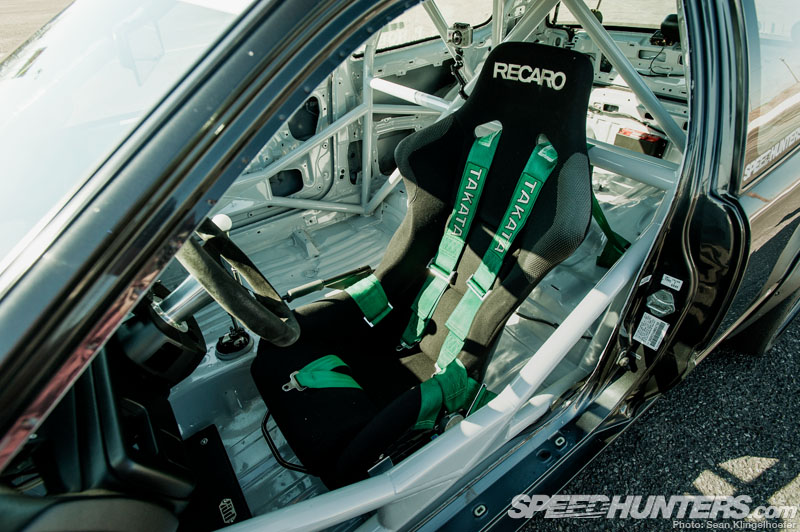 Phil and I seem to have staggeringly similar taste when it comes to building a Civic, so it's hard for me not to like his choice in seats – a Recaro SPG, as seen in Leroy. Sadly, that's where the similarities between the two cars end, because Phil has built something way above and beyond what my current time and budget are capable of. For now, it's certainly something I can aspire to!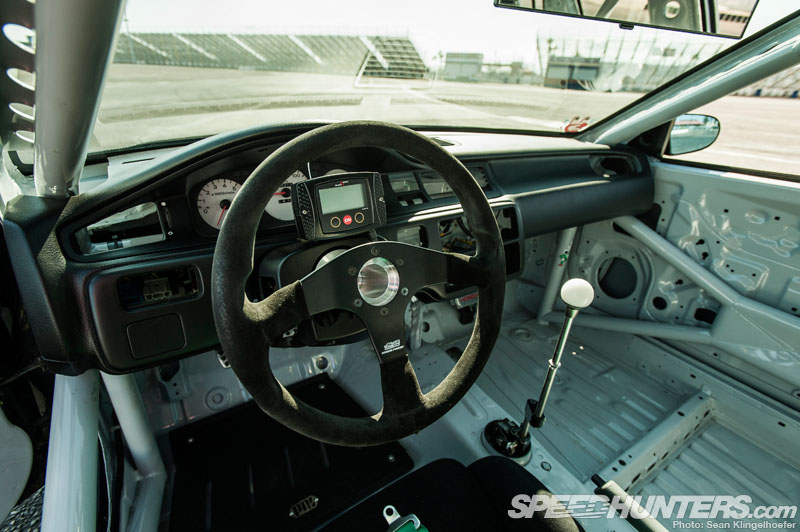 From this view you can start to get an idea of just how gutted the dashboard is, there's virtually nothing underneath the skin at all. In fact, Phil joked that it takes longer to remove the cluster than it does the entire rest of the dash! A suede Mugen Racing-III steering wheel and a Buddy Club shift knob provide something for the hands to do while driving…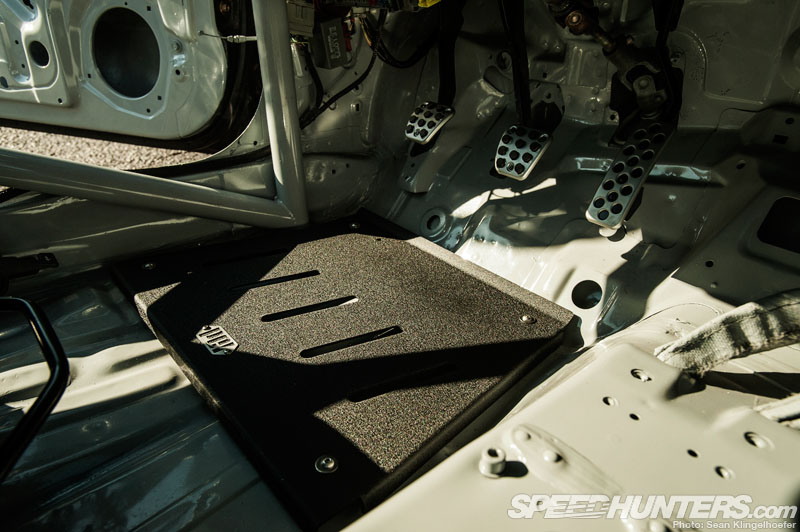 But the tactile experience for the feet is just as nice. Fiends among the readership will quickly peg the pedal assembly being replaced with ultra-rare items off an Integra Type RX model. The PCI heel-up plate is a very nice addition which gives a smooth plane from which the feet can accurately operate the pedals.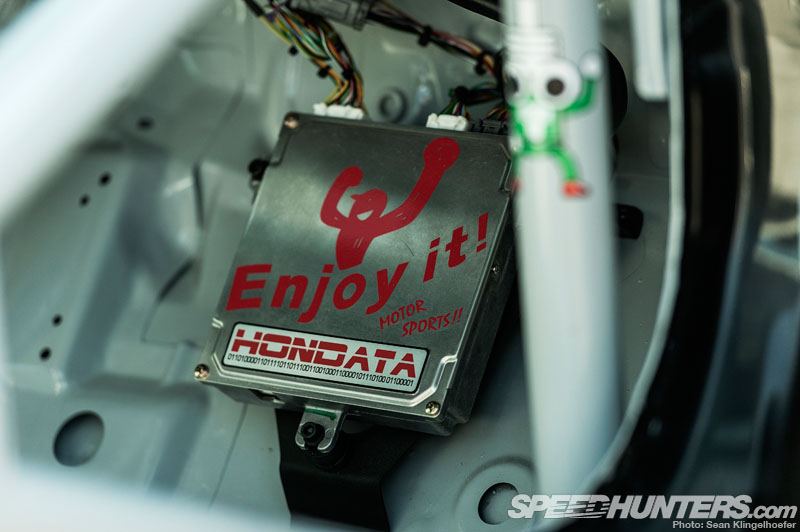 Although a lot of time and attention has been put into the cockpit, the Hondata K-Pro ECU foreshadows the other newly finished modifications waiting on the opposite side of the firewall.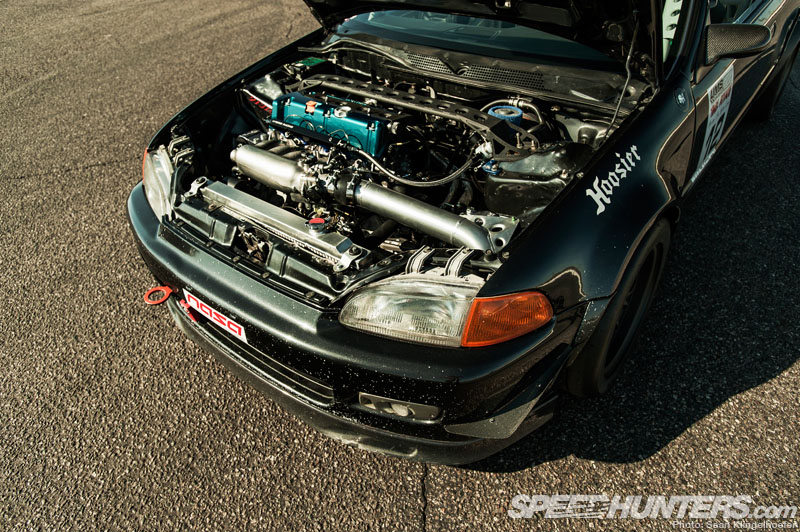 For a very long time, Phil was quite satisfied with the B18C1 Integra GS-R engine that previously powered the Civic. However, as time went on and Phil got faster and faster, the day finally came where he craved more power. He now jokes that he'll probably be a lot slower than he was before while he gets used to learning how to rein in the beast. I can't say he's going to be wrong.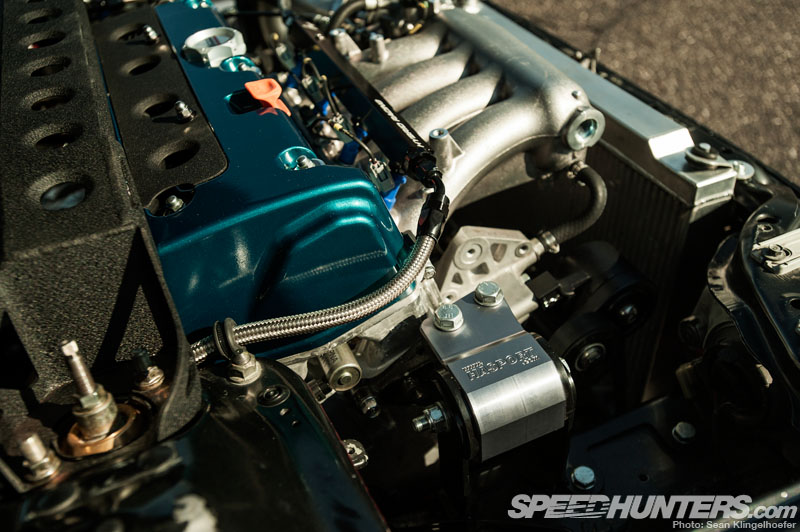 The engine compartment is yet another place where function and form can intersect peacefully. While the J'S Racing valve cover may be purely cosmetic, other bits like the billet Hasport mounts and ASC shock tower bar and coil pack covers are all a blend of beauty and performance.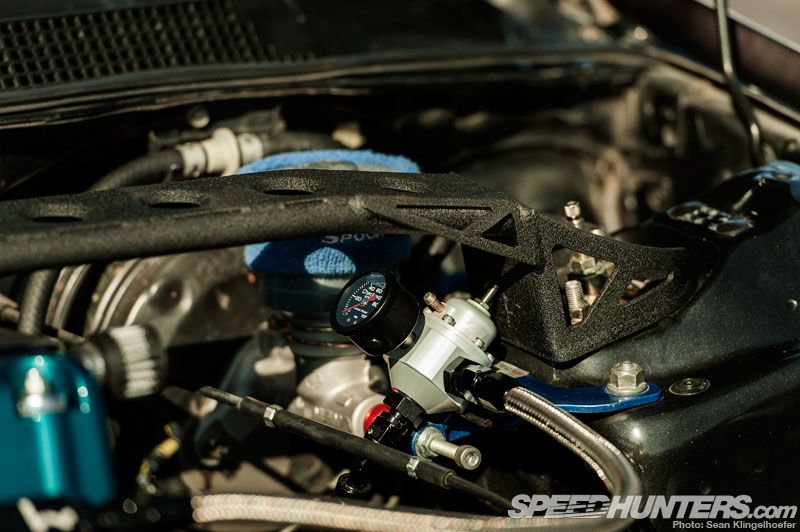 The engine is a 2.4L setup from an Acura TSX which has been torn down and reassembled to ensure reliability on the track. One of the great things about the K-series engines for track guys is the ability to have gobs of torque and power (compared to B-series) while retaining factory reliability and idle. With just a few potent bolt-on modifications like the RBC intake manifold and R-Crew header paired with the K-pro ECU you're looking at easily putting down 230+ hp.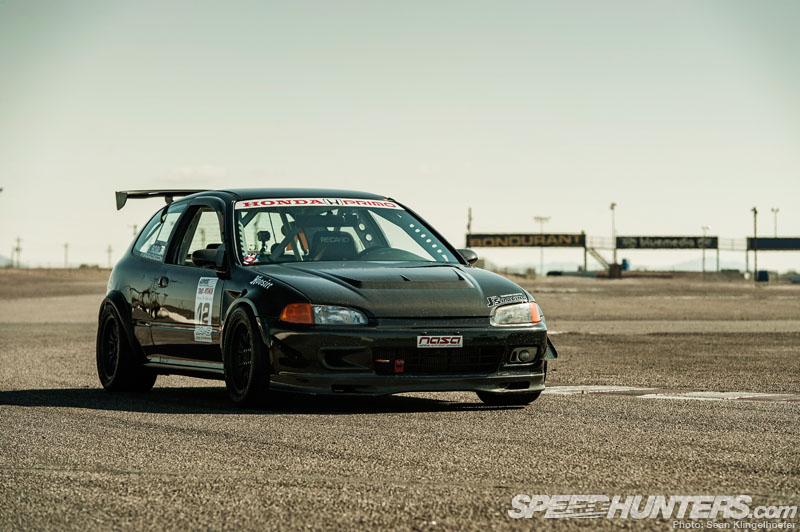 It was really good to catch up with Phil and see his car back in one piece again. At the time of the shoot there were still a few very minor odds and ends to sort out, but I'd suspect by the time you read this the car will be ready for the shake down. I can't wait to see what Phil is capable of doing with the new setup and I'll be patiently awaiting the arrival of some epic in-car footage. Until then, hang loose!
ENGINE
2.4L Naturally aspirated K24A2; Non Stop Tuning Crank and Alternator Pulleys; Hasport Gunmetal ICB exclusive engine mounts; Circuit Hero cold air intake, coil pack cover; Euro R throttle body, RBC intake manifold, RDX injectors, K20 aluminum oil pan w/ Hytech baffle kit; Walbro 255 lph fuel pump; AEM fuel pressure regulator; Hybrid Racing fuel rail, steel braided fuel line, radiator hoses; Griffin full size radiator; R-Crew header;  Custom Precision Chassis Works exhaust B-Pip; J's Racing valve cover, axle-back muffler, radiator cap; Odyssey 680 battery; Redline Water Wetter; Rywire Mil-Spec engine and Chassis harness
ENGINE MANAGEMENT / ELECTRONICS
RSX Type S ECU with Hondata K-Pro; JDM EG6 cluster; AMB Transponder with Blind Apex in-car lap time display; Go Pro Hero HD on custom Ultra Performance roll cage mount
DRIVELINE
EP3 Civic Type R transmission; J's racing 1.5 Way LSD; Hasport Race Prepared axles; Competition Clutch clutch kit; ASSCO Light flywheel; Hybrid Racing shifter kit; Redline MTF with friction modifier
SUSPENSION / CHASSIS
Tein RE coilover suspension (14k f/ 10k r) w/ pillow ball upper mounts; Buddy Club camber links; PCI Spherical trailing arm bushings; OEM JDM Type R front swaybar; Cusco 26mm rear swaybar; Circuit Hero front shock tower bar; Custom Precision Chassis Works 6-point rollcage with harness Bar
BRAKES
Spoon Twin block calipers w/ Fastbrakes 2-piece floating rotors (f); OEM Integra rear disc conversion w/ Fastbrakes rotors; Carbotech XP10 pads (f) AX6 pads (r); Fastbrakes steel braided lines; OEM Civic Type R proportioning valve, 15/16″ Integra master cylinder;  ATE Super Blue brake fluid
WHEELS / TIRES
15X9″ black 949 Racing 6UL wheels; Hoosier R6 275/35/15 tires; Longchamp pass through lug nuts; ARP extended wheel studs
CABIN
Recaro SPG bucket seat; Buddy Club Super Low seat rail, shift knob; 5-point Takata 341 harness; Precision Chassis Works harness bar; Mugen Racing-III suede steering wheel; Checkerd Sports steering boss; Integra Type RX pedals
BODY
Spoon sports front lip; R Crew front splitter (not pictured); J's Racing carbon fiber hood, canards, 3D GT rear wing, rear over fenders, tow hooks; Chargespeed front fenders; OEM Phantom Grey Metallic paint; JDM EG6 headlights; Vision amber corner lights;
THANKS
Big thanks to my Family! Especially my son Jesse for all the help! Matt Ye @ ICB for sourcing all the parts, Projectonethirty, Tim @ Hybrid Racing, Precision Chassis Works, Hasport, Hondata, Circuit Hero, Rywire, Checkerd Sports, UMS Tuning, NASA AZ, Simon, Paul, CJ and Carlos and Sean Klingelhoefer for taking the time out of his busy schedule to do this!
More car features on Speedhunters
More Honda Civic stories on Speedhunters
More stories by Sean Klingelhoefer on Speedhunters
-Sean
---
---
---