Yesterday's preview of the HachiRock Festa hopefully succeeded in whetting your appetites for some more AE86 goodness. For me especially it was an extremely fun event to cover, getting to see so many highly modified cars in one spot, cars that perfectly demonstrated just how much hachiroku guys put into their cars.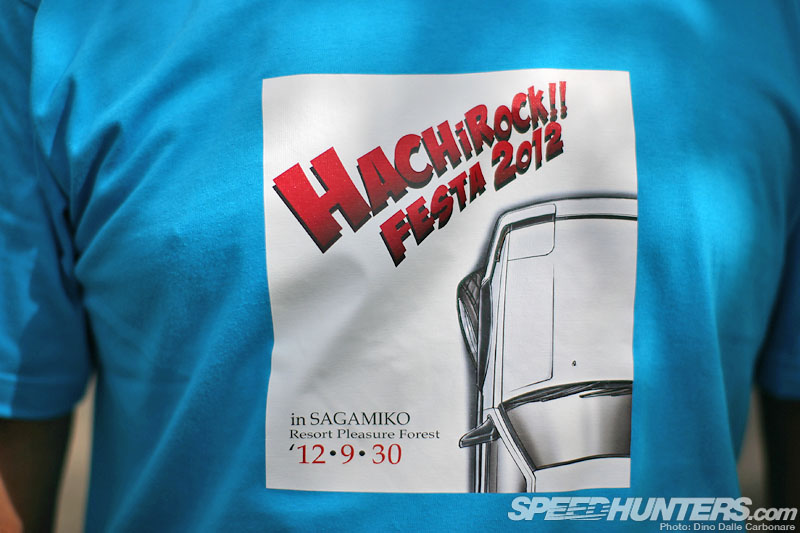 It was quite different from the usual dark meetings I cover at places like Daikoku and Tsuzuki PA, perfect for checking out each car in detail…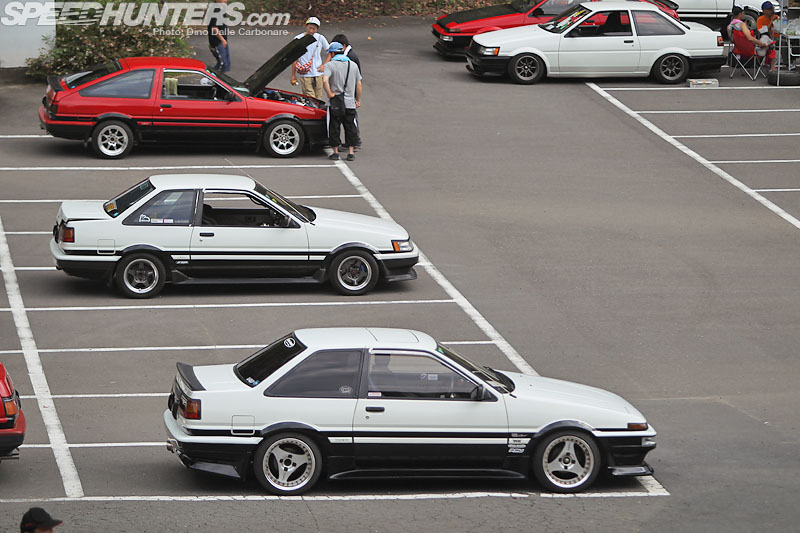 …pretty much the same thing everyone was doing.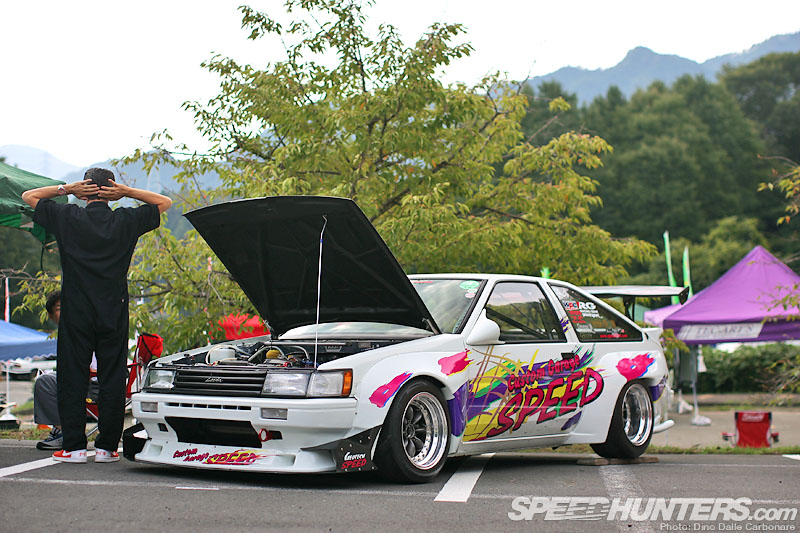 This is one of two Custom Garage Speed Levins that were at the event, a car you may have seen in those N2 races that Hot Version organizes. It will be part of the spotlight post I have coming as it's truly one superbly built racer.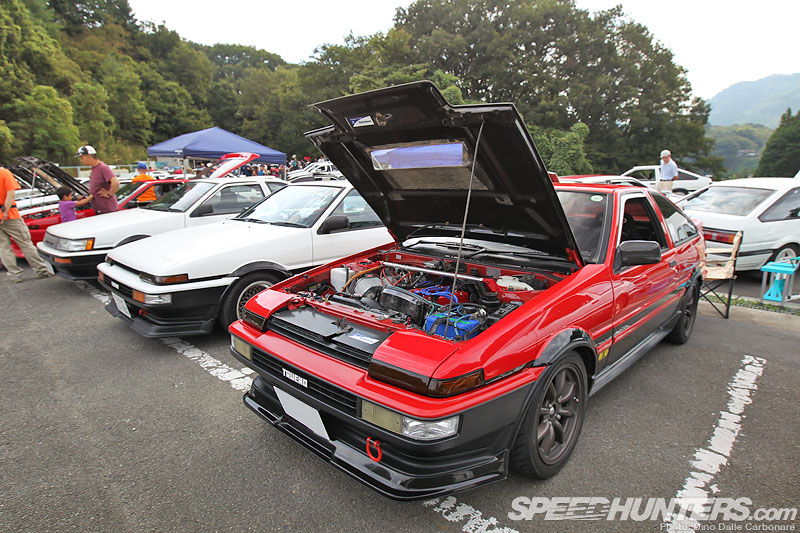 But this wasn't a track event, it was a gathering of owners with an emphasis on street cars…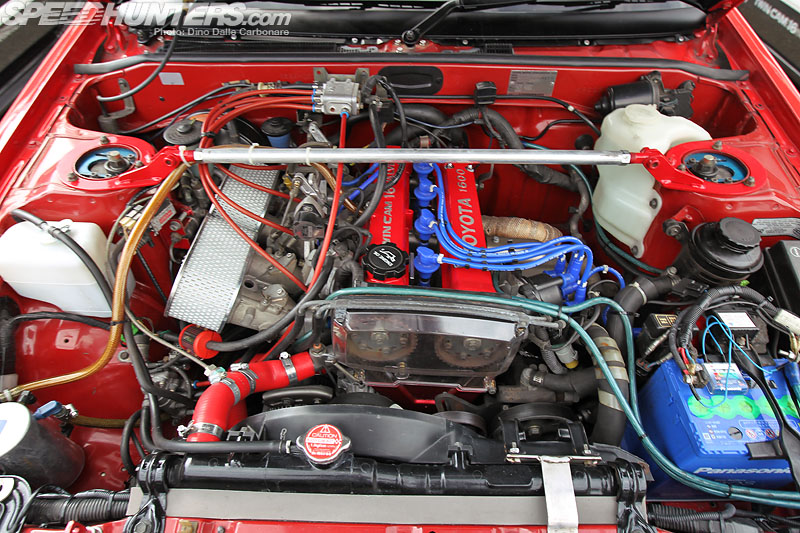 …cars like this Trueno hatchback which over the years has been perfected and built up by its owner.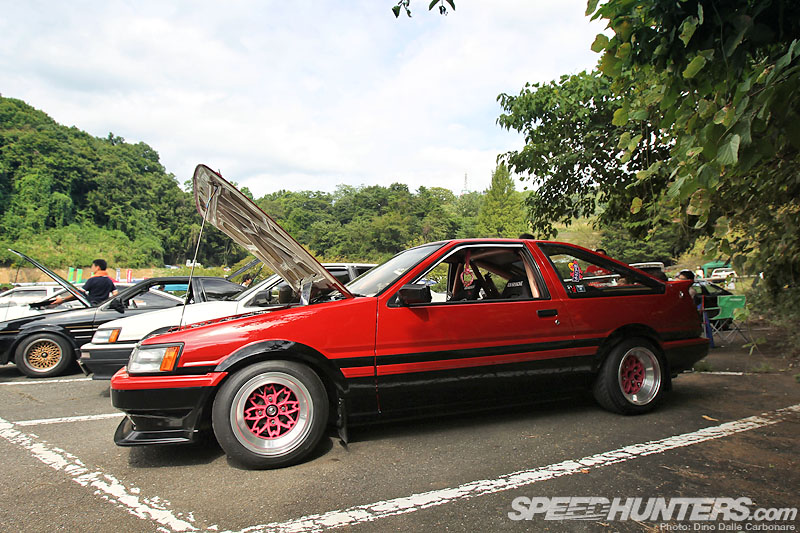 If you like your hachi's in red-black then this Levin was another awesome example on some equally awesome wheels. It's not often you see Hayashi Racing Team Yayoi rims, especially in pink! In fact I haven't seen rims like these since shooting the Liberty Walk C130 Laurel a few months ago.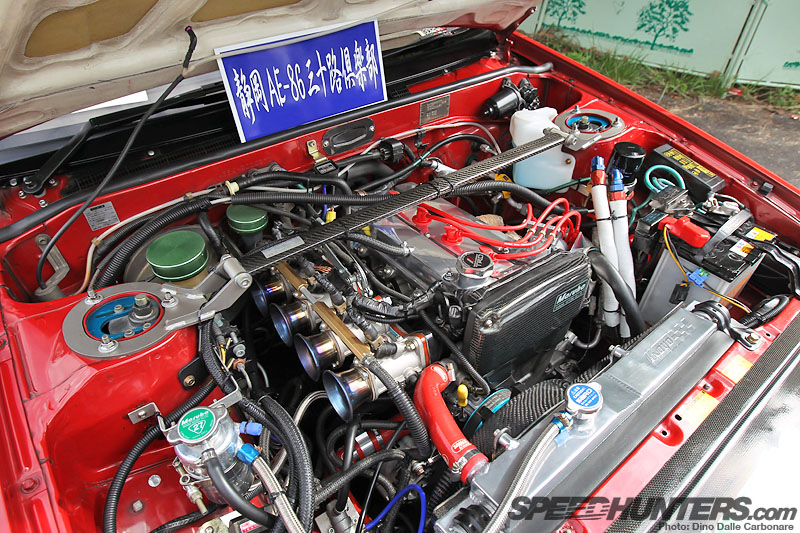 Under the hood it was nothing short of perfect, check out those titanium funnels for the individual throttle set up.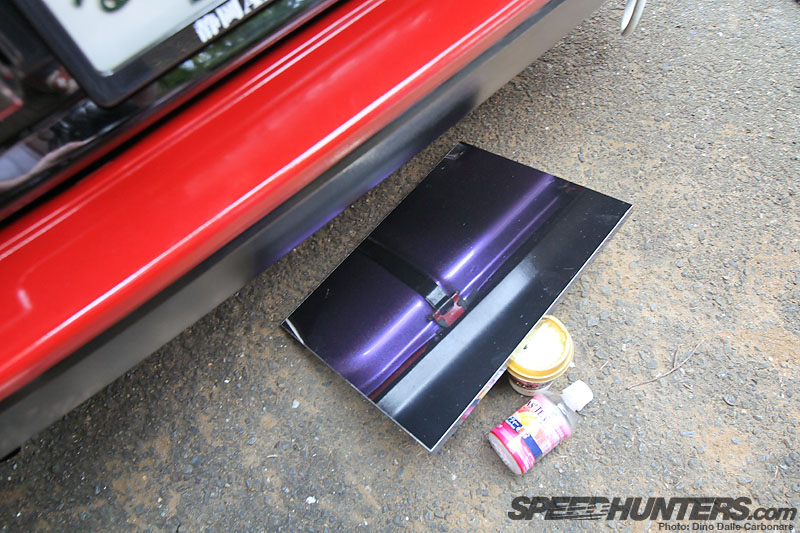 The owner was keen to show me that he had even pained the fuel tank in metallic purple, in "Japanese truck-yaro style" as he put it. You just gotta laugh!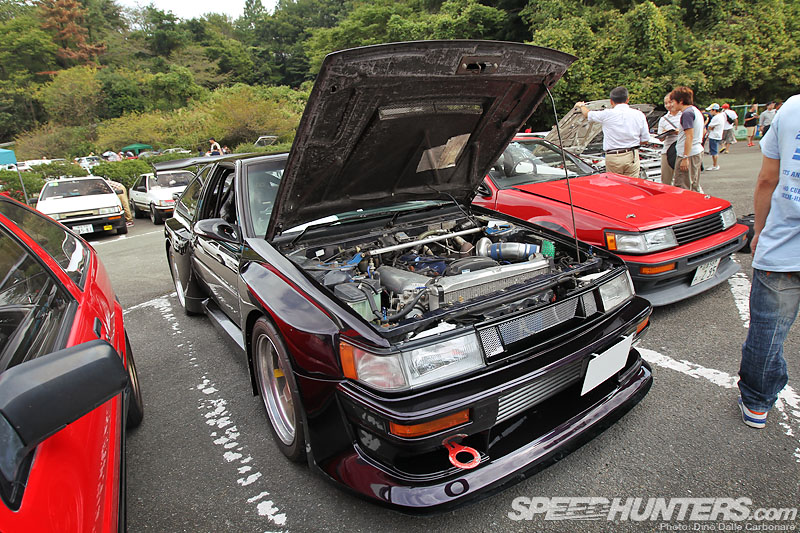 Like with every scene out there, there are so many schools of thought when approaching an AE86 build. Take this widebody Levin for example; mean body on the outside…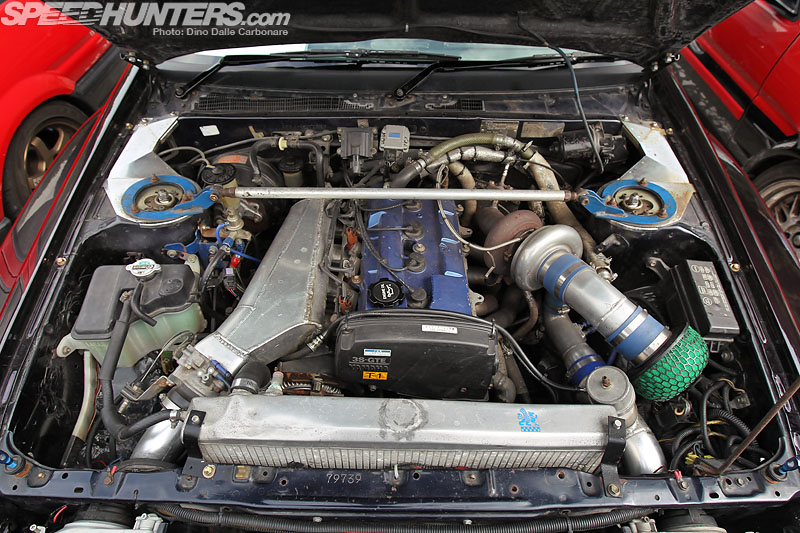 …with an equally in your face 3S swap under the hood.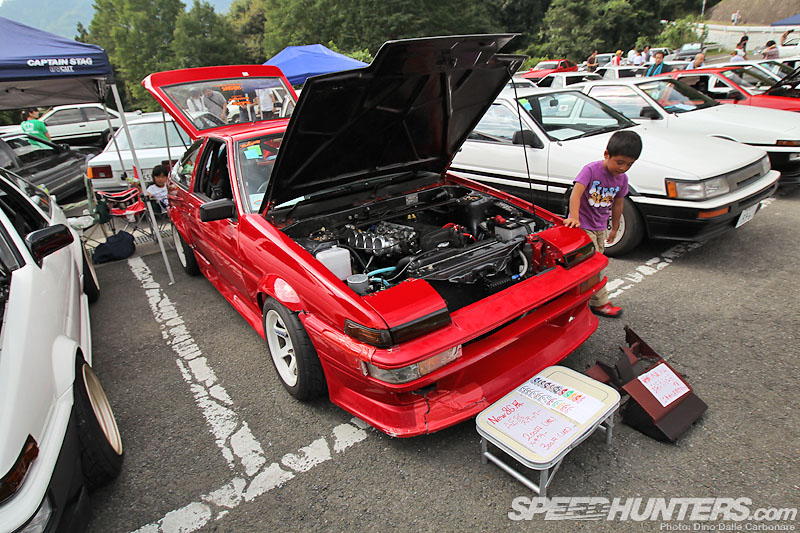 Prefer your hachiroku in its nice and simple naturally aspirated form? No worries, plenty of options for you to choose from…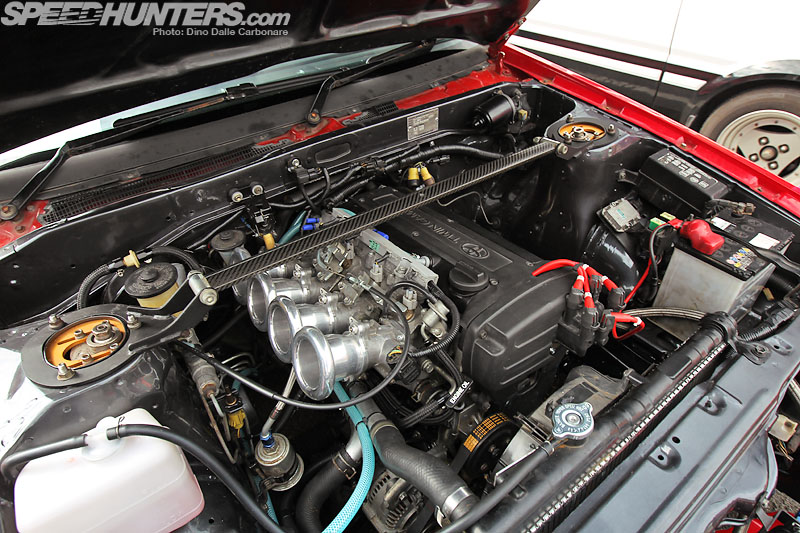 …like 20-valve blacktop swaps that seemed to be fitted to every other car at the HachiRock Festa! It's obvious people are investing quite a lot into their pride an joys, I guess once you know you have found "your car" you can really go crazy on it.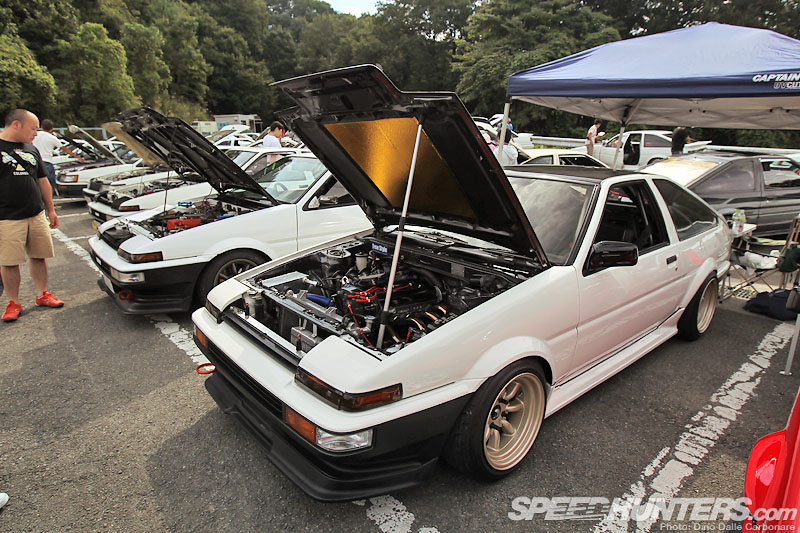 This clean Trueno was one of my favourites. It was all about attention to detail like the carbon roof, hood and mirrors on the exterior…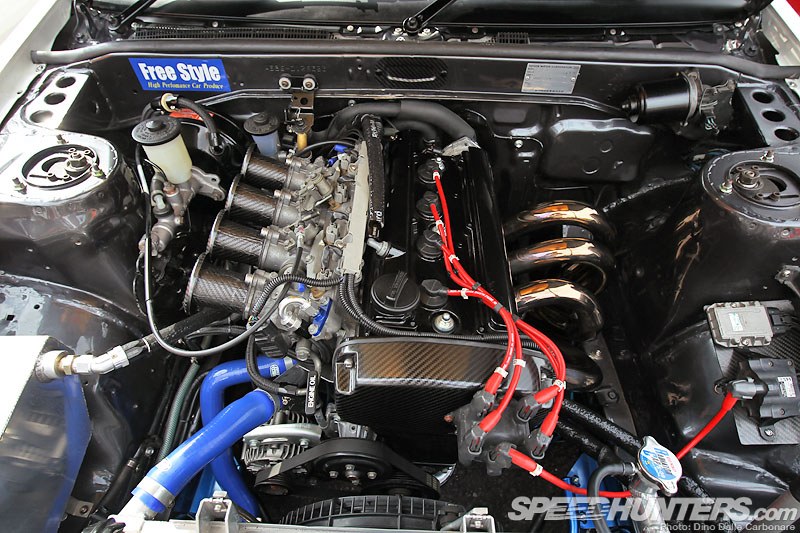 …and this little gem sitting in the engine bay. I've driven a few 20-valve powered 86s and even with a stock engine they really feel potent with that usual urgency to rev out every gear to the limiter but also more noticeable low-rpm torque. This particular blacktop however looked far from stock…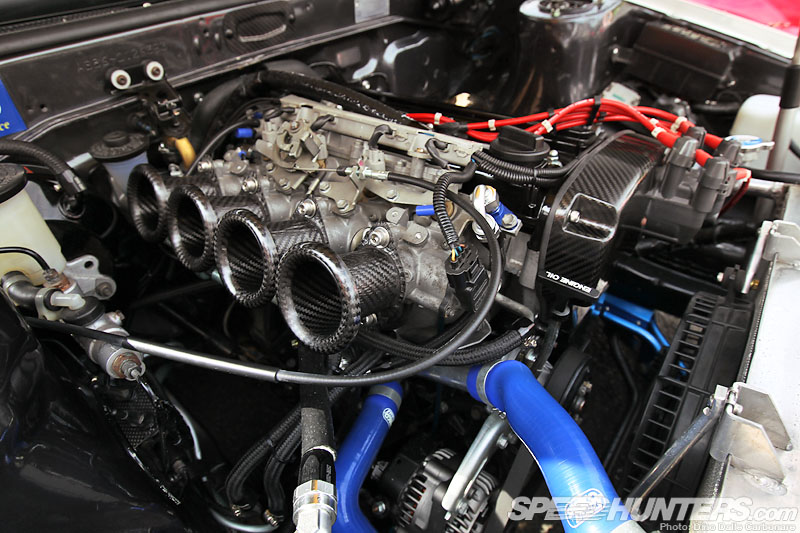 …even the velocity stacks were made in dry carbon.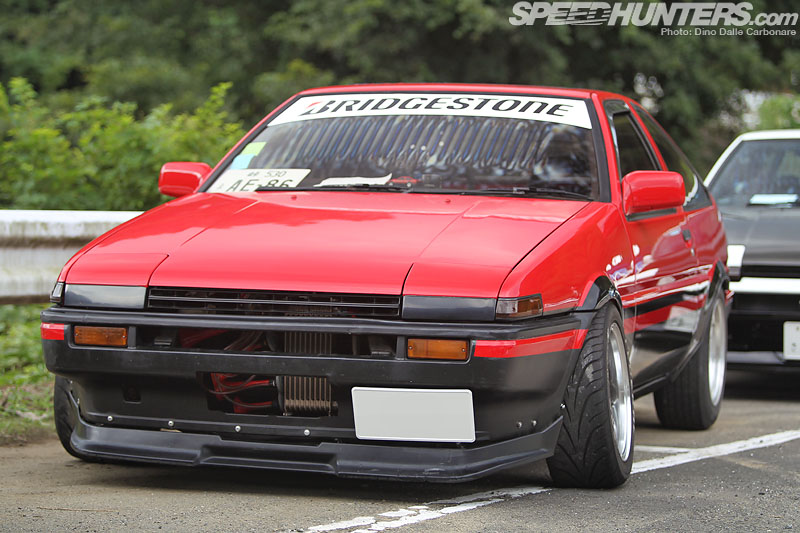 Got camber?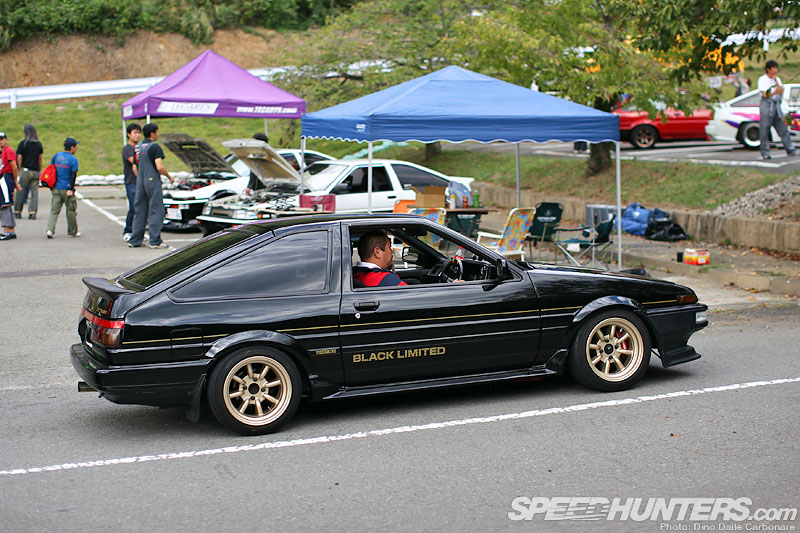 You don't see too many Black Limited versions of the AE86, but I assumed there would at least be one to check out…and thankfully I was right!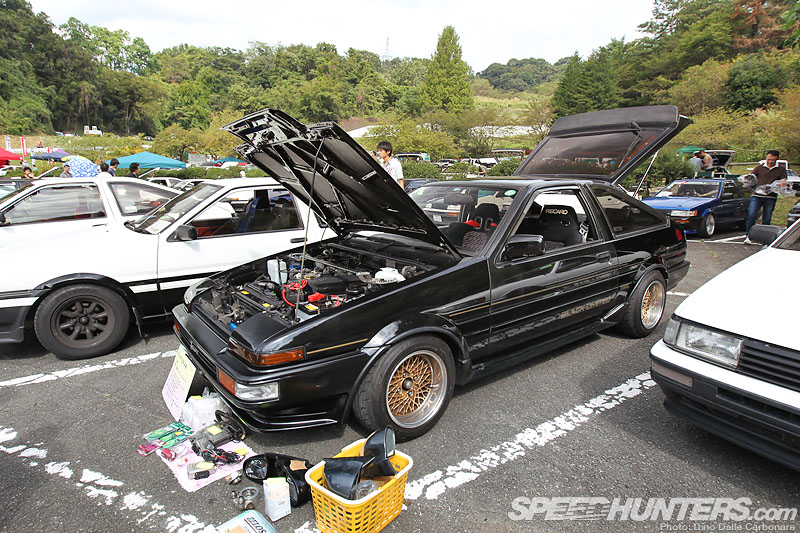 In fact I even spotted a second one running, you guessed it…a 20-valve swap! Wanna see a spotlight of this one?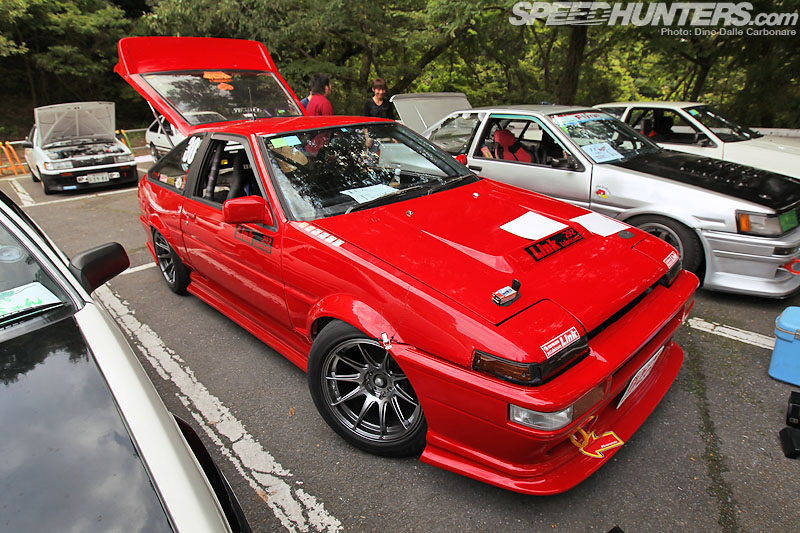 This particular car on Weds XXRs was a great example of an 86 built for drifting, sporting little must-have equipment like quick release latches on the bumper.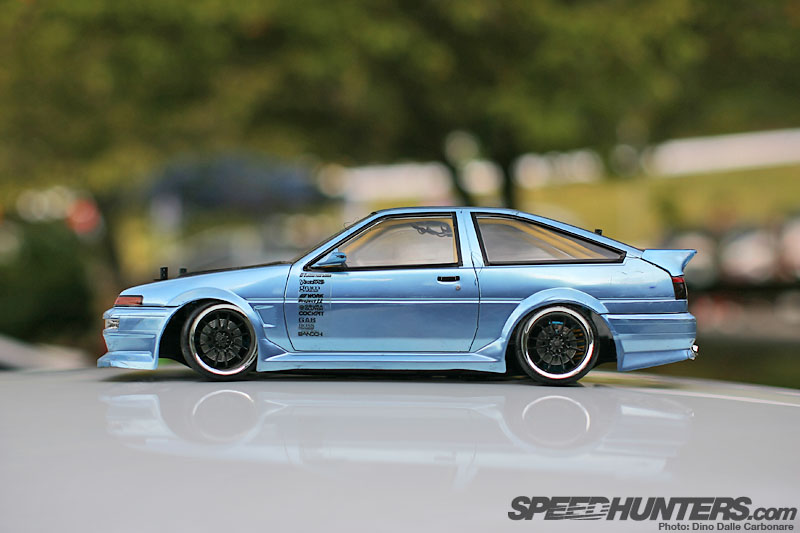 And on the subject of drifting…how about this cool radio controlled slider.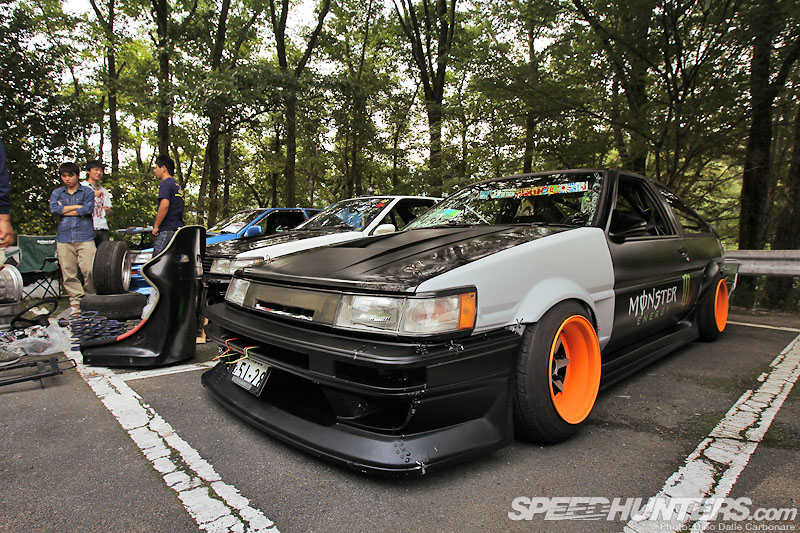 I know a lot of you wanted to see a few more images of this pretty extreme, drift spec satin black Levin.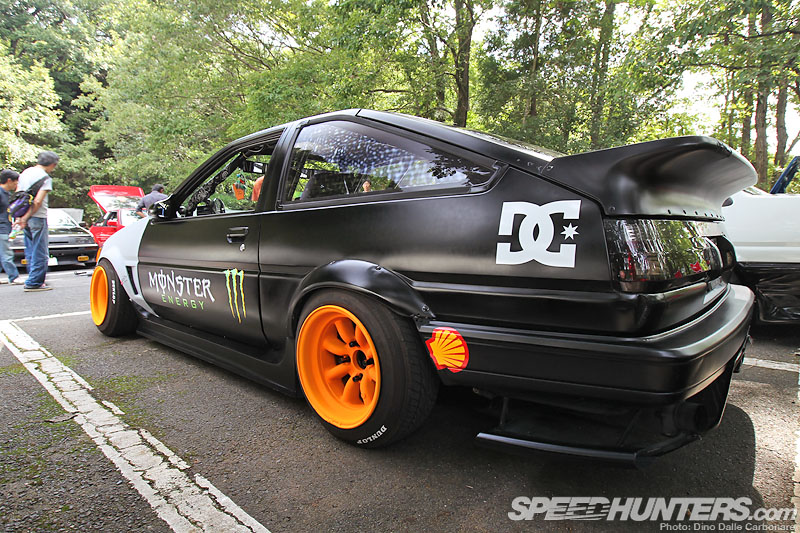 It certainly stood out, going for a very "kaigai" (overseas) style, sitting on rattle-can-painted Watanabes at the rear and Longchamp XR4s at the front…Shell-orange on one side…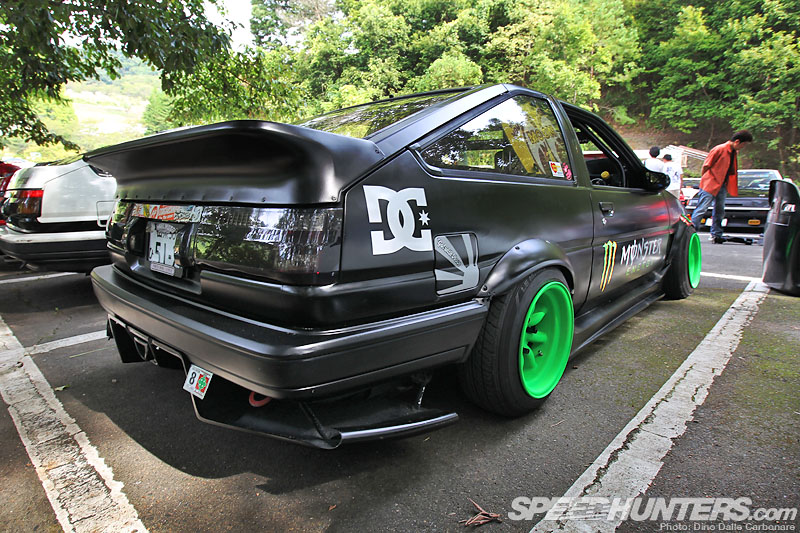 …Monster-green on the other.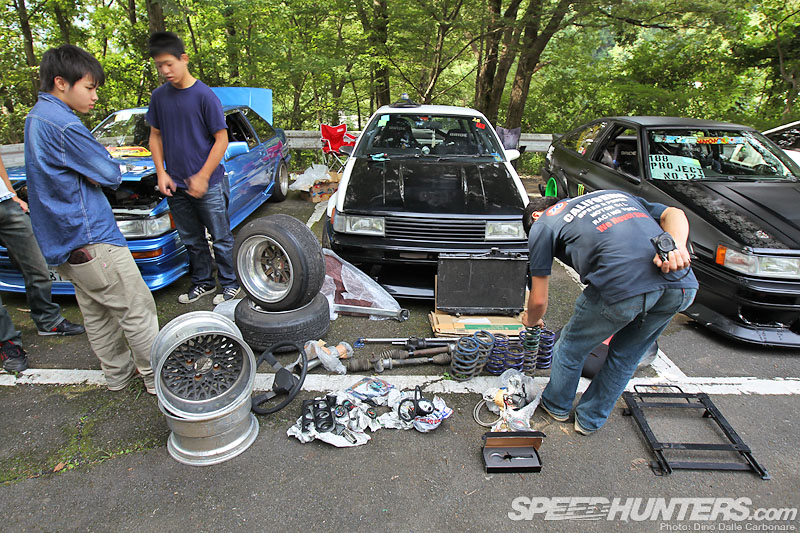 While I was hunting speed, well the stationary variety, a lot of others were hunting parts…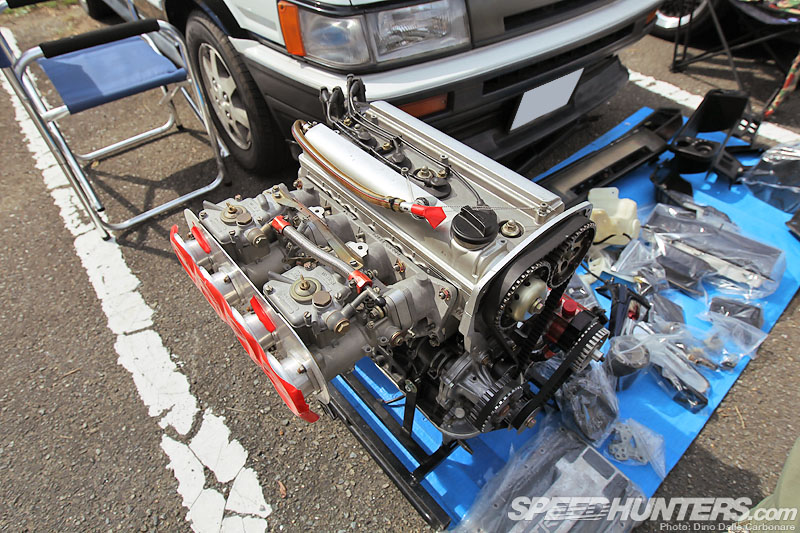 …and there was sure a lot of stuff on sale, I even found one guy trying to get rid of this carbed and dry-sumped 4AG that was used in a single seater Formula car up until a few years ago. Crazy!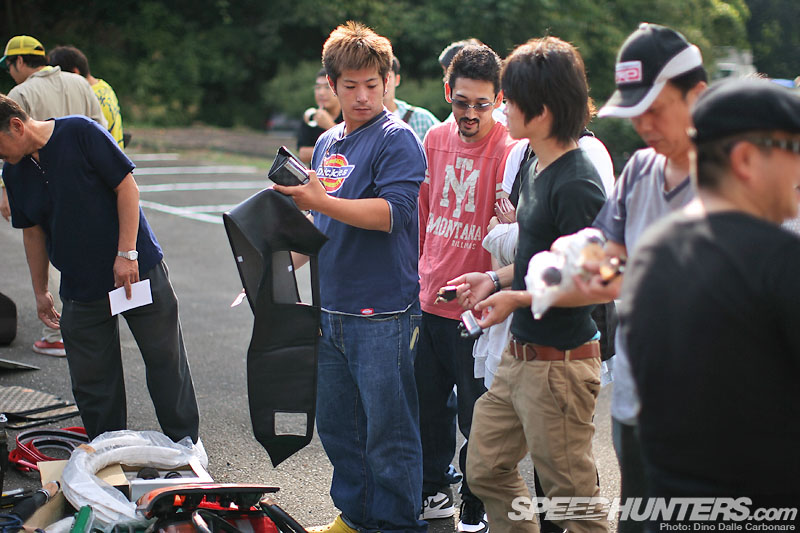 The most surprising thing of all however was the speed at how a lot of the parts on display were snapped up.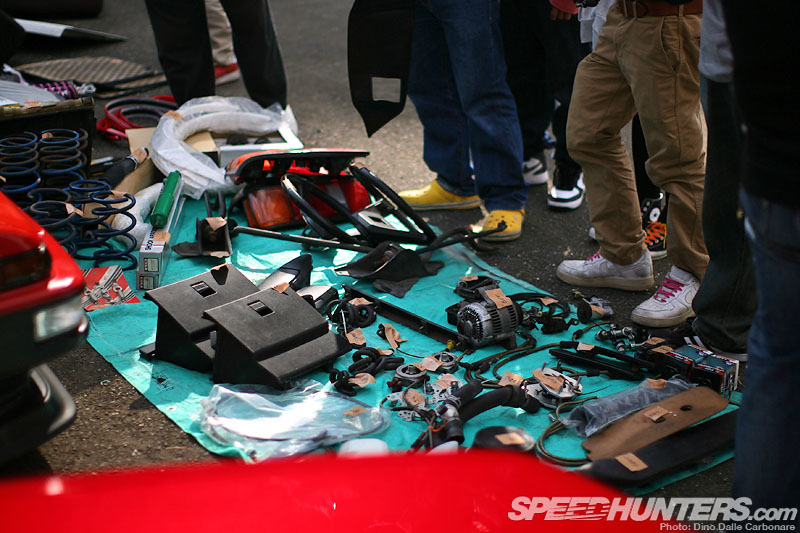 It was obviously a combination of rare, sought after parts and good prices because I have never seen things get sold quite so quick at these sort of gatherings!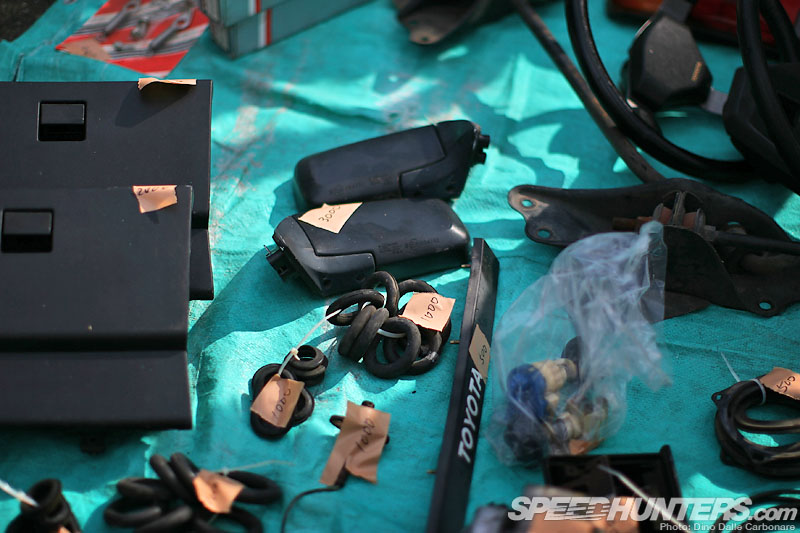 Little bits of interior and exterior trim were all very popular…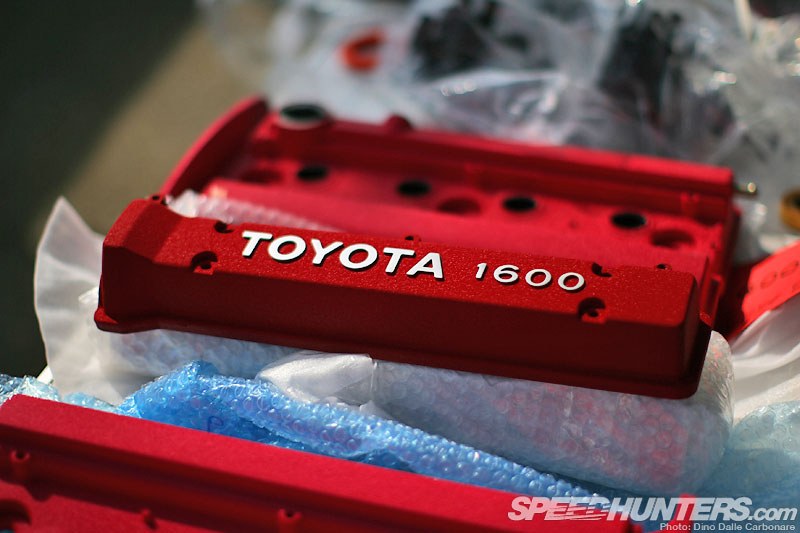 …while there were of course new and fresh parts to be had from the various tuner displays.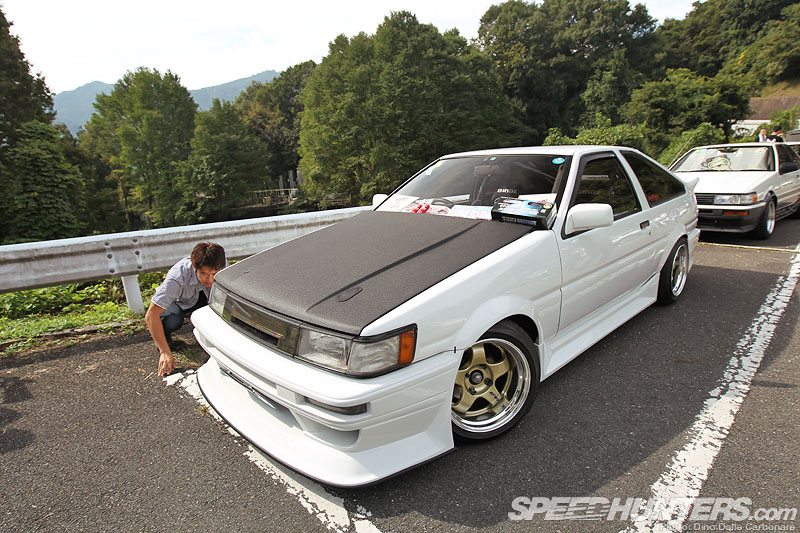 I've seen this sort of rough textured and metallic matte paint finish at a few shows in the past year, and I think this is the first time I've seen it done to a hachirocku. Certainly something different.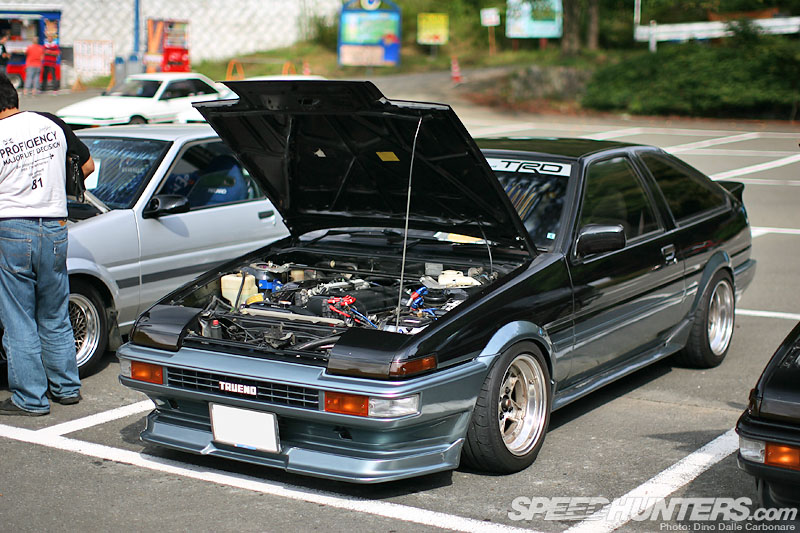 Thought this was a pretty unusual two-tone color scheme. Certainly worked.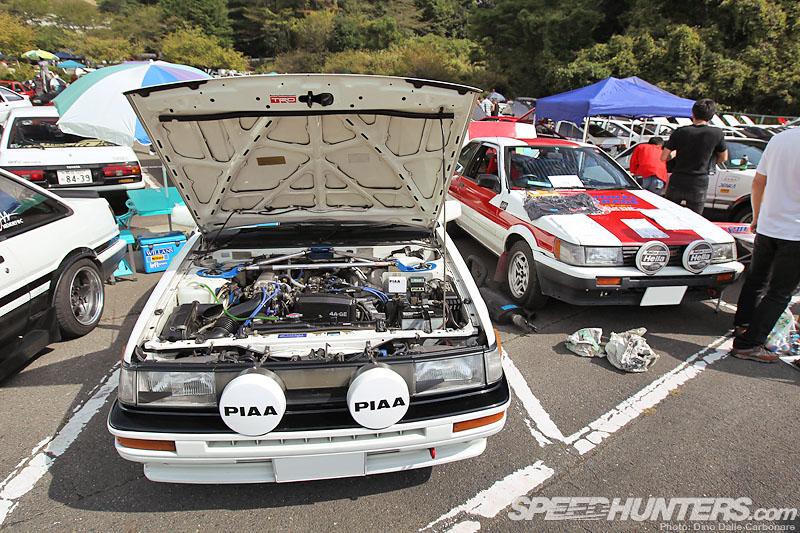 Oh and how can I possibly forget these guys! Of course the AE86, among having participated in pretty much every sort of racing discipline it was, and still is, popular in the rally scene. Aside from a high ride height and special dampers these two rally cars present…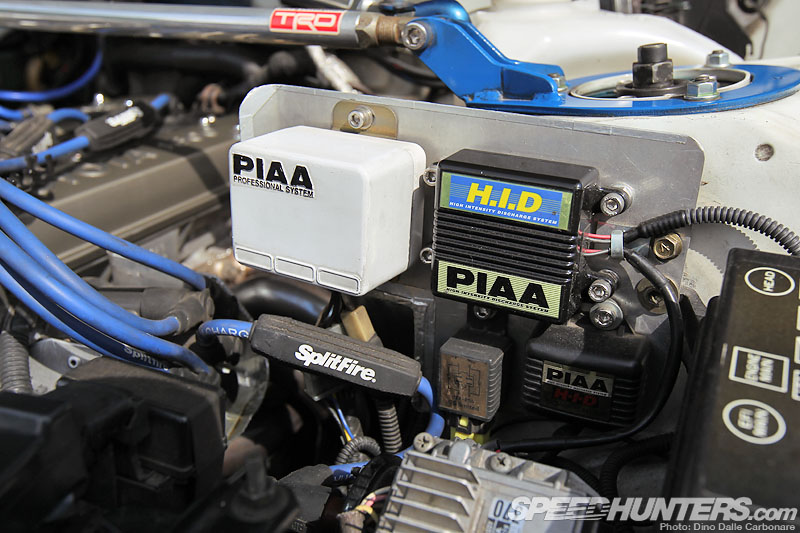 …where rocking some mean HID power!!
That rising sun flag reminds me of the BMW E46 that won one of the awards at the Hellaflush Fuji show last year.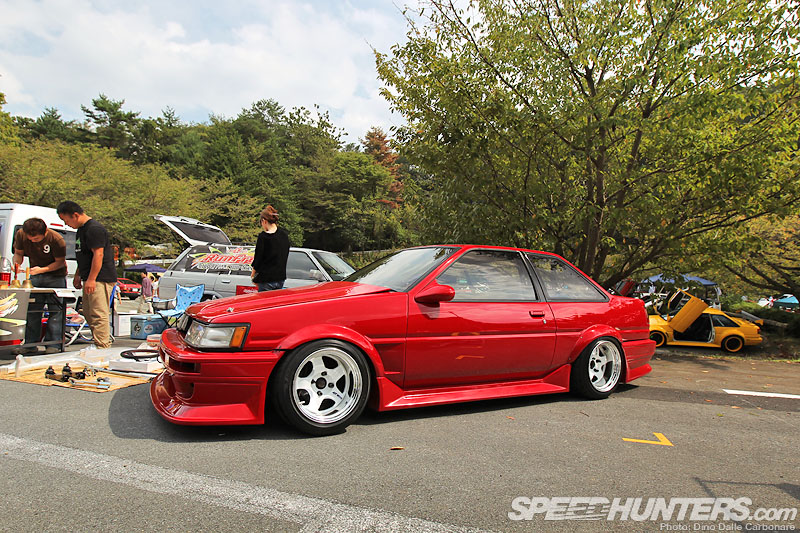 I showed you a rear shot of the Run Free Levin notchback yesterday but I thought a more revealing one was needed to do this car some justice. Now that is what I call serious lip!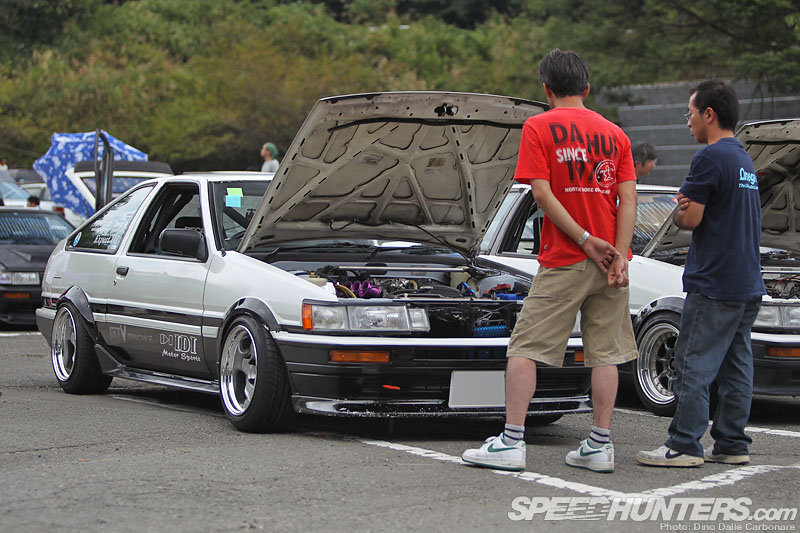 There was a steady crowd always admiring the engine bay of this particular car…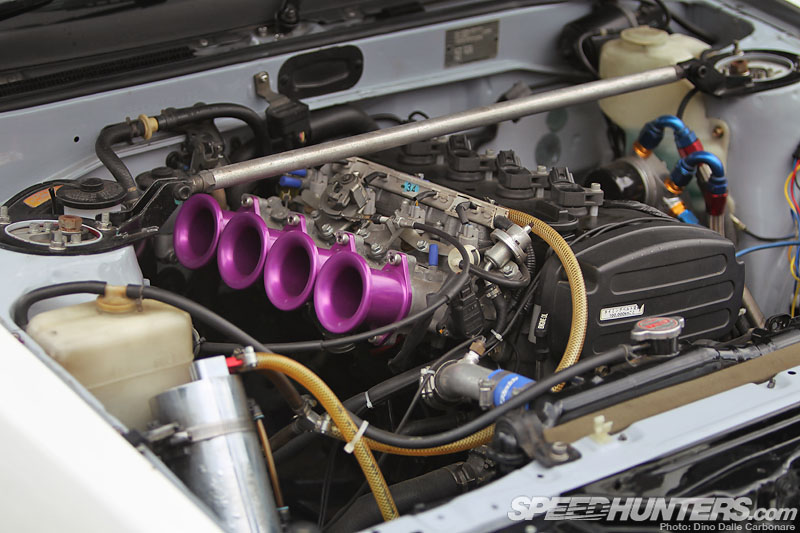 …not surprising once you had a look in there! I think there may no longer be any more AE111s in Japan as they all seem to have been sacrificed, donating their hearts for the greater good of powering the proper, rear-wheel-drive generation of the Trueno/Levin.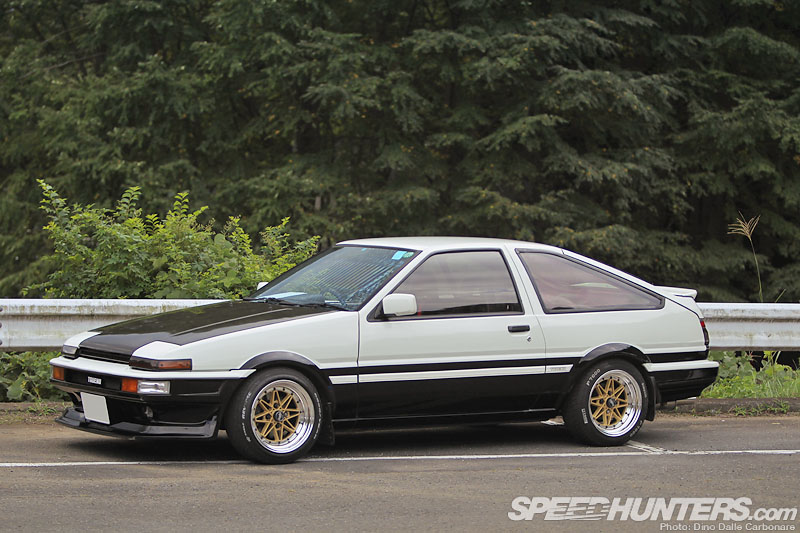 More and more people in Japan, and in various scenes, are painting the lettering on the sidewalls of tires. Can look both good and bad, but this panda Trueno pulled it off rather well. I think the cool Equips had something to do with the final look too however.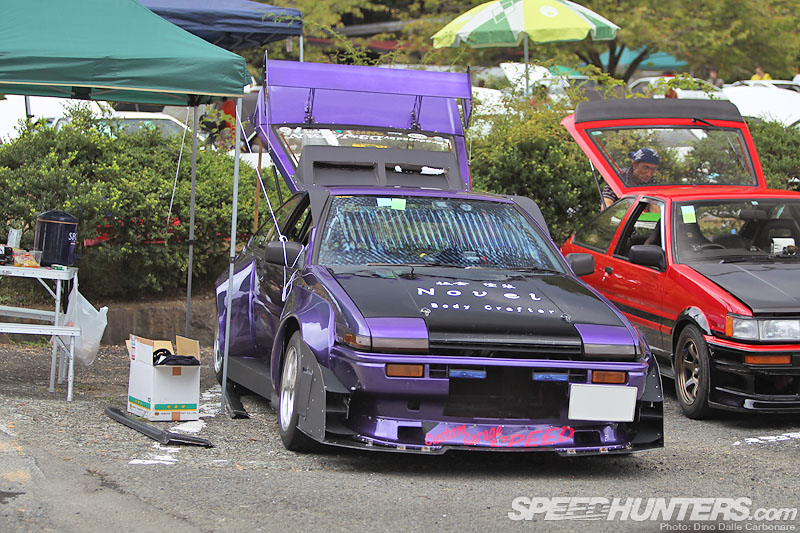 This is a car we have seen a lot of over the last years, a famed wangan and C1 racer and a regular at Daikoku and Tsuzuki PA meets. Not sure if the somewhat weak offset has something to do with the aero.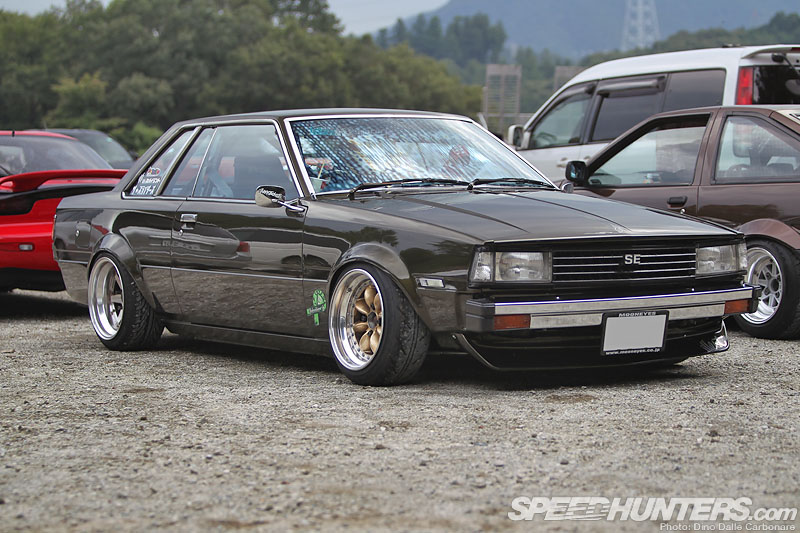 There were some pretty awesome cars that had accumulated up in the lot where I was parked, like this AE70 we first saw at the 8-6 meet in August. Looks far better in the light let me tell you!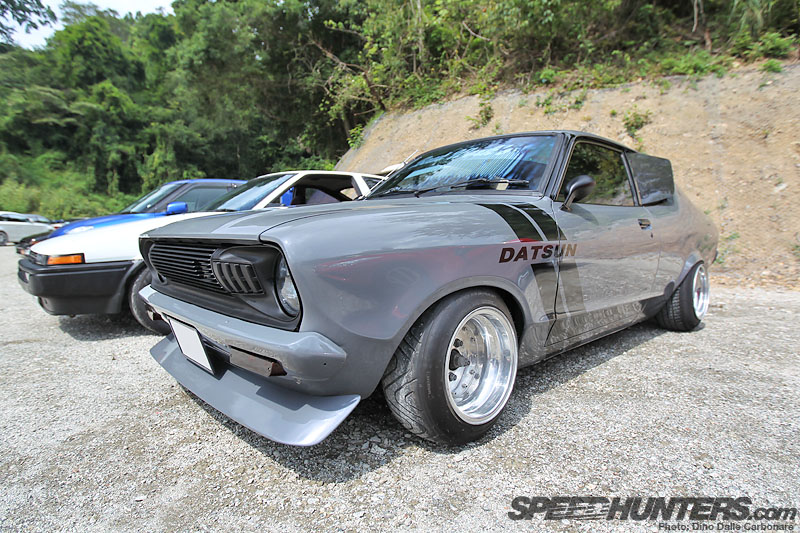 If yesterday's cool little 120Y wagon wasn't enough, this car parked right next to the red Skyline 370GT I drove to the event in.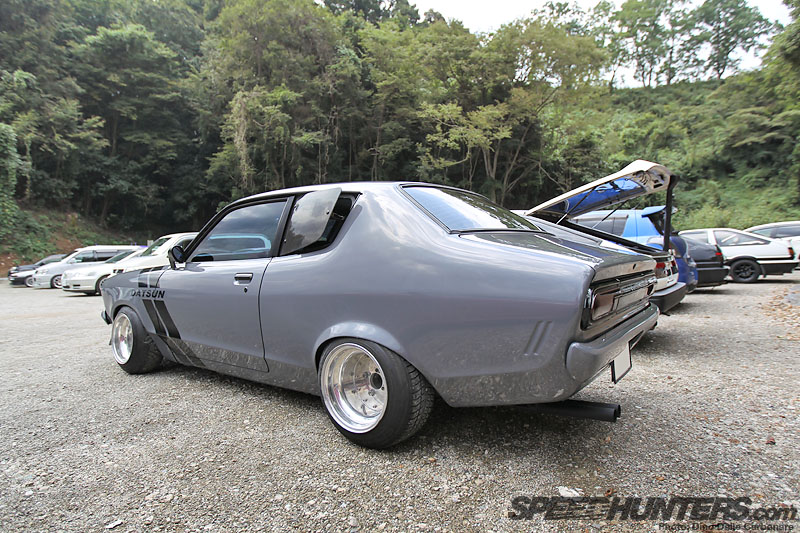 This Beat Works Sunny has to be one of the most badass B210s I've seen in a while.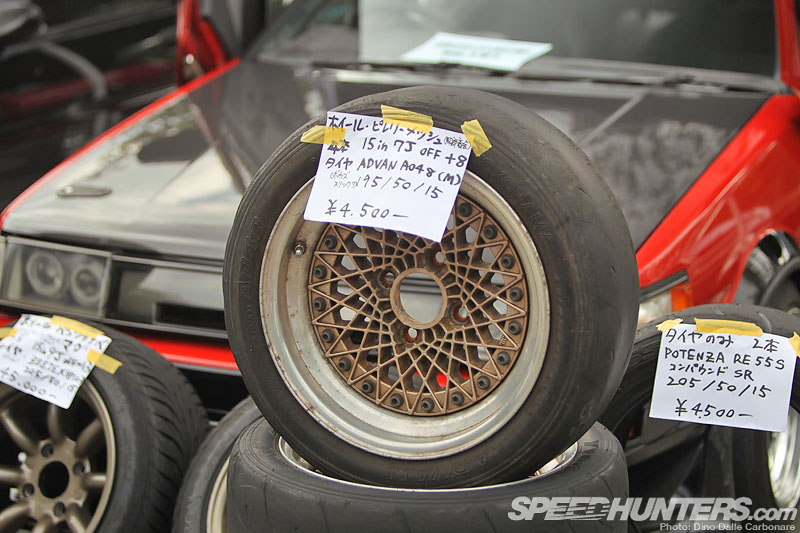 That's it for now but you guys better get ready for some serious wheel overdose next. Ready?
-Dino Dalle Carbonare