Japan is one hell of a bizarre place. It's as international as any advanced nation could ever be, but at the same time impossibly backwards on so many fronts. It's a place where beliefs and cultures clash on a daily basis, where traditional values are challenged but at the same time respected by all generations. If it was any other country it would be complete chaos, but somehow, due to the humbleness and respect of its people it all functions like a well oiled, overly complicated, machine. It's at times quite surprising to see rebellious behavior in such a peaceful and respectful society, but this too is handled in a typically unique Japanese fashion. That's why it's only in Japan that something like kaido racers and various interpretations of shakotan styles can exits.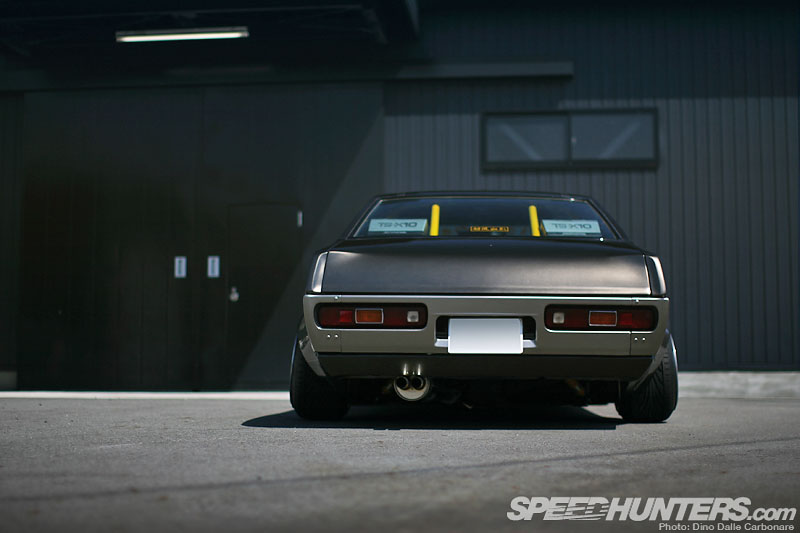 Before I got to spend that unforgettable afternoon with the Liberty Walk Ferrari F40, Kato-san took me to a little private area of his, a good half hour drive from where all of his customer's Lamborghini's get worked on. This is where he keeps a link with his past, a bond with the kind of cars that helped turn him into the enthusiast that he is today. He may rock some prohibitively expensive exotics, but the way he still loves all of his shakotan rides and boso bikes in my eyes defines him as a true car guy, never forgetting his roots. In the limited time that I had at my disposal I selected two cars from his collection, and the first one we will be looking at…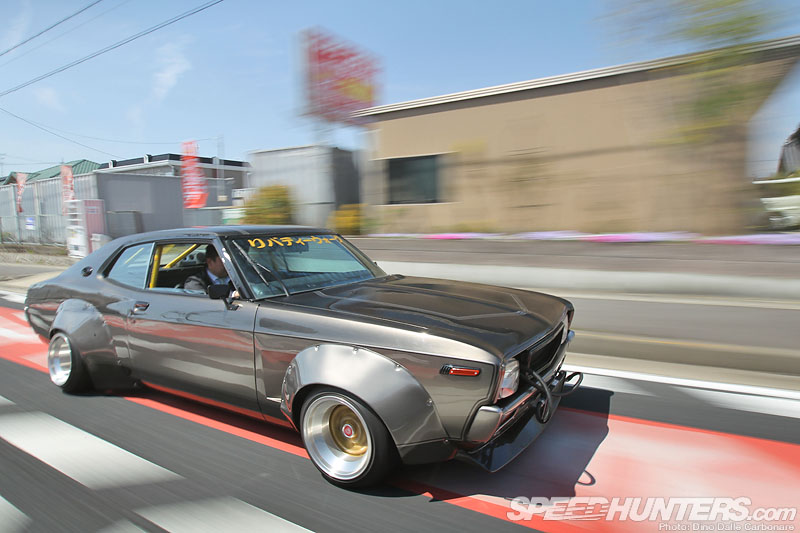 …is this C130 Nissan Laurel. When it comes to vintage Japanese rides this particular model of Laurel has quite the cult following. Probably not as wide spread as say the Skylines and Zs of the time, it visibly has some American muscle car styling cues. In its stock form it's a very nice looking car, but Kato-san had no intention of keeping it that way for long.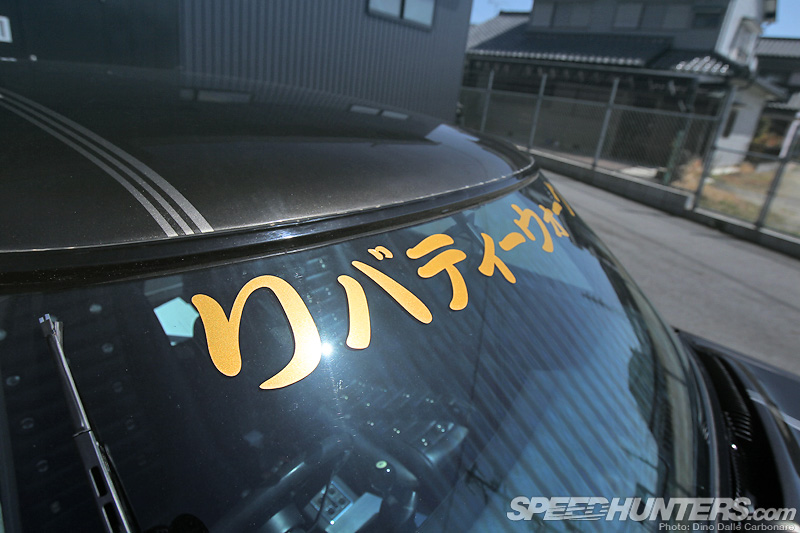 It proudly wears the Japanese リバティーウォーク (Liberty Walk) logo on the front windscreen, something that is reserved for Kato-san's own zokusha rides.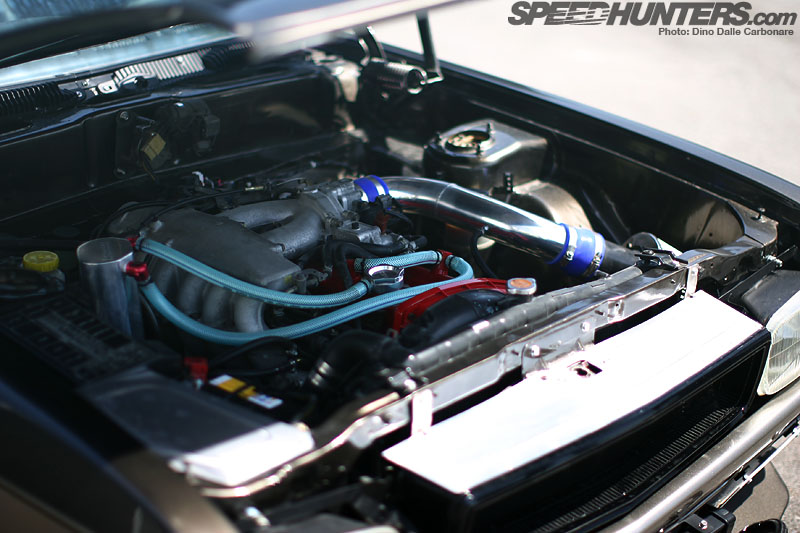 Before I get to the wild exterior, let's quickly run through the rather modern set up that this C130 runs under the hood. For obvious power advantages and reliability issues the tired stock L28 the car came with was replaced with an RB25DE borrowed from C35 Laurel.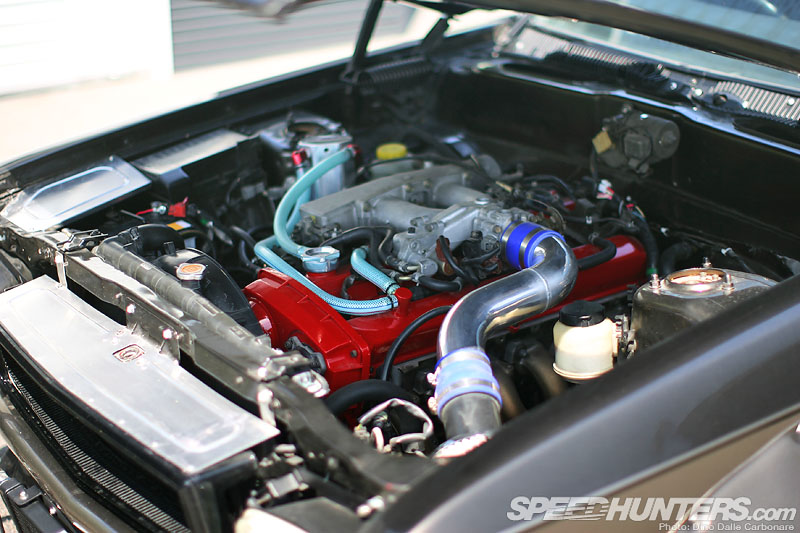 In no way are these kind of shakotan rides usually boasting high levels of power, trading in performance in favor of a very loud and raspy NA engine note, the louder the better! The RB25 is mated to an R32 Skyline GTS 5-speed transmission while other borrowed parts from the C35 Laurel, like the radiator, keep things running reliably.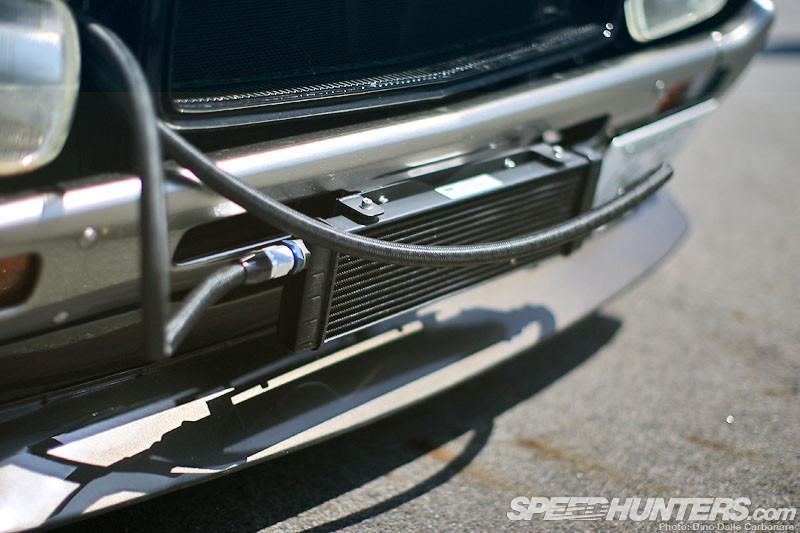 While the whole zokusha and kaido racer movements are there to, in some form or another, emulate the wild Gr.5 Silhouette racers of the late seventies and early eighties, there are some details that are inspired from other types of racing. The bumper-mounted oil cooler that was often seen on Skyline GT-R racing cars is an example.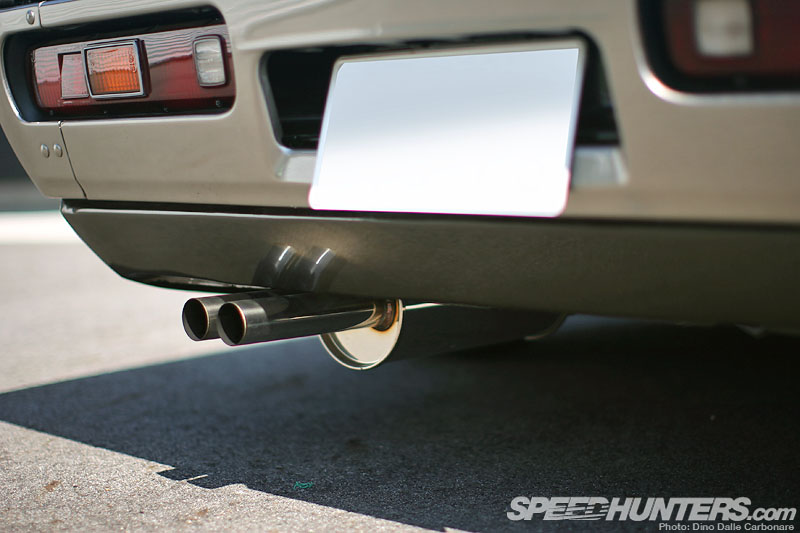 At the rear the custom fabricated straight-through exhaust amplifies the RB's straight six wail, perfect for those typically bosozoku engine revving sessions they all do when they get together.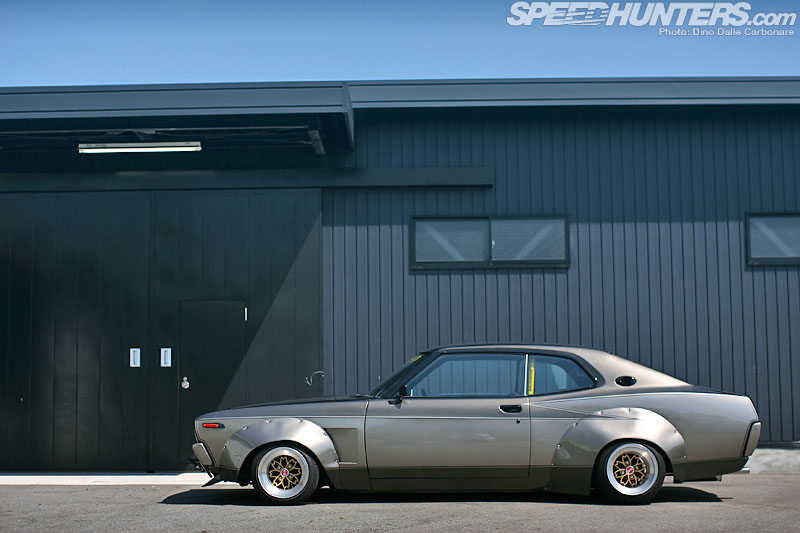 You certainly cannot get more Japanese than this. That profile is awesome in so many ways; forget your preconceptions of what a vintage car should look like or how functional it should be. These kind of shakotan rides are there to serve a purpose, entertain on so many levels and stay true to the style that differentiates them from pretty much everything else we are used to seeing in Japan. The whole body was restored and repainted in a two tone metallic silver livery and custom additions made from scratch like the bucktooth front spoiler. The massive bolt-on over fenders are borrowed from a Mazda RX-3 race car and made to fit over…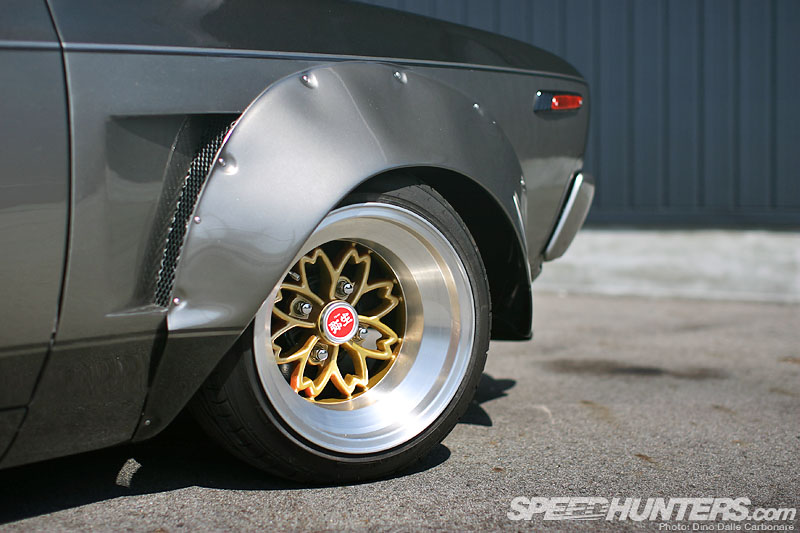 …the Laurel's large wheels arches.  Another little race-inspired touch are the pair of vents that are cut into the stock metal fenders. Kato-san went for a superb choice in nostalgic Japanese wheels, a set of very rare Hayashi Racing Team Yayoi, commonly referred to as "Sakura Wheels" due to the spoke's design resembling a cherry blossom. These wheels were only ever made in 14-inch size and in negative offsets for some seriously chunky deep dish! Stretched over the 9J wide fronts are 195/45R14 Toyo Proxes T1Rs…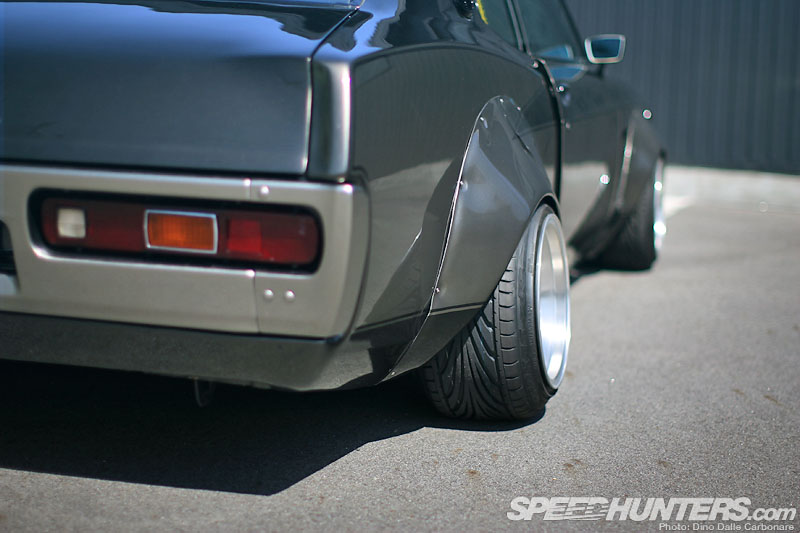 …with the rear 10Js getting the same brand of tires in 225/40R14. Looking at this aggressive wheel fitment it's almost impossible not to draw comparisons with so many other current modern day styles, anything from VIP to drifting and to the more recent Hellaflush, fitment and custom car movement.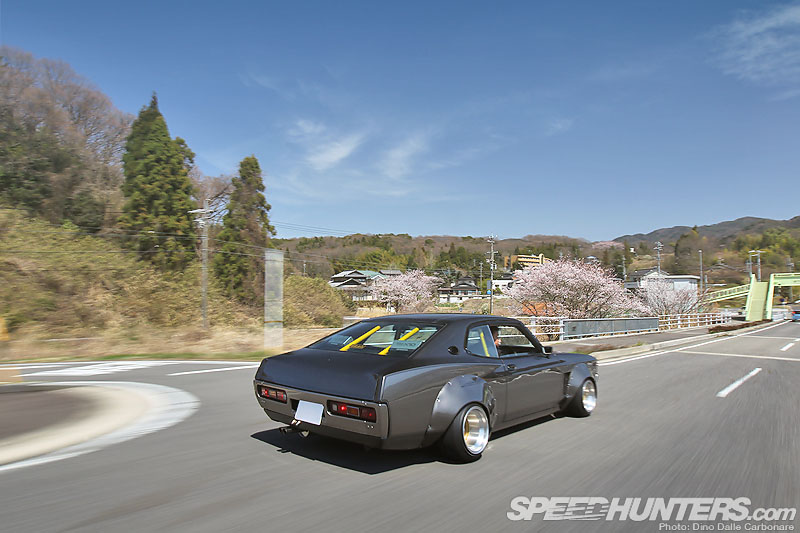 Driving through the Japanese countryside, just outside of Nagoya city, the Laurel fits in so well. It is the perfect image of rural Japan, where tradition meets such whacky creations. The cherry blossoms were a bonus! Kato-san fitted Bilstein short-stroke adjustable dampers are each corner with lowered springs up front and cut springs at the rear to help the car sit, as a shakotan ride should.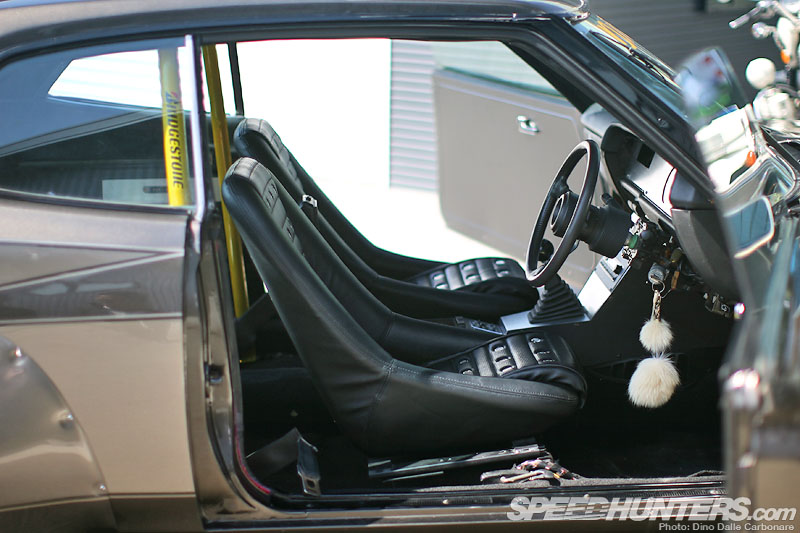 Tons more custom work was carried out in the interior with these old Datsun Racing leather seats…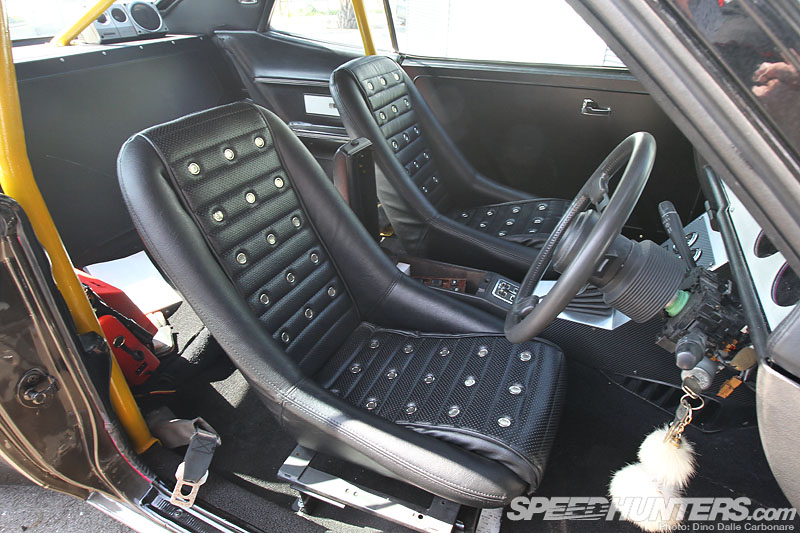 …replacing the stock chairs! The rear bench seats have been eliminated and the whole rear section of the interior neatly sealed away with aluminum plating. To give the old chassis a bit more torsional rigidity a half-roll cage was fabricated and bolted in place, not to mention painted yellow!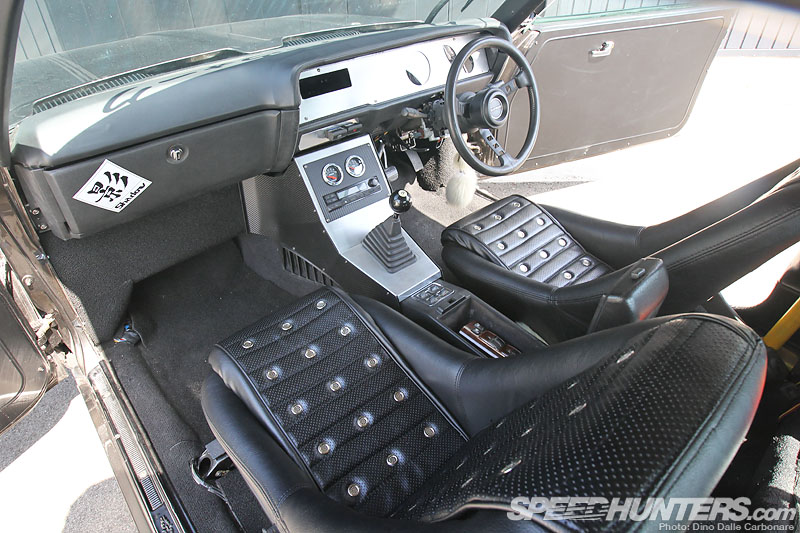 The stock dashboard remains but is mostly plated off with sheet aluminum…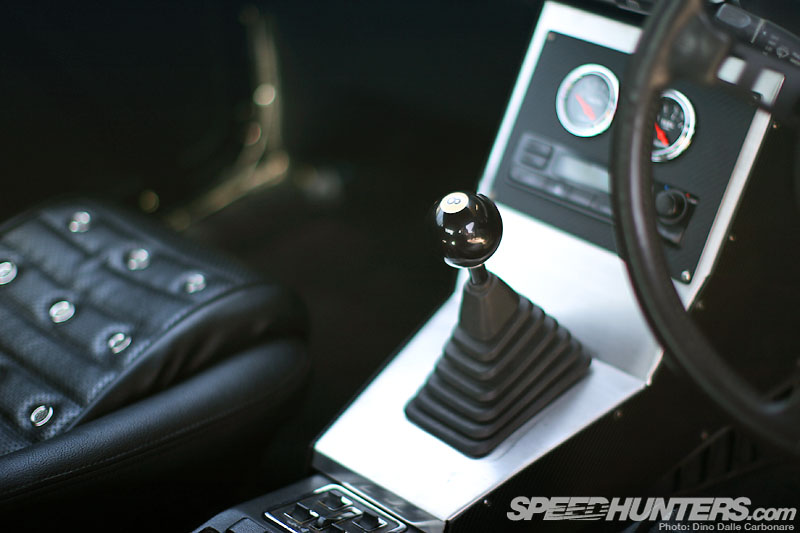 …around the center console and transmission tunnel…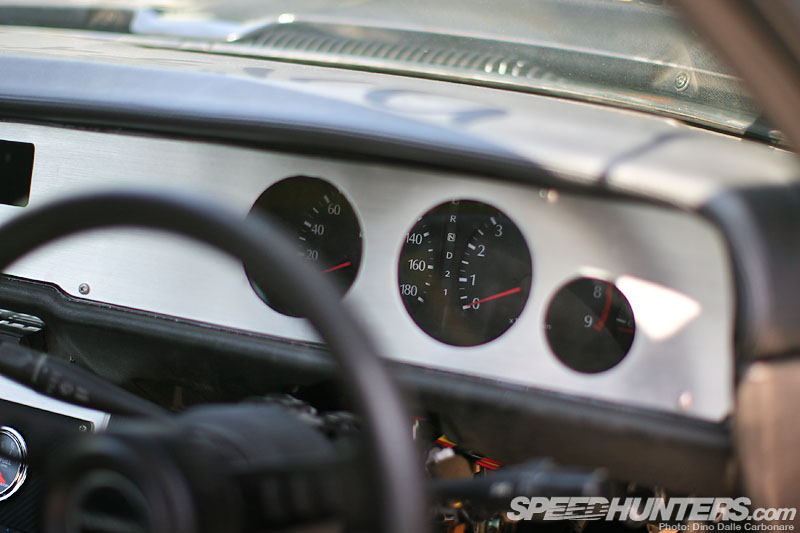 …as well as in front of the main instrumentation.  Three holes have been cut to show the rev counter, speedo and fuel gauge, but if you look closer you will notice rather modern looking dials. These, like the engine and air conditioning unit, were borrowed from an automatic C35 Laurel.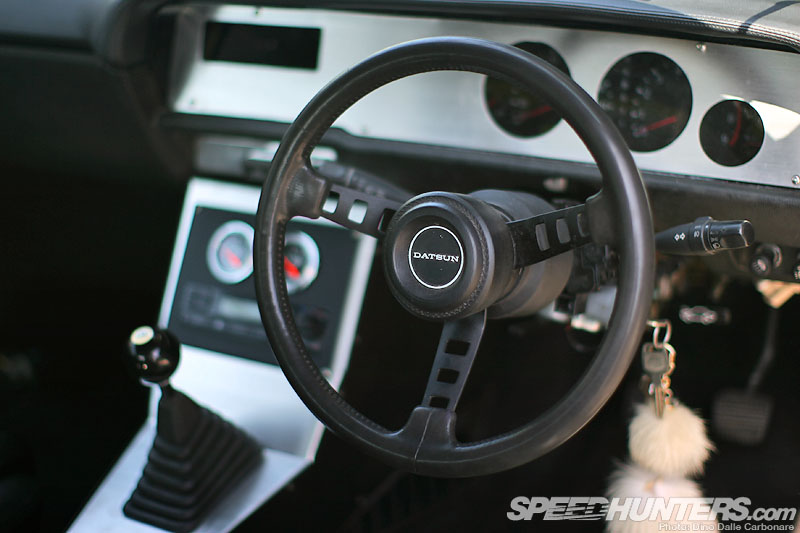 The steering has been swapped over to a more precise rack and pinion layout, and topped off with a three-spoke Datsun steering wheel.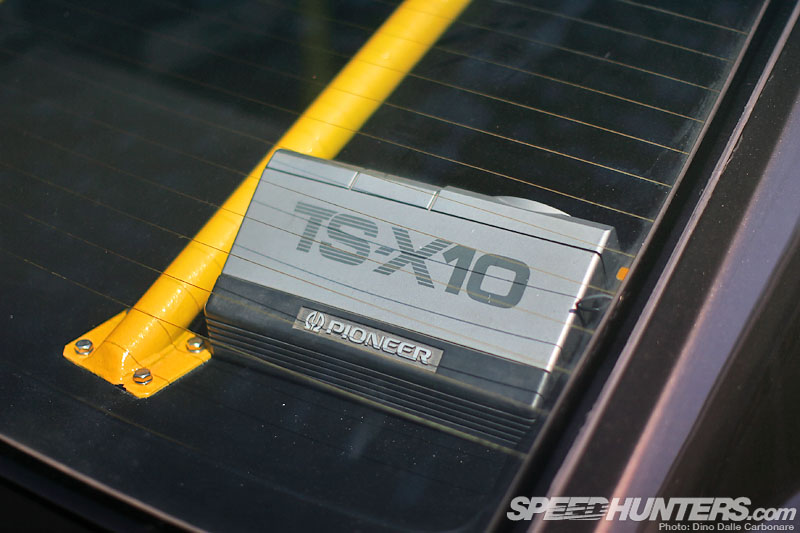 A nice touch are the old Pioneer speakers mounted on the rear parcel shelf.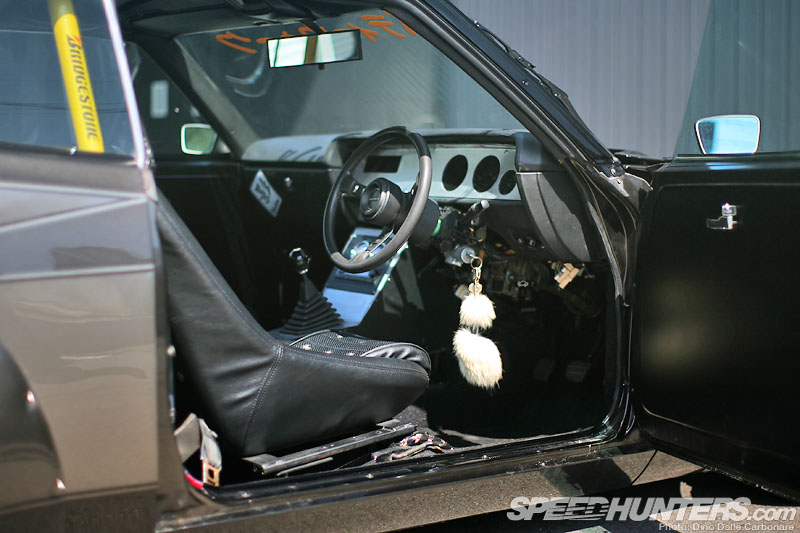 To finish things off? Well the double rabbit-tail keychain of course!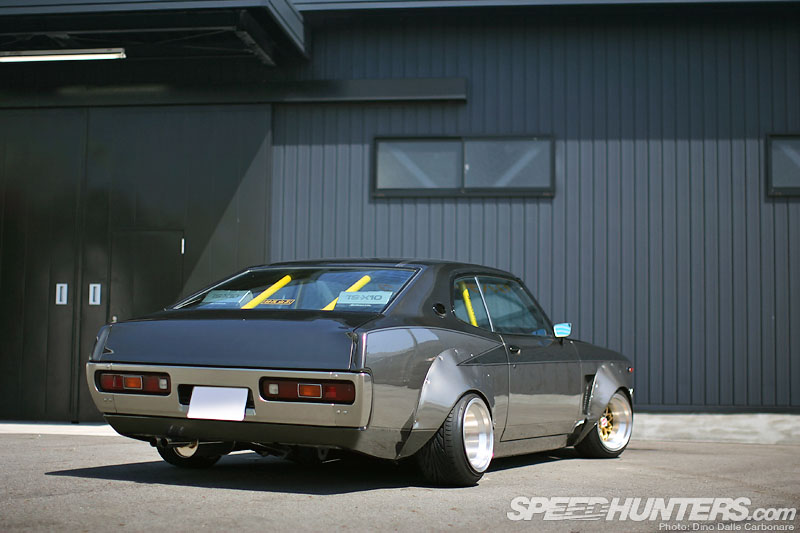 Kato-san often drives this Laurel around when he has time, it's as much a part of Liberty Walk as the wild Lamborghinis he custom builds, and to him, as special as all the exotica that he has in his garages.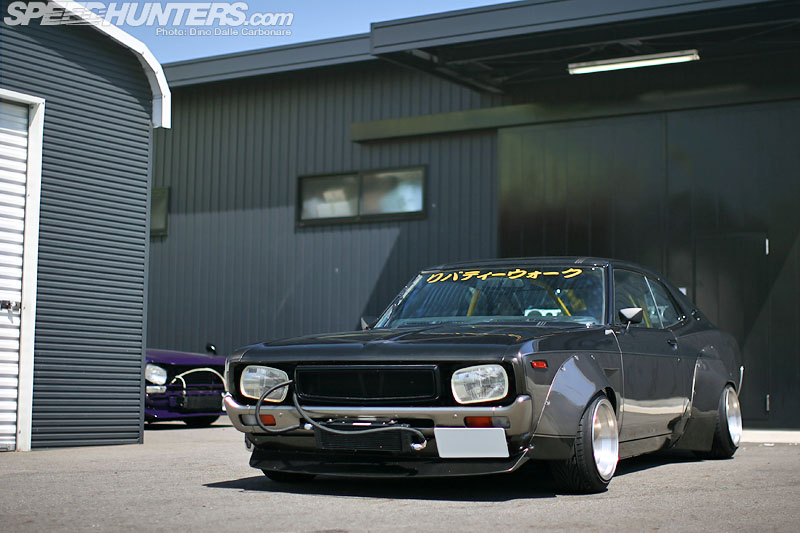 There is no emulation of other styles here, this is one of the purest forms of Japanese car customization, something that over the last few decades has helped influence and shape a lot of what we consider today as modern JDM car culture. You either understand it and appreciate it or not understand it and hate it. In which camp do you sit?
-Dino Dalle Carbonare