The Speedhunters drift team was kept secret for so long that I never really got used to the idea. I was track-side at Rudskogen Raceway on the last day of the Gatebil festival when suddenly these three amazing drift cars came around the bend. It actually surprised me as I snapped away with my tongue hanging out. For the very first time Team Speedhunters drifted together and it was magnificent.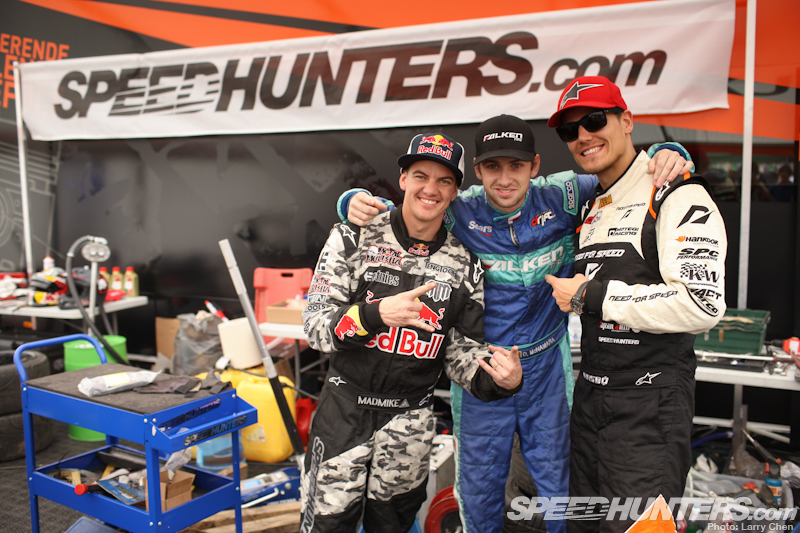 The team consisted of three current and former Formula Drift drivers: New Zealand's MadMike Whiddett, Ireland's Darren McNamara and Norway's own Fredric Aasbo. Who would have known these three guys from totally different backgrounds would one day form a team? On top of that, each of the boys has a very unique style when it comes to not only driving, but also building a drift car.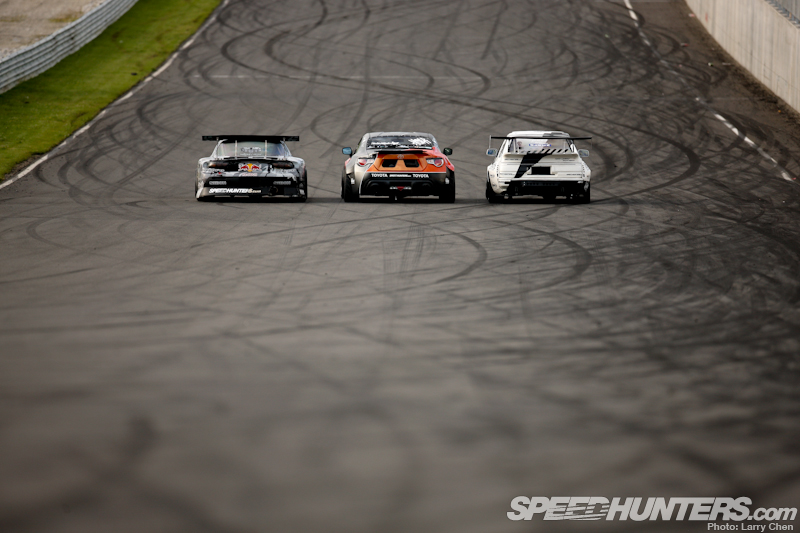 When the event was over and I decided to put these three creations together for a little visual assessment. I won't go into too many technical details as I will leave that to Sean and Dino who know a lot more than me. I just want to focus on the look and feel of these three cars.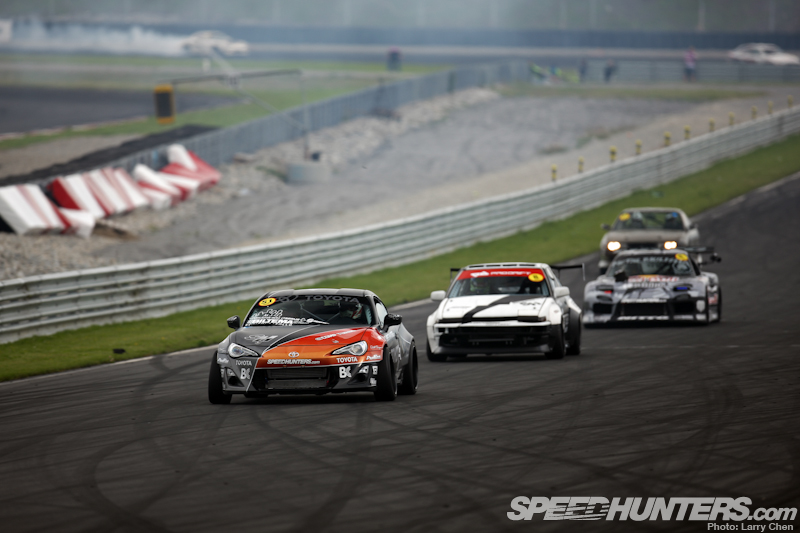 Keep in mind these are not garage queens, so over the course of the weekend they had all taken quite a beating. They are far from perfect, but then again battle scars add to the character of a drift car.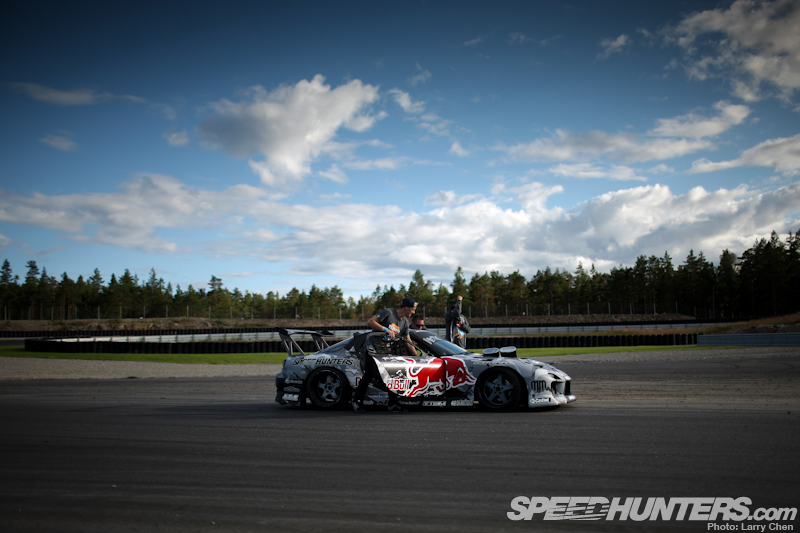 I told the team to meet right on the middle of the straightaway. The problem was they all had to push their cars there because of the noise ordinance in place after the event was over.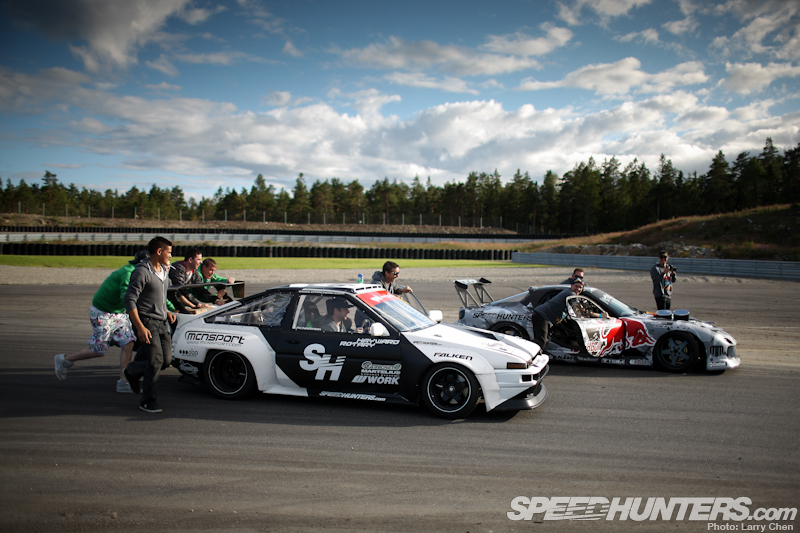 The maturity level of these guys was very high as they are all professional race car drivers, but that did not stop them from initiating a push race. They are first and foremost professional competitors after all.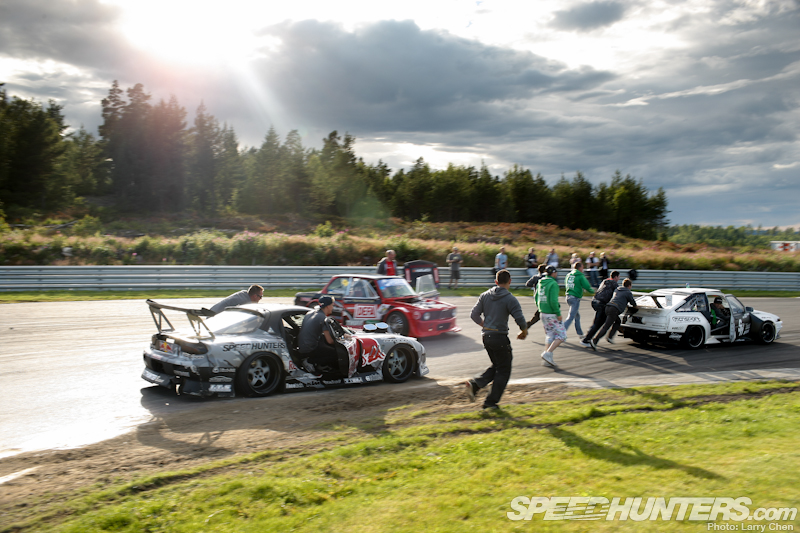 Darren brought out more manpower, so he quickly put a gap on the others.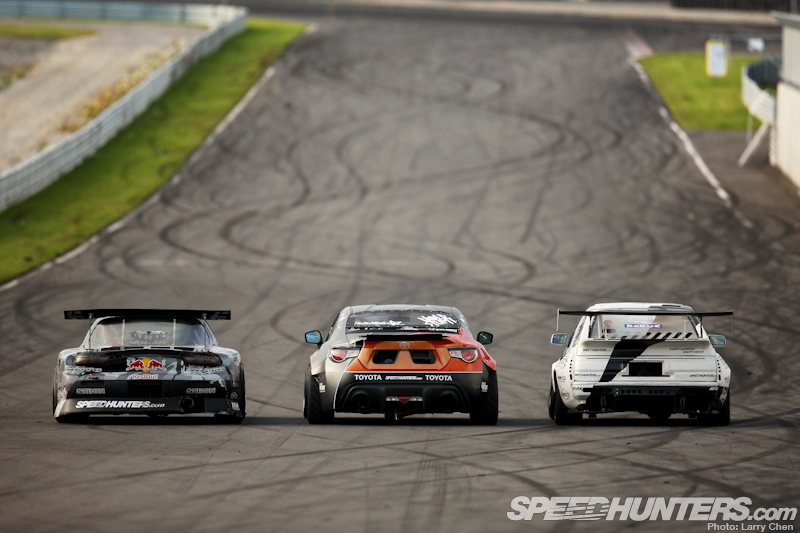 After a few laughs and some close calls the cars were parked on the front straight of the two-mile course. Right off the bat we can see that in terms of height the MADBUL Rx-7 is the lowest (at least at the roof line), and D-Mac's AE86 had the most ground clearance.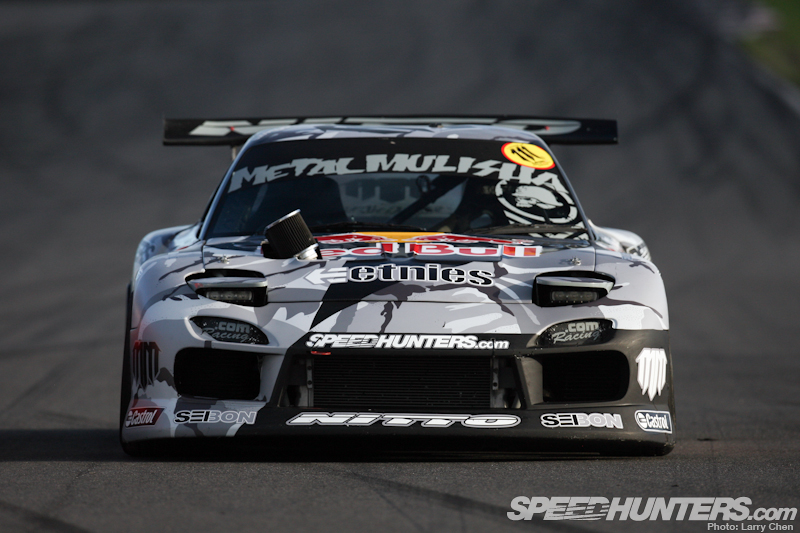 Just look how mean that looks. I can't imagine what it would be like to see this in your rear view mirror.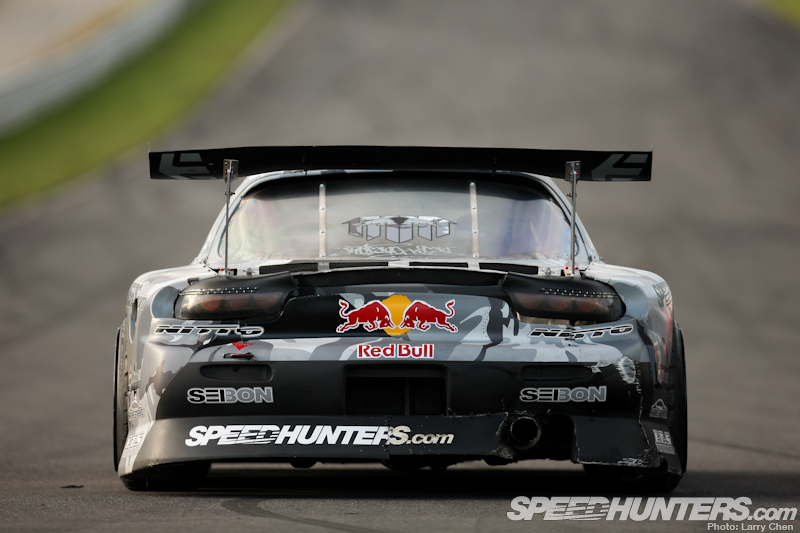 The rear end of the Rx-7 shows some obvious battle scars and the rear bumper was knocked off countless times throughout the event.
The sound coming from the four-rotor is unlike anything I have ever heard. It is incredibly loud and it's no surprise that the team had to try on three separate occasions to quiet this bad-boy down before they were allowed do some full-course drifting.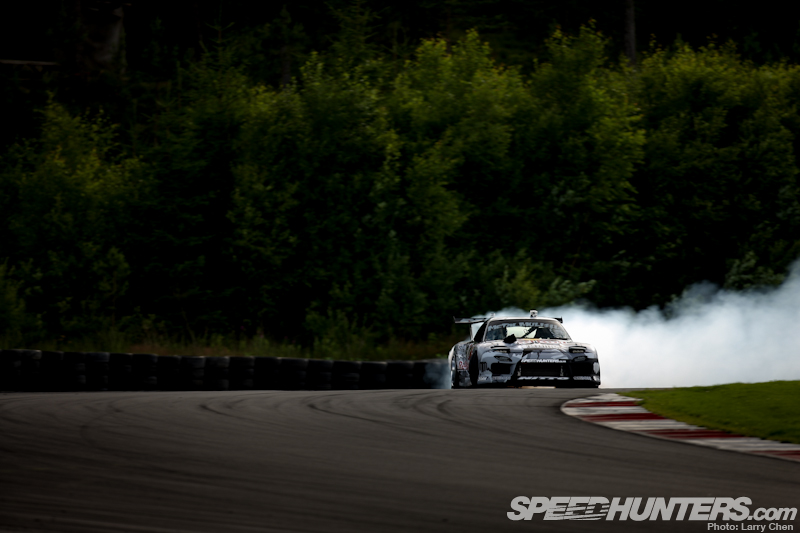 I would go as far to say this is one of the best looking drift cars ever built.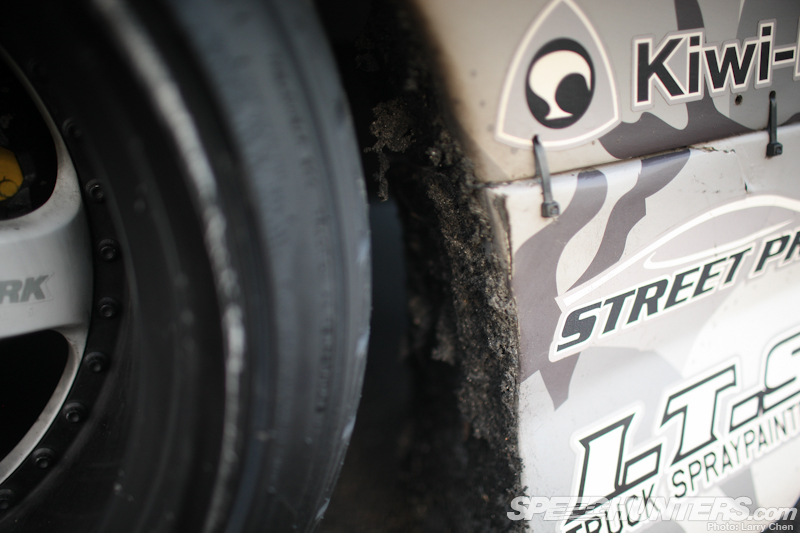 The fact that it's gritty makes it even more appealing to me. It's used and abused and that is how a drift car should be.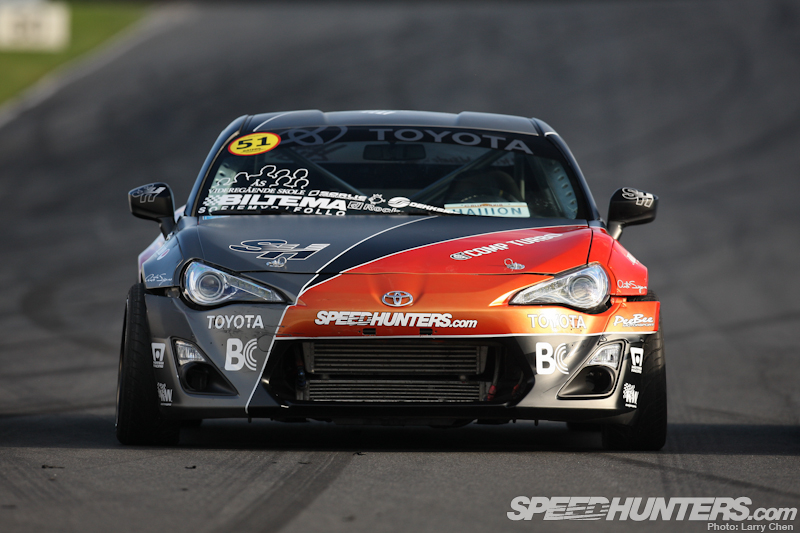 Fredric's ZN6, known as the 86-X, was built in just four weeks. The thing that really gets me about this car is his personal style that is infused into the look and feel of the drift car. Just look at that front poke!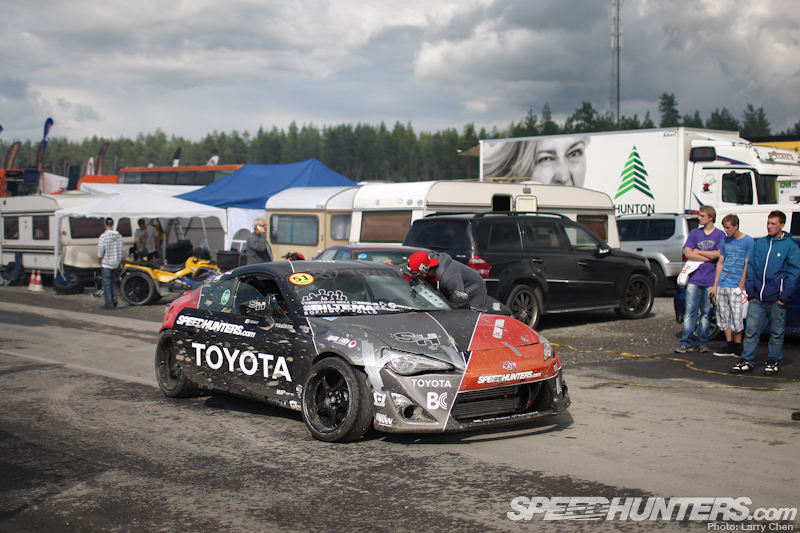 After four weeks of no sleep and hard work he went door to door on the track with Steffen, his former crew chief, and punted him off track. What a showman!
It sounds exactly like his previous Toyota Supra, as it uses the same motor. A few things are different of course, one of which is the hefty NASCAR transmission.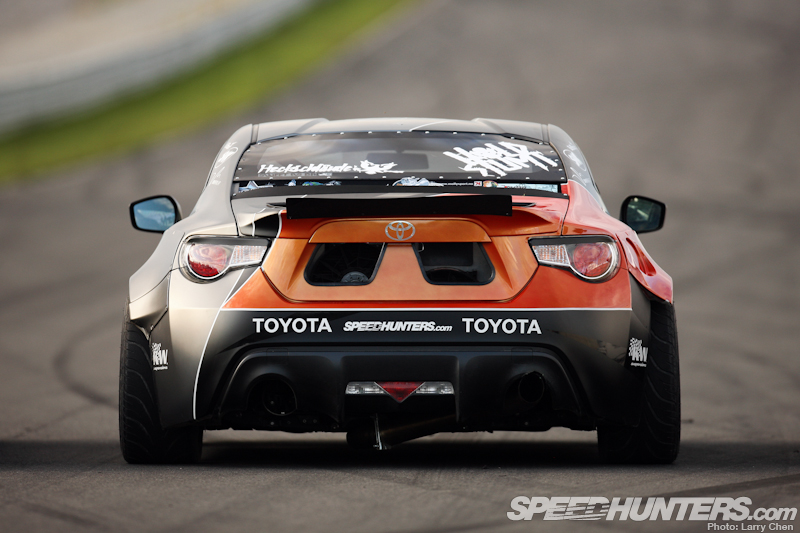 Ever since I laid eyes on the street version of this car I fell in love with the rear and the way the tail-lights sit. This is only the second ZN6 drift car that I have seen in person, and I cannot wait to see what other tuners come up with. If you look closely you can see a black strip of vinyl on the top of the tail-lights. That is a personal touch from MadMike as he was helping Fredric finish the car a few days before Gatebil.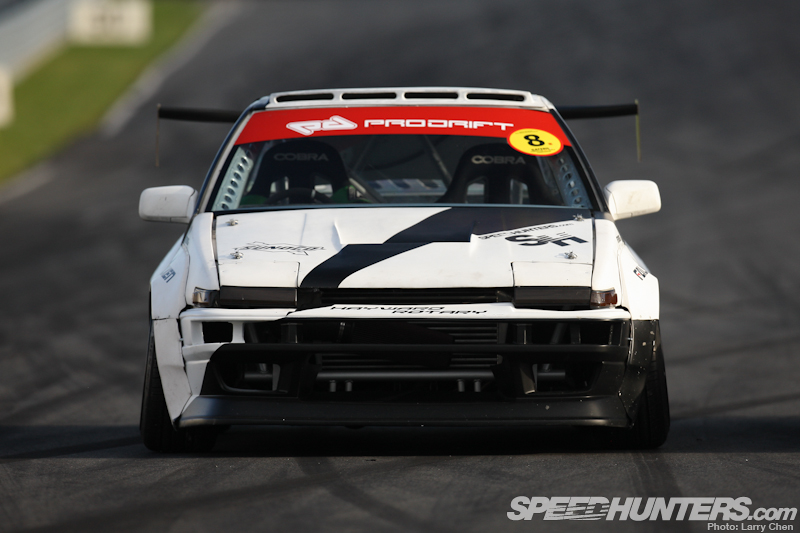 Darren has come such a long way with his AE86 builds. I remember seeing him when he was driving his first Corolla with an SR20DET motor.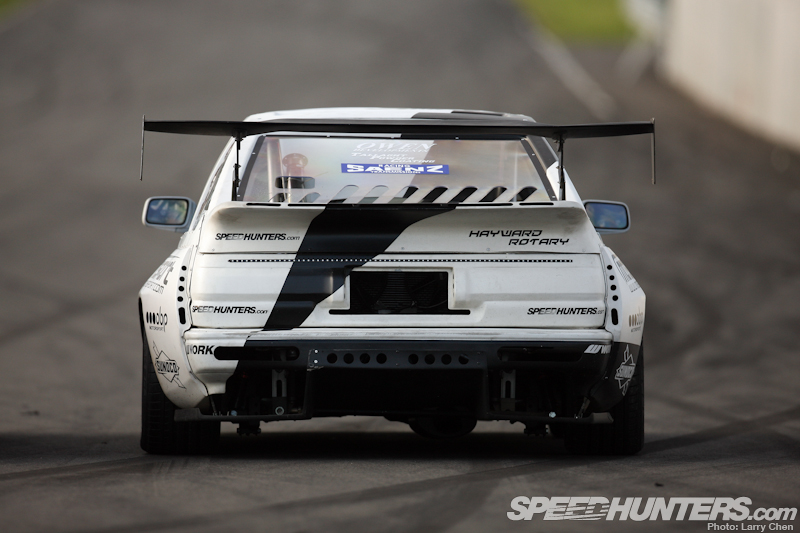 What really sets this car off are the taillights – or lack thereof. D-Mac put an LED strip in the rear for the brake lights. The functional license-plate rear radiator vent looks pretty cool too. It seems like Darren's theme is reducing as much weight as possible while putting more and more powerful motors in his Corolla. I can only imagine what is next.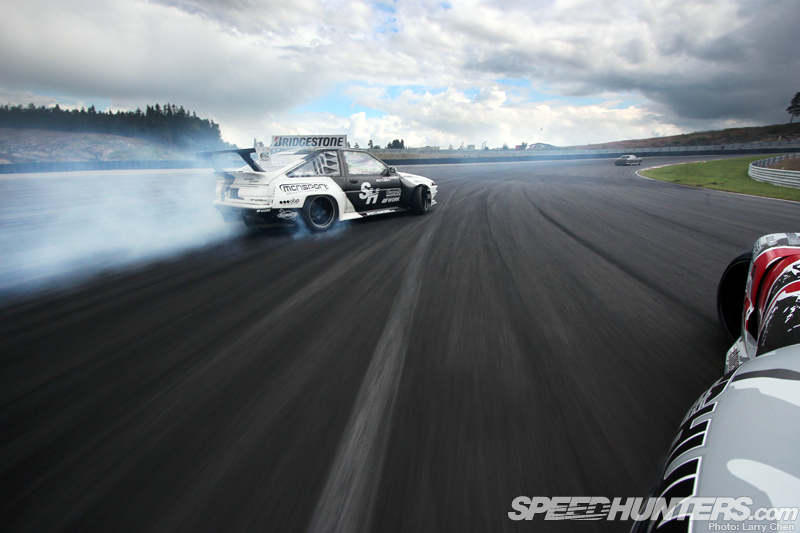 That AE86 is incredibly lightweight and I am sure it would win in a drag race out of the three Speedhunters cars. I had a very hard time following it in the camera car, although it seemed like MadMike didn't suffer from the same problem.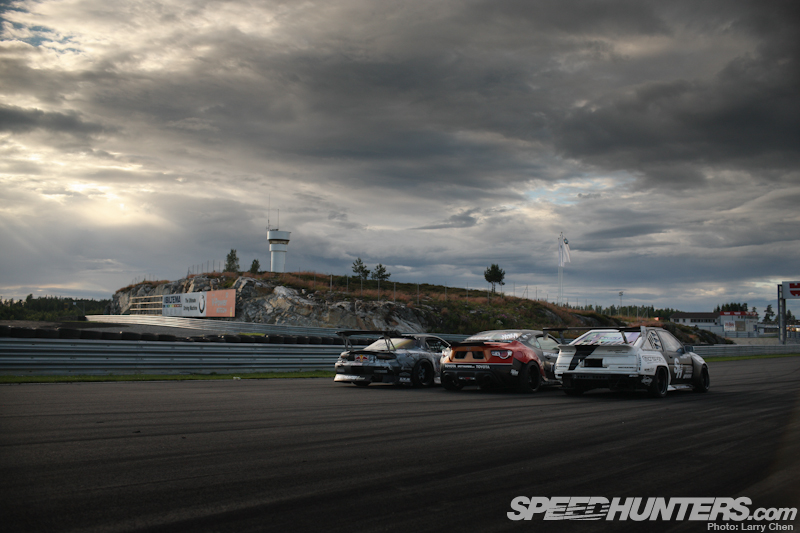 The sun was starting to set at around 10pm so I decided to finish off my photo essay and get into more detail.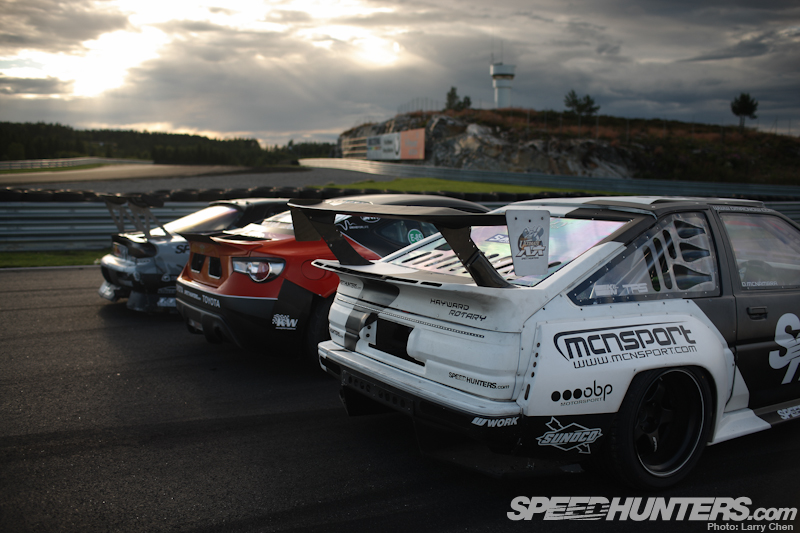 D-Mac's 86 has a huge, functional wing.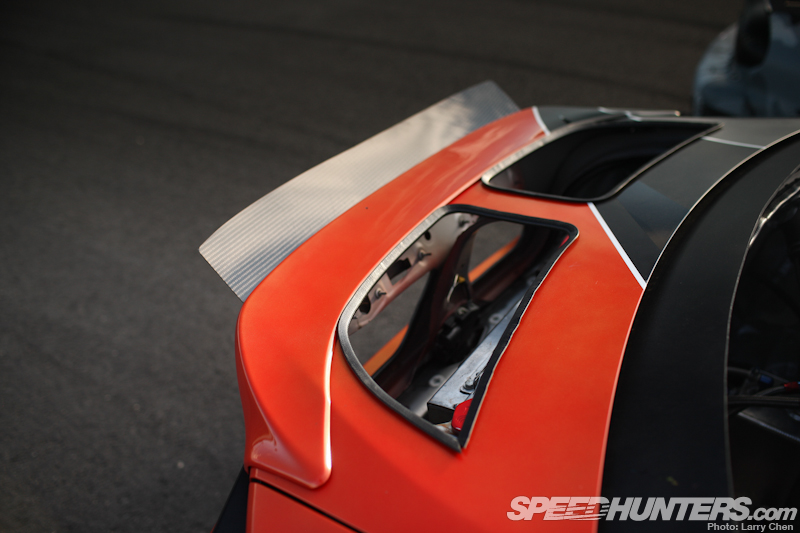 Whereas Fredric has only a tiny carbon fiber gurney flap-like extension on his boot-lid.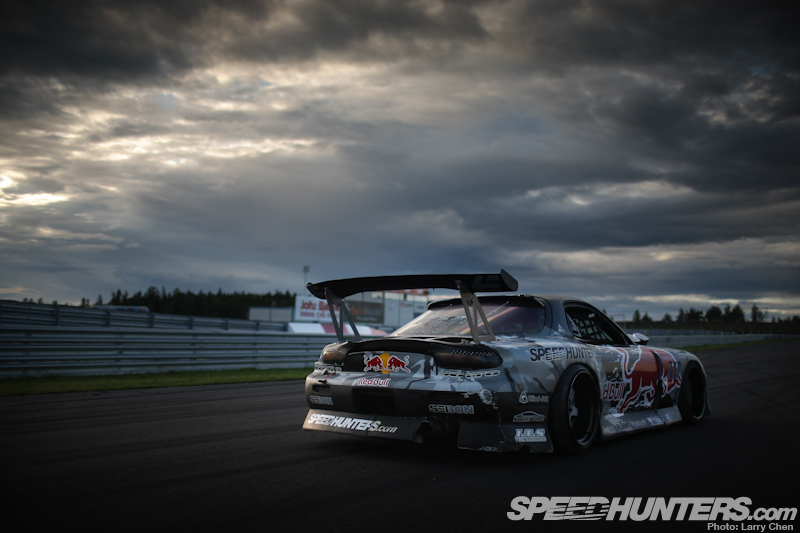 MadMike had installed a shower door on the back of his MADBUL. Which might I add is very sturdy, because I mounted an SLR camera body to it and it did not fall off.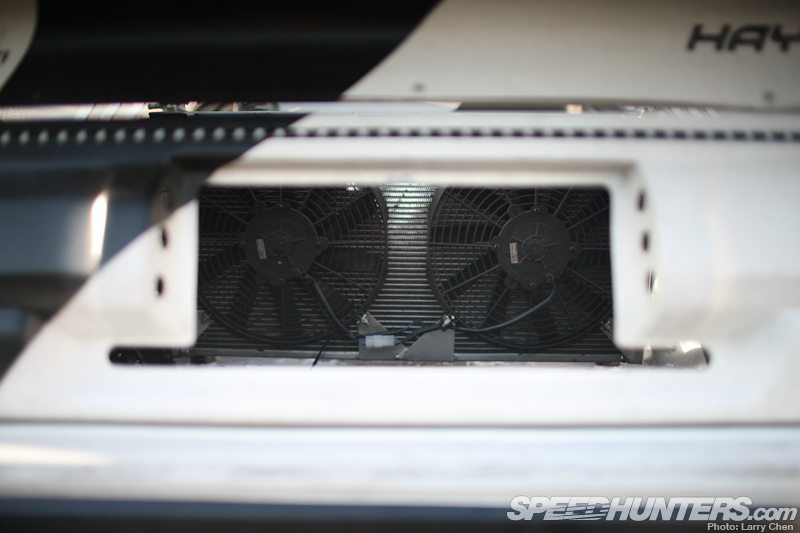 Both D-Mac and Fredric's cars have rear radiator setups.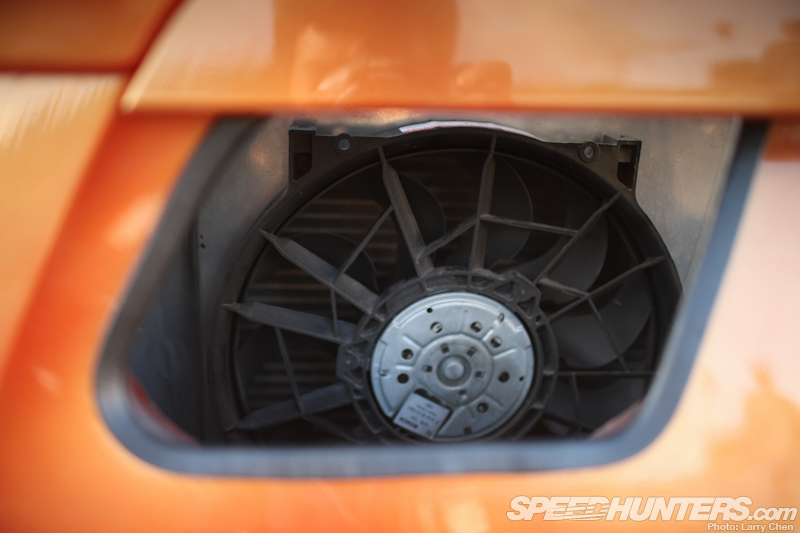 …which means both cars pass Sean's Gatebil car guidelines. This seems to be a very common modification across all styles of cars at Gatebil.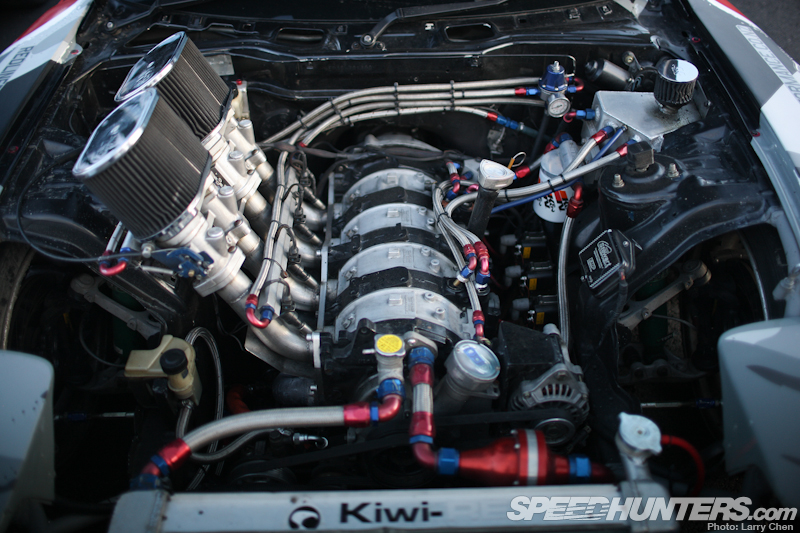 MadMike has one of the few cars that still retains a near original radiator position. Another rarity is the lack of a turbocharger, which is another of the Gatebil must-haves on Sean's list.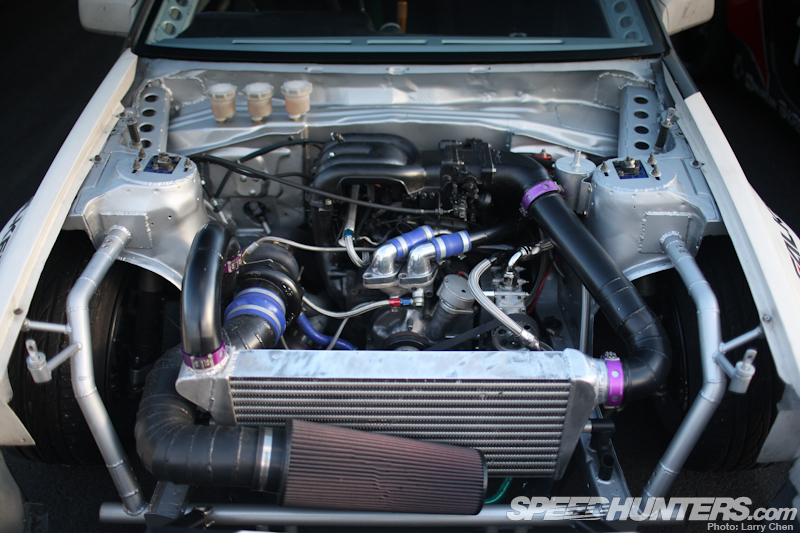 D-Mac's motor is half the size of MadMike's, but thanks to a turbocharged it is putting out around the same power. With the fabrication work exposed it you can help but drool over things like the turbo piping, rigid intercooler mounts and custom tubed front end.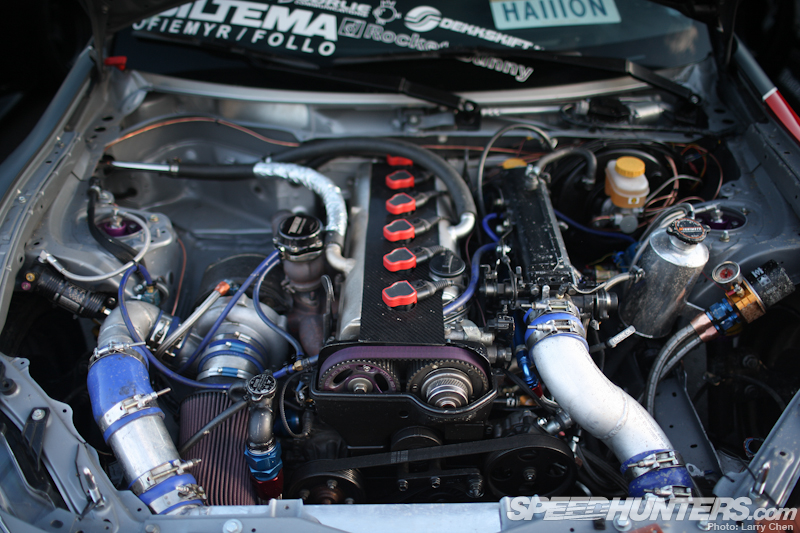 Fredric's car is putting out the most power: around 650hp to the wheels. It is a complete transplant from the old Supra that he drove last year at Gatebil but some pretty major re-tweaks were performed to adapt the engine tot he new chassis. I was told that the 110 degree expansion elbow running off the compressor took a full day of fabrication alone to keep flow figures up in such a constrained area.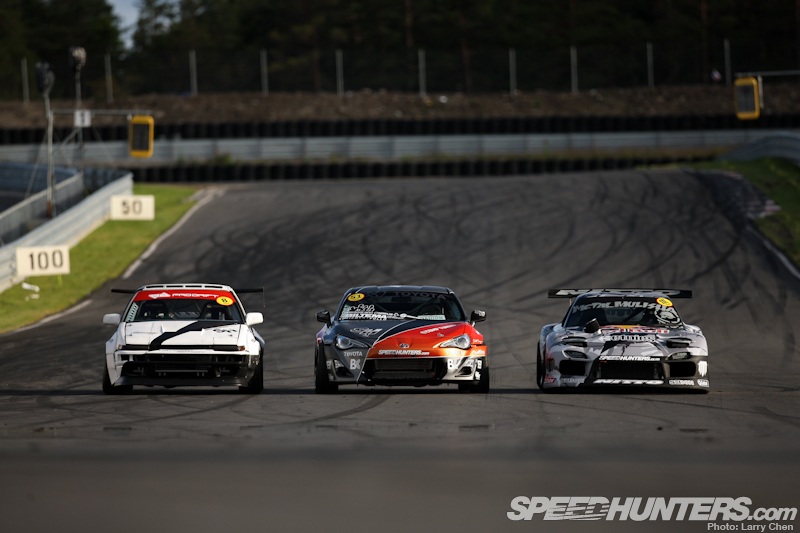 So we have two Toyotas and one Mazda. But one Toyota has a Mazda engine and the Mazda has essentially two of those engines put together. Then the other Toyota has the displacement of two-and-half of 13Bs. Did I lose you guys?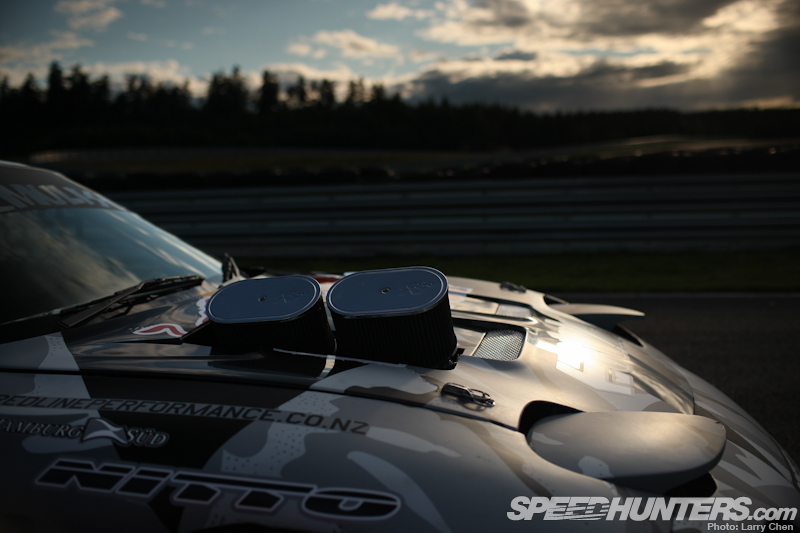 The MADBUL has more engine than it does bay, so to solve this problem the filters protrude through the hood. As it would turn out this was the source of most of the noise problems Mike had over the weekend.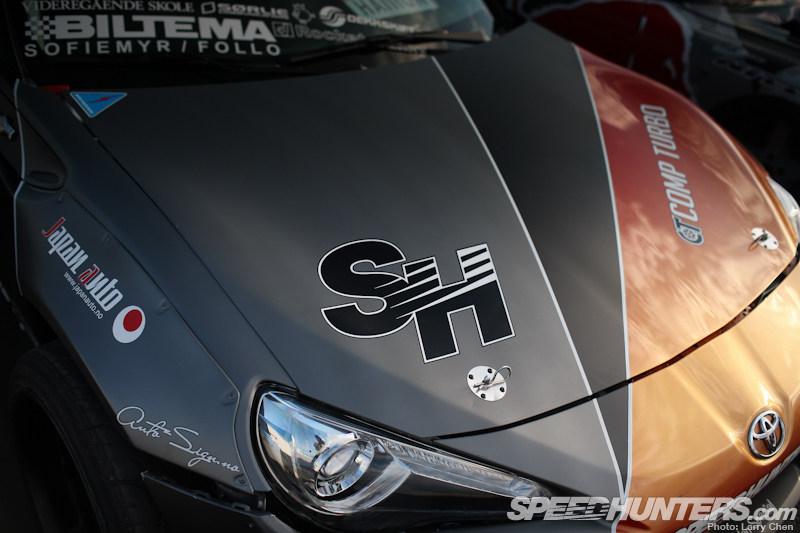 Fredric's GT-86 has a near-stock hood, mostly because he didn't have time or available options to do much else. He was planning on cutting some vents in it but the team ran out of time before the event started.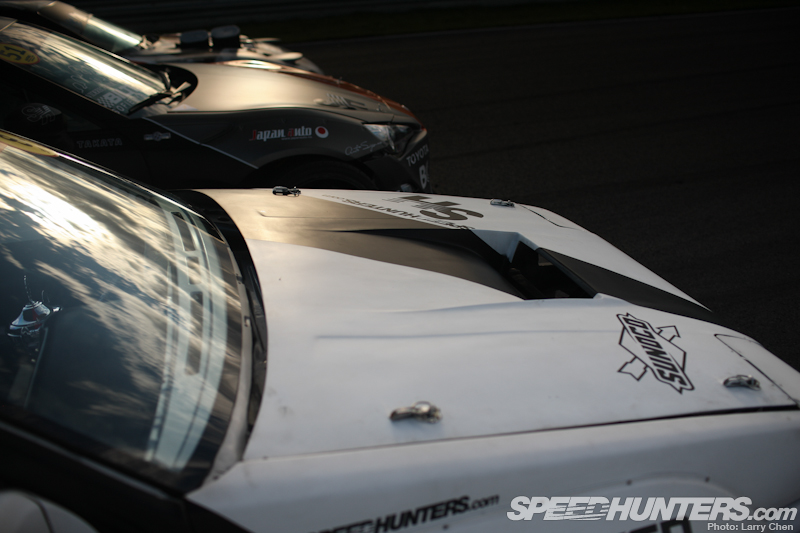 D-Mac's hood has a hidden vent which I never noticed until this shoot. Function over form seems to be the theme for this car, note the rived-on flip up lamp covers which replace the factory buckets. Genius.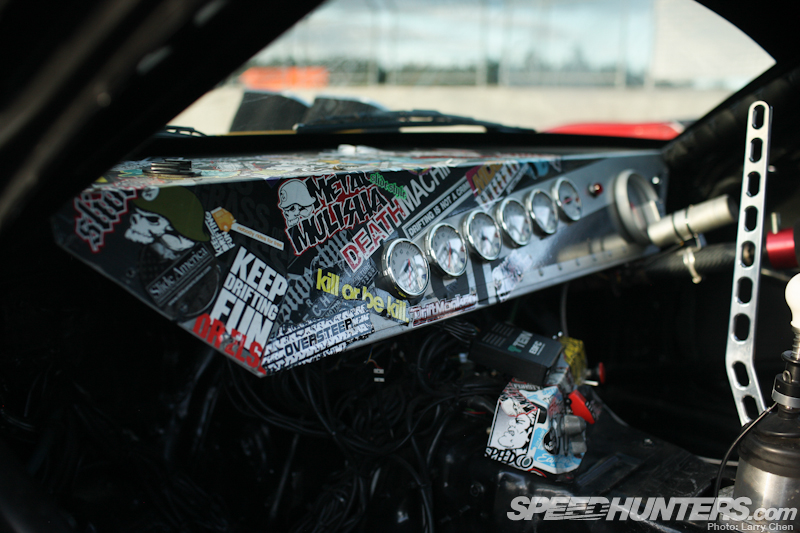 I love the interior styling of the Rx-7. It's very mechanical and calculated on the outside, resembling a machine of war. However, the interior has a nice 'fun zone' where Mike puts all his stickers.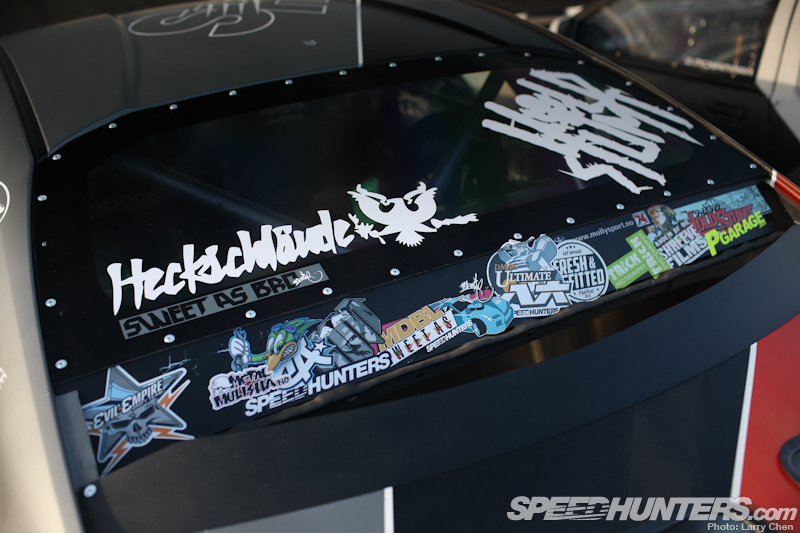 Fredric also has a fun zone on the 86-X but it is below the rear window, or right above the radiator duct, depending on how you view it.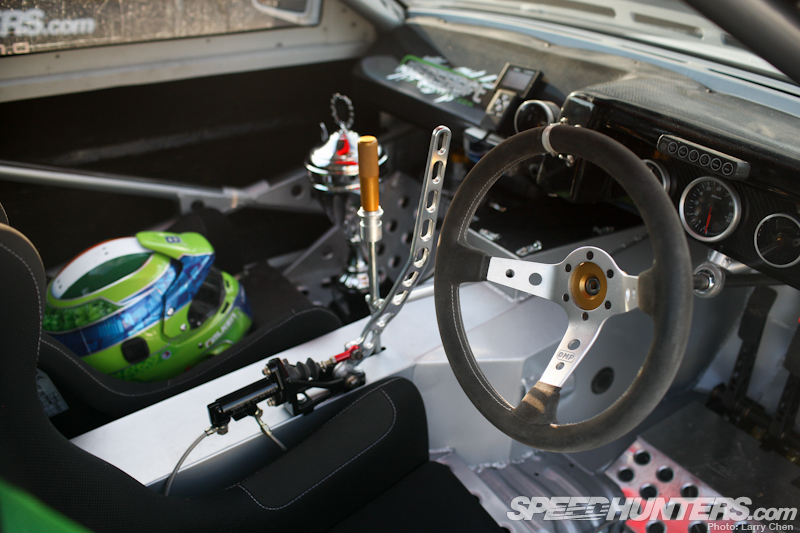 You won't find a fun zone on D-Mac's AE86 as it is not really his style, all he cares about is all about cleanliness and functionality. To him performance is a fun zone unto itself.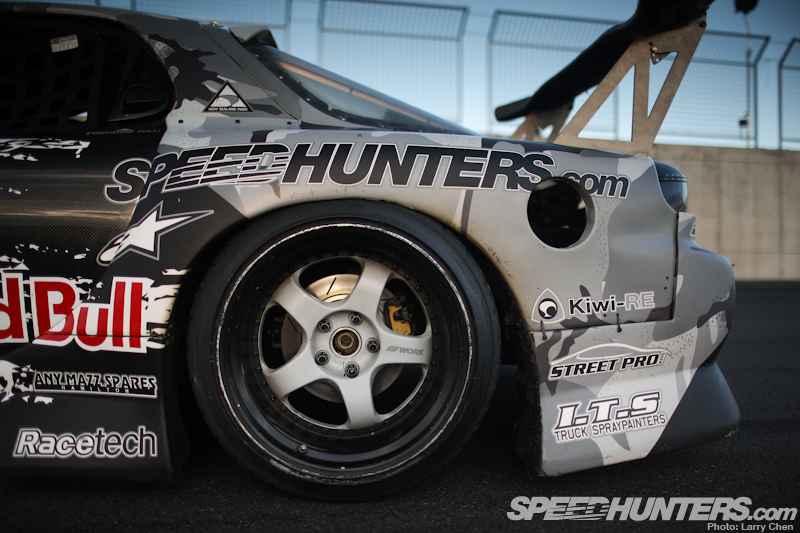 The New Zealander painted his wheels, at least some of them, to match his livery…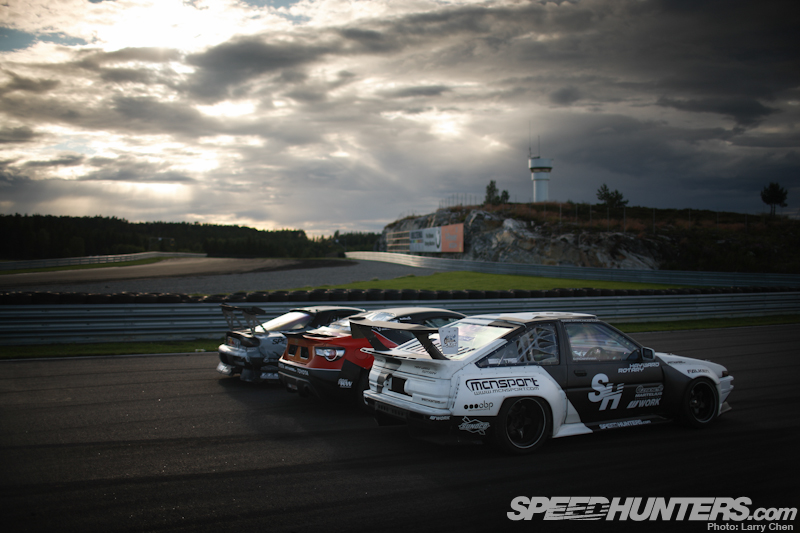 …whereas the other two just left their rims how they came from the factory.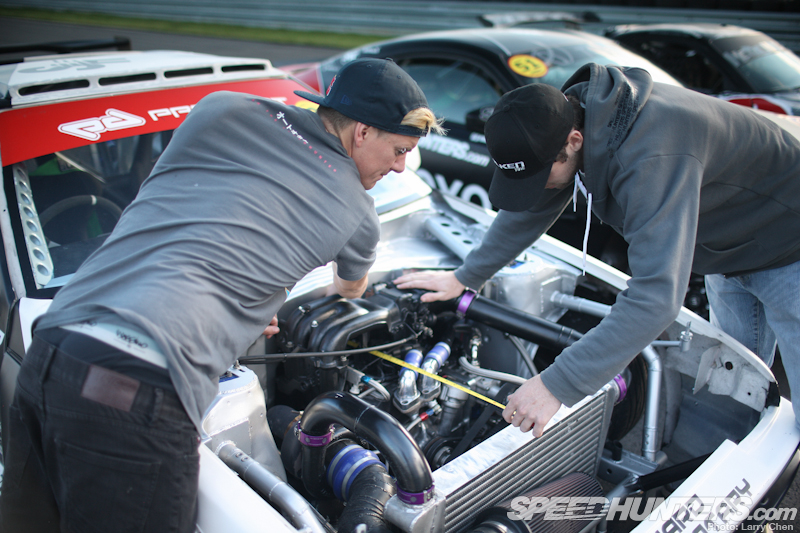 Before long I was no longer the only one comparing the cars. They were eventually overrun by these weirdos with a measuring tape. Is this a sign of what is yet to come of D-Mac's 86? Will a four-rotor fit in that tiny engine bay? Only time will tell.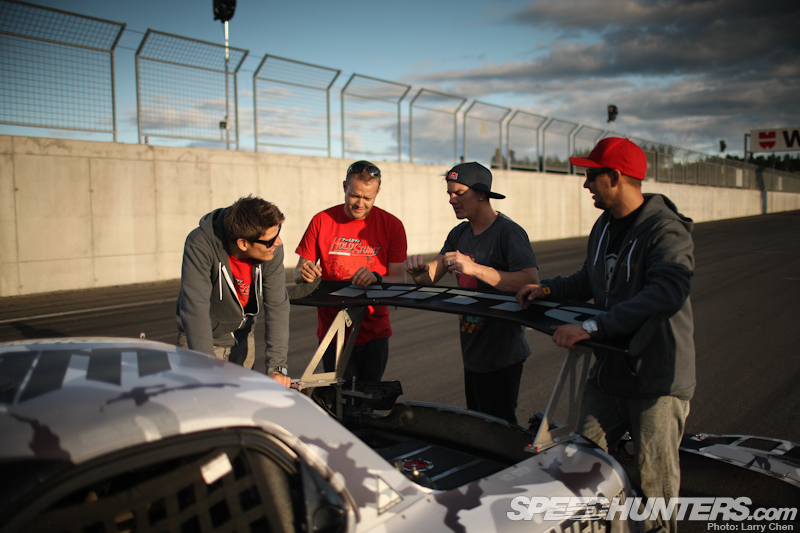 Pretty soon the boys gathered up and decided that it was time for another push race, since D-Mac had an unfair advantage from all the manpower he had the first time around. I can't be sure but I'd guess there must have been at least six manpower to the body.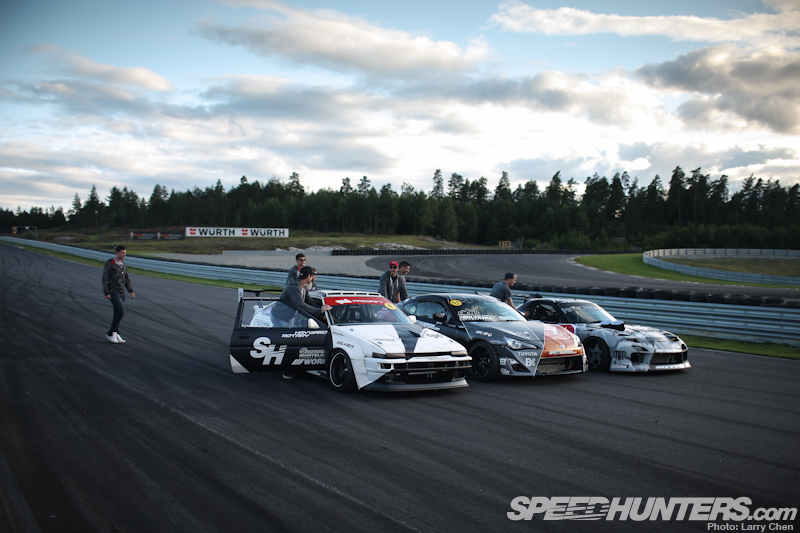 They gathered at the starting line and off they went.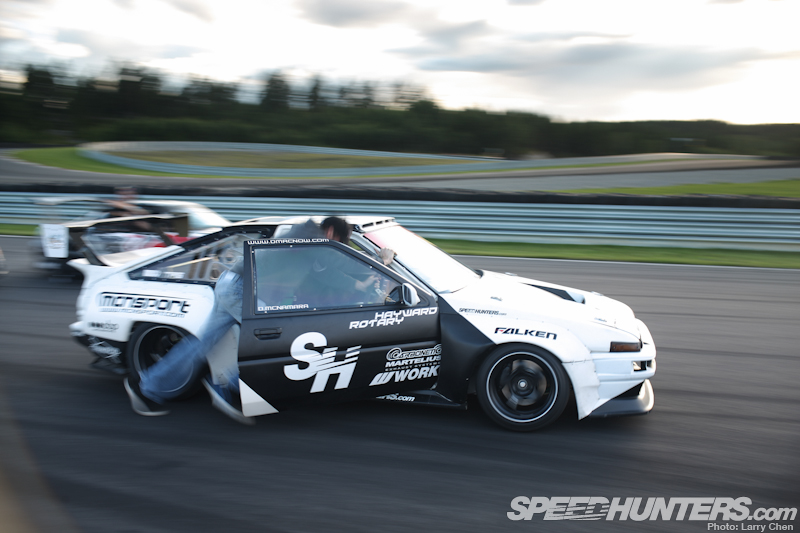 Even down on power D-Mac still had a commanding lead as his car was the lightest.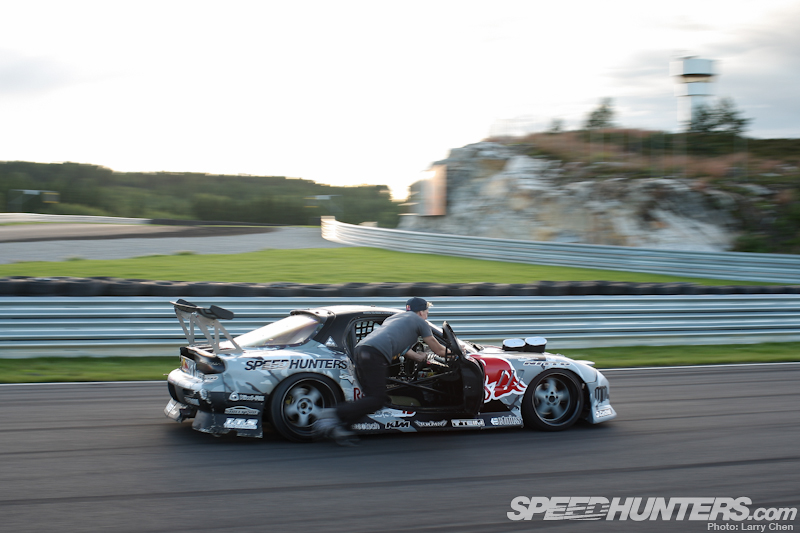 MadMike was not far behind has he pumped those legs like pistons, or maybe cycled his feet like rotors. You decide.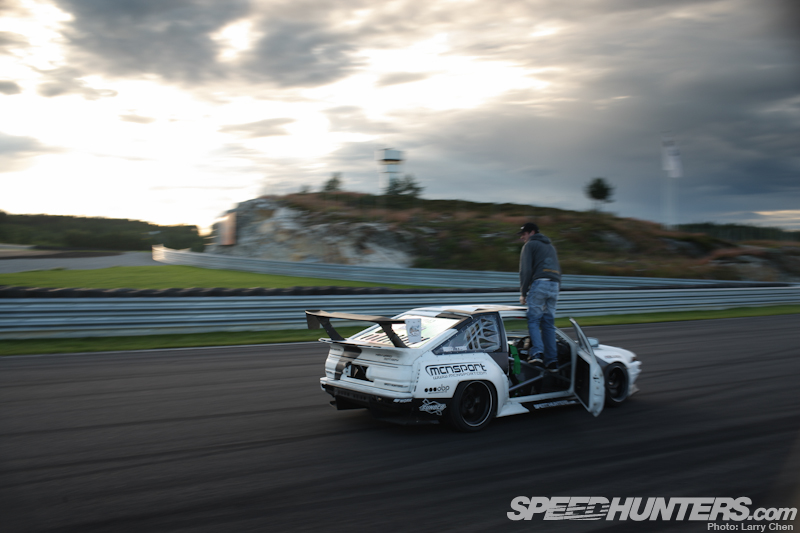 Soon gravity took over and D-Mac was just along for the ride. But where was Fredric? He did have home advantage after all.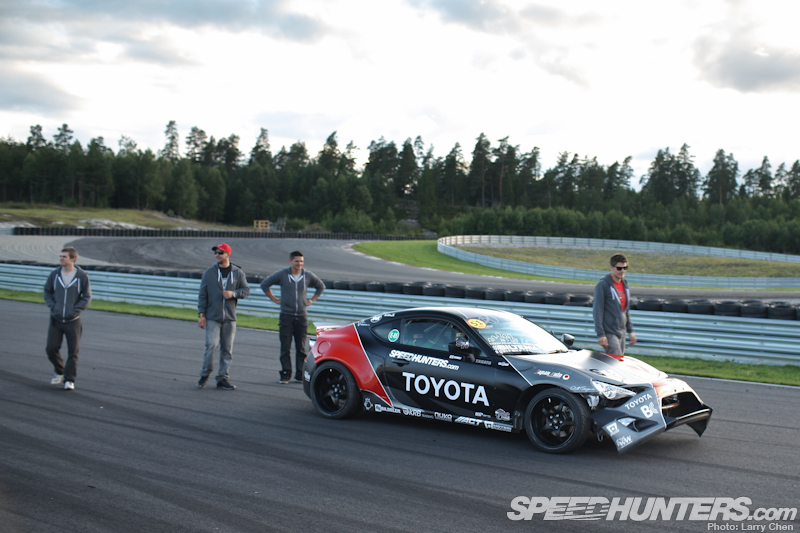 I looked back at the starting line and saw that Fredric's bumper had fallen off as soon as he started to push. Poor guy.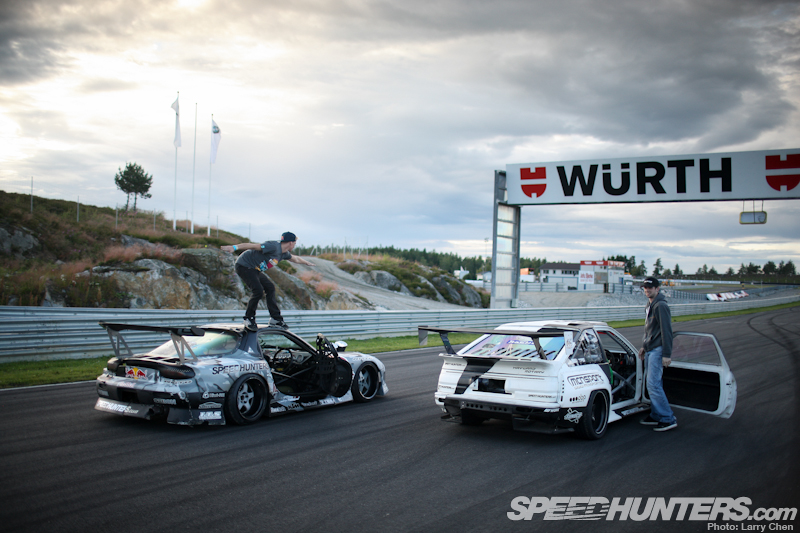 Eventually the track leveled out and D-Mac was dead in the water as Mike surfed his way to the lead.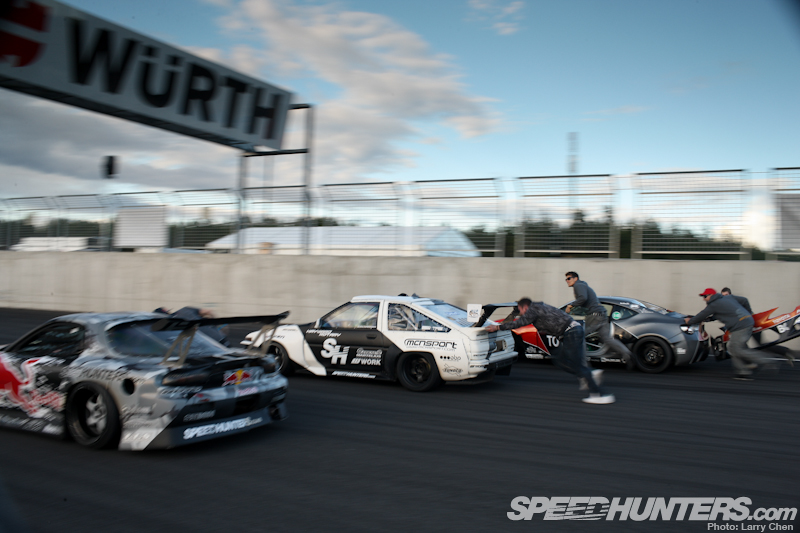 Just as we thought it was over, Fredric and his crew rushed in from behind with front bumper in hand.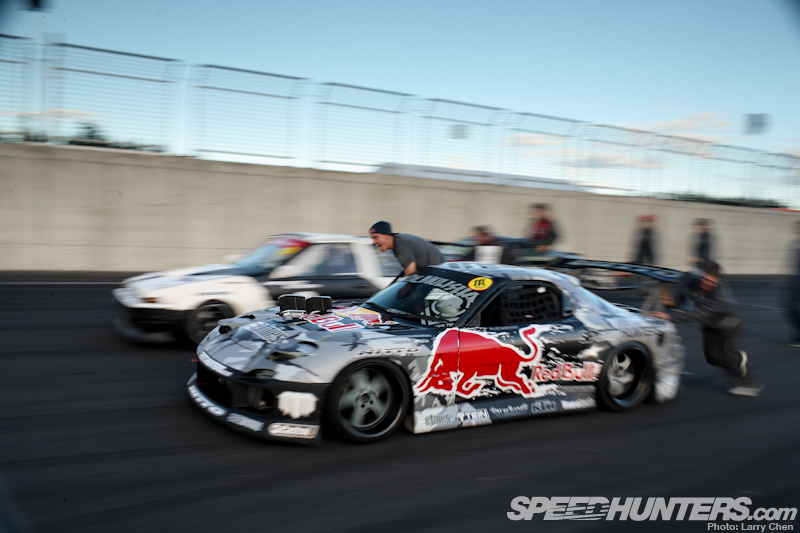 However it was not enough as the Rx-7 crossed the finish line. Yet another prestigious win for the Badbul at Rudskogen. Amazing.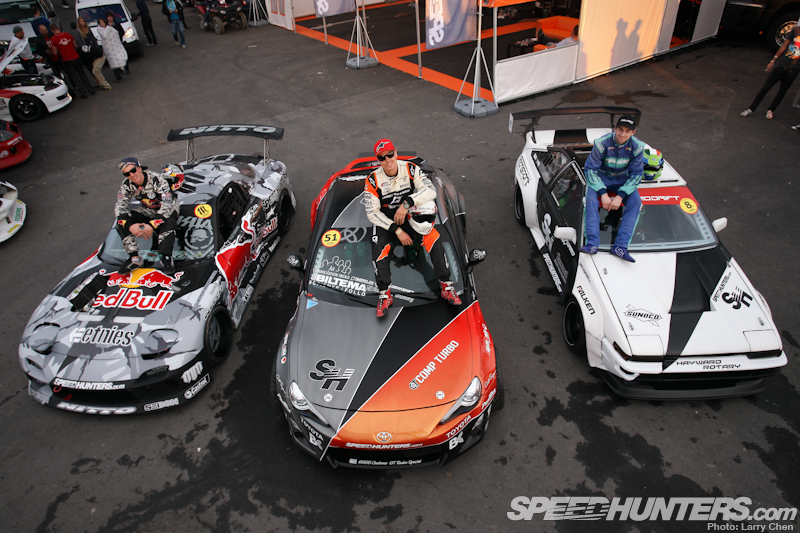 I had a blast following these three lunatics around for the weekend. Although it does make me a bit sad to know that these three cars may never drift together again as they all live so incredibly far apart. I know one thing for sure: at least we will see Fredric's 86-X and D-Mac's AE86 in a few months at ProDrift and BDC. For now you guys can download some desktops of these three crazy drift machines.
Larry Chen
larry@dev.speedhunters.com
More stories from Gatebil on Speedhunters
More stories from Larry Chen on Speedhunters
---
---
---
---
---