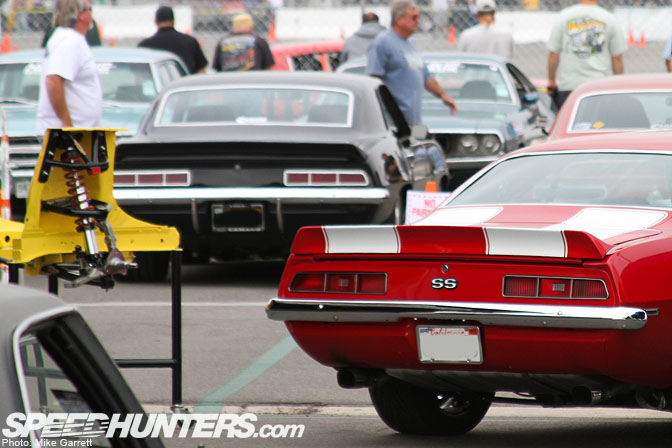 What comes to mind when you think of a Good Guys Rod and Custom show?
If you're like me, then it's probably images of people sitting in the sun next to polished, billet-laden street rods and not much else. I wasn't quite sure what to expect when I headed to the Orange County Fairgrounds for the Fourth Annual Goodguys OC Get Together.
While there were plenty of pastel-colored street rods with "do not touch" signs in the window, there was also lots of genuinely cool stuff to be found.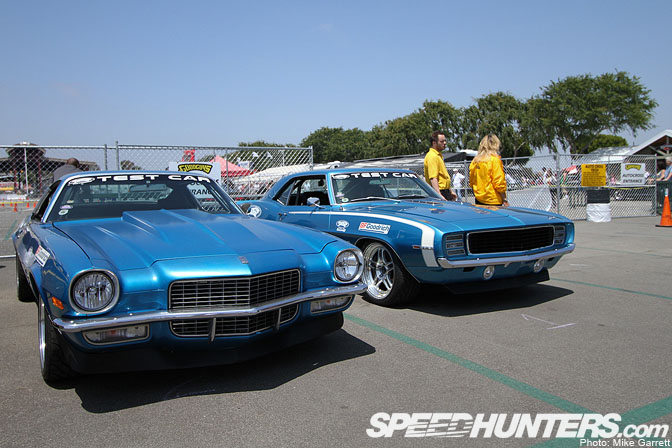 After coming through the gates, I made a B-line straight for the Street Challenge autocross area. This was the primary reason I had come to this event, and I had visions of pro-touring muscle cars filling my mind in the days leading up to it.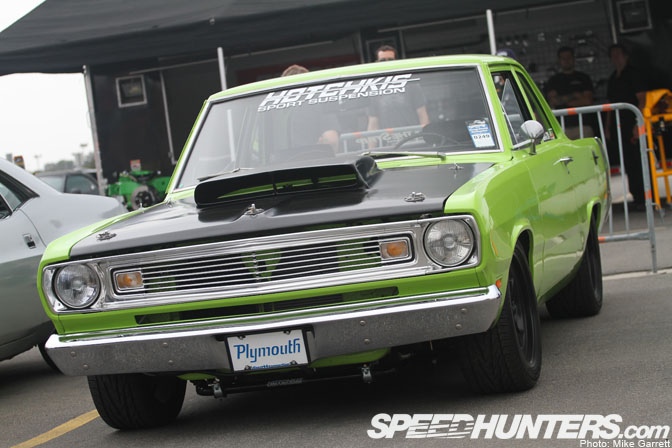 The cars that came out to do battle at the autocross included several from our friends at Hotchkis Suspension. I was also pretty proud when John Hotchkis himself told me that he loves checking out Speedhunters. Thanks John!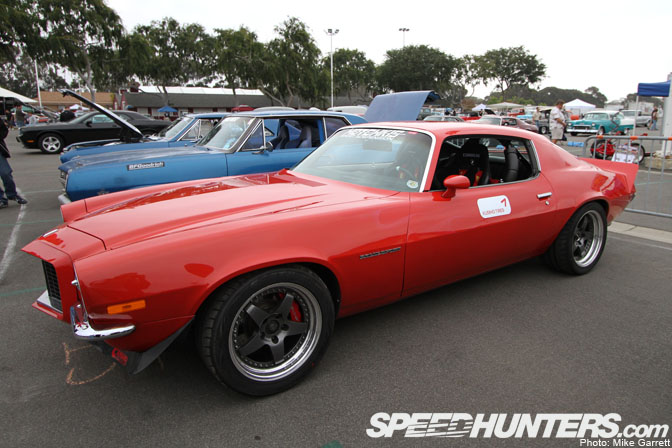 Naturally, first and second generation GM F-bodies were the most common cars in the autocross area. The early '70s Camaro has to be one of my favorite GM cars of all time.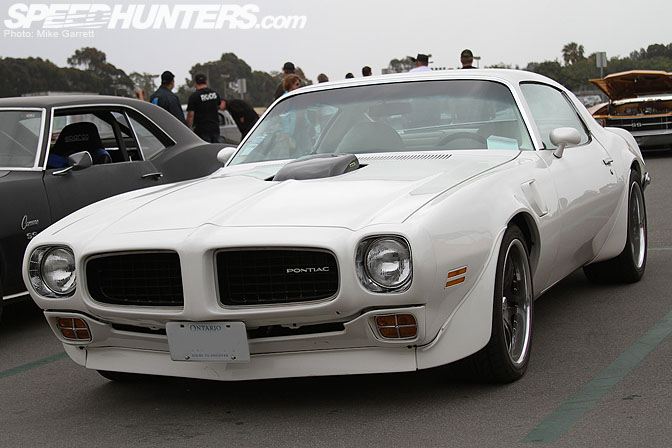 The same goes for the Camaro's cousins from Pontiac. Note the Ontario, Canada license plate.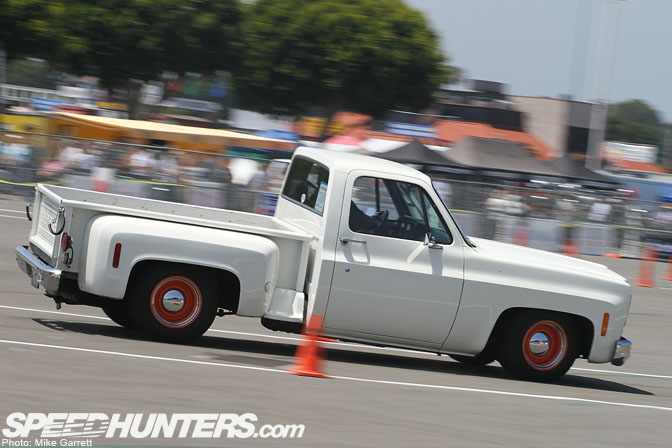 There was actually a separate competition class just for pickup trucks. Attacking cones in a vintage pickup. How cool is that?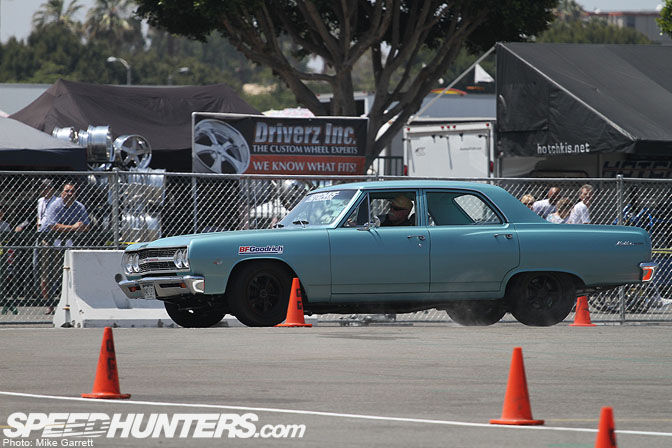 The term "sport sedan" is redefined by this first generation Chevelle four-door.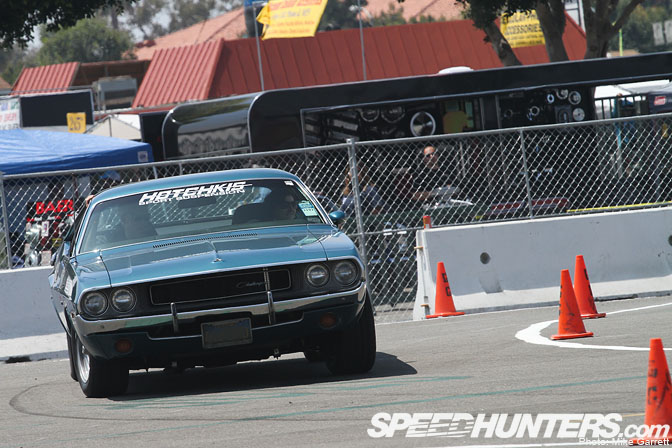 When Elana Scherr isn't representing aftermarket companies for her job at Kahn Media, the Mopar nut is out tearing it up in her Hotchkis-equipped Dodge Challenger project.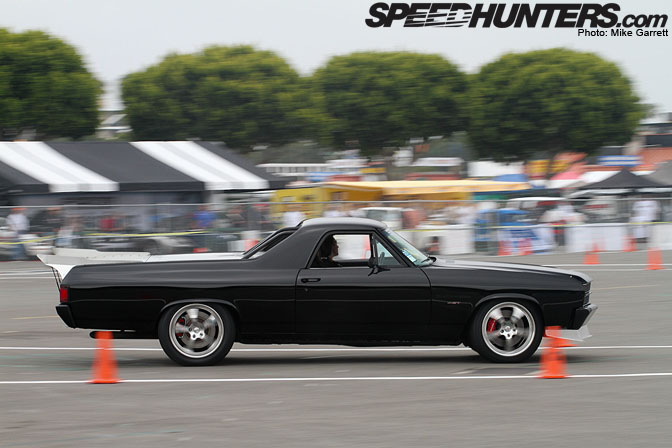 Since I ended up spending so much time at the autorcross, I was thinking about dedicating a separate post just to this part of the event. How can you not want to see more of this?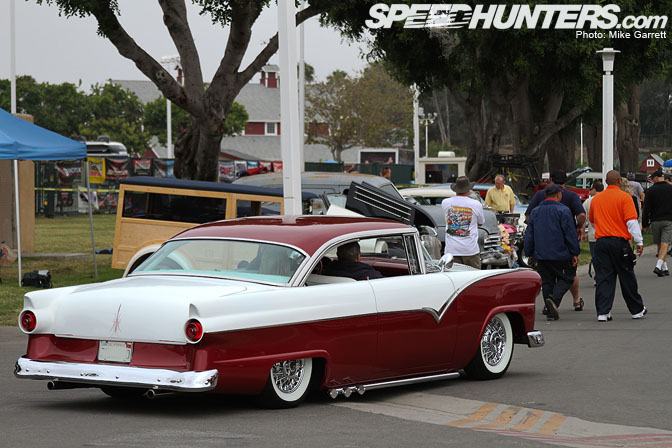 I also spent some time walking the showgrounds to see what sort of cool machines I could find. I did find a few traditional style customs, like this lake-piped Ford.
Now this two-door Ford wagon is done in a more modern style, but I dig the low stance and polished American Racing "Torque Thrust" wheels.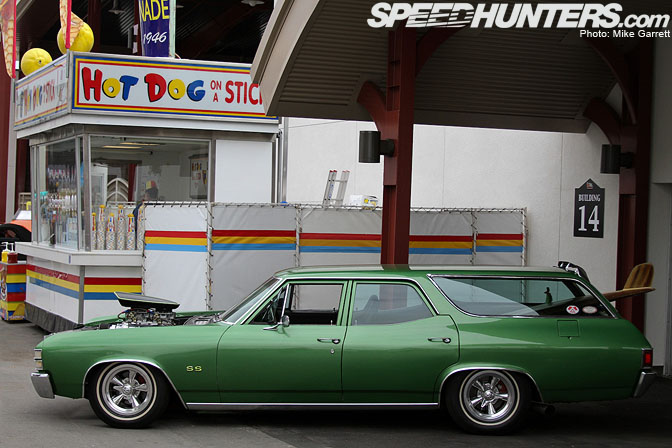 One of my favorites was this Chevelle wagon dropped low on Astro Supremes, with a surfboard in the back…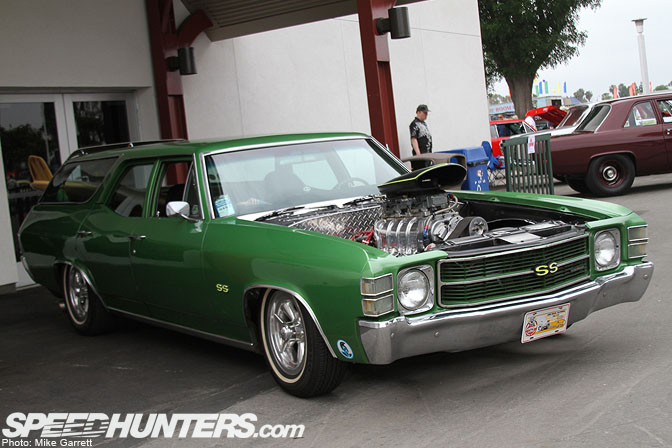 …and a mean looking blower up front.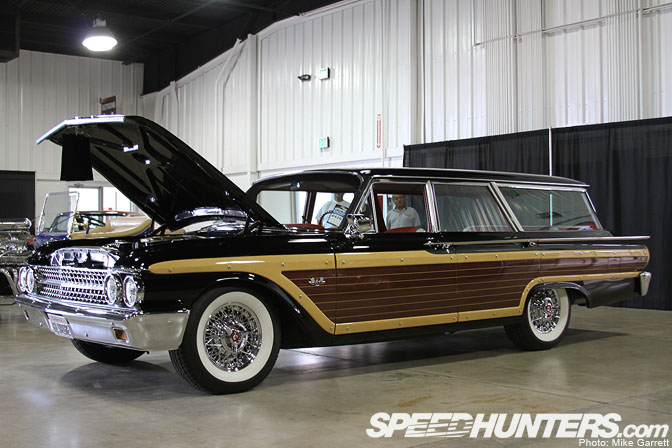 It's 100% stock, but this '61 Ford Country Squire Wagon was immaculate. Hmmm, are we sensing a theme here?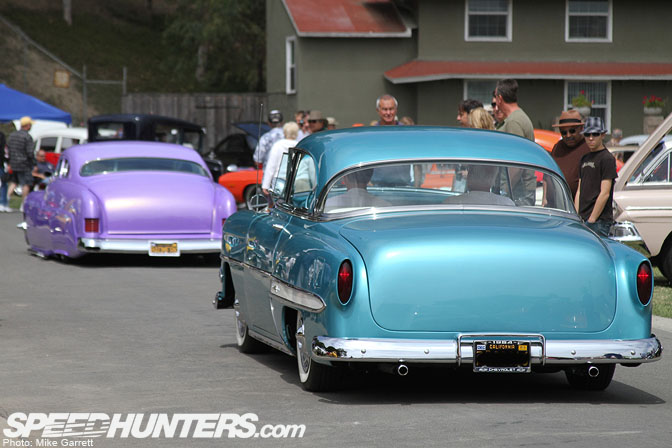 One of the cool things about Good Guys events is the way people cruise the showgrounds. It's perfect for taking a break, enjoying a cold one and watching them roll by.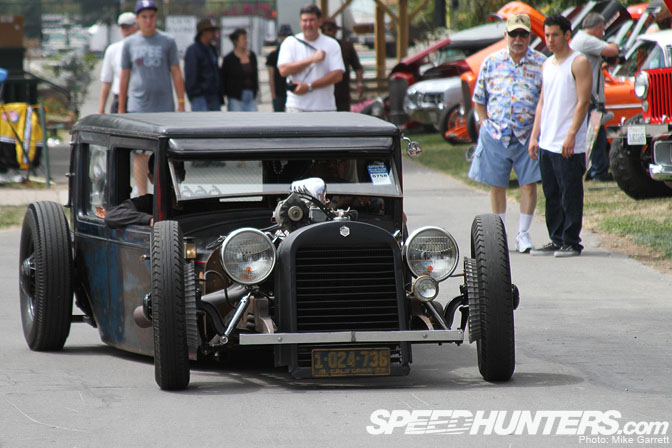 There weren't a whole lot of "rat rods" at the show, but the ones that came got lots of attention.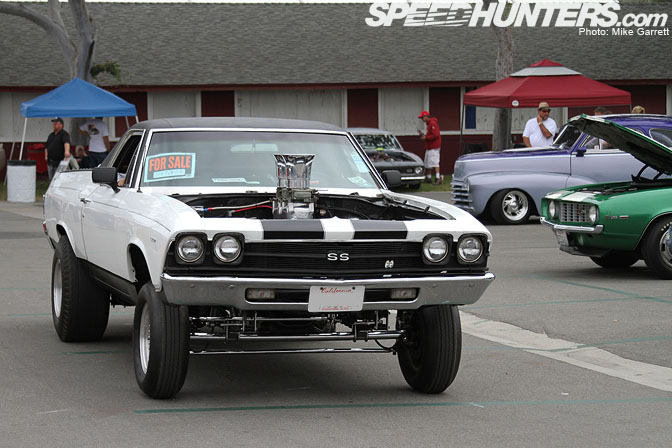 Check the wild stance on this El Camino gasser that was cruising through the show. Insane.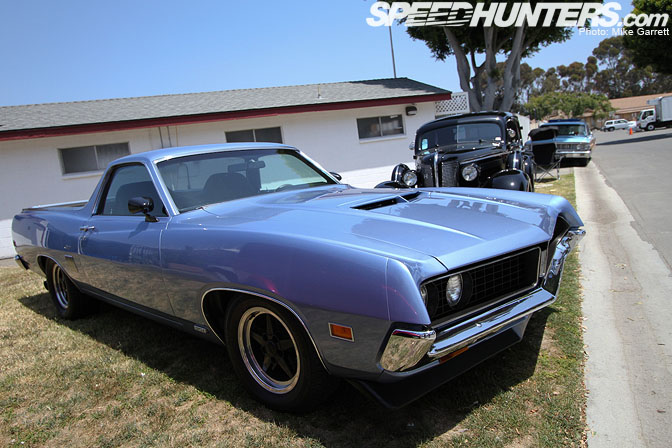 Can't forget about Ford's version of the El Camino, the Ranchero. It's a shame that America abandoned these car-pickup hybrids…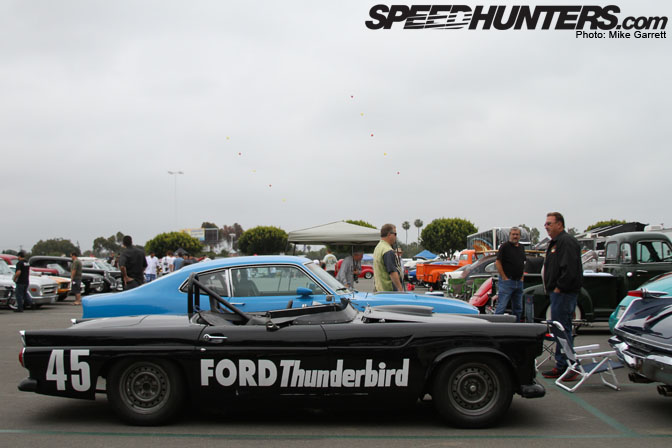 Mixed in with the rods, customs, and muscle cars, I found this awesome T-Bird race car looking like it just rolled out of a late '50s airstrip race event.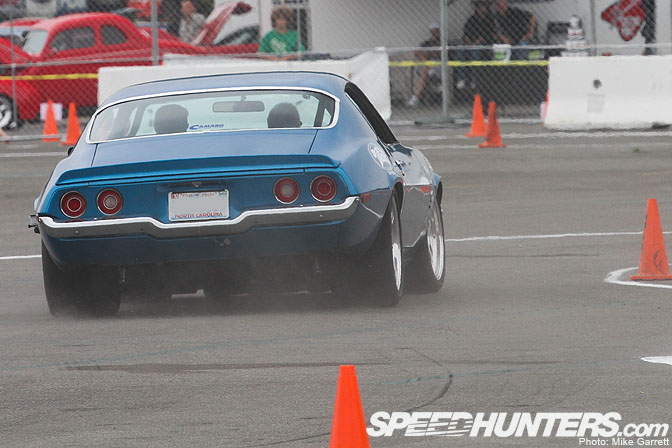 That will do it for part one. Much more to come from Costa Mesa, both on and off the track.
-Mike Garrett