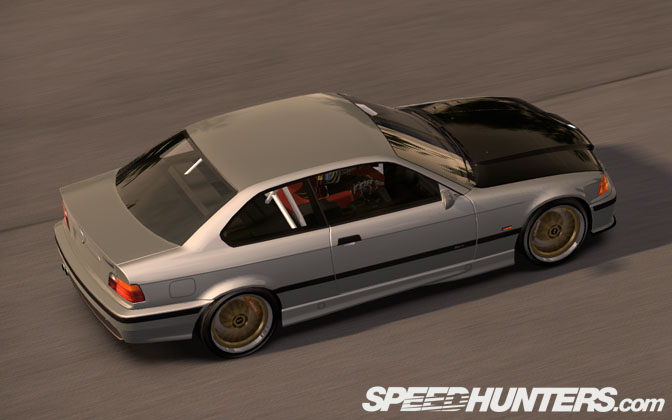 I sit in an area of the huge EA Canada complex in Burnaby, B.C. Canada, right next to the Need for Speed marketing team. For the past two days they've been buzzing with all the great reviews that are coming in for SHIFT. It's no surprise to me, though… I mean just look at that image!… It looks completely real!… and the racing experience is just as refined as the realistic looks.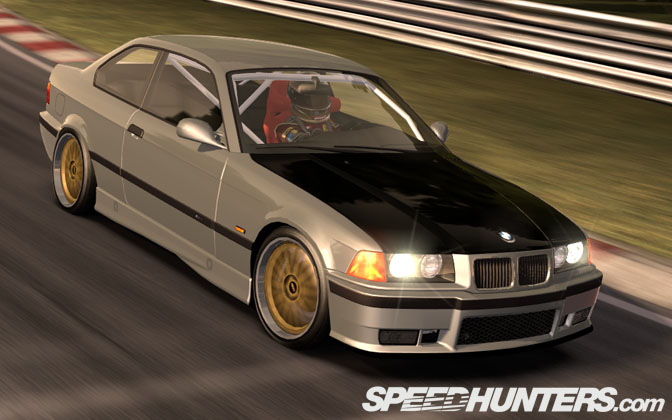 So for my next game session, I thought to focus on building up two BMWs and take them out for spin on the fearsome Nurburgring Nordschleife.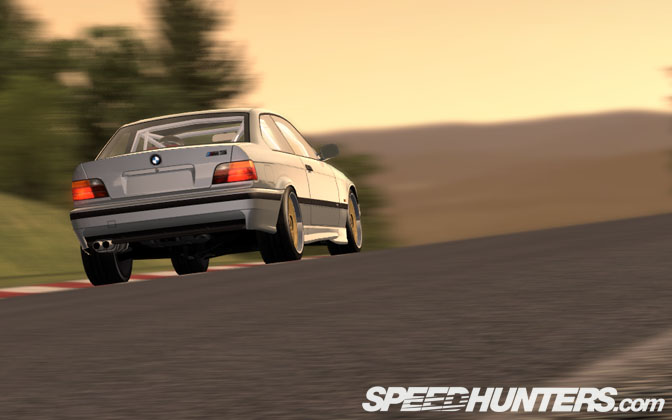 Now there are three different generations of 3 series BMWs in SHIFT but I thought it would be most interesting to have a play with a 3D model which is new to the NFS franchise: the E36 M3.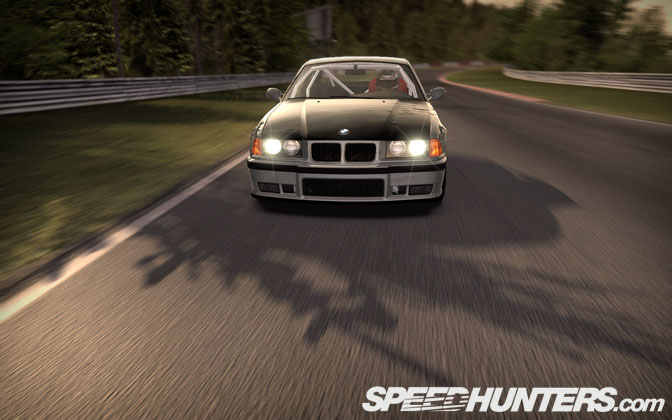 It's possible to transform this car into a wild Works GT racer, but instead I wanted to build a track day car. Something like what you'd expect to see running laps during a public session on the Nordschleife.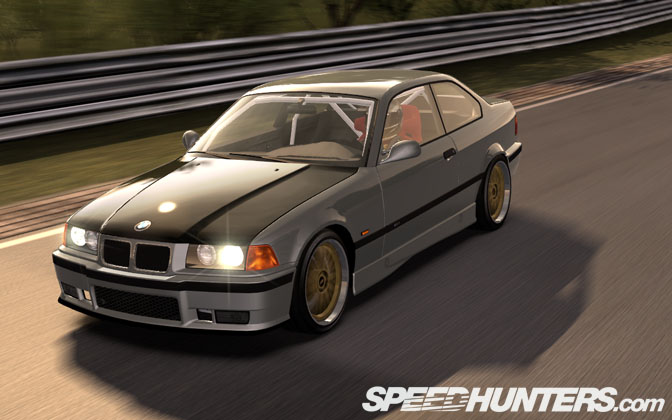 So I left the body completely stock, but upgraded pretty well every other component on the car including turbo power, a full engine overhaul and aftermarket suspension and drive-train.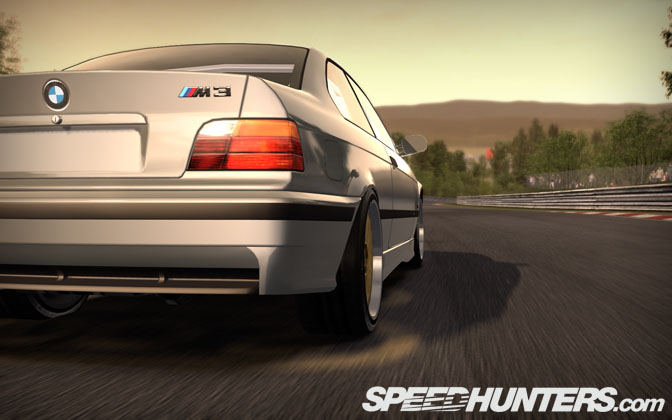 The wheels just had to be BBS LMs…. and they fit nice and tight.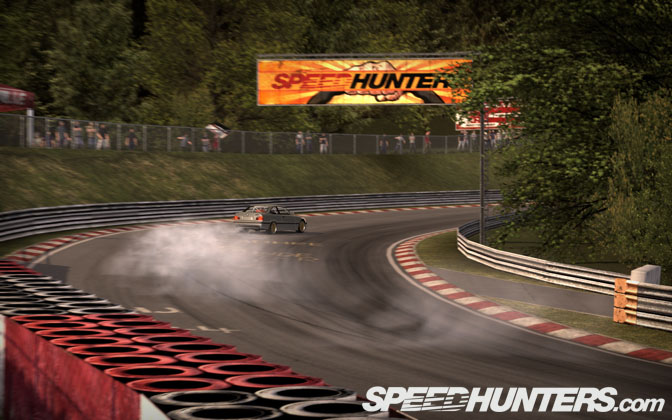 And with over 500 bhp on tap but with no aero what-so-ever, I knew this car was going to be a handful. Controlling the BMW was more going to be a case of wheelspin management and trying to avoid getting too much air over the 'Ring's many humps and jumps.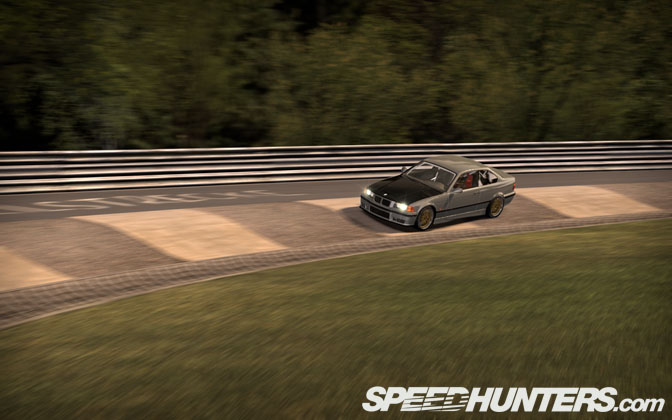 I personally find driving around the 'Ring is very stressful. With no runoff areas anywhere, one wrong move and you are into the barriers. Here I'm threading my way around the famous Karussell corner.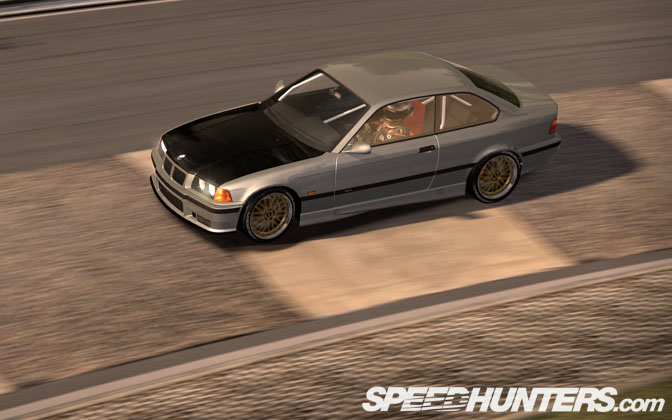 I haven't quite got the hang of this corner just yet… go too fast and you'll fly out of the corner, into the barriers… go too slow and you'll end up on the grass inside the turn. It's hard to keep the car lined up to the banked concrete bit.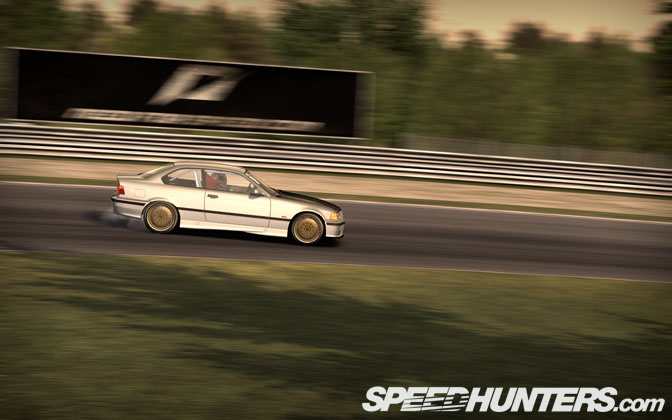 I find the E3 M6 to be a great handling chassis. Although my crazy Nurburgring Sleeper was bit too overpowered for its own good, I was more or less able to keep it off the barriers.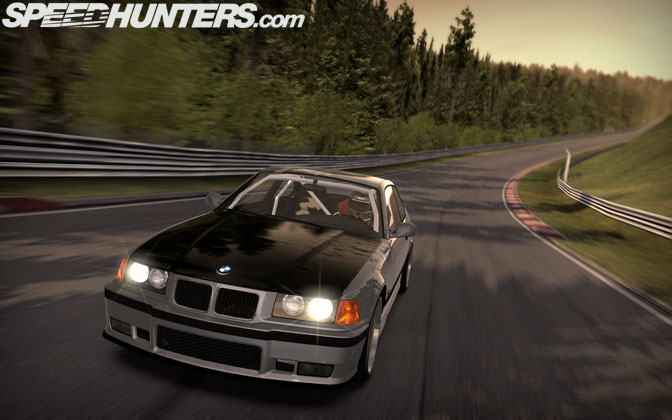 You can see in this shot that the paint on the right side of the car is a bit scoffed up from a light brush with the armco.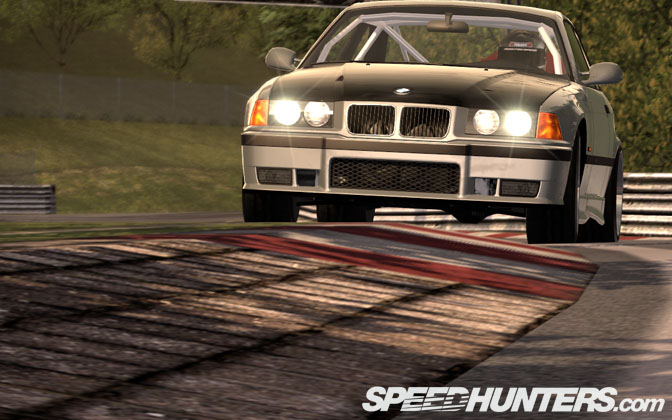 Driving this car is stressful although rewarding too. The chassis is pretty compliant and allows you to ride the curbing from time to time…. just try not to get the car into a tank slapper!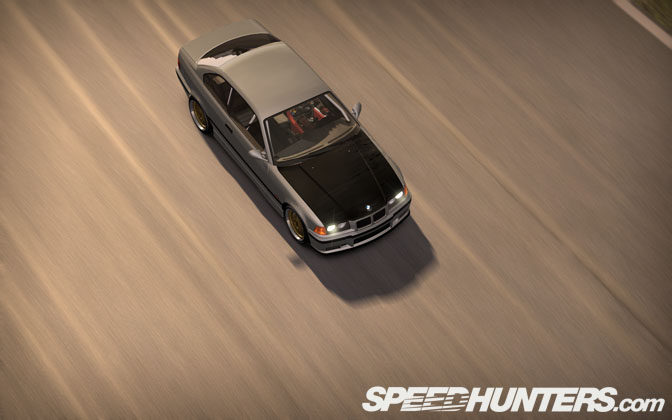 Once I reached the long straight at the end of the lap, my close ratio, race transmission suddenly became a liability… With a lack of drag inducing wings and spoilers on the car, I had to sit on the rev limiter for around 2 kilometers… I wonder what this car would top out at with proper gearing!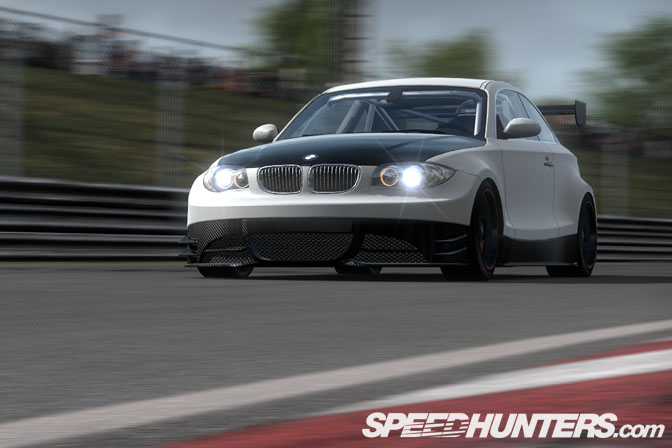 So next up I took out this little monster onto the track. It's a fully tuned up 135i, complete with wide body conversion and full aero.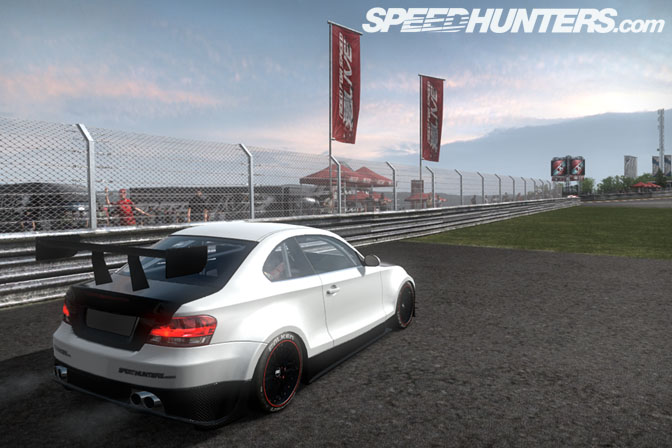 I also put some BBS LMs on the car, but chose ones with Time Attack style red trim.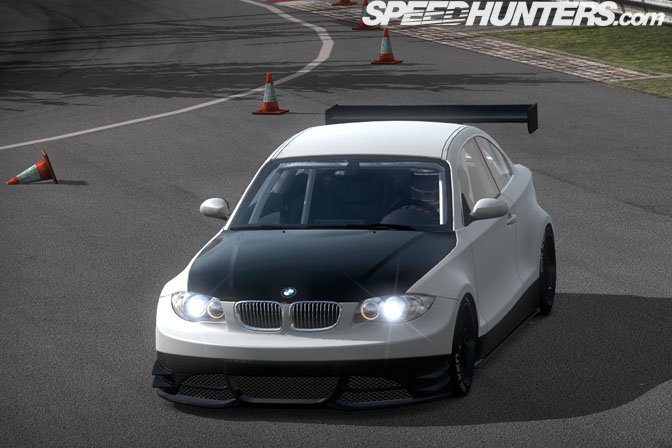 I went for a flat white finish but painted the hood/bonnet and the trunk/boot glossy black.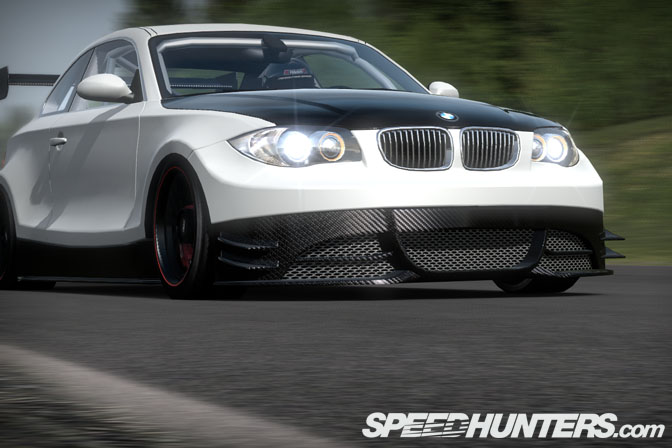 This kit also features some nicely detailed raw carbon fiber bits.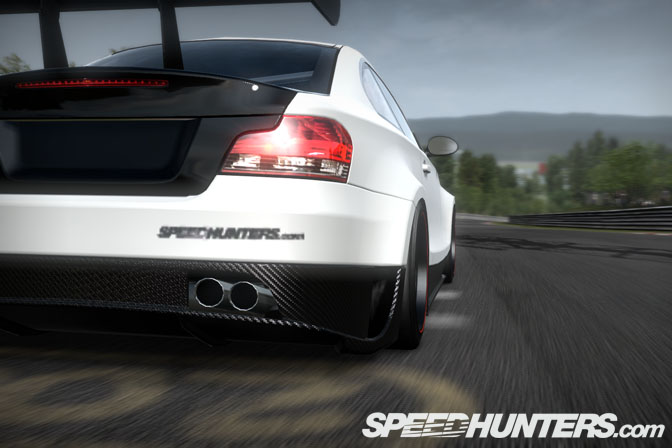 Some Speedhunters stickers were also in order. Special thanks to the SMS crew (that's you Suzy!) for putting these logos in the game!
And the wheels are tight!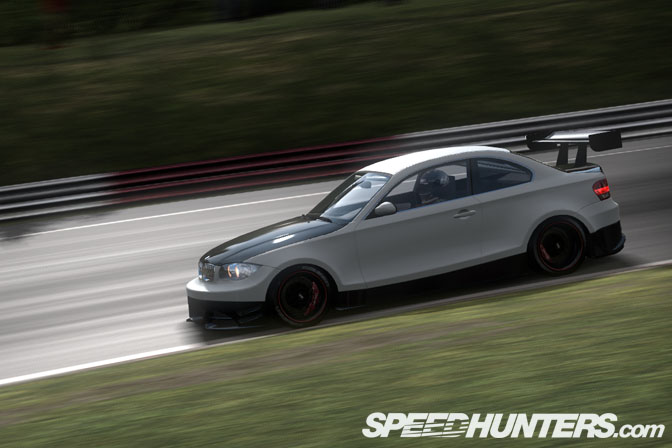 In this guise, the car was developing around 450 hp or so. That's plenty for such a small car!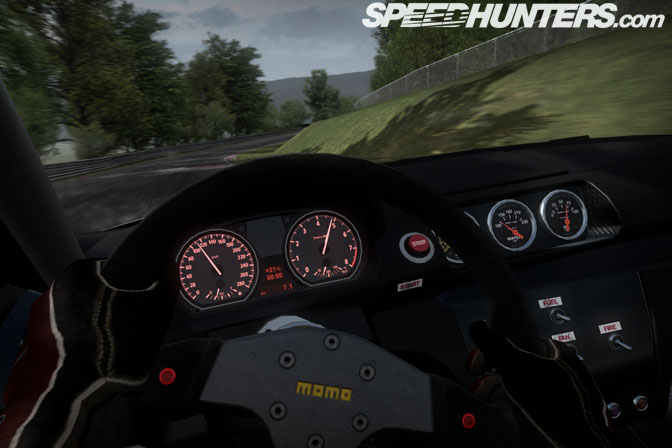 You can see all the various race ready upgrades already present in the cockpit area…. BTW I ALWAYS grip race (in this case I'm doing a time attack session) using the cockpit view…The follow-cam (also known as swingman camera) is too gamey for my taste.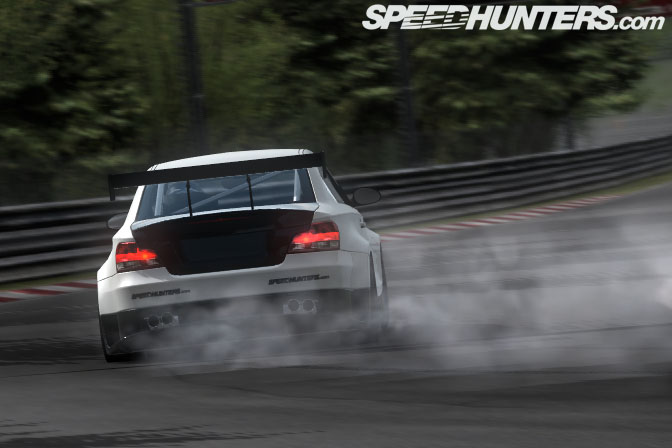 Wheel spin galore!… I'm a hooligan I know…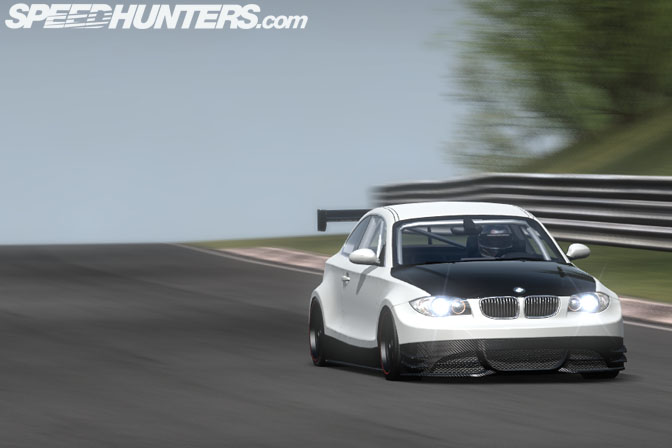 Now with all of this extra downforce on tap, driving this car is quite different to the E36. It feels more planted to the road.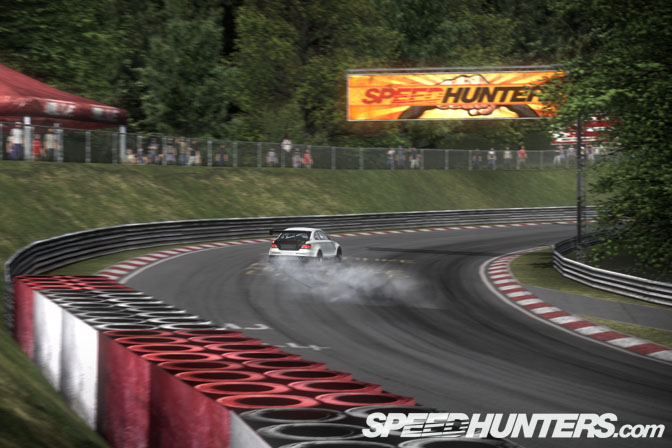 But if things go wrong….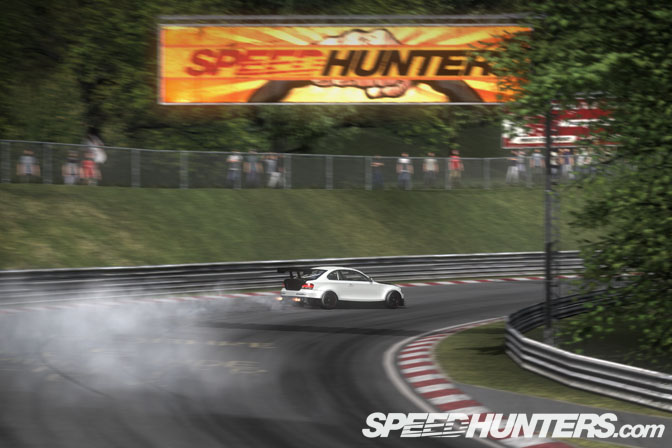 It all happens much quicker than with the M3.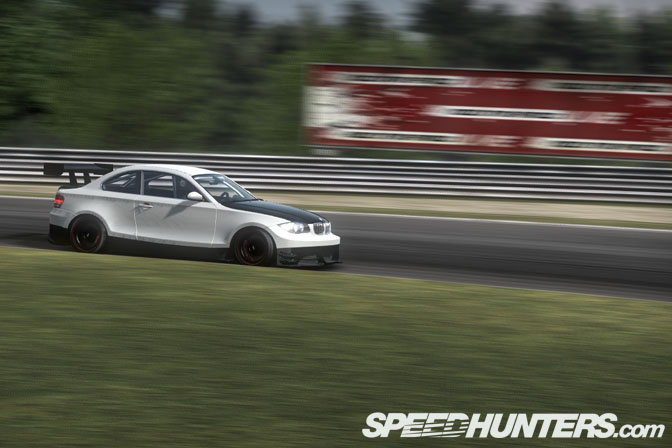 I was feeling very edgy after a few of these moments…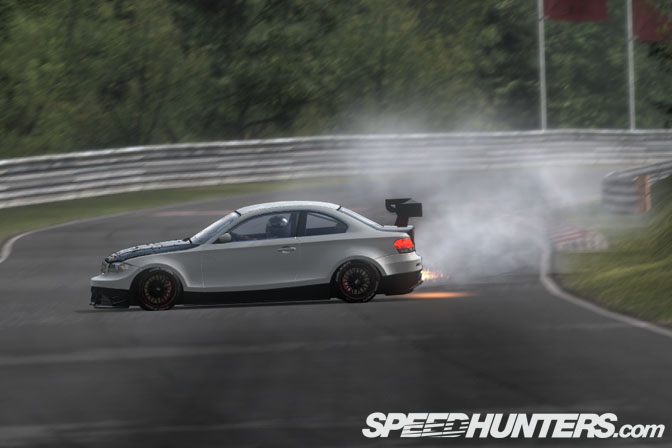 … And I ended up losing the car. In this shot you can see I'm about to go head first into the barriers…. Ack!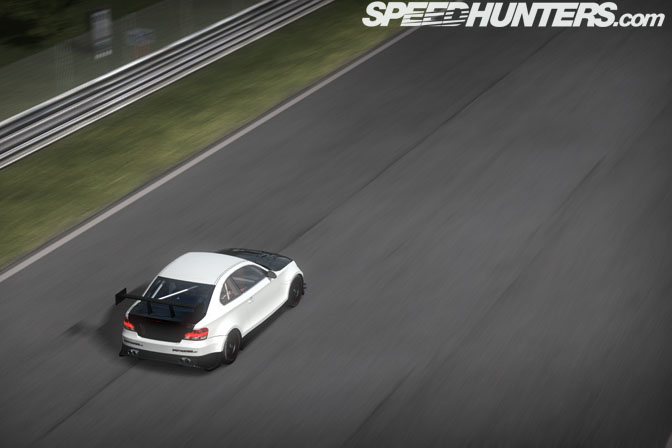 Oh well… thankfully this is all inside a computer… or I'd be pretty devastated!
Next up, I'll show you a FD and a S2000 that I took for a spin on the Tokyo docks street circuit. They are both very fine machines although one of them didn't survive the session unfortunately….
More soon.
:Rod