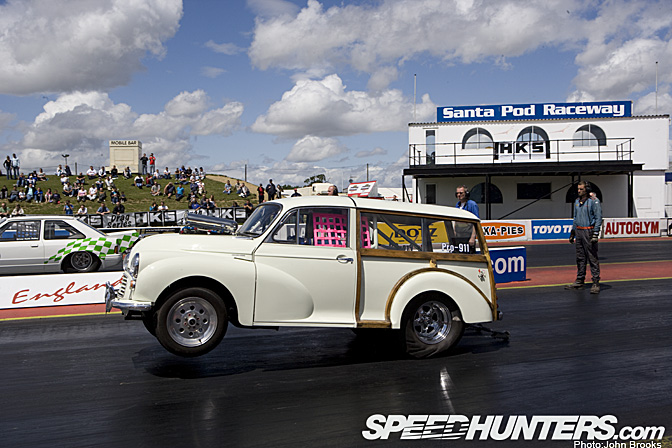 Going along the events like the Retro Show you get to meet enthusiasts, folks who spend their own time and money on things that go faster. It is completely different from the mindset of professional sport encountered at places like Le Mans and none the worse for that. We all started as petrol heads even though some of us are lucky enough to scrape a living from this frivolous activity.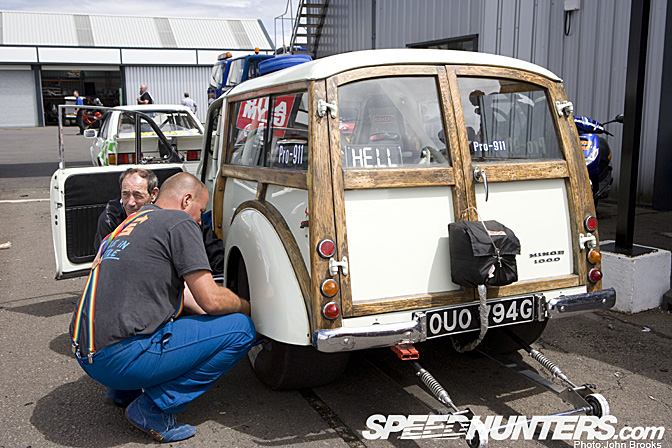 So as I strolled round the paddock area I thought it would be appropriate to make notes and tell the stories of these fellow aficionados, they are all SpeedHunters in one form or another after all.
Take Butch Wilkins for instance, a local from the Santa Pod area and a fireman for the past 20 years. When not serving the community he likes to go fast, very fast. Of course being a fireman he cannot afford a Ferrari and speaking to him makes me doubt that he would really want one. His weapon of choice is a Morris Minor 1000 Traveller complete with an ash frame at the rear. Not the most obvious choice for a drag car.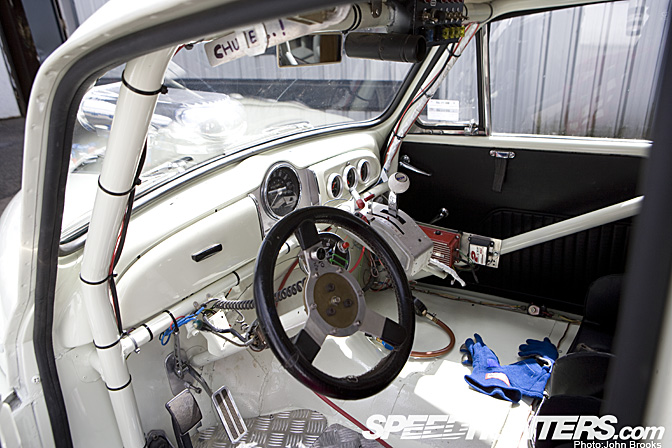 Of course there have been a few changes to the car since Butch picked it up on ebay for £300. For a start there was the matter of all the rust, so a home built steel chassis was installed. The original 1000cc 4 cylinder 40bhp engine could barely get out of its own way.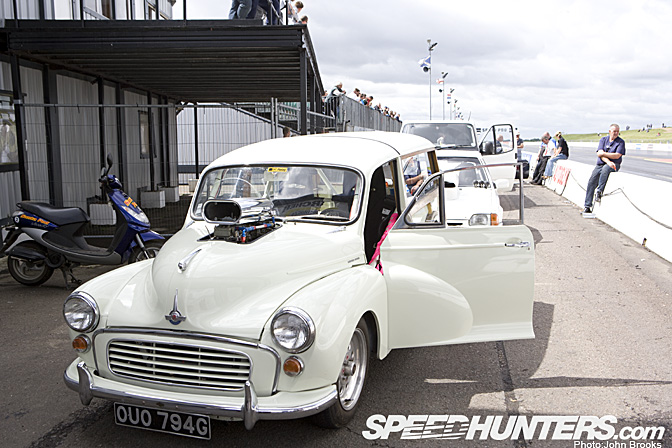 So that had to go and then there is only one possible solution, a 464 cubic inch V8 conservatively rated at 500bhp and just in case that feels dull a nitro system to add another 100bhp.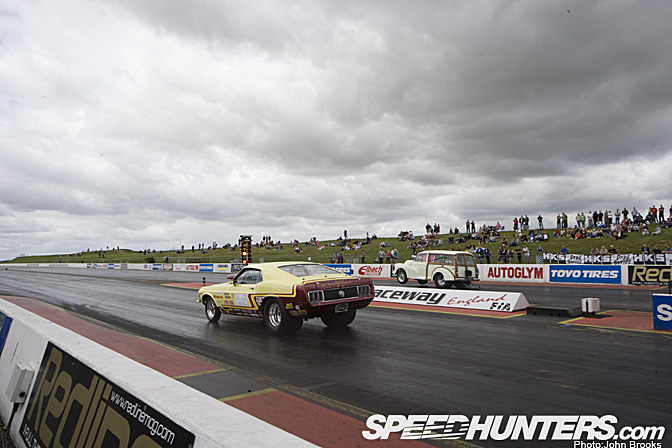 So that's how Butch gets to be part of the Santa Pod Display team………..showing the crowds how it is done inbetween the RWYB brigade. And having a blast at the same time…………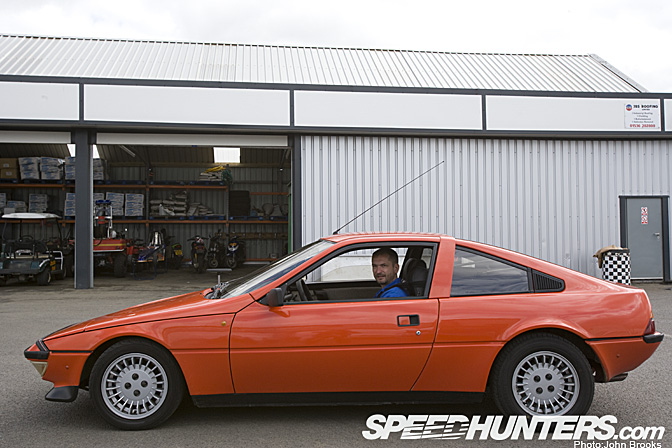 I wonder how many of you can identify the neat little sportscar above and what is the most distinctive feature about it?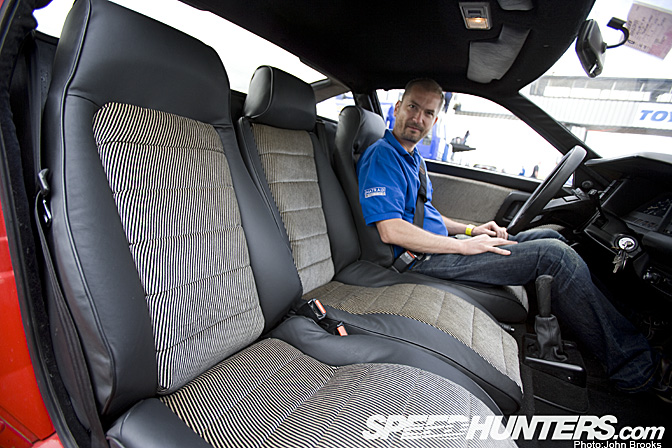 No I have not been at the bottle and Photoshop CS4………there really are three seats. This of course is a Matra Murena from the early 80s. Owner, Titus Taylor, possesses a really tidy, original car. Matra, an abbreviation of Macanique Avion TRAction, was an engineering consultancy based in France that had interests in aeronautics, weaponry, bicycles and cars. Matra achieved a very high profile in motorsport with Jackie Stewart driving a Cosworth powered Matra to the Formula One Drivers' and Constructors' Titles in 1969. Matra also had considerable success in Endurance races, winning Le Mans outright three times.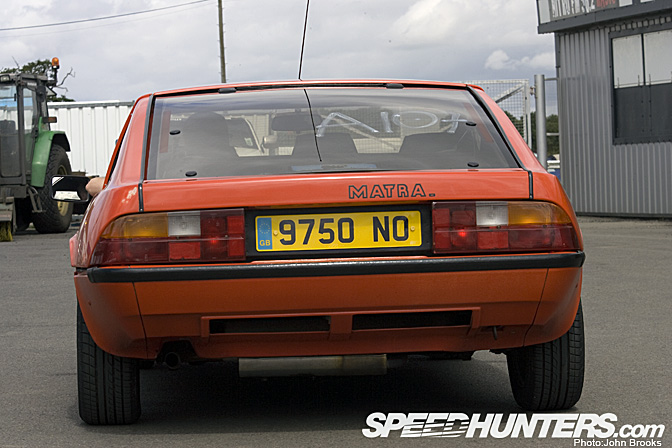 Success on the track led to collaborations with French car company, Simca.  Simca was taken over by Chrysler and then Peugeot Talbot and it was during this period that Murena appeared. This example is the base model with a 4 cylinder, 1.6 litre engine, mounted just in front of the rear axle. The Murena was the first production car to use galvanised steel for all chassis parts and combined with the fiberglass-polyester body panels was virtually rust proof.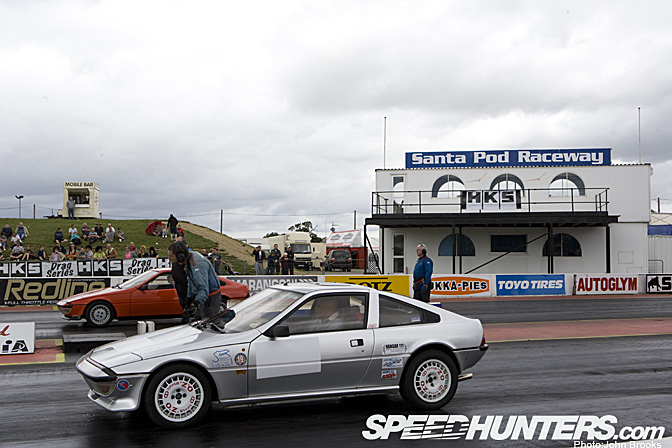 The light weight and aerodynamic shape meant that performance was pretty good. Here there is also an example of the 2.2 litre car. In total over 10,000 of these elegant coupes were built and they are a perfect example of how a good retro car should look…………IMHO of course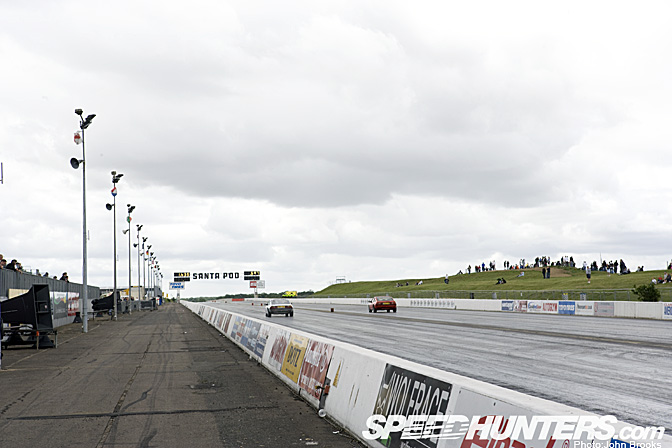 They even looked at home on the drag strip.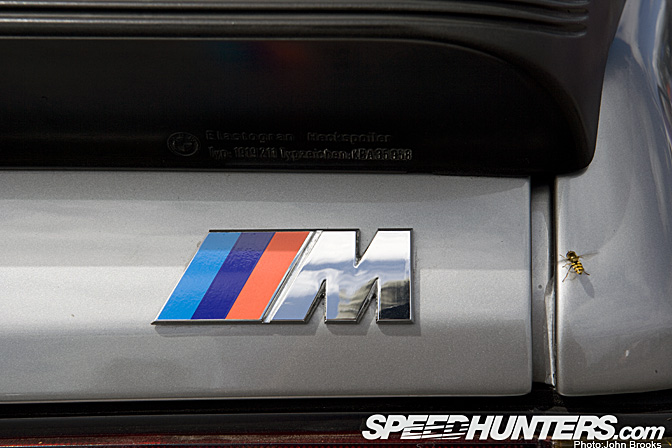 I have always been an admirer of BMWs, particularly the 80s models, it may have been that I had the company as a client at the time. So heading down to the Show and Shine section I spotted first a 3.0 CSL and then a very tidy E24 635 CSi. This was a late model, 1989, Highline spec.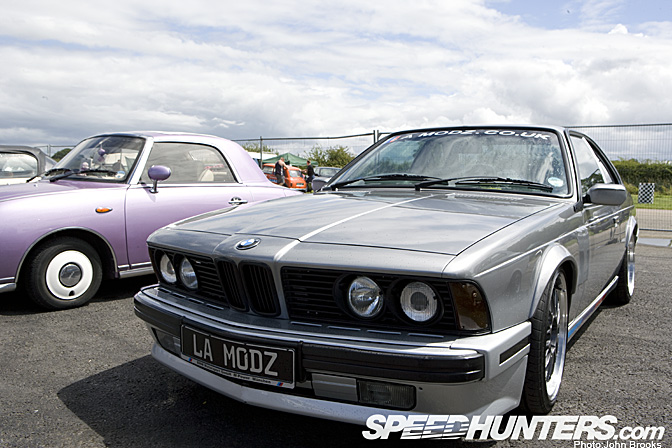 The owner, Lala Miah runs a business tinting car windows to a very high standard, hence the La Modz plates. He picked up the 635 in a tatty state for £1,000 and then lavished care and attention to bring it up to this as new condition.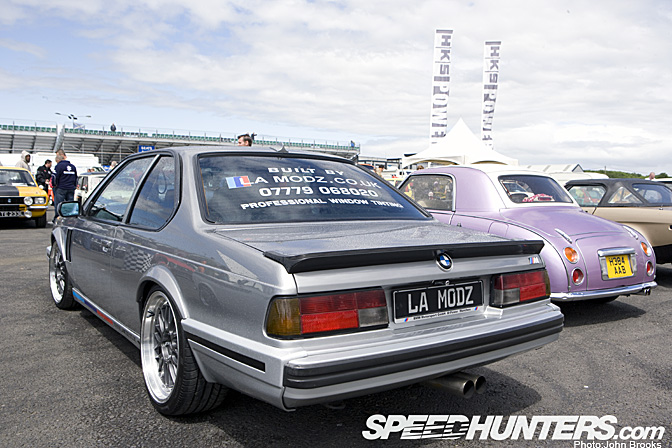 It is finished in two tone silver, which does not really come across in these photos but combined with the BBS wheels and the Highline trim really brings out the purposeful lines of the 635.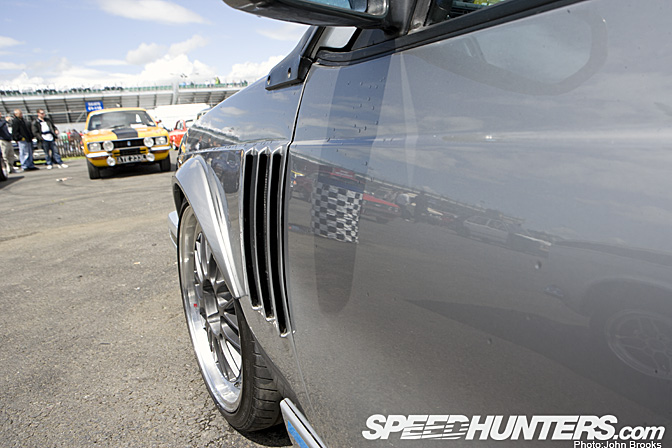 About the only non-original feature is this series of vents in the front bodywork…………makes it look it more shark-like declared the owner, well I am not convinced. I am convinced however that I would still like to own a 635CSi and that I would struggle to find one as good as this.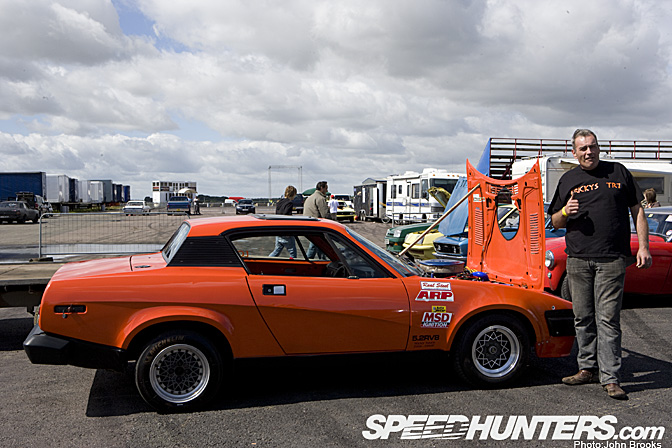 I have been around motorsport for nearly 40 years and it is for the most part a succession of near misses, what might have beens, tempered with occaisional outbursts of success, a bit like most sports unless you are Michael Schumacher. So the sight of a grown man jumping up and down in some high emotion shouting down his mobile, "11.8….11.8" is not really that out of place in a paddock full of cars. Victories are there to be celebrated and one man's dream is as important as another's.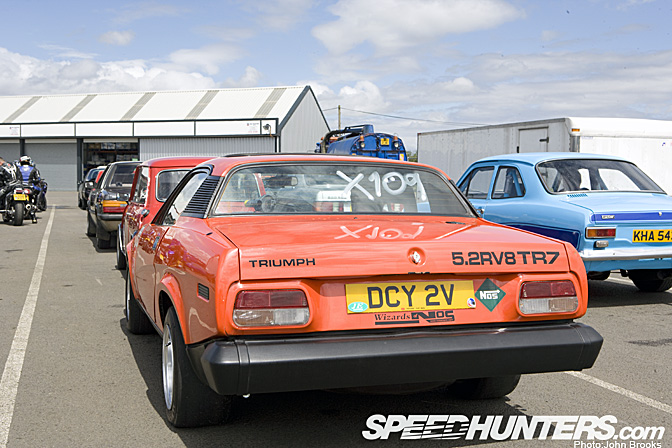 Once he had calmed down a bit I spoke to him to get his story. Richard Chester had owned this Triumph TR7 for ages and some five years ago managed to crack the block. So it sat unloved until recently when persuaded by his son he set to and got the car back into shape again.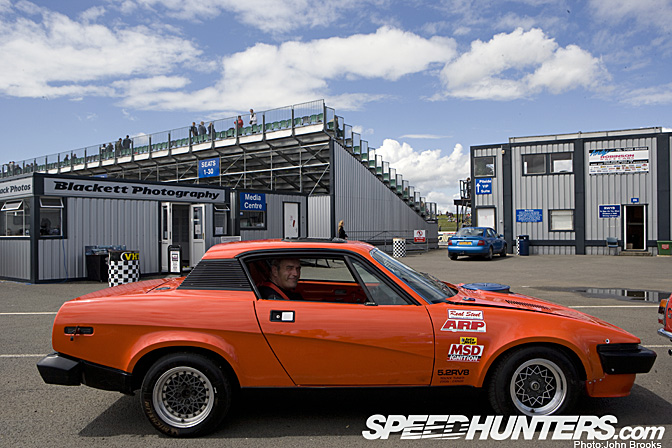 Out went the old engine and a Rover 5.2 litre V8 was shoehorned in…….and of course the fashion accessory de jour, a nitrous oxide system. Santa Pod was to be the first outing for the re-fettled car………..what would it achieve? Even as he approached the start line some fluids started leaking but undeterred he pushed on and the clock stopped at …………..11.8………..a really respectable time in such a car and the source of the celebrations.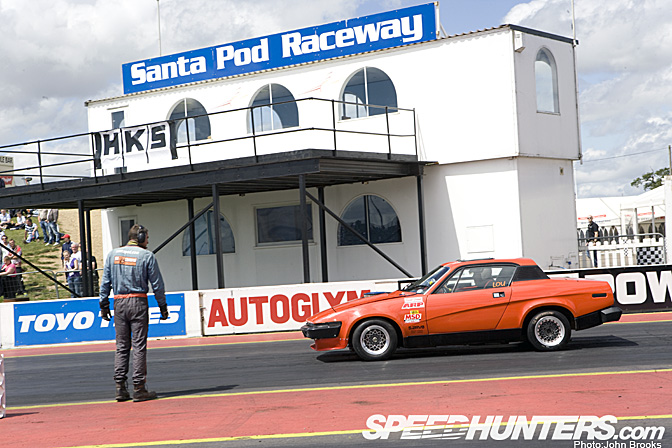 I looked on at the second run, which was a fraction slower………..the car's behaviour was wayward to say the least, Richard was really having to drive hard to get down the strip in something approaching a straight line.
His joy and celebrations were justified, achieving personal goals at any time in life is something to be savoured and his mood was infectious on all around him.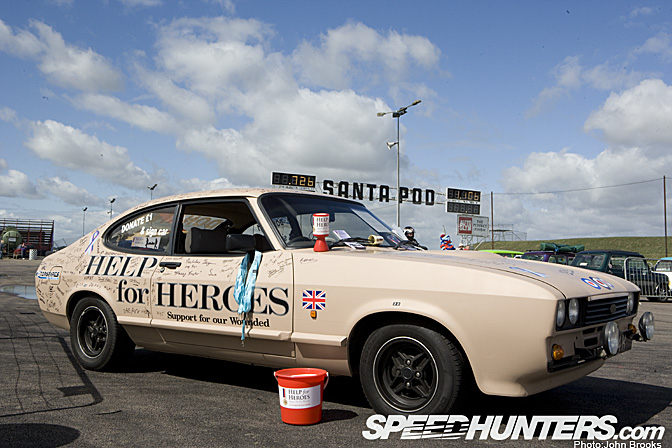 Achieving personal goals, an individual making a difference in such collective times.
Whatever your views on the various conflicts that Britain's Armed Forces are engaged in, there can be little argument that we owe it to those who are wounded in the line of duty, the best treatment and facilities that money can buy. In these times of conflicting spending priorities in government, the wounded Service personnel do not rank as highly as they should. So a year or so ago a group of ex servicemen and women got together to form "Help for Heroes" and since then the charity has grown exponentially supporting existing service charities and providing new facilities for those most in need. 
So it was a bit of a surprise to find this Ford Capri in the middle of the paddock with a young man, together with his wife and their new baby, collecting money for the charity.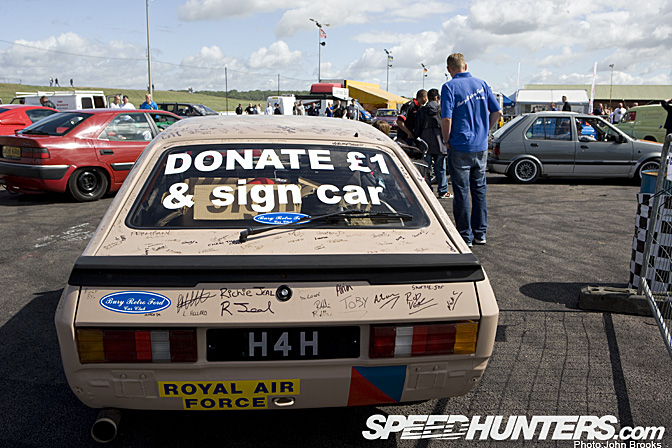 The proposition was simple, pay £1 and sign the car. Richard Jeal is a RAF technician, serving in the UK and it is his way of helping those who have been in the wars. The car was a wreck that he had restored to working order in his spare time and now he and his mates at the Bury Retro Ford Car Club go round to shows collecting for the cause. The car will be auctioned later in the year with all proceeds going to the H4H.
Actually when I thought about it is entirely appropriate that such an initiative exists in a show like the one at Santa Pod last weekend. Most car nuts are individualists and passionate about their causes, just stir up an argument with the AE86 mob or any Scoobie Crew, this young man just added his love of cars to doing something for others.
Yes I did pay up £2, one signature in my name and one for SpeedHunters.
It was a pretty good day with great people and cars…………so if there is a show on near you, get off your butt and go…………you will enjoy it.
John Brooks