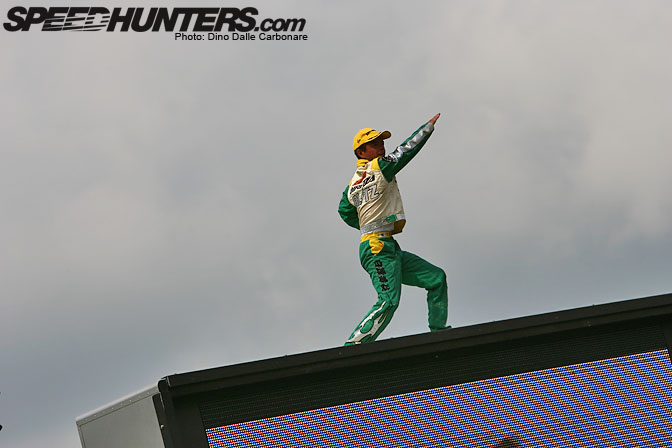 With both the cars and drivers spent after Round 3 on Saturday, it was back to Okayama for Round 4 the following day. The mechanics had to work overtime to get the cars back in shape, ready to take another beating for this new twin-round format. One guy that didn't seem phased by the stressful schedule was Nomuken, who put his monkey-man antics to the test by climbing on top of the mega screen during the driver presentation.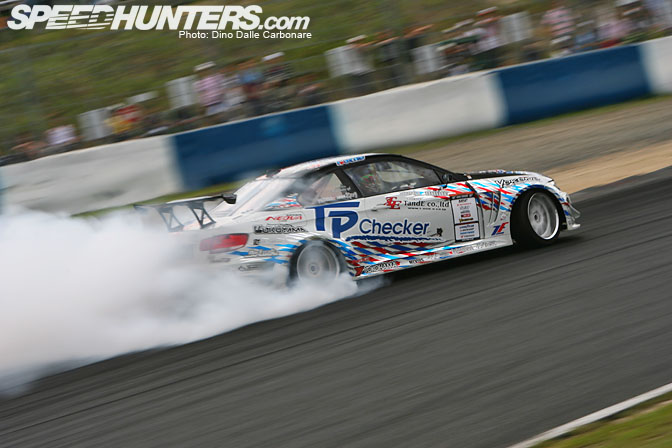 After struggling with the entry all day on Saturday, Ueno seemed to have managed to work things out. As you can see the T51R and 2JZ combination seems to be working rather well!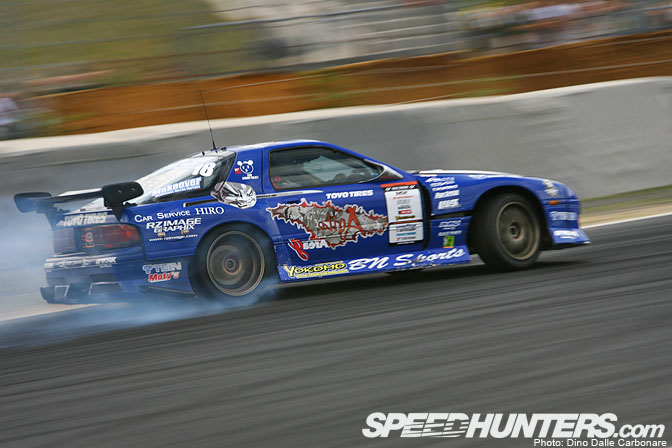 Check out the difference in smoke between Ueno and Drift Samurai. Nonetheless, his FC is still one of the coolest cars in D1.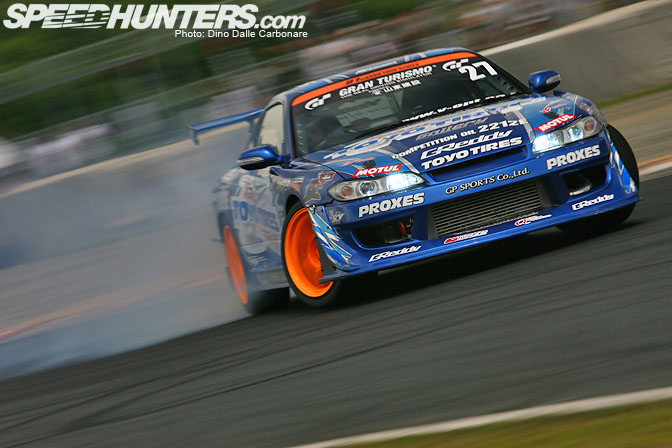 Here is Sakuma demonstrating a perfect drift!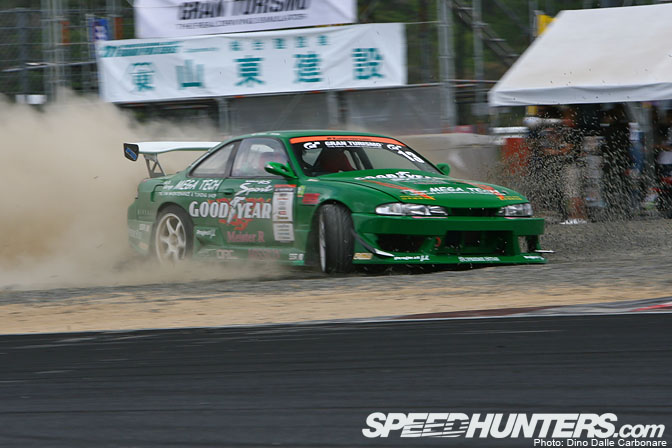 After seeing Murayama behind the wheel of his Skyline at the Odaiba exhibition round last month, he was back in the green S14 for Okayama. During this run he flew into the corner way too fast and couldn't brush off enough speed to keep the Silva on the black stuff. The car dug in deep damaging the front bumper.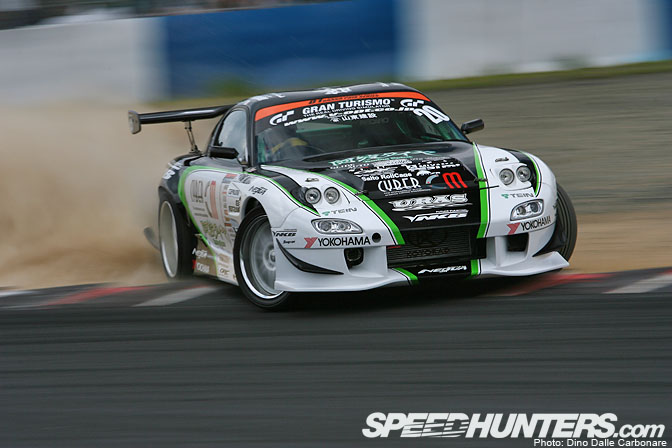 Okayama is definitely a tough circuit, with almost everyone putting at least a rear wheel on the dust during the week-end. Fujinaka with his turbocharged 3-rotor FD must have been scraping his exhaust on this run as both wheels dropped down off the track!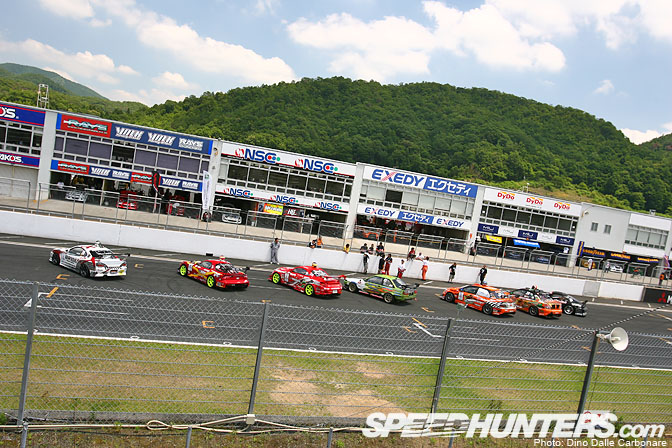 This is what the main pit area looks like from the main grandstands on the opposite side of the track.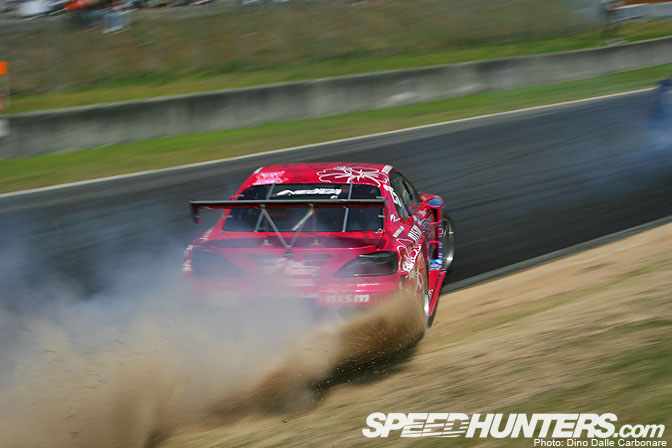 Okachan threw up something resembling machine-gun fire here, right towards where I was standing! Needless to say I ducked like a little girl!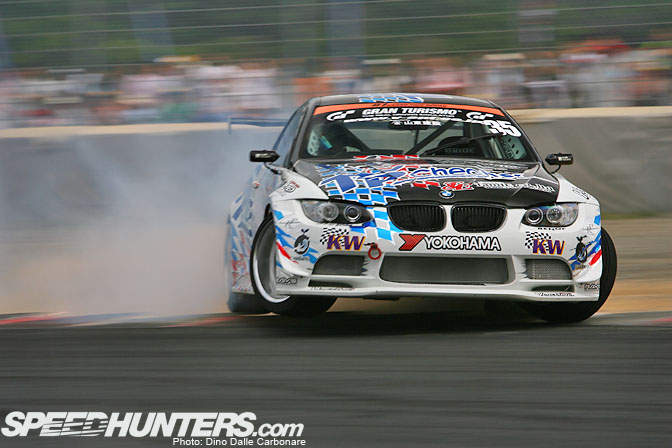 Just take a look at this! I really thought Ueno was going to spin here but despite his rear wheels being on the curb and throwing the car into a bouncing fit, he managed to keep going and reel the 3-series in. If you look closely you can see that both driver side wheels are in the air!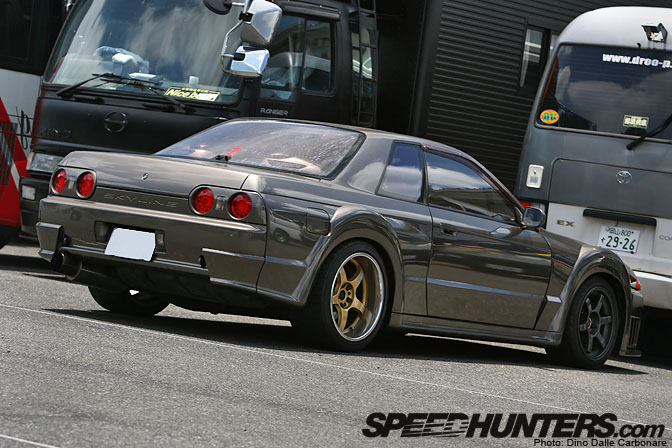 If there is one thing I notice when I head down south here in Japan it's the slightly different style people go for when modifying cars. This R32 parked behind the Droo-P pits is owned by one of the shop staff and sports one of the most insane wide-body kits ever!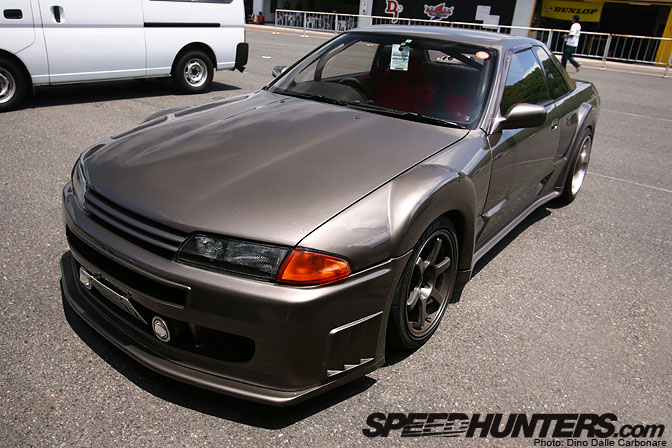 I have seen this kit a few times before but I can't remember who makes it. Perfect example of southern, in-your-face kind of styling! Love it!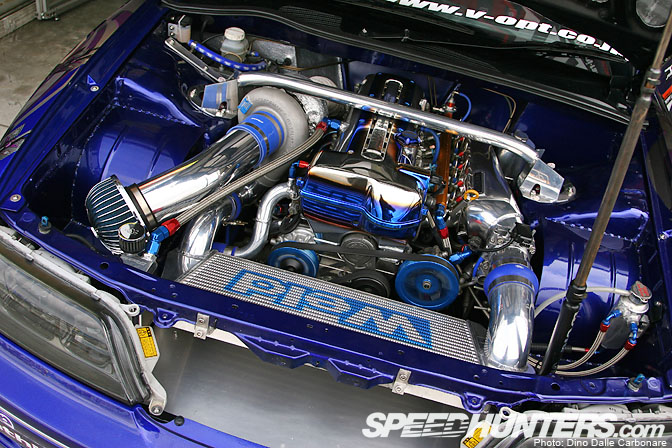 No matter how many times I see the engine bay in the Weld JZX100, I still can't believe this is a drift car! Johnny must spend hours polishing it!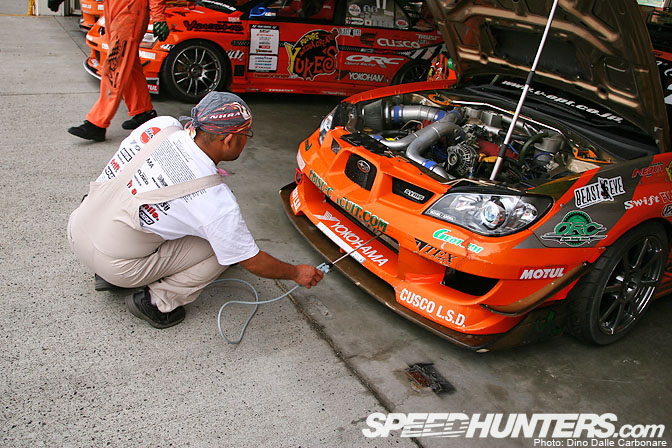 Chatting to the Tex Modify shacho, I learned that after their return to the pits the Team Orange cars get their oil coolers sprayed with a fine mist of water to help cool the oil down faster. Temperatures over 120ºC are the norm after a run. I'm sure a nice CO2 fire extinguisher would get the job done quicker!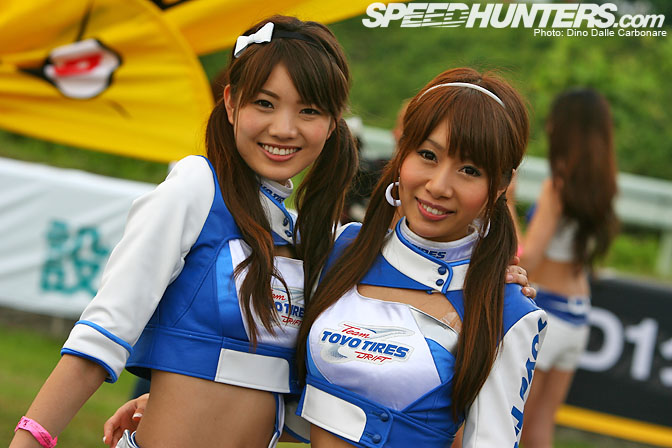 I've noticed that PR girls at D1 events are becoming somewhat scarce, so I make sure I snapped these Toyo girls right after the opening ceremony.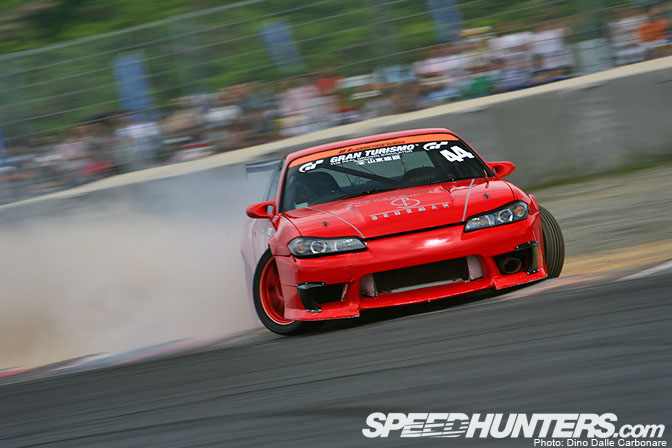 Here is Ueo with his new ride falling prey to that first corner drop off! A few more millimeters lower and that front bumper would have been toast.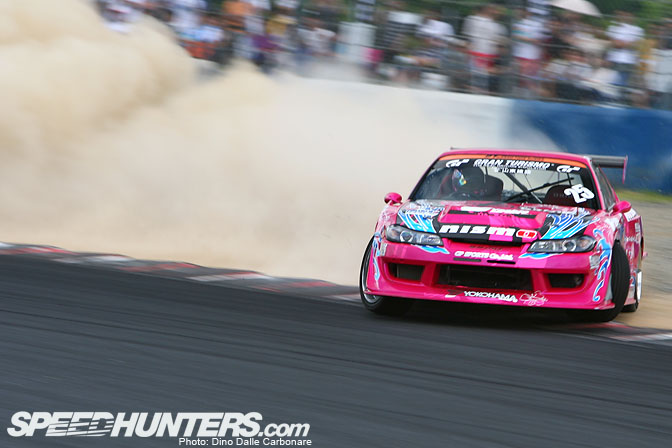 Okachan doing the exact same thing! That dust cloud took about 5 minutes to clear!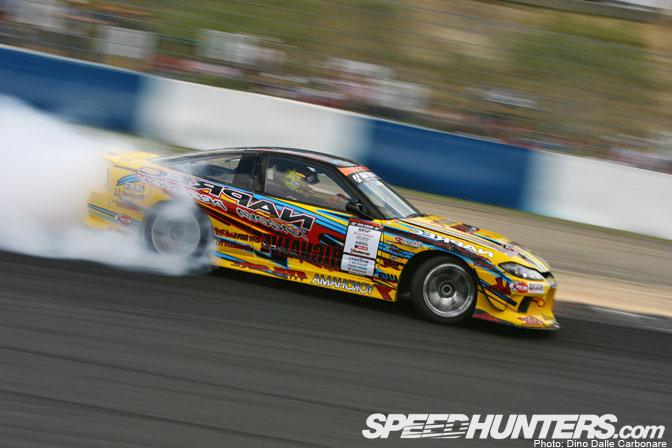 Matsui and his NAPREC S15-front RPS13 was getting some very nice runs strung together but his line wasn't as aggressive as it could have been. Better luck next time.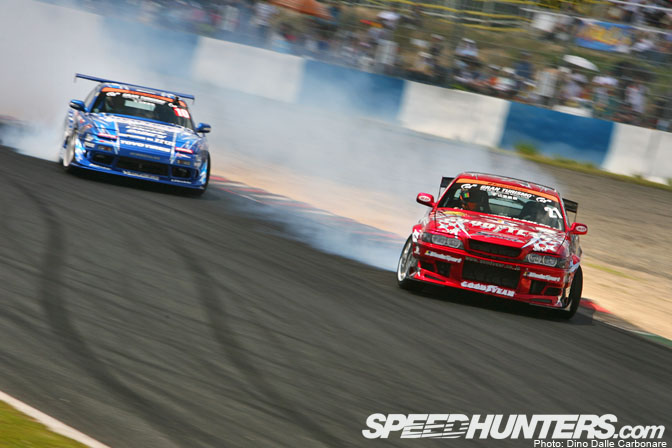 Unlike other circuits most drivers found it hard to stay close to each other, mostly due to that fast and tricky entrance. Here is Takahashi doing his best to keep ahead of Kawabata. In the following run Kawabata did far better allowing him to move into the Best 8.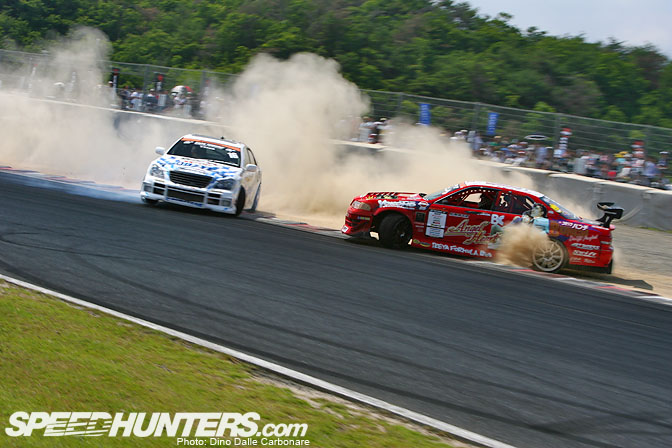 Joint winner of Round 3, Daigo Saito (who after much dispute from the Droo-P team, shared first place with Hibino), ended up losing out to Tokita in the Bee-R Crown. In their first run above, Saito slowed down mid-drift forcing Tokita to slam into his side throwing him into a spin. The impact was pretty hard, bending a tie rod in the JZX100. The mechanic managed to fix the suspension part in the 5-minutes allowed in these cases, but he was unable to better Tokita's performance.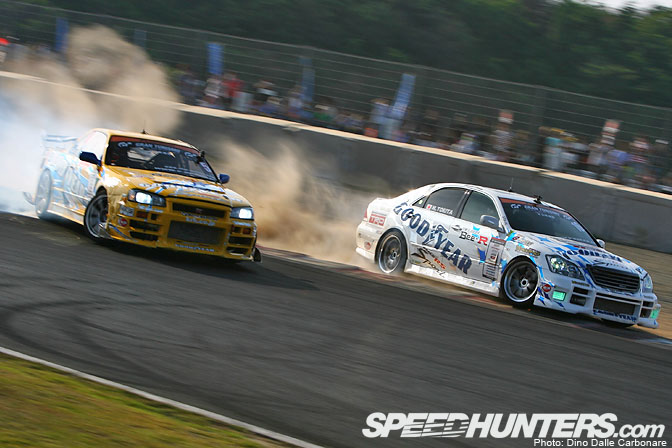 Tokita ended up joining the other Bee-R car, Tezuka's R324, in the final. These two guys went at it like crazy putting on a series of full-on performances with many excursions into the dusty area beyond the curb!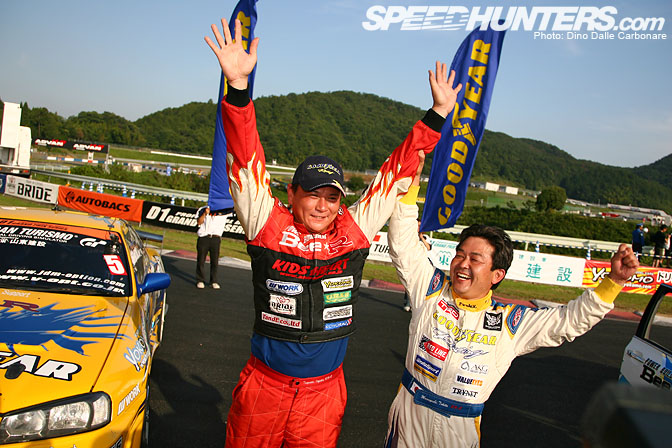 It was close but Tokita did end up going too wide in his runs allowing Tezuka to grab the first place at Okayama.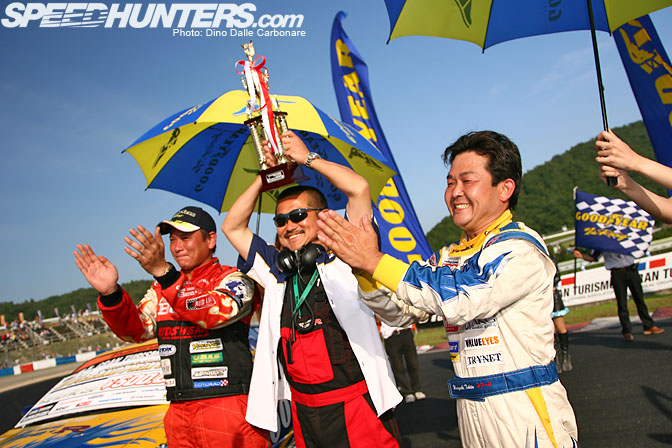 Imai-san, the president of Bee-R was ecstatic! He couldn't believe both his cars managed secure a place in the final!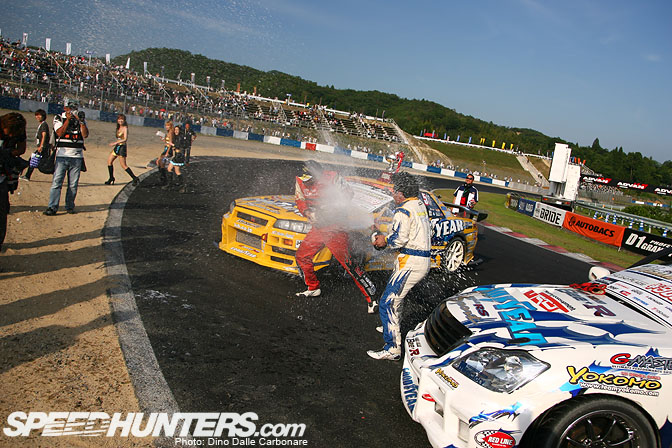 No D1 Grand Prix round would be complete without a champagne shower! The double-round format is here to stay for the rest of the season, with Rounds 5 and 6 being held in Ebisu at the end of August and Round 7 and 8 in Fuji Speedway in early October.
- Dino Dalle Carbonare