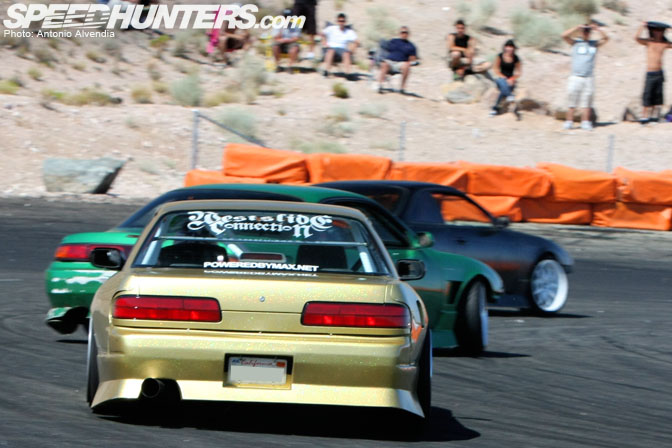 Everyone's been waiting for more photos from this past weekend's JustDrift/Ziptied.com AllStarBash 4 presented by Federal Tires, so here are some more for ya! I really gotta give props to the drifters and drifting fans from all over the West
Coast who braved the 100+ degree heat in Southern California's Mojave
Desert; it was ridiculously scorching hot – the type of heat that leaves you sunburnt and sunstroked with heat exhaustion.
One
thing I feel the need to mention too…  even though Federal Tires didn't
actually have corporate presence at the event, to the average onlooker,
it certainly felt like they did. The Just Drift crew did a great job of making sure there
was tons of Federal Tire signage all over the track and pit area… and
if that didn't get your attention, then certainly Federal Tire graphics
all over the Just Drift S13s certainly did. (Cars owned by Charlie Ongsingco and Henry Shelley)
In the above photo, this trio of S chassis Nissans were very fun to watch as they divebombed hard into the corners one after another on the Willow Springs balcony on Saturday! Just look at the wheel fitment on the gold S13, which is owned by Tommy Roberts from San Diego! That guy is reppin SD pretty hard! Big ups to Tommy and the Westslide Connection crew!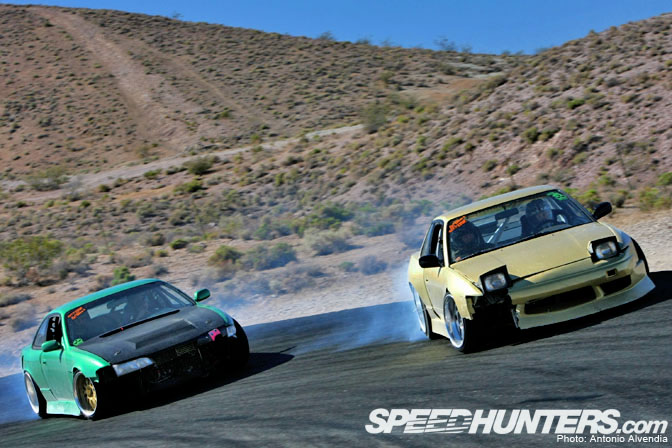 On Sunday, these same guys were bombing hard on Horse Thief Mile as well! I'm sure Speedhunters readers will like these cars, right? Aggressive stance, big aero kit cars that are actually being used for drifting. These guys are super down!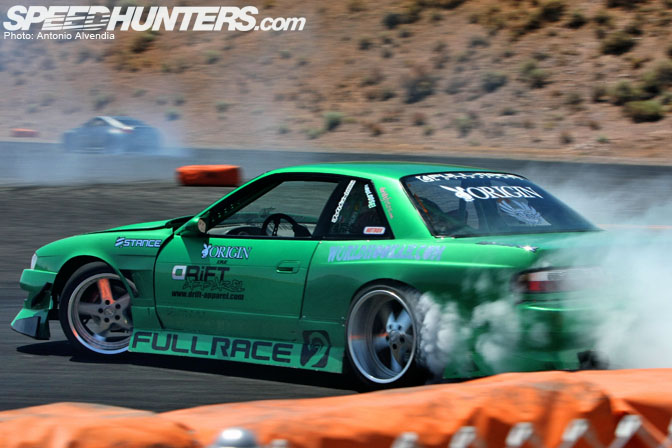 This isn't the only green S13 at Just Drift events, but when you see the Drift Apparel sticker on the side of the car, you know the owner of the car is from the 808 state, Hawaii! This green S13 has an S14 face on it, and is owned by Forrest Wang from Hawaii, who has been killing it in the Nopi Drift series. Respect! And I love the Work Equip wheels he's rocking! Just look at the smoke bellowing from behind the fatlip rear wheels! Dope.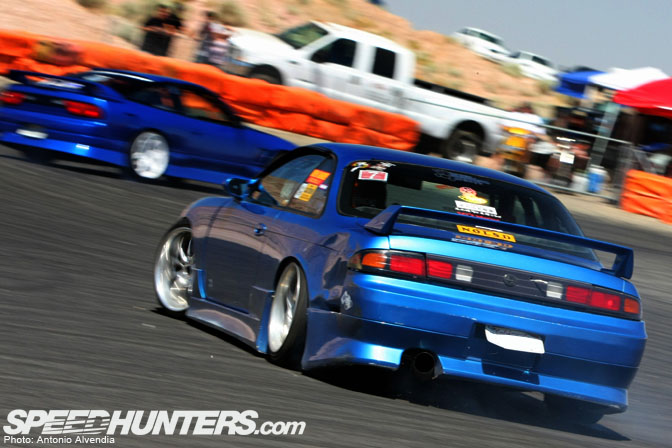 Here's
Brian Harte of Pink Godzira, chasing a blue RPS13 into the corner on
the Willow Springs Balcony. I love the sticker style on Brian's car! He
has a bunch of old school Japanese drifting team stickers on his S14 –
reminds me of the privately driven drift cars in Japan, and I love it. RIP to Brian's S14 – the front end got smashed up in a crash at this same very corner on Saturday, while Brian was doing exactly the same thing… divebombing into the corner with some friends. We'll see what Brian has planned for his next car – I'm sure it will be cool.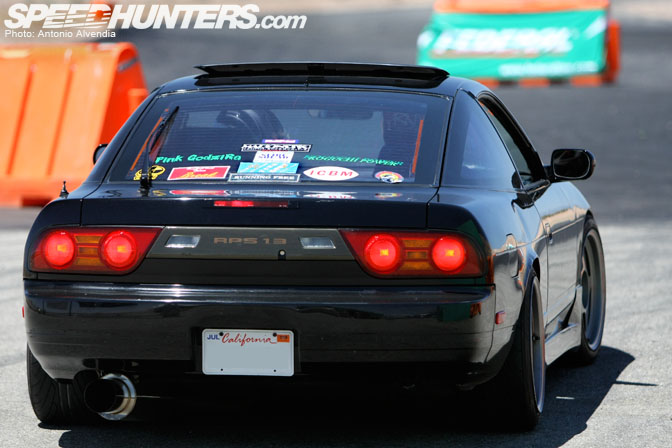 Speaking of old school Japanese drifting style, you can't forget Mark Slide Squad. This guy doesn't only have a bunch of cool historic Japanese drift team stickers, he has some history himself! I first met Mark at a Battle of the Imports back in 1999 or 2000 or something. Yes, we met at an import drag race, haha! He's a super nice guy, and a die hard S13 maniac.
He had one of the first drifting style S13 Silvias I ever saw with my own eyes in the USA (the old blue one – check Google or look for old copies of Young Version Magazine or Super Street to check it out), plus one of the cleanest RB26 powered S13s I've seen (the red Silvia coupe – buy a copy of Drifting – Sideways from Japan to America at your local bookstore to see the car in action)… and now he has a new project – a super clean black RPS13 with gunmetal Regamaster Evo wheels and the super cool RPS13 rear trimpiece for his kouki 180SX lights.
Mark's new black RPS13 is a work in progress – Mark is going to build it with old school "Japanese street drifter" style in mind, while keeping the car extremely clean, to show S13 guys that you don't need to have a beat up S13 to be a hardcore drifter… and you don't need to drive a carshow queen to have a clean car. The dashboard and interior on this car are sooo clean! Keep checking back with Speedhunters for updates to this car, we'll definitely show more pics as Mark finishes his car up!
BTW: I absolutely LOVE the sticker style on Mark's car. I personally have many of these stickers, but not all of them! Mark's rocking tomodachi stickers from legendary Japanese drift teams such as Rapid, Break, Running Free, Marionette, ICBM, Koguchi Power, and even EIGHTYSIX FACTORY – a sticker that I used to have on one of my cars before it got wrecked. Damn, I wish I didn't use it on my car, then I would still have a copy for my collection! Damn!!! His rear window even has the old school ghetto Slide Squad stickers that his teammate Dave made at Kinko's in Thousand Oaks CA about 10 years ago! Hilarious! I still have this sticker in my desk drawer, from 10 years ago.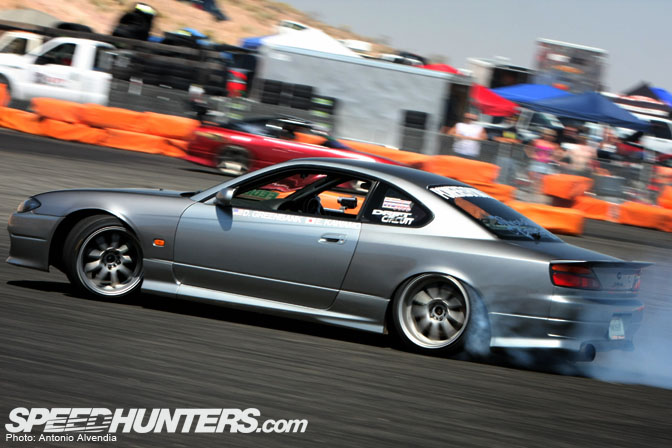 I absolutely loved this dark silver S15 Silvia!!! I'm not quite sure who owned it, but it had a very capable driver and an awesome stance! This S15 was drifting with super low stance and good offset Work XD9 wheels! I loved watching this thing! I think it's from San Diego because of the Drift Circuit sticker on the side window… I should have looked for the owner of this car in the pits, but it was super hot that day, so at the time I was more concerned with finding some cold water to rehydrate myself!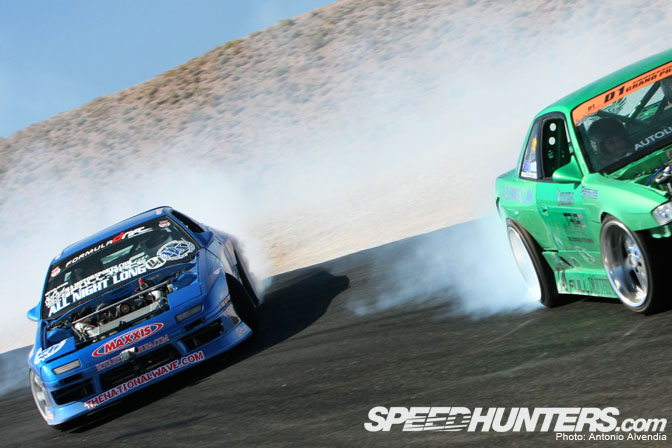 On Sunday, tons of people were running Horse Thief Mile with their hoods off – presumably to keep their engines cooler since it was well over 100 degrees at the track? Either way, they still looked cool! Check out Justin Pawlak in the blue FC chasing down Forrest Wang's green S13!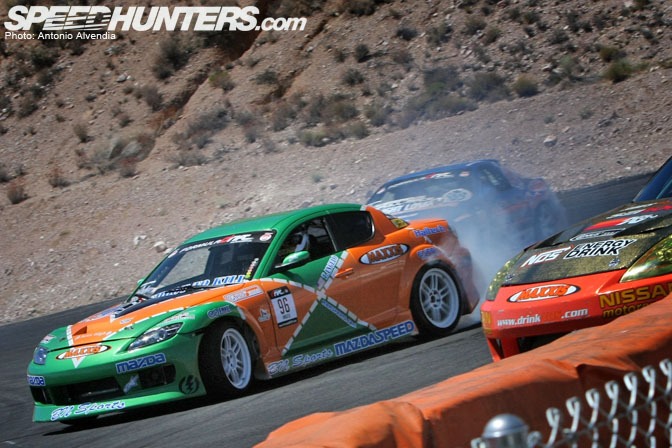 It was cool to see the DA guys, Tony Angelo, Chris Forsberg and Justin Pawlak out at the event having fun at the Willow Springs Balcony; practicing team drifting with their actual Formula D competition cars (actually, Forsberg was driving his 350Z backup car – his original 350Z that used to be silver). Everyone out at the paddocks loved watching them go nuts with their unrehearsed freestyle drifting runs.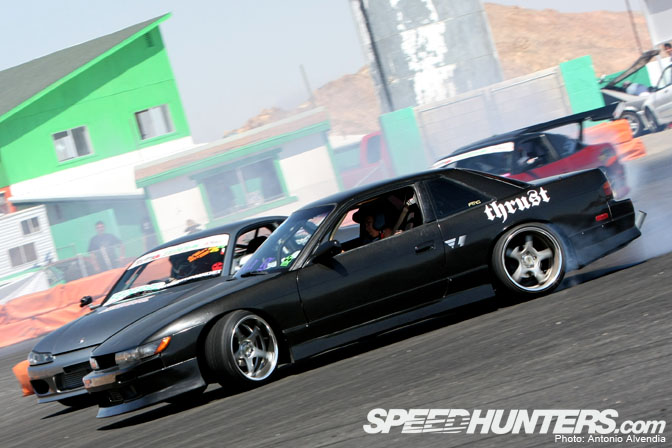 The run group of these two S13s and the dark silver S15 looked pretty chaotic! They weren't all driving the same line, and not everyone seemed capable of drifting at the same speed, but they still managed to drift together aggressively and safely, while looking cool! Here, we see the black S13 leading with a wide line, while the S15 and the burgundy S13 follow with a tighter line on the inside. It looked real crazy to watch, but they drove pretty safely and nobody crashed, which is what matters!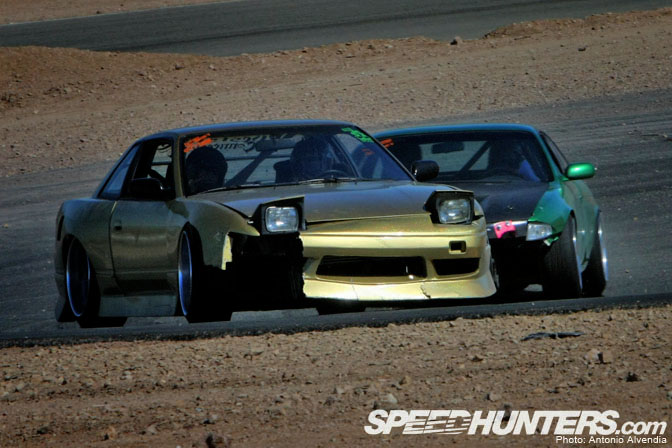 Back at it again, these two cars were running very aggressively, having a good offset drifting field day at Horse Thief Mile! Here they are at the bottom of one of the turns, about to accelerate uphill!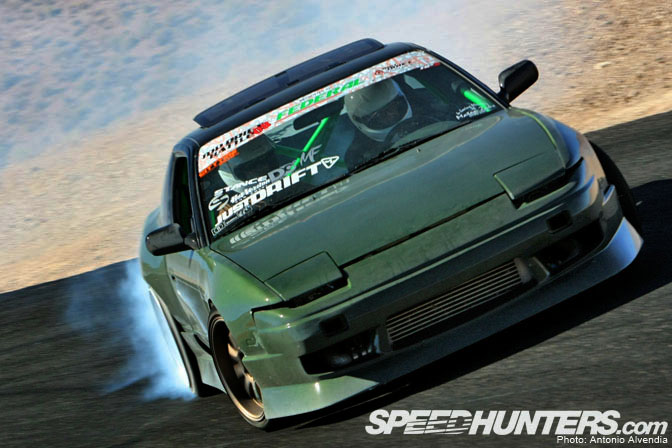 This dark green S13 hatchback was super clean looking, accelerating out of the highest elevation turn at Horse Thief!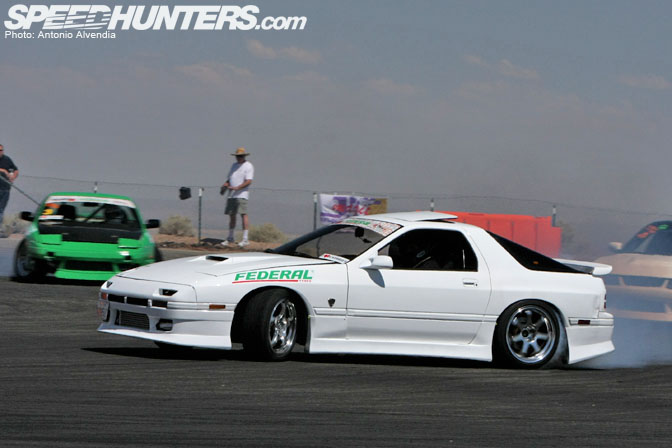 Here's some more Balcony action from some Just Drift crew members! The white FC, white Sileighty, and green Just Drift S13 were all running pretty closely together! You guys need to come out to the next AllStar Bash! Super fun!
And keep checking back with Speedhunters.com for my next post related to All Star Bash!
-Antonio Alvendia
Down and Dirty at JustDrift/Ziptied All Star Bash 4!