Around 30 minutes from the birthplace of Mercedes-Benz in Stuttgart is a specialist that's been working on the marque since before the turn of the millennia.
Back in the late '90s, a passionate, graduate electrical engineer by the name of Frank Rickert was working at AMG's Affalterbach plant when he had an idea. Frank saw an opportunity to take extensive AMG and Mercedes-Benz knowledge he learned on the job, and use it to turn the existing products he was working on up a notch.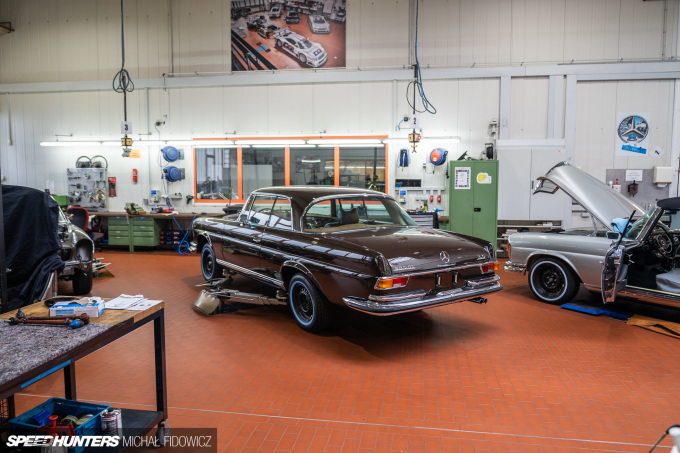 At this point, Frank knew everything there was to know about retrofitting contemporary handsfree phones (and remember, this was new tech back then) into older Mercedes-Benz models. He wanted to do more to the cars than just the gadgets though, so he made the jump and started his own company.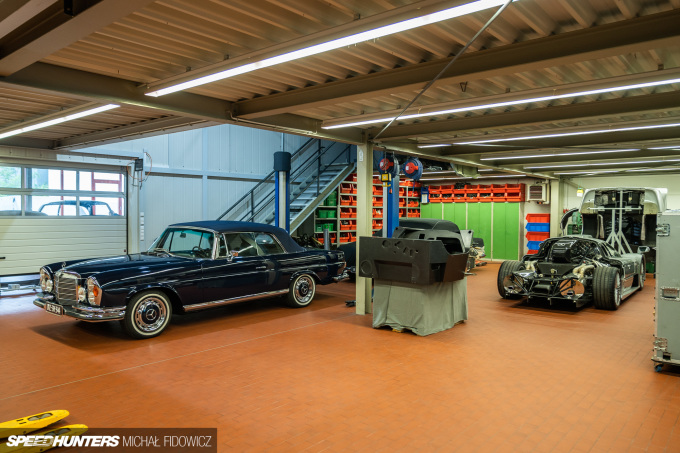 In 1997, Frank created Mechatronik. A German play on the words 'mechanics' and 'electronics,' Mechatronik would grow over the years to come, becoming an industry leader in unique, custom-order Mercedes-Benzes, equipped with not just the latest technology available, but also modern powerplants to match the modern expectations of the three-pointed stars on their bonnets.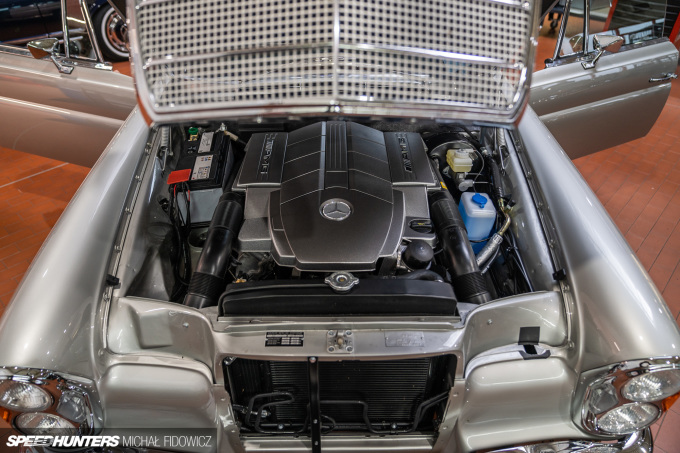 Showing me around their facilities and telling me the Mechatronik story is my tour guide, Kevin.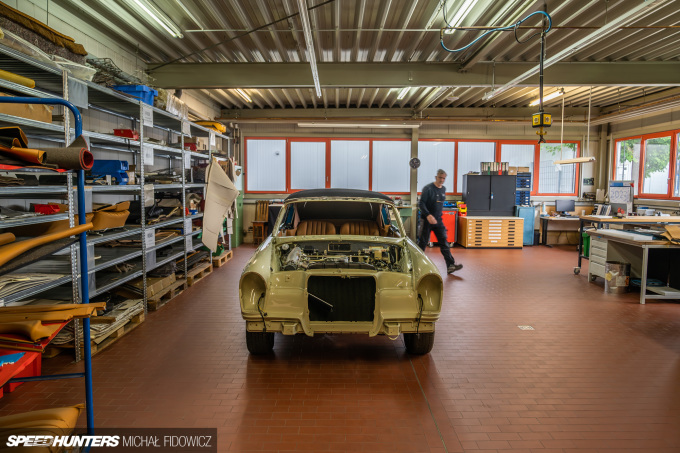 Kevin has been part of the business since 2017, and is well versed in the history and passion that goes into the company's product. That itself is quite impressive, as the reach of Mechatronik's work and ability is so vast that it stretches further than any garage and workshop I've seen before.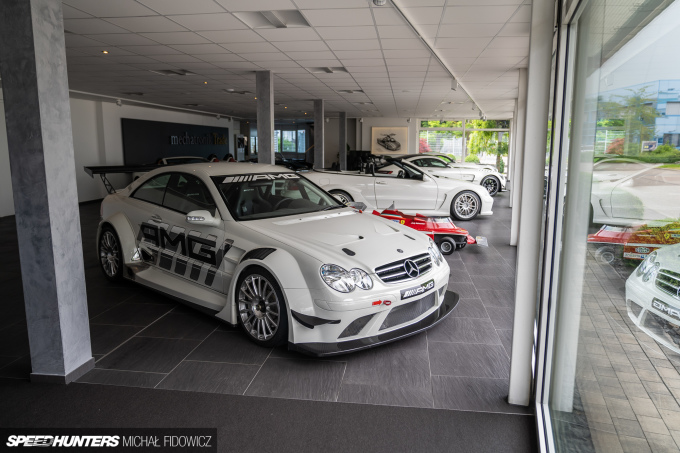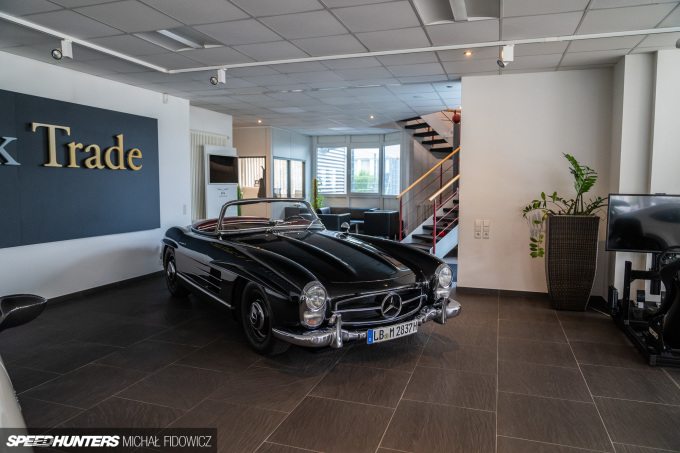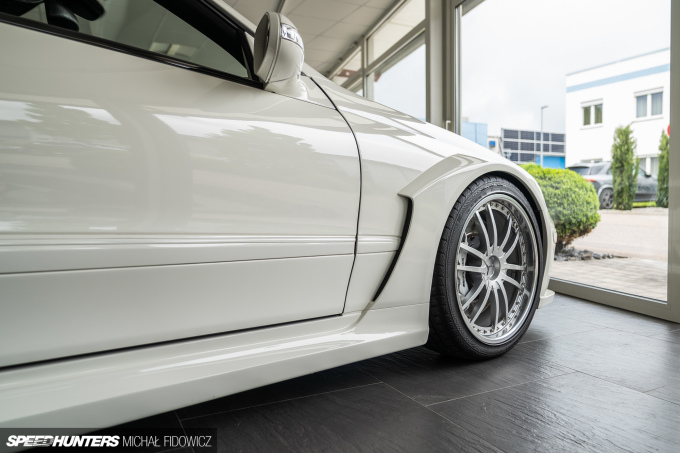 Today, Mechatronik focuses on two major working areas (three if you count Cartique, the Mechatronik supercar dealership, which we can look at another time.)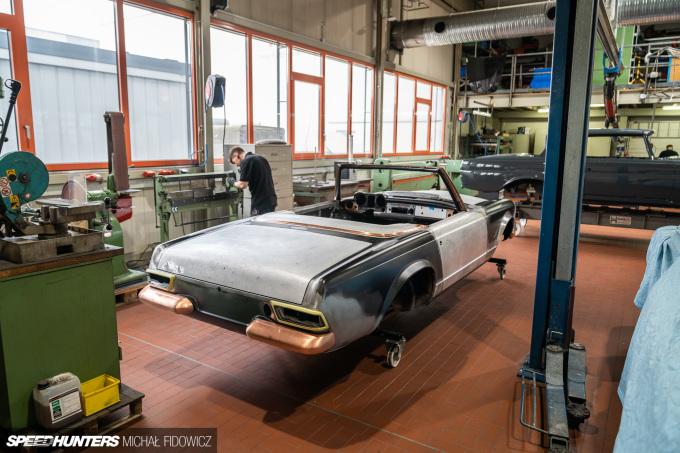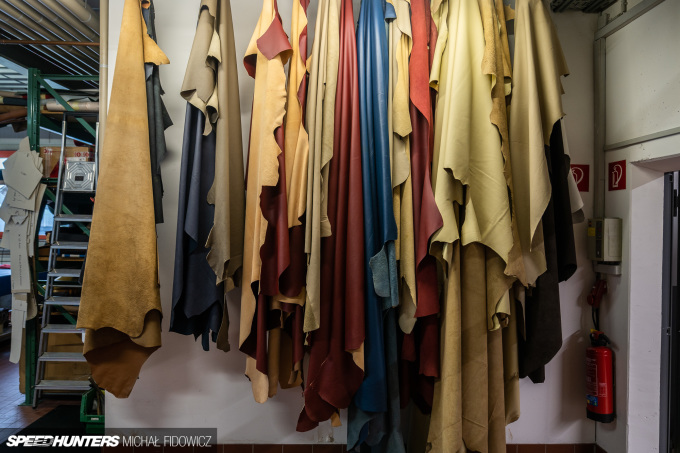 The first area is restoration and maintenance. With over 25 years of experience working on Mercedes-Benzes, there really isn't an issue or problem that fazes the Mechatronik team here in Stuttgart. During my tour I saw all manner of customer cars being maintained in and around the garage.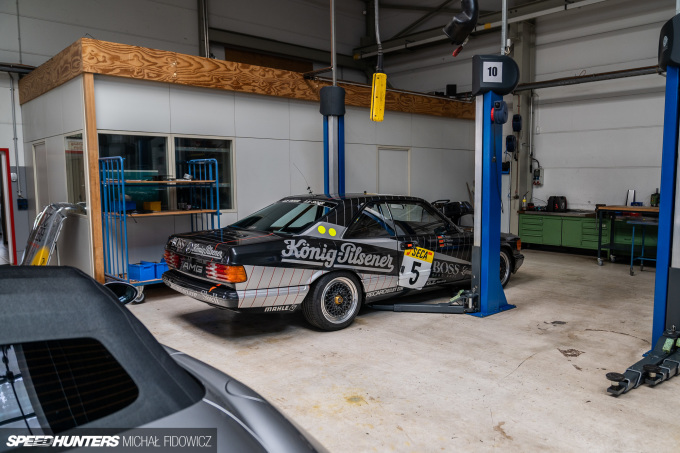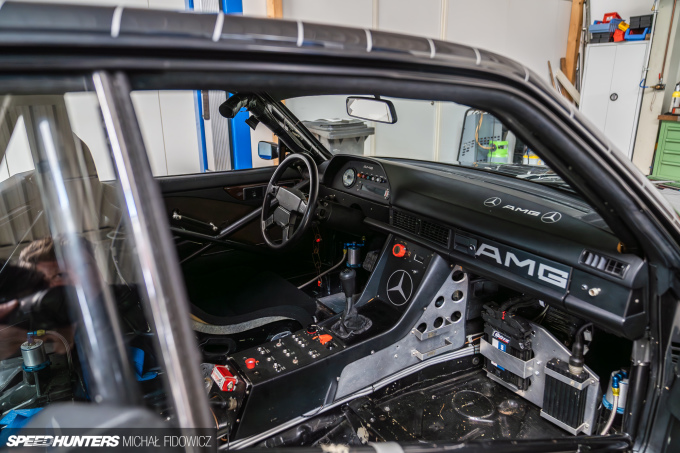 These cars were flawless. Mechatronik's maintenance department isn't some sort of basic mechanics shed with a few C-Class diesel taxis up on ramps getting new wheel bearings. No, the customers who bring their cars here are international. These people have rare, low-mileage examples of Mercedes-Benz's greatest hits, and Mechatronik is the specialist they trust to look after them.
With great knowledge comes a stacked CV to support their work. Kevin proudly told me that Mechatronik is the only specialist formally recognised by Mercedes-Benz that can legitimately service and maintain the CLK GTR.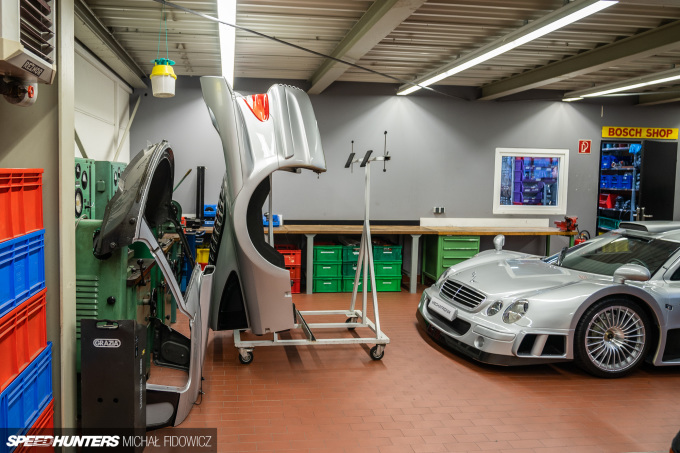 Visit the Mechatronik facility at any given time and chances are they'll have one CLK GTR being worked on. When I visited, the team had two in. One, the silver road car you can see in the photos, and the second, a full GT1-spec car in bits, getting recommissioned back together for a new lease of life.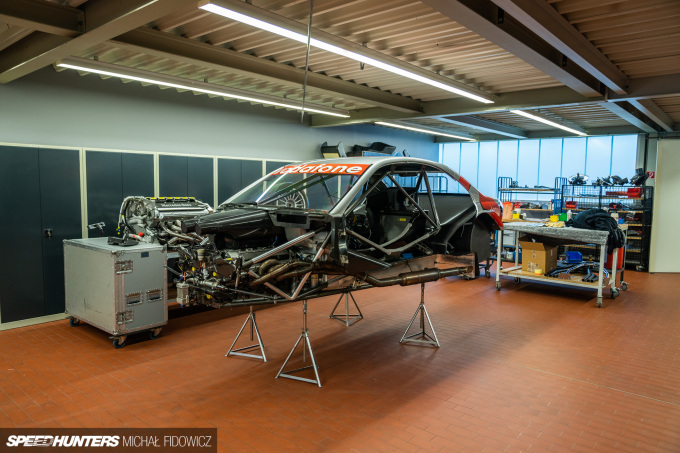 Next to that? Oh, just a CLK DTM wearing the ever iconic Vodafone livery… with the 4.0L V8 that powered the car to win the 2003 DTM championship out on the side for maintenance. Seeing these cars in bits really adds to the magic of engineering that went into creating them. Nothing was compromised in order to pursue racing victory.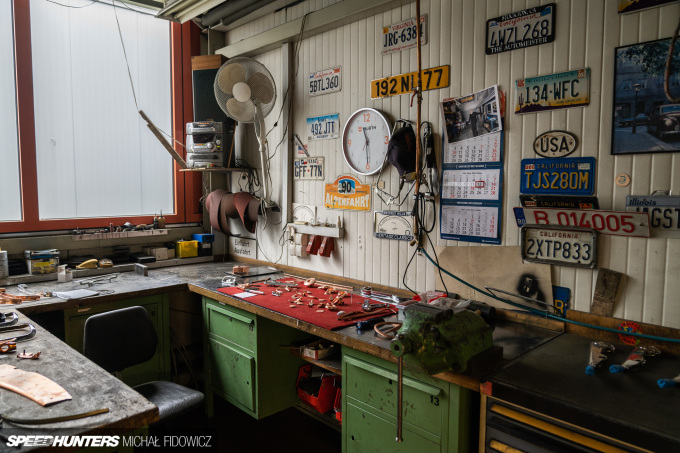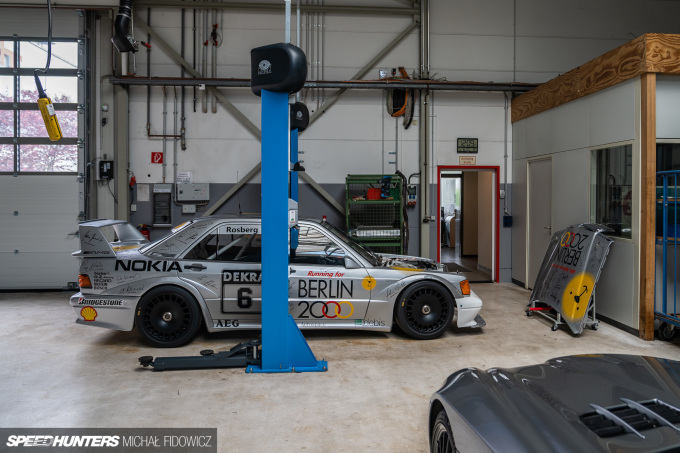 My highlight? Probably the 190 E DTM car that Keke Rosberg drove in the 1992 championship a decade after his F1 championship win.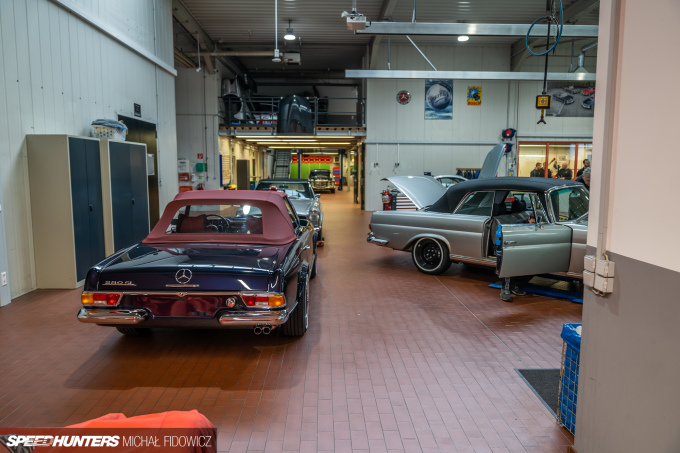 But it's not just the mid '00s and late '90s that feature in the Mechatronik's garages. This visit took place a couple days after Mechatronik's annual open house weekend, and they still had some of their most interesting projects out on display for me to photograph. Their models of choice are the W113 SL Pagoda and the W111 Coupe.
Now, if Mechatronik are qualified for the job of looking after these cars, one can begin to image the care and attention that goes into the second half of the business. Alongside the maintenance, Mechatronik also build their own Mercedes-Benz models from the ground up as custom-order cars.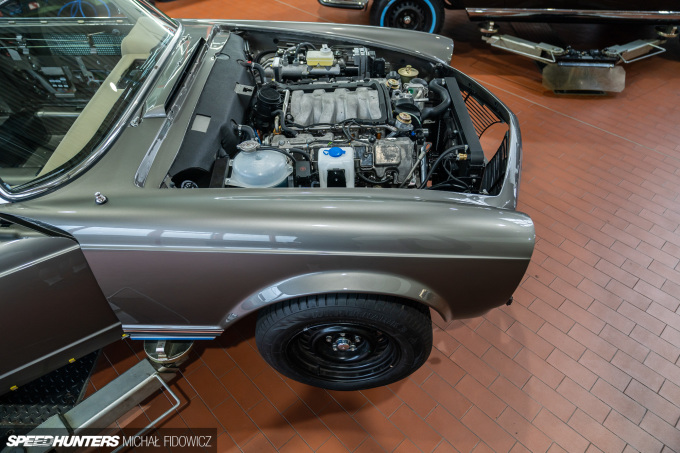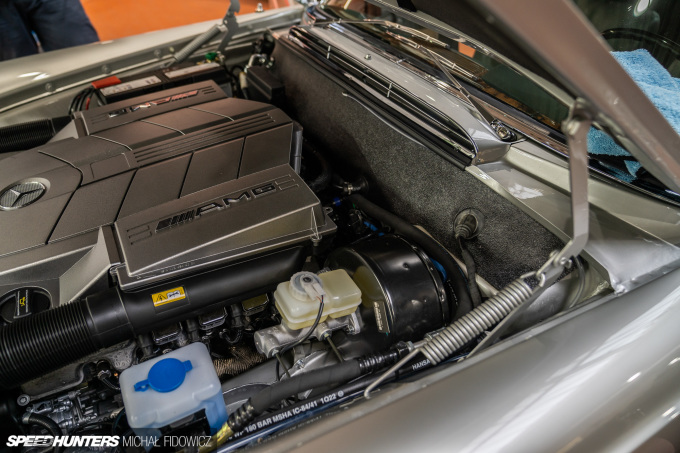 Charmingly referred to as the M-SL or the M-Coupe (M standing for Mechatronik), these cars receive the Mechatronik treatment both in restoration and in upgrades. "The first car we did was the Pagoda. Then, we used the 2.3 V6 that came in various '90s Mercedes at the time," Kevin began to tell me.
"Today, our cars come with a choice of two V8s – either a 4.3 or 5.0, both of which came new in Mercedes cars in 1997, such as the S500."
Sourcing the car itself is unique to each customer. Mechantronik can seek them out, but often the car is already in the owner's possession. Kevin explains: "Some of our customers bring their own Pagodas, which are family heirlooms. Perhaps the car was owned by the customer's father."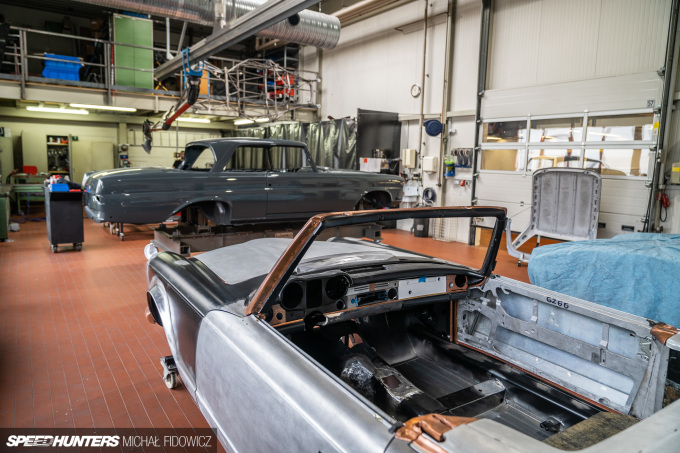 "Sticking with our heritage, we retrofit various electronic goods onto the cars. ABS and ASR get integrated in, as well as creature comforts such as electric windows or heated seats," explained Kevin. These are things we take for granted today, but remember that we're talking about 1960s cars here.
With that taken care of, the car is then given the Mechatronik treatment. I make this sound straight forward, but this is a two to three-year-long process. It involves deep-diving into every single aspect of the car, from a restored, practically new powertrain, to an immaculately repainted body and perfect stitching in a totally custom interior.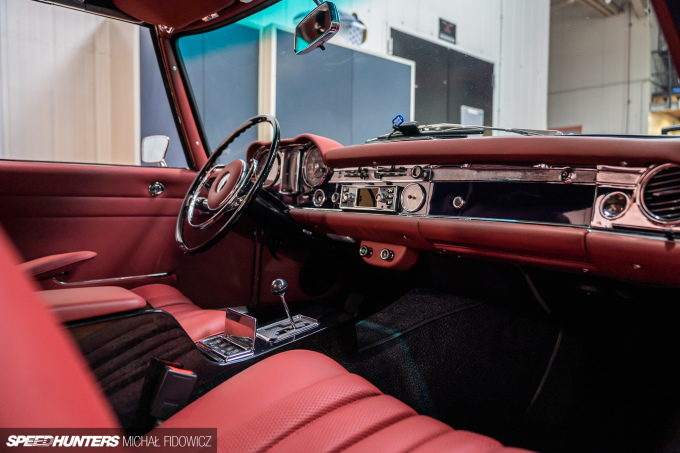 If you didn't know better, you wouldn't be able to tell that these options weren't available on the original base cars. "The cars aren't made to be race cars. We try to keep the feel of the old car with things like the old steering box and period correct visuals."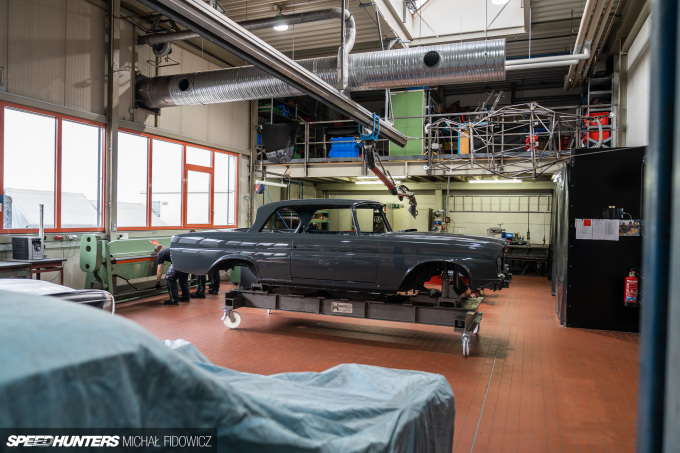 "With that said though they're still quite sporty. For example, we have a great relationship with KW and use their suspension components on the cars. The goal for us is for the M-SL and M-Coupe to be the perfect, usable classic daily driver, and we take dynamics into account here. We make them absolutely perfect."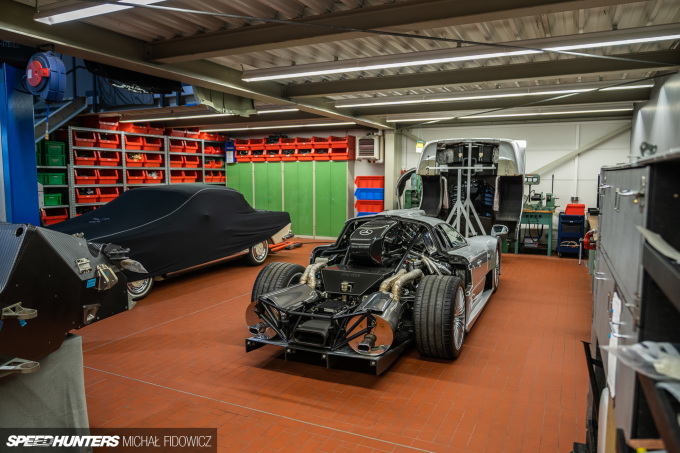 Kevin's confidence is backed by the fruits of Mechatronik's labour. The magic involved with the M-SL and M-Coupe is their usability and reliability which comes from the newer, upgraded power plants. "Some of these cars go to customers all over the world where maintenance of an old, original Pagoda is complicated. The M-SL though can be looked after in places such as South Africa or Australia which aren't the easier places to own old cars. Take a Mechatronik's Pagoda to a Benz dealer though, and you'll have more luck." After-sale servicing and repair is something I didn't even consider before talking to Kevin.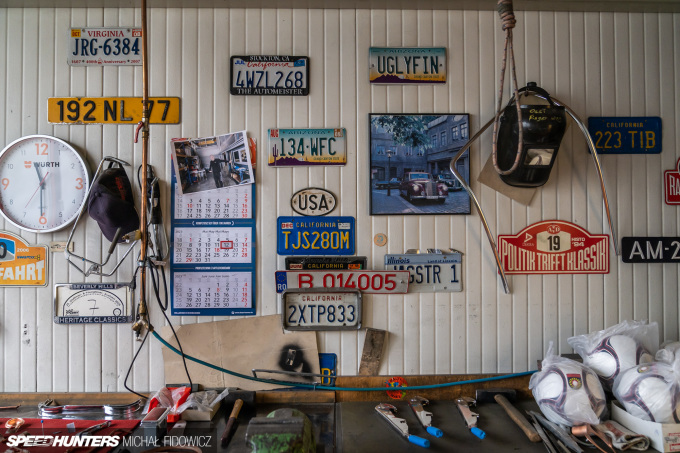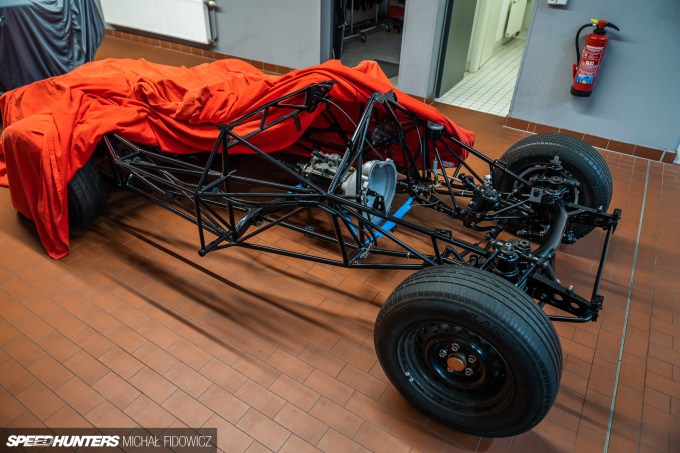 Even in a place like London though, where classic car ownership is easier than ever, I still found myself walking away from my visit to Mechatronik HQ lusting over an M-SL. It's part of the Germanic perfection and charm that comes hand in hand with the usability of the cars.
Add in the iconic looks of the Pagoda and you have yourself precisely what Mechatoniks set out to create – a perfect, usable classic daily driver.
Michał Fidowicz
Instagram: candyshowroom