If I've learned one lesson writing for the internet, it's saying that something's a 'first' is typically a bad idea. It's an invitation for people to come flying out of the woodwork to prove you wrong.
However, despite the risk, there have been a few occasions where I've felt safe saying the word without risk of repercussion. This is one of those rare occasions.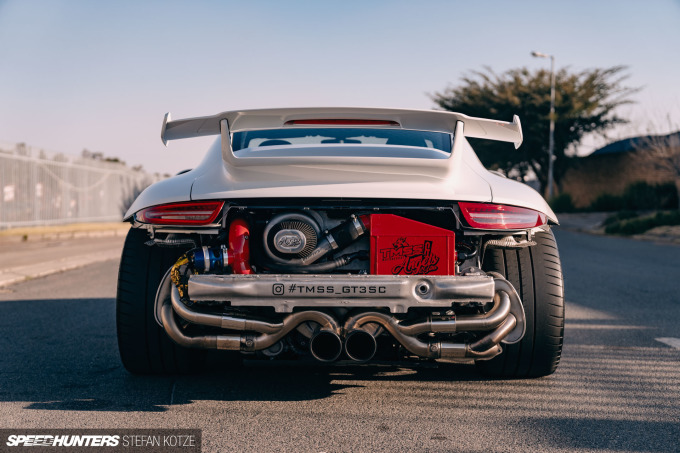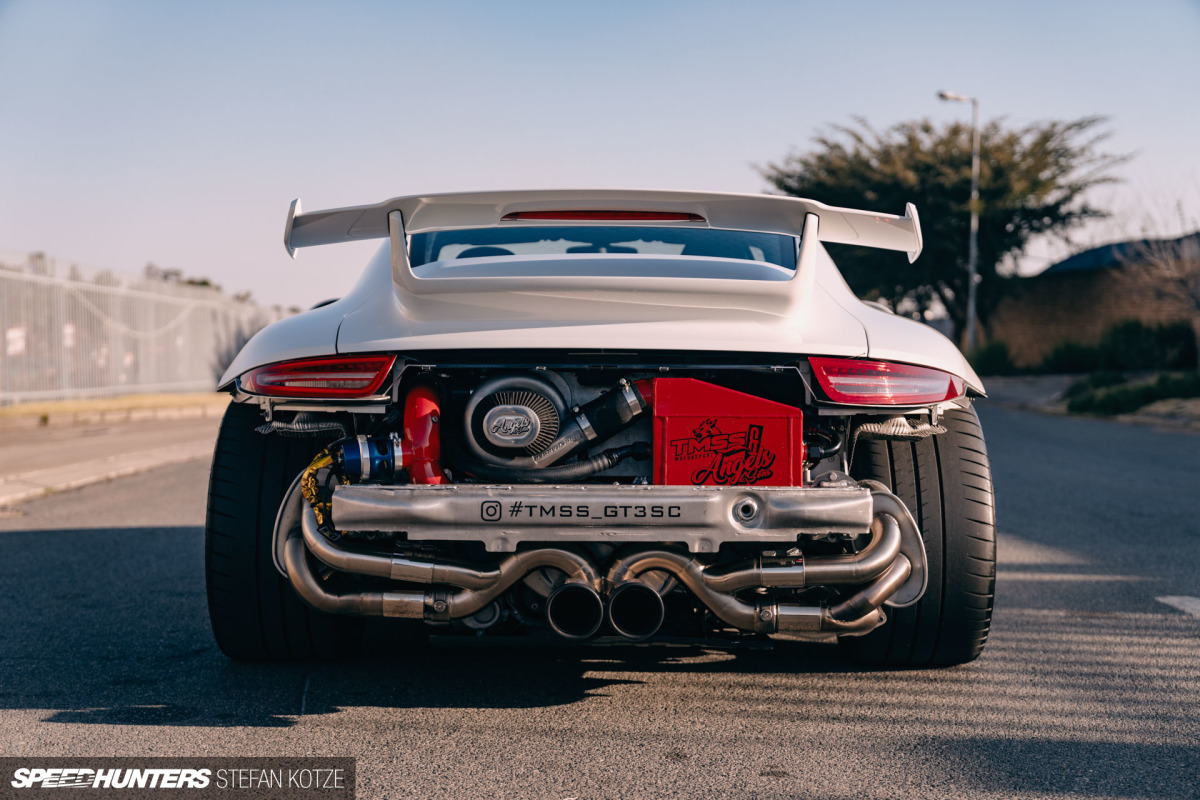 I mean, my fellow Speedhunter Stefan Kotze (who shot these images) wouldn't lie to me when he said this is the first supercharged Porsche GT3 in South Africa, would he?
From my office here in Canada, I will happily admit that the bulk of my exposure to South African car culture comes via Stefan's work. Everything he's presented so far on Speedhunters has been equal parts impressive and diverse.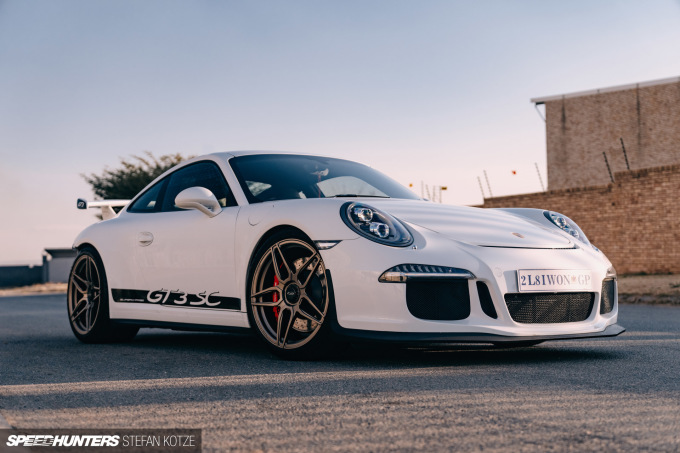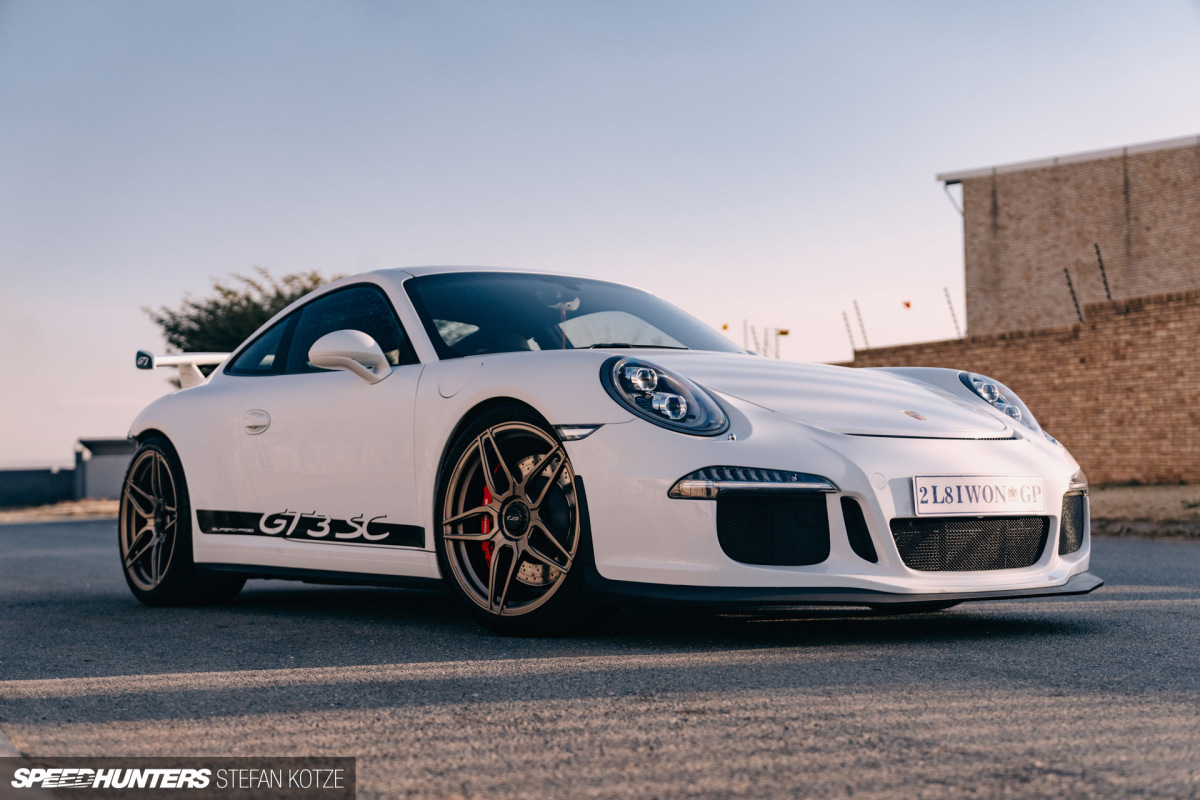 Here in North America, jettisoning a rear bumper in favour of elaborate exhaust piping and forced induction has steadily been increasing in popularity since around 2012. It takes a lot of guts (and money, let's be honest) to take a car that's no slouch from the factory and set out to make it faster.
The hunt for speed is a real problem an ideal way of looking at things that can often trump practicality and aesthetics.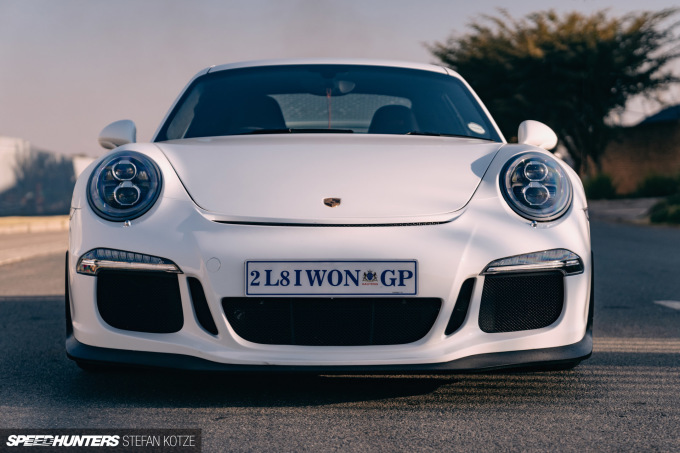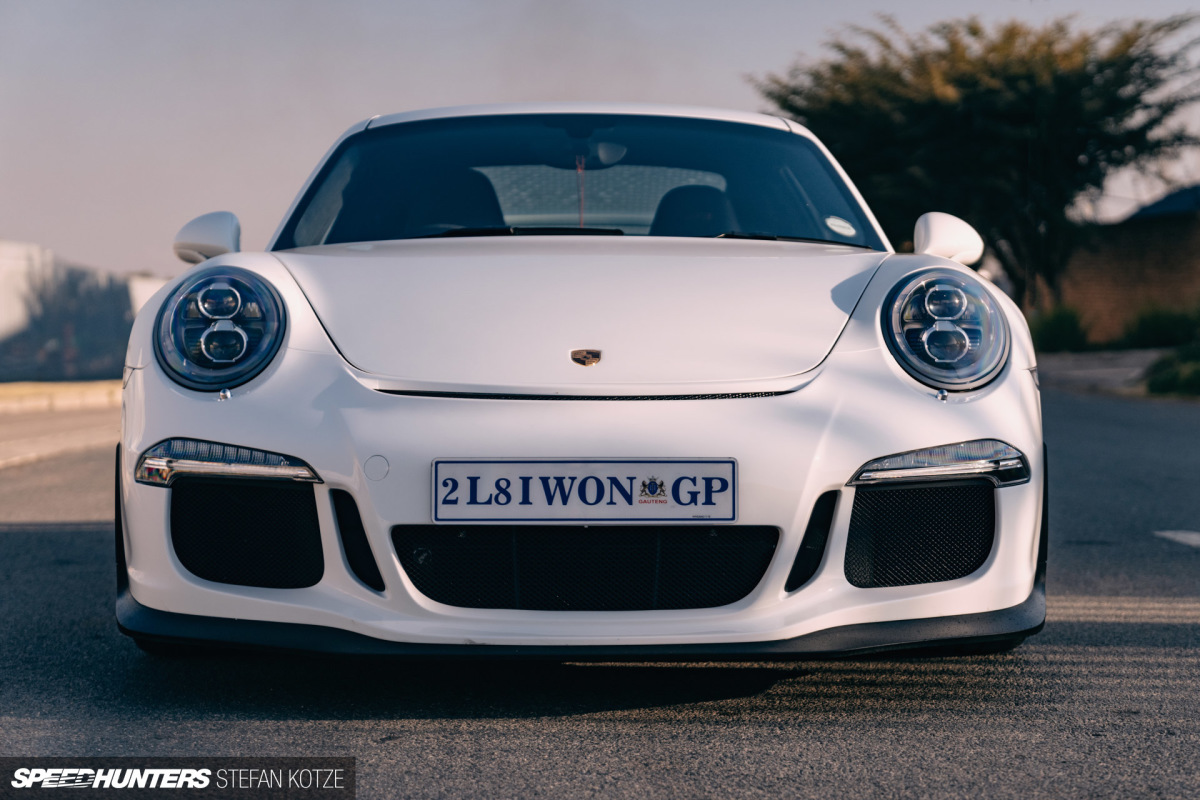 "The car lacked that little bit of 'extra," owner Nishen Moodley explains when asked 'why?'. Nishen's business – TMSS (or TM Stainless Steel) – builds piping for all sorts of automotive applications, and this 2014 Porsche GT3 991.1 is as much his rolling business card as it is his weekend toy.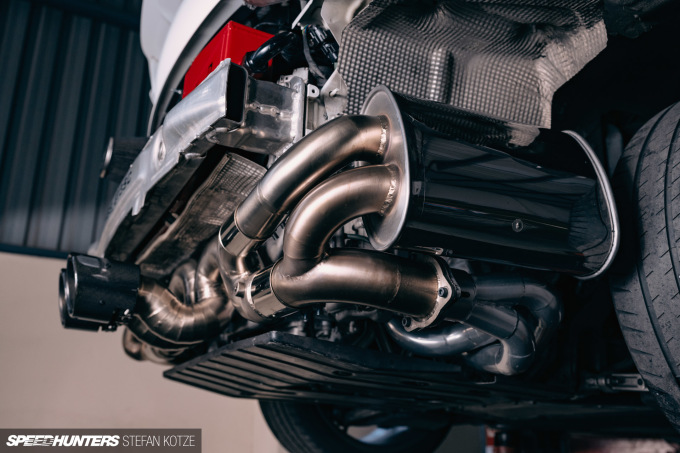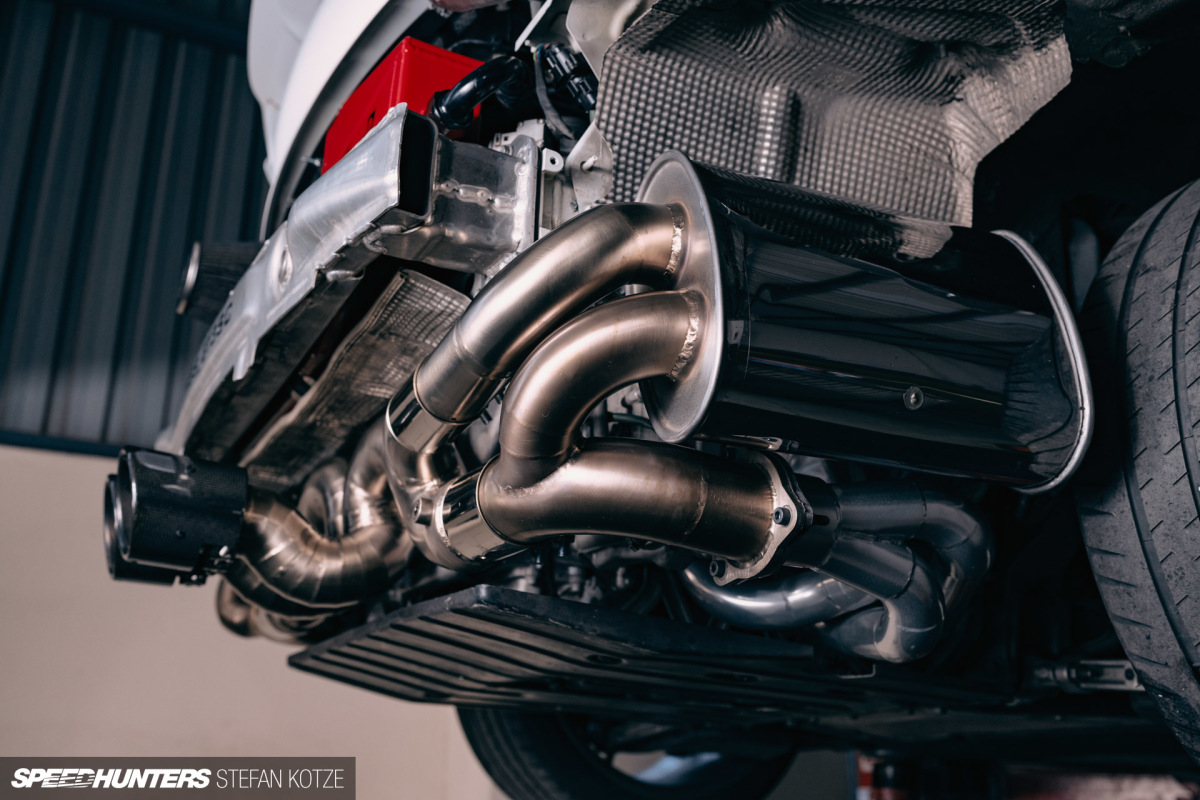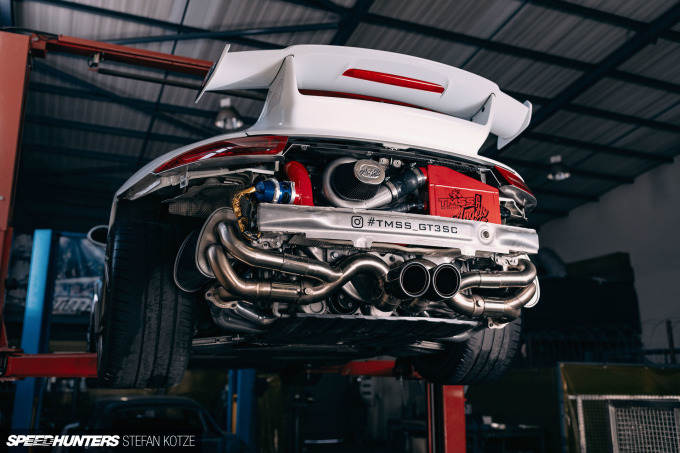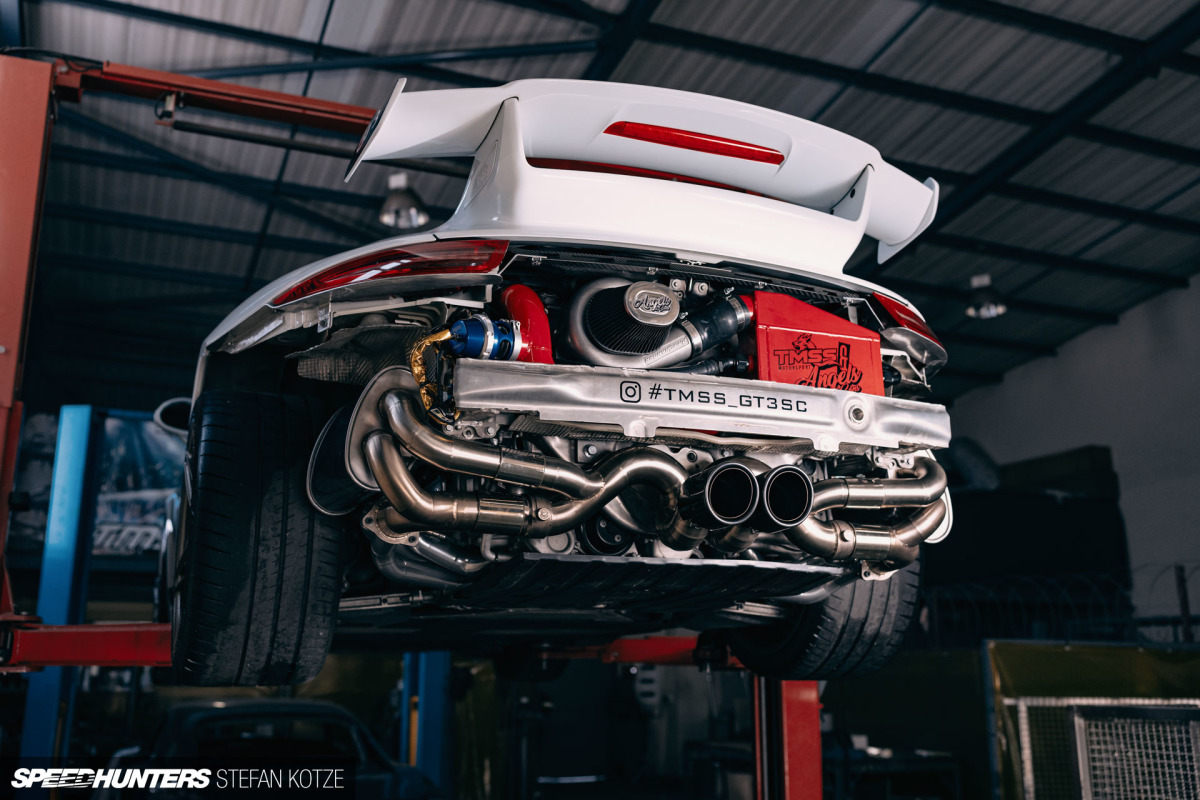 Nishen's talents are on display with this car via the TMSS Motorsport equal-length, cat-less headers. The custom exhaust system he built retains Porsche's OEM Valvetronic Designs electronic exhaust valves, and below the mid-3,000rpm range the engine sounds rather civil. Above that, however, the valves open and the note changes drastically as the mufflers are bypassed and exhaust gasses take the shortest possible exit route through twin center-mounted tips.
The choice to go with a supercharger over a turbocharger was to retain as much of the GT3's originally intended driving experience as possible. Superchargers are always at the ready, resulting in a pedal response that is very similar to a naturally aspirated vehicle.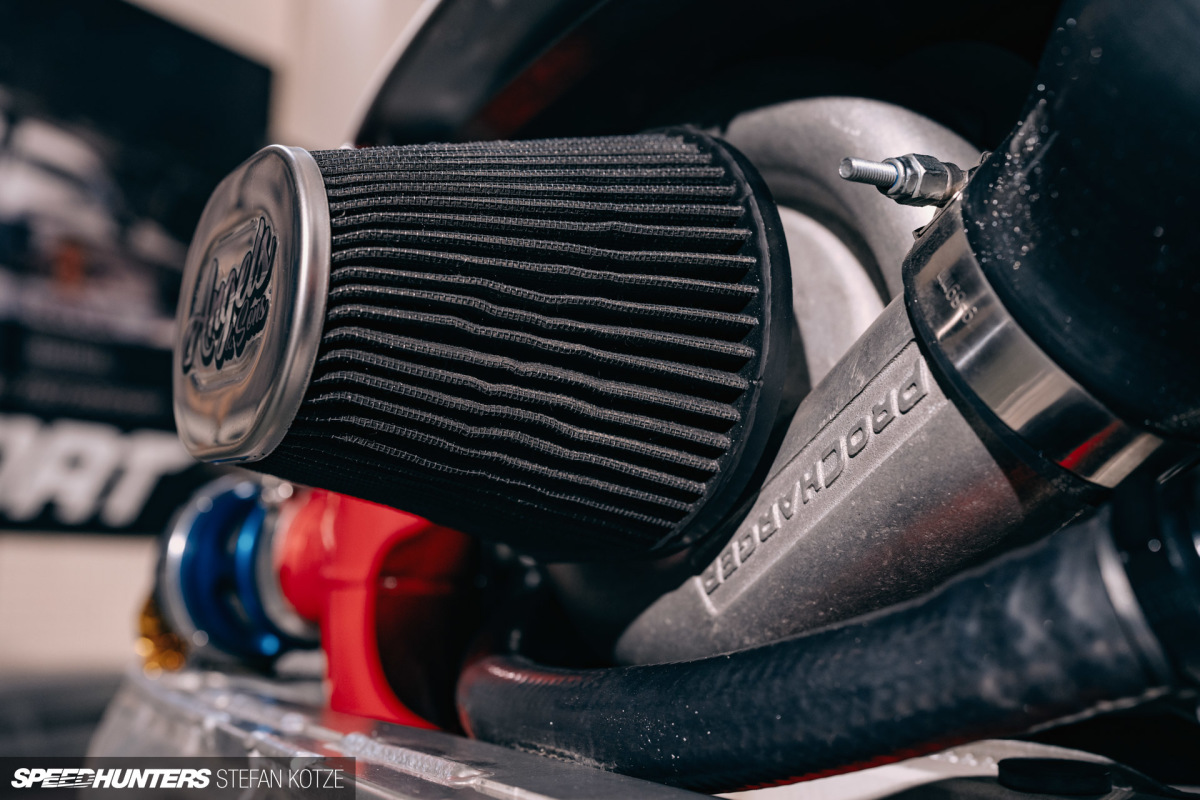 The RR Racing kit utilizes a PX-1 series centrifugal ProCharger along with a Bell charge-air cooler. A Davis Craig water pump and ATI Super Damper crankshaft pulley round out the modifications under the engine cover. An AEM water/methanol injection kit helps keep intake temperatures down, with the system's reservoir tidily packaged in the frunk.
At 0.6bar (8.8psi) of boost, the car makes 674hp and 584Nm.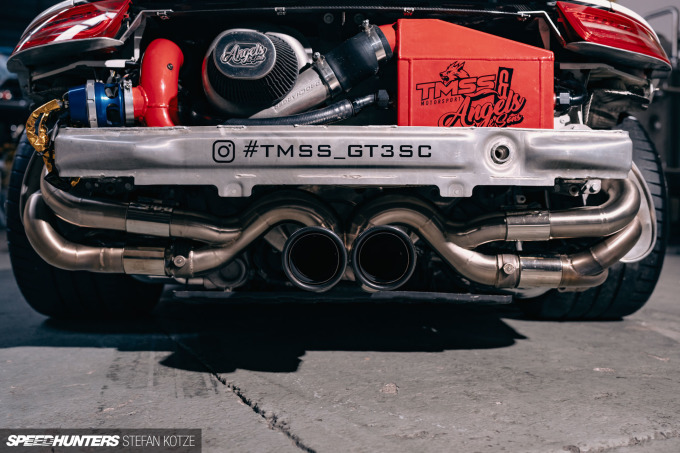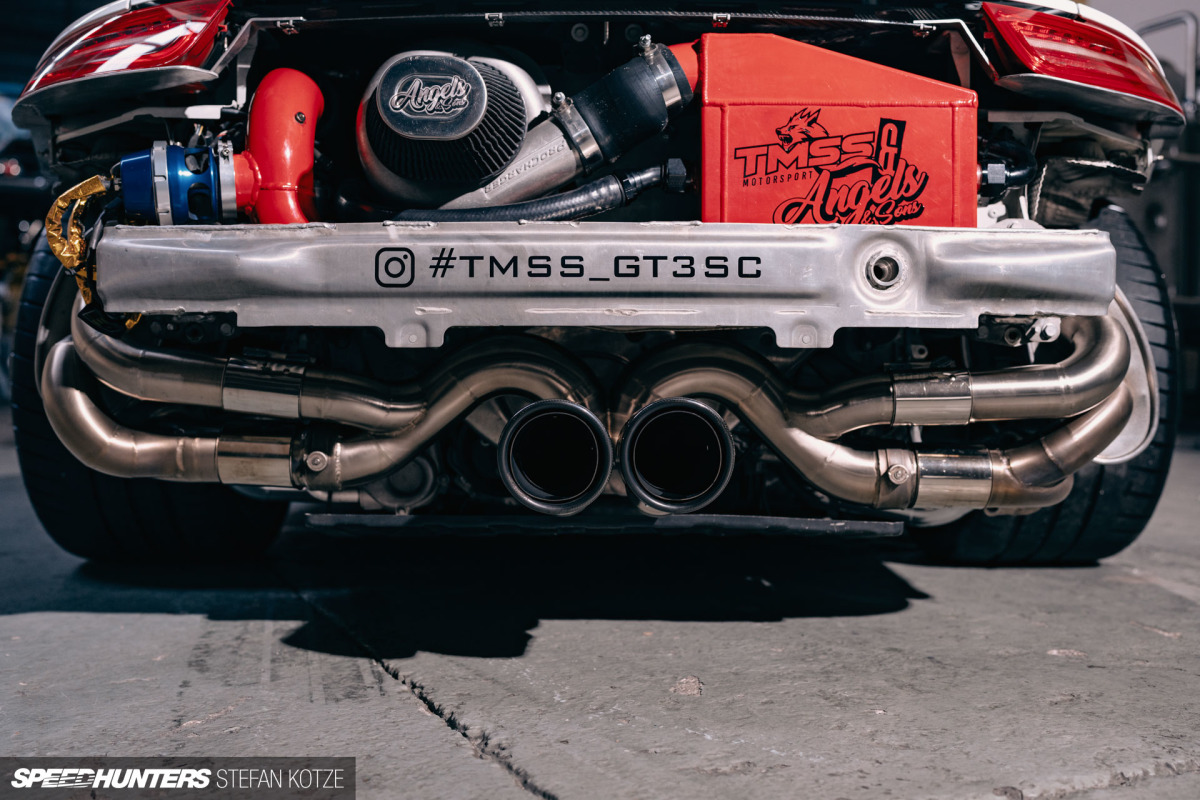 As mentioned, it's become fairly common for mid-engine boosted vehicles to run around without a bumper, but rest assured – everything you see in the rear of this car can actually be concealed by the factory bumper cover.
In general, despite the over-the-top look of the forced induction setup, the styling updates on the car are rather reserved.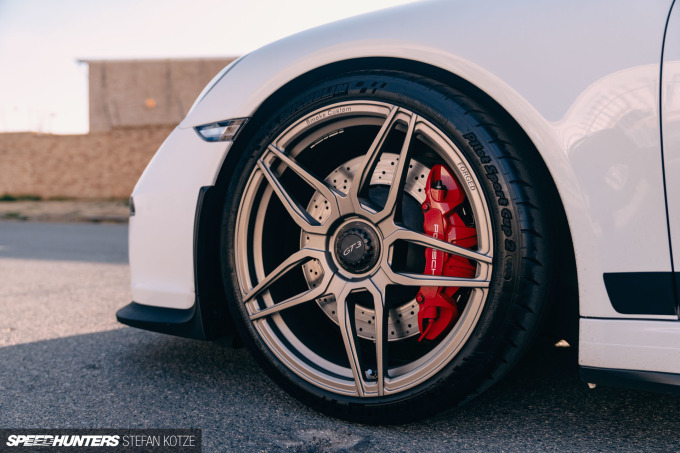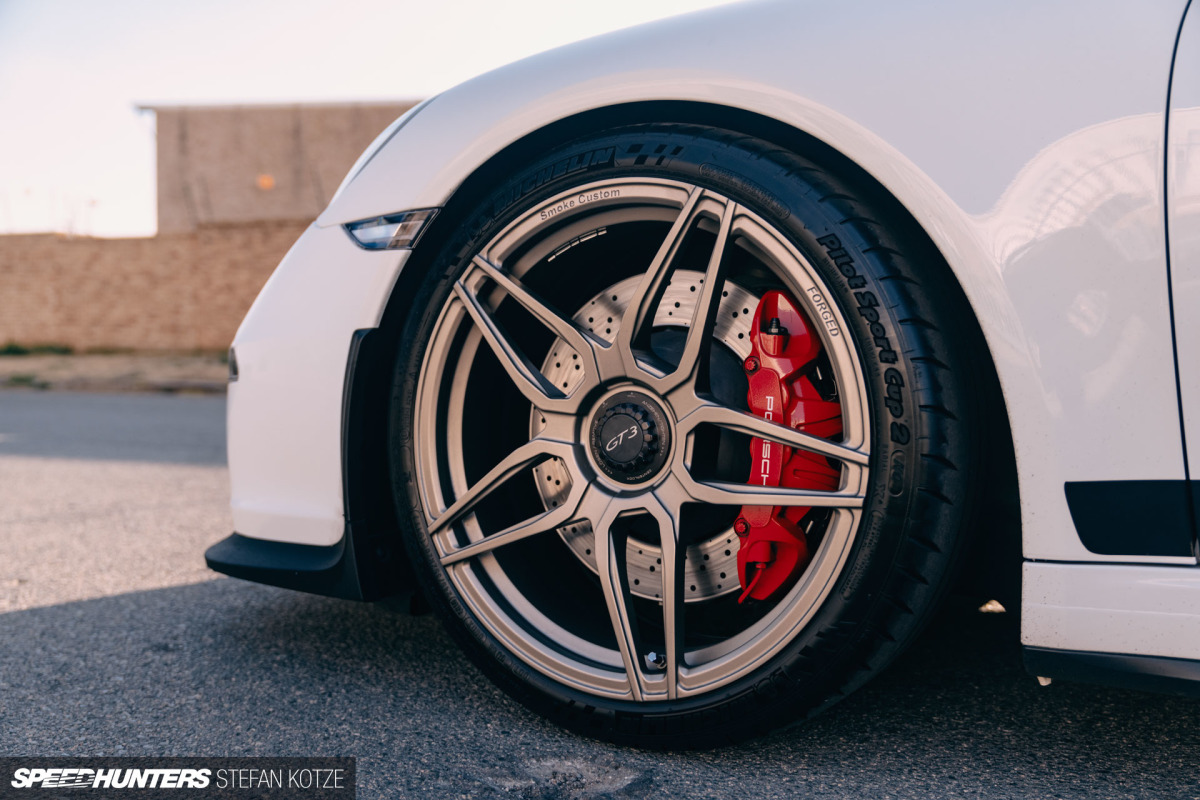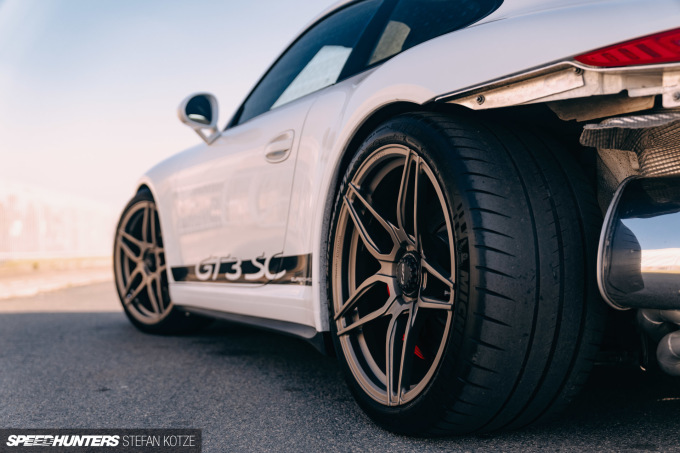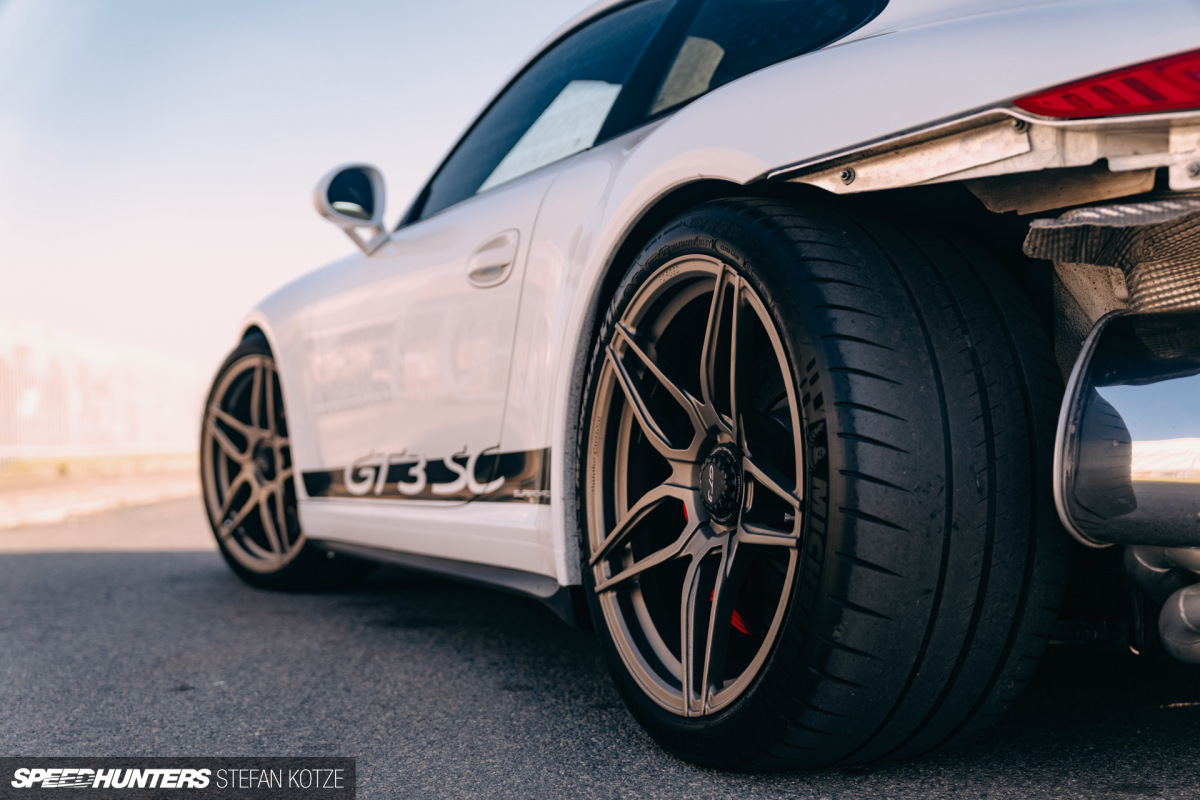 "On a GT3 there isn't much you actually need to do, visually," Nishen explains, describing his minimal approach to exterior modifications. The factory wheels have been swapped for a set of Smoke Customs forged items. Inside, a few small carbon accents have been added, while similar minor palette swaps and deletes have been made to the exterior.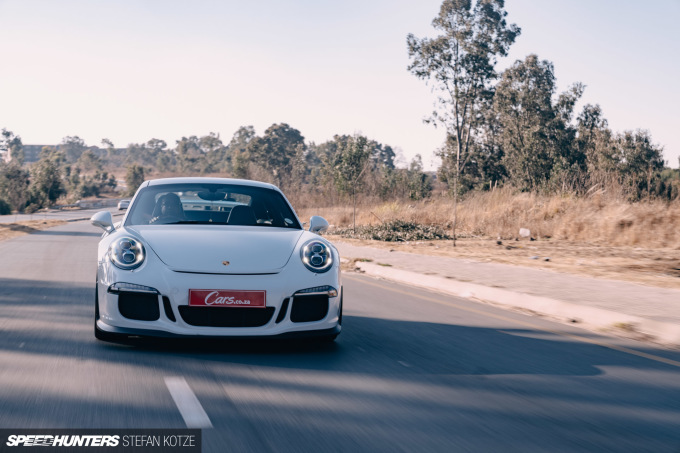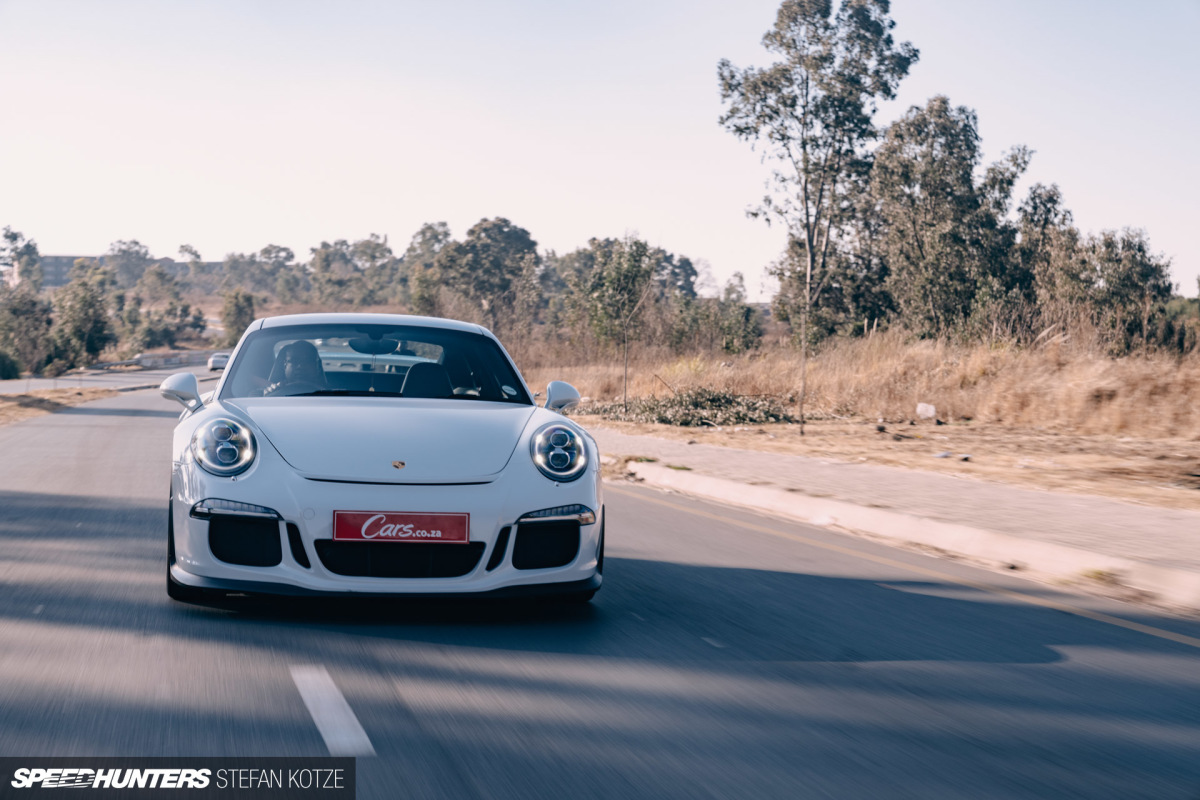 I've avoided the cliché so far, but this car is really the rolling embodiment of business up front and party out back.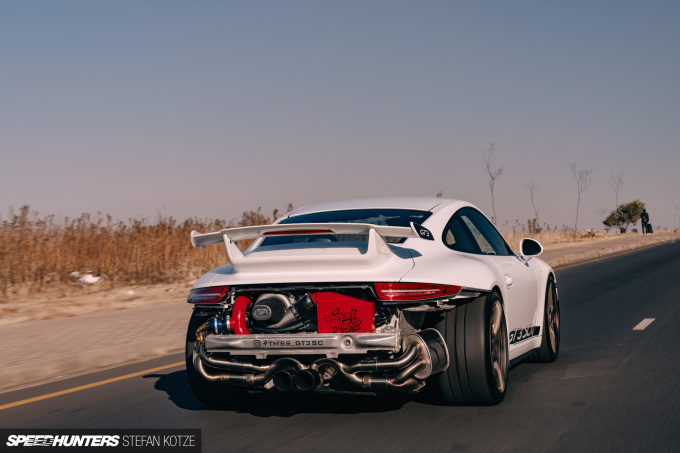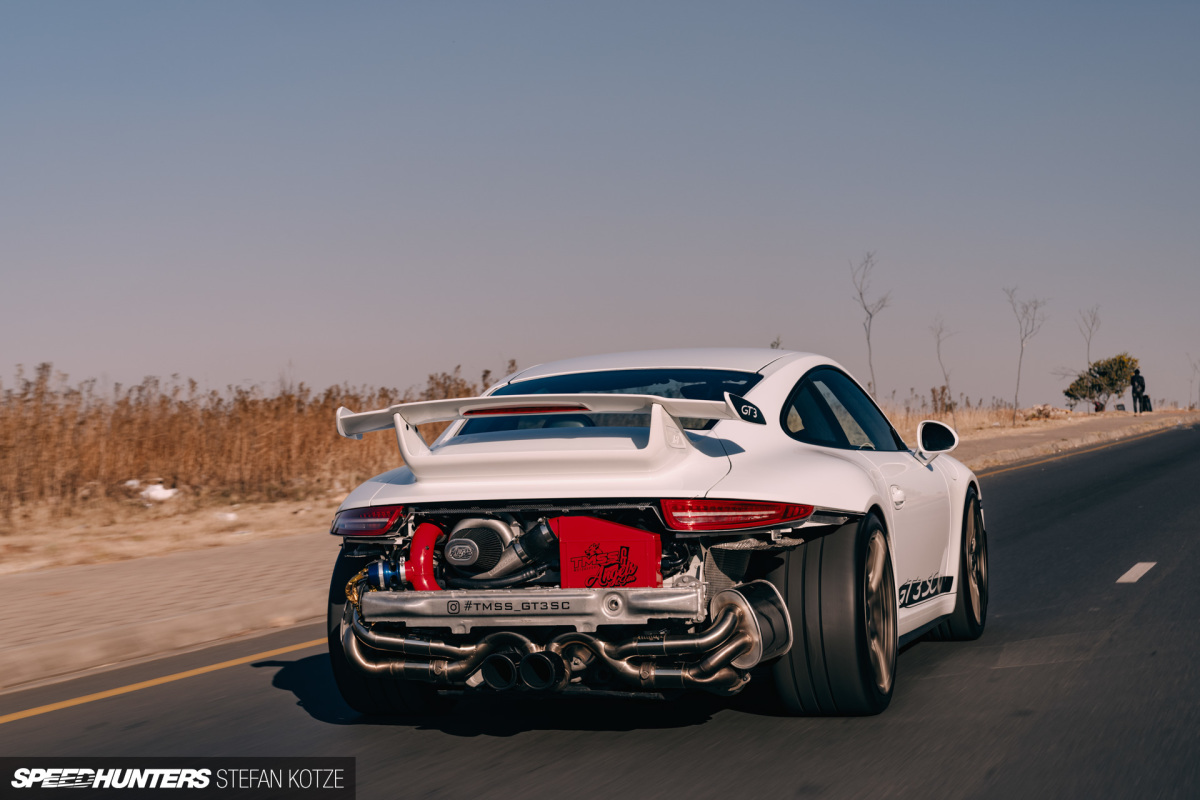 For the number hungry, the car will now scramble from 0-100km/h (62mph) in 3.2-seconds on 102 octane fuel. 200km/h clicks by in 10.4-seconds. With none of the creature comforts removed, it's quite a refined mission up to light-speed.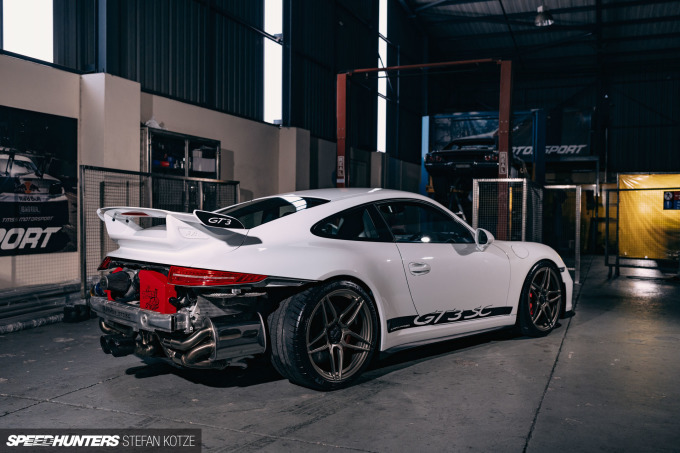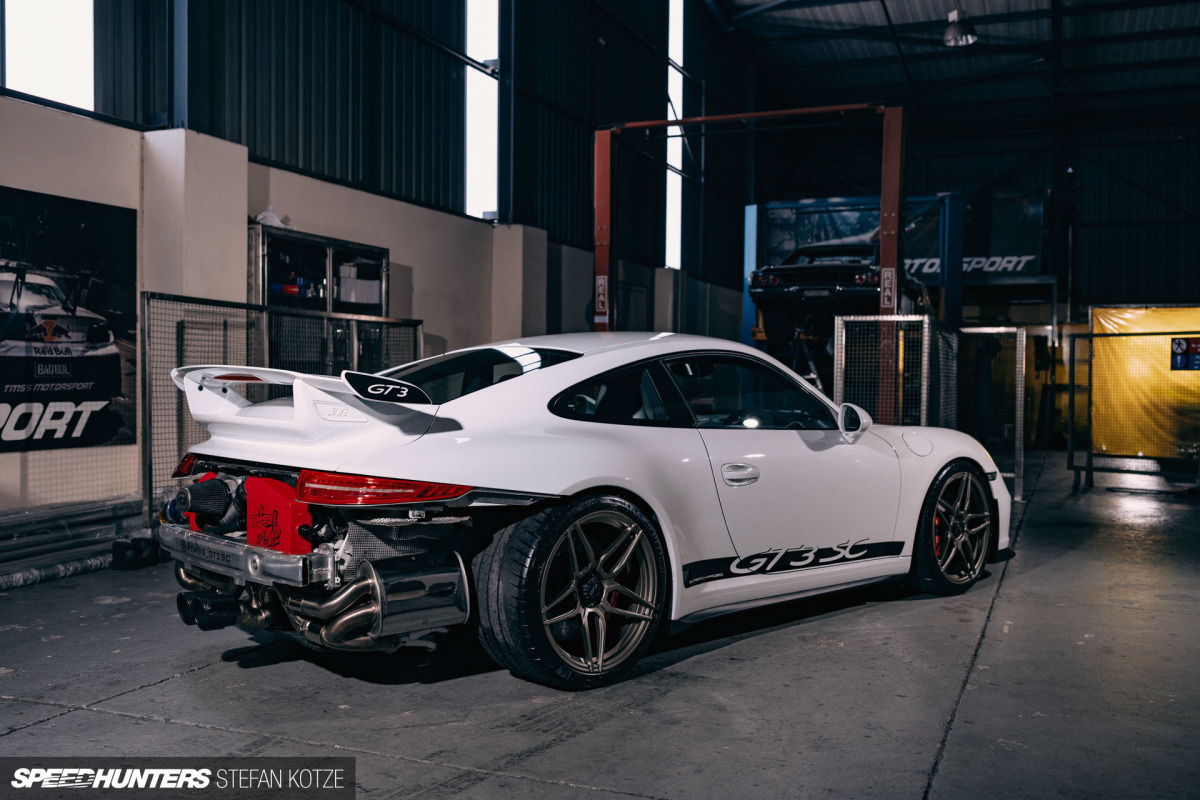 Even if, for whatever reason, this car isn't the first supercharged Porsche GT3 in South Africa, numbers like that make it worthy of a spotlight all the same.
Don't worry, we're not going to leave you hanging as to how this car sounds. The crew at Cars.co.za did a fantastic job capturing it right here.
Dave Thomas
Instagram: stanceiseverythingcom
Photography by Stefan Kotze