The best way to experience the Tokyo Auto Salon, and any other similarly-sized show for that matter, is to wander around and be guided by your own curiosity.
And that's precisely what this post is all about, a 'best of the rest' gallery of the things that stood out to me during my three days at the Makuhari Messe earlier this month.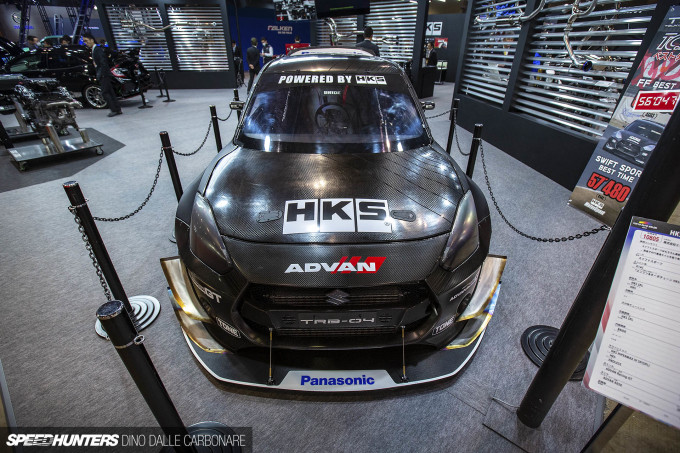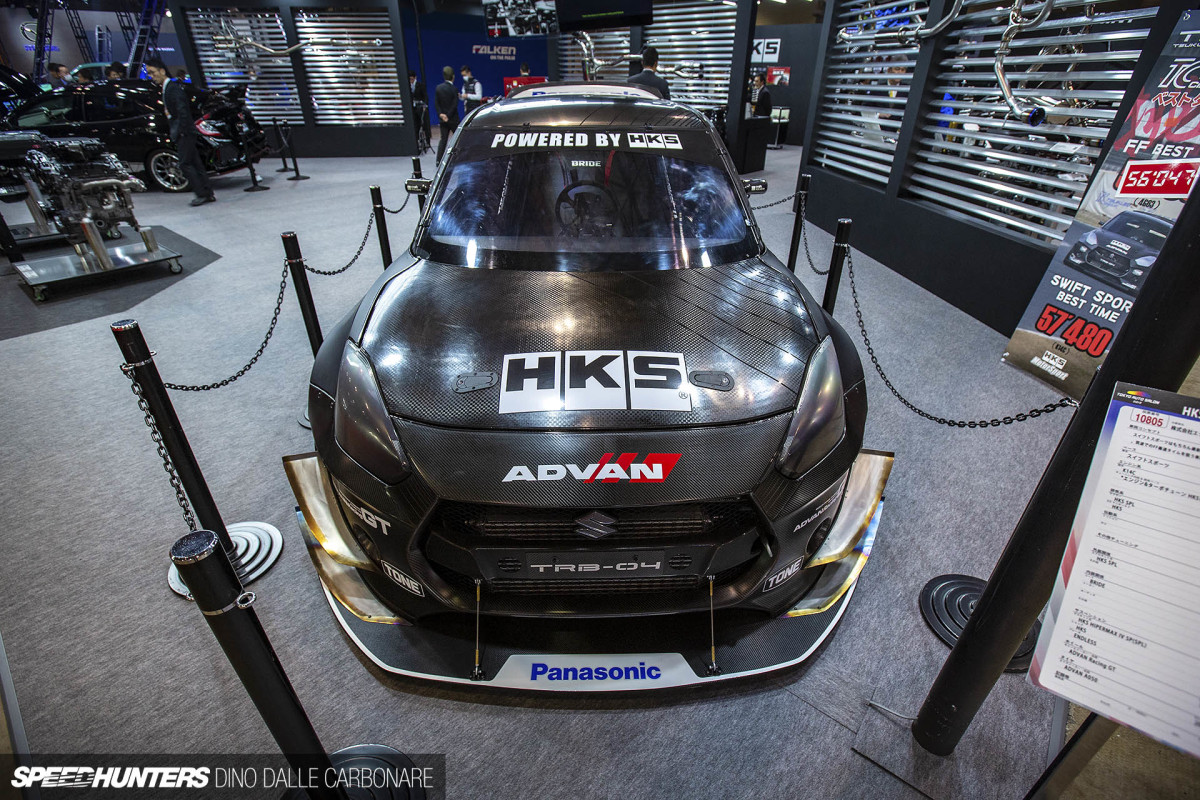 And I'll start right in front of the HKS booth, which was filled to the brim with exciting new cars and products. I've already taken a brief look at the refreshed TRB-02 BCNR33, but HKS's main showpiece was the TRB-04 ZC33S Suzuki Swift Sport, which was built to lap Tsukuba Circuit in 55 seconds. We first saw this car last year sporting a catchy chrome red livery, but after that the Suzuki went under the knife in order to make it perform properly.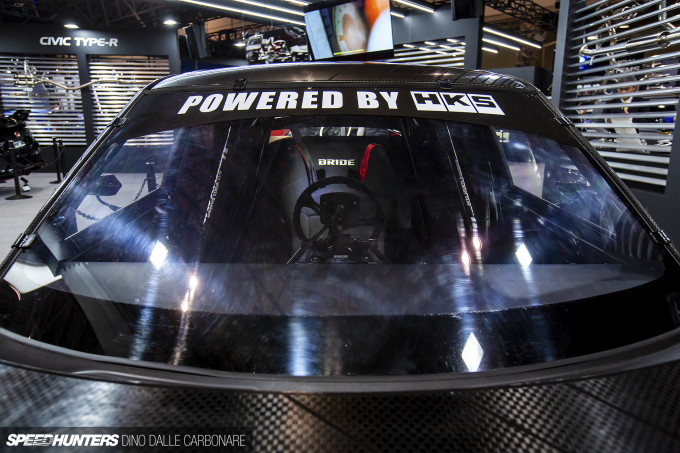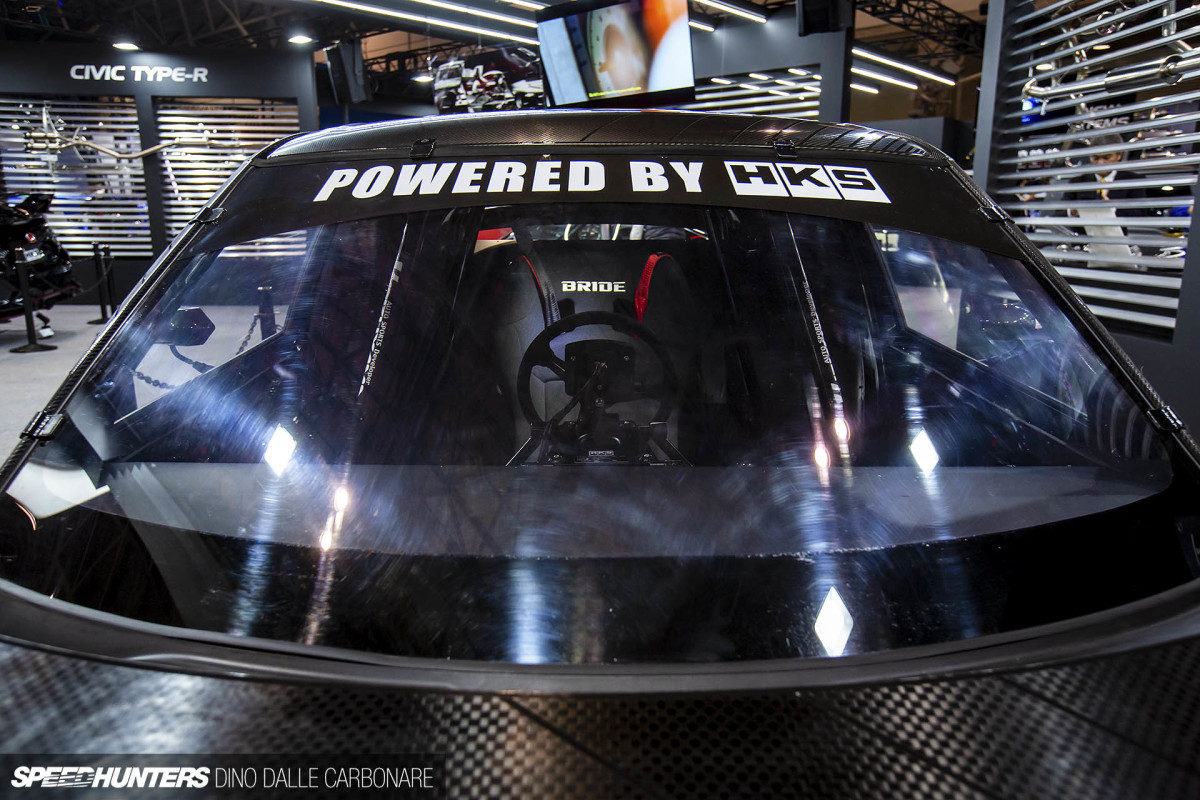 First up, the Swift's original K14C 1.4L turbo engine was tuned to well over 300hp, which allowed Nobuteru Taniguchi, sitting snugly in the cabin's central driving position, to record a 57.480-second lap. Then, with a 500+hp Mitsubishi 4G63 engine in place, the little Suzuki managed to take a second off, running 56.047.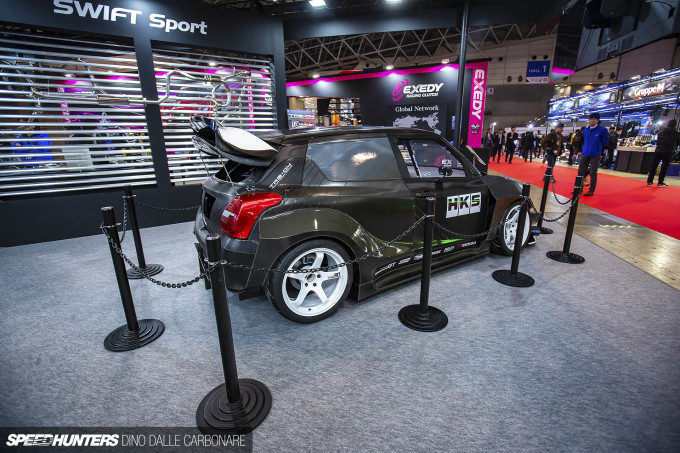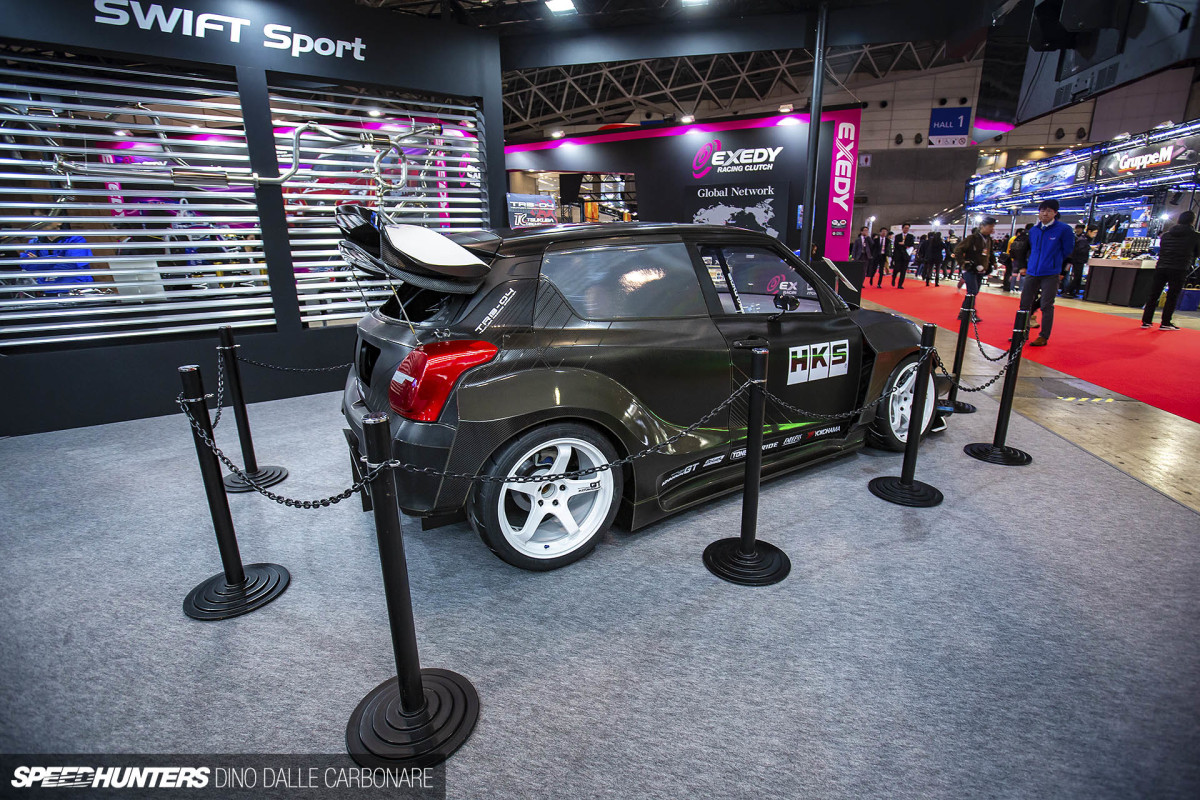 HKS still have a good month of cold time attack weather to see whether the Swift can achieve its 55-second goal. The pressure will be on for Nob.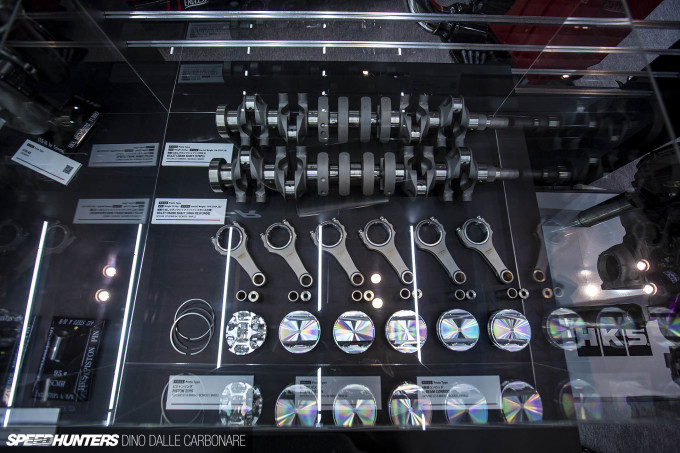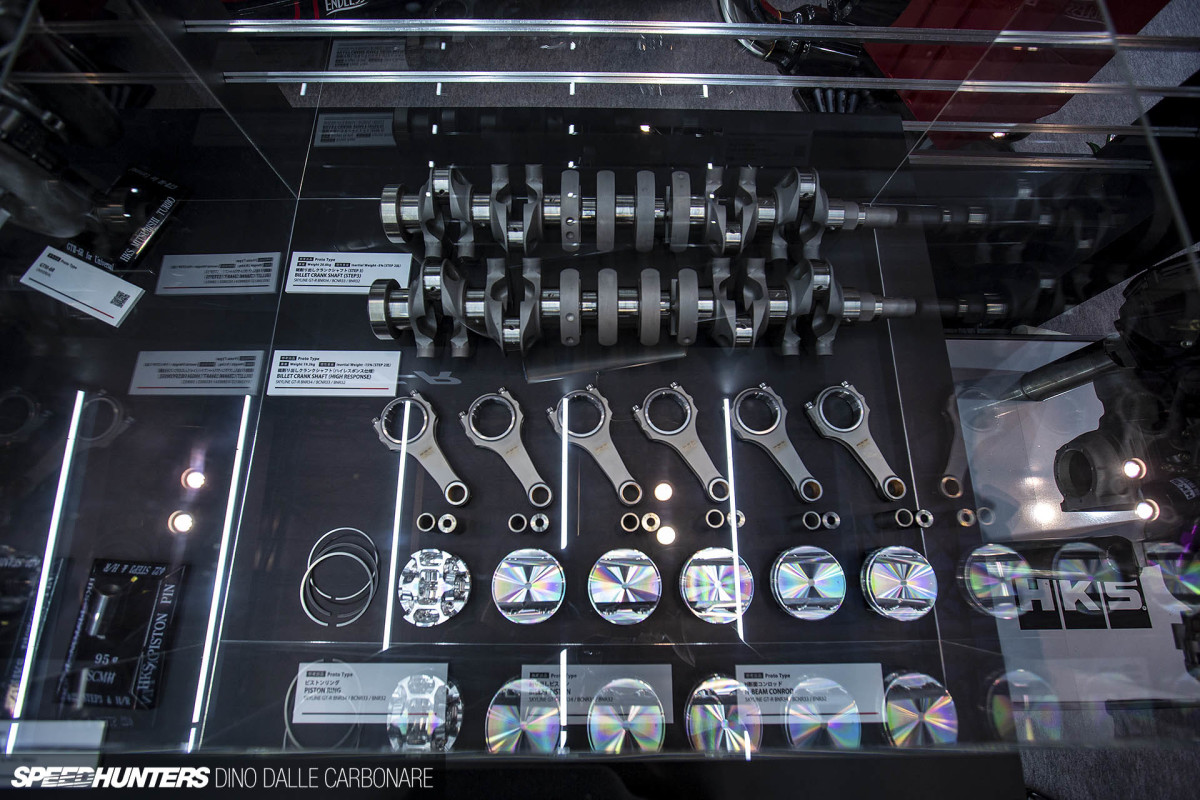 Now it's time for some RB26DETT indulgence…
It's cool that so many manufacturers are continuing to develop and release new and refined tuning parts from these legendary engines, and HKS's big reveal for this year were a pair of 2.8L stroker kits using new designs and materials. The Step 3 kit that you can see at the top of the picture is the big daddy; it's the strongest bottom end HKS make with a fully counter-weighted crankshaft, and good for engines that go anywhere from 800-900hp into the four figure zone. The kit beneath is a new take on HKS's stroker kit lineup, a 'High Response' version, still packing bulletproof and reliable strength for power up to 800-900hp, but featuring a lighter crankshaft than the one used in the Step 3 package.

This is mated to HKS's new lightweight billet piston design and extremely light gudgeon pins. You have to pick these up in your hands to fully appreciate how much weight is being shaved off the rotational mass. These parts will allow engine builders to really fine tune the motors they build for their customers.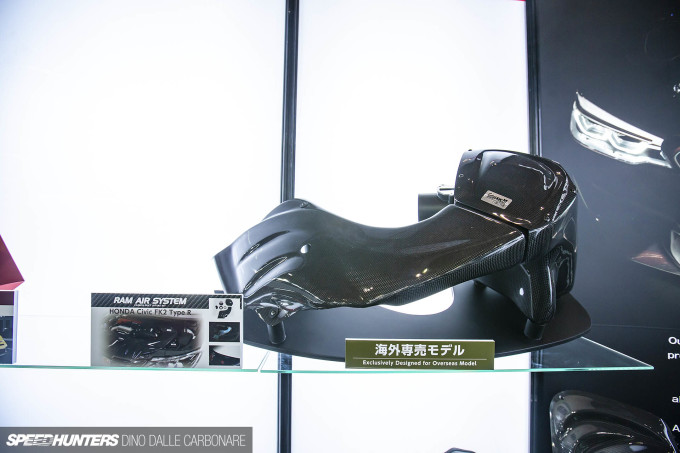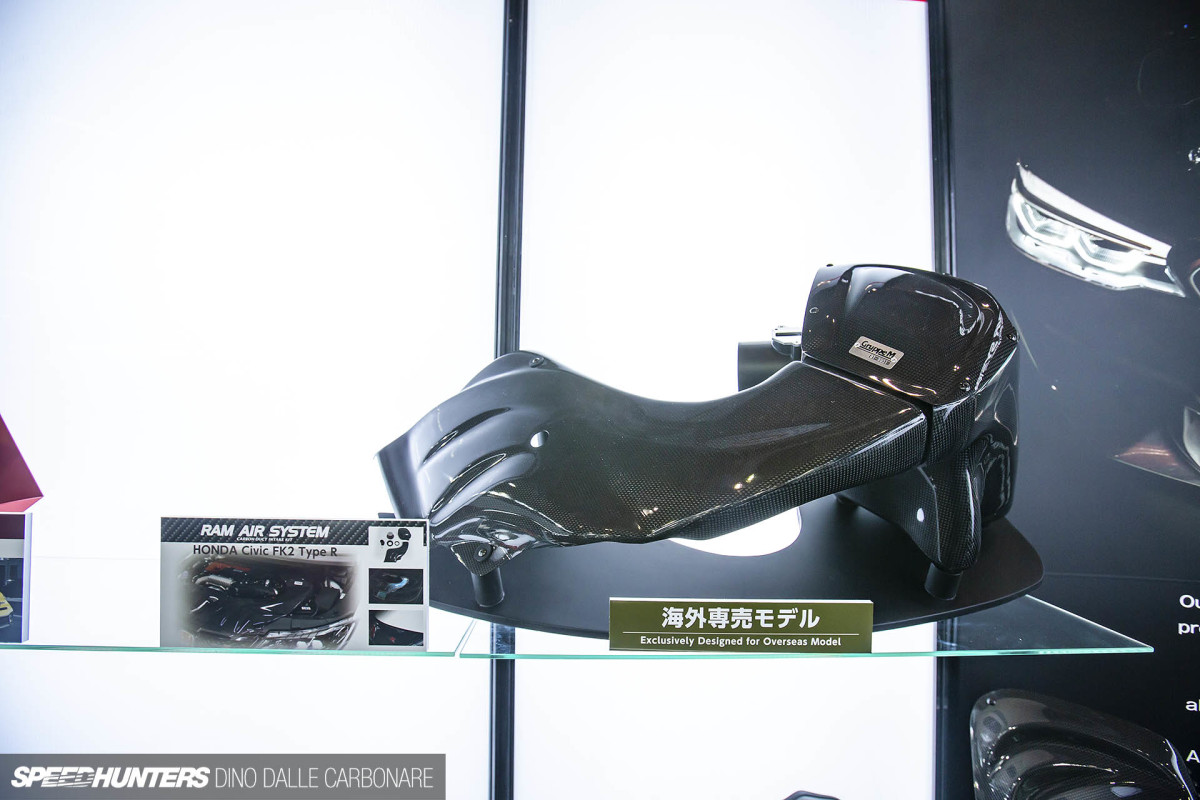 Not far away at GruppeM, I was drawn in by all the shiny carbon air boxes they had on display, their biggest release for Japanese cars being the FK2 induction kit for overseas model Civic Type Rs. The FK8 box will be on the way this year, too.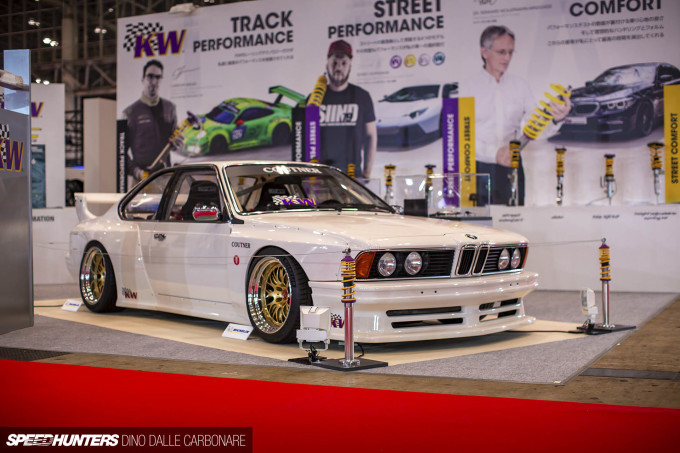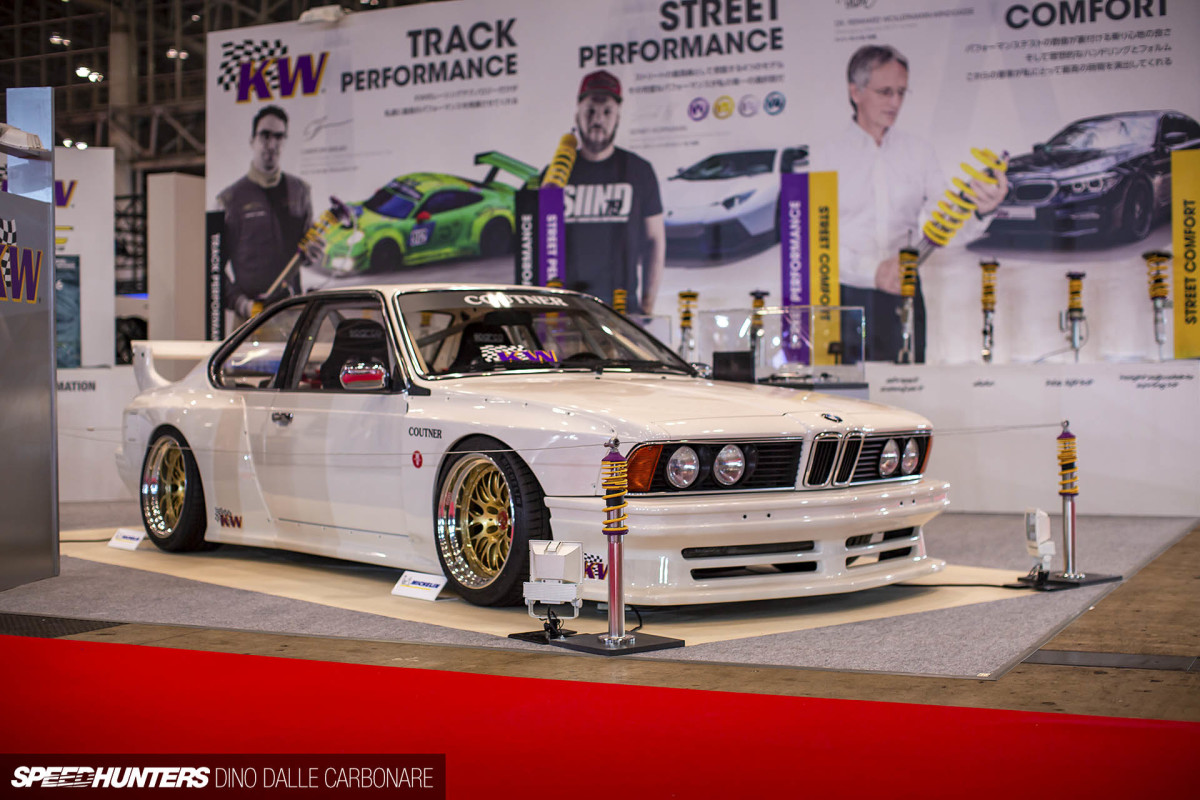 On display at the Hashimoto Corporation/Speedhunters booth was this sick BMW E24 wearing a Coutner wide-body conversion and sitting on BBS Motorsport E88 wheels. Looks-wise, it's more E9 CSL Group 4 than E24 Group 2, but whichever model the inspiration came from we can't help but love it. We definitely need to take this out for a drive.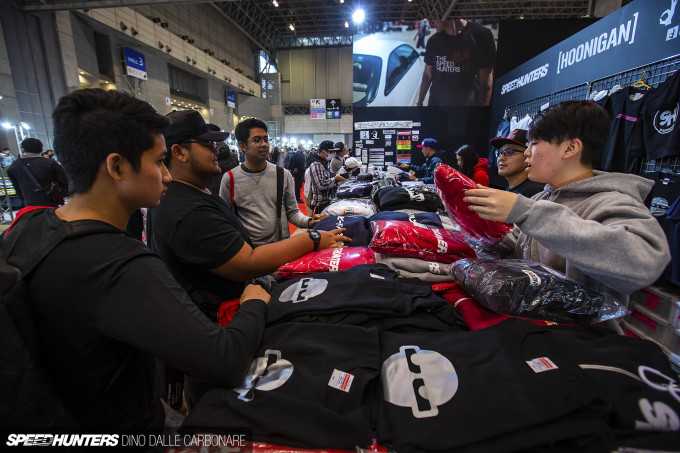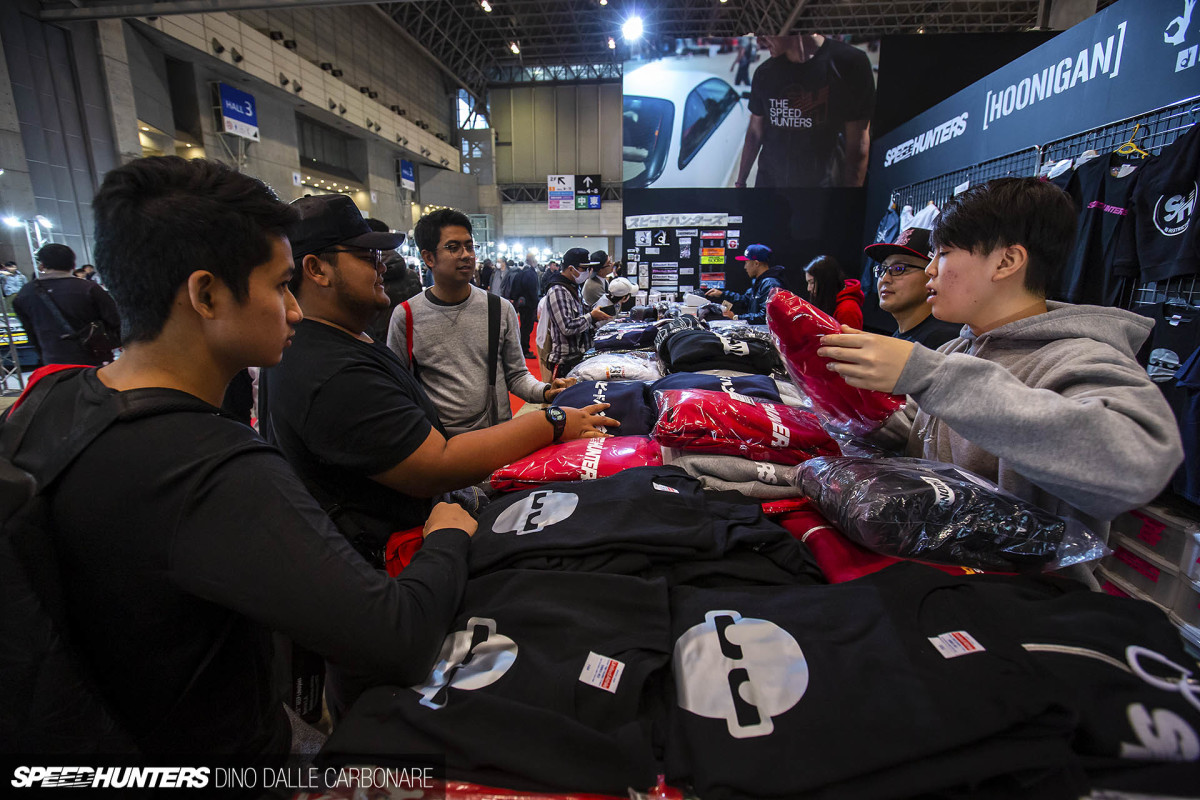 The Hashimoto guys had the shop area cranking over the weekend, catering to the tons of people that stopped by to pick up some new Speedhunters merchandise or just say hello. Thank you to everyone for the continuous support and love.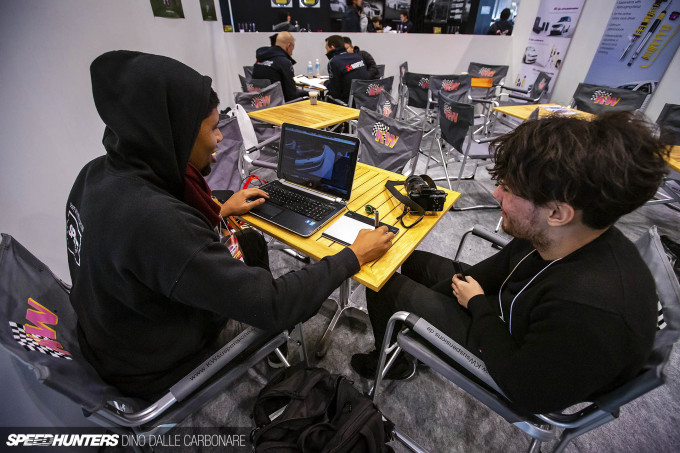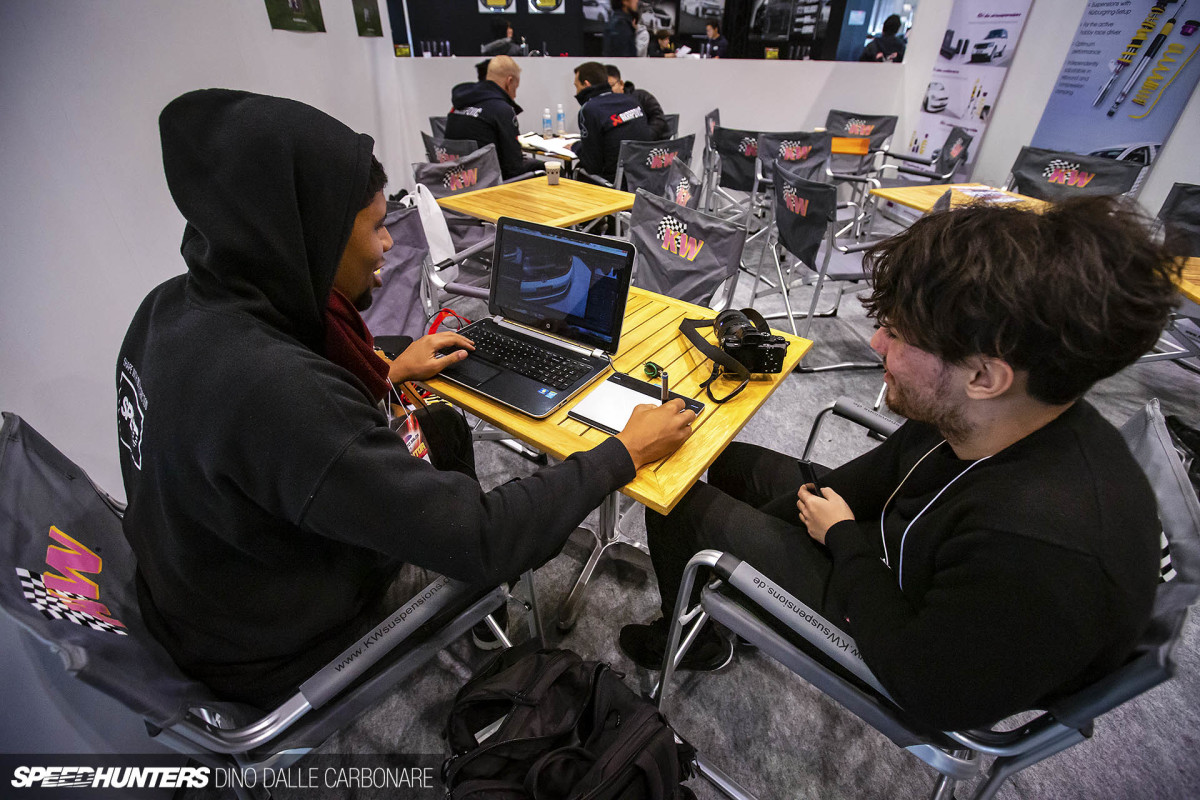 Behind the scenes, Ron and myself were busy juggling between shooting and actually sitting down to get some posts together. TAS is one of our busiest events, and we strive to gather enough material to bring you the best possible coverage. We once again had Phil Boquida join us and put together a film from the show, so make sure you check that out if you haven't done so already.
The Automotive Cocktail Never Disappoints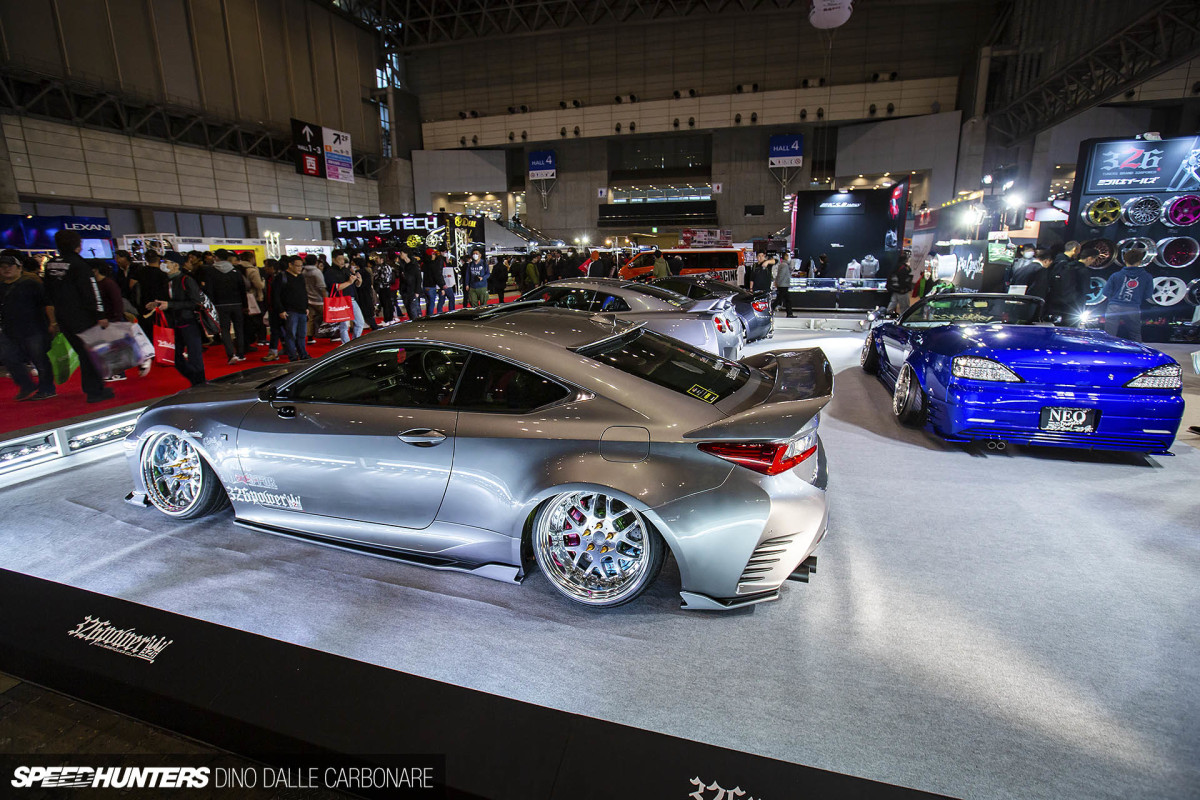 In the next hall over, 326 Power was upsetting some people by slamming and doing the onikyan thing with a bunch of different cars. My favorite of the lot was the blue Nissan Silvia Varietta on the side there.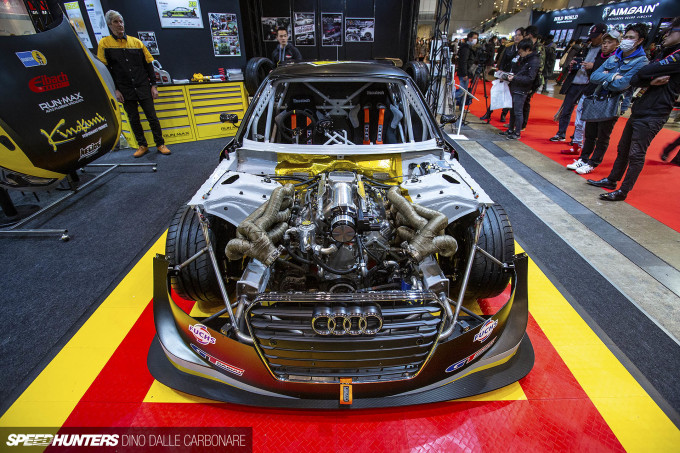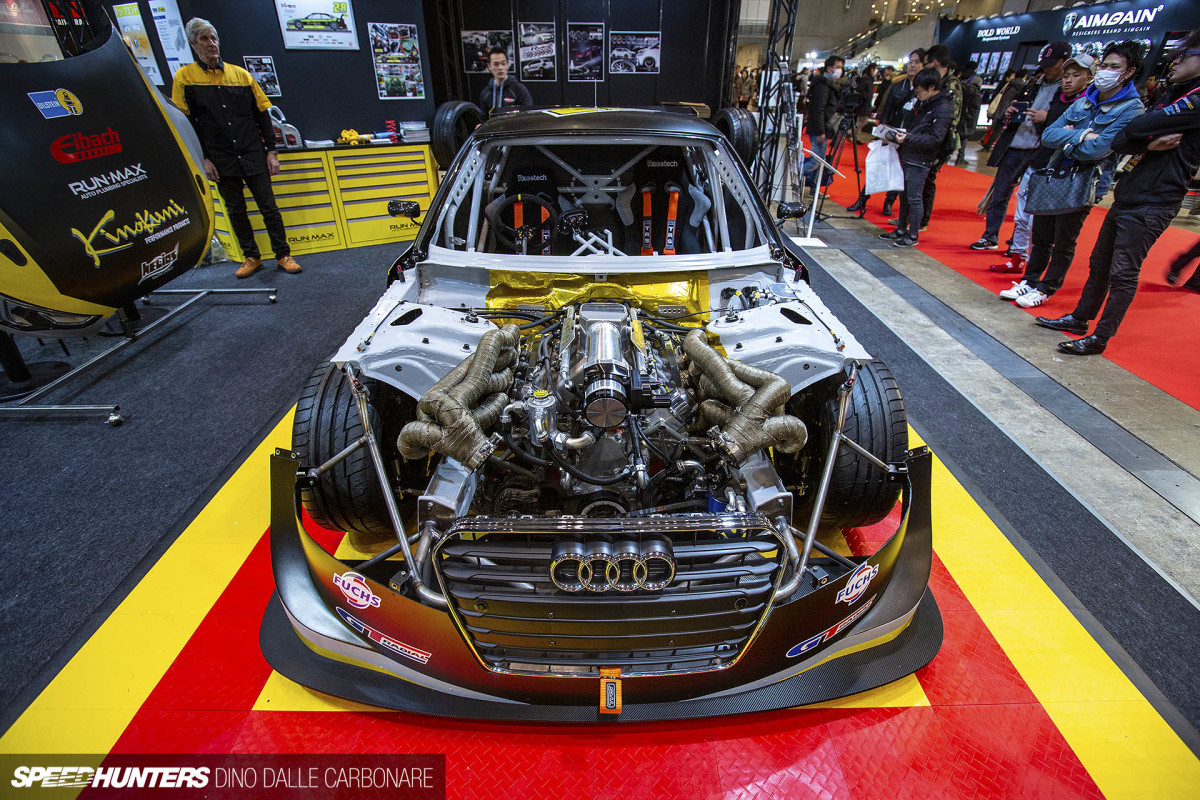 Kinokuniya dropped a pretty big surprise by showcasing this wild DTM-themed creation that Kazuya Iizuka will drive in this year's Formula D Japan series.
The base is an Audi A5 and the power comes courtesy of a monster V8 reputedly good for over 700hp in NA guise. The question is though, will those headers eventually feed a turbo or two? The GCG decals might be a hint…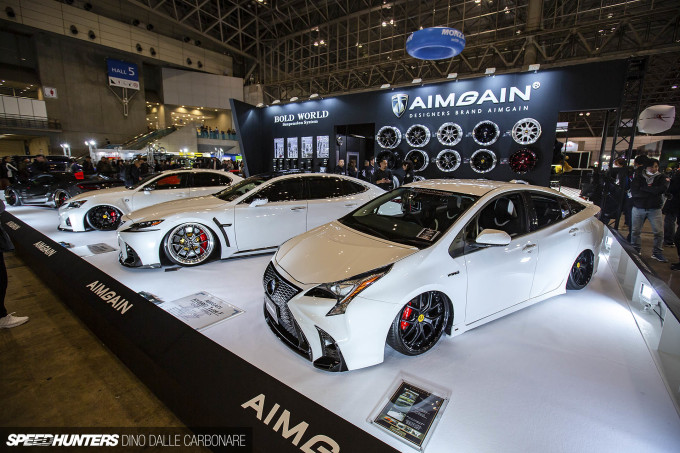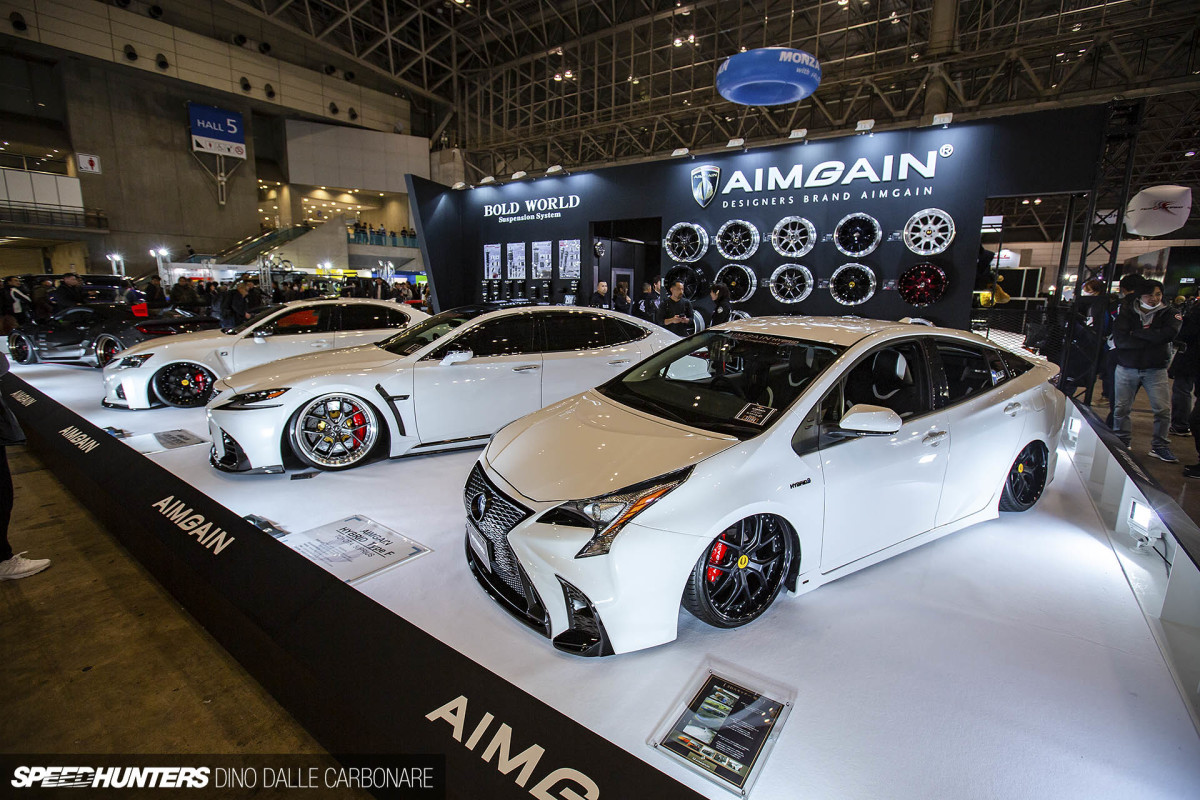 I'm always surprised at the sheer size of the Aimgain booth at TAS, and this year they had show cars ranging from a Toyota Prius all the way to a Honda NSX and Lamborghini Aventador. These guys are true masters of stance.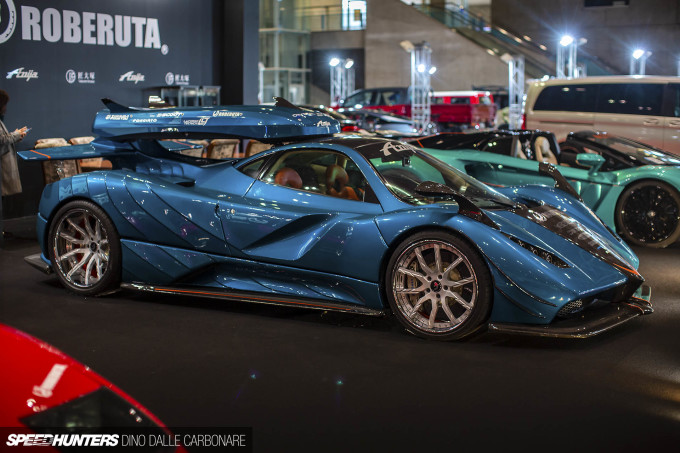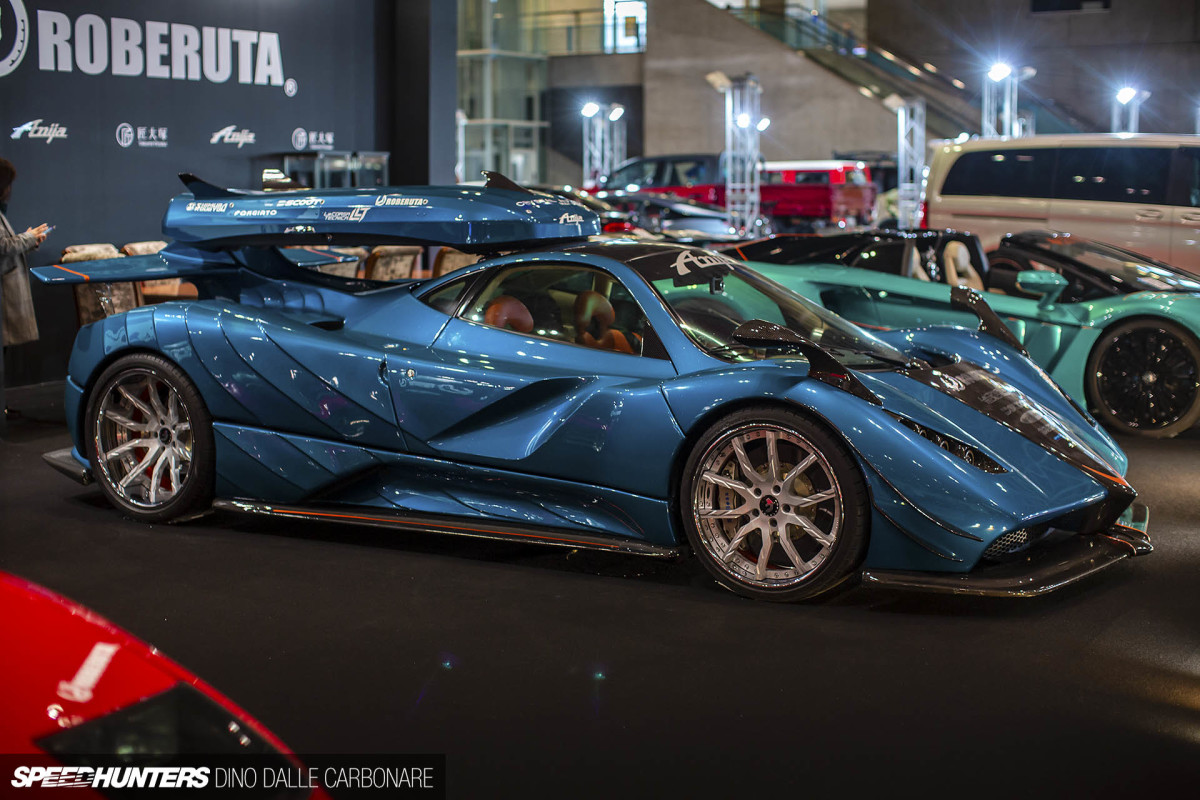 Given the cars that Roberuta had on display, I don't think anyone even noticed what sort of products they make and sell.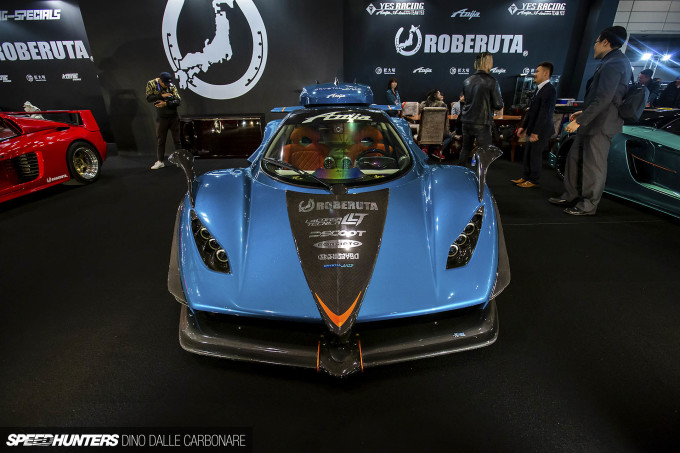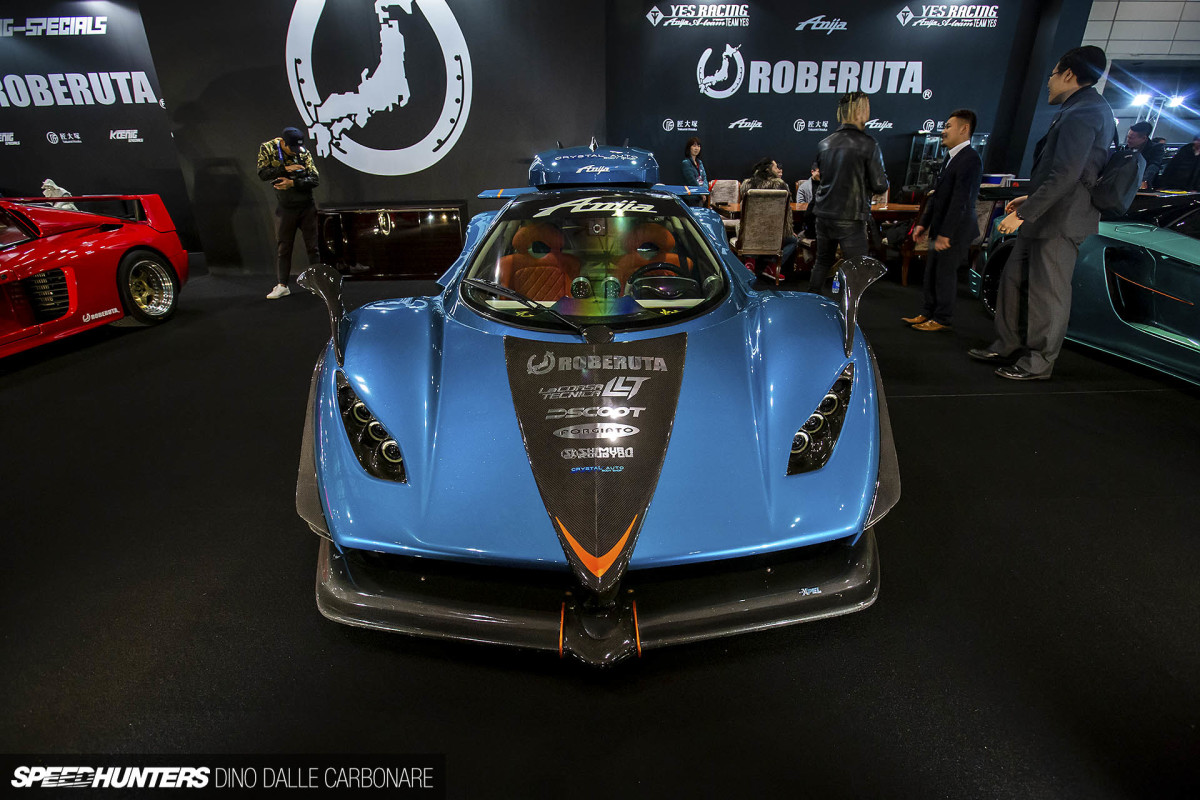 Would you have?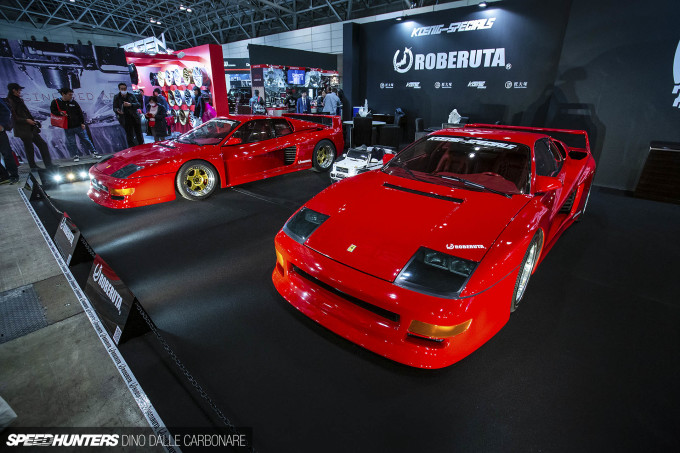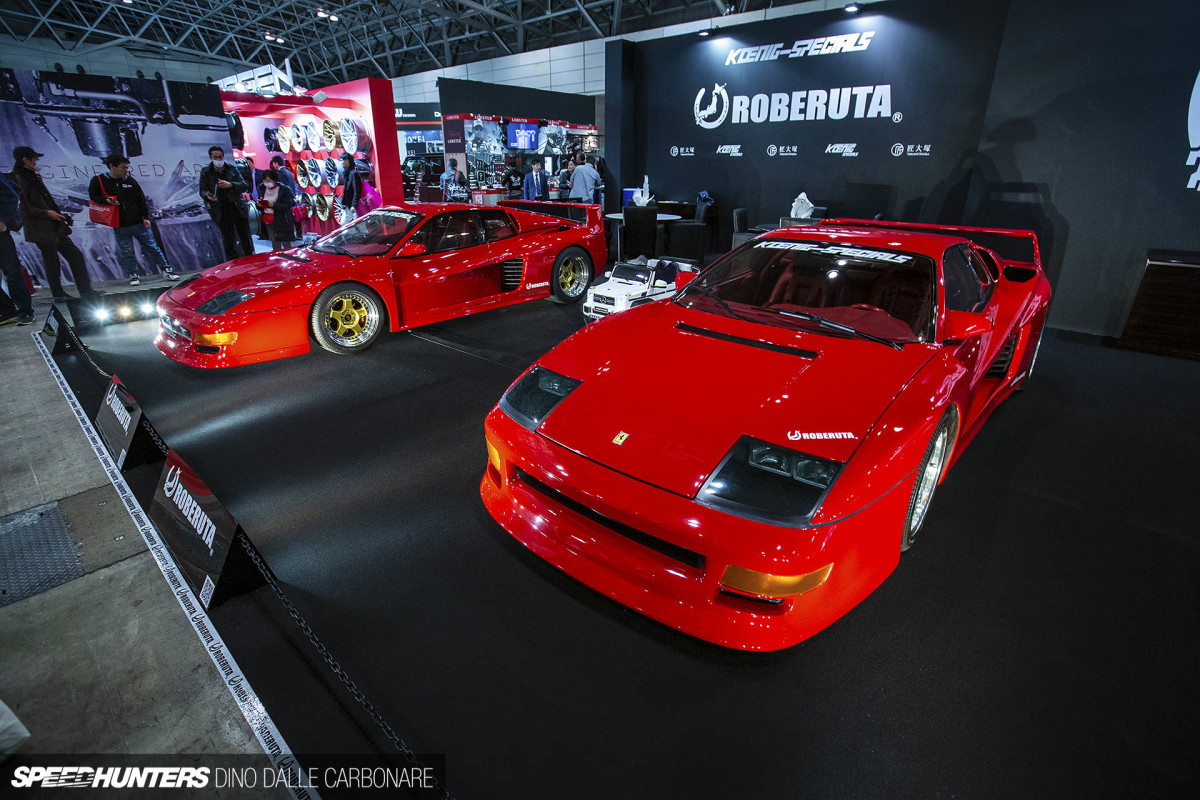 From Team Anija's overly customized Pagani Zonda to a pair of Koenig Specials Testarossas, it was almost too much awesome for one single booth.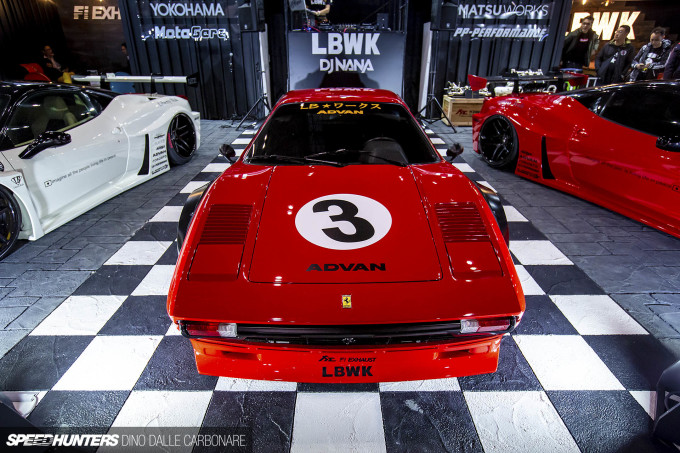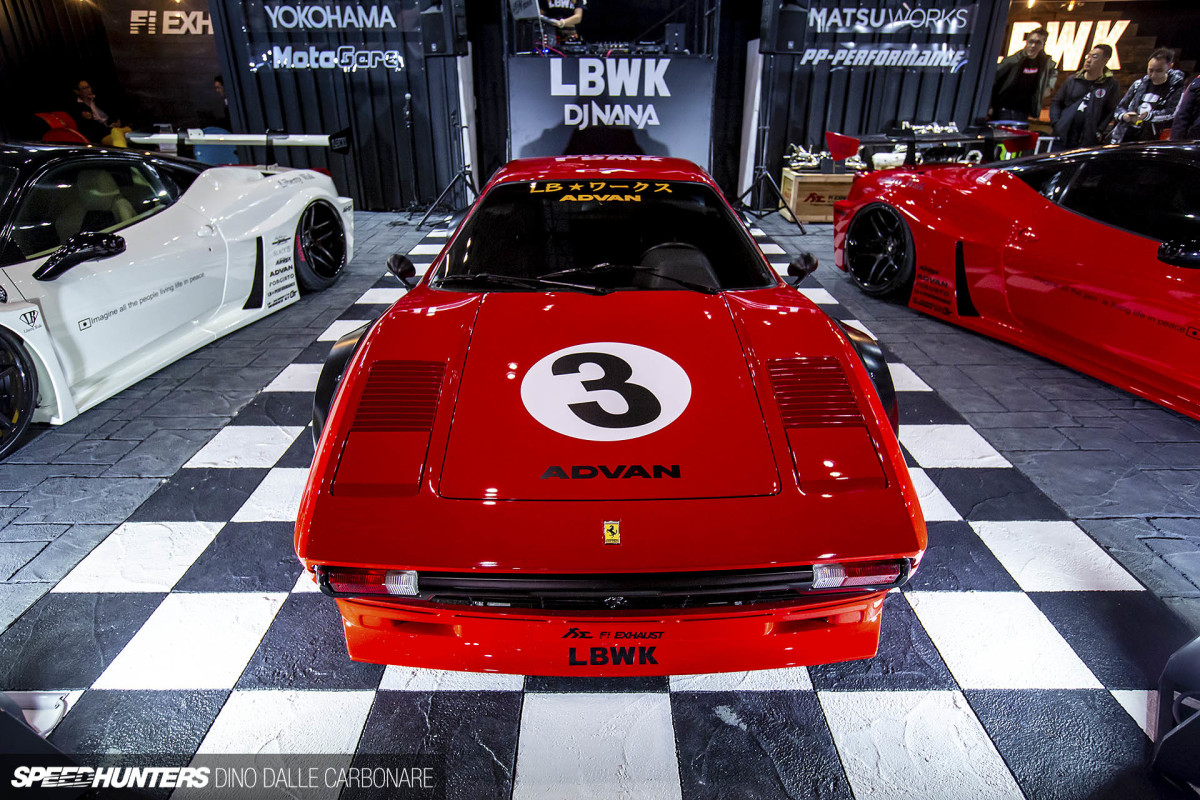 Of course you can't talk about Ferraris and not mention Liberty Walk's '308 GTBL' Love it? Hate it? It doesn't even matter to be honest. It's so inline with what Kato and his team are known for doing, that my first comment on seeing it was, 'Of course, what else could he have done.'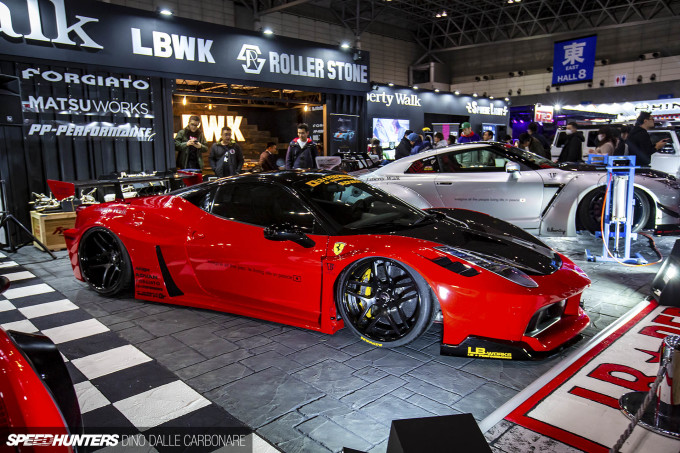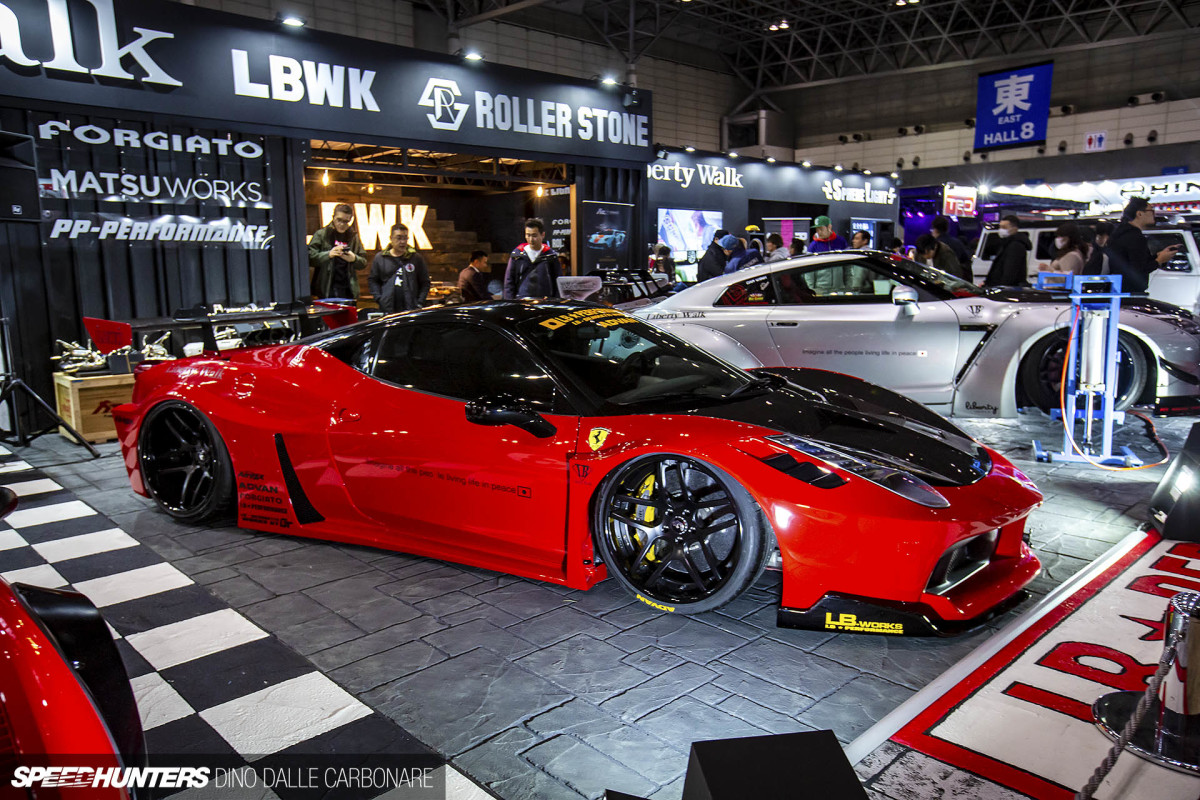 Well, he actually did do more, and in a slightly different way than his usual style. Here's a Liberty Walk wide-body kit with no screwed-on over-fenders in sight.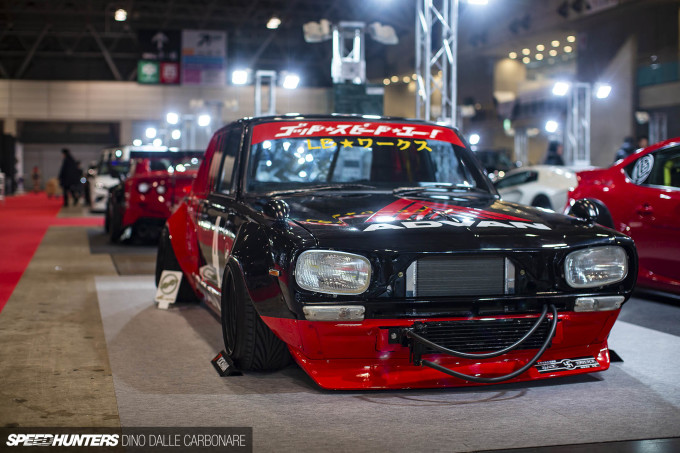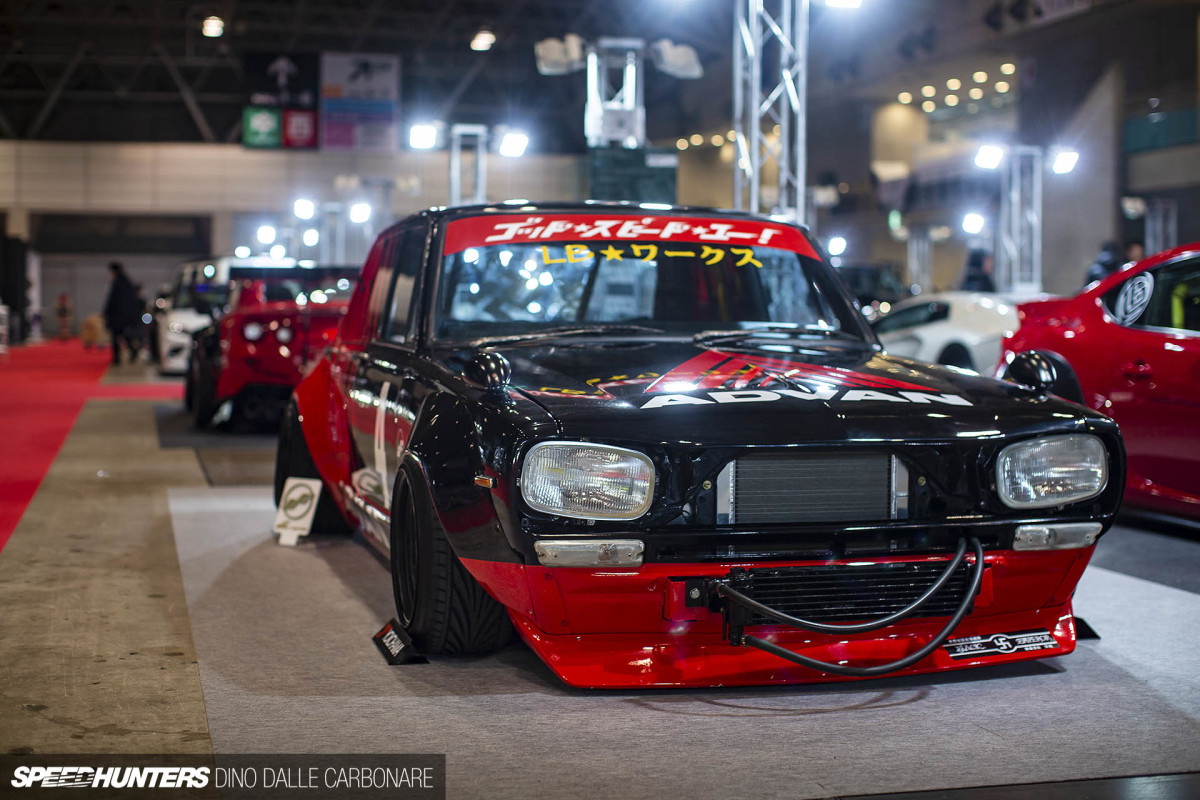 And to keep the yankee-ness balance alive and well, Kato also had this line-up outside the main booth space. This four-door Hakosuka received just as much attention as the main show cars from LBW.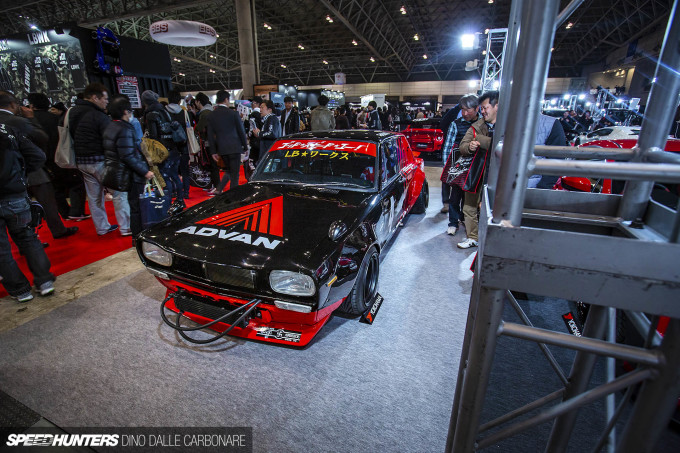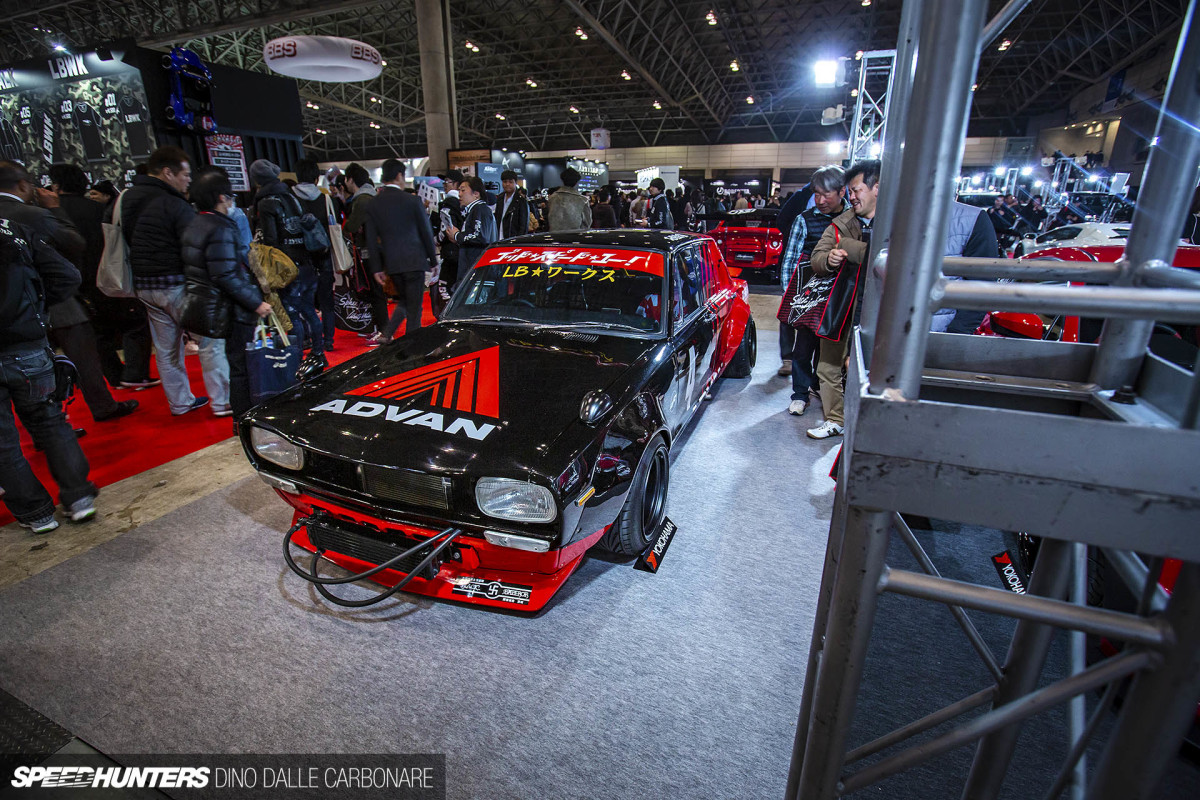 Oil cooler mounted on bumper – check!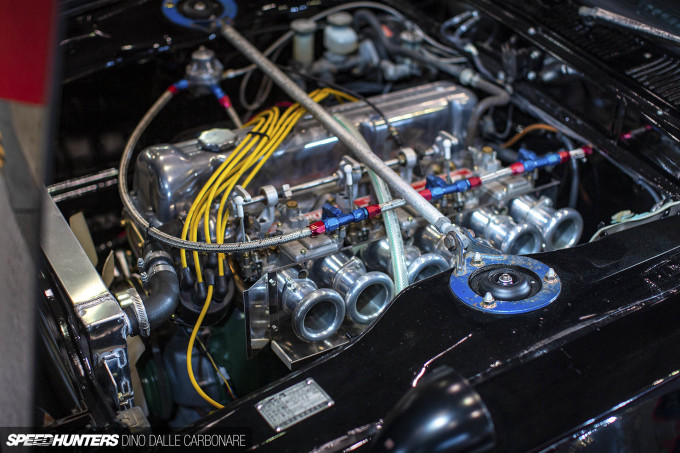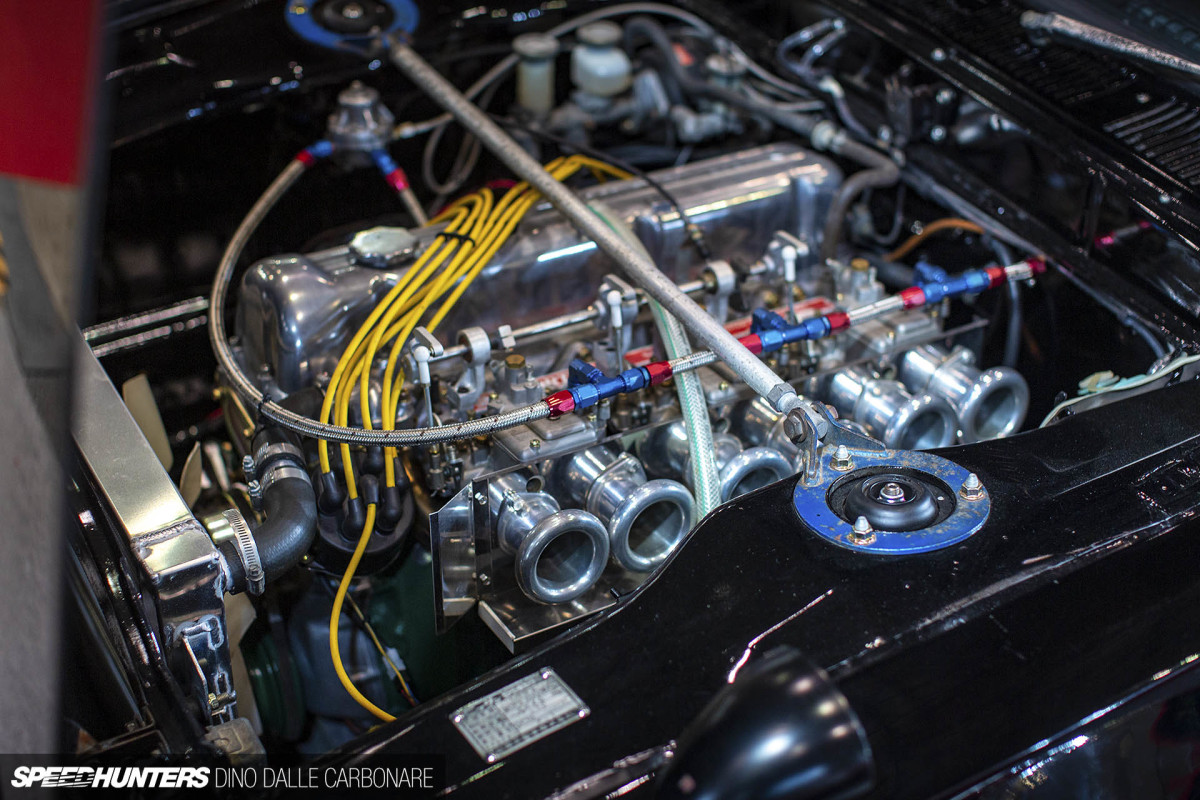 L28 on carburetors – check! All is well in the land of Liberty Walk; we wouldn't change it in any way or form.
And Now For An Intermission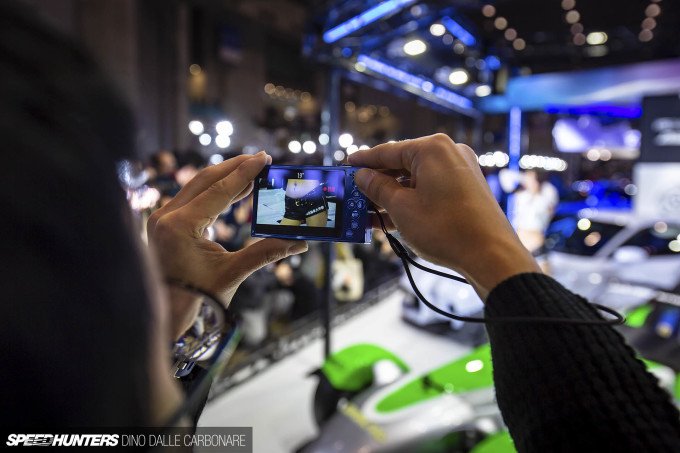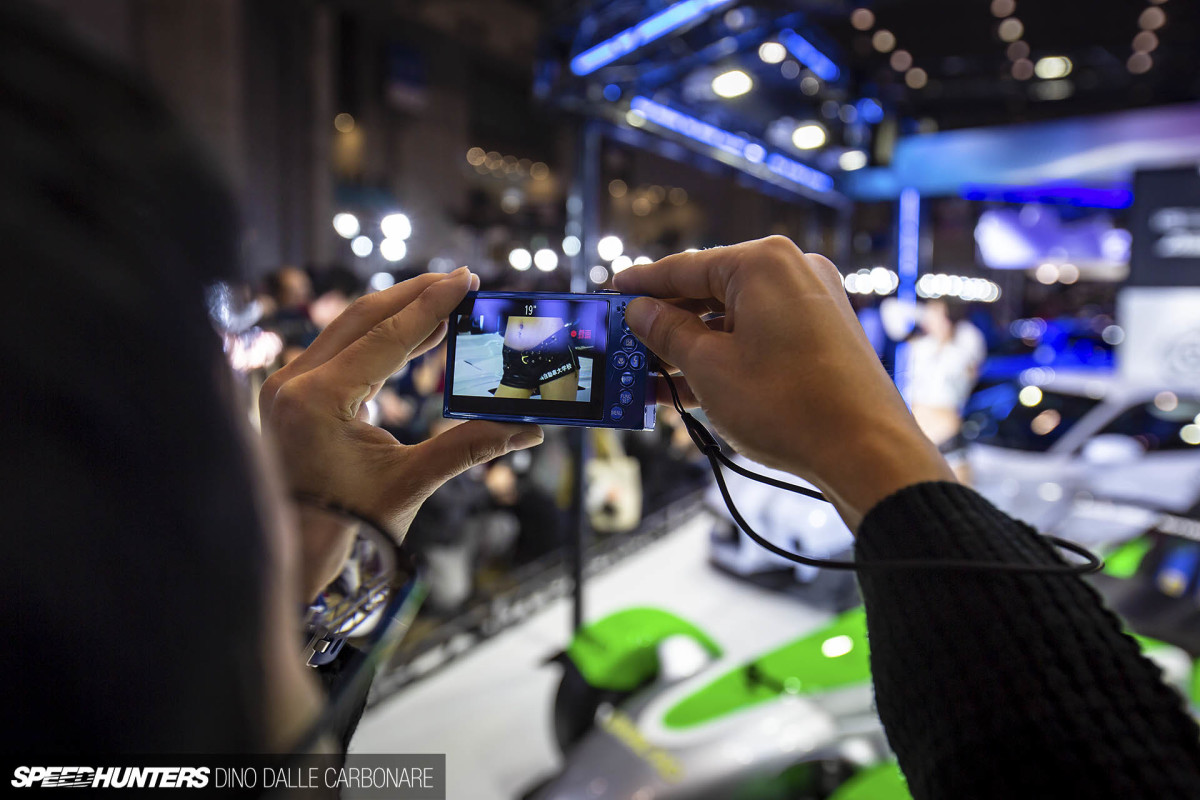 I'll take this time to quietly but graphically show what Tokyo Auto Salon is all about for possibly more than half of its attendees.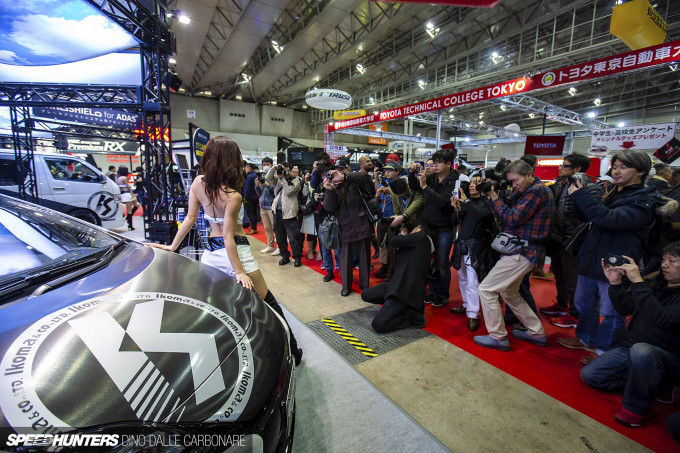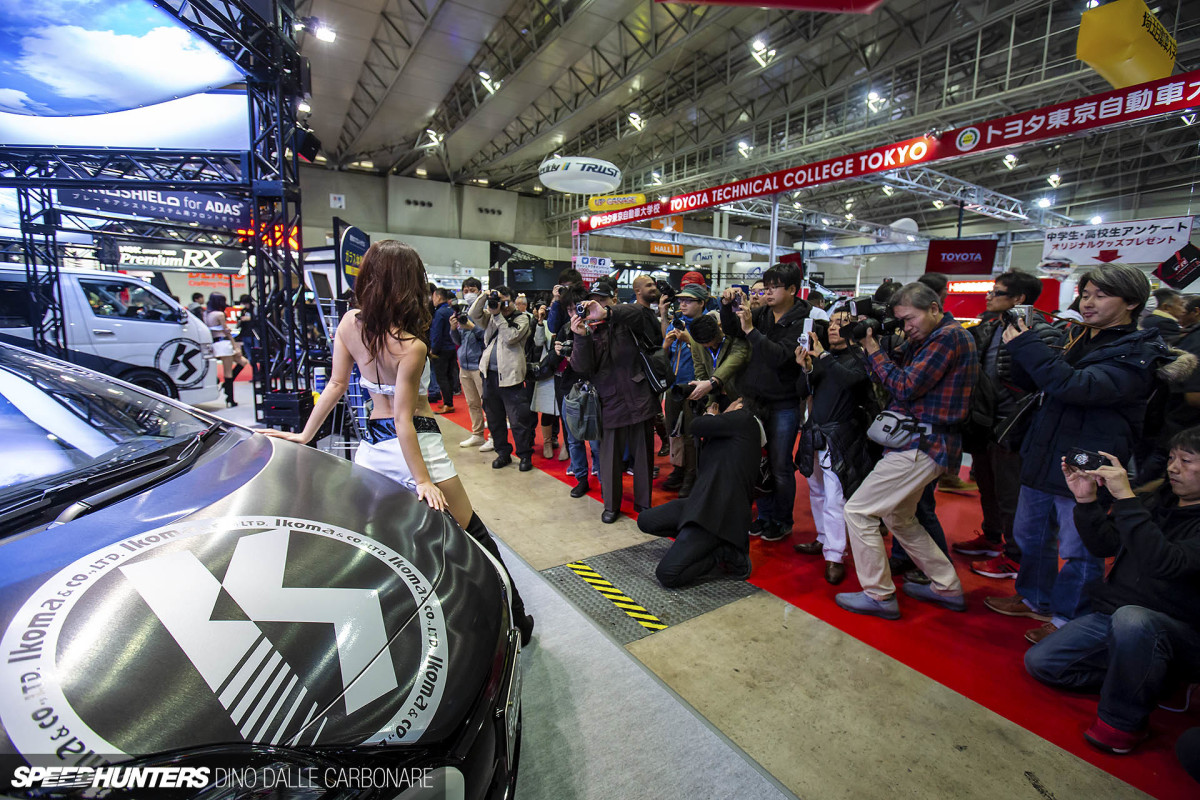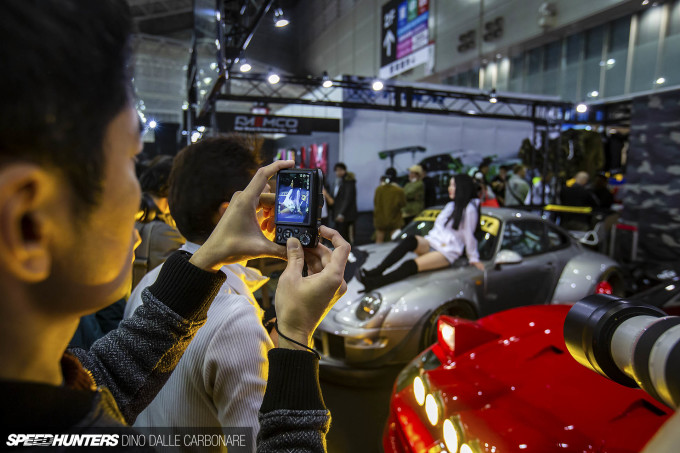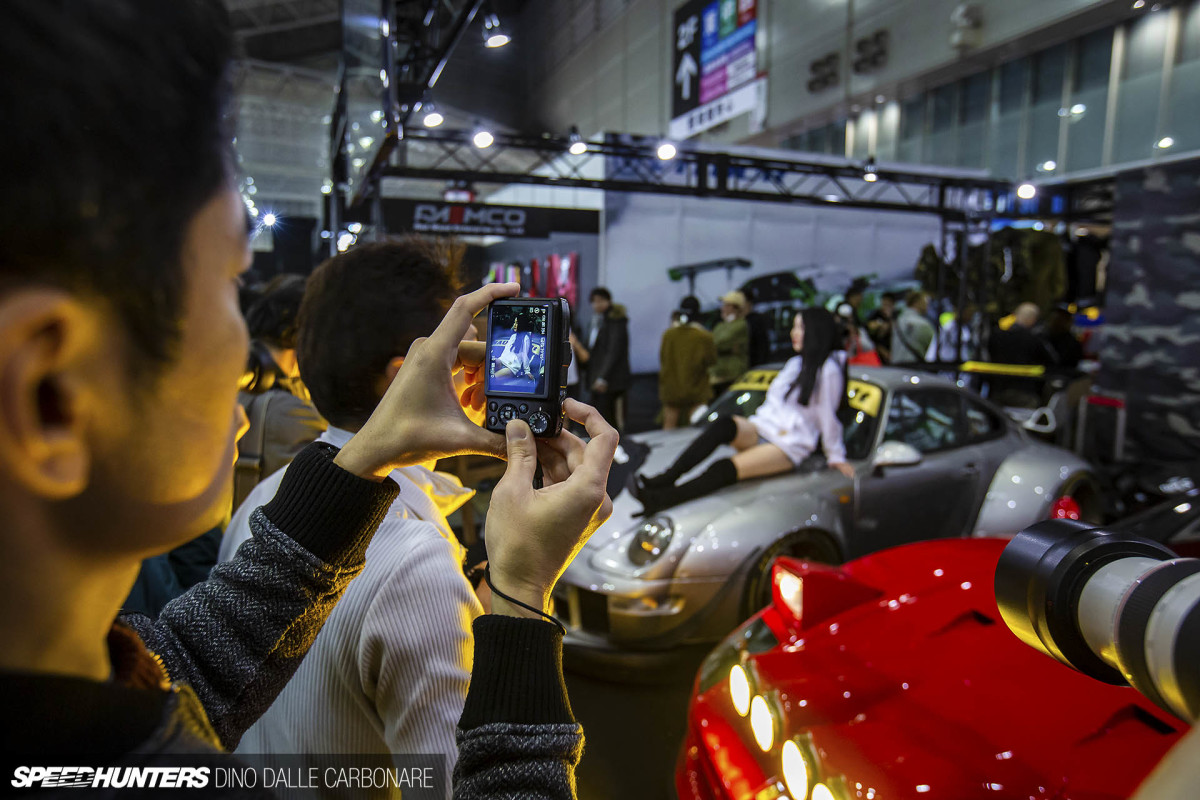 Oh, Japan…
Right, Where Were We?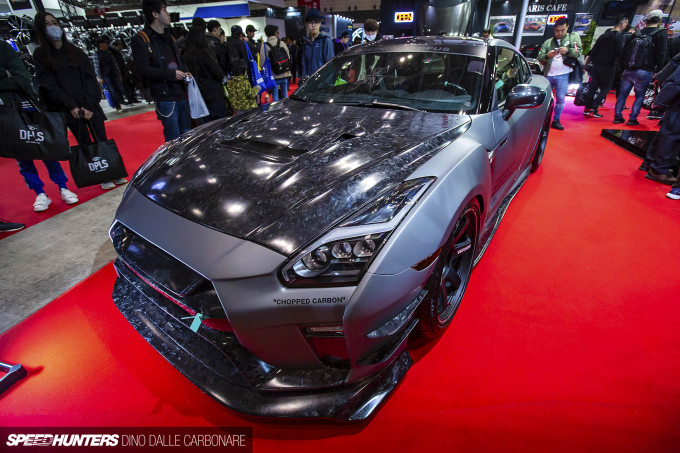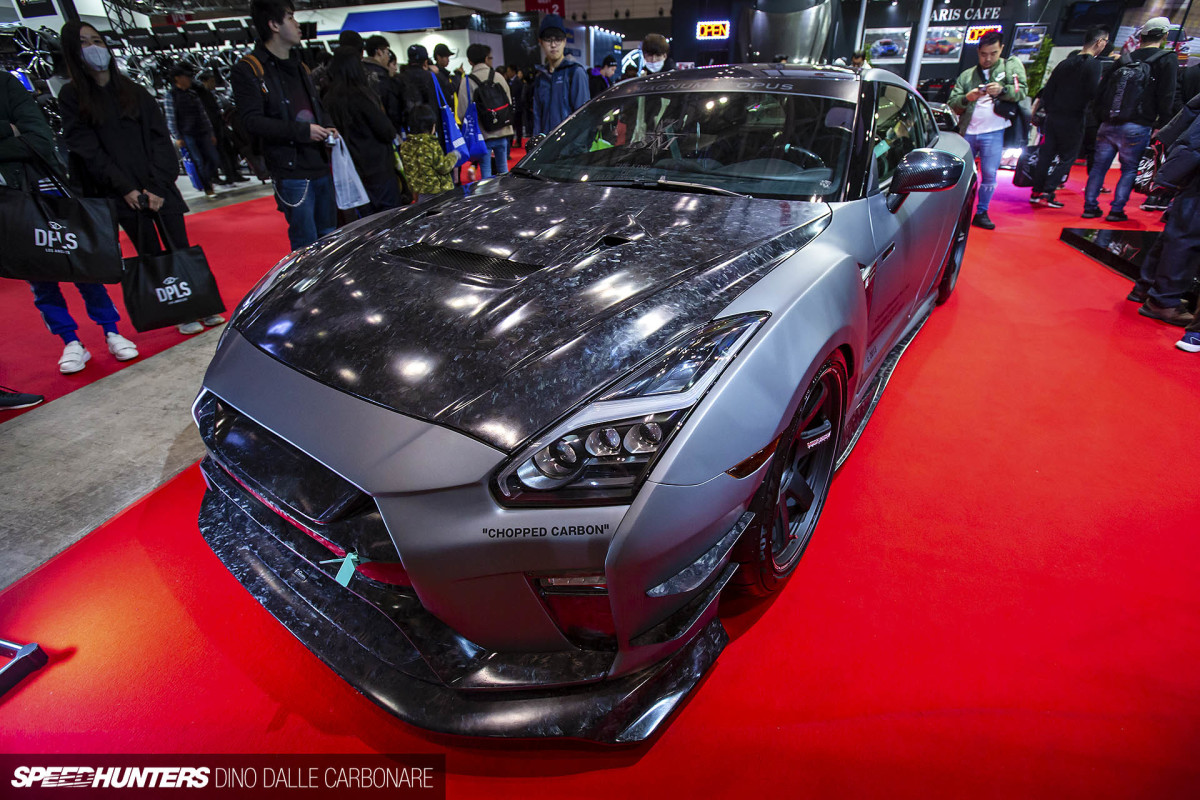 I really didn't know what to make of Varis's new 'Chopped Carbon.' Their R35 GT-R took away a TAS award, and I guess you can't knock the effort involved in thinking up new ways of using carbon fiber.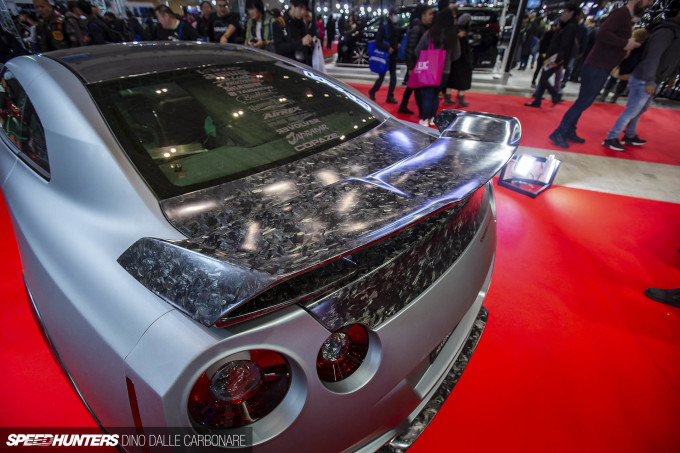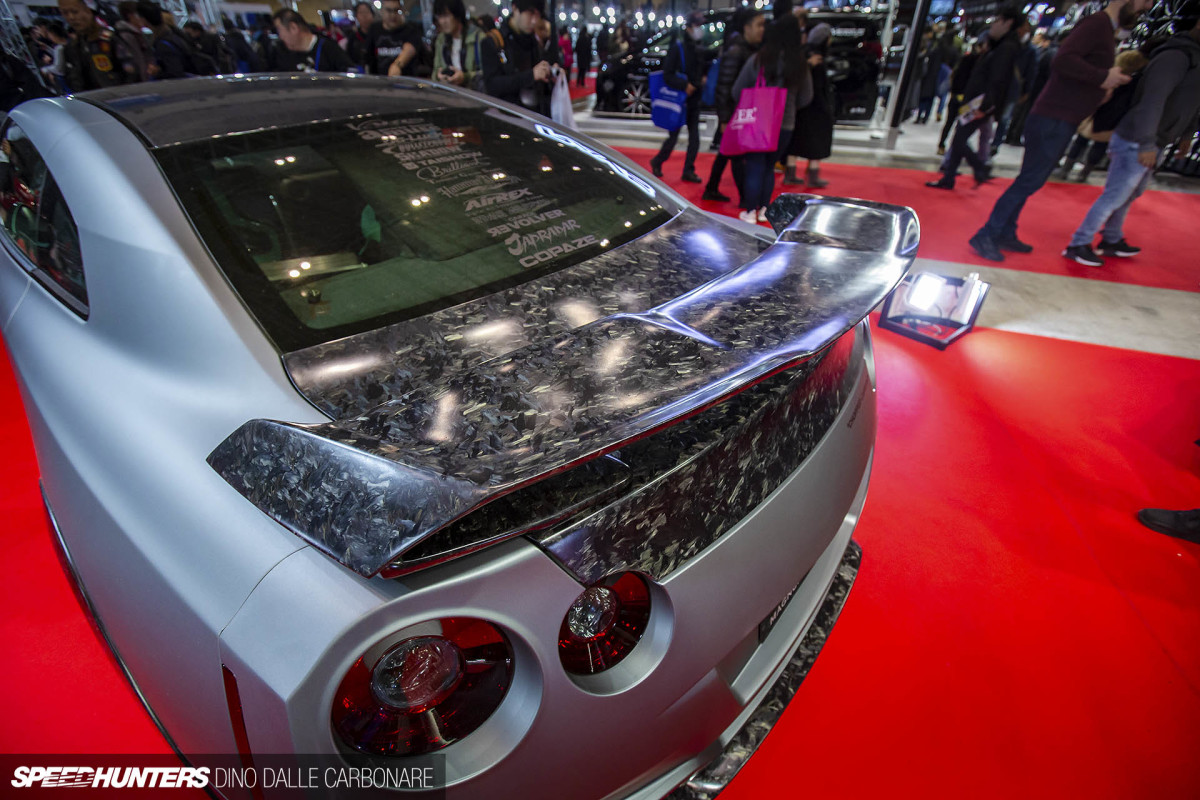 This is a few years in the making and it's impressive they've got so close – looks-wise at least – to the high-end process that Lamborghini came up with to create true forged fiber.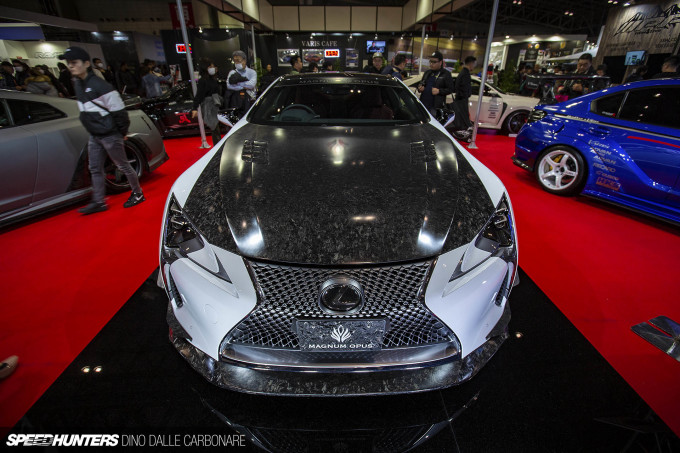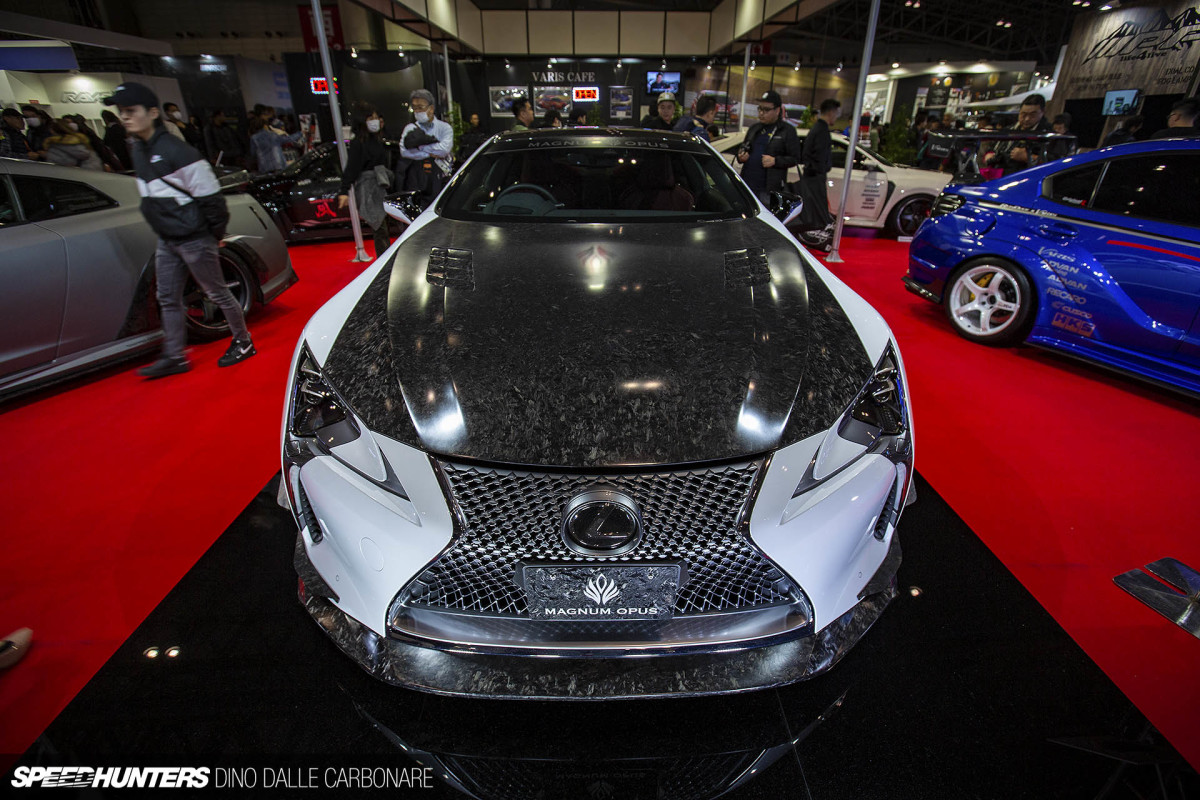 It looks like a marble kitchen countertop to me, but I'm sure Varis will have no problems selling the limited number of kits they are planning to make with this stuff.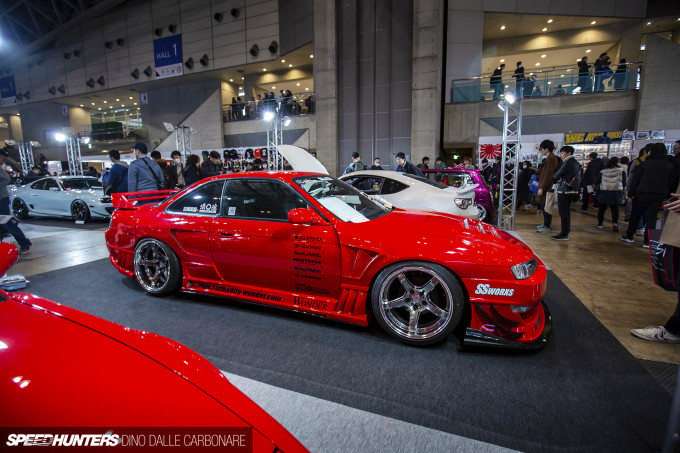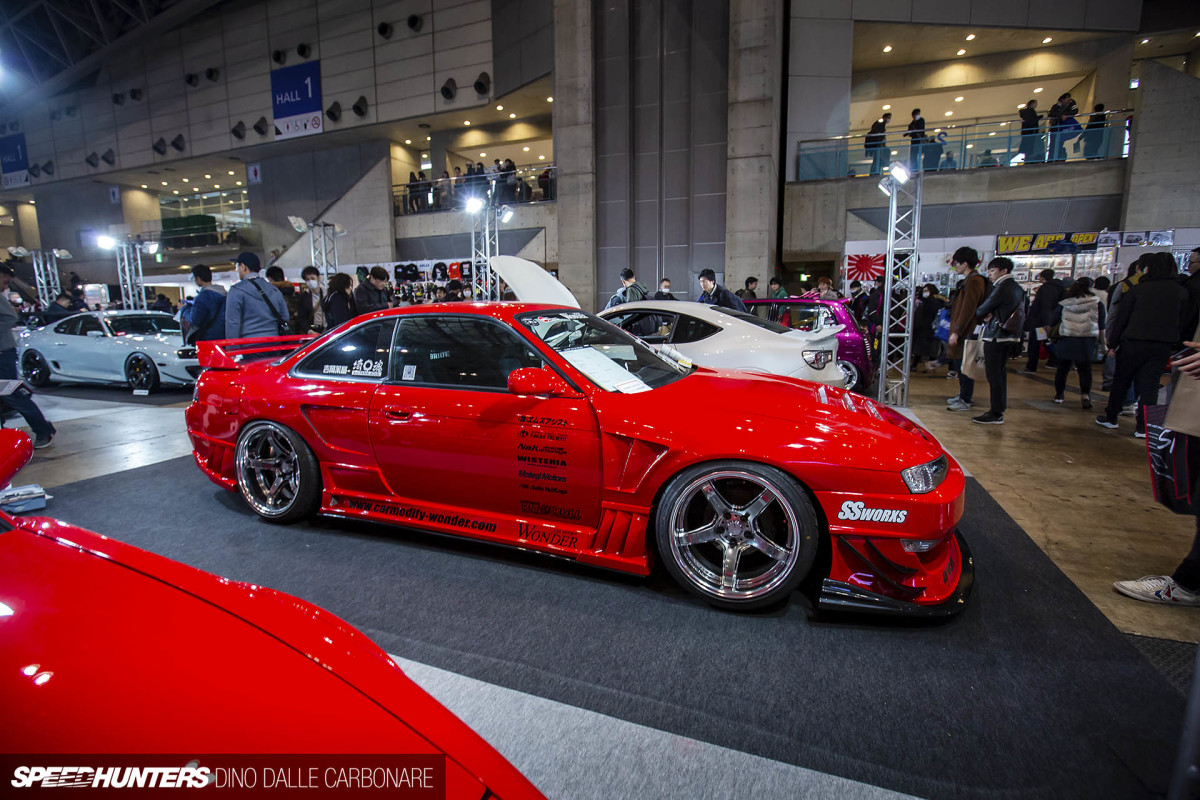 The Car Modify Wonder S14 and RPS13 were two cars that I fell instantly in love with when I saw them during the show set up.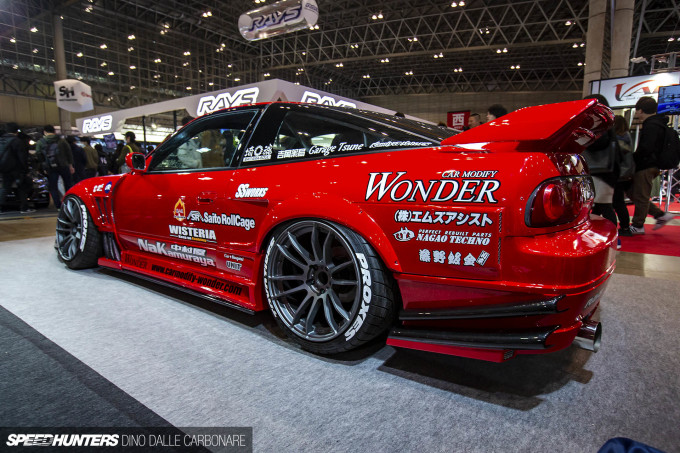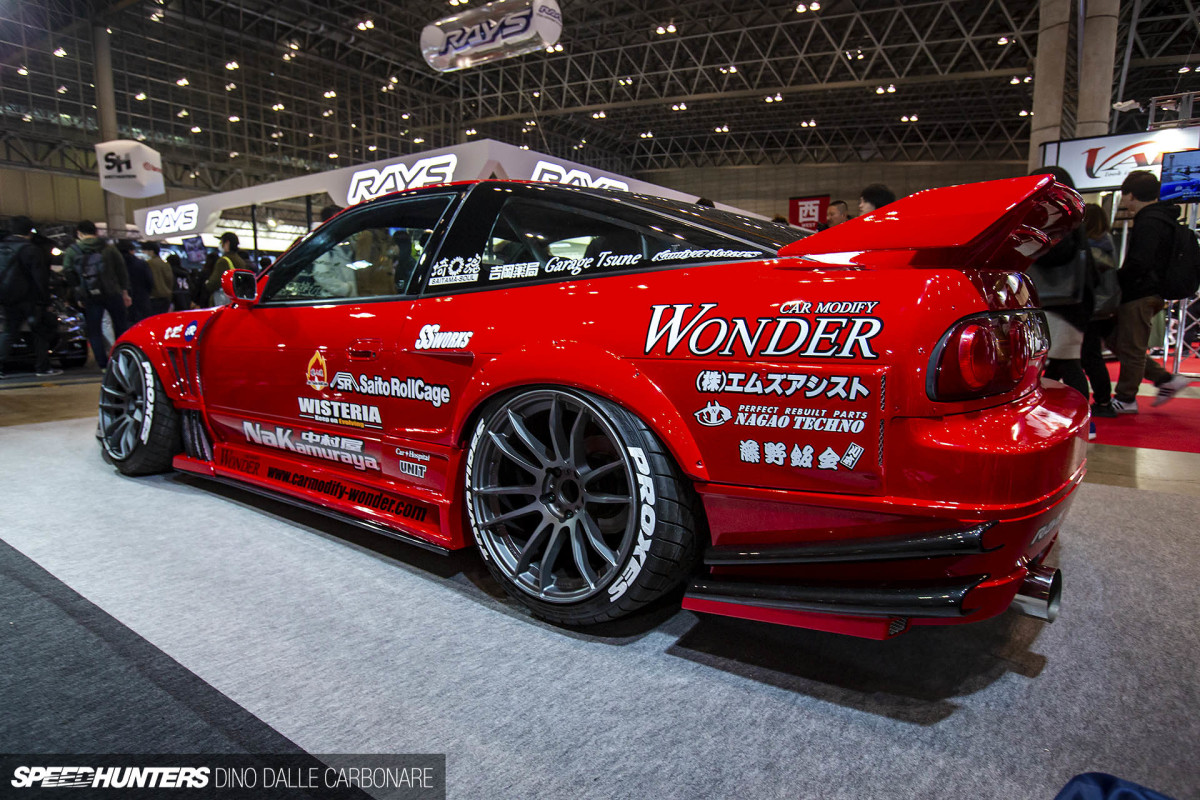 I love seeing the drift community continuously pushing aesthetics, and these two cars are a great examples of how some shops like to do it.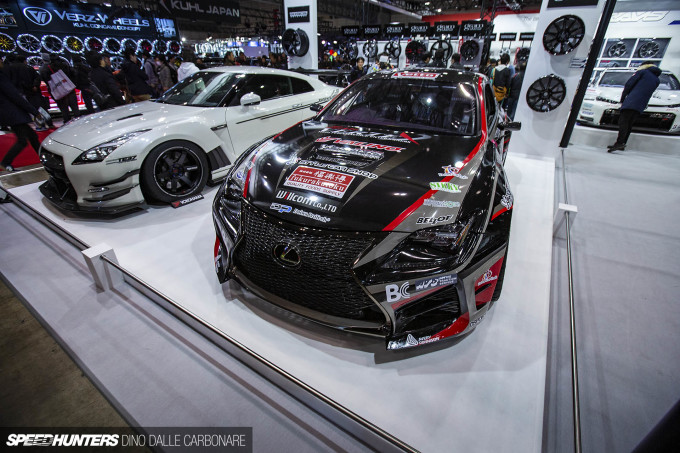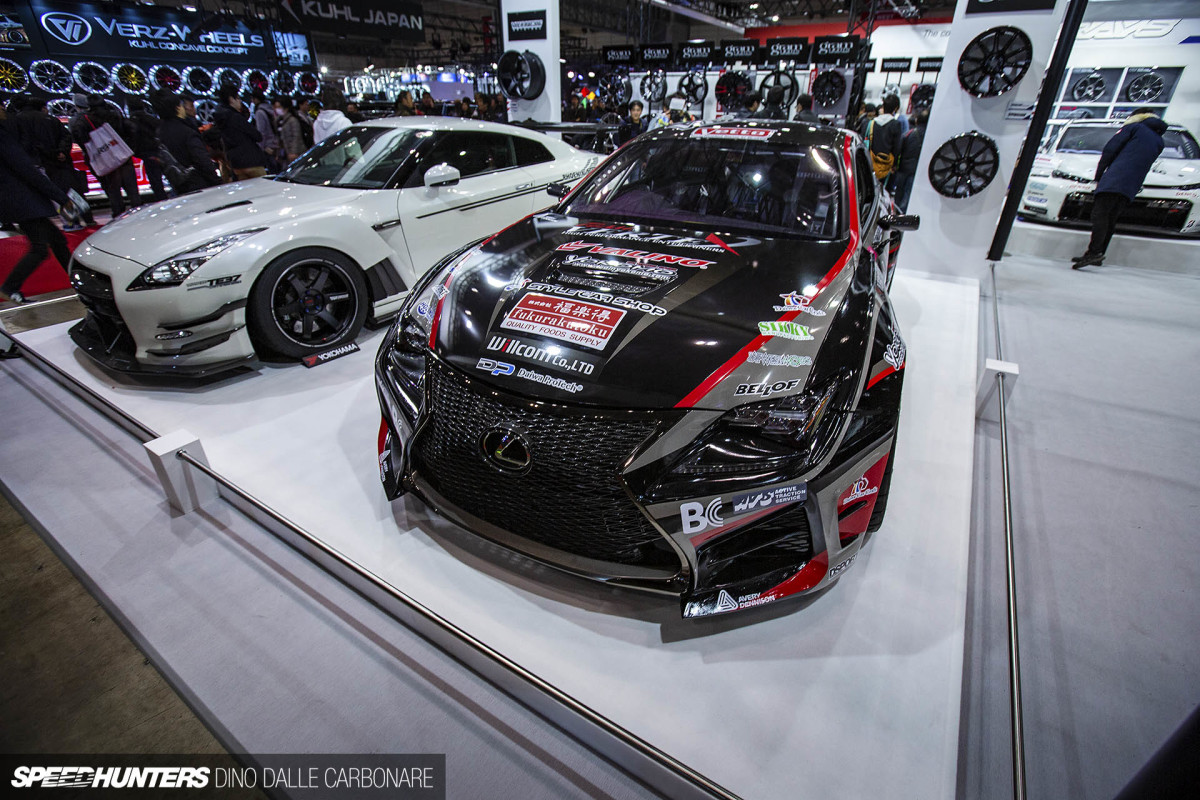 Talking of drifting, this is T&E's new D1 machine, a 2JZ-powered Lexus RC F that was on display at the RAYS booth. This car has been a long time in the making; I remember seeing the body in white at their shop a good three or four years back, so it's great to see the car finally making its debut this year.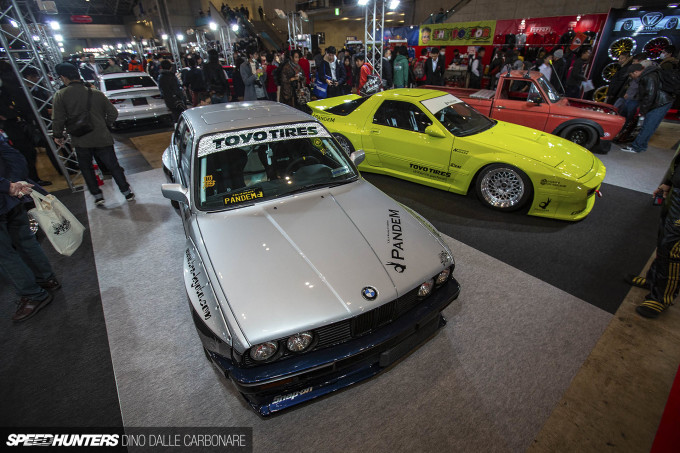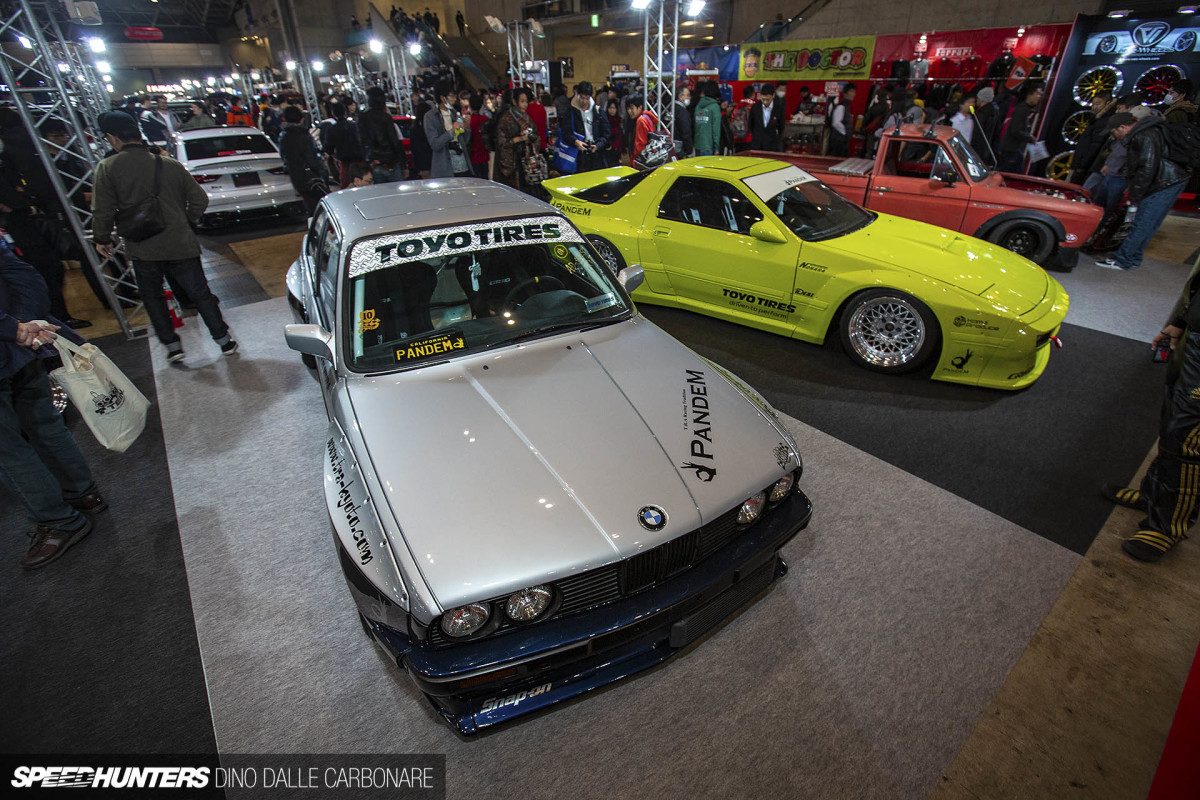 Kei Miura and his Pandem cars had one hell of a response from the TAS crowd. I even spotted the man himself being interviewed by Japanese TV.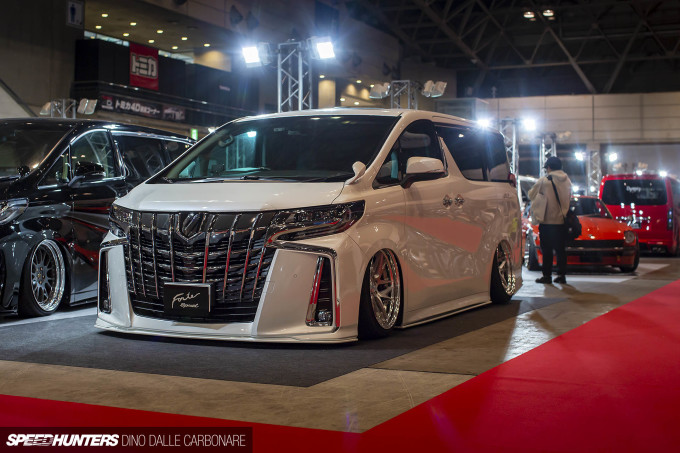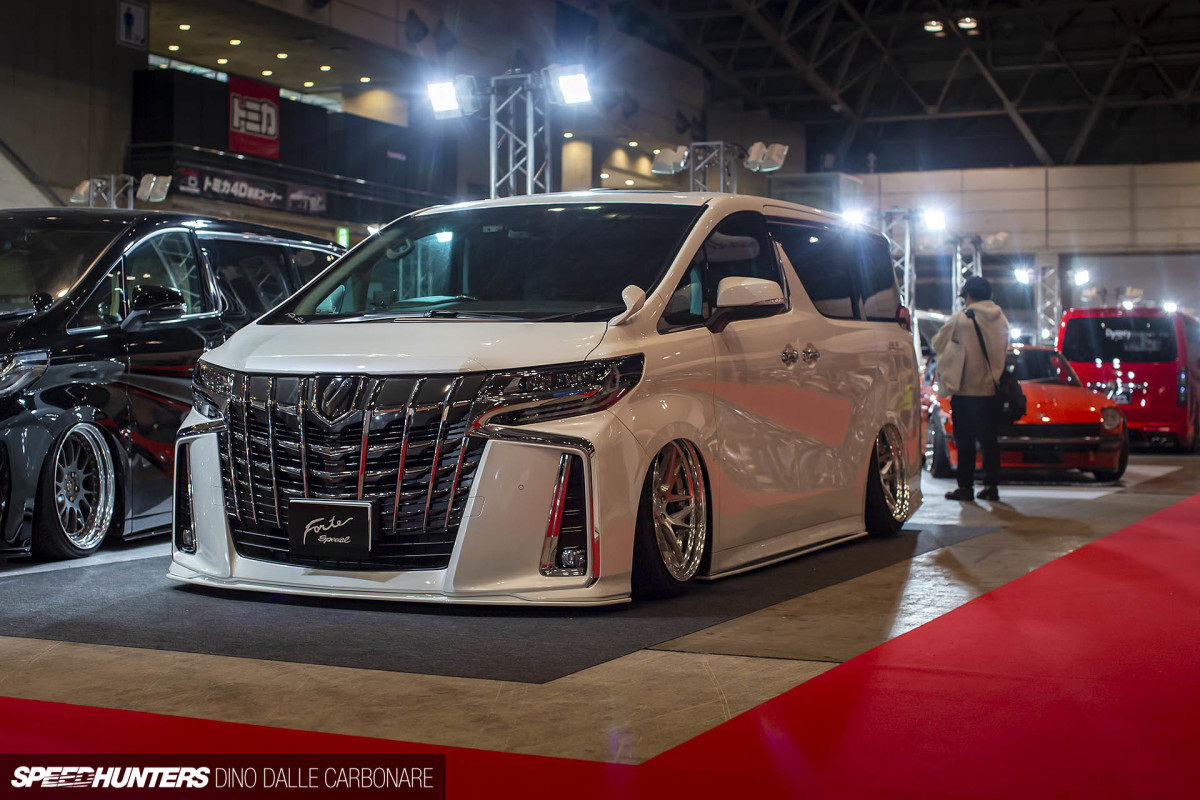 Vans are such a bit part of the Japanese customization scene that we can never pass up a quick look – even if they're so far removed from actual Speedhunting. Because who in their right mind wouldn't rock a Toyota Alphard on air as their family car?!
There's a massive industry surrounding this modifying genre, and it's all come from car guys having families. I get it, I totally do. I want one so bad.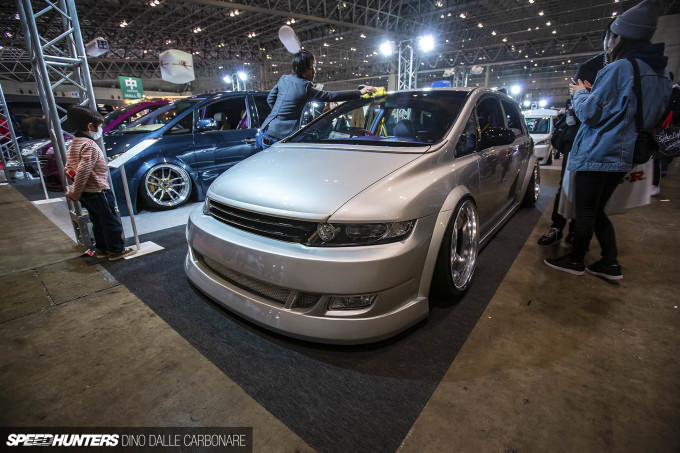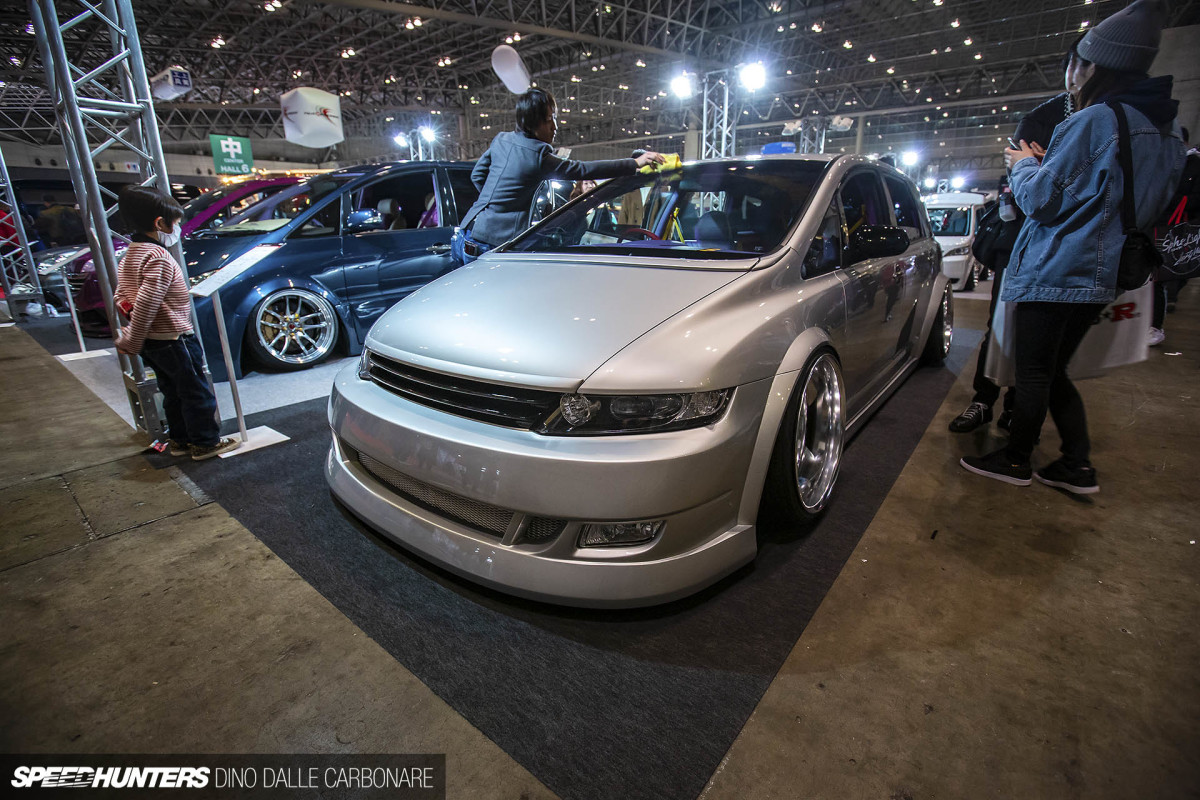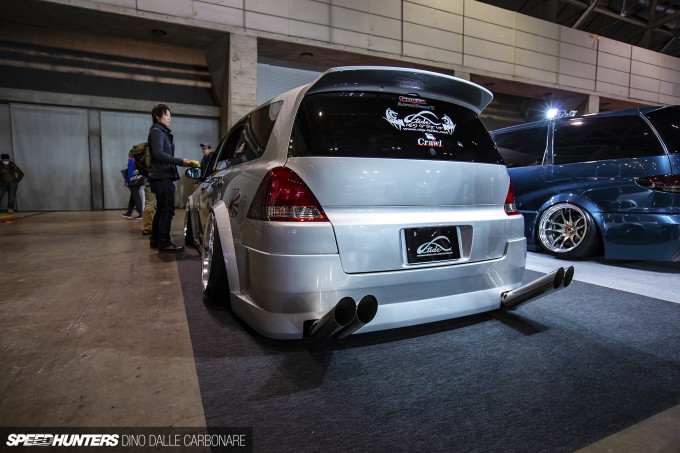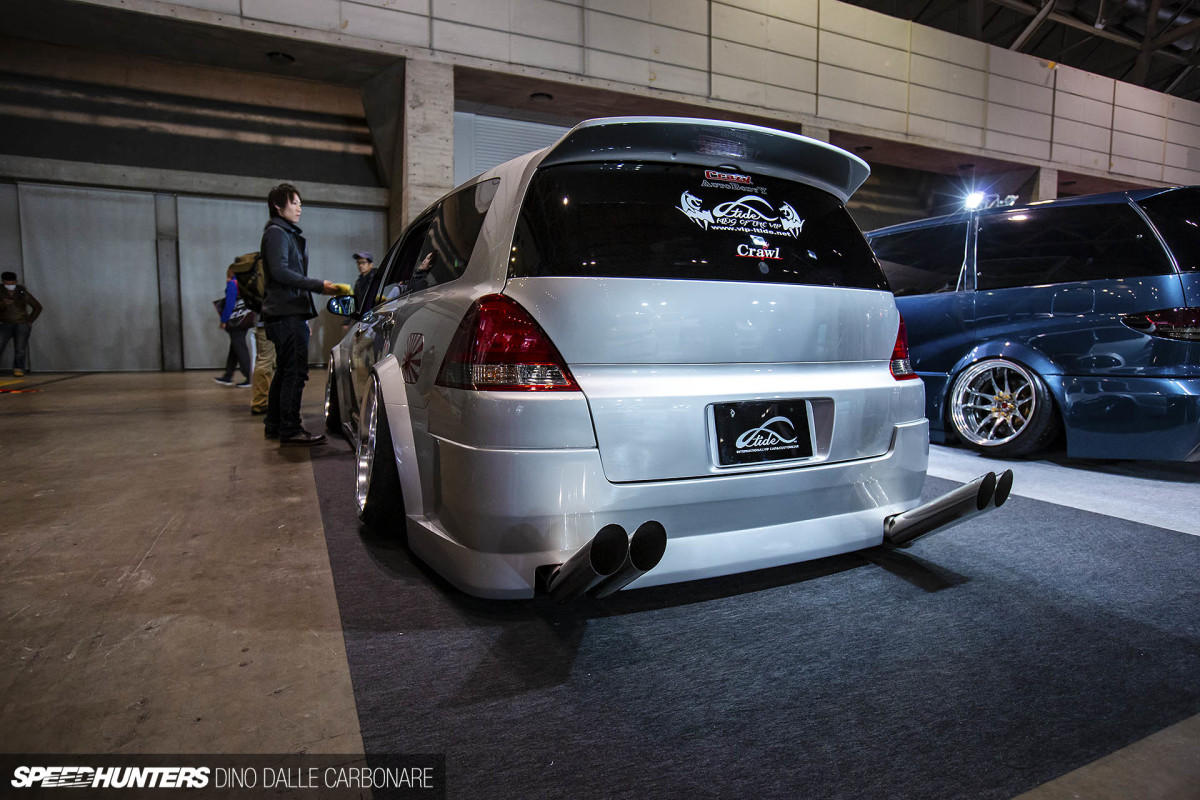 Or maybe something more compact like a Honda Odyssey… I don't know what's better, the interior or the exhaust setup?!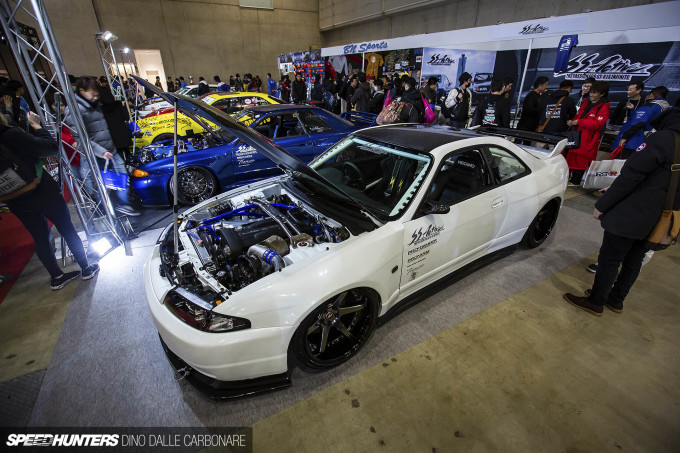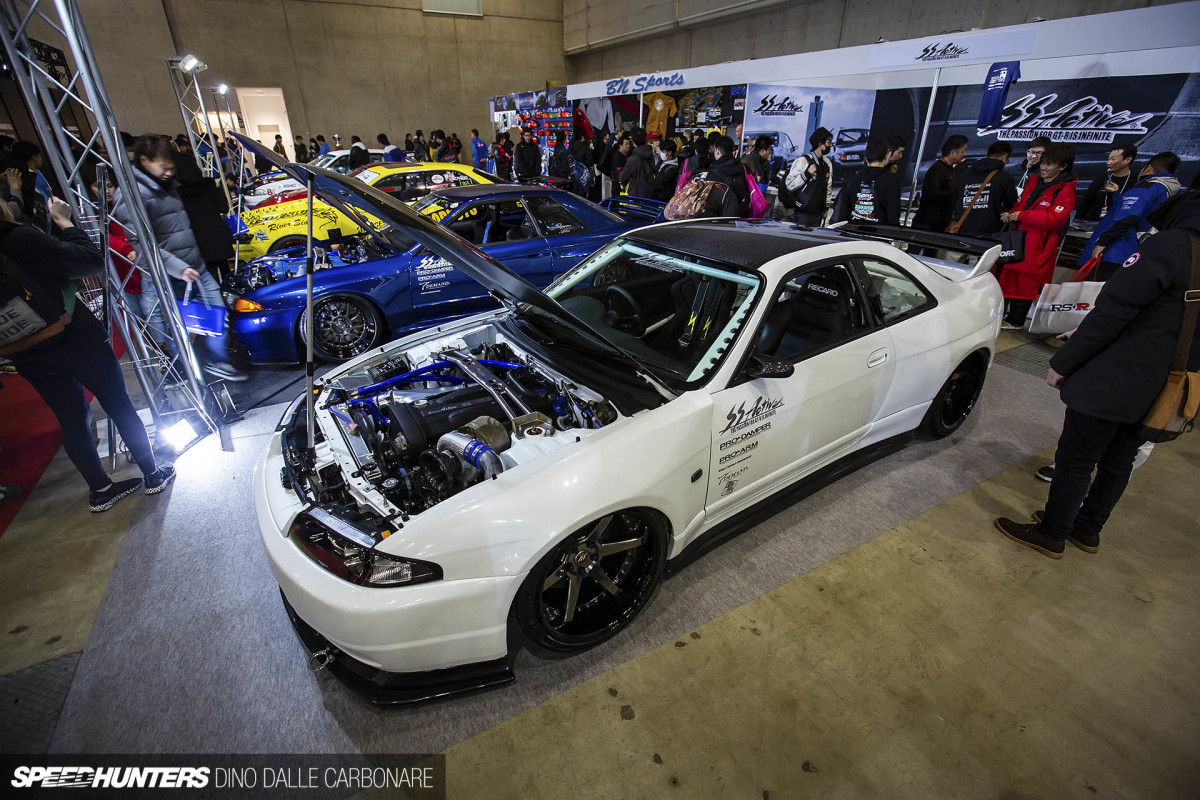 Garage Active killed it last year by unveiling their carbon fiber wide-body BNR32 Skyline GT-R, and this year they applied the same approach to the BCNR33.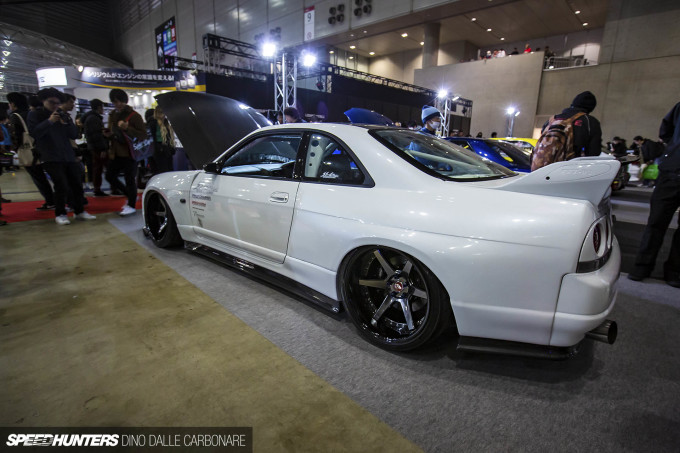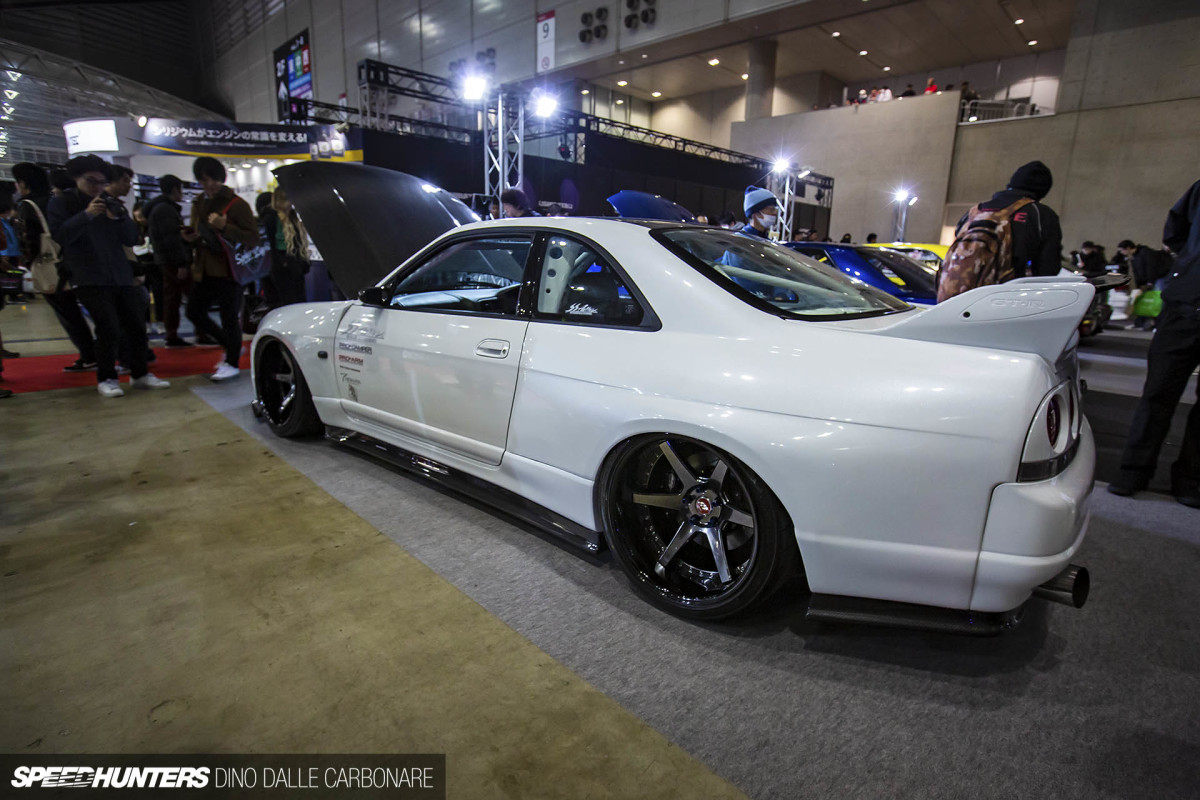 That is, enhancing the lines of the car in a way that it doesn't upset its overall form. Gently yet massively-widened fenders, a decent spoiler treatment, and an all-new front bumper adds up to one of the baddest R33s in existence. We like it a lot, and we'll find out more about this car for you guys soon.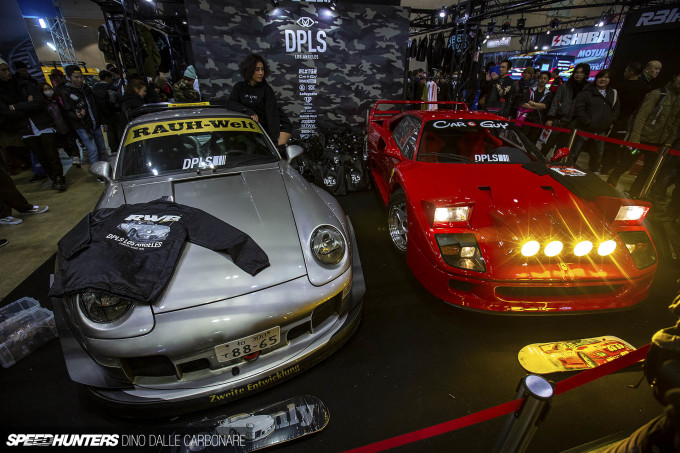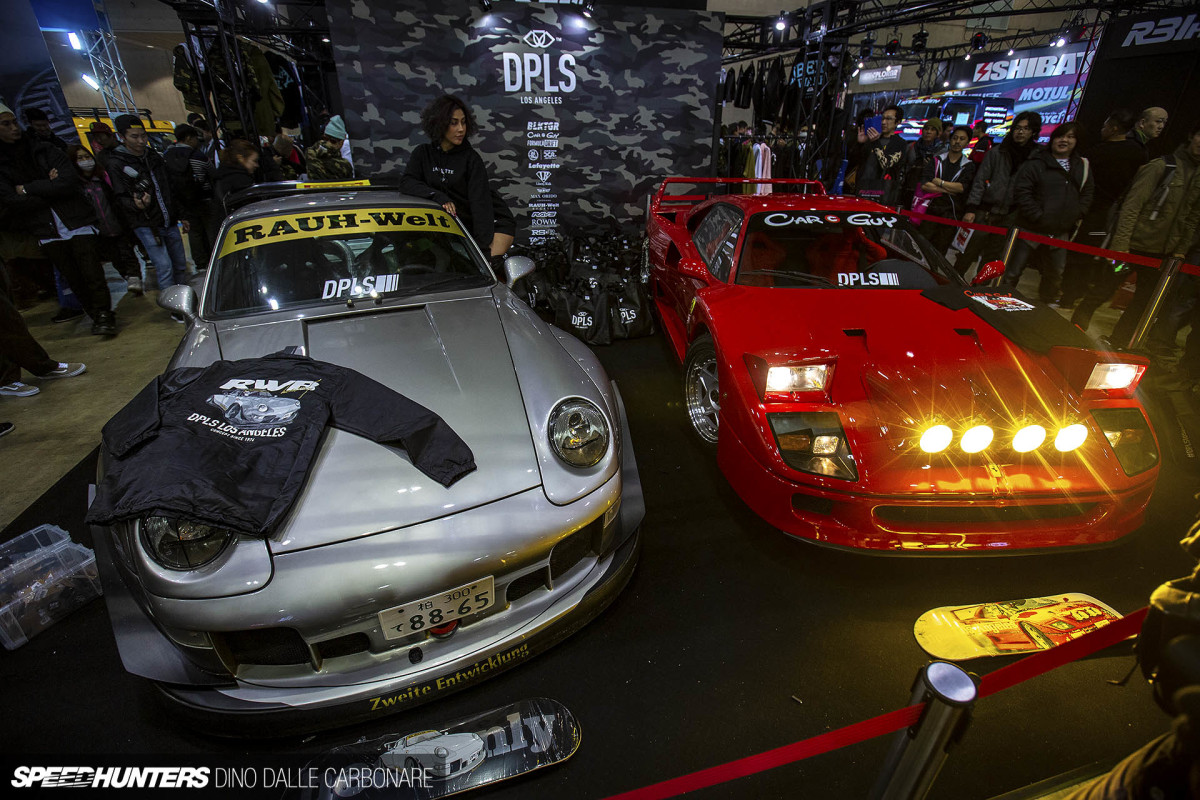 RWB combined forces with Car Guy to create one hell of a booth, even though there were only two cars on display. Kimura's Ferrari F40 was put back into snow-attack mode, sporting the same studded tires it had three years back when it did some fun stuff in Nagano.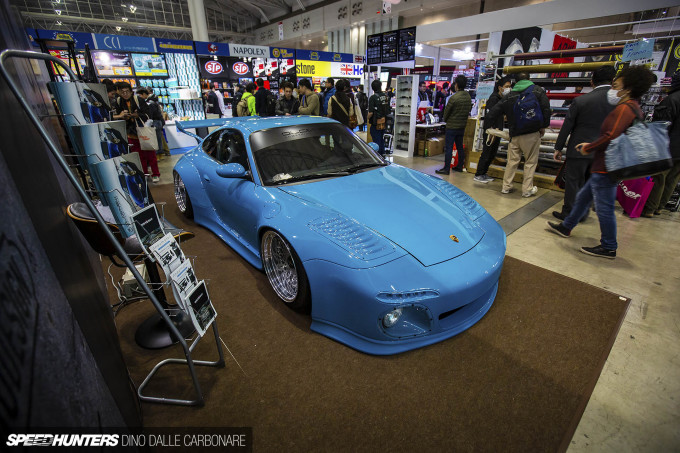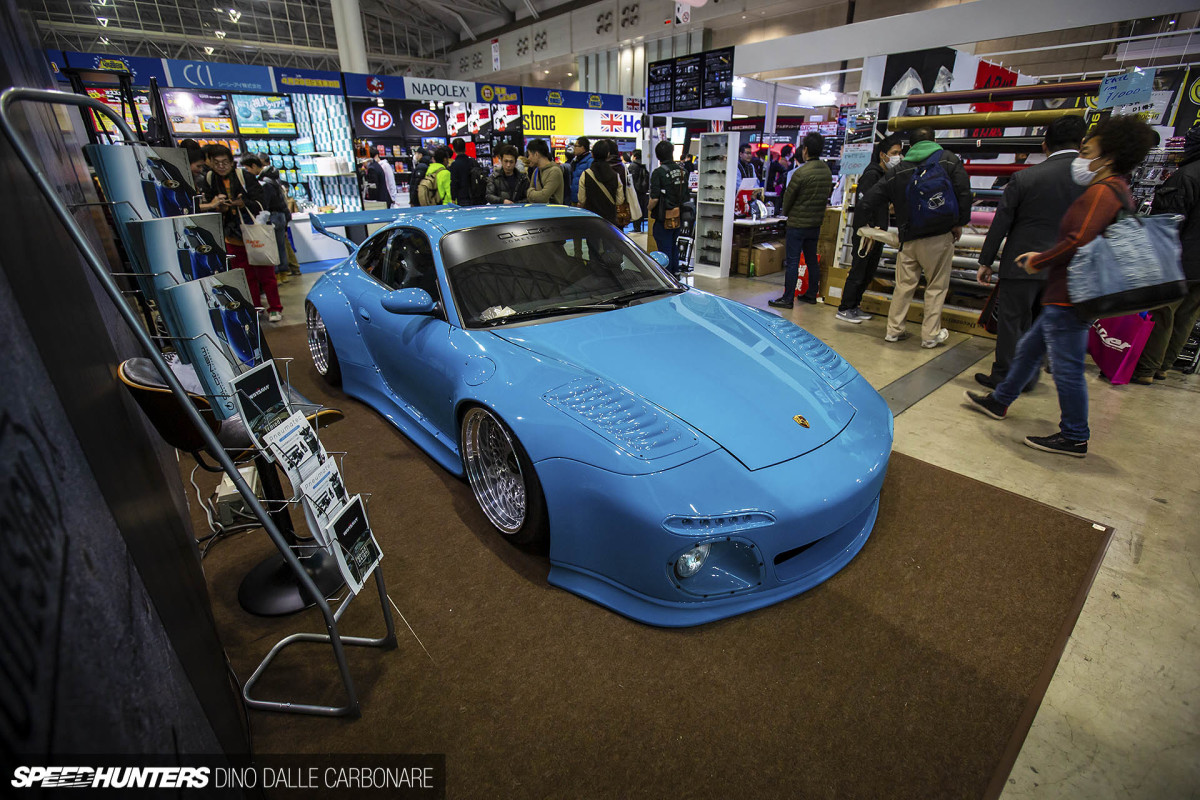 Old & Now is a company that has been absolutely killing it over the last year and a bit. I really can't wait to see what these guys are planning for 2019.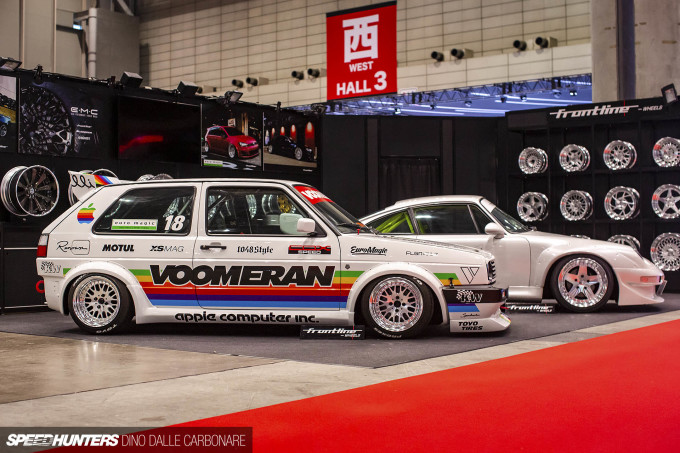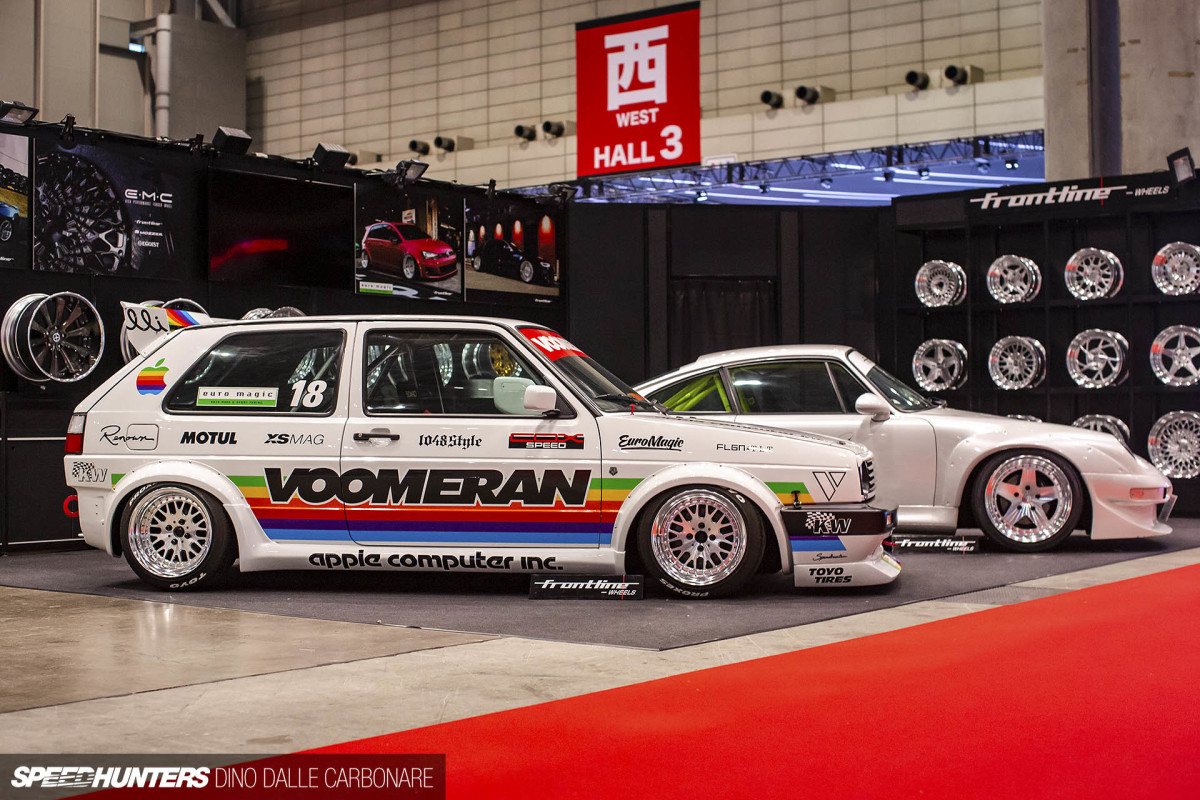 With the Voomerang Mk2, the guys at Euro Magic showed us that their livery game is strong.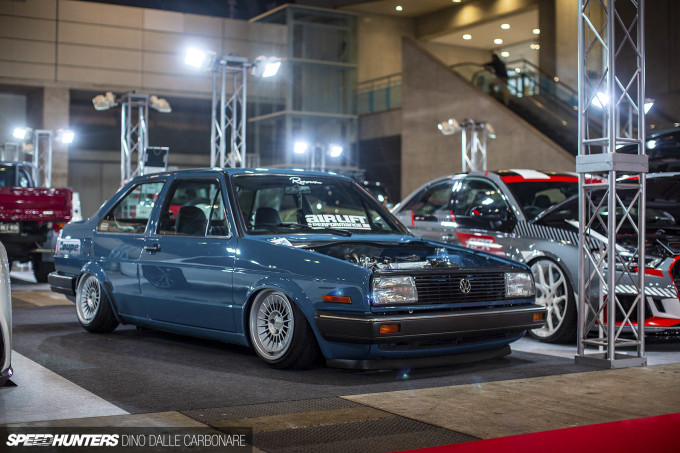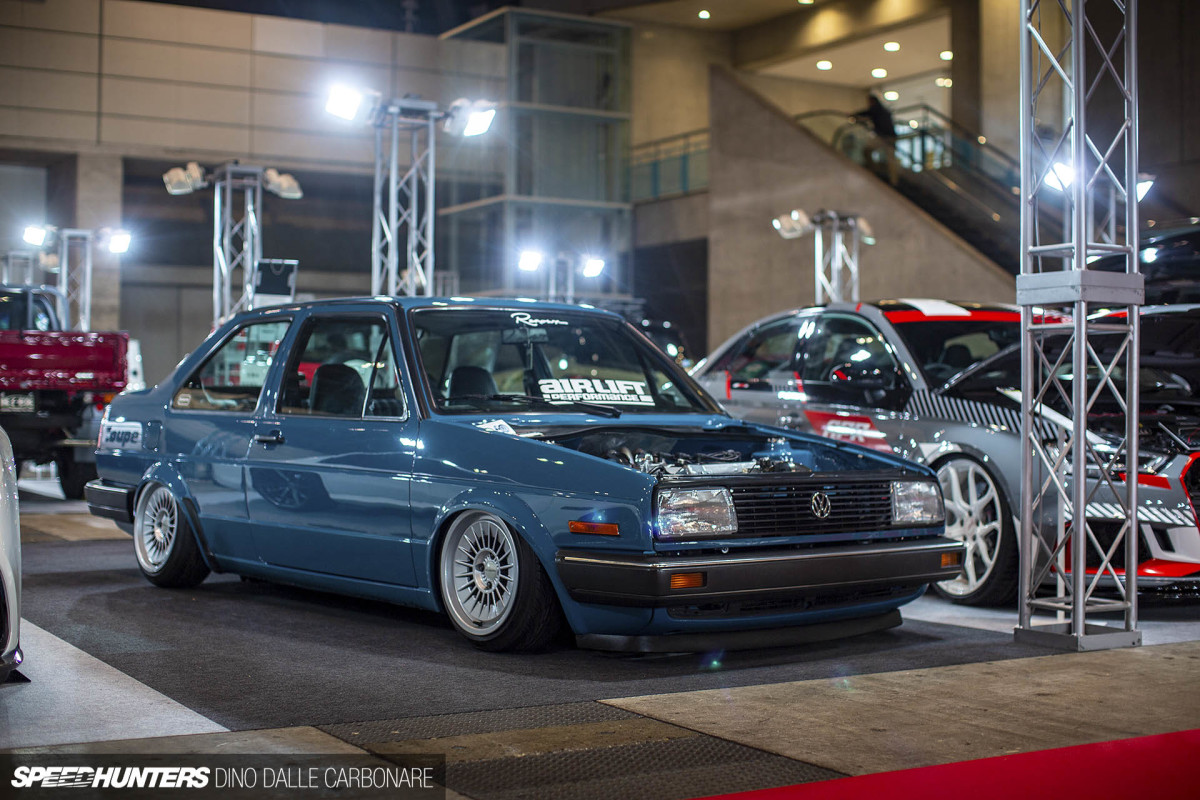 If I had to pick the best VW of the show though, it would have to be this Jetta on AirLift Performance suspension.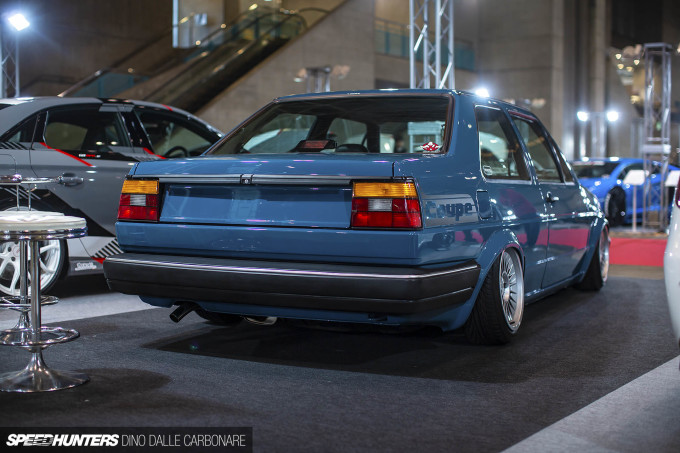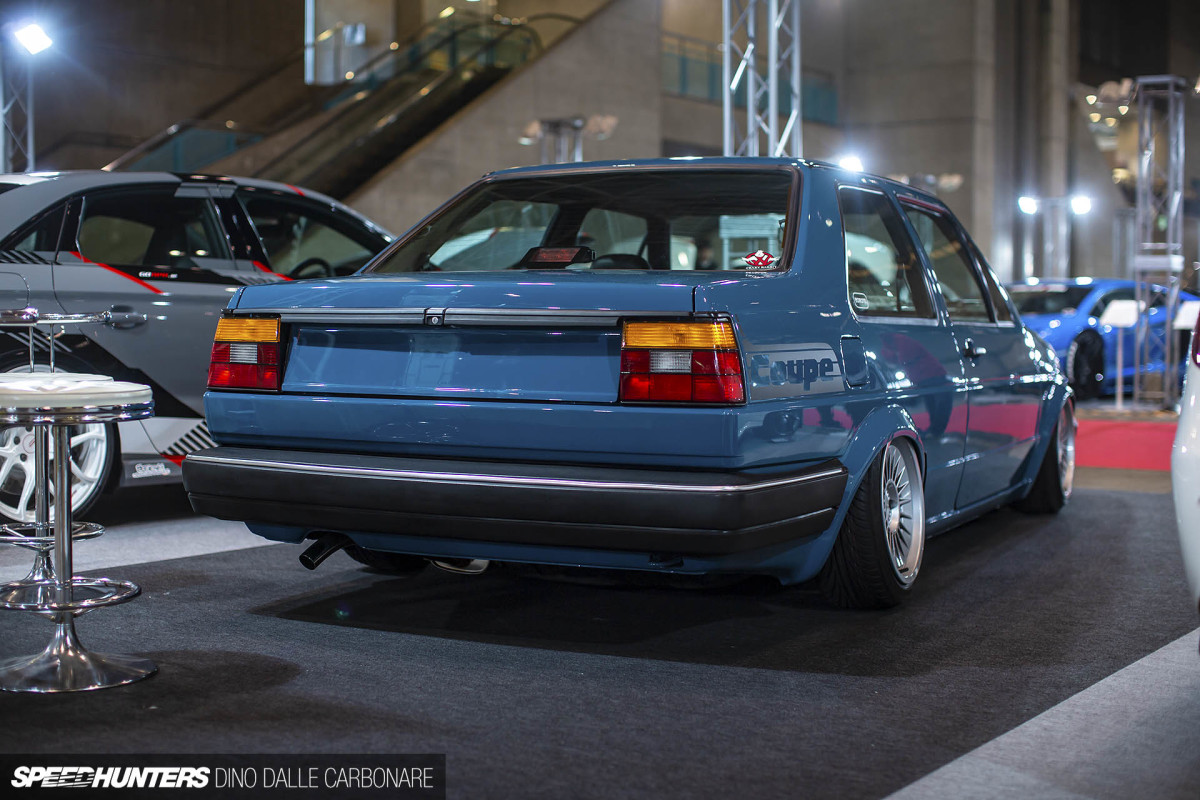 Once again, the Japanese prove they know how to take inspiration and turn it into something that's totally theirs. Top marks for the shaved engine bay and the 964 seats with tartan trim.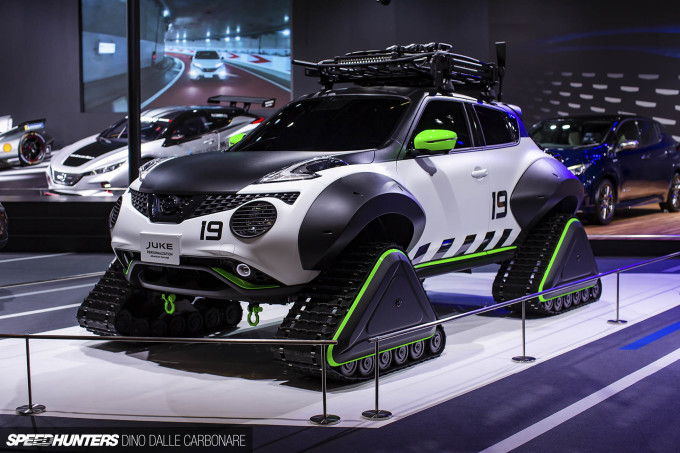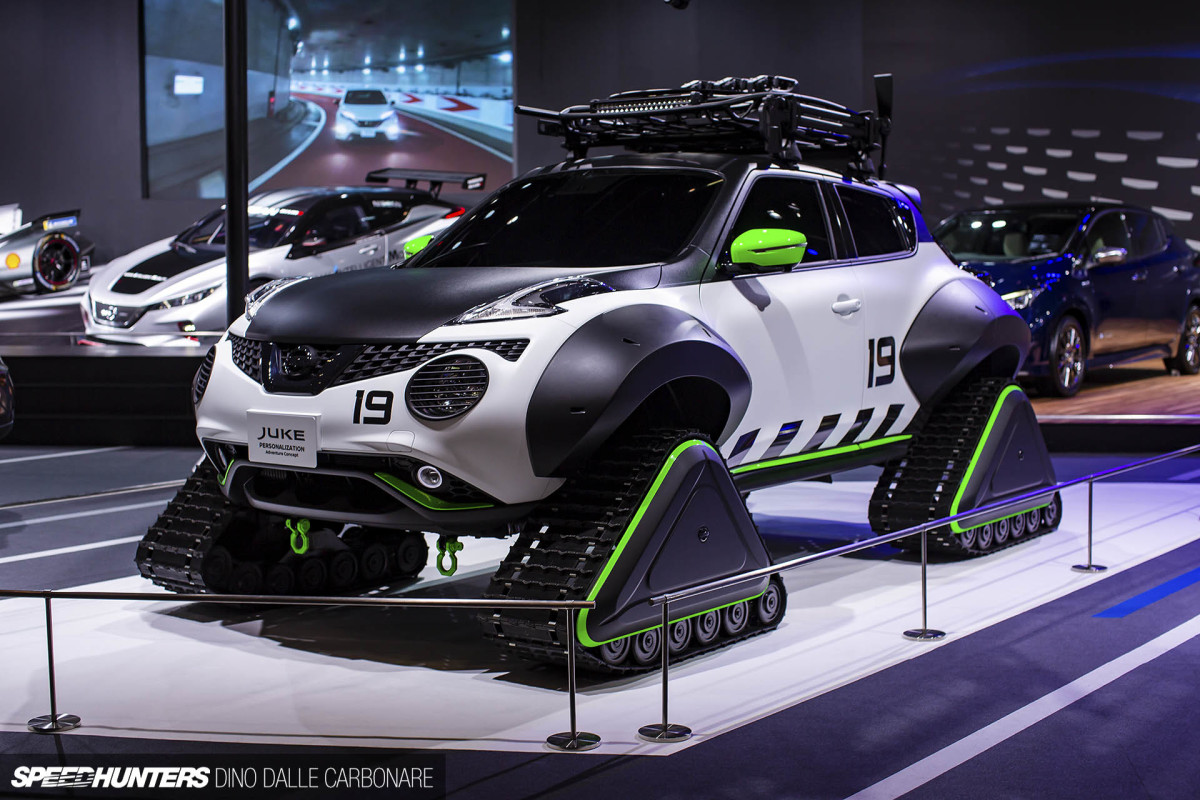 Nissan did this to a Juke. I think I spotted Ken Block looking at it…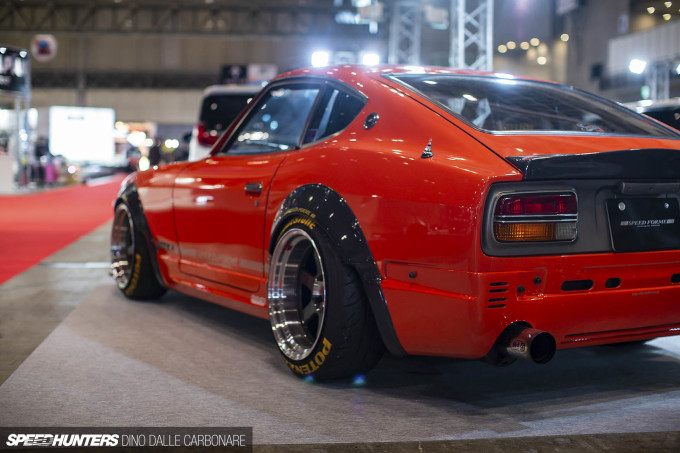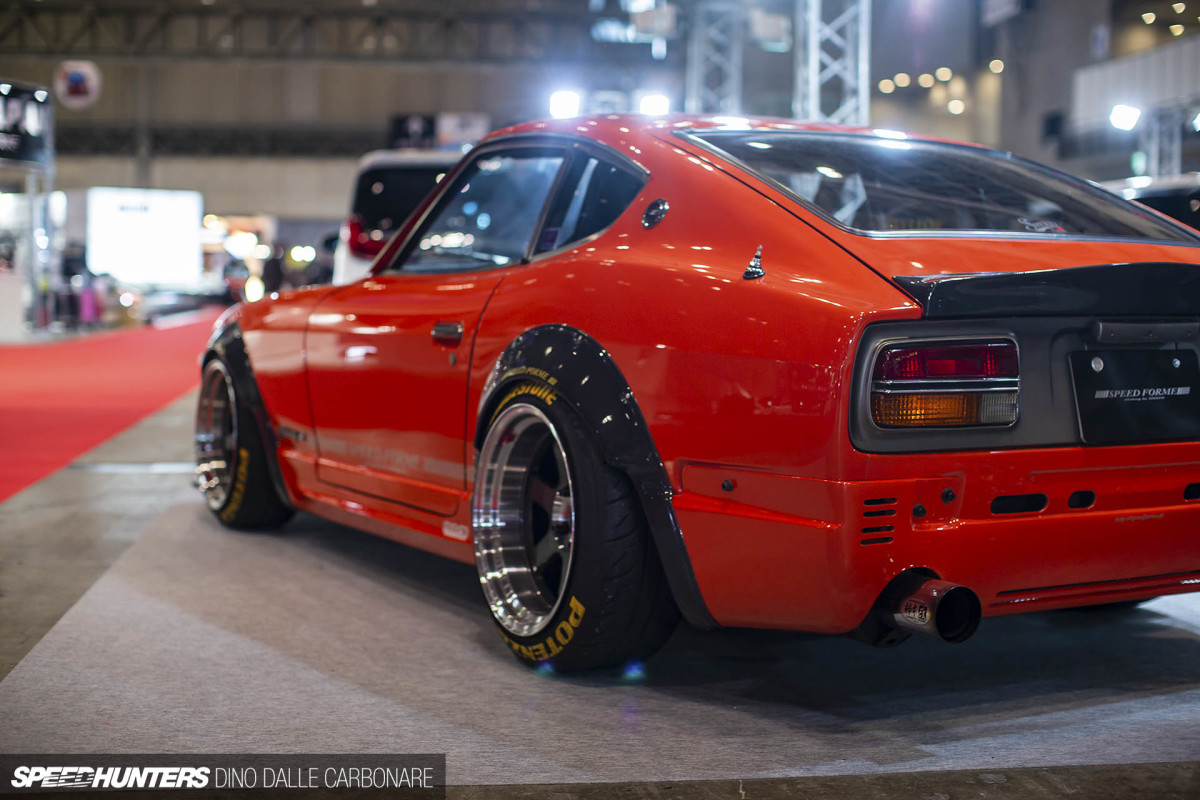 But let's not lose all hope; let's stay with Nissan more and move over to the kyusha side.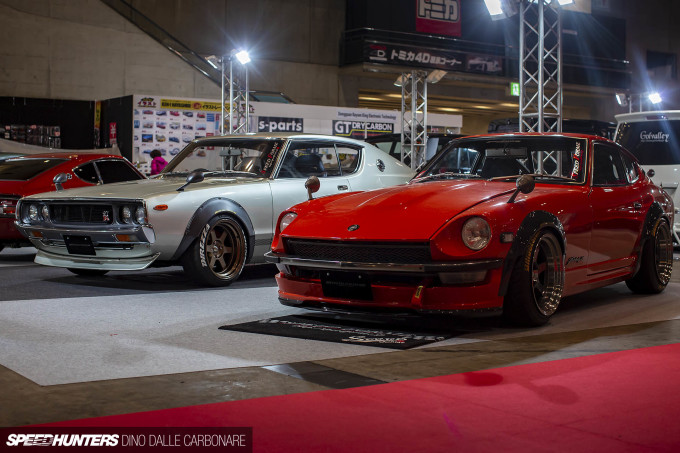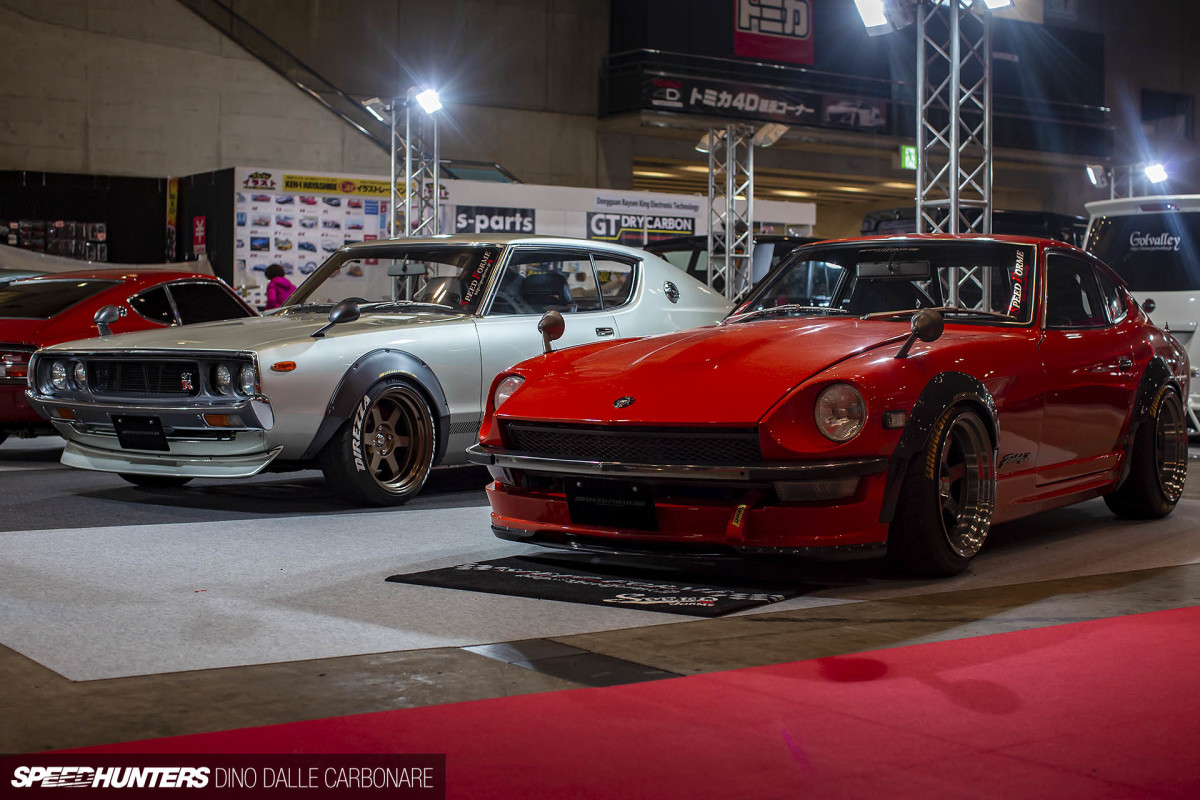 Here's  some cars that I'm sure you guys wouldn't be able to keep your eyes off of if you came across them during a still-empty TAS on Sunday morning.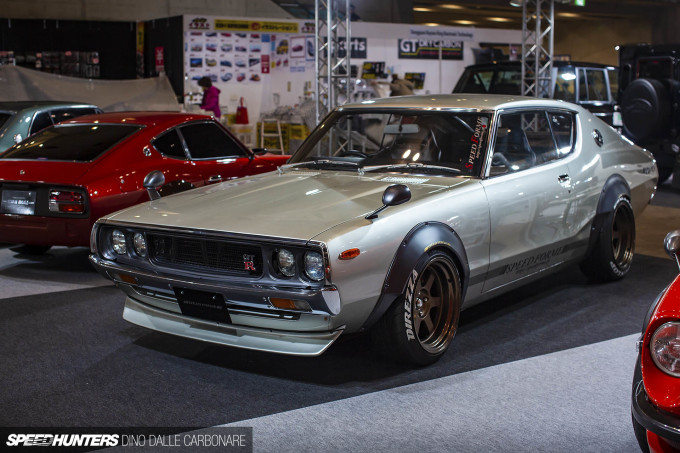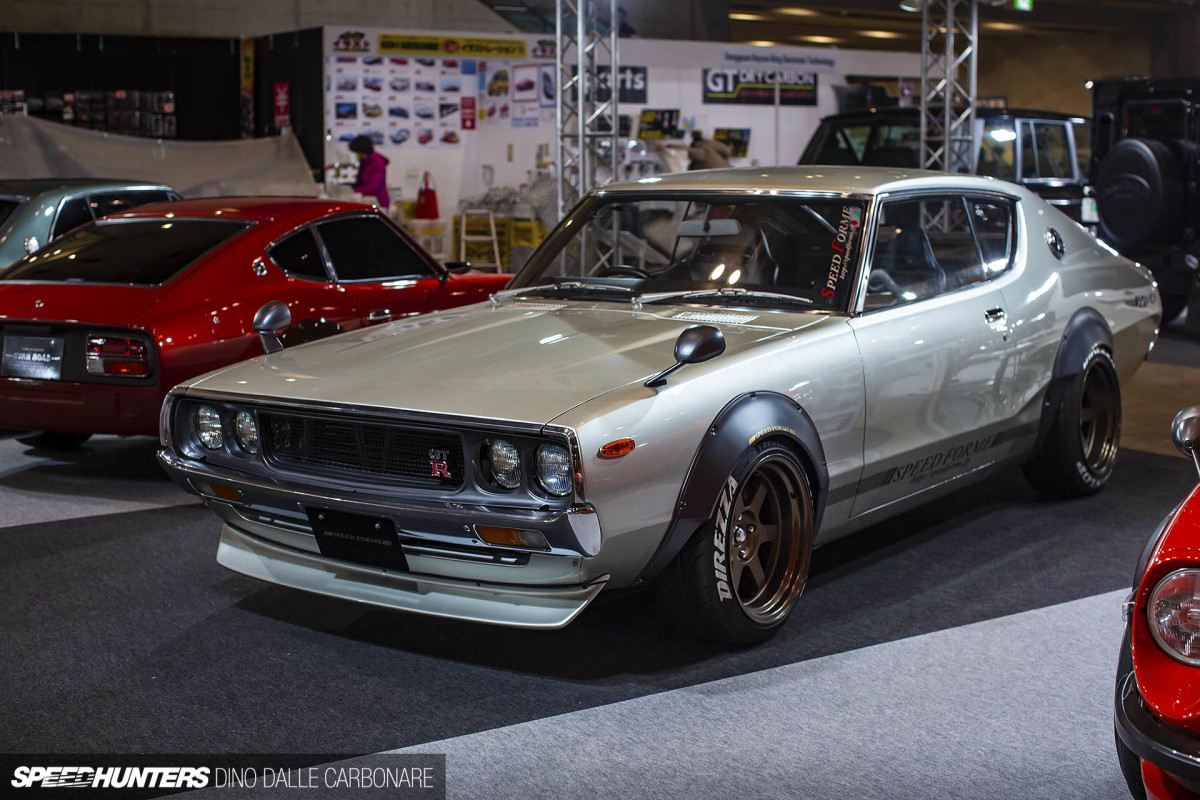 Speed Forme had this pair of Nissan classics, an S30 and C110 Kenmeri, the latter a GT-R replica running RAYS Volk Racing TE37Vs.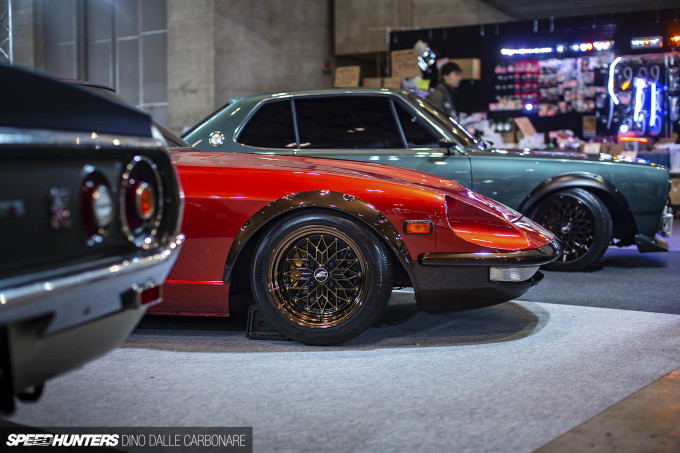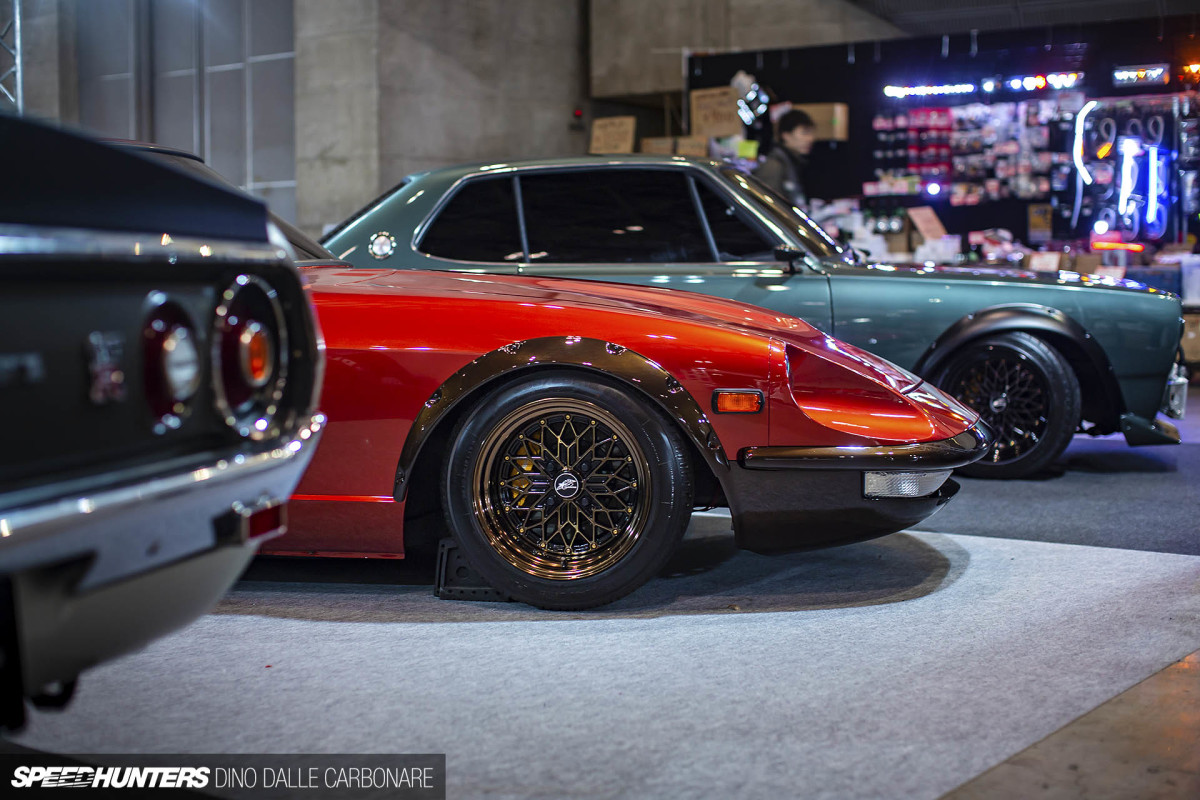 And we can't possibly talk about resto-modded Nissans without mentioning Star Road.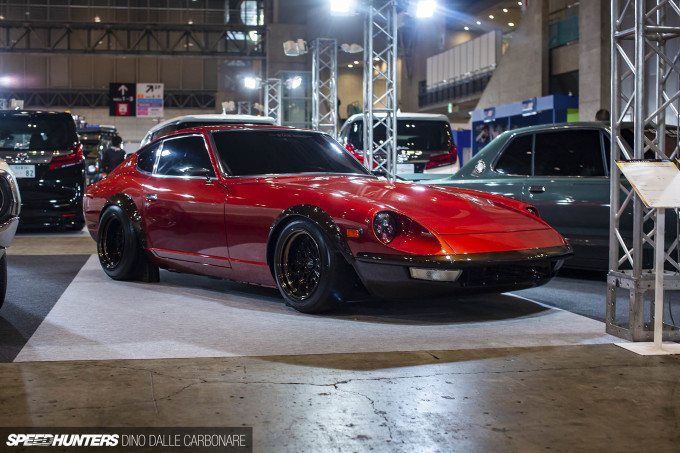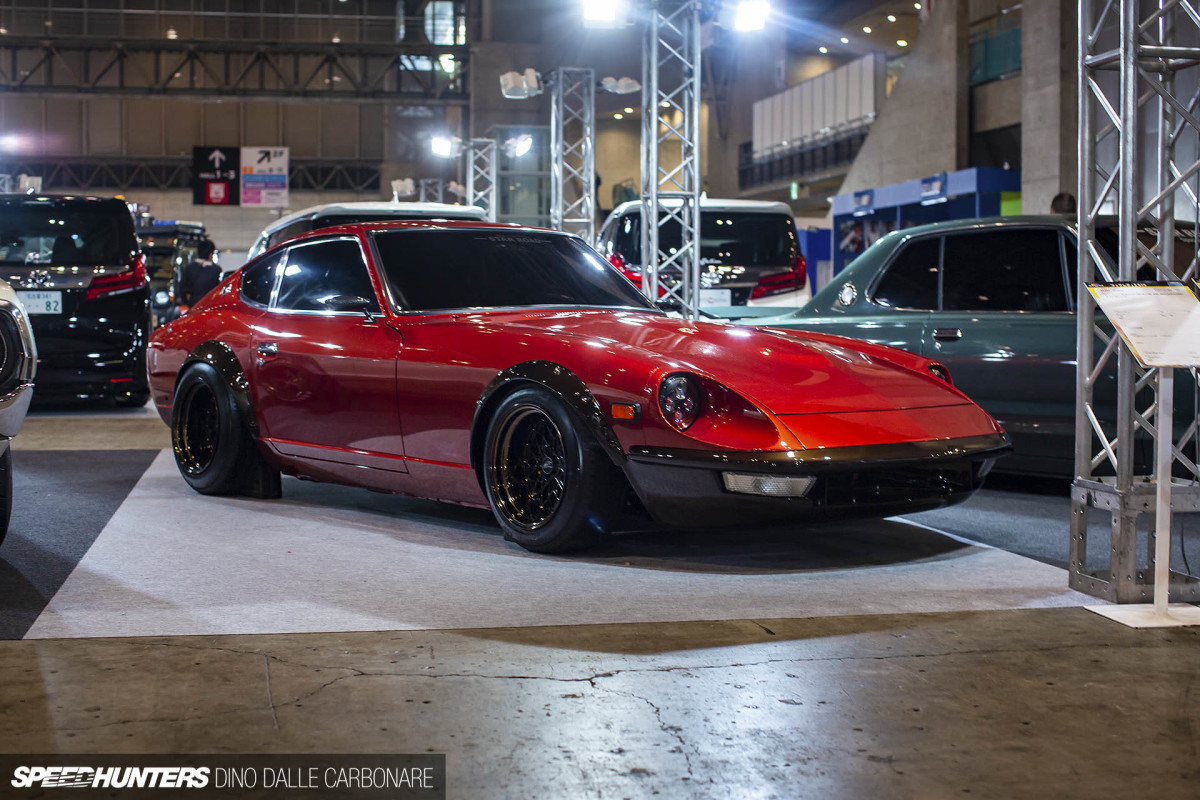 These guys kill it in every way, and even if both of their cars weren't 100% complete (hence the blacked-out windows), there was a lot to appreciate.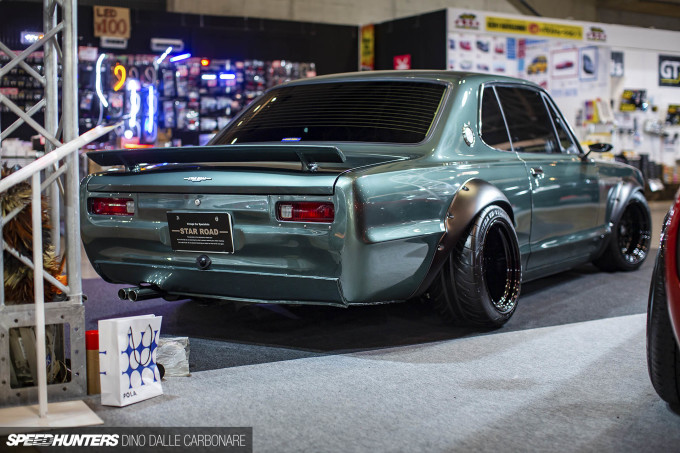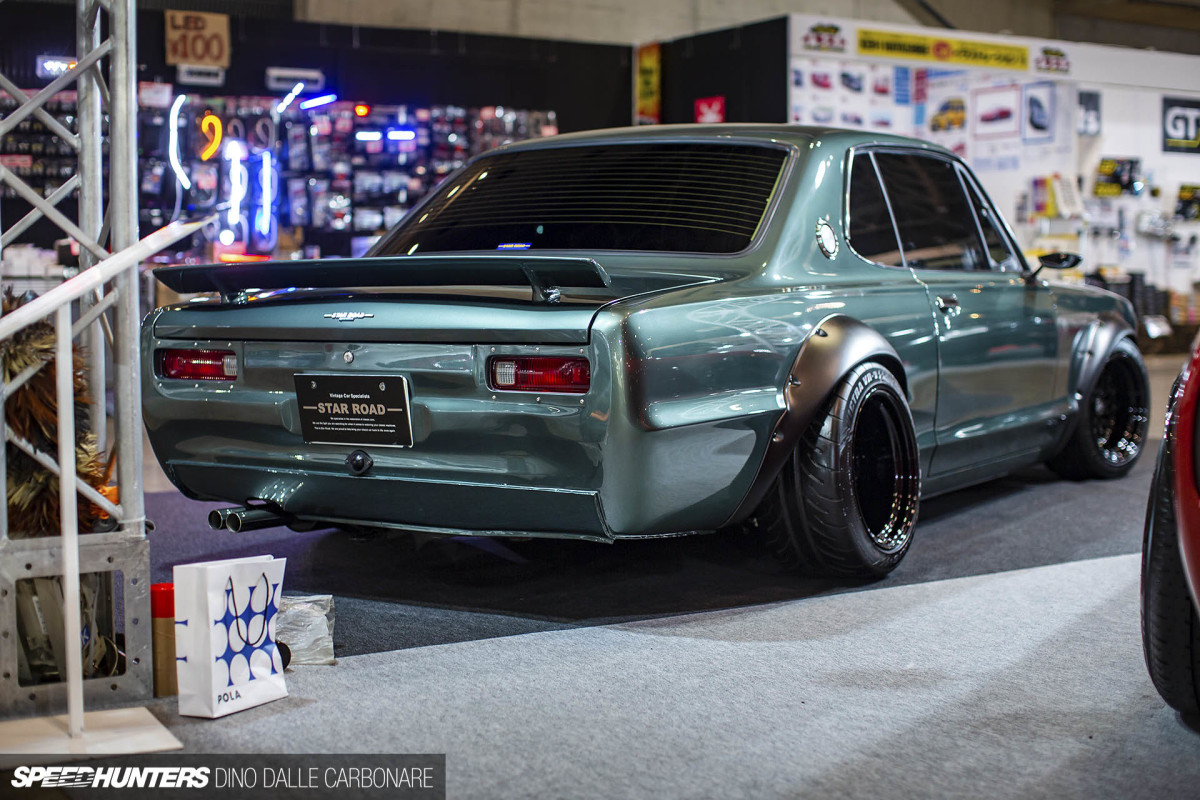 Shaved of its bumpers, painted in a deep teal hue, and sporting the widest over-fenders that Star Road have ever made, the Hakosuka really did it for me, though.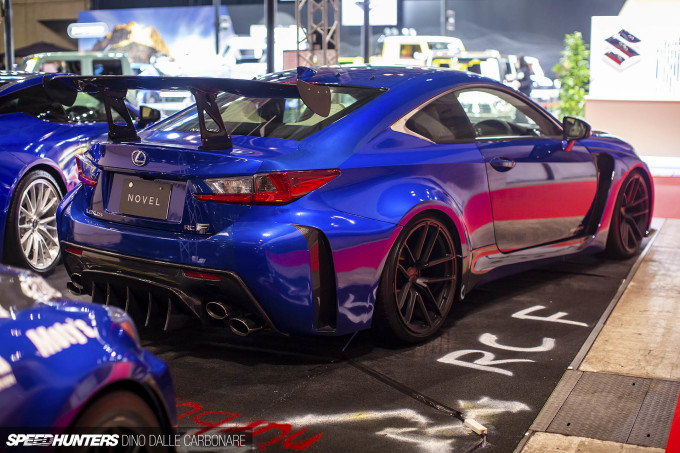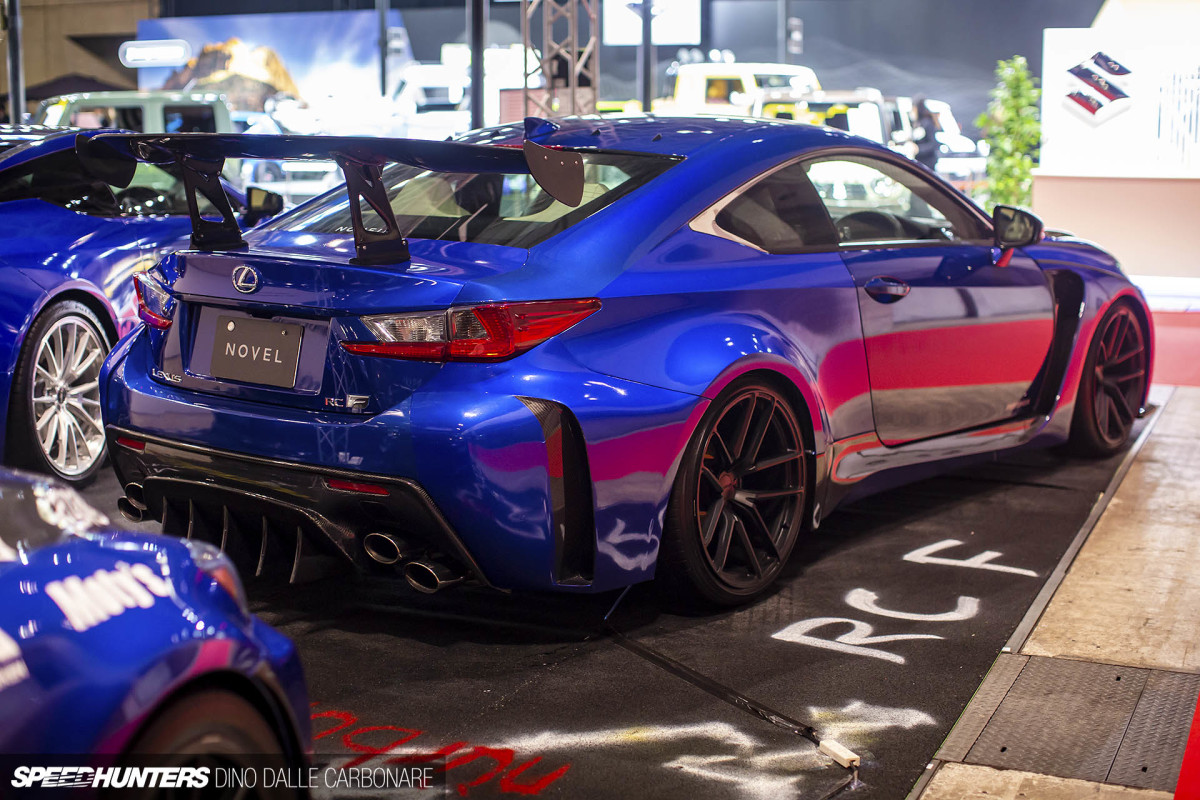 This image of Novel's wide-body RC F will be number 234 that I share with your from TAS 2019, and the final one.
I do have one more post that I'm putting together right now, but it's about an event that was running alongside Tokyo Auto Salon. Don't miss it – I'm sure you'll all like the rarities…
Dino Dalle Carbonare
Instagram: speedhunters_dino
dino@speedhunters.com