Imagine you wake up one morning with a simple goal in mind: pick up the remaining items required to 'finish' your car.
At this point in the project the heavy lifting is done and you're down to the small details; the day's target is a set of valve stems for your recently refurbished wheels. You hop in your daily and turn the key with a smile knowing the end is in sight.
Traffic on the way to your favourite shop is neither heavy, nor light, and the day is rather unremarkable save for the fact that when you pull into the shop's parking lot you see the car you never knew you wanted parked out front.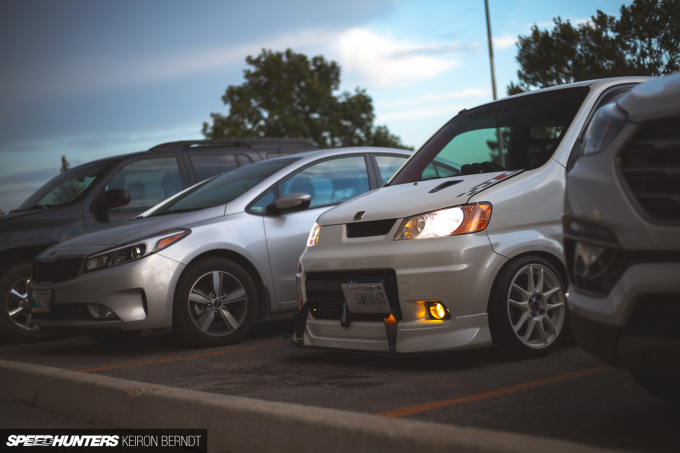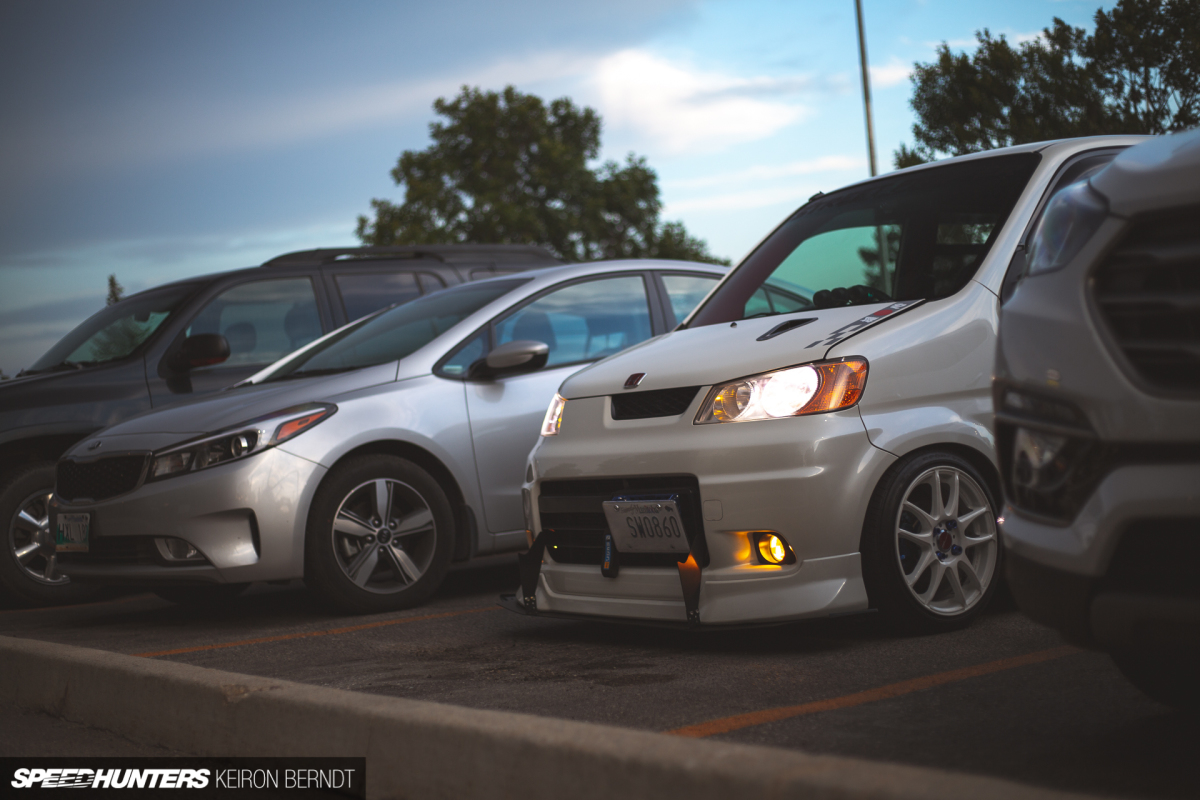 That paraphrased tale describes Kerwyn's first encounter with the then bone stock Honda Life Dunk. Less than a year ago, he was as unprepared to buy a new project as the owner was to sell, but when he saw the JDM kei machine he just had to have it.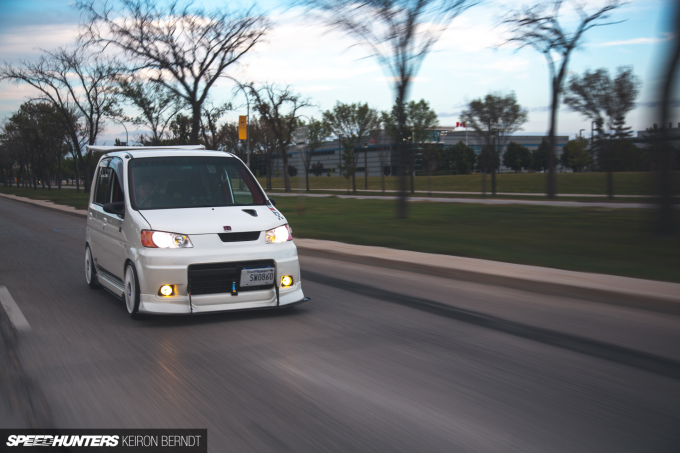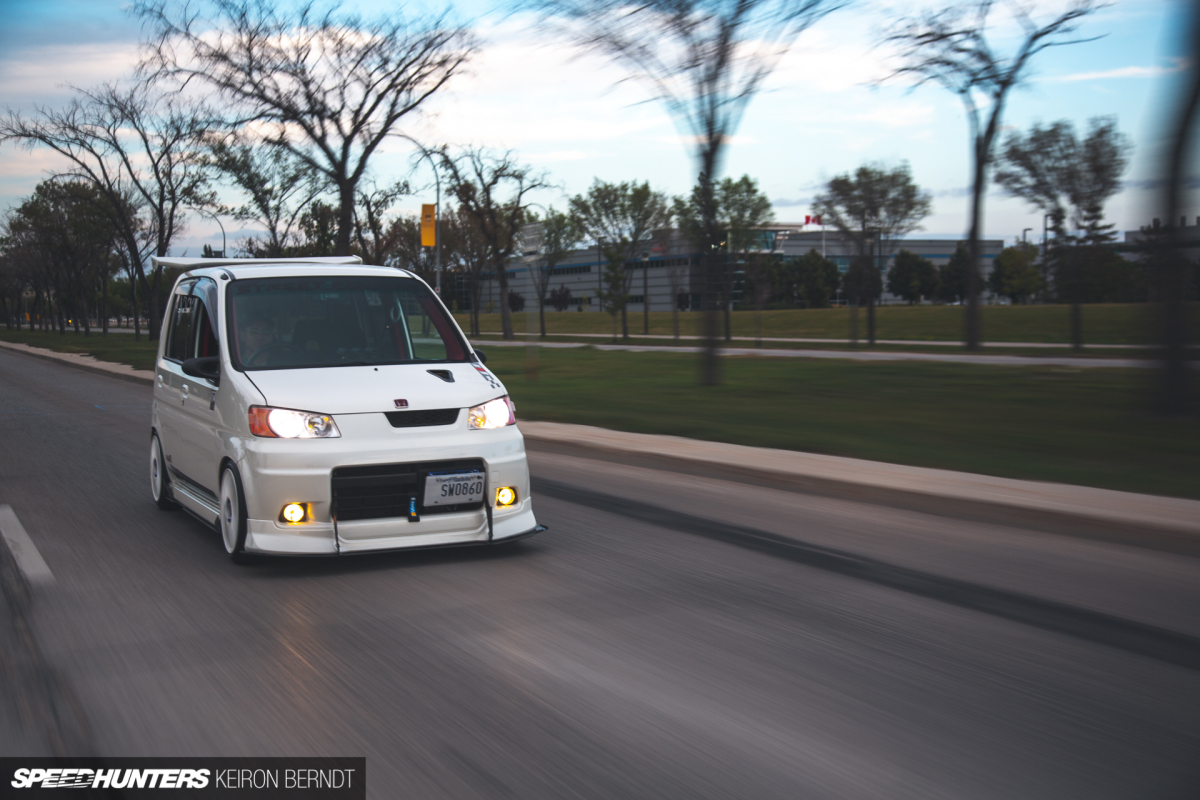 Kei cars are a common sight in Japan, but in Kerwyn's native Winnipeg they are anything but. Even beyond the borders of Manitoba, kei cars are quite rare, this one being one of two Honda Life Dunks in all of Canada.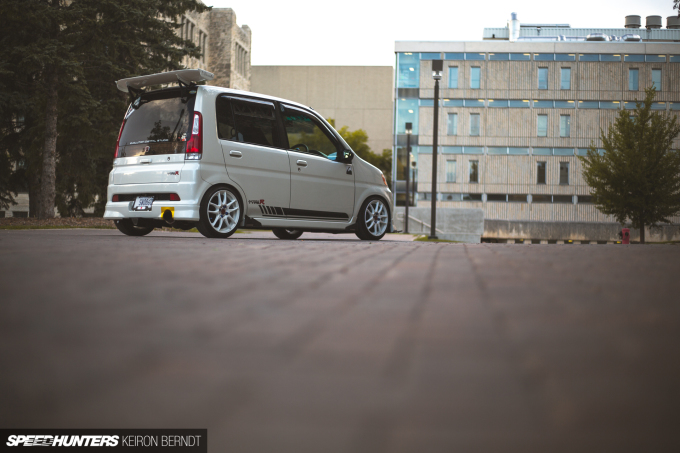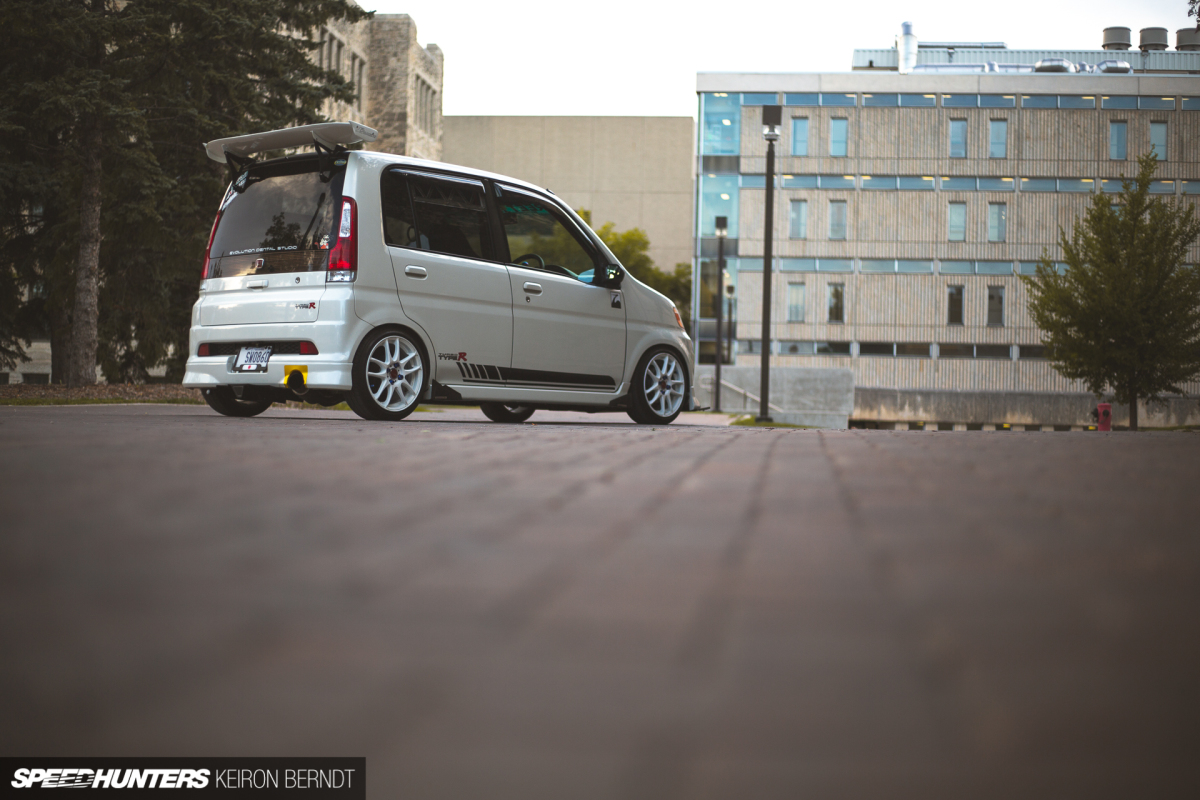 A kei car project would be a drastic departure from any of the cars in the area and quite unlike anything he'd built before, so naturally Kerwyn concluded it could have no better owner than him. There was only one problem, though: Ten Concept Imports had just brought the Life Dunk in via container from Japan and were not ready to sell it. Cheap on gas, yet surprisingly roomy, it was destined to be their dependable shop runabout.
Ten Concepts tried to convince Kerwyn he wouldn't like it. They said it was slow and unremarkable to drive. In fact, so confident were they that he wouldn't enjoy the car, they tossed him the keys and told him to go fill it with gas. Perhaps it was a sly reverse physiology sales pitch, or maybe it was legitimately an anti-sales tactic, but Kerwyn went straight from the gas station to the bank withdrawing a sum he hoped would be enough to purchase the car.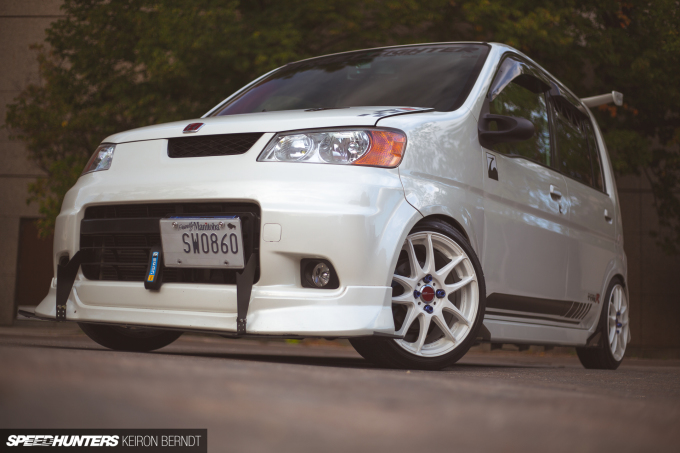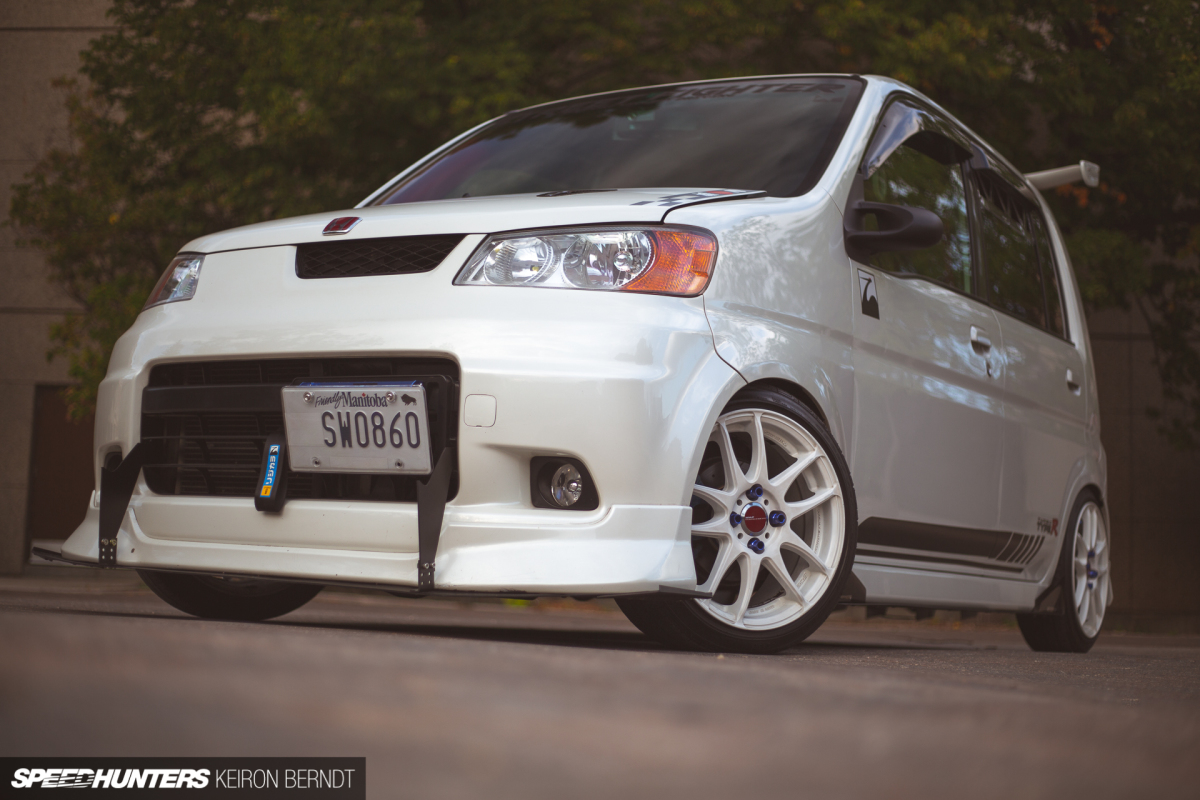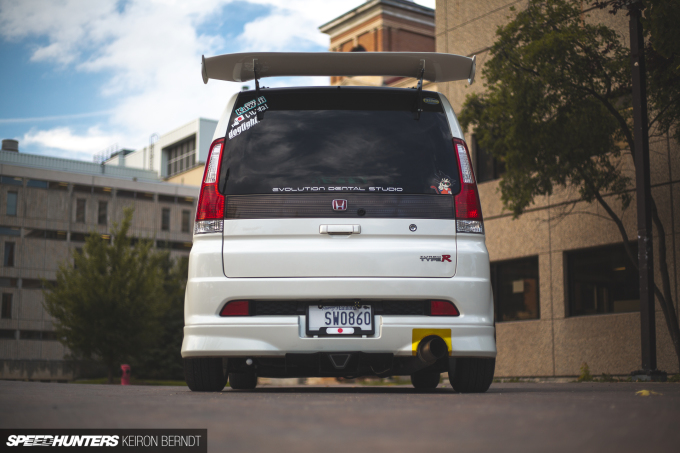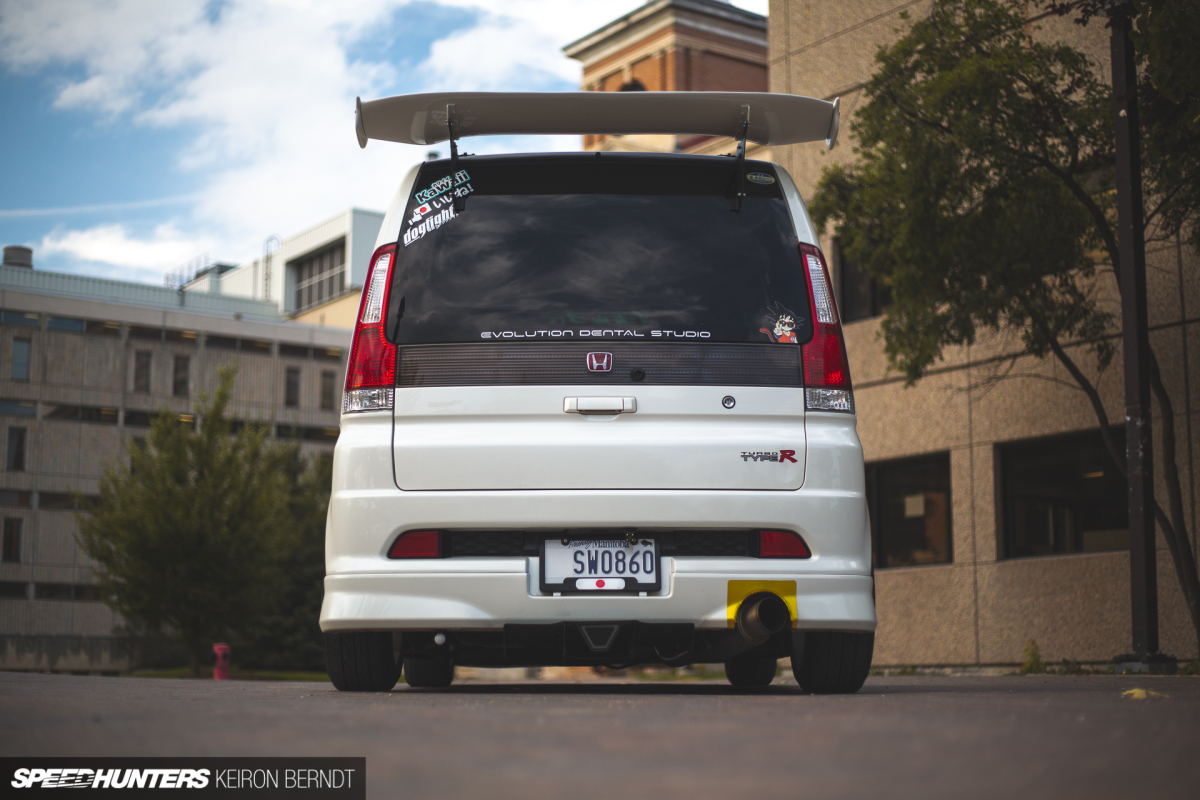 Money talks, especially cash on the spot, and after a brief back and forth Kerwyn left with the valve stems he original set out to acquire in one pocket, and the keys to his new Honda in the other.
Pint-Sized Power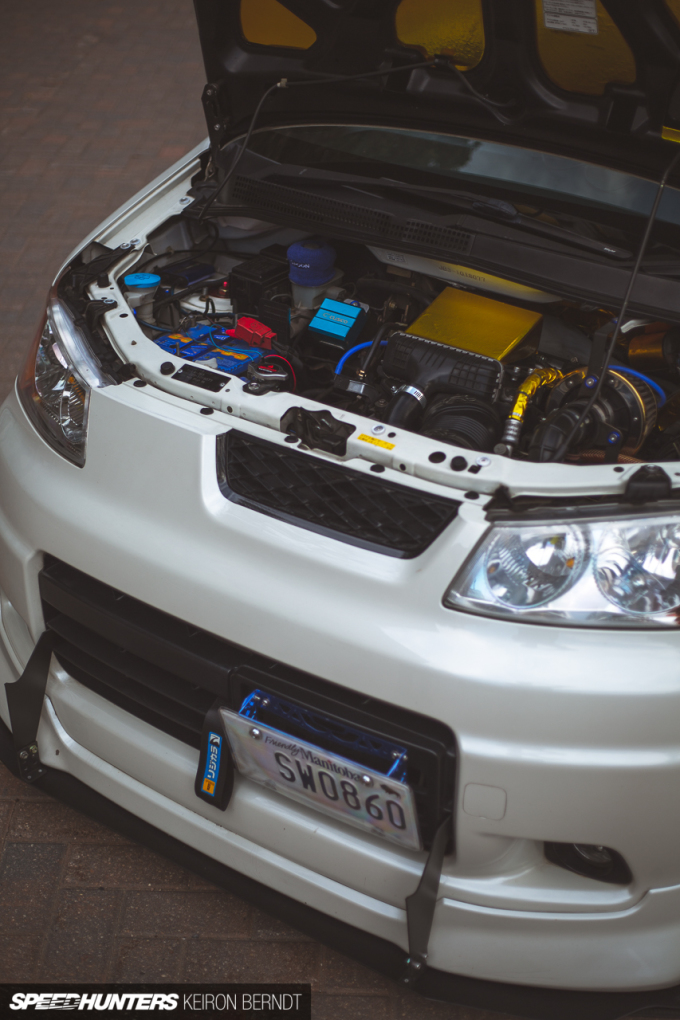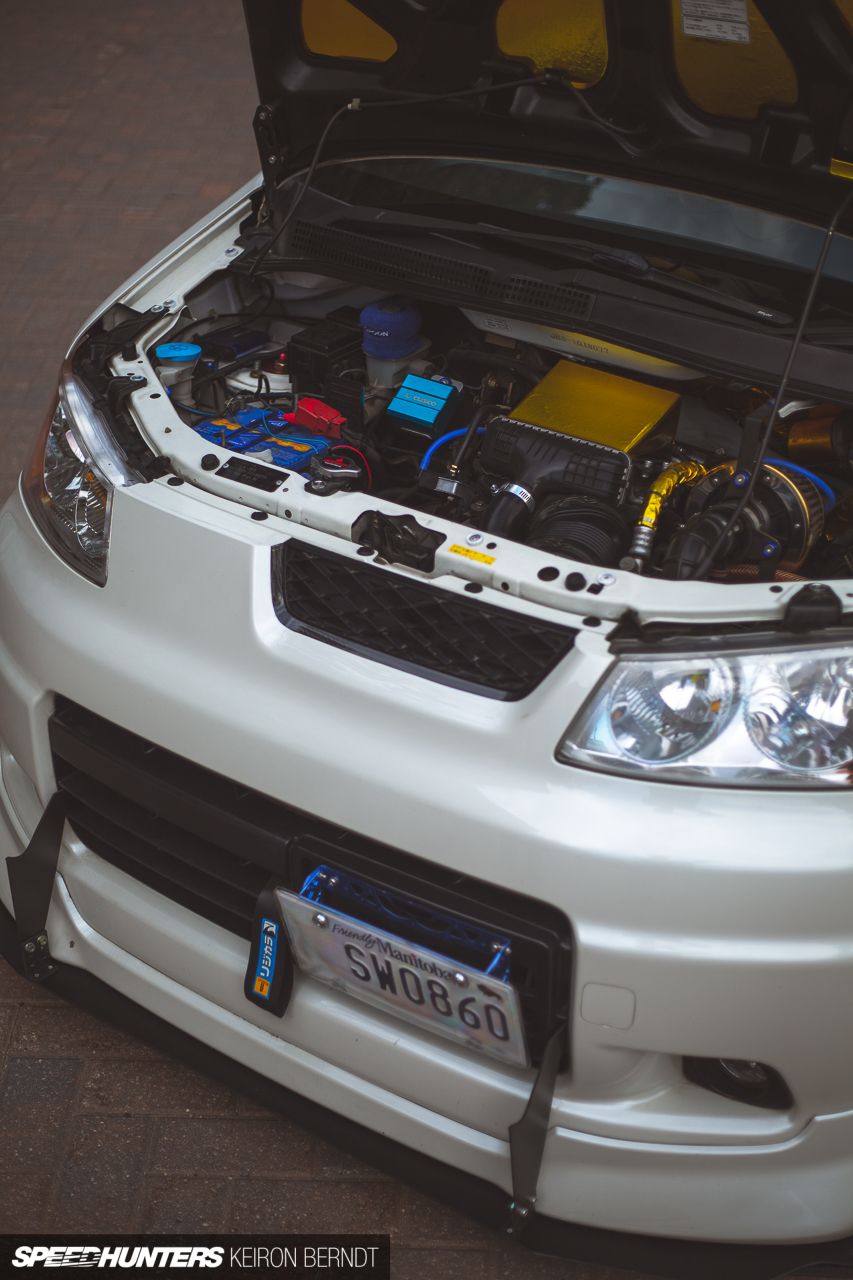 Prior to his Dunk, Kerwyn owned a string of Japanese vehicles. In 2000, one of the first right-hand drive Silvias imported into Canada was titled under his name, and shortly after that he owned a string of Civics. The car he was finishing up when the Dunk entered his life was a '16 face-lifted '08 Lexus. Kerwyn still owns the Lexus today, and stylistically it and the Dunk are quite similar.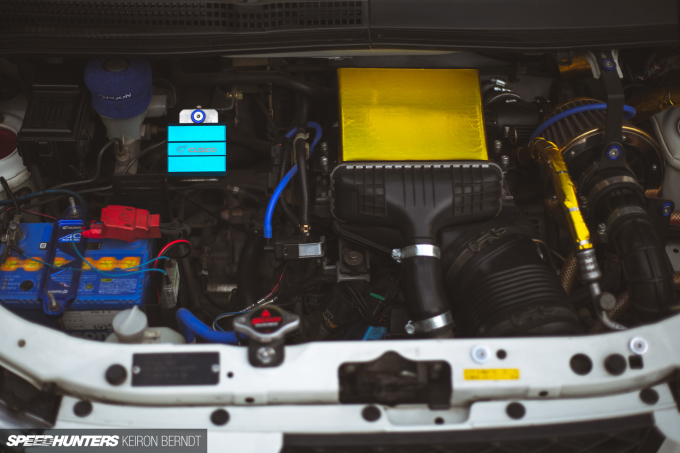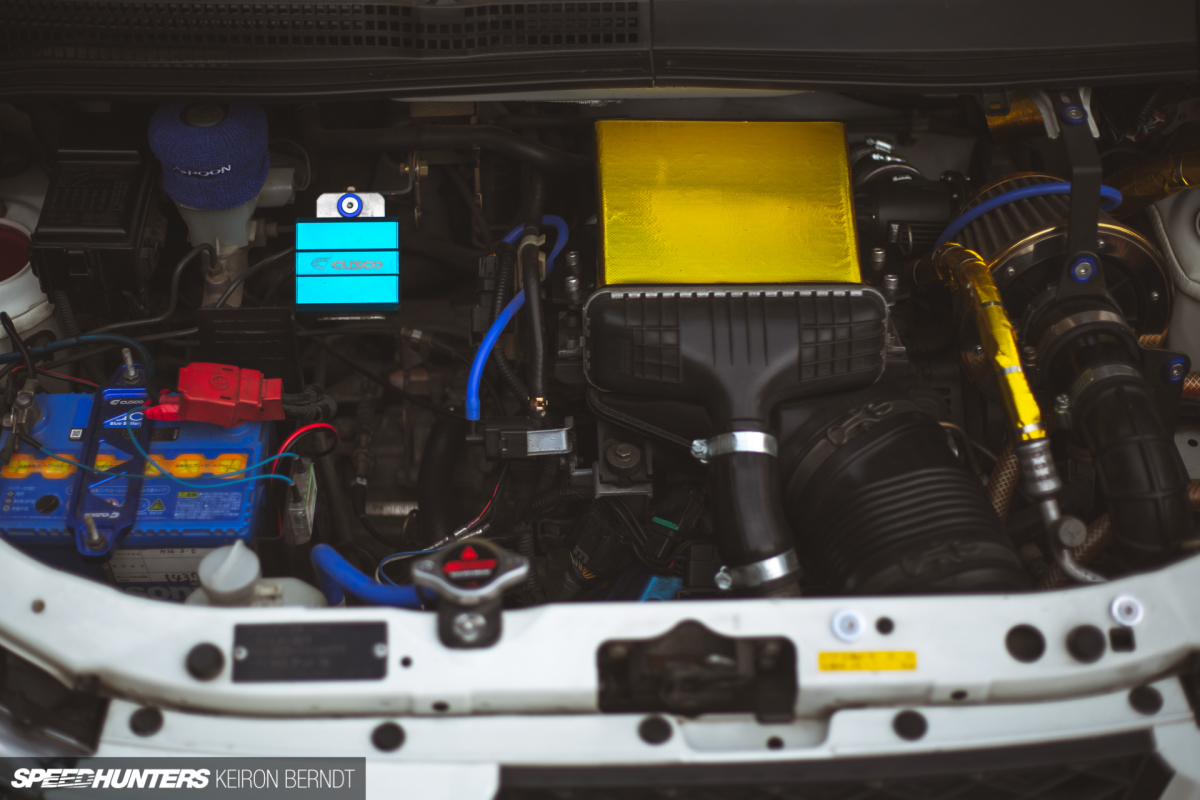 White and factory turbocharged, Kerwyn couldn't help but draw inspiration from Honda's red-badged line up, both new and old. The Type R nameplate never extended to the Dunk, but Kerwyn set forth modifying his Dunk as though it had.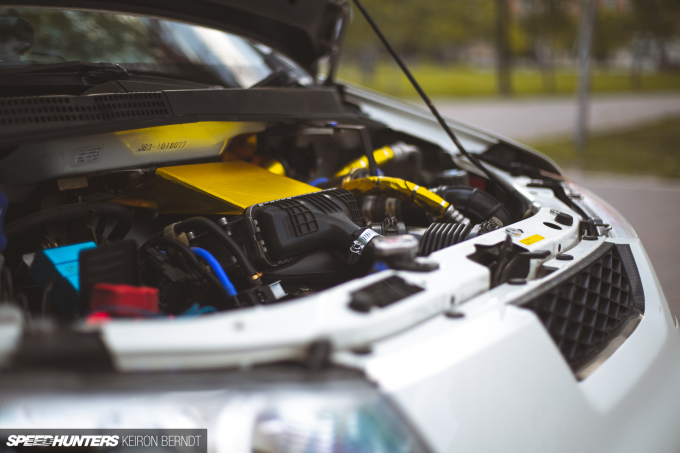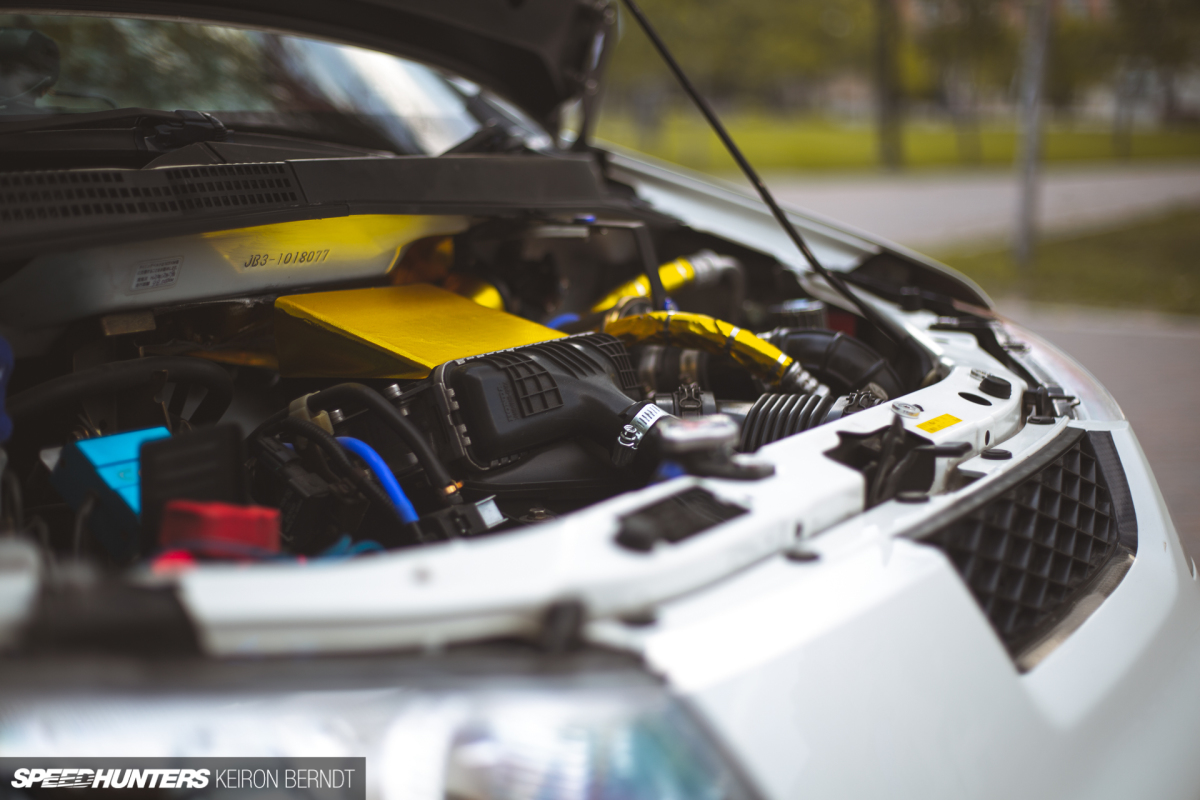 Under the hood, a larger turbo from a Daihatsu has been installed. The 'big' turbo is of course still quite small – this motor is a 0.6L after all – but it's more than enough to make a measurable difference on the driving experience. Supporting mods for the turbo upgrade include a Blitz intercooler and a Randa titanium exhaust. The HKS and Spoon catalogs were then opened and Kerwyn ordered a cache of items from each maker.
The suspension department features Spoon's rigid subframe collars and ASM subframe support, and further tweaking the Dunk's handling dynamics are Buddy Club coilovers, EK ball joints, and an RS*R stabilizer bar.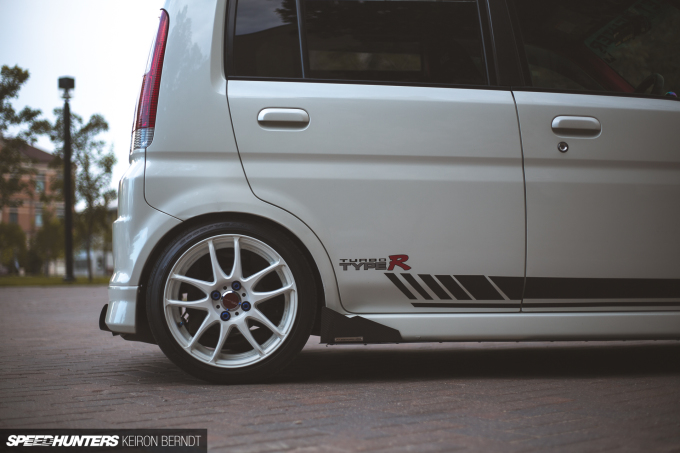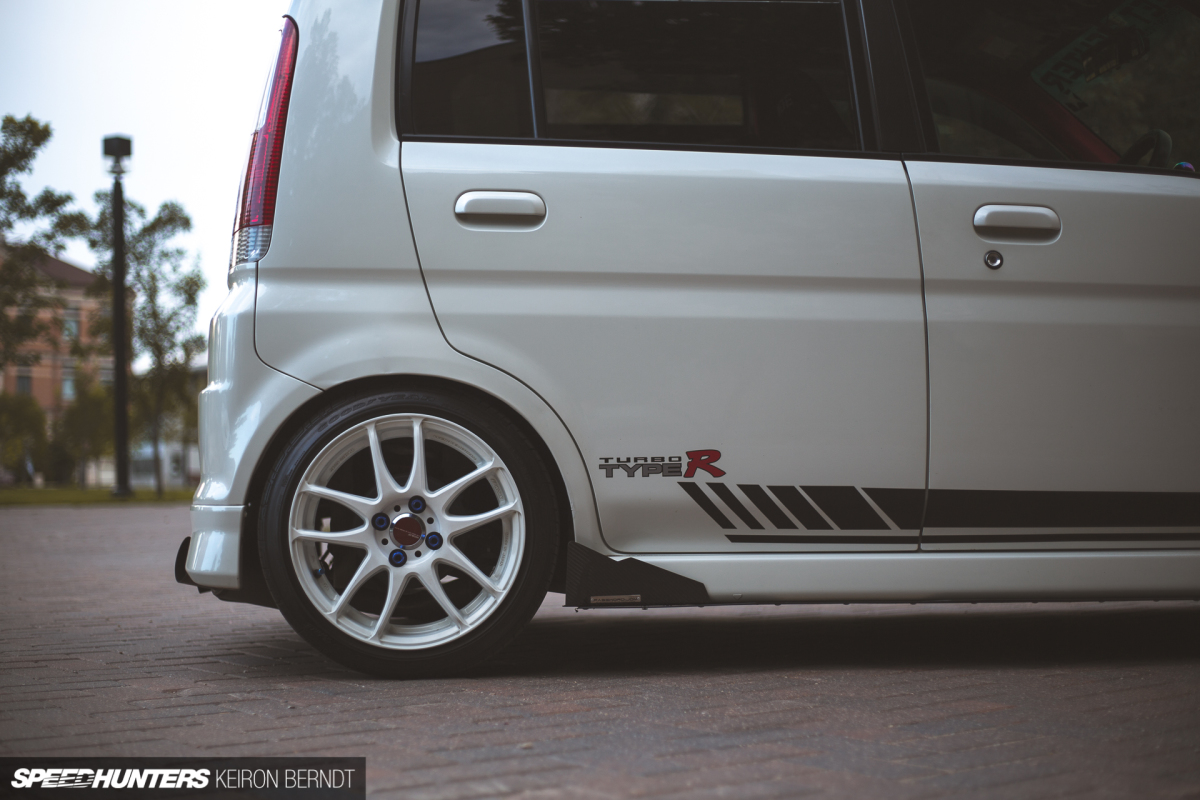 Wheel-wise, Kerwyn chose one of the most versatile wheels from the Work catalog, a set of white Emotion CR Kiwamis. Despite the car's top-heavy appearance, Kerwyn says the little Dunk is surprisingly nimble on its feet.
Cute As A Compliment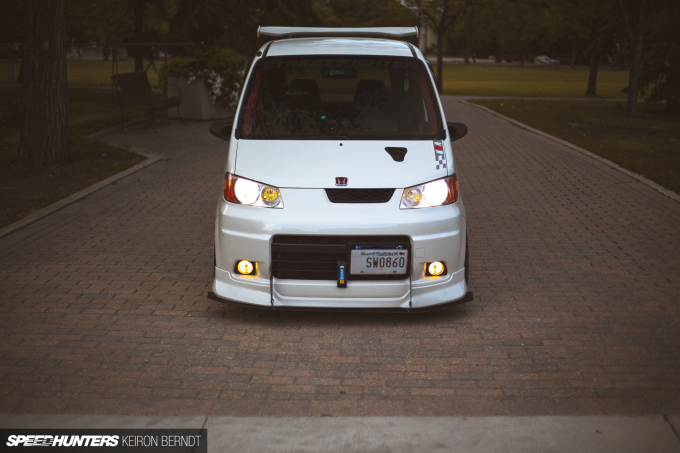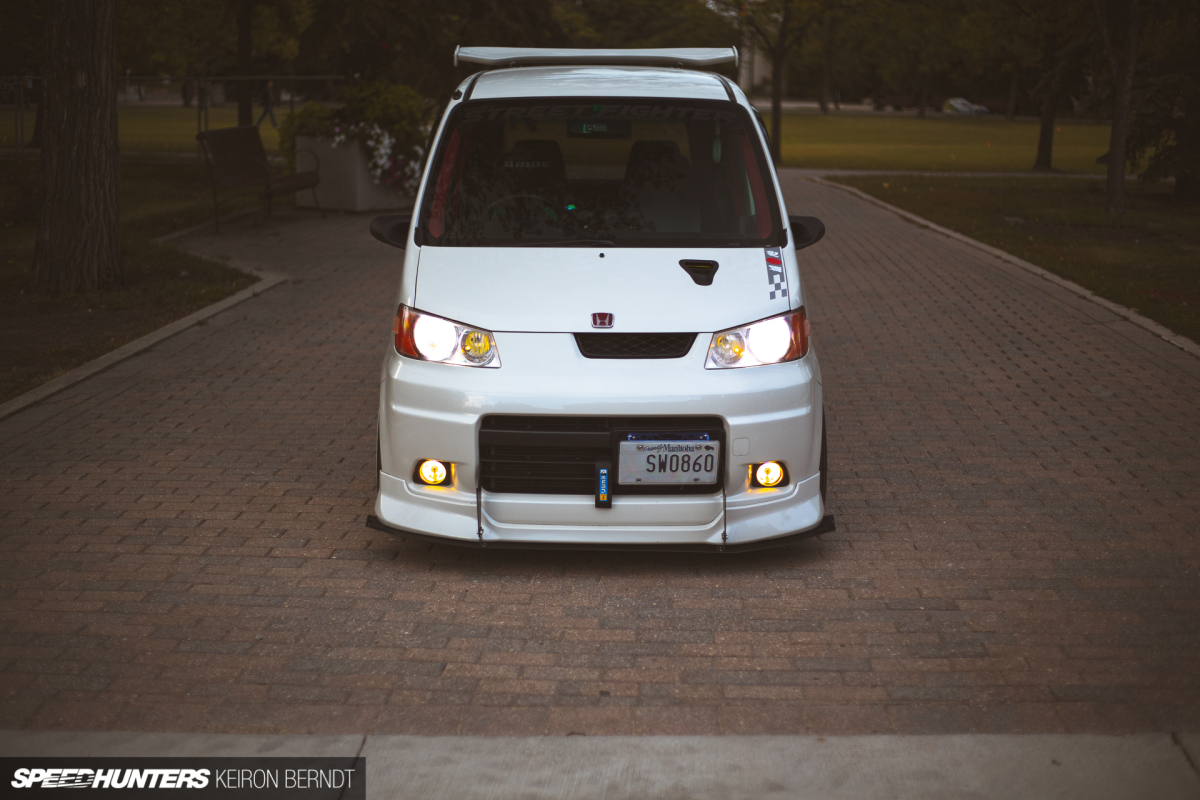 Kei cars are on a shortlist of vehicles that referring to them as 'cute' isn't an insult. The cute factor is part of their charm, and why Kerwyn can't take the car anywhere without being asked about it.
Similar to putting a spiked collar on a teacup poodle, Kerwyn couldn't resist adding a little aggression to the car's exterior despite its loveable face. There isn't a lot available for the model and nothing through North American suppliers, so Kerwyn had to get pretty creative throughout the process. The base aero is a factory TR kit Kerwyn enhanced with various pieces he chopped and reshaped to fit the Dunk's unique proportions.
Godzilla fans have probably noticed this much smaller creature borrows a carbon hood vent from an R35 GT-R. A J's Racing wing sits above the flat roof line, along the sides are custom side skirt extensions, and under the lip is a custom splitter mounted via one-off stabilizer bars.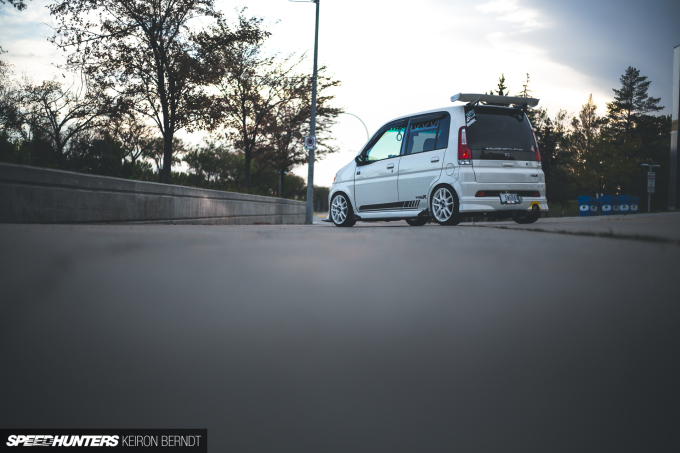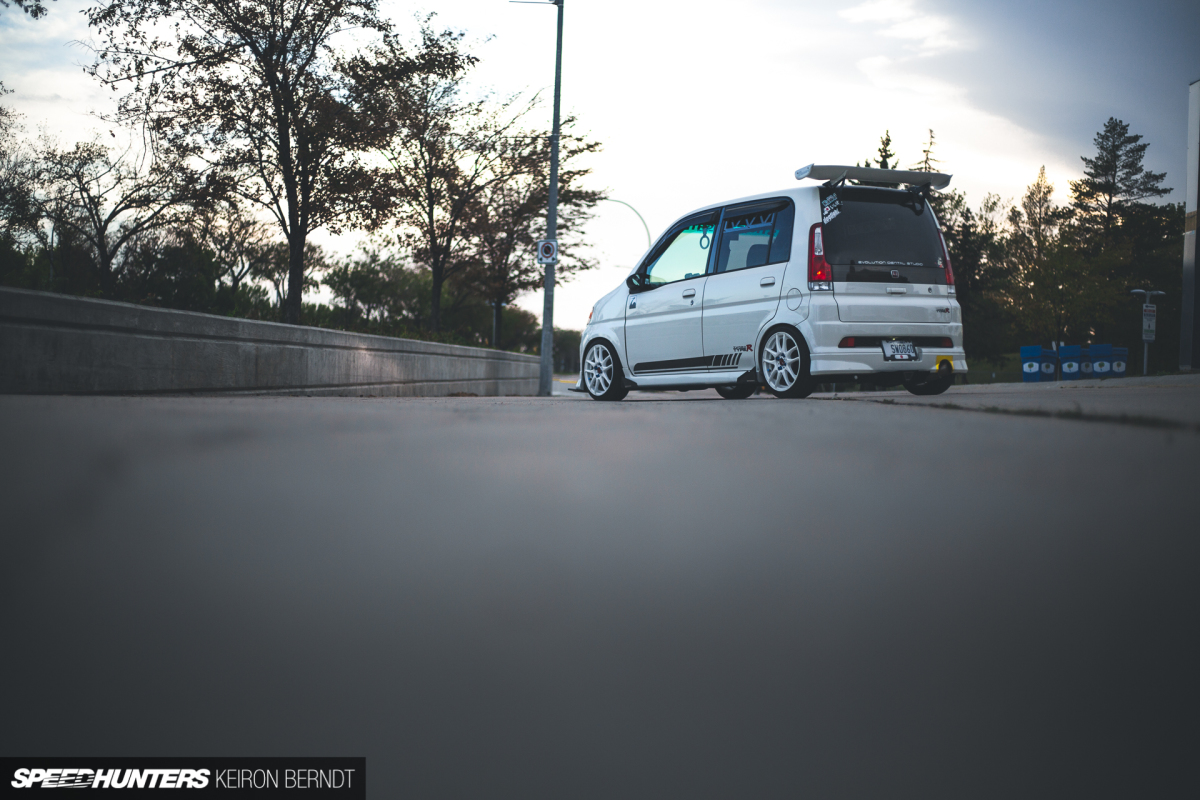 Do all of these additions do anything for the handling of a car with aerodynamics similar to that of a recycling bin? Maybe not, but it sure makes the unique car look that much more unique.
Confined Quarters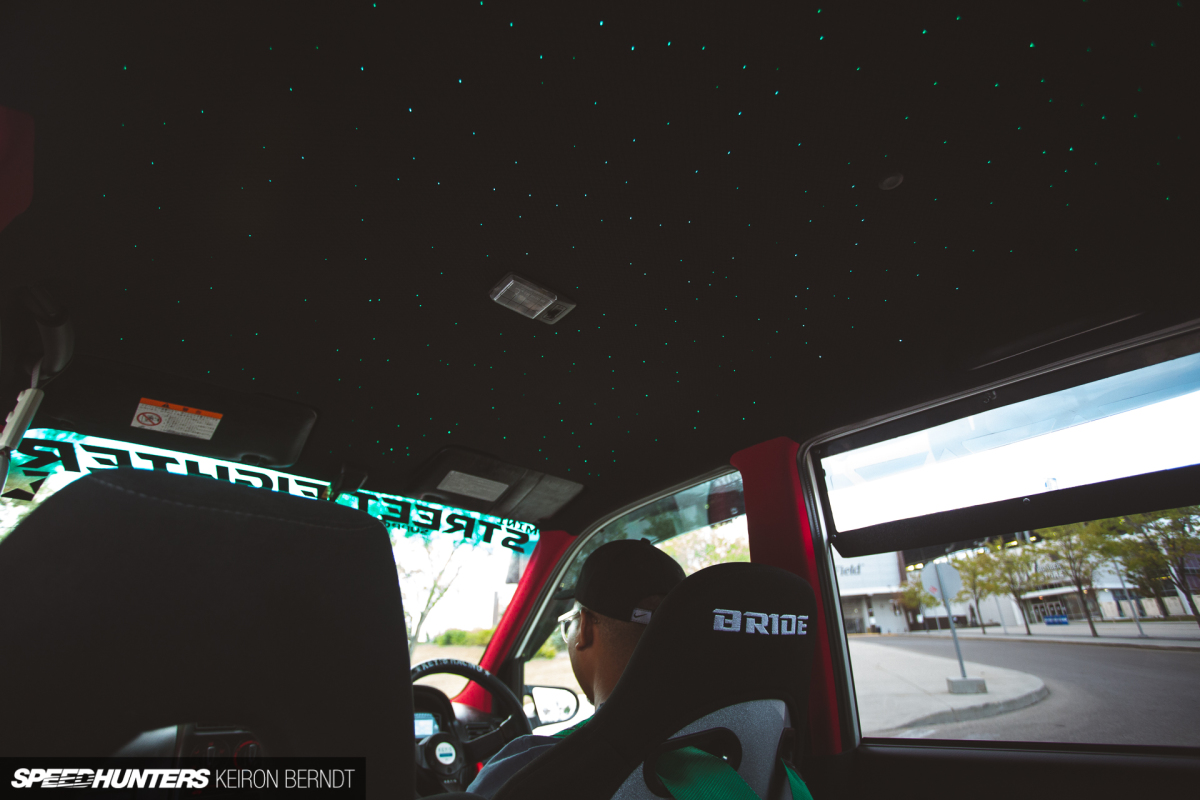 Kerwyn prefers his cars to be well rounded, so after addressing the performance and outward appearance he focused his attention on the interior. The modifications found inside the Dunk are as numerous as the outside, but one of the most unique is the fiberoptic starlight headliner. Kerwyn's Lexus has a similar headliner, and it works as well there as it does here.
An ATC Key's Racing 340mm steering wheel replaces the stock unit and Defi components have been used quite extensively; under-hood sensors are paired with a trio of interior gauges, and providing extra information on engine vitals is an Advanced ZD display unit. A pair of Bride Low Max seats have been installed up the front along with Takata Racing harnesses.
Bride fabric lines the doors and custom checkered floor mats lay under foot. All said and done, the inside quarters are now a far cry from the utilitarian interior the Life Dunk originally shipped with.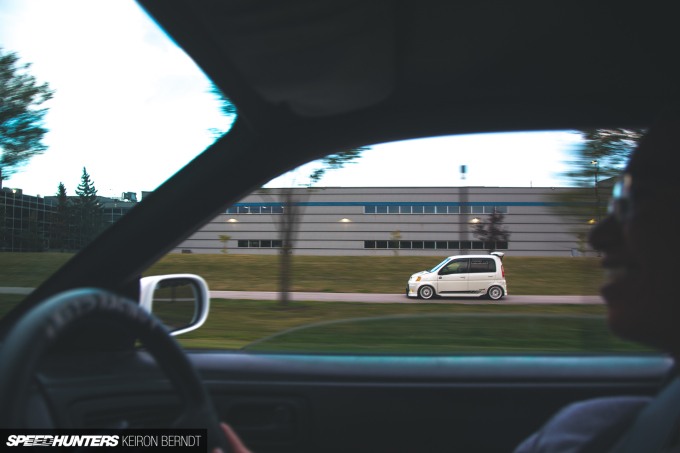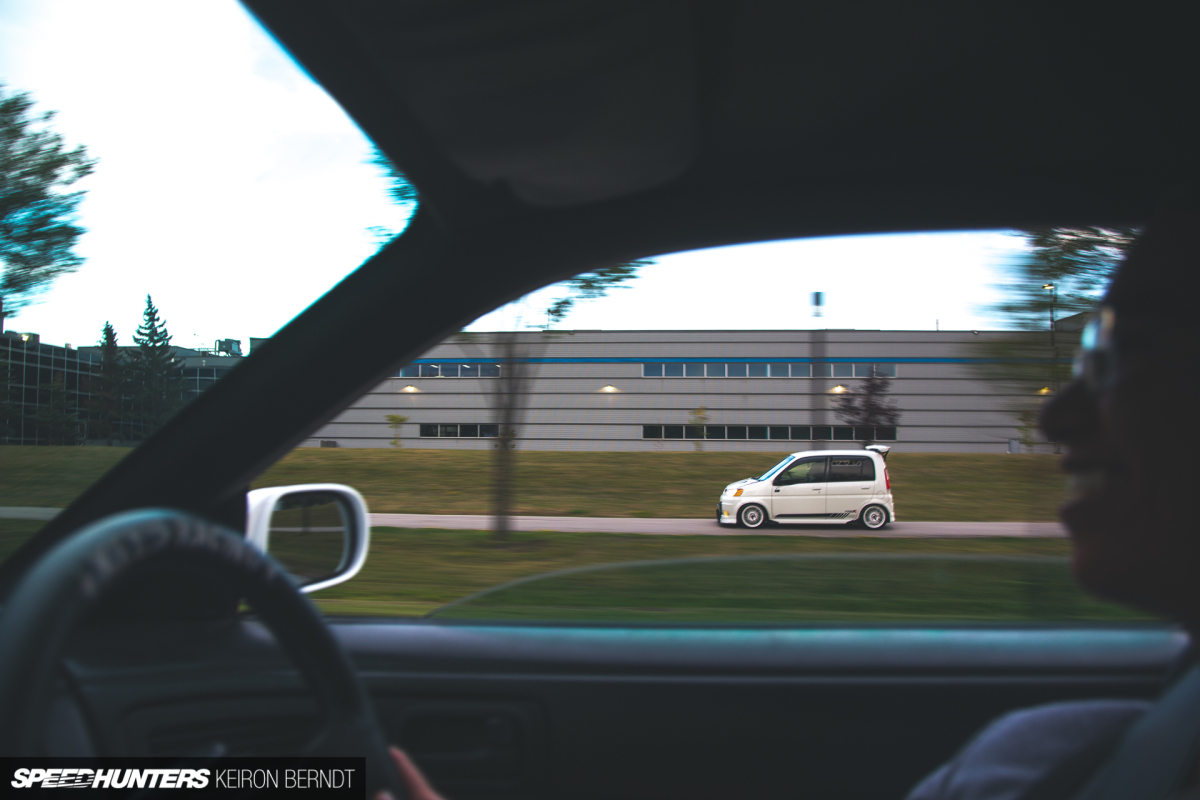 I'm sure some of you are reading this feature wondering why. Why would someone spend so much time and money on a car designed as little more than an appliance? The simple answer here is fun, the part of car tuning that is often forgotten in quests for peer validation, dyno numbers, lap times, and trophies.
Be it building the car or driving it, the Dunk has provided Kerwyn with a level of enjoyment that far surpasses its size.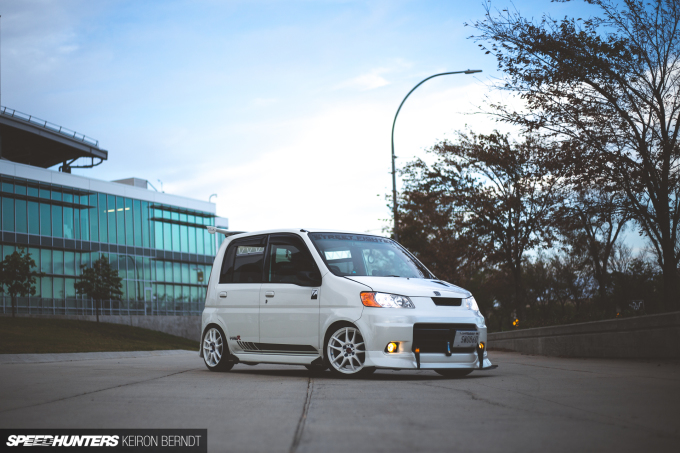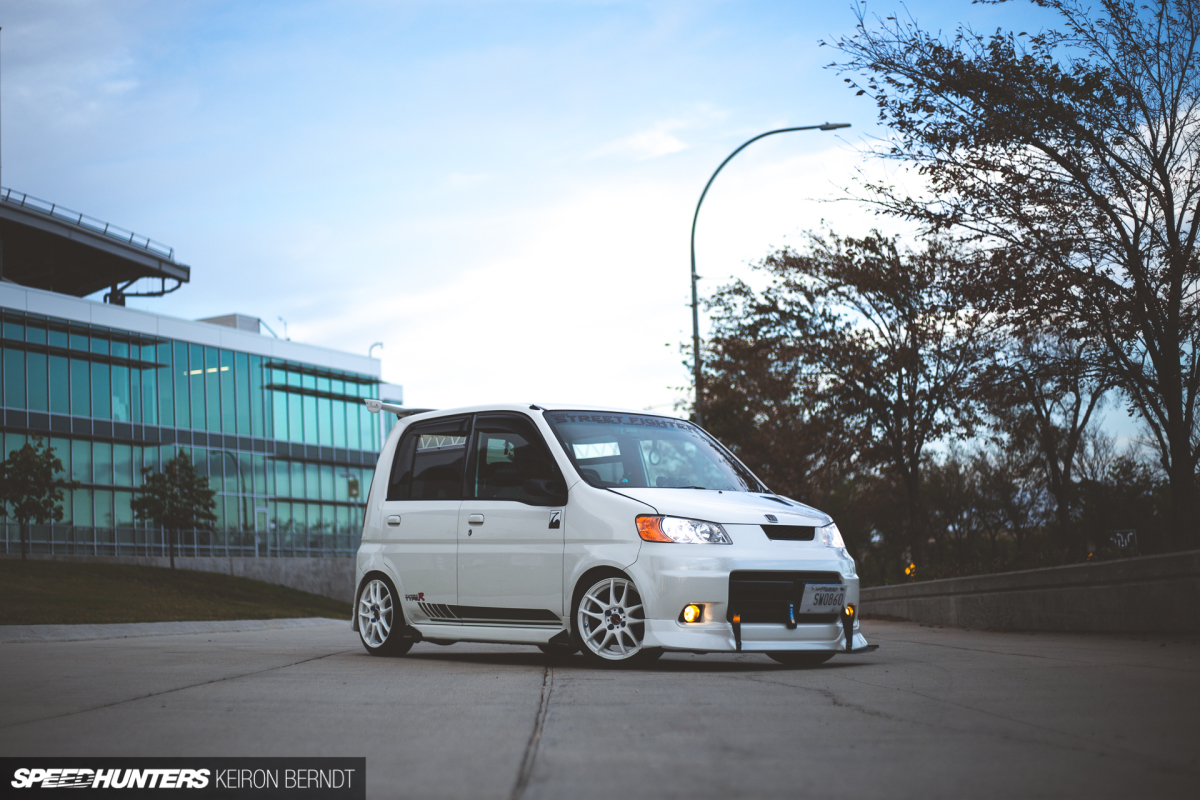 Along the way, his friends Edward, Dexter, Marc, Jp, Jason, Antu, Shawndee and Chris have contributed to the enjoyment Kerwyn has had with this car, and he'd like to thank them and his girlfriend Zarina for their help with his spur of the moment purchase.
Bomex graphics also helped with the project, along with former owners, 10 Concept Imports, who admit they regret sending him to go get gas.
Dave Thomas
Instagram: stanceiseverythingcom
Photography by Keiron Berndt
Instagram: keiron_berndt
Cutting Room Floor