I've been struggling with this all week.
I don't know where to start, how to address it, or whether to just keep my personal thoughts to myself or give it to you as it is.
For this reason, I think that this post is best approached from a discussion point of view. Within five minutes of watching the action at this second FIA Intercontinental Drifting Cup in Odaiba, I knew that there was no way I was going to embark on a battle-by-battle review of what went down.
This wasn't the reason I was there.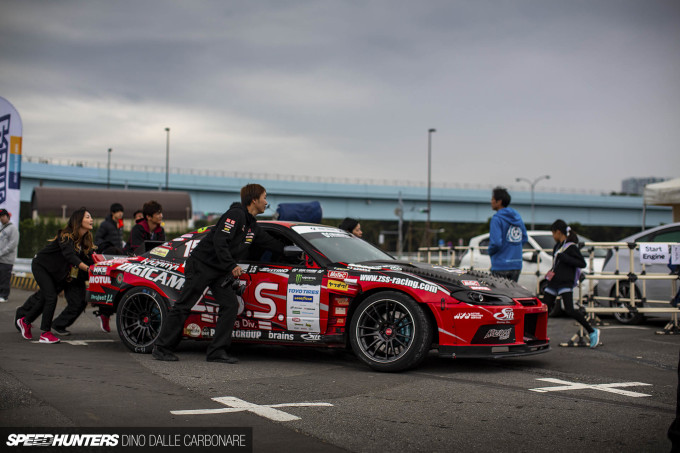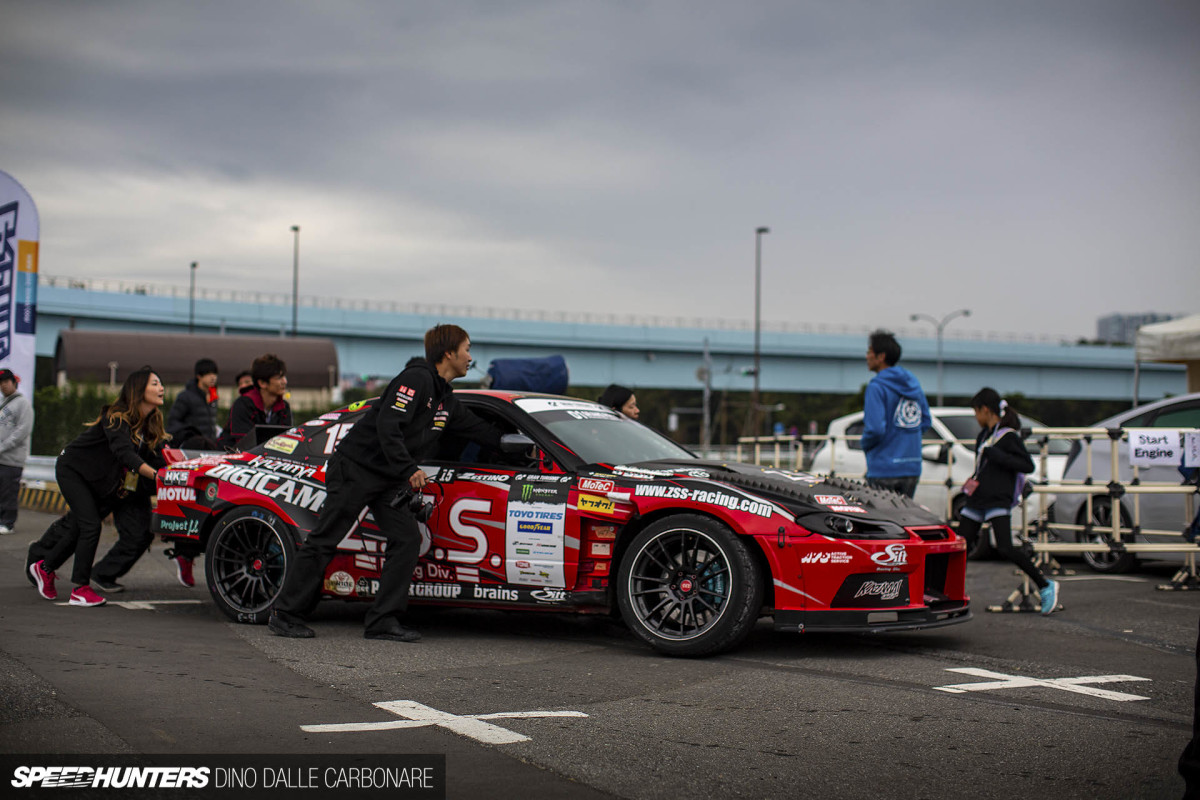 In retrospect staying in bed would have probably been the wiser choice following an exhausting week at SEMA, but then again there was still a little bit of hope and outright curiosity in me to see what the world's biggest motorsport sanctioning body was trying to do with drifting.
Last year I approached it all with as much of a positive perspective as I could muster, and believe me, it was extremely difficult as I saw so much wrong with it all.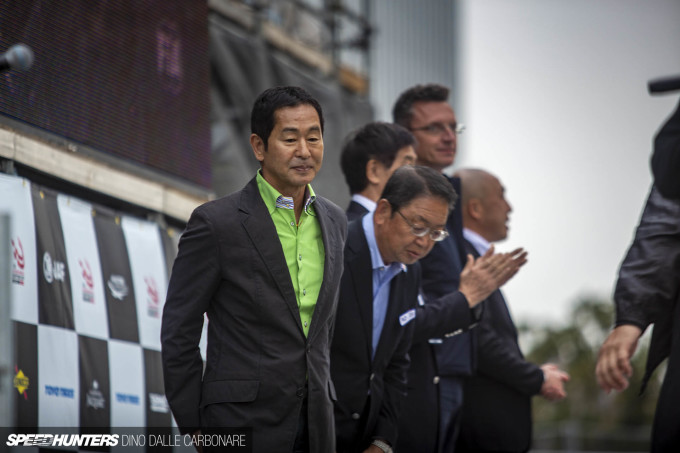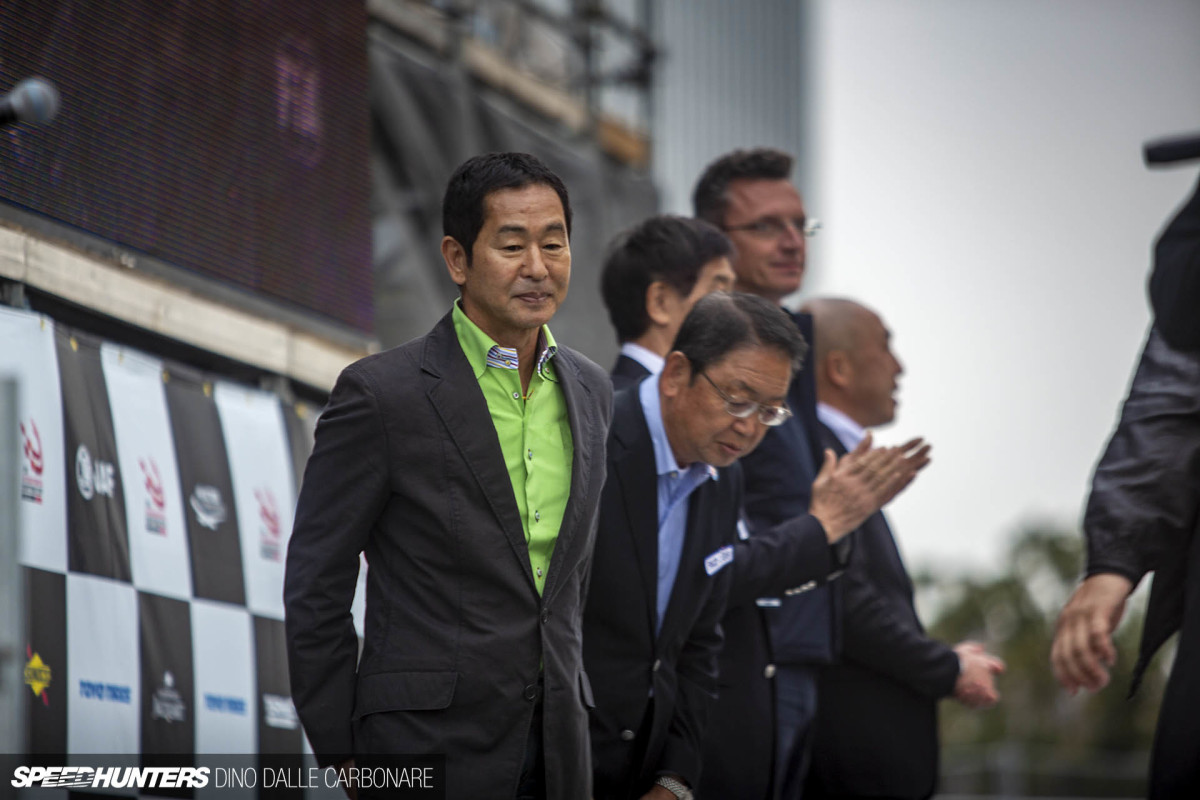 But this year I'm just going to let it rip.
Screw political correctness, I don't think anyone that is reading this right now wants to hear a series of hopeful thoughts or me concentrating only on the positives, which I'm still trying to figure out if there even were any at this point.
You want to hear what I thought about it all? Well, read on…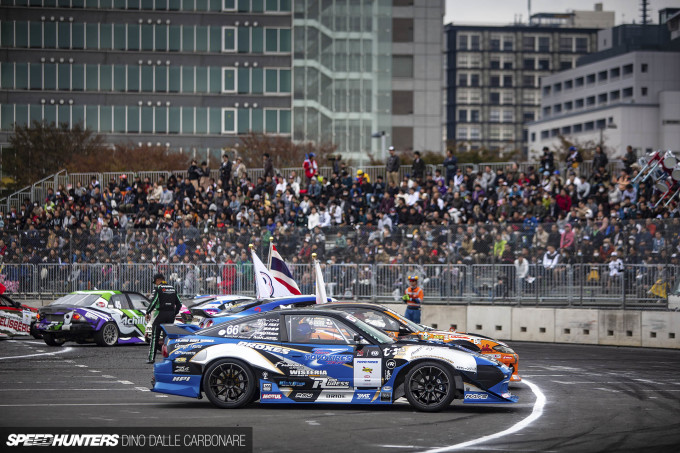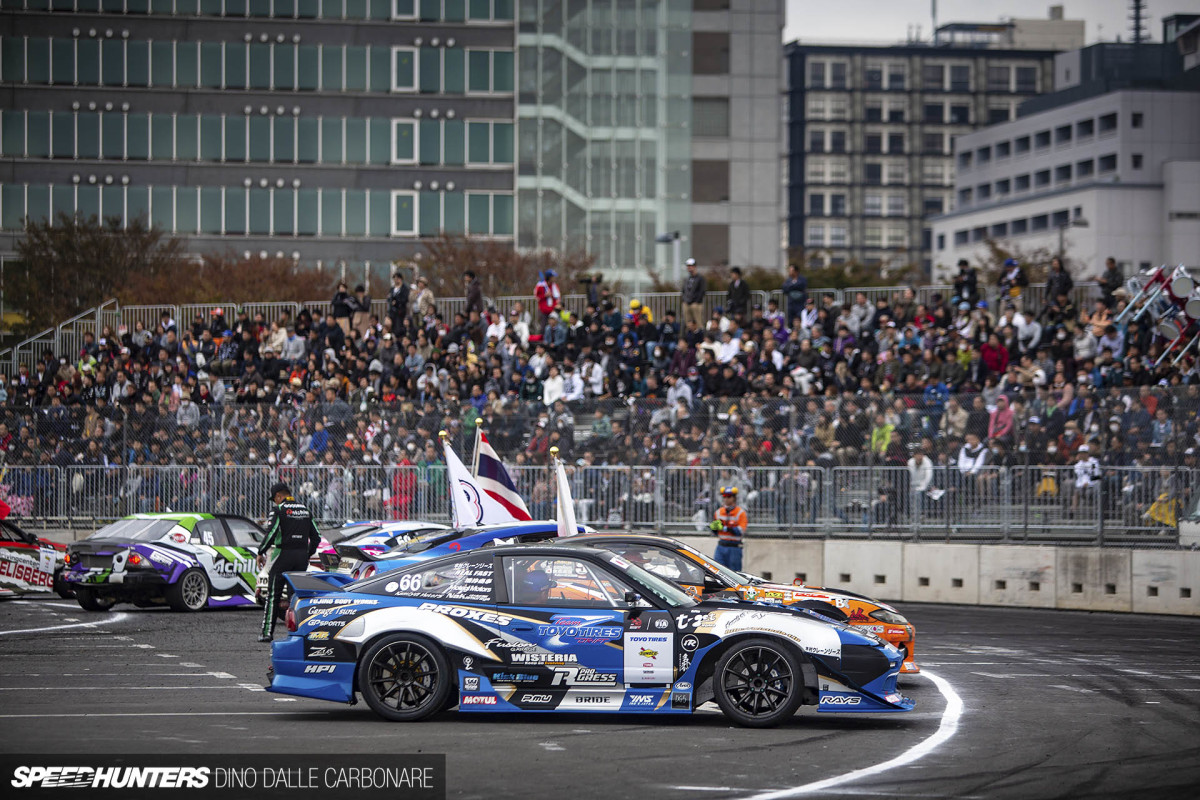 I think Keiichi Tsuchiya's expression in the picture above sort of sums up what most people were thinking about it.
Most are probably too involved, in that they wouldn't admit to anything being wrong for fear of creating friction and thus ending whatever involvement or affiliation they may have with this proposed series or with the D1 Grand Prix organisers that put it all together.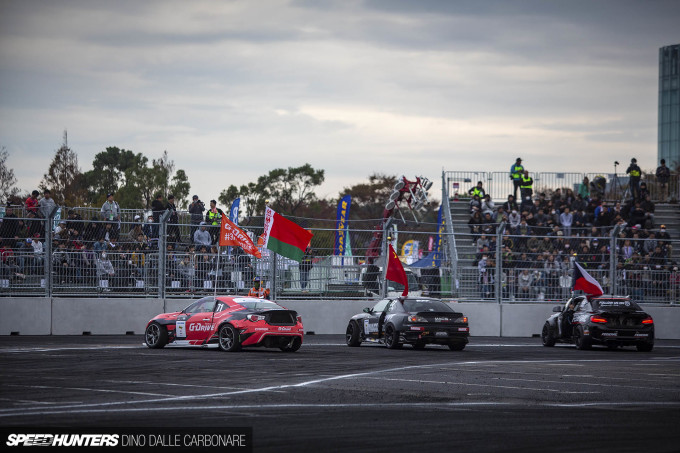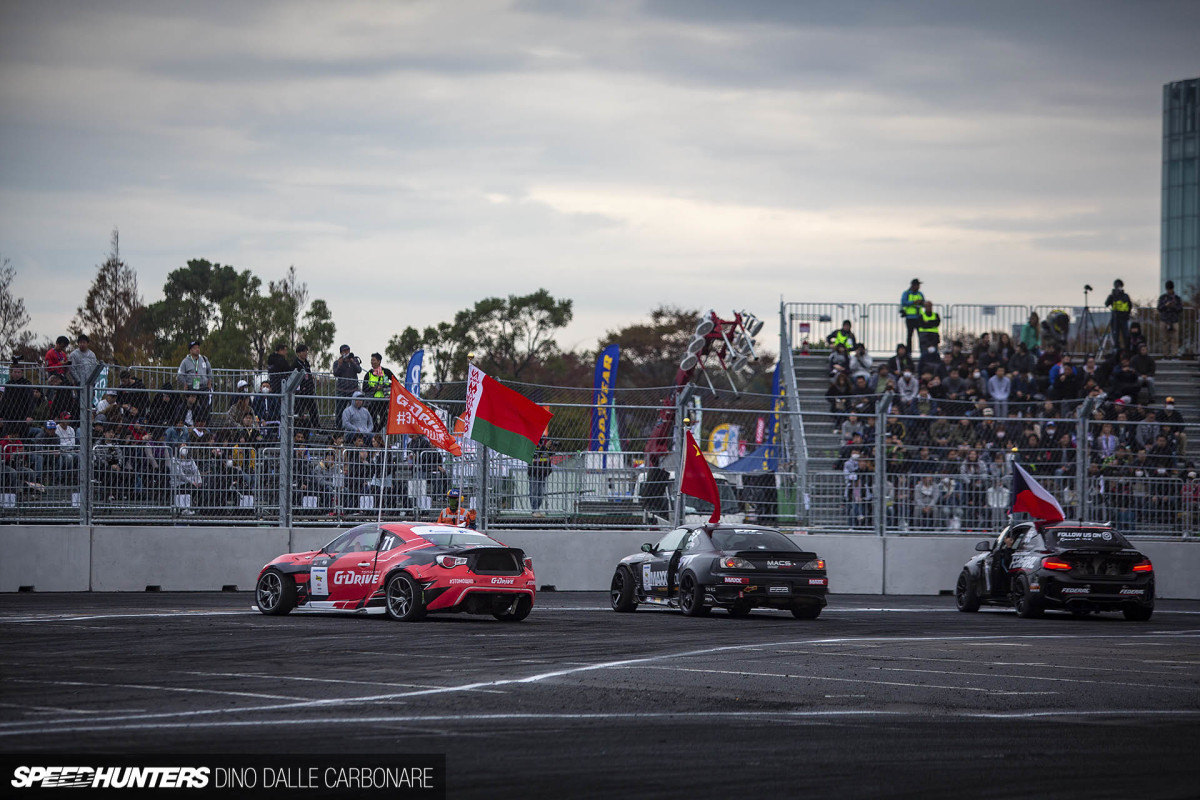 So, let me at least try to lay it out with some constructive criticism, because I don't see the feasibility of a true world championship.
Drifting isn't F1. Budgets for most competitors are tight to begin with, without going into what they would need to send a team and a couple of cars around the world. Plus, the world's best drivers are often too busy with their primary series to come to a parking lot in Odaiba and battle it out in front of a global audience. I mean, where were the Formula Drift USA drivers?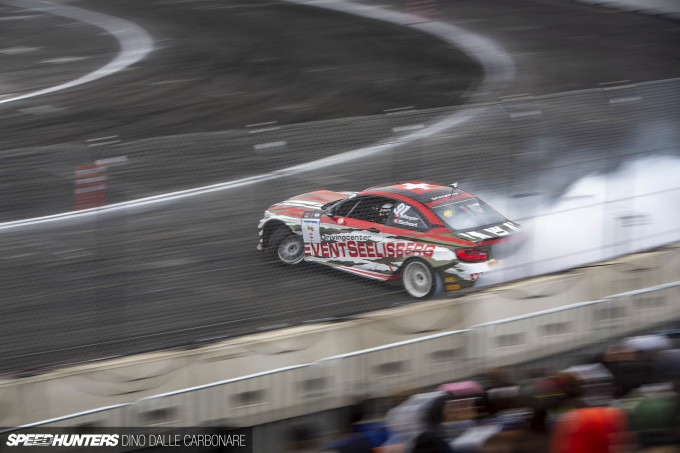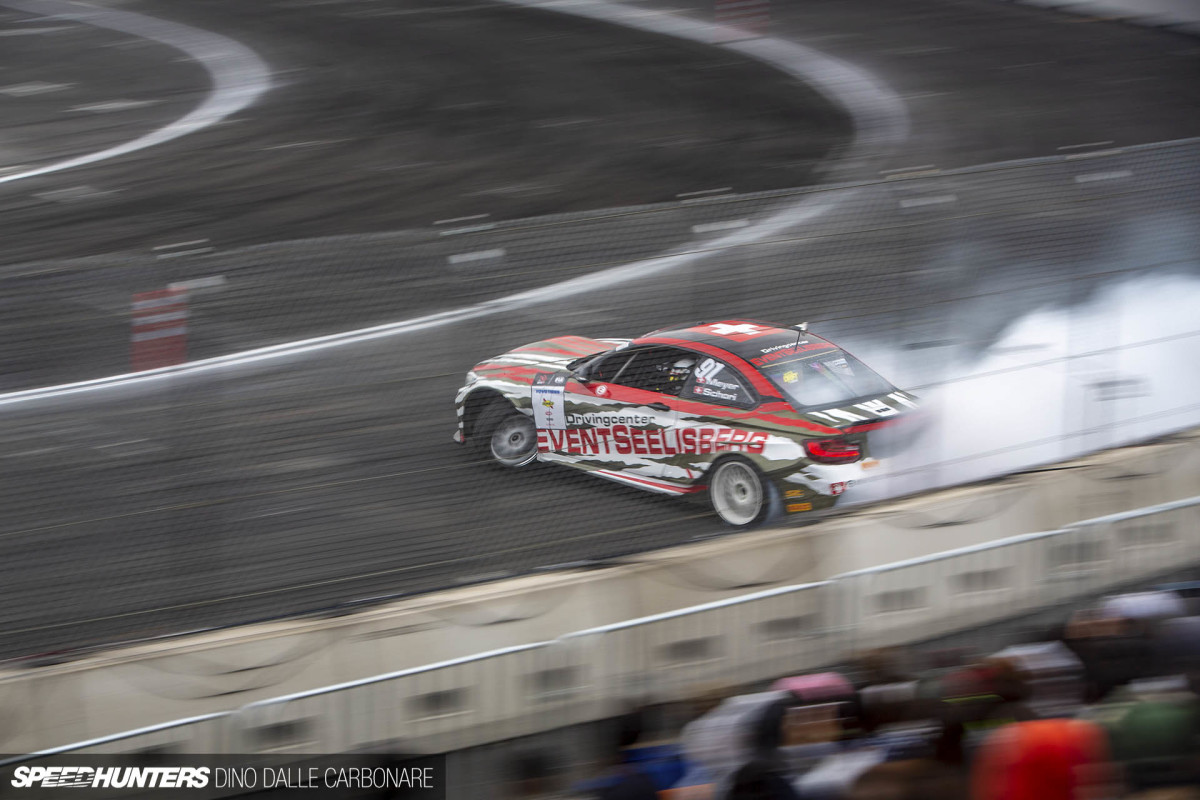 Don't for a second think I'm having a dig at any of the drivers. There was some awesome talent and individualism in the style of driving I saw during the eight hours I hung around the parking lot, apologies, venue.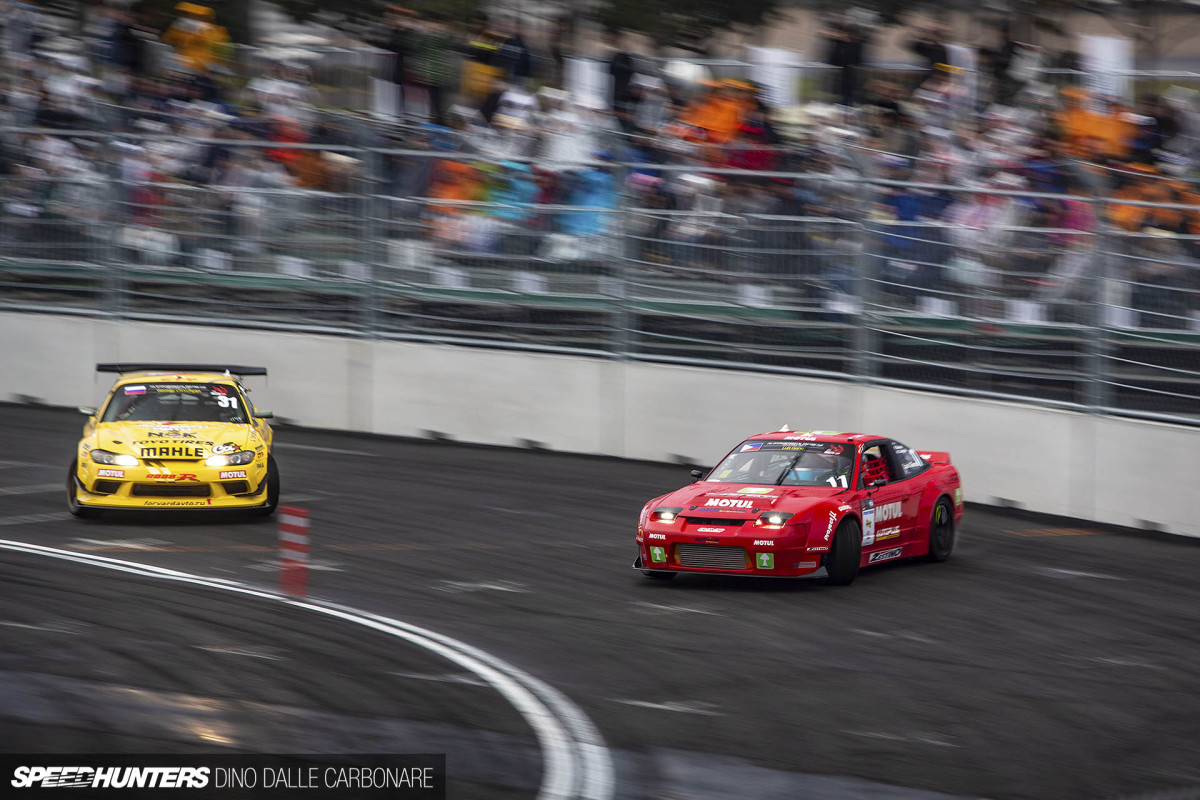 I came away, much like last year, respecting the Russians in particular. These guys are all nuts, and their driving is seriously on point.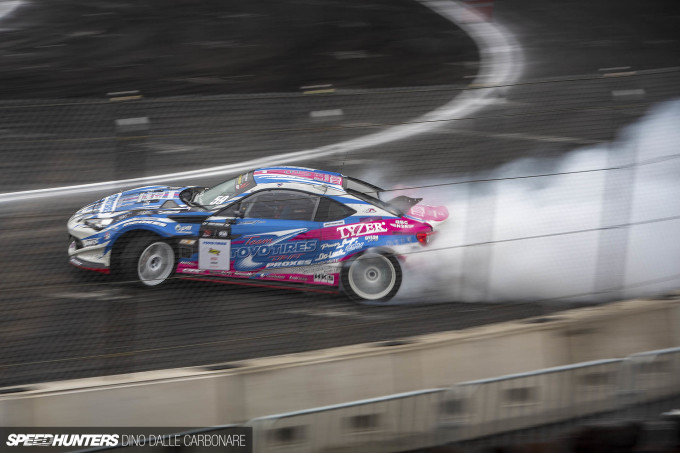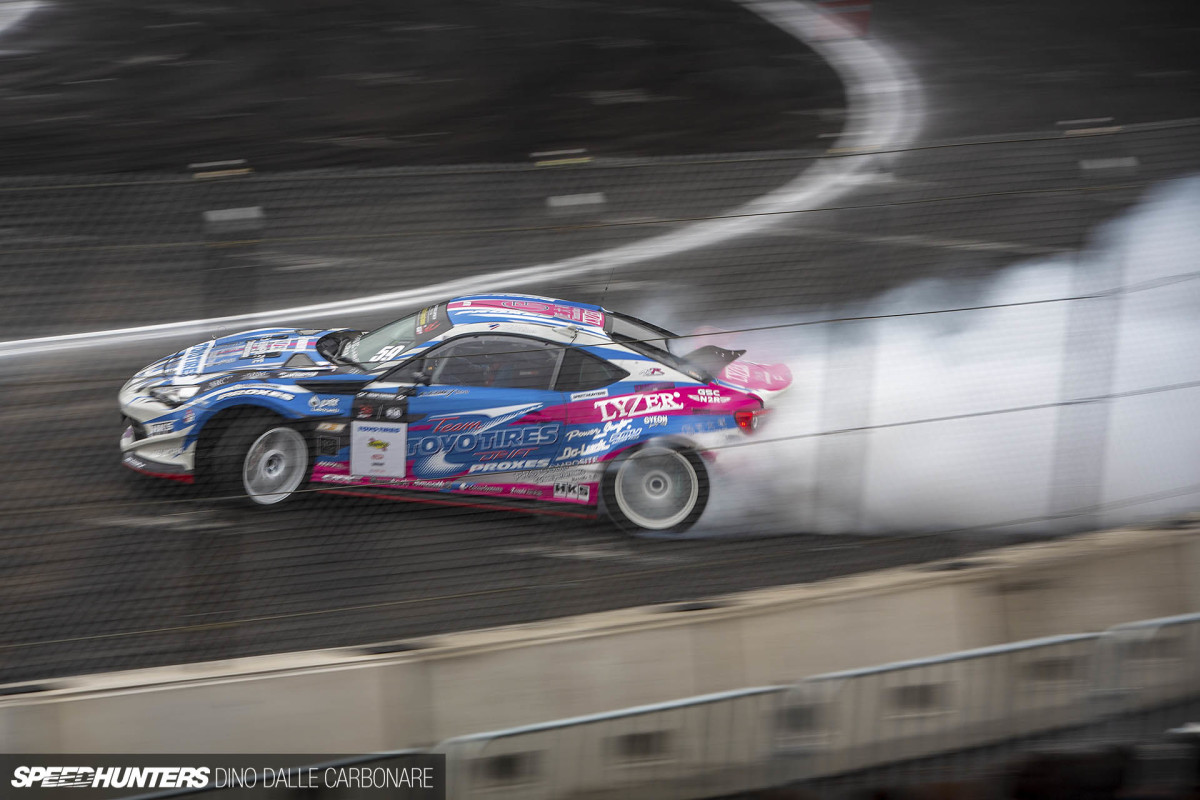 The cars, too, are as always a big part of any drift event for me and among the cool international entrants it was nice to see favorites like Do-Luck's VR38-powered ZN6 in action. I say this because last year I saw this car materialise in front of my eyes in the space of a week.
I also still need to share the build of it too, now that I remember.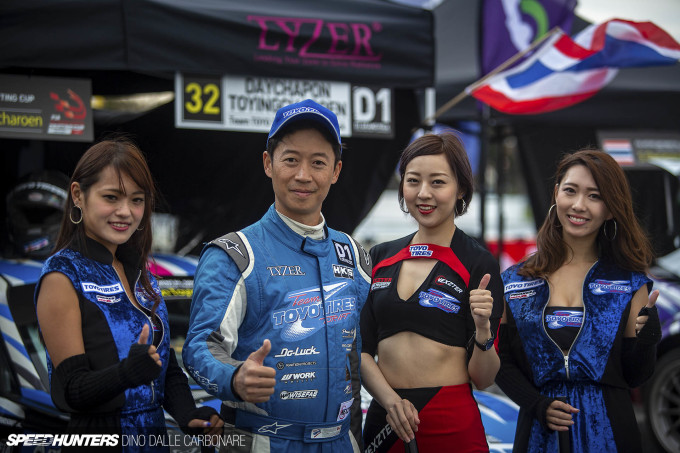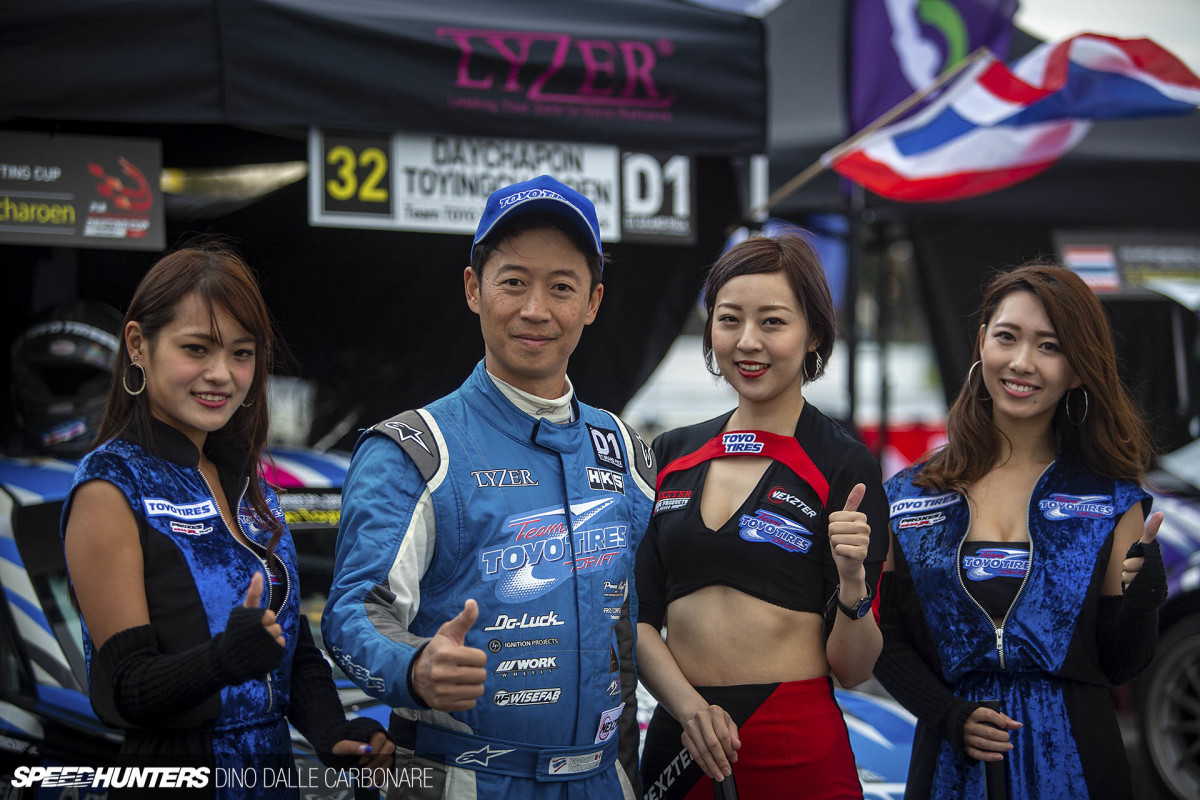 In the year since the car has been built, Pon has learned to really extract the maximum from it, and it was possibly the biggest smoke machine out there. Until the rain started that is.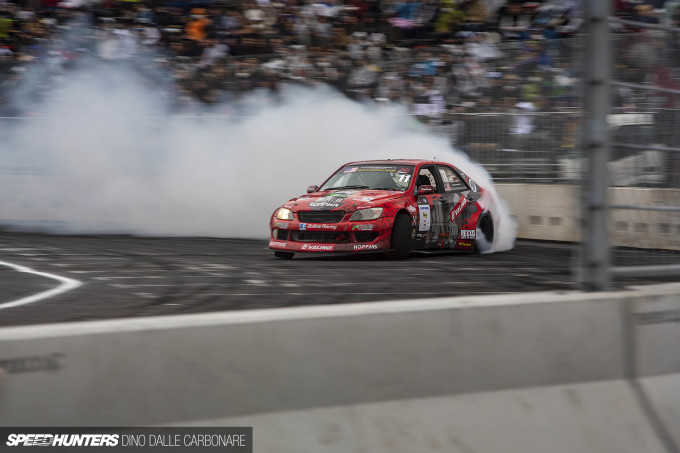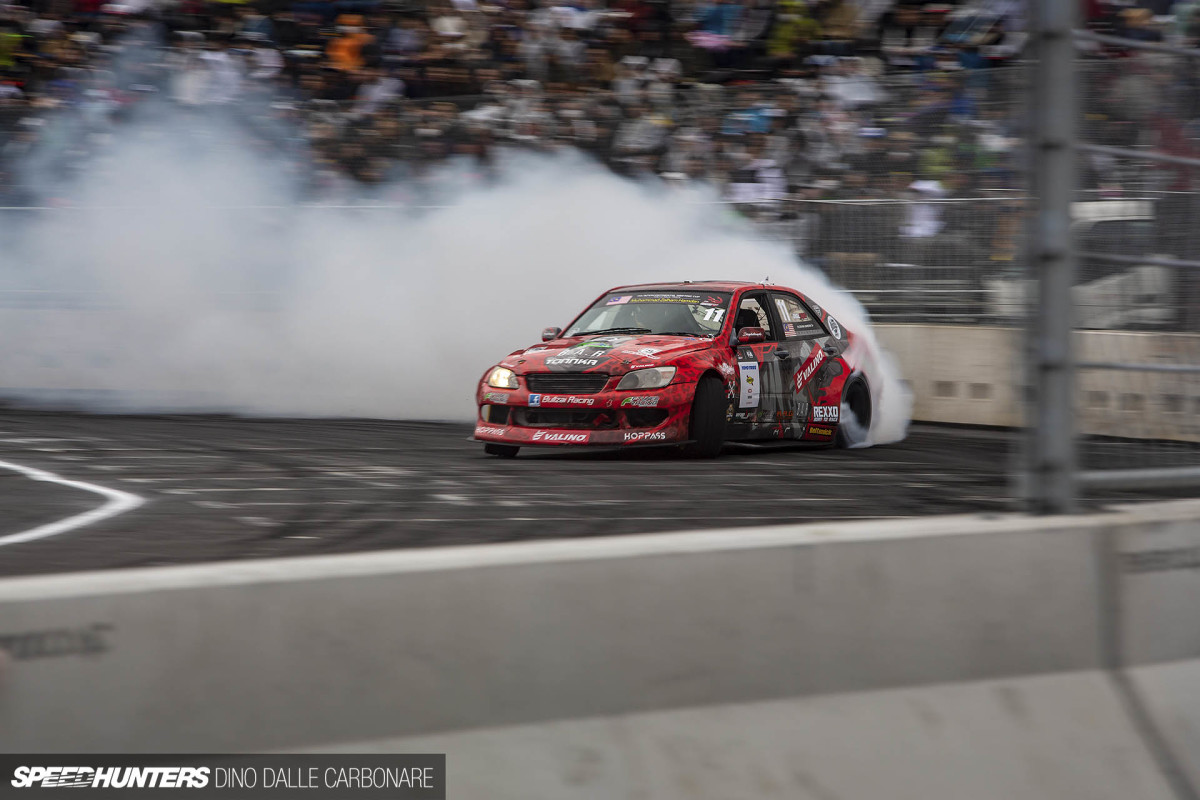 Malaysian Muhammad Zaiham Hamdan in his furious Altezza was a close challenger in the tire smoke department, likely down to the Valino tires which he runs. They seem to be able to blaze up beautifully, yet still offer high levels of grip and on-the-limit performance.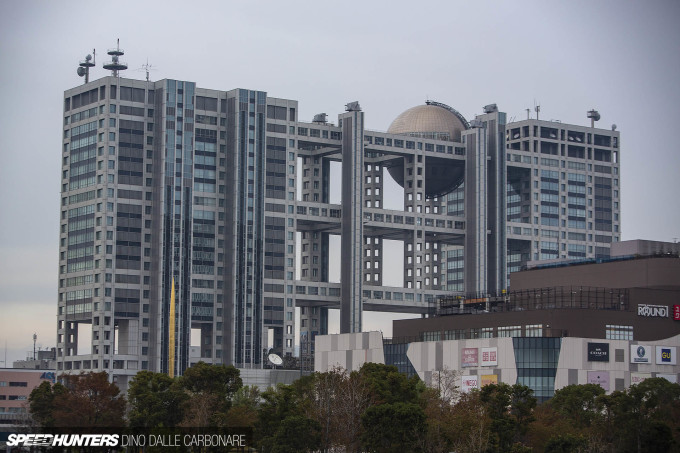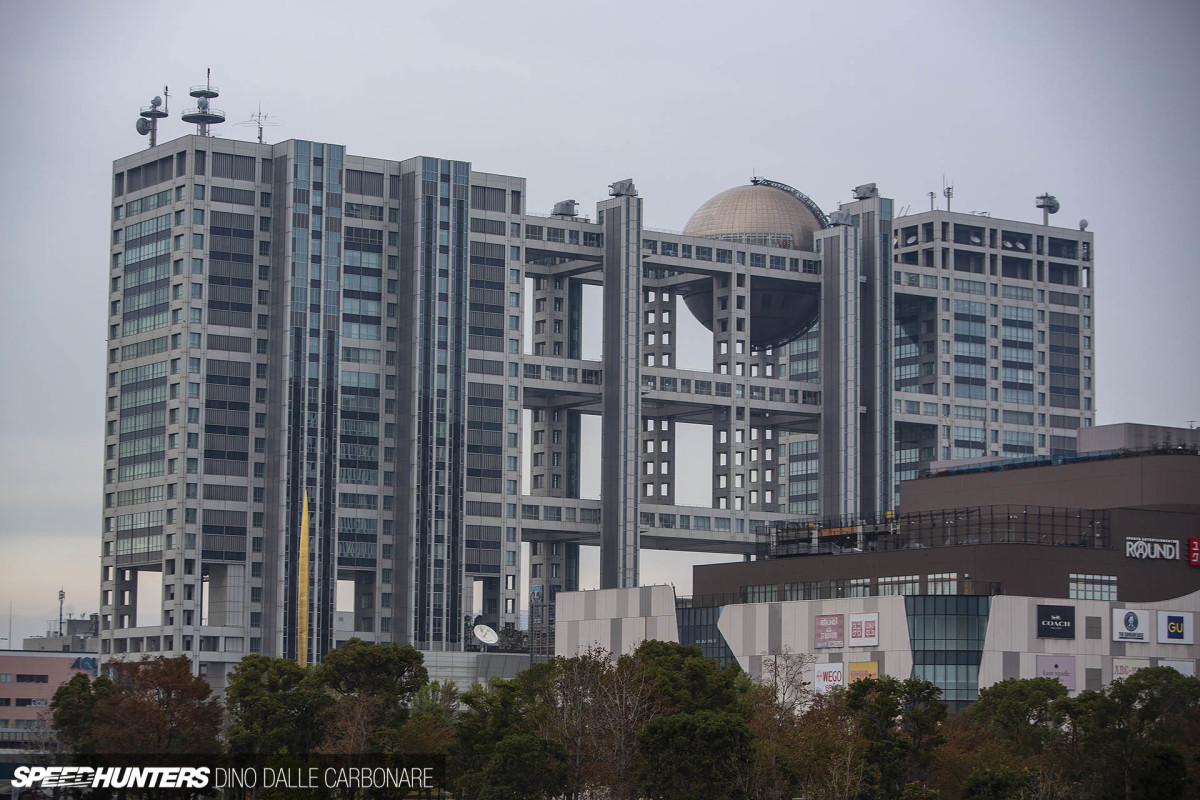 So, no, the cars and the drivers have got nothing to do with it all.
It's the way the event is handled. It's like a recycled tried and tested recipe, mixed up and served up in a faux international setting – except there's very little of an international feel to anything.
There seems to be as much confusion and miscommunication with media, drivers and teams as there was last year, down to the officially sanctioned FIA Swiss photographers being denied access to the better shooting areas at the event, which were only available to official D1 shooters.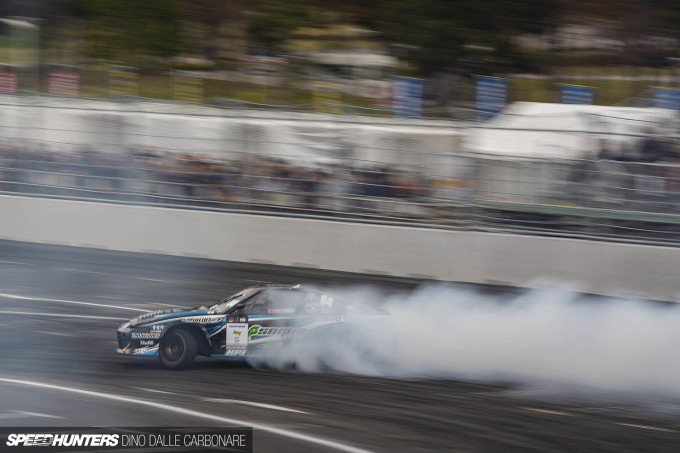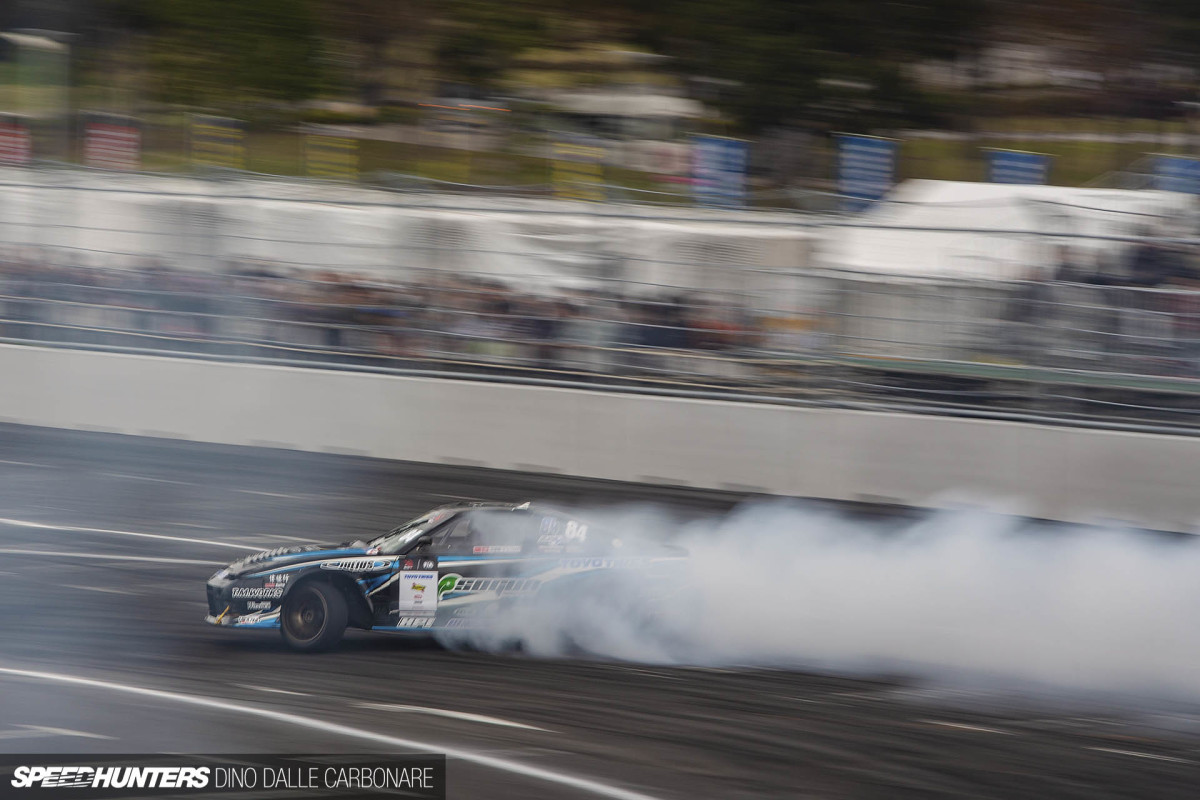 From a photographer's perspective this was possibly the absolute worst event I've ever had to shoot at. There was obviously very little thought given to actual access and vantage points with no openings in the fence that surrounds the course.
There is obviously no interest in insuring that those who come out to an event like this professionally are given help and assistance to make sure they can do a good job. That's why I, along with plenty others, were shooting from the very top of the bleachers right next to paying spectators.
This is all due to the accident in Nikko which saw a wheel hit and kill a spectator a couple of years ago. As such, all eyes in Japan have been on drifting's somewhat loose safety standards. Now, all pro events need to be fenced off, and almost boxed away just in case another wheel goes flying. The bicycle/scooter helmets photographers now have to wear should keep you safe and shielded…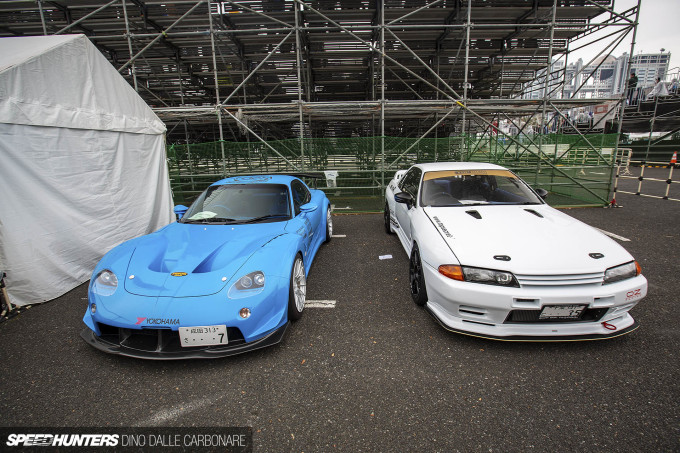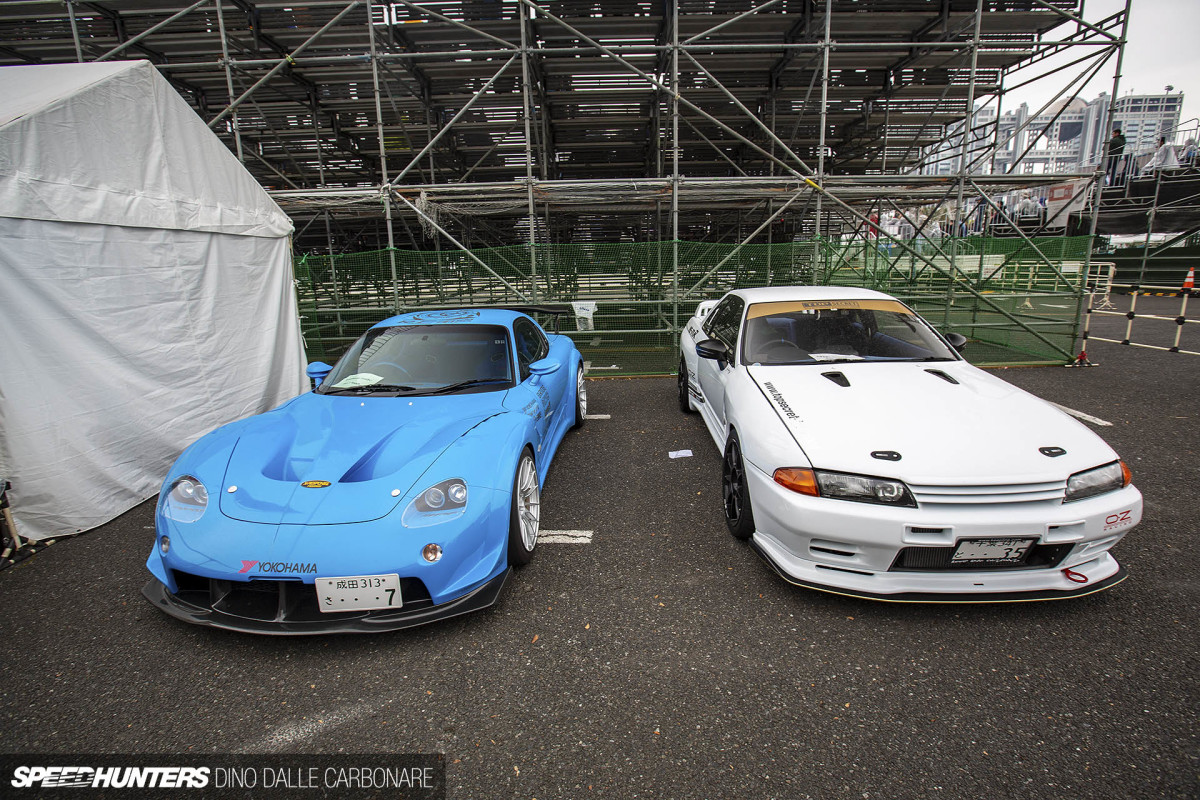 Man, I really hate dishing out the negativity. It's something I really don't want to do, but at the same time I feel I can't just keep quiet. Not any more.
Let me at least balance things out with some positive images, so here is a shot of two modern day JDM legends, Smoky's VR38-powered R32 GT-R and Amemiya's Tokyo Auto Salon show car.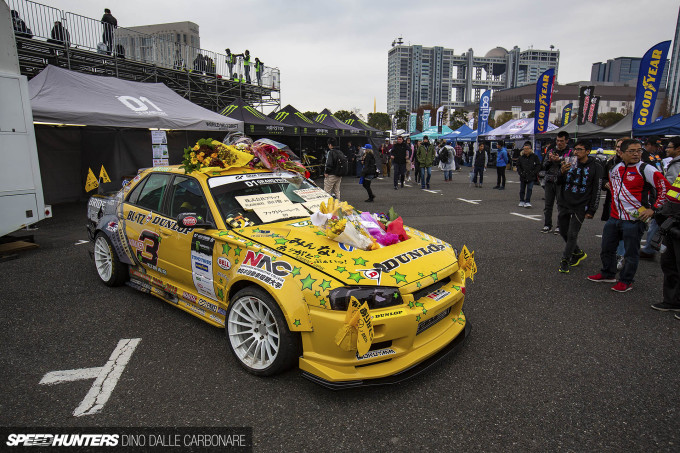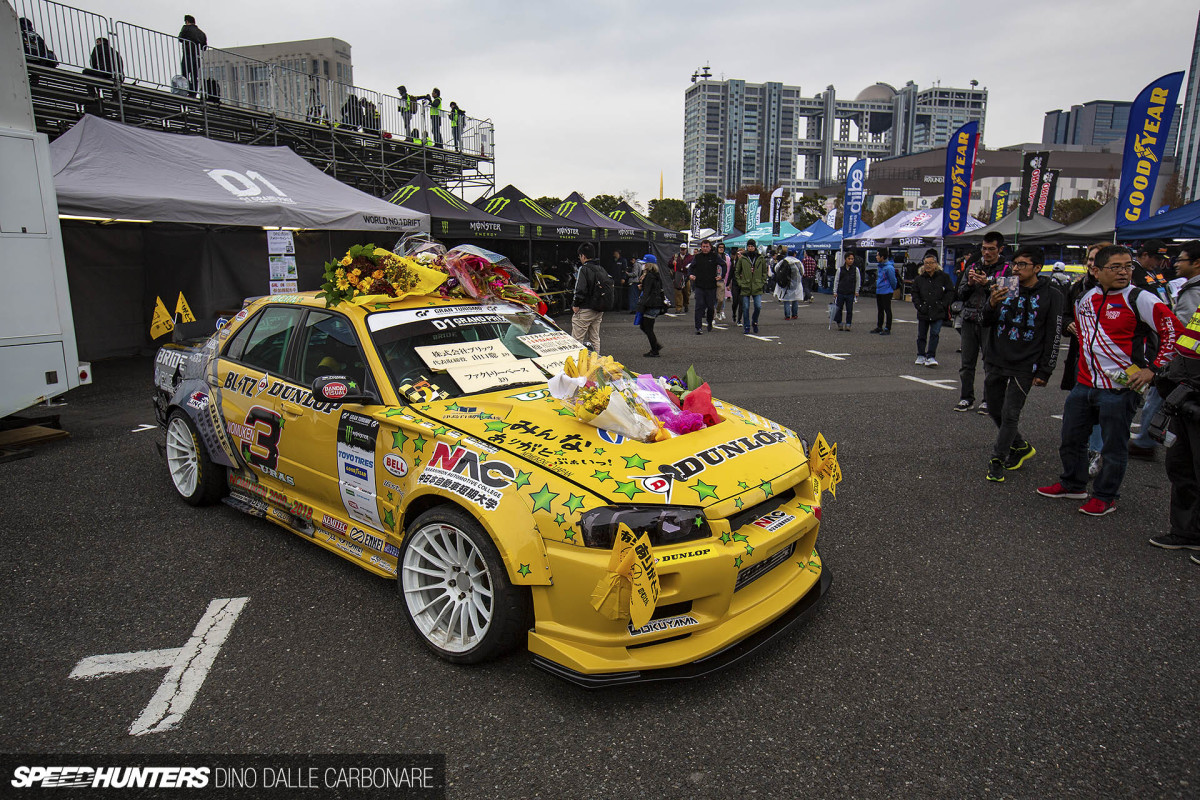 Ah, I'm feeling a little better already.
The previous day's D1 Grand Prix round was officially Ken Nomura's last event. The comical man from Kyushu and owner of URAS has finally decided to throw in the towel. An end of an era for sure, but it's good that veterans leave space for up and coming talent. If there was ever a time for an injection of freshness in D1, it's right about now.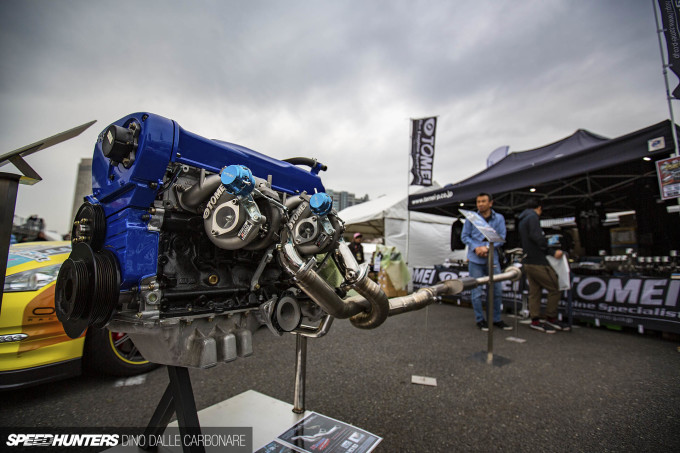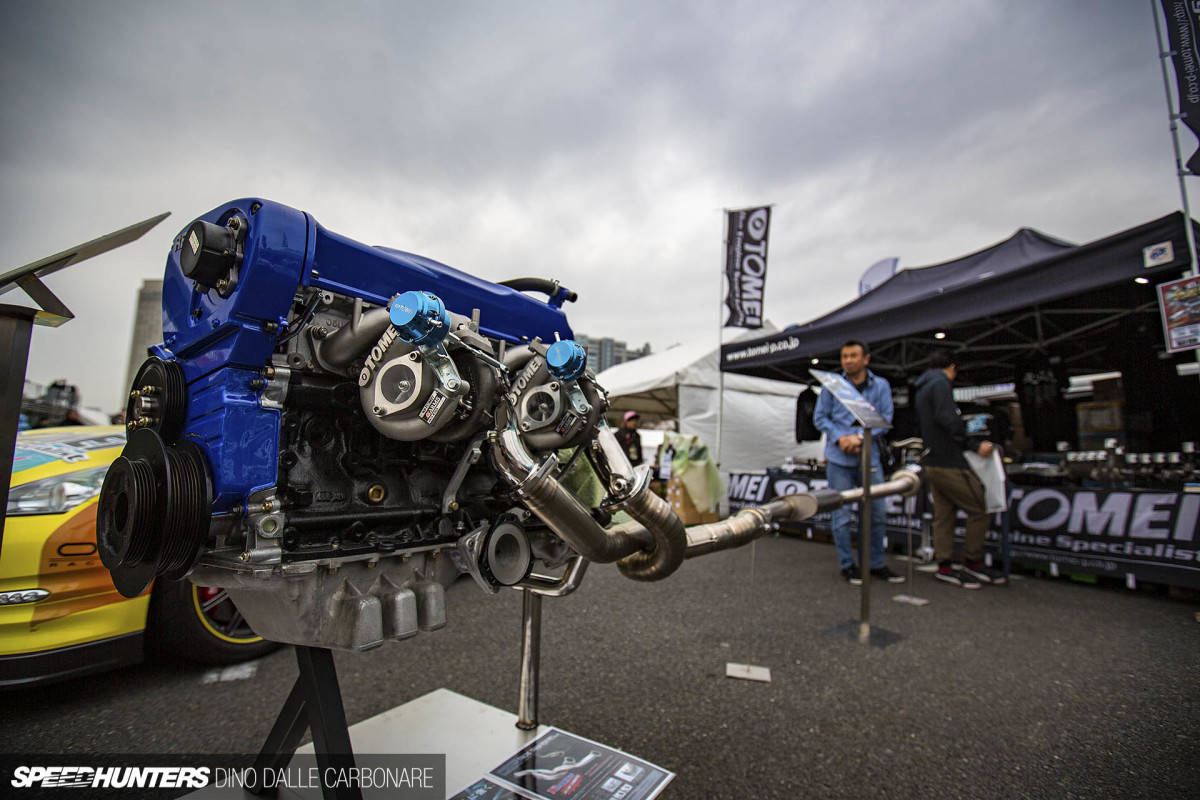 The paddock area was a fun place to walk around, with a handful of cars on display as well as well-known brands exhibiting their parts. Like Tomei Powered, who had one of their complete Genesis RB26 engines with a full exhaust system attached.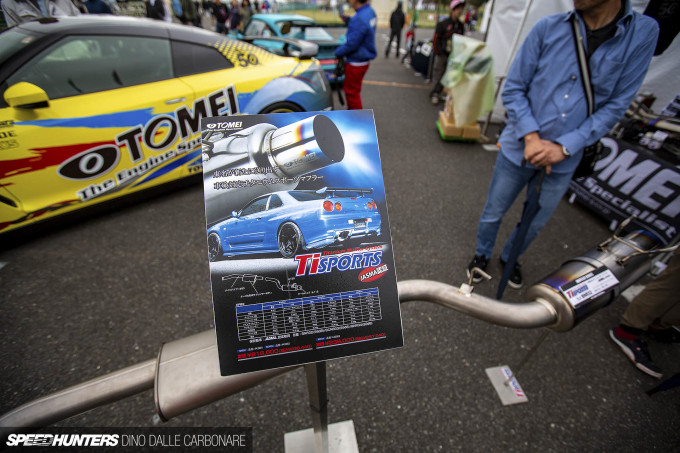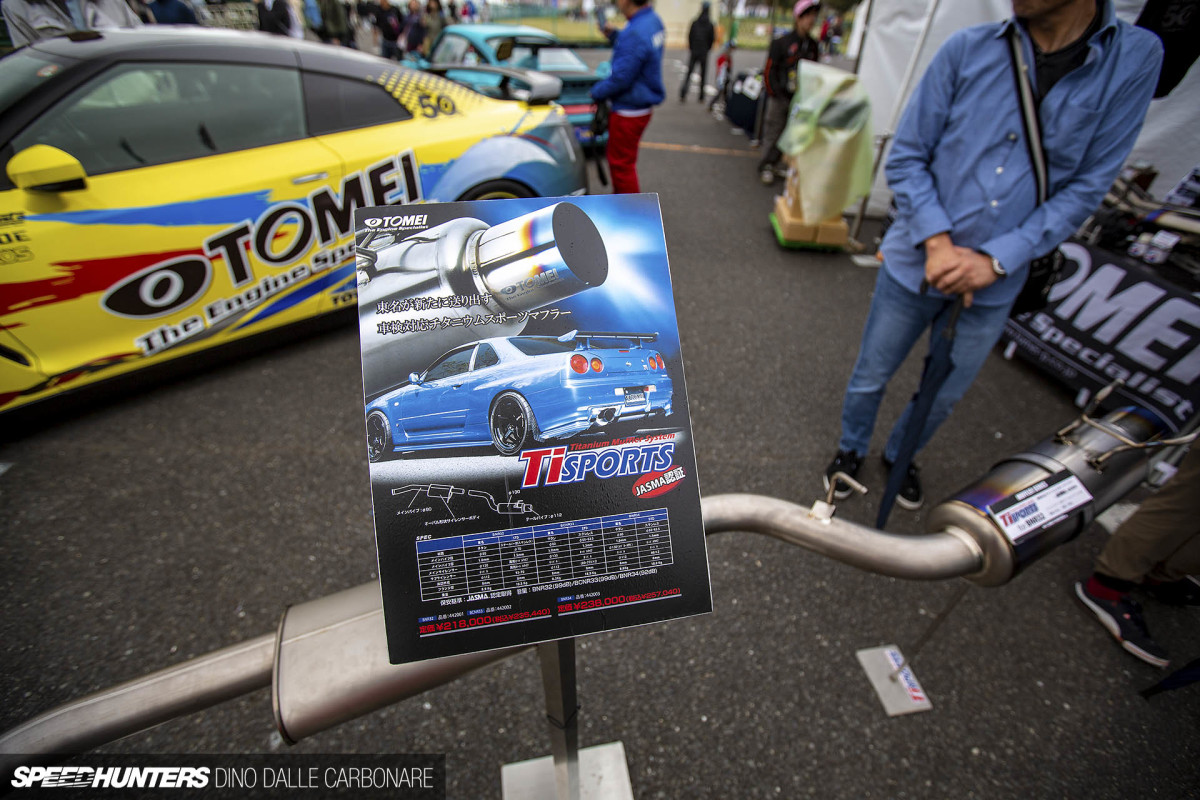 This is a street oriented product called 'TiSports', still made of titanium but with slightly smaller diameter piping and a sub-silencer to quieten things down over the competition oriented Expreme Ti. Cool to see they are using the photographs of my car to showcase this new product!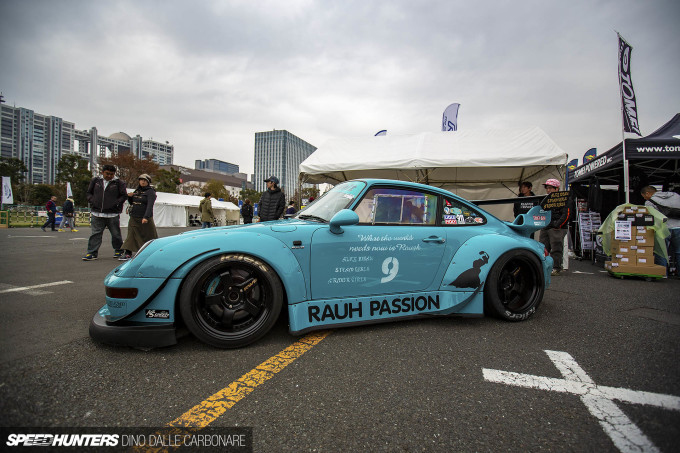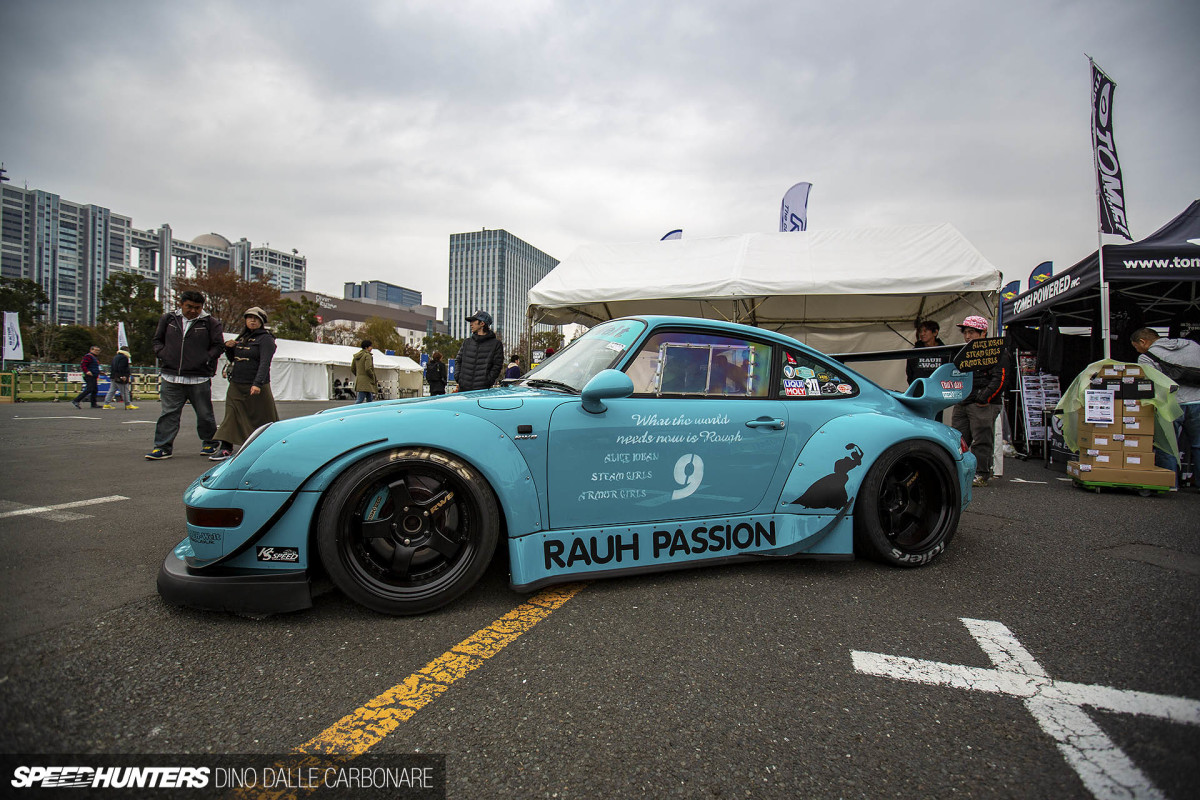 What Japanese event could possibly be complete without the presence of a Nakai-built 911. It's cool to see the owner of Rauh Passion continuing to evolve his car, now running color-matched Stoptech brakes up front. This car is street registered but it sees a lot of track action. As it should be.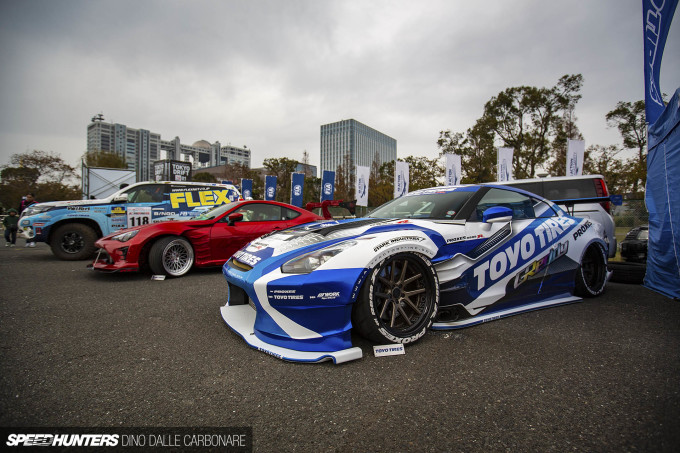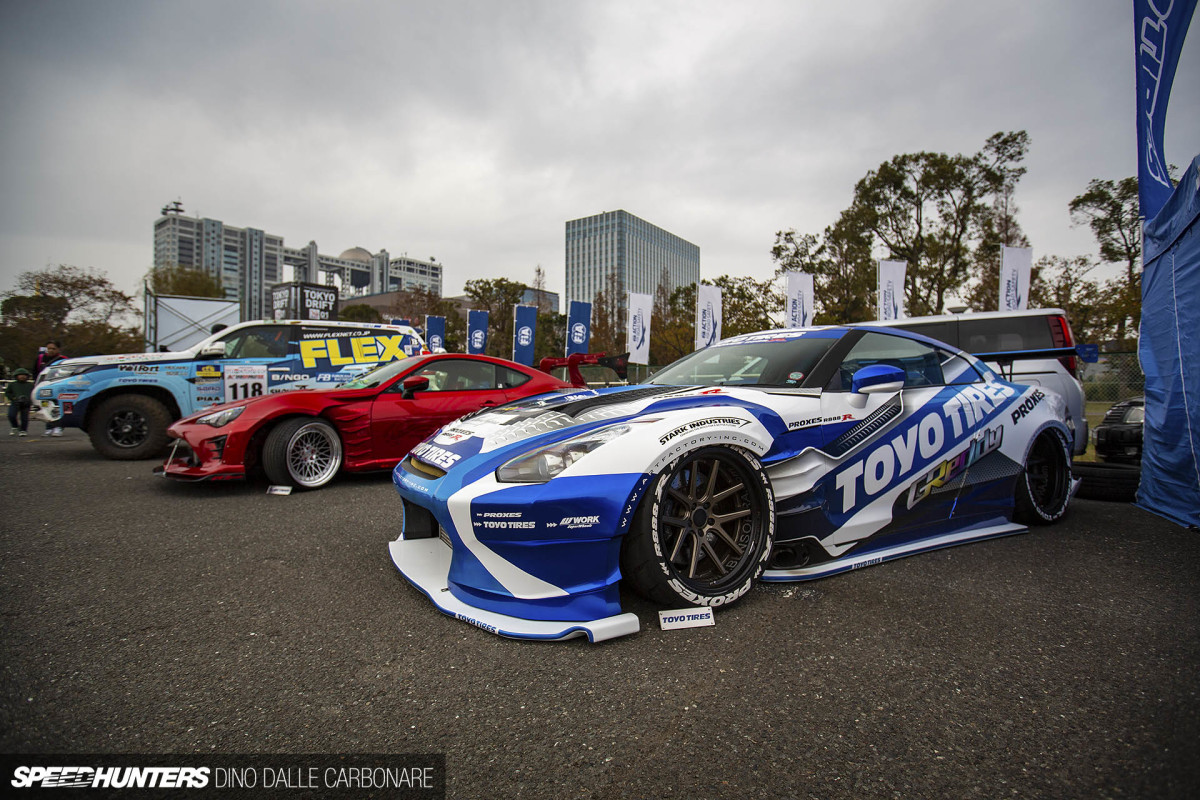 Doesn't matter what event, but Toyo Tires always seem to round up the coolest cars.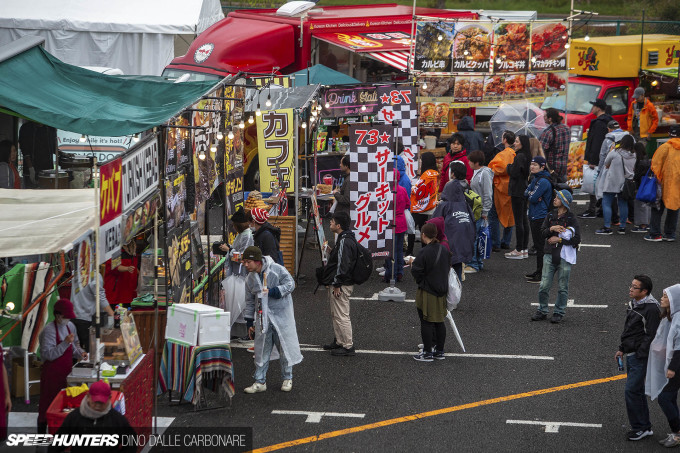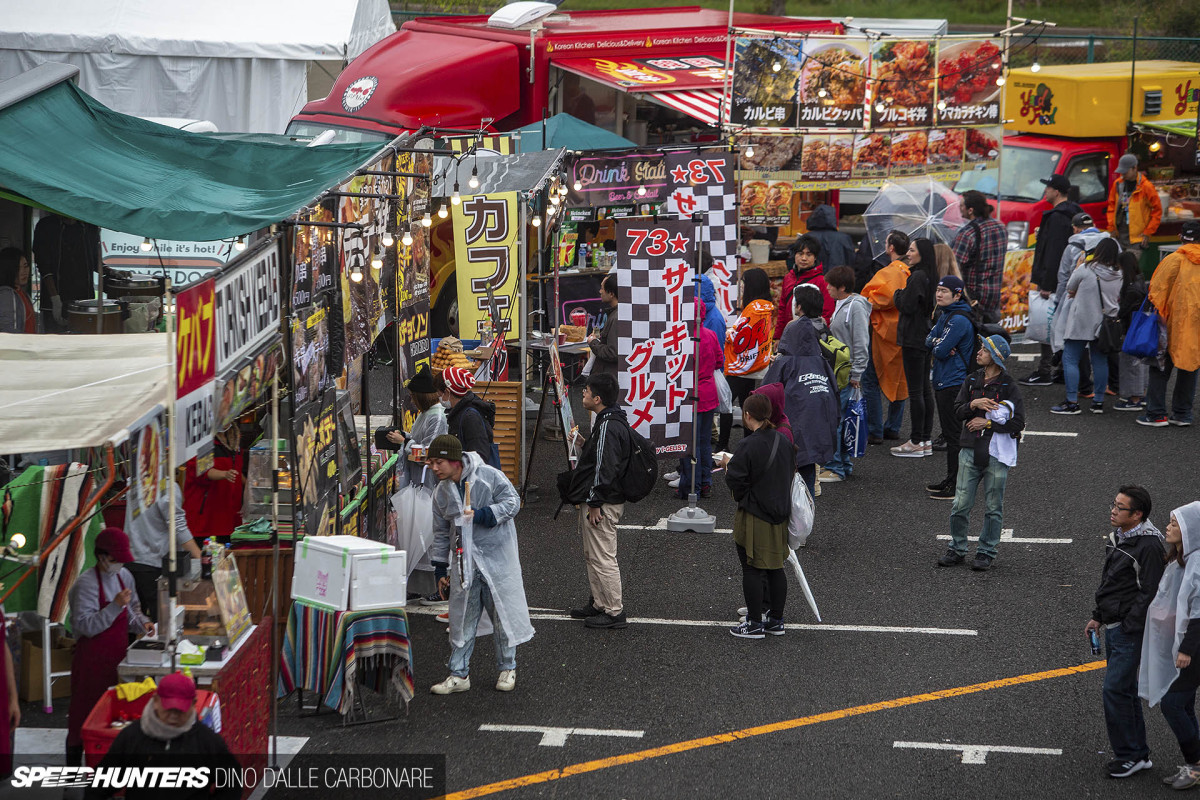 What better than a selection of deep-fried anything and everything to accompany your dose of JDM?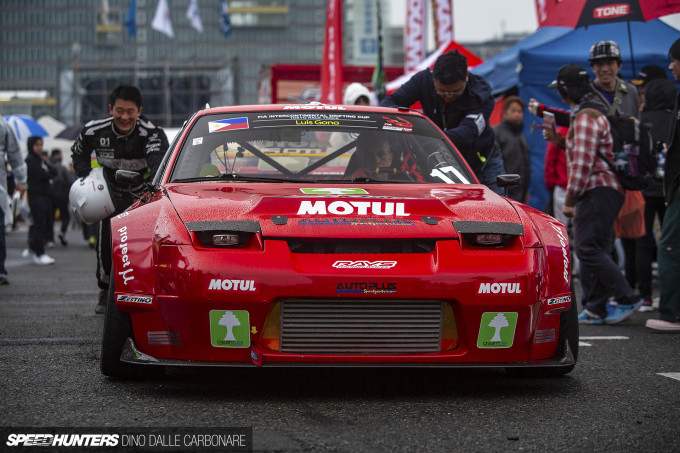 Most of my fun was spent in the pit section, checking out the cars, chatting to the countless familiar faces I see at many events and just attempting to make sense of it all. I did find it curious that all cars in the pit had to be pushed around with their engines off.It turned out that on the previous day, one of the international drivers drove too fast to get back to his tent and ended up running over a mechanic from the RE-Amemiya team, severally fracturing his leg. Not nice at all, but instead of telling everyone to drive slow, it was now a no-engine area.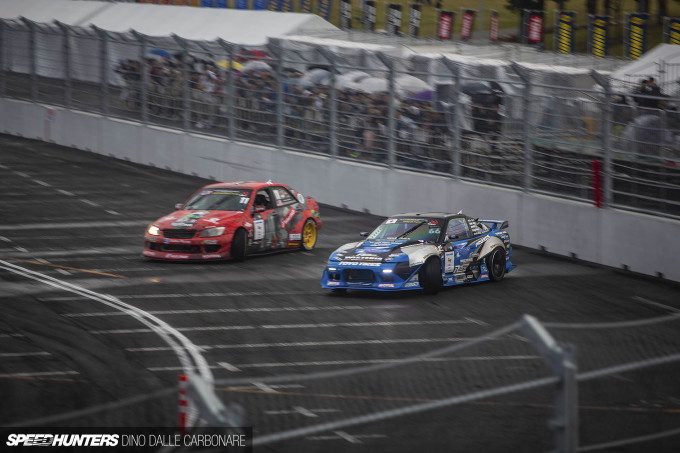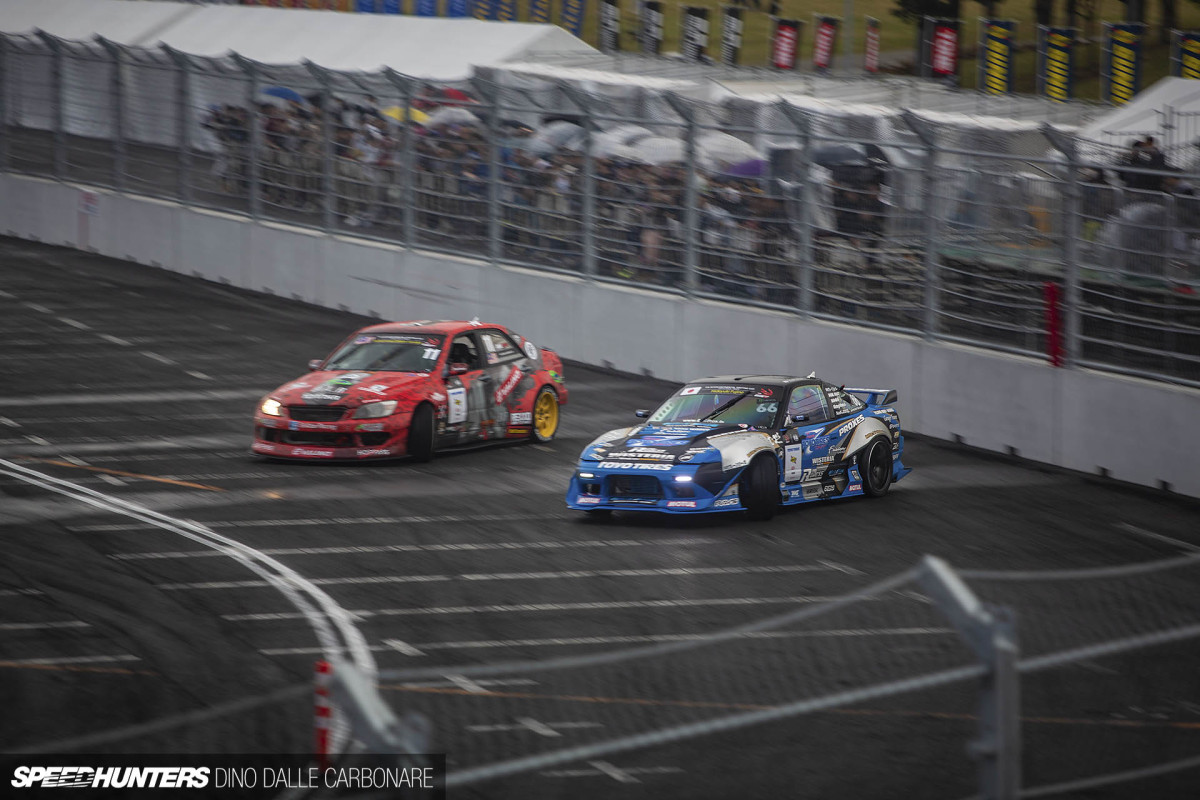 And on to the battles we go…
Unlike D1, DOSS wasn't being used. Instead, there was a panel of judges which would then relay their vote on to the commentators.
The persistent drizzle pretty much put an end to tire smoke, and thus a big part of the show which drifting is. Still, the crowds seemed to enjoy it all, despite the countless delays and generally slow proceedings.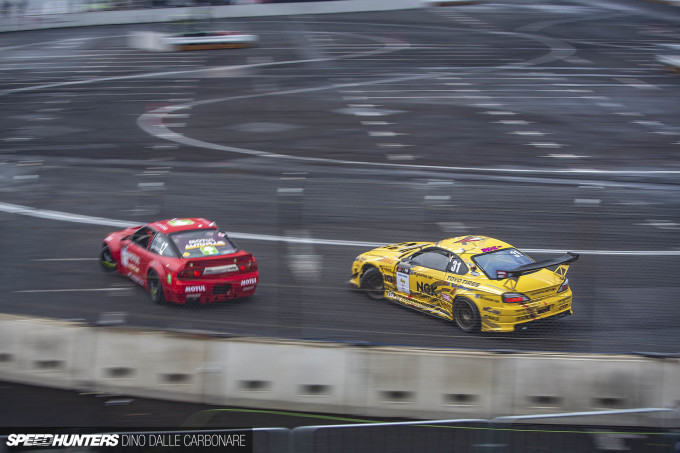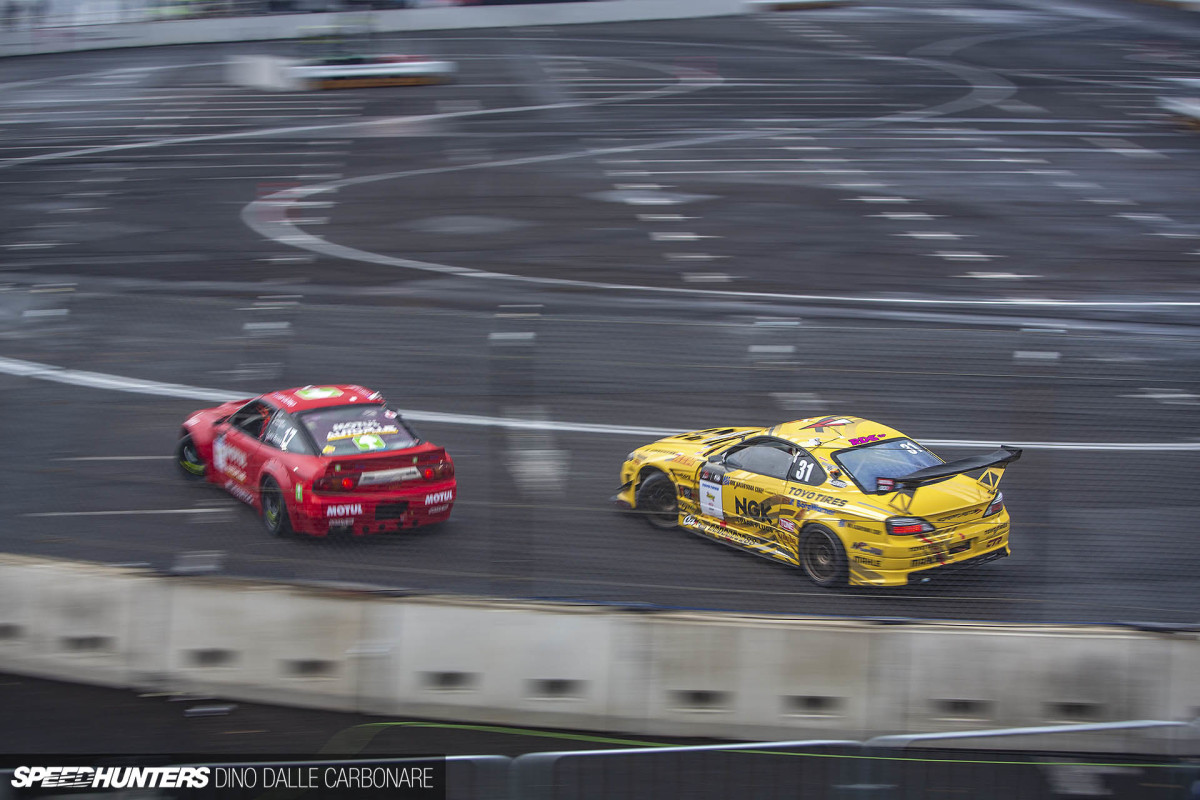 I kept asking myself, how could it not seem exciting, even taking into account it's the same layout D1 has used for countless years. The answer is that it spans from the artificial approach to it all.
There isn't a natural progression, with driving talent being mismatched at times. Some international drivers were in borrowed cars, others never drove this track before. It just felt like they were just pushing them out there, telling to put on a good show.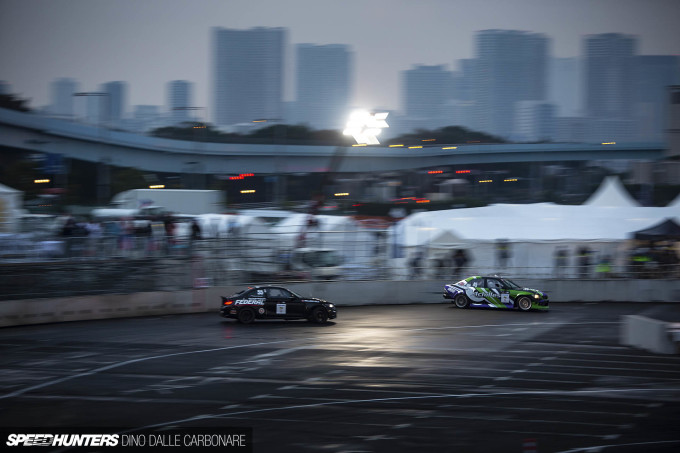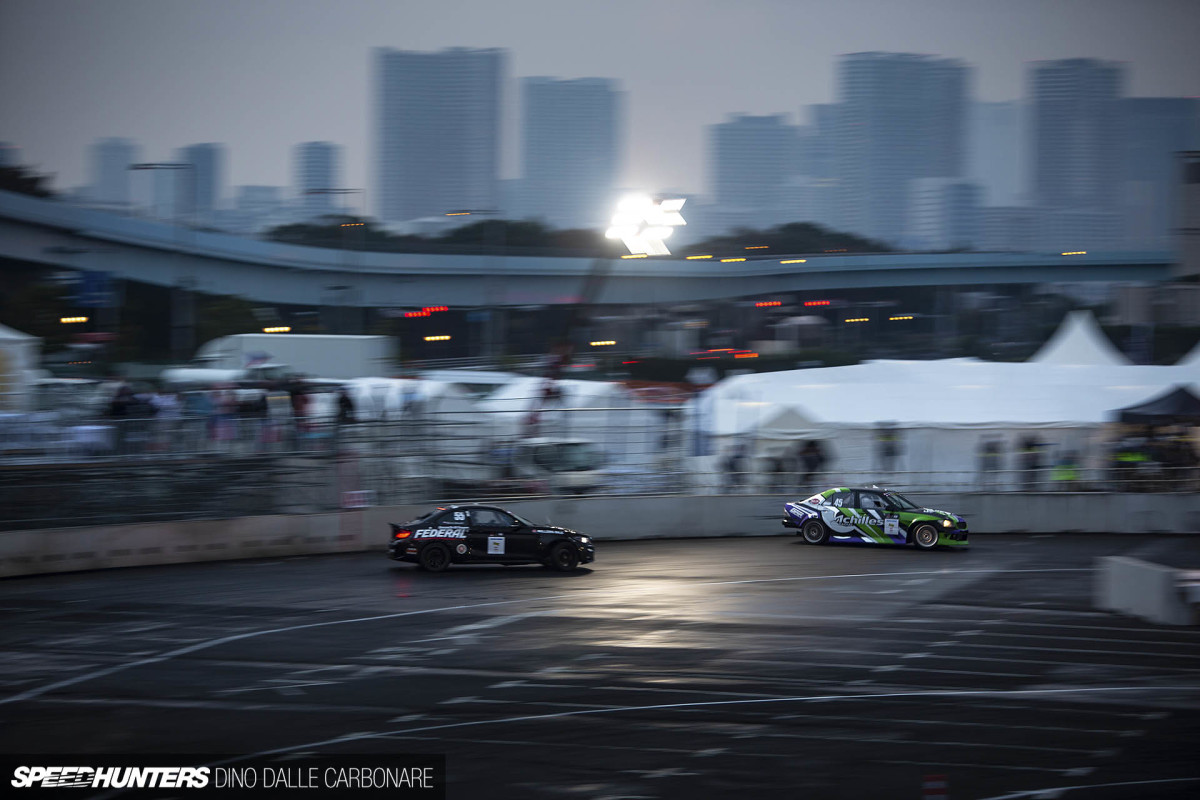 It was the least entertaining pro drifting event I've seen.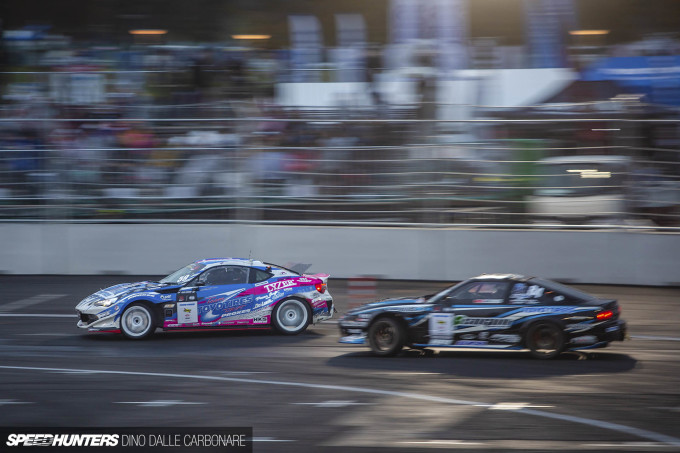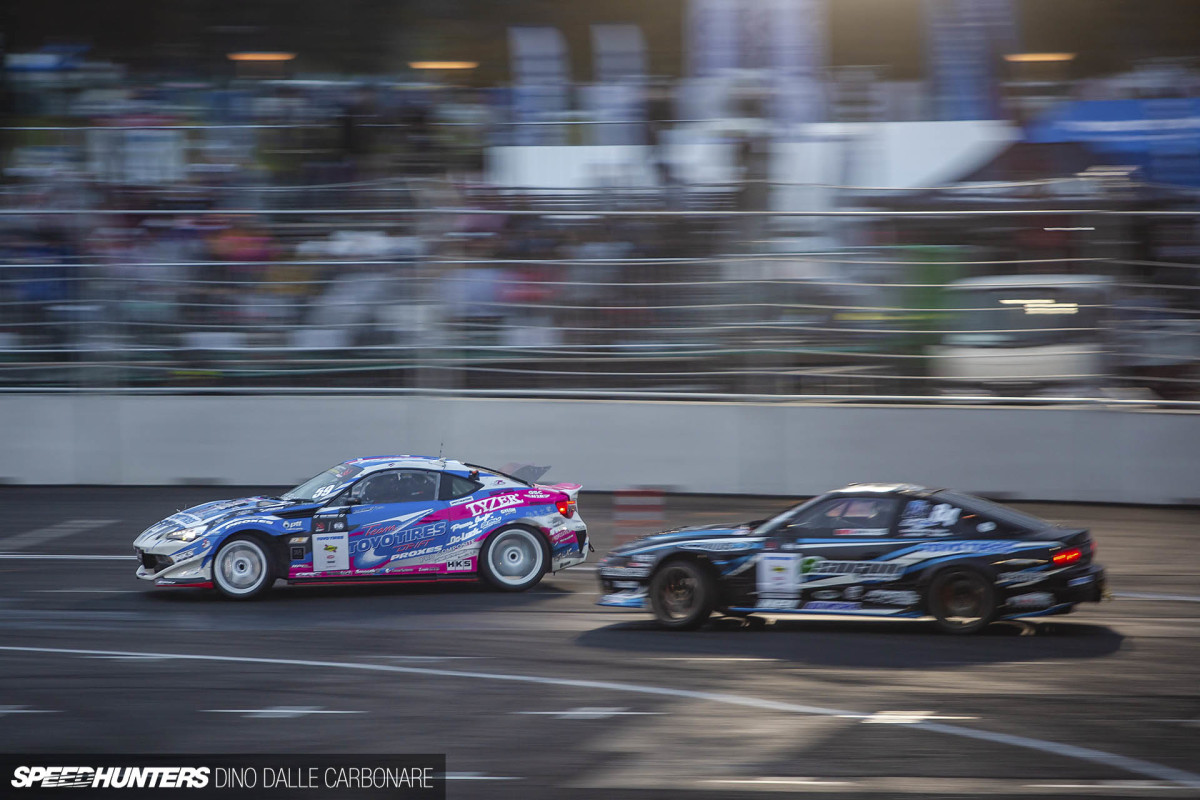 I didn't last past the Best 8, and I left with a sour taste in my mouth.
I've witnessed D1 Grand Prix at its pinnacle. I recall the great show they used to put together, and I feel that they are just relying on past success to try and re-package it as an FIA international event. The best way I can put it is this: the FIA Intercontinental Drifting Cup is D1 Grand Prix with the addition of VIP and hospitality tents.
Oh, and they've forgotten a few continents, too.
I think I'll just hit up Nikko, Meihan or Ebisu for grassroots events if I ever need to enjoy drifting from now on.
Dino Dalle Carbonare
Instagram: speedhunters_dino
dino@speedhunters.com