Taking On The World
Had you just been a casual observer, this past weekend's drifting competition in Odaiba, Tokyo may have looked like any other D1 Grand Prix event. In fact, the way it was set up, with the familiar booths, the layout of the competition, and even the ¥3,000 (US$27) entry fee for media – it was all pure D1.
For a fleeting moment, I thought I was right back in 2004 when I covered the first Odaiba round of D1, three years after the Japanese pro series started. Back then, and ever since the mid-'90s, the whole idea has been to shift the drifting movement away from the streets and into a safe and legal environment. With progression, drift competitions and finding a way to judge them followed.
Fast forward close to two decades, and now with so many fully-fledged drifting series around the globe, the next step was to bring the best drivers together for a true world series. And that's where the Fédération Internationale de l'Automobile – otherwise known as the FIA – have stepped in with the Intercontinental Drifting Cup.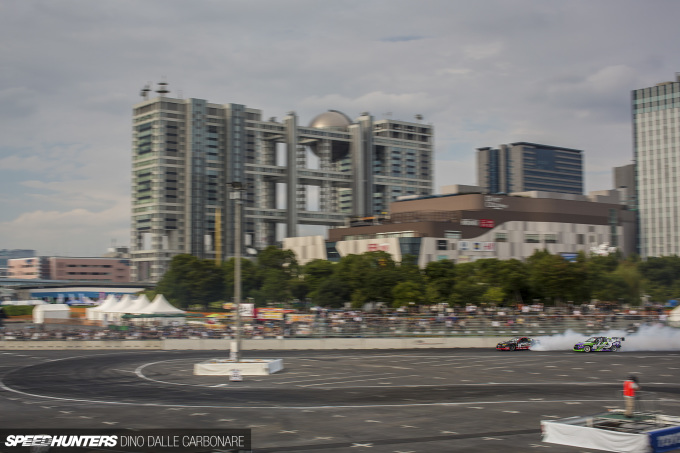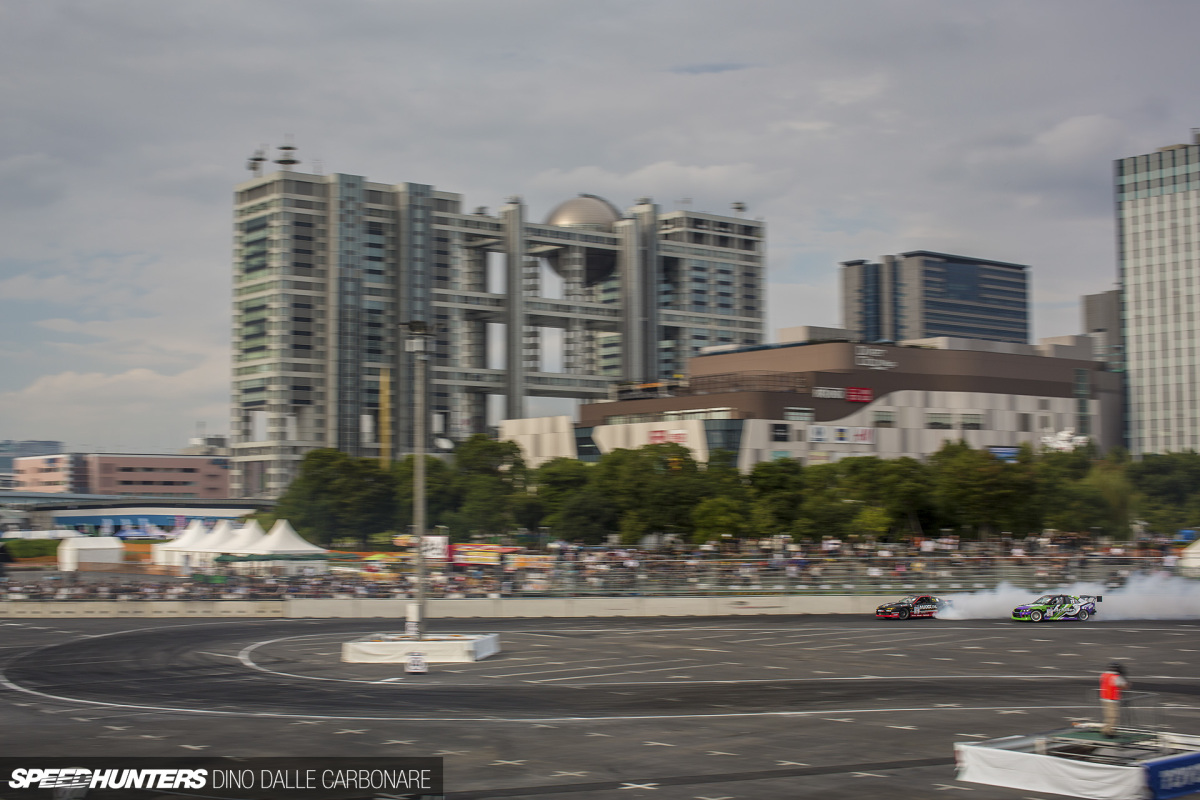 The long-awaited inaugural event, held in Odaiba over the weekend, could be seen as a taste of things to come, a first go at doing what has always been regarded as the single hardest thing to do in drifting – create a well-structured global championship. It goes without saying that the FIA wanted it to begin in Japan as a respectful nod to the country where the sport was born and came of age.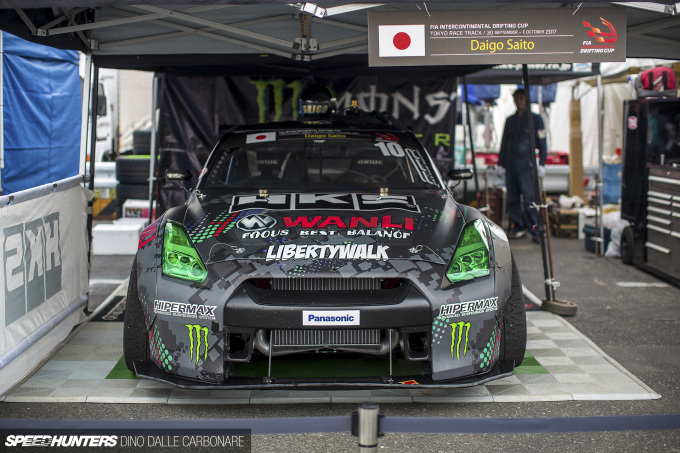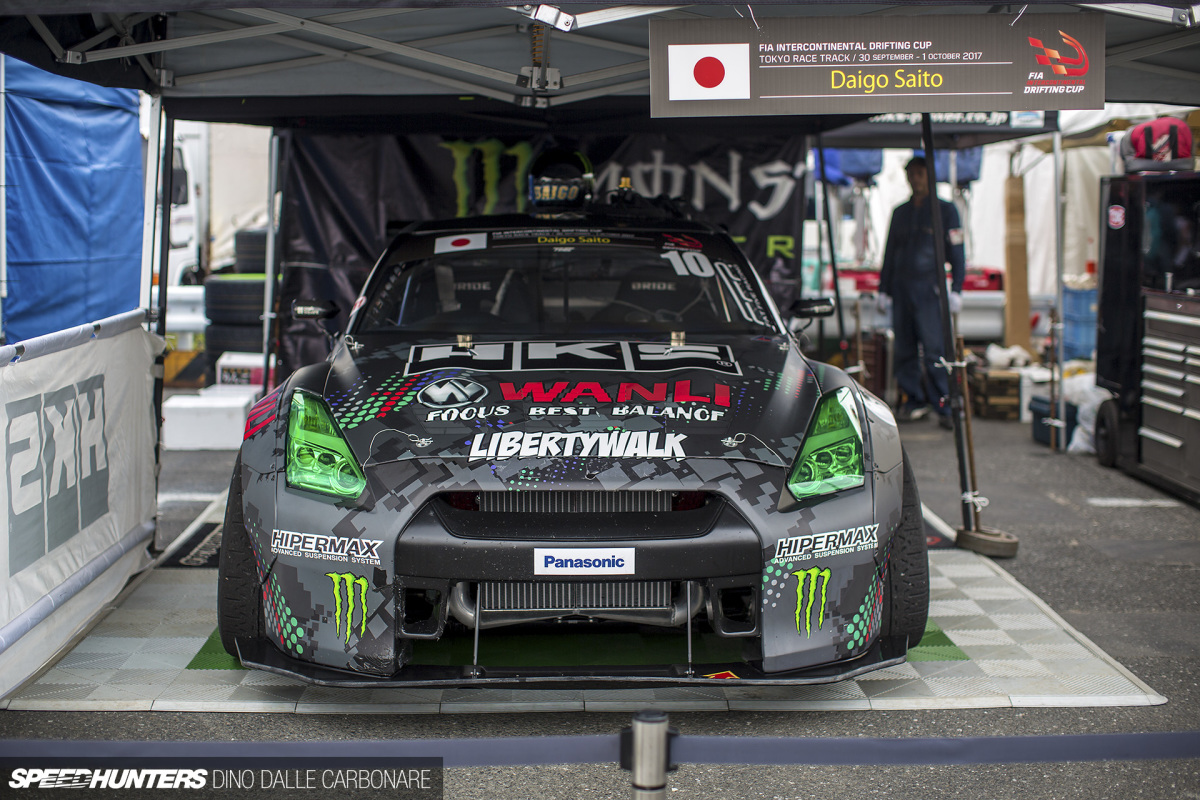 As I mentioned in this month's editorial, there was no way I was going to miss this; I had to see it with my own eyes. After so many years covering numerous D1 championships, I was curious to see how the FIA's control would change things. And it all started early on Saturday morning as I walked the carpark-converted paddock in Odaiba, taking my first look at the various entries from around the world.
Along with familiar local cars, there were a number of unexpected entries. But in theory, that's the whole point of this series, hand-picking the best out there and giving the established names in the sport the opportunity to make an appearance and fight for what may well become the most sought-after prize in drifting.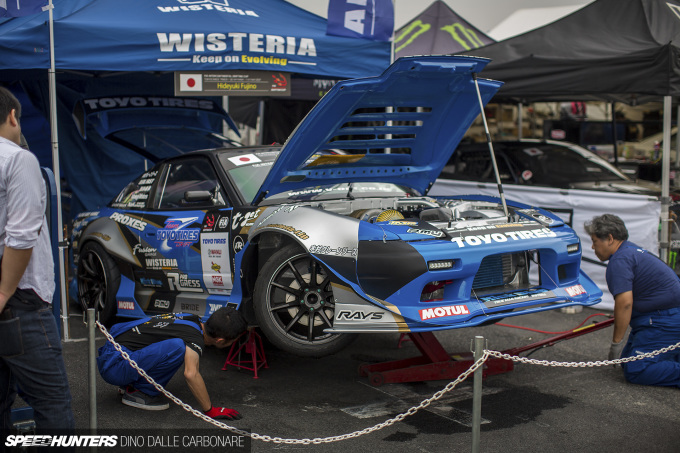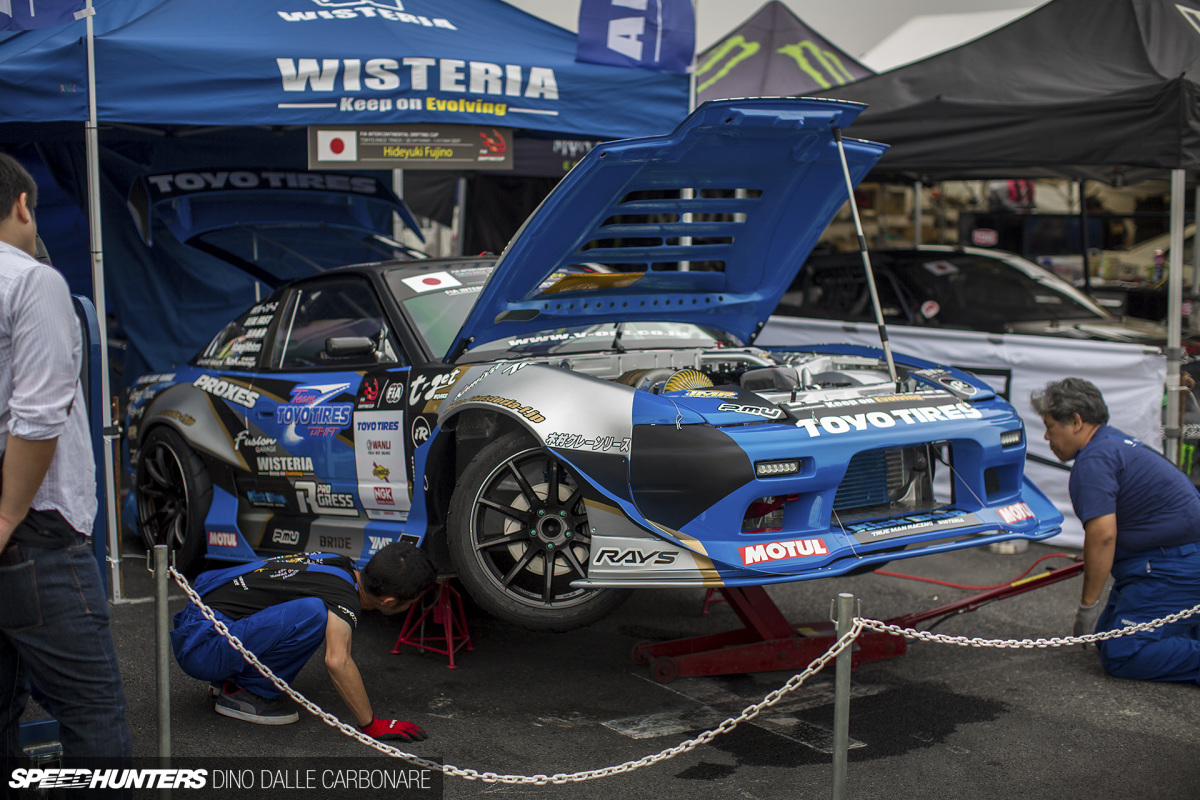 As I walked around, the first big question popped into my head: How are the logistics of a full series going to be handled? While we aren't sure how the Intercontinental Drifting Cup will run yet, wouldn't the cost of moving cars and teams around the globe for different rounds be ridiculously expensive? It may work for F1 and WRC where there is huge money involved, but drifting?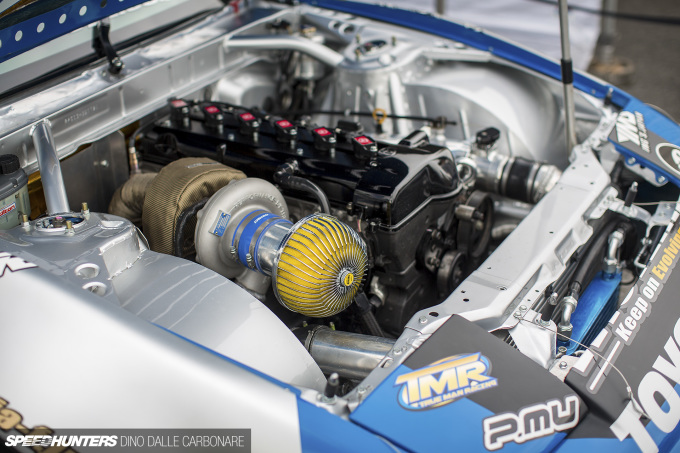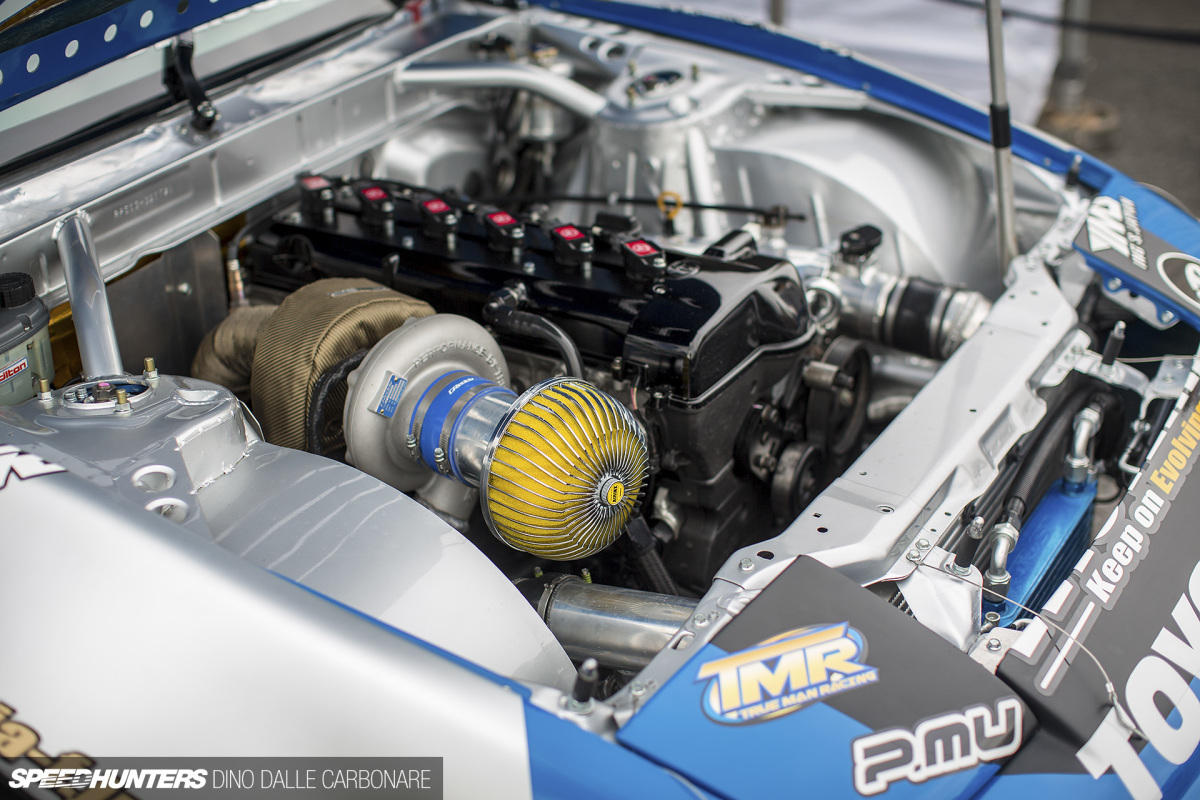 Then of course there's the need for drivers to have proven themselves time and time again in local competitions, but also be up to par with performance. Gone are the days where you could enter a D1 event with a naturally aspirated AE86. Now you need horsepower levels that are four digits deep, at that was very much proven at this first event. We'll talk about all this more soon, but for now let's enjoy what drifting is all about: the cars, the fun and the entertainment.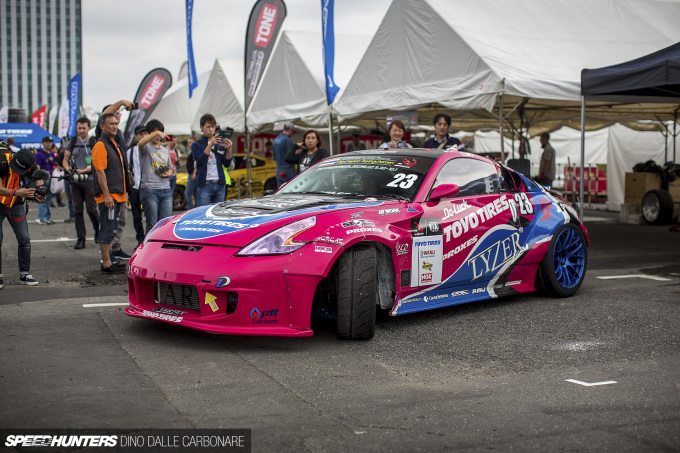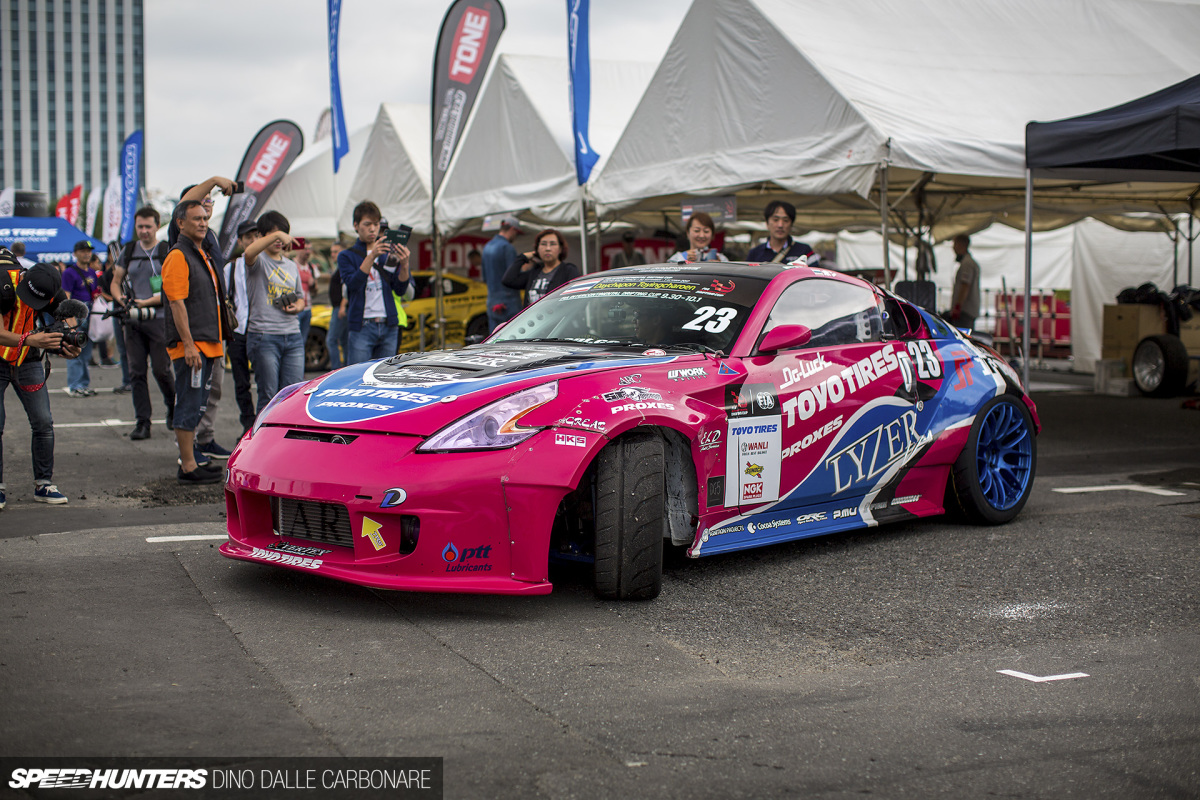 For a week and a half prior to this event, I dropped by Do-Luck's workshop in Yokohama almost on a daily basis. After having finished sorting out the fuelling on Project GT-R (which you'll read about later on this month), Ito-san and his team took on the monumental task of building a brand new VR38-swapped Toyota 86 competition car, which Thailand's Daychapon 'Pon' Toyingcharoen was scheduled to drive.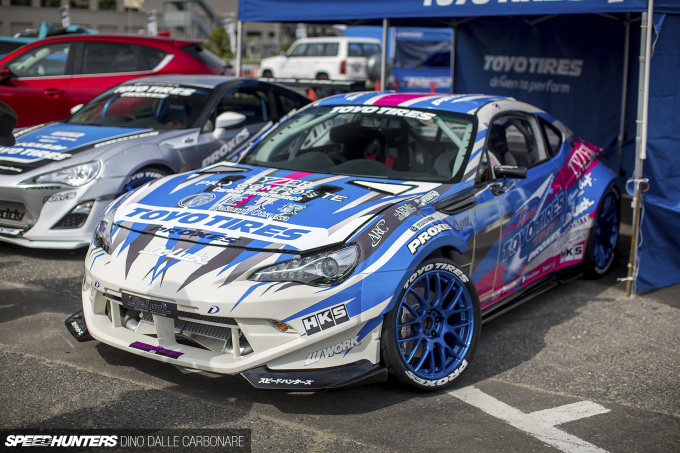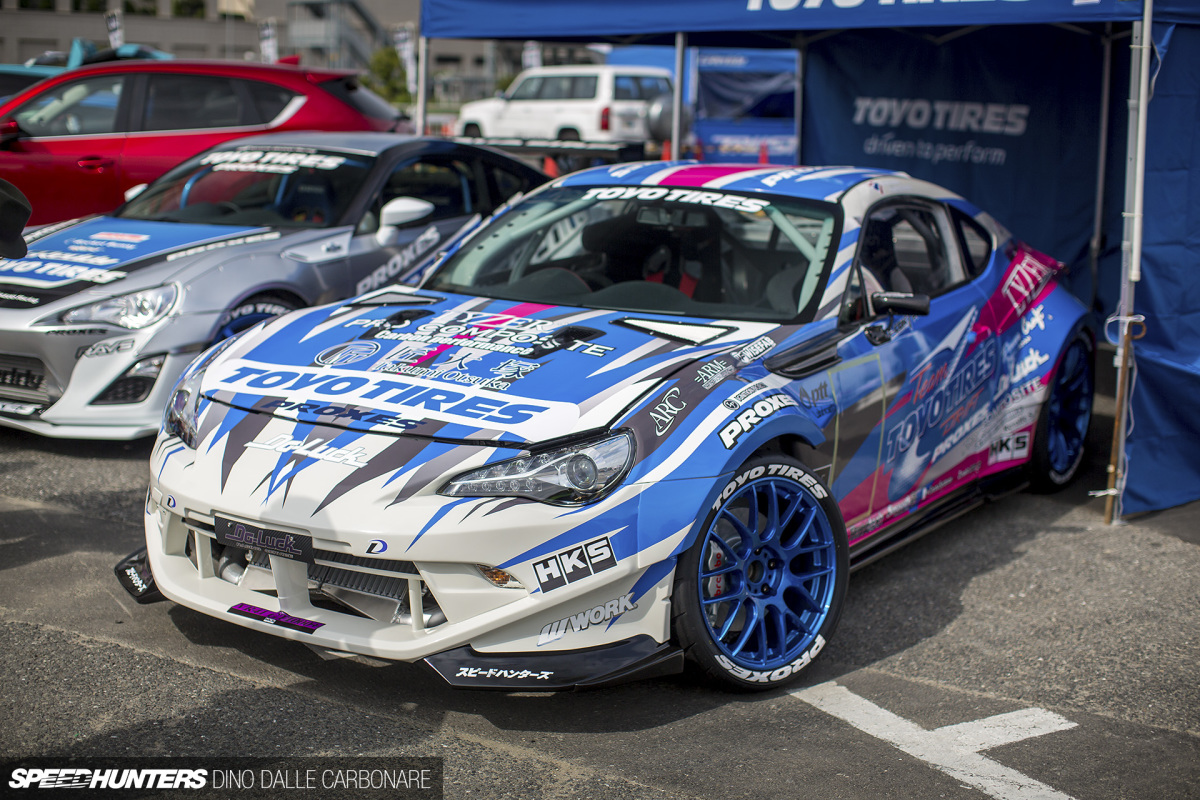 The car was completed just hours before it had to be transported up to Odaiba, but with no time to set it up on the dyno and shake it down properly, Ito-san opted to do the smart thing and left it on static display in the Toyo Tires booth.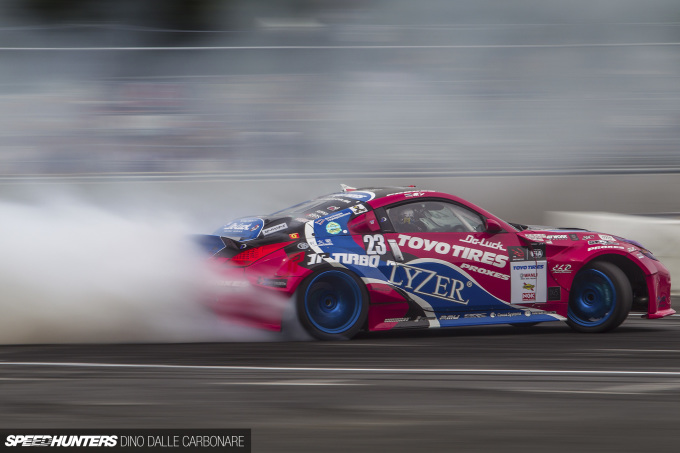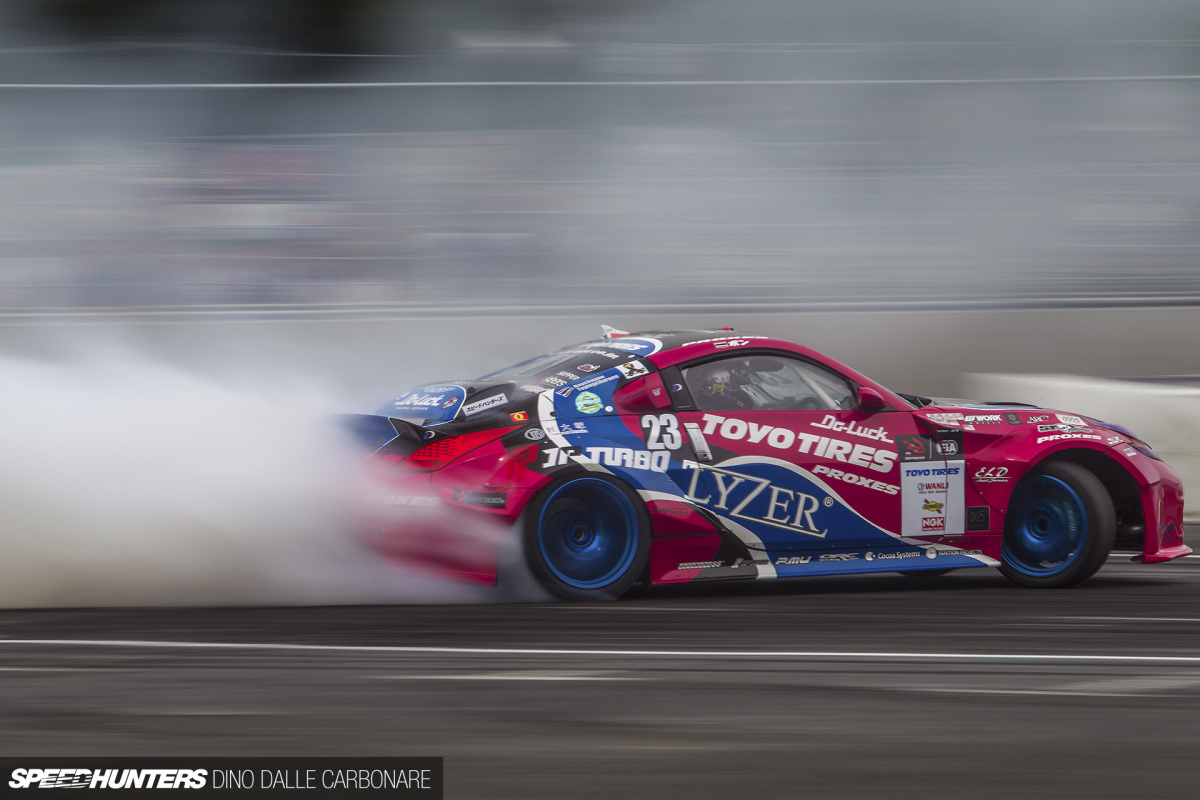 Instead, Pon drove Do-Luck's 650hp turbocharged Nissan Z33 which was all ready to go. I'll have a full build post on the 86 once the car is finished up, and hopefully I'll be able to join Ito-san and the team for the car's first shakedown. 1200hp in an 86 is something I really have to see!
Two of the drivers representing USA were Michael Essa and Matt Field, and both drivers put on a real show with an entertaining series of runs.
The Action Unfolds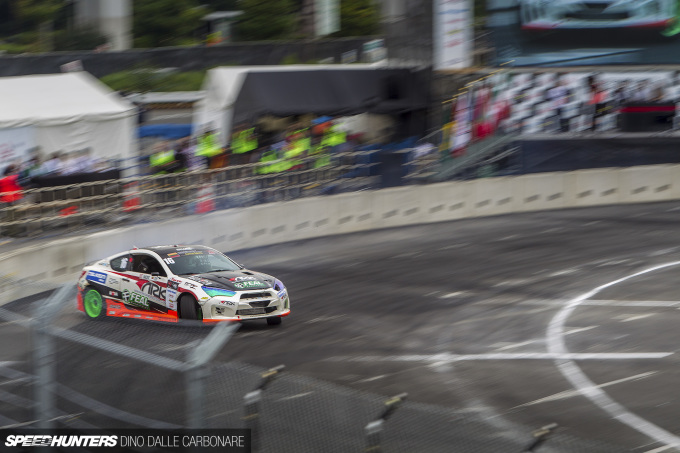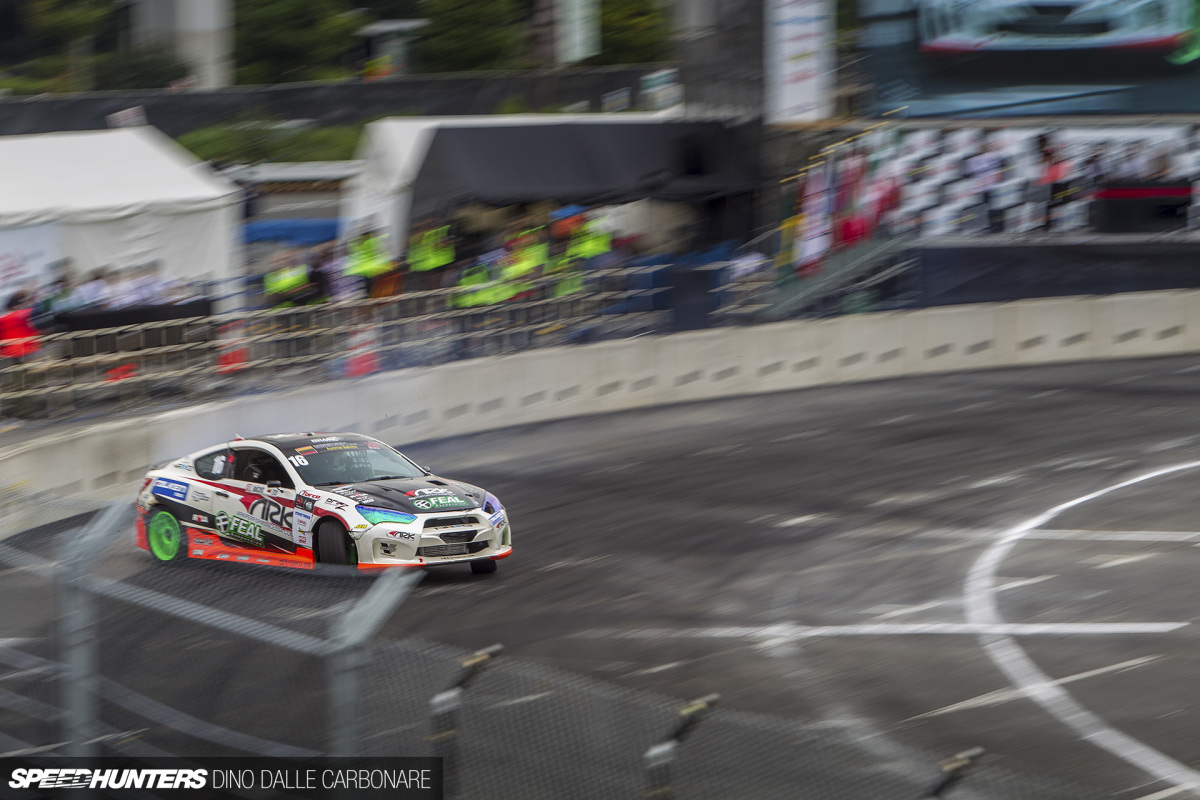 The morning kicked off with the solo runs, which not only would serve to reveal the Best 16 that would make the actual tsuiso competition in the afternoon, but also dictate the top three placings for a 'single run' prize, something I've never seen in D1 before. Above is fellow US driver Aurimas Bakchis' stupidly loud and impressively potent V8-swapped Hyundai Genesis.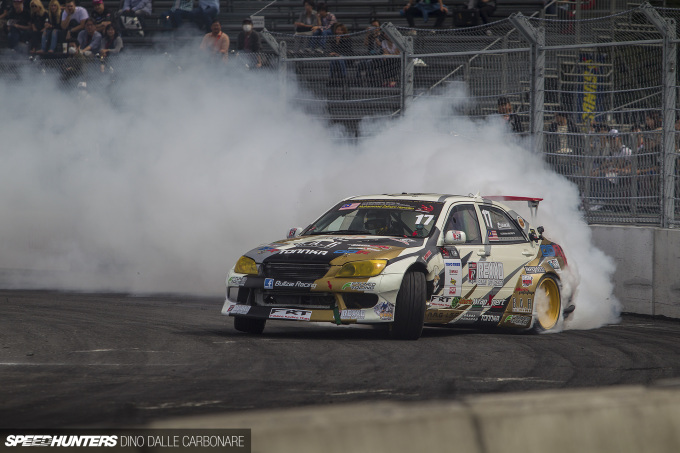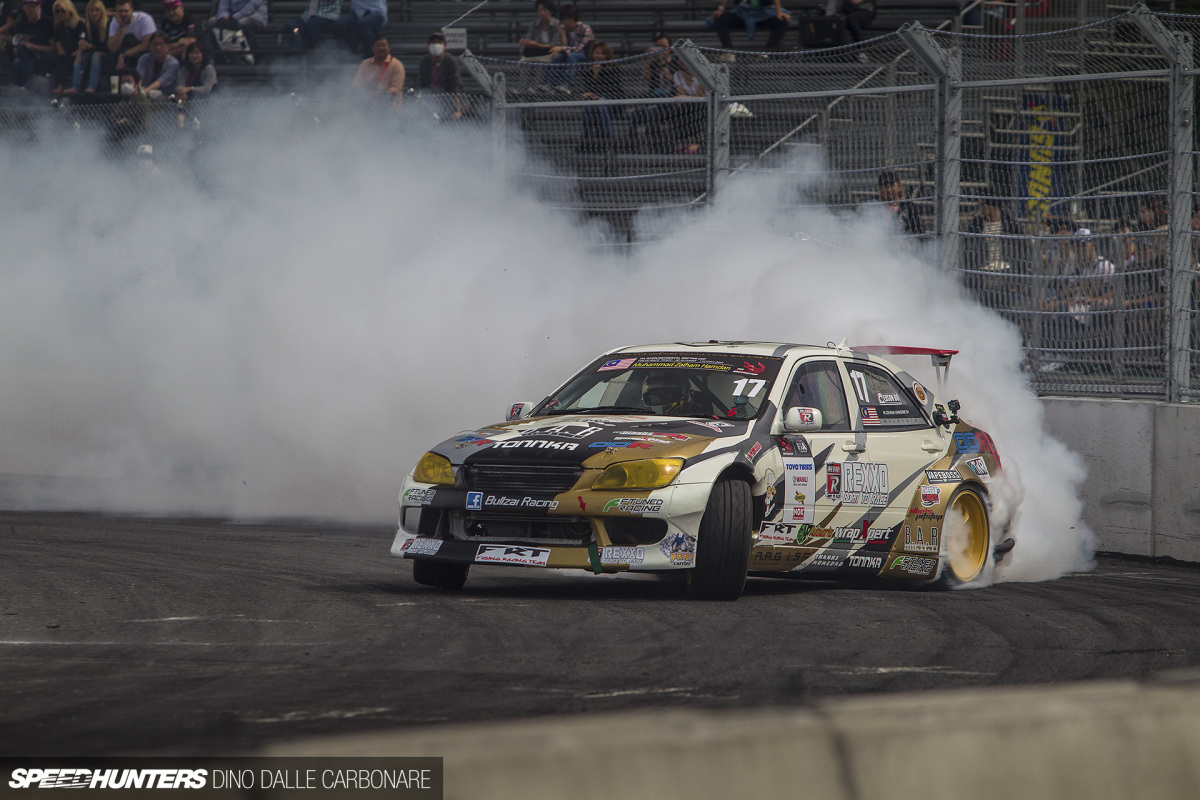 When built properly, the SXE10 Toyota Altezza is a car that's well suited for drifting – Nobuteru Taniguchi proved that when he ran the HKS Altezza in D1 after the HKS Nissan Silvia S15s were retired. Malaysian driver Muhammad Zaiham Hamdan had his example in Odaiba over the weekend, and it was properly annihilating tires.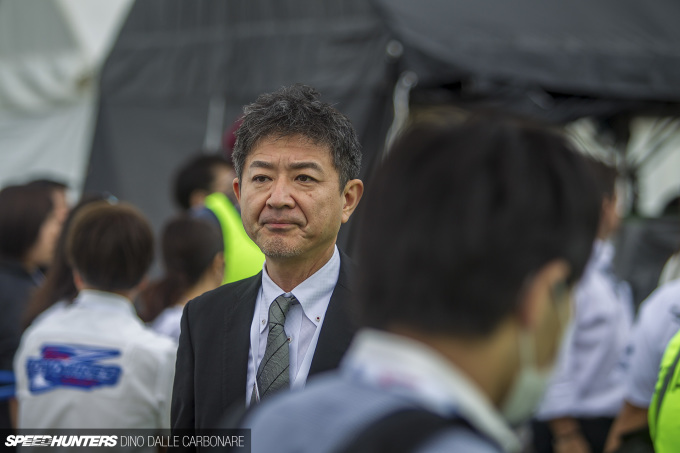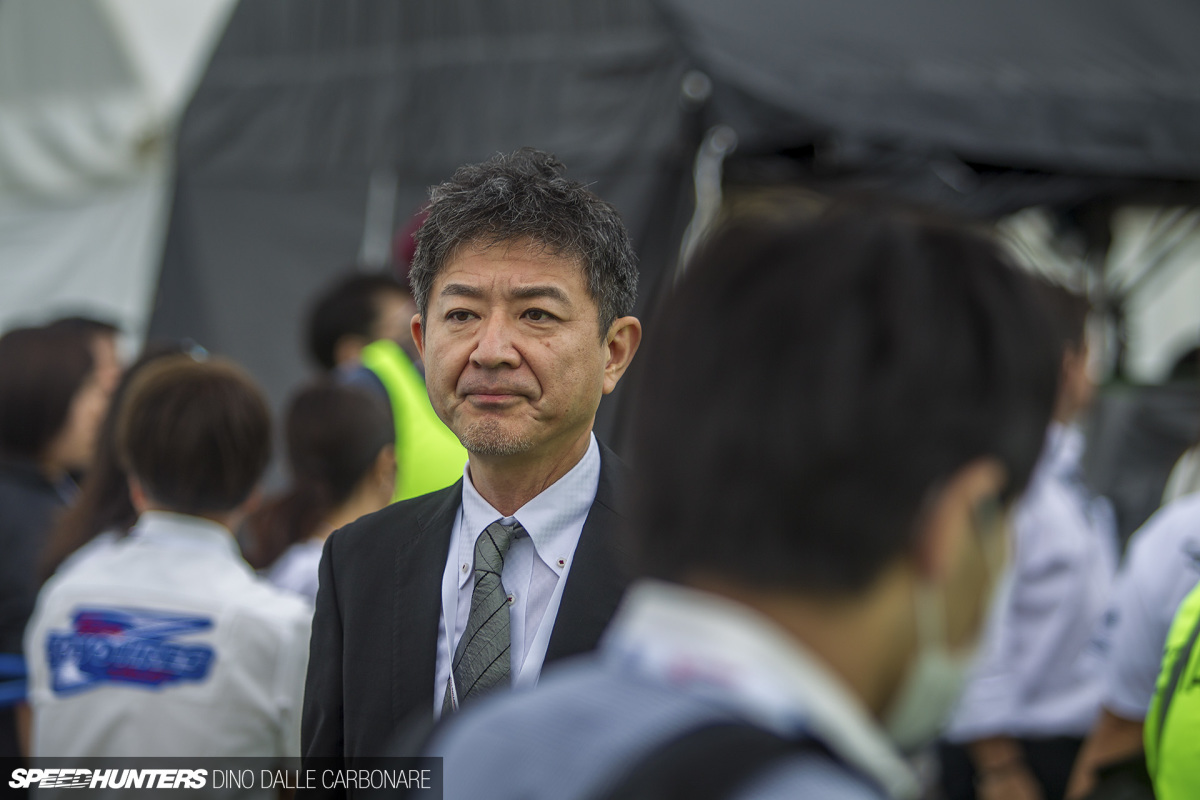 Throughout the day, I was constantly moving to new vantage points to shoot from, and as I made my way into a small cordoned-off area next to the judges, I saw a familiar face in the crowd. In fact, Tamura-san, also known as Mr. GT-R, is probably the most recognized Nissan executive next to Carlos Ghosn. With Saito and Kawabata both piloting R35 GT-Rs, Tamura-san had come over to Odaiba to check out all the competition before jumping on a flight to the UK. It's so cool to see true passion in those that are helping steer the future of performance cars.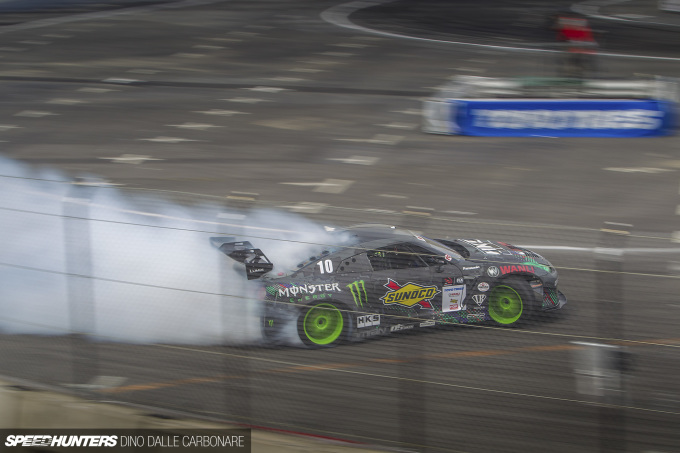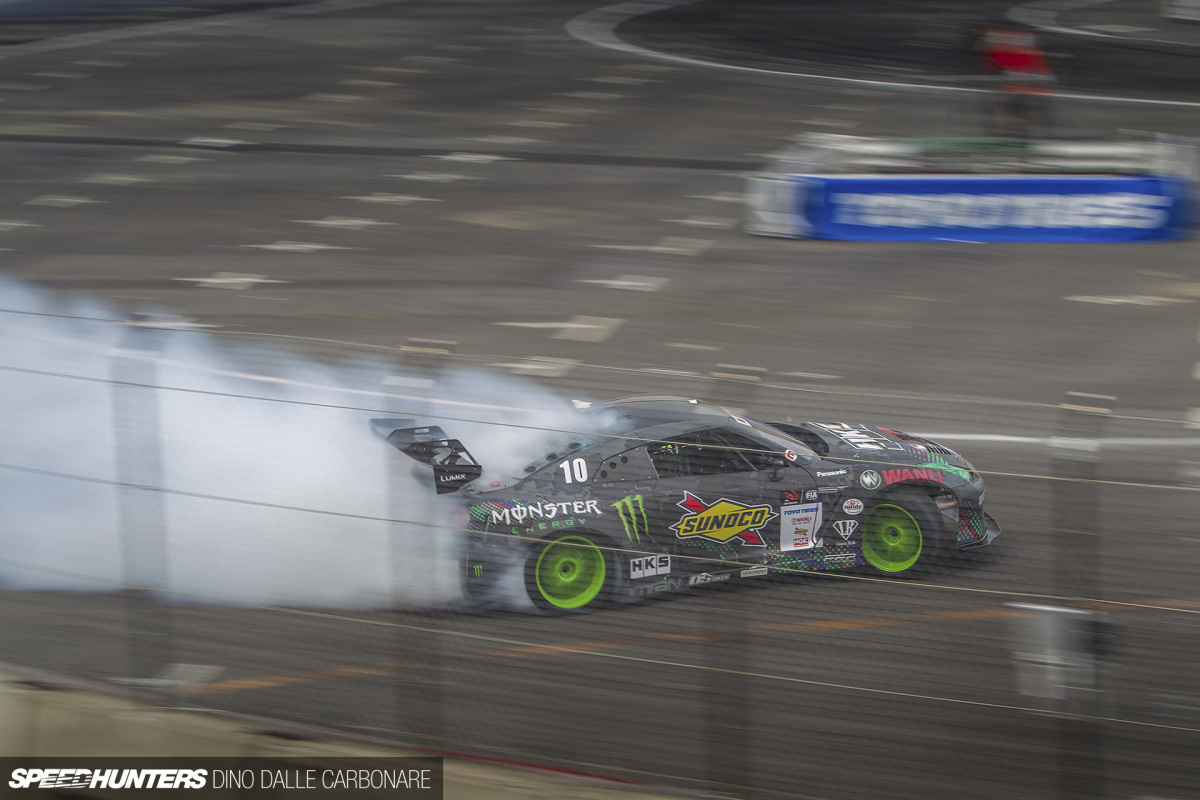 And Saito didn't disappoint, that's for sure.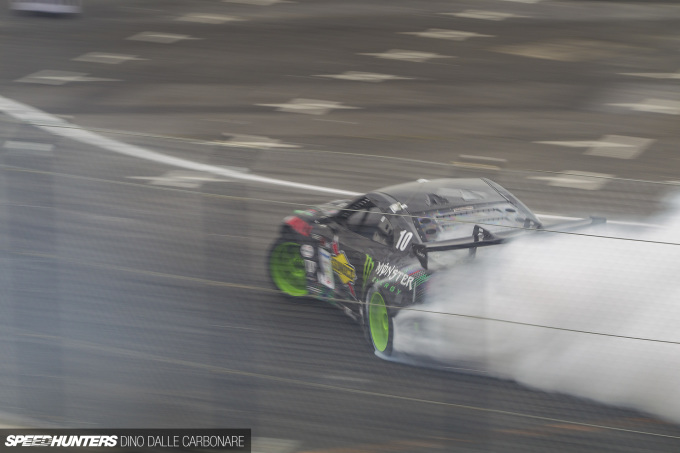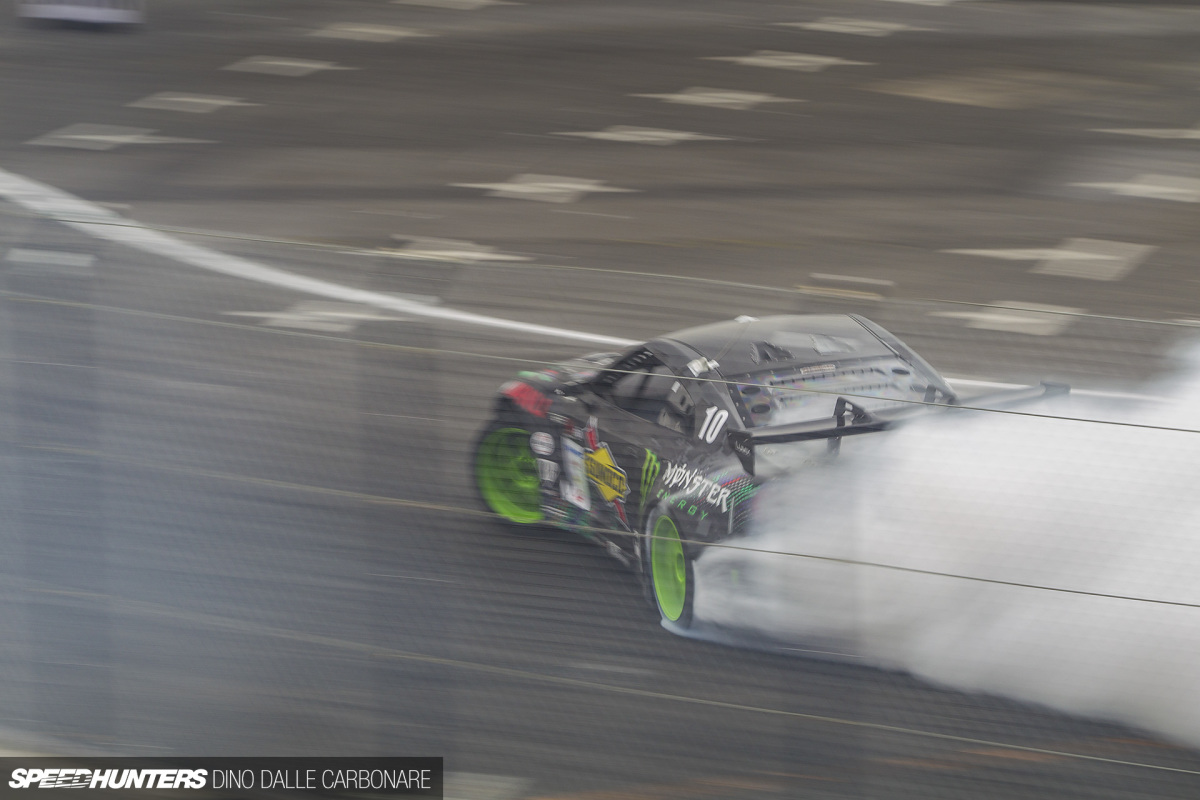 With 1200hp under his right foot he was easily creating the biggest plumes of tire smoke. By this point I was really enjoying being so close to pro drift cars again; it's been a pretty long time!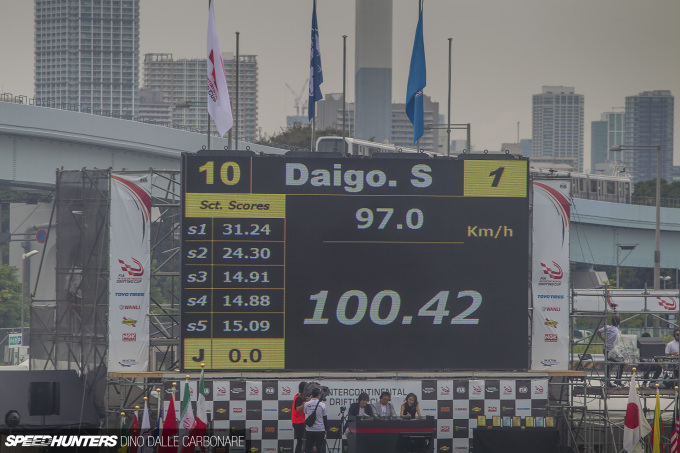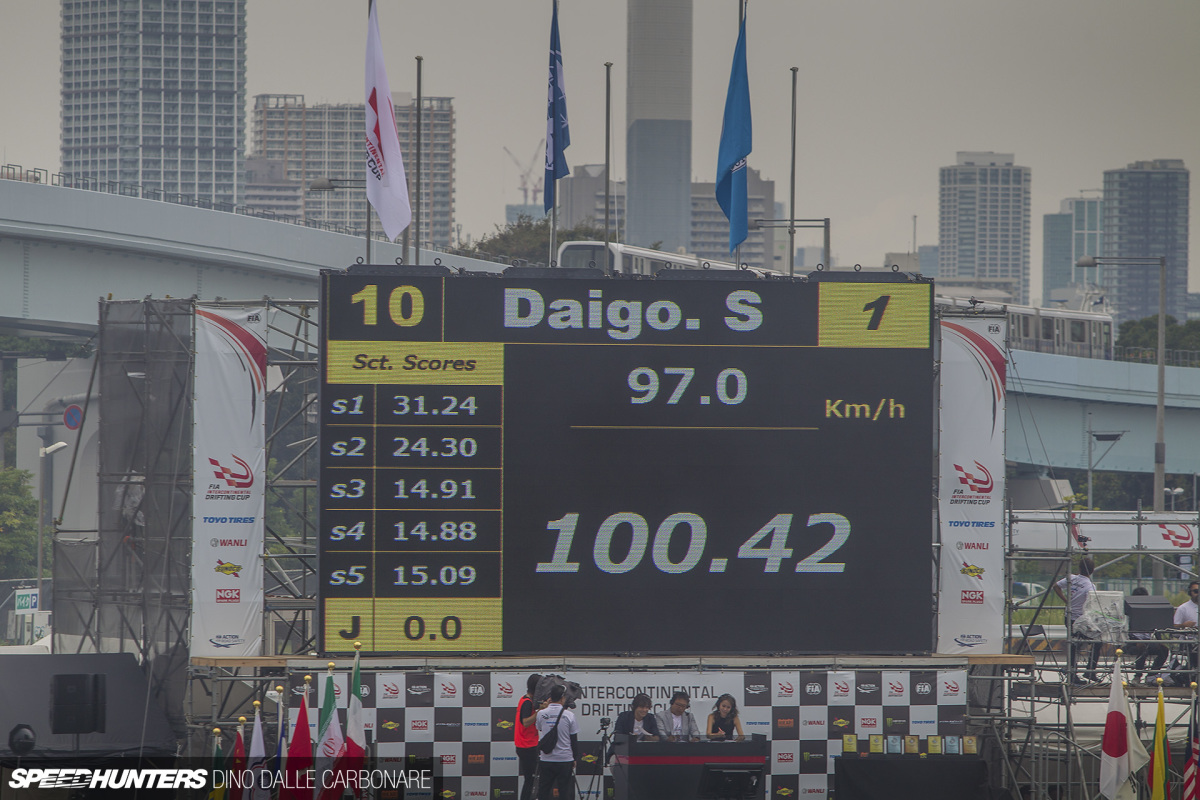 The point system was quite confusing, and the ability to score over 100 resulted in much head-scratching from some of the teams. I've seen this at D1 in the past and have always wondered how it's possible to exceed the maximum…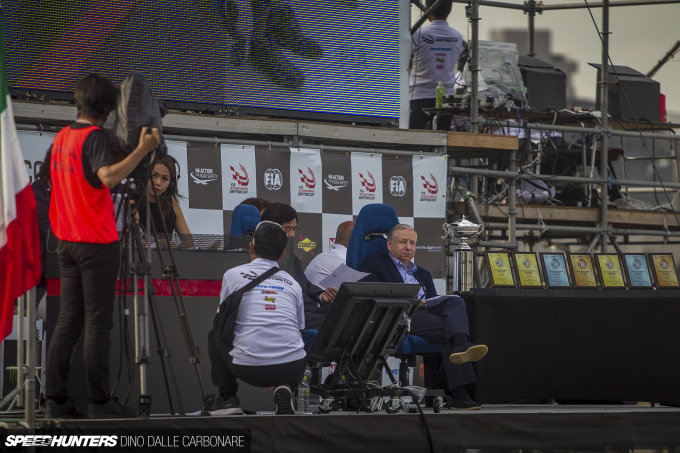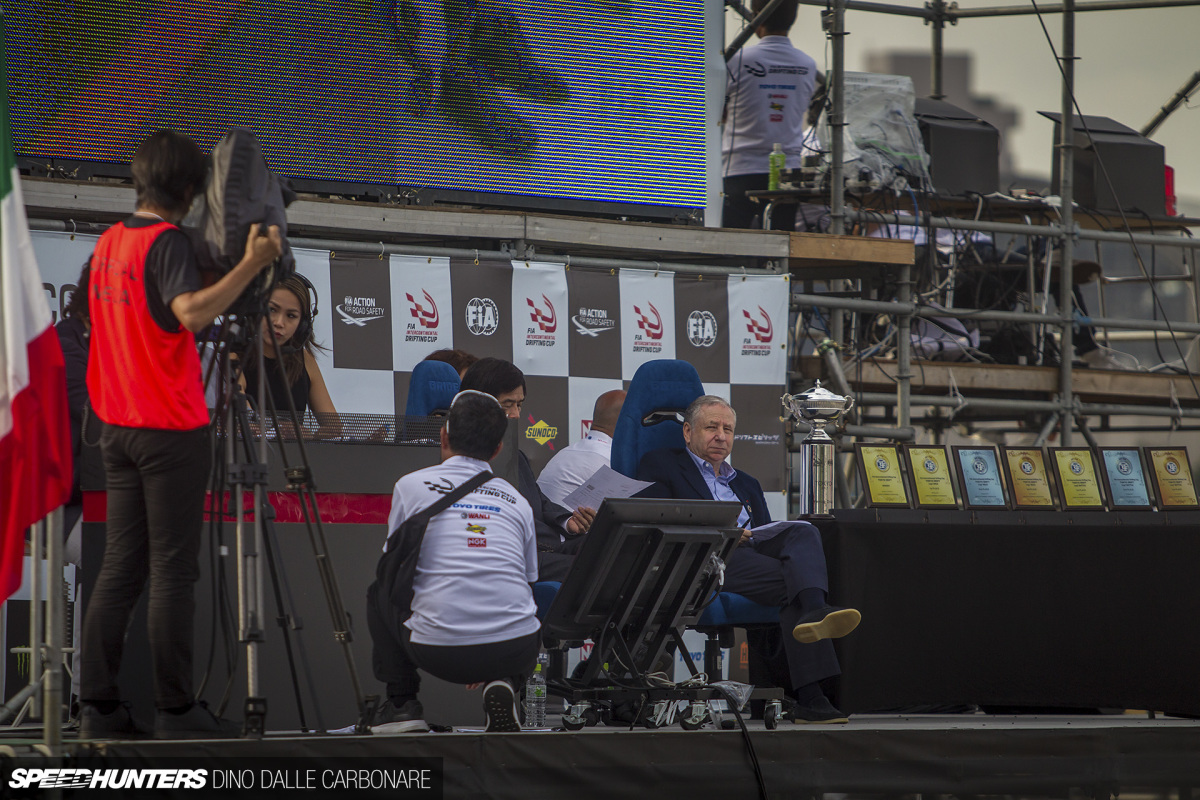 As the tsuiso runs kicked off in the afternoon, FIA President Jean Todt grabbed a seat next to the announcers and took in the battles. His presence alone is all you need to know: drifting has now been taken to the next level. How it will all unfold and progress is something I don't think anyone could predict, but the fact that it's now a proper FIA-sanctioned form of motorsport says a lot.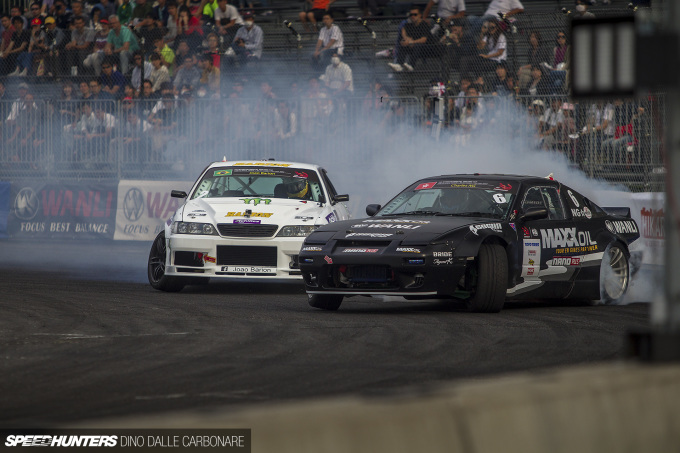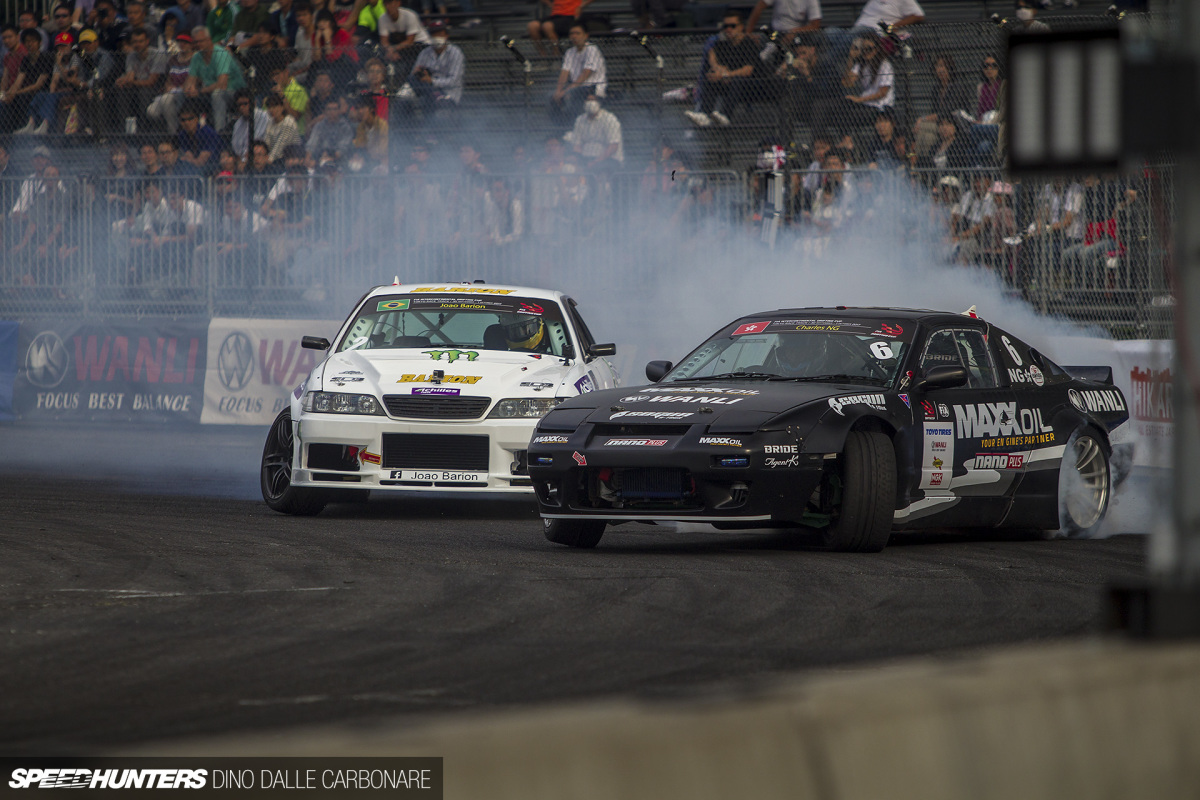 Another driver doing very well was our friend Charles Ng, representing Hong Kong and piloting a V8-swapped 180SX. Here he is battling against Joao Barion from Brazil in his Chaser. Charles ended up taking out third place in the single run competition.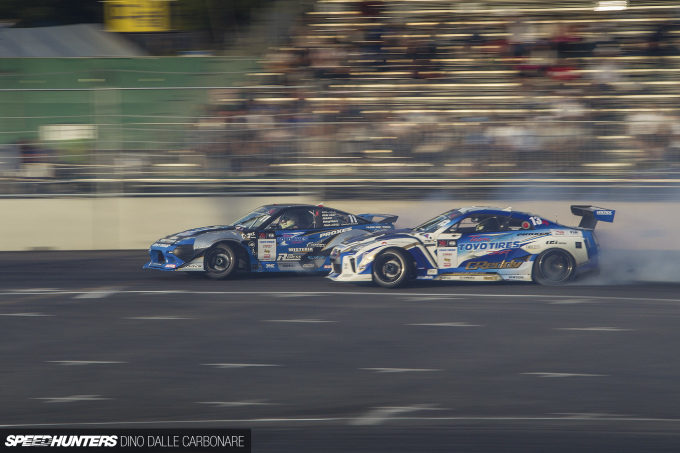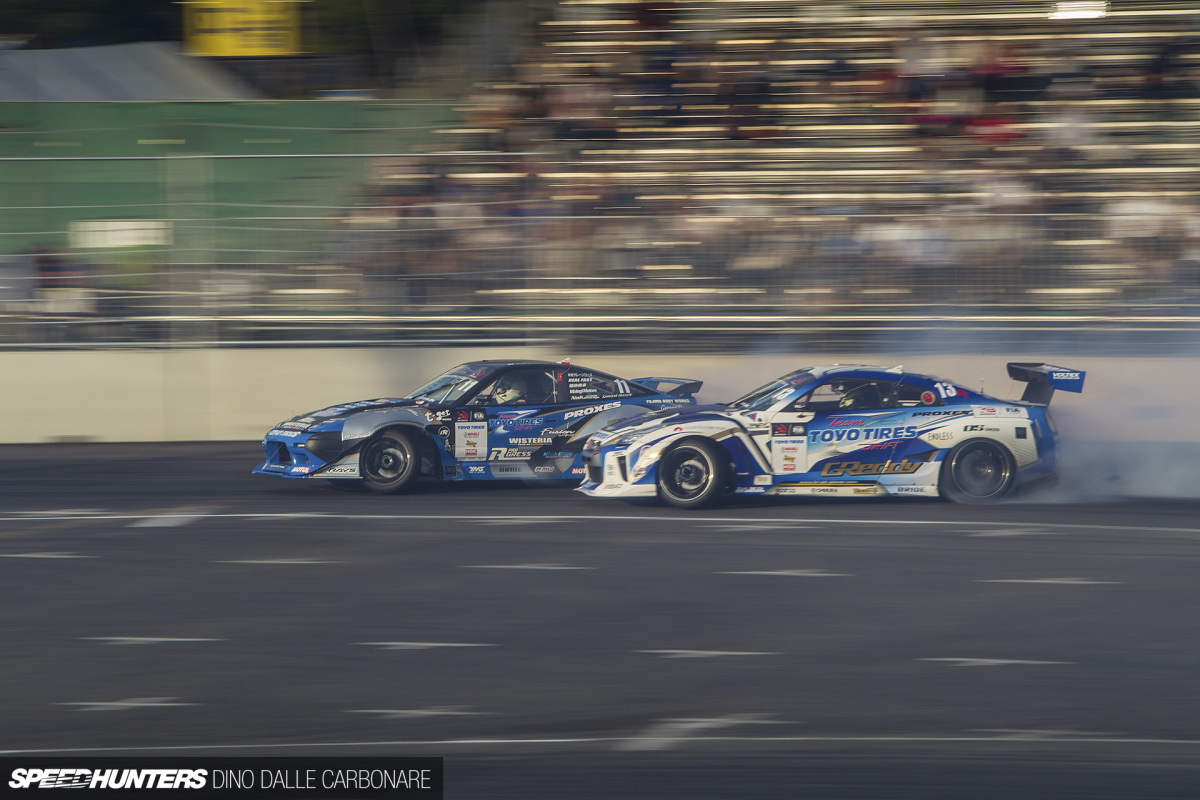 Not surprisingly, Japan had the biggest showing with four drivers entered. Here is Fujino in his 2JZ-powered 180SX against three-time D1 champion Kawabata in the continuously evolving Trust GT-R. These guys went hard in a beautiful show of skills with clean and accurate driving. Kawabata took the win and moved one step closer to the final.
Road To The Final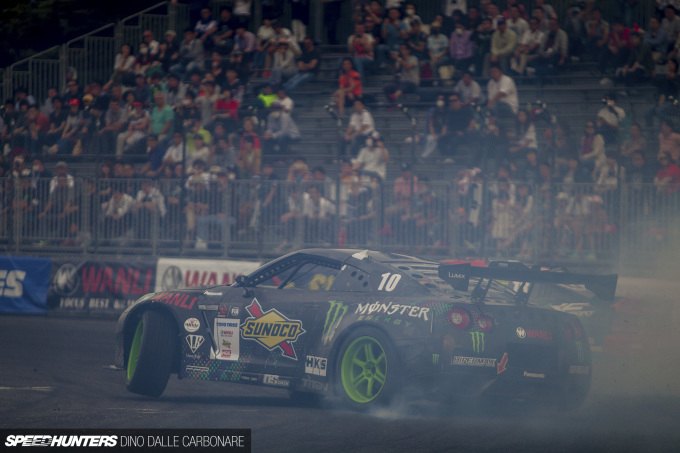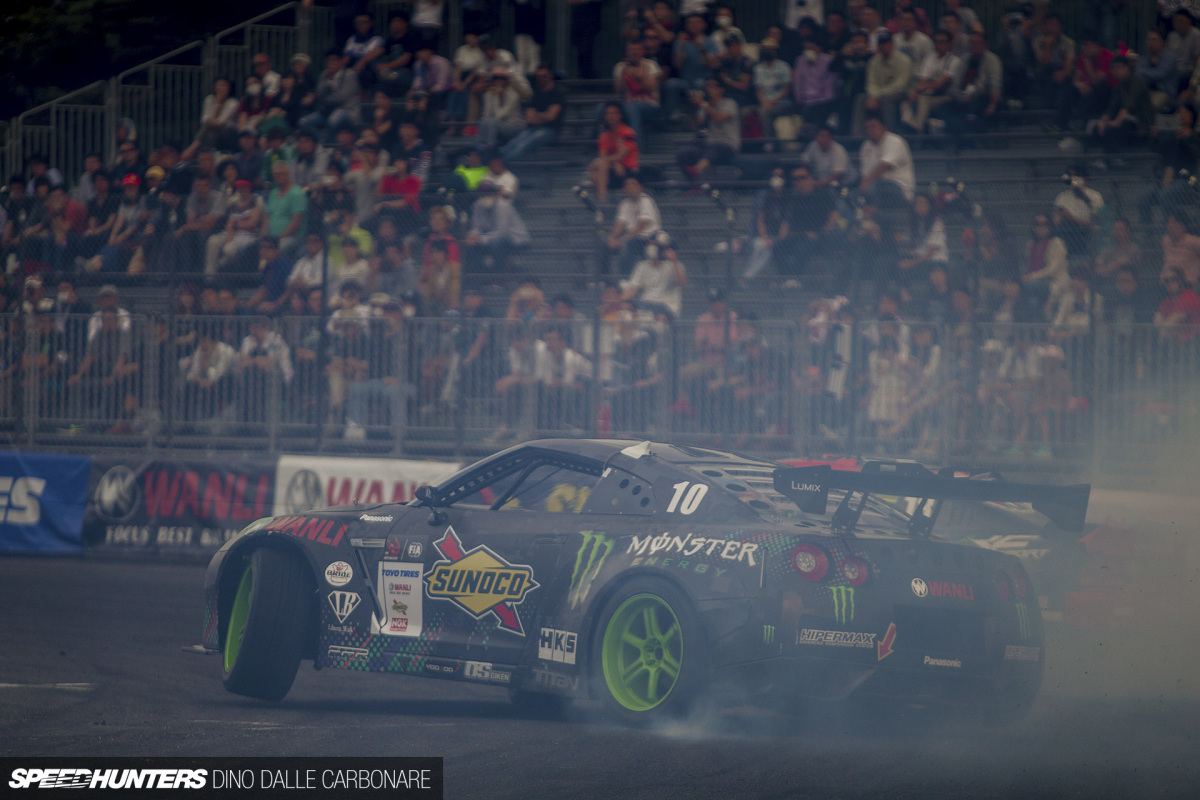 In what probably could be put down to optimal gear ratio choice, Saito's HKS-tuned GT-R was on fire. Or at least the rear tires were; I swear the smoke this car generates has to be seen to be believed.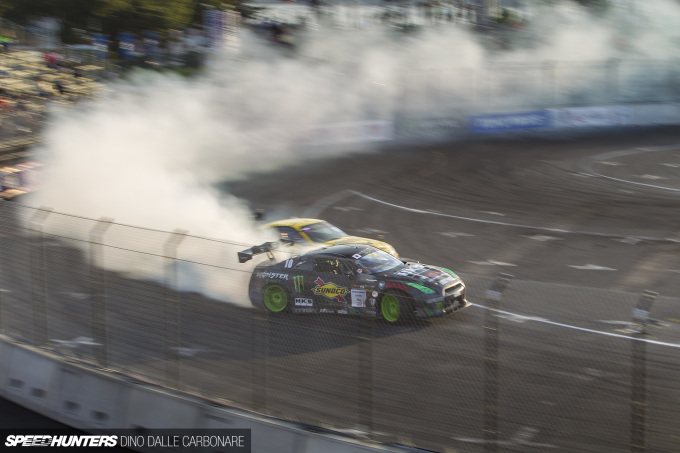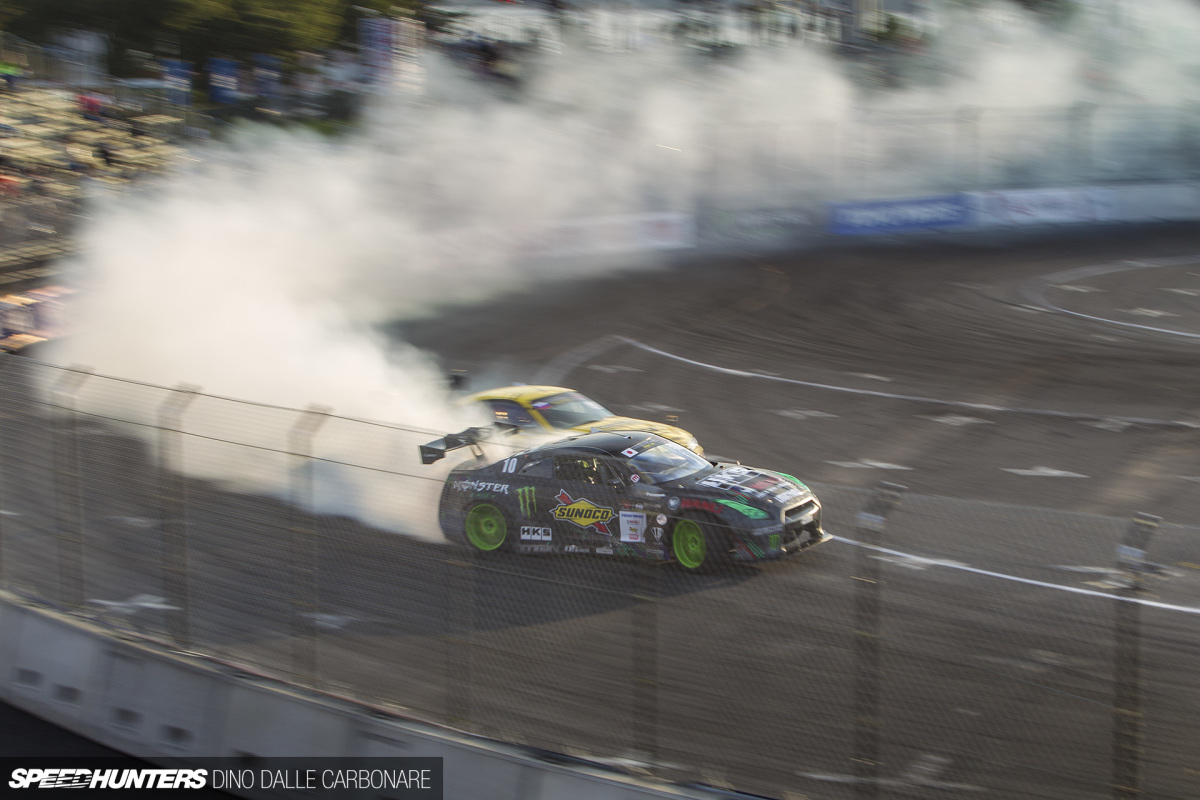 Here he is again in what turned out to be an extremely tight battle against Georgy Chivchyan from Russia in his capable S15. It's when you see a run like this that you totally get the pure essence of drifting. The controlled aggression of each driver was a pleasure to watch, but ultimately it was Saito that moved forward.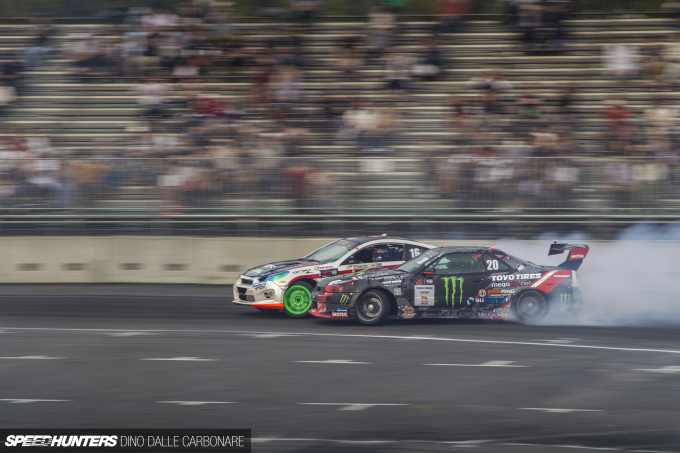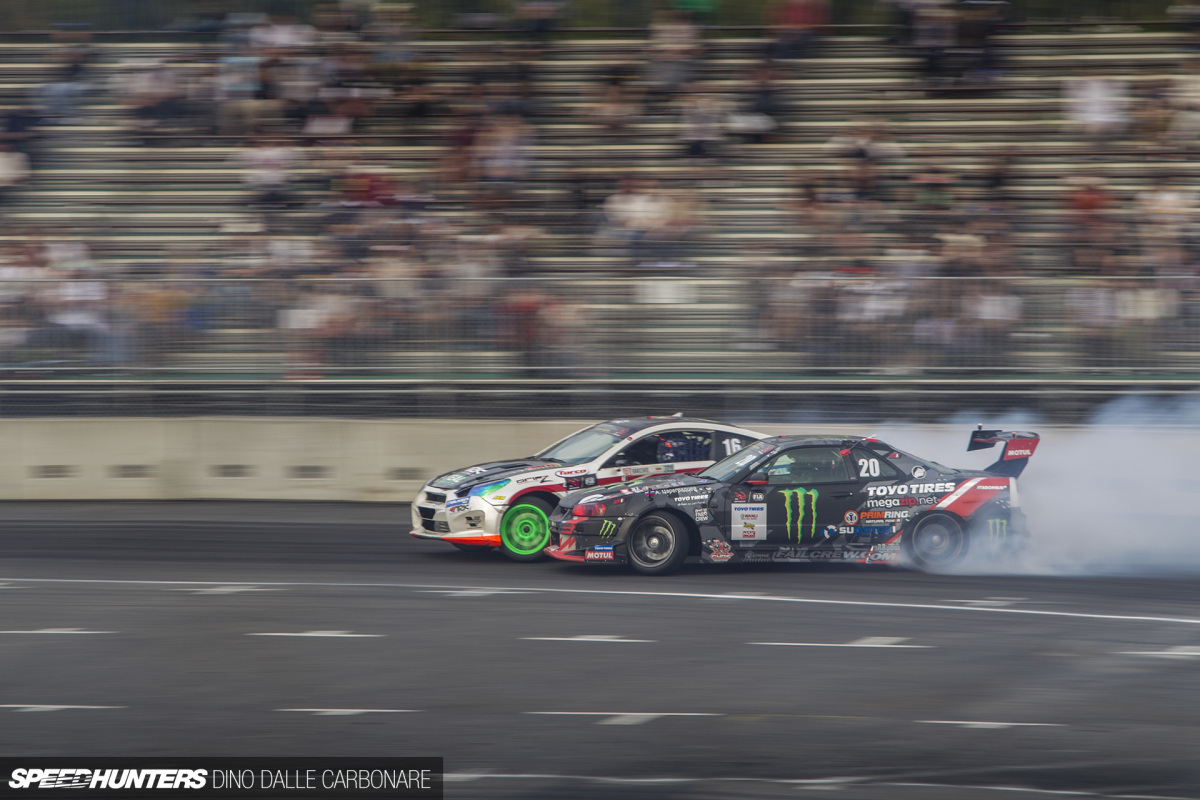 One of my favorite cars was Arkady Tsaregratsev's R34 Skyline. It's been a while since we've seen an ER34 in pro competition, and this RB30-powered beast built by the Fail Crew sounded so good.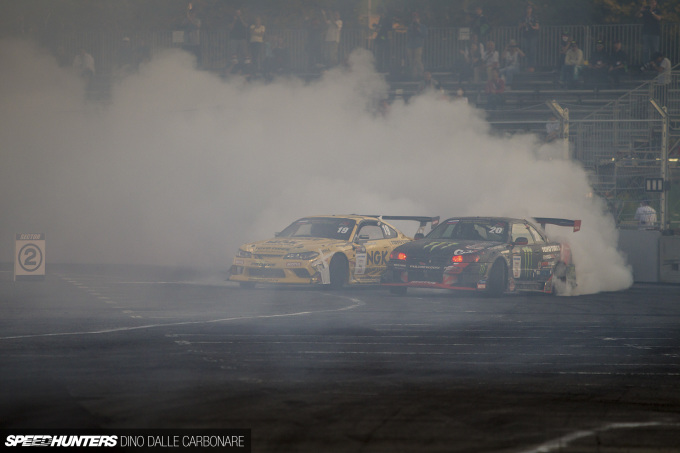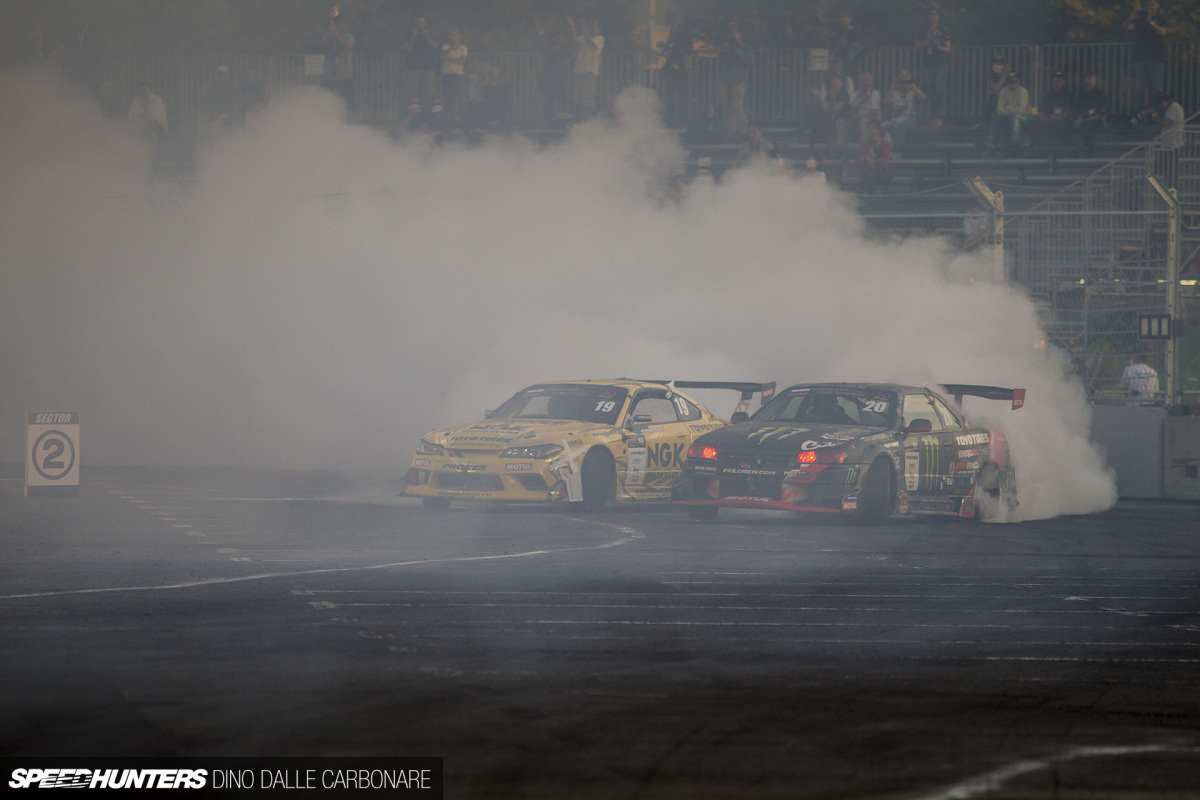 Tsaregratsev went up against fellow Russian Chivchyan in possibly one of the best tsuiso runs of the whole competition while battling off for 3rd spot. Their combined smoke trails eclipsed Odaiba's sunshine and momentarily turned day into night. Tsaregratsev really killed it and was able to get up on the podium in front of the crowd.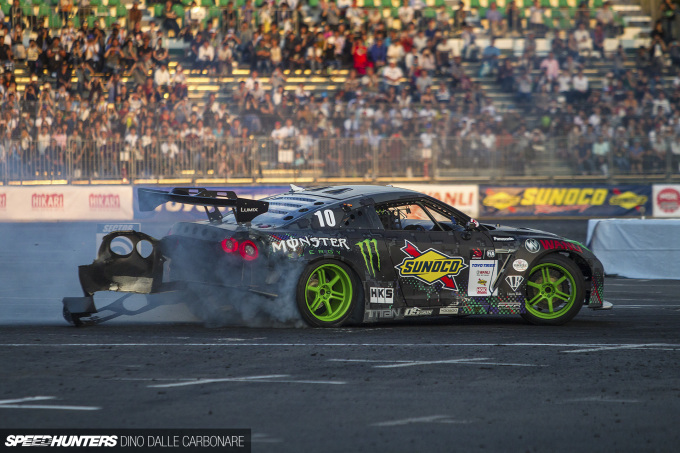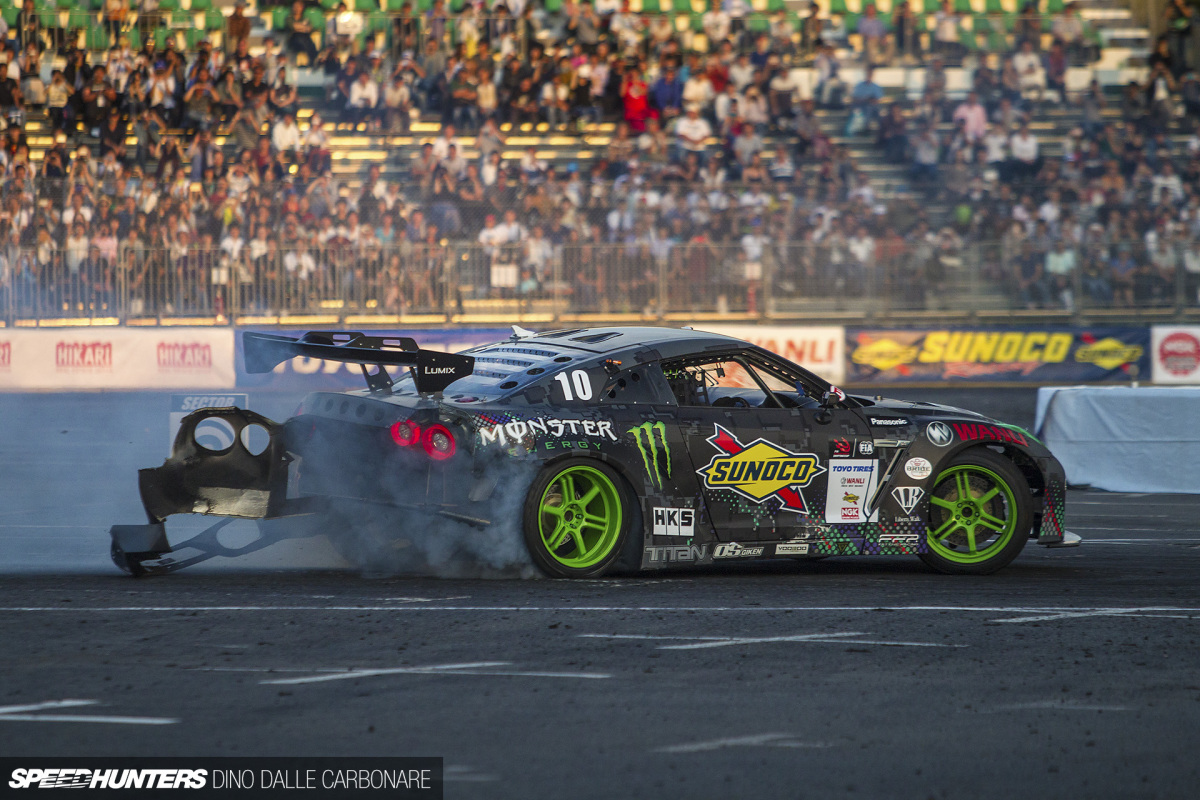 And so came the final: Two of the best Japanese drivers in two ultra-powerful R35 GT-Rs built by two of the longest-established and most respected names in Japanese tuning, going head to head. The first run with Kawabata following ended with the HKS GT-R suffering a ripped-off rear bumper after a small nudge from the Trust GT-R.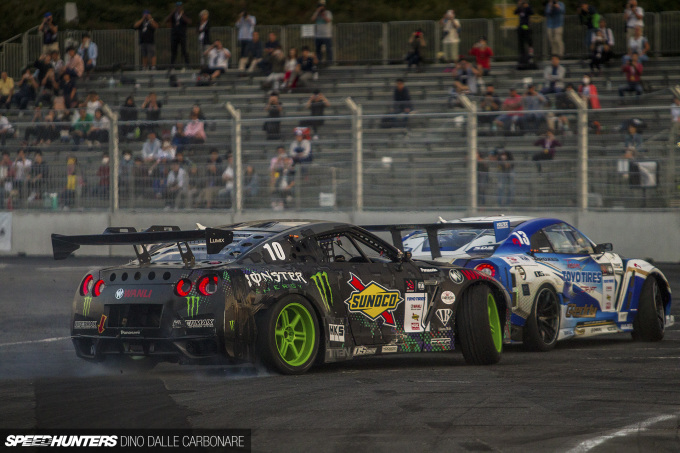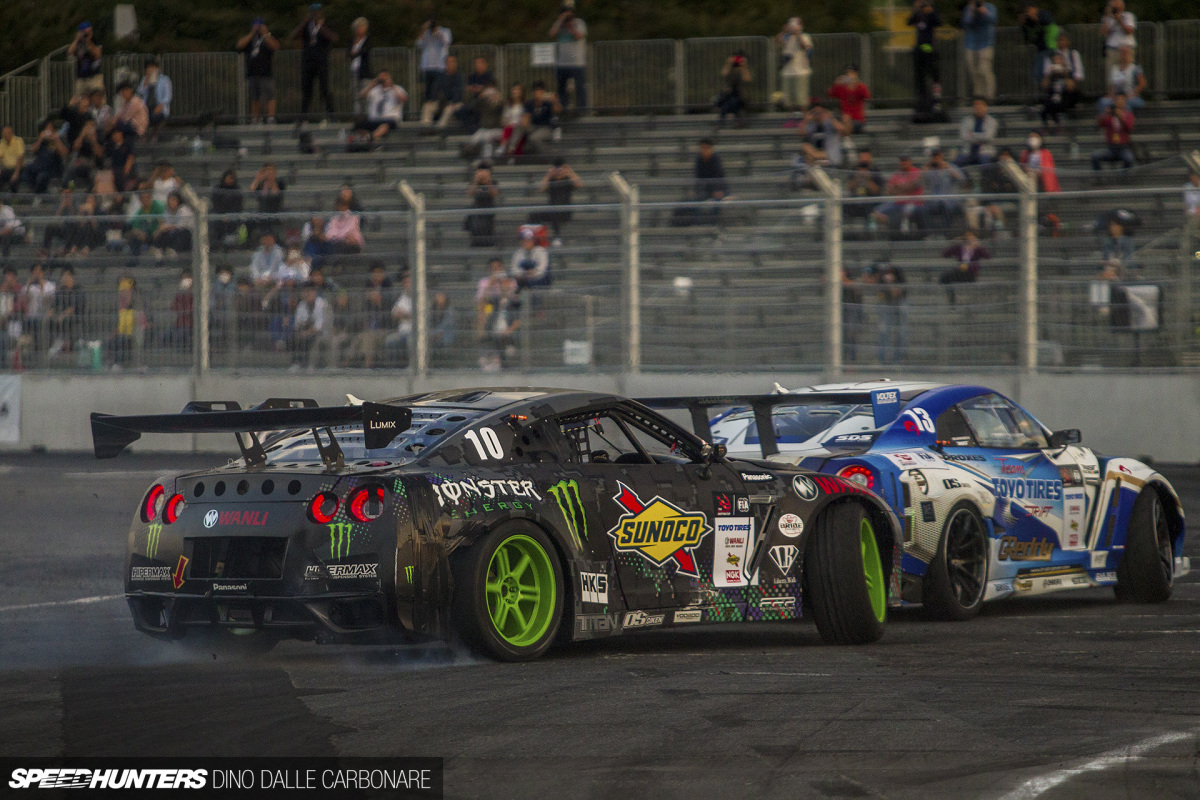 After a quick fix, Saito and Kawabata were back out again, just as close, and running just as hard.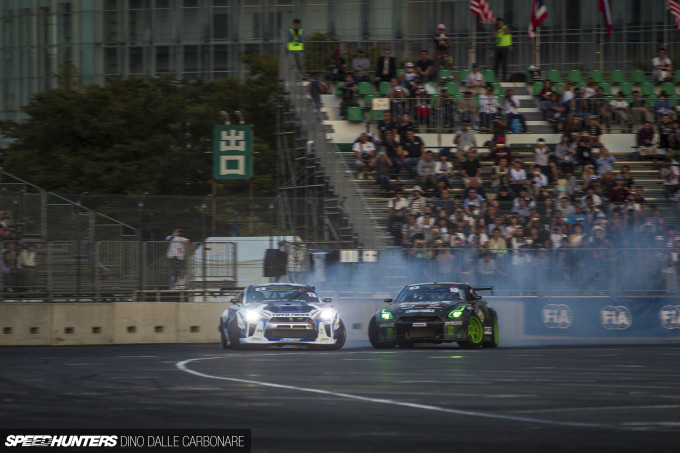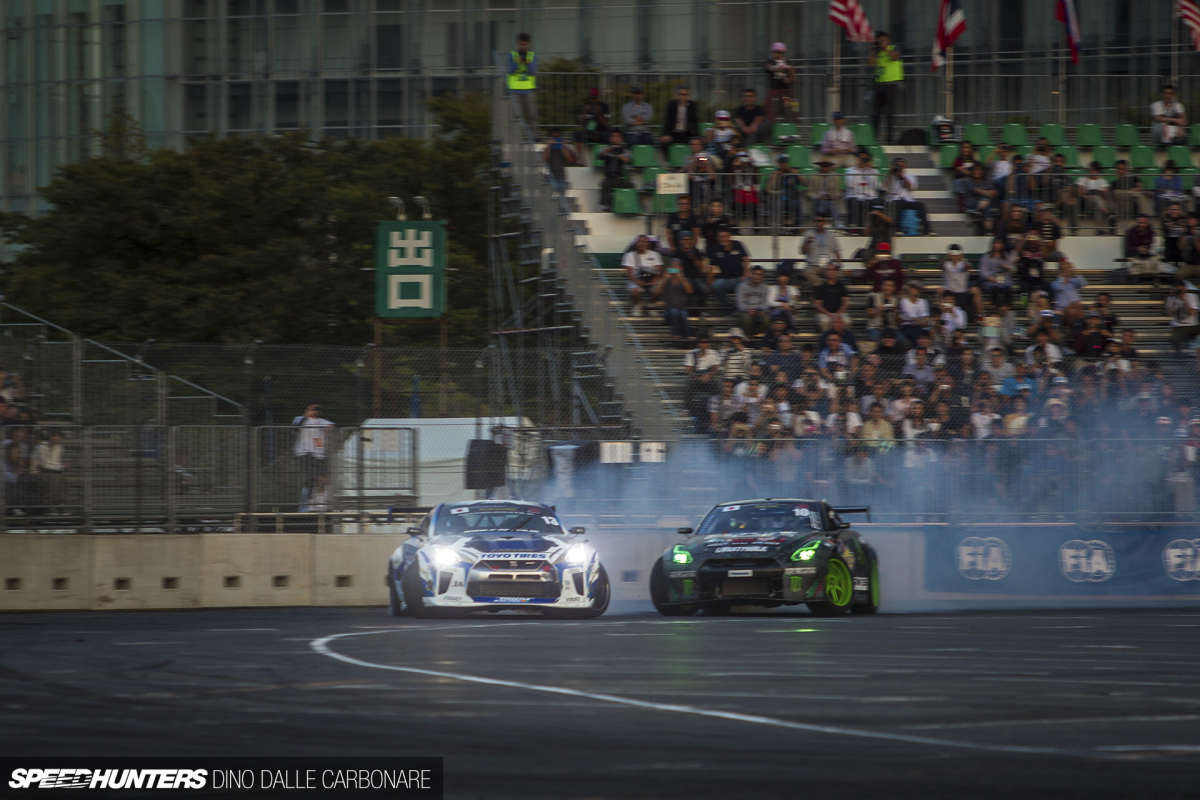 All the way around the course, too.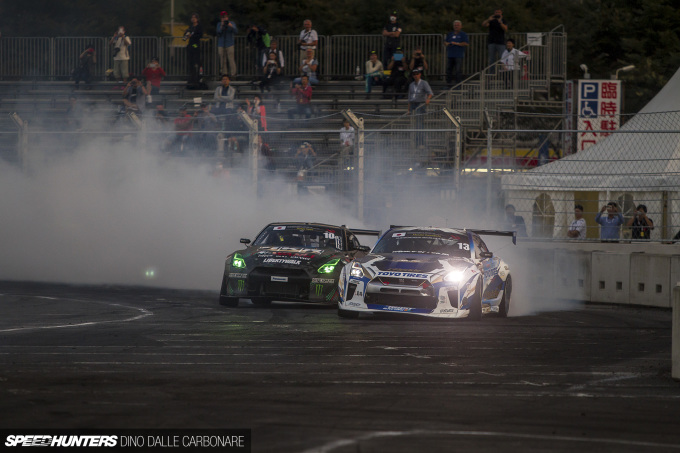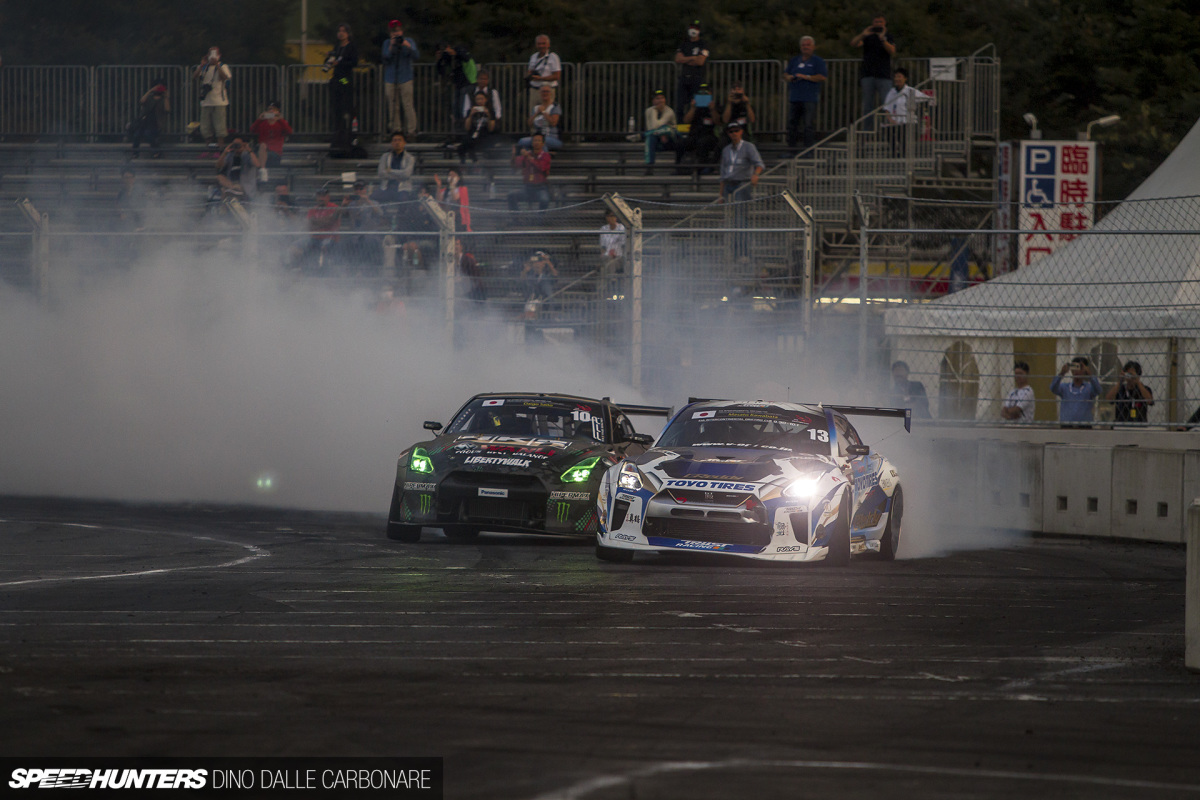 It was one hell of a close battle, but for some strange reason Kawabata was announced as the winner even before they went out for the last repeat run. It was confusing to say the least.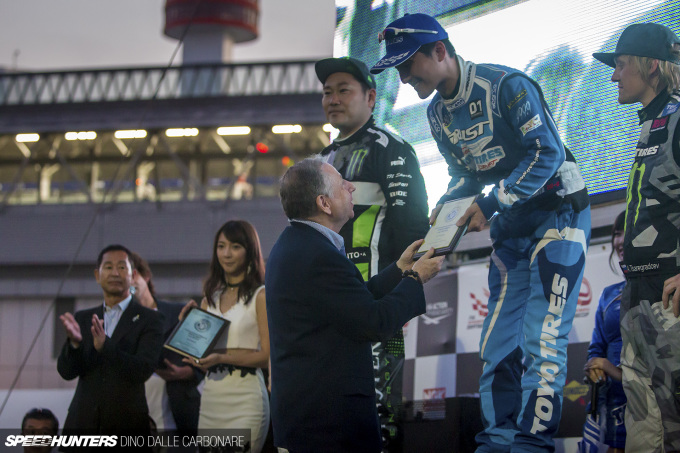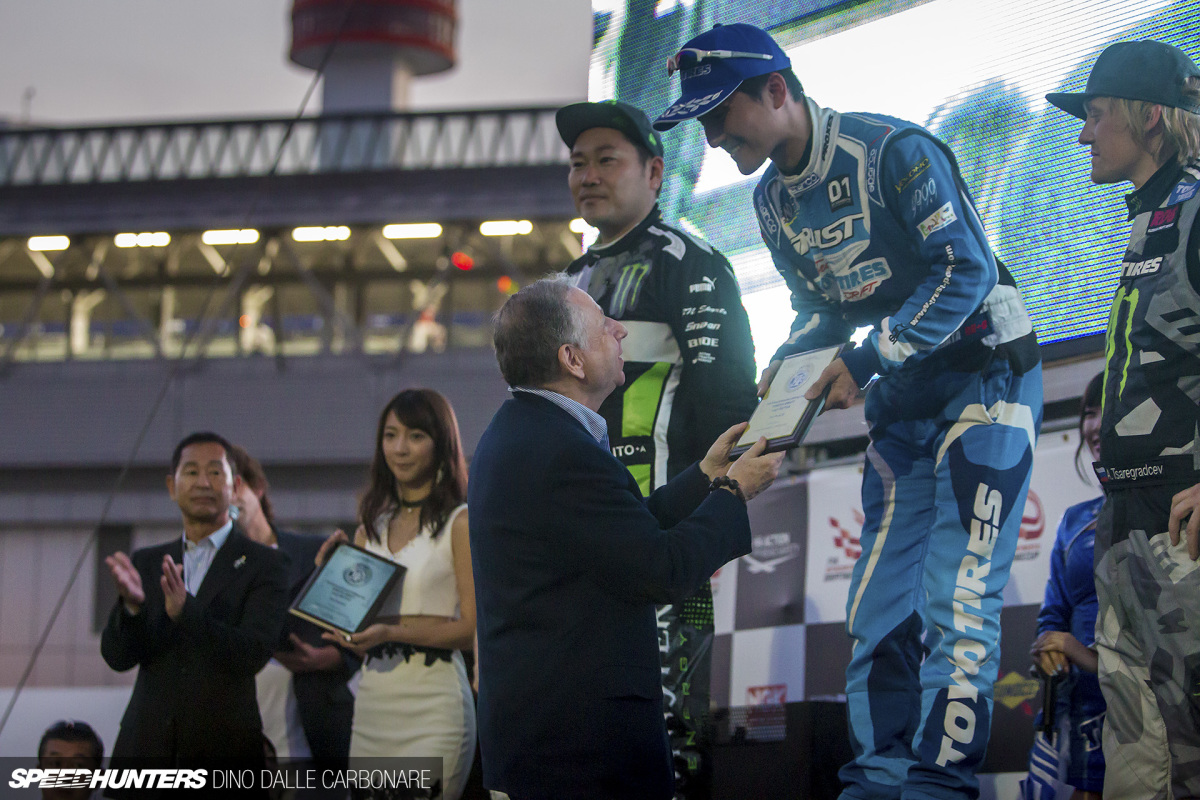 Following the single run prizegiving where Daigo took first, it was onto the crowning for the actual competition, and Kawabata walked away rather happy that he had secured the first win of the weekend. I didn't attend the Sunday as I was quite content I had seen enough, but Kawabata ended up coming second and securing himself as the overall champion of the first FIA-backed drift event.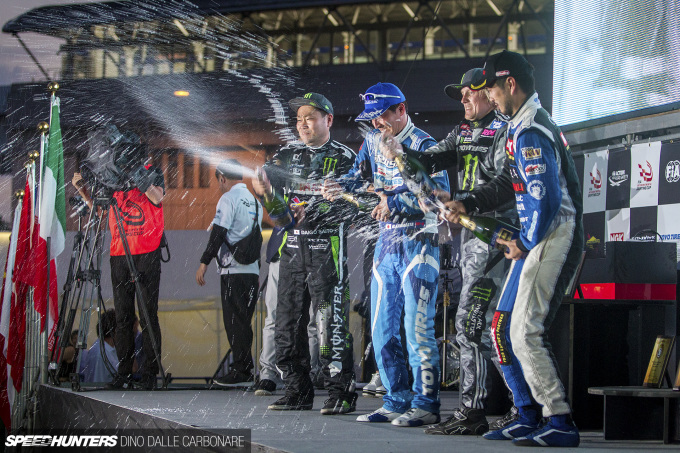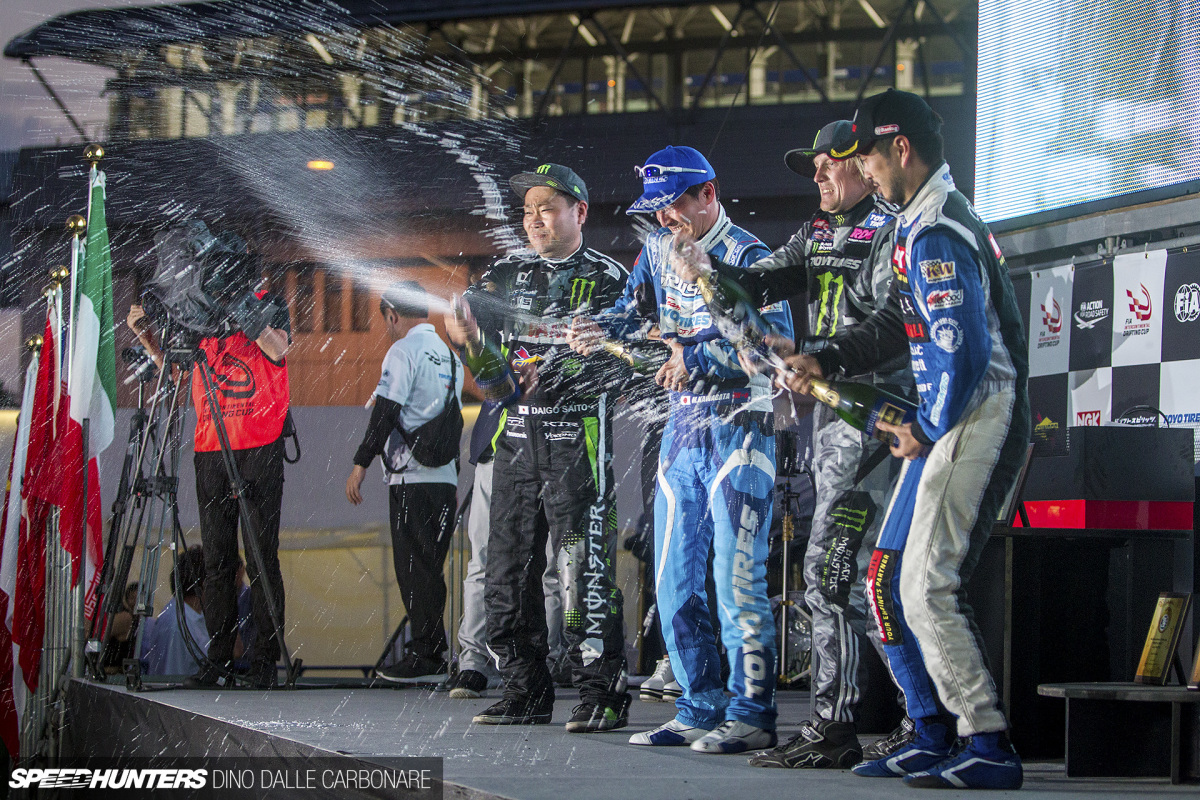 After the event Jean Todt released the following statement: "I was very happy to be at the very first FIA Intercontinental Drifting Cup. To see many fans in the grandstands and also to have so many drivers from around the world – it's what we wanted from the first FIA-sanctioned drifting event. We have here a strong foundation from which to build. Drifting is a discipline that is growing from the grassroots level and it's exciting to see it growing. Of course drifting was born here in Japan, and clearly there is a lot of passion for it. It's also exciting to speak to drivers from many other countries who will go home and share this experience. We have learned a lot this weekend, there are many things still to improve, but it is a positive first step."
Taking drifting to a world stage cannot be an easy task and this is going to be a huge challenge for the FIA. While this first event proved to be a struggle on many levels, there is obviously still a lot to learn. It's definitely going to be interesting to see how it all develops in the coming year and if the many expectations out there can be met. Let us know in the comments section below if you think the FIA are going the right way about it…
Dino Dalle Carbonare
Instagram: speedhunters_dino
dino@speedhunters.com