Trucks are a huge part of the SEMA show, and Vegas in general. Lifted or slammed, they are everywhere from the central hall to the track out front, and the parking lots of most casinos.
Heck, even Dino and Trevor jumped at the opportunity to take one out to a photo shoot. When in Rome as they say, or was it Caesars Palace in this case?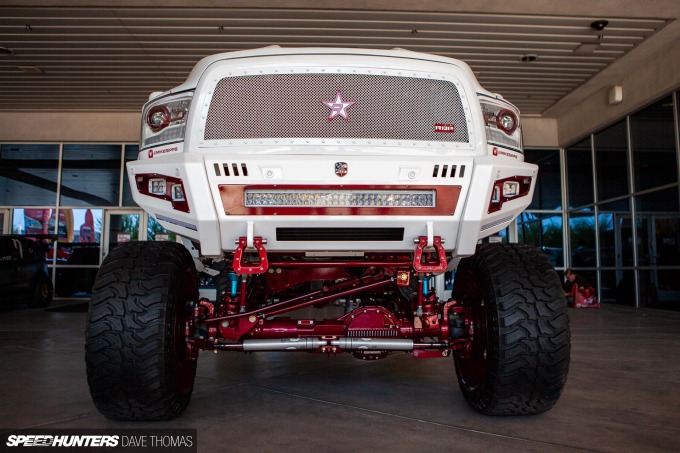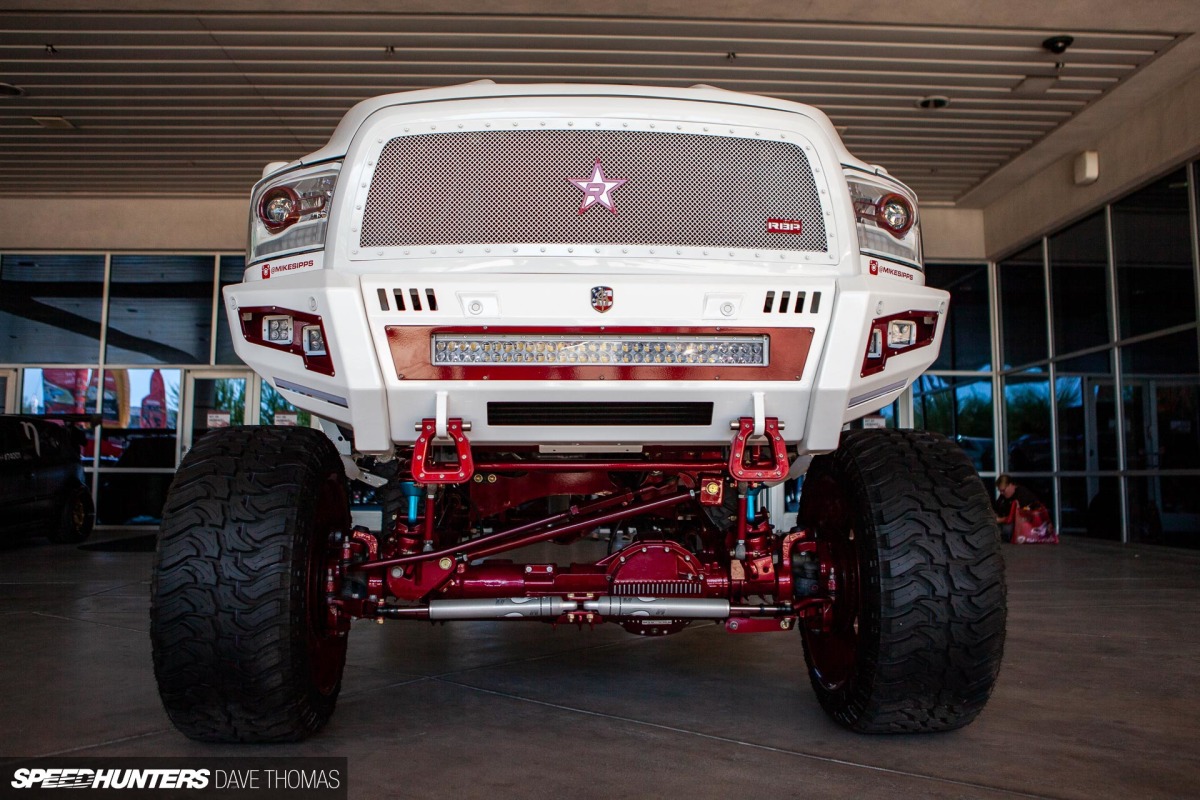 Before pointing the borrowed Ford towards the desert, Dino suggested that either Keiron or myself, write something about the trucks of SEMA. Since he'd already tasked Keiron to round up anything JDM, the world of trucks was left to this fearless author.
Honestly, I would have volunteered for the job anyway had it not been assigned. As far as I know, I'm the only Speedhunter with an ongoing truck project, and the only one that (willingly) attends truck events with any sort of regularity.
So, Dino, a post on trucks? No problem.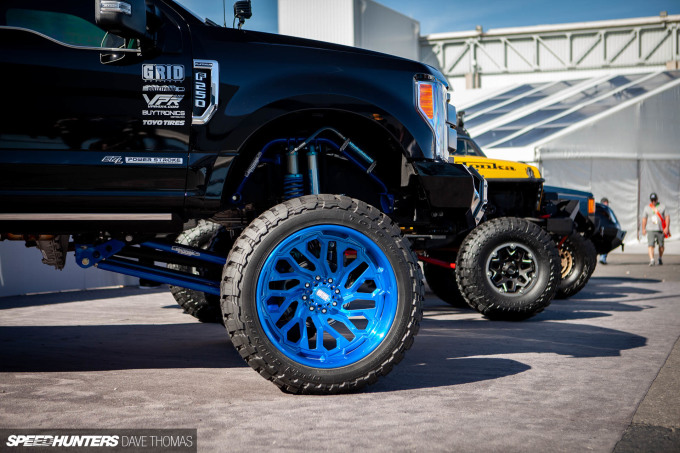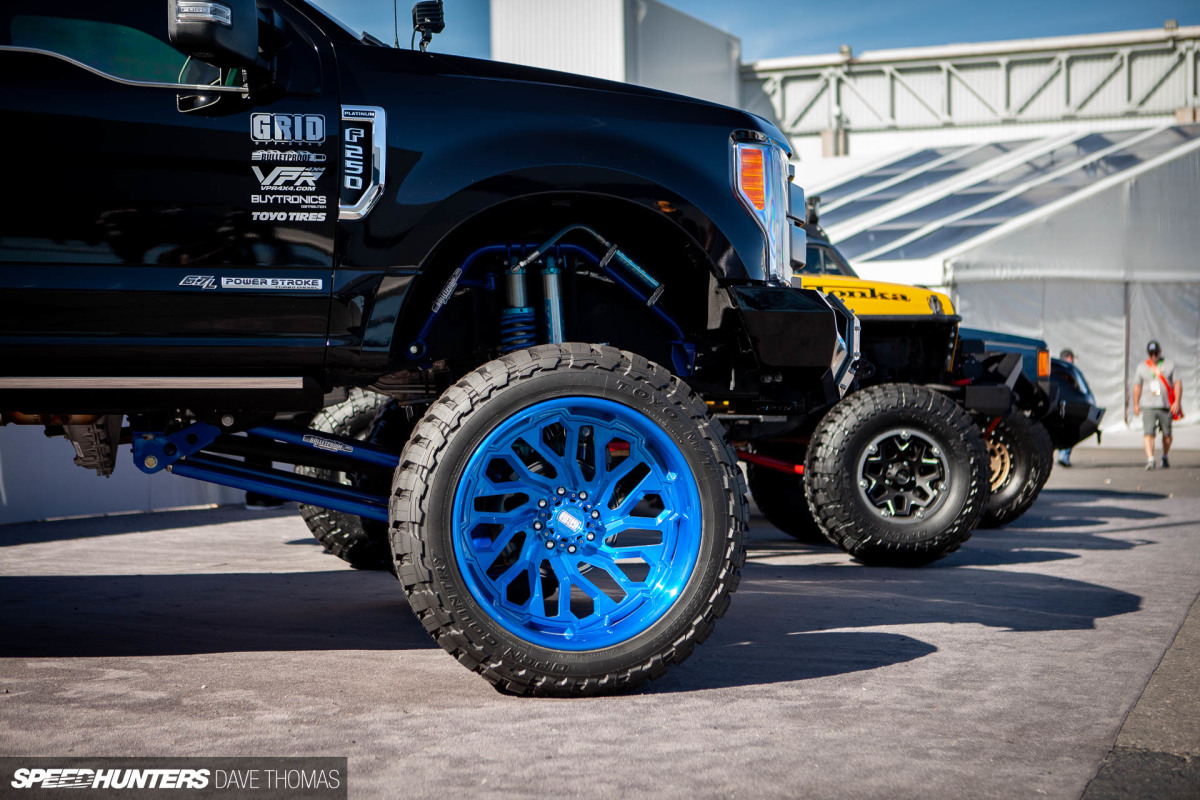 Lifted trucks have been one of the more criticised parts of SEMA the last few years. Each year they seem to multiply in number while simultaneously getting taller and louder. While taking a break in the media center I overheard that the powersports and truck markets are the fastest growing, with companies generally profiting handsomely year after year.
Those with deep pockets just love to buy current model year trucks, fit them with huge lift kits, billet wheels, and every LED strip and light-bar imaginable. As a trade show, the fact the segment is continuing to grow explains the increased number year over year.
It's not my brand of beverage, but, I'm in no place to criticize anyone for choosing to impractically modify any sort of vehicle. The old saying of 'not everything is for everyone' applies here.
In my search for 'Bluetooth driveshafts' (I didn't find any) I was surprised to see that several trucks still used leaf springs and giant blocks as their preferred lifting method. I guess that tried and true methods live on, especially if looks are more important than off-road prowess.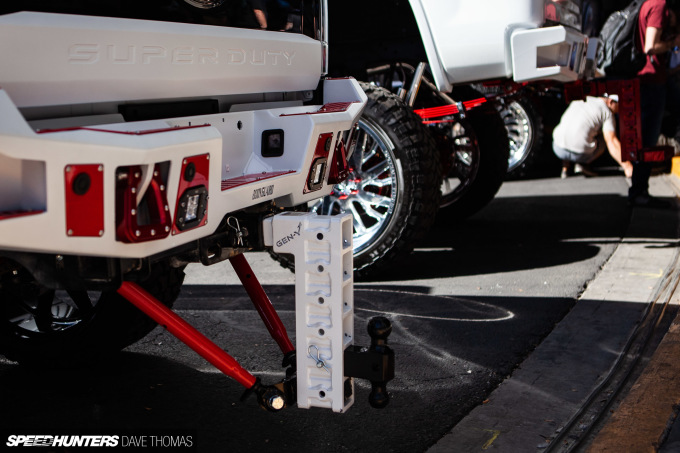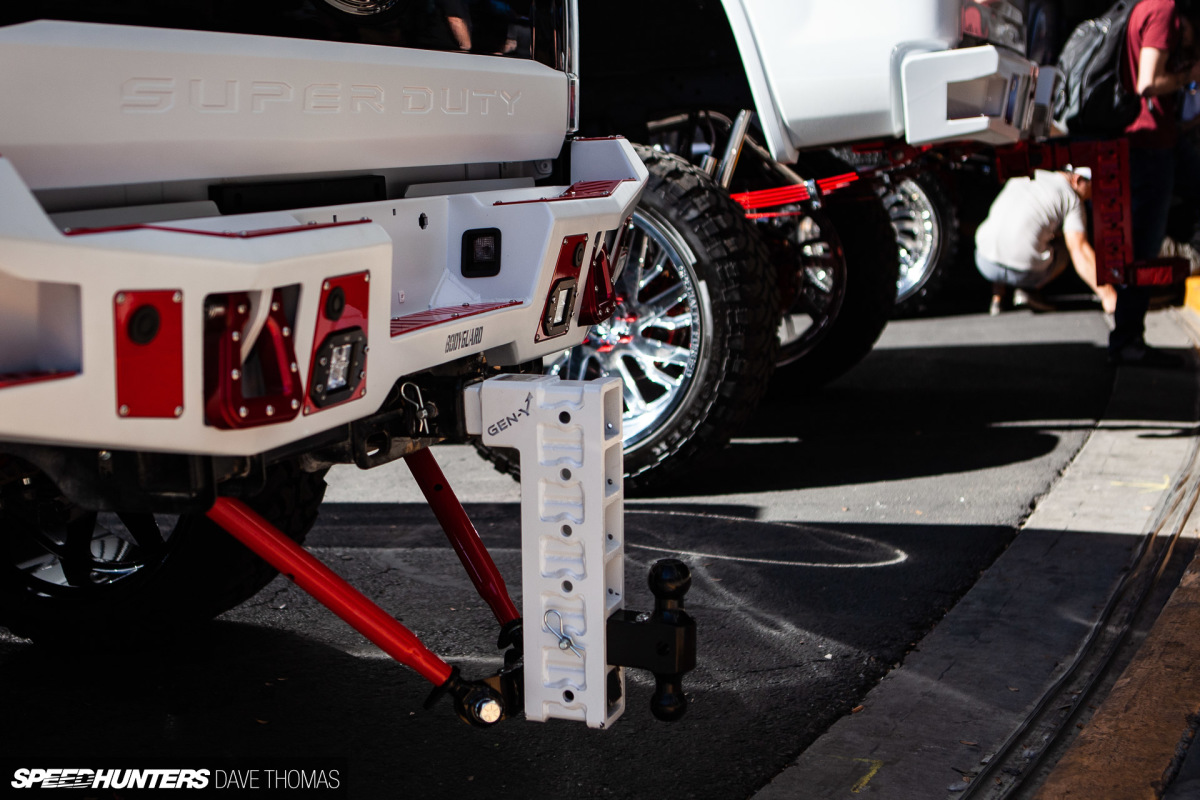 As open minded as I am, I couldn't help but be a little amused at the fact these trucks were so high, they needed drop receivers. Not just any drop receiver either, but ones with multiple levels of adjustment. In some cases these drop receivers even needed to be stabilized because the difference is so great.
There's a whole new world of unique obstacles to tackle in this genre of modification, double meaning fully intended.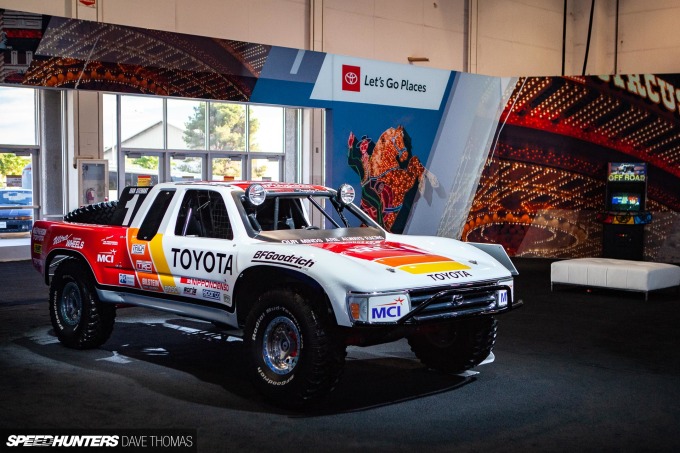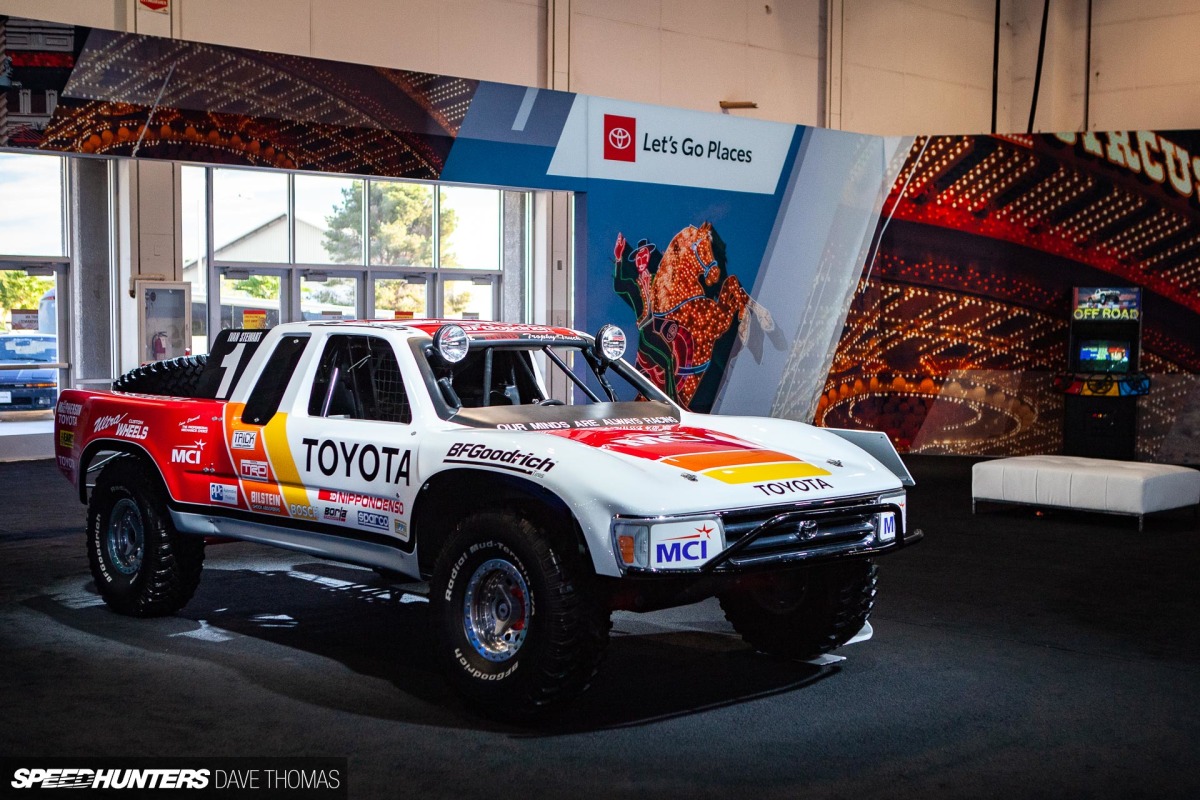 In a stark contrast to trucks that likely don't see much off road use, inside Toyota brought one of Ivan "Ironman" Stewarts trophy trucks to the show. Mid '90s trophy truck and video game fans alike will fondly remember trucks like this tearing up real and virtual dirt courses.
Seeing this truck in person was a huge nostalgia highlight for me. I swear I must have pumped a project vehicle worth of quarters into Super Off Road as a youth.
Trucks Are The New Classics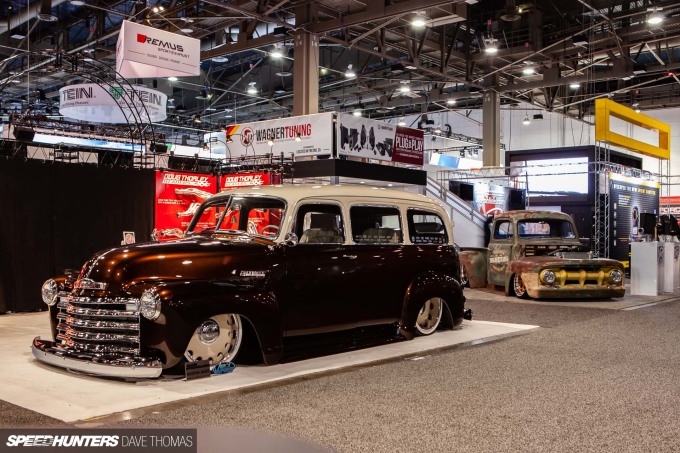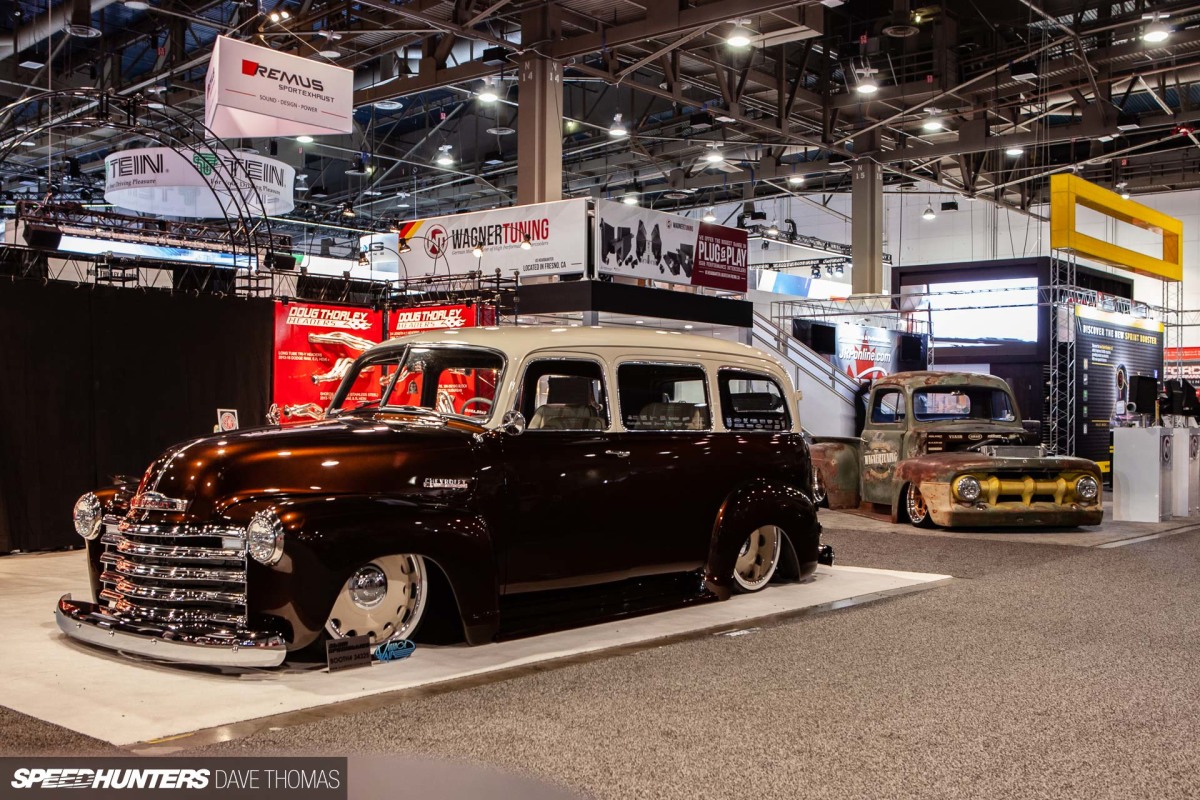 The bar which classic trucks are being built to these days really is indistinguishable from the bar people are building hot rods and traditional classics to. It's made trucks essentially the new classics, because there's generally more of them and the cost to entry can often – but not always – be less.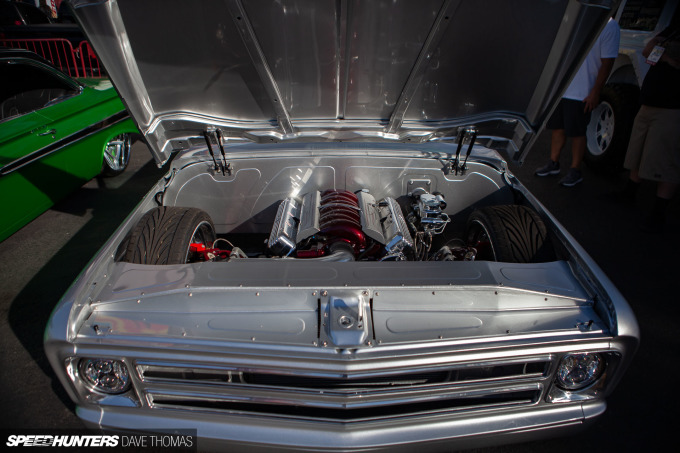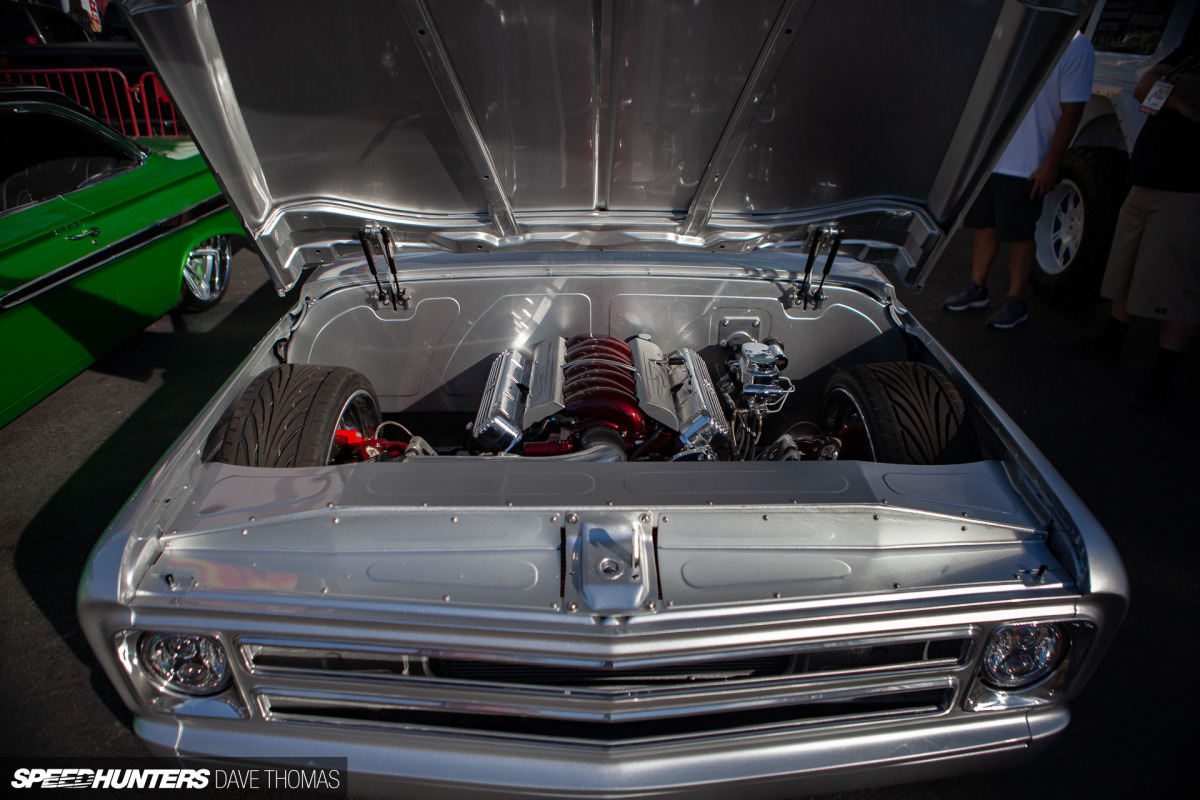 The Ring Brothers surprised everyone at SEMA by bringing a truck, not a car, to SEMA in 2018. Their '71 K-5 is quite far removed from the Javelin they brought last year, but a pretty good indication that the classic truck segment is incredibly popular right now.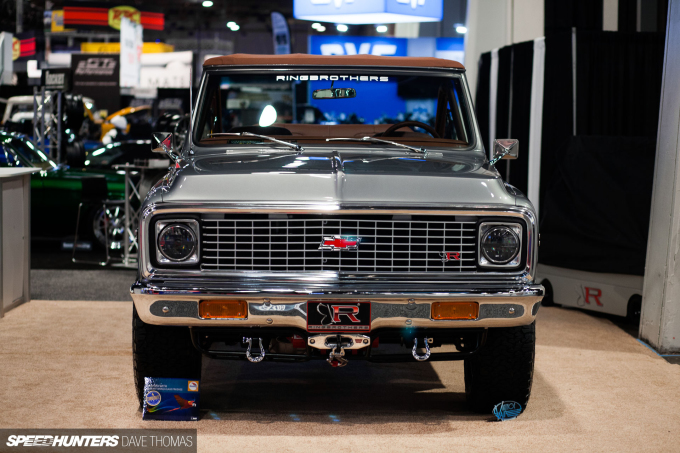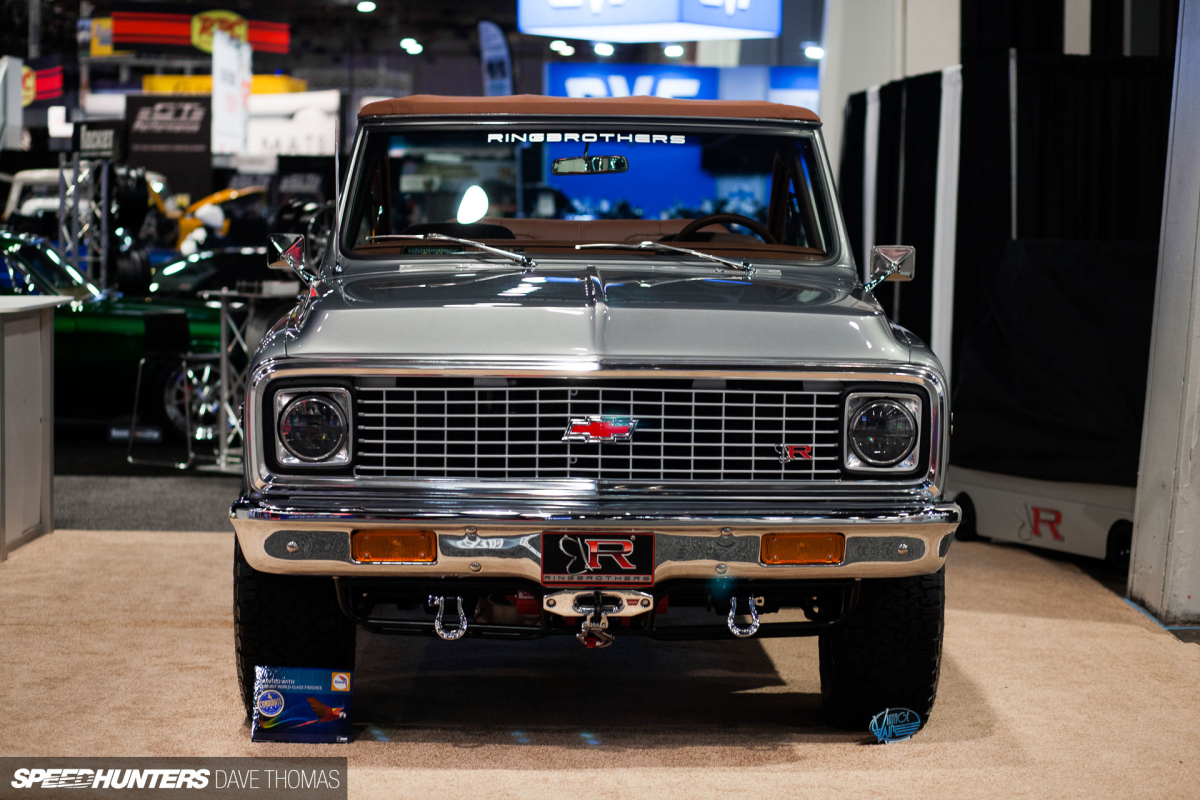 The project is visually subtle. Lifted a singleinch, and sitting on 17-inch wheels designed to look factory, but it had a stunning interior and a 6.2-liter LS3 under the hood.
With Chevy attaching the Blazer name plate to a generic compact SUV, it's nice to see the Ring Brothers do the badge some justice.
I know this post so far has had a bit of a GM product skew, but don't worry Ford fans, blue ovals were well represented this year. I actually wouldn't be surprised if next year F-series trucks start to outnumber C10s.
The Stand Outs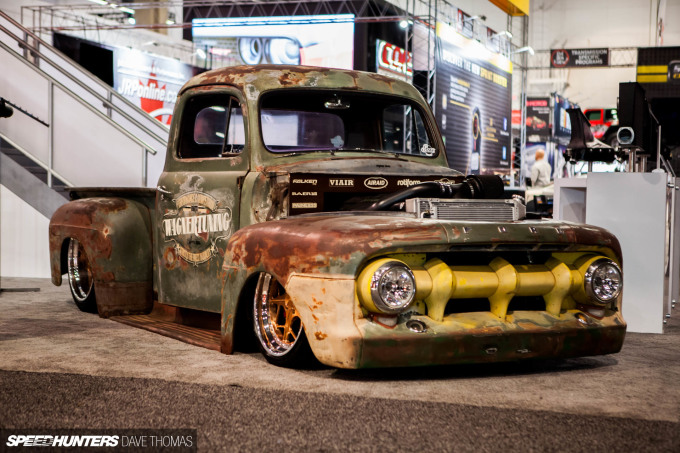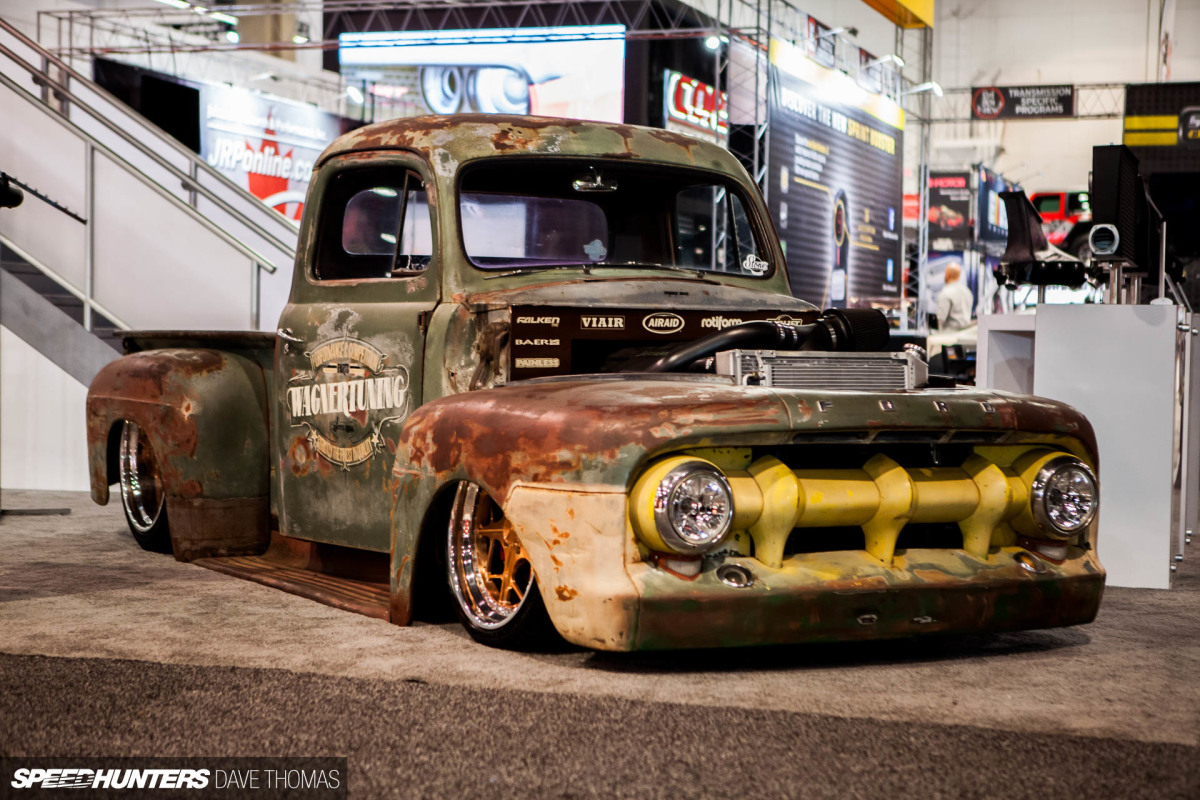 Wagner Tuning was kind enough to bring their Ecoboost powered Ford F100 to SEMA 2018. I, like many of you, read this truck's feature last year so it was nice to see it in the metal.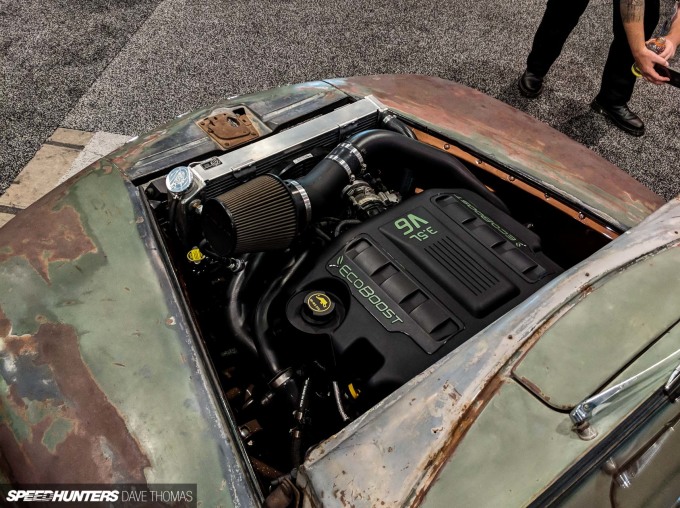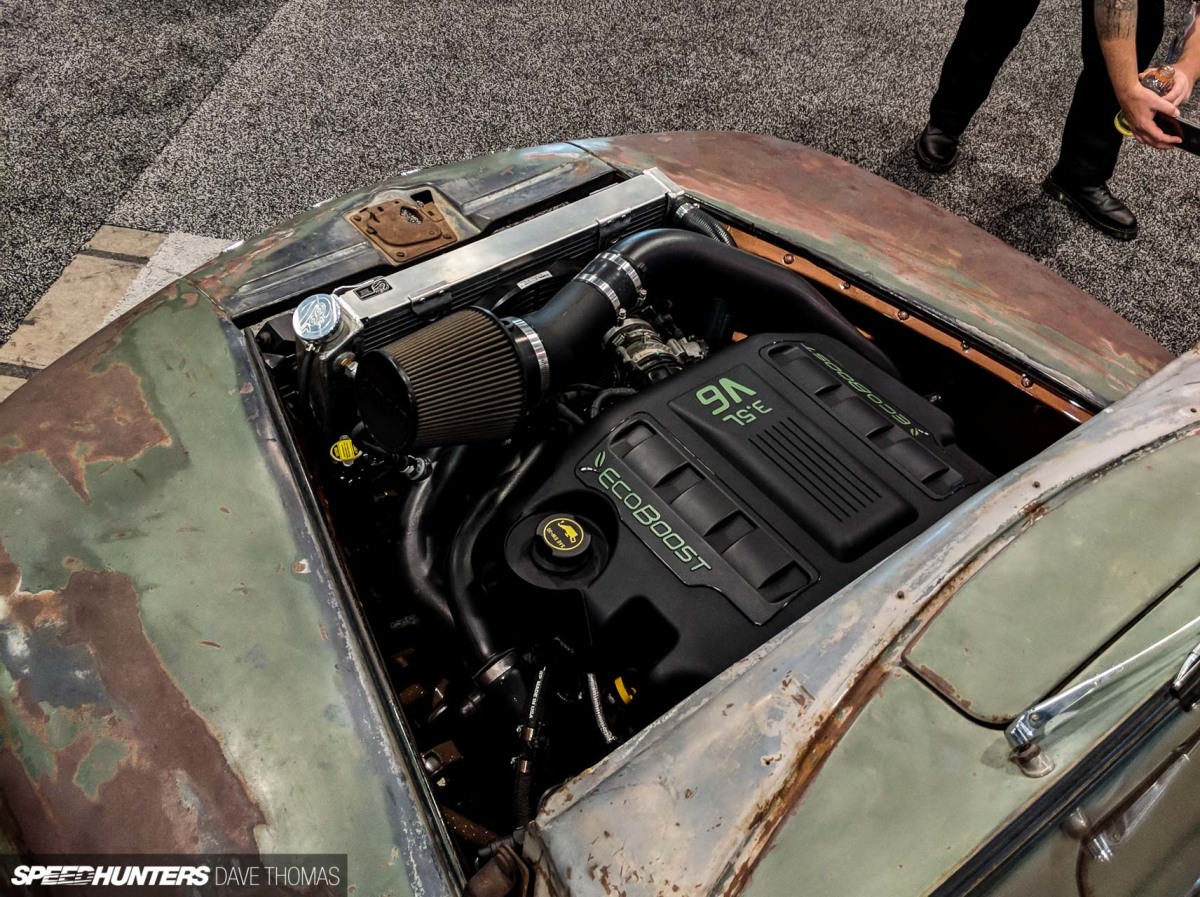 North of 450hp in a patina truck on air? Sign me right up.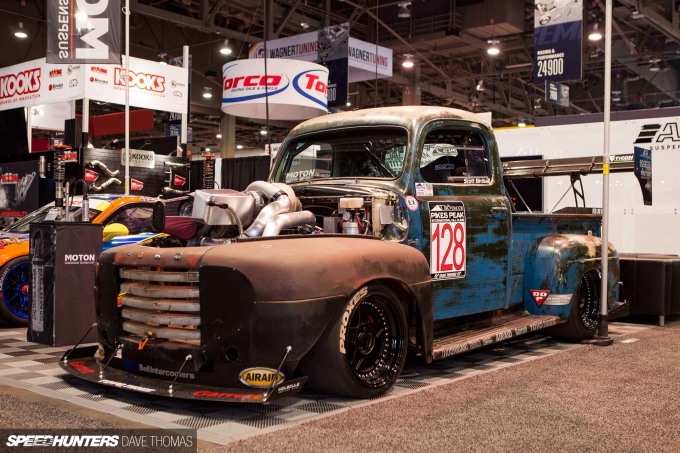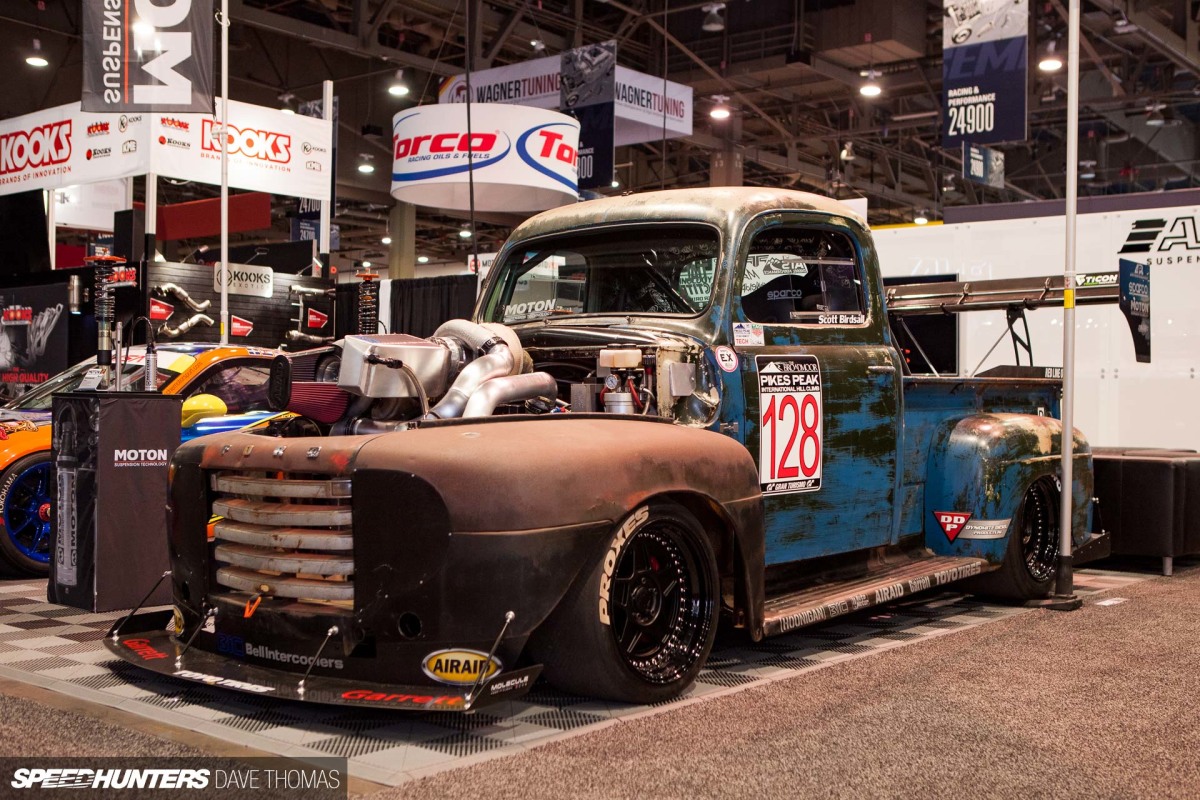 The latest version of Old Smokey, the Chuckles Garage built monster Ford F1, made an appearance in the Moton suspension booth.
Since its feature on the site, this truck suffered a bit of an off at Pikes Peak. Fortunately, it was nothing some new sheet metal and garage time couldn't fix. The plan is to take the truck back up Pikes Peak next year, since this year's adventure was cut a little short.
Box Stock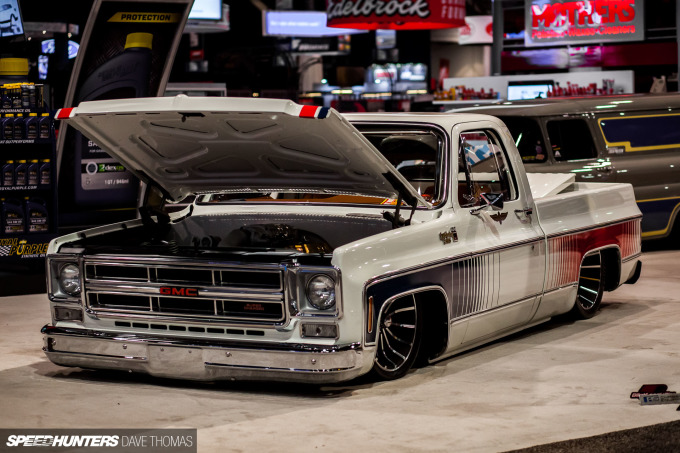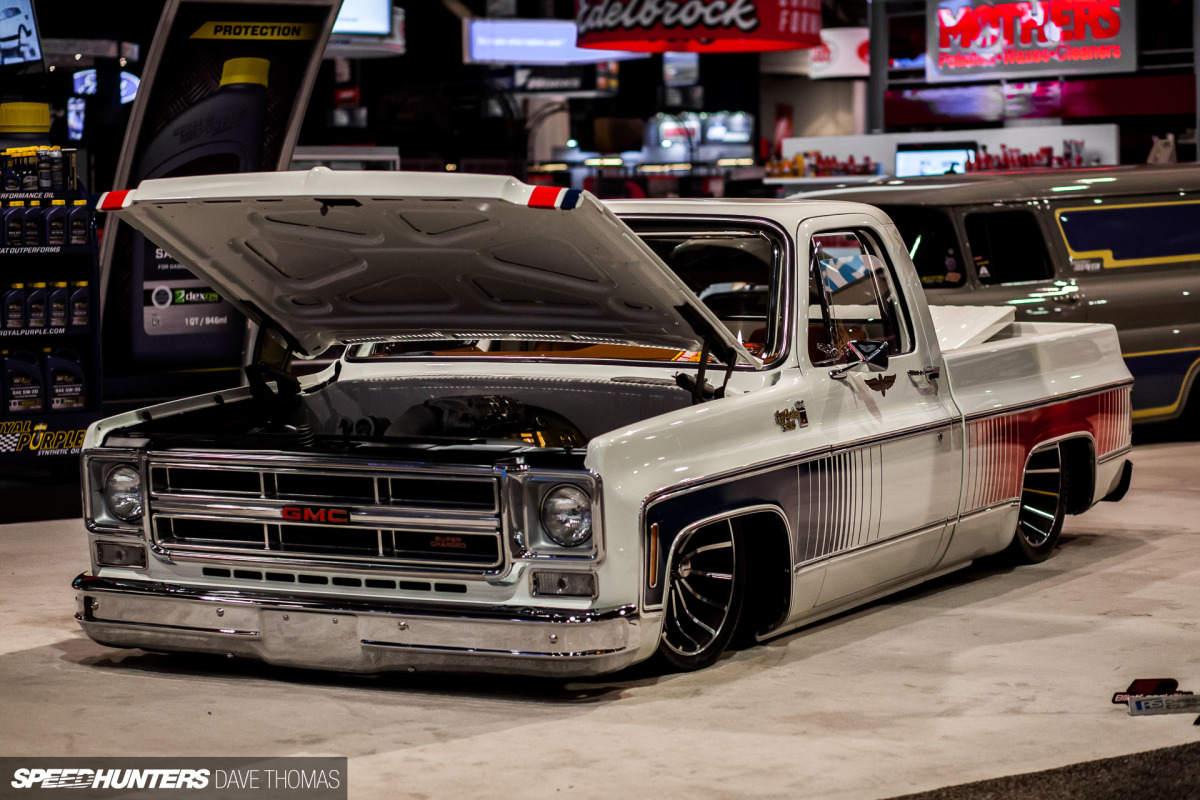 Of all the trucks at SEMA this year, the 'Syndicate Series' C10 in the Royal Purple booth was one I kept coming back to. Earlier, I'd mentioned how much I enjoyed Ron Stewart's trophy truck simply because of the nostalgia feel. That's the same reason I became enamoured with this build.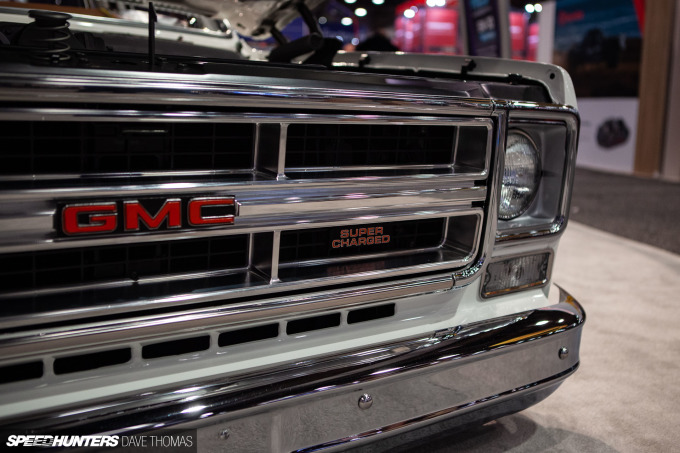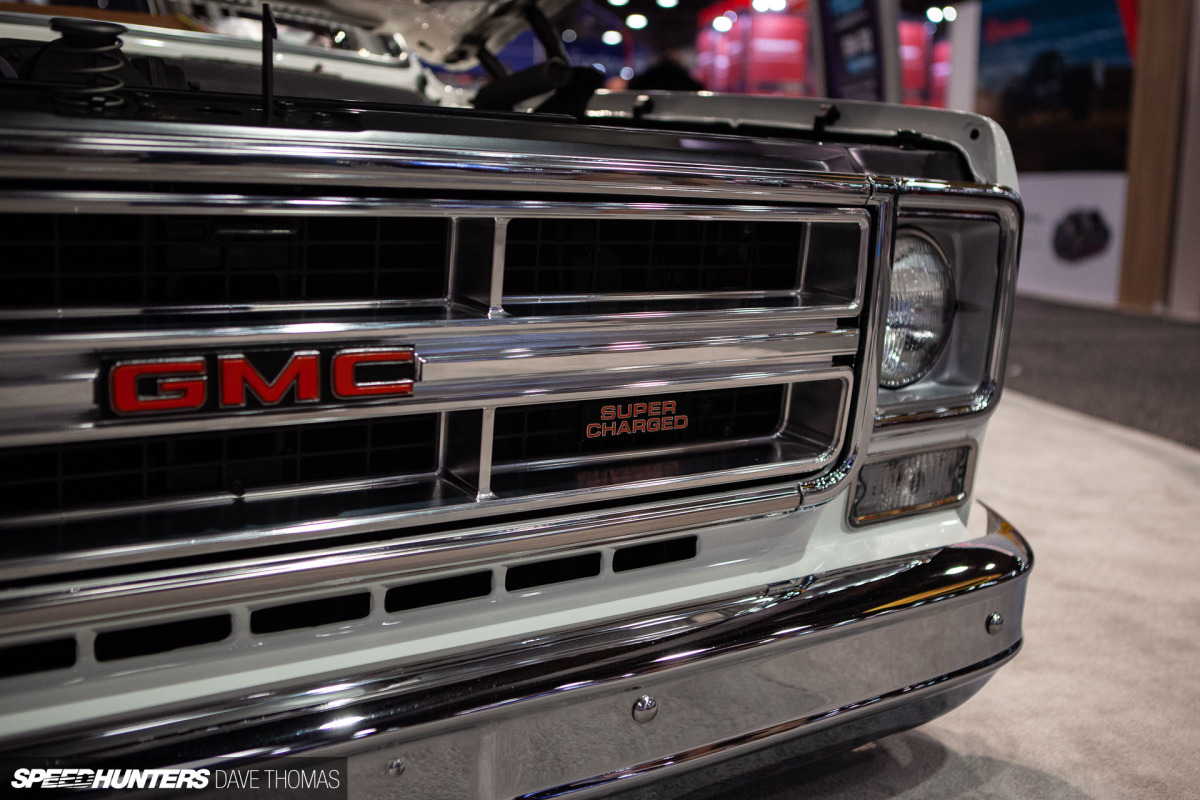 So many of the modifications done to this truck were designed to fly right under the radar of those who didn't take a second and closer look. See that grill? That's billet aluminum, not a based re-pop (reproduction) plastic piece.
Built by Joe Yezzi, Squarebody Syndicate founder, this truck really nailed the desired vintage aesthetic from every angle.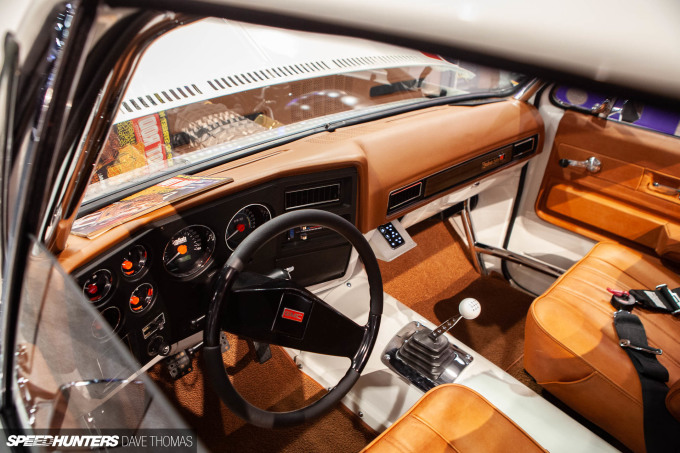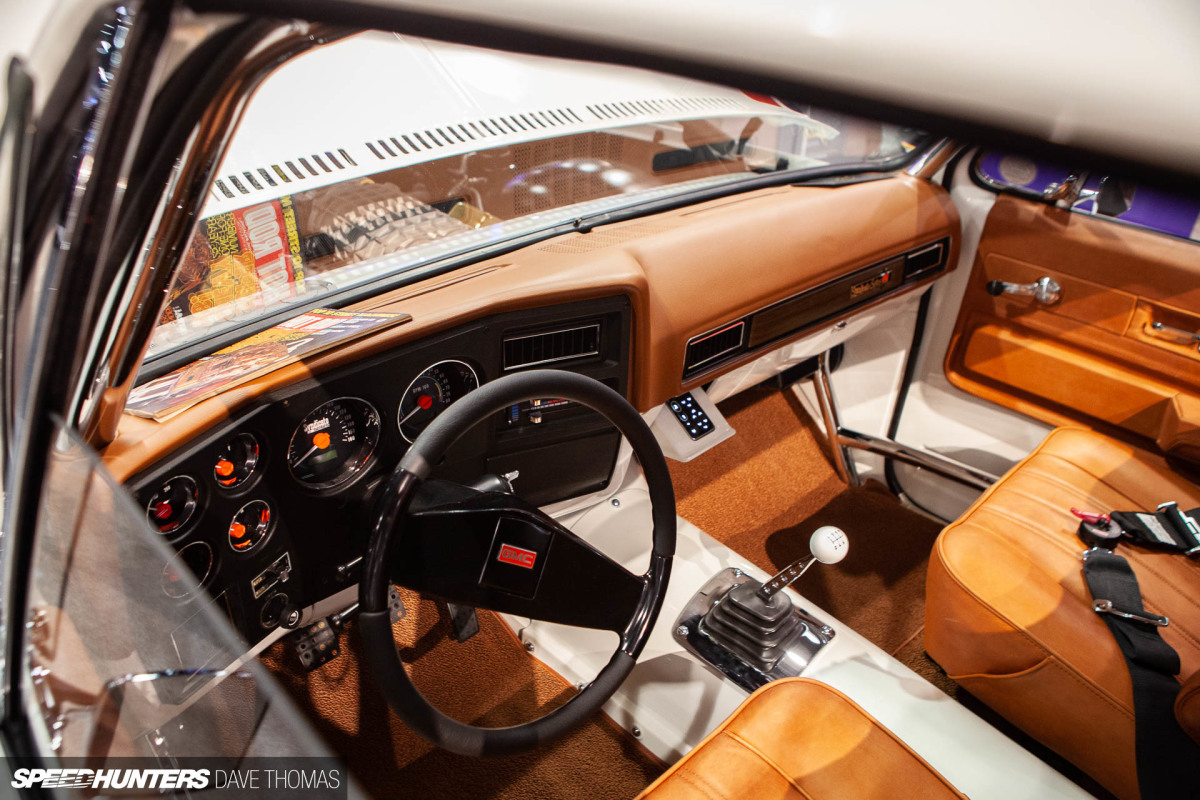 The interior was gloriously nostalgic, yet at the same time filled with modern amenities. For example, USB charging ports were hidden throughout, integrated seat pockets were designed to hold your phone, and the air controller could be discreetly tucked out of sight with a light push.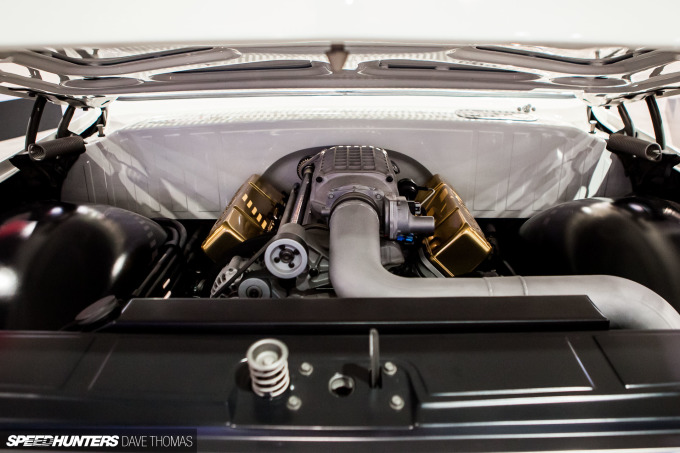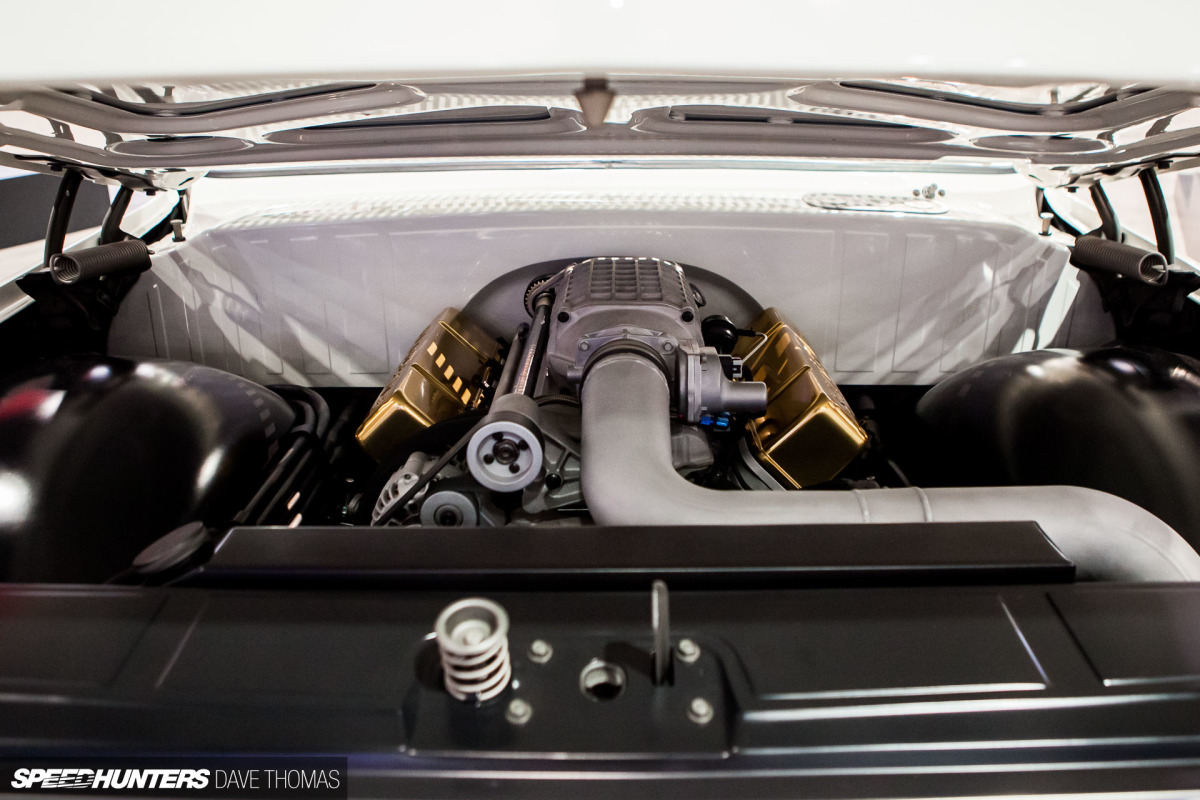 Under the hood the supercharged 6.2-liter LS motor was finished in white and gold. The color combination not only suited the truck, it too was also a carefully calculated throwback. This time a subtle nod back to a previous "Super Chevy" featured in a vintage Hot Rod Magazine.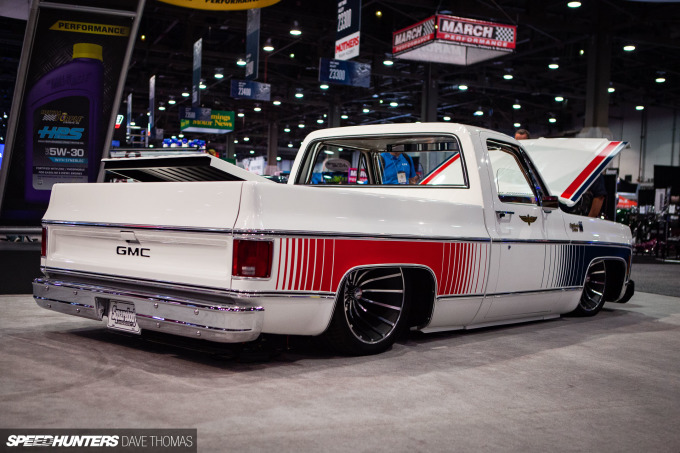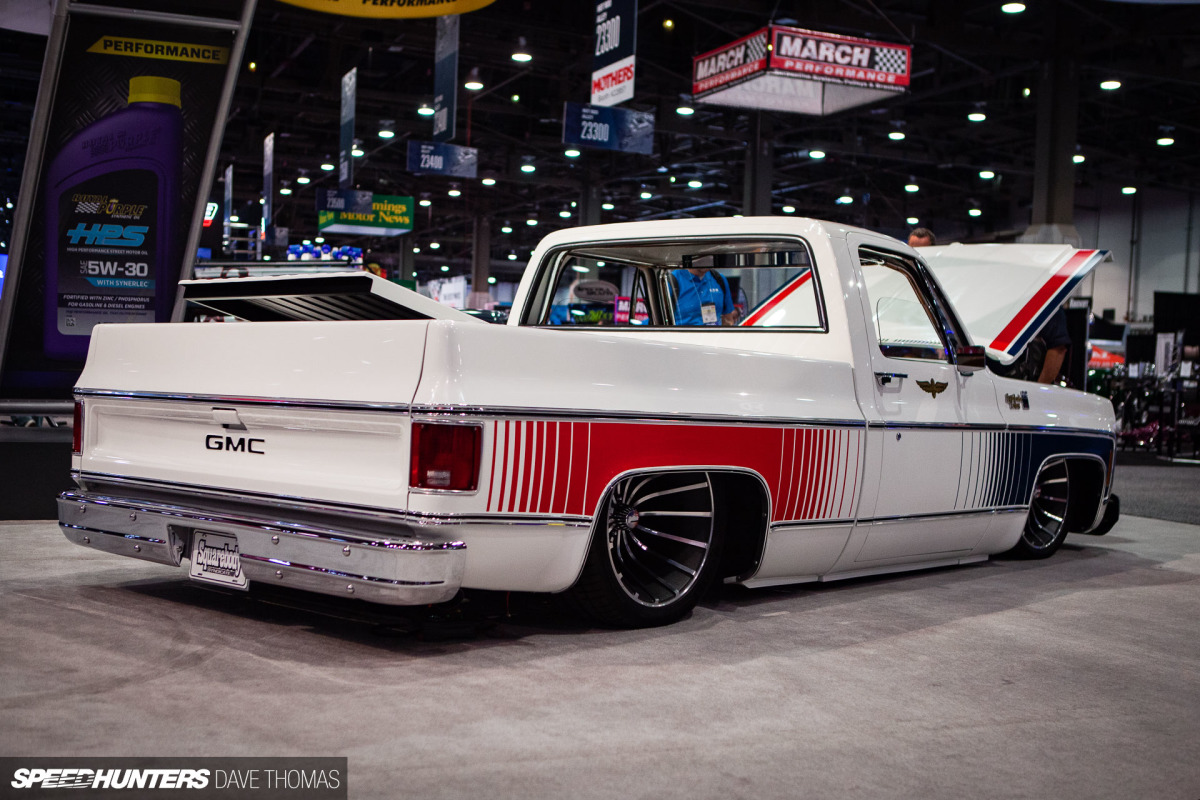 Keeping in step with everything else, the 20-inch wheels were also designed to represent popular 'mag' wheels of the era. Also notice the 'Syndicate' series badging on the fender. It emulates the factory badges perfectly.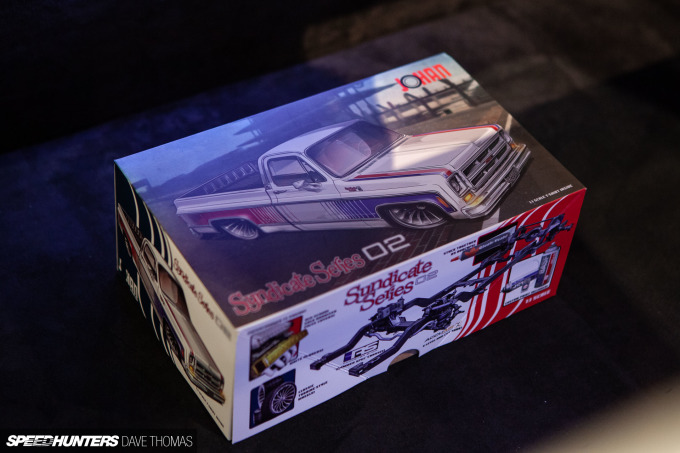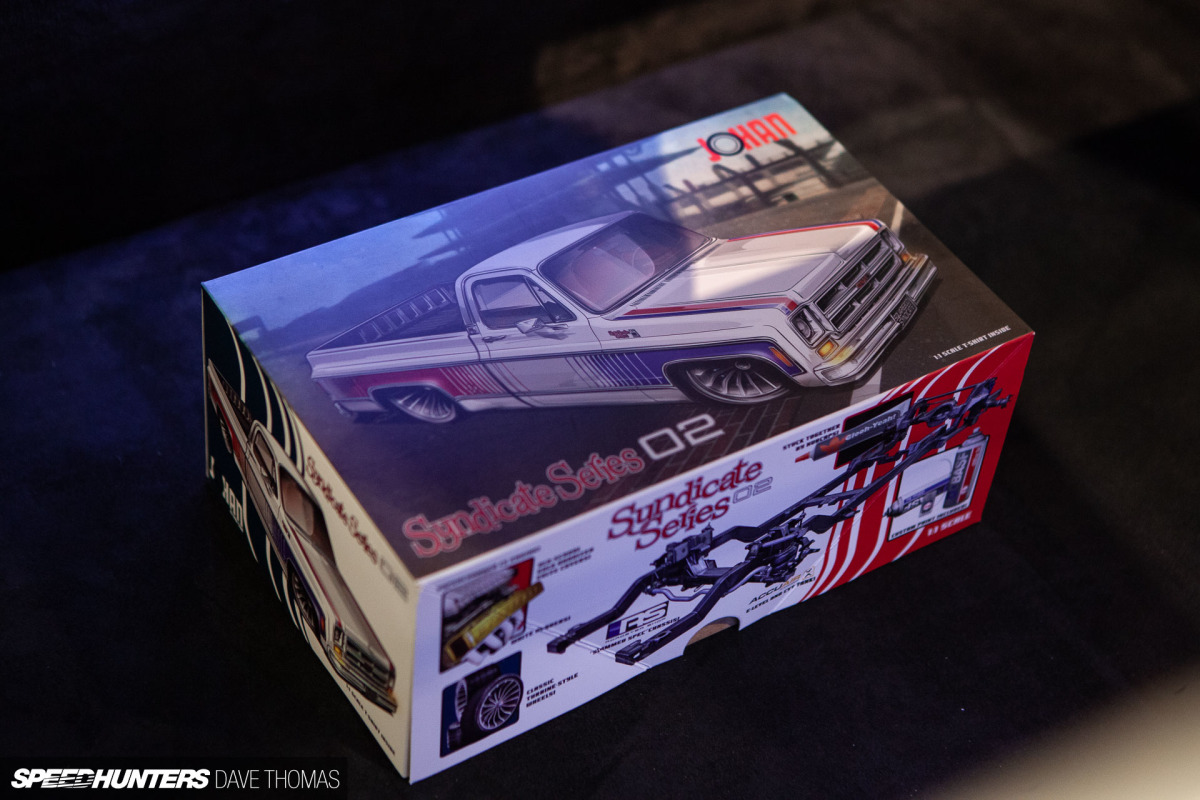 Cementing the fact that I had to close this post out with this truck was the "model kit" found in the bed. As someone who spent a large part of their childhood sat at a table surrounded by parts in plastic trees, I thought this was the perfect way to outline the trucks many modifications.
Inside the boxes were Sydnicate shirts that were being given away for free. If you're going to do something, you might as well do it right and the Squarebody Syndicate did this right.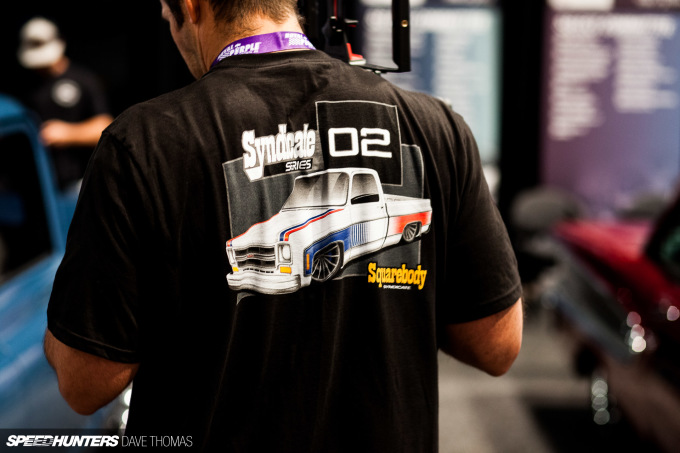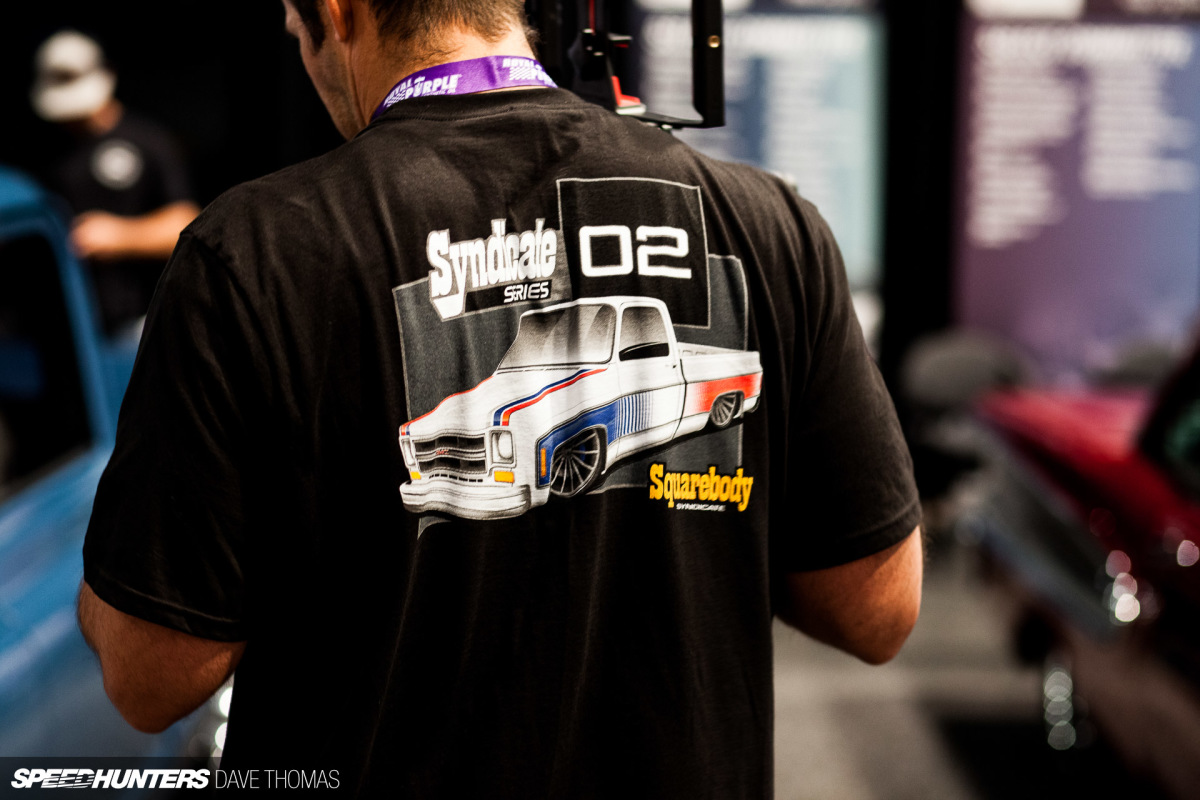 If the photos above didn't give you all the trucks you could have wanted to see from SEMA 2018, I've included a few more below.
You know, for those of you who are into this sort of thing as much as I am.
Dave Thomas
Instagram: stanceiseverythingcom
Keep On Truckin'