A Global Project
Earlier this decade, the Ford Motor Company employed a dramatic shift in its global strategy, one that would include shared platforms between the American market and the European market.
And now, whether you talk to Ford executives, auto journalists or everyday car buyers, most will agree this was the right move.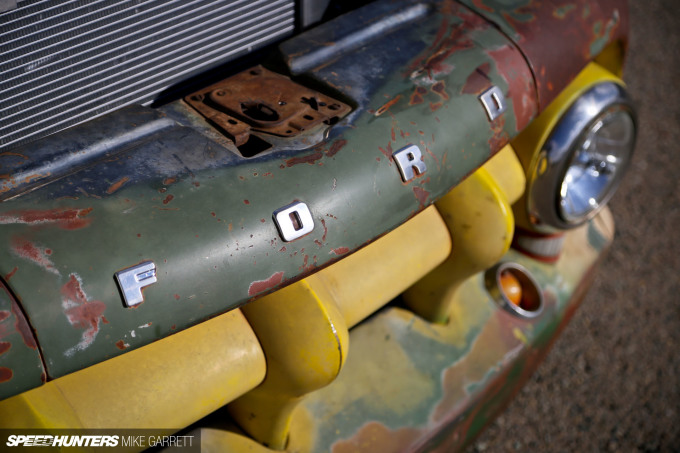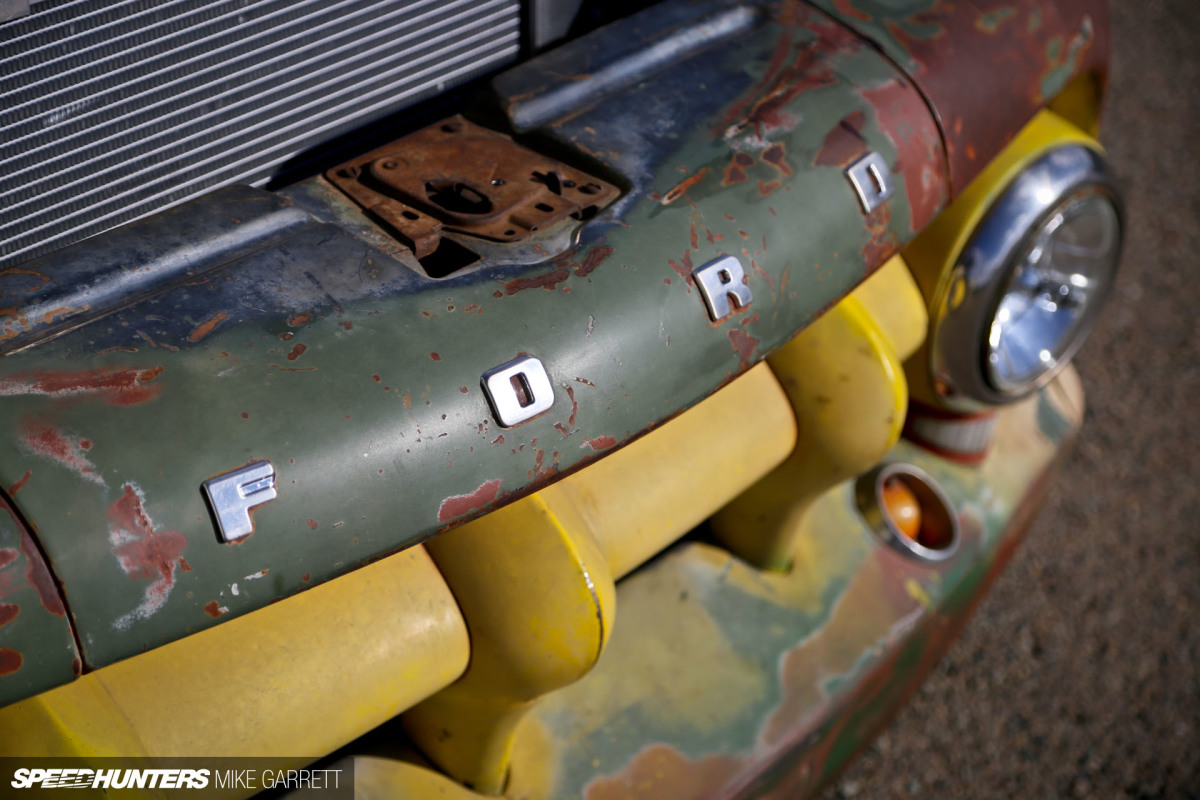 Gone would be the days of American market Fords being completely different (and often inferior) than their European market counterparts, and the "One Ford" strategy has led to some very impressive automobiles making their way stateside, including the Fiesta ST, Focus ST, Focus RS and the now globalized Mustang. Even the regular models have made huge leaps in quality and driving dynamics since they became global designs.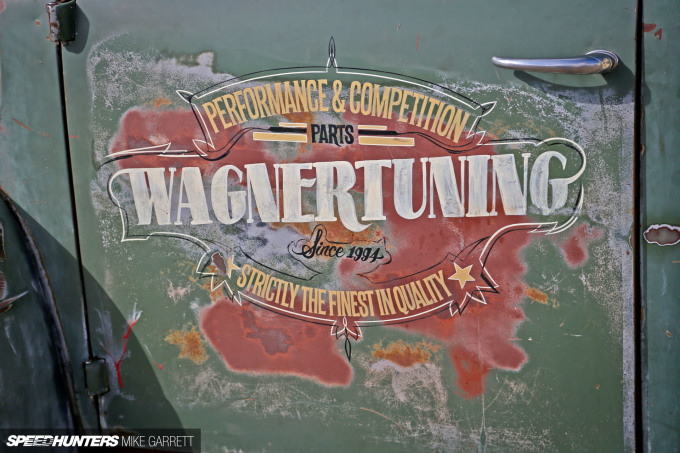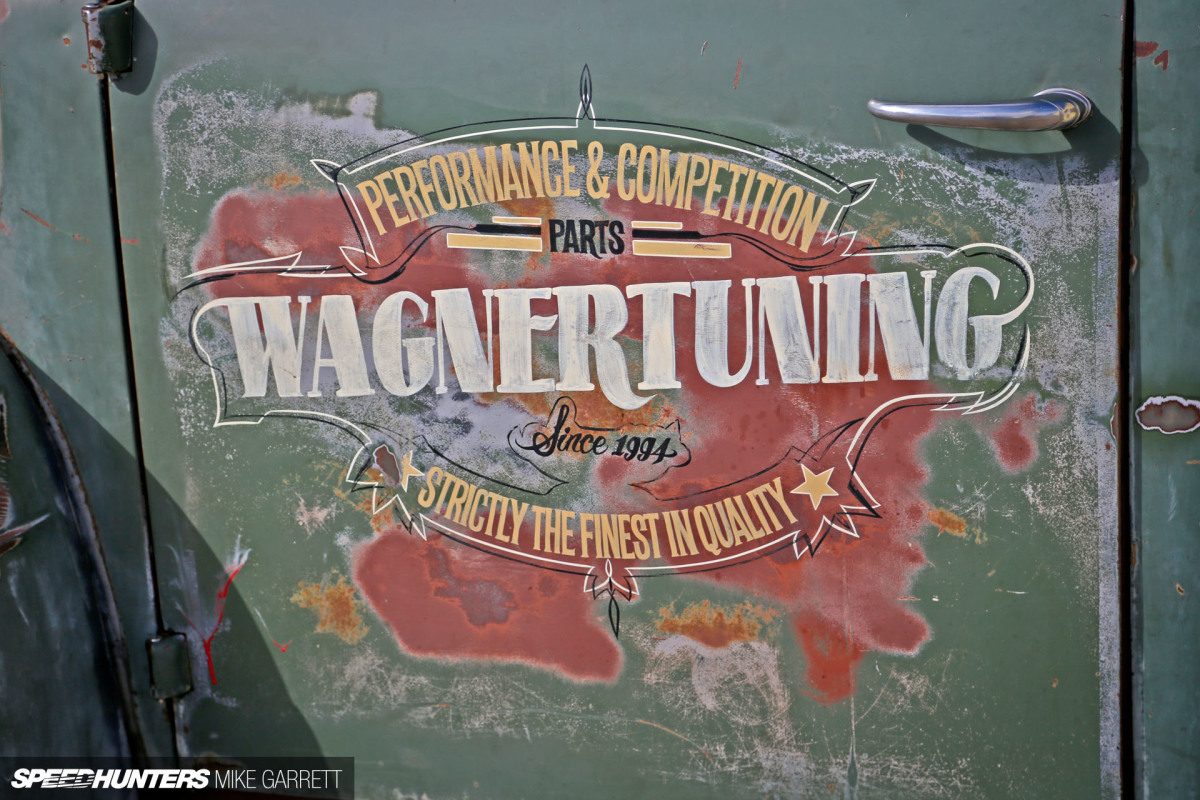 This has also led to new opportunities for European aftermarket companies who have finally been able to expand into the American market. One such company is Germany's Wagner Tuning, which specializes in intercoolers for a variety of turbocharged vehicles, including EcoBoost Fords.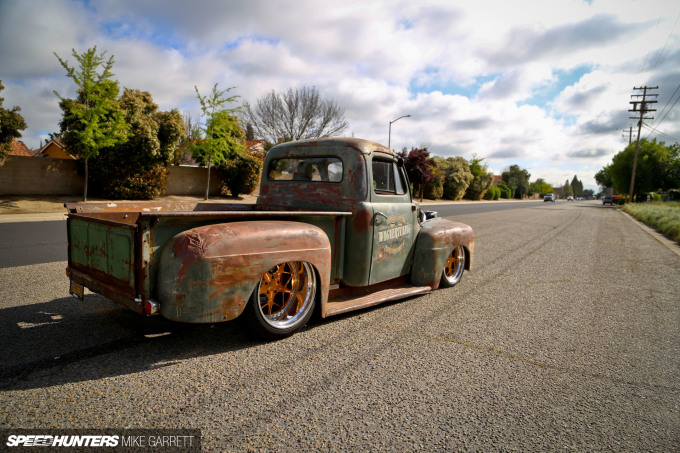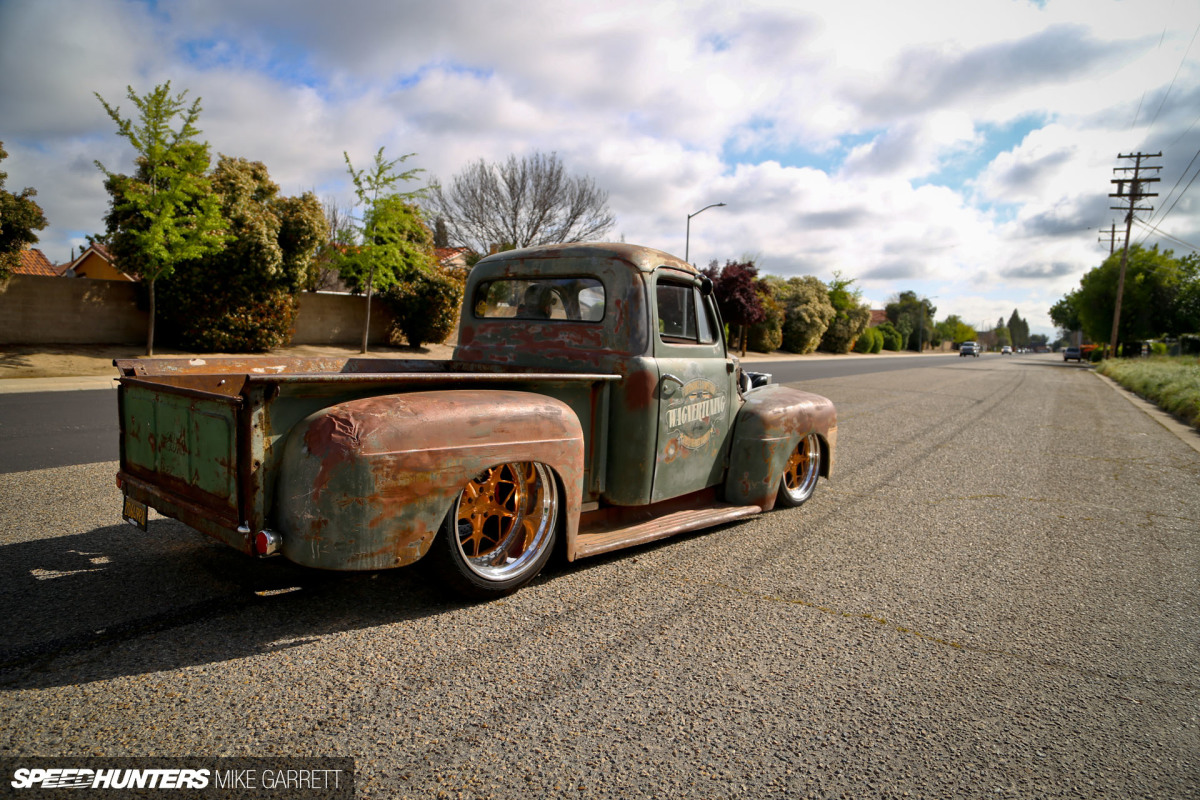 So when it came for the US division of Wagner Tuning to build a vehicle to display at the SEMA Show last year and other events across the country, they set about doing something outside of the box. They wanted a vehicle that would promote their intercooler setup for the EcoBoost-powered Ford pickups and SUVs, but rather than building a brand new vehicle they decided to look to the past. About 65 years in the past to be exact.
Sitting not far away from Wagner Tuning's US HQ in Fresno, California was a 1951 Ford F1 pickup truck with the kind of patina that six and a half decades of California sun will get you. They saw this beat-up old truck as the perfect demo vehicle.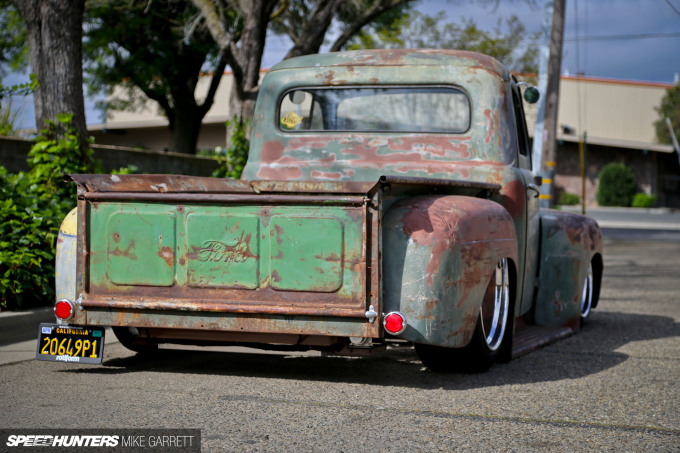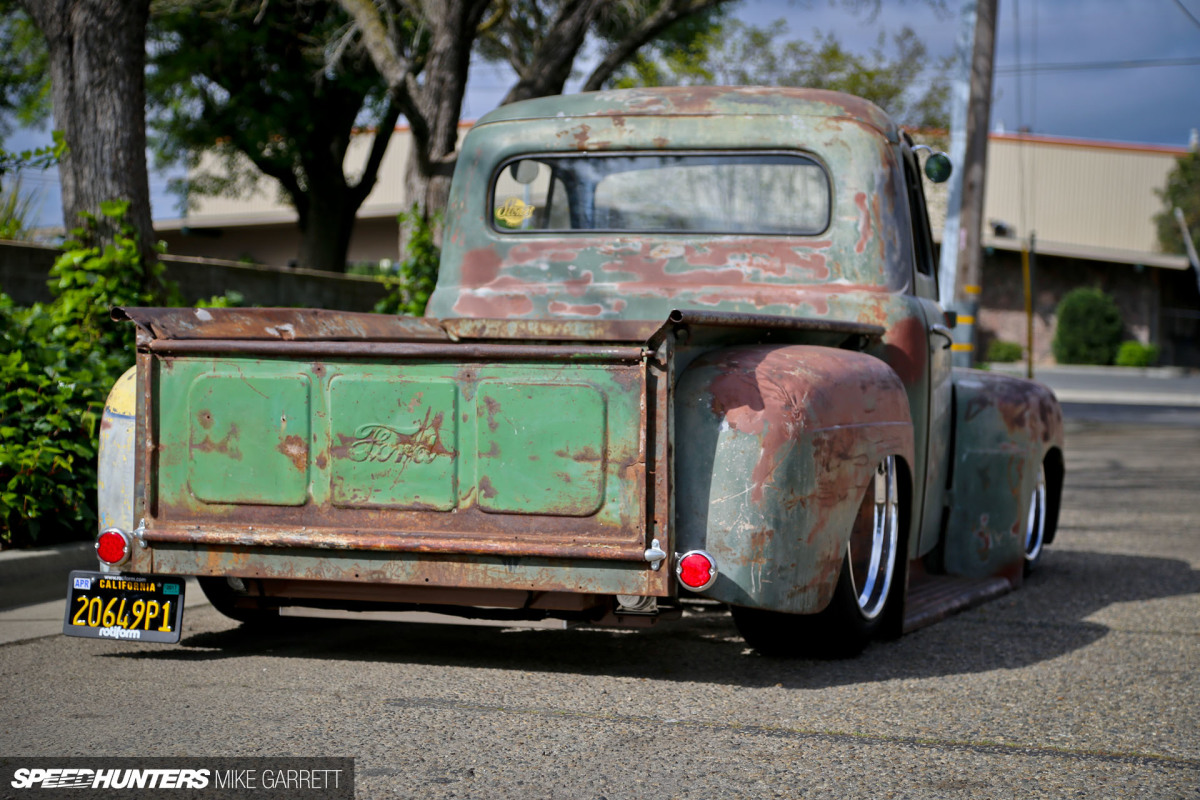 With a short time to go before the SEMA Show, the build was handled by Jacob Stone and the talented group of guys at Stone Fab, who had just a few months to rebuild the truck from the ground up.
Bags 'N Boost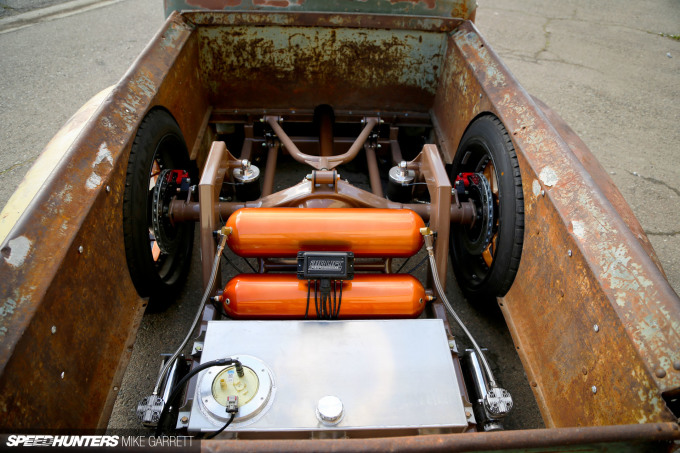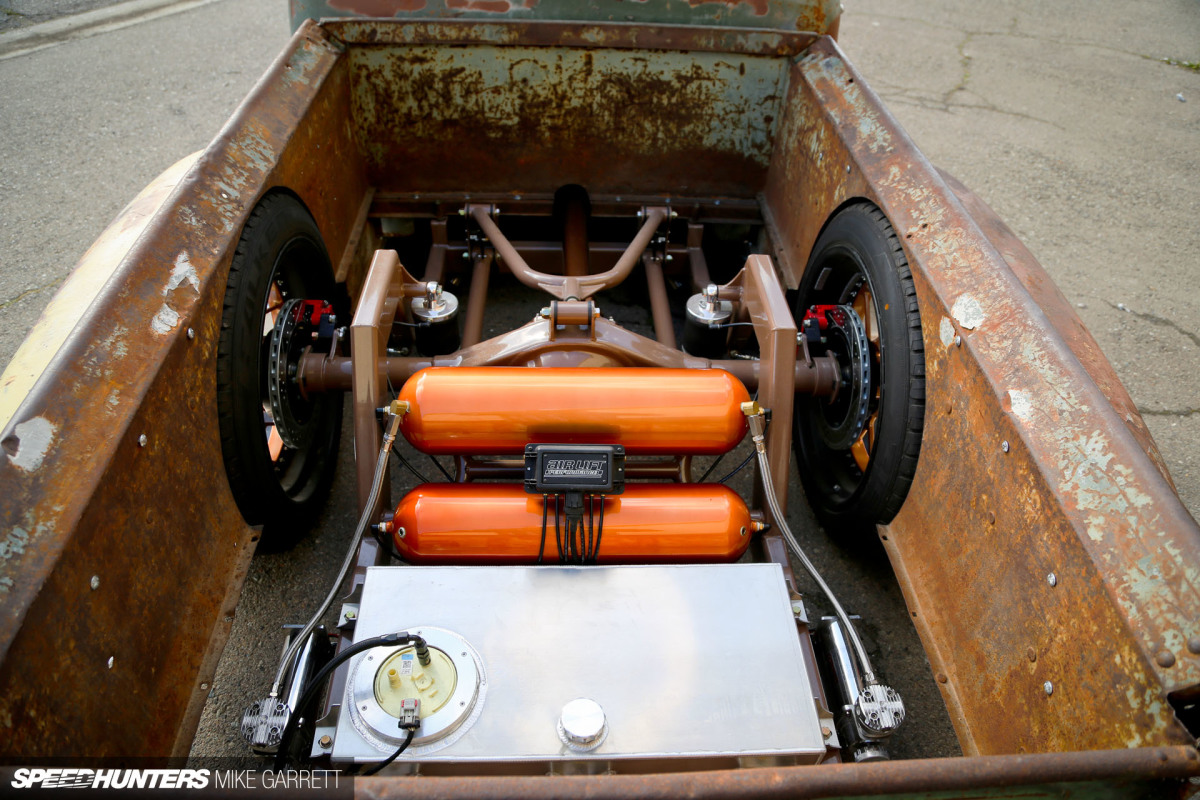 Stone Fab is known for their chassis work, so they got started by pulling off the Ford body and dropping it onto one of their custom-built frames designed with maximum low in mind.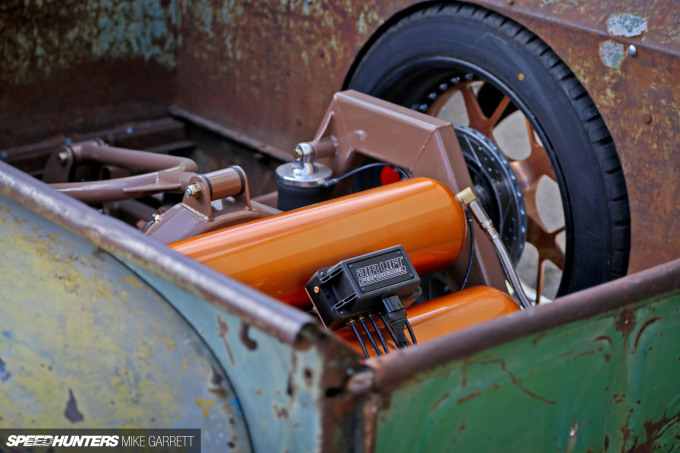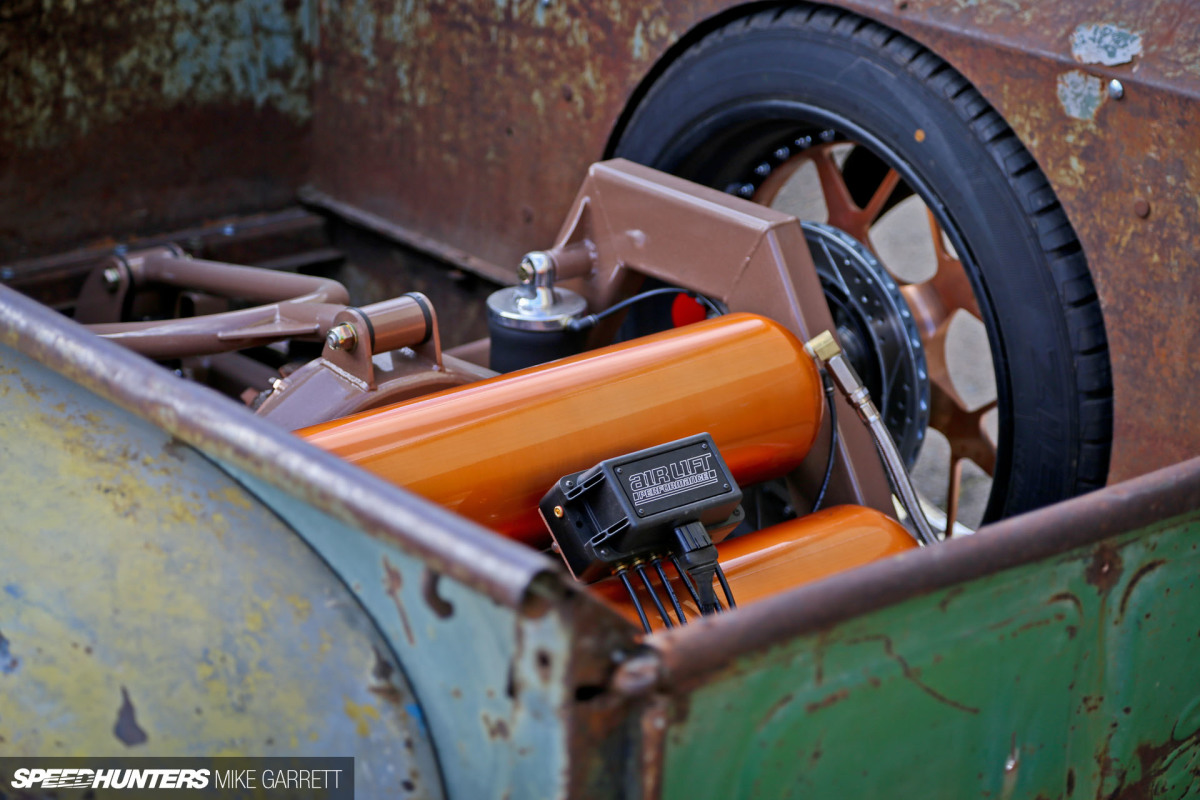 As for the air suspension components themselves, they come from Air Lift Performance, while the compressors are Viair and the tanks come from Specialty Suspension. Everything is displayed prominently in the F1's wide open bed.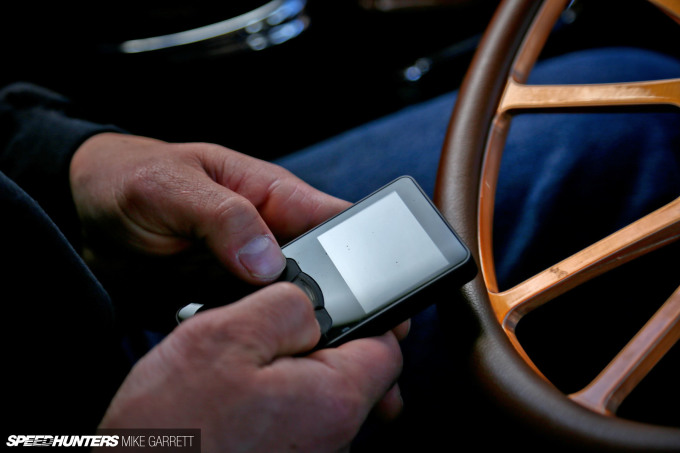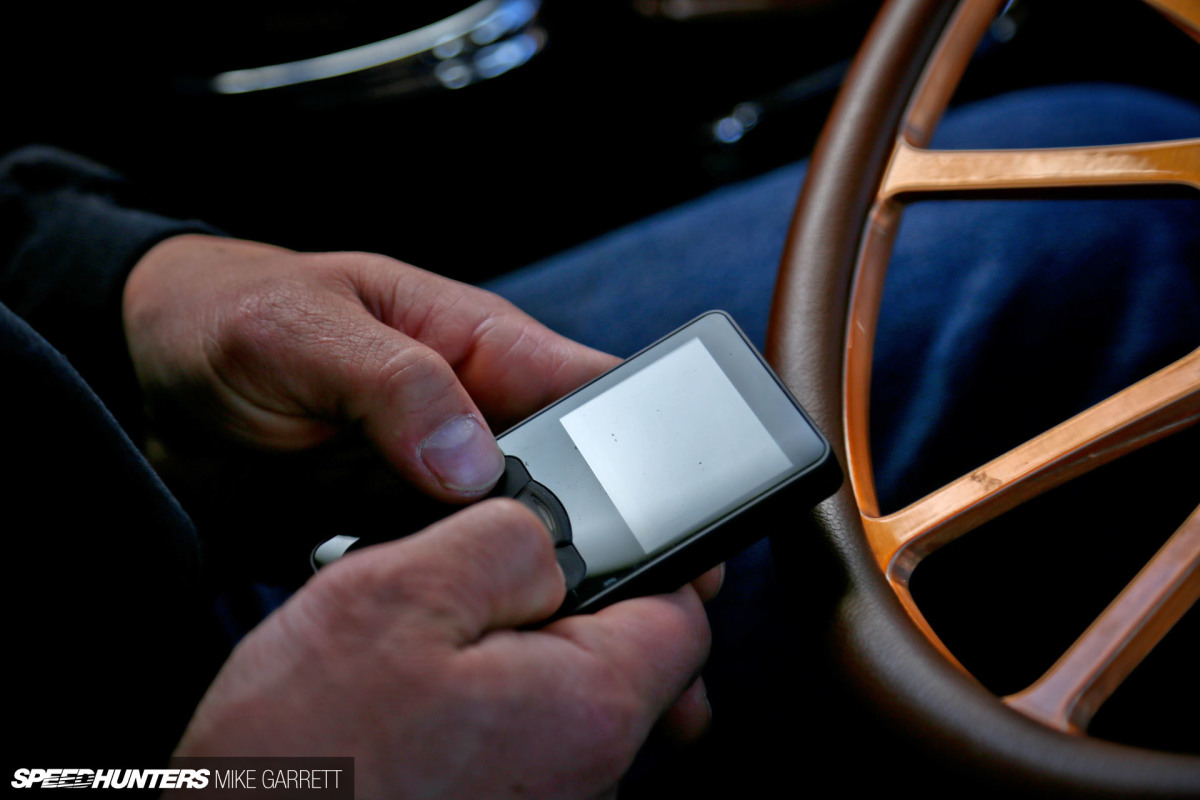 With the Air Lift equipment the ride height can be adjusted on the fly, and even at its drive height the truck still sits beautifully. When it's parked, the running boards are quite literally resting on the ground.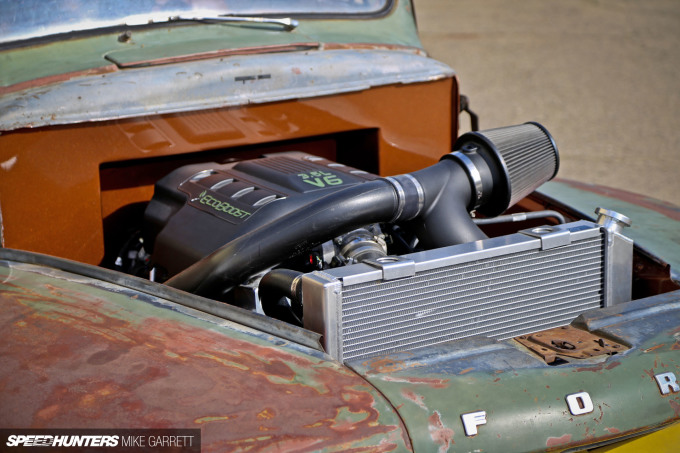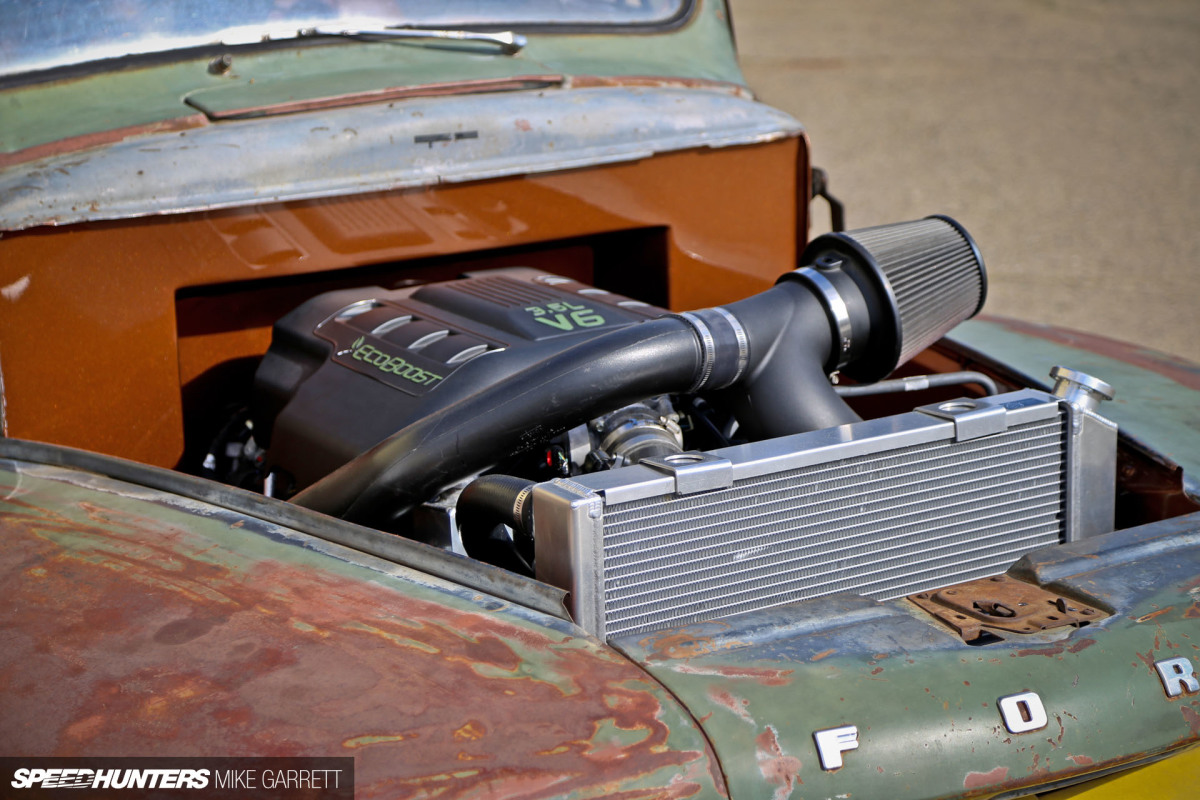 Along with building the chassis, Stone Fab was also tasked with installing the F1's new powerplant – a 3.5-liter twin-turbocharged EcoBoost pulled out of a Ford Expedition.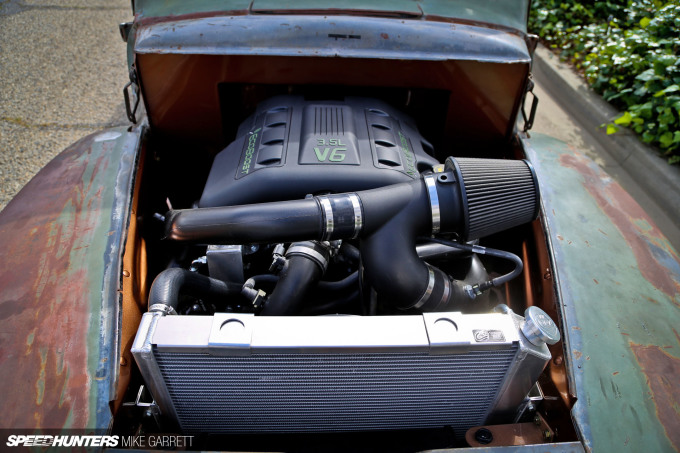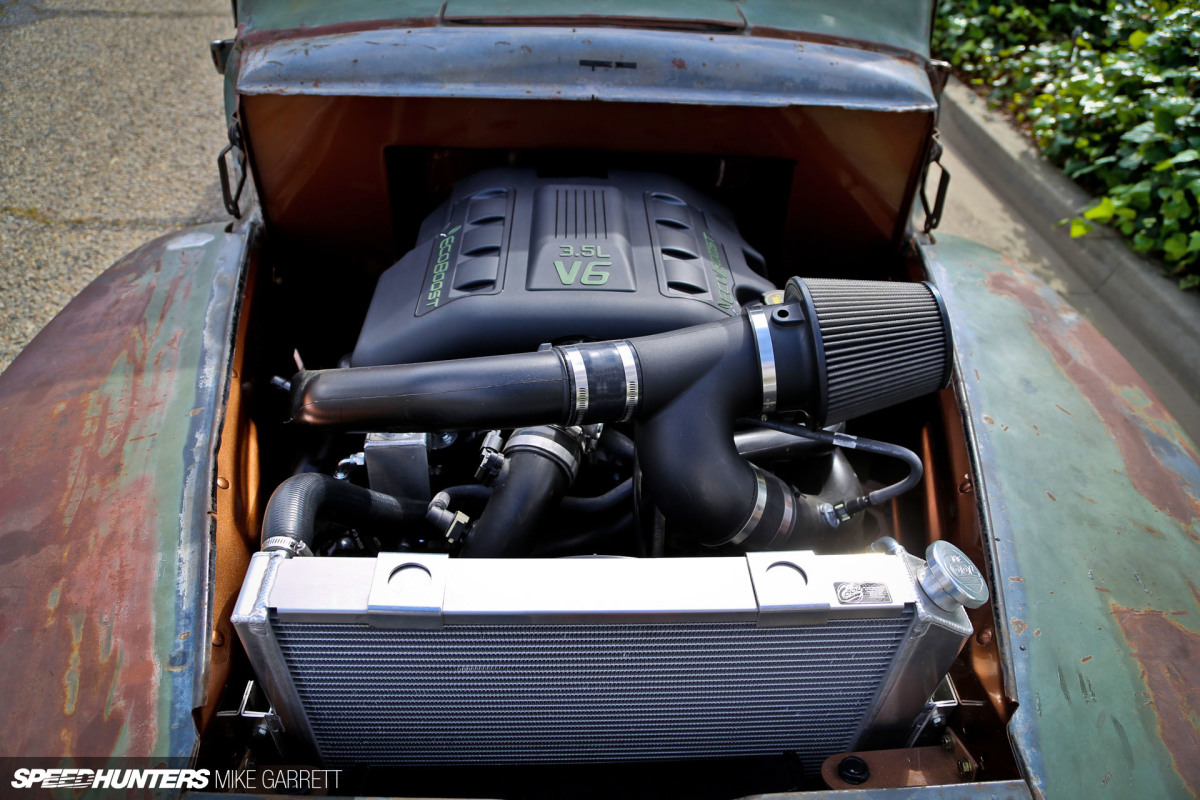 Even in factory form, the EcoBoost 3.5 is a stout engine, but this one's been breathed on with an Airaid intake system, Turbosmart blow-off valve, Magnaflow exhaust system and of course one of Wagner Tuning's EcoBoost intercooler kits. It's all backed up by the donor Expedition's 6-speed automatic transmission.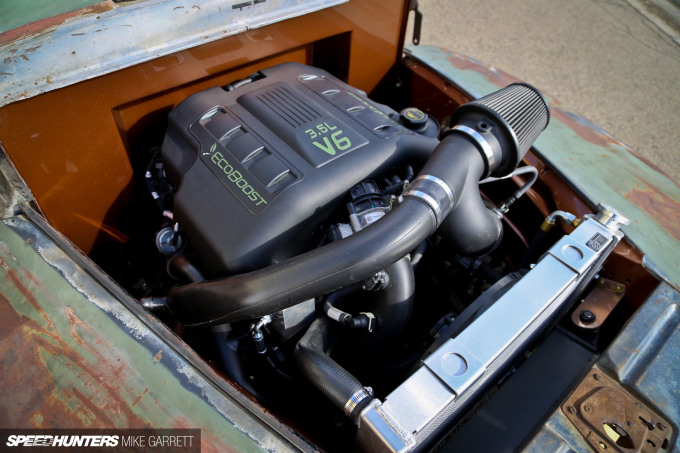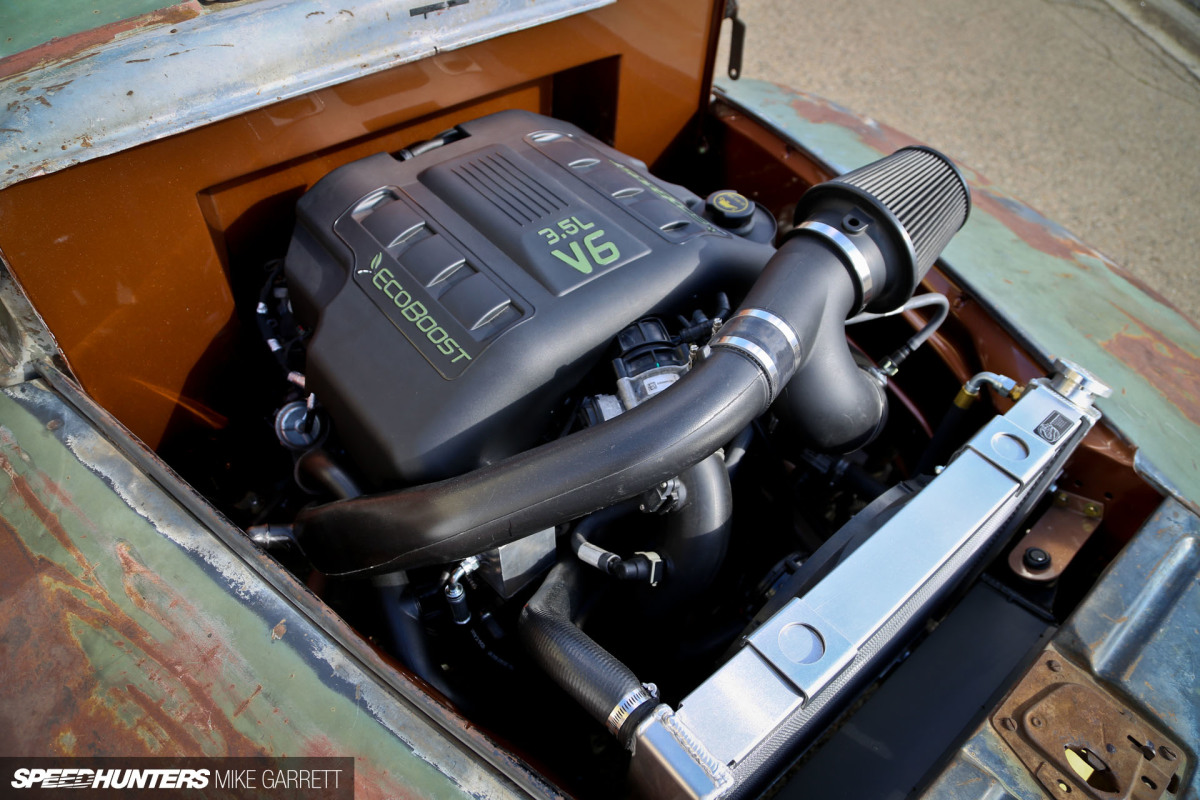 Jacob tells me the boosted V6 should be making of north of 400 horsepower, and after going for a ride in the truck I have little reason to doubt him. And that's before you even get to the fat helping of low-end torque.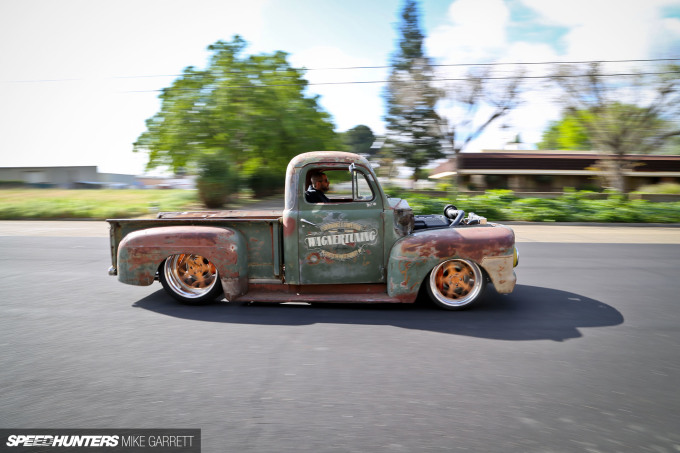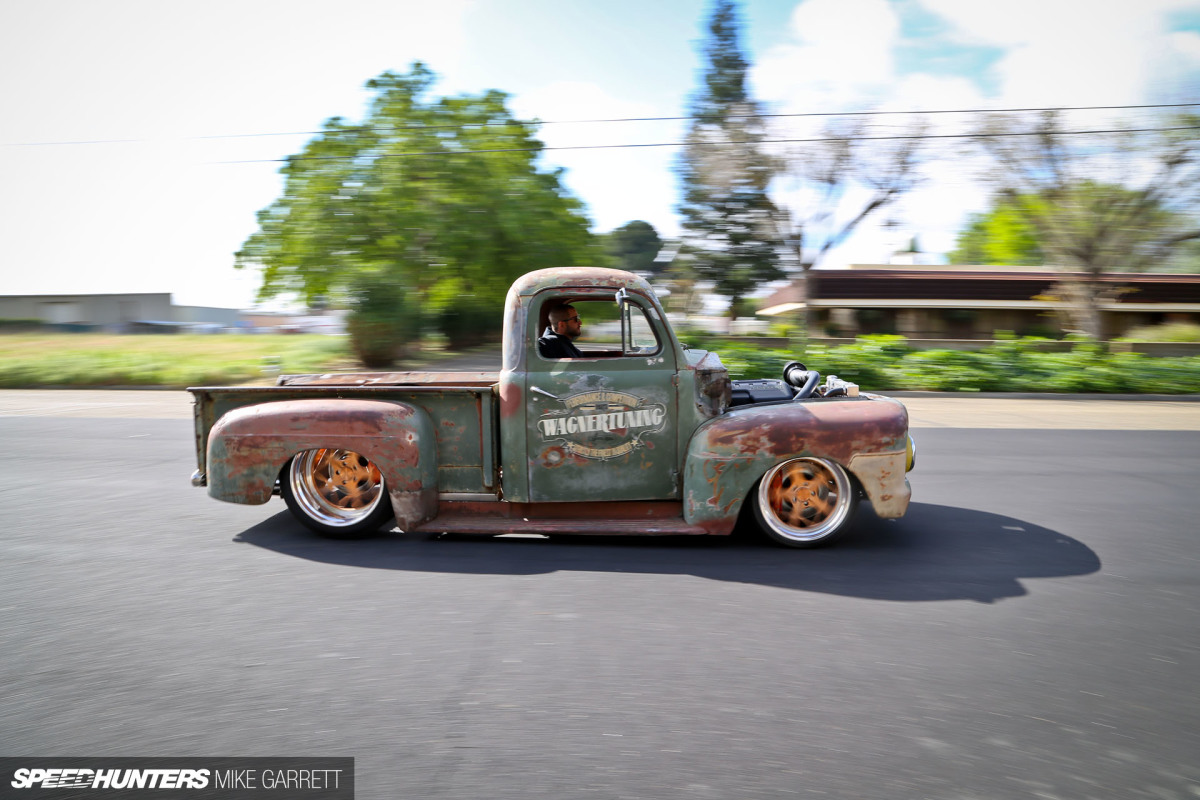 As if a slammed, patina-covered '51 Ford wouldn't already grab enough attention going down the road, the sound of spooling turbochargers and a aggressive exhaust gives the truck a presence few vehicles can match.
Old Truck, New Flavor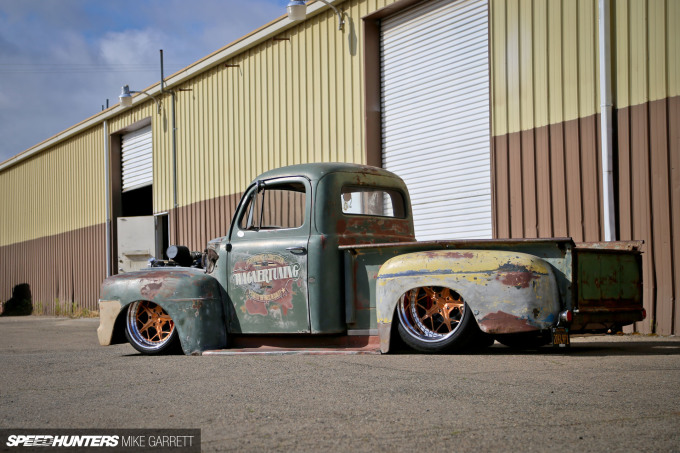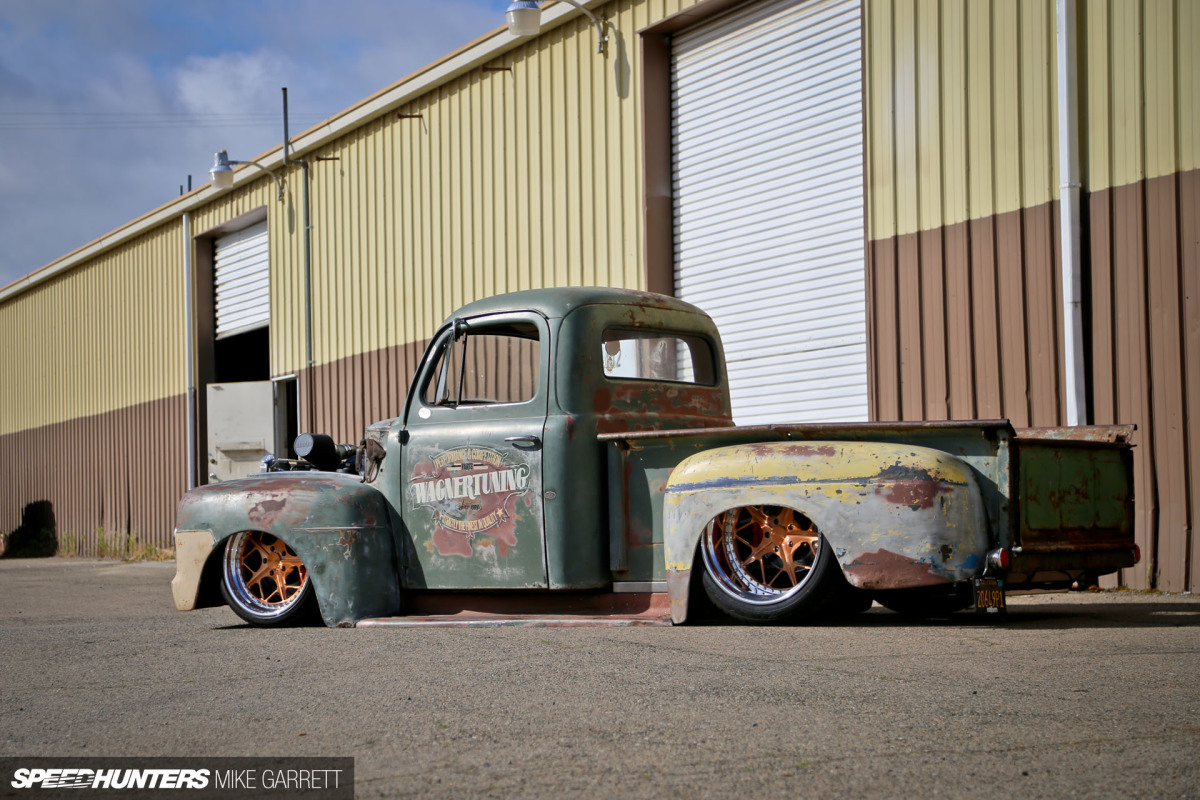 By now it's clear that is not your typical show truck build, and that's also reflected in the wheel choice. Rather than going with the commonly seen billet wheels, Stone Fab and Wagner Tuning had other ideas in mind.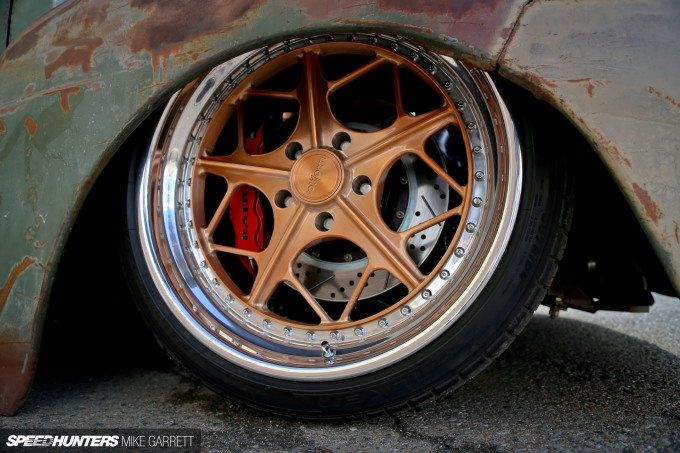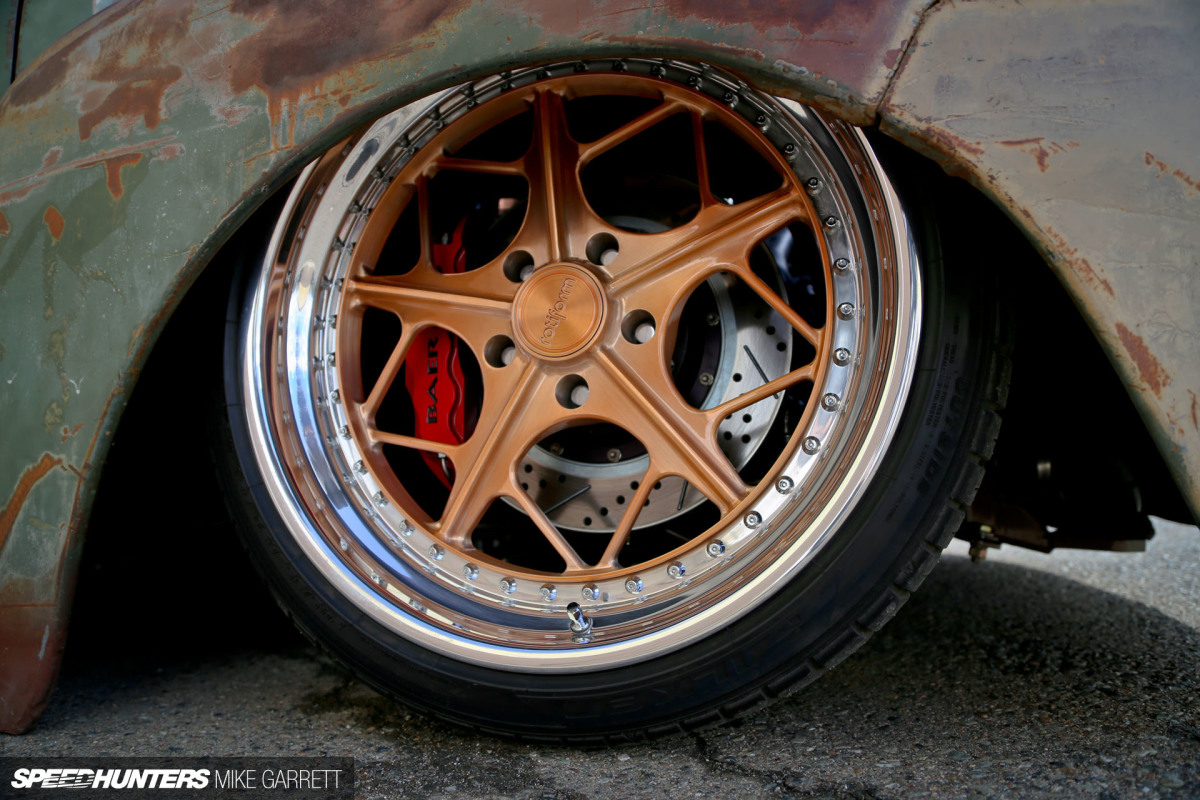 That's where the wheel artists at Rotiform come in. Stuffed into the Ford's fat fenders are a set of custom-built Rotiform LGBs measuring 20×9-inch up front and an enormous 22×12-inch in the rear.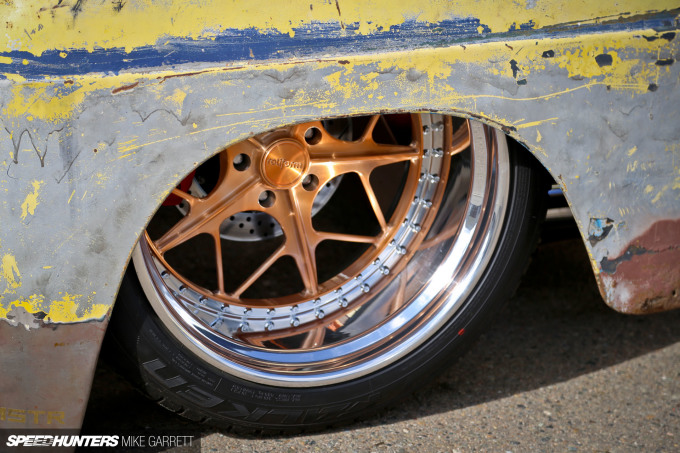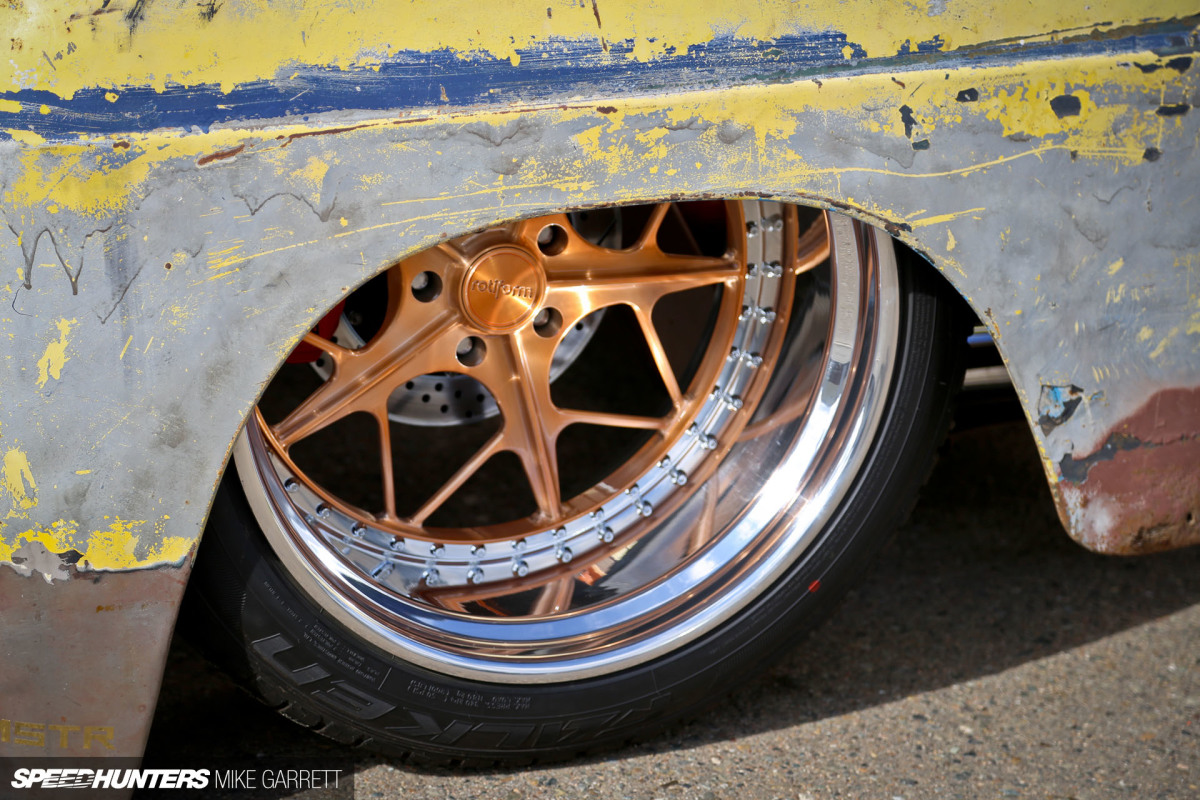 The tires come from Falken with sizes of 245/30R20 and 305/40R22, front and rear respectively.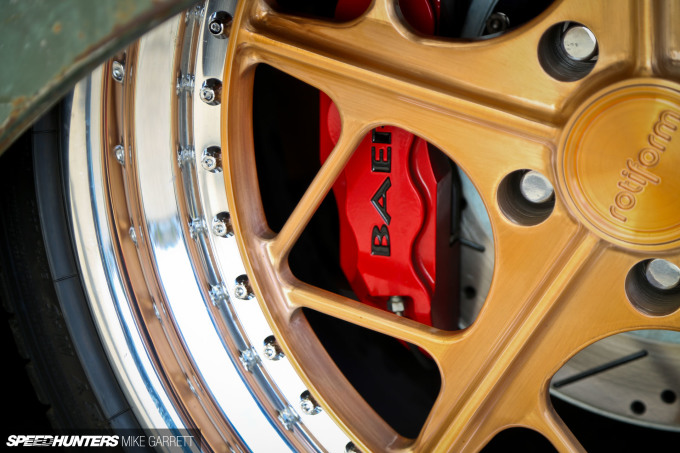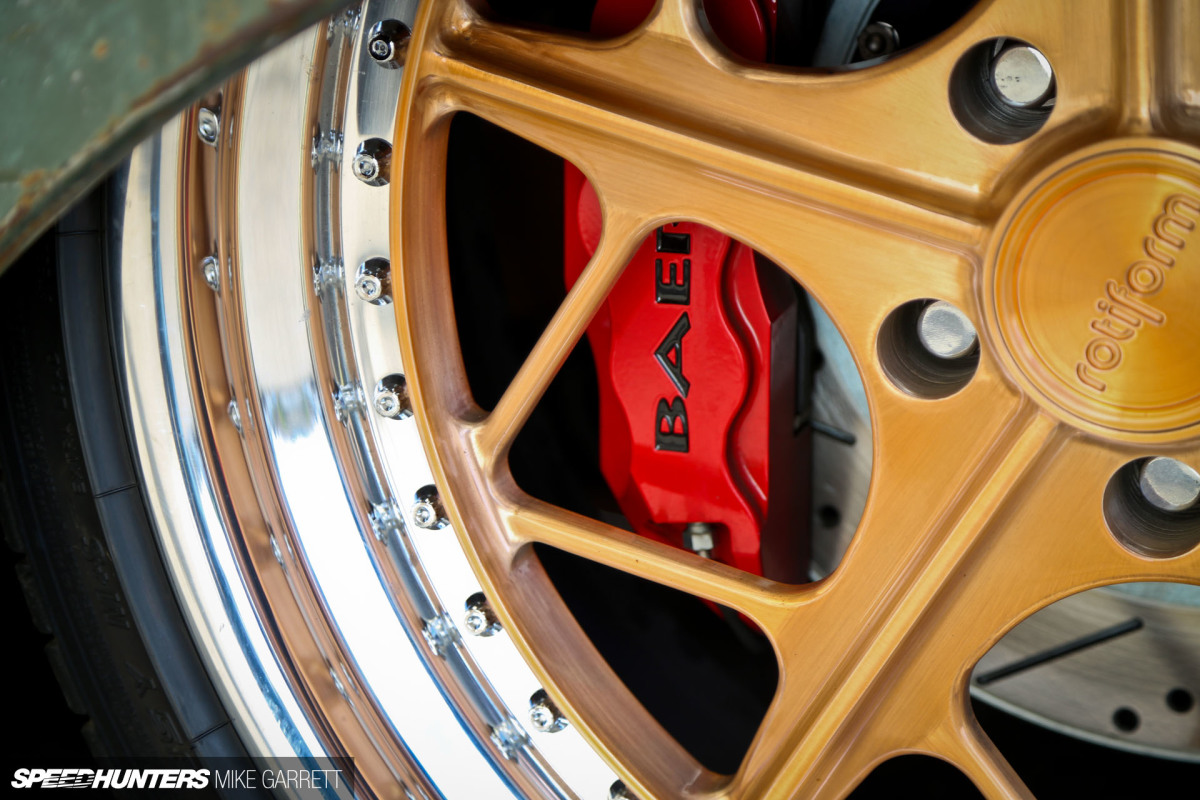 The large wheels also provide plenty of clearance for the custom Baer brakes with 6-piston calipers up front and 4-piston calipers out back.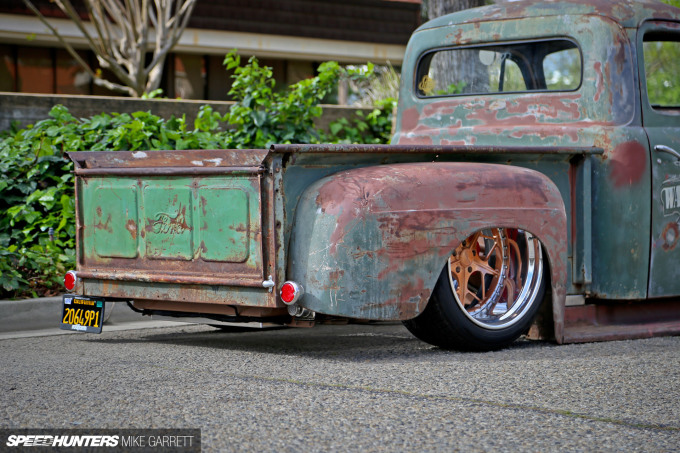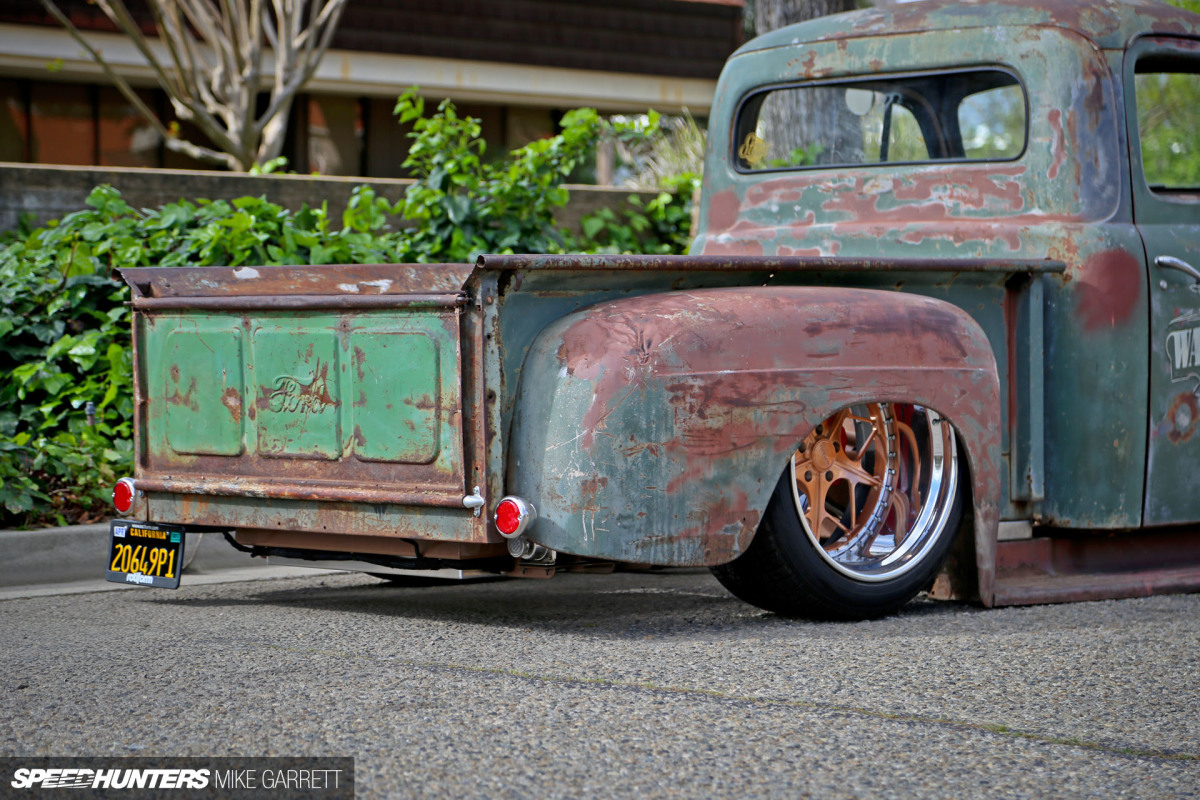 There are so many cool details to take in, but my favorite view has to be the rear three-quarter where the gigantic 12-inch-wide wheels and 305-section tires are put on full display.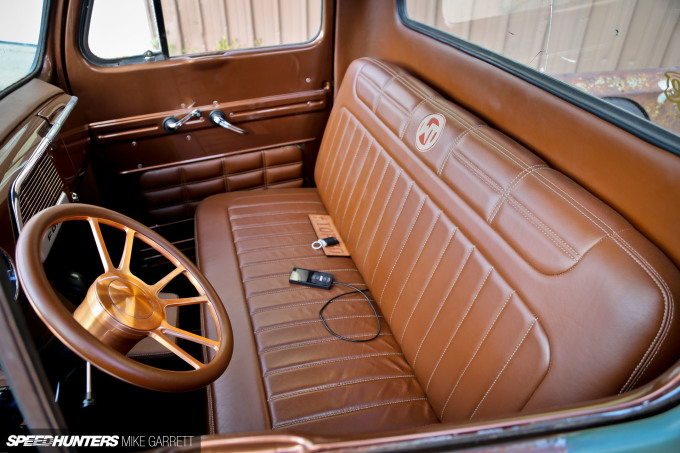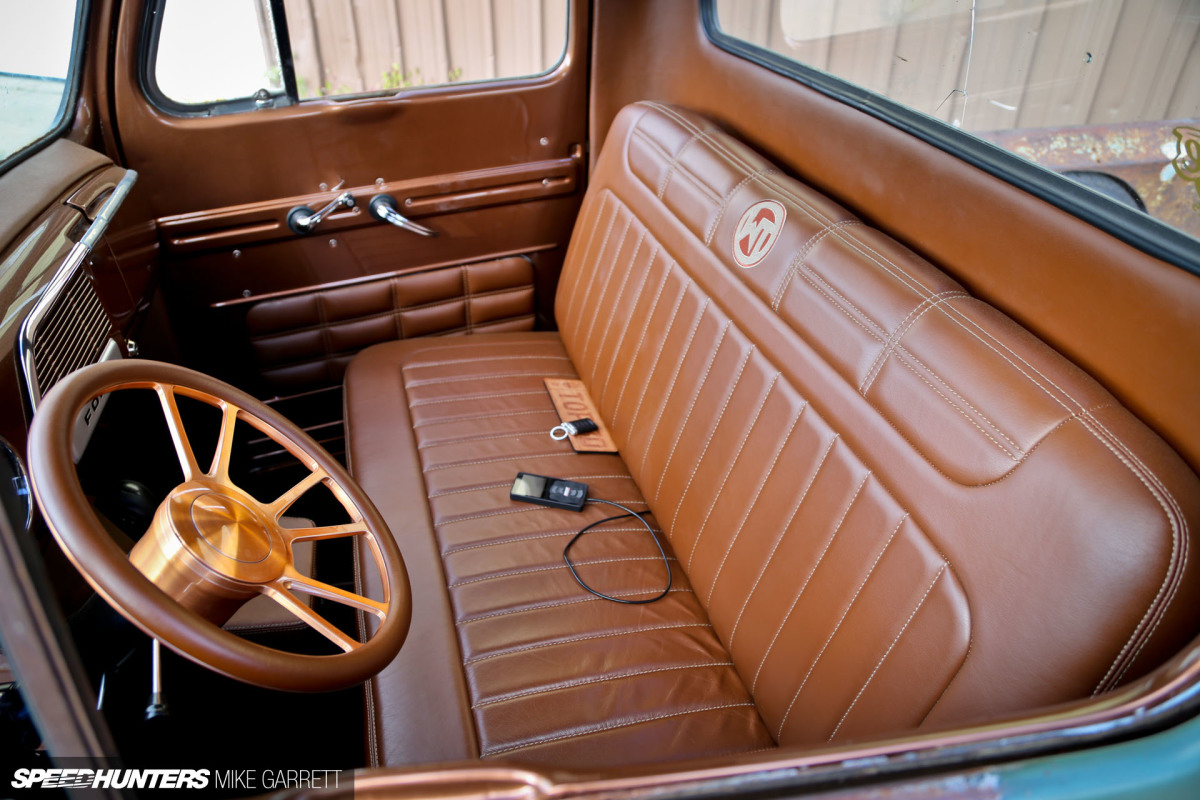 While the exterior finish has been left as found, the interior was completely redone in very appropriate brown upholstery along with a fresh coat of bronze paint to match the engine bay.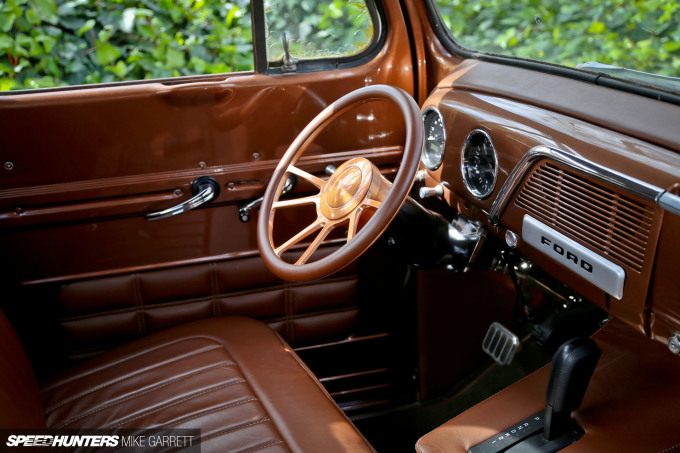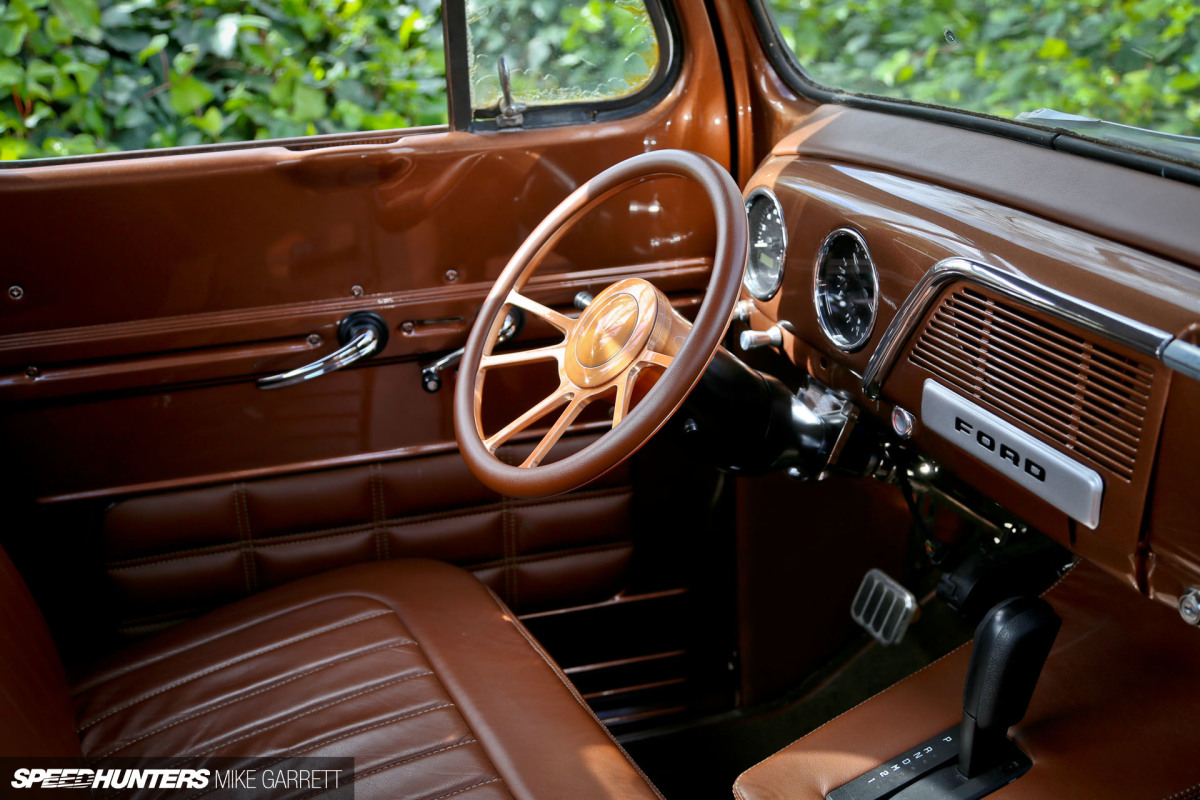 Other details inside include an Ididit steering column with a Billet Specialties steering wheel and a set of Dakota Digital gauges to keep an eye on the EcoBoost's vitals.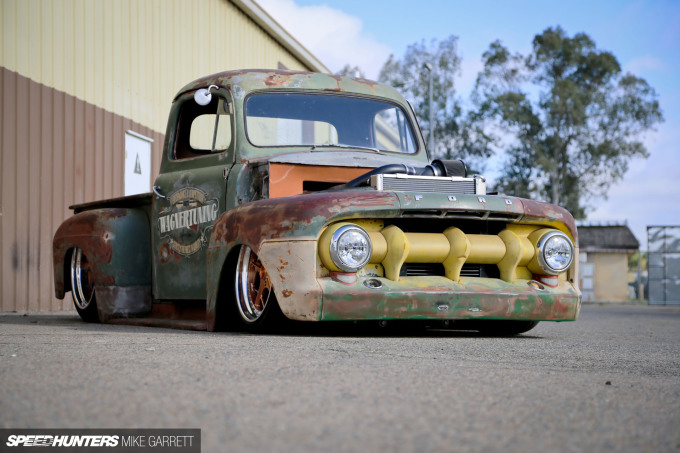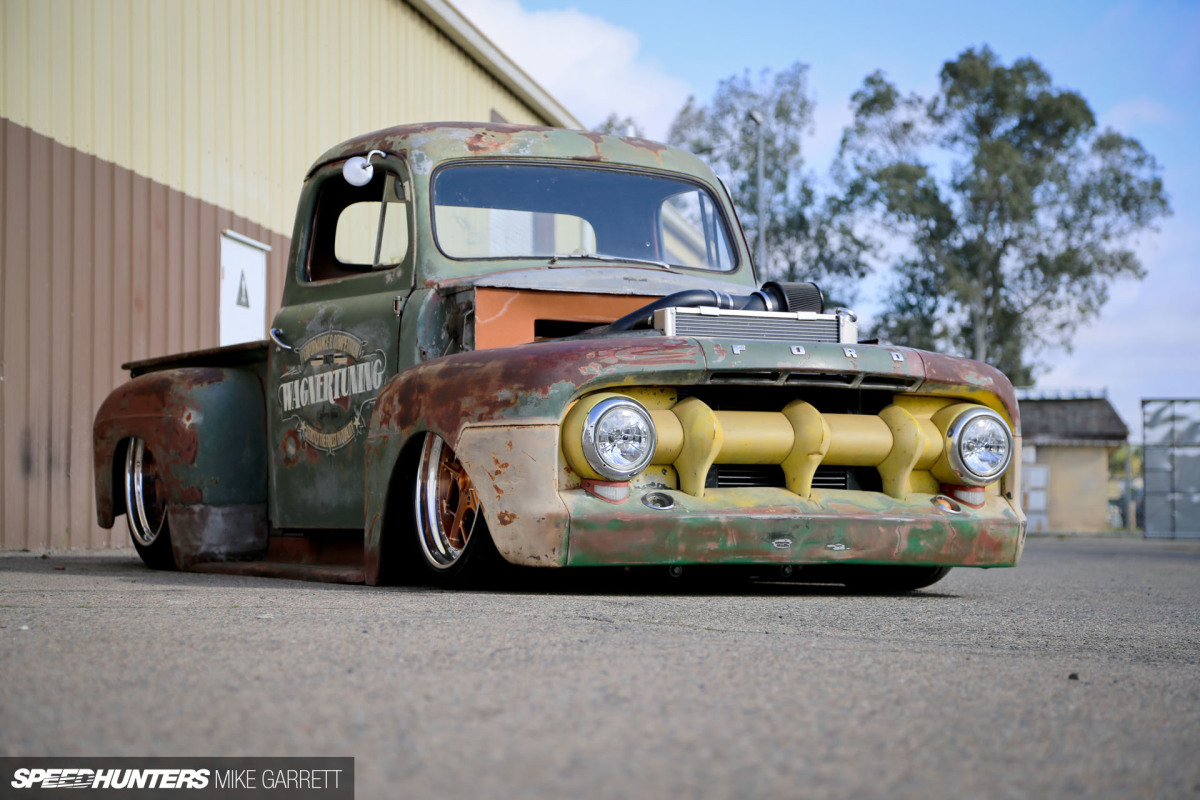 With power, style and a whole lot of character, Wagner Tuning and Stone Fab have created a very cool machine that can fit in at many different events and be appreciated by gear-heads of all backgrounds.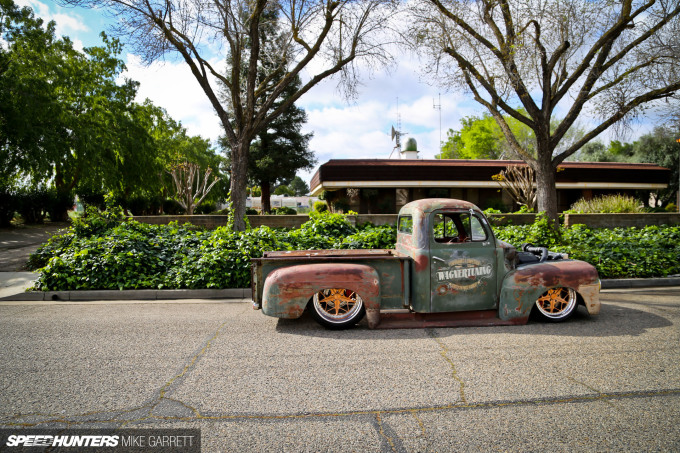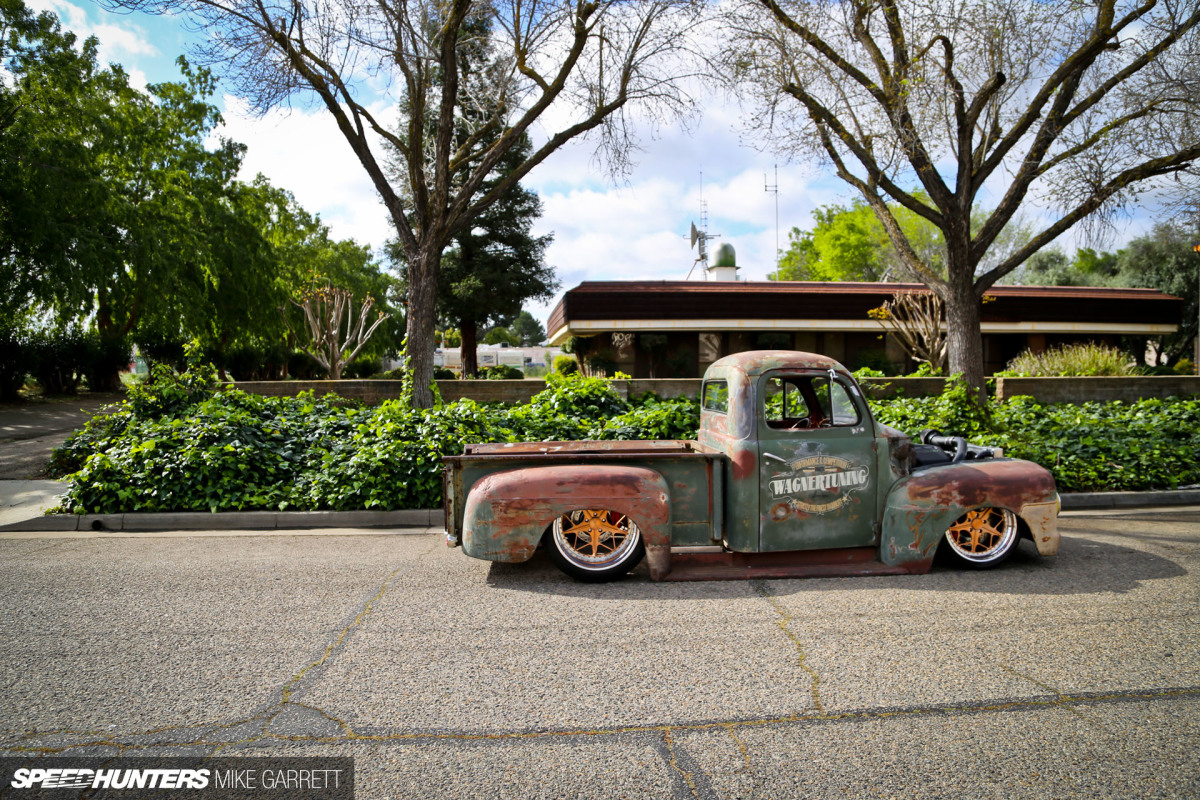 So far the response to the build has been tremendous, and after it's finished up wth its duties here in the US, the plan is to ship the truck off to Germany where it will start making the rounds in the European scene.
Mixing styles, continents and eras, this really is automotive globalization at its best.
Mike Garrett
Instagram: japanifornia
mike@speedhunters.com
Wagner Tuning '51 Ford F1 Pickup

Engine:
Ford EcoBoost twin-turbo 3.5-liter V6, Wagner Tuning intercooler, Airaid cold air intake, Turbosmart blow-off valve, Magnaflow exhaust system, K&N oil filter, UPR oil catch can, Painless wiring harness, Be Cool radiator, Nex Gen battery
Driveline
Ford Expedition automatic transmission, Currie 9-inch rear end, axles by Fearless Gear
Suspension/Chassis
Custom-built Stone Fab chassis, Air Lift Performance air suspension & controller, Viair compressors, Specialty Suspension seamless air tanks, CPP spindles, Baer 6-piston brakes (front) 4-piston (rear)
Wheels/Tires
Rotiform LGB wheels 20×9-inch (front) 22×12-inch (rear), Falken tires 245/35R20 (front) 305/40R22 (rear)
Interior
Custom paint & brown leather upholstery, Ididit steering column, Billet Specialties steering wheel, Dakota Digital gauges
More Truck related stories on Speedhunters
Cutting Room Floor