Introduction
Whenever I sit down to write a feature, I carefully consider the tone I might use and usually the build itself suggests the writing style.
To use metaphors; writing about a Singer style Porsche? I might pick up a pen and a moleskin journal. A technically dense time attack machine? A drafting pencil and some graph paper seems suitable. For a car as raw as this "Mustang"? Shoving everything off my desk and carving directly into it seems the most suitable way to get the job done.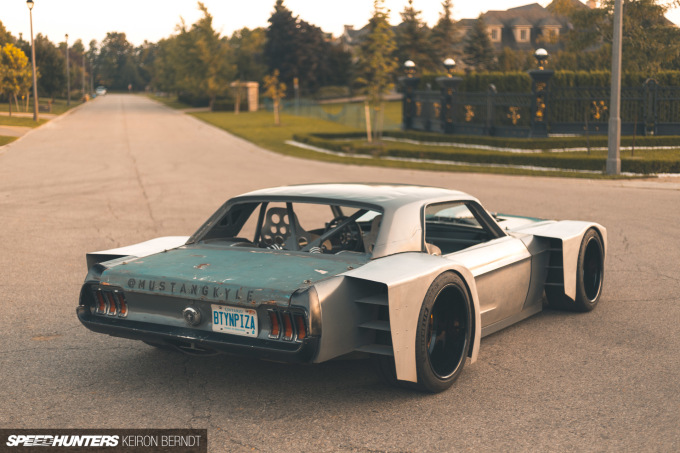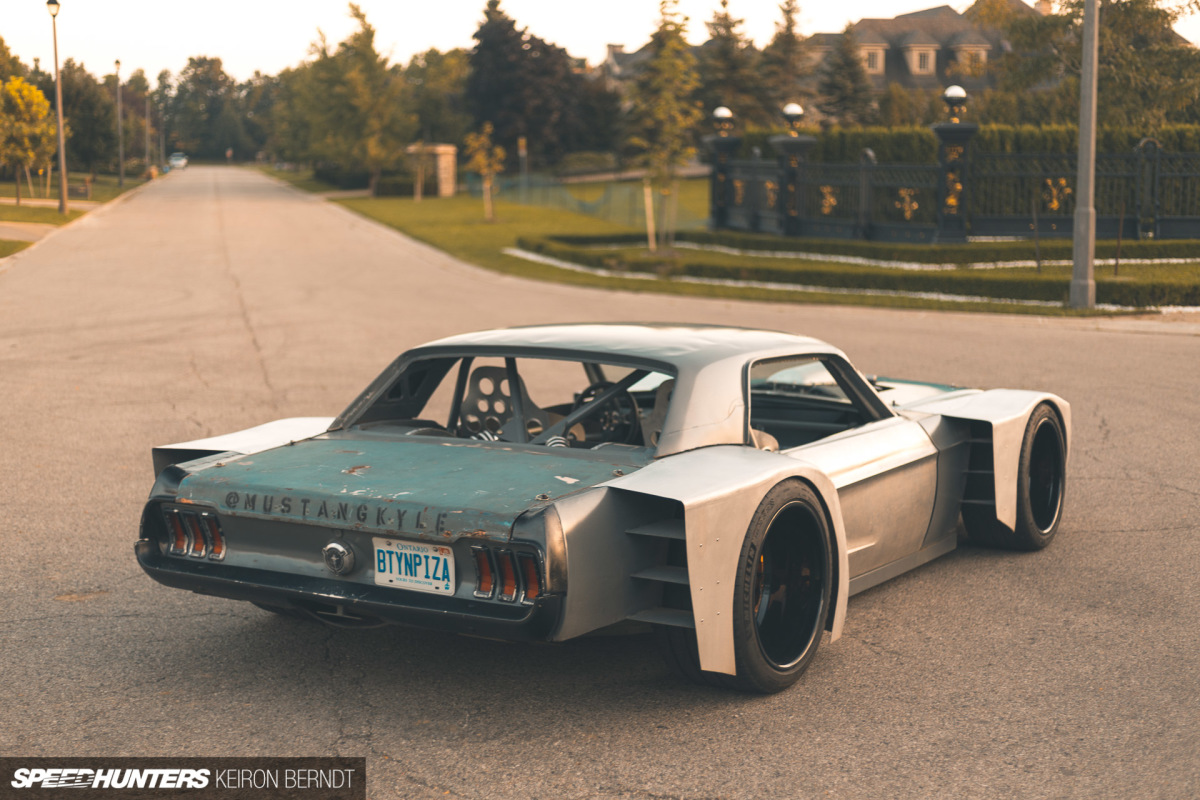 Why? Because no wordsmith in the world could navigate through this feature and manage to win everyone over. From any angle, the car hits like a hammer, leaving a permanent and instant impression on those that view it. By sight alone, people are quick to declare sacrilege without knowing the underlying story.
A classic desecrated, it evokes emotion not unlike graffiti on fine architecture or a rogue carving in fine mahogany. Some might call it art, some might call it rebellion, Kyle simply calls it his.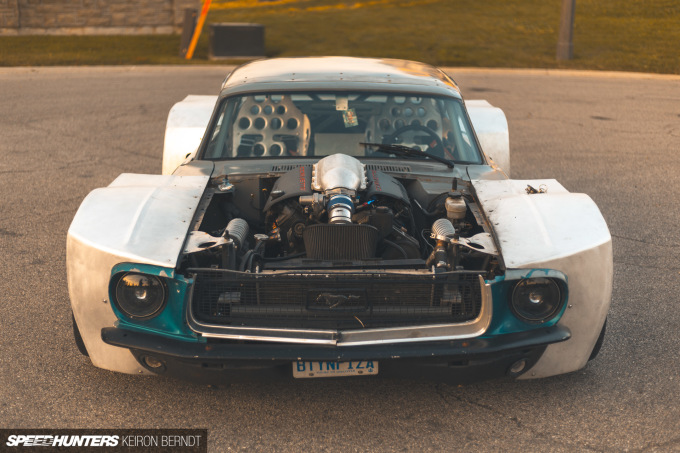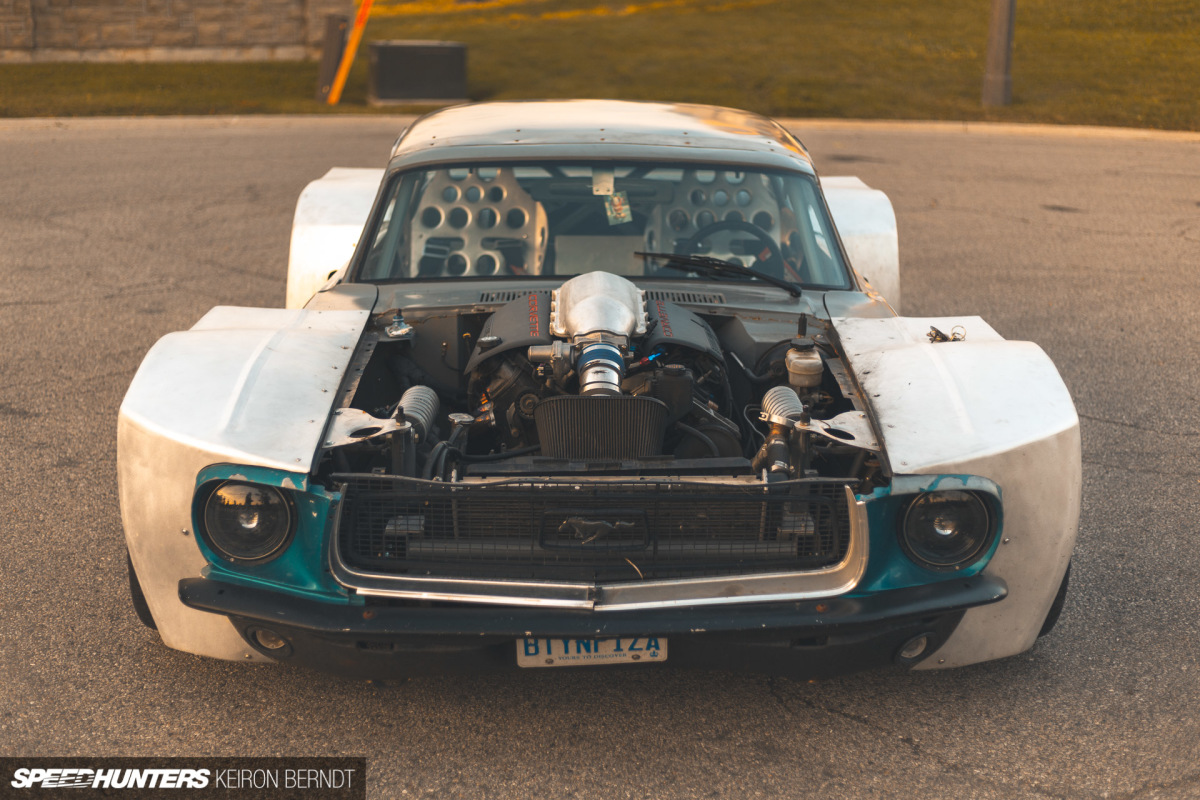 With a project like this — that's taken the internet by storm — the most appropriate place to start is with clearing the air.
If you're a Mustang purist, this car is not, and will never be for you. You'll probably need a years worth of Fords Monthly or Mustangs Quarterly just to get over the shock of it all.
While we're setting expectations, if you've already assumed this car is simply a widened Mustang with another LS swap, you will have made a bit of an ass of yourself.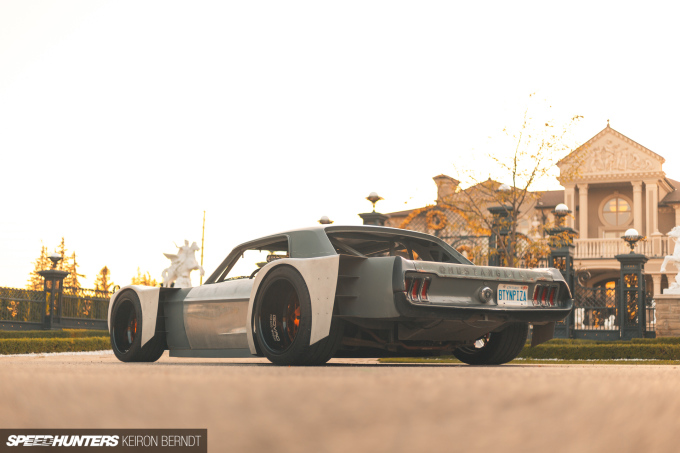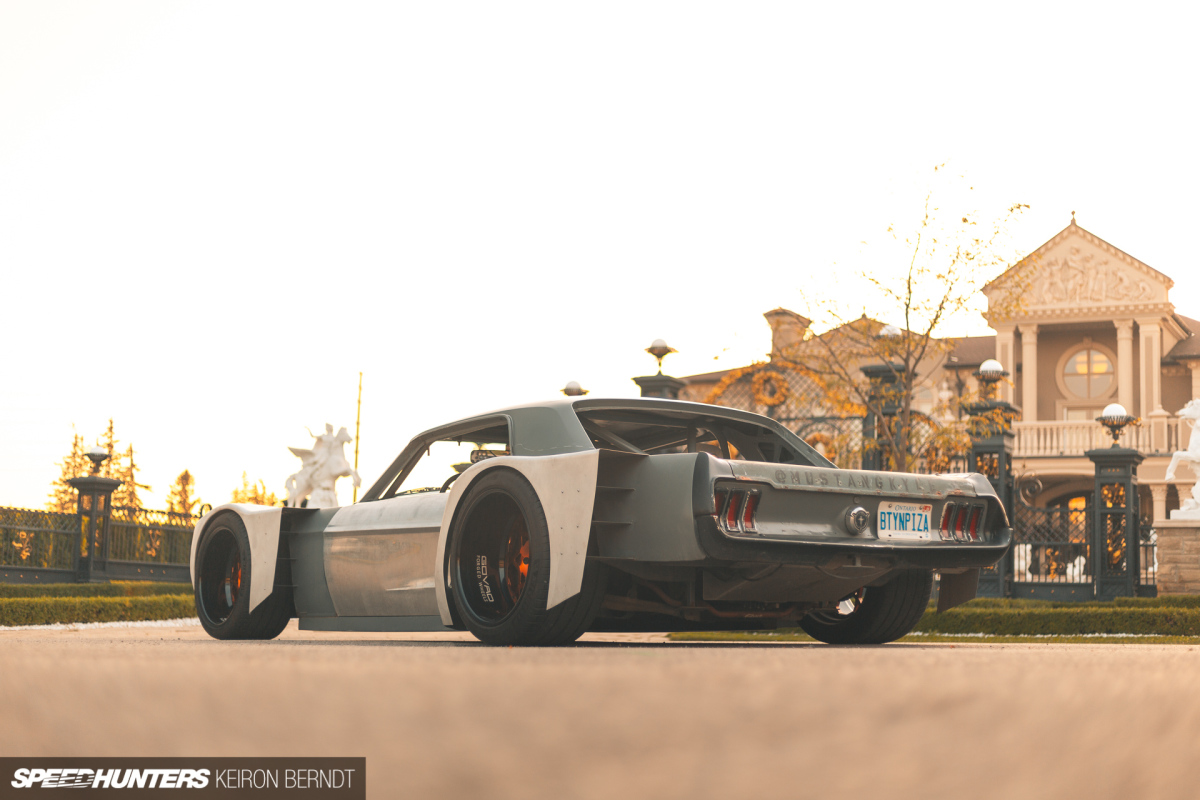 At its core, this car is more Corvette than Mustang, but more accurately, it's more custom than it is anything else. Ruined is a word that often accompanies any discussion centred around this car, but Mustang and Corvette fans alike should take a long, deep breath. Neither of the two donor vehicles were in recoverable shape before Kyle Scaife got his tools out.
The unsuspecting C5 was a salvage car, shipped to Canada from California for a very affordable $6000 USD. As for the '67 Mustang, it was acquired for far less due to a lack of driveline and not insignificant amount of rust.
Chainsaw Surgery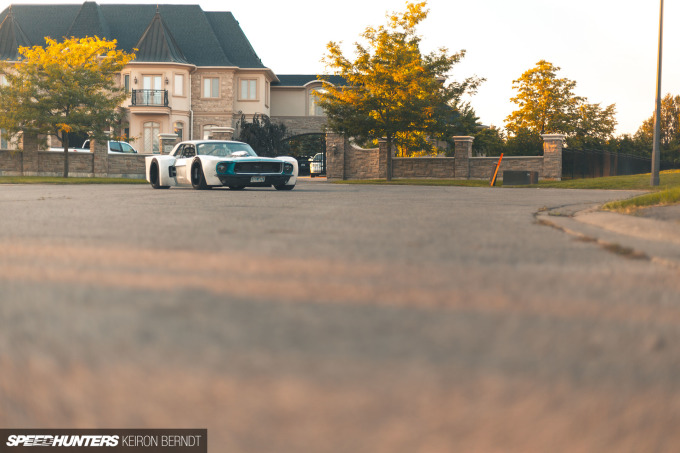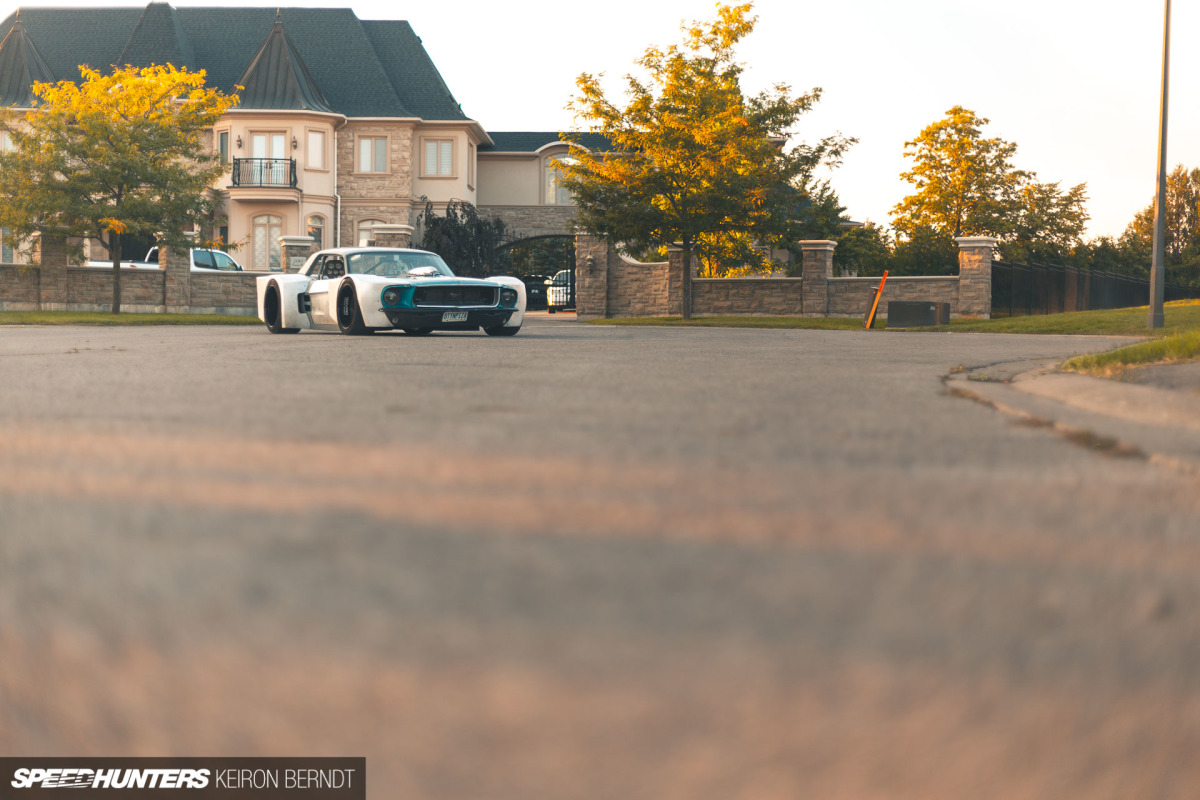 Kyle chose a Mustang body for this project, not because he's a Mustang fan, but because the wheelbase was 'close enough' to that of the C5. 'Close enough' only counts in horse shoes and hand grenades, so to make his idea work, sparks had to fly.
The floor was cut out of the Mustang, and the suspension and driveline was cut out of the Corvette. Retaining all four corners of the Corvette geometry, a new square tube chassis with integrated roll cage was fabricated.
Using the factory Corvette control arms and spindles, the car's overall footprint, with stock wheels at least, is nearly identical to that of a factory C5.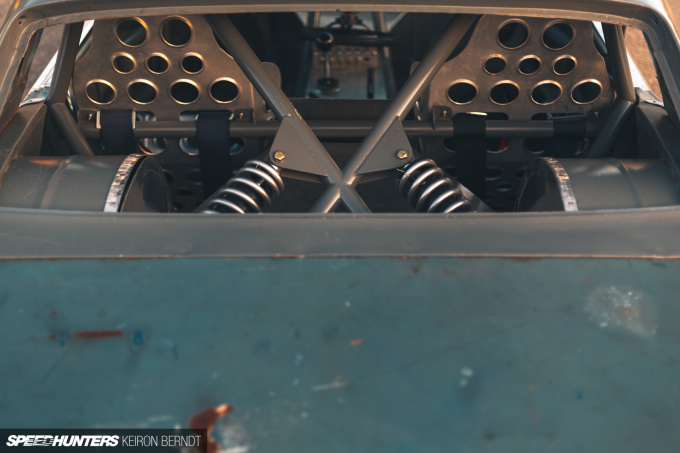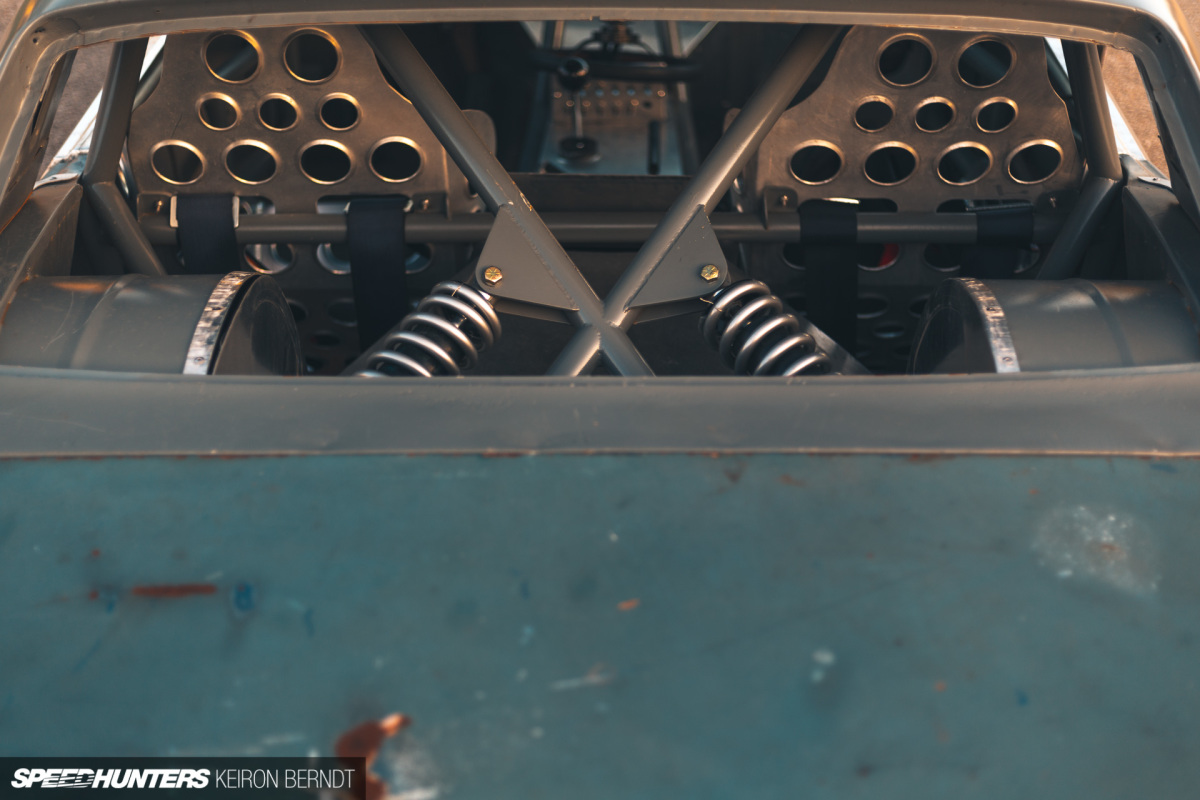 One departure from factory GM engineering is the way the car absorbs bumps. In the front, an adjustable push rod is connected to the factory control arm at one end and a rocker at the other. That rocker is connected to a horizontally mounted QA-1 coilover. A similar set up, with slightly different angles and work ratios is used in the rear.
The visually interesting design not only provides a talking point (in a car full of talking points) but also allows Kyle to drive the car at his preferred height: low.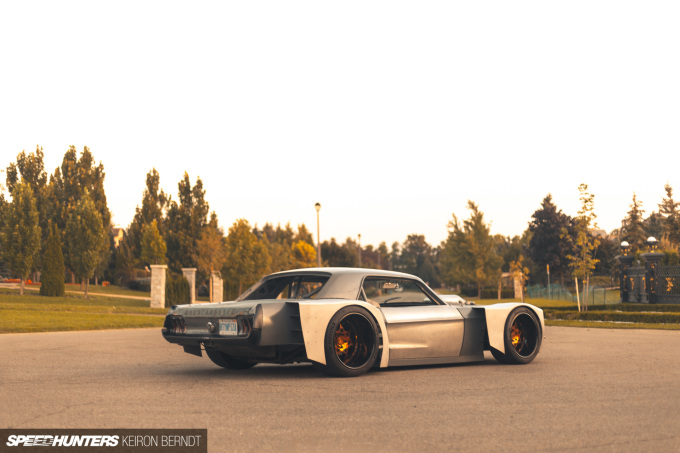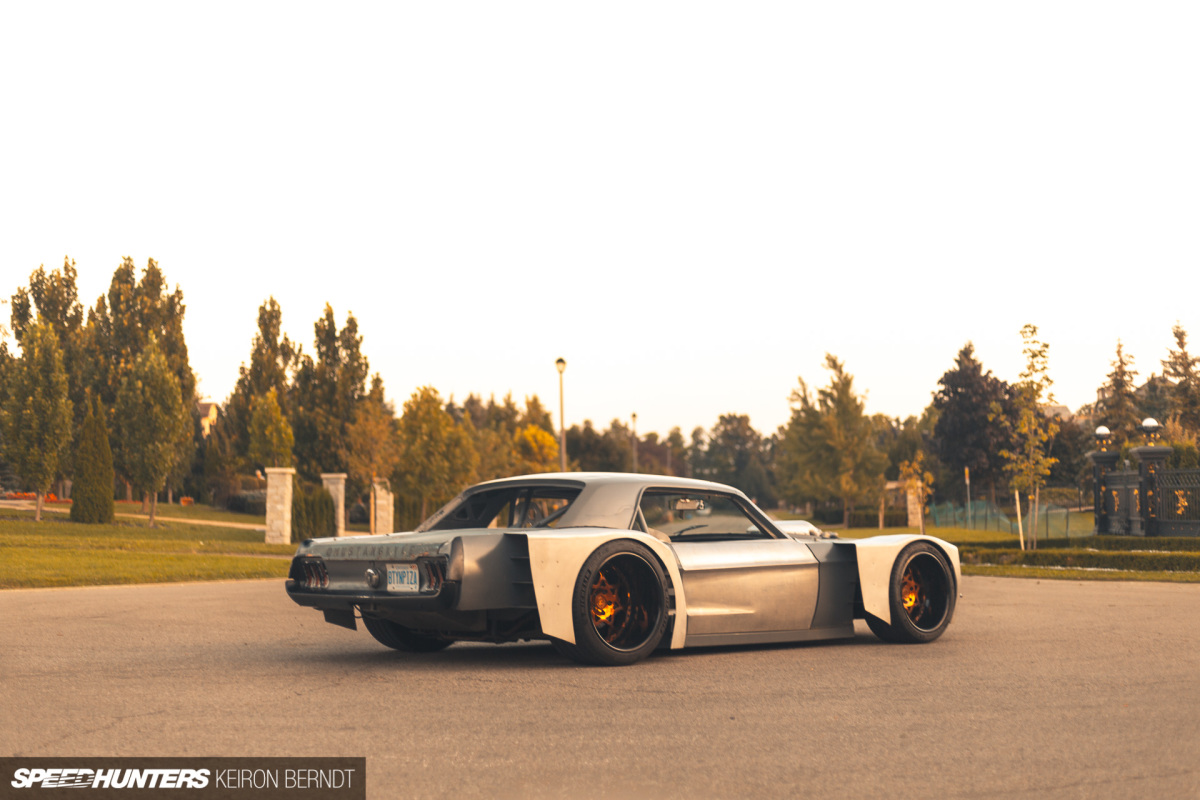 In its current configuration, the shock is at a mechanical advantage to wheel movement, which provides Kyle with a greater shock range than if the car was set up in a more traditional manner.
Often things like this are best described with a video, which Kyle has conveniently done so below.
The rest of the chassis came together by reusing as much of the donor C5 as possible. Once a full scale go kart was achieved, it was time to mount the body. This is a job that took a not insignificant amount of cutting.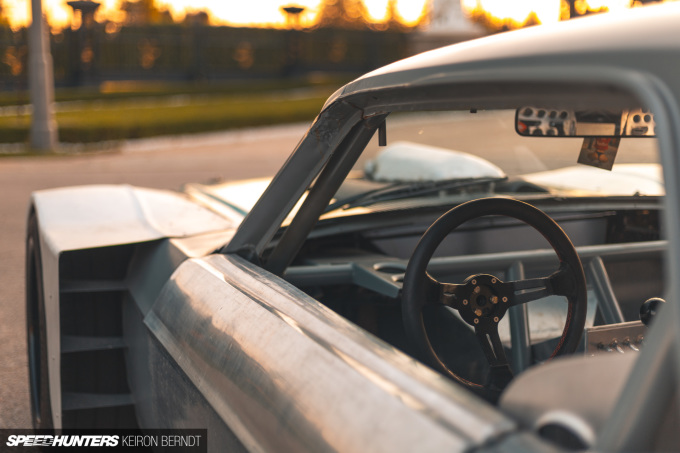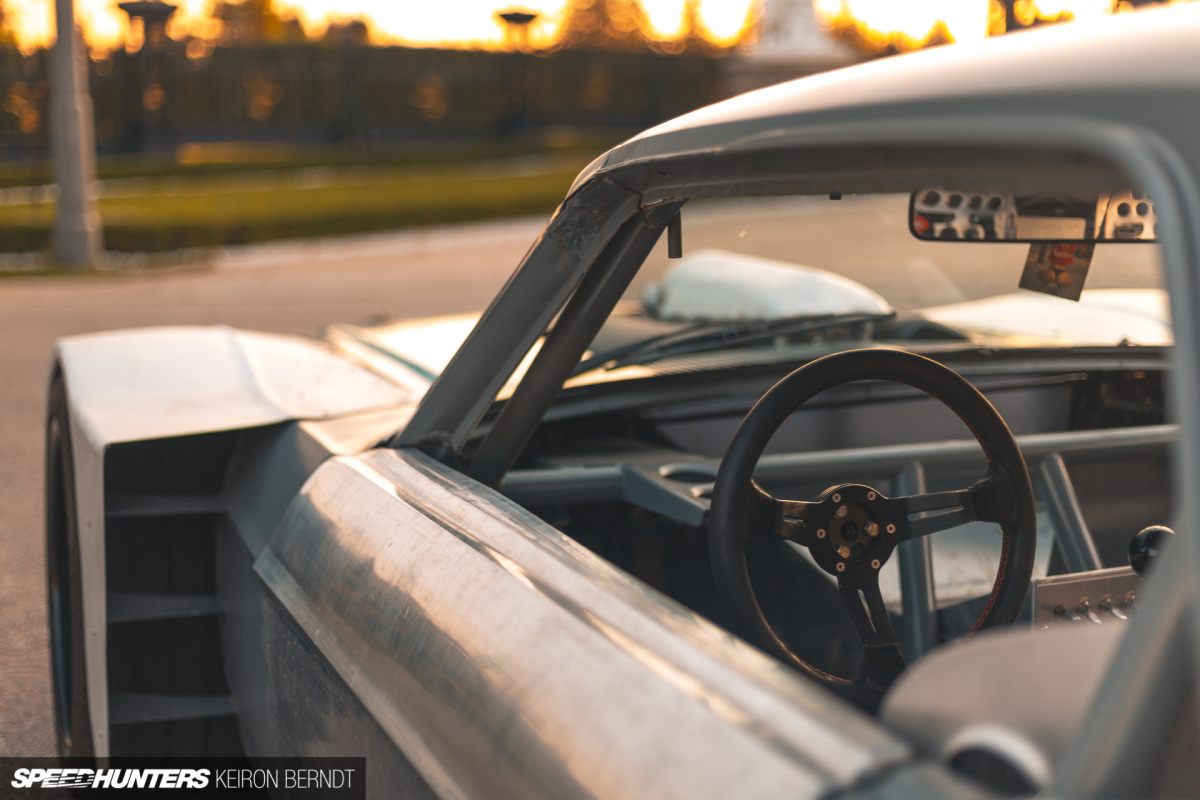 Aesthetically, there are very few similarities between this car and the factory '67 Ford, although the front and rear are unmistakably Mustang. As is the bit of the bulkhead that contains the VIN. That part is particularly important as it allows this car to be registered and insured as a Ford Mustang.
In the tale of the tape, Kyle states a first generation Mustang and fifth generation Corvette are not all that far off (within three inches) length wise, but quite a bit far off width wise.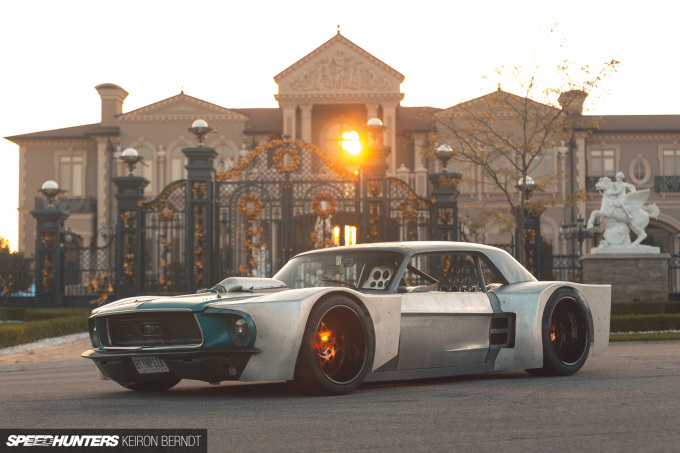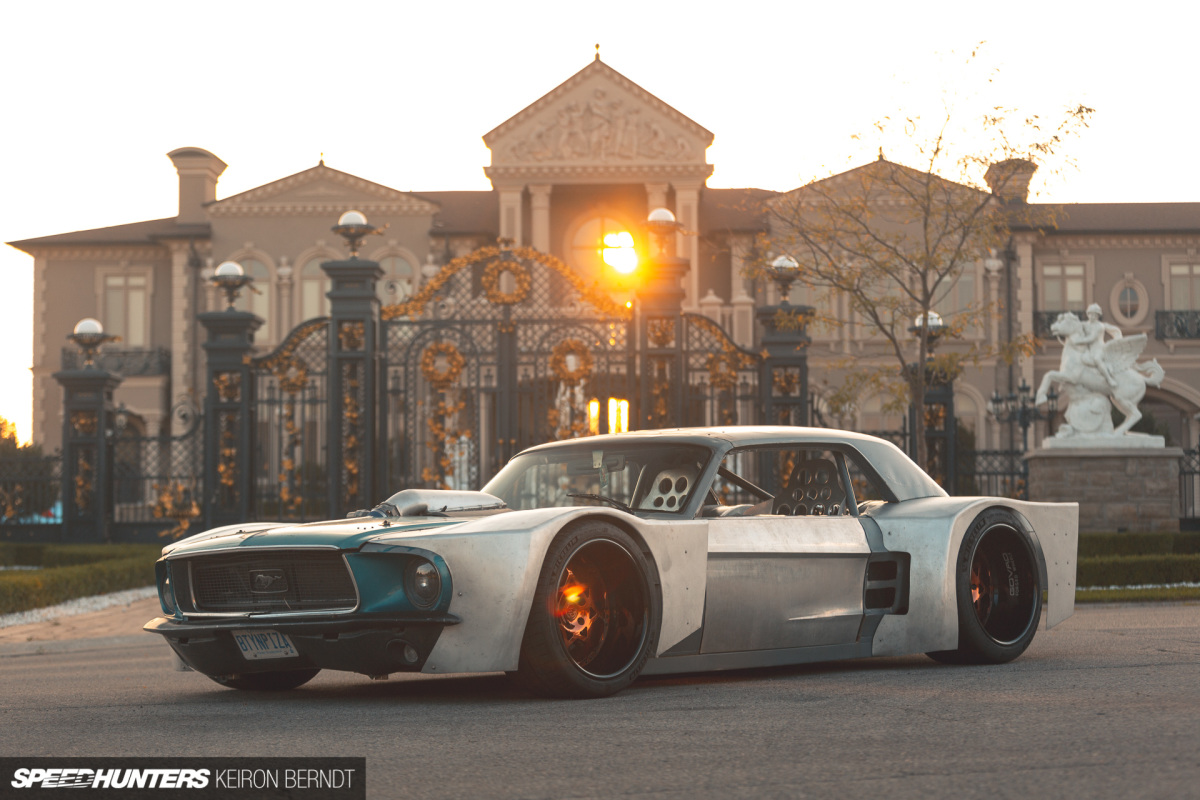 From bottom up, the factory rocker, and much of the lower fender and quarter have been cut away. Up top, the roof has been heavily  chopped and once clearance was made for the wheels to articulate, very little fender and quarter panel remained.
After forming new rocker panels, and essentially channeling the car in the process, new doors needed to be constructed.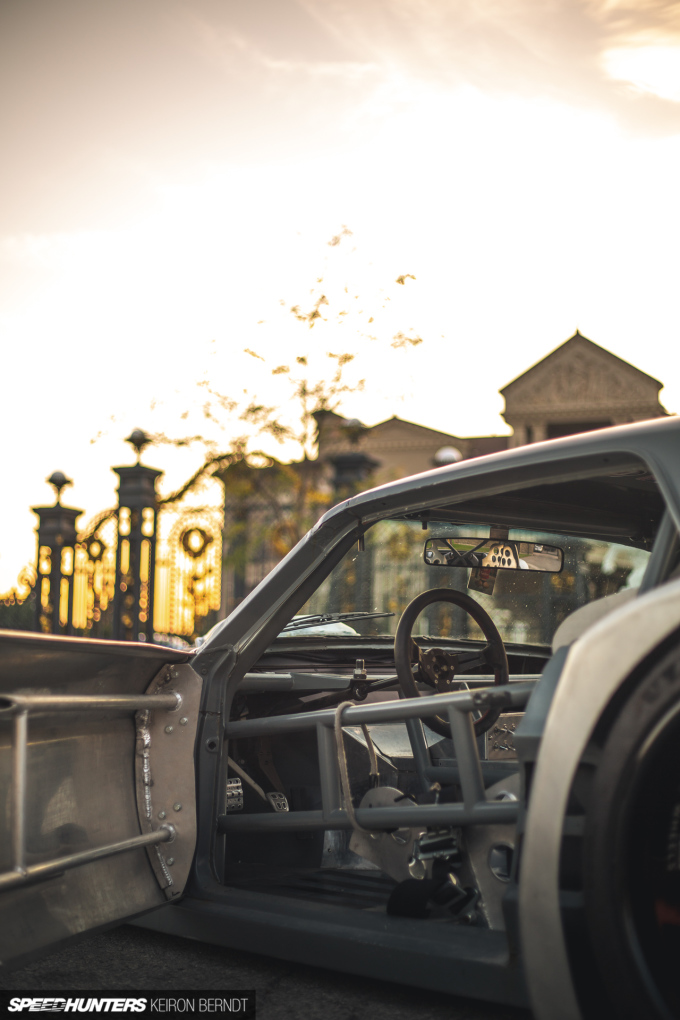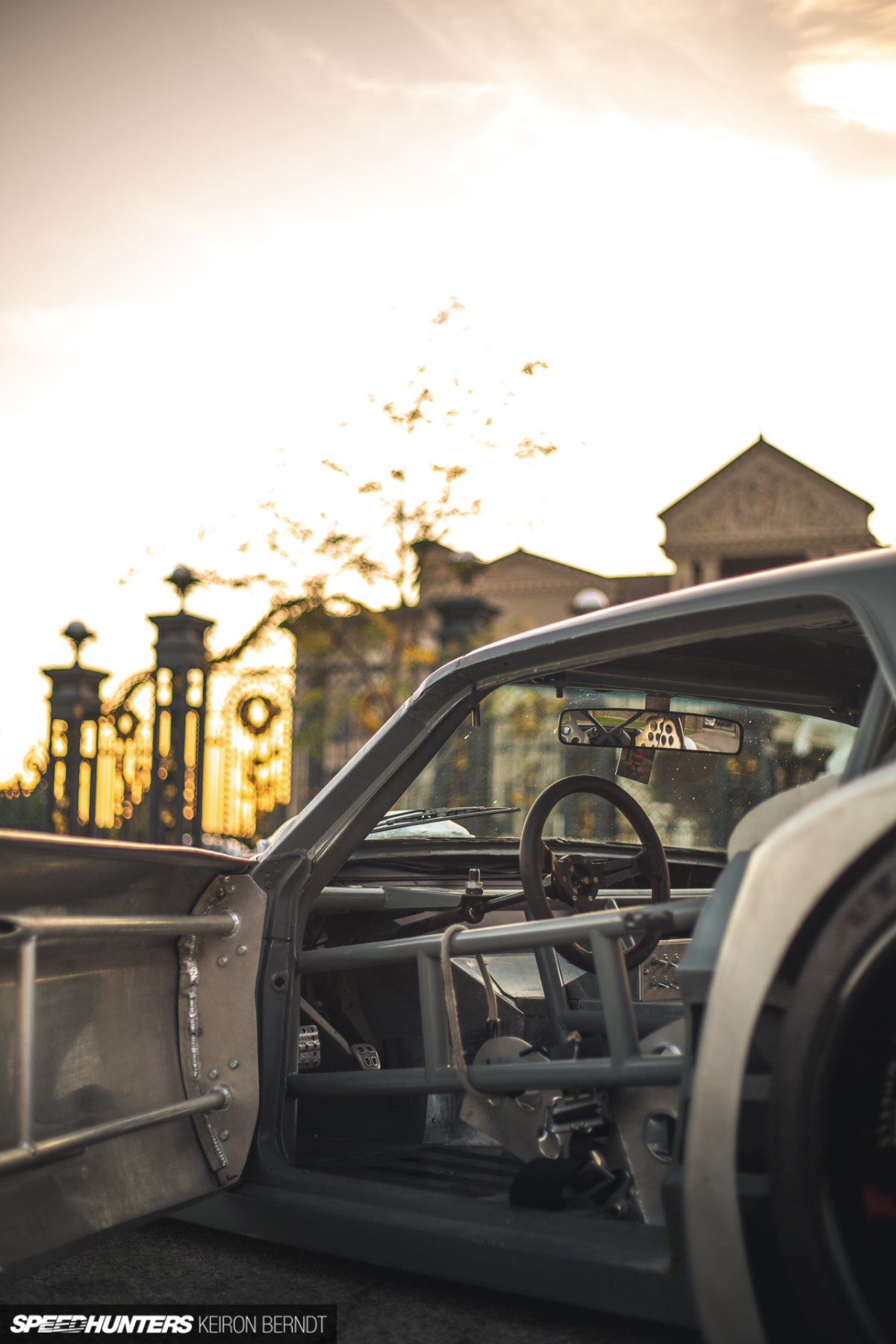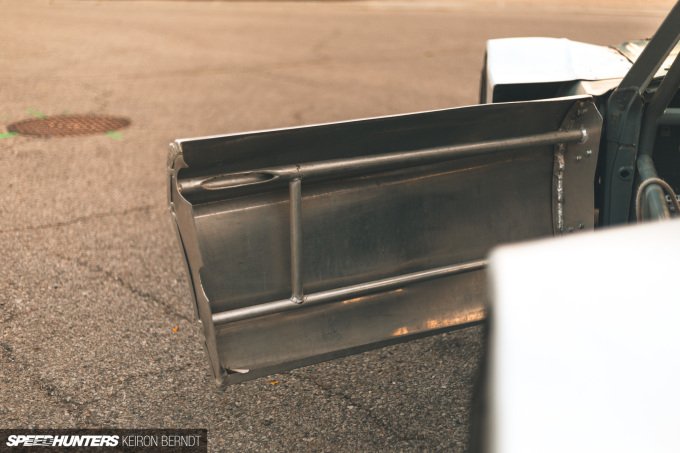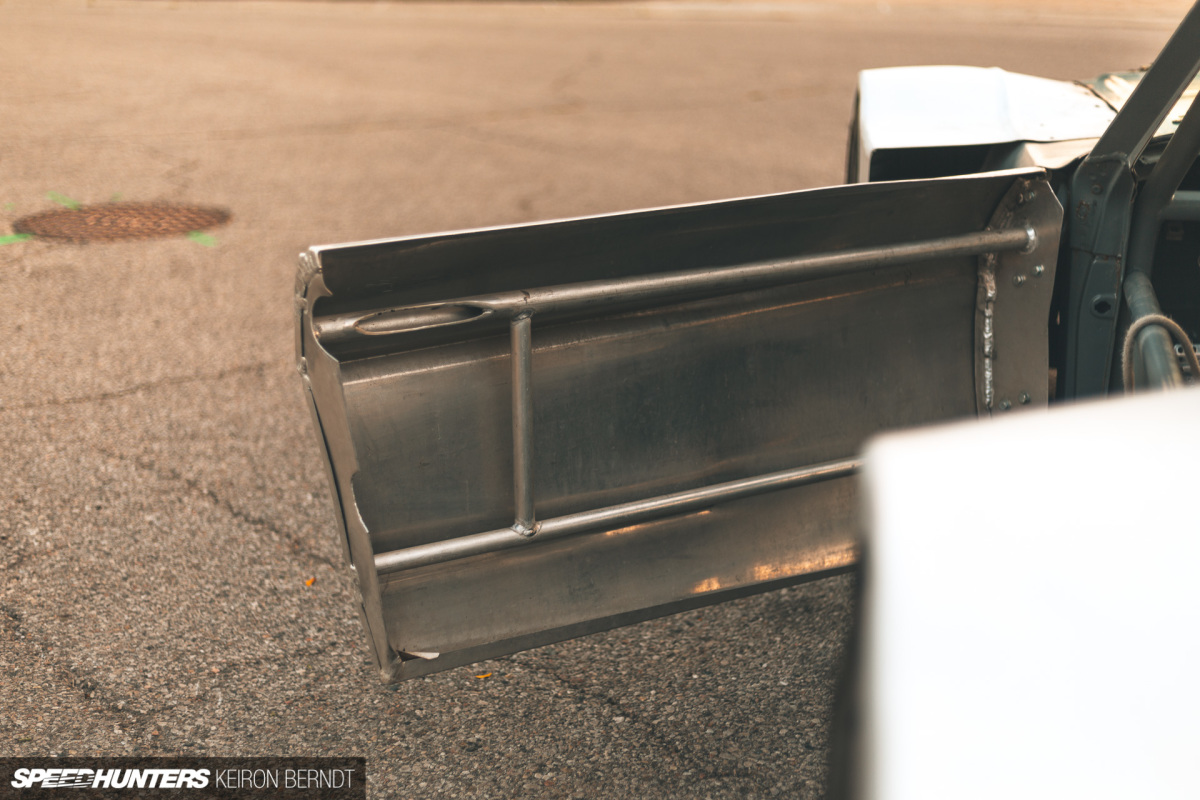 This job was largely done using a power hammer on a flat sheet of metal by Kyle and his father. Metal shaping isn't something that's foreign to either Scaife. By day, they make all manner of product out of stainless steel. Hot Rodding is just something they do in their spare time.
Similar to the doors, the metal fixed back buckets found inside the car were made entirely by the hands of the Scaifes, making them one of a kind.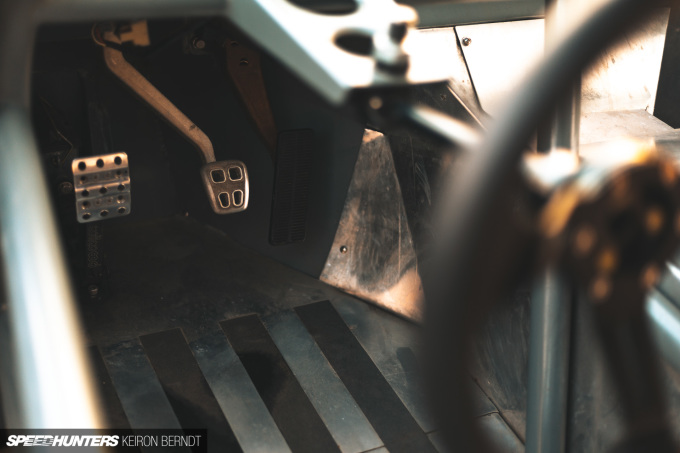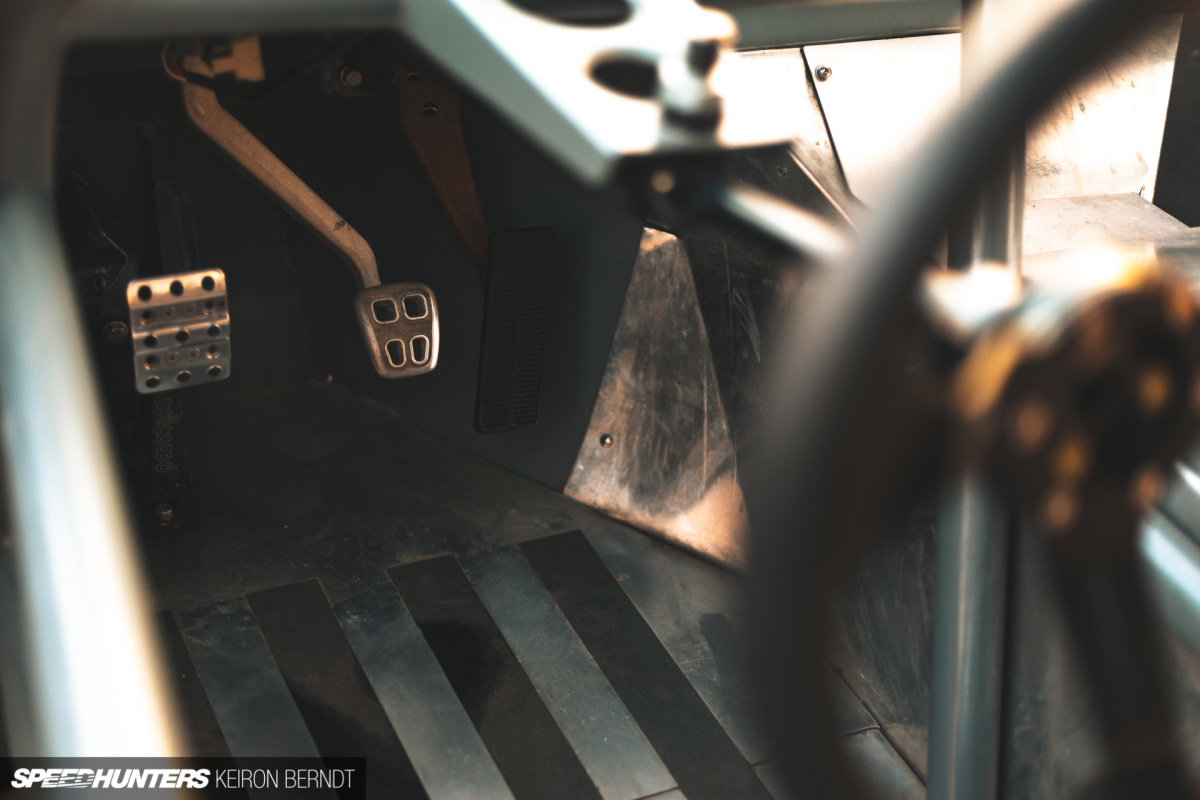 The floor, trans tunnel, dash, and the rest of the spartan interior were also custom formed. There's no semblance of civility in here, without an iota of sound deadening or carpeting to be found in the car, leaving all of the hundreds of hours worth of metal work on proud display.
Going Wide
For wheels, Kyle went with a local Ontario company, Govad Forged. This set on the car were the first to roll off the production line. In translucent orange and gloss black, they clock in at an impressive 19×11-inches in the front and 20×13-inches in the rear.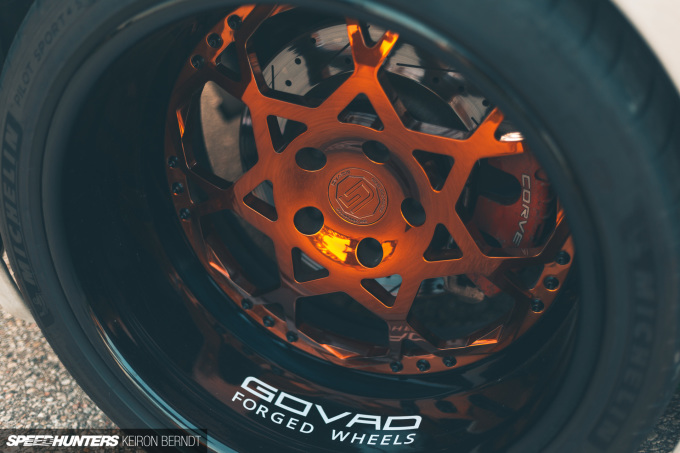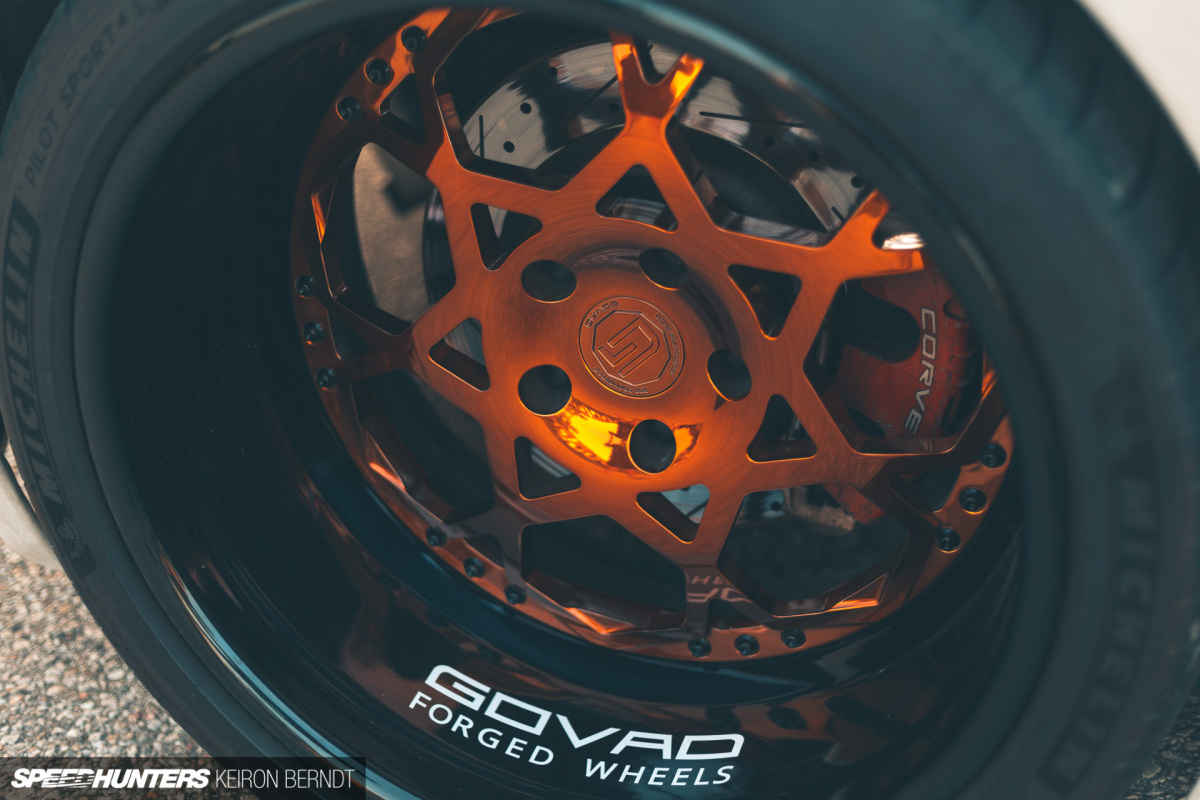 Common sense dictates something had to be done to cover up these steam rollers. The quarters and fenders are one area of this car that has been in constant evolution. Currently, they're at version three. The first attempt, was little more than simple curved pieces of flat sheet, while the second version was a more stylized version of the first. This third iteration is the most extreme yet.
The raw formed metal swoops here, and dives there. Blending into factory Mustang lines in some areas and coming to an abrupt stop at others. Bead rolls and fins accentuate, and sheet metal screws fixate.
Design inspiration was taken from a variety of different vehicles, and at the end of the day, it is not a look for everyone. But, you don't get this far if you're worrying too much about the opinion of others.
As for paint, the car has seen about as much as it is going to get. The chassis and roof have been painted an industrial grey to keep corrosion at bay, but outside of that, Kyle has no desire to paint the rest.
Ford Tough, Chevy Stuff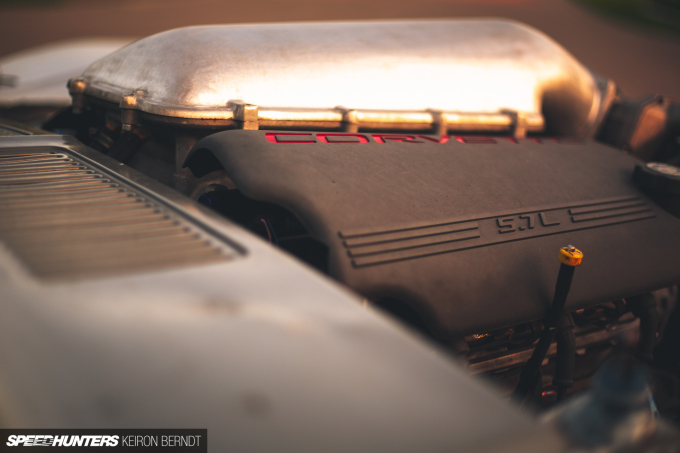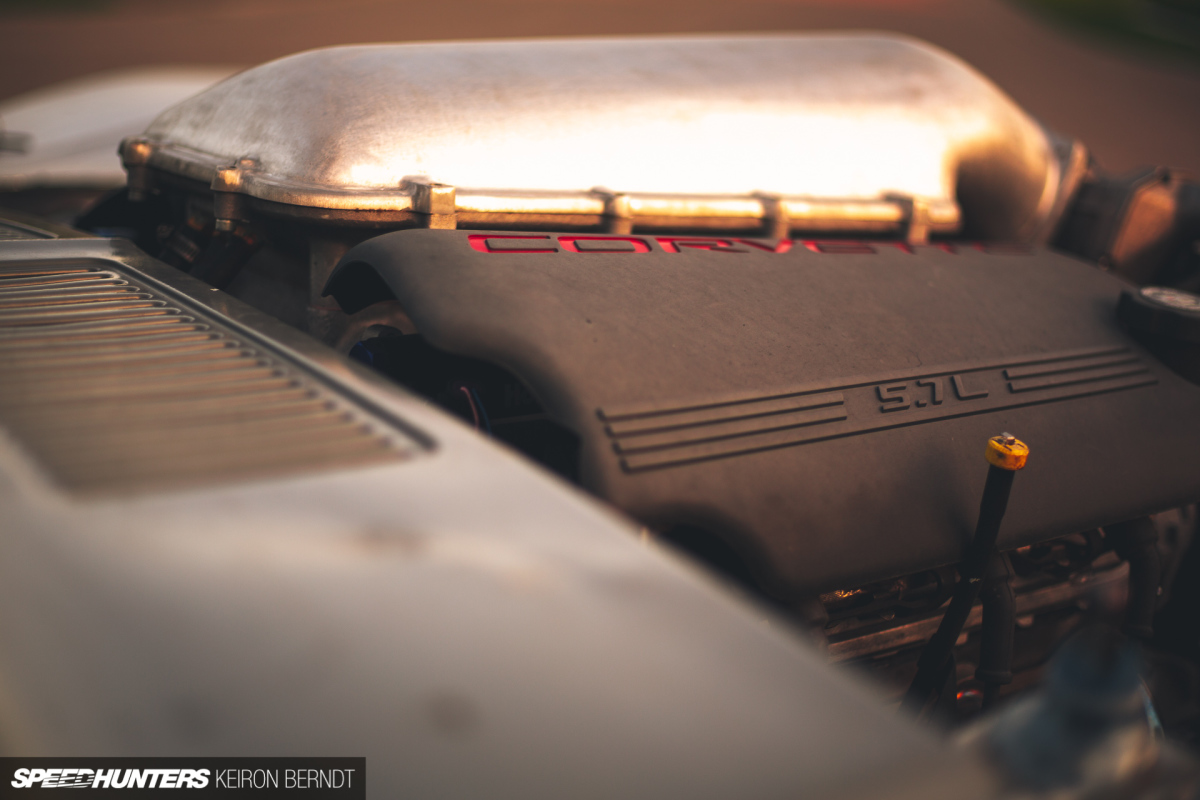 As mentioned, Kyle had an entire C5 to work with at the start of this project. It had been cosmetically damaged but the important bits, from the radiator all the way through to the rear end, were completely usable.
With all of this in front of him, and then putting out more cash for something like a Coyote, which might have pleased the most die hard of Ford fans, but it would have been a choice that would have made absolutely no financial sense.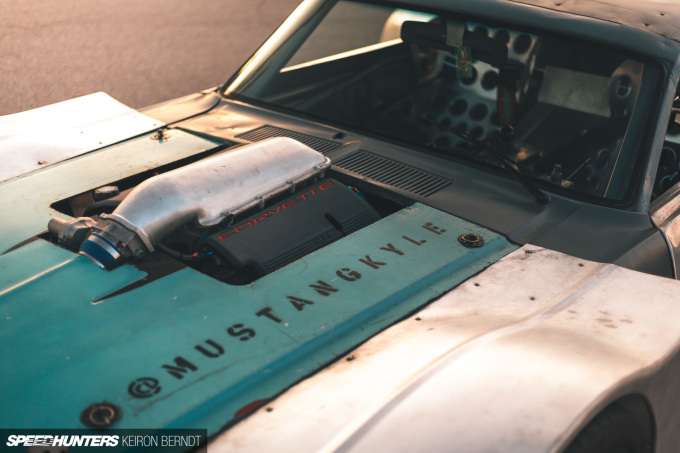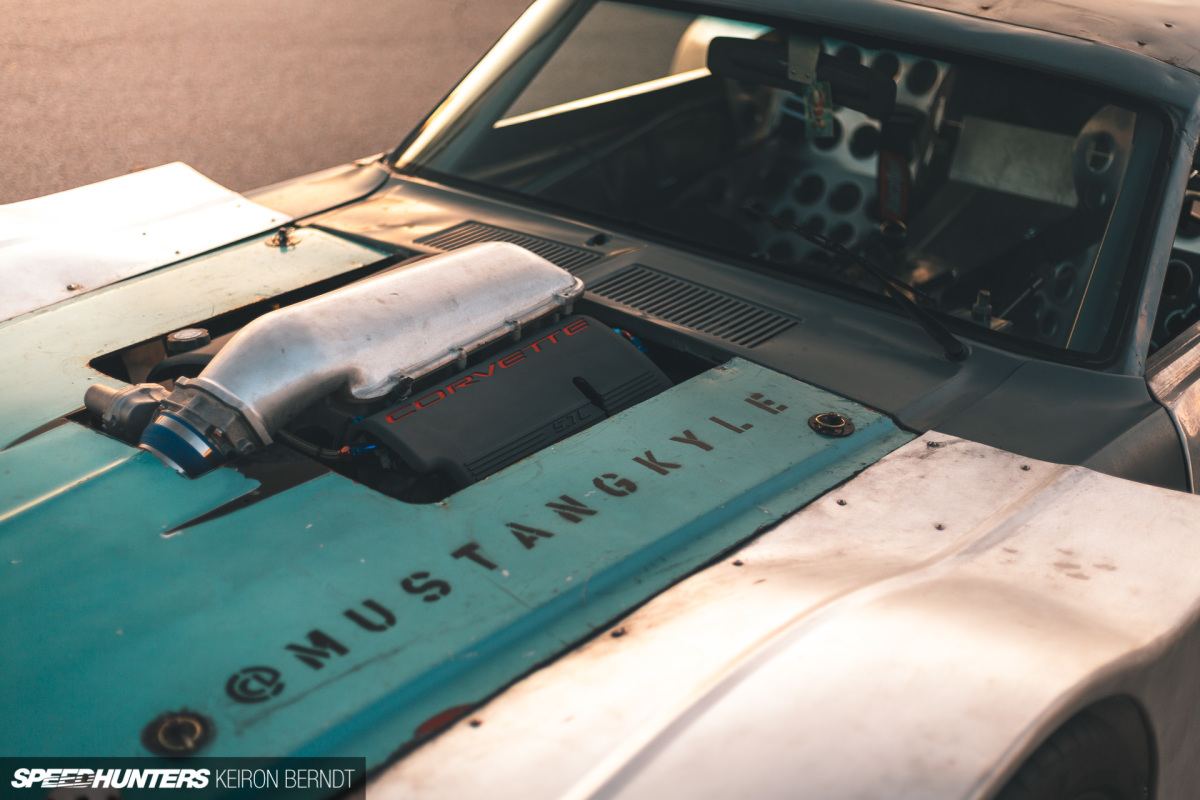 So purists be damned, as what's left of under the Ford hood is a Chevrolet V8. The 5.7-litre LS has seen some slight modification, with a Texas Speed Cam, a Holley Mid Ram intake manifold and Kooks headers being about the extent of the changes.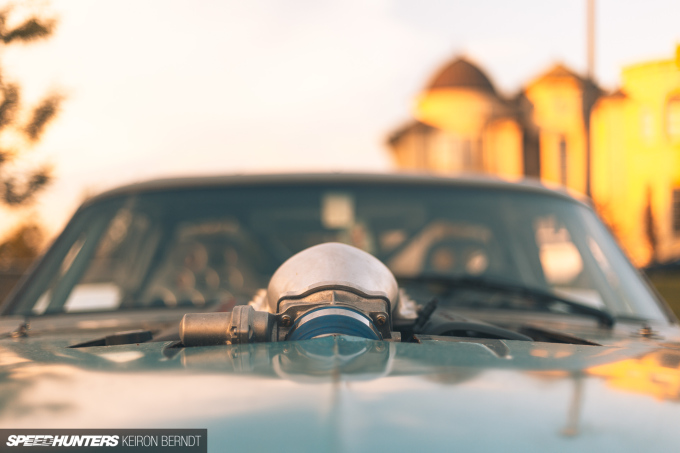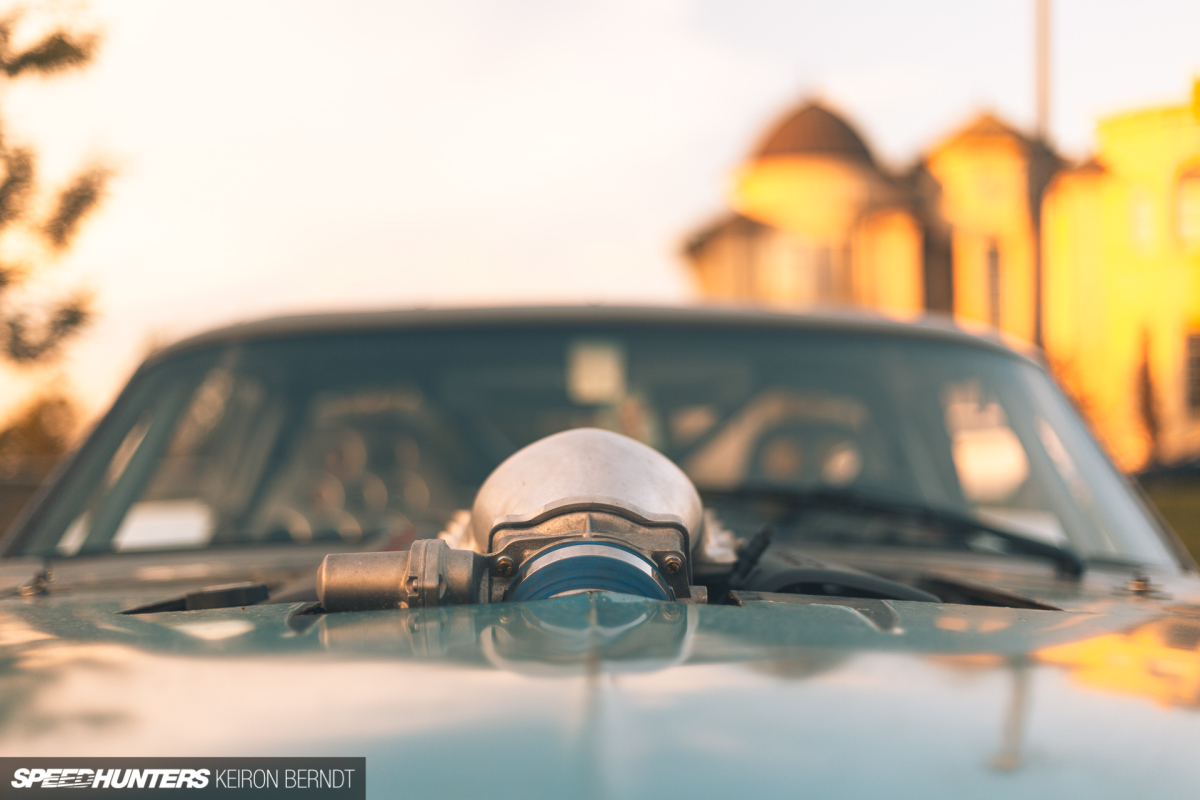 It makes just shy of 400hp, which given the car's current weight is more than enough to break the 345 tires loose when Kyle puts the loud pedal to the floor.
The Unlikeliest of Daily Drivers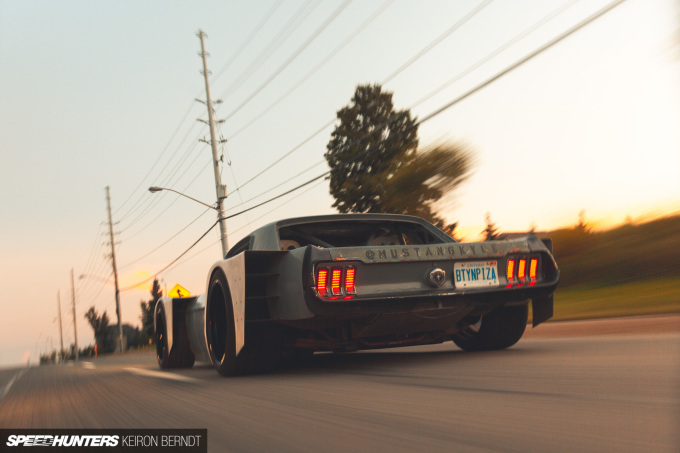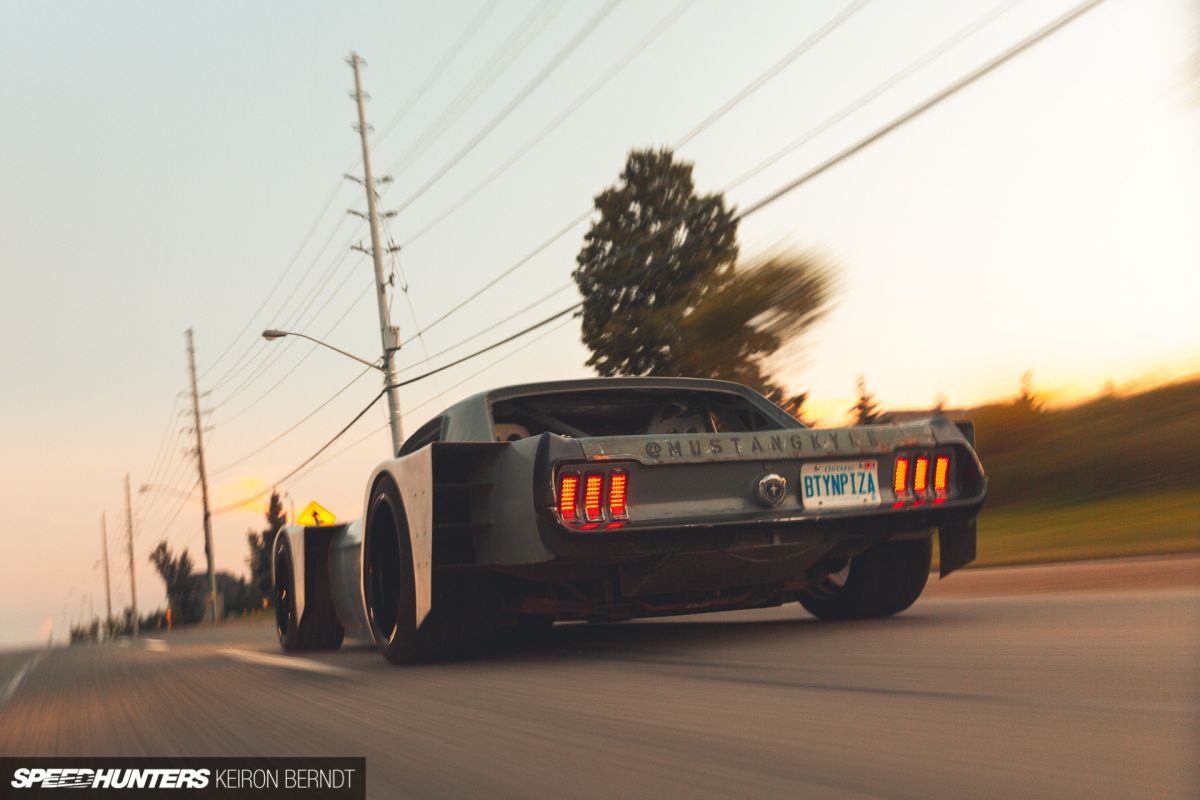 As mentioned before, when Keiron and Kyle took this car across the country, it's a vehicle with no side windows, no permanent gauge cluster and no wipers.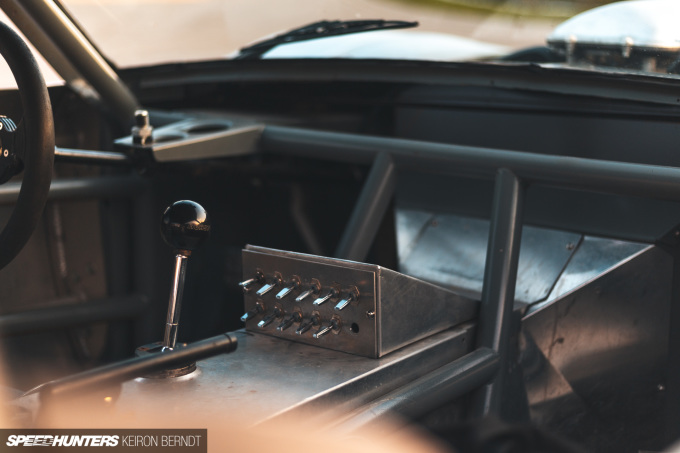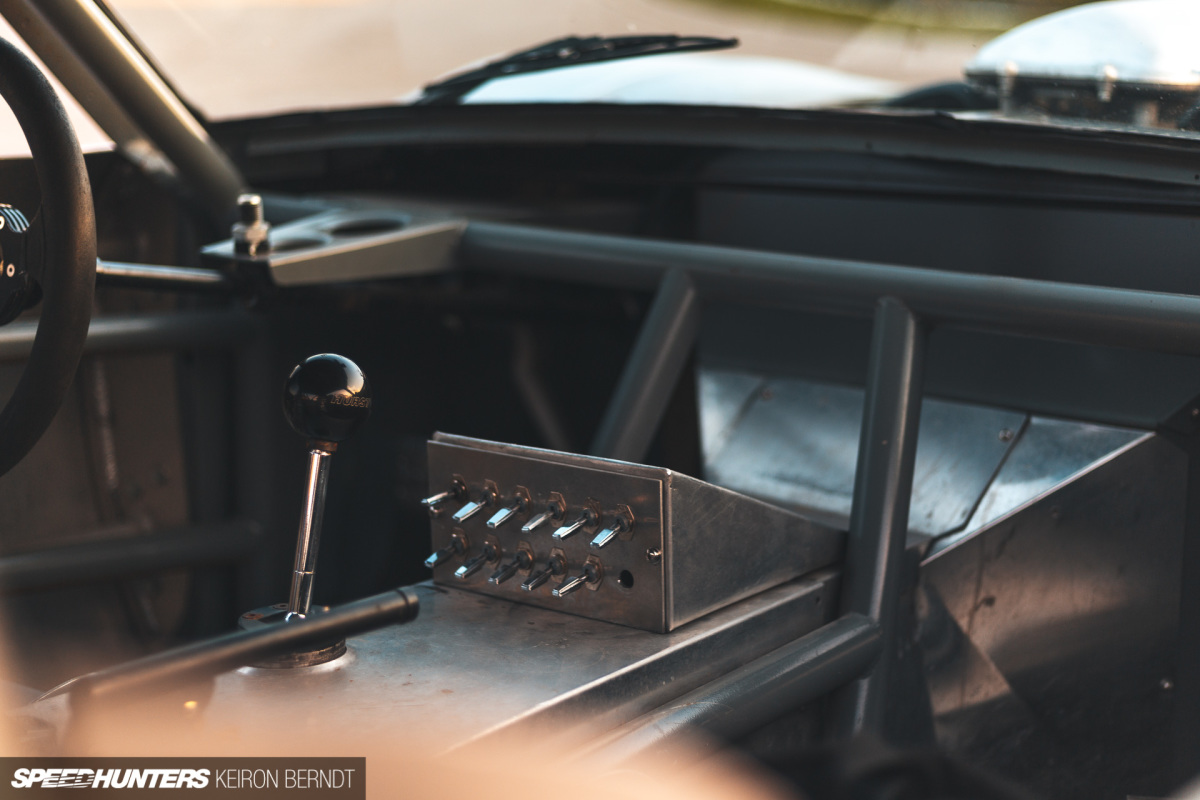 On the checklist of what makes a vehicle, it slides in just above a go-kart, in that it has working headlights, taillights and turn signals. It might even have a horn. Then again, the motor might actually be the horn. However, ridiculous as this may sound, Kyle actually daily drives the car for as long as the Ontario climate allows.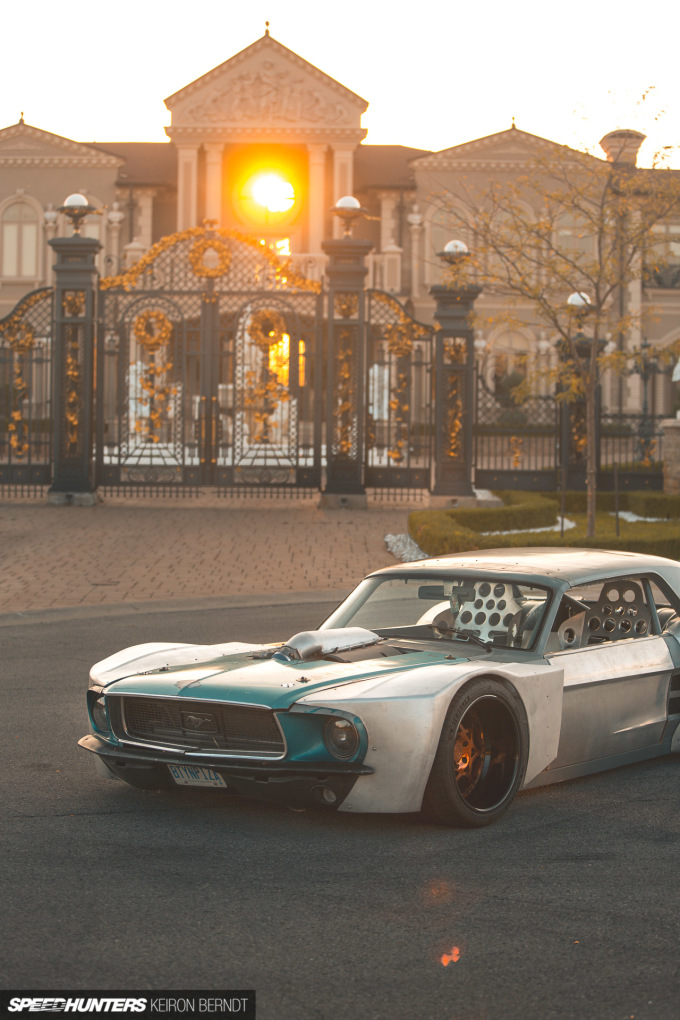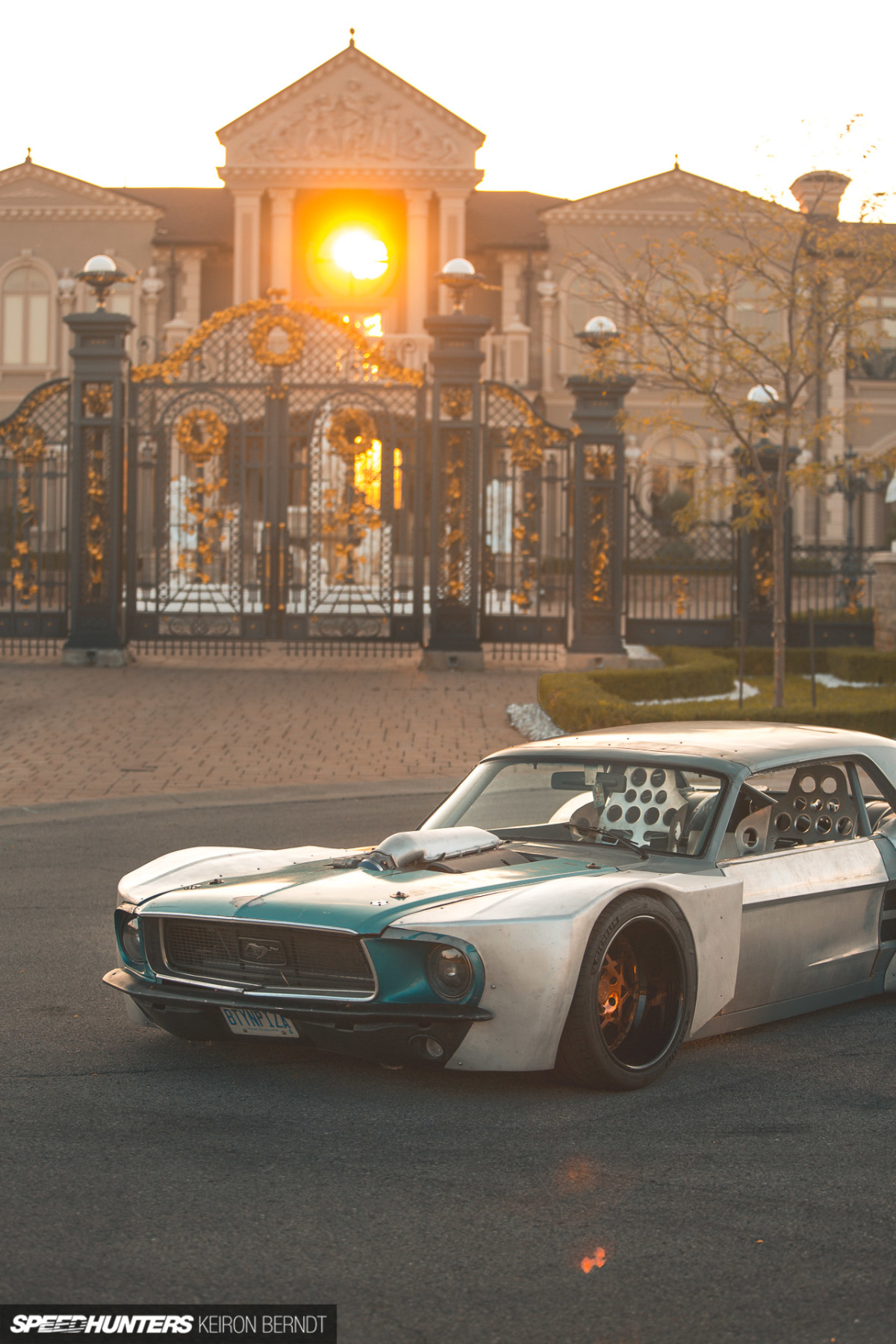 Please don't assume this is just me boasting on Kyle's behalf. The car is a regular sighting in local car spotting groups and can be seen criss-crossing the city all summer. I spent the better half of two years trying to catch this car in one place. Whenever I heard it was at a show I'd arrive only to find Kyle had just left, preferring to take the car for a drive than leaving it to sit and be ogled.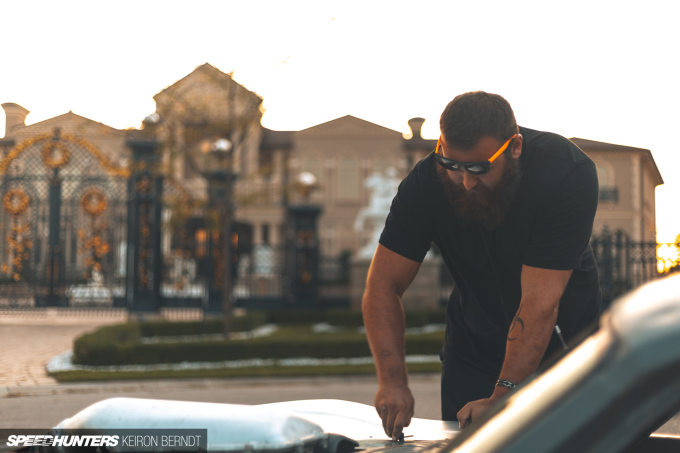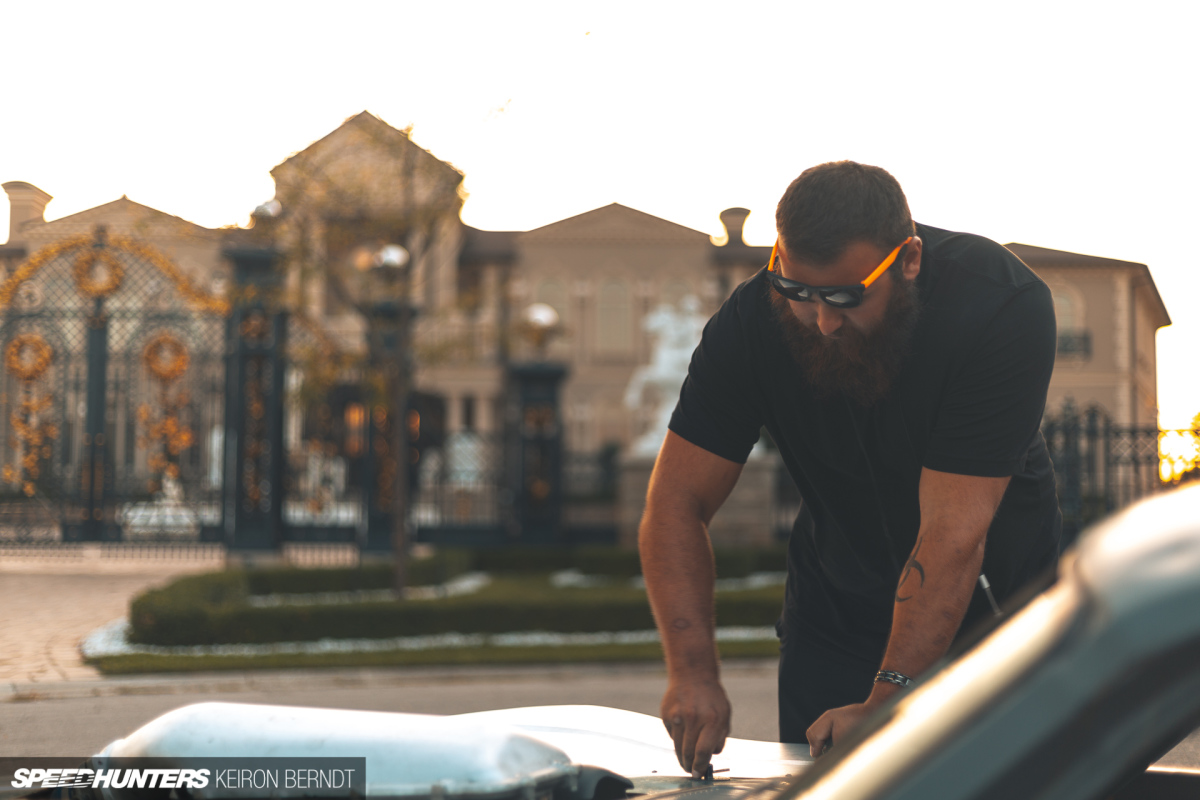 Starting with essentially two piles of scrap, Kyle has managed to build a car that has polarized and inspired enthusiasts around the globe. Along the way he's amassed quite the internet following, but this car was never built solely for the 'gram.
Instagram, has however, opened up a number of doors to Kyle that would have otherwise been locked, and inspired him to build something crazier next time around.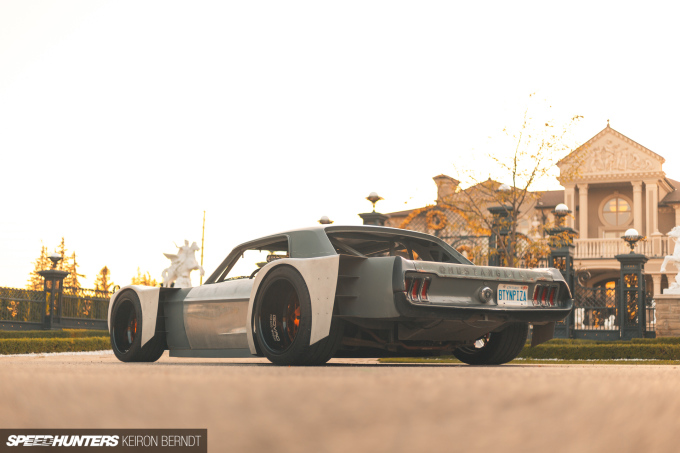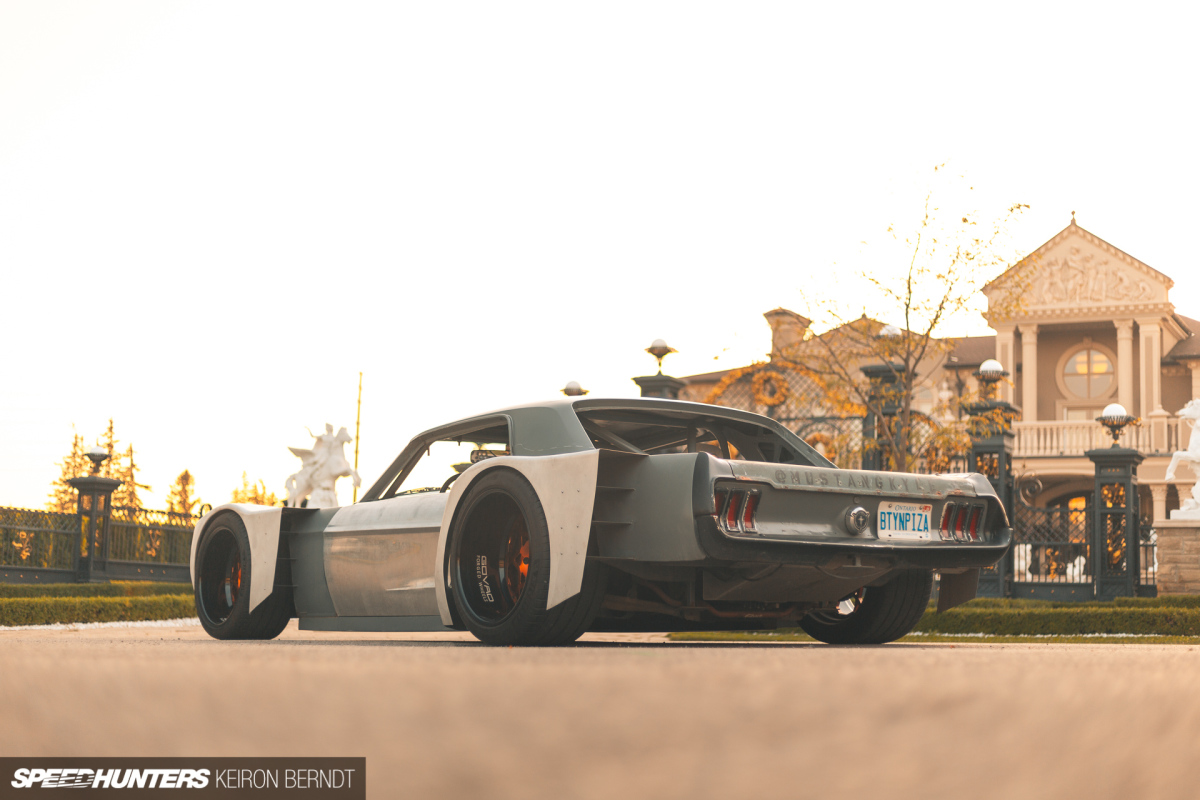 Previously, the transition to the winter months has been an excuse to give the Mustang a new look. This winter, however, it's going to sit largely untouched — and for sale — while Kyle turns his attention to his air-cooled Beetle project.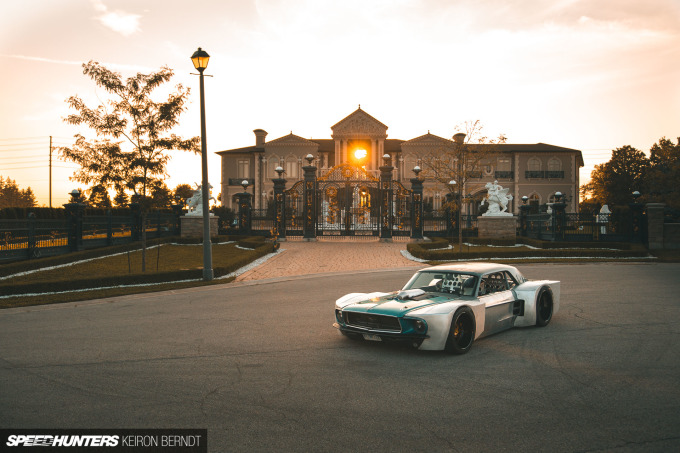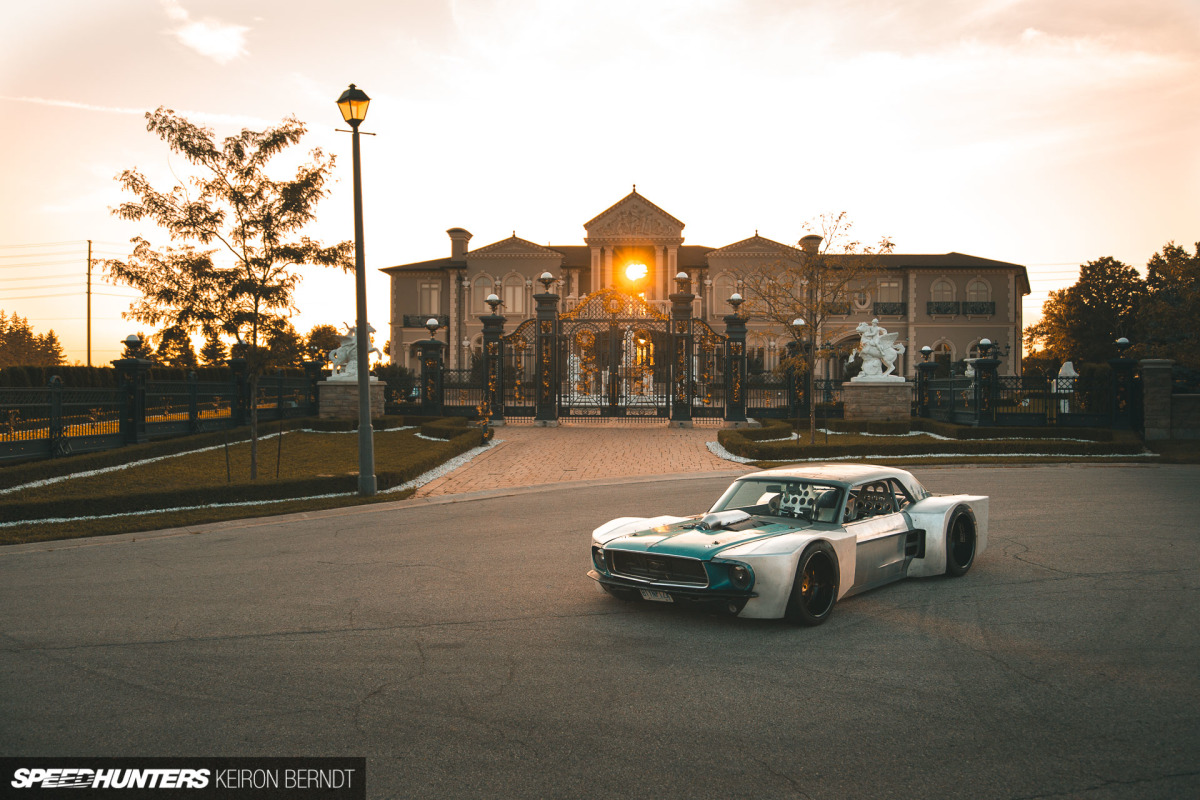 In typical Kyle style, the original pan has been removed and there's no intention of keeping what makes a Beetle, a Beetle.
I won't spill the beans just yet, but that project should be just as interesting and chaotic as this one.
Dave Thomas
Instagram: stanceiseverythingcom
Photography by Keiron Berndt
Instagram: keiron_berndt