The 'SEMA Crunch' is a industry term used to describe the final months, weeks, days, and even hours leading up to roll-in at the SEMA Show. Usually this is a hectic time for everyone involved, because projects never go exactly as planned and SEMA isn't an event to pull a no-show at.
When Paul Foreman walked through the doors at Nova Scotia's Kraftwerx Auto Inc. and pitched his vision of the perfect Mk2 Volkswagen Golf, he simultaneously introduced Kevin Misner and his team to the famous SEMA Crunch.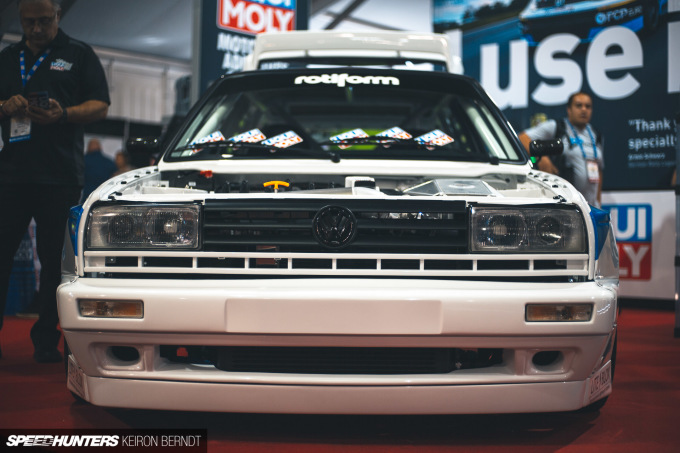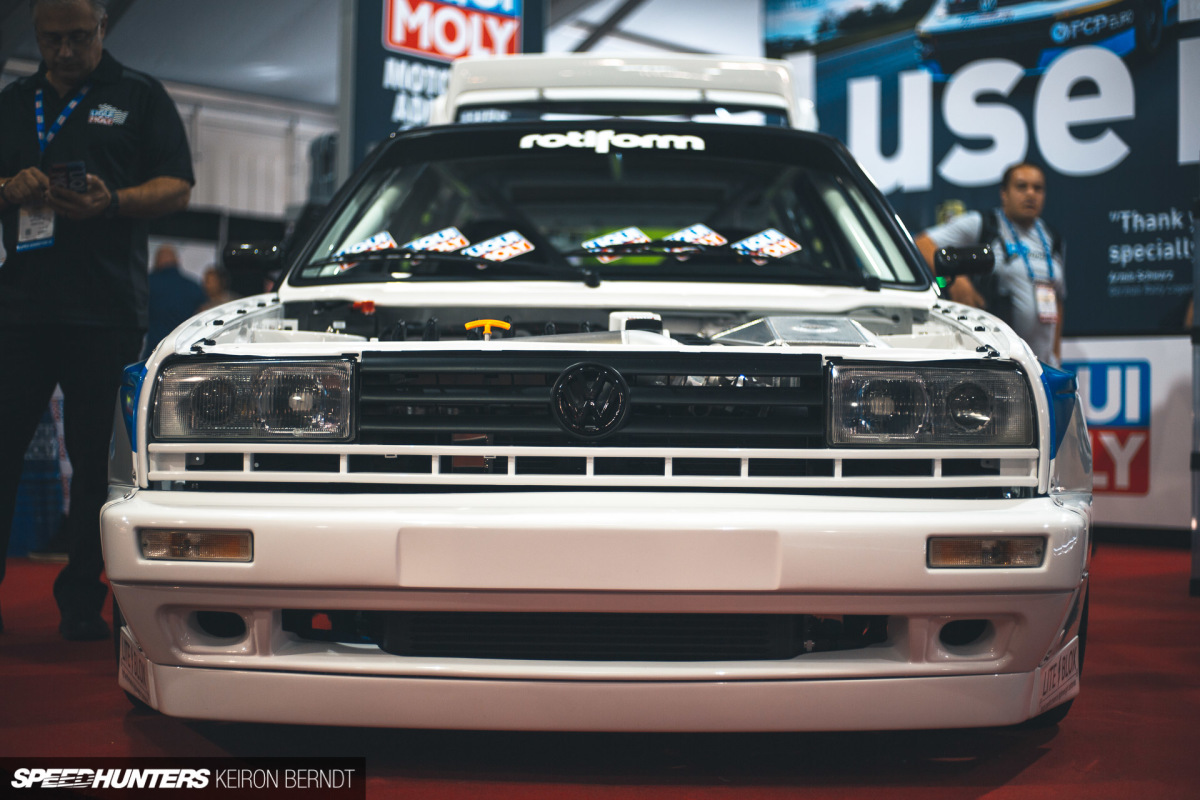 Paul's perfect Golf was a car that could be tracked and shown, and not look or perform out of place in either realm – a task much easier said than done. As the saying goes, a race car can sometimes be a show car and a show car can sometimes be a race car, but usually compromises are made in one way or another.
Kraftwerx was unfazed by the ask; building quality cars is what they do.
Liqui Moly is the company to thank for this car having a spot at SEMA, and their livery covers the first Mk2-specific Pandem wide-body kits shipped to the Great White North. Prior to the shell rolling into Kraftwerx it had been to a few different shops, so before the kit was fitted the body was massaged back to perfect condition.
If you're the type to poke around the nether regions of a vehicle, you'd notice that here the void between the original body and fender flare has been filled with a custom inner fender. This seems like an obvious modification to perform when installing flares, but you'd be surprised how often this step is skipped.
Once the fabrication was complete, the exterior, interior and roll cage were painted an extremely bright gloss white.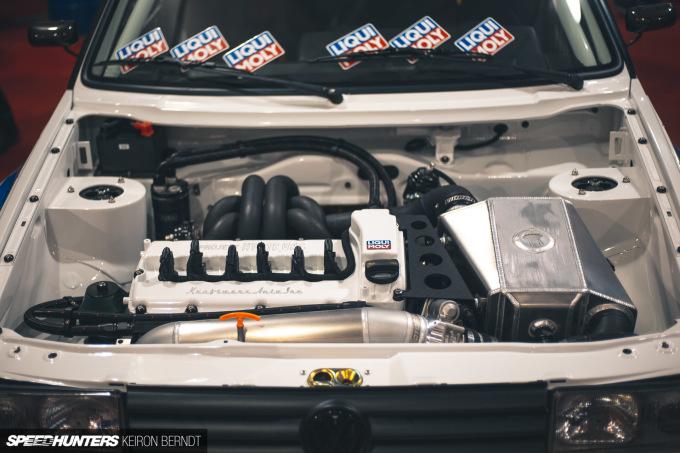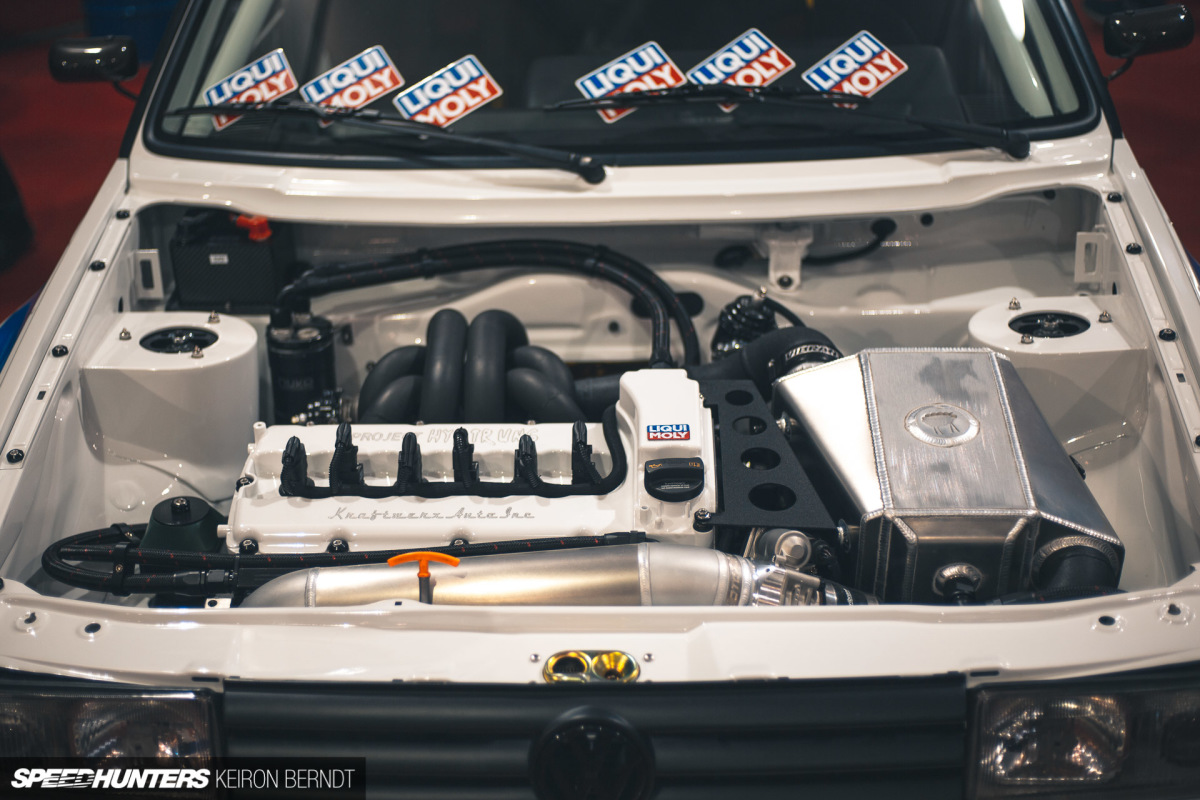 Under the hood, Kraftwerx installed a VR6 onto upgraded polyurethane motor mounts. The engine is joined by a raw aluminum P Motorsports intake manifold, an in-house-fabricated wrinkle black custom exhaust manifold and black Garrett GT35 turbo. Behind the Rallye grill is a CSF radiator mounted into a custom core support, and hidden within the core support are two electric fans and an intercooler. The setup currently makes 650 horsepower.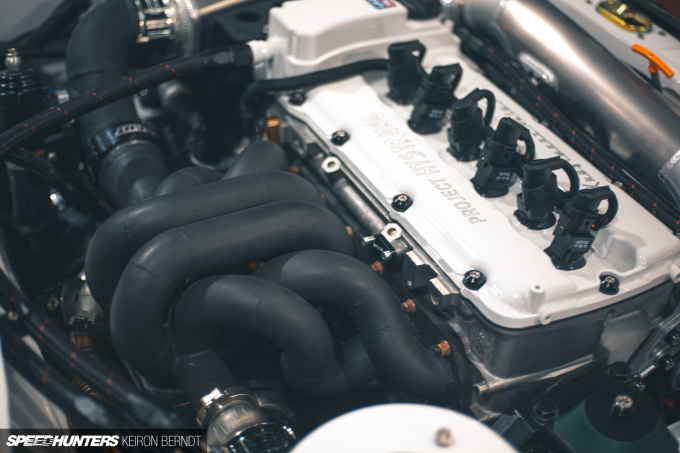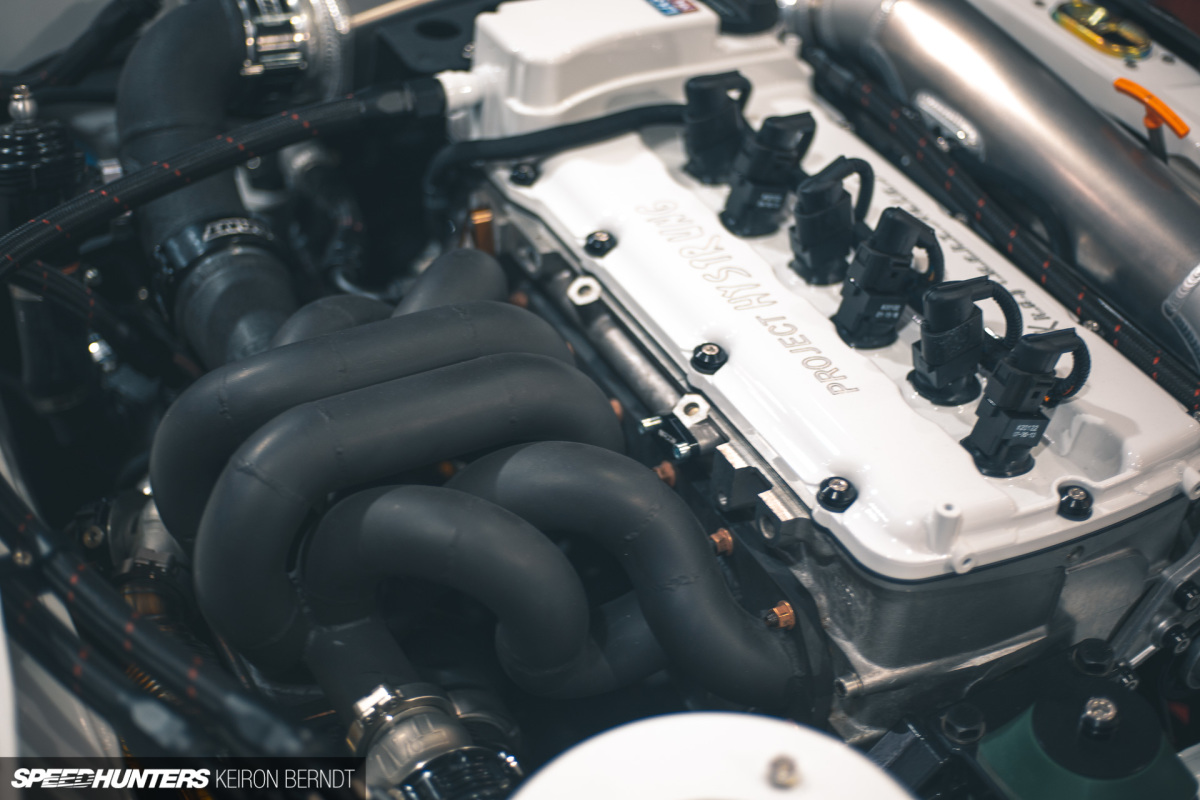 Backing it up the turbo power plant is a 6-speed transmission connected to a Haldex system and rear differential from an R32 Golf. For the non-Volkswagen versed, that translates into an OEM all-wheel drive retrofit. Remember that Paul wanted the ultimate Mk2 Golf – a car that spins its front tires helplessly off the line does not fit that description.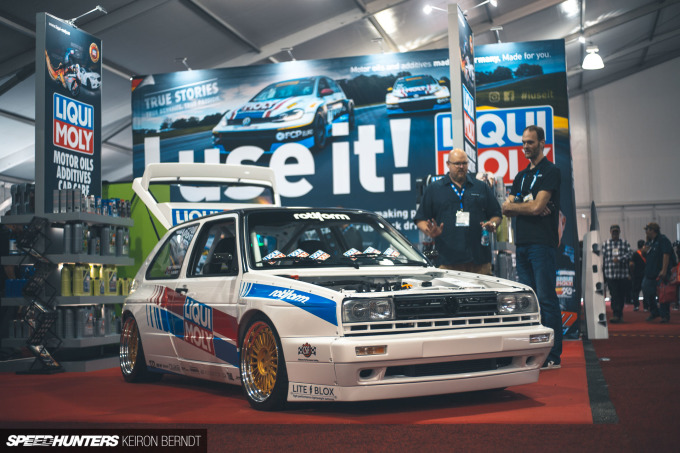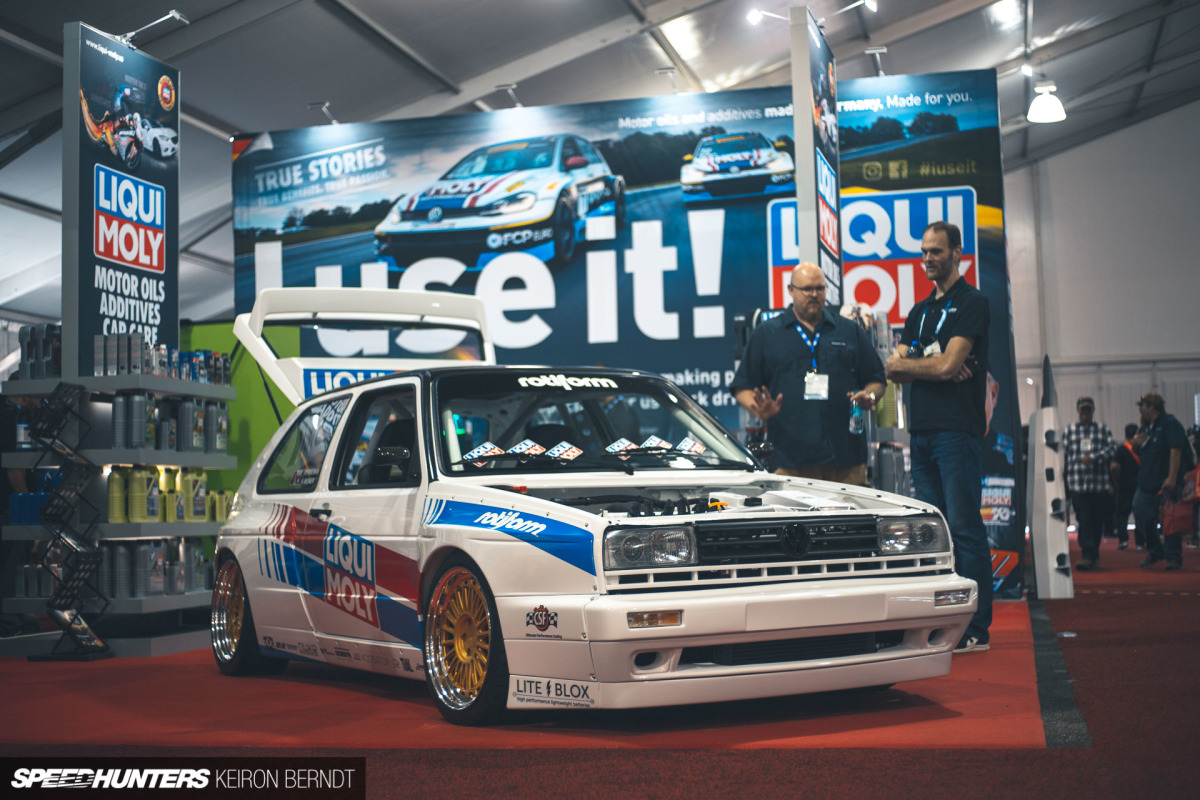 Helping the car run maneuvers are Scale coilovers with custom-rated Swift springs. Scale is one of the many Canadian brands used on this car. A Canadian owner, a Canadian shop and a Canadian author – there's a whole lot of Canadian pride in this post, eh?
Handling modifications don't start and end with just coilovers, though. The factory front control arms have been replaced with hand made tubular arms from Fabless Manufacturing, yet another Canadian company that's contributed to this project. Fabless also provided a tubular cross member to further help stiffen the car.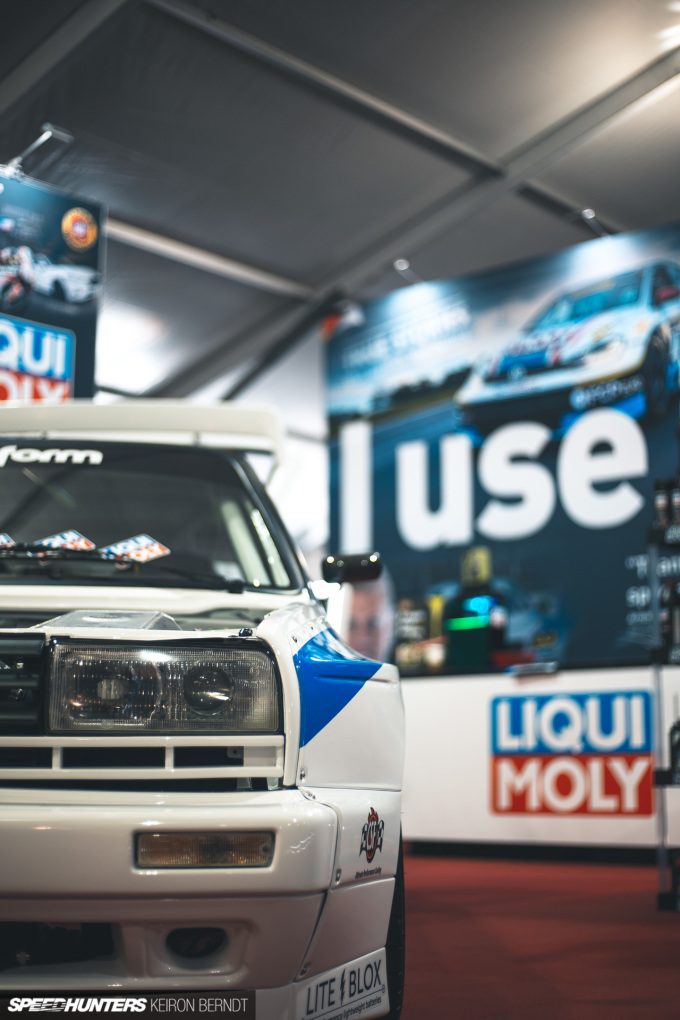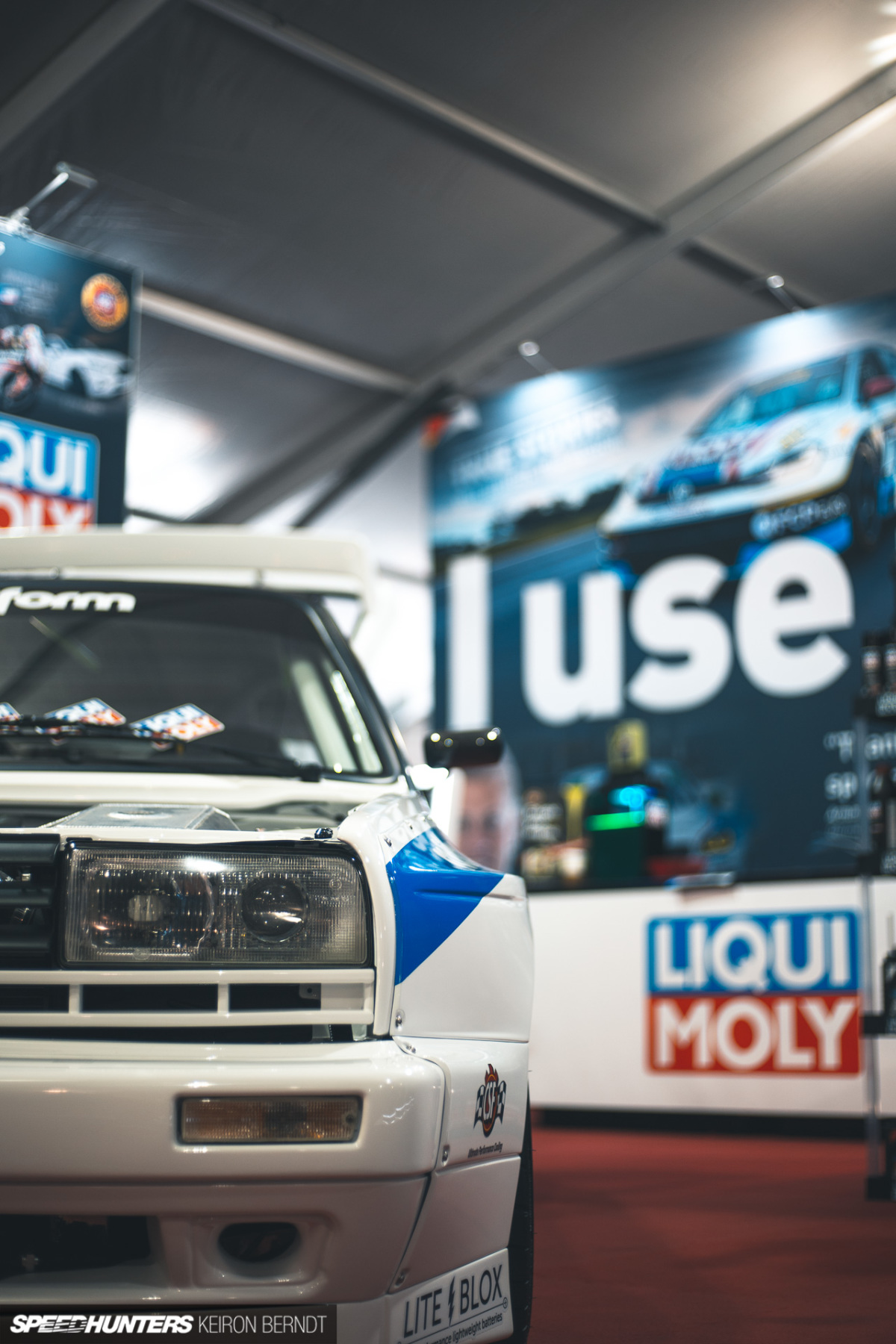 The box flares, livery and Rotiform BUC wheels give this car a styling reminiscent to vintage DTM cars, and a unique look.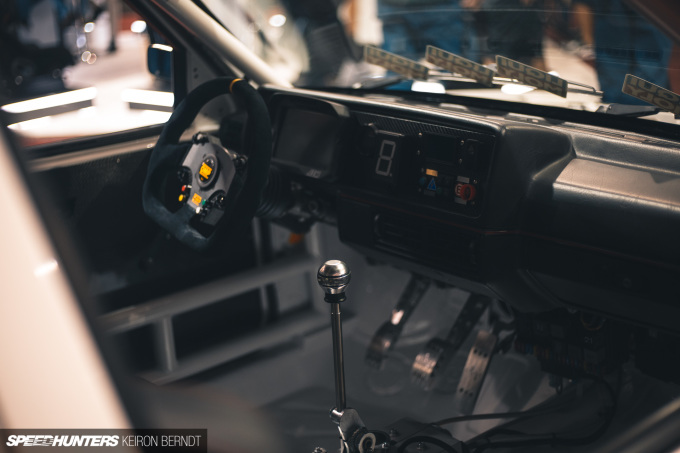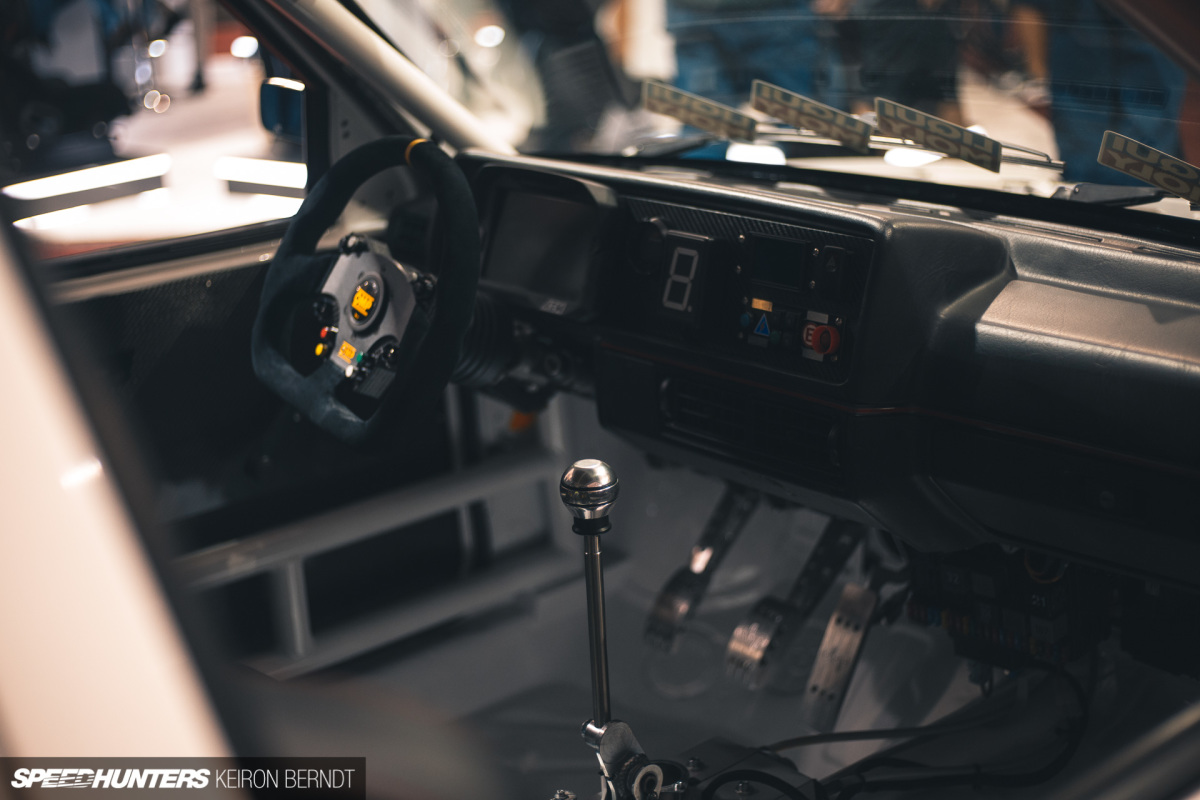 Inside, save for the dash, all of the factory interior has been removed and replaced. Behind the flat-bottom OMP Racing steering wheel – itself fitted with a Koobator wireless steering controller – is an AEM CD-7 dash display to monitor all of the vehicle's vitals. The unit has been programmed to resemble the sought after, and extremely rare, Digifiz MkII cluster.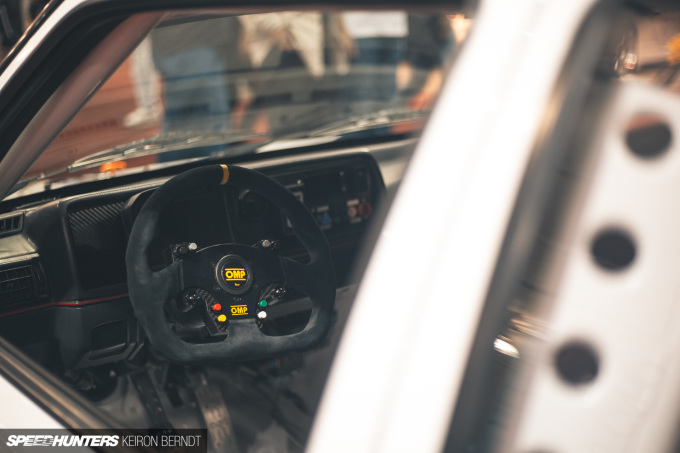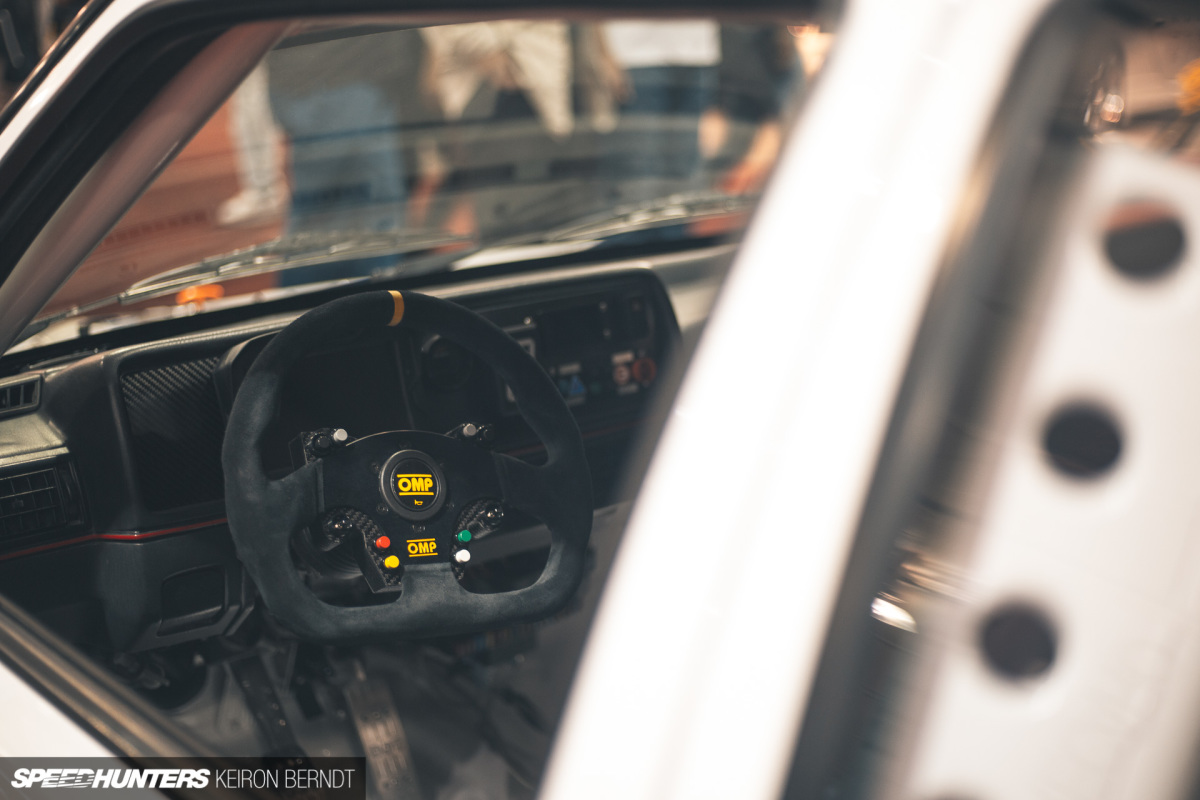 Below the dash is an adjustable triple master pedal setup from OBP Motorsport. An SQS Racing shifter converts the standard Volkswagen 6-speed shift pattern to sequential, with the current selected gear being displayed on a digital module where the factory radio once resided.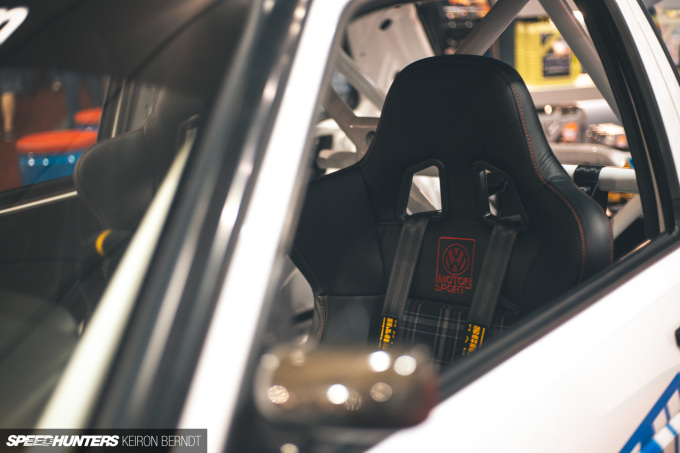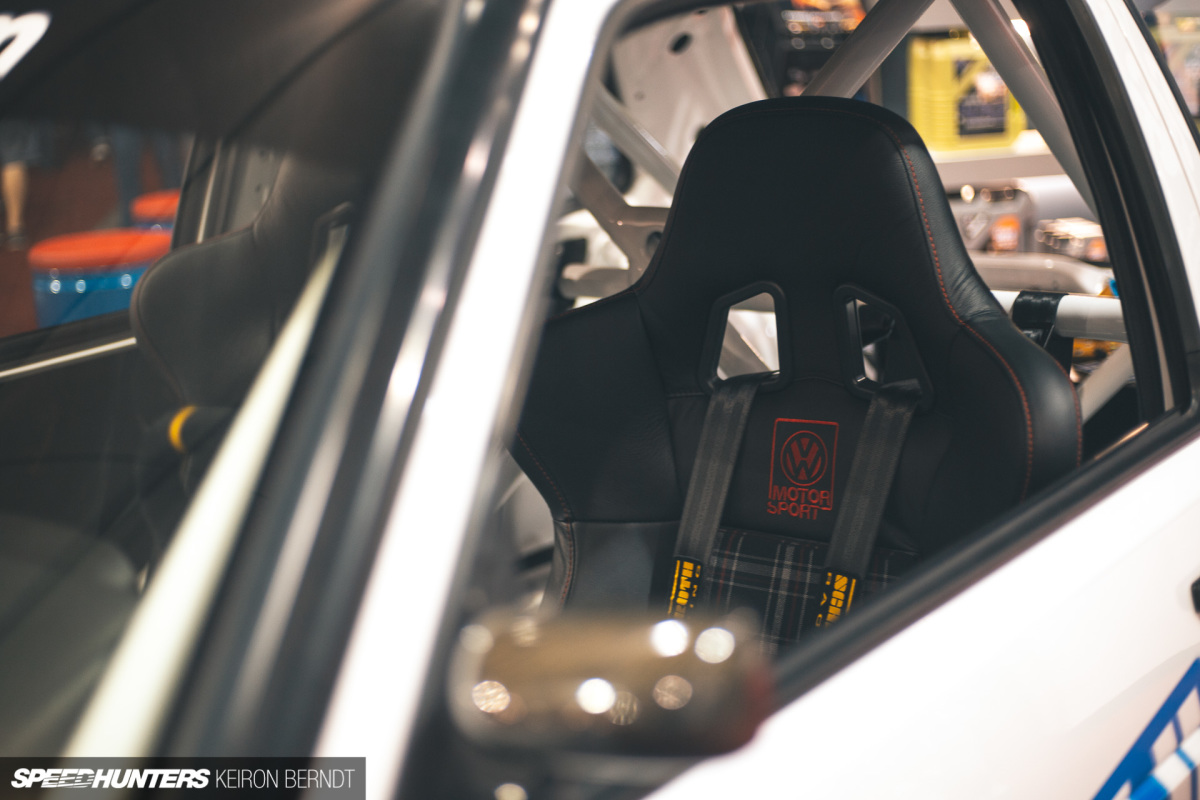 In the hatch, behind the two plaid-inlayed racing buckets, is a custom fuel tank and surge tank, both of which are mounted via Stim Technologies brackets and plumbed with Vibrant Performance products.
Stim and Vibrant are also Canadian companies; like I said, the red and white flag flies high here.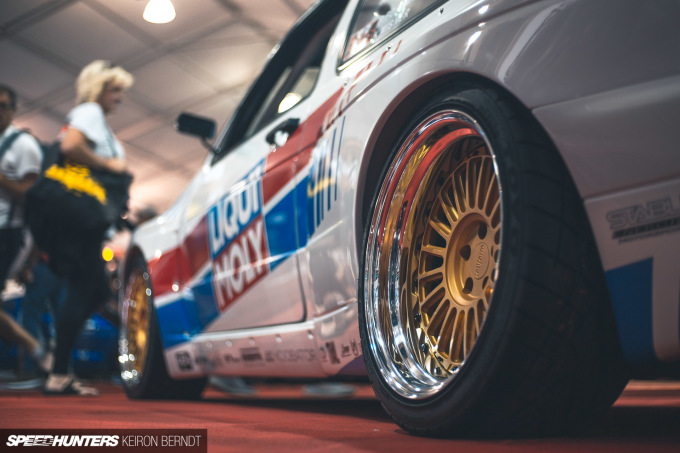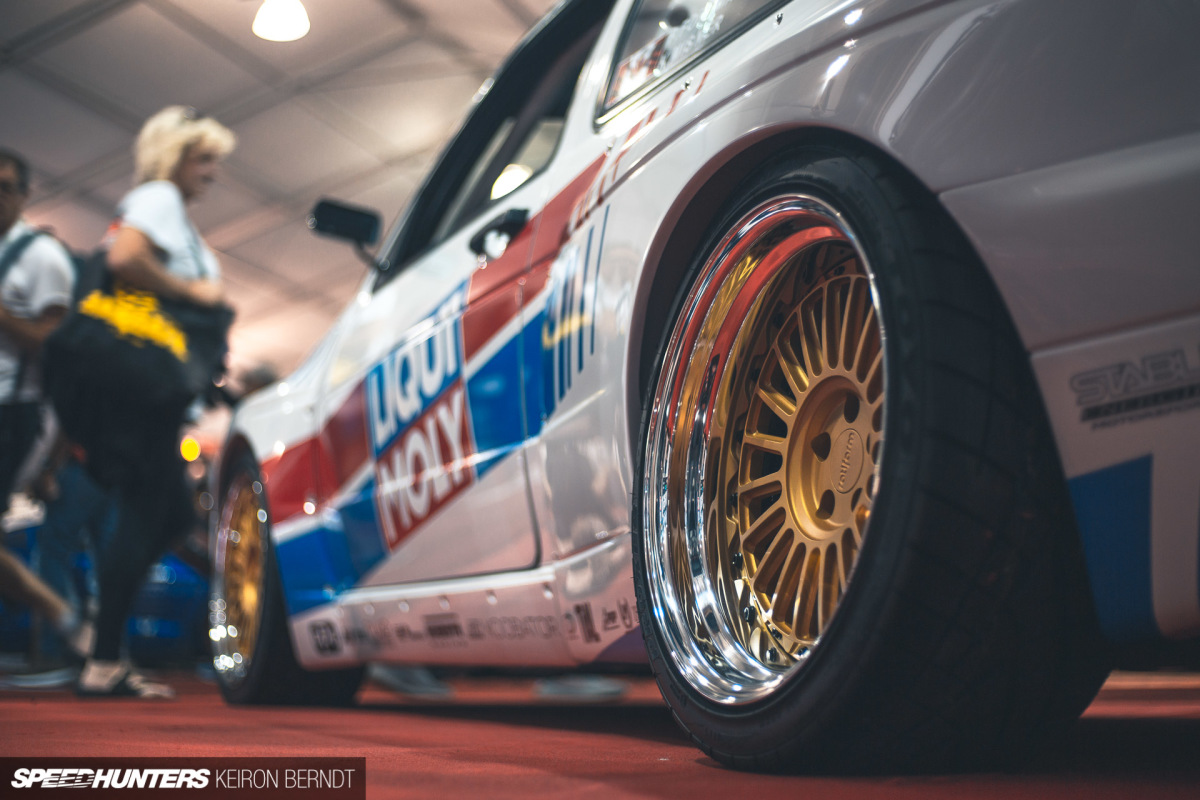 With the SEMA Show now complete the car has gone back to Kraftwerx Auto Inc. for more dyno tuning and final suspension and brake set up. From there, Paul will take it back to Alberta where he plans to show it and drive it as much as possible.
As for Kraftwerx, after incredible success with their first SEMA build they've got their sights set on the next. If they built this in a six-month time line, I wonder what they'll create in twice as long?
Dave Thomas
Instagram: stanceiseverythingcom
Photography by Keiron Berndt
Instagram: keiron_berndt