Does anyone else feel well designed liveries are taken for granted?
Presenting branding — whether personal or commercial — in an appealing manner is no easy task. Countless projects have been ruined by uninspired liveries that do little more than broadcast a company's financial involvement as loud as possible. But for every three poorly done treatments, there's one that lives forever; Gulf, Martini, Tic Tac, Rothmans, HKS, Falken, John Player Special; all examples of liveries that have outlasted the cars they were originally designed for.
These iconic liveries are so well known, they've transitioned from race car to street car, and in some cases, even fashion.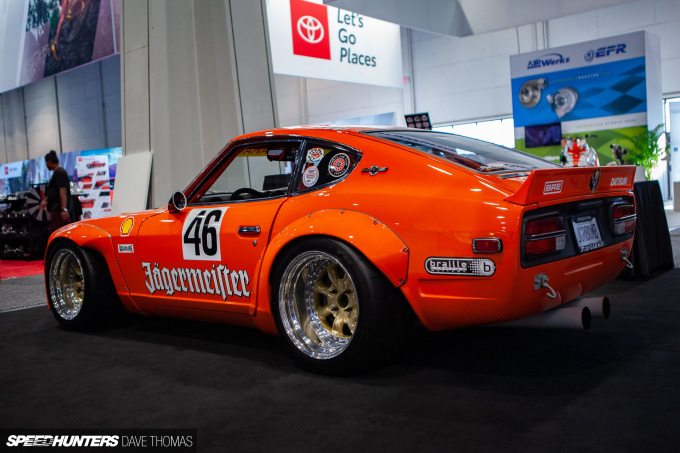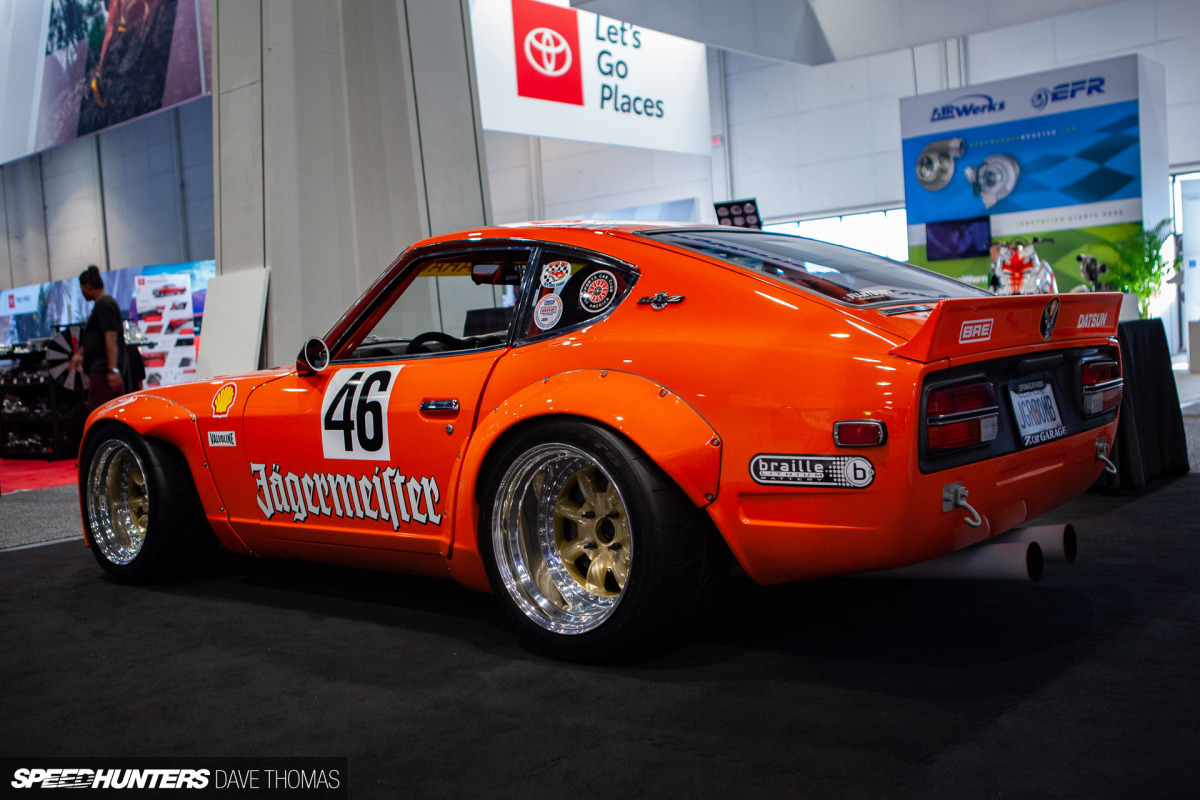 While determining a way to share as many of my remaining SEMA photos as possible, I noticed I'd subconsciously taken photos of several liveried cars. So, for the sake of appreciating good design, I've rounded up the best of the best from Vegas for one last rip through the Convention Center.
Steady Handed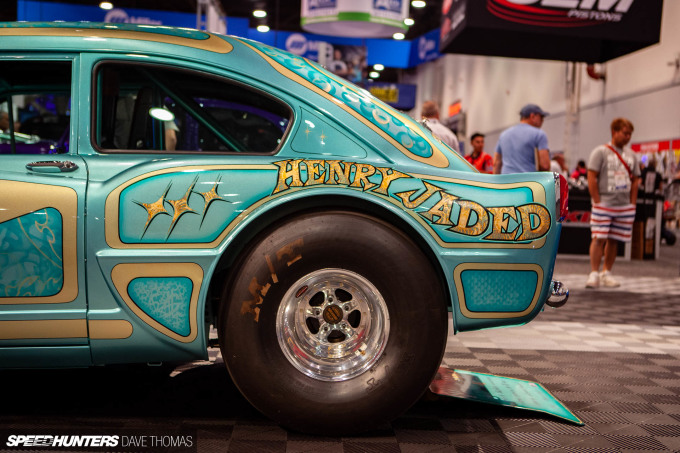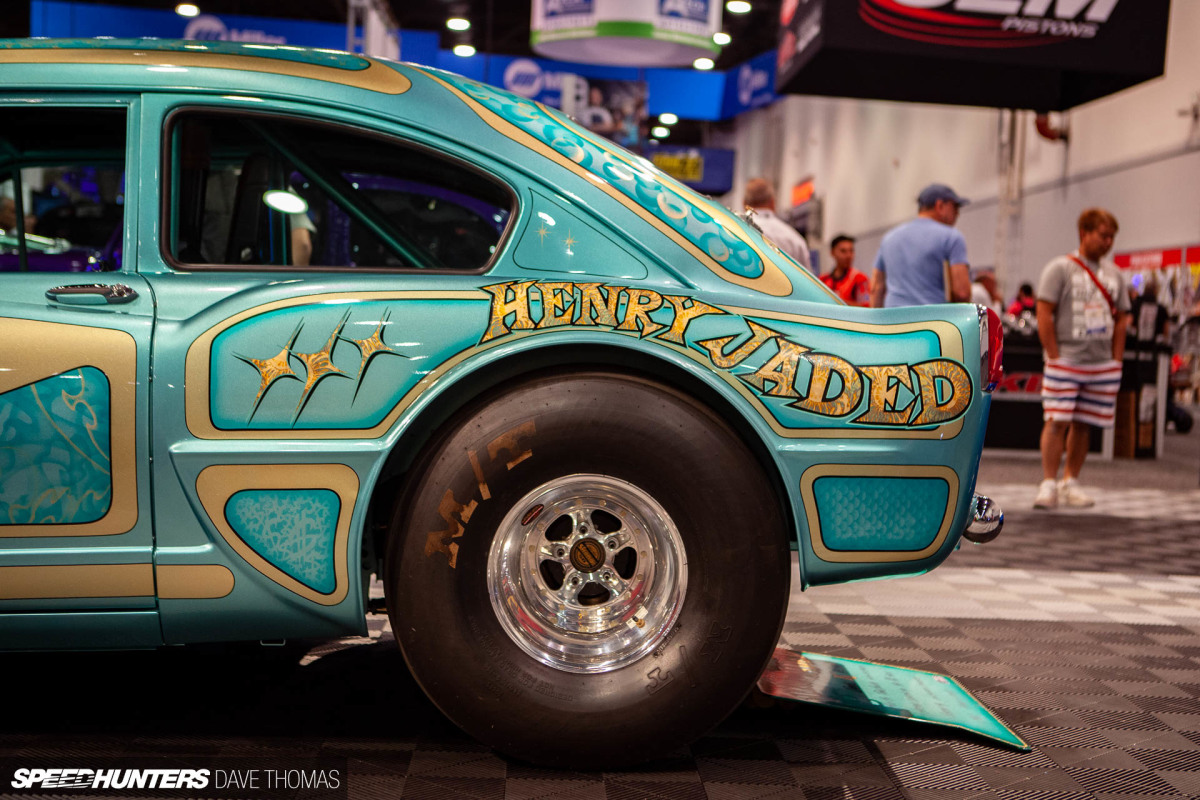 Admittedly I might be stretching my self-constructed creative box with this Henry J, but I couldn't omit a car with paint of this caliber. It's a vibrant reminder that at one point in time liveries were done with paint and a steady hand, not vinyl.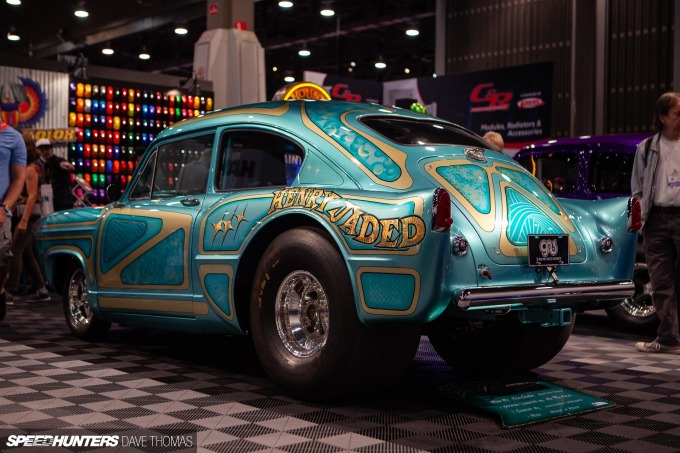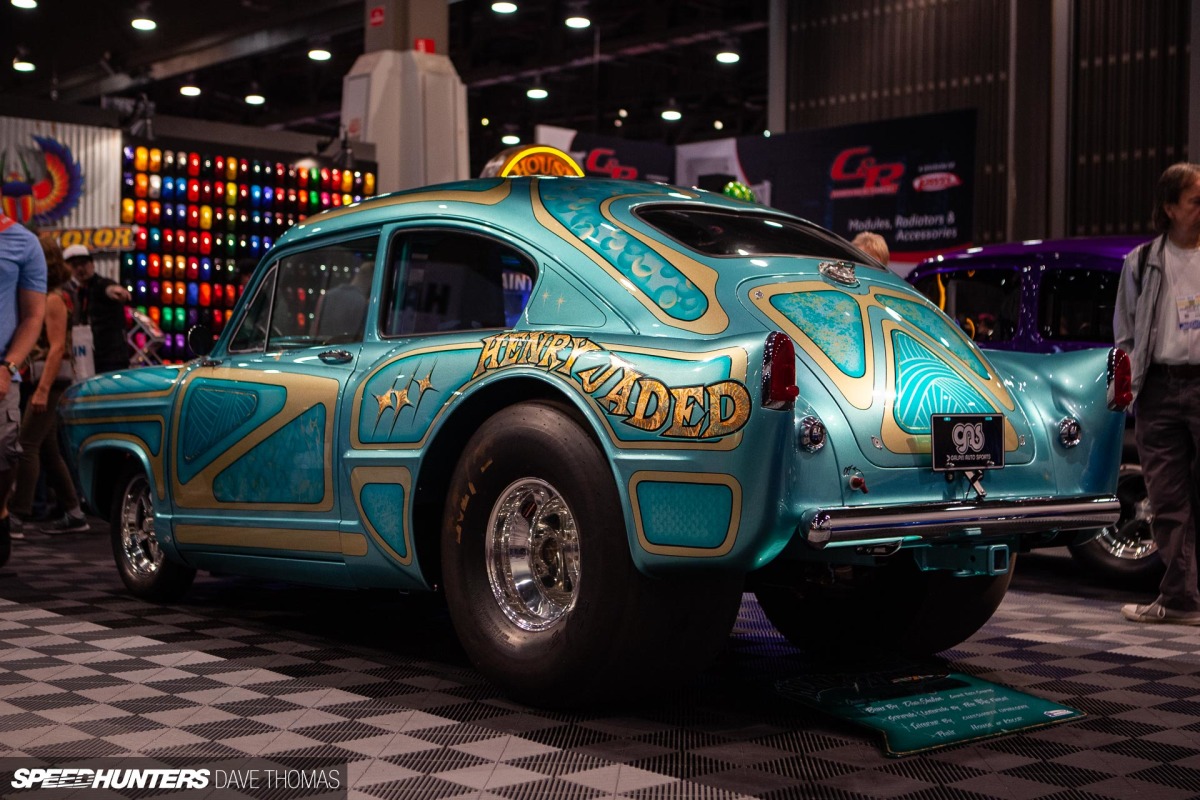 All this car needs is a few sponsors handwritten in gold down the door, along with some stickers in the rear quarter glass to have all the makings of a campaigned drag car from the '70s.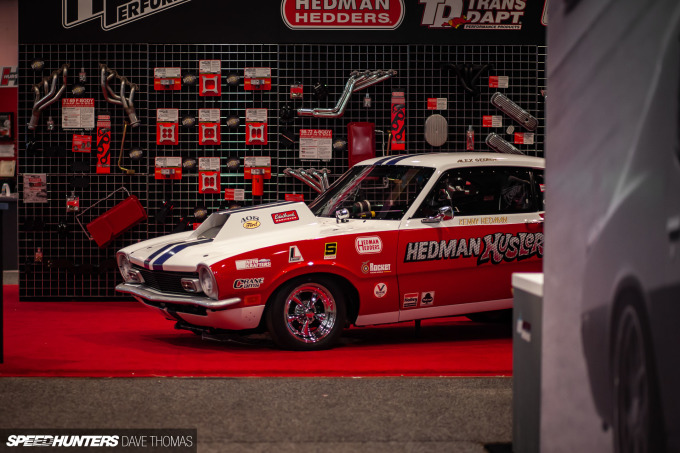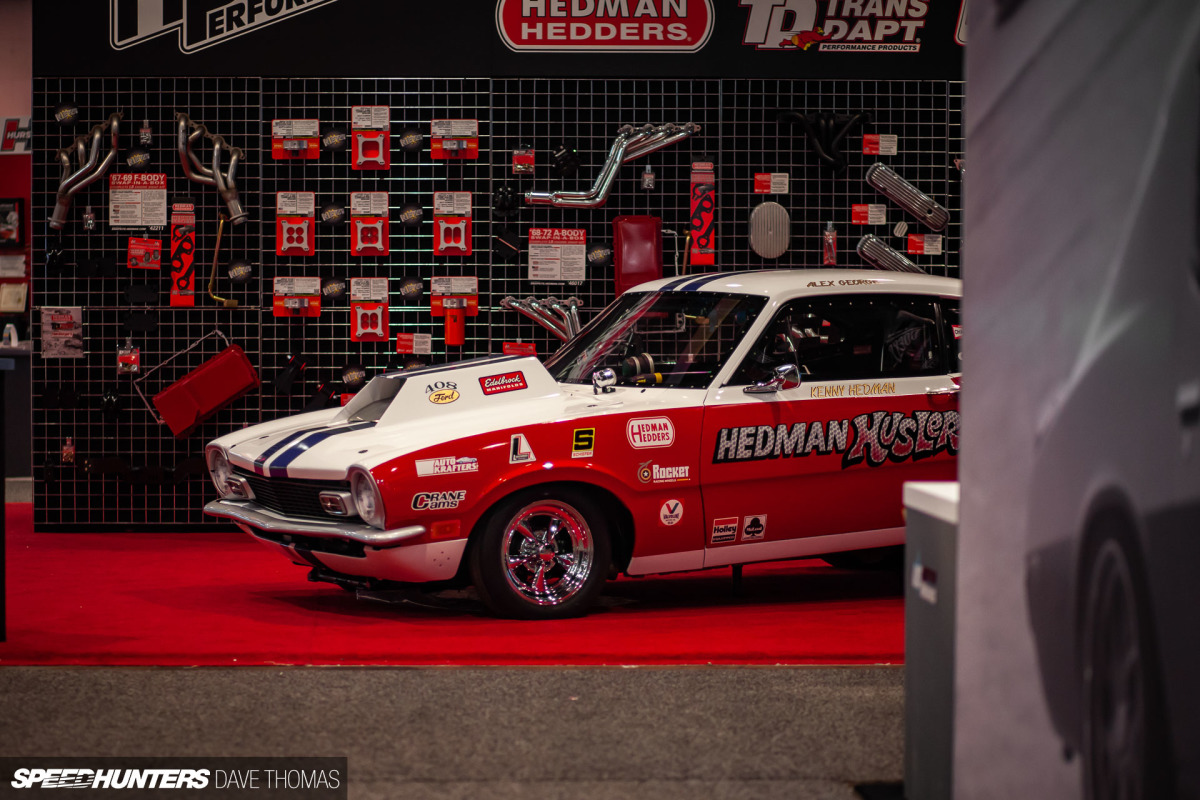 Sitting proudly in the Hedman Hedders booth was a very special Ford Maverick that represented the company's long history in performance aftermarket. Standing behind their product from day one in the '70s, Hedman Hedders campaigned their own Pro Stock Drag car.
The first, and fairly successful, car was as unfortunately stolen and later replaced by a second done up in the same patriotic red, while and blue.
This car, is not that second car. Instead, it's a new take on their previous V8 powered mascot. While a lot has changed in the vehicle's construction, the livery remains true to Hedman's first two Fords.
In the brief time I spent near the booth, I overheard two people asking if this was the original car they remembered. It's hard to find better proof of a memorable livery than that.
Fossil Fuelled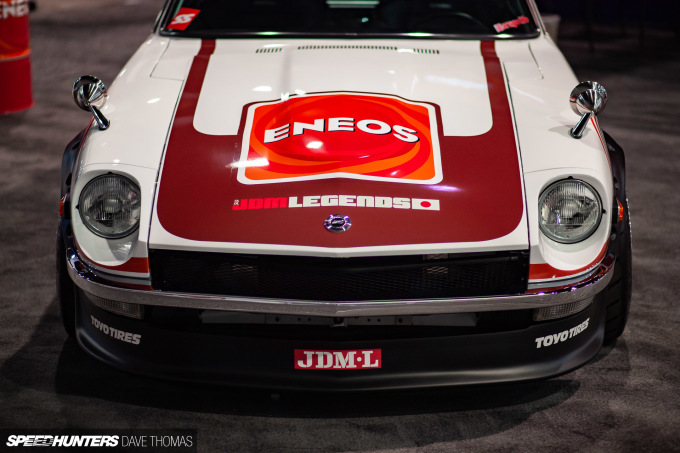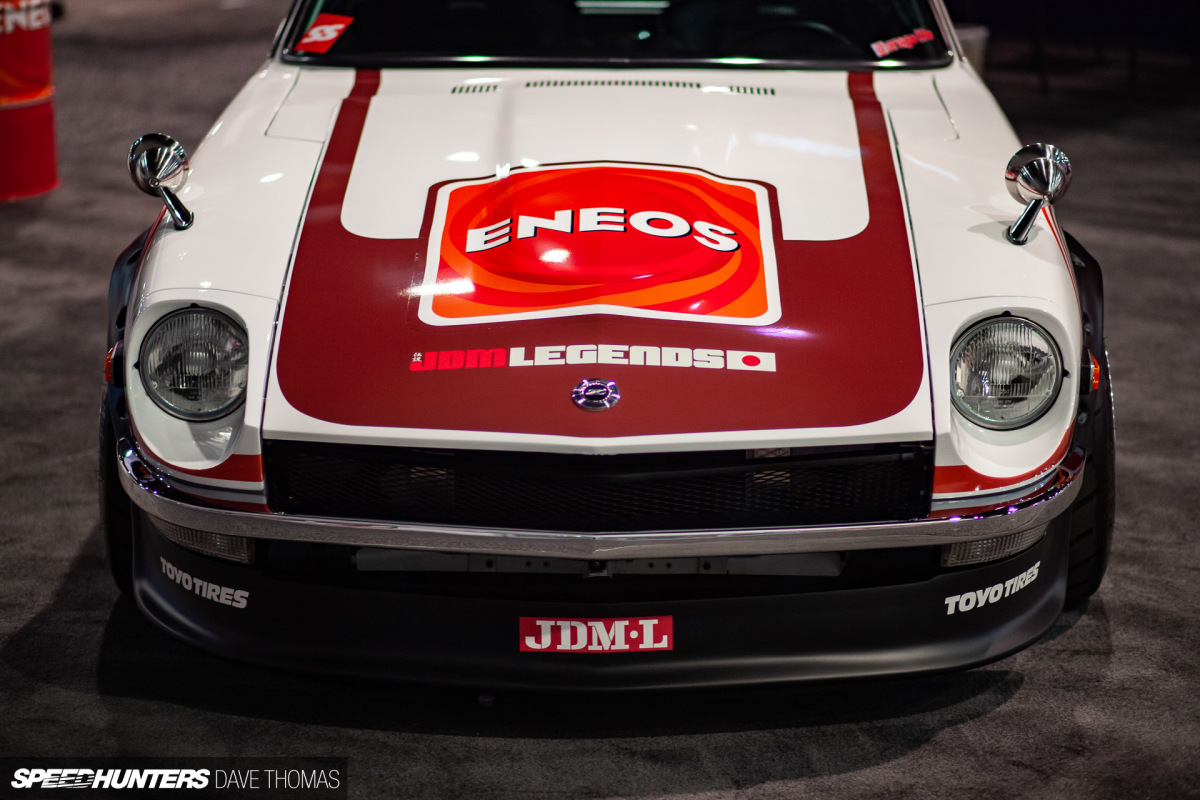 Oil company liveries have naturally been a part of racing since very early on. Race cars, well most race cars anyway, need oil to run so getting an oil sponsor onboard your program is usually step one to creating a long lasting racing team.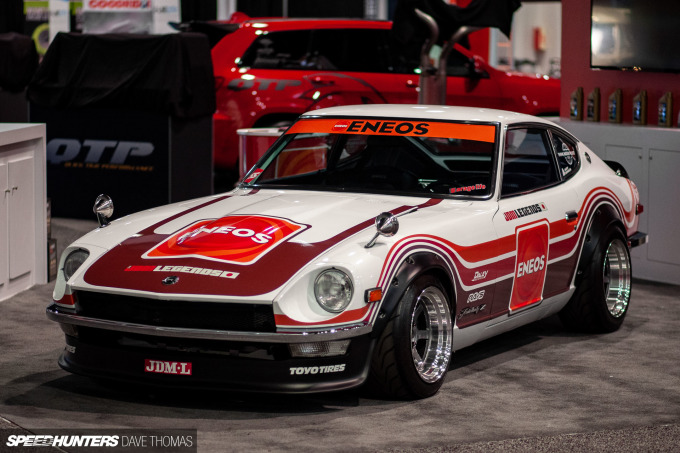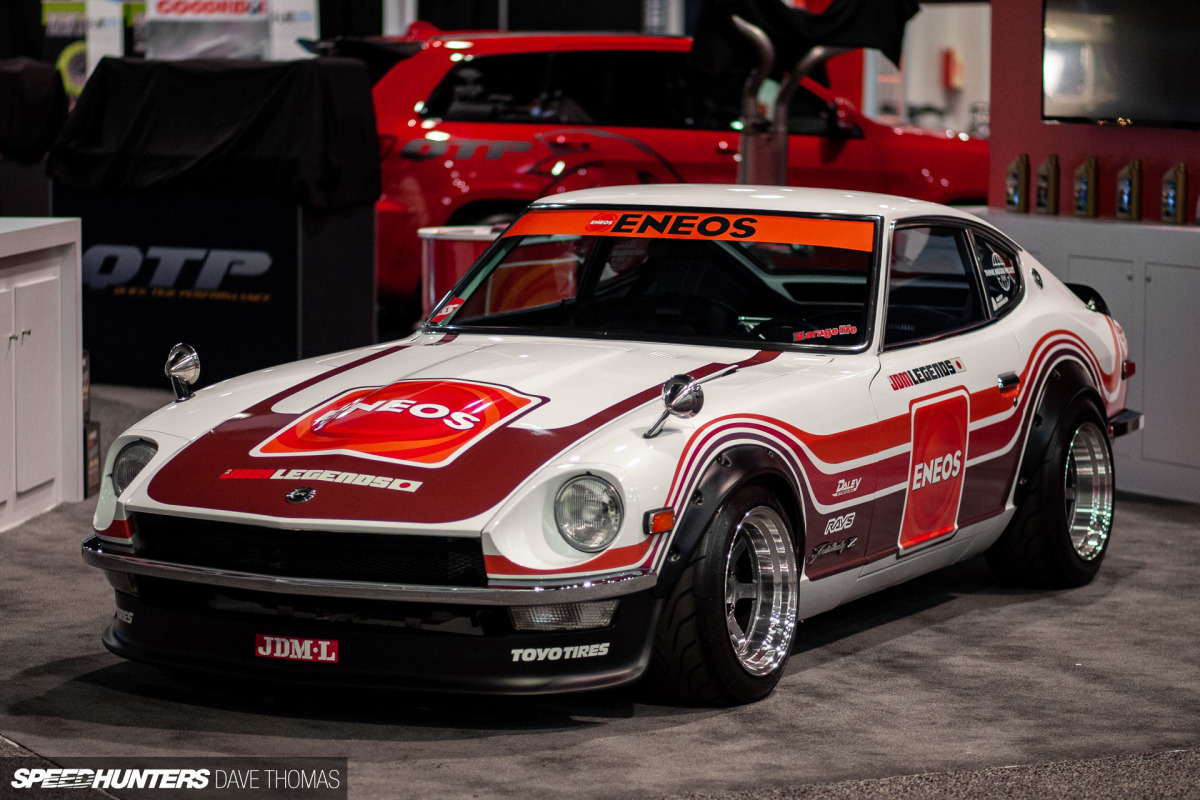 This JDM Legends built '72 Datsun 240Z isn't necessarily a race car ,but it still wore an Eneos Oil livery designed by artist Jon Sibal.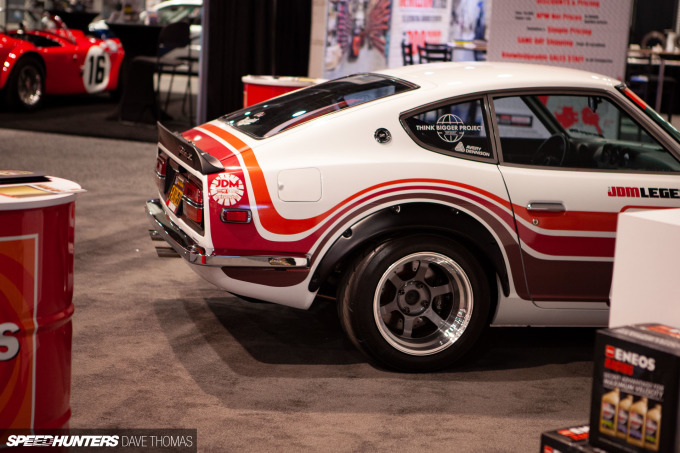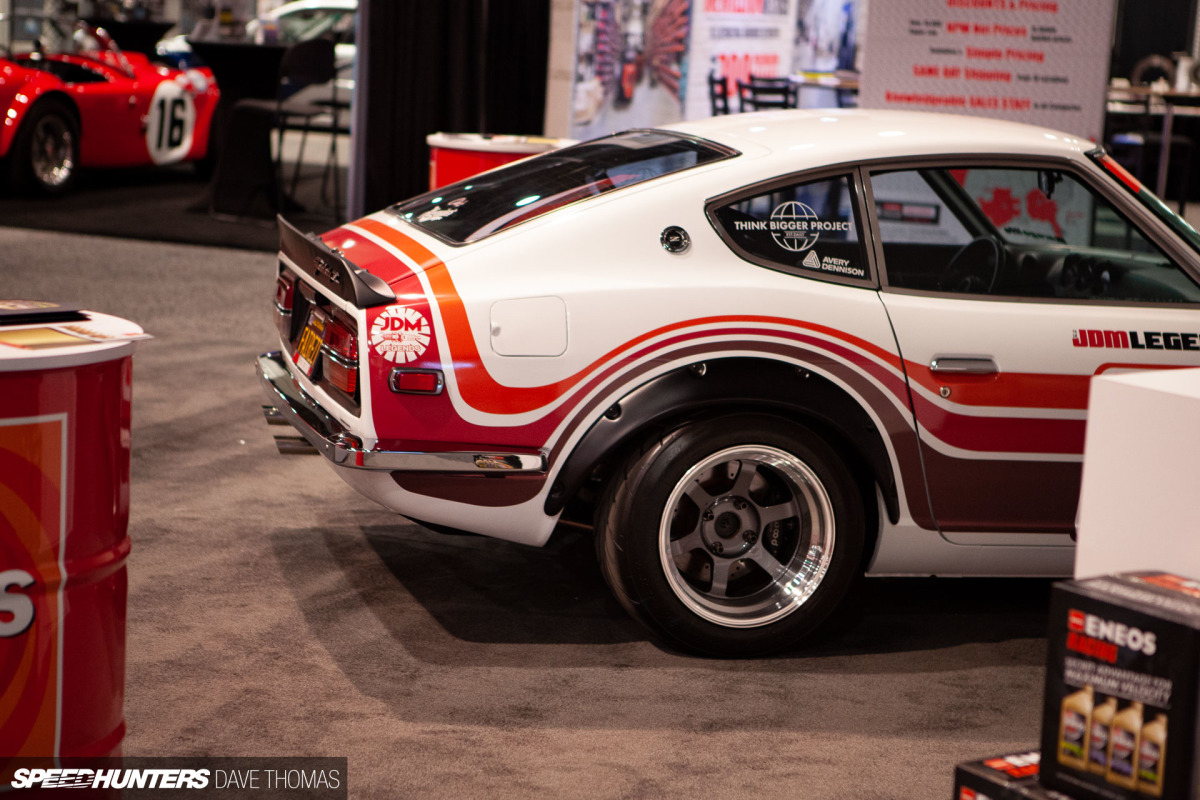 Integrating browns into the color pallet established by the Eneos oil corporate coloring works quite well. As do the horizontal lines running down the side of the car that accentuate the classic Z car lines.
In the Shell/Quaker State Oils booth sat another 240Z, this one a '73 road race car owned by Canadian driver Bob Attrell.

This car wears neither green, red or yellow corporate colors. Instead, a Bob Sharp Racing flavored livery has been employed. The reds and blues somehow manage to make the Rocket Bunny kit look almost subtle.
Imagination Station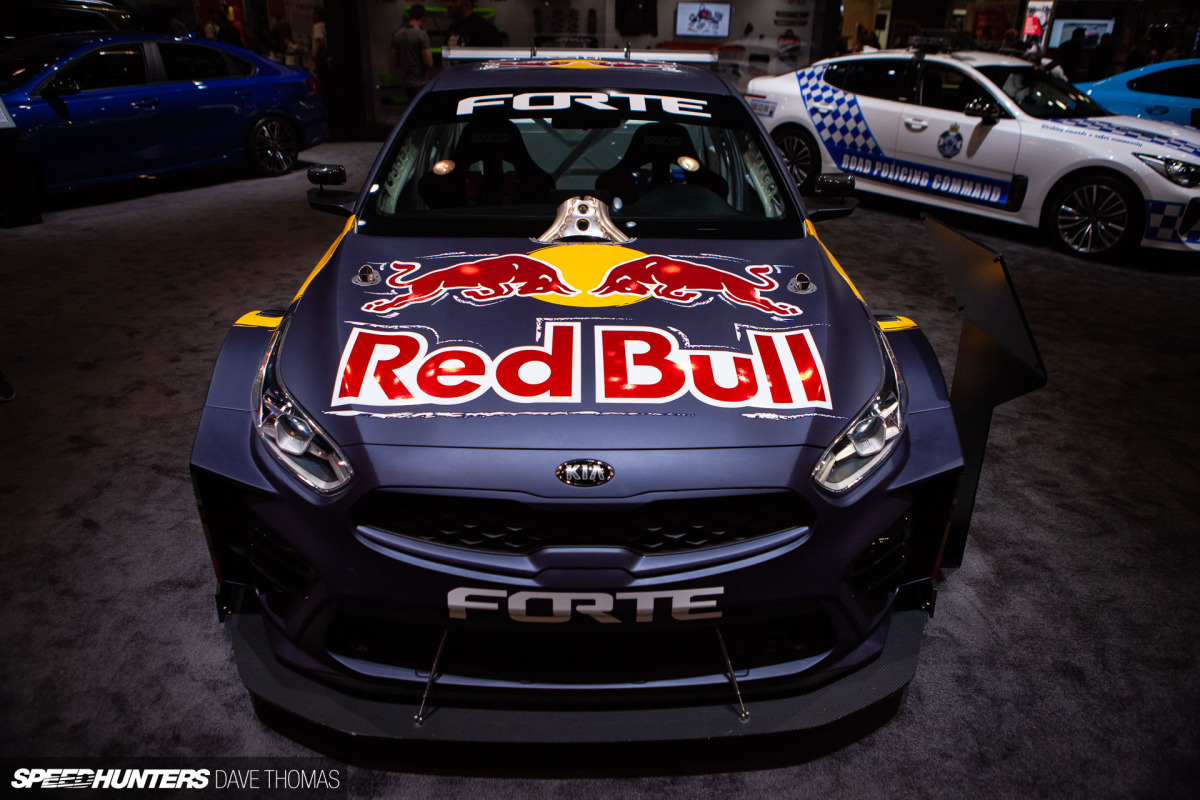 I can honestly say I never thought there would be a day I'd be talking about a KIA Forte on Speedhunters and yet, here we are. Built for promotional purposes, the ad campaign in which this car is featured uses the fitting slogan of "it doesn't have to make sense".
The Race Service built car borrows the Stinger GT's 3.3-liter V6, and as of right now, video of the car being driven in anger seems non-existent. I can only assume some is coming because you can't build a car with Red Bull Livery just to sit on ultra plush convention center carpet, can you?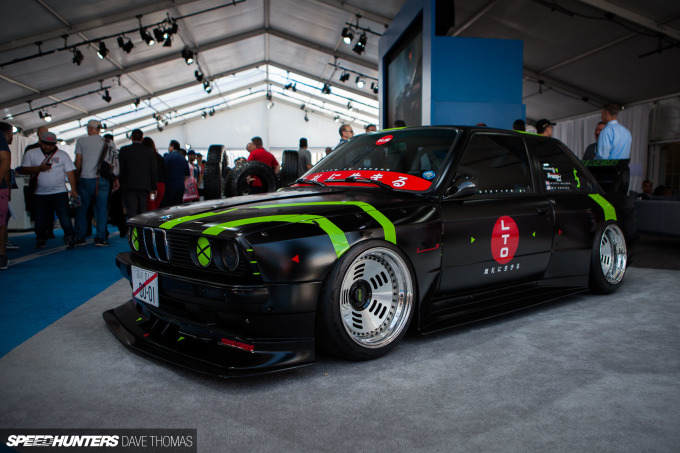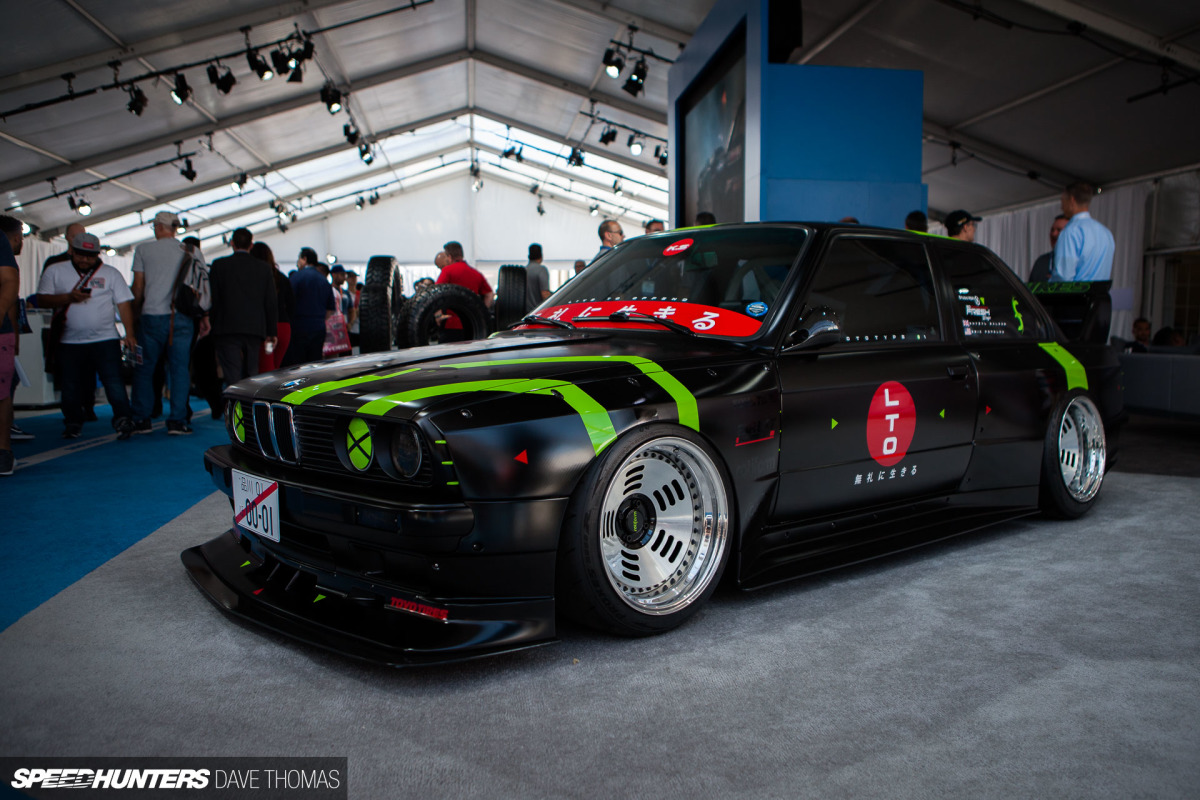 The car you see above is Khyzyl Saleem's first foray into making one of his digital renderings reality. Partnered with Eric Penelow, the pair have created Live To Offend, a brand where no idea is off the table.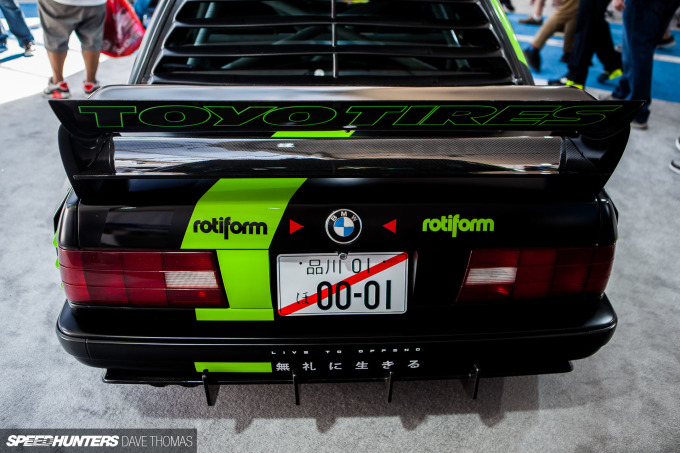 Fittingly the car had an interesting techno/ retro livery over the top of the 24-piece carbon fiber widebody kit. Wearing Rotiform BM1s, featuring a multi level wing with dual gurney flaps and rear window louvers, the car has a lot going on and yet, somehow, isn't too overwhelming.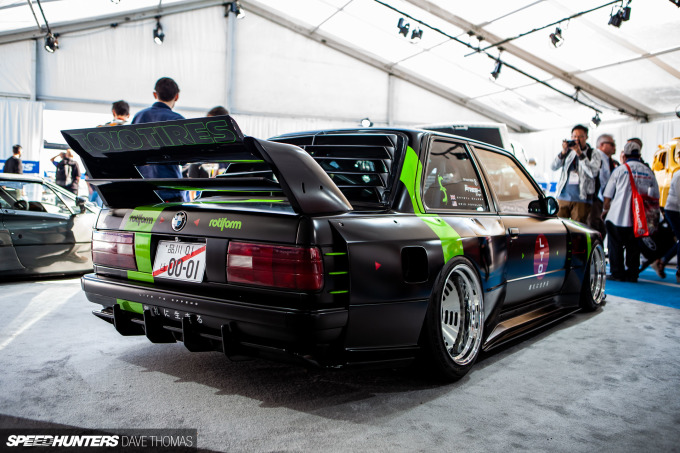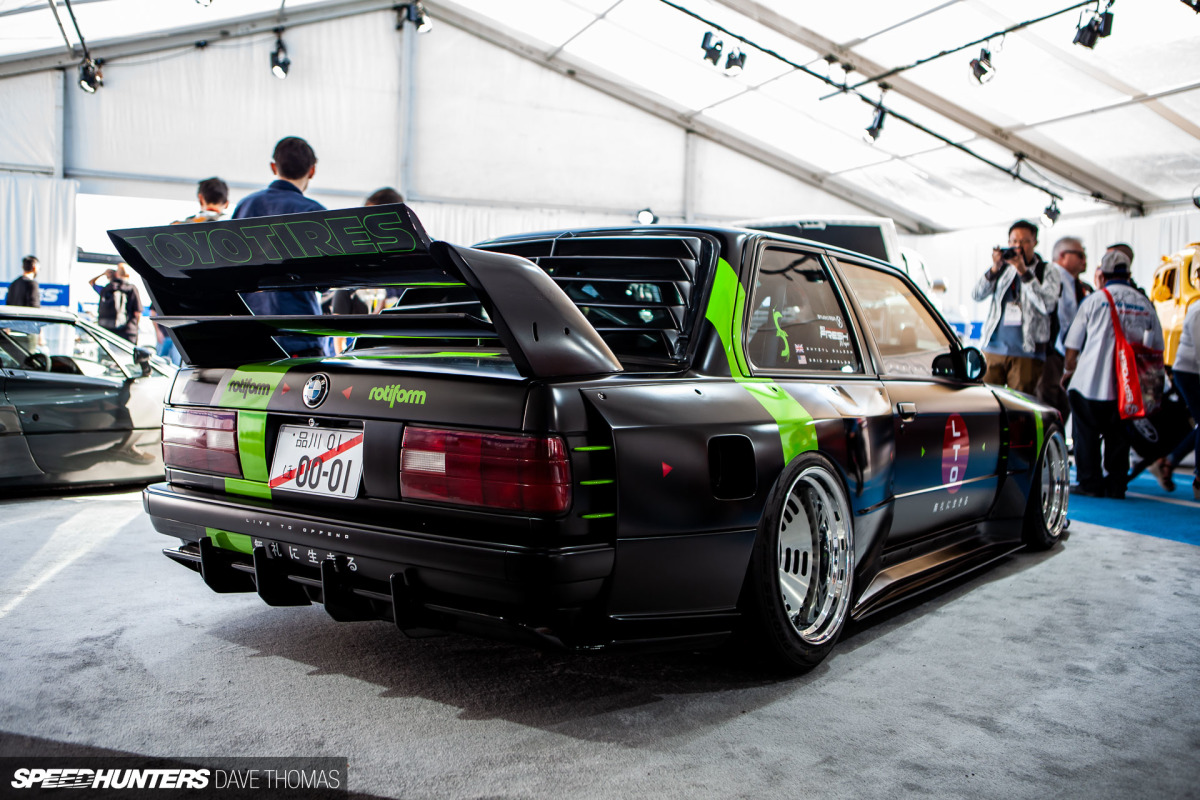 S52 power brings this art piece to life and according to Eric and Khyzyl, production should start soon.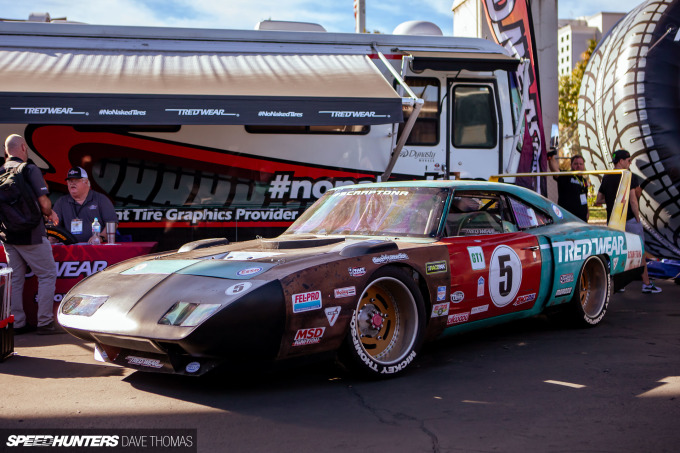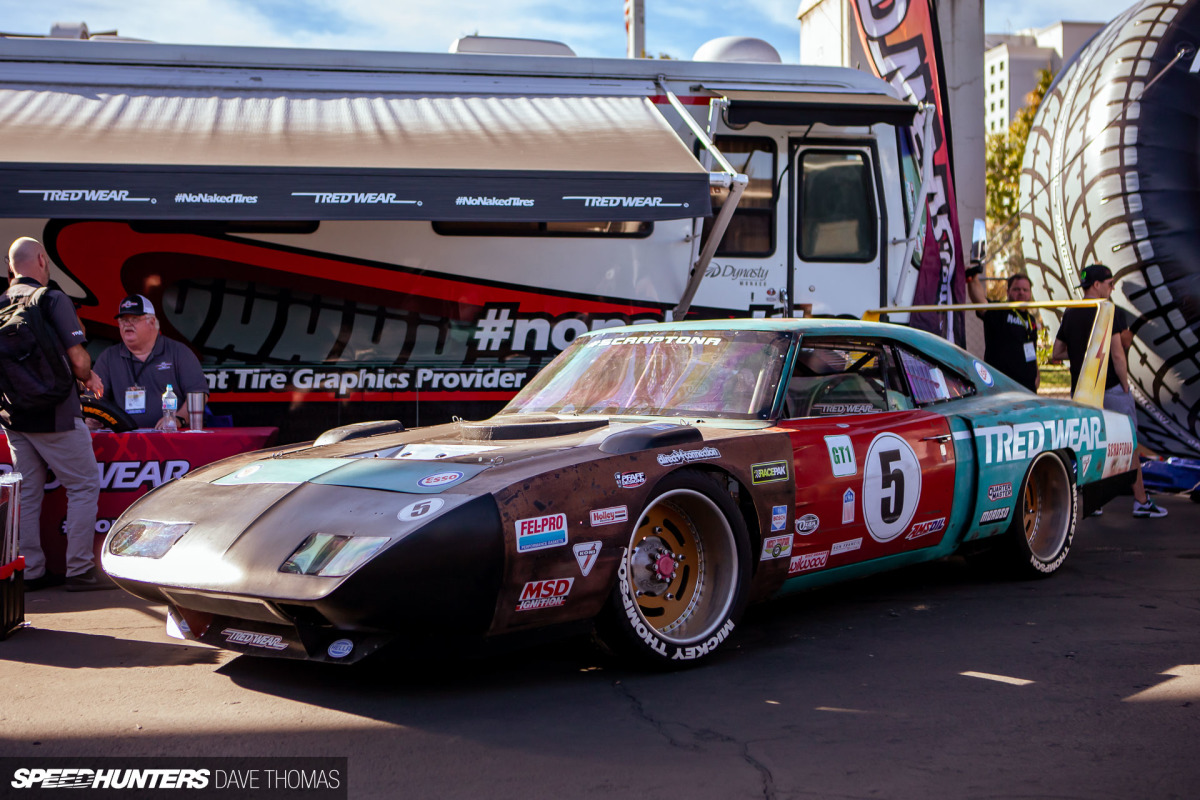 Calling the sticker placement on the 'Scraptona' livery may just be another stretch on my part, but again there are some cars I just can't let fall through the cracks. Had it been parked in a slightly different location, Tred wear's Scraptona would have made an excellent spotlight.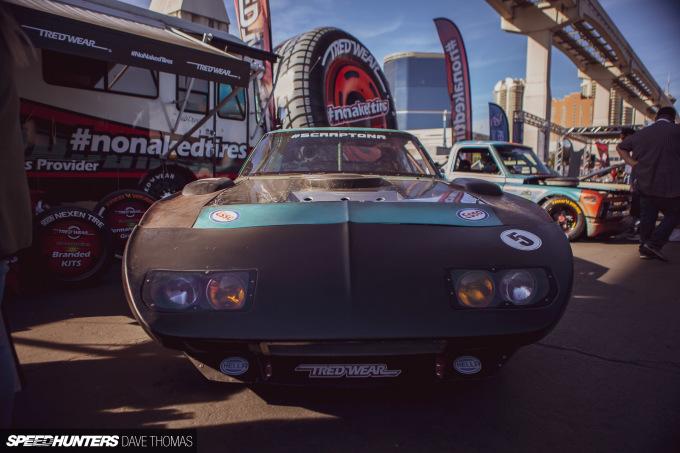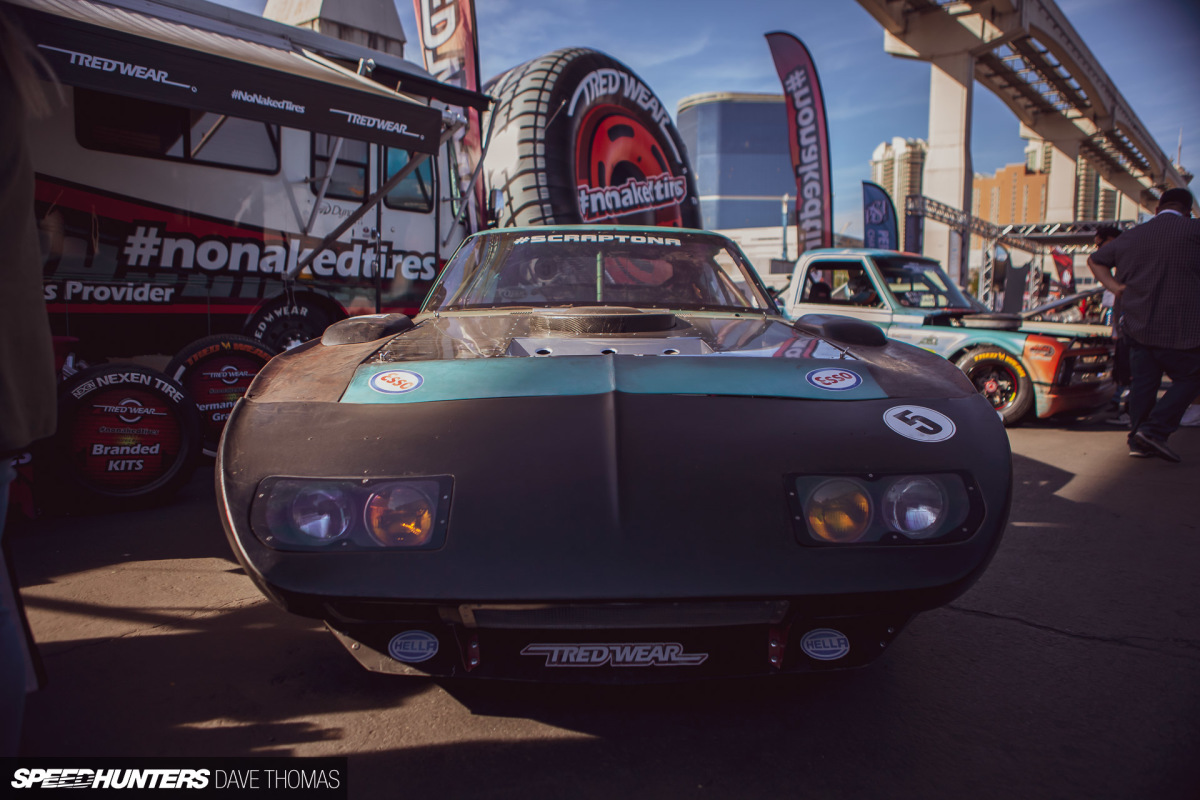 But time of day, combined with cramped quarters and intense foot traffic made capturing this car in its entirety a little challenging.
The vintage looking stickers found all over this car create a livery that gives the illusion the car was a former racer, long since forgotten. In reality the car was long forgotten, left in a field for 26 years, but never a pure-bred race car.
With nothing to lose, Tred Wear created something truly unique by widening the fenders and quarters to fit custom 20×12-inch wide wheels mounted to Wilwood Wide 5 hubs.
Underpinning it all is a custom square tube chassis with integrated roll cage. Sitting beneath the clear lean hood is a Petty Motorsports  R5P7 NASCAR spec motor capable of 750 horsepower. If there's any car worthy of a revisit, with a video camera and lots of open space, it's this one.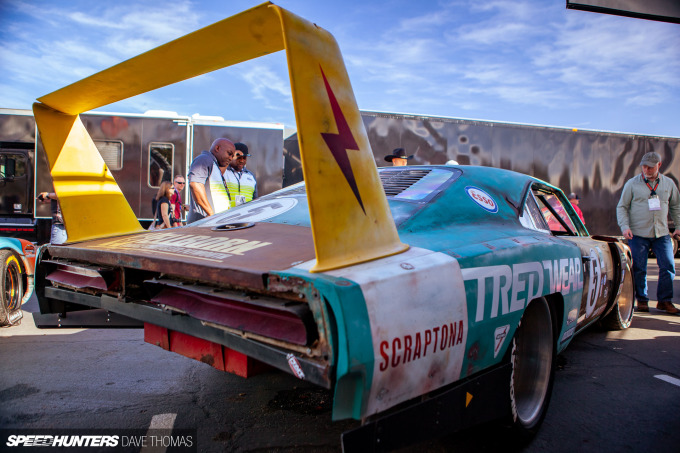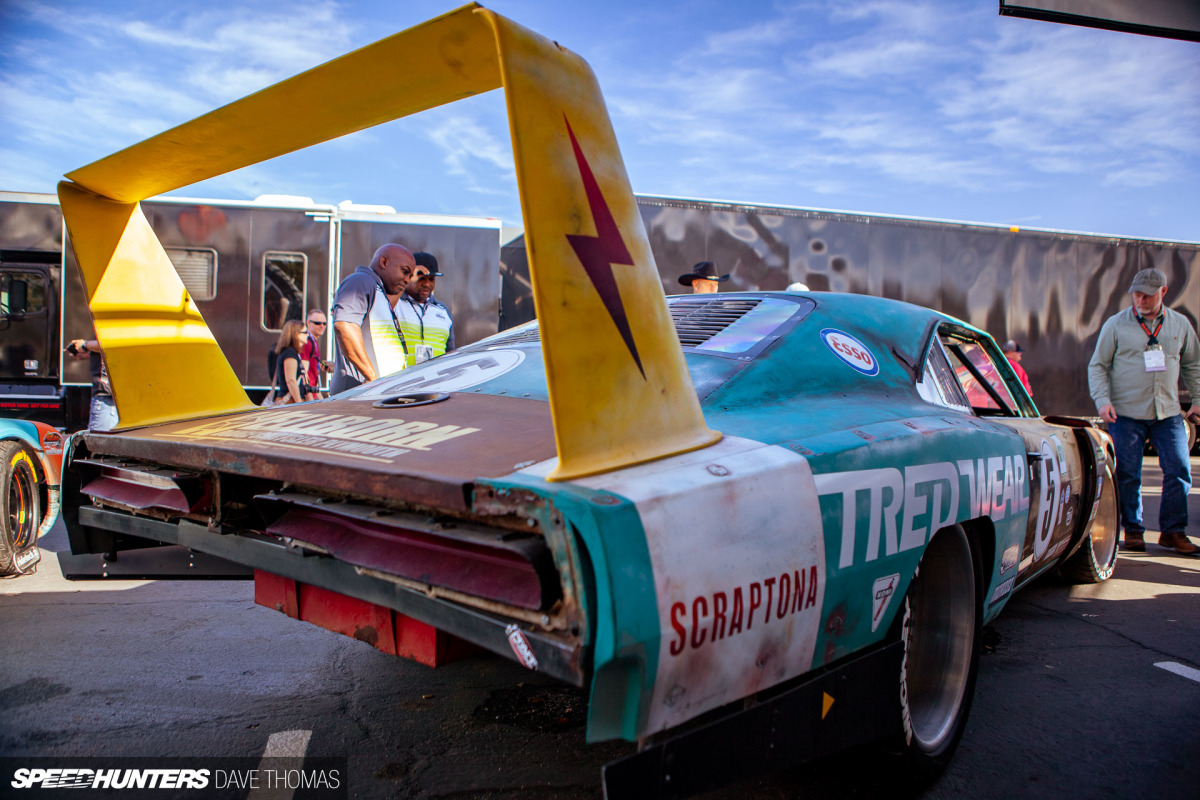 It feels a little weird, almost sad in a way, that this is my last overall SEMA post, but all good things must come to an end. Of course, before returning to scheduled programming I've included a few more livieries below…
Enjoy.
Dave Thomas
Instagram: stanceiseverythingcom
Cutting Room Floor