A Celebration
In the current climate, auto manufacturers have a tough job standing out and being the brand people are talking about. Porsche is possibly a great example of how to do things the right way, creating limited edition model after limited edition model that collectors and flippers aren't able to resist.
But doing that brings as much positive attention as it does negative, with many out there criticizing that it's just an easy way to generate extra sales. But while Porsche may have done a bit too much of this, Nissan recently proved it should be doing more. What am I talking about? The GT-R50 of course, a collaboration between Nissan and Italdesign to celebrate 50 years of the GT-R and 50 years of the Italian design and engineering house.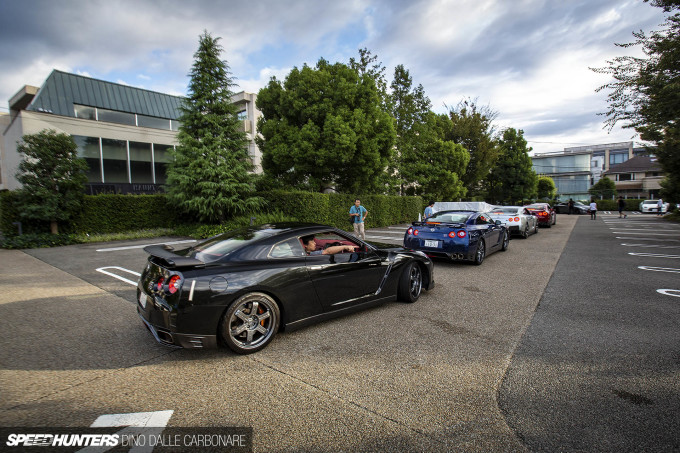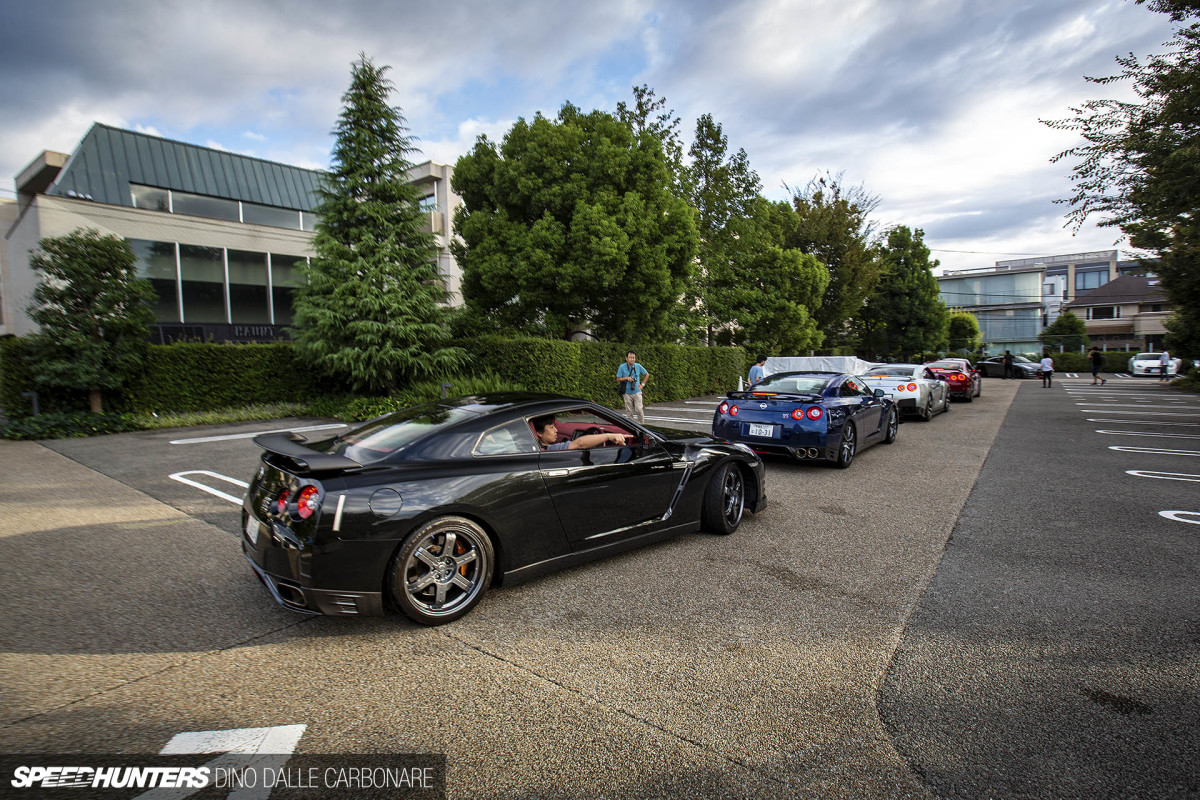 We saw the car when it was first announced back in June and since then it's been shown at high-profile events including the Goodwood Festival of Speed and Monterey Car Week. Now the GT-R50 has come home to Japan, and to celebrate that fact Nissan put on the coolest gathering of cars we've ever seen at Daikanyama T-Site in Tokyo.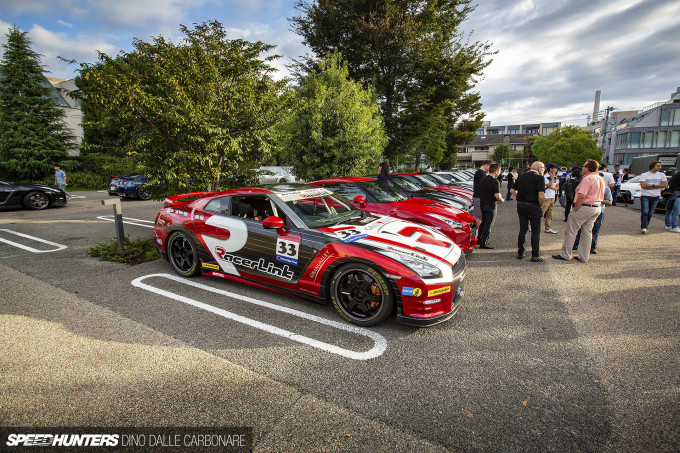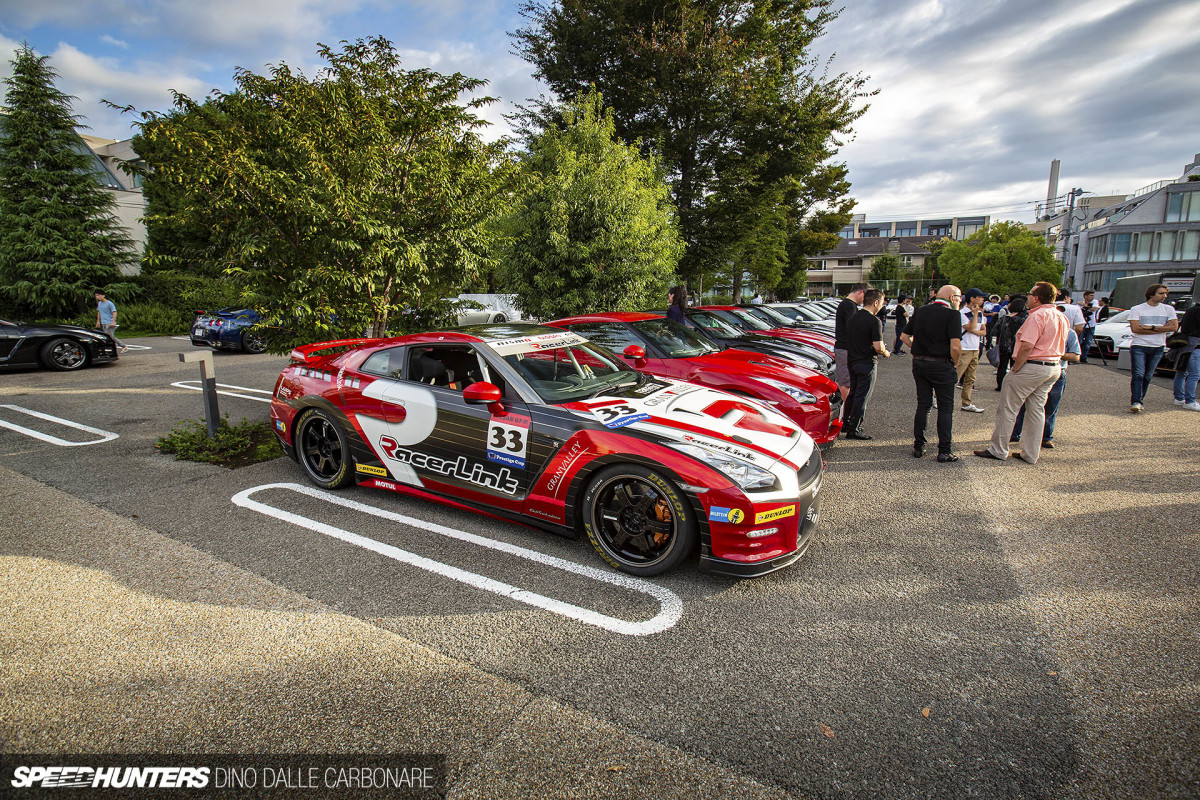 After flying back to Japan from attending another Nissan-related event in the US which you'll read about soon, I had just enough time to get from the airport to the heart of Tokyo to see the GT-R that everyone has been talking about lately.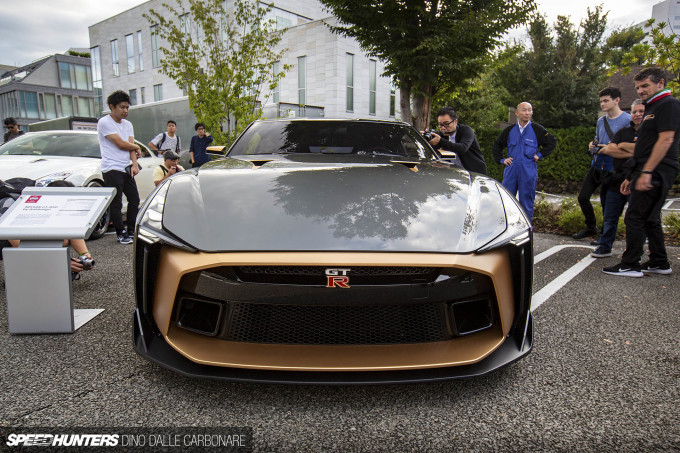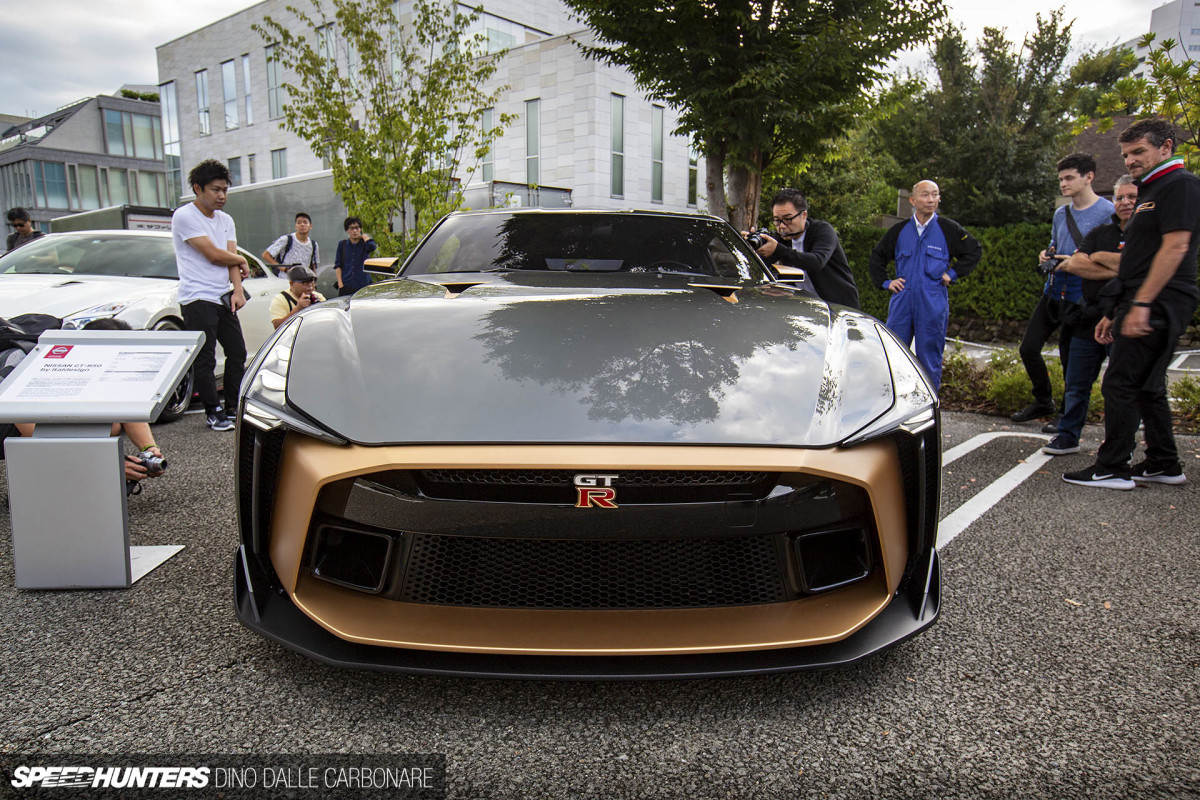 An event like this in Japan almost felt a little alien. We all know how overly conservative Japanese manufacturers can be, yet here I was in front of a one-off Japanese supercar that features an amazing exterior conversion.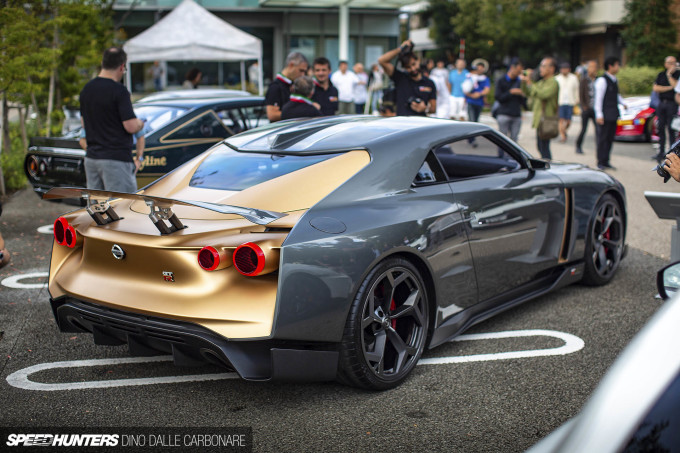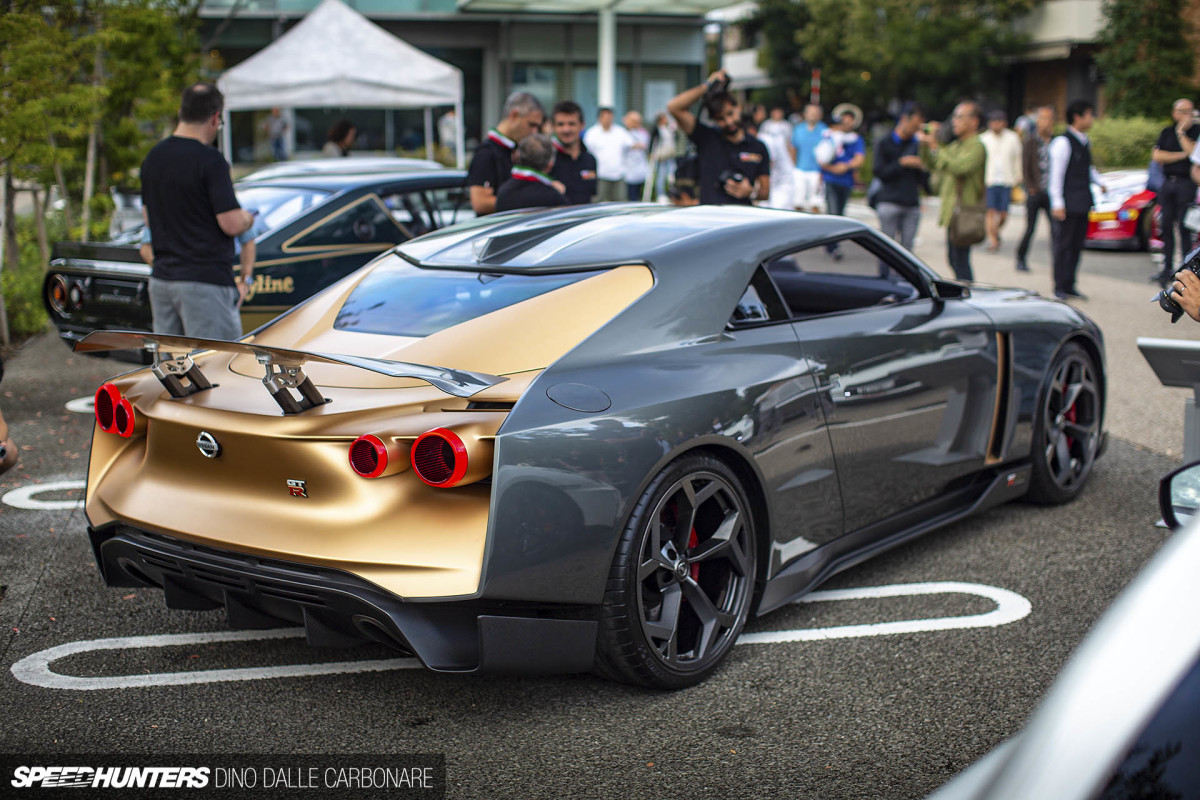 Japanese manufacturers like Nissan don't usually do this stuff; they concentrate on function and build affordable fast cars that make renowned supercars look a tad overhyped and underwhelming. But this GT-R offshoot not only boasts an impressive set of performance figures, it celebrates it with hypercar-esque looks. And the best thing of all – they're actually putting this thing into low volume production.
This is no tease like the Nissan IDx was years back, the GT-R50 is going to be a reality for 50 lucky owners. It comes at a price though; US$1 million is the rumored cost of ownership.
The first thing that struck me is just how good the car looks in real life; pictures really do not do it any justice. It's as if every detail that people recognize as 'GT-R' has been injected with extra theater and given a futuristic look.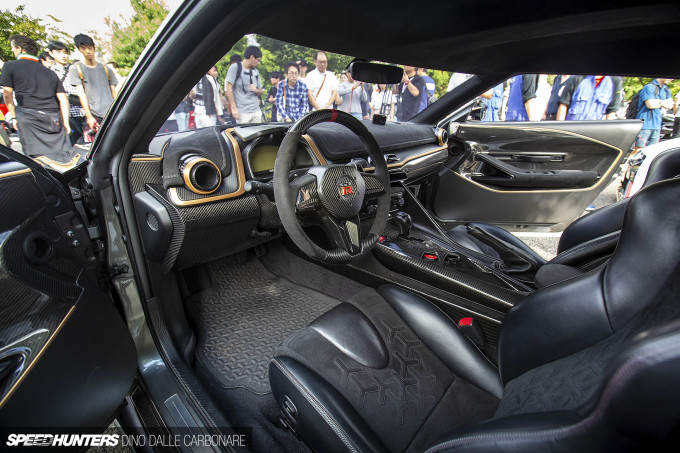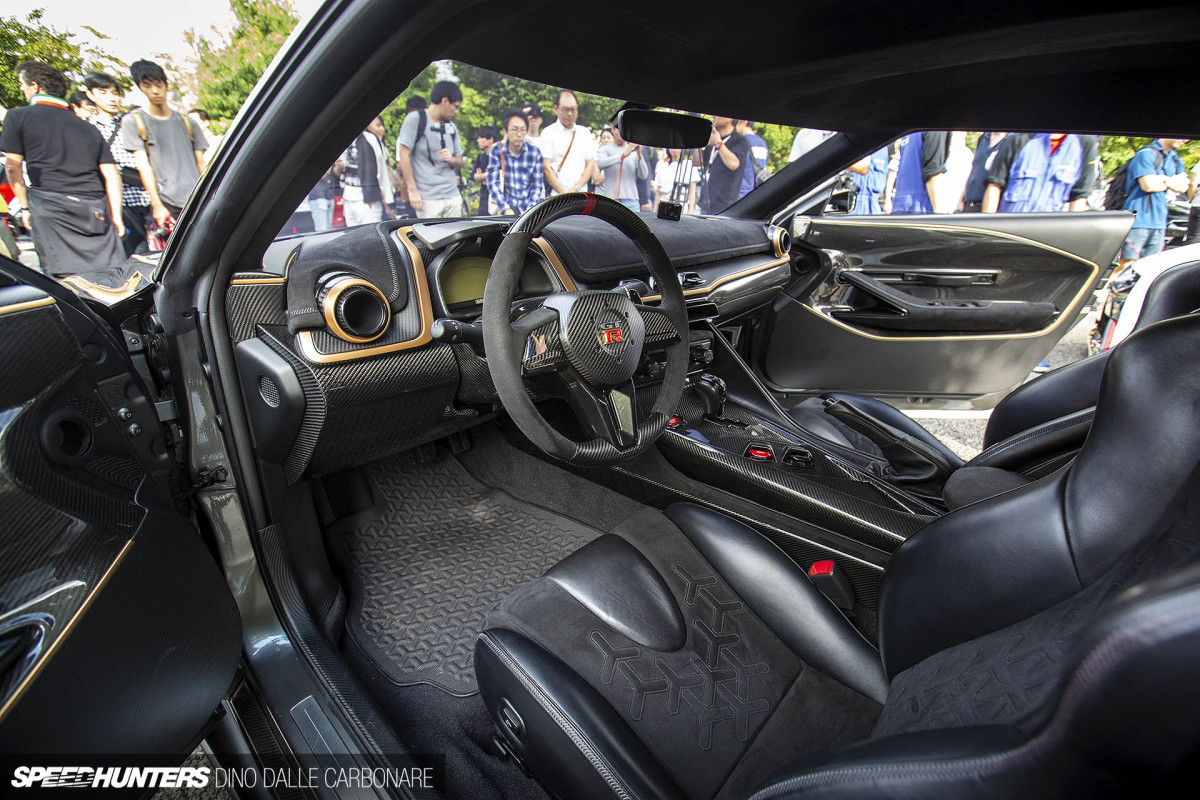 The cabin gets needs a special mention; it's much simpler than the standard R35 interior and is very functional. It's sculpted around a new dash design and features a ton of exposed carbon fiber, suede and leather, all interlaced with gold trim to tie into the exterior.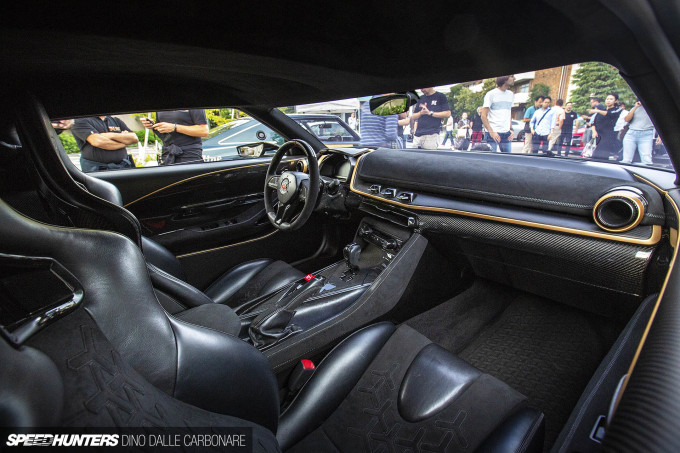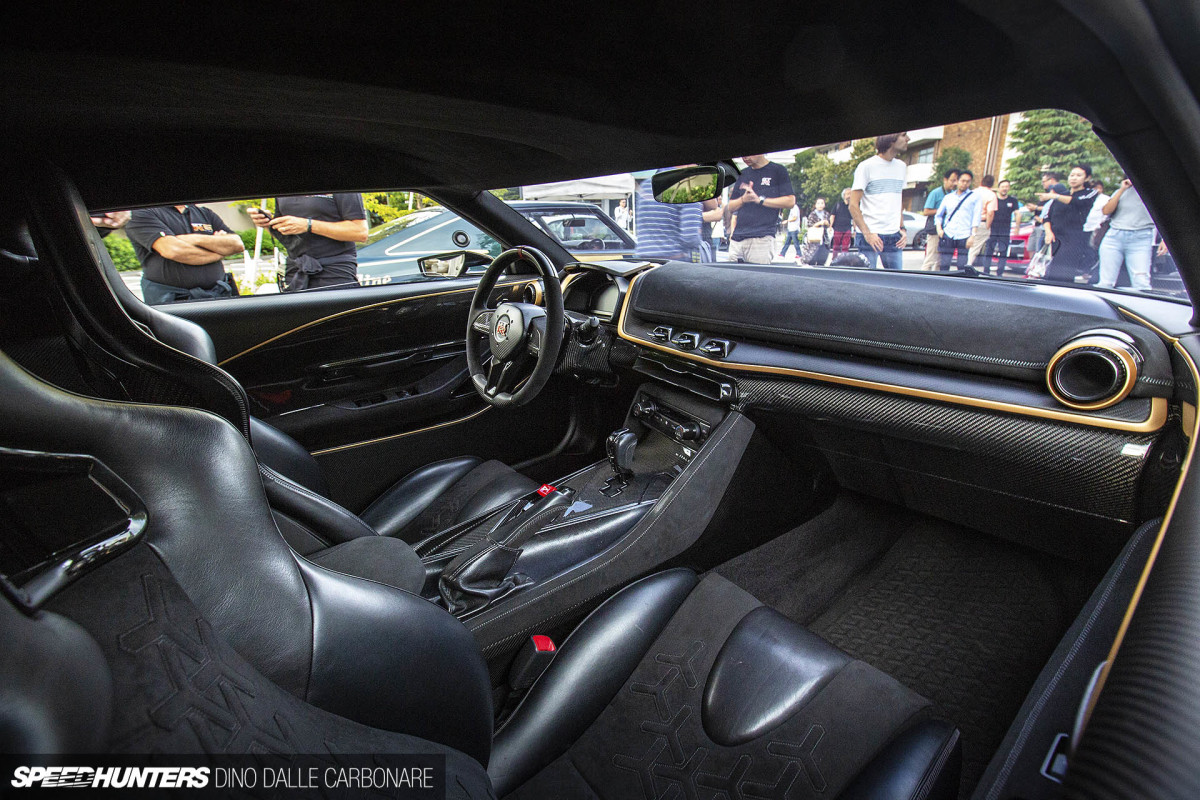 Since the Nismo GT-R that the GT-R50 is based on features a GT3 engine upgrade, the use of a digital dash only emphasizes the car's performance focus. And it's not some tacky, over-desinged LCD panel – it's a MoTeC data logger. Enough said…
Nissan recently released this short little video of the event, and you'll be able to see and hear yours truly setting the tone for the whole edit. Hit play and enjoy!
Two Legends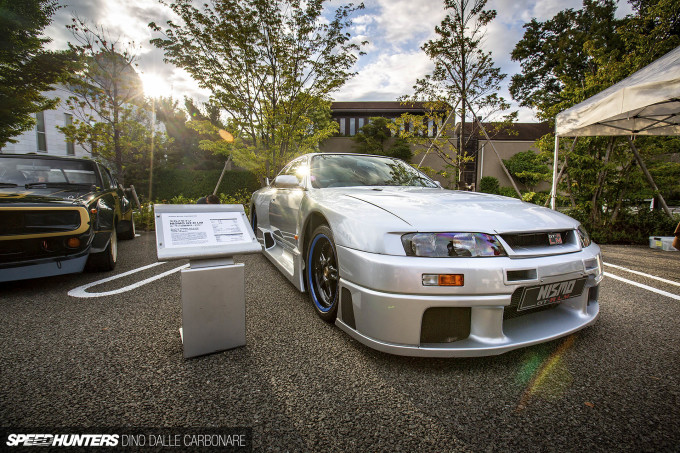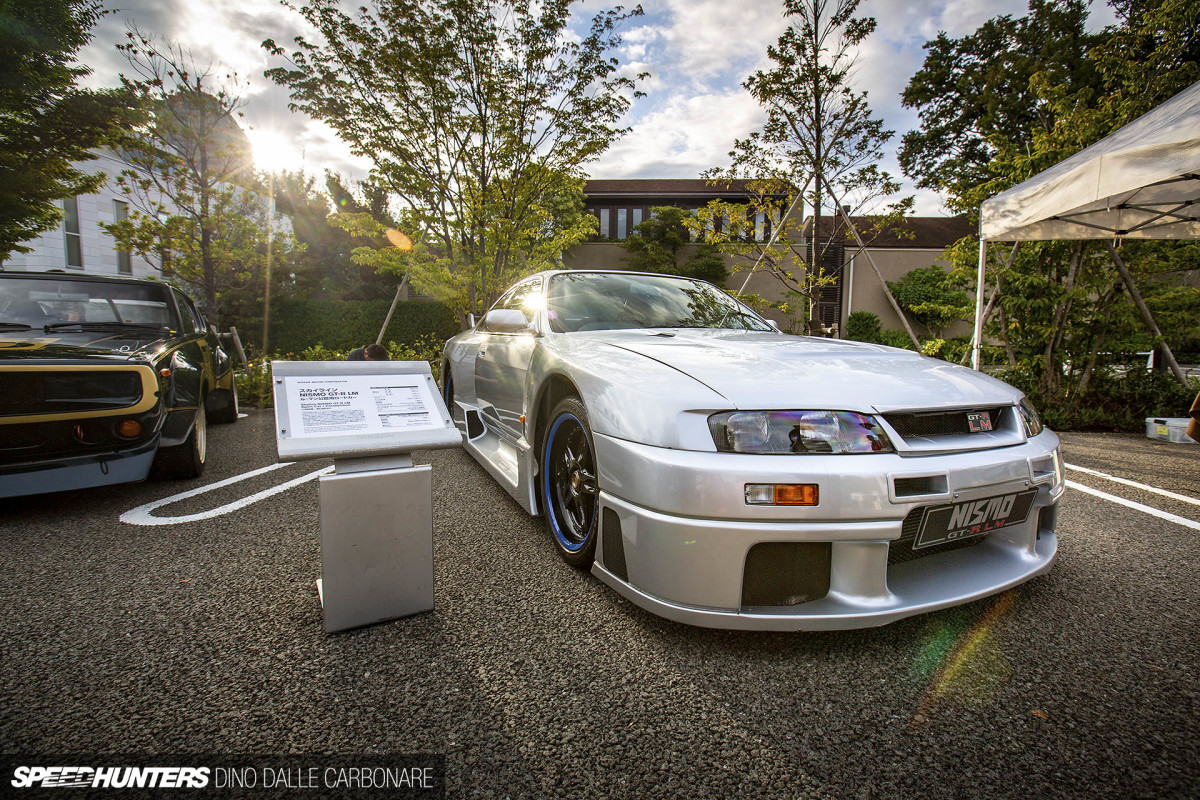 It wasn't just the GT-R50's presence that made this event so great – it was the inclusion of two rare GT-R legends from Nissan's Heritage Collection. The first was the BCNR33 GT-R LM homologation special.
You just don't see this car out and about often; Nissan brings it to the Nismo Festival on alternating years, but usually it's tucked away in a massive warehouse in Atsugi. It was so cool to nerd over it; just check out the suspension turrets, which are very different from those in a production-spec R33 GT-R as the rear-wheel drive LM had to accommodate and homologate a double wishbone suspension setup.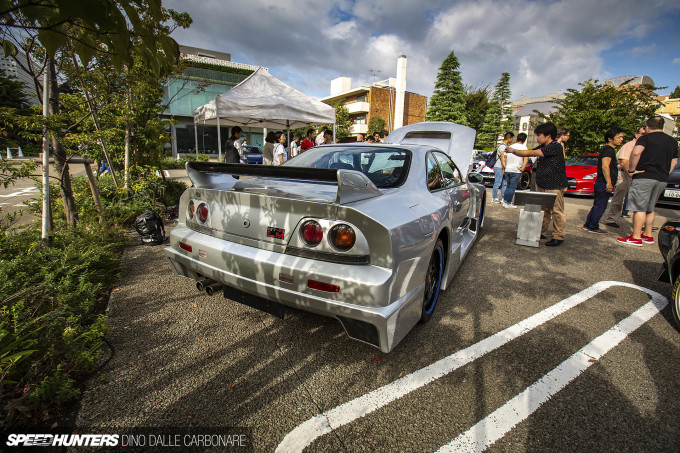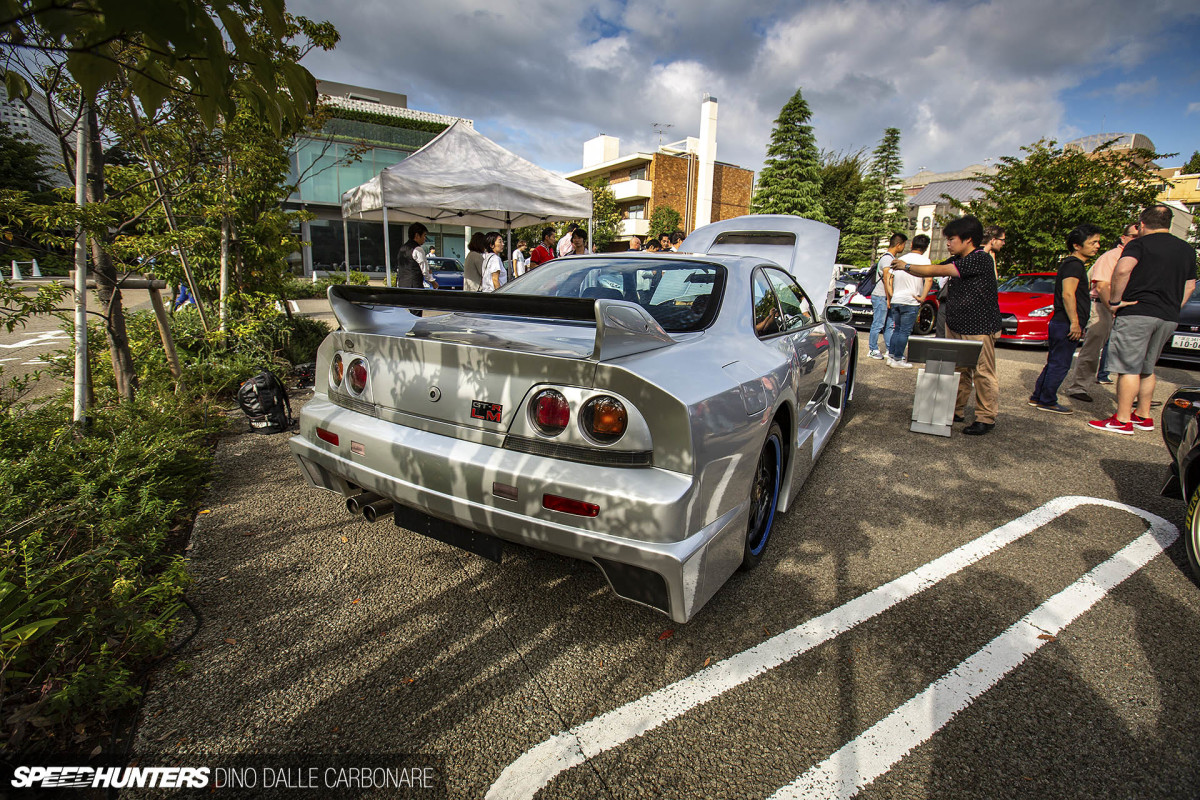 Look at that rear end – this is stuff legends are made of.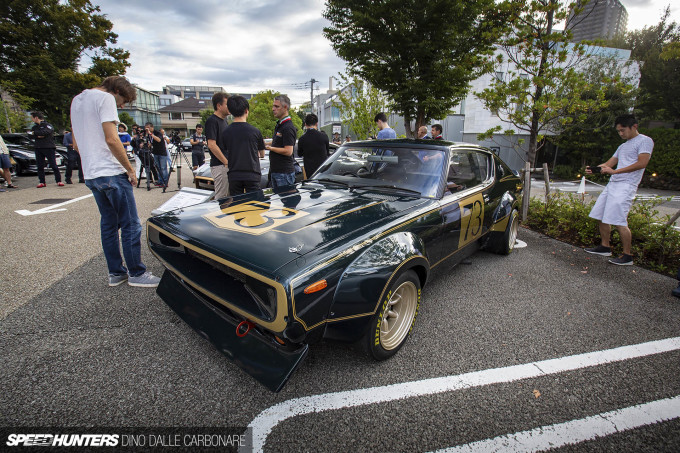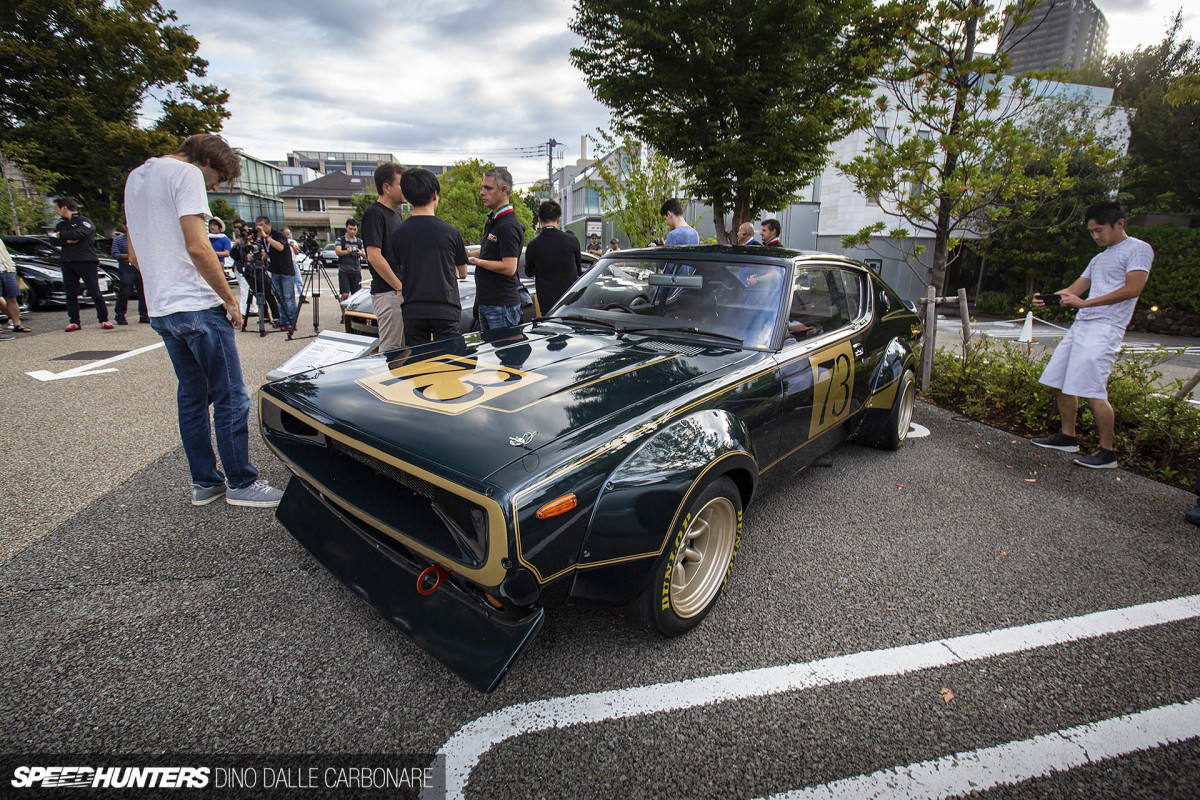 Next to the R33 was another one-off, the KPGC110 Kenmeri race car that never actually raced due to the late-1970s oil crisis.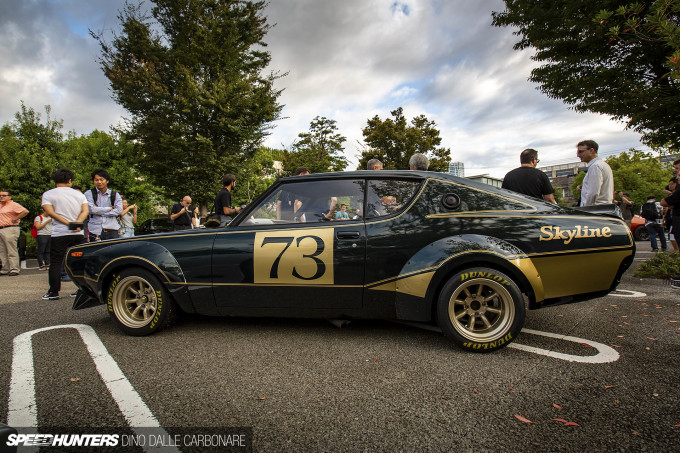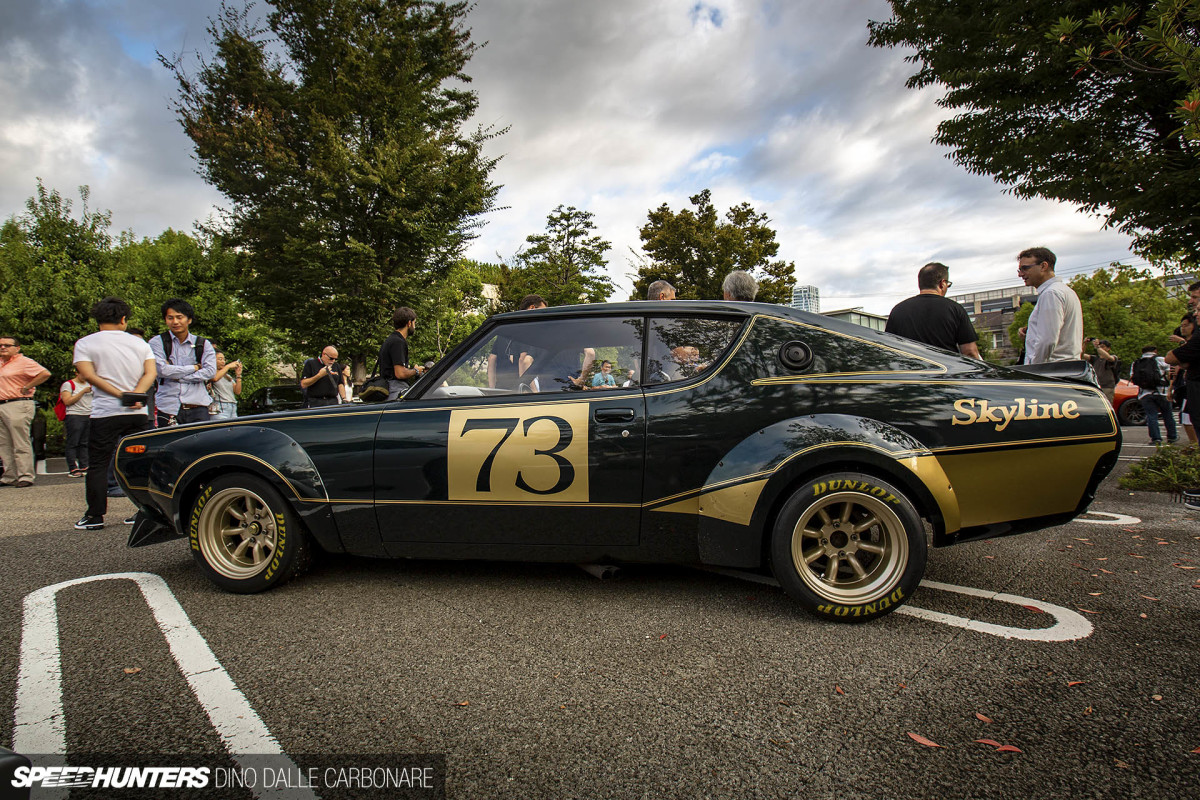 Seeing the two cars side by side, I think it's obvious where Italdesign got their inspiration from.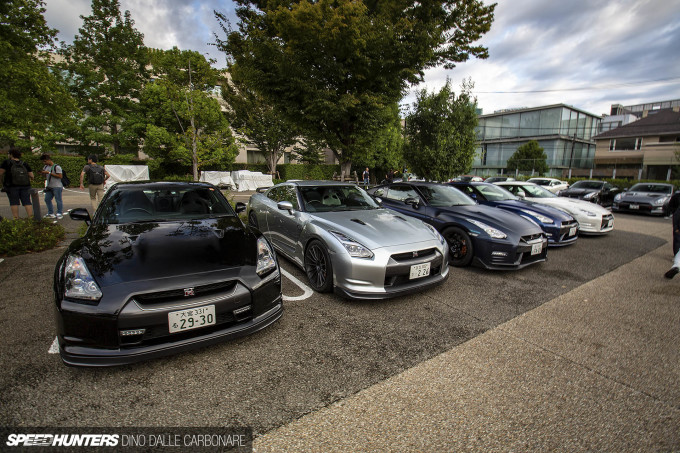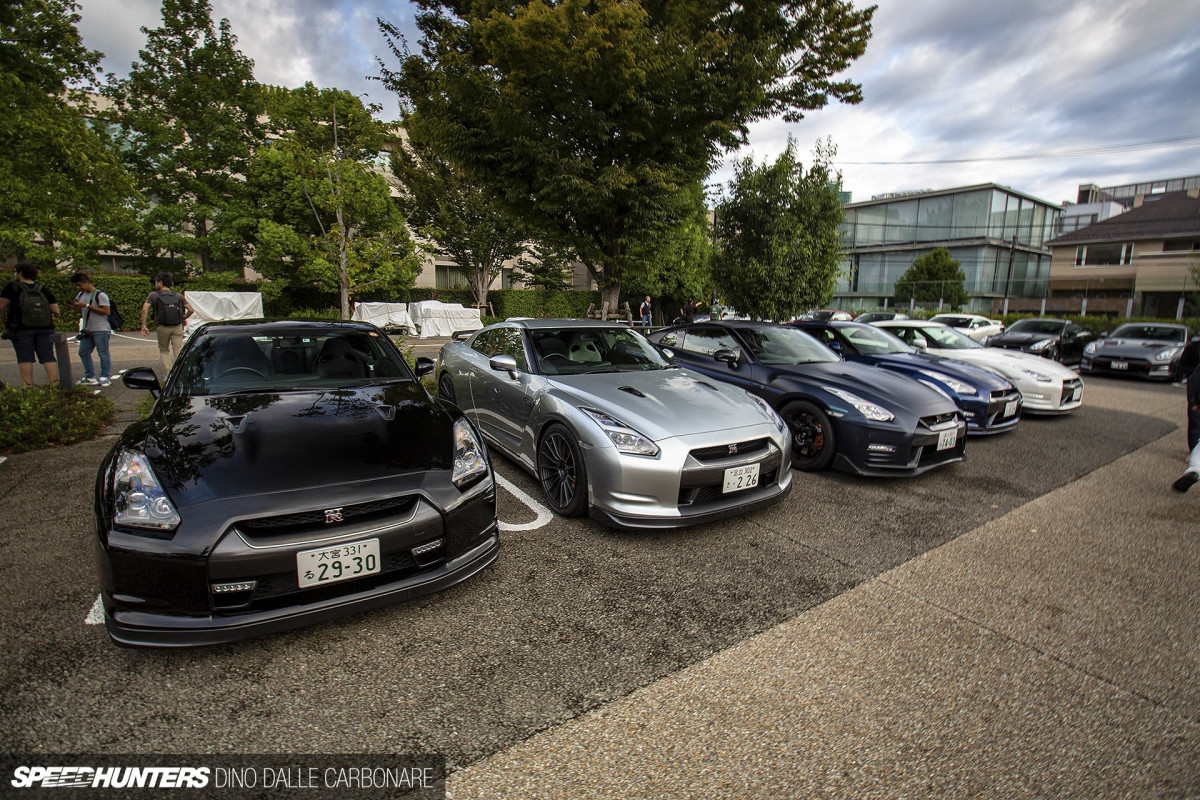 By the time I finished looking over these three very special cars the whole T-Site parking lot had become a sea of R35 GT-Rs. These were a mix of owner cars and other interesting machines.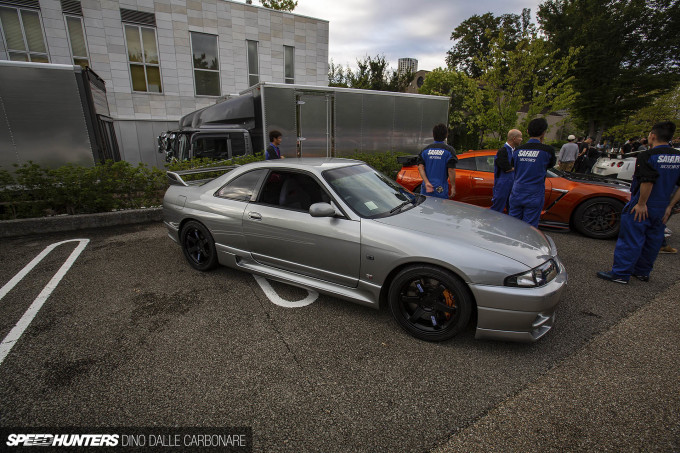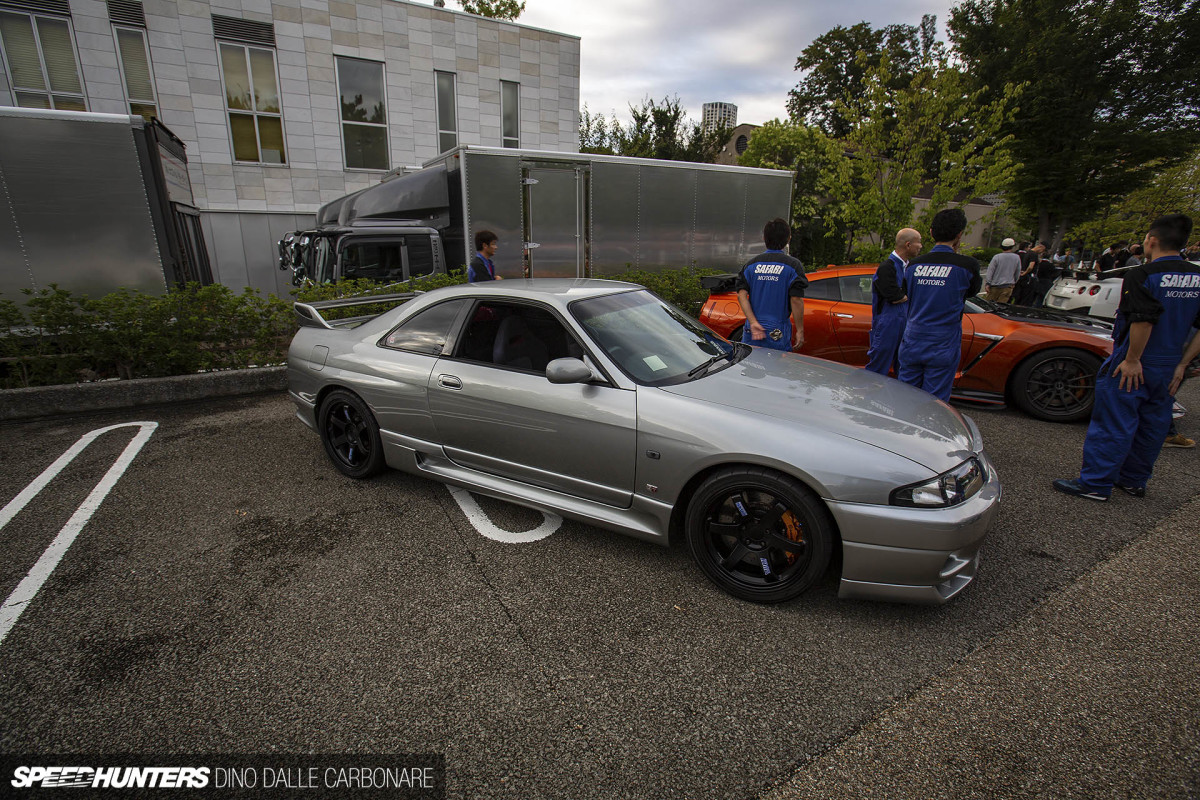 This was my ride from the airport, Project 33. Aki was kind enough to make a huge detour to Haneda Airport and drive me to Daikanyama. Needless to say, his GT-R was the shiniest and most blemish-free car at the event.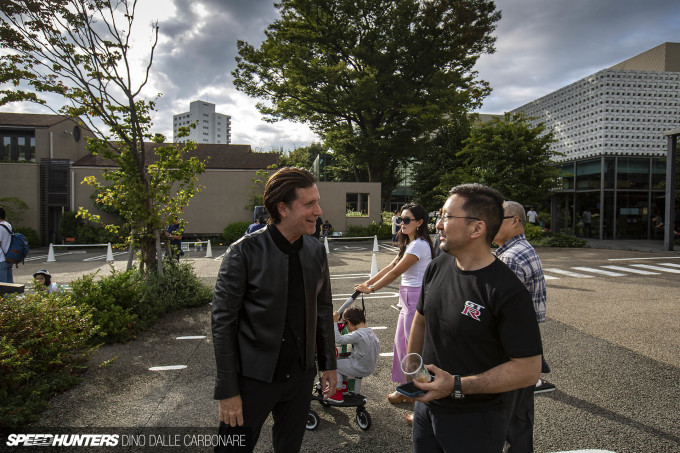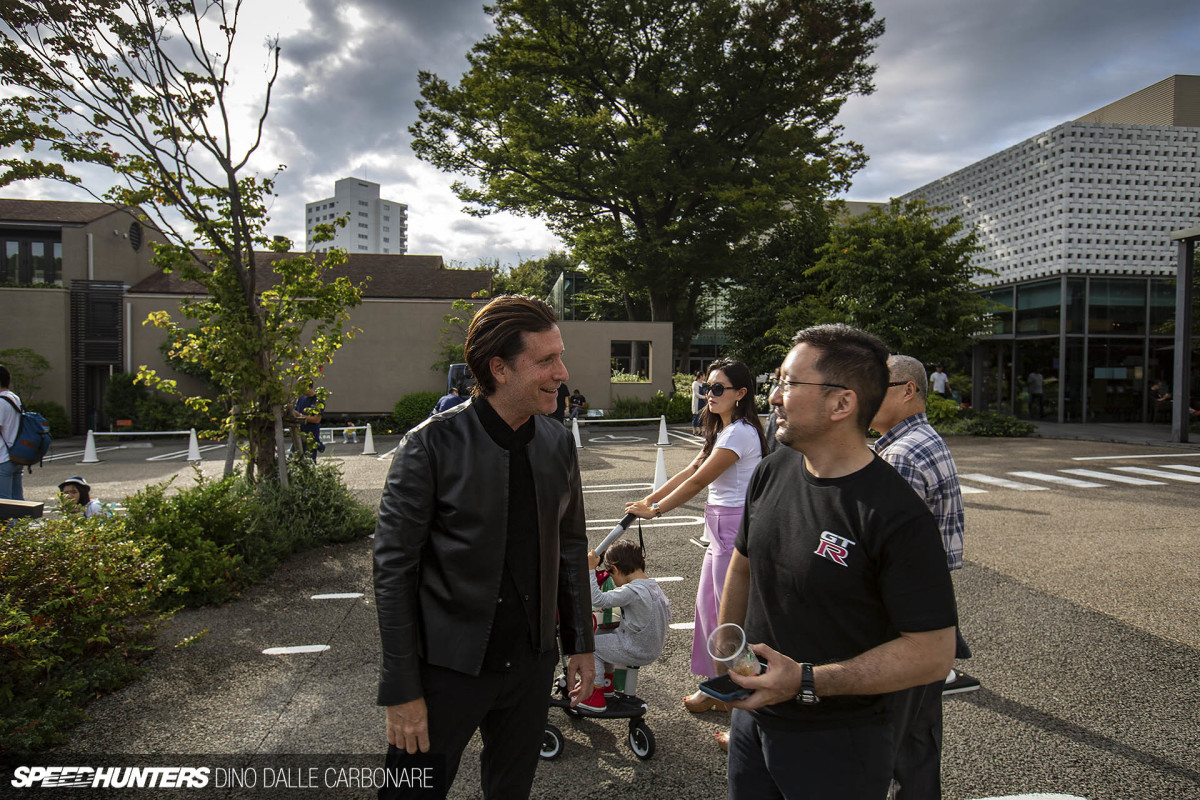 It's about time we let you on to a little secret about Aki. Since last year he's been part of the legal team at Nissan, and you can see him here chatting to the the Senior Vice President for Global Design, Alfonso Albaisa, who dropped by to see his GT-R50 baby finally arrive in Japan. Now you know why Project 33 updates come sporadically; Aki's day job keeps him pretty busy and the rest of his time is spent polishing his pride and joy.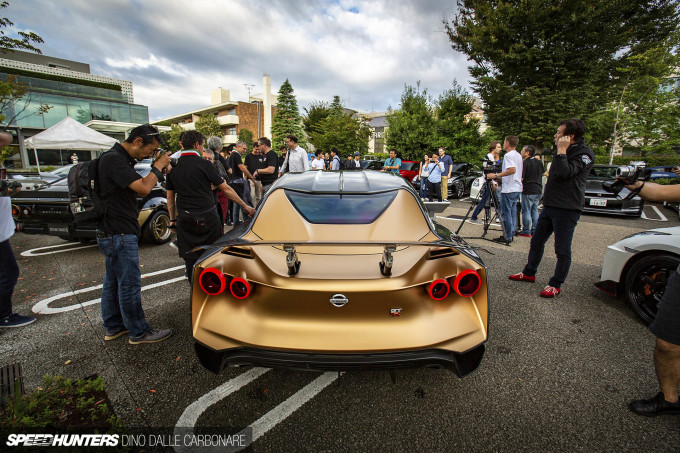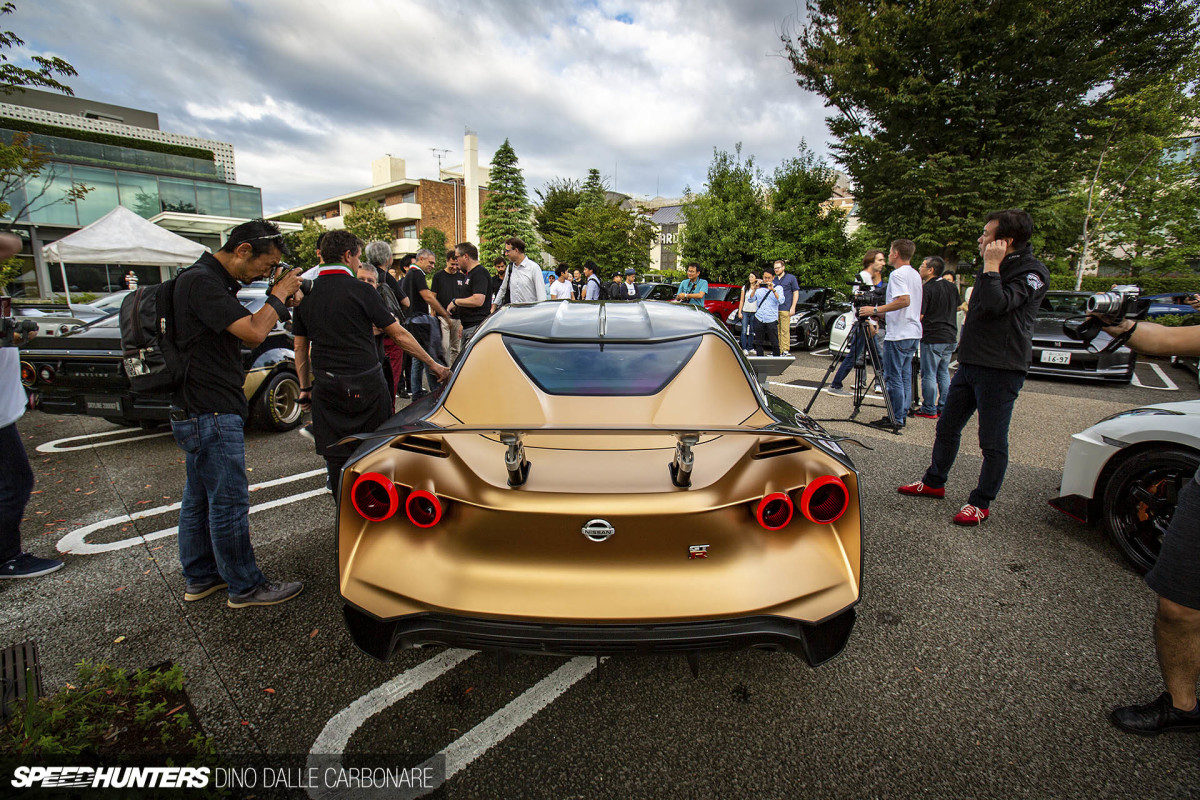 For most of the morning the star of the show was surrounded by crowds four- or five-people deep, but I was finally able to get a clear view of the rear.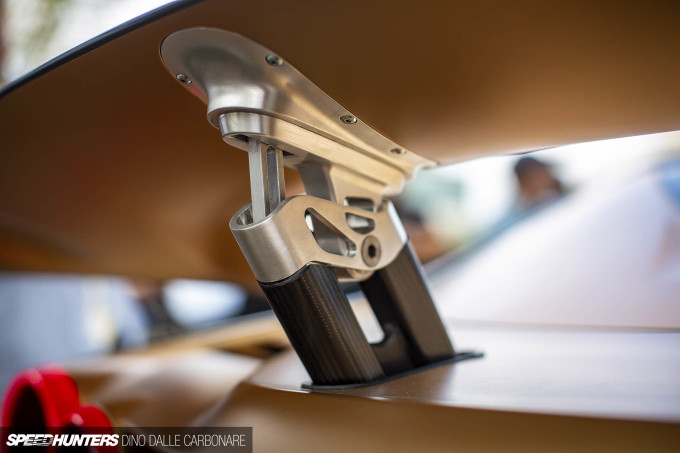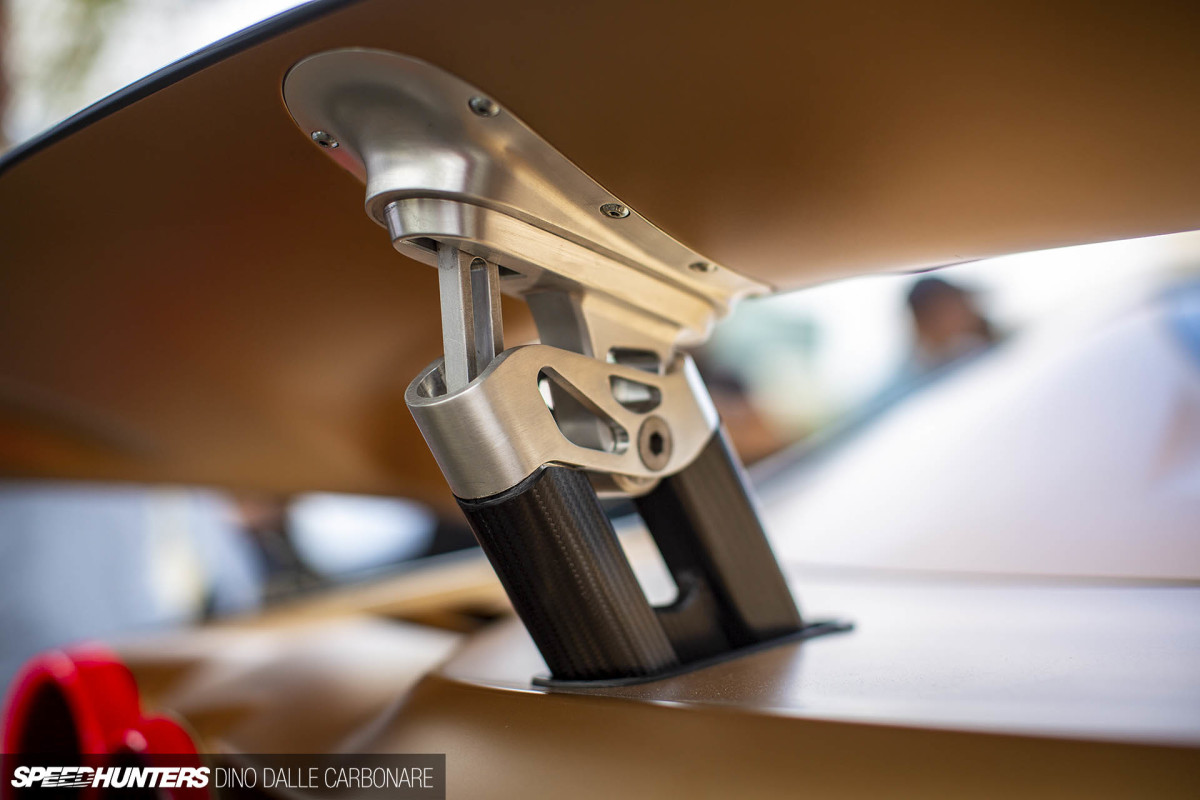 I had a chat to the Italdesign guys who were helping show off the car, and they were happy to give me a demo of how the spoiler retracts flush to the body and how it stands to position in a split second thanks to the actuators that control these beautiful carbon and billet aluminum stays.
Like all of the custom body panels, the rear hatch is also carbon fiber. Beneath it there's enough room for some bespoke GT-R50 leather luggage.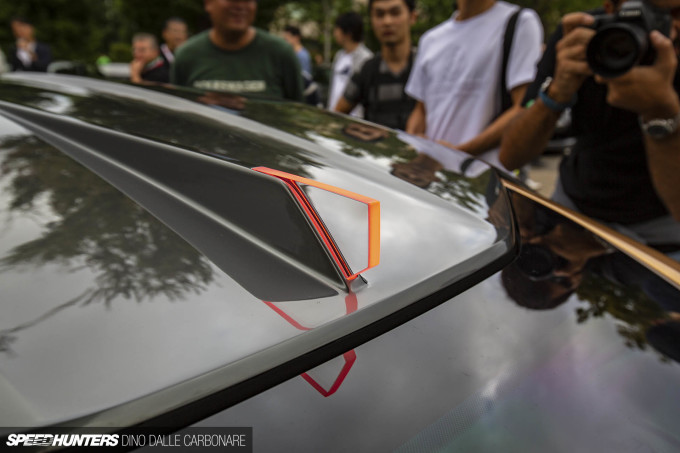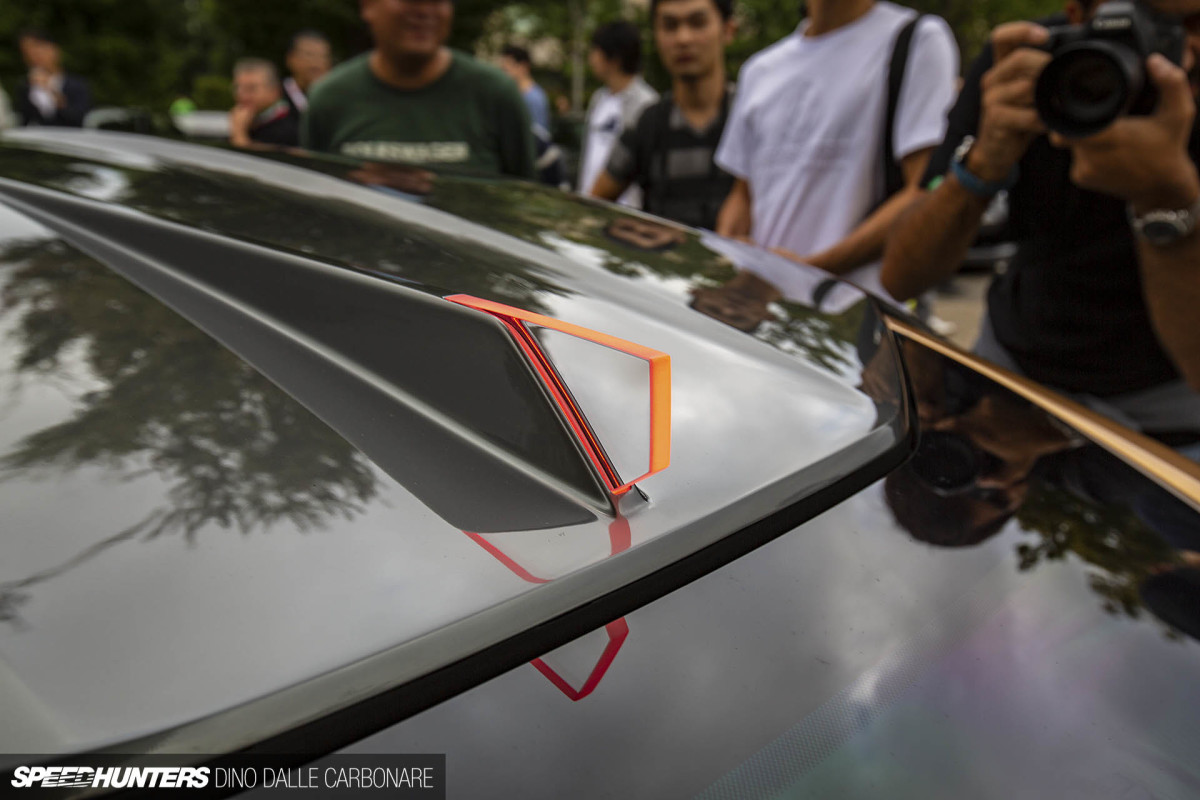 The coolest detail? For me it's this transparent third brake light that sprouts from the roof fin.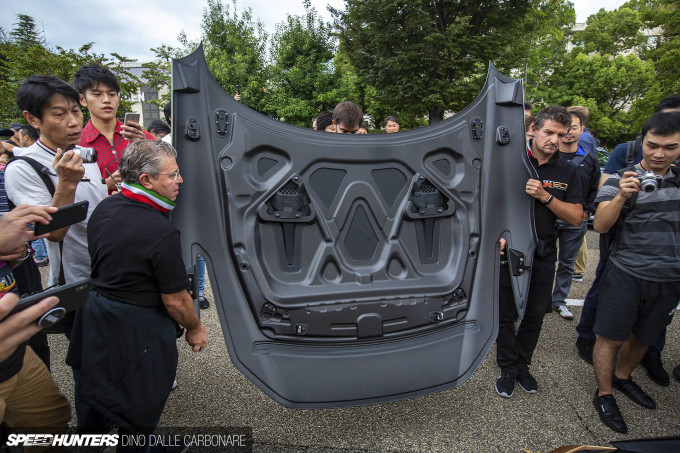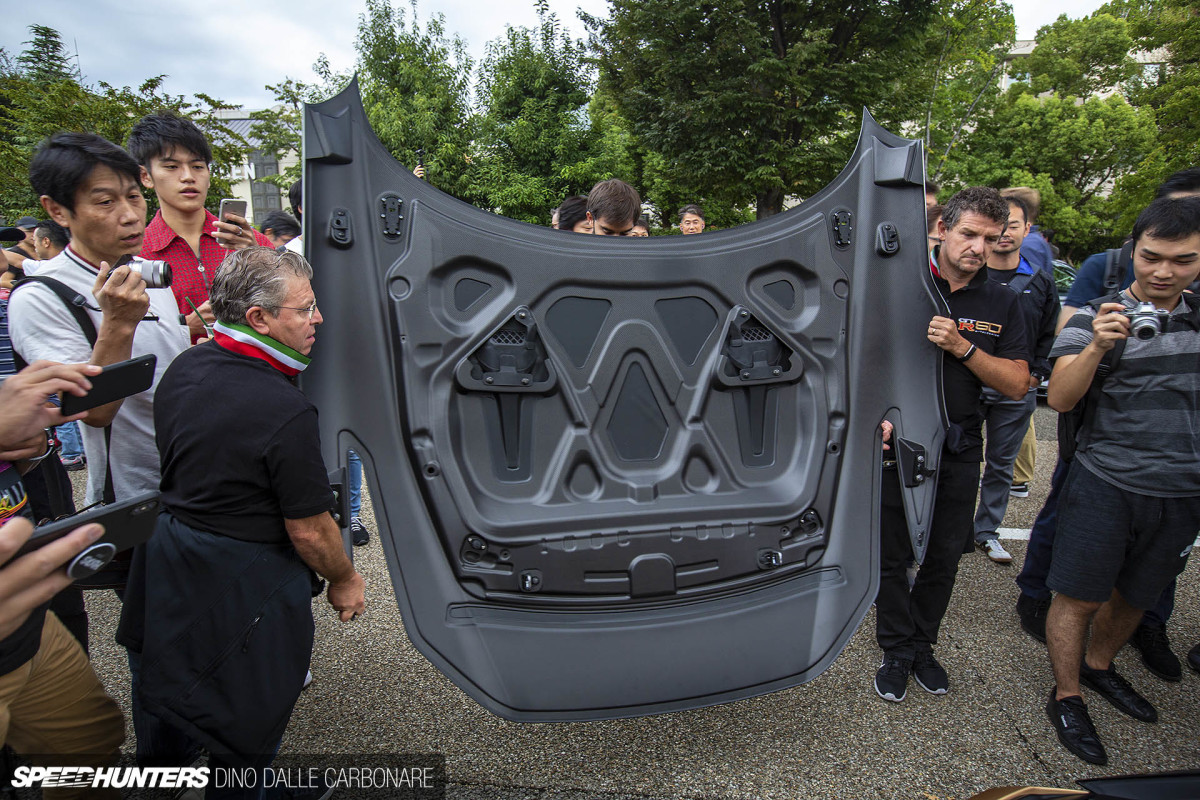 There was nothing the Italdesign guys wanted to hide. In fact, they seemed to really enjoy showing off their baby to the GT-R otaku present.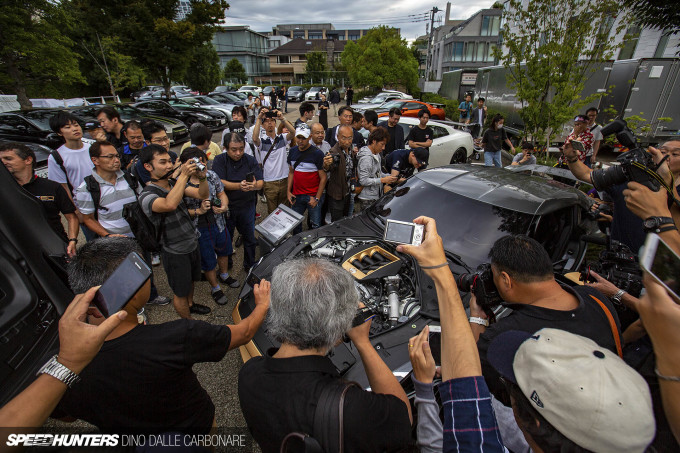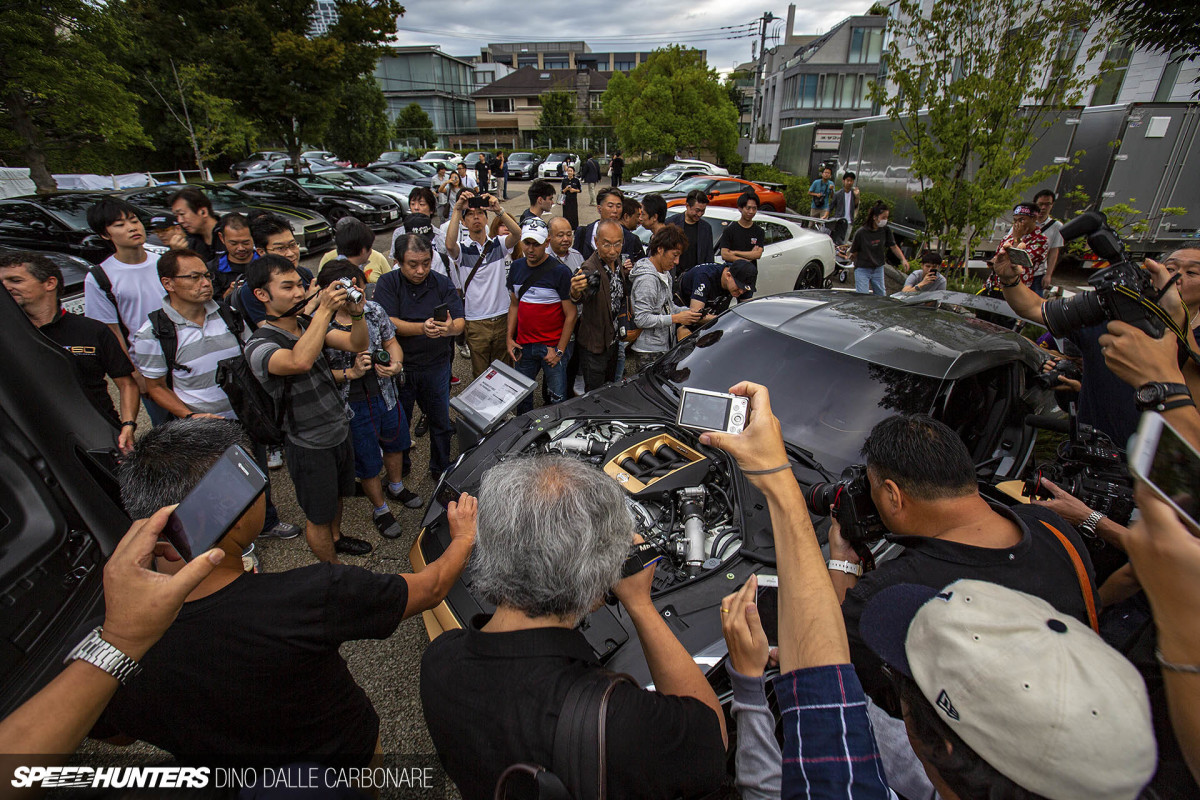 Once they removed the carbon fiber hood the crowd intensified.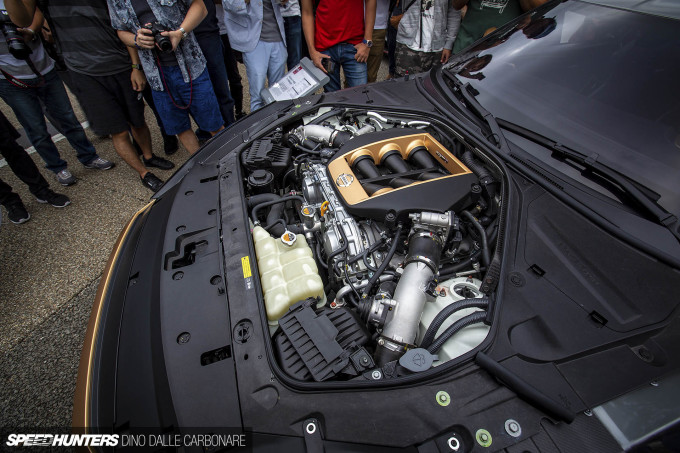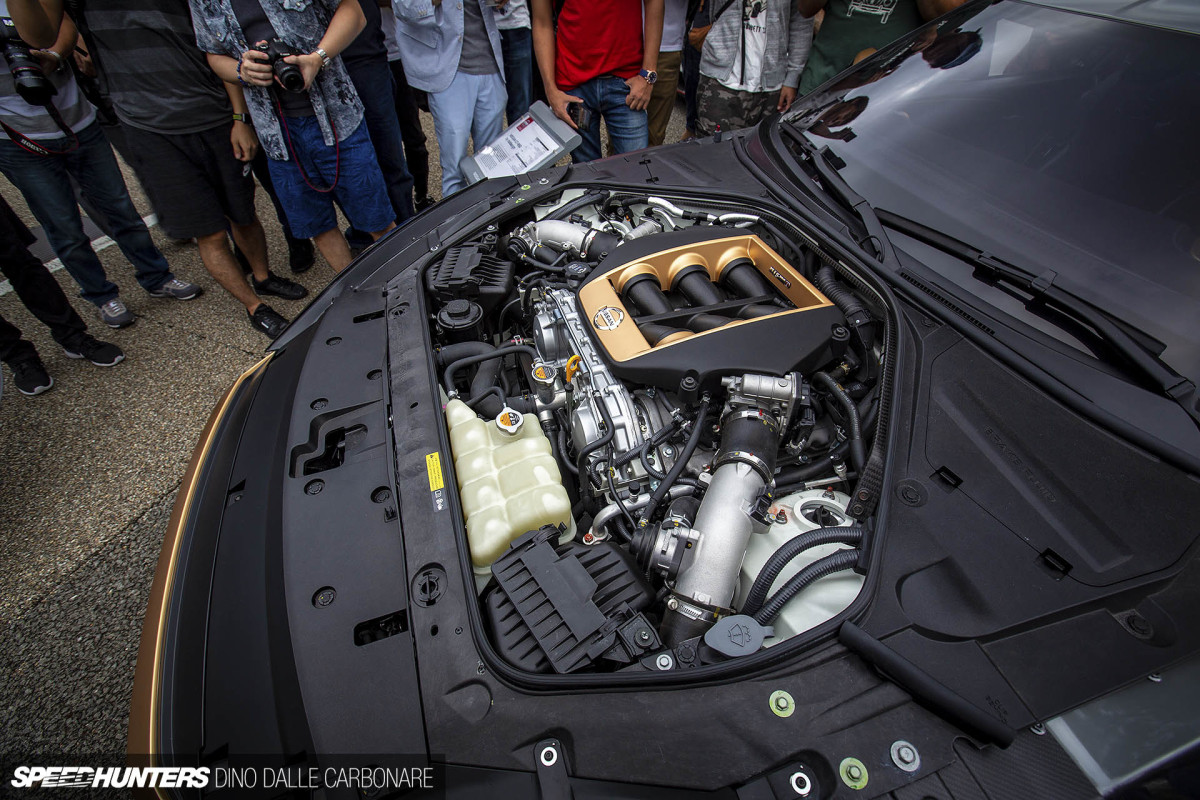 It took me a while to get through and snap a picture of the GT3-tuned engine. Aside from the coloring of the plastic engine cover, however, it all looks very stock. Some people were a bit let down by this as they were expecting a bespoke engine cover at the very least.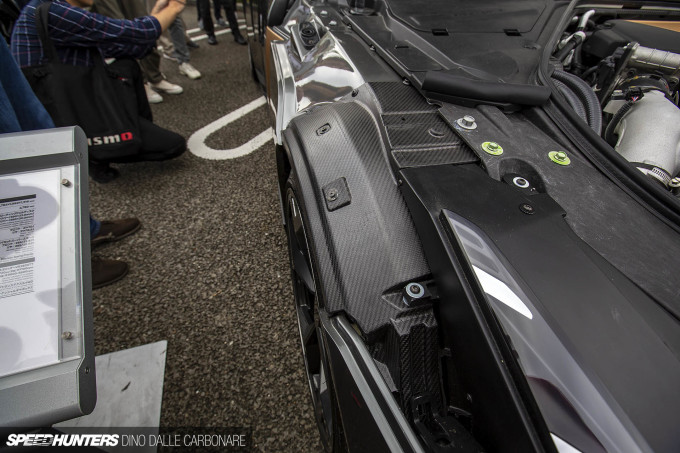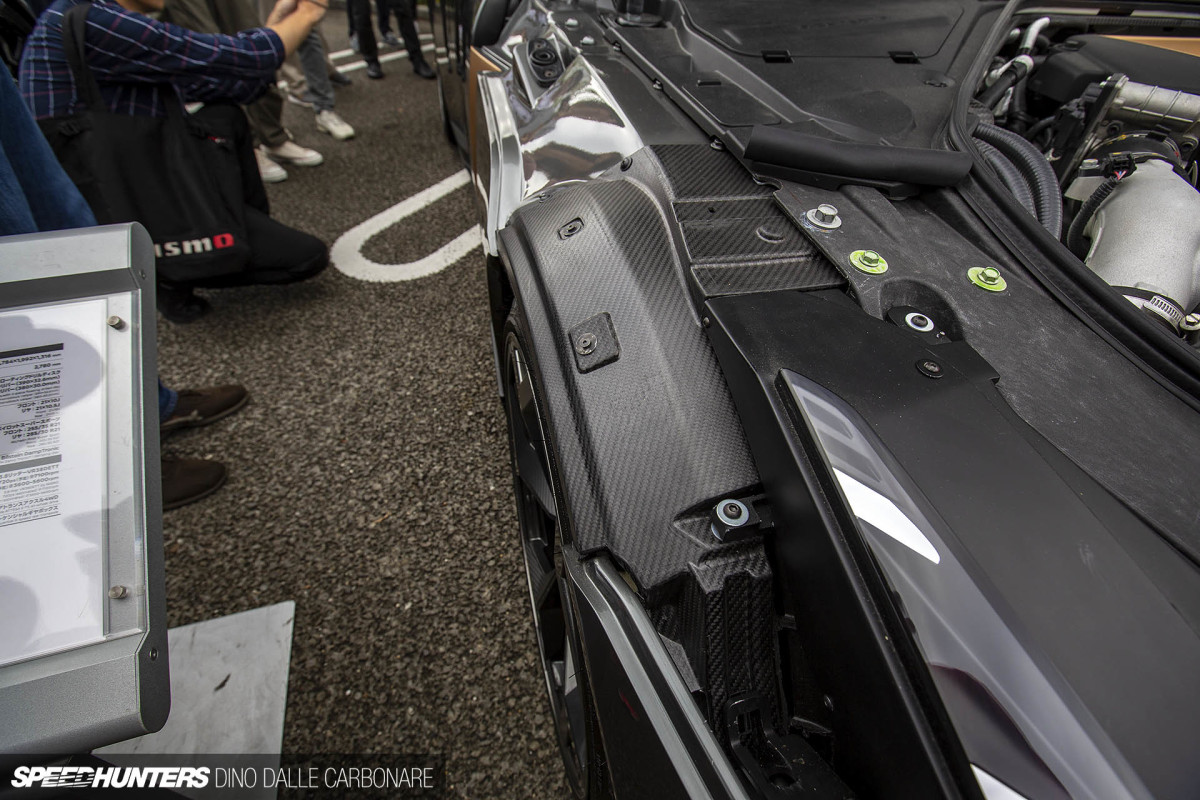 Along with the one-off LED headlight clusters, the front fenders had to be heavily modified to accept the newly designed profile and hood. It was cool to see how even the underlying fender section is made out of carbon fiber.
Hunting Japan Style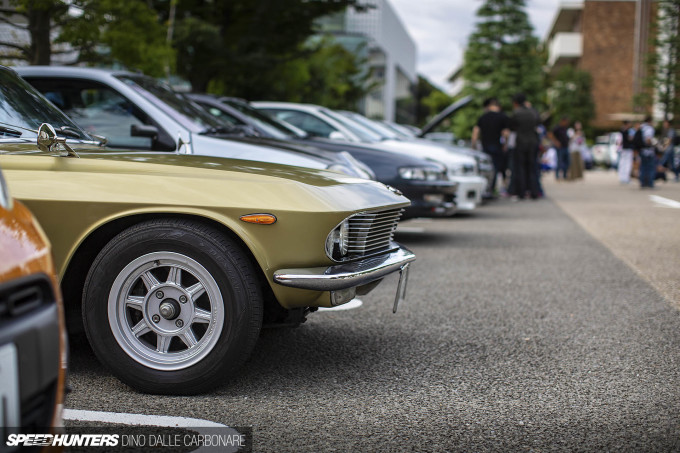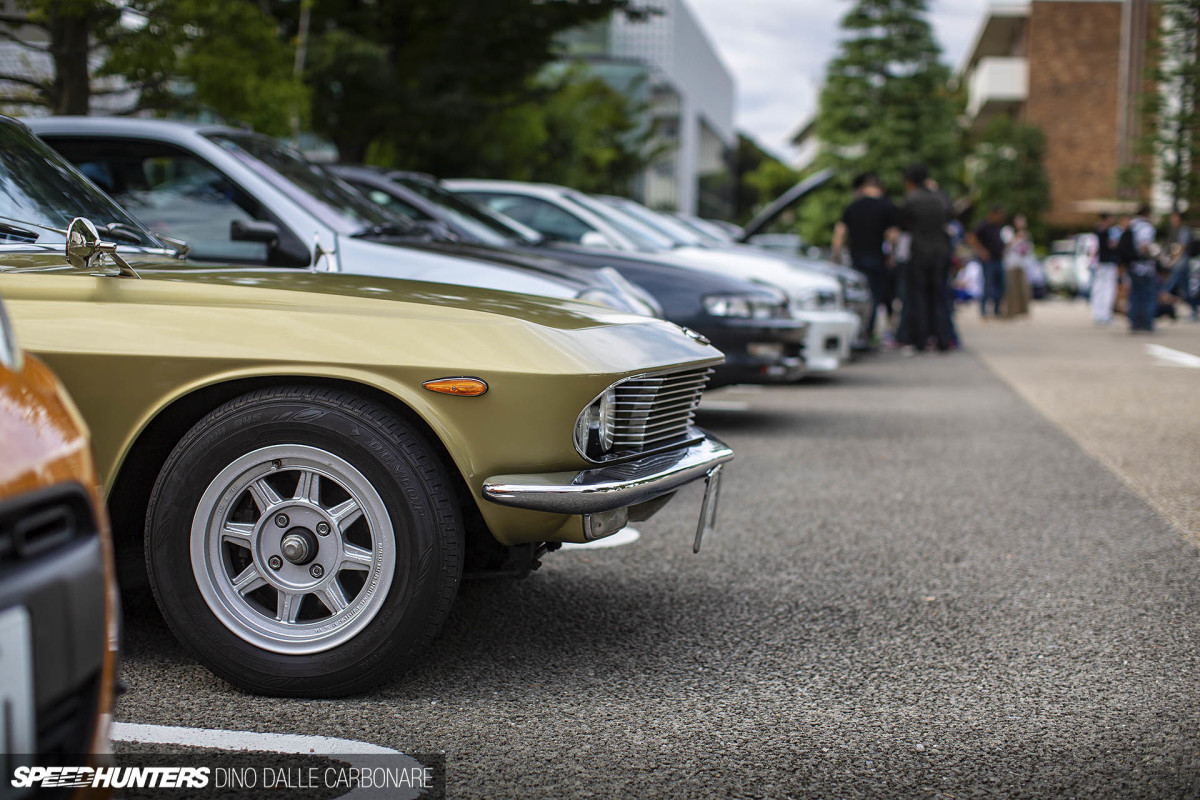 Not to far away was a car that seemed to fit in perfectly into the day's theme: The CSP311 was the first Silvia ever made. This came from a period in Nissan's history where design was still sought abroad, and it spawned some very nice cars.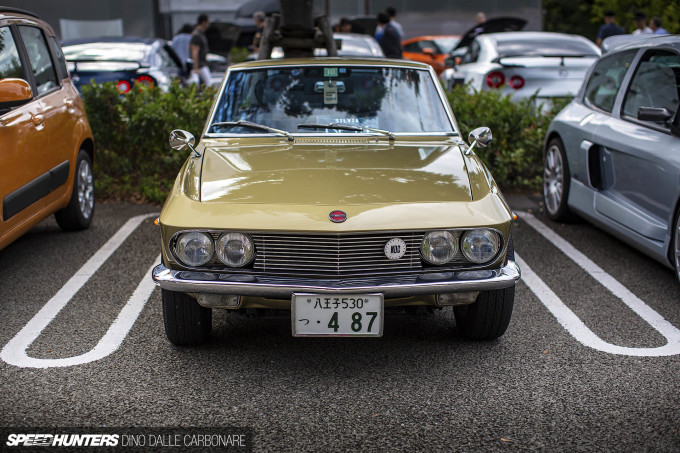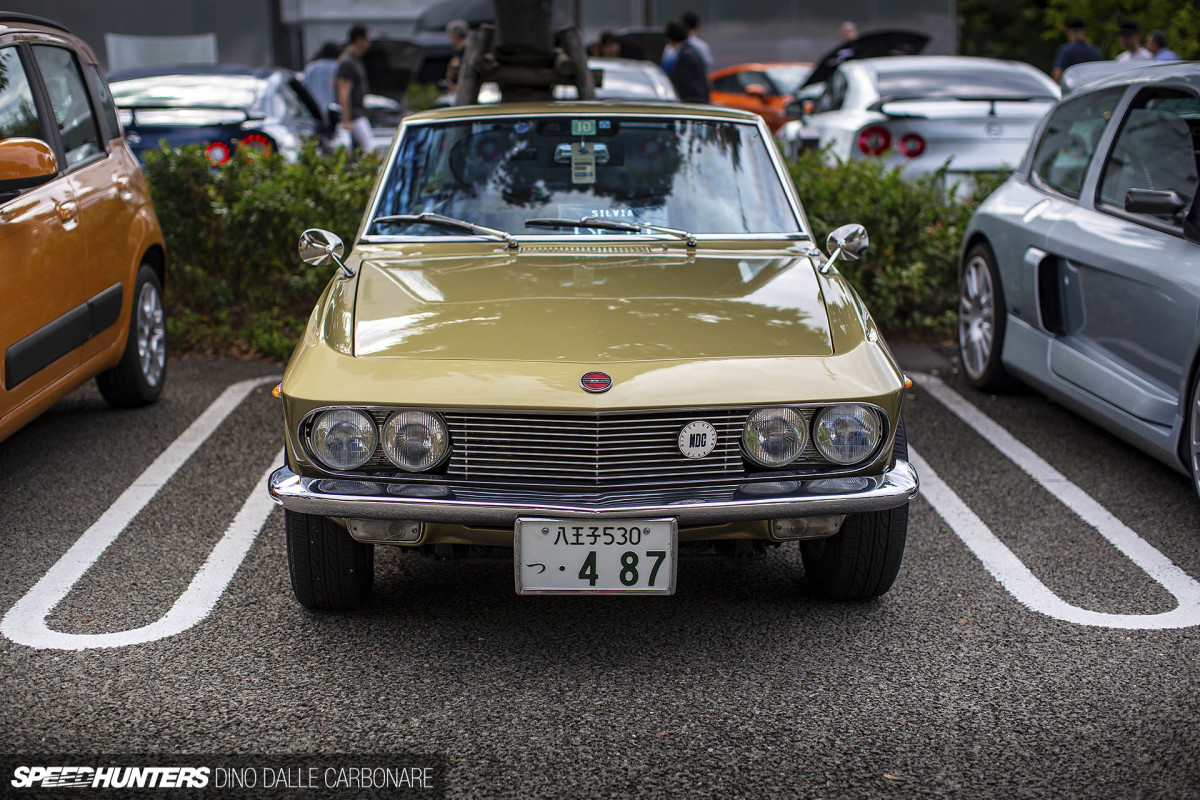 This particular car was designed by Albrecht Goerts, who at the time penned some famous BMWs.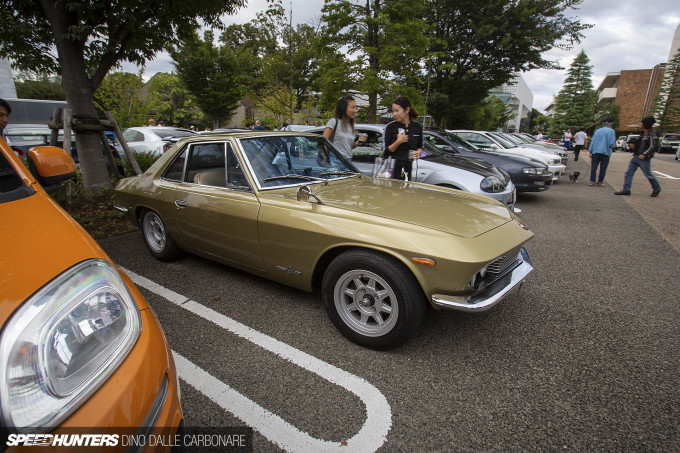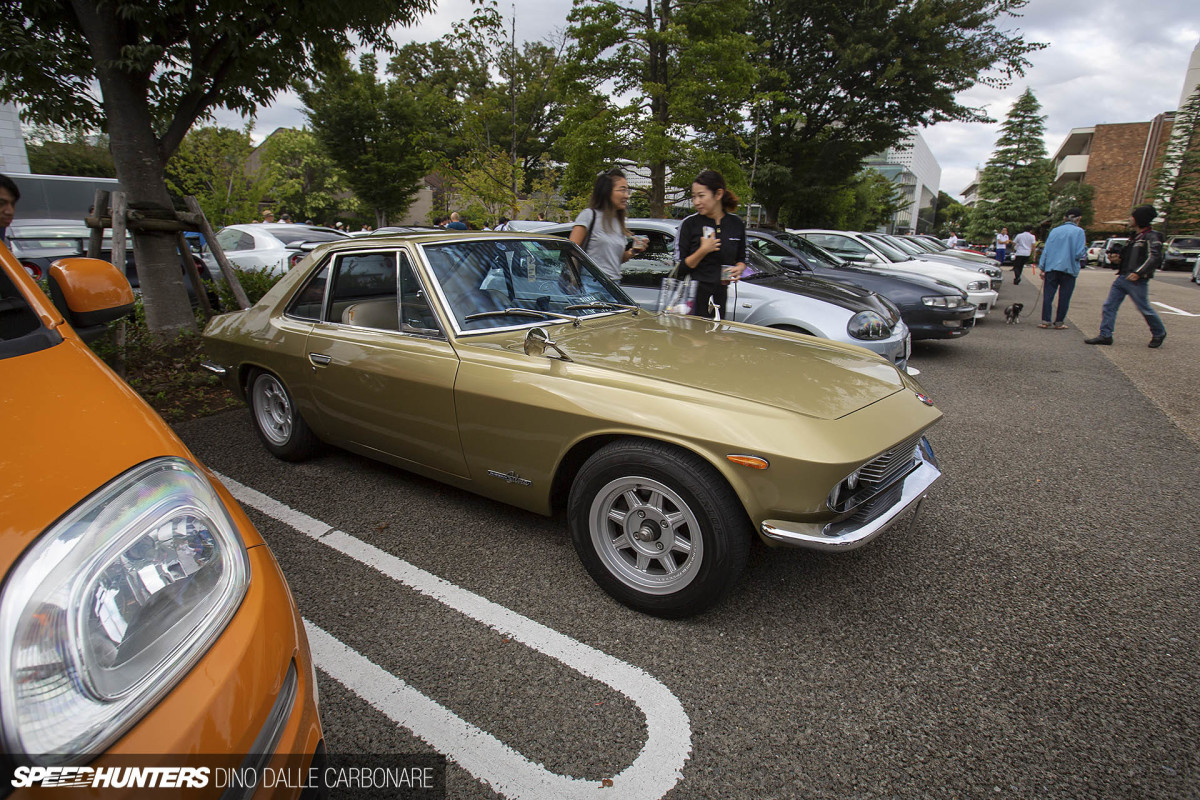 The silhouette is undeniably European; this car has always reminded me of the Lancia Fulvia, which interestingly enough is another classic I spotted at the event.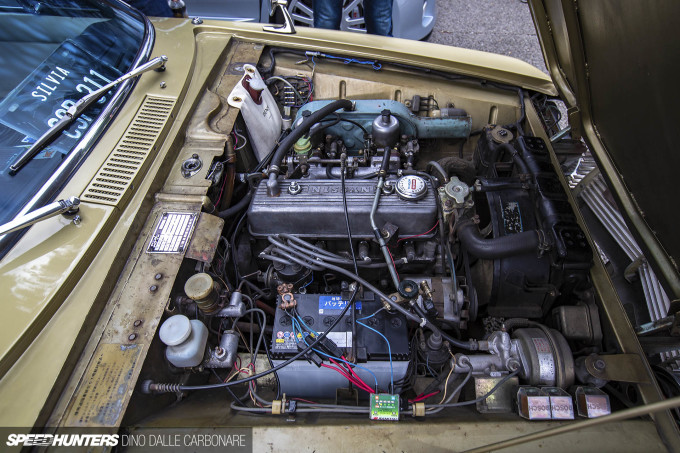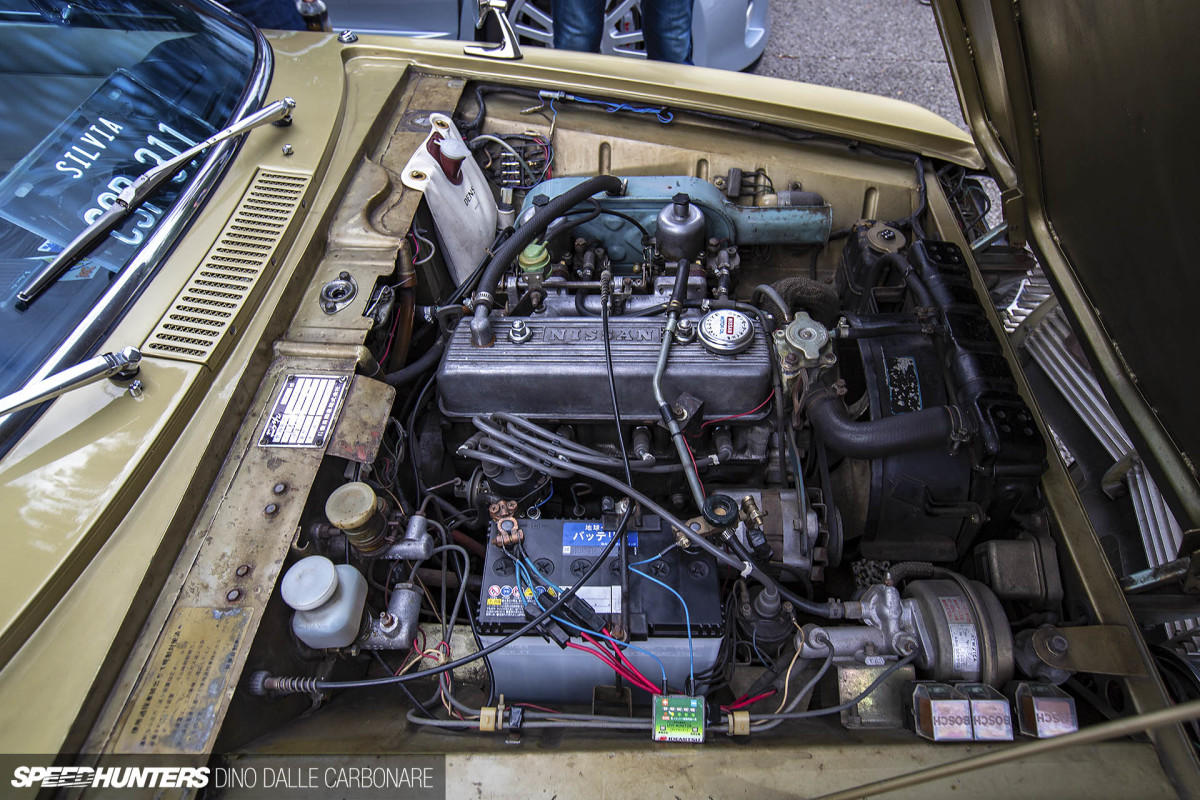 Just over 500 CSP311 Silvias were built, making it one of the rarest Nissan production models of all time.
Next to it was another rarity – at least in Japan. The Clio V6 Renault Sport is a little hatchback that does away with rear seats in favor of a Renault 5 Turbo-inspired rear-mounted engine. There's no turbo to be found on this car, though.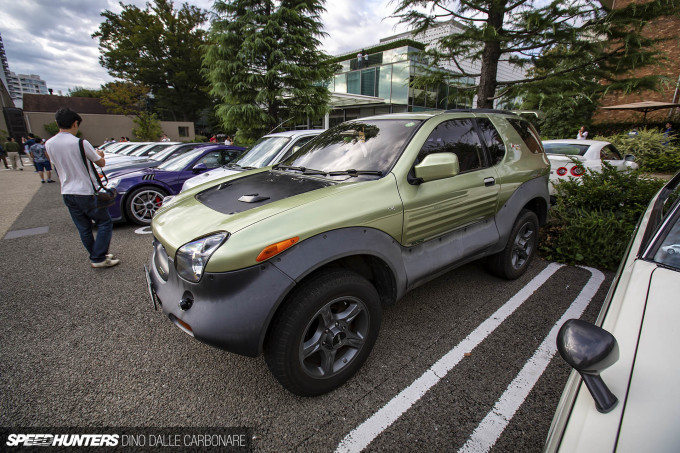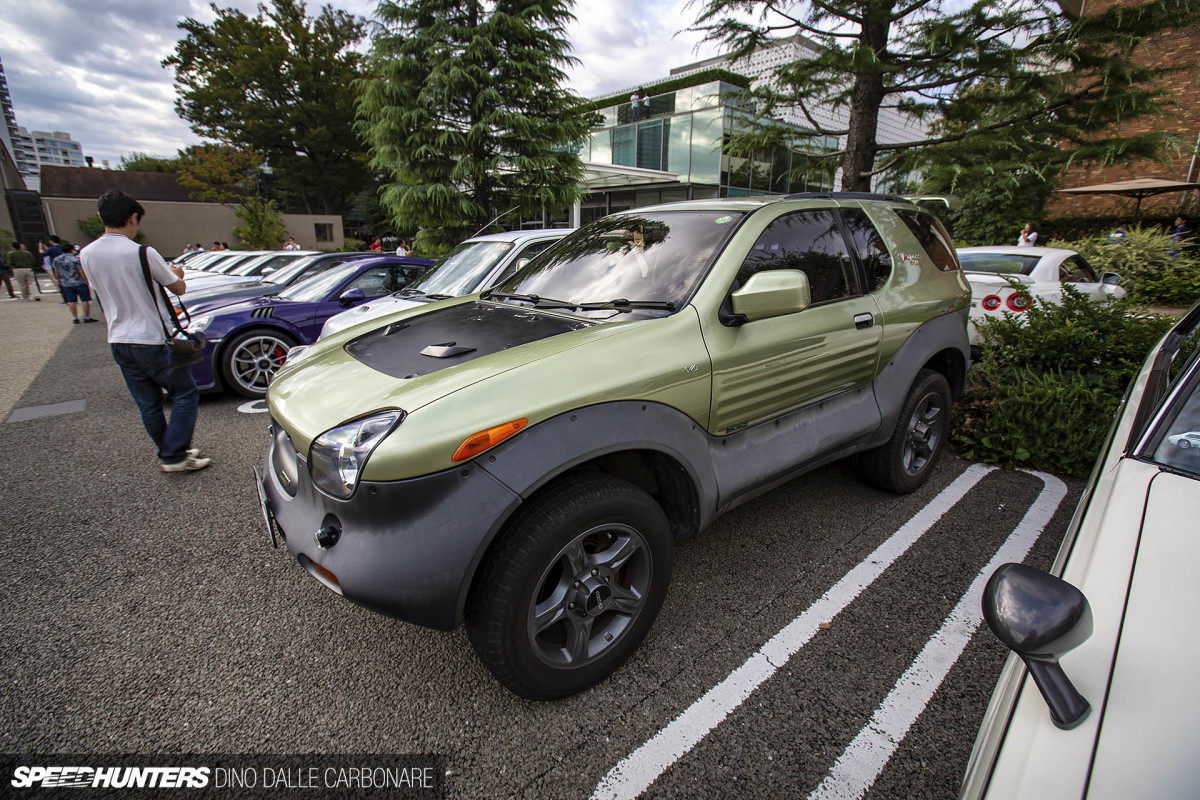 With the whole event being focused on design, it's not surprising that a lot of Nissan's in-house designers were in attendance. With them came a few interesting rides, including a Volkswagen Karmann Golf convertible and a personal favorite of mine, the Isuzu VehiCROSS. The latter is one I remember seeing on the streets of Japan in the 1990s – a true concept car for the road.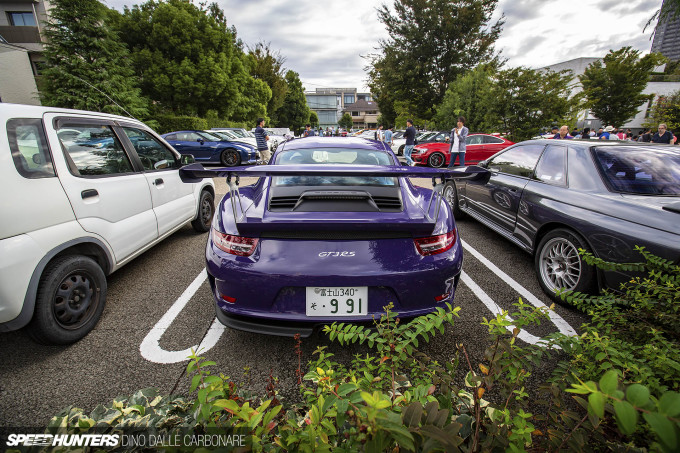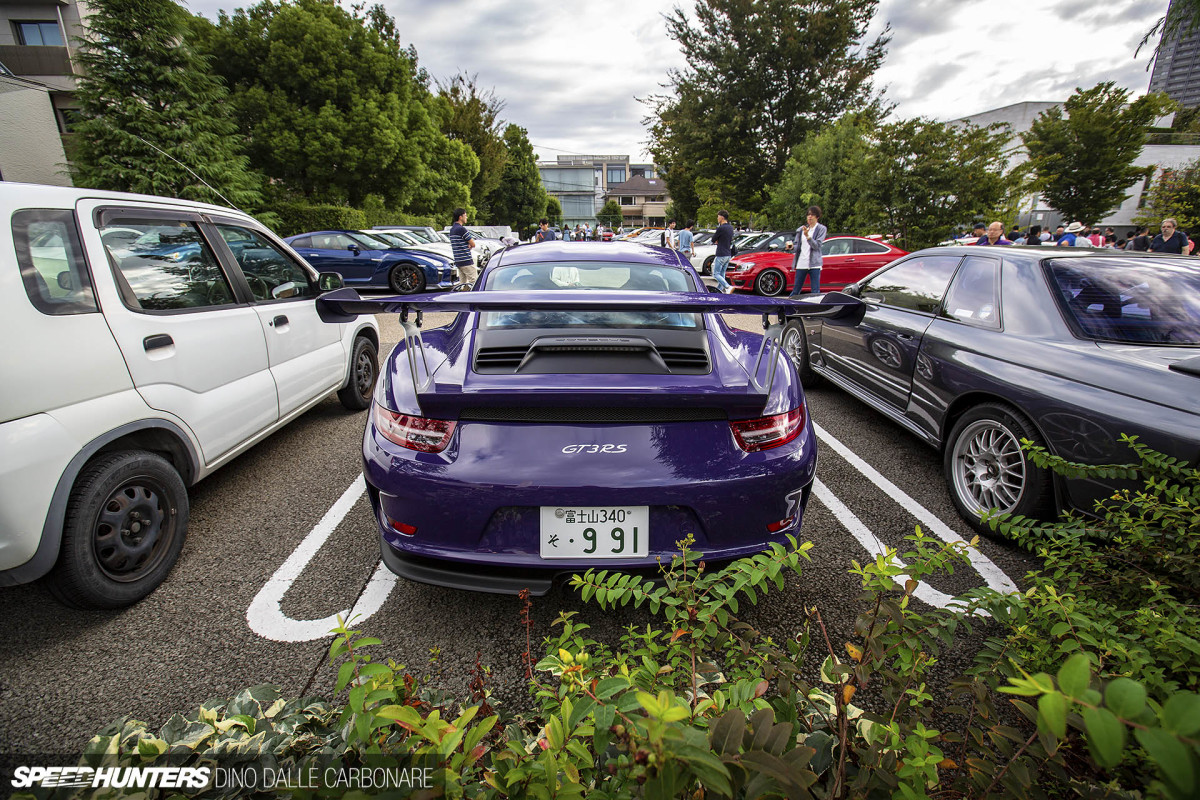 A Japanese car meet wouldn't be complete without a wildly colorful GT3 RS, so here's a purple one to add some contrast.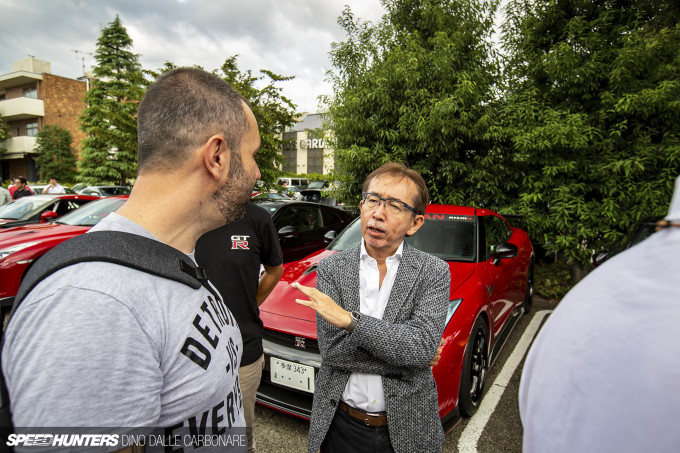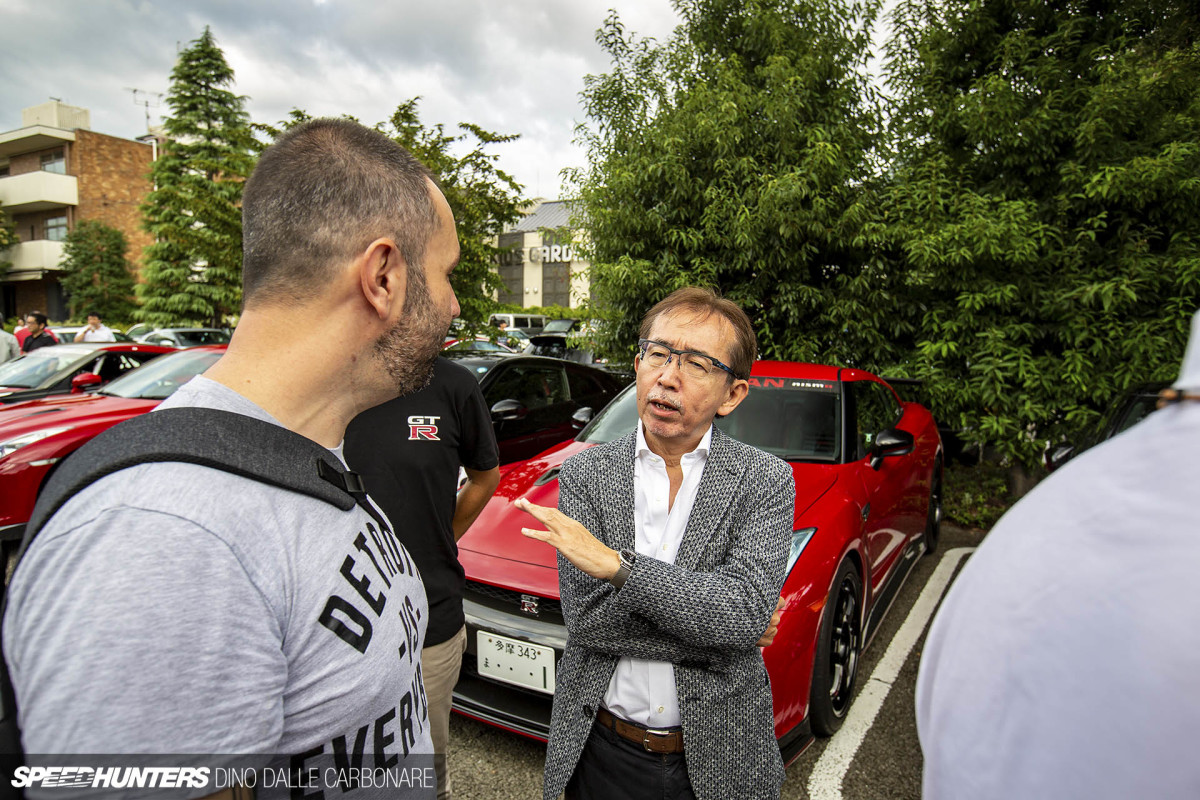 Former Nissan Chief Creative Officer Shiro Nakamura was also at the event. For close to two decades he led the way for so many of Nissan and Infiniti's models, before Alfonso Albaisa took over following Nakamura-san's retirement last year.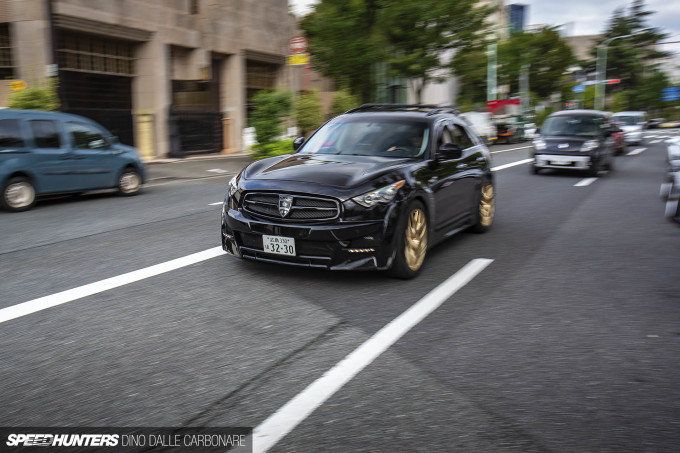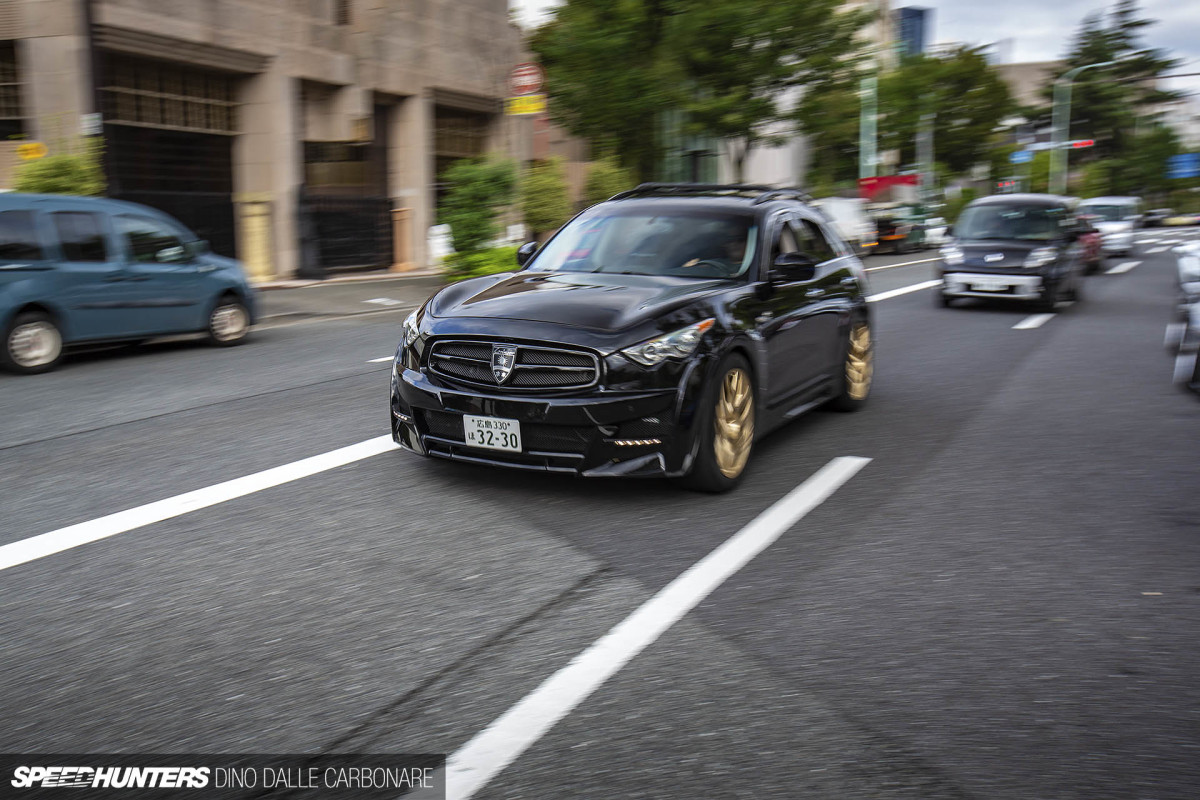 Funnily enough, the moment I stepped out onto the road I came face to face with one of his creations, a second-gen Infiniti FX, which was never even sold in Japan. To top it off, this one was sporting a wild wide-body. That's Daikanyama for you!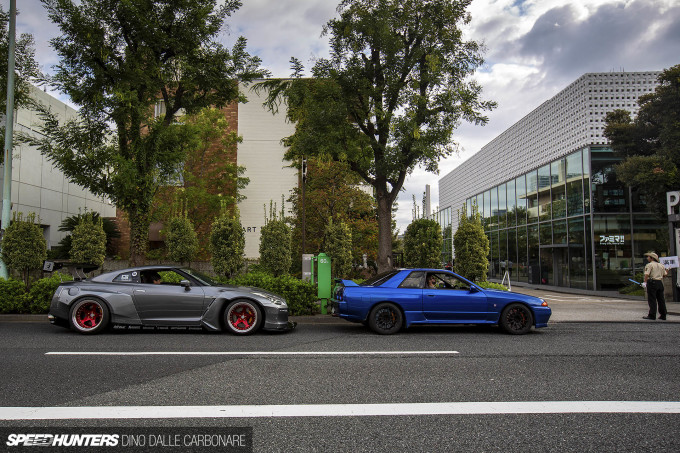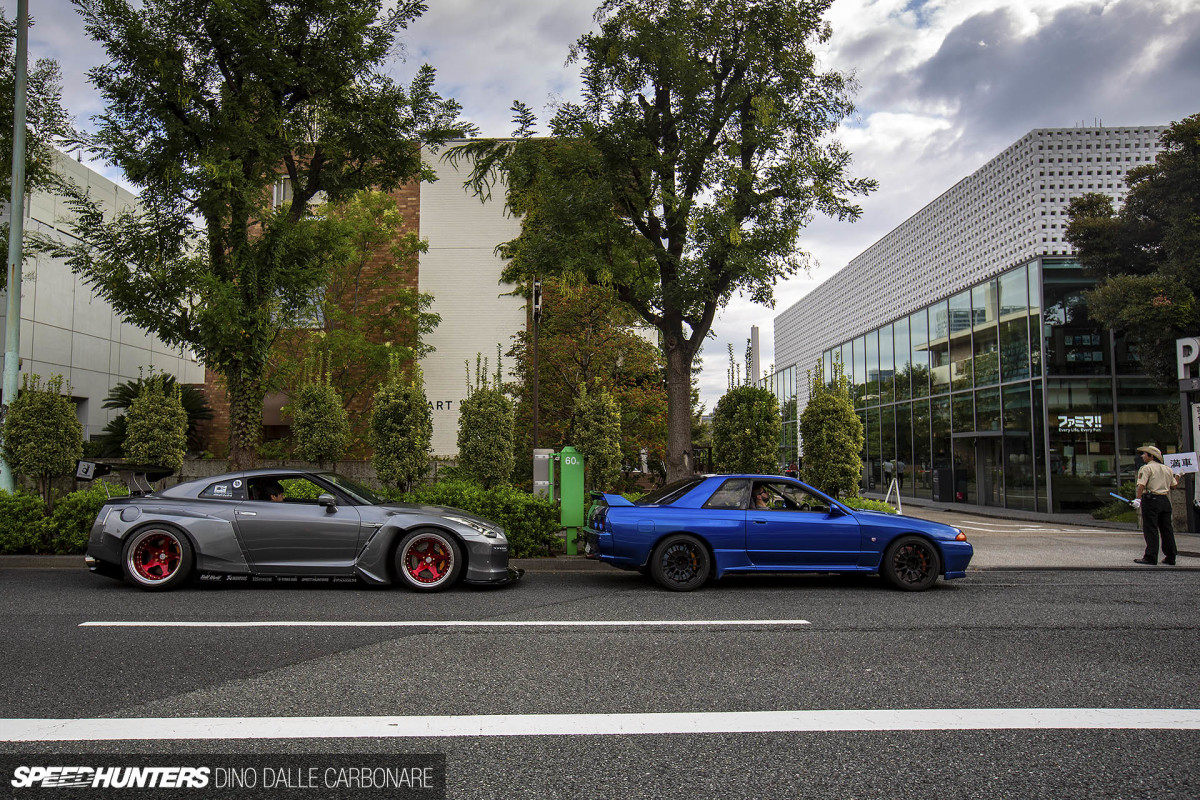 A good hour into the two-hour event there were still cars lined up outside waiting to get in.
Every time one car would leave, the parking attendants would allow another to roll in.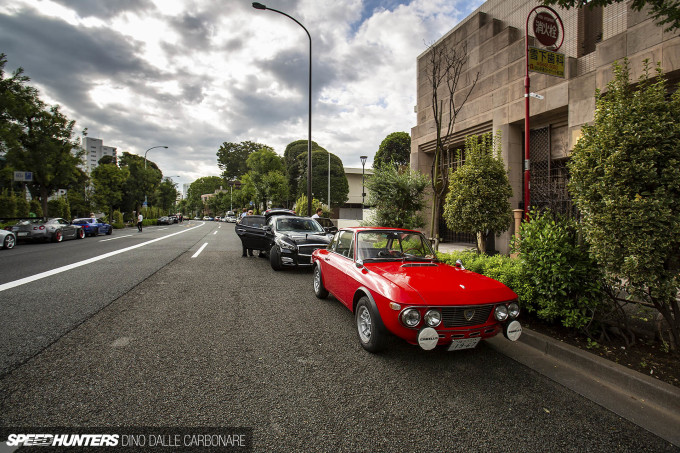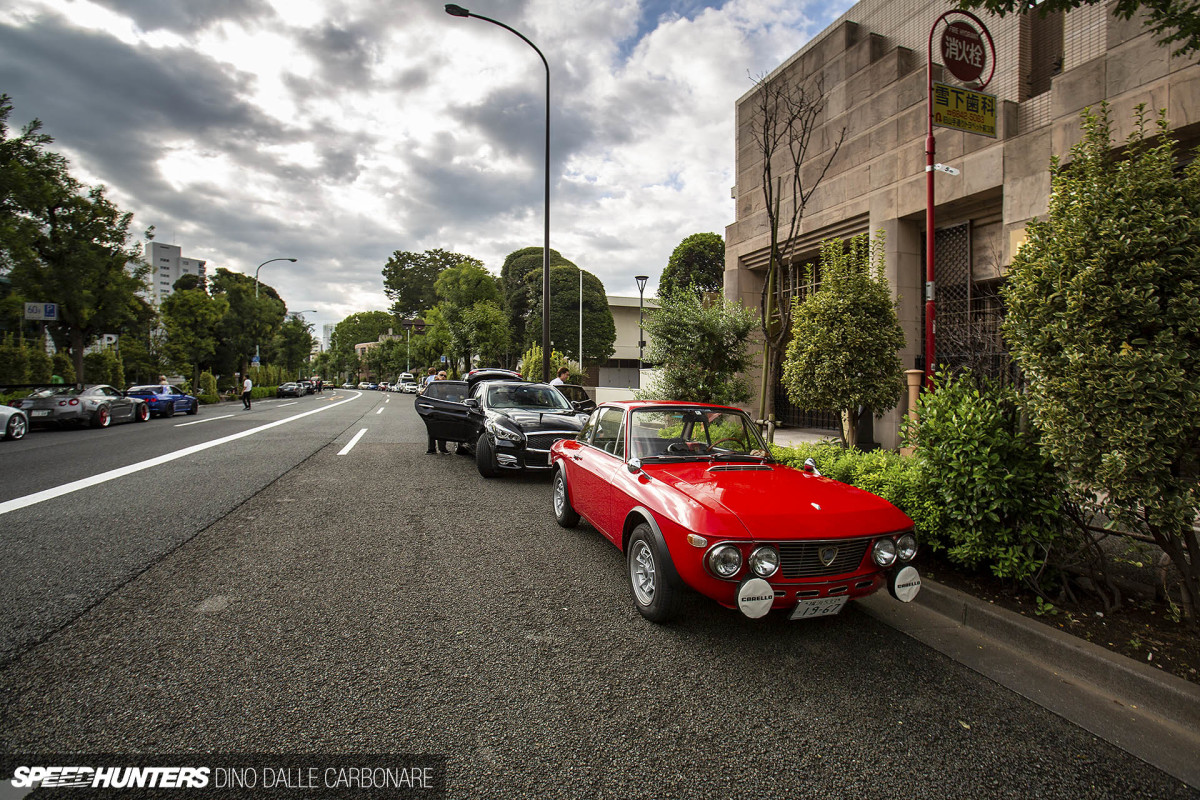 Here's that Lancia Fulvia coupe I mentioned earlier when talking about the first Silvia.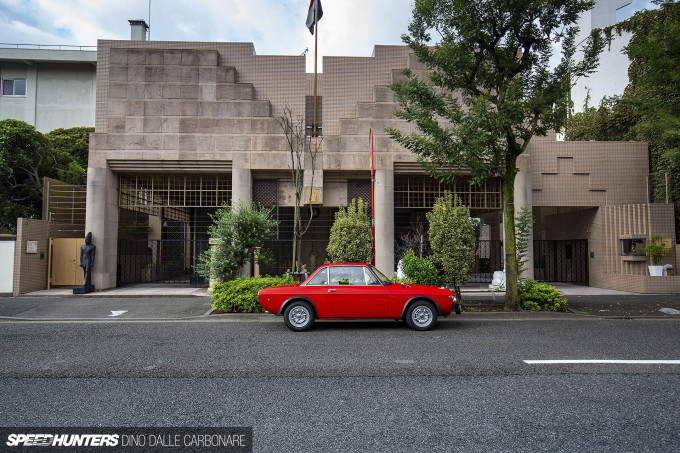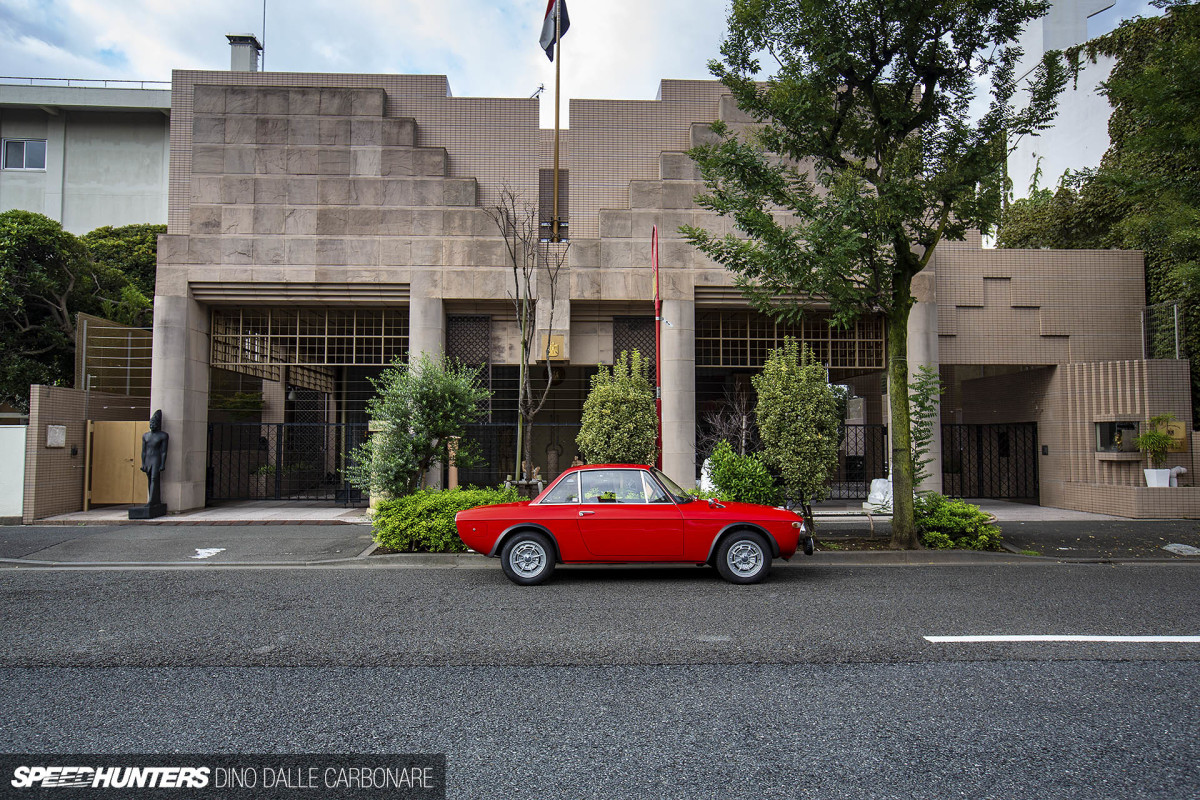 Can you see the similarities?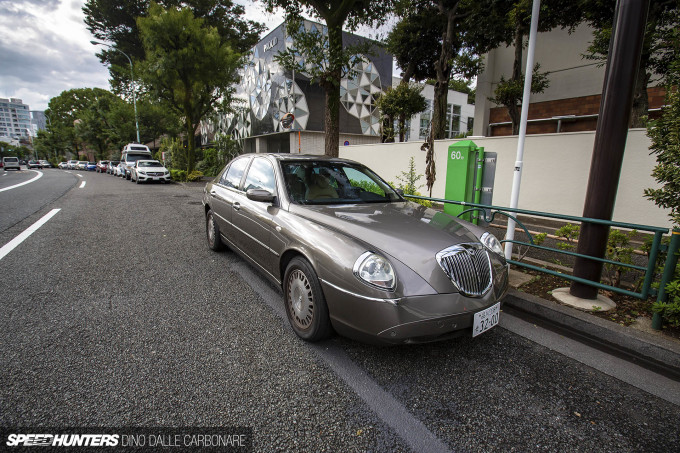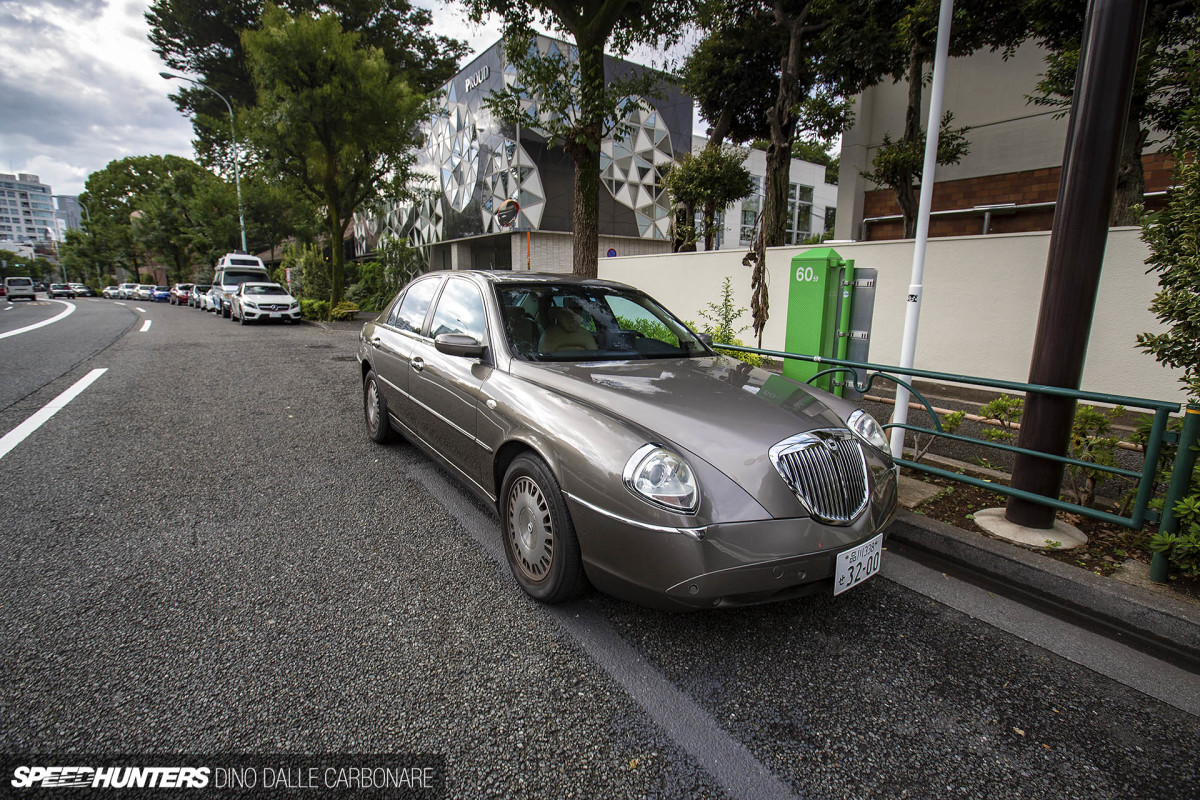 A few spots down there was another Lancia. The Thesis is definitely not the prettiest car ever made, but it's definitely one that will have you standing out from the crowd – something that's always been paramount in Japan.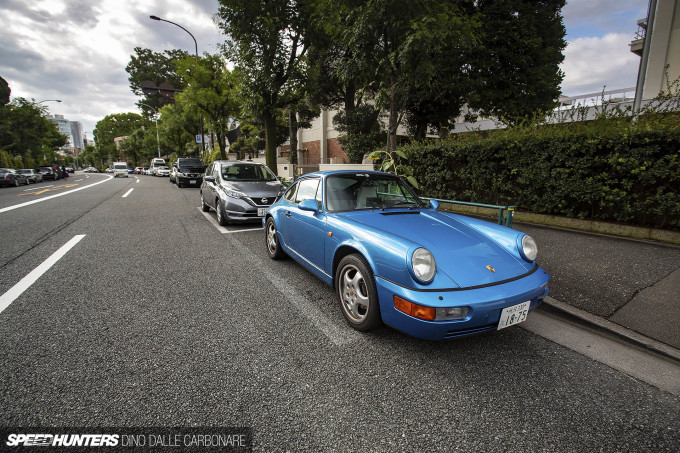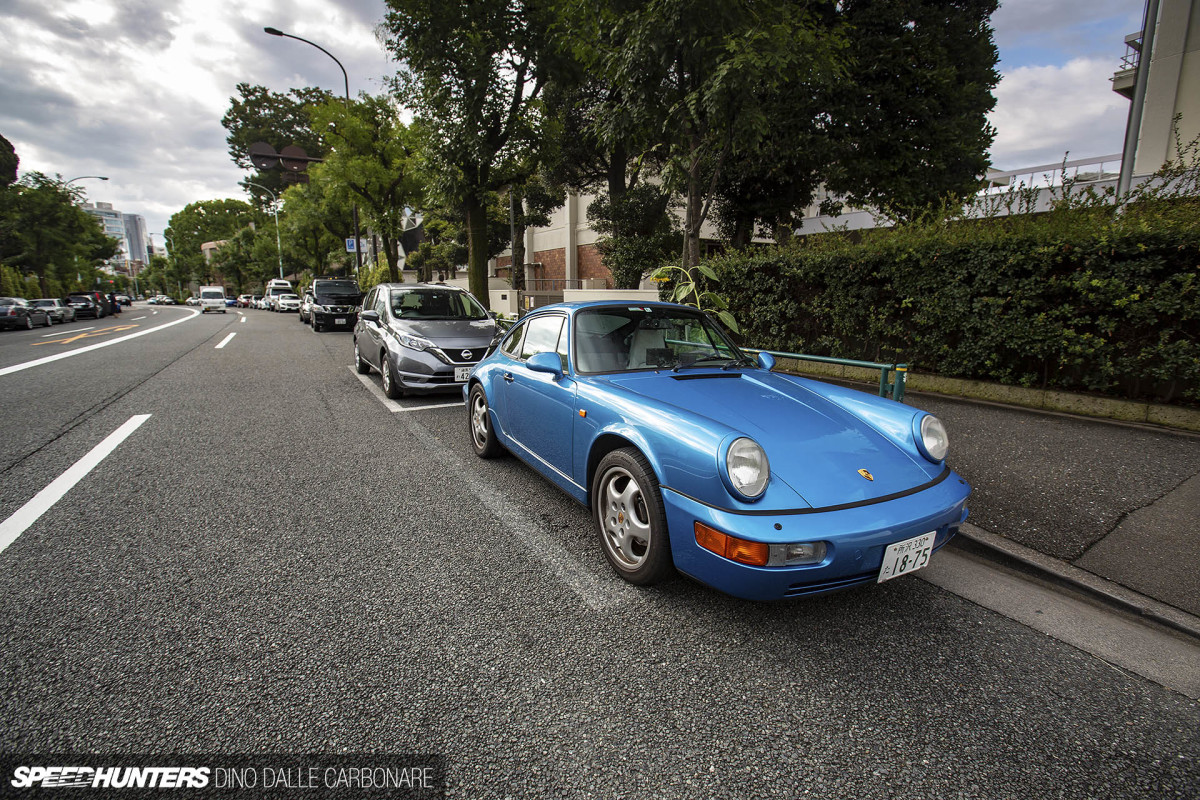 What could be more refreshing than a bone stock, unmolested and well cared for 964 Porsche Carrera 2? Love it!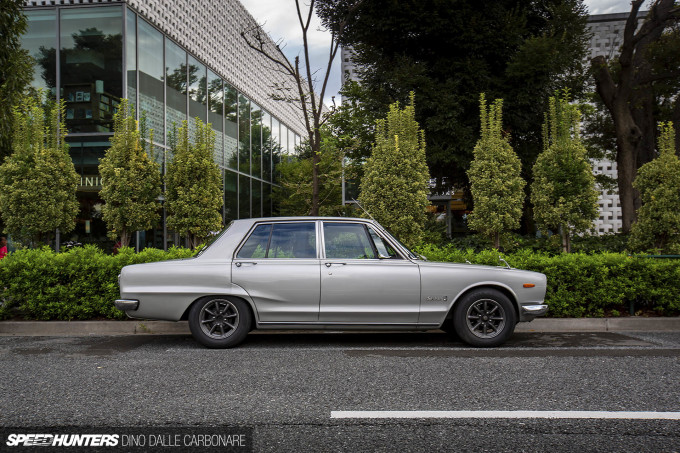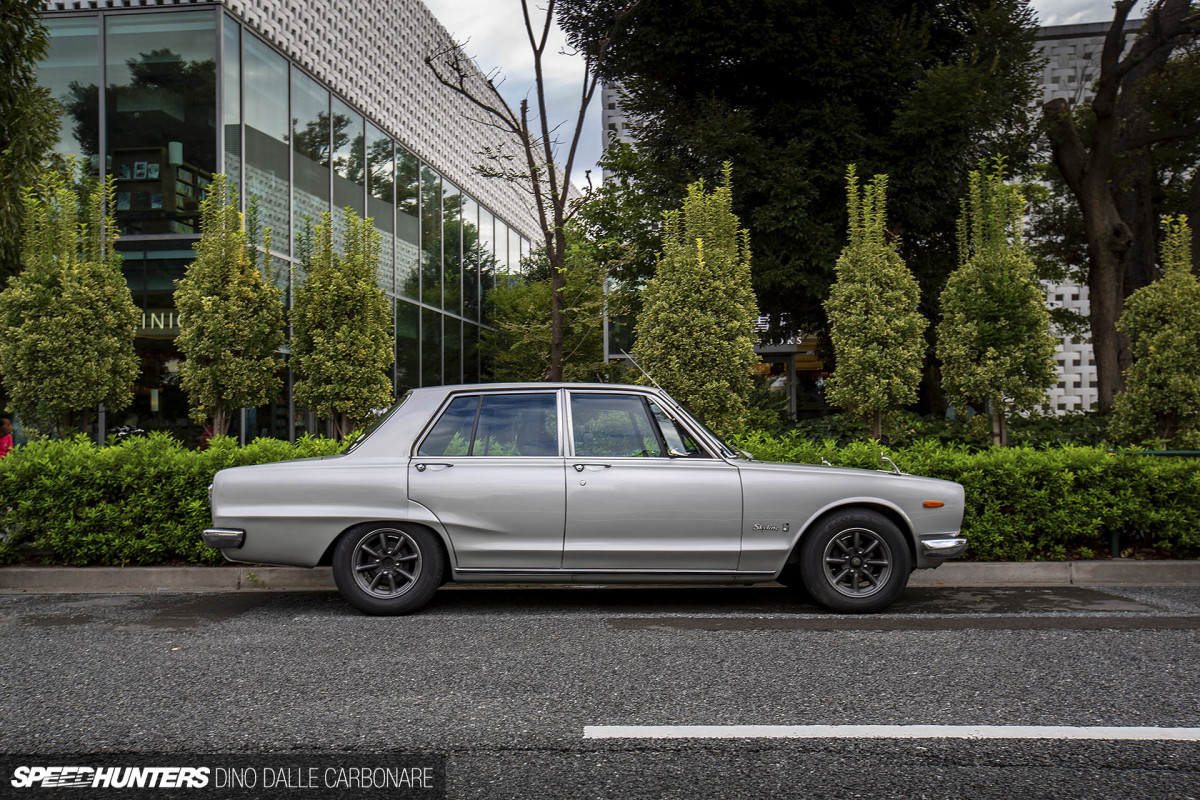 This event will go down in history as one of the best ever held at Daikanyama T-Site. Seeing manufacturers like Nissan playing around a bit and creating something out of the norm also brings hope to us enthusiasts. This is exactly something we would like to see more of in Japan from Japanese manufacturers.
Forget that conservatism that has led Japan for so many centuries, if there's a time to stand out it's right now.
Dino Dalle Carbonare
Instagram: speedhunters_dino
dino@speedhunters.com