History Of The Historian
The term shakotan has become a household phrase in the world of Japanese classic car enthusiasts.
Its origins can be traced back to around the middle of the 20th century after WWII, and was a term coined after the younger 'carefree' generation, as a subculture found within the zokusha style, which literally translates car tribe or gang.
Though there are endless debates on how the the entire scene surfaced, my theory is that after the allies joined forces to occupy and reconstruct Japan, the American and European cultural behavior and norms found its way into influencing the hearts of the youth in the country. This generation simply gave no f*cks and showed no remorse amongst the Japanese mainstream culture.
They were typically from middle-class or lower-class households, and though some were known as truly dangerous and troublesome, most just wanted to be expressive. So when Japanese auto manufacturers began producing some of what are now iconic classics in the '60s and '70s, it only made sense for the zokusha to follow through with modifying their cars with rather unconventional styling choices.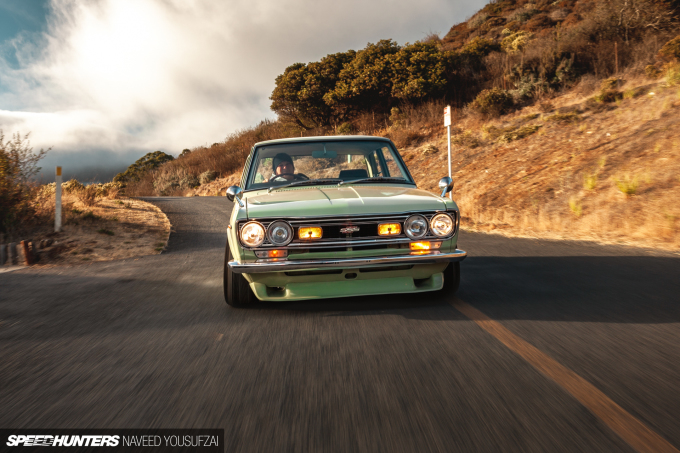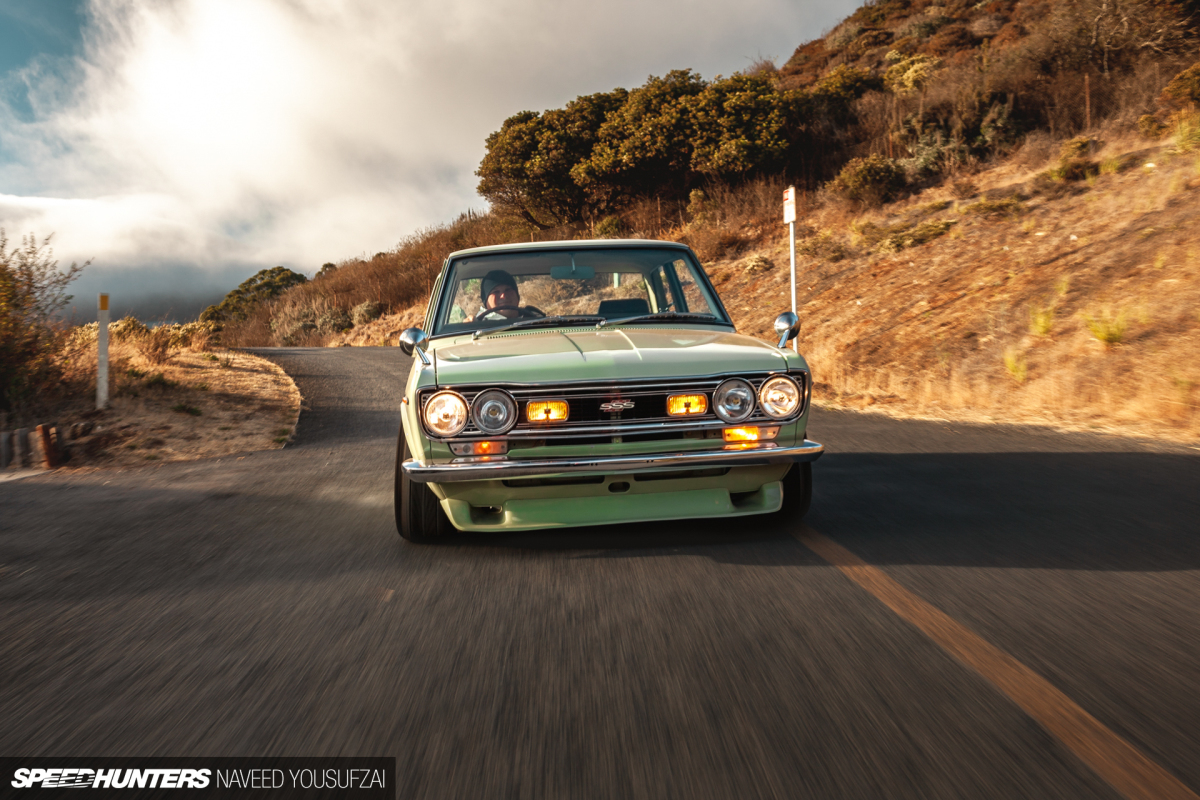 As decades passed, the zokusha influenced enthusiasts were building their Japanese cars all over the world. Some took conception from the kyusha-style cars, which were simplistic and low, while others went balls deep into grachan-style, which stands for 'grand champion' and is derived from Group 5 silhouette race cars that possess wild-looking aero dynamics.
But for my dear friend and Nissan historian mentor Andrew Sayre, shakotan was the style of choice with his most recent Datsun 510 build.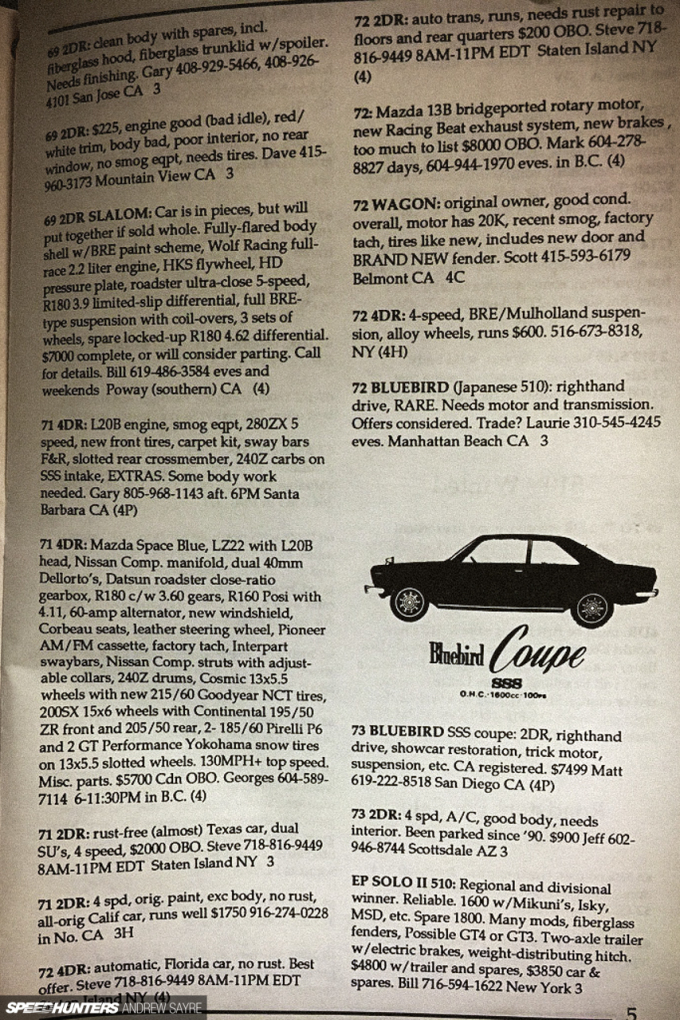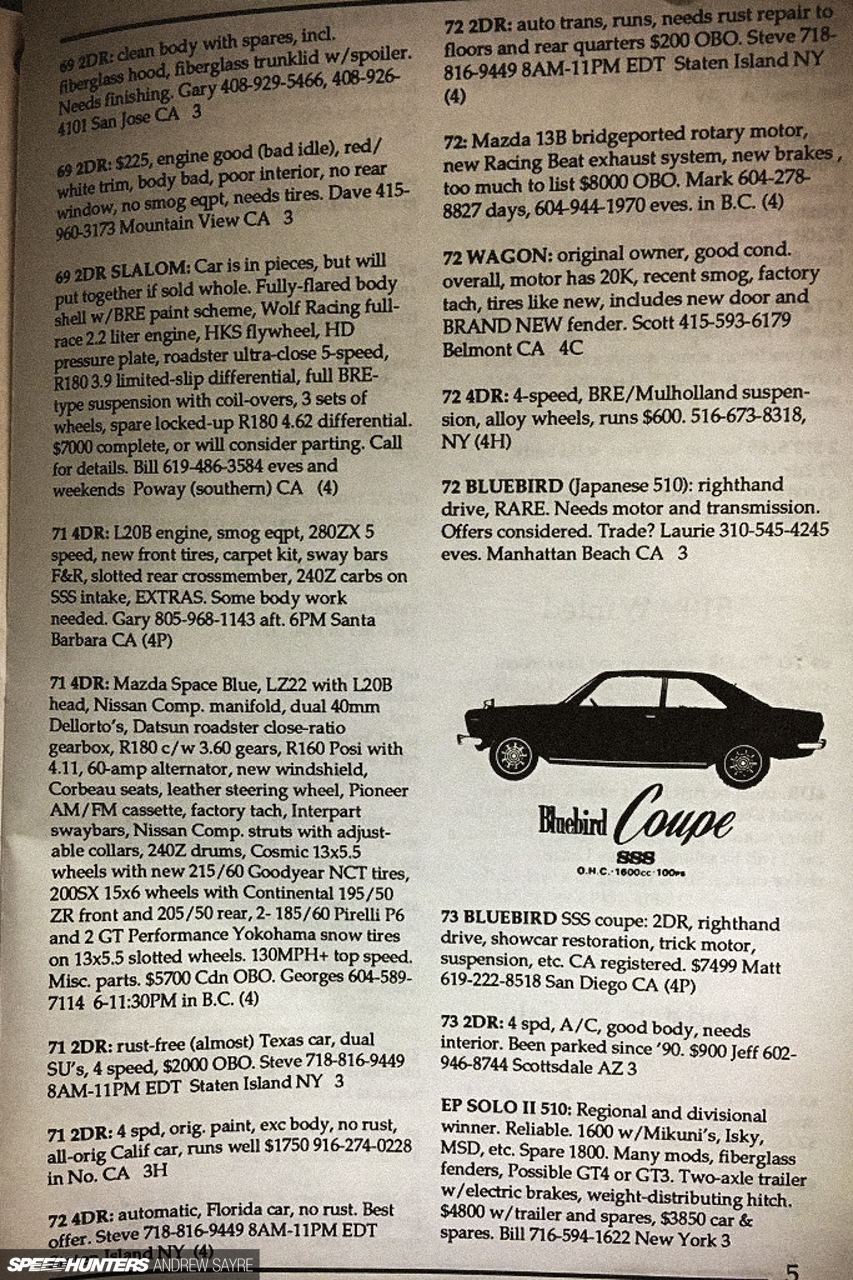 During the summer of 1997, with his 16th birthday coming up, Andrew found himself searching through local newspaper ads for his first car. He was immediately drawn to a section dedicated to oddly small, box-shaped cars which stood out amongst the countless amounts of boring and conventional cars listed.
He found himself intrigued by their shape and rather sporty appeal, despite comparisons to newer, more aerodynamic sports cars at the time.
Not knowing what they were, he made cut-outs of the ads and his heart was set on buying one. A couple of months flew by and shortly after becoming a licensed driver, Andrew found himself purchasing what he now remembers as his first 510, and the beginning of becoming a self-proclaimed 'Datsoholic'.
The car needed tons of work, but it served as his learning tool and set the pathway for his future Nissan endeavors.
Latest & Greatest
Moving forward to 2017, Andrew had already owned upwards of 60 cars, mostly being Datsun 510s, many variants of Zs, and even 620 trucks. However, his ownership accounted for more saving rather than flipping.
As I mentioned in James' Z article, the numerous number of Datsun owners I've met tend to enjoy making a profit on the cars they buy. And who wouldn't? Basic principles of buying cheap, fixing cheap, and selling expensive are the epitome of the marketplace in every Datsun community that I've been a part of.
To reiterate myself, I personally don't think there's anything wrong with that, but it definitely opens up your listening ear when you hear someone is only out to save the cars they come across, whether it means making money or not.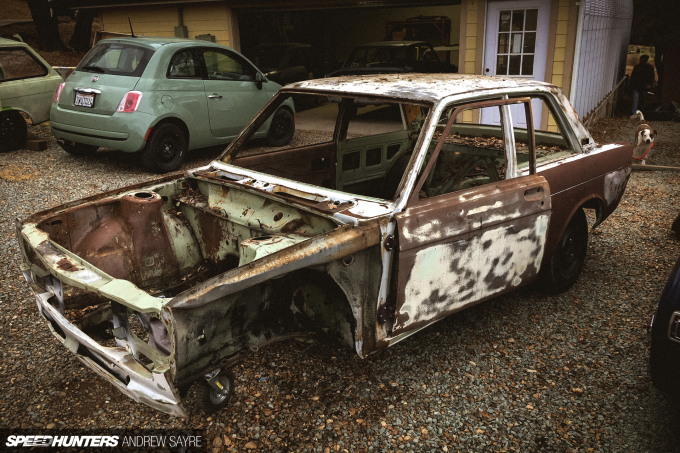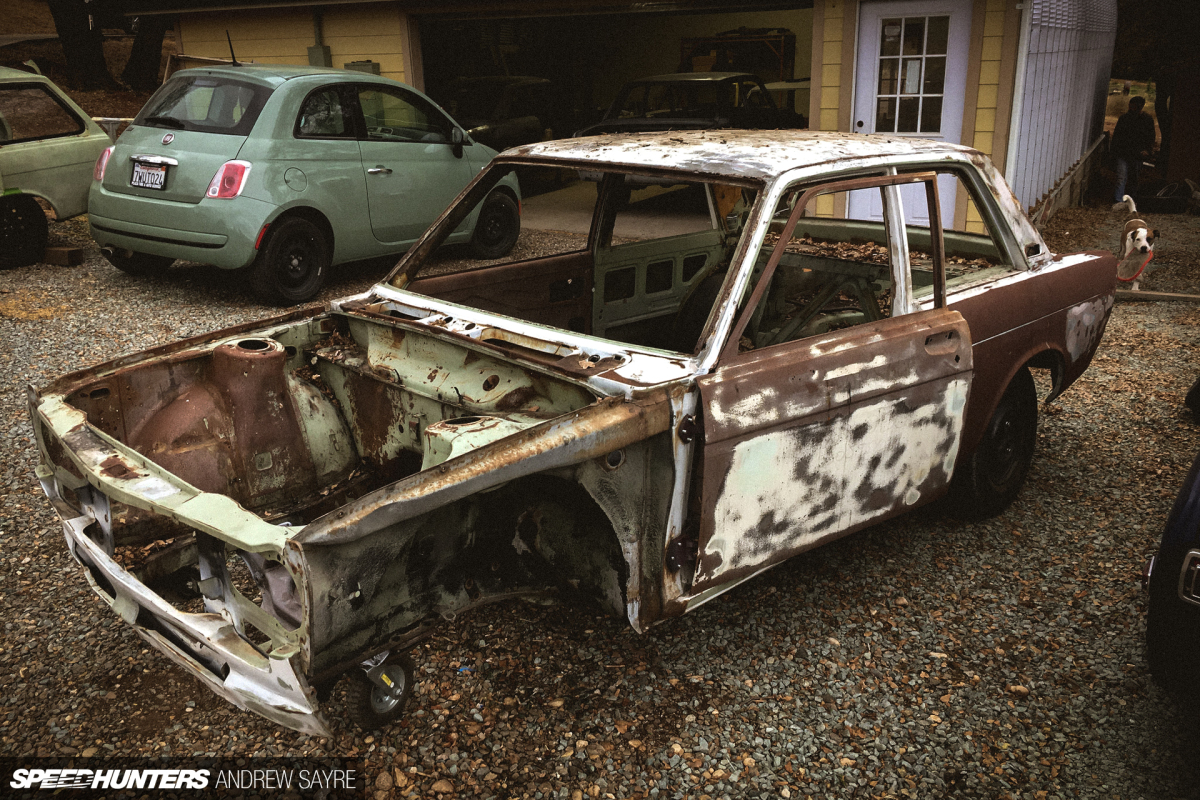 Pictured above is Andrew's latest and greatest 510 resurrection. Admittedly, when he first showed me this car, I absolutely could not comprehend anything worth saving on the car. I mean just look at it; it almost doesn't look like a car anymore. Everything is missing, and yet, Andrew managed to see the potential which I easily overlooked.
His overall goal: Create the best of both worlds, a proper shakotan-inspired USDM 510, with an infinite amount of rare JDM Bluebird SSS coupe trim pieces and options.
My doubtful comments aside, his progression with the vision continued, first step being sorting out body and paint.
Through years of building his other cars, Andrew built relationships with others in the community who were quite articulate in the craft of saving the iconic Japanese heroes. Amongst them was metal-fabrication guru Eric Brogan, who is known for his epic body work and paint. Andrew dropped off the car to him immediately after purchase, and a few moments into inspection, they discovered that the factory color of the car was Cactus Green. It was a special moment for Andrew – this was one of his all-time favorite colors offered for the 510.
With excitement fueling progress, the restoration took sail.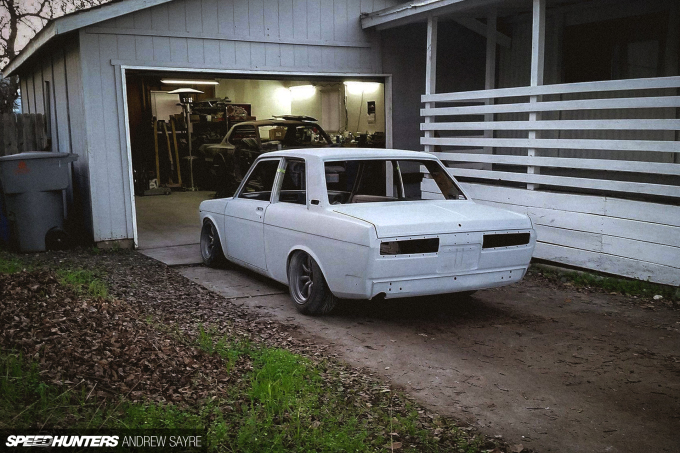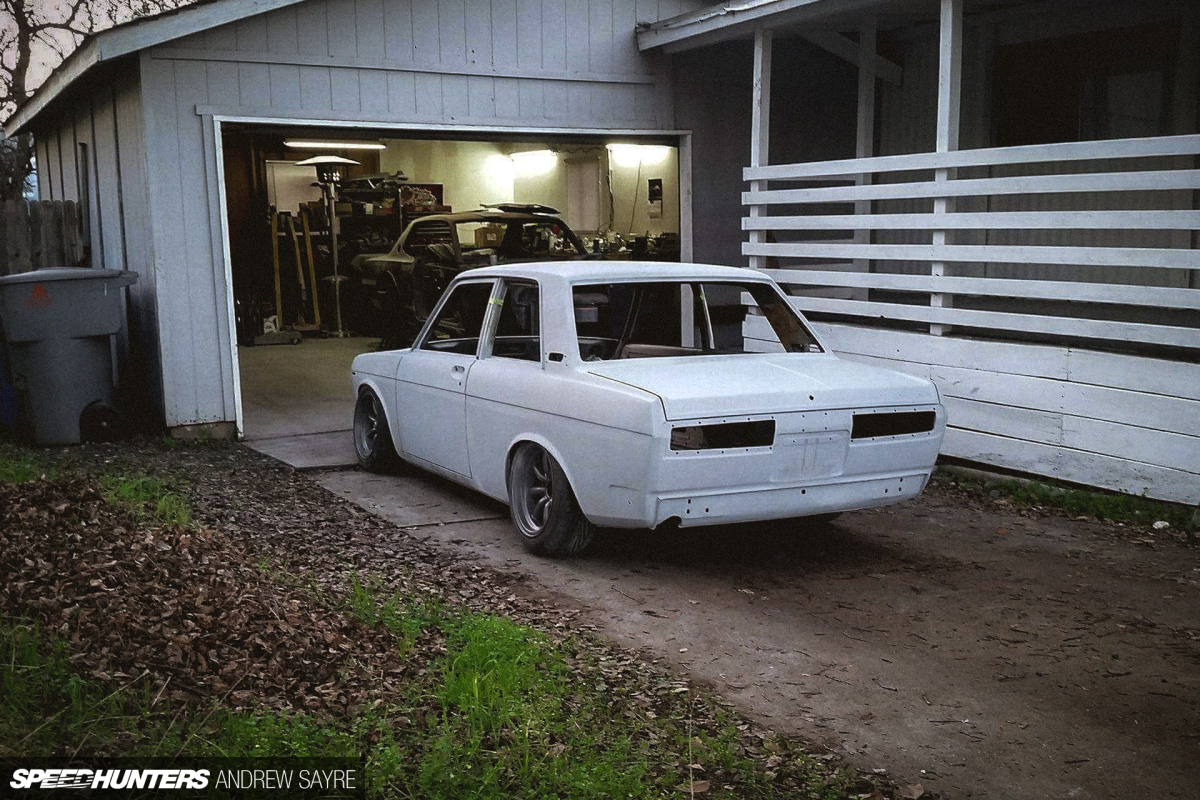 Surface rust was cleaned, some used fenders and a bonnet were acquired, and all things structural were gone through and addressed to ensure the car was as straight and sound as possible.
Since Andrew already had his shakotan vision in mind, things were taken one step further by tubbing out the fenders and getting the majority of the suspension sorted to build the car around the height and wheel fitment of his particular taste.
Mid Progress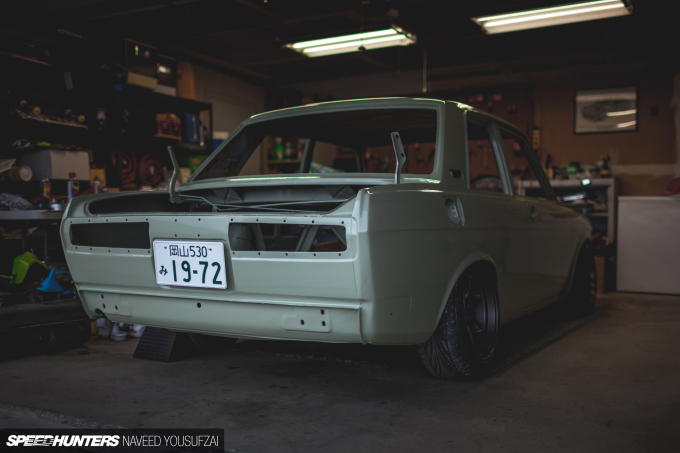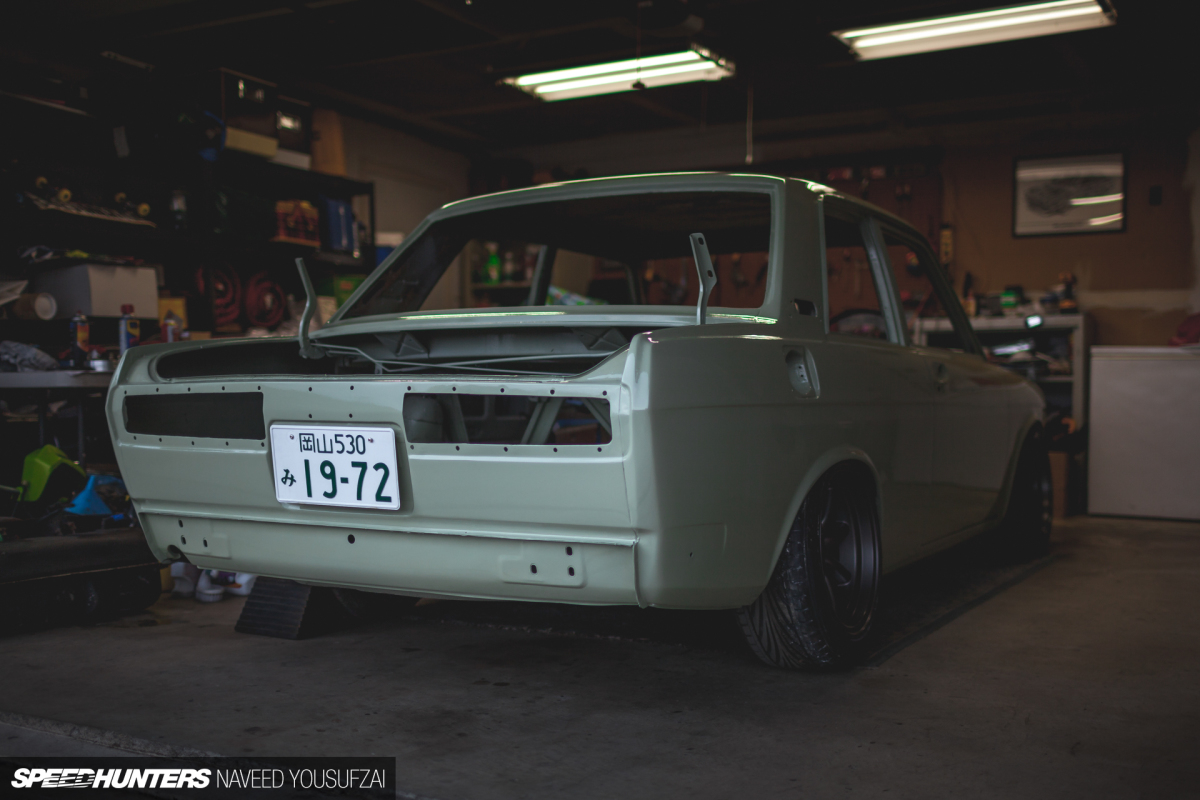 After about four months, the metal and paint were completed, and Andrew trailered the car back to his home garage, where the rest of the build unraveled.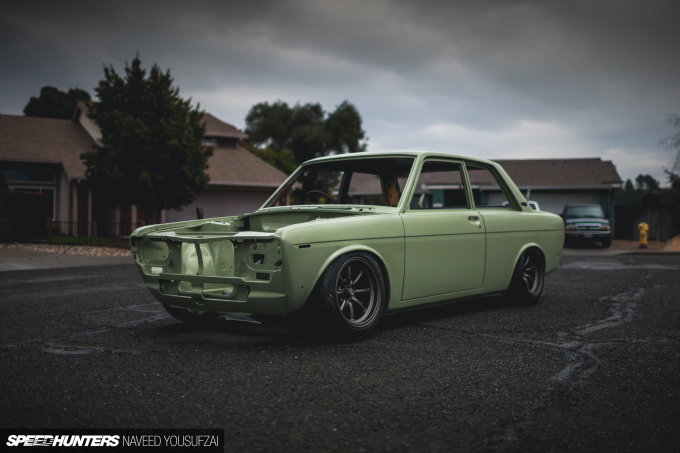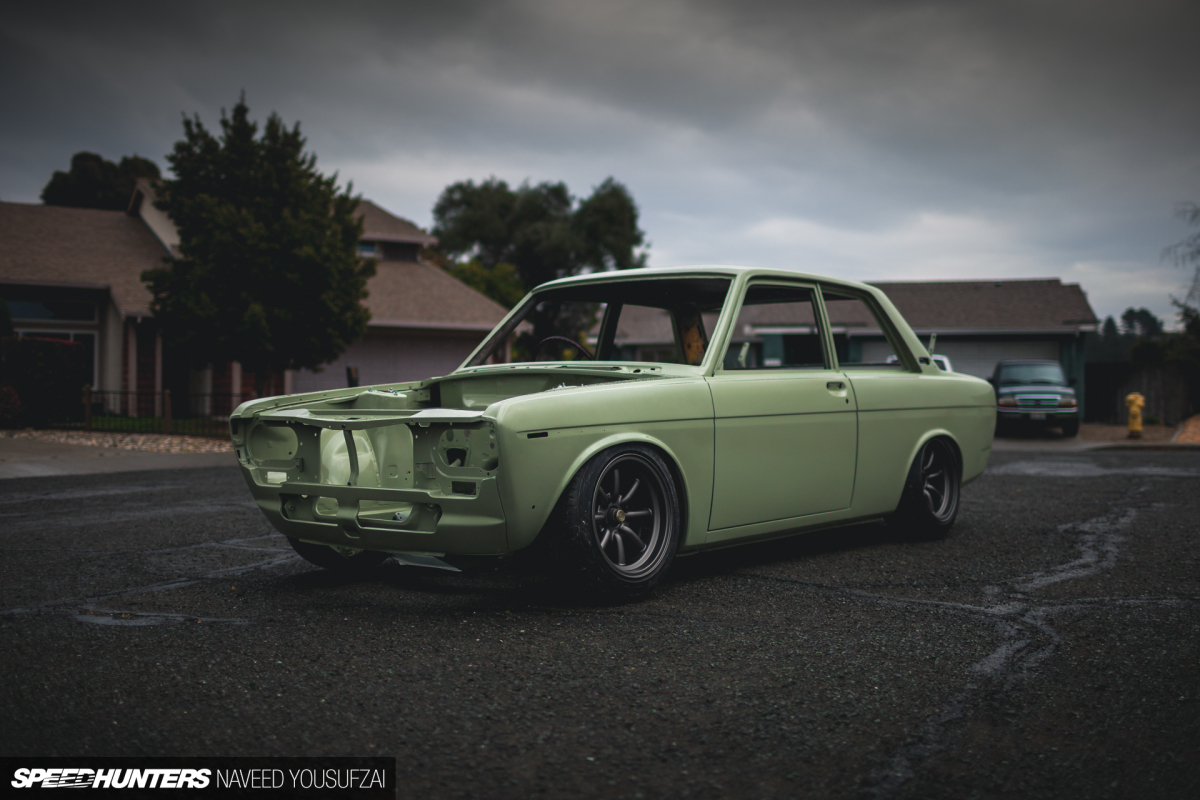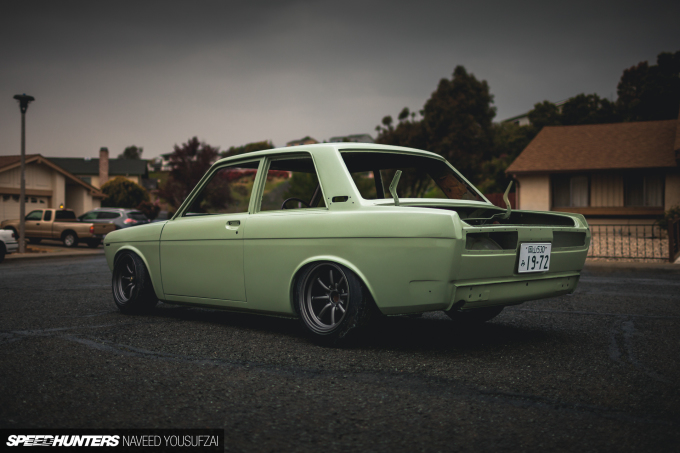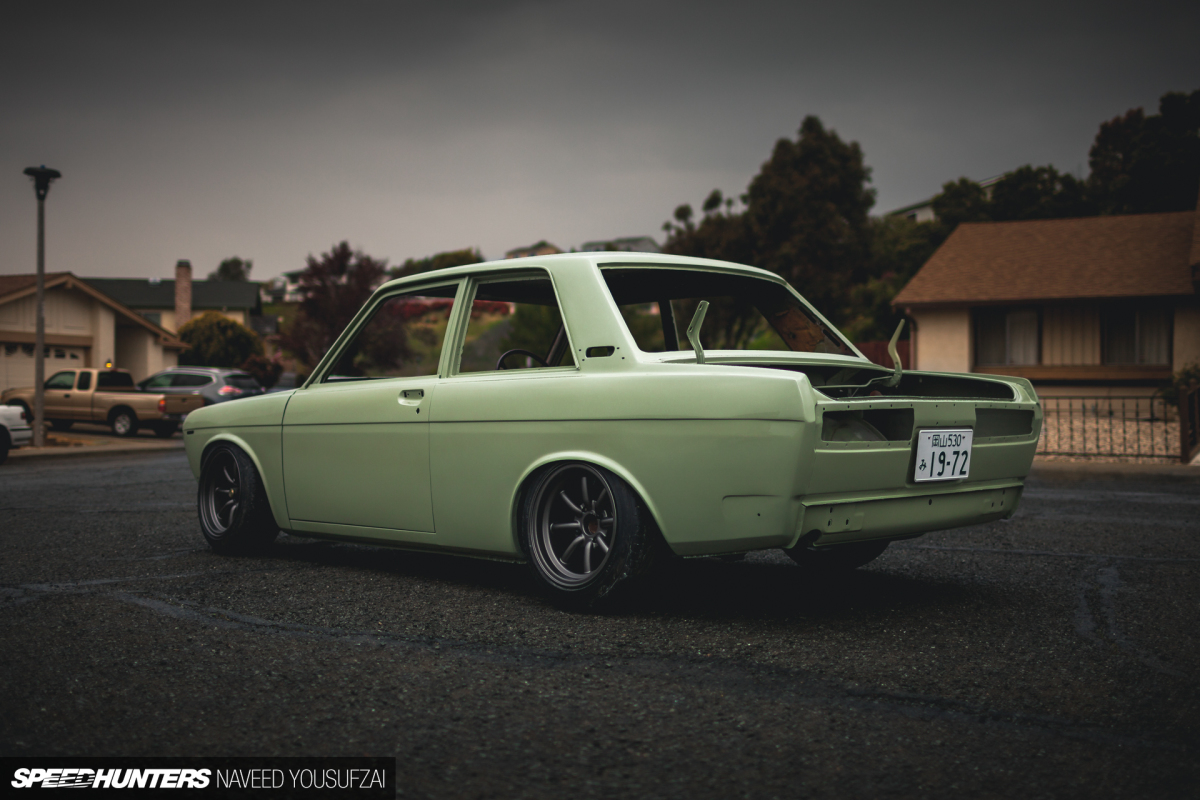 I was fortunate enough to meet up with Andrew mid-way through his progress to get some killer 'under construction' photos of the car. It was rather muggy that day, which I embraced as it made for some spectacularly dramatic rolling shell photos.
Has an incomplete car ever looked so good?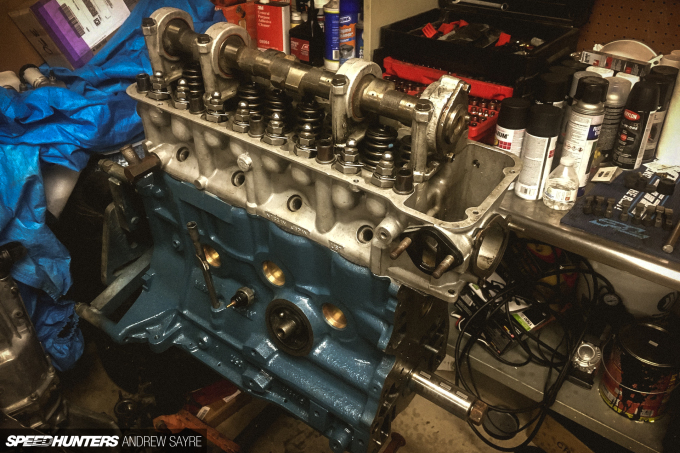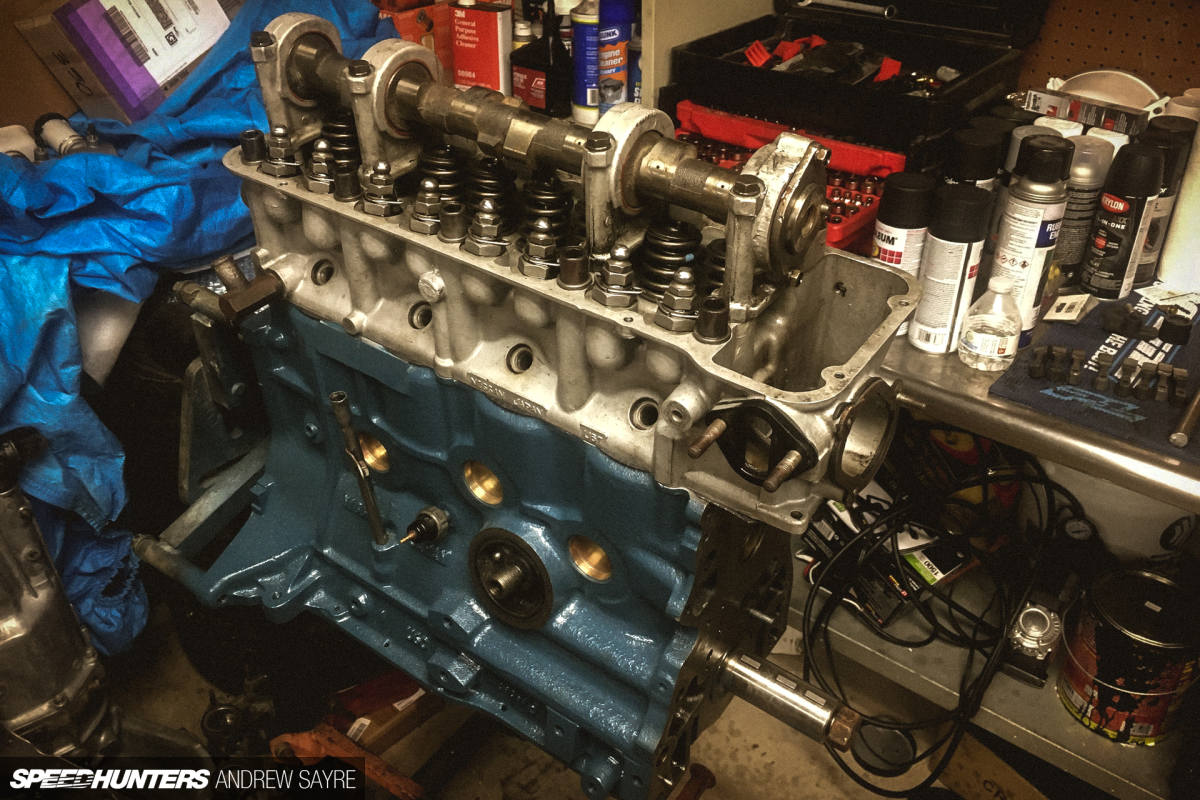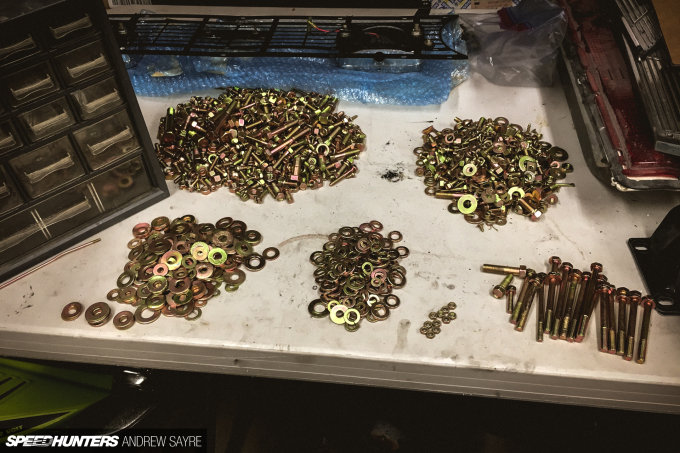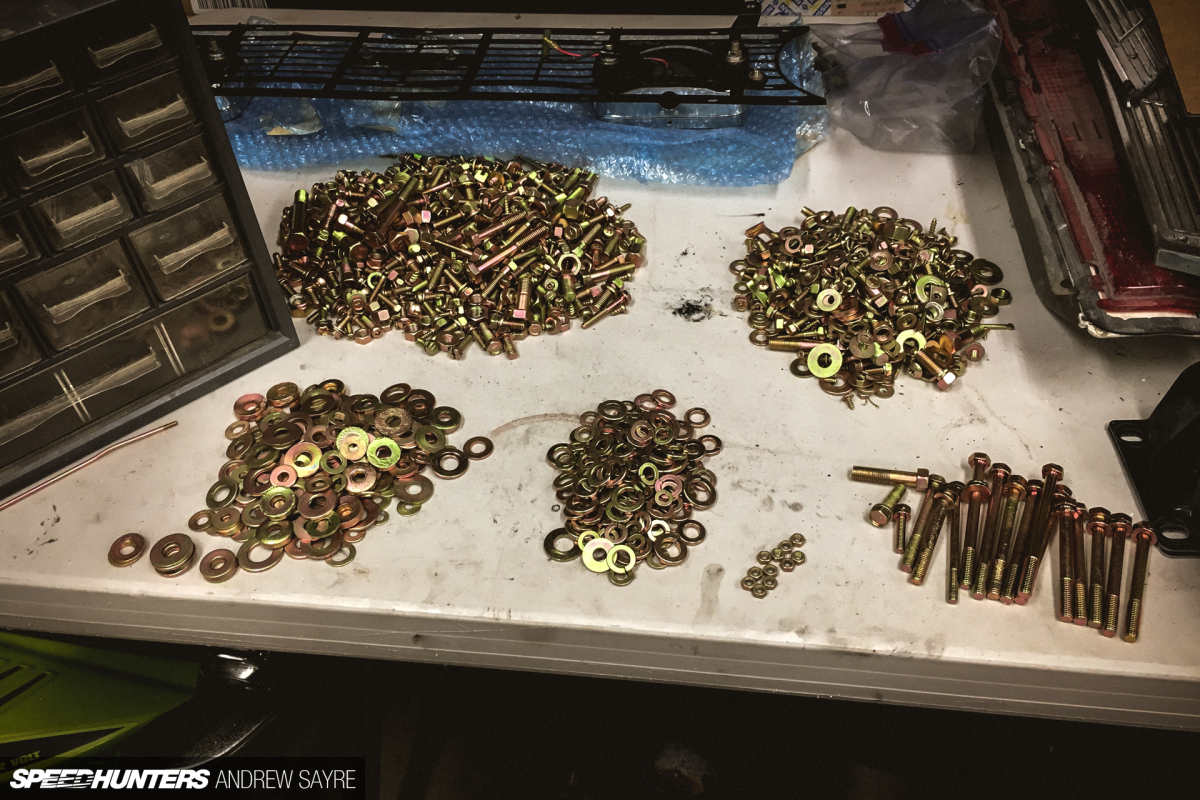 By this point, fitment and ride height were dialled in, the right-hand drive conversion was complete, and the motor was under assembly. Because this was essentially a ground-up build, Andrew took initiative in having every single nut, bolt, and washer on the car sent out for zinc plating and restoration.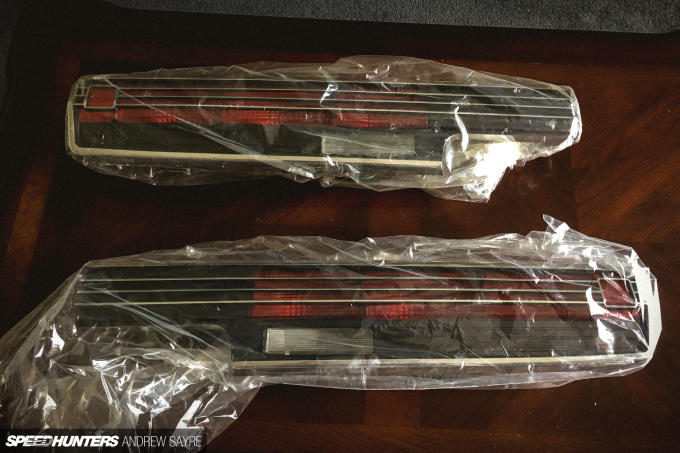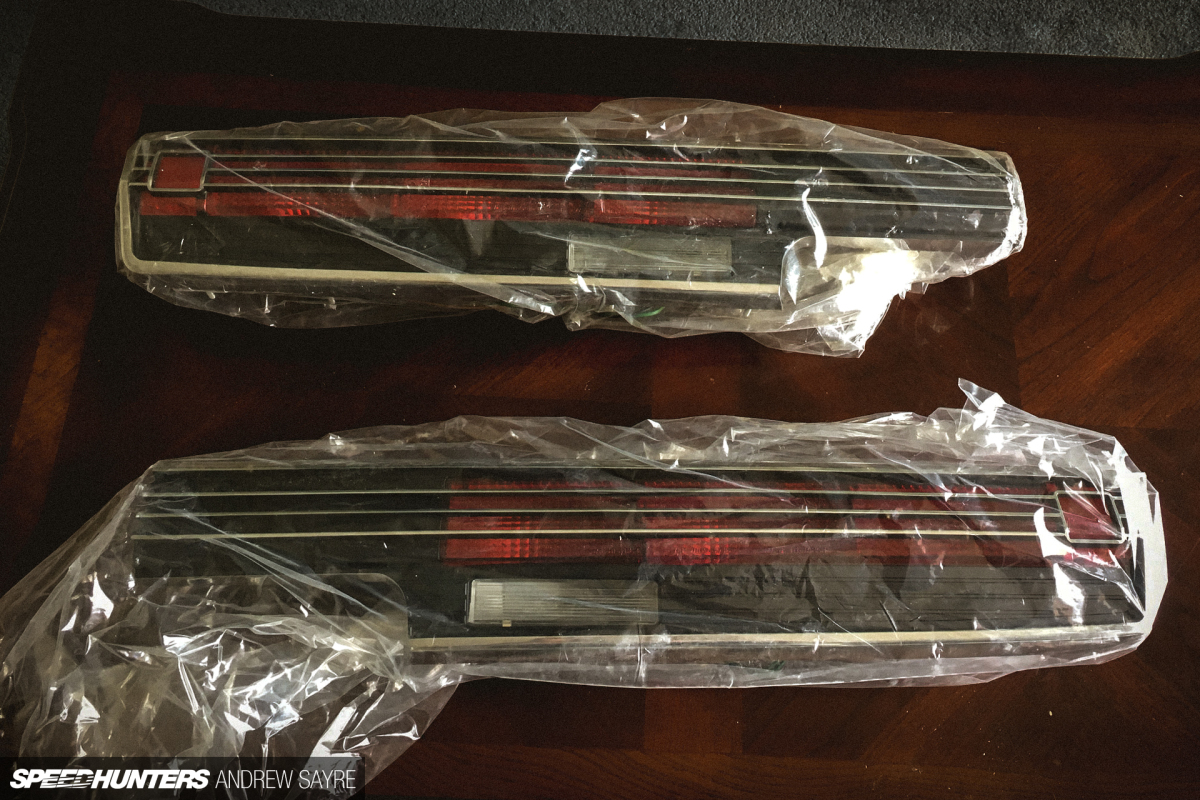 While waiting on the return of those parts, he managed to restore many of the unique SSS trim pieces and factory options back to their former glory. Andrew had been hoarding a mountain of rare parts for many years, including super-rare NOS (new old stock) SSS taillights, waiting to apply them to his ultimate 510 build. Talk about parts galore.
Completion took another four months, as there were a few set backs just as there is with any build. But it was quite exhilarating to see it all play out in front of me.
Shakotan 510 In All Its Glory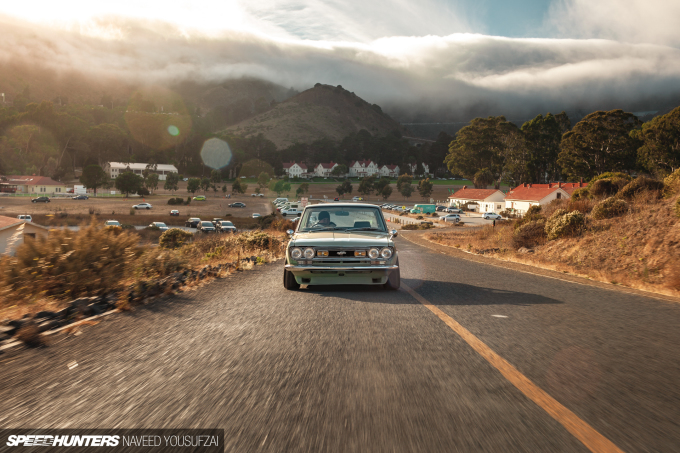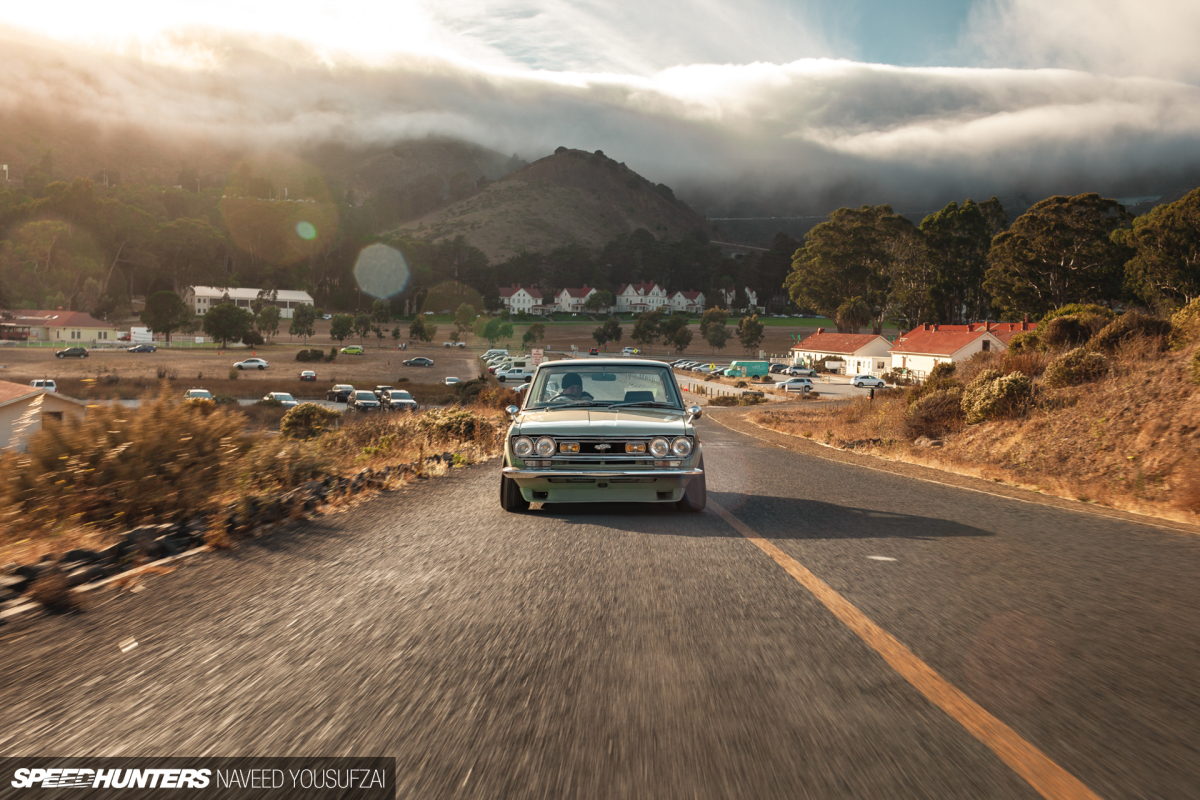 After eight months of waiting, the shakotan 510 finally saw movement under its own power. The endless hours of working on the car, section by section, were a thing of past.
I remember the first time Andrew took the car out for a drive – he sent me a video of him driving it to work, with a huge smile on his face. I could hear the excitement in his voice, almost like a child that just got their favorite superhero to sign their favorite comic book. So without any hesitation, the first thing we did was set up a time to meet up for the photo shoot session.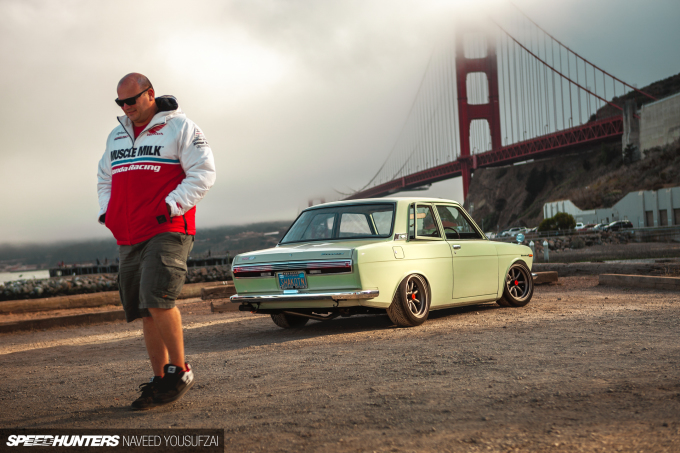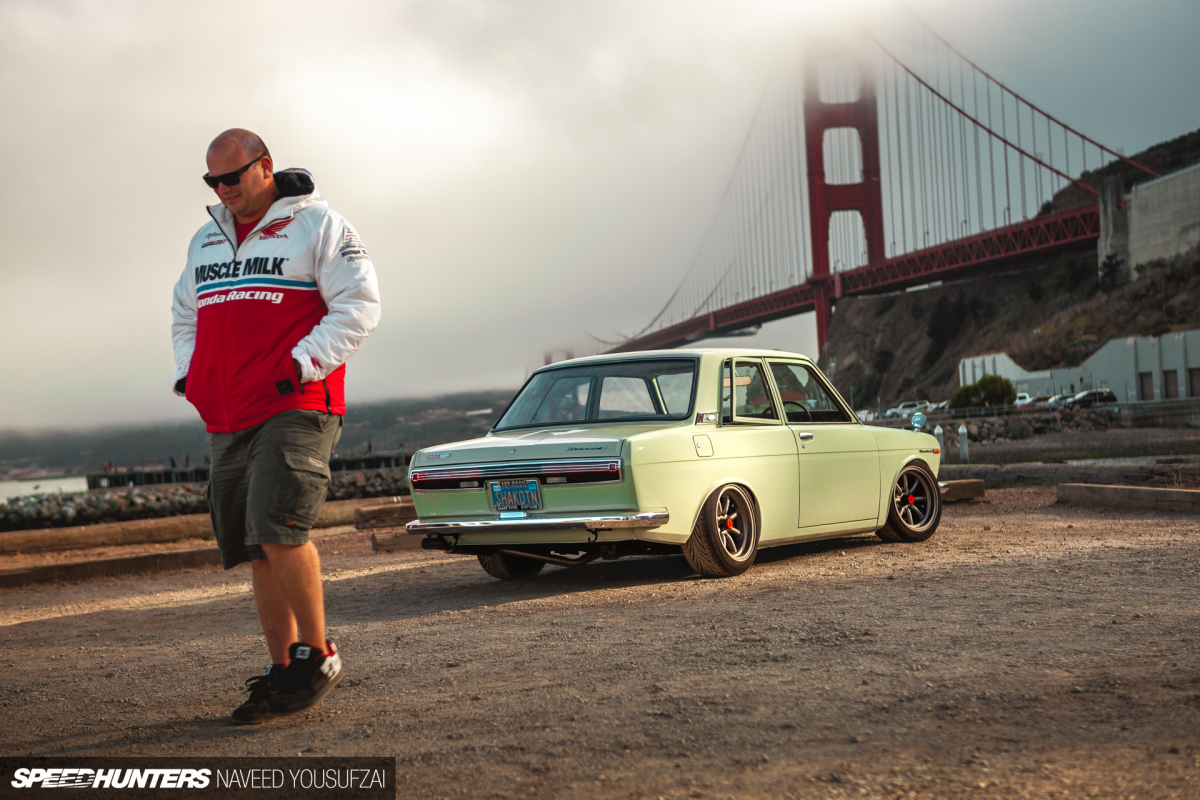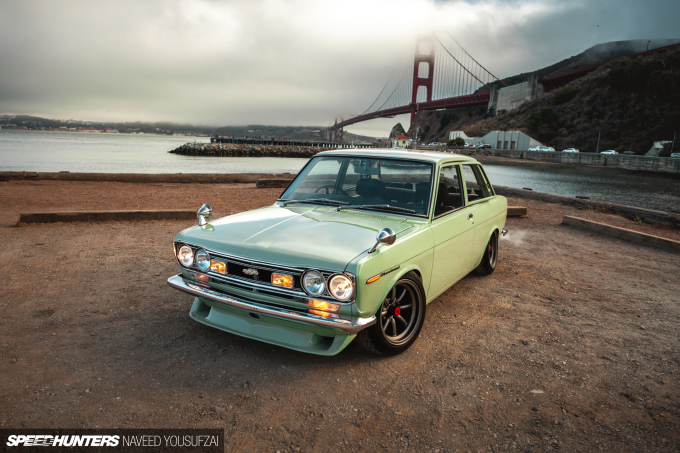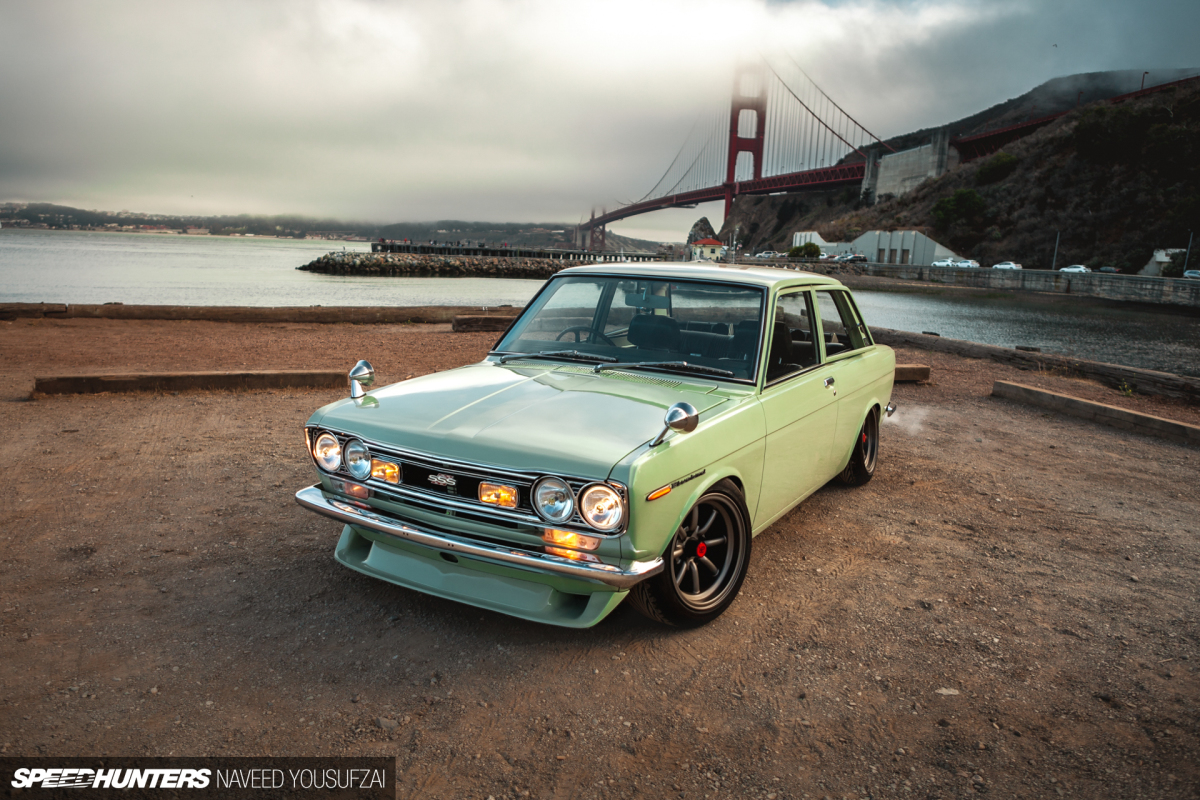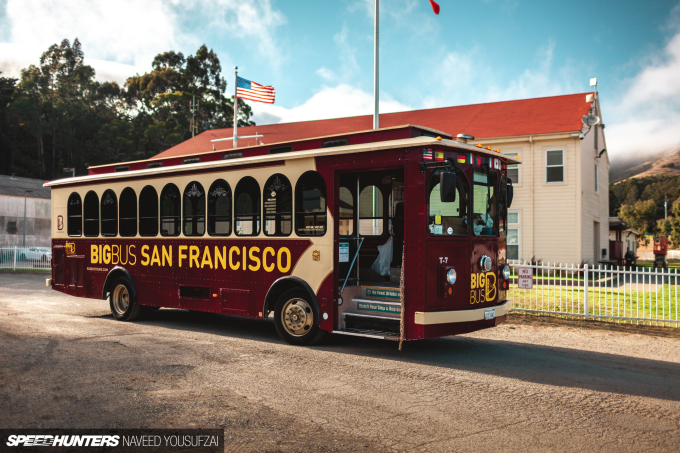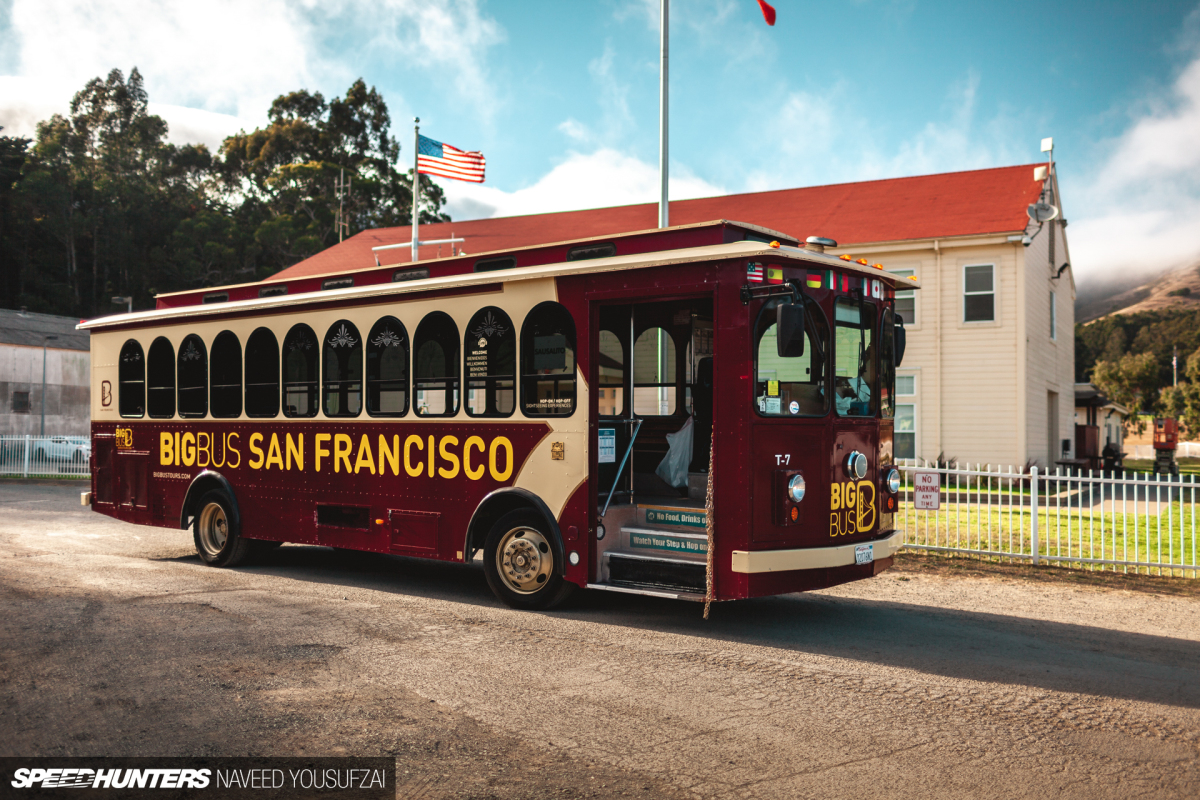 We chose this specific location not only because it was secluded with nice views of another vintage icon – the Golden Gate Bridge – but also because it made sense with Andrew's ultimate vision for the car.
From day one, Andrew mentioned the term shakotan to me. He wanted it to be an example of how to truly incorporate zokusha – or its subculture shakotan – in modern times, paying tribute to the style on American soil.  The style, the stance, the quality, the no f*cks given attitude, all of it was finally tied together to bring out this one vision in mind.
Holy Details, Batman!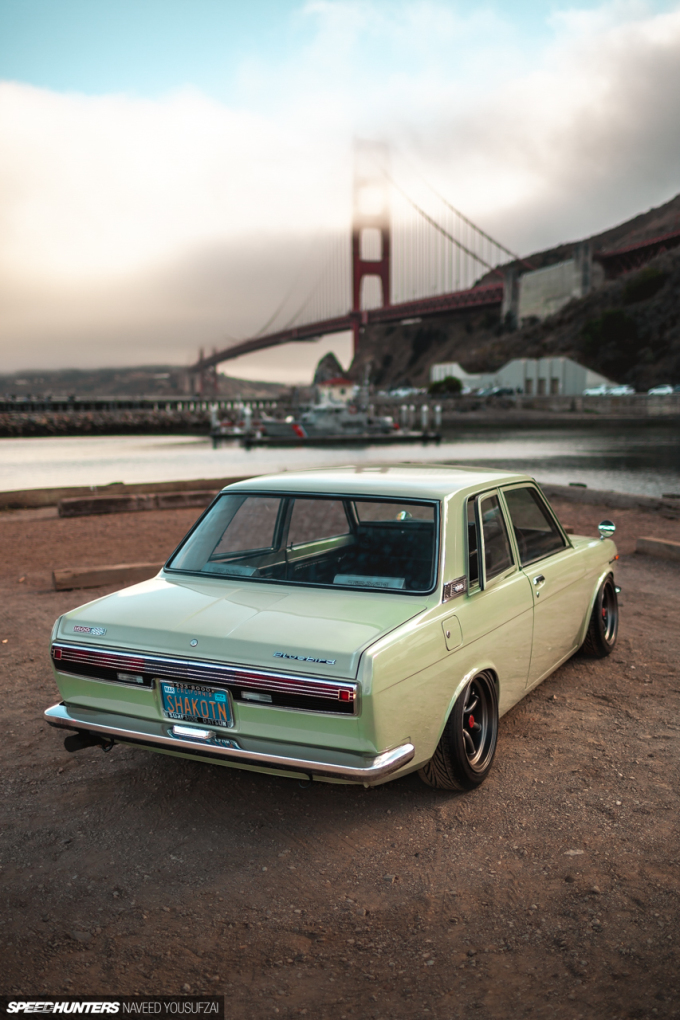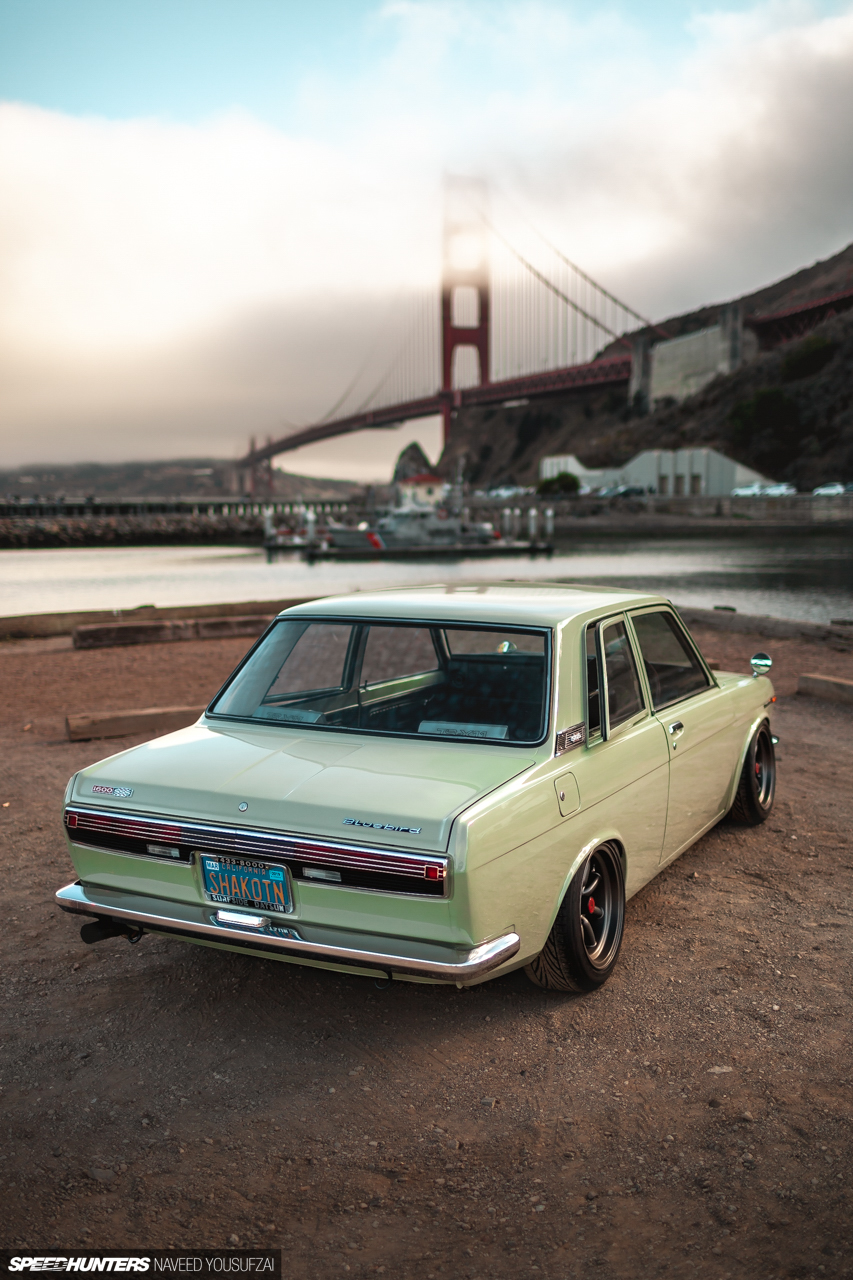 Before wrapping up this article there are a few notable details that I want to give you guys a rundown on, starting with the interior.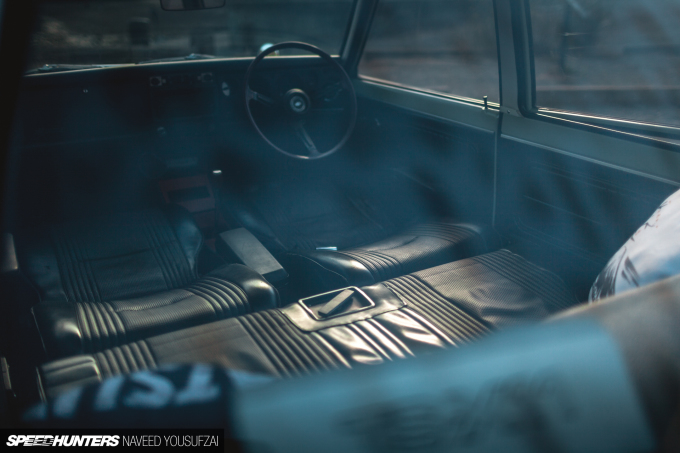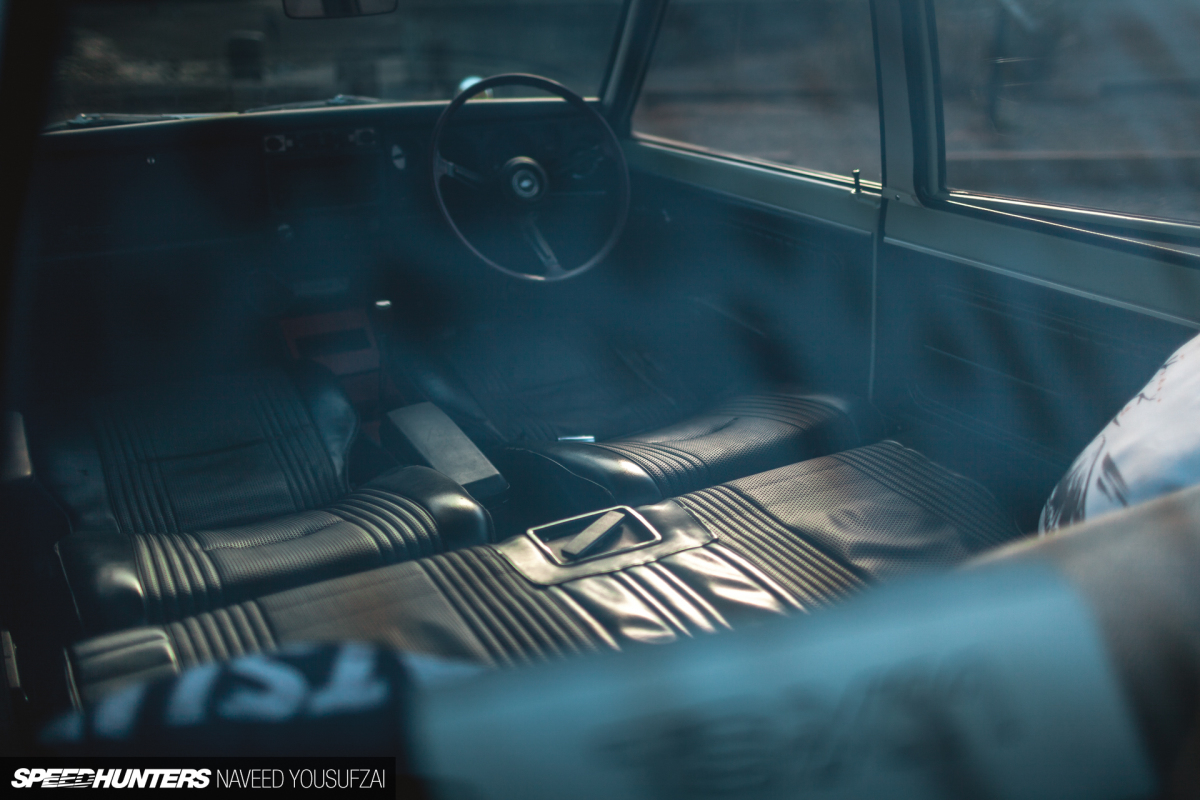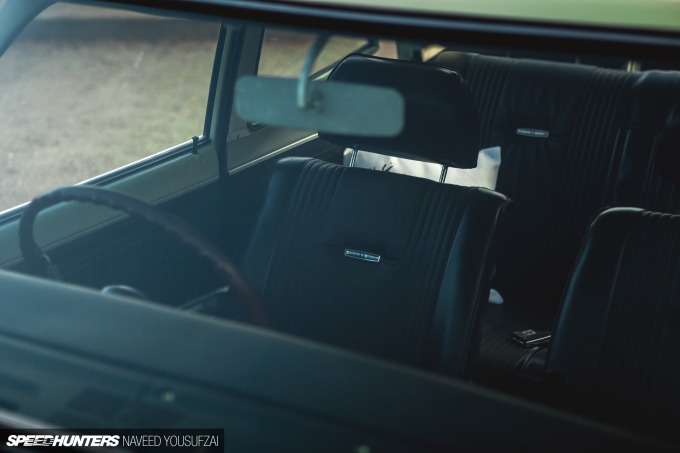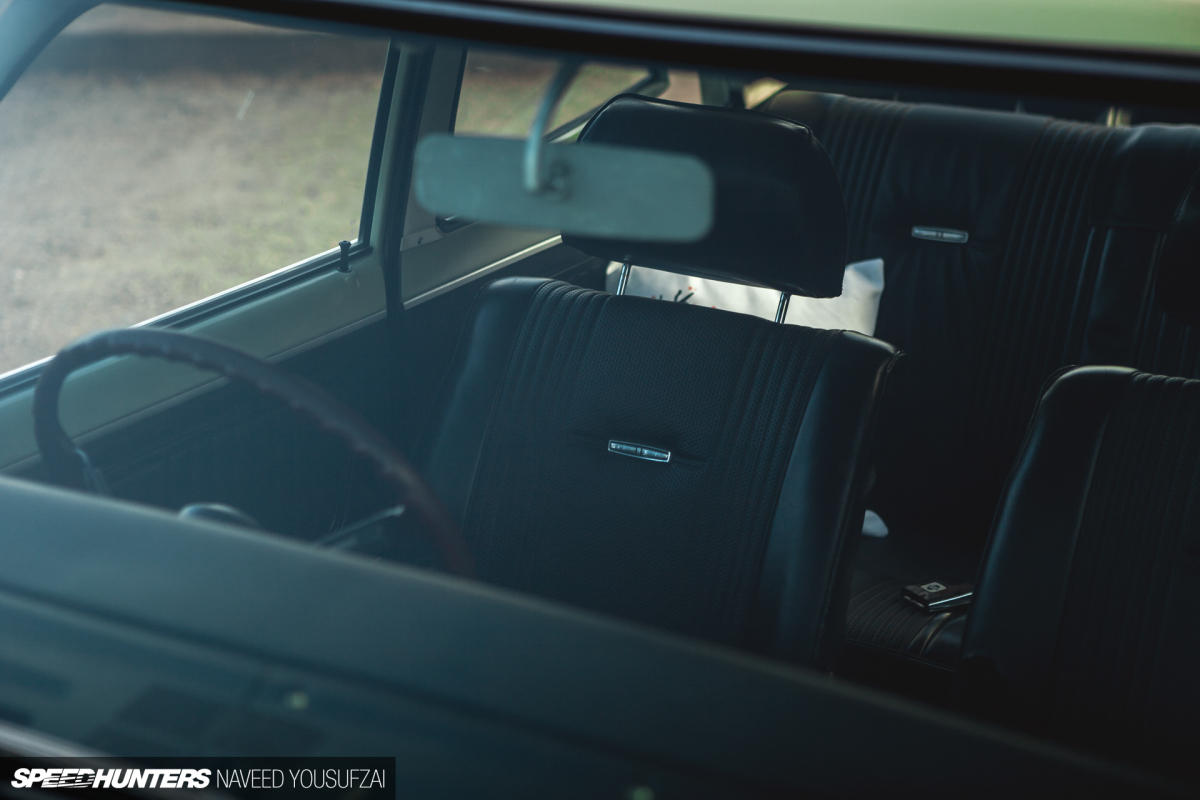 The interior in the USDM 510 was pretty standard: You got two front seats, a bench rear seat, some springs in between the floor boards and you, and some useless lap belts. By contrast, the JDM SSS coupe was pretty special: The interior could transform into a freakin' bed! The interesting story behind the 'Full Cushion' interior is that it was essentially a marketing tactic to get your JDM love on – in the car. I mean, when the hell do we ever see radness like this incorporated in cars being produced today?
Other notable interior differences are the rare SSS steering wheel, SSS shift knob, some lovely '70s fake wood vinyl, a locking glove box, thicker center console, interior light, and SSS four-pod individual gauge panel.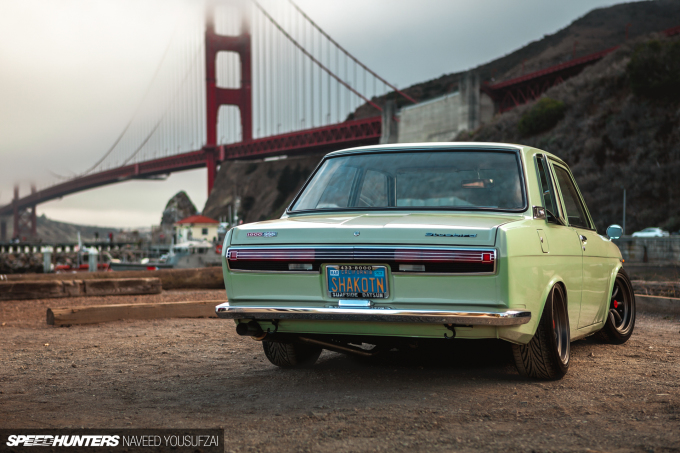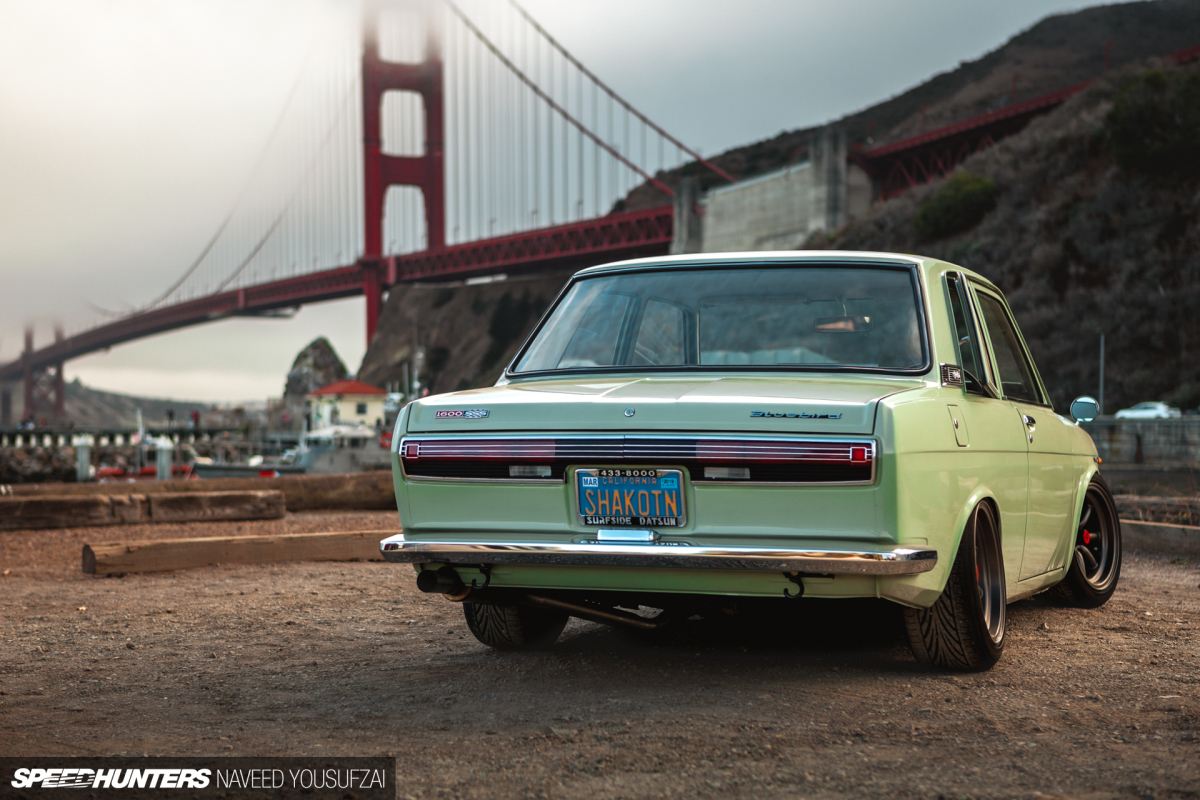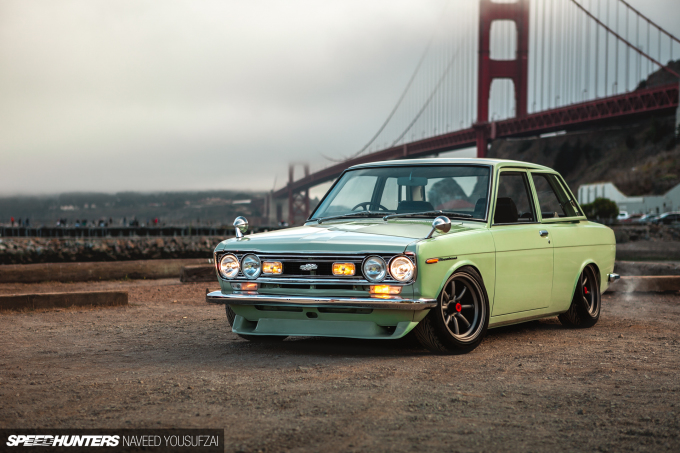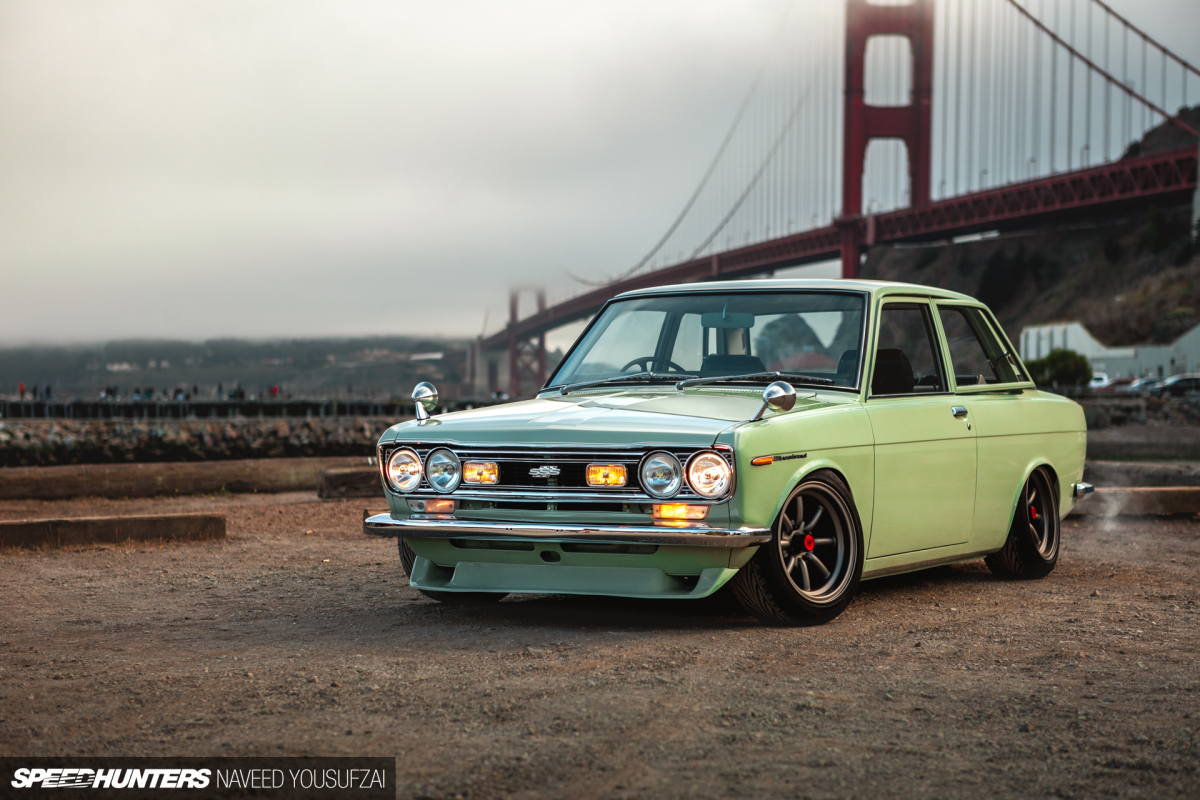 Switching things up to the exterior, obviously the most noticeable difference is the signature SSS sequential tail lights. These lights are some of the most sought after and rare 510 parts to find, and the fact that Andrew managed to score a brand new set is unheard of.
The signature Super Sonic Safari grill replaced the USDM unit as well, with other detailed enhancements such as the Marchal headlights and optional SSS factory fog lamps. Miscellaneous pieces such as SSS trim badging, SSS fender mirrors, SSS side markers, and even the direction in which the wipers move were all addressed to reflect the SSS coupe package.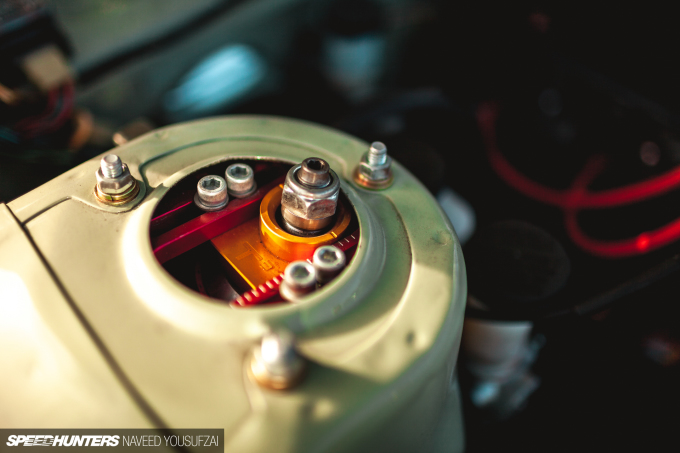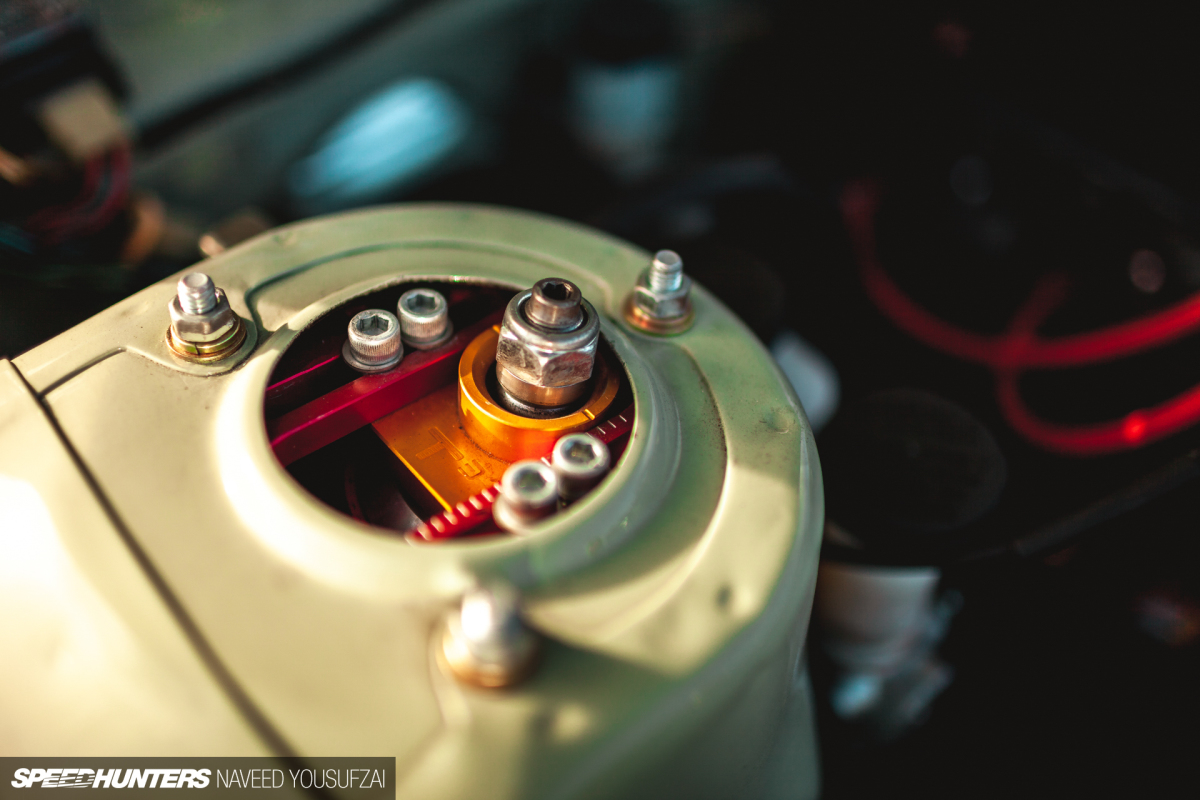 Of course, it wouldn't be shakotan without the proper stance and power, so Techno Toy Tuning coilovers were added along with Ermish Racing supporting pieces to get the fitment exactly where Andrew wanted to be. The car is outright slammed, sitting a couple of inches above the tarmac and sporting -5.5 degrees of matching camber all around.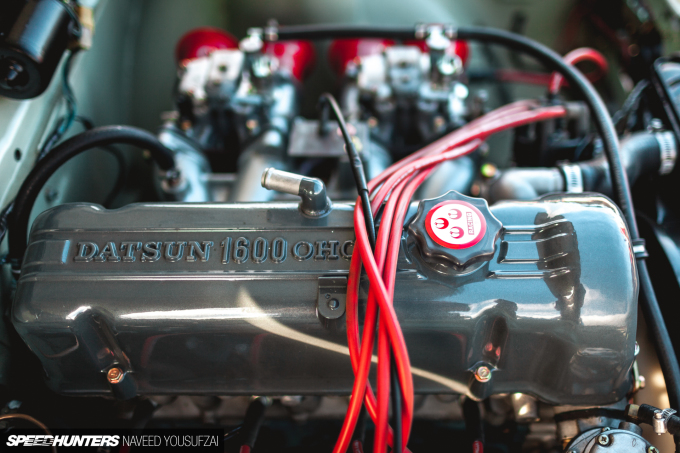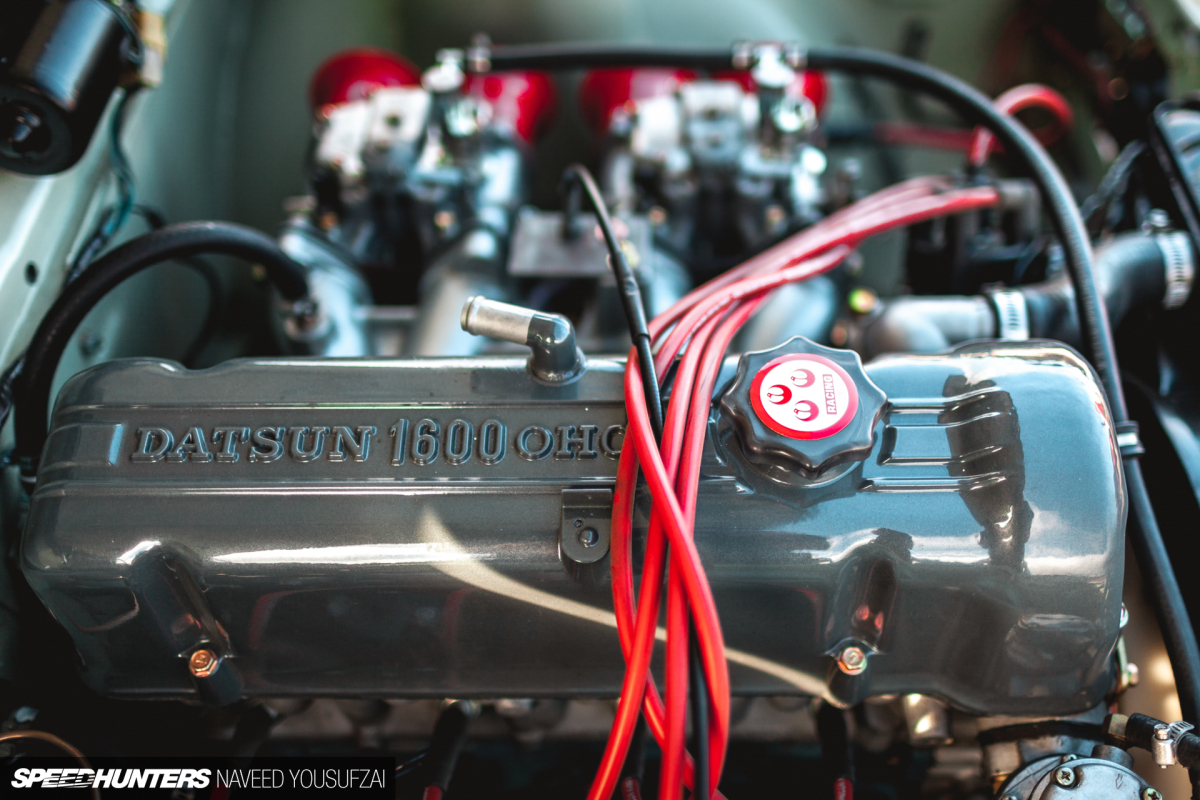 The SOHC L20B has all the goodies, including some serious dual Mikuni 44s, Refresh EL headers, and a Rebello Racing 63DI cam. I must say that I'm a sucker for red accents, so the red trumpets and Watanabe oil cap detail were definitely amongst my favorite characteristics of the car.
Not The Final Appearance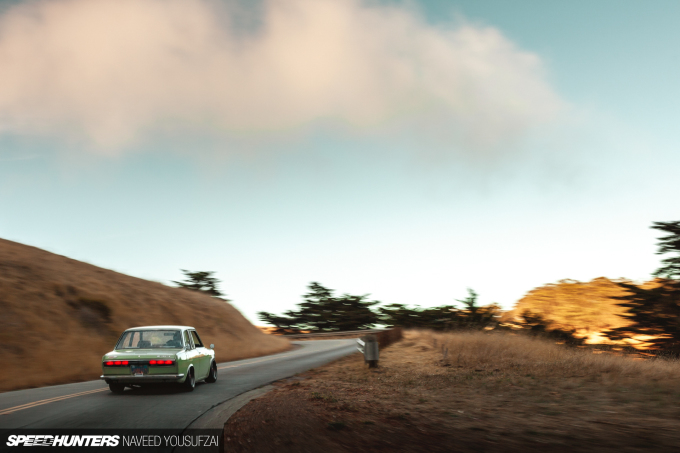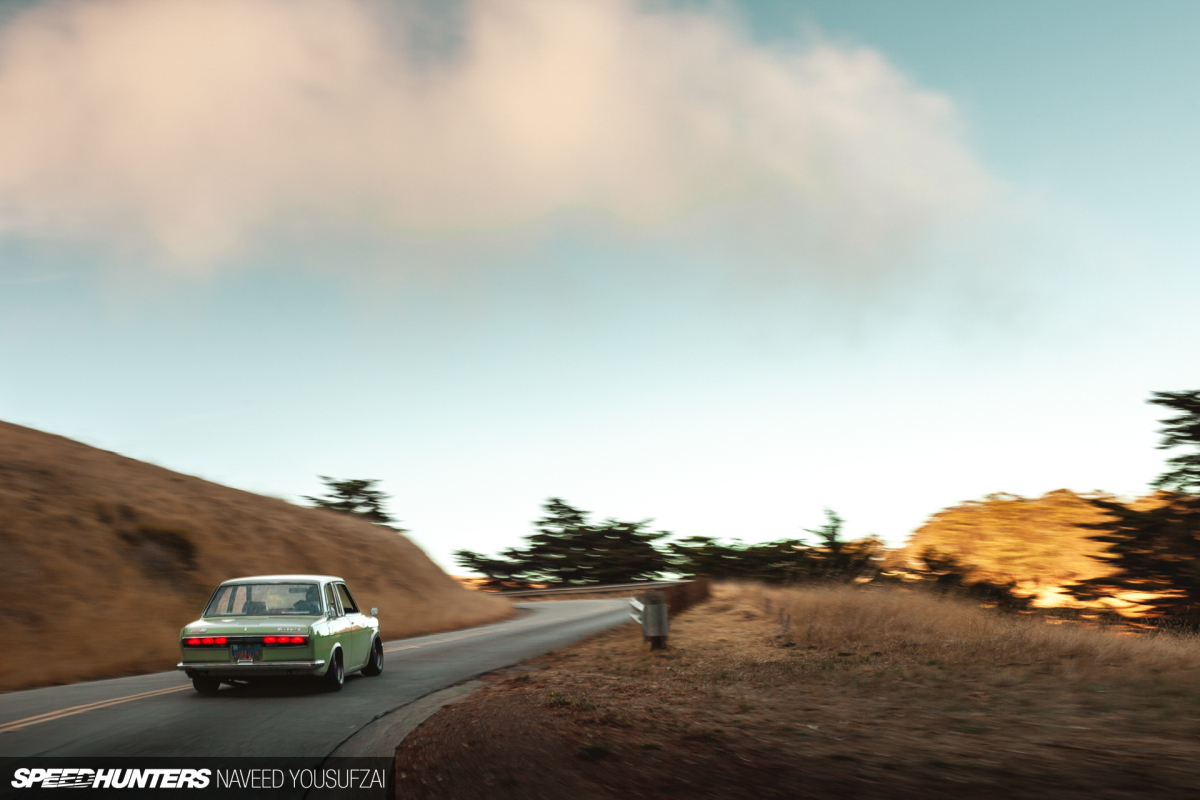 I've included a mod list and gallery for your viewing pleasure, but let me be clear in stating that this isn't the last time you will hear of Andrew on the site. Having this sort of passion for saving cars and building them to this level of quality only means that the future is bright for him.
There are a couple of other projects that are currently in the works, and though I don't want to spoil them for future readers, I will say that they are rare, not only in the US but pretty much everywhere in the world. Andrew's collection is growing, and the stories will be shared.
Shakotan 2 and 3 are currently in progress…
Naveed Yousufzai 
Instagram: eatwithnaveed
Andrew Sayre's Datsun 510
Engine
L20B block, ported & polished U87 head, 88.5mm pistons, Rebello Racing 63di cam, Nissan Comp-style intake manifold, twin Mikuni 44mm carbs rebuilt by Josel of Sidedraft Specialties, Datsun 1600 valve cover, Refresh 60 equal-length stainless header, 2.25-inch exhaust, Magnaflow muffler
Driveline:
280ZX 5-speed gearbox with overdrive, shortened driveshaft, welded R160 differential
Suspension/ Brakes
T3 front weld-on coilovers with camber plates, 280ZX front struts & disc brakes, 280ZX rear disc brakes with FutoFab brackets, Ermish Racing rebuilt RHD drag link, Ermish Racing rebuilt RHD idler arm, Ermish Racing outer tie rod steering kit, Ermish Racing RCAs, -5.5 degrees camber all around
Wheels/ Tires:
Atara Racing 15×8-inch wheels, 195/50R15 Toyo tires
Exterior:
Full body stripped to metal, fixed & resprayed the factory 546 Cactus Green, RHD conversion, battery relocated and sunk in trunk floor, USDM rear side markers removed, front fenders modified to fit JDM side markers & fender mirrors, rolled, pulled & tubbed rear wheel wells, rolled & pulled front fenders, hood prop removed & converted to hood shocks, NOS Bluebird coupe taillights with light covers, new FutoFab front & rear bumpers, Bluebird SSS coupe bumper license plate light, factory option coupe taillight supersonic badge (not installed yet), NOS Bluebird coupe front side markers, clear front signal lenses, Marchal headlights, factory option Bluebird coupe Safari SSS grill with fog lights, NOS Bluebird coupe fender mirrors, new Bluebird emblems, new 1600SSS trunk badge, new SSS pillar badges, Datsport rubber all around, Surfside Datsun license plate frame
Interior:
RHD dash frame, Bluebird SSS coupe gauge cluster, Bluebird SSS coupe glove box with light, Bluebird SSS coupe center dash section uncut with no radio and with map light and optional SSS Safari Grill foglight switch, RHD pedal box, RHD steering box, RHD signal switch & steering column surround with parking lights & hazard switch, Bluebird SSS coupe center console, USDM heater box & controls, Bluebird SSS coupe front & rear seats with fold down & reclining functions, USDM door panels, new factory white headliner, front to rear factory Bluebird coupe SSS harness with factory fog light switch & factory optioned sequential tail light flashing harness, Infinity Kappa K2 bluetooth amplifier, Pioneer TS-X11 speakers
Andrew thanks: Eric Brogan, Josel Cobangbang, Ralph, Peter, and of course my wife and kids for putting up with me.
Gallery