Family Affair
Before you think 'oh look, another Z article' let me be clear in stating that this is absolutely not your typical Z story. James Stephens is not your average Datsun owner who seems to be stuck in a constant building and selling cycle like many are.
I'm not saying that there's anything wrong with doing that. Hell, I have owned my fair share of cars and have gone through the whole 'I'm bored with it so I'll sell it and rebuild another car' phase. But it really takes a special type of love to build one car for 10 years straight. Really let that sink in… A whole decade of building a car, progressing, digressing, fighting, hating, loving, yelling, cursing and so forth, yet still managing to find the passion within yourself to stick with one car to its completion.
It really is tough when you think about it.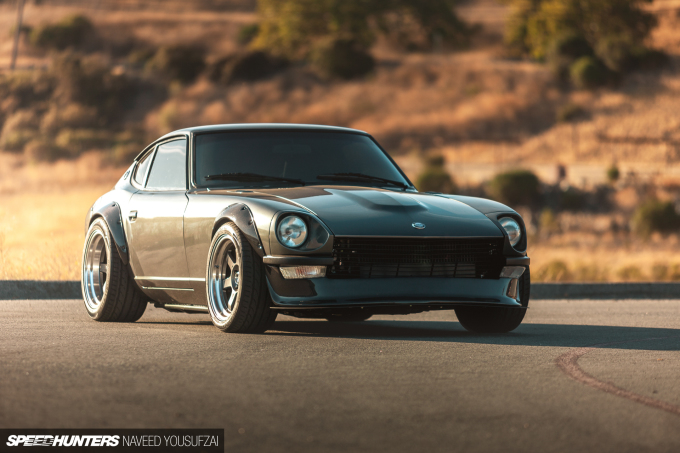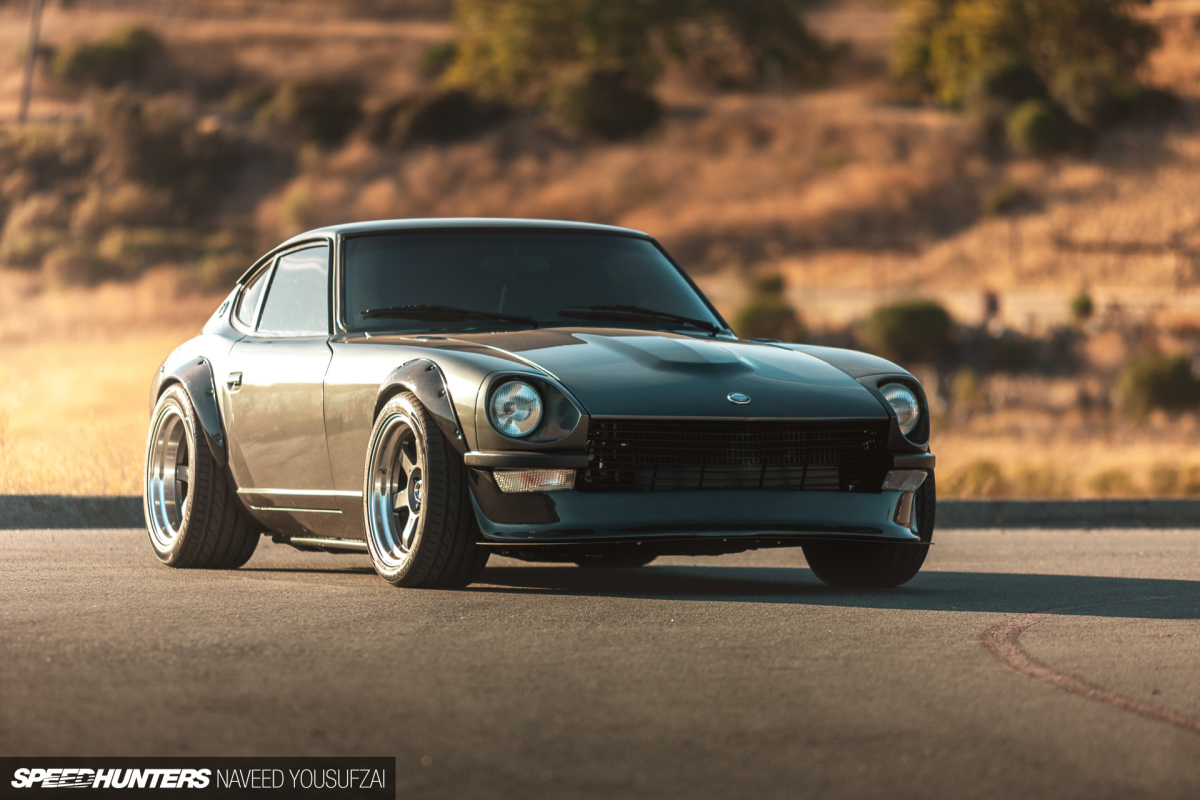 With help, James bought his first Datsun 240Z back in 1985, when he was still in high school. His parents promised to cover half the cost if he would front the other half, on any car of his choice. James had his mind set on buying a Z as he felt it was a true classic with nostalgic design and endless capabilities for potential to build and make it your own. That specific car was kept until 1994, when family priorities forced a regretful sale of the car.
At that point, James told himself that he would own another one day, and sure enough, come 2008, this current Z was purchased. There was only one vision in mind: In James' own words, to "build the Z of my dreams."
James' family has a history of automotive enthusiasm. His father owned a 1964 Ford Falcon which was turbocharged, and his uncle owned a 1965 Ford Mustang GT350. Growing up, James was told stories of how his father and uncle would go over to drag racing legend Don "Big Daddy" Garlit's shop in Tampa, Florida to hang out, help build cars and pick Garlit's brain for expertise on how to improve their own. These stories had a huge influence on James' decision to go turbo on the Z.
The same idea kind of flowed through James' mind by choosing the Z car gurus over at Z Car Garage in downtown San Jose. Rob Fuller and his team have been known in the Nissan and Datsun community for decades, and have built some of the best Zs to ever hit the pavement. They have done everything from full factory restorations to six-figure, OS Giken TC24-powered restomods, so James' choice couldn't have been more appropriate.
Onto The Details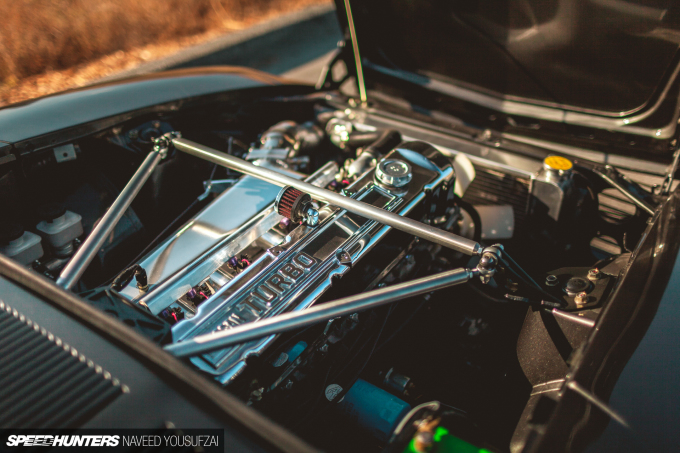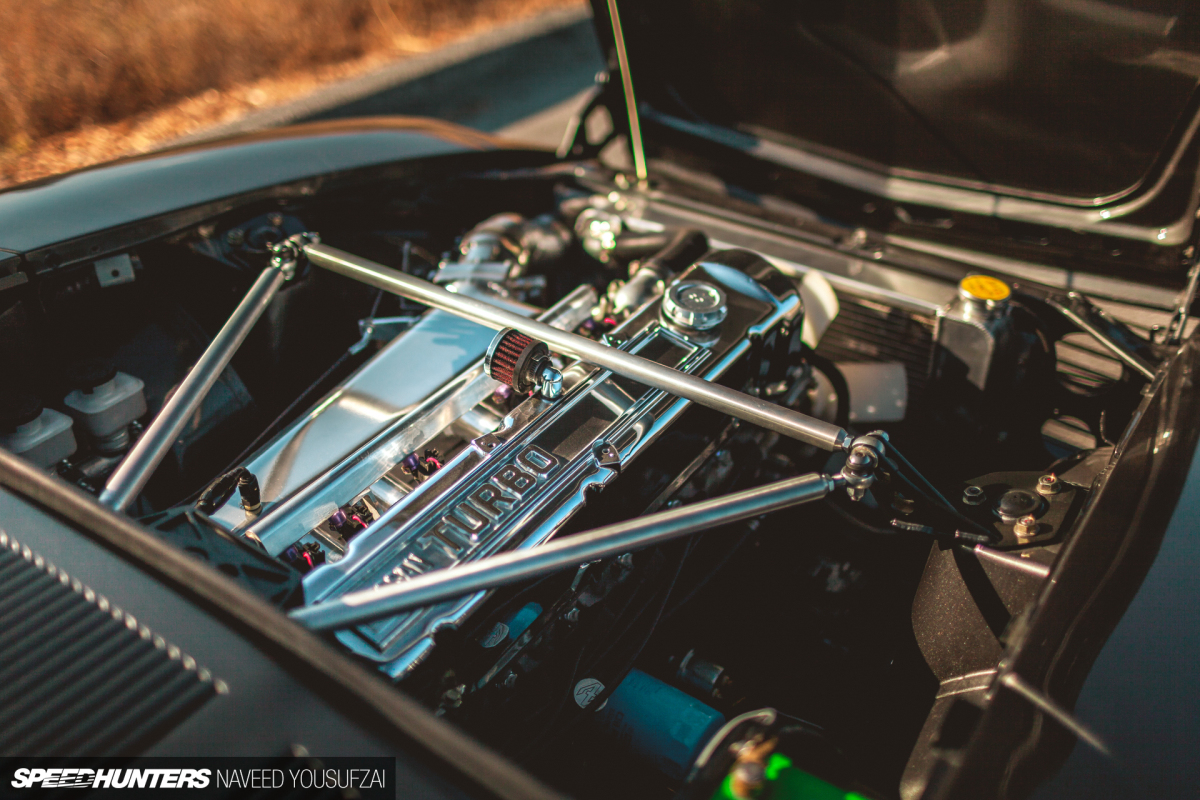 James had seen numerous unconventional builds throughout the years, everything from Chevy, to Ford and even Toyota motors being swapped into Zs. Though his car is not necessarily a purist build, he wanted to retain a factory Nissan SOHC inline six, with a little more oomph.
After researching for a few years and taking inspiration from other Zs on the Nissan forums, James made the decision to go with a Rebello Racing-built L-series, which boasted an incredible 3.2 liters of capacity. What he ended up with was specced with an LD crank, JE forged pistons, an Isky cam, oversized valves and a crank trigger system, then finally mated with a modest Garrett GTX3576R ball-bearing turbo and all the supporting ancillaries. Some notable touches are the unique Nissan 'Turbo' valve cover, a sleek wire tuck in the engine bay, and endless amounts of polished aluminum. The Z makes just over 520whp at a modest 21psi boost, but that number may increase in the future if James decides to up the pressure a bit.

Of course, you can't have that sort of power without proper stabilization. Mated to the 3.2L engine is a Hoke Performance 6-speed manual transmission, custom aluminum drive shaft, OS Giken limited slip differential, Ground Control coilover suspension, and loads of Techno Toy Tuning suspension bits including control arms and urethane bushings.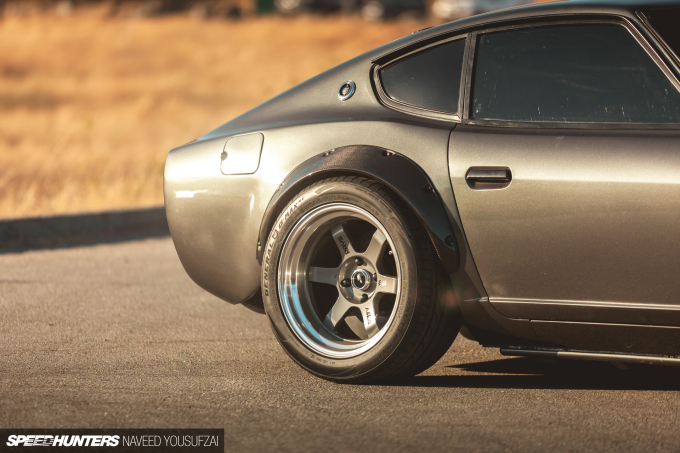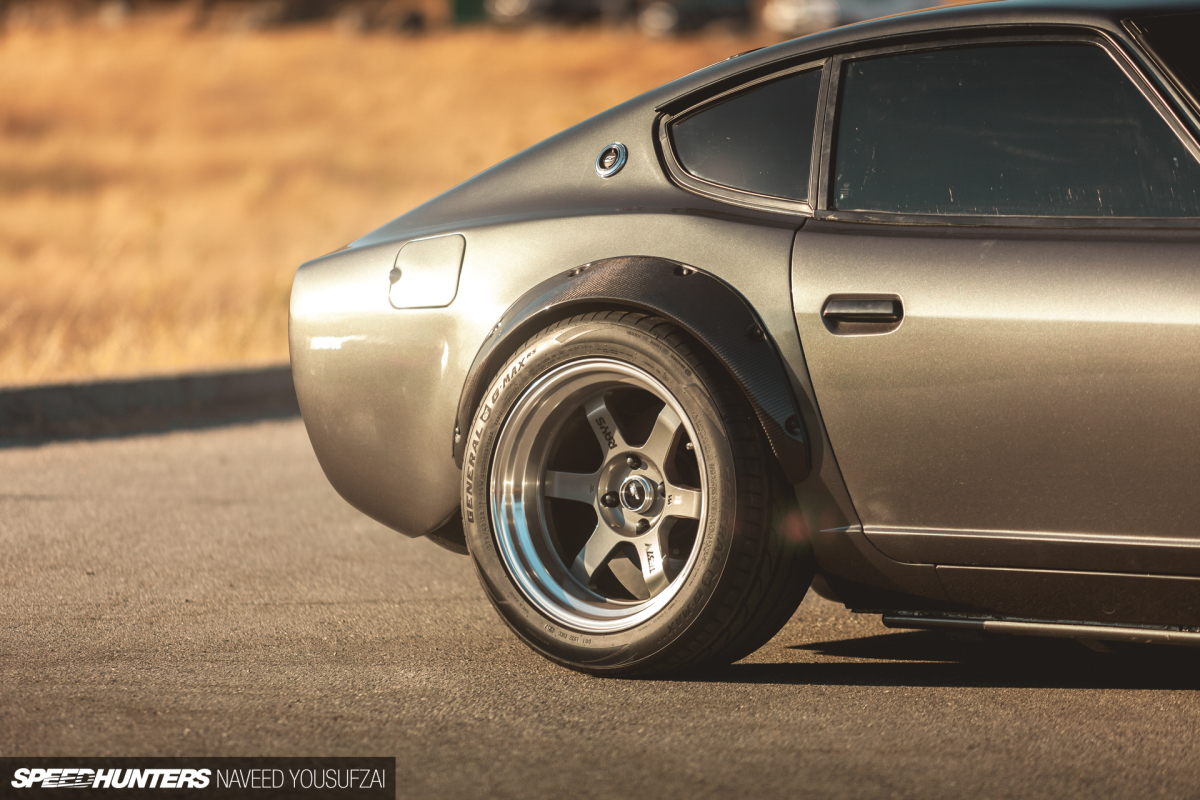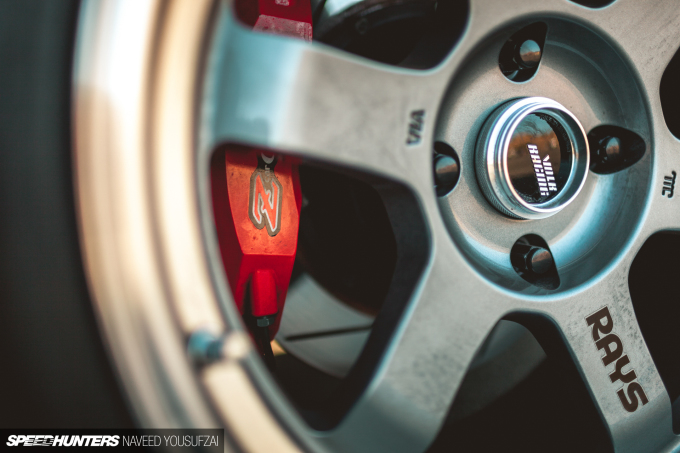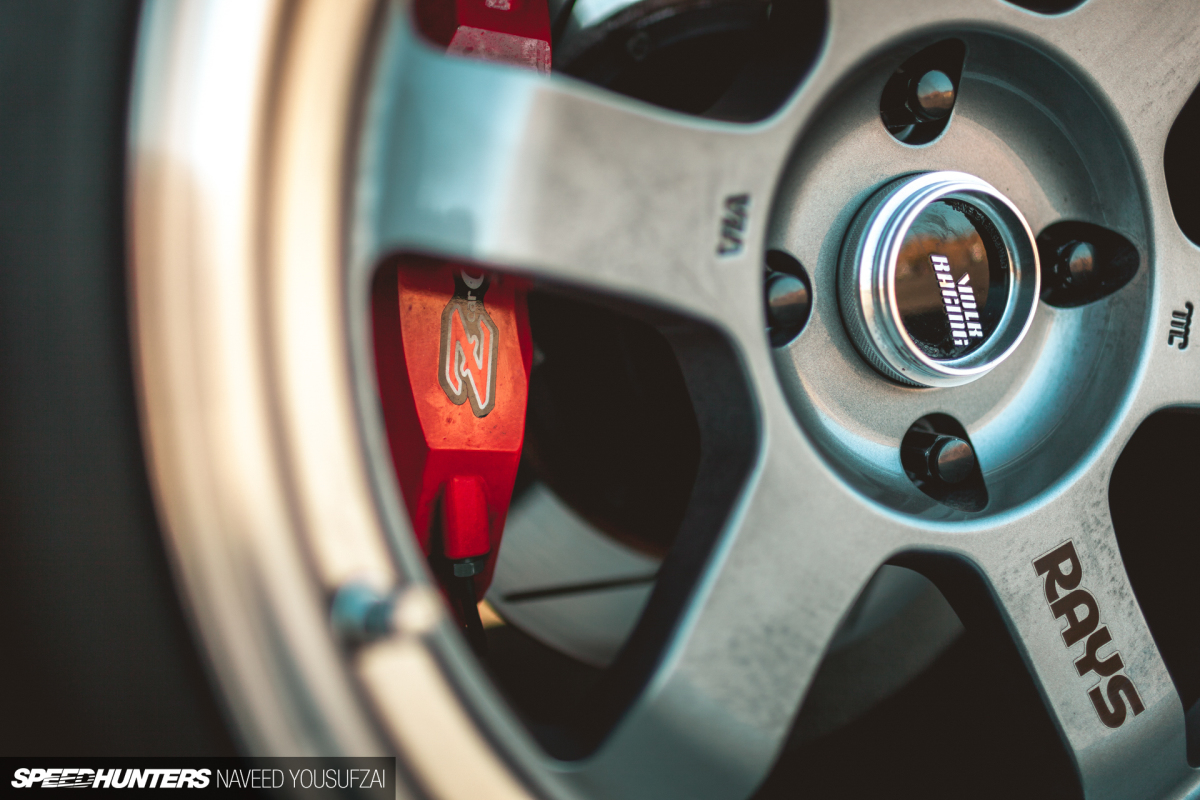 The wheels are RAYS Volk Racing TE37Vs in 17×9-inch and 17×11-inch fitments front and rear respectively, while stopping power comes from Z Car Garage's in-house engineered 4-piston big brake kit.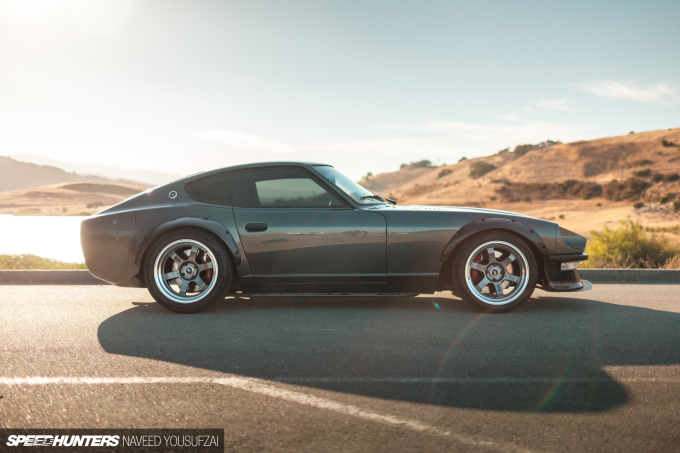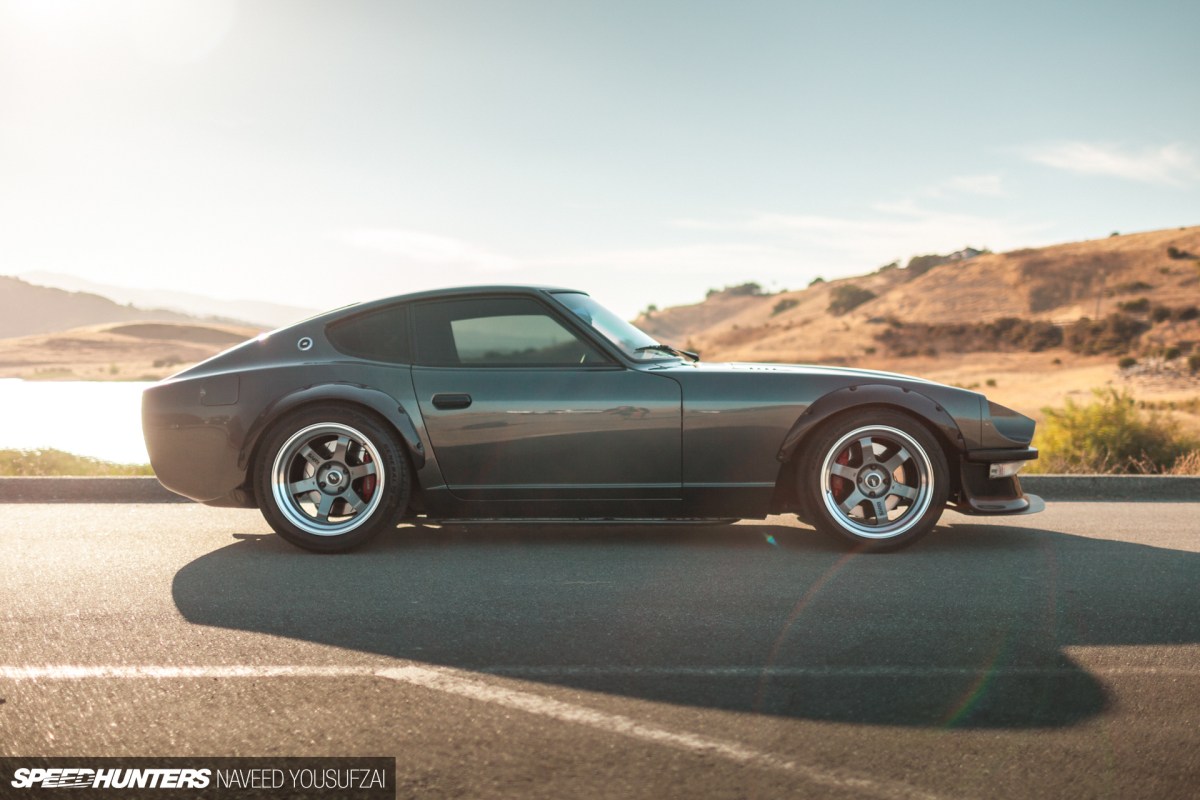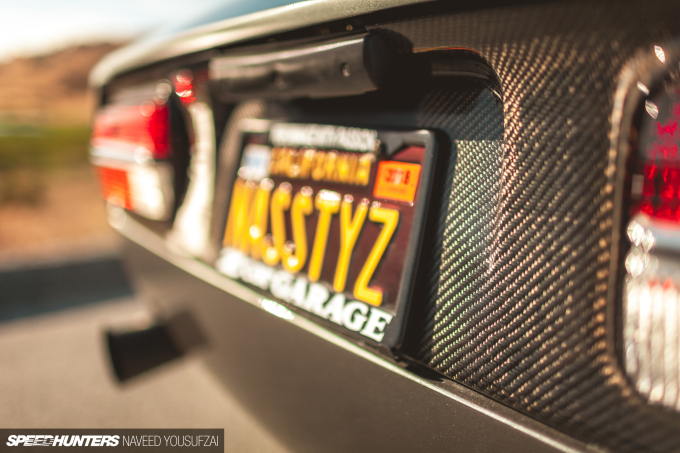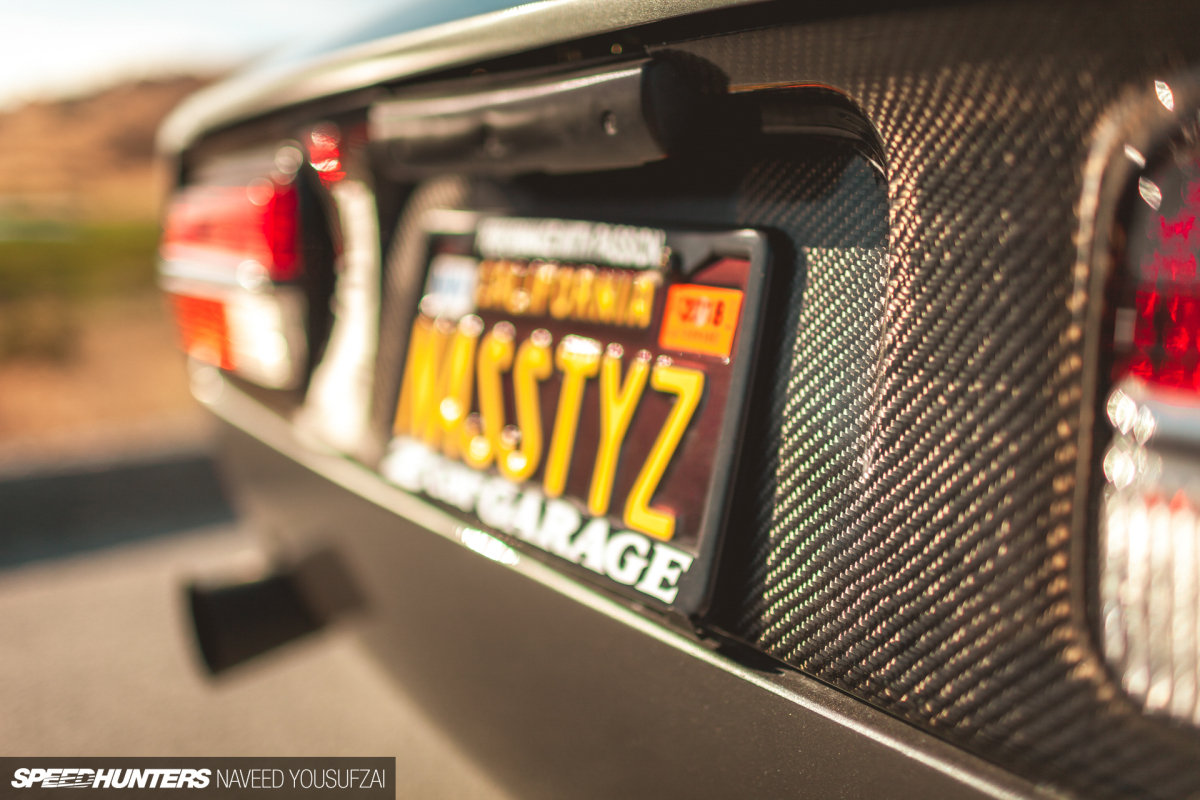 Moving onto the exterior, the color of choice is Ferrari's Grigio Silverstone, which matches perfectly with the extensive amounts of carbon found all around the car, including the rear panel, Retro-spec front air dam, and Retro-spec ZG fender flares.
When I met up with James, he mentioned that the car had been sent back to the shop three times to ensure every bit of body work was absolutely perfect. There's no waves and no orange peel, and the perfectly aligned panels and mirror finish really help set this Z apart from the other restomods you generally see on the roads. It genuinely looks better than it did from the factory.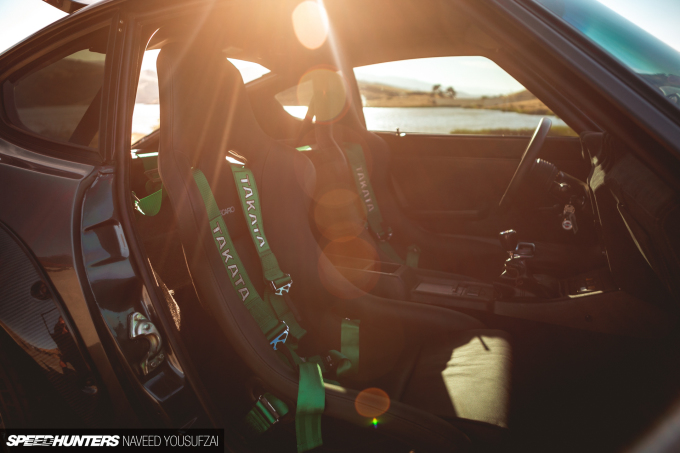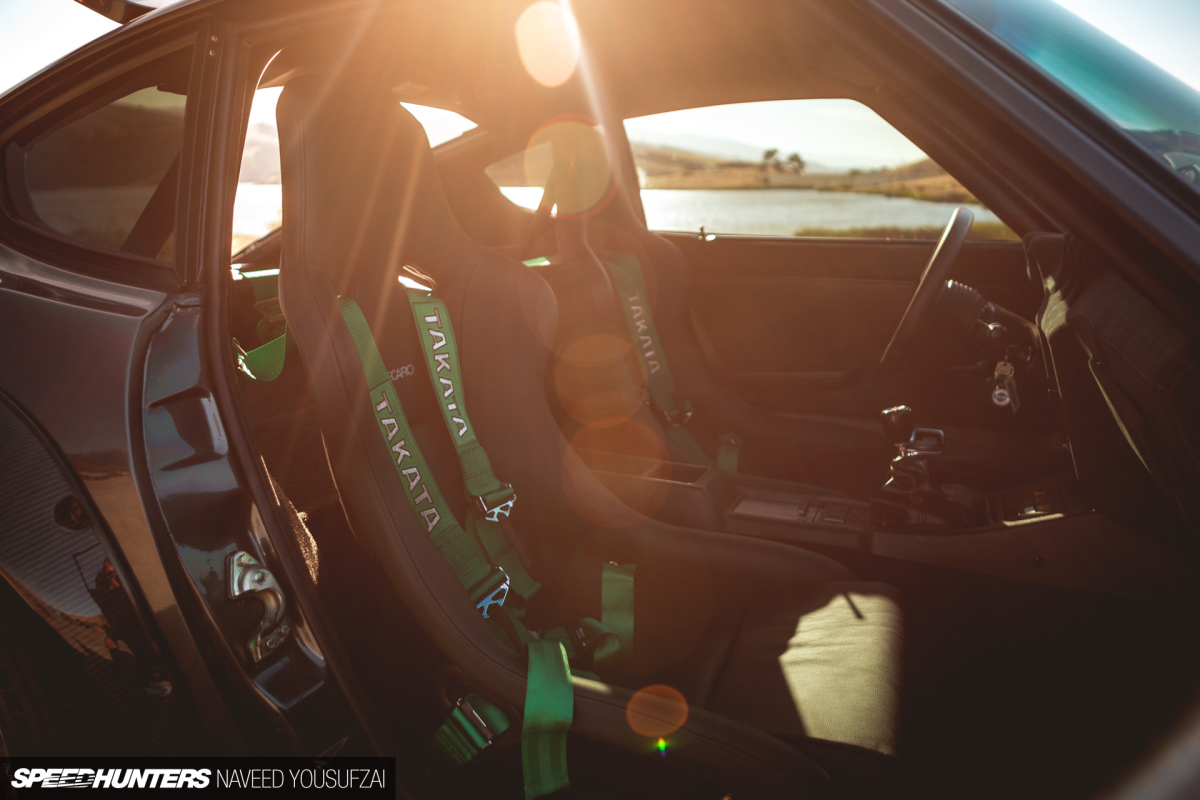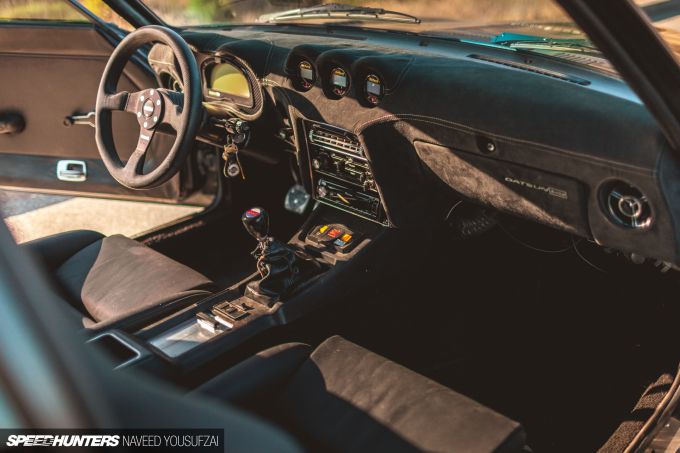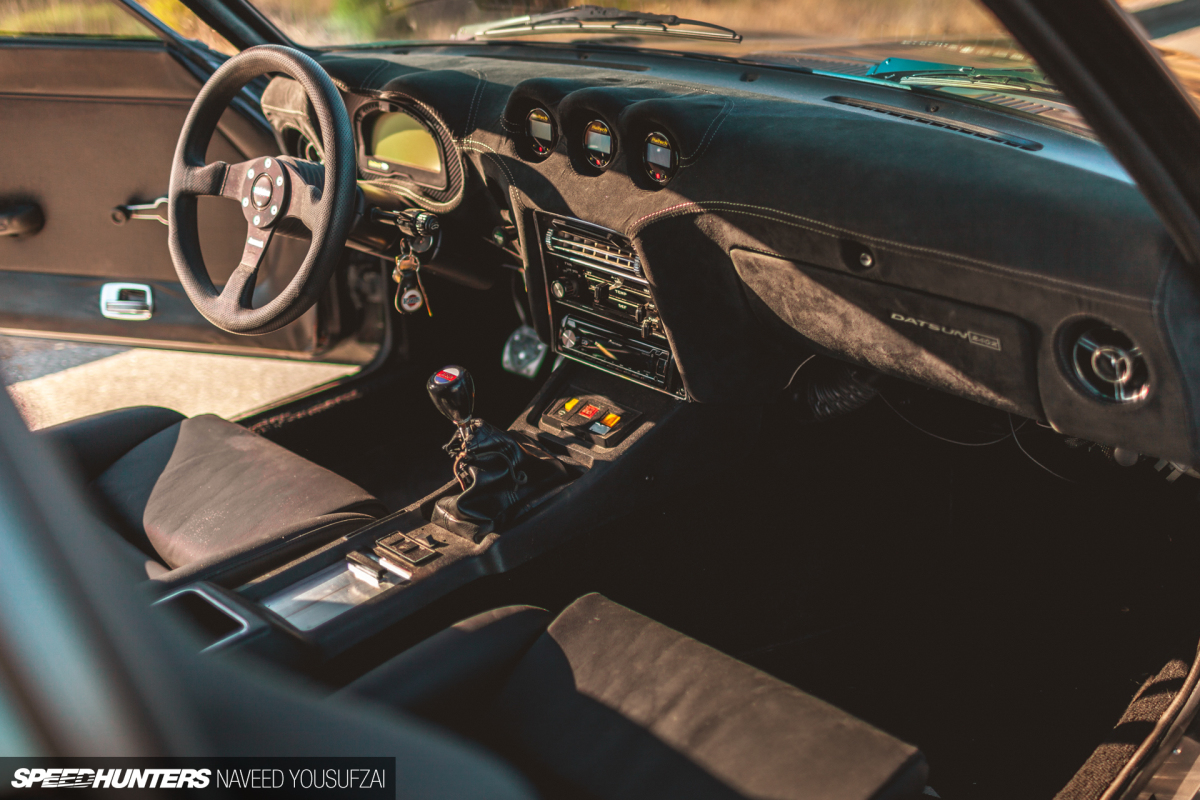 But of course, James couldn't do all of this without tying it all together with the interior. The first thing that hits you right in the face is the gorgeous Alcantara-wrapped dash. Old Z cars are infamous for having wrecked dashes since they were made of cheap plastic and had years of hot summer sun rays beating down on them. Not to mention, the glare you get from the factory dash makes it really hard to see. So James' solution is not only beautiful, but practical as well.
Recaro SPG seats paired with Takata Racing harnesses help keep the driver at home, and a full Haltech IQ3 Street digital display allows for precision reading when on the road. Finishing touches include custom Z floor mats, a custom Hertz Audio sound system, and Momo racing steering wheel.
Get Motivated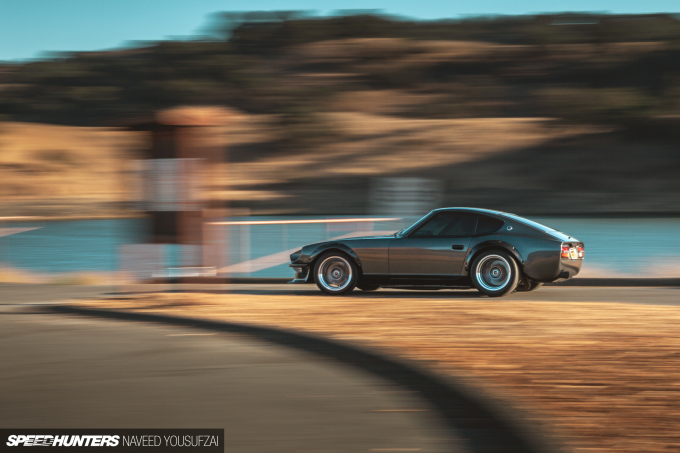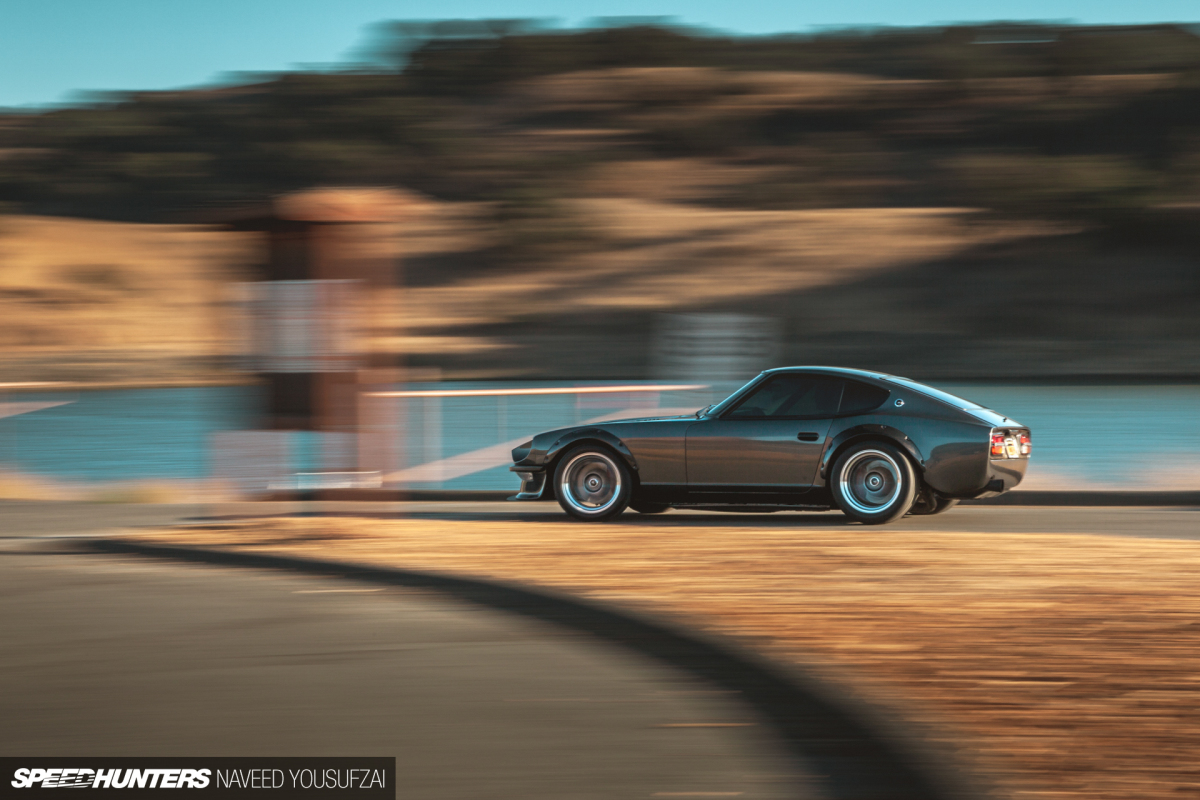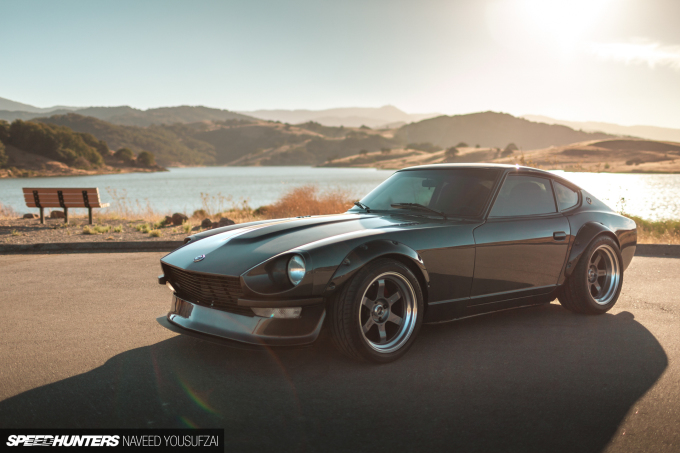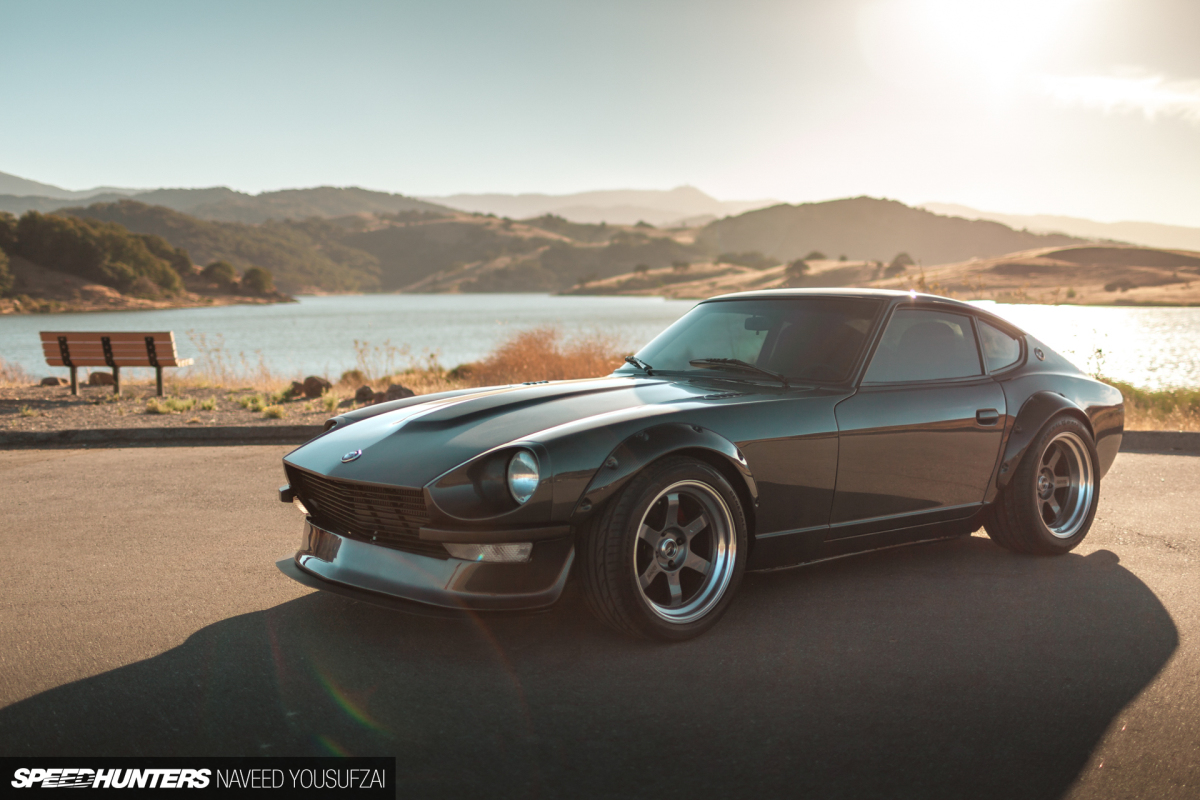 All said and done, James' 10-year vision is slowly coming to completion. It's been an epic journey that has faced numerous forks in the road, which has ultimately led to bringing this dream Z to life.
I've always found stories like this to be the most interesting, as they show promise to those of us who simply fail to see the finish line. I'm sure there are countless numbers of you guys going through this same process, including myself with my own Z, but I want everyone who reads this to soak it up and genuinely feel that motivation in getting your projects done. I know I felt it while putting this feature together.
Naveed Yousufzai 
Instagram: eatwithnaveed