A bare metal, fixed-back seat, lack of air conditioning, no heat, windowless, LS-powered Ford Mustang makes for one hell of an adventure and an experience I'll never forget.
If you read my last story, you'll already know that earlier this week Kyle Scaife, AKA mustangkyle, and I headed out on a 1,100 kilometer road trip from Toronto in Ontario, Canada to Ocean City, Maryland. The reason: H20i.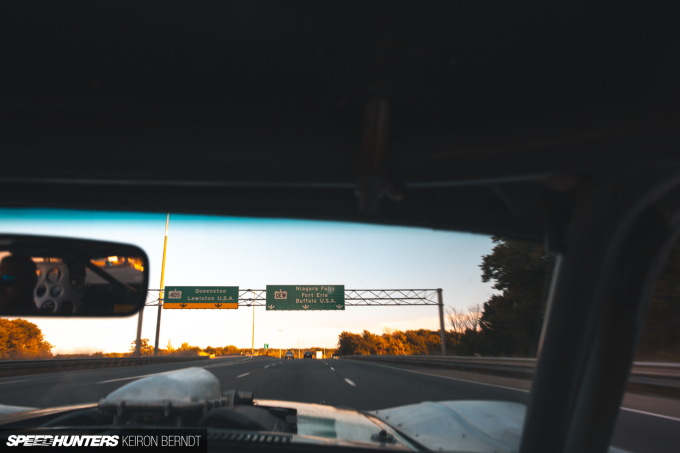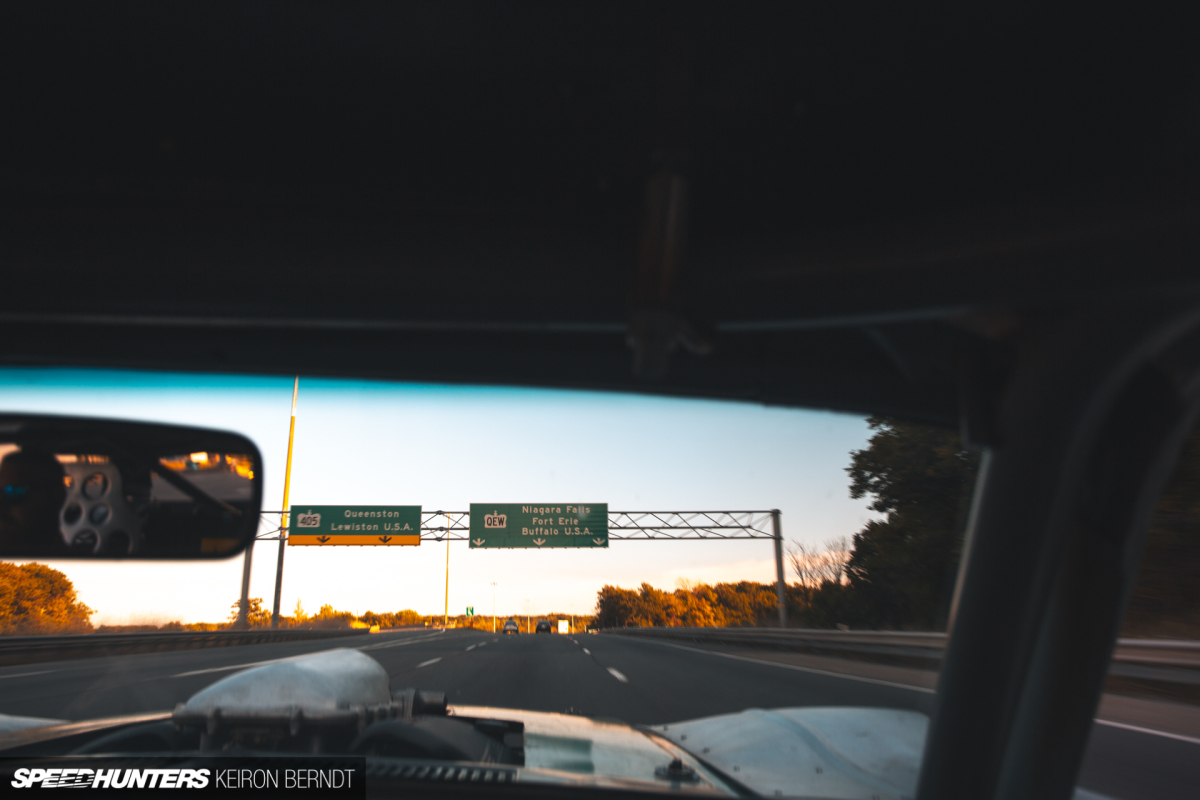 We set off in the late afternoon with our sights set three and a half hours south on Rochester, New York where we planned to stay the night. After loading, buckling up, and ensuring our tetanus shots were up to date, we were US bound.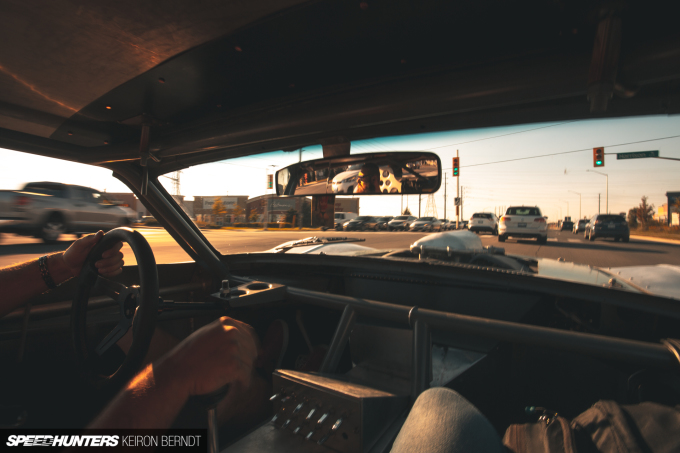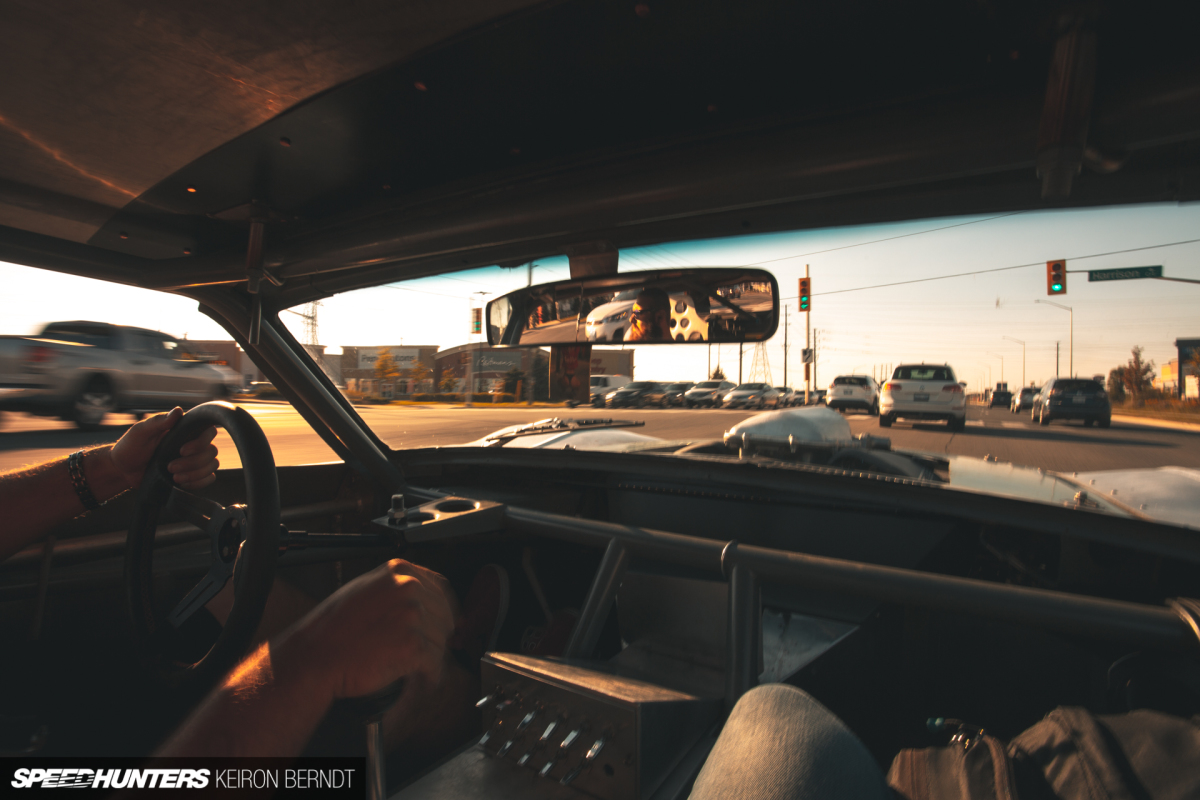 As we bounced and jutted along the highway, I noticed the lack of a speedometer, temperature gauge, and most importantly, a fuel gauge. I looked at Kyle and he shrugged – what's the worse that could happen?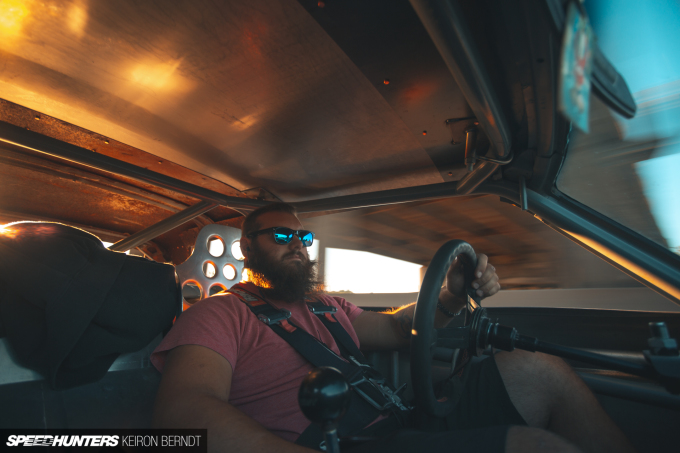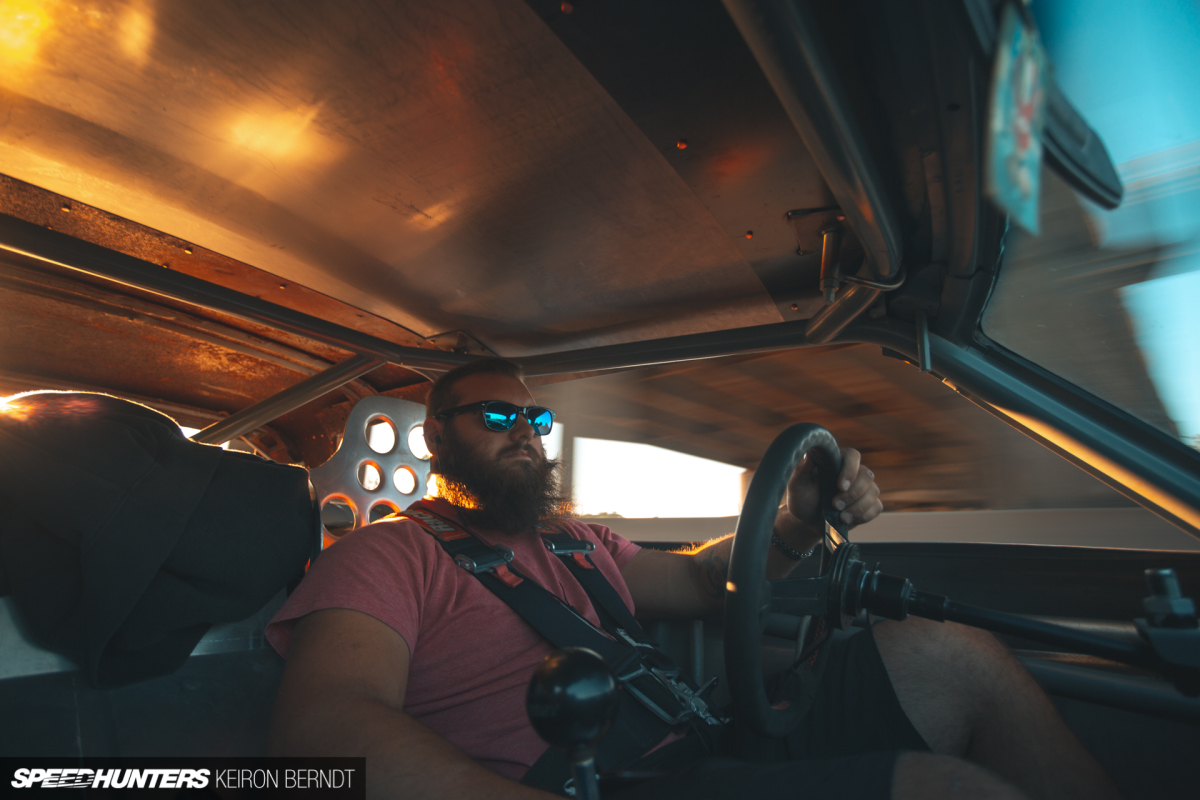 At this point, it's important to note that Kyle is a fabricator by trade and that he built the entire car himself. Given how well it's been put together, there was absolutely no reason for me to doubt that the Mustang could make the journey.
One of the most memorable experiences was seeing the reactions of other drivers we encountered on the highway. Numerous people raced up next to us with their phones in hand, just trying to get a picture. Can you blame them?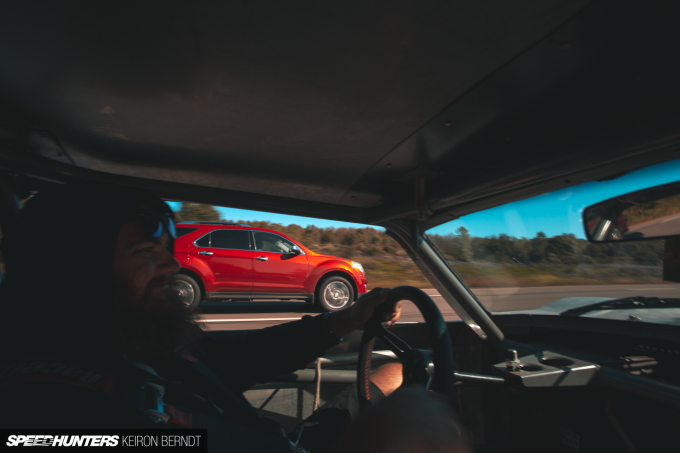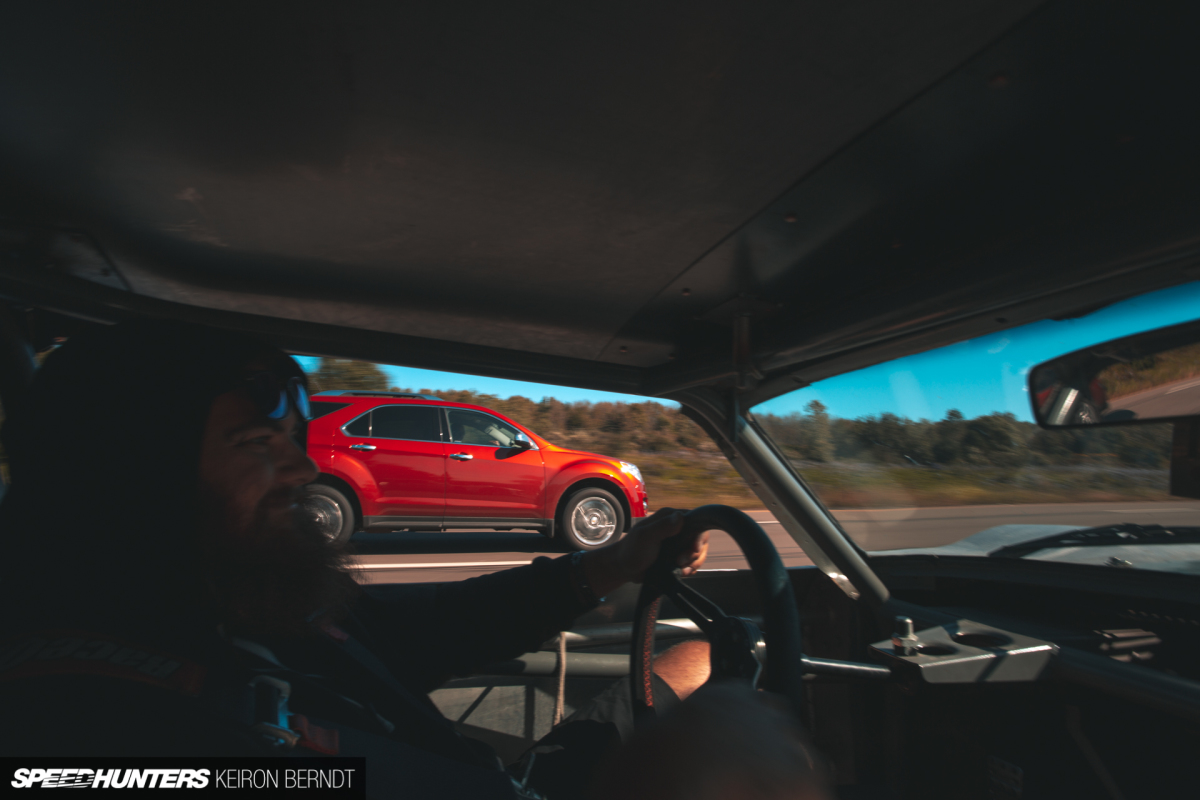 This thing doesn't come close to anything else on the road, especially when it's creeping up in your rear-view mirror.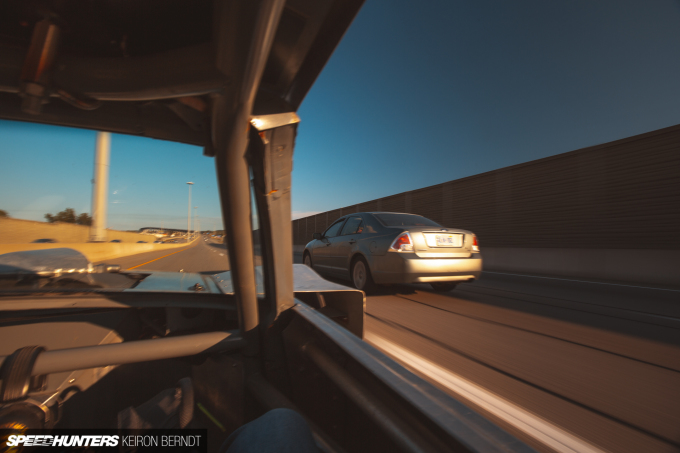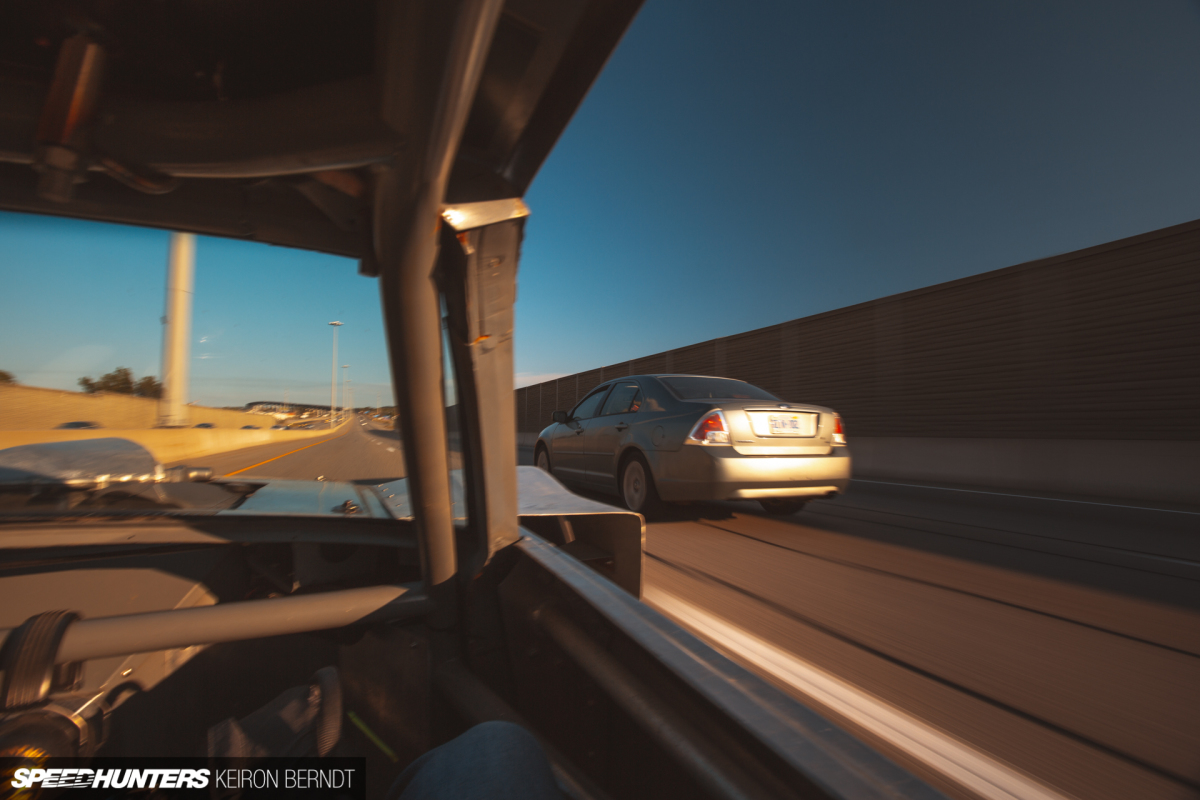 Our first leg of the drive featured crossing the border into New York, which is never easy with a highly modified car. Thankfully though, it went off without a hitch.
I put my camera down as we approached the port of entry in an attempt to not draw any more attention and scrutiny from the border agents.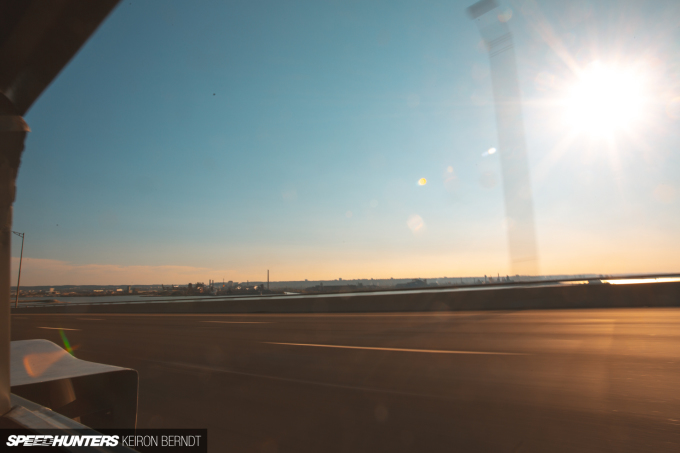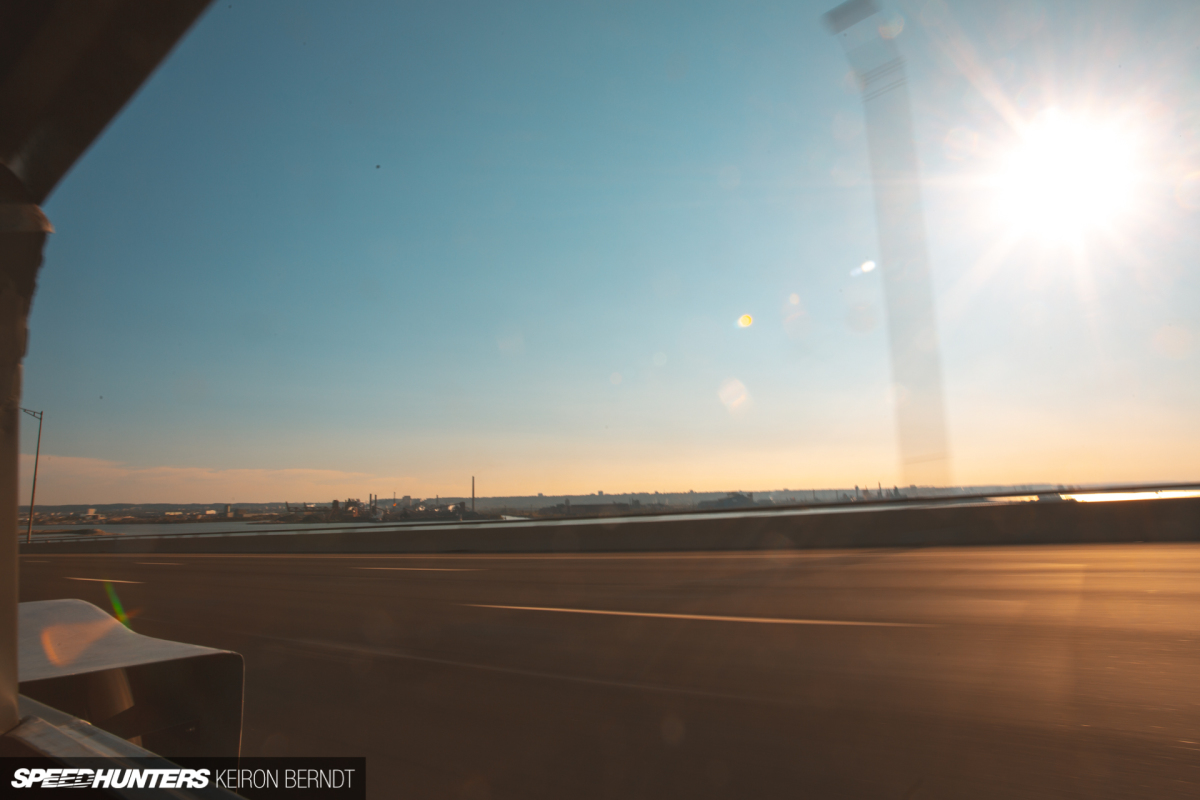 As we sat in line waiting to head to the booth, two officers approached and both had the same question: "Is this thing street legal?" When Kyle told them it was, they couldn't believe their eyes. One of the officers was a drag racing fan and loved the idea of the LS, while the other took a few pictures.
We proceeded to the booth where Kyle was asked the same question again, before having to produce the car's registration and proof of insurance documents. After a few more questions we were welcomed into the United States.
In a waiting bay on the US side of the border, Kyle stopped so we could rearrange some of our gear and stretch our legs. That's when we were approached by Officer Braun, who was full of questions and excitement.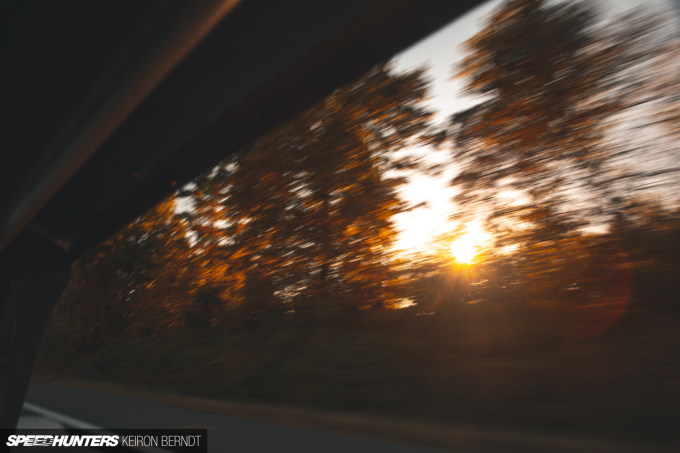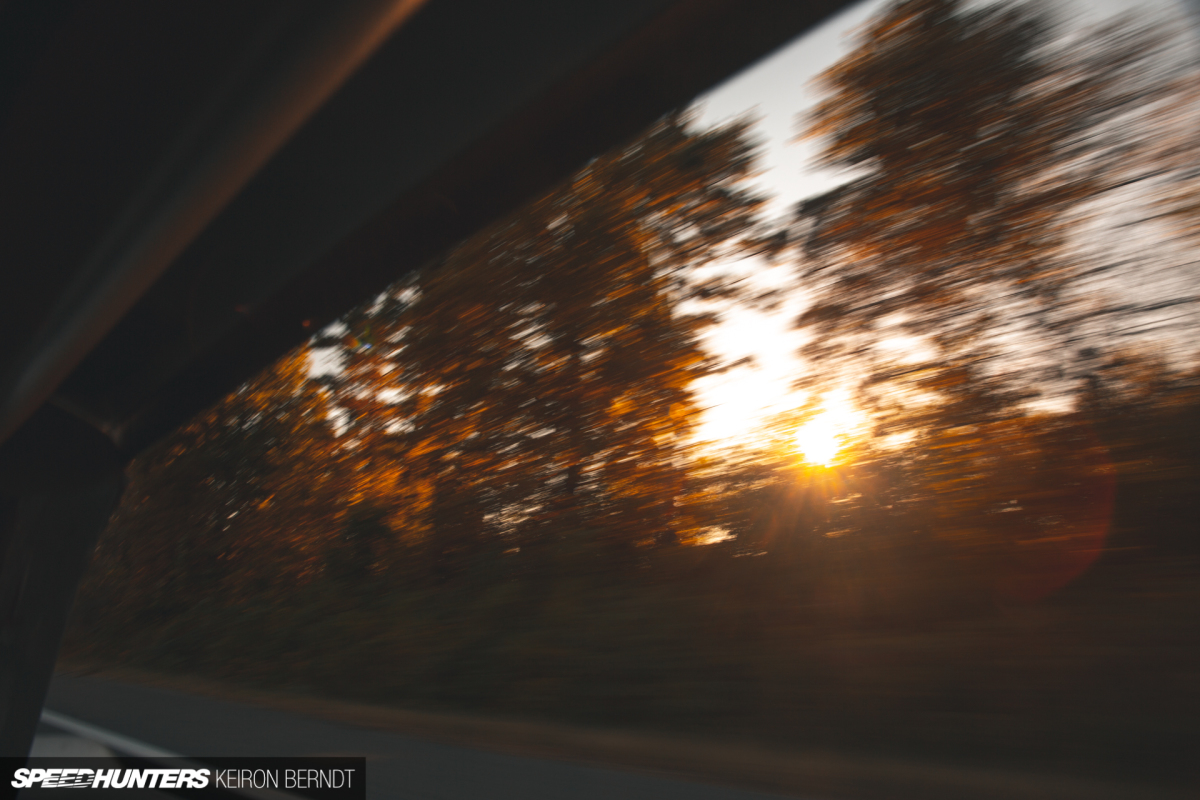 After a quick chat and a look at his Lincoln, we were back on the road.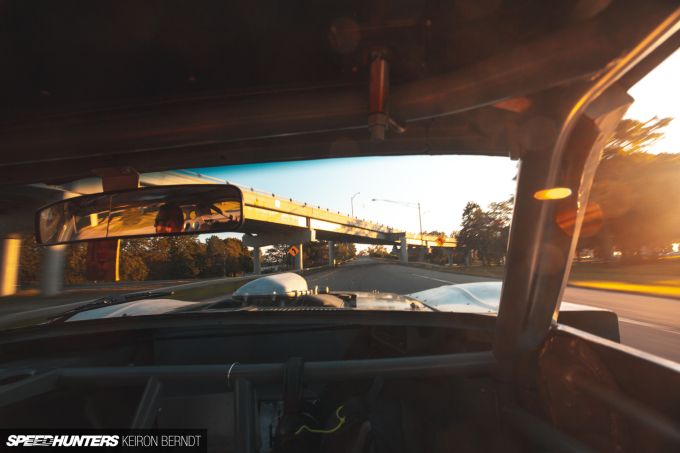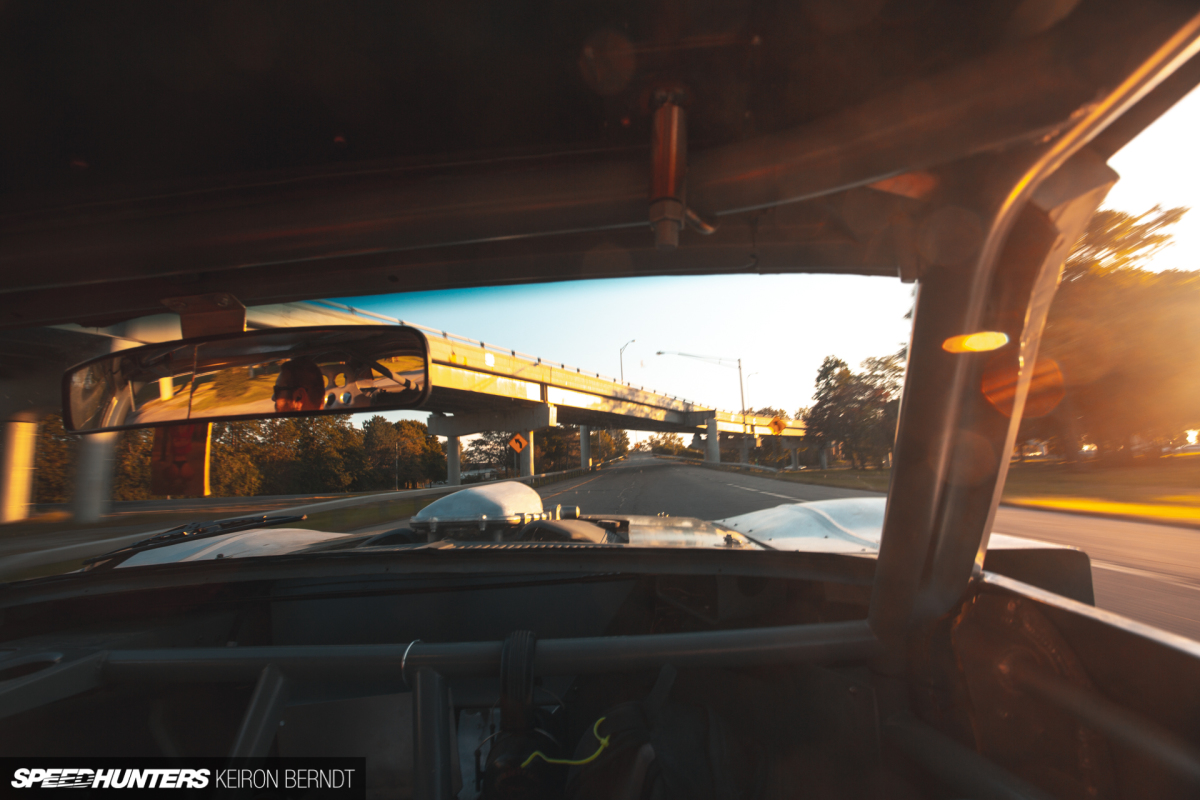 We pulled through Buffalo and continued south as the sun began to dip and the crisp autumn air started to play its part.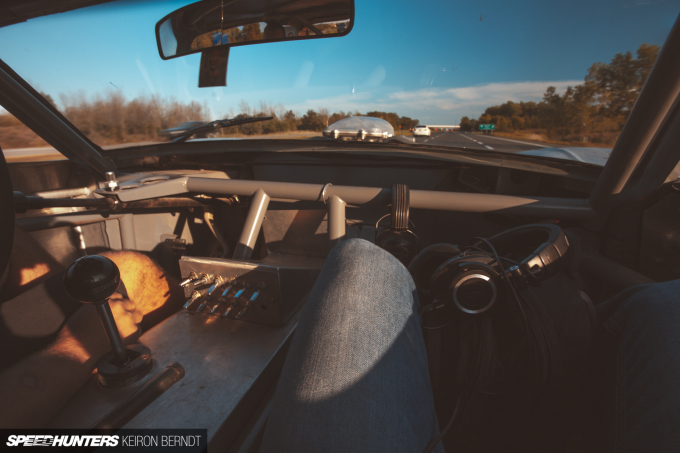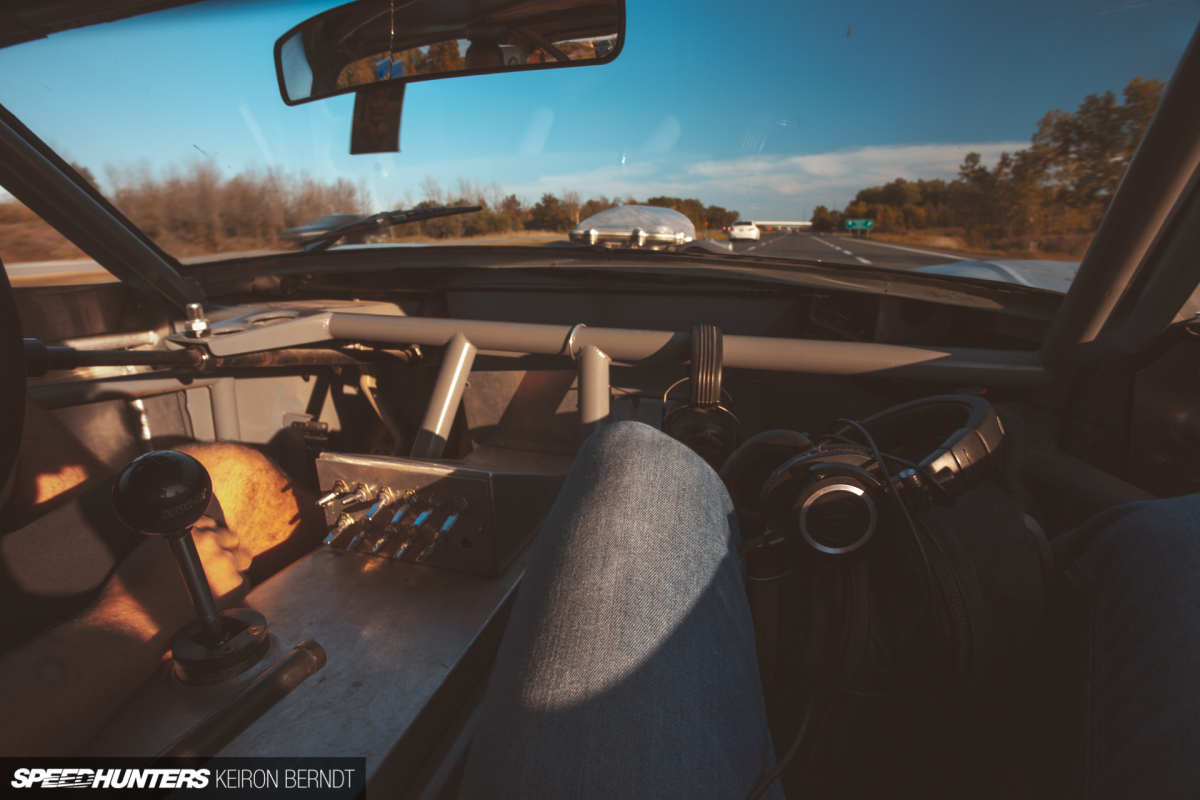 At this point, it was time to deploy my backup headphone strategy to try and combat the noise of the wind and motor. Kyle was fortunate enough to have noise-canceling earphones, but I wasn't nearly as lucky. My initial plan was to use my molded under-helmet earphones as they're extremely comfortable and block out most noise, however, if these didn't cut it, I would replace them with earplugs and then cover those with my over-ear headphones. The only issue with these grand ideas was that the car was still just too damn loud. I eventually gave up on music and settled for earplugs for the rest of the journey.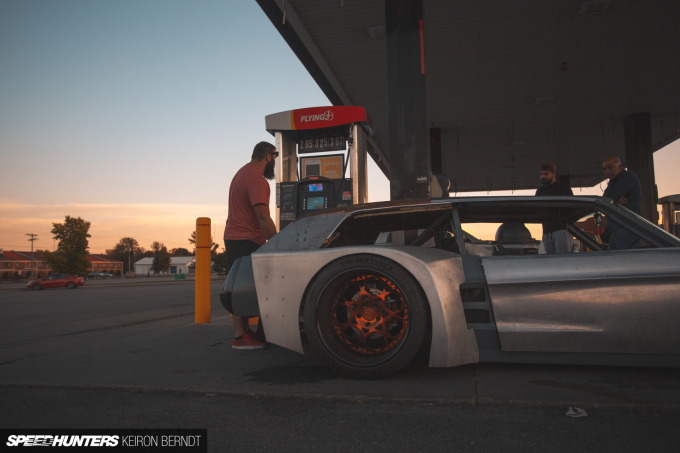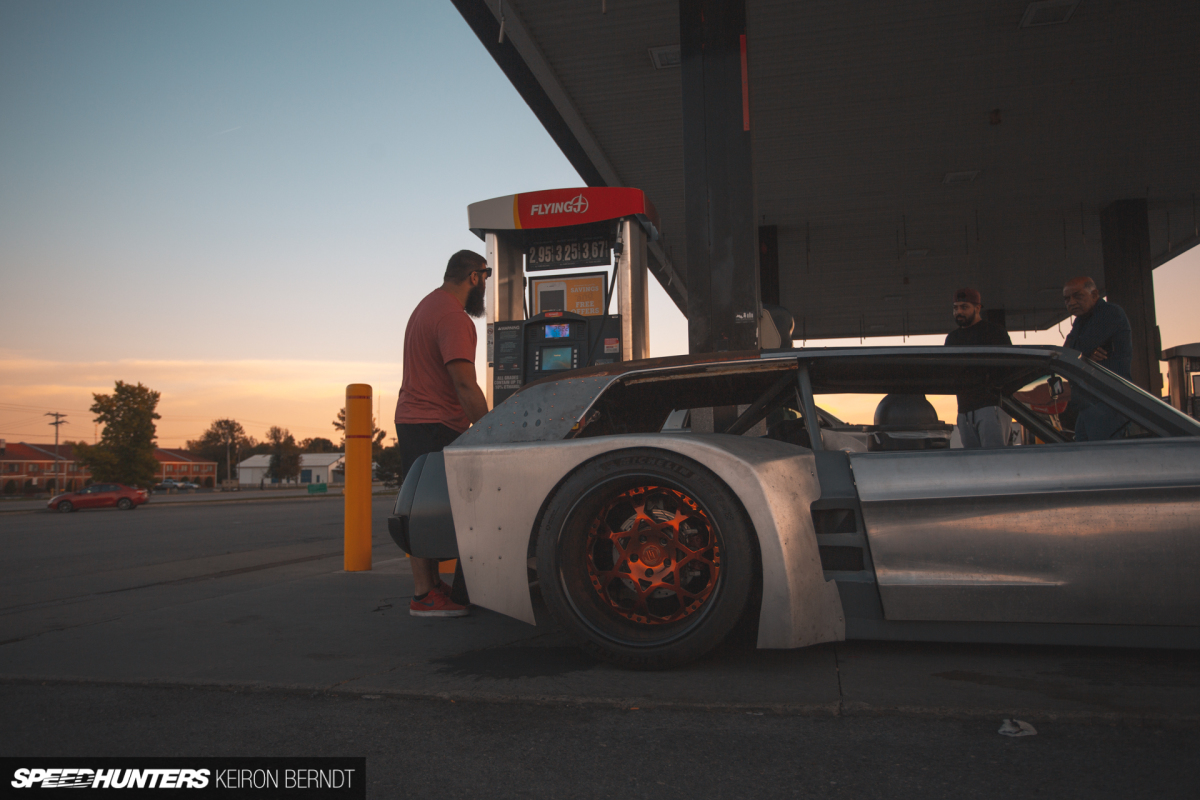 After a quick fuel stop and a beautiful sunset, I found myself snuggling up to the transmission tunnel in search of warmth, and hunkering down in the seat to try and avoid the cold breeze that billowed through the windows.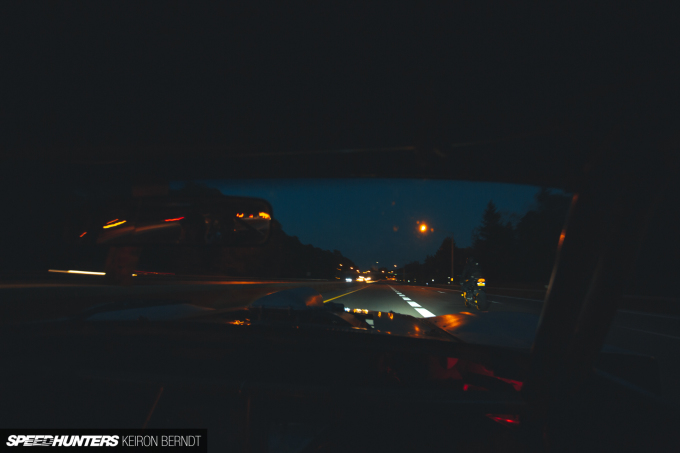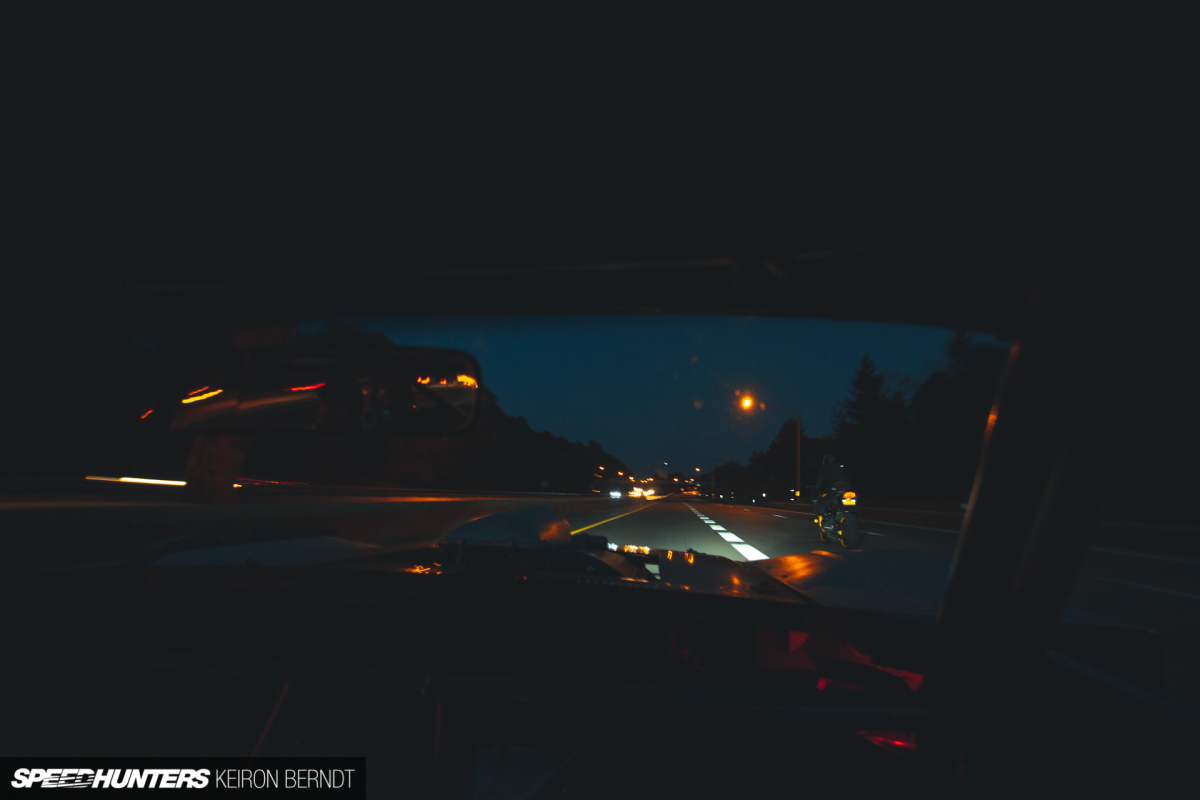 We arrived in Rochester a little bit weary and with plans for bed, but that's not what our host Nick Youst had in mind. Nick's father owned a bar and restaurant right on the water, and boy were we in for a treat.
We ambled down towards the water and pulled up out front the Whiskey River. This is where our taste of New York's car culture began.
As I mentioned earlier, driving this car anywhere draws attention, but it's even better to find yourself breaking your neck at something parked out front.
After taking a peek around the '67 GTO and to listening to stories about it being able to lift its front wheels at 40mph, Nick informed us that there was a local car meet happening in a parking lot just down the street.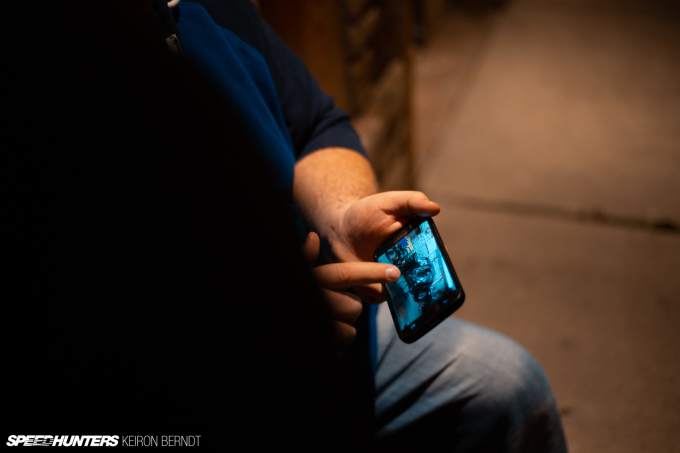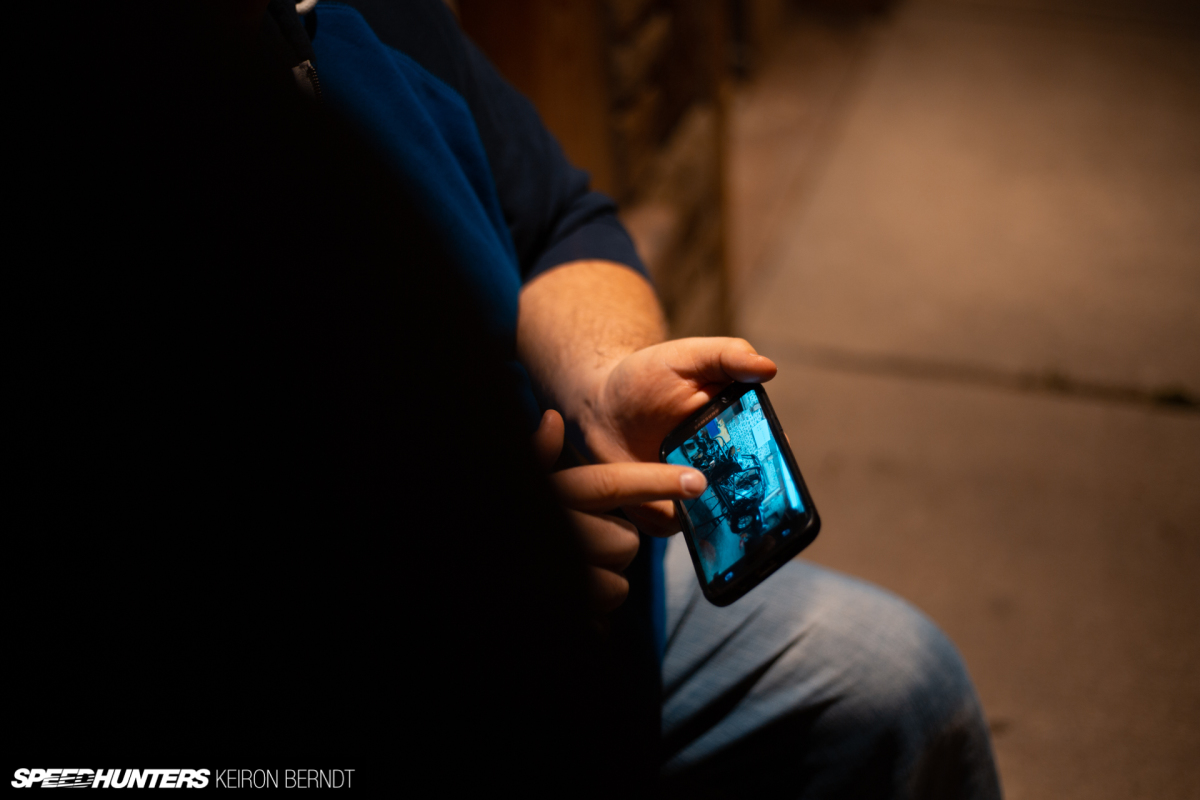 Of course we were really excited to check it out. Bed could wait.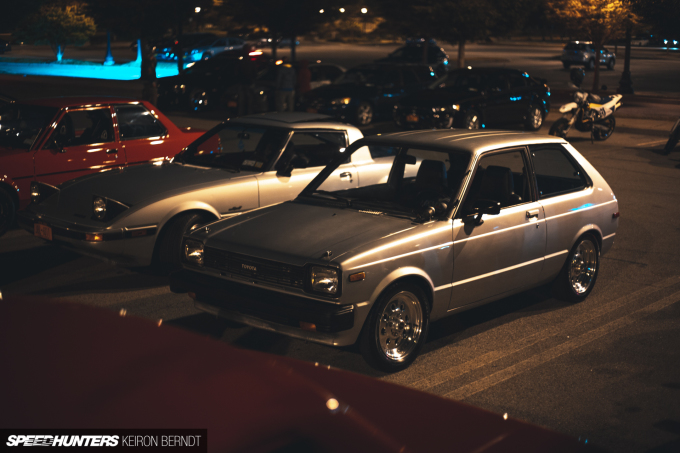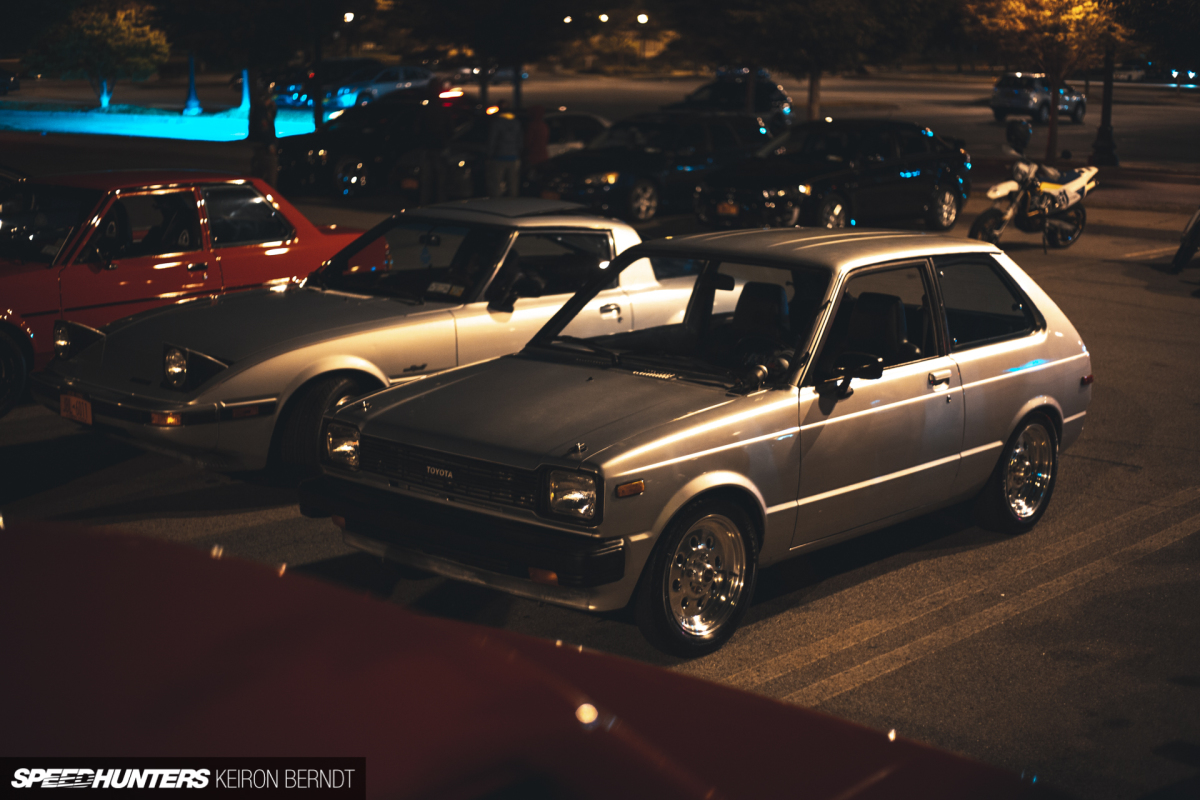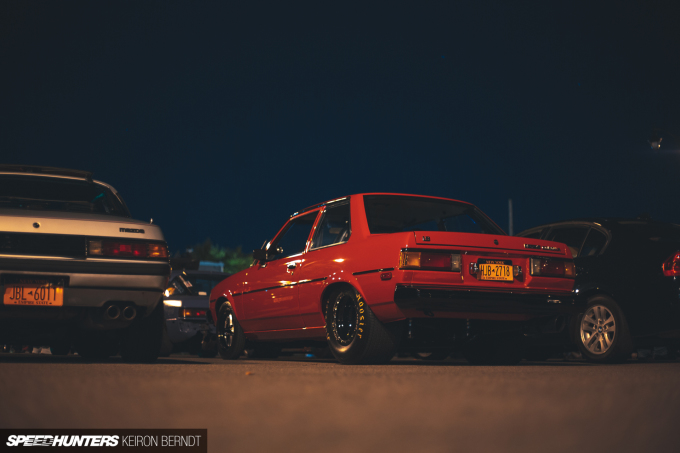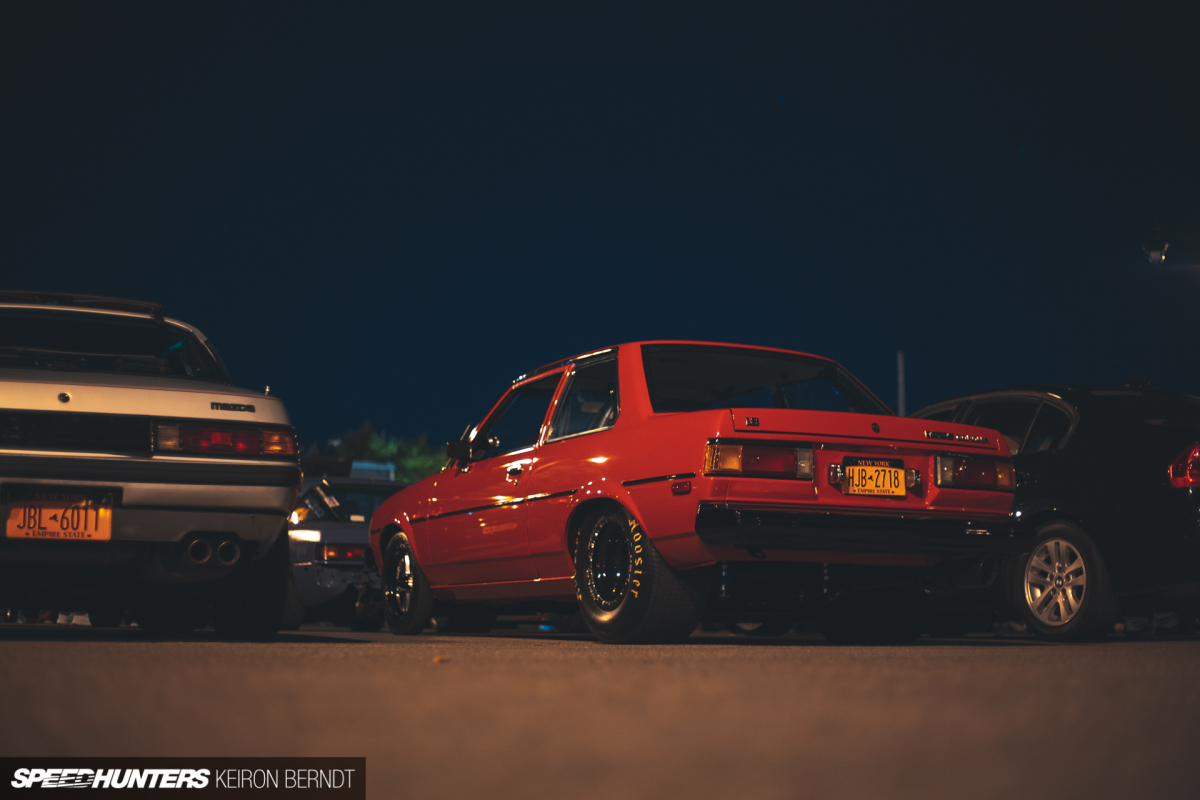 Pulling up, it was clear to see that car culture is alive and well in Rochester. There was everything from Dodge Neons to a triple-rotor Toyota Corolla drag car.
After a tour of the meet, Kyle and I had worked up an appetite, so we headed back to Whiskey River for some food.
After plowing through some of the best wings I'd ever had then cleaning out of the taco bar, we were pooped and ready for bed. But that's not where the night ended.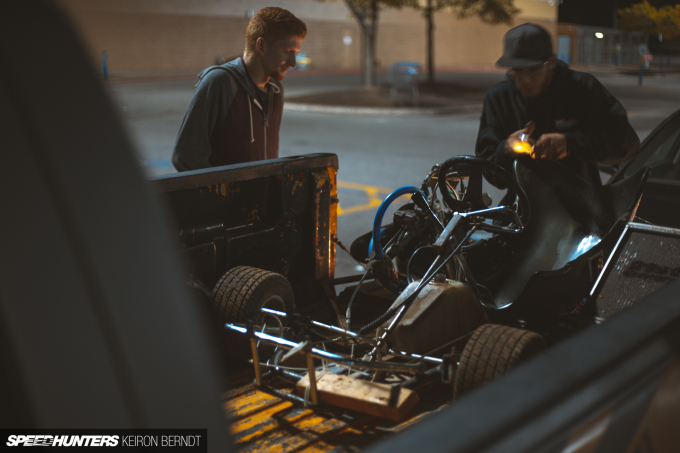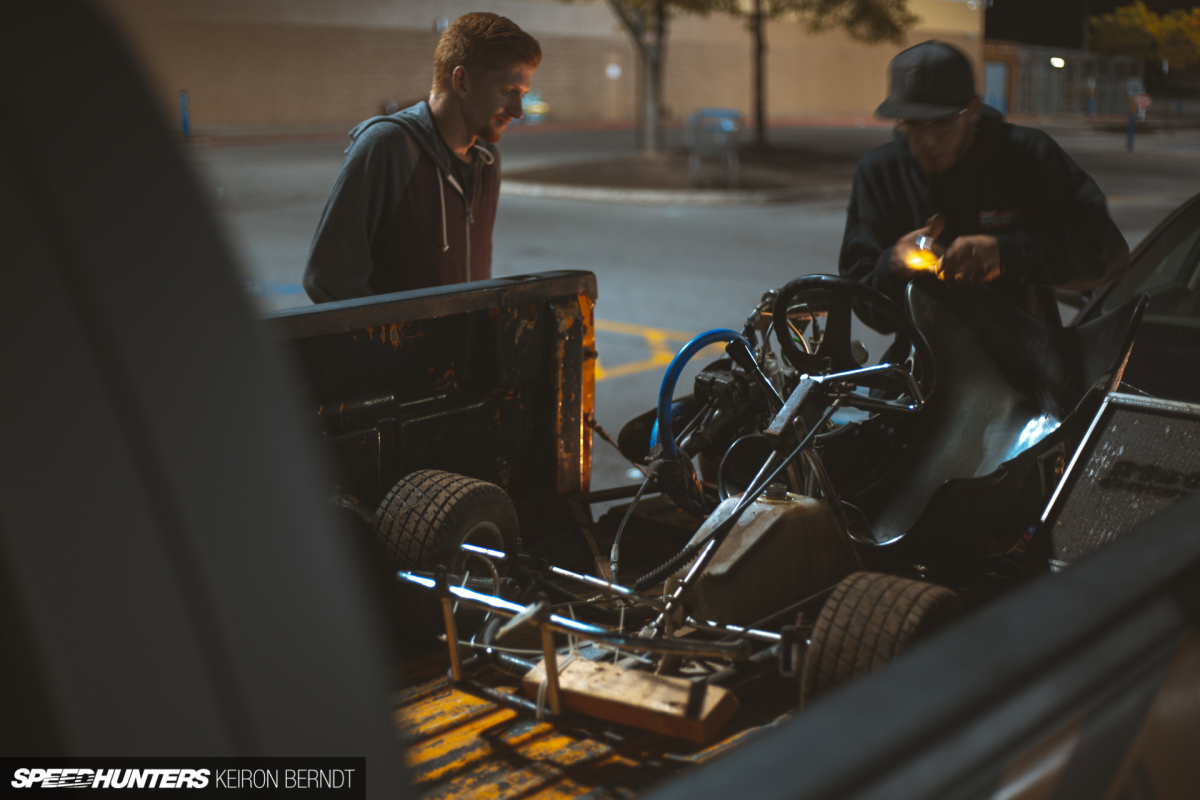 Nick's friend Josh, who also happens to own an 8-second Fox Body Mustang drag car, was eager to show off his shifter kart.
We stopped off at the local Walmart to see what the kart was capable of, and boy could Josh drive. One thing led to another and before we knew it he was bombing down the road at unmentionable speeds. Of course, the inevitable happened…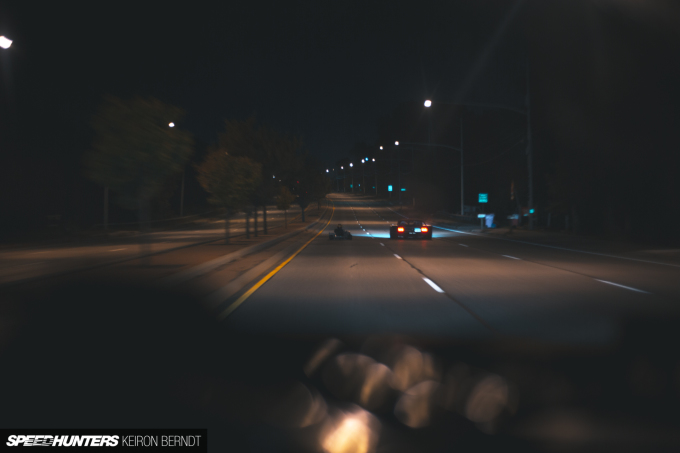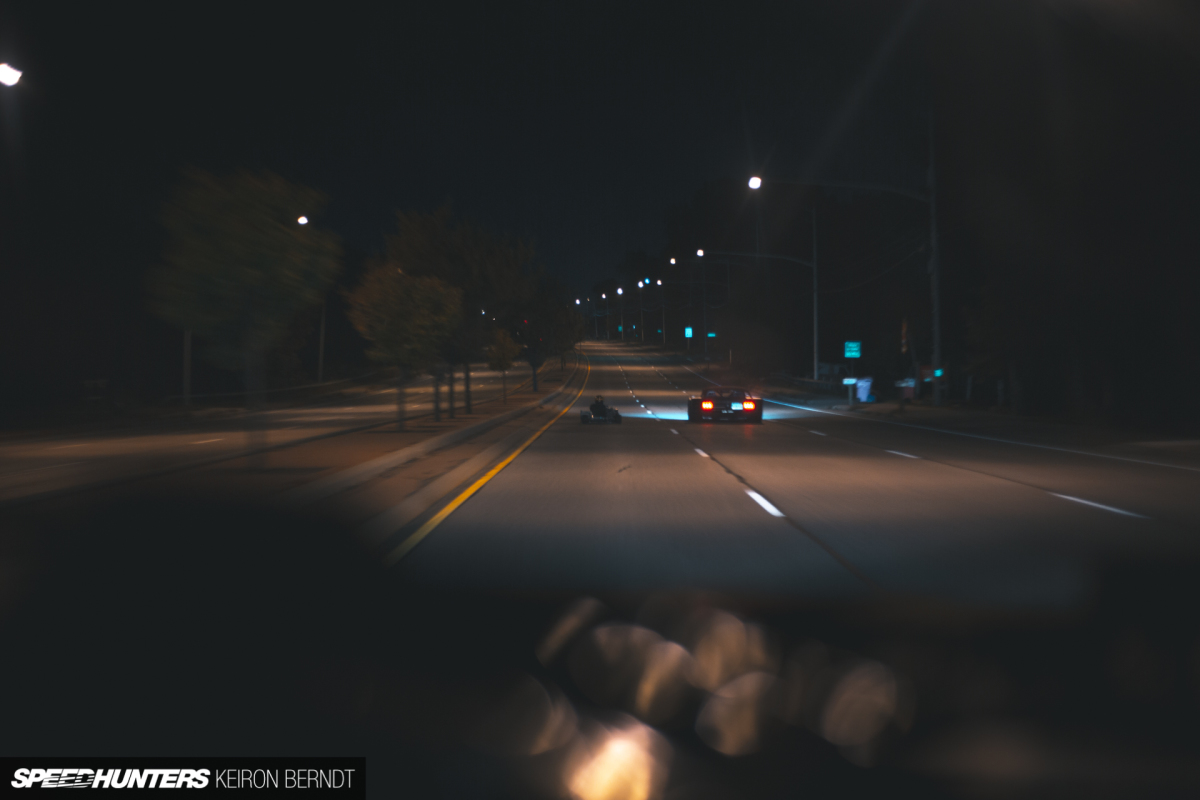 Long story short, Josh was pulled over by Johnny Law, his kart was impounded, and he received 11 tickets for his shenanigans, including those for no windshield, improper tires, and a lack of brake lights.
Although I can't condone some of the night's activities, it was a great evening exploring car culture with a great group of people. Hopefully Josh gets his kart back soon.
After a brief few hours of sleep, we said our farewells, clambered back into the Mustang's cold seats and hit the road – but only after one last stop at Tim Hortons for some coffee.
While Kyle had opened up a piece of the transmission tunnel to provide some cabin heat, it wasn't nearly enough to keep us warm through the foggy morning air.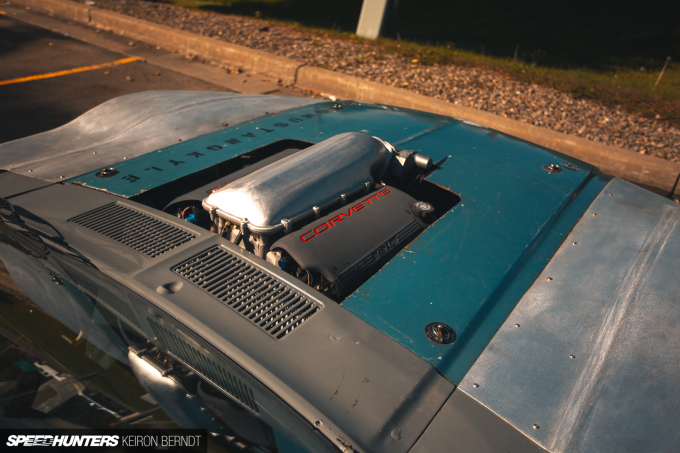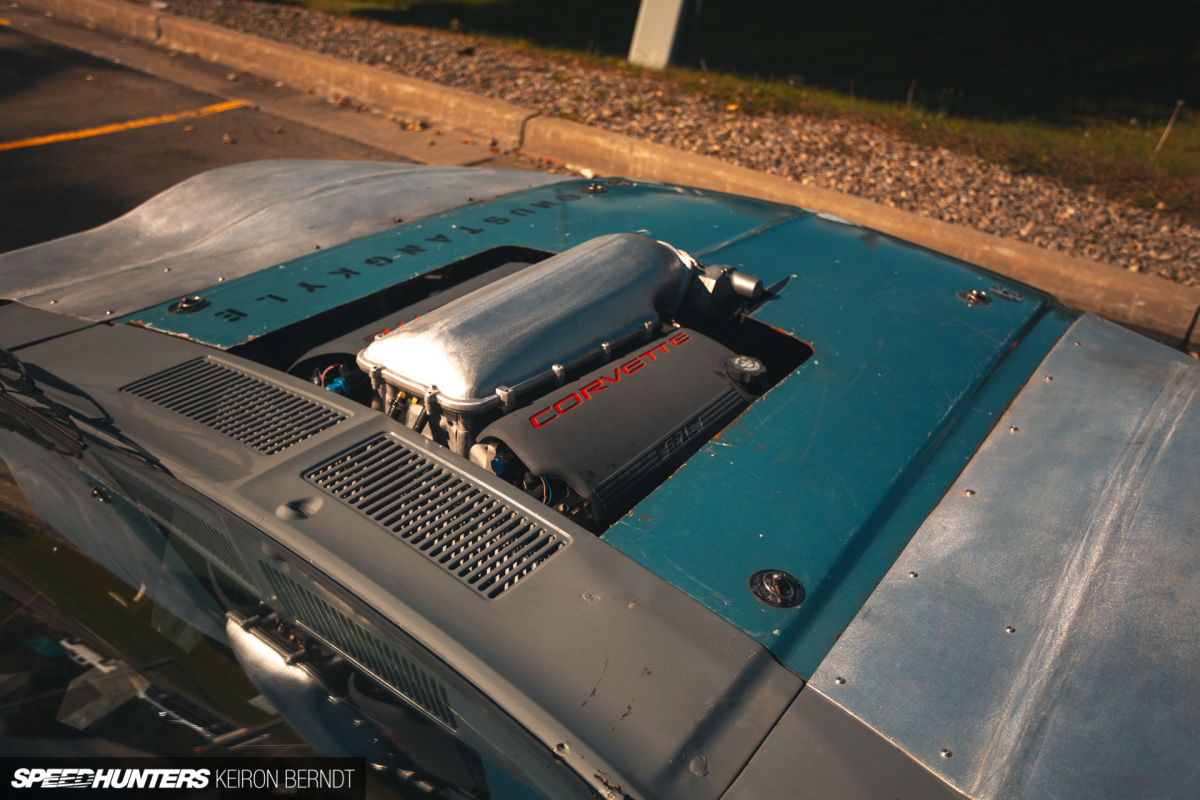 We stopped for a precautionary fuel stop and for Kyle to improve the heating. Up until this point the original cowl panel vents were open and providing the cold outside air with a direct path into the cabin. Knowing that this could be an issue, Kyle had made up some cover plates.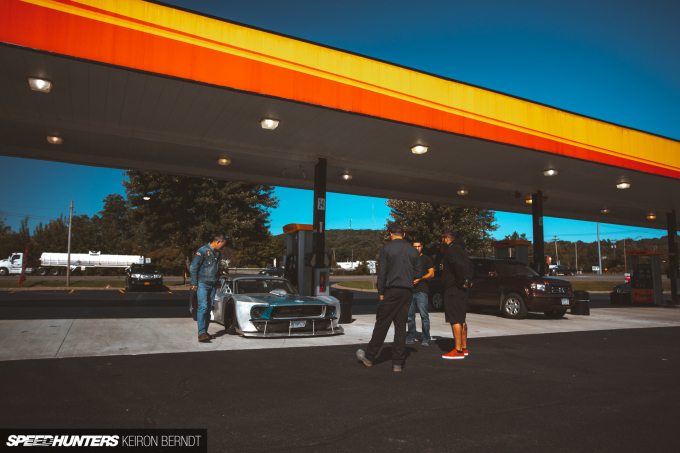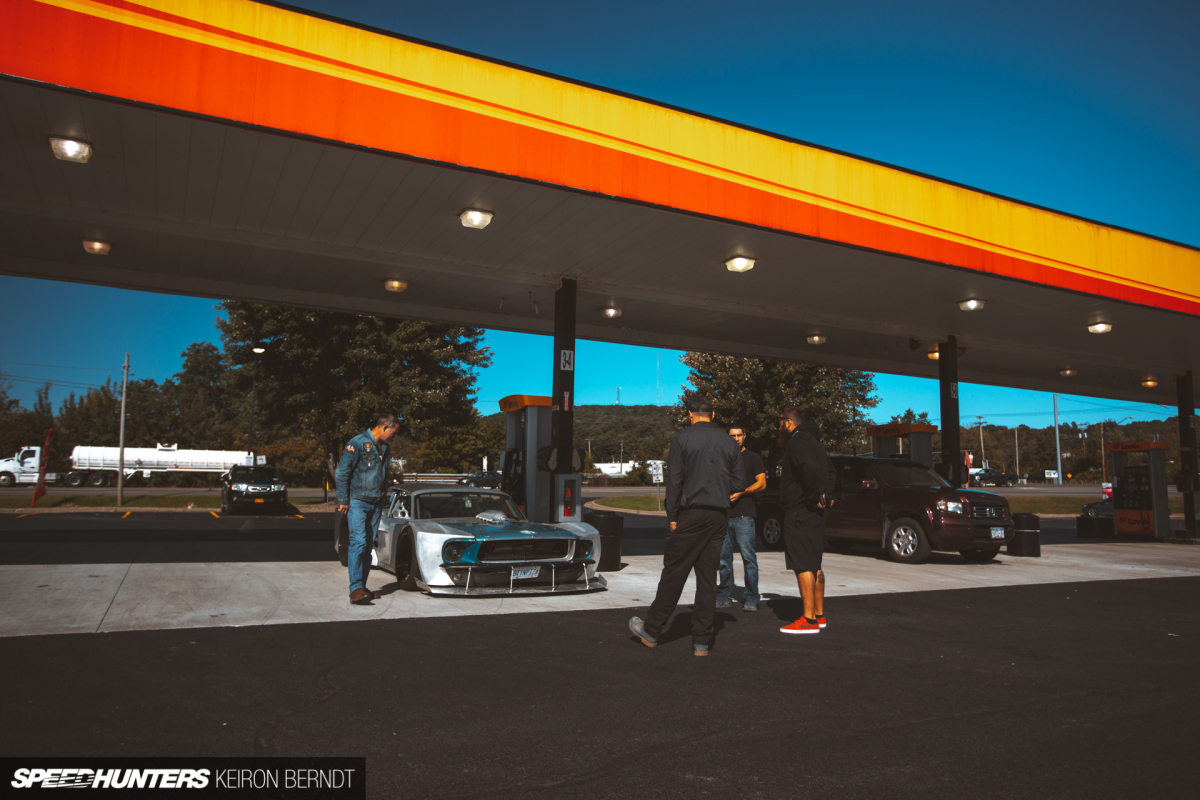 With those installed we were back on the road, but not before some locals had their questions answered.
I'll say something about New York: on top of stunning views people don't seem to camp out in the left lane and are eager to move over as possible. Bravo New York, bravo.
Passing construction zone after construction zone, and toll booth after toll booth, the kilometers just kept piling on. Kyle's heating system worked like a charm, too.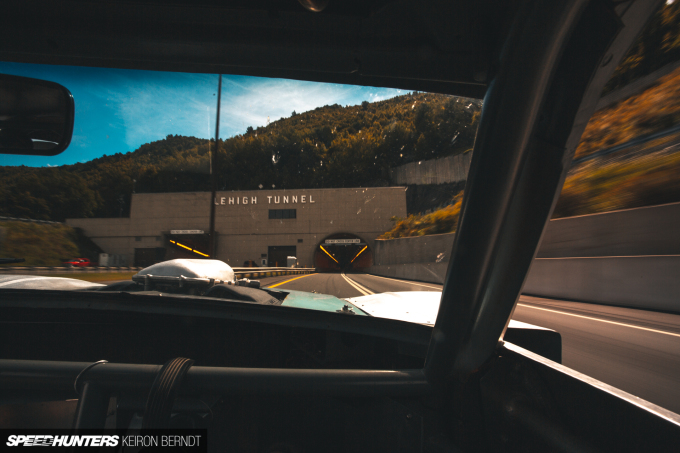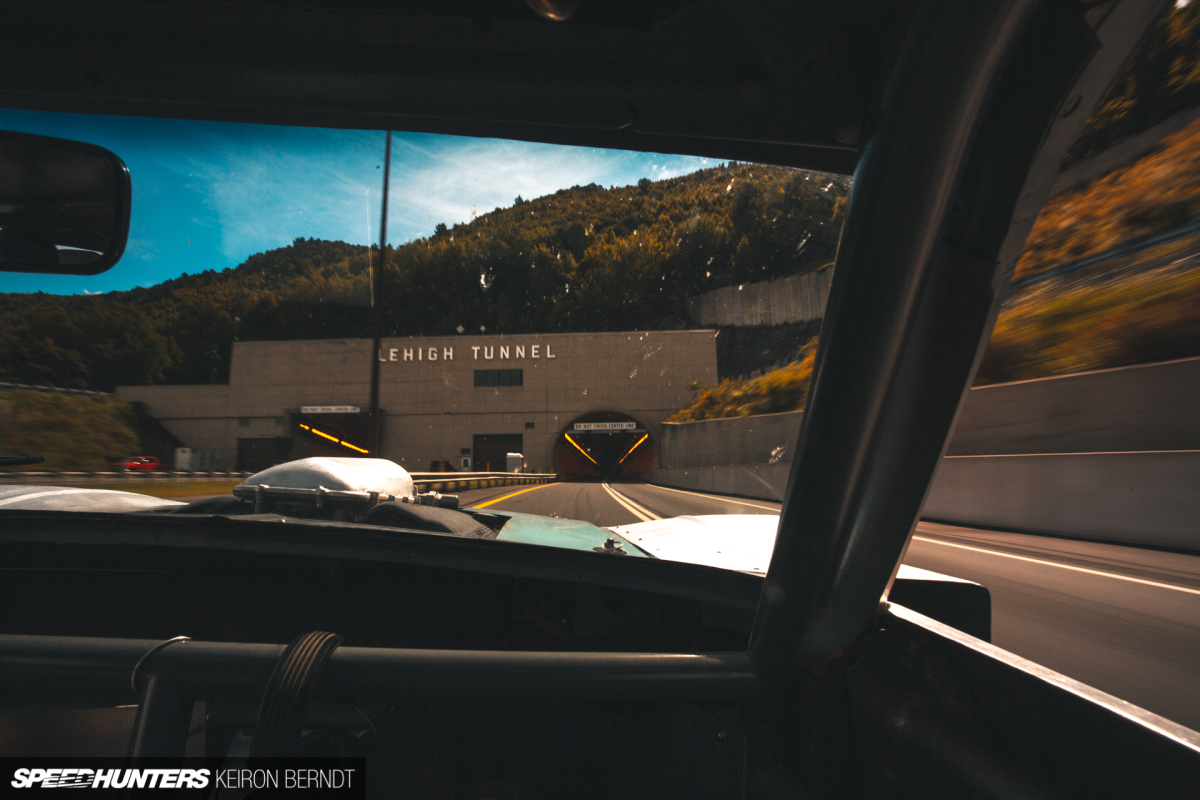 We came across the Lehigh Tunnel on the Philadelphia Turnpike which had us grinning from ear to ear like little kids. I don't think others around us were quite so impressed, though.
We thundered on and stopped again for fuel on the outskirts of Philly. Ten hours down, three more to go. As usual, the locals struck up a conversation, and after a few pictures and a pleasant conversation we were off.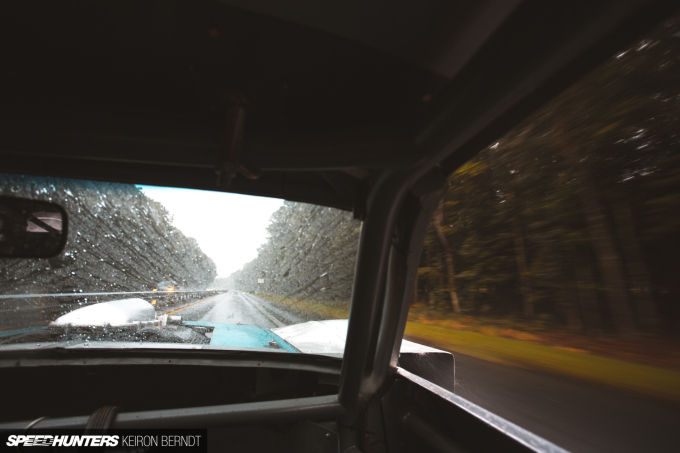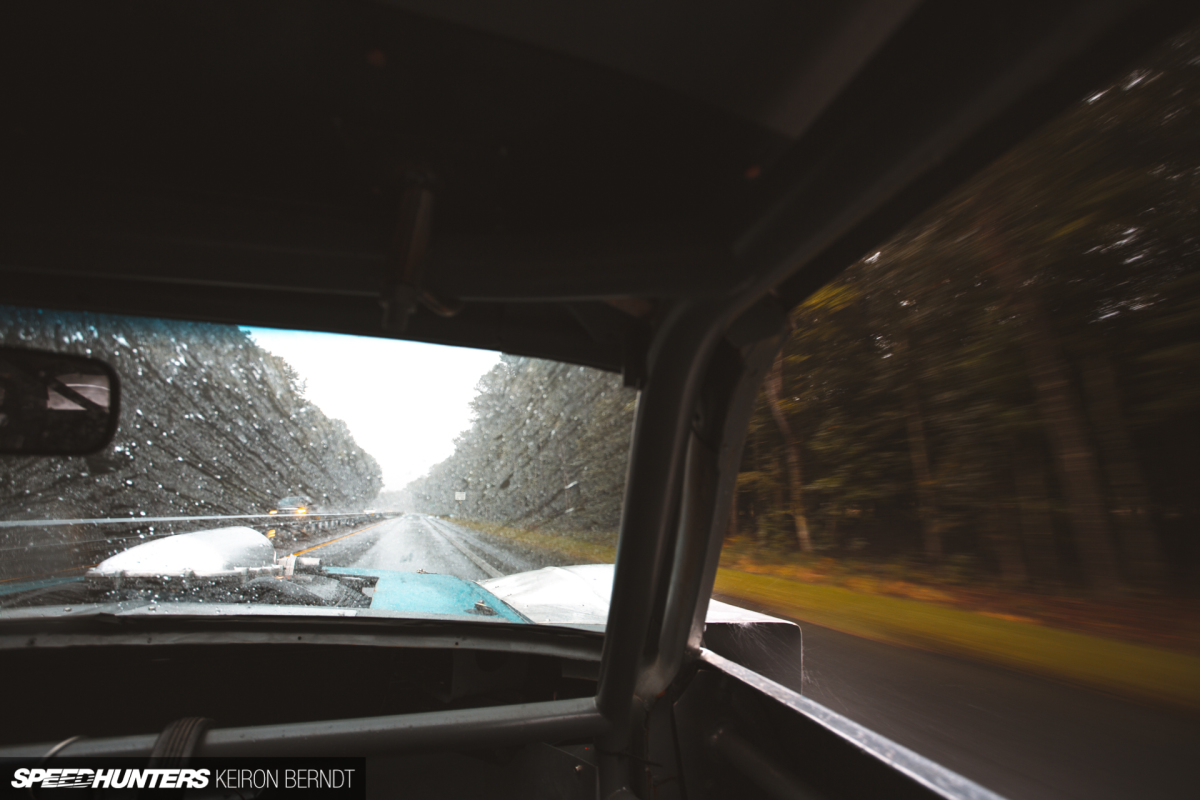 Things were going well, too well. And then it happened: rain.
The fenders sent most of the water out and away from the open windows, but the rear tires picked up any of the remaining water and hurled into the cabin, slowly getting us wet.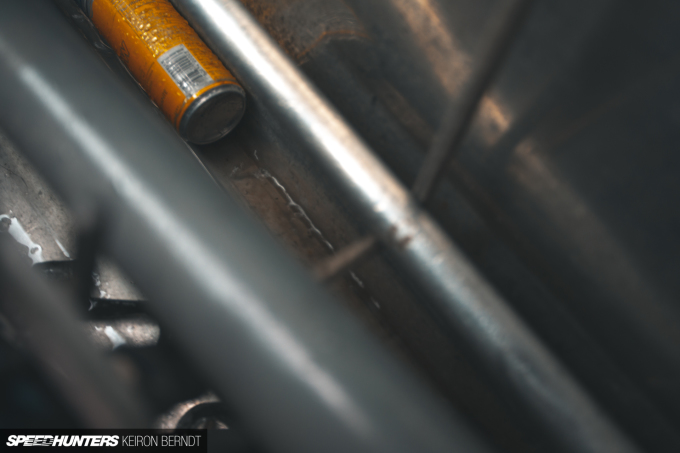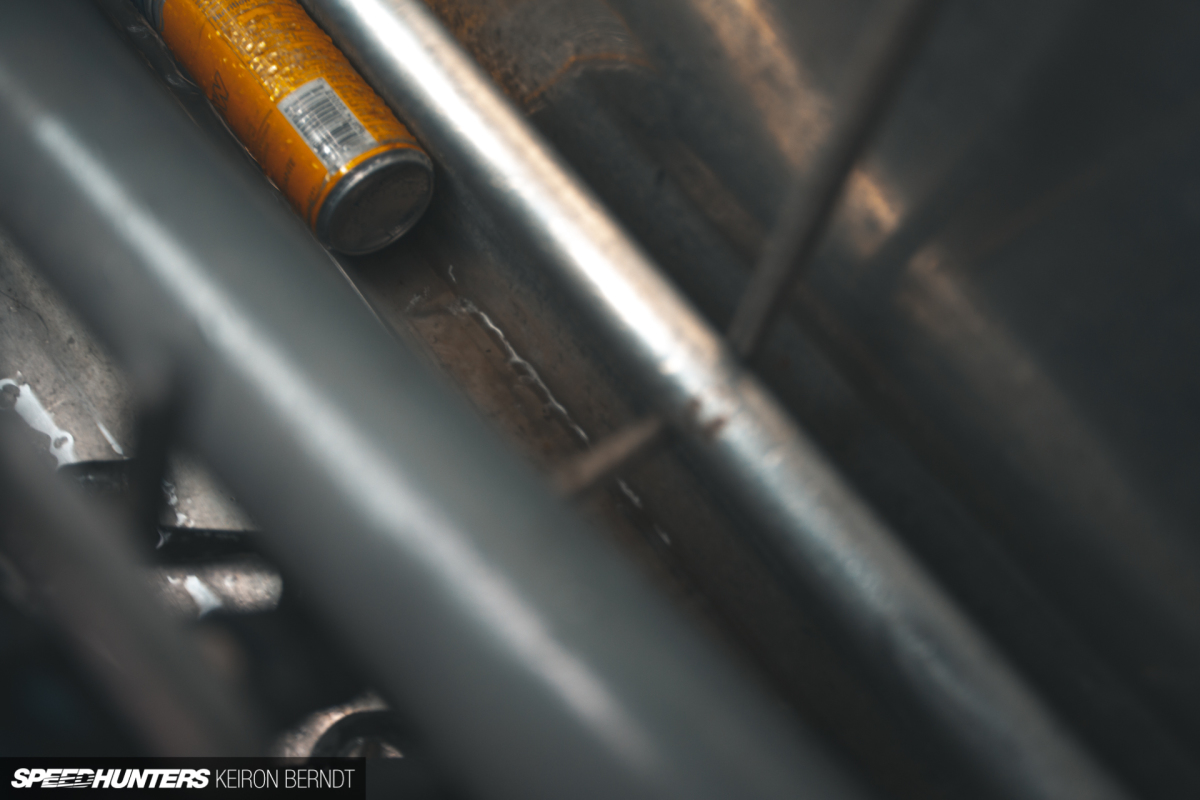 The long night before had caught up with me and I took a brief 20-minute nap as we rumbled down the road, proof that you don't need creature comforts to make good use of a road trip. When I awoke we were just over an hour outside of Ocean City, and it was still raining to the point that the doors/drink holders had become coolers.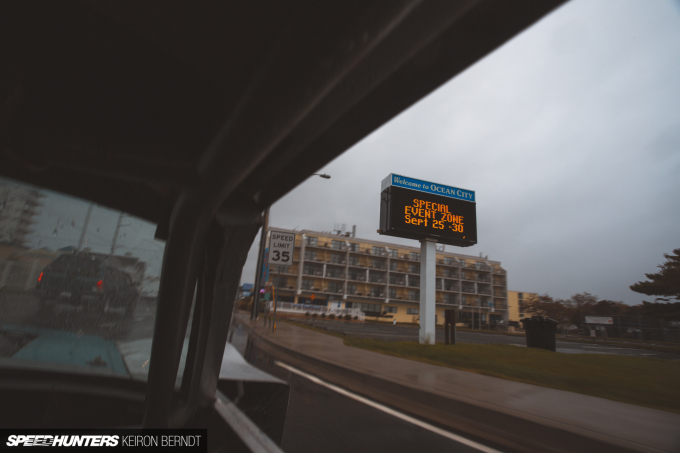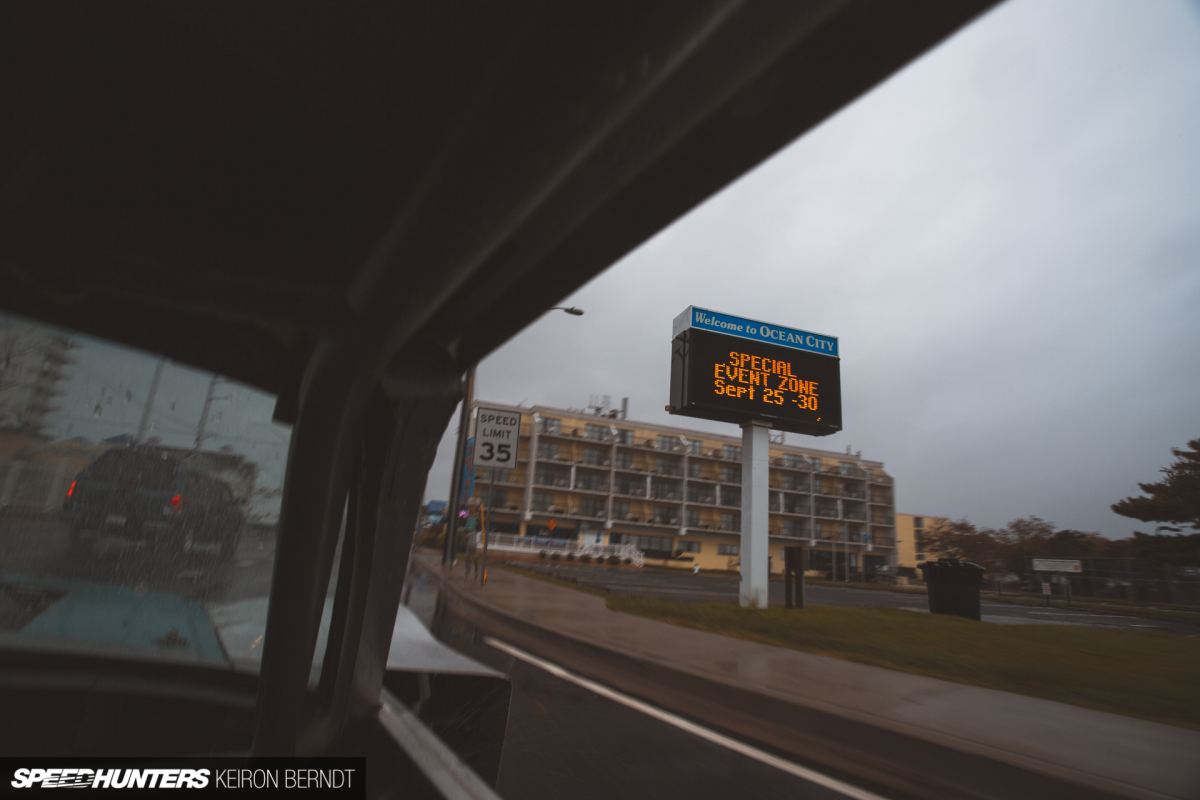 As we arrived, we were reminded by numerous boards of the special event laws and speed limit changes that were in effect for the coming week, but I'll touch on that more in another post.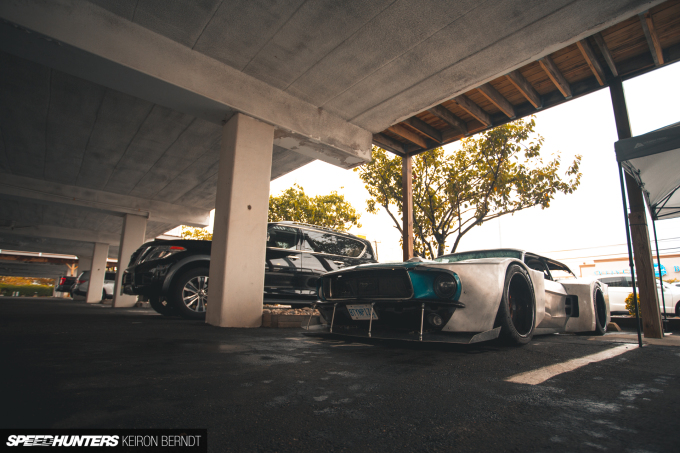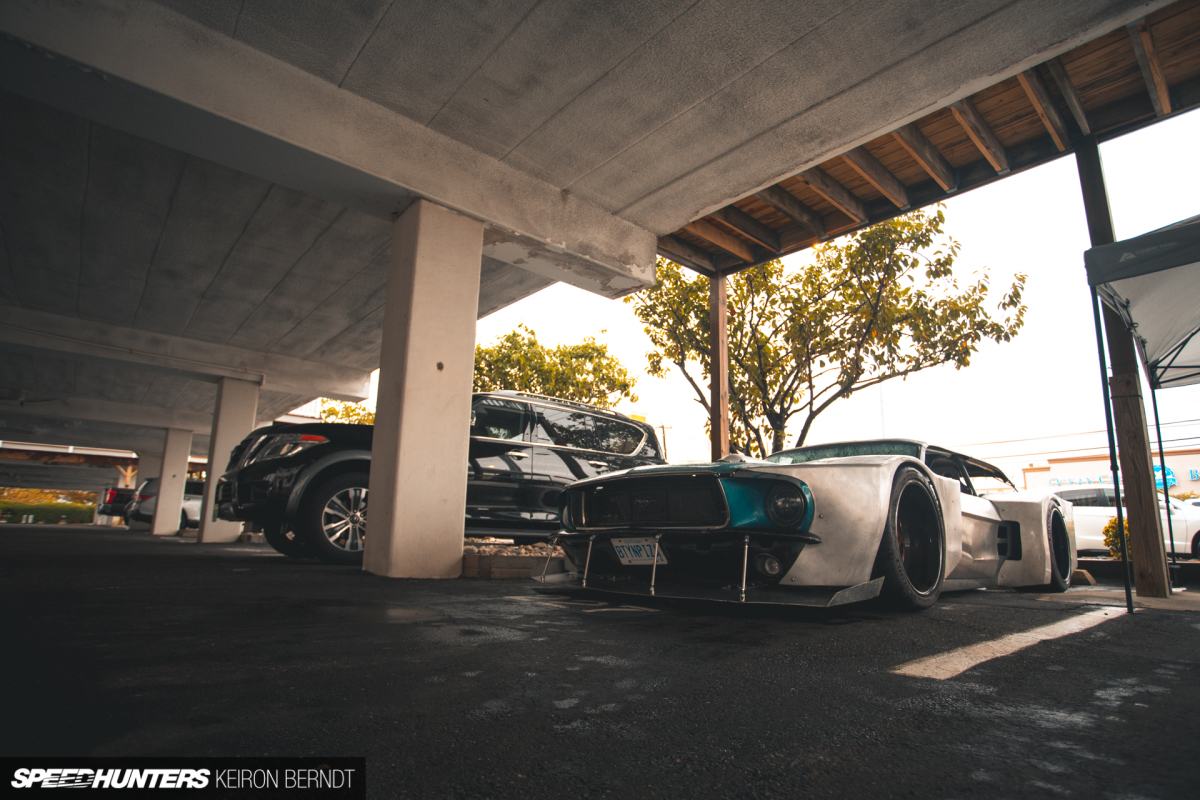 I'm happy to have made it Ocean City safely and without any issues. But more importantly, we had come 1,100 kilometers without any tickets or personal run ins with the police. But that would soon to change…
My spine felt like it had been compressed a couple inches, I was now LS tone deaf, my fillings had rattled loose, my clothes were decently wet and I had dirt in my mouth, but I was happy.
While the ride was anything but smooth and calm, I wouldn't hesitate to do it again.
Keiron Berndt
Instagram: keiron_berndt