Years ago I sold my AE86 with the intention of living a normal life without a project car. I planned to buy a normal family-friendly hatchback, and maybe, only maybe, get some wheels for it. But that idea didn't last long; within about six months I had started scrolling through the classifieds looking for something new to play with.
I wasn't searching for a Hachiroku again; I wanted something older, but on the other hand I already knew the AE86 community and had a few tricks to make the old Toyota a little more entertaining. That's the reason why I chose a KE70 Corolla, and hatched a plan to put a 4A-G in it over time.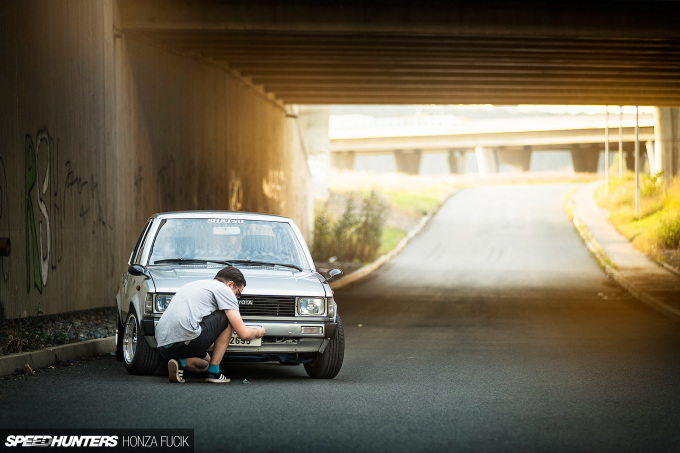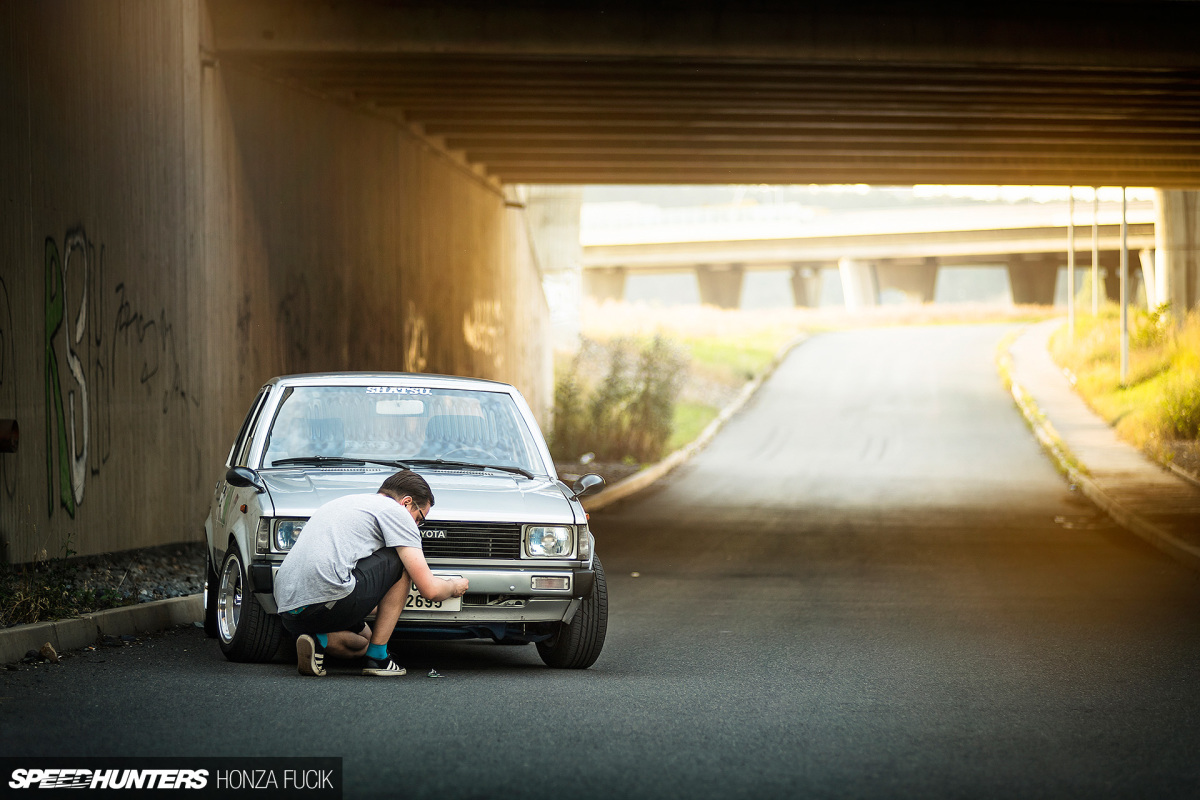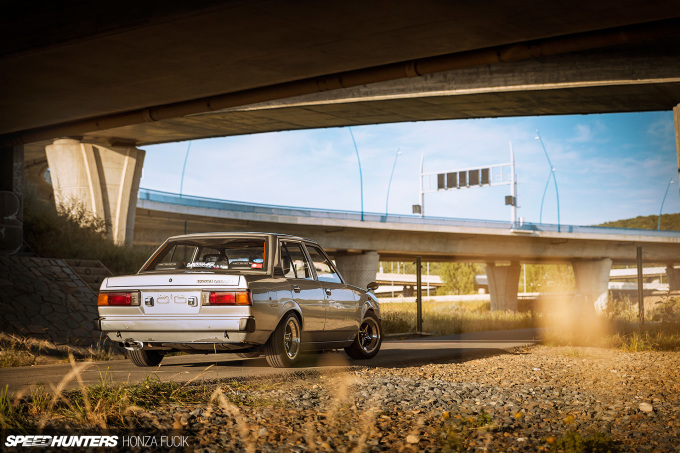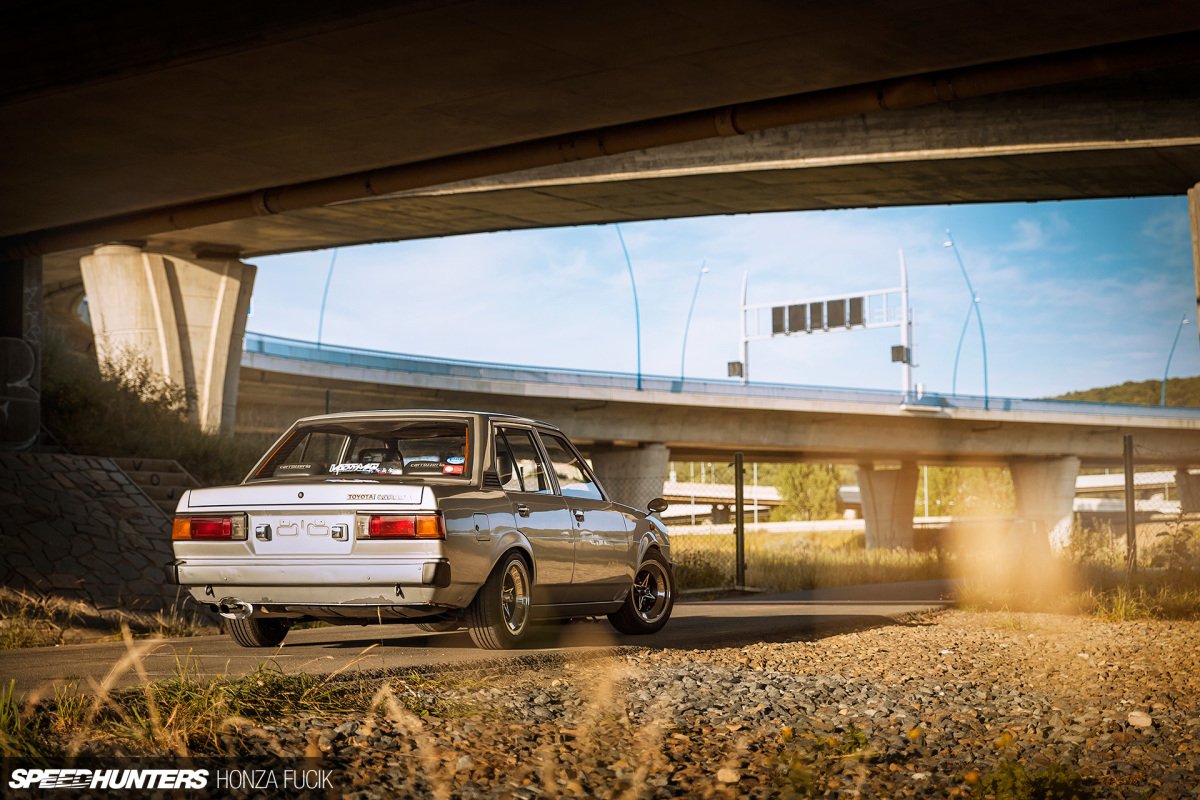 After a few days of searching I came across a Toyota dealership in Poland that was selling all kinds of old Corollas as a way to promote the 50th anniversary model.
Unfortunately for me, the KE70 they had wasn't in the best shape; years' worth of winter use had affected the chassis in a pretty bad way. But having a rusty car is part of the Corolla life, or at least that's what the internet says…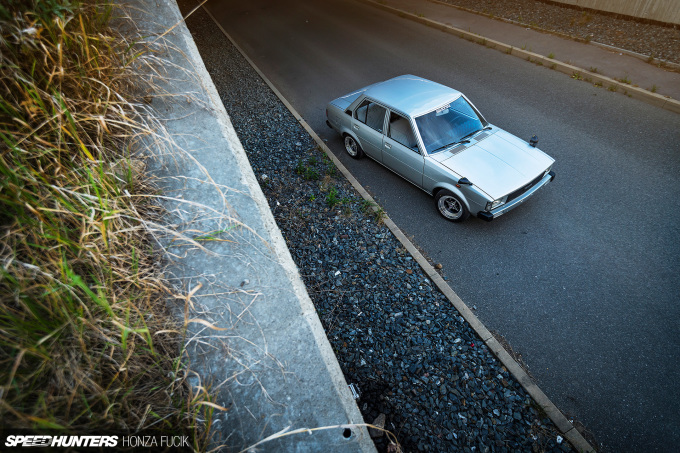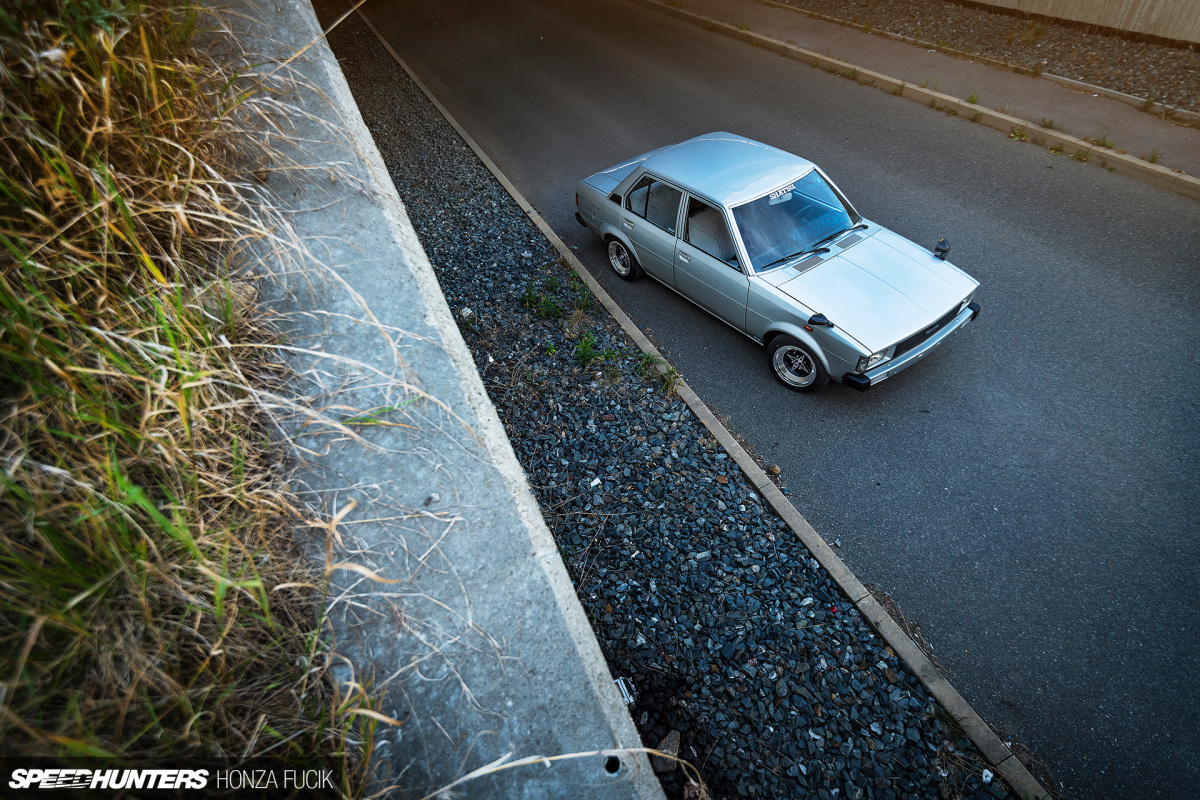 After picking up the car and bringing back to Prague, here in the Czech Republic, I found an unfinished AE86 hillclimb race car project for sale. I was originally only looking for an engine and transmission to swap into the Corolla, but this was an opportunity I couldn't pass up. It's also the reason why the car now has entire AE86 underpinnings, not just the standard 4A-G and T50 gearbox conversion combo.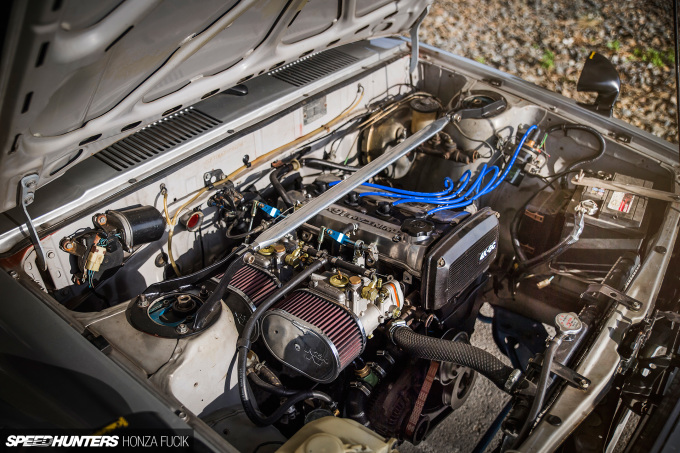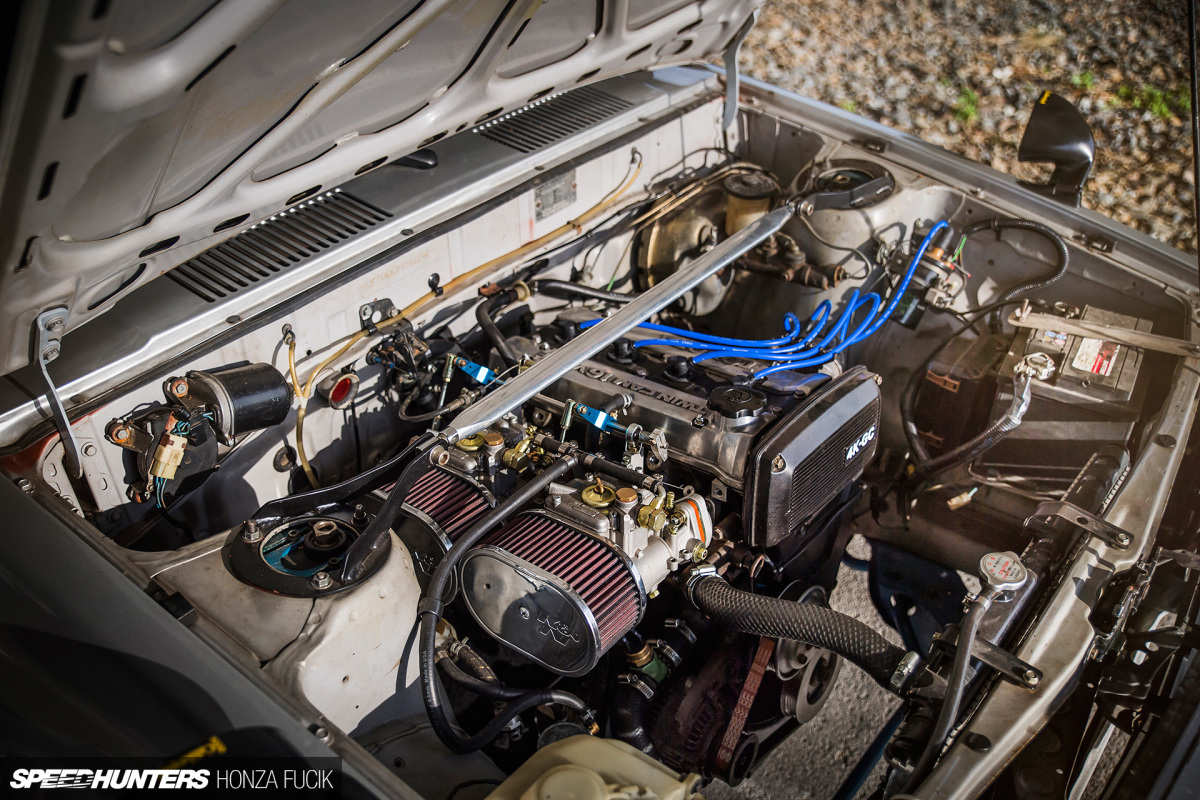 The swapping process took two and a half months instead of the planned two weeks, and was almost entirely done by my friend Vochy, who is a prime example of the old saying "Gold Czech hands." The electronics in the donor car were completely messed up, so we decided to go the carburetor route to make things a bit easier. As it turned out it wasn't easy, but today the car works perfectly and hasn't missed a beat for the year or so it's been driving like this.

The biggest challenge during the swap turned out to be a fairly small and seemingly irrelevant thing: the distributor. After some hacking and a bit of fabrication we made it run with one mixed from both 4K and 4A-G parts. The carbs are Weber DCOE40s on a Harada Shoukai intake, all brand new items, as unlike used parts off Japanese auctions they included all the necessary joints, lines and so on. Otherwise the engine is completely stock, only refreshed with new gaskets and pumps. The T50 box had to be mounted with a custom fabricated bracket. The internet says the 4A-G to KE70 swap is plug and play, but don't believe everything you read online.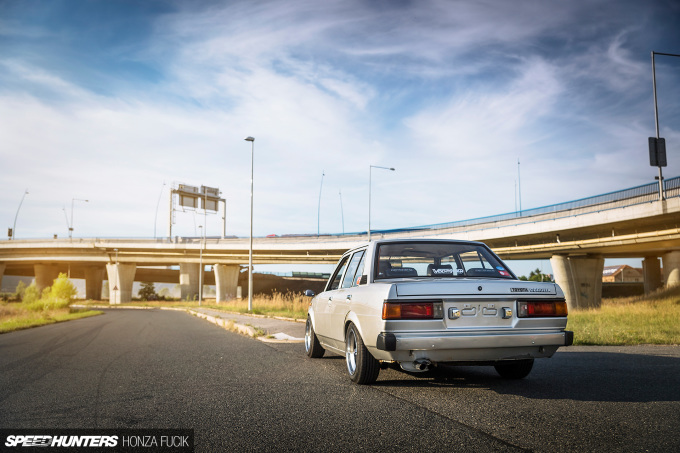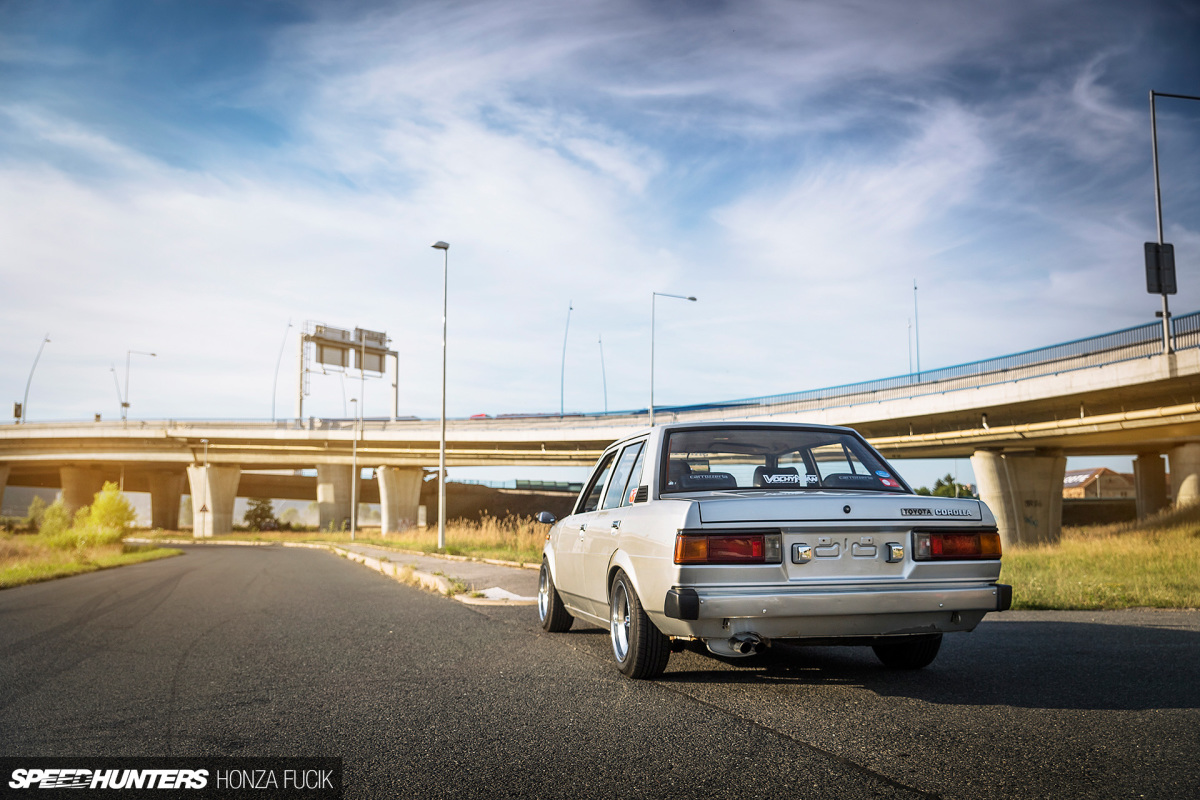 The axles weren't a huge issue; the only thing that required work was a rear sway bar mount and re-drilling one hole on the AE86 front top mounts. The front is a classic combo of weld-on coilovers with TRD yellow shocks and 6kg/mm springs, RCAs and Cusco top mounts. The rear features TRD blue shocks with 4kg/mm springs and traction brackets. Polyurethane bushings are used throughout.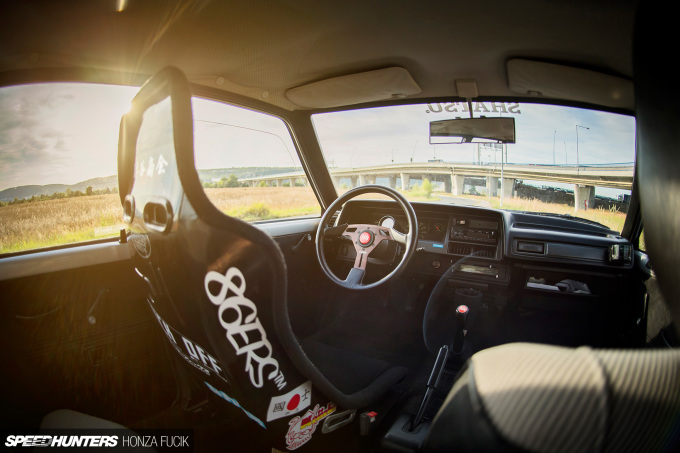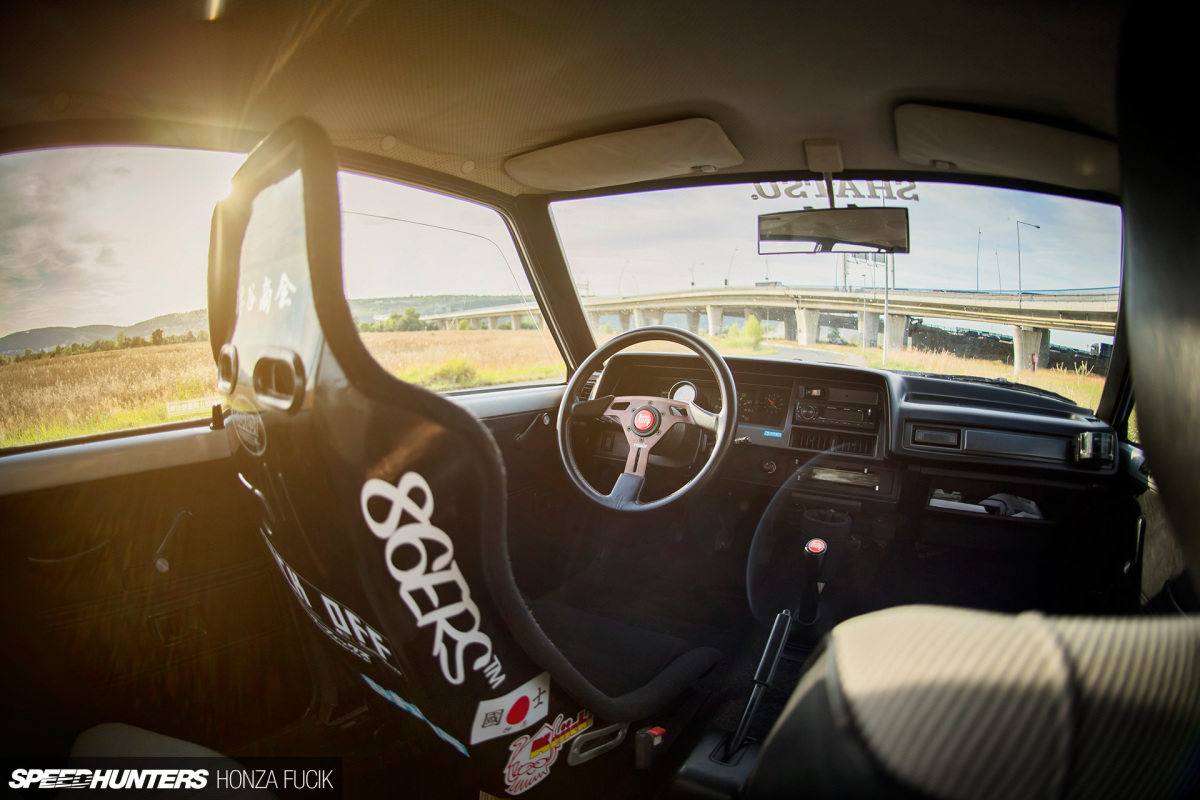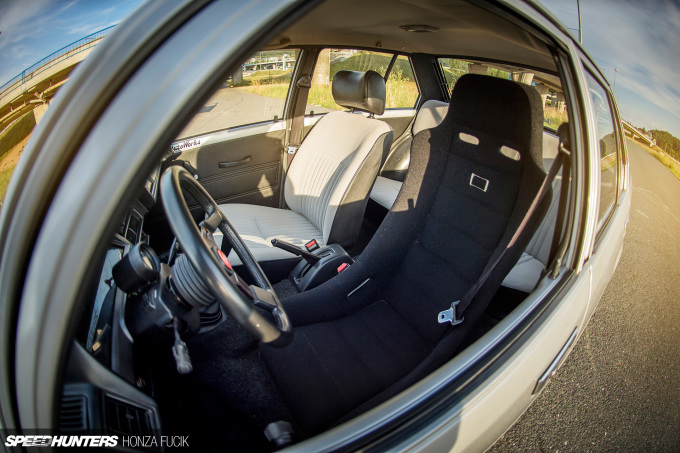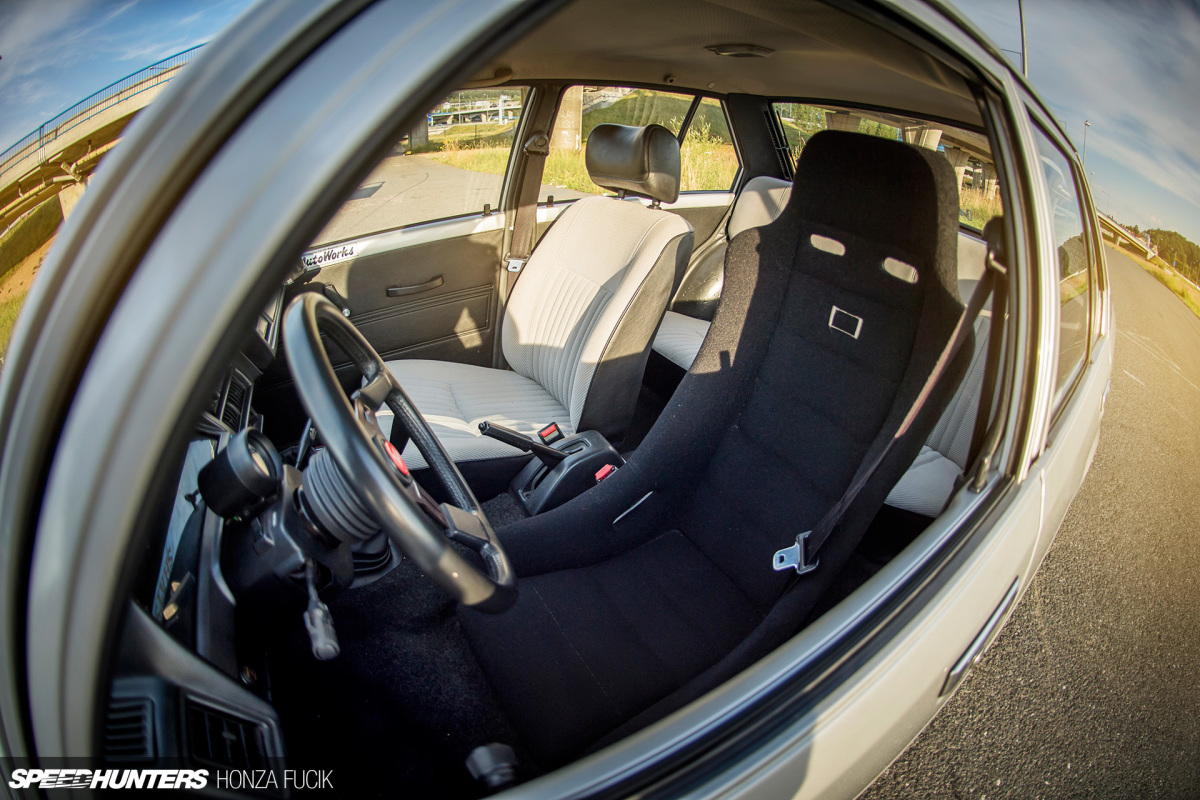 I kept the interior fairly normal; the only thing that had to go was the horribly unsupportive driver's seat. In its place now sits a classic TOM CRAFT bucket seat, which I find to be a decent compromise between a classic racing seat and a modern bucket seat. I owned a 1970s Checkman seat before and it was horrible to drive in despite the period correct looks. Other additions include a TOM'S steering wheel, rev meter, fire extinguisher and a mandatory cupholder.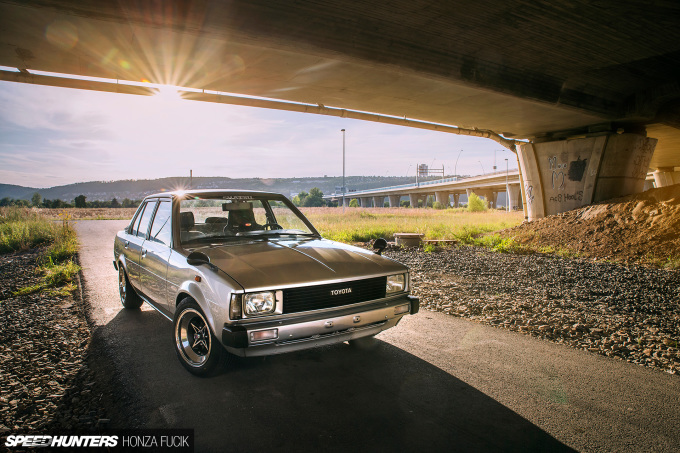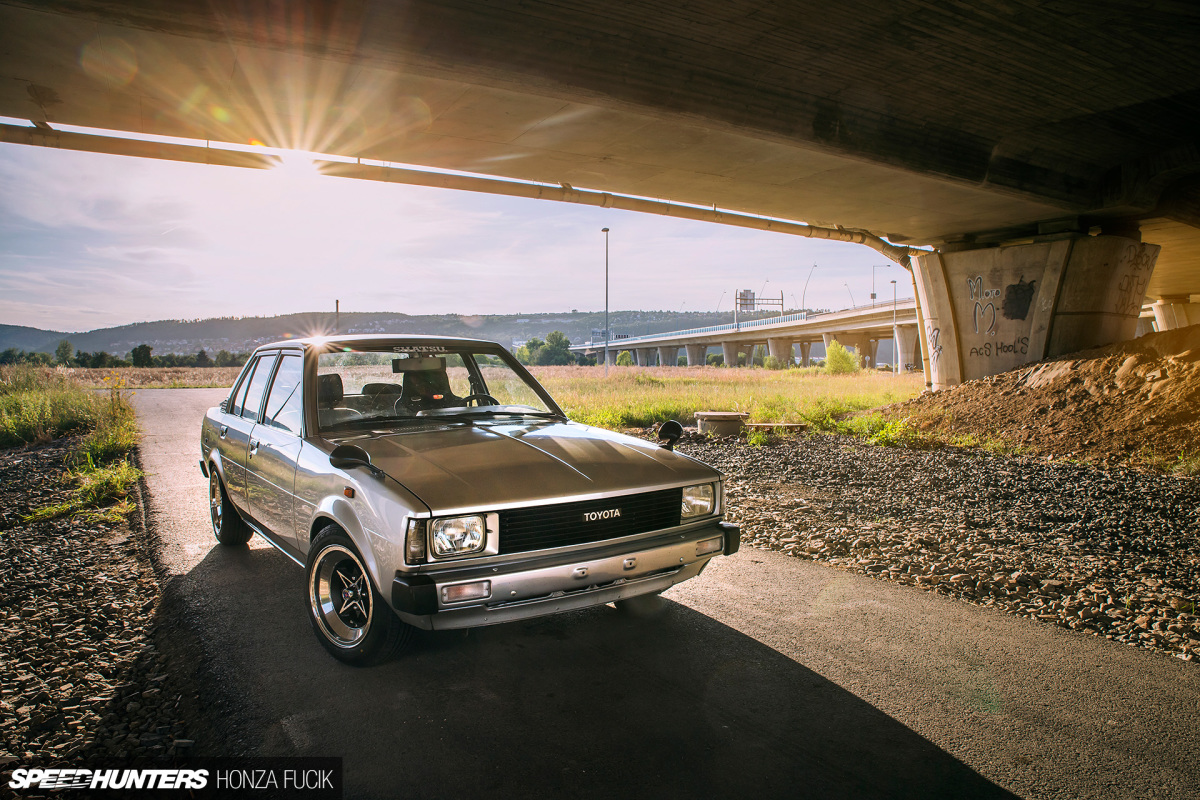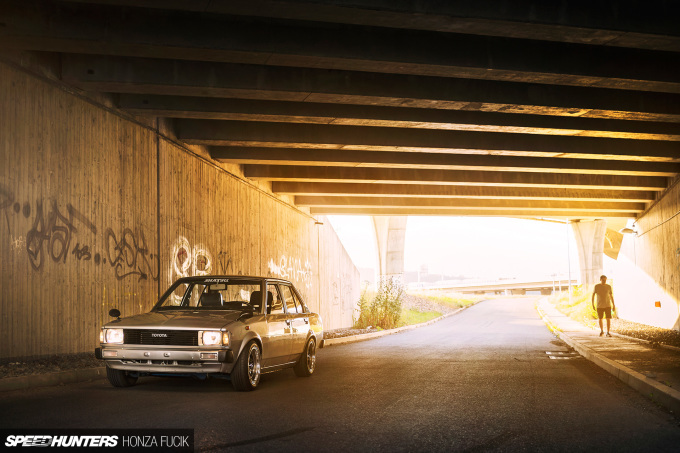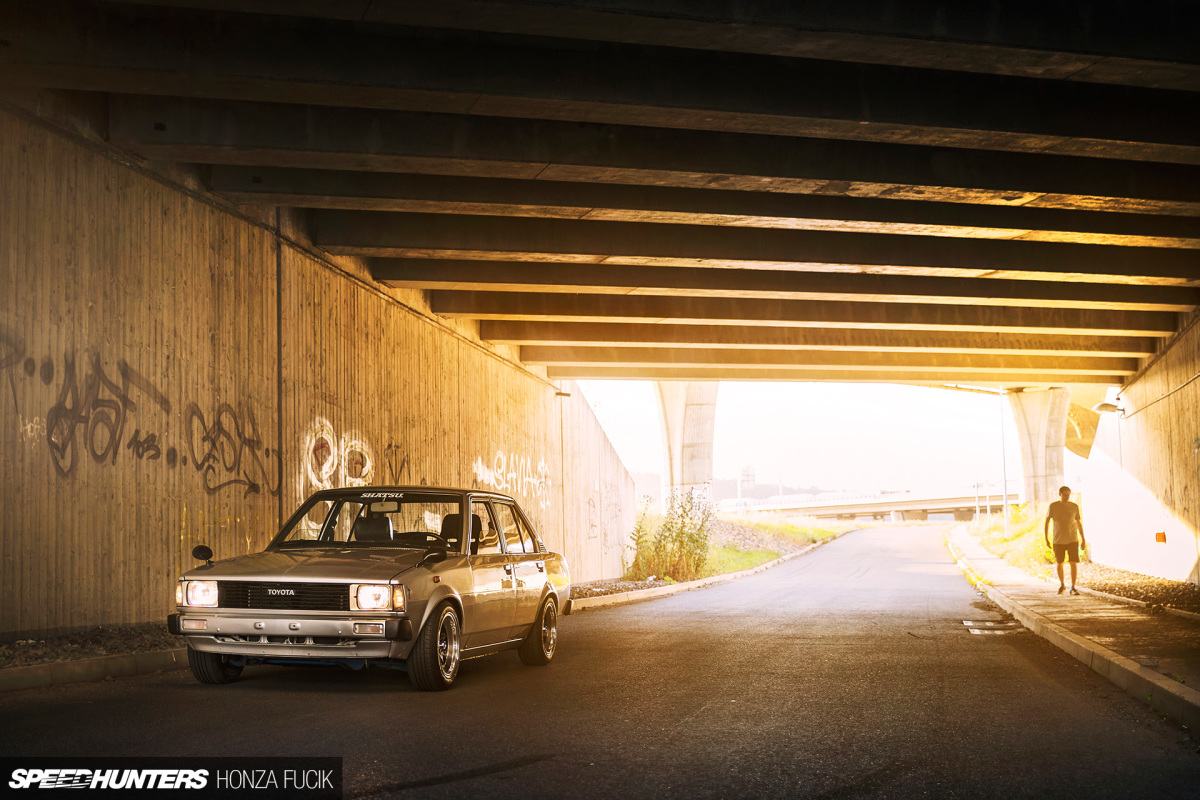 The wheels are original Hayashi Techno Phantoms which I spent almost three months restoring, including getting original center caps directly from Hayashi Racing.
Likewise, most of the parts were bought directly from Japan, and there are no knock-off items anywhere on the car. I know some people have different thoughts about this, but it's just the way I wanted to do it.
Vojtěch Zeman
Instagram: zemosh86
Photos by Honza Fučík
Instagram: honzafucikfoto
How To join the IATS program: We have always welcomed readers to contact us with examples of their work and believe that the best Speedhunter is always the person closest to the culture itself, right there on the street or local parking lot. If you think you have what it takes and would like to share your work with us then you should apply to become part of the IAMTHESPEEDHUNTER program. Read how to get involved here.