Before coming on board as an official Speedhunter, I contributed fairly regularly to the IAMTHESPEEDHUNTER program. One of my most ambitious posts was titled The Other Ontario wherein I shoehorned as many Canadian builds as possible. The cover photo of this post was snuck into that post as a bit of a teaser.
I expected quite a few questions about the car to follow, and my intent was to provide more information soon thereafter. But, life came along for both myself and the owner and I didn't see the car again for nearly three years. Fortunately, at the 2018 ELTA Summer Bash and Big Go Drags I managed to cross paths with the car and its owner again.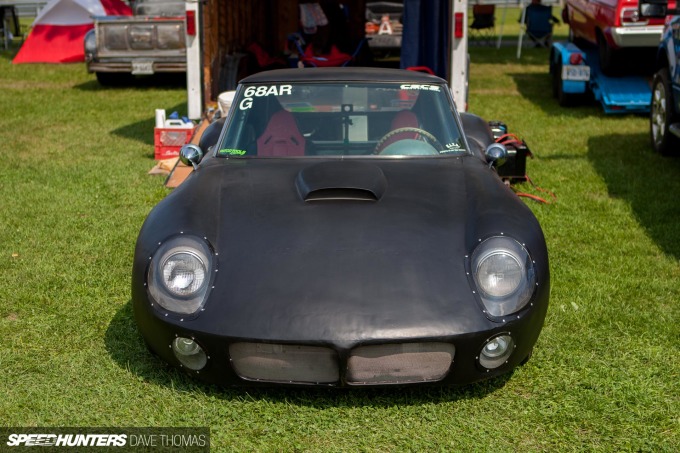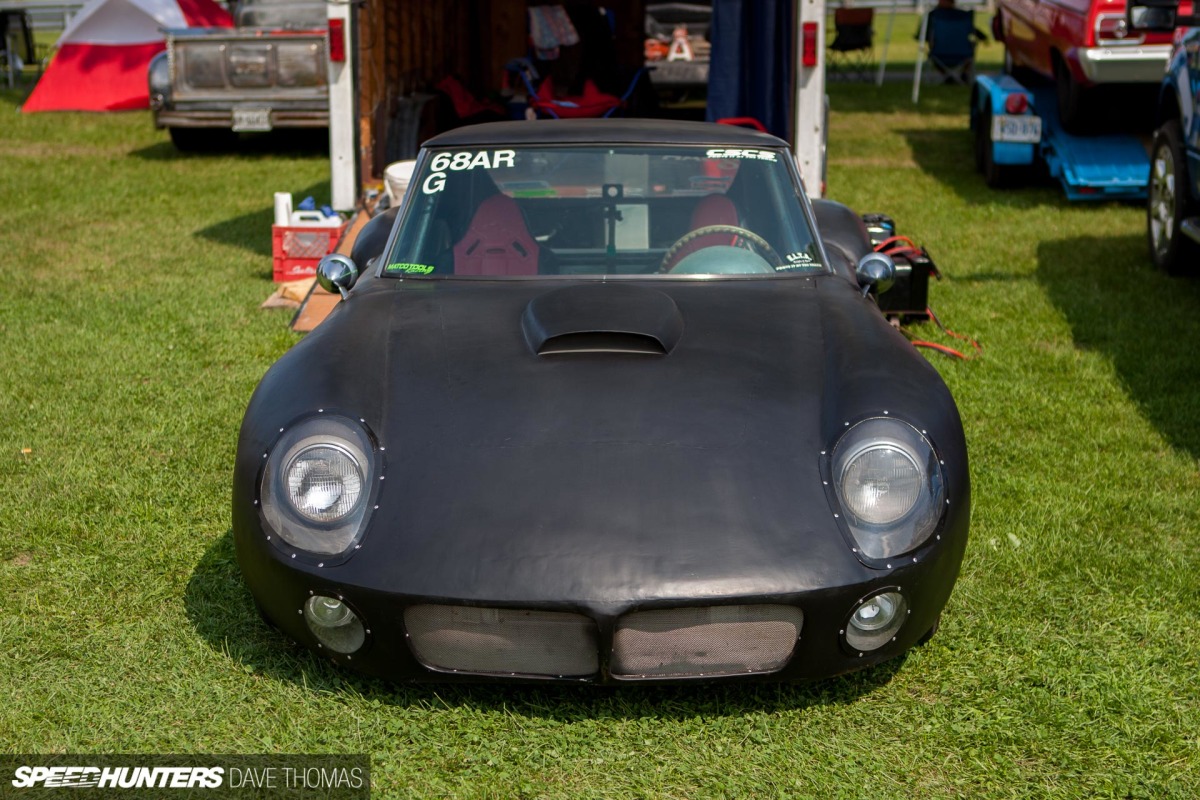 Wherever this car goes the most common question builder John Woolley  gets asked is 'What is it?' John is a bit of a character (and I mean this in the best possible way, John!), so depending on the day he might give you a different answer. "Mine" or "Fast" are the two most common.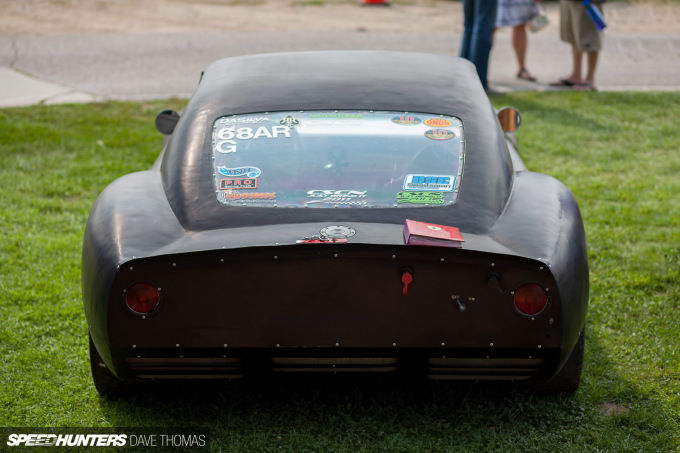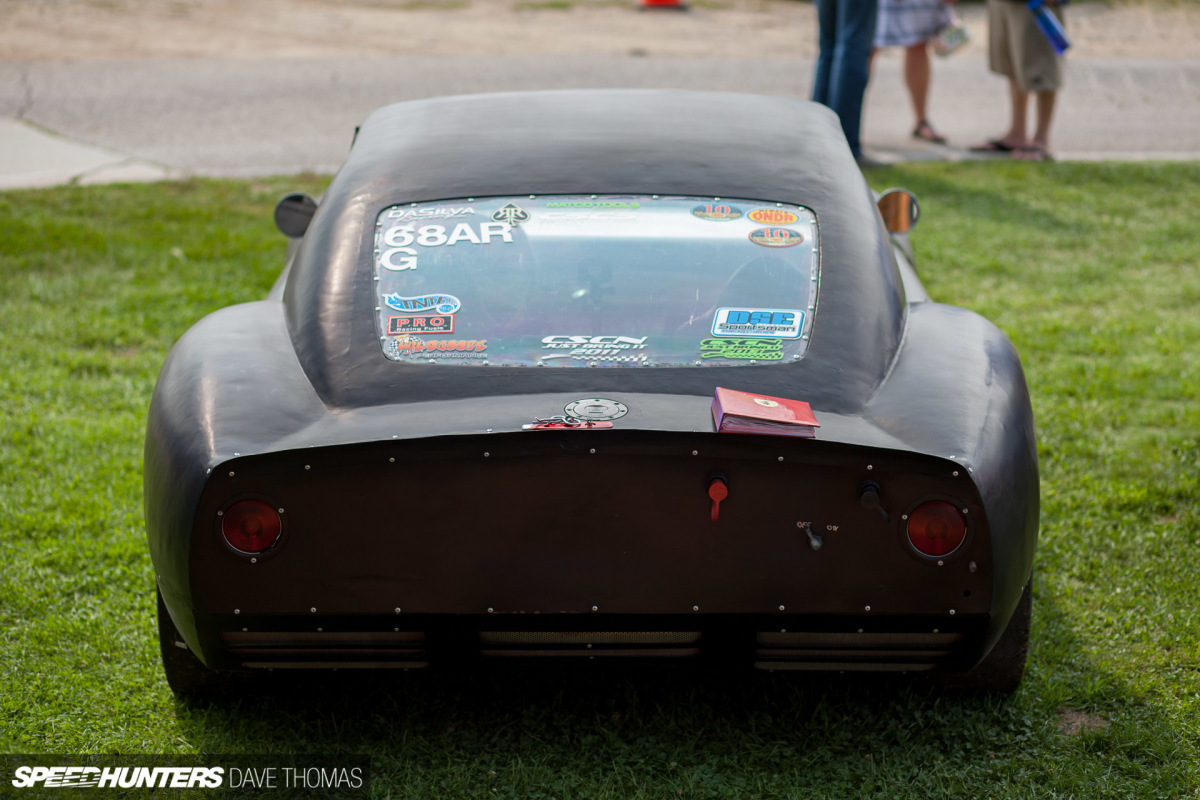 But if you peel back all the hand-shaped black sheet metal and work your way to the core the car was, at one point, an Alfa Romeo Spider.
John found the car in a field, plenty neglected, and thoroughly rusted. After cutting the rust away, he was left with a very small amount of good metal. Really, little more than a windshield frame. Staring defeat in the face John may have blinked if of his wife had not insinuated that he'd be a chicken if he gave up. Channeling his inner Marty McFly, John manifested his own "Nobody calls me a chicken" reaction into the car you see today.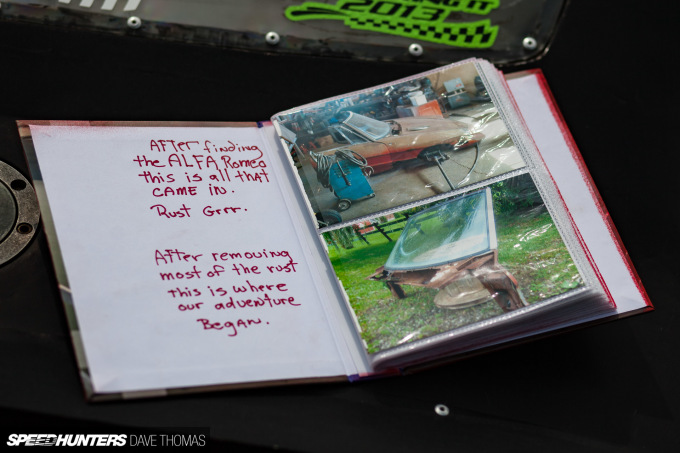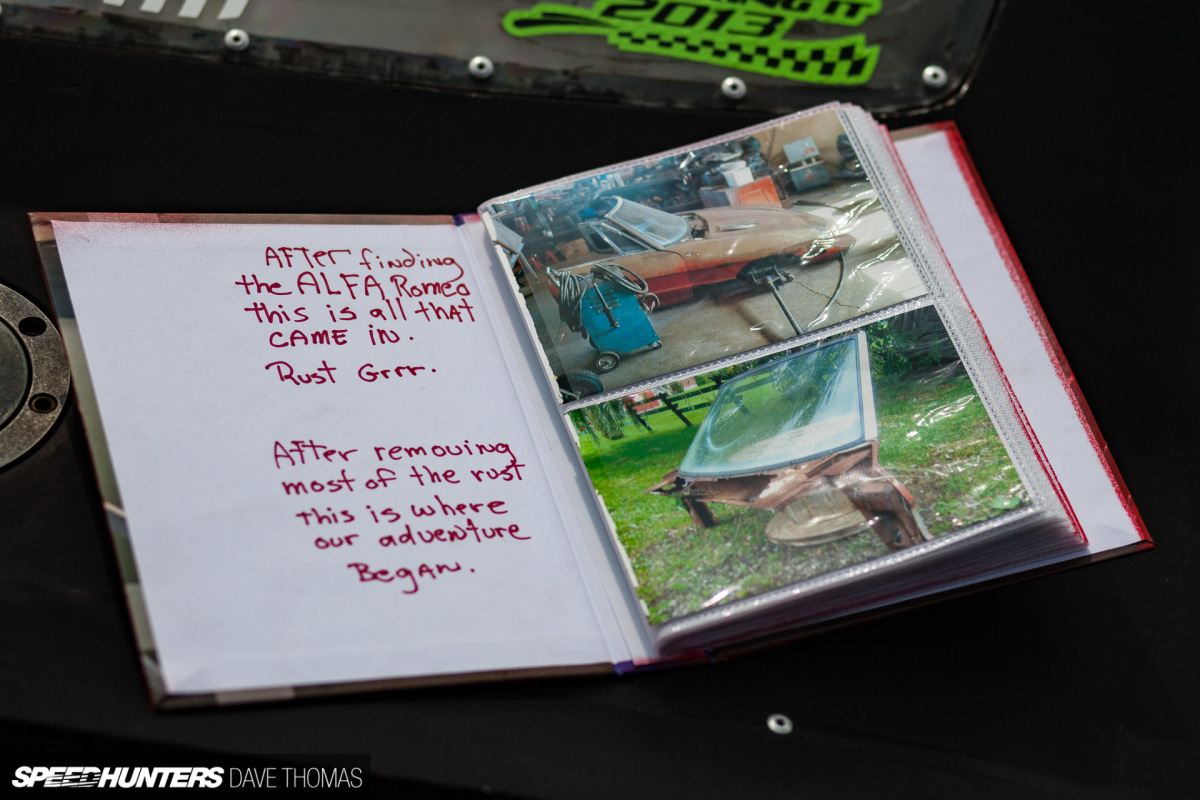 Some of the original Alfa was kept as a reference, but outside of the windshield frame there's nothing Italian. Starting with a decent length of round tube, John built this car from the ground up on his garage floor.'
A ladder chassis was constructed for the underpinnings, and power comes from a built Ford 302ci V8 mated to a Tremec T-5 transmission. Between the Mickey Thompson ET tires is a Ford 8.8-inch differential with 4:10 gears that's suspended by a Woolley original 4-link suspension arrangement.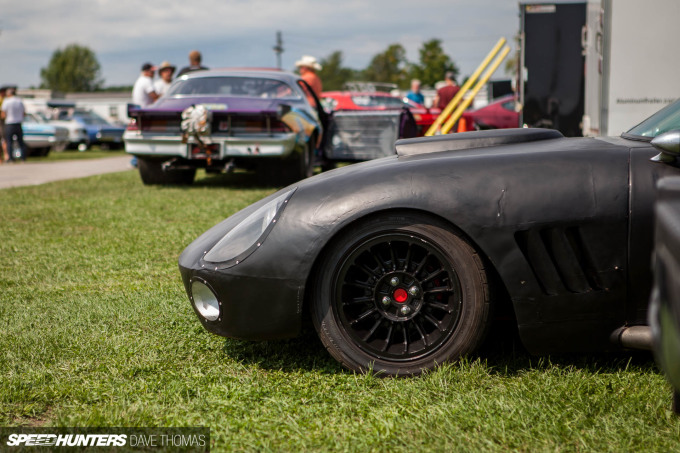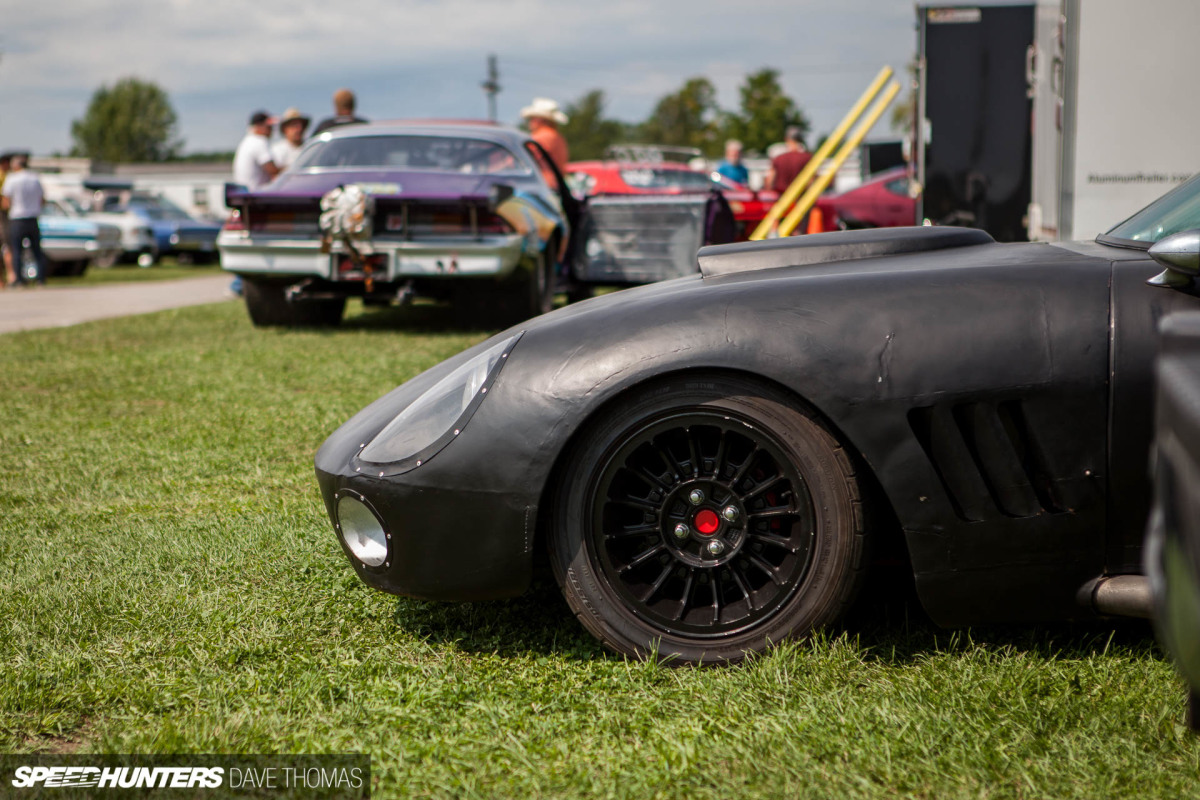 The body, which is secured to the chassis by just 12 bolts, was entirely hand formed over custom wooden bucks. John started with one panel, then two, until his entire wooden structure was covered. Prior to this car, his metal-shaping experience was limited. However he built a few balsa planes in his youth and figured the two crafts were not all that far apart.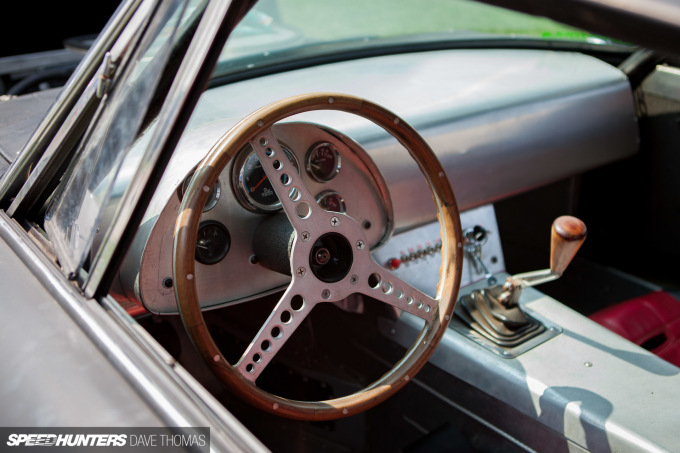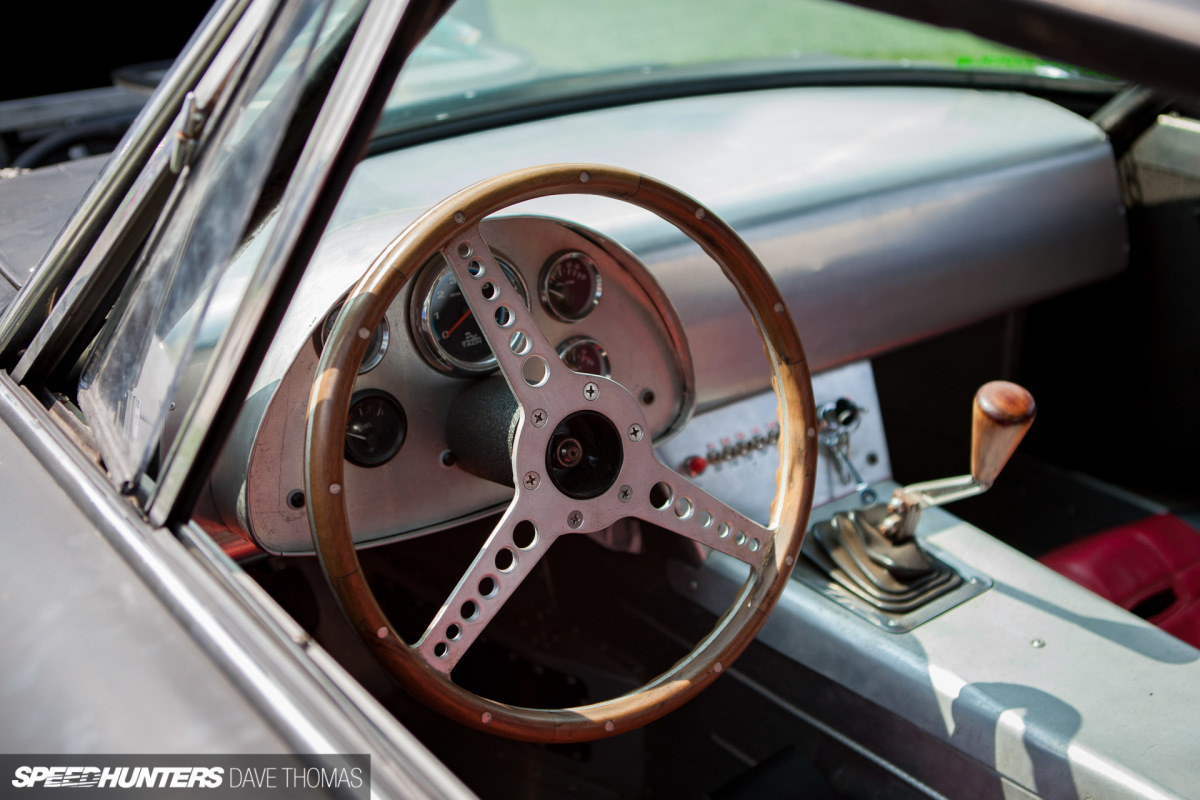 As you can imagine, he designed and built the interior himself as well right down to the steering wheel. No CNC was used here, nor even a bandsaw; John made the center with an angle grinder, a drill, and a lot of patience.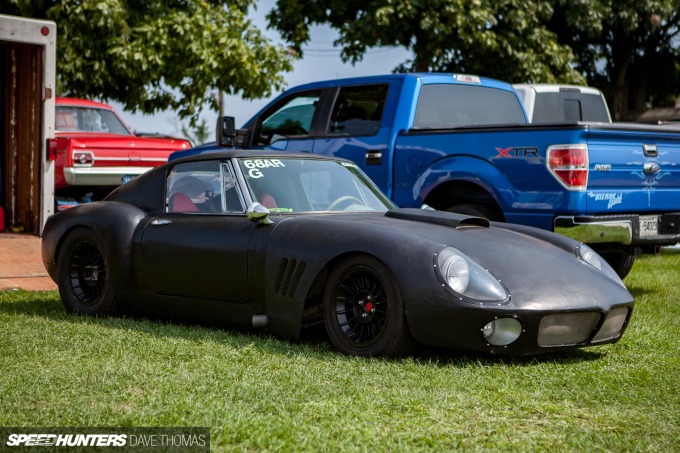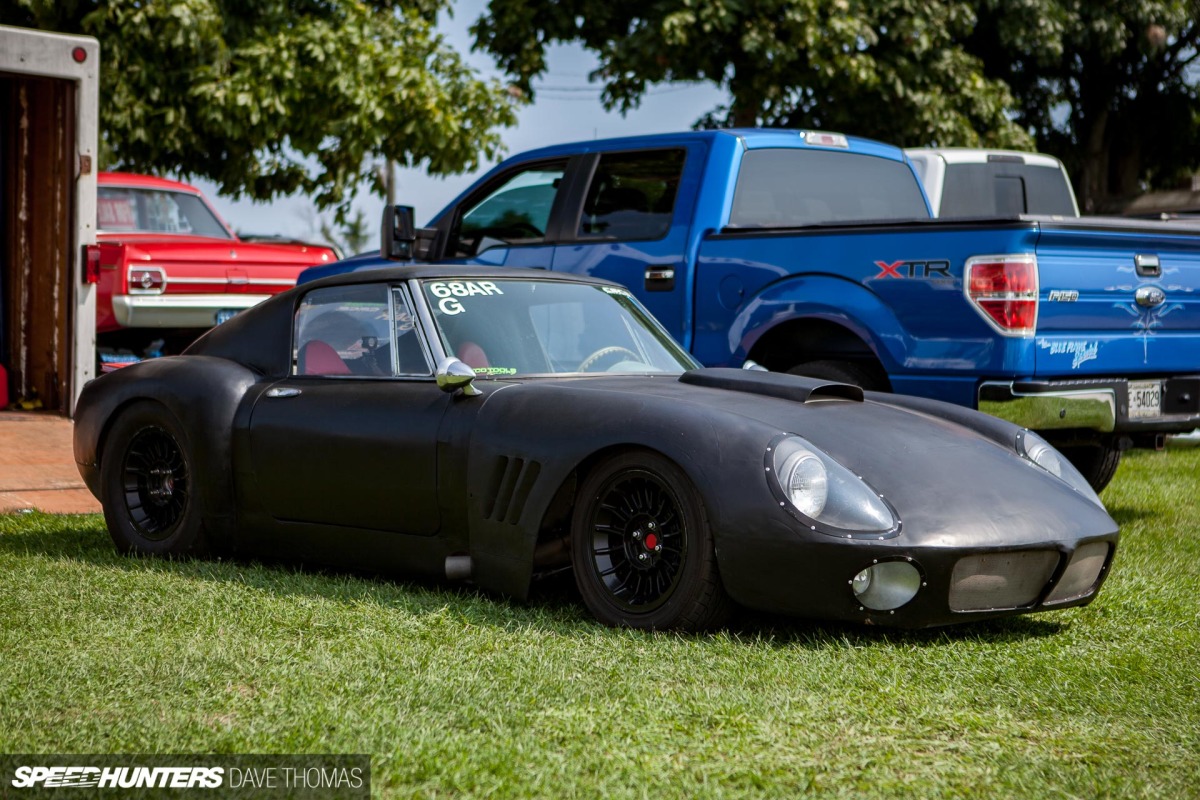 Over the years various parts of the body have been done and redone again, so there's really no guarantee the car will look the same from one event to the next. If memory serves, I've seen the car with at least two different roofs, possibly three different rocker panel treatments, and seven slightly different hood scoops. The only thing that really remains constant is the flat black paint.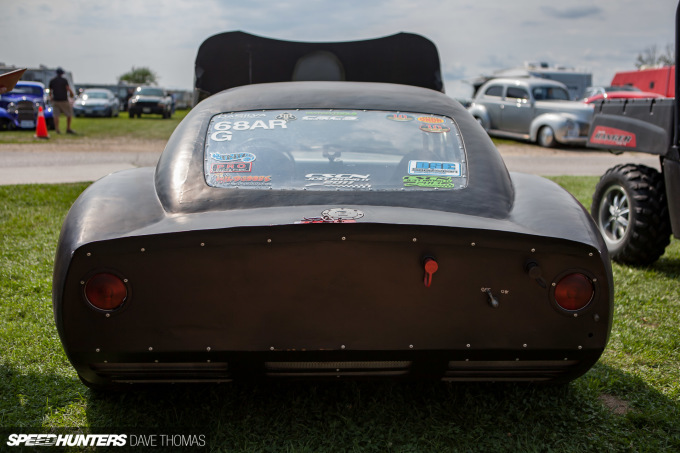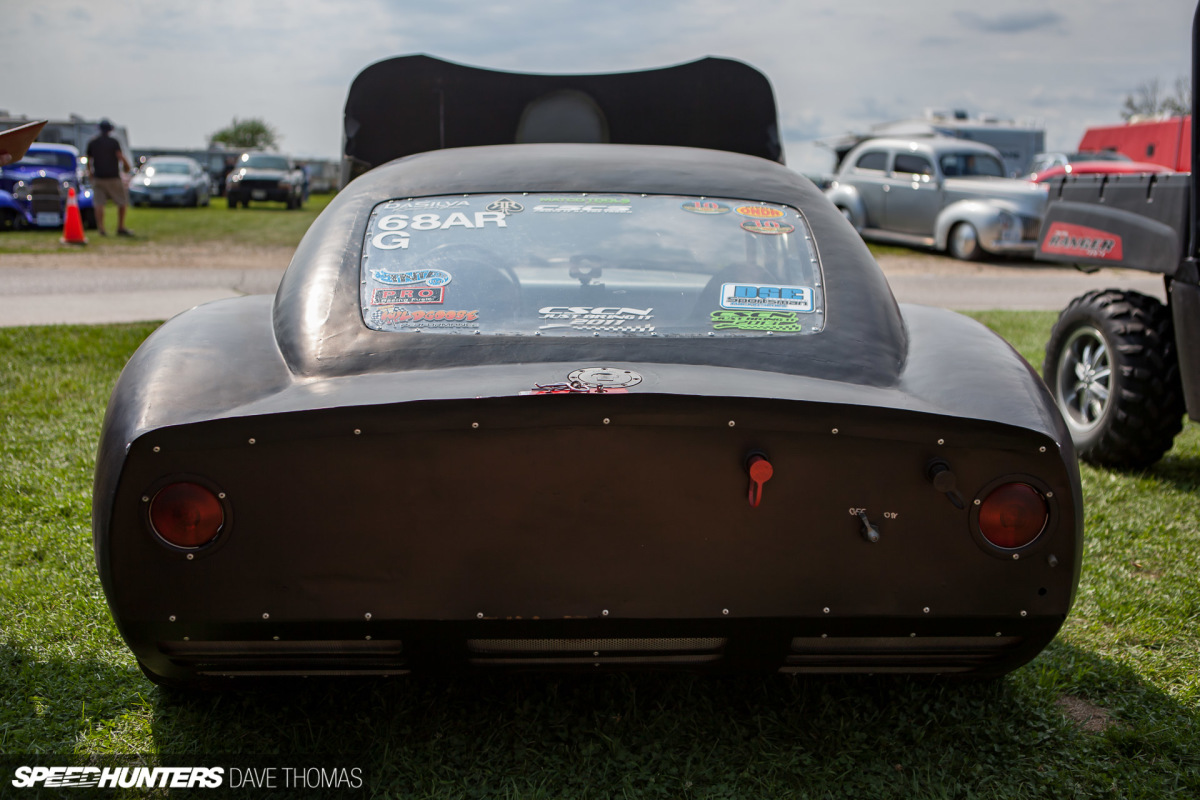 John has named the car Ratso Italiano and its current primary purpose is blasting down the quarter mile. To date the fastest it's run is 10 seconds at 130mph, and being as light as it is the car pulls the wheels off the ground in both gears one and two. Occasionally John does also drive it on the road course, and for that he changes the suspension to use Miata coilovers and runs a more road course suitable wheel and tire combination.
I have to say that's John has done an outstanding job of documenting the build, and you can find progress photos here. If you're looking for a little inspiration for your weekend project, then that gallery is the perfect place to start. If you can't muster up some build motivation from there, then you're likely not going to be able to from anywhere.
Dave Thomas
Instagram: stanceiseverythingcom