Drive Time
There's no doubt that the AE86 is special.
The Corolla was the underdog of the mid-1980s; not as powerful, not as quick, not as good-looking as everything else around it. Even in USDM GT-S trim, the model was a lackluster performer, making it affordable and accessible to the masses. With this to-spec AE86 only capable of 112 horsepower out of the 4A-GE DOHC 16-valve four cylinder, the GT-S was epitome of an '80s econobox. And yet, the boring and understated Toyota has become one of the most desired cars of the era. Thanks to a performance tuner aftermarket that might be better considered as a cult following, finding a well-built and intact AE86 is a rare occurrence.
Although Toyota ruined the line up in 1984 by moving to a front-engine, front-wheel drive layout, the AE86 continued on for a few years as a real driver's car. Weighing in at just over 2,200lb, the last proper Corolla made has loads of potential for almost any enthusiast's application. In Eric Xue's case he's bumped the power with a 3S-GE BEAMS powerplant, mated it to a 6-speed gearbox, and has incorporated a mod list a mile long. The result is nothing short of amazing.
Have a listen to the raspy motor to get in the mood.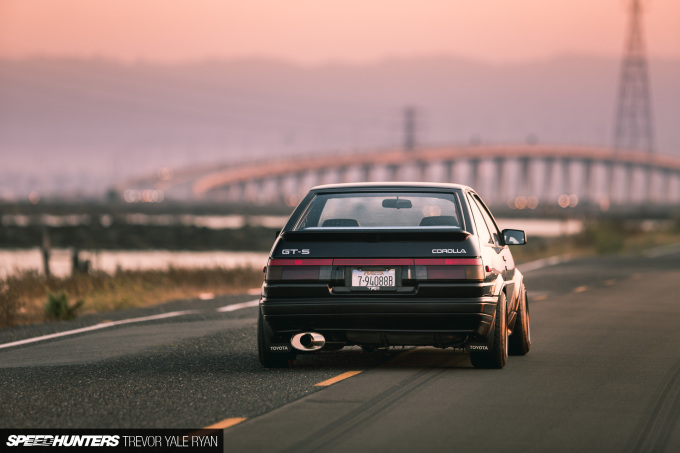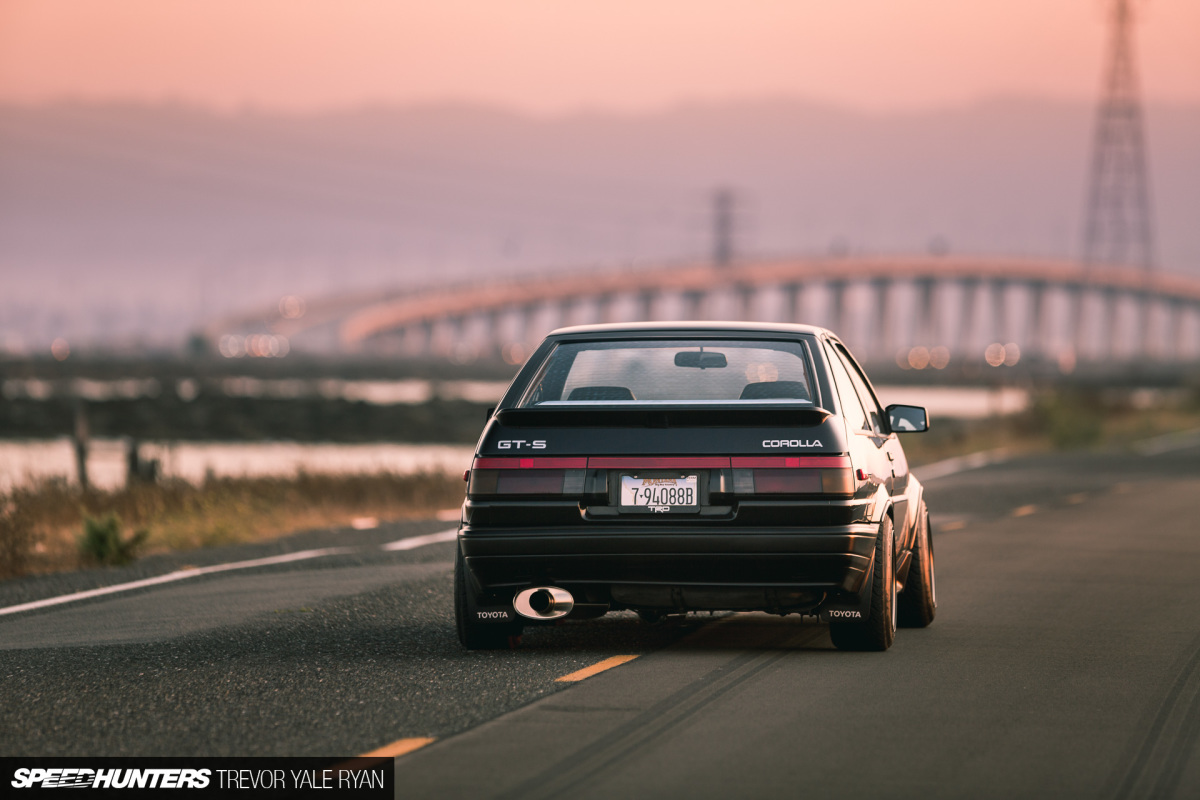 Before diving into the car it's worth looking at Eric's love affair with Japanese cars. He built the controversial V8-swapped FD3S I featured last year, and before this had a heavily modified Nissan S13. Eric's also dabbled in the Euro thing with an E46 BMW M3, but his love for Japanese cars has steered him to the modest Corolla this time around.
After the over-the-top RX-7, Eric "wanted to humble himself and return to the roots by experiencing the Corolla." He says he's always been attracted to the concept: a lightweight and well-balanced rear-wheel drive chassis paired with a small high-revving and naturally aspirated inline four. Of course, that doesn't mean that there's any limit to how such a car can be modified.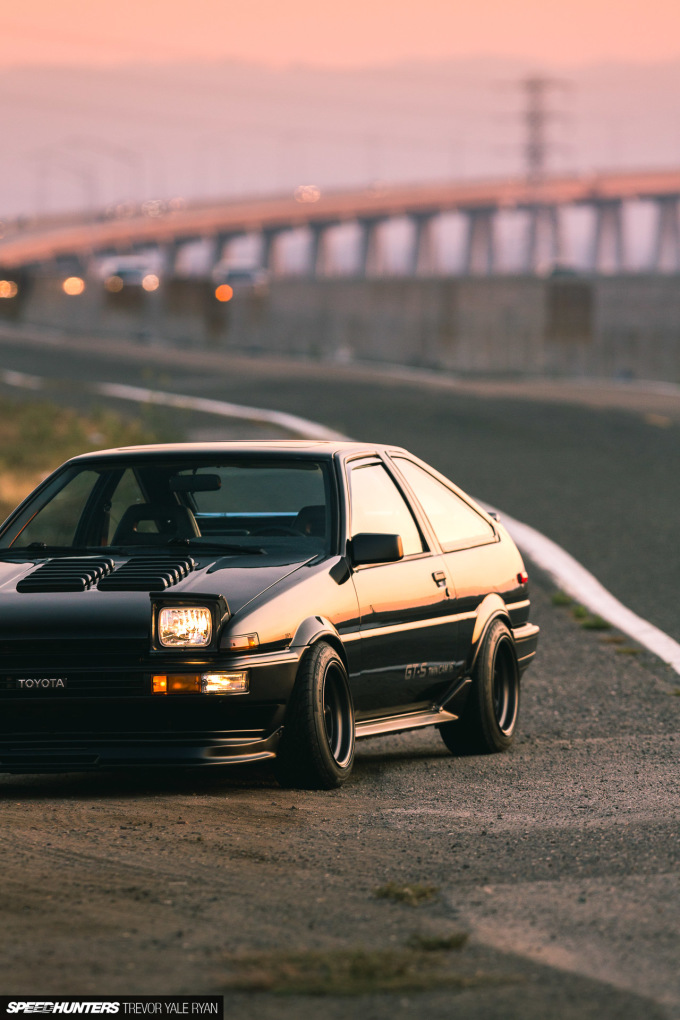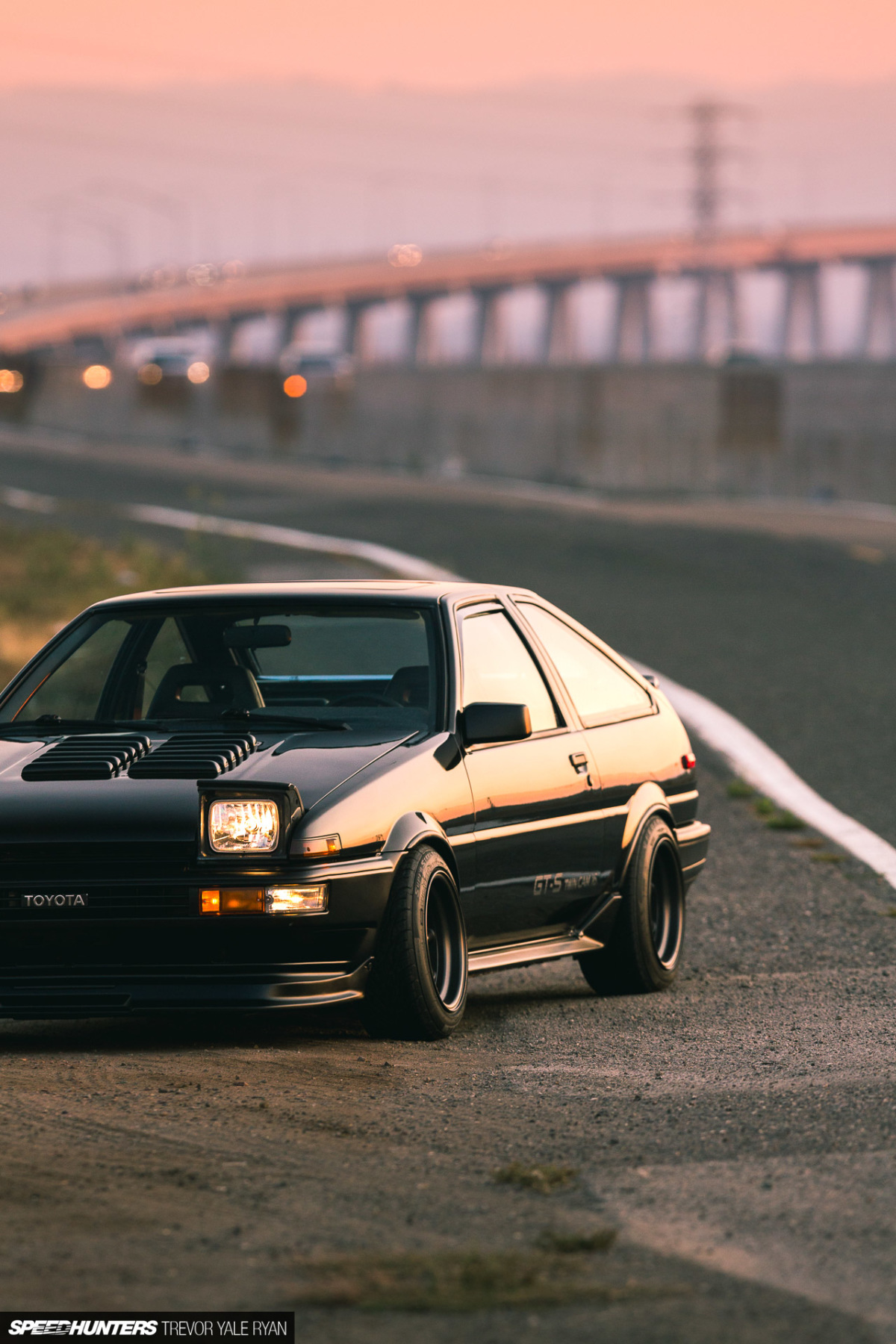 While relatively understated from afar with, for the most part, a very clean and sharp OEM-plus look, Eric has done an incredible amount of work.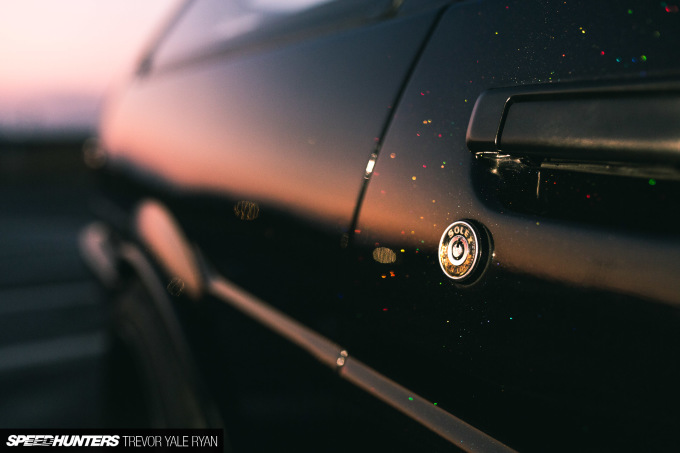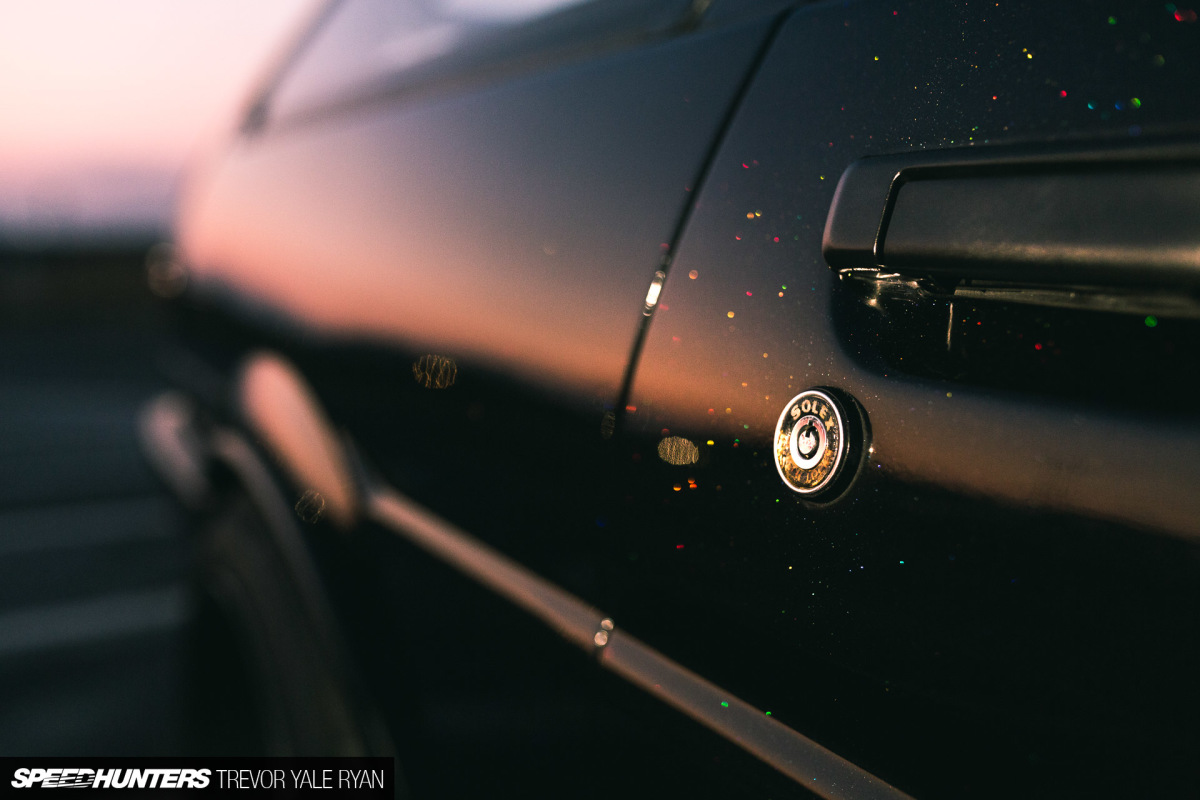 There are details that you can't see at all, as well as ones that only come out if the timing is right. The underside upgrades are particularly impressive, but with our plans to put the car on a lift suddenly cancelled, you'll be best off learning about these on Eric's YouTube channel where he painstakingly documented the majority of the build progress.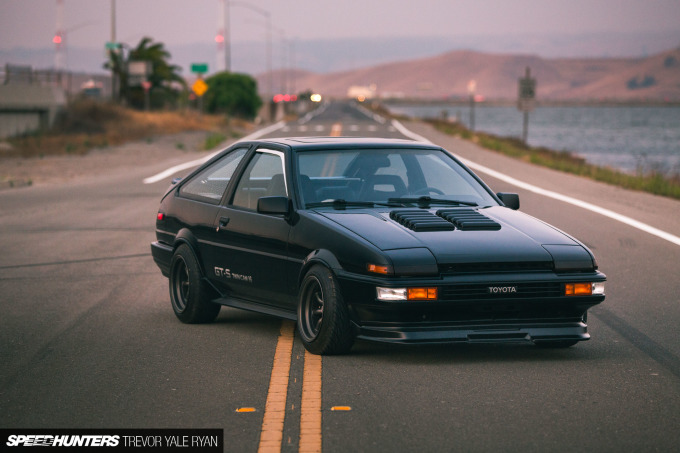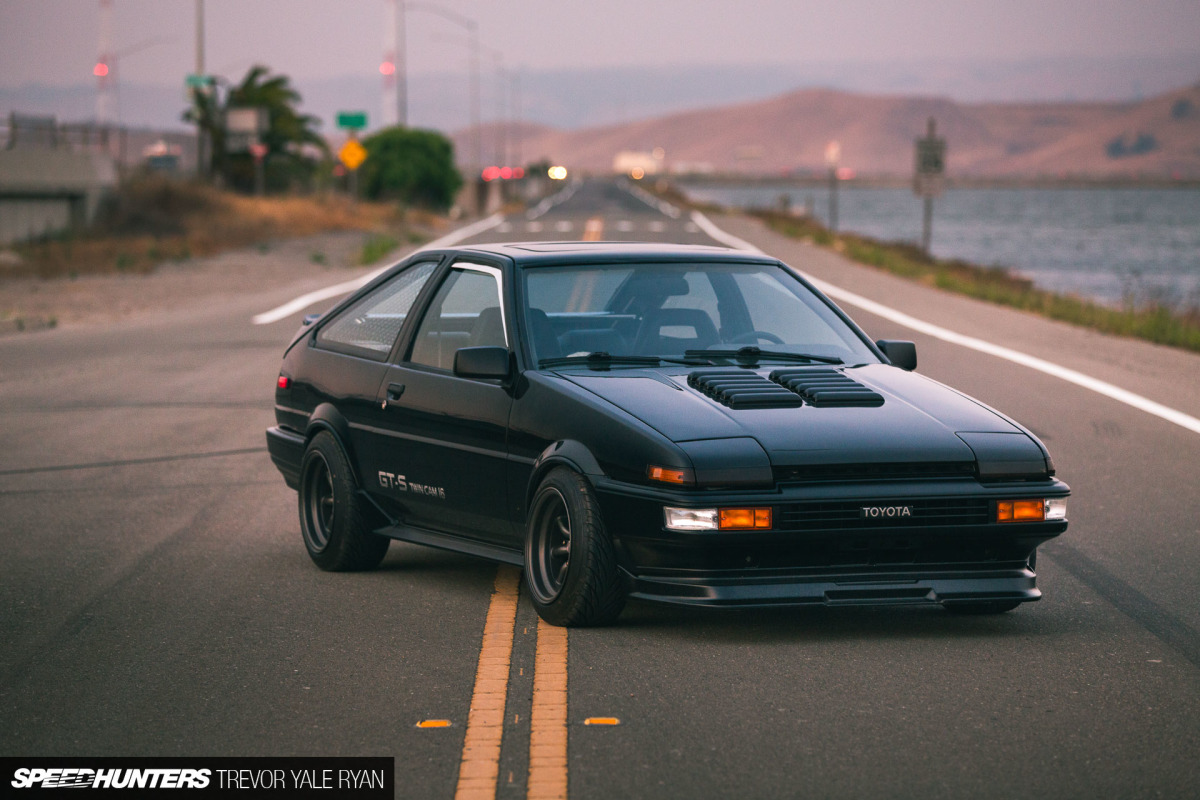 Even without being able to take a close look at the Corolla's underpinnings, I ended up editing exactly 86 photos of the car, all of which are here in this story. I promise this was unintentional.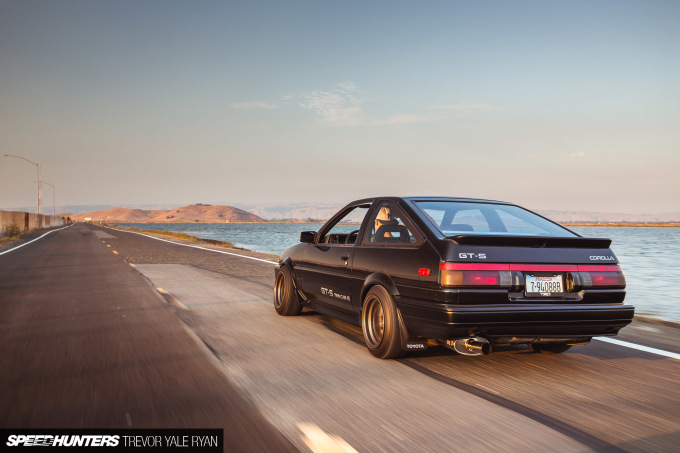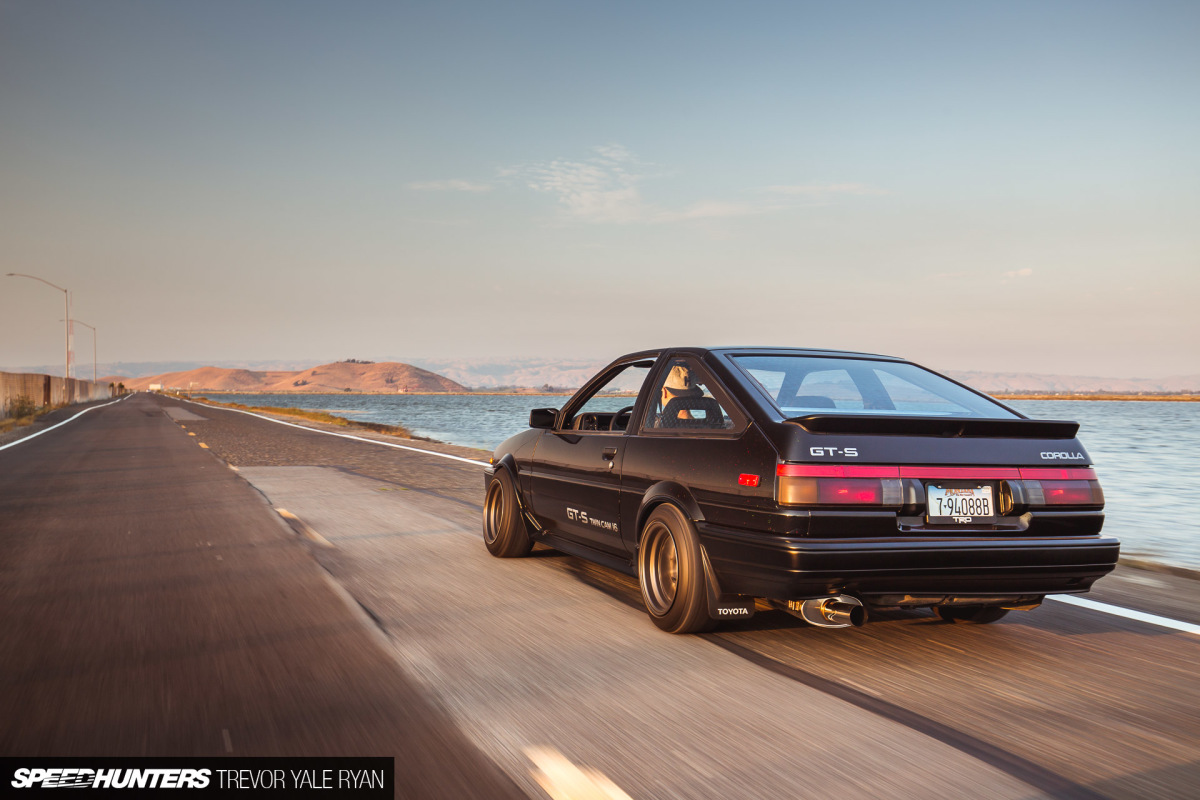 The GT-S started life as an original owner, Southern California car, where it lived for 30 years before being transformed by Eric in the space of just 12 months.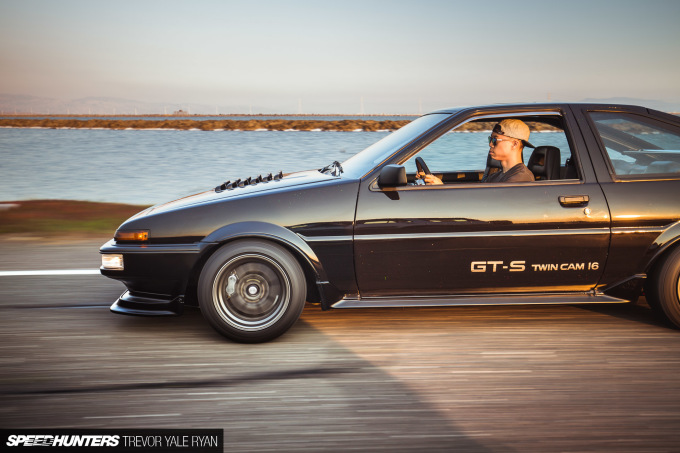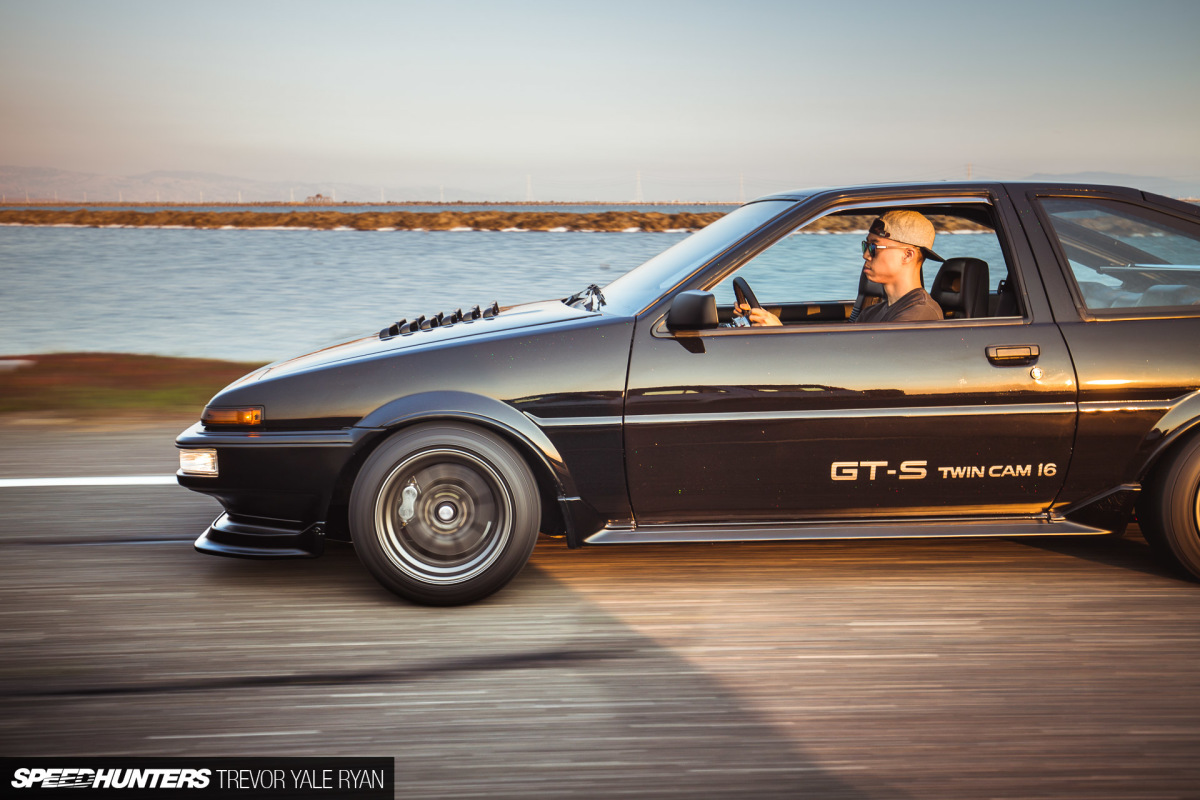 The fact that the car has already been sold — at what I can imagine only to be an immense loss — is the only part of this build that doesn't add up to me. It's worth mentioning that Eric's RX-7 had already been sold by the time I met up to get photos of the car, a philosophy that might not make much sense on the surface.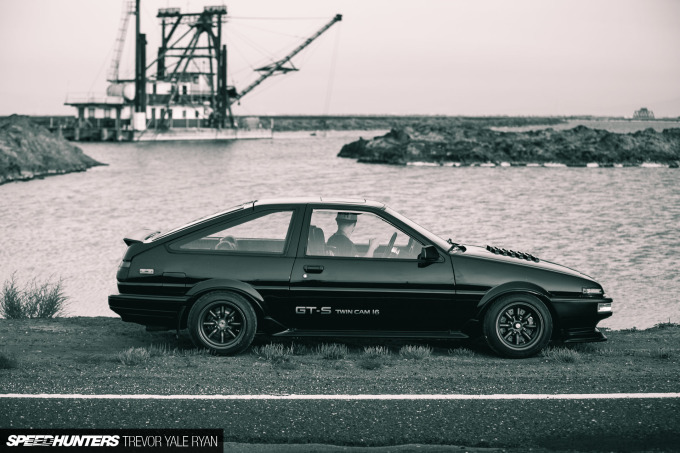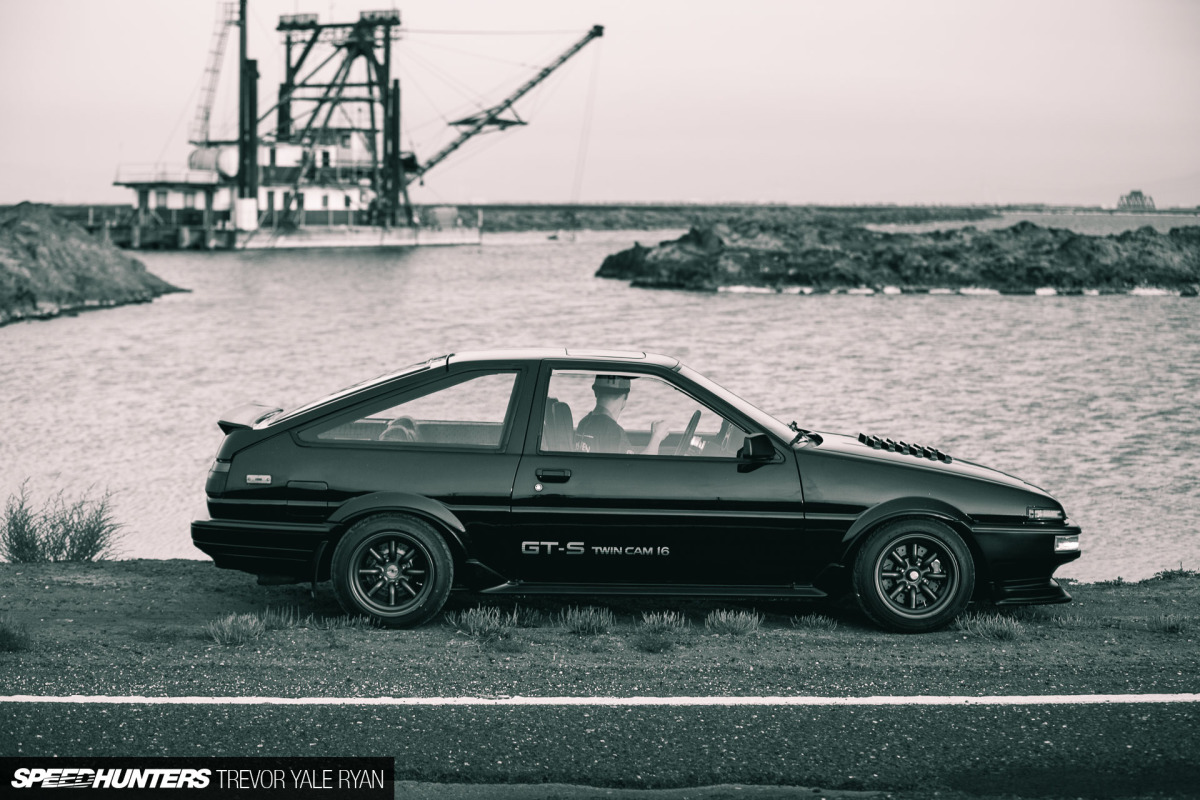 But Eric assures me that "he lives for the pain," but explained that with this pain comes the satisfaction of knowing that something specific has been accomplished through "grueling work and restlessness." He told me of the countless 14-hour days, which includes time at his 9-to-5 to fund everything, and it sounds unappealing at best.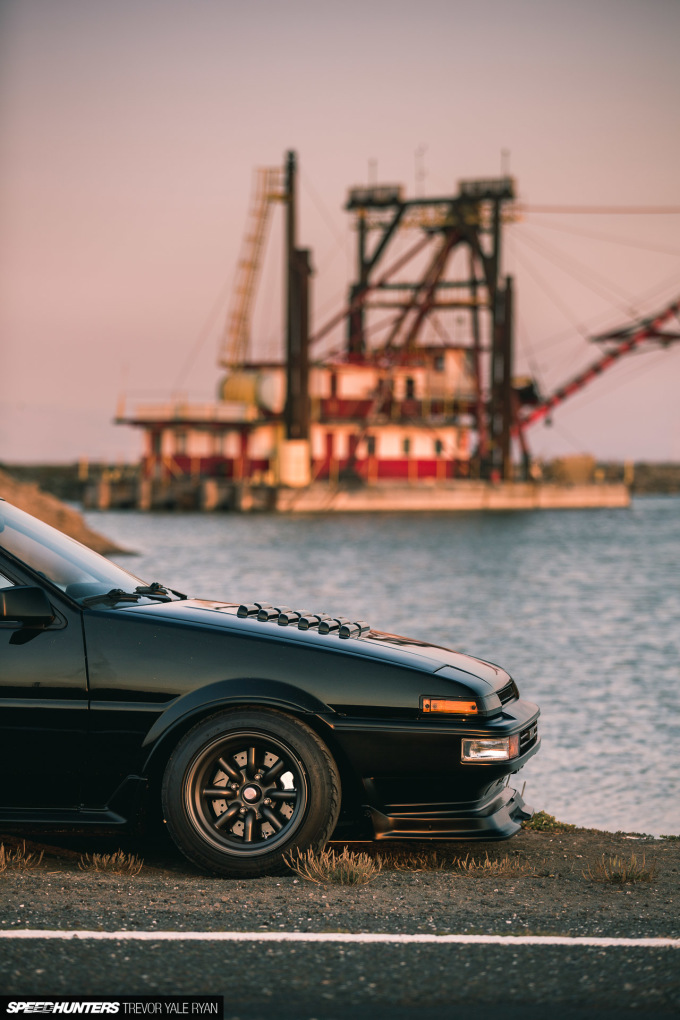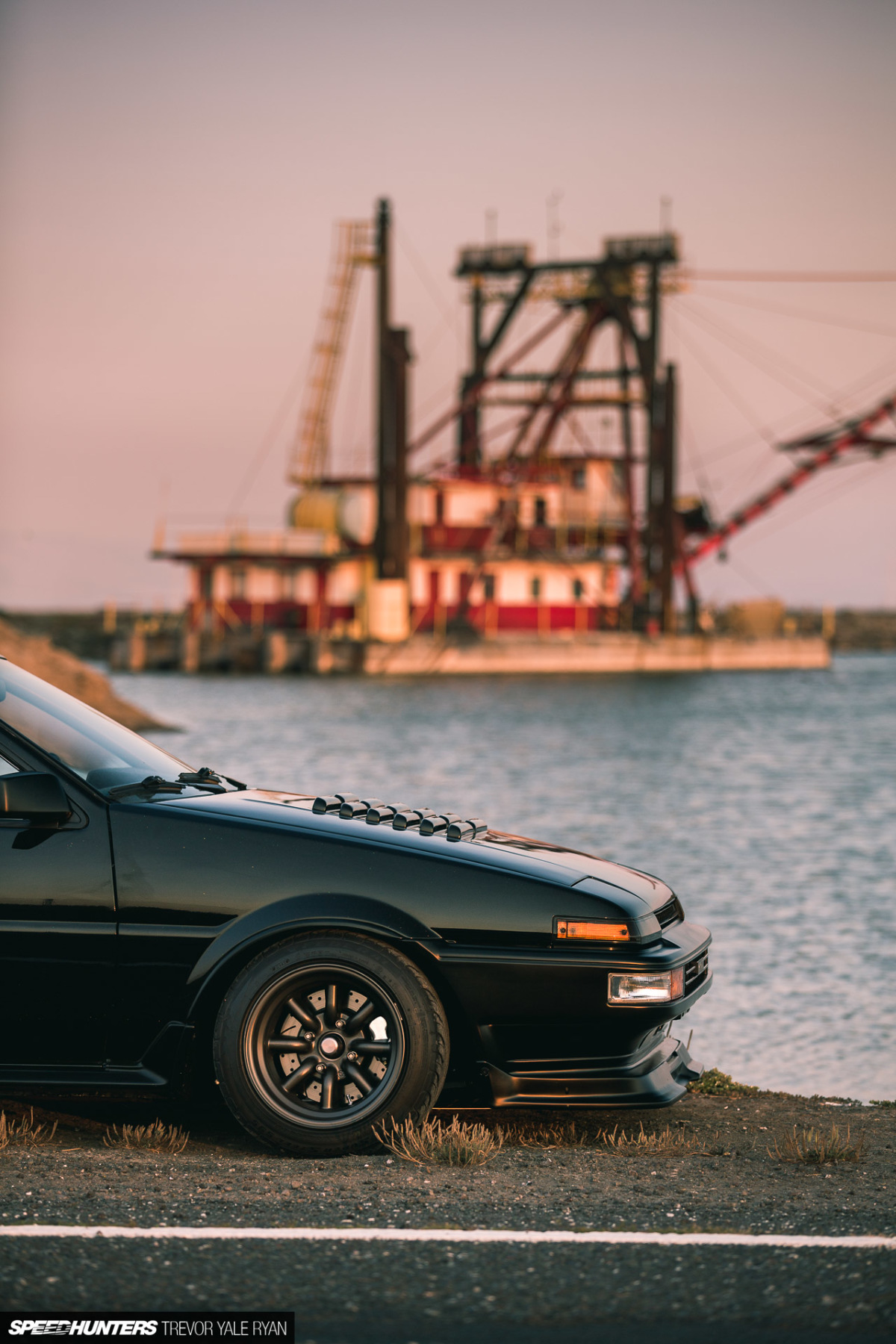 However, being rewarded with a final product – as Eric has clearly been – makes the process worth it, even if he isn't the one driving the AE86 around now.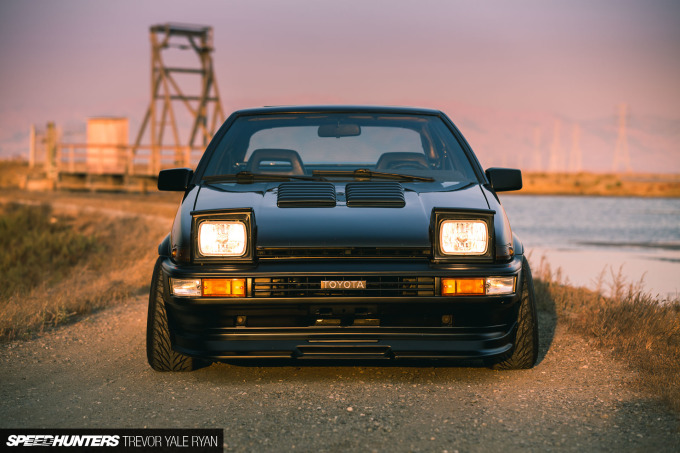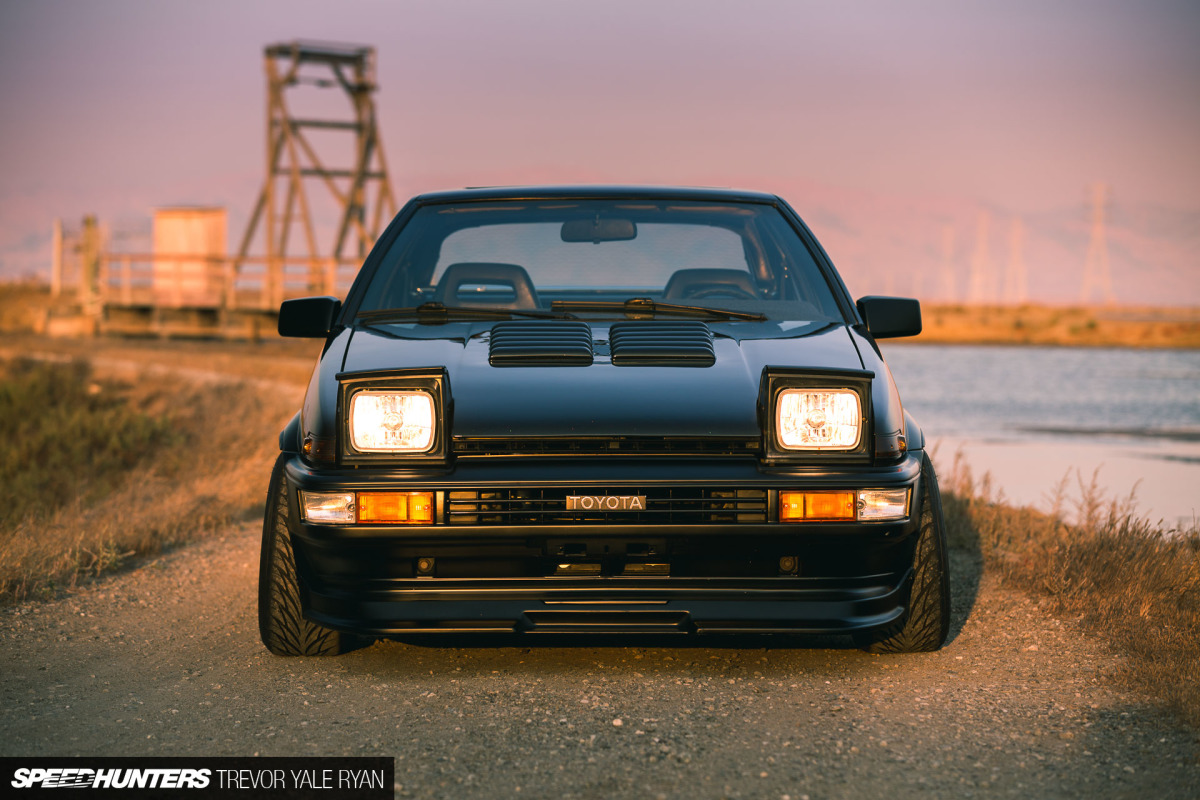 He's touched every part of the Corolla, and this endless process of building a car is simply Eric's creative outlet. Perhaps it makes more sense than I first thought…
No Expense Spared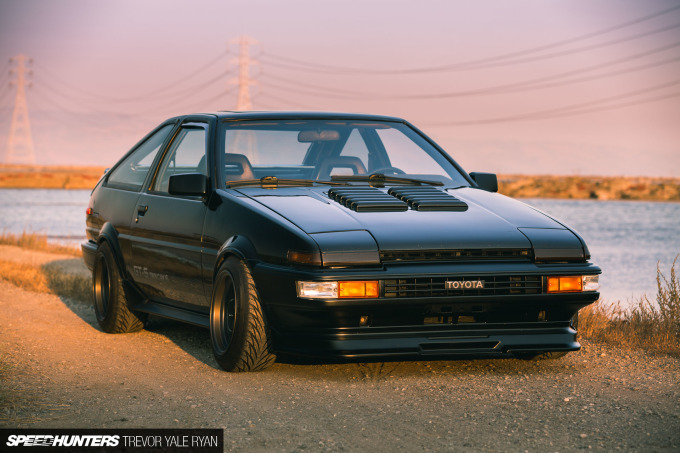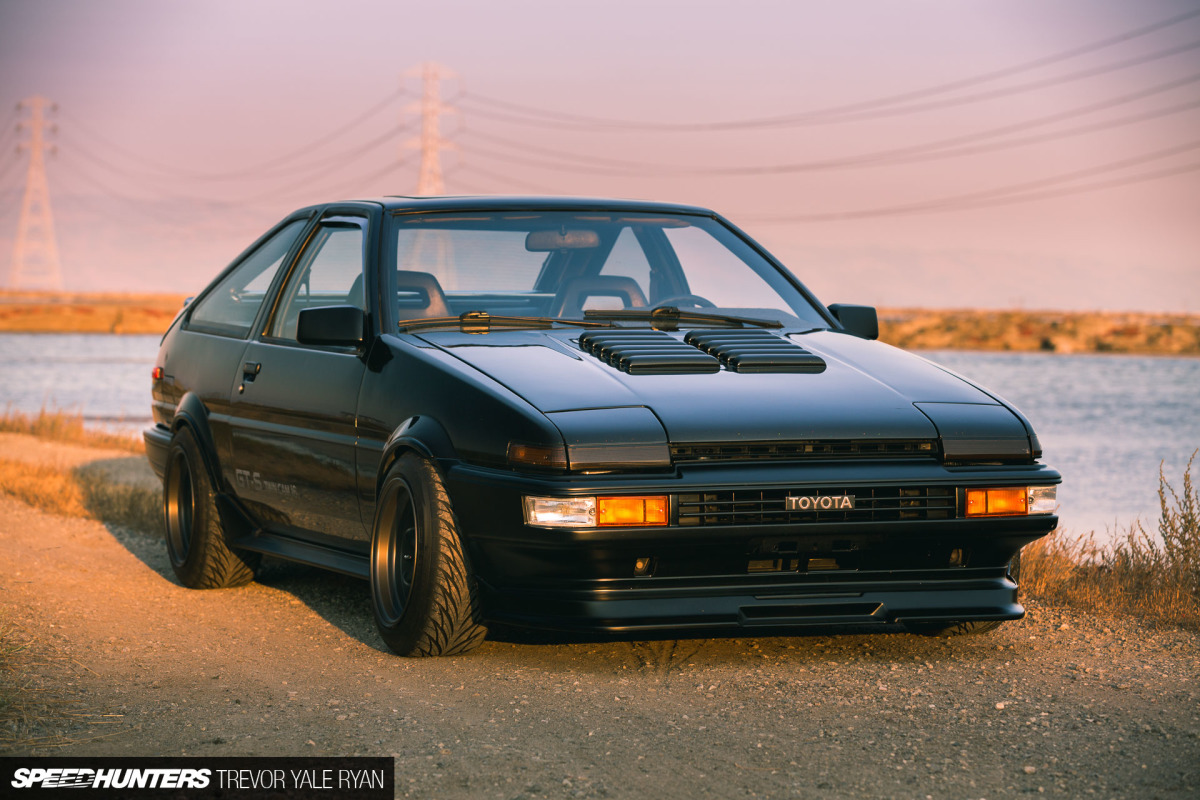 Still, it's immediately obvious that an incredible amount of time and effort was invested into the car. While it was supposed to be a mild build, Eric realized that any "compromise would not yield the end product and package he really wanted."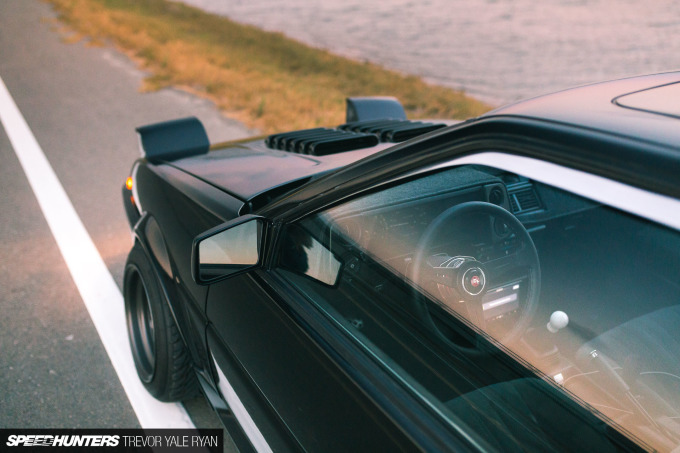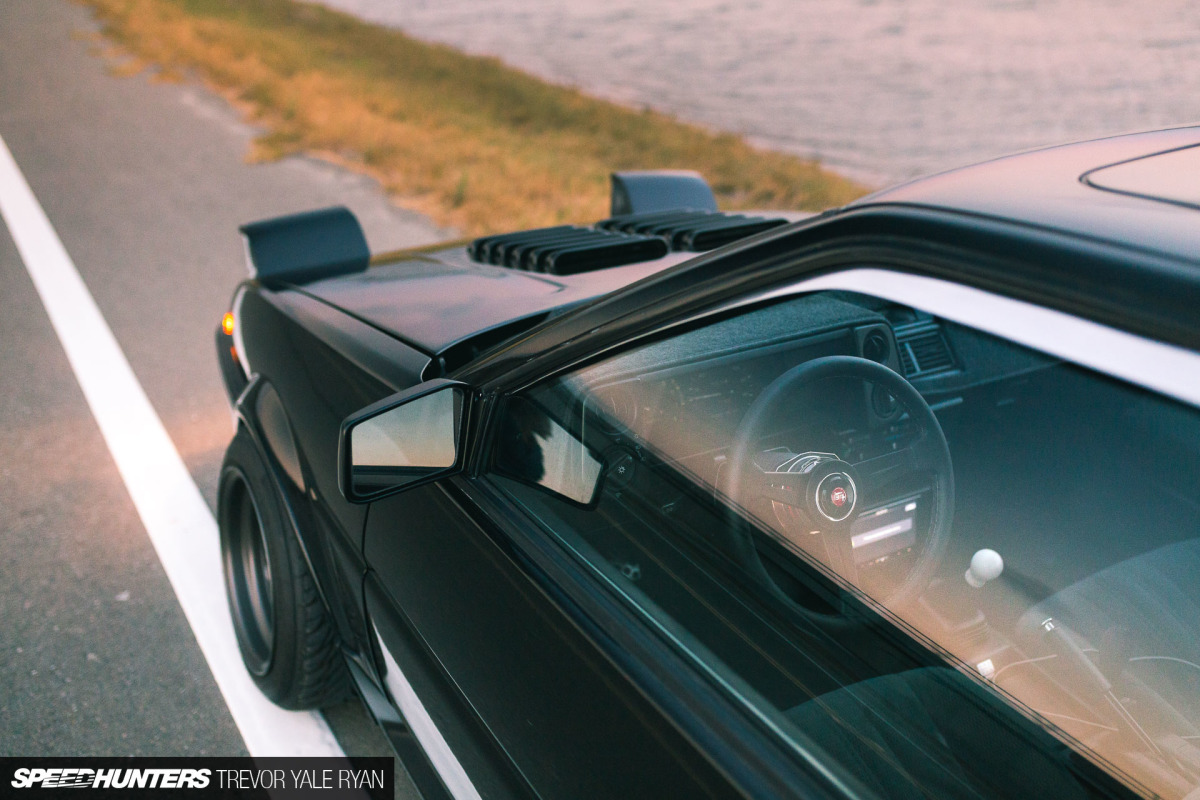 Perhaps the only area of the car that hasn't been subtly taken to the top is the interior.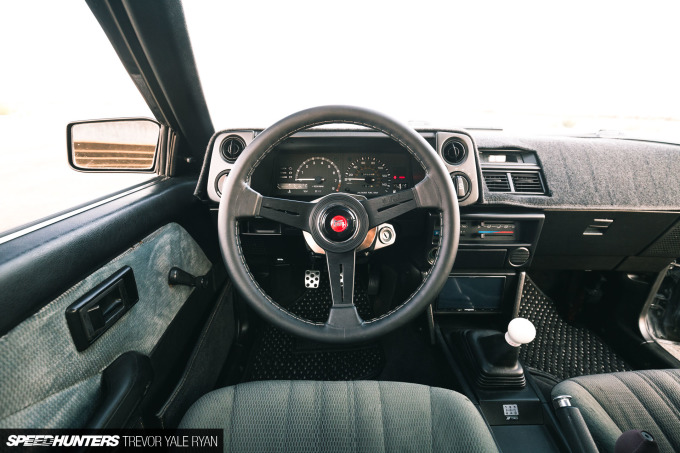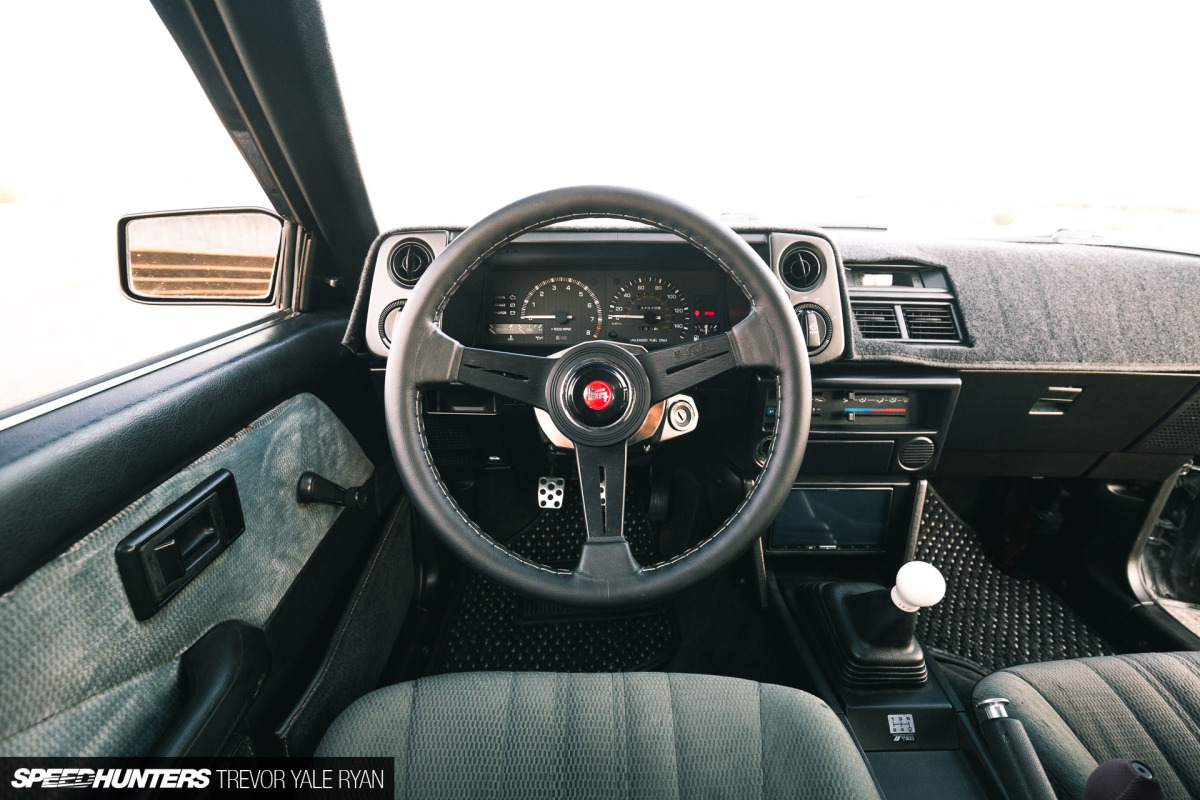 While a lot of minor work has been done here, the majority of factory touches remain.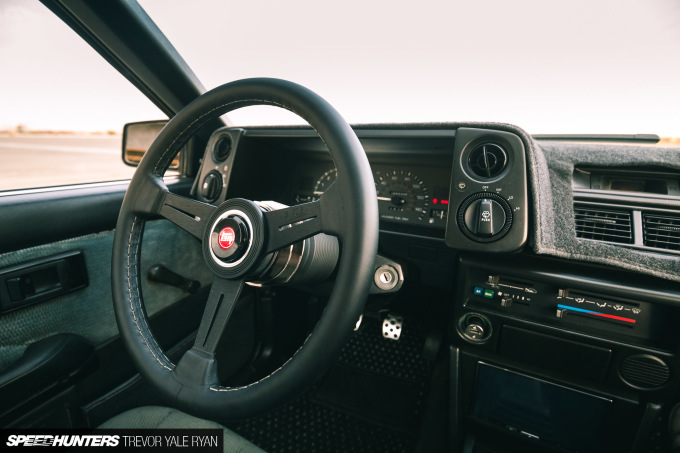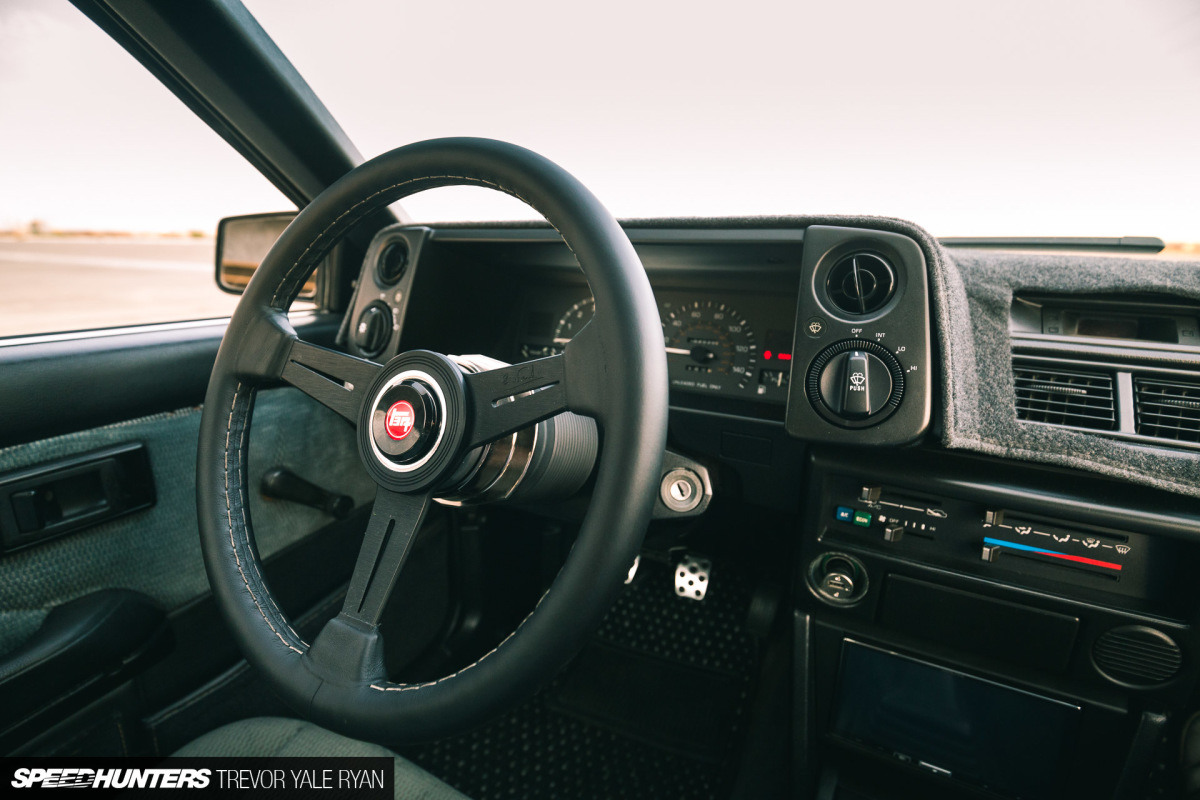 OEM JDM kouki seats hold you in place while a Works Bell hub and quick-release help provide excellent feel through the Nardi Classic steering wheel. The pedals were taken from a Lexus IS300 while an Alpine head unit connected to Hybrid Audio speakers around the car (which are powered by an ARC XDi 450.4 amplifier tucked into the back) improve the everyday experience.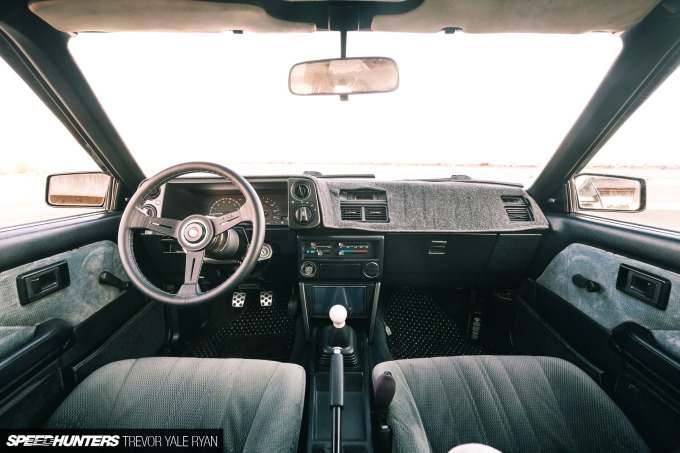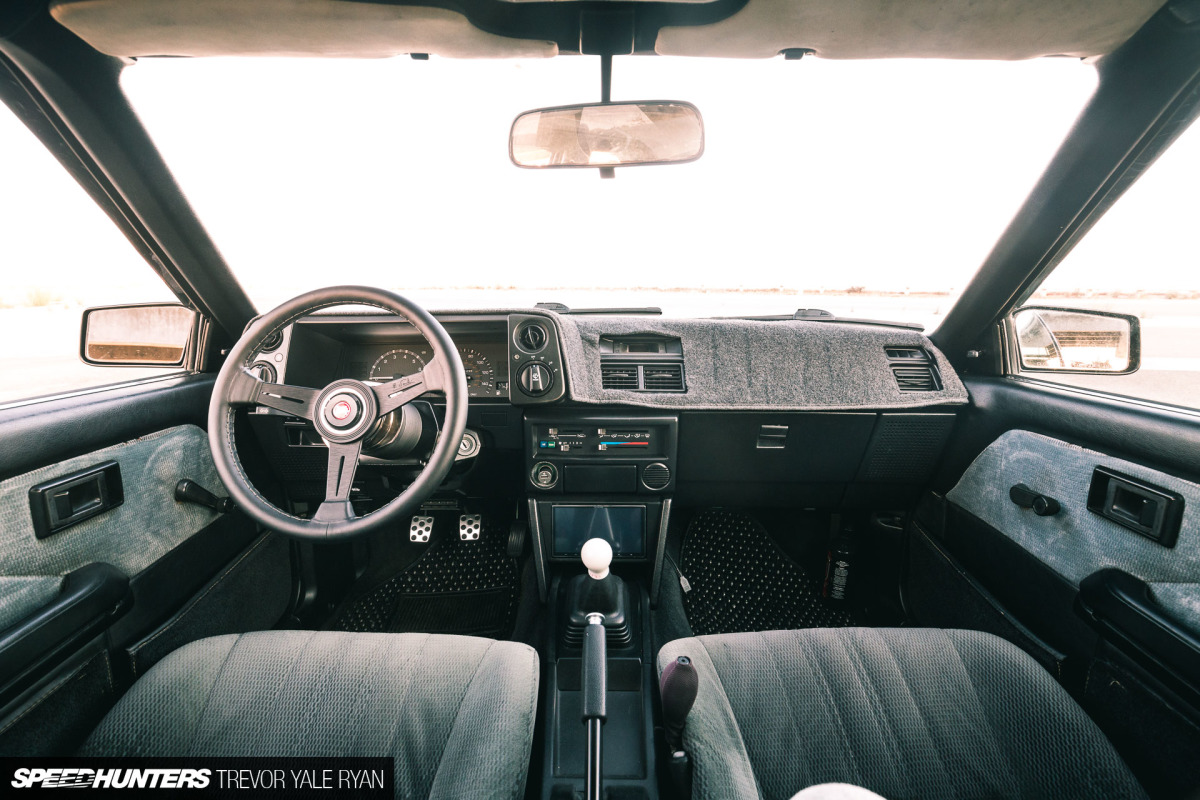 Perhaps most importantly, the AE86 really feels — and even smells — like a new car from 1986. It doesn't feel modified; it just feels right, especially from behind the wheel.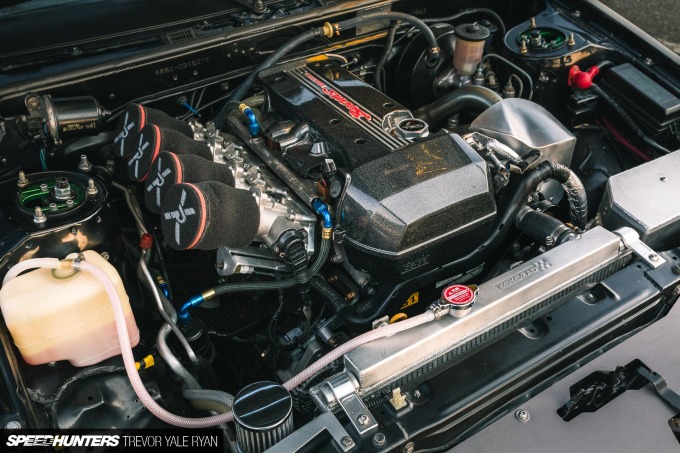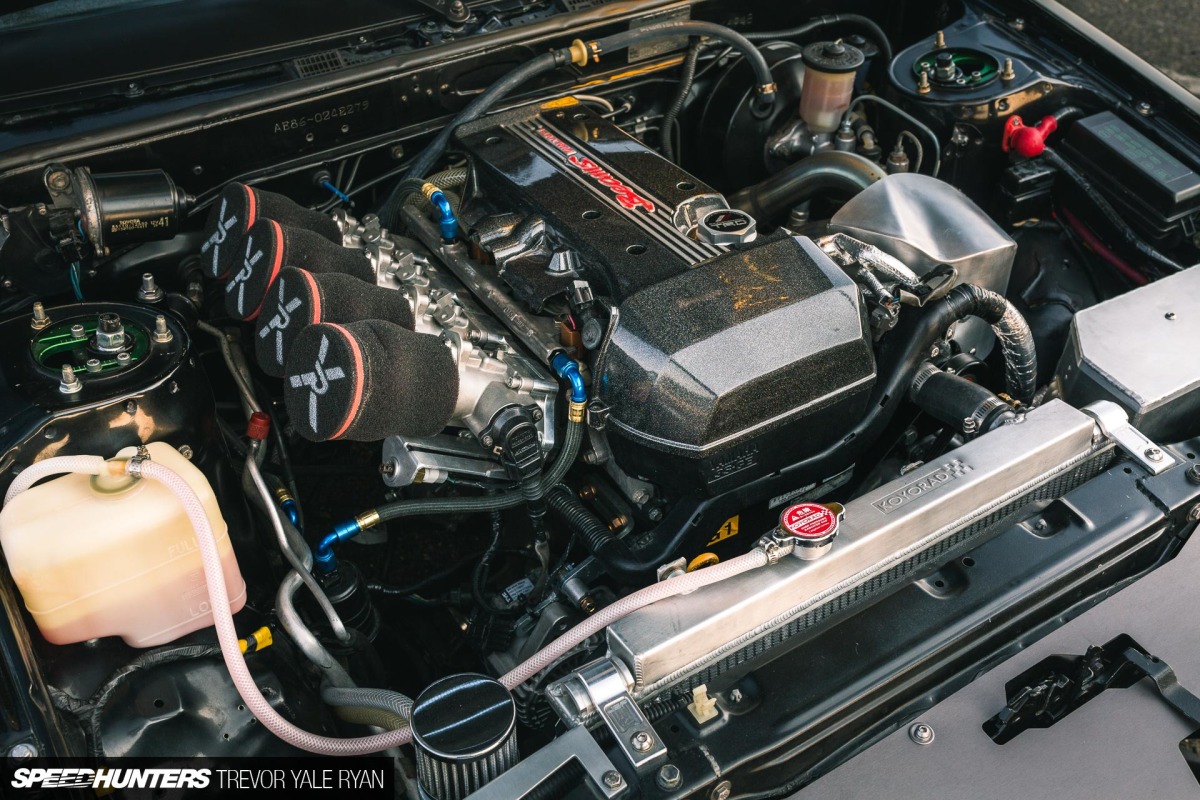 Under the hood is where things began to get a bit over the top. The 'Blacktop' 3S-GE BEAMS engine wasn't enough on its own.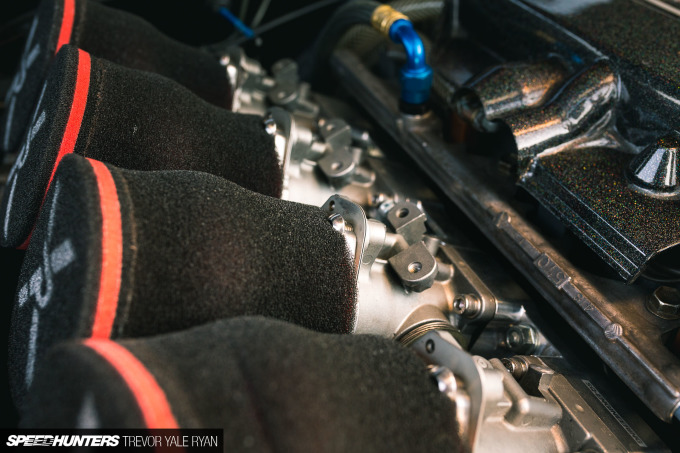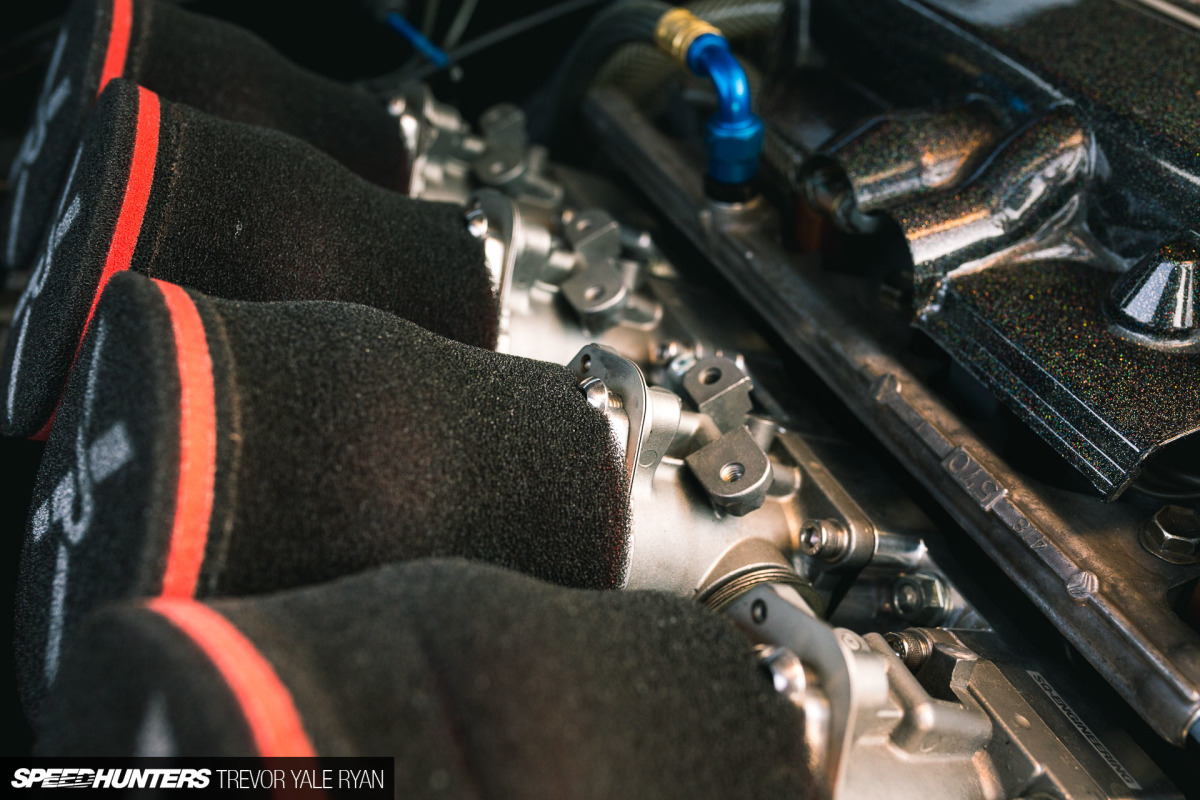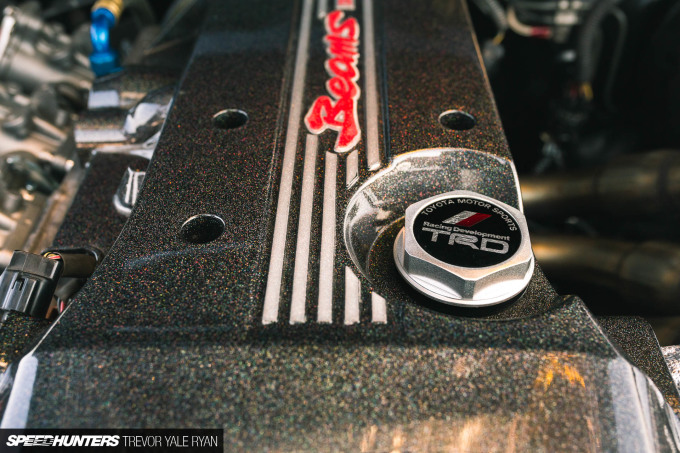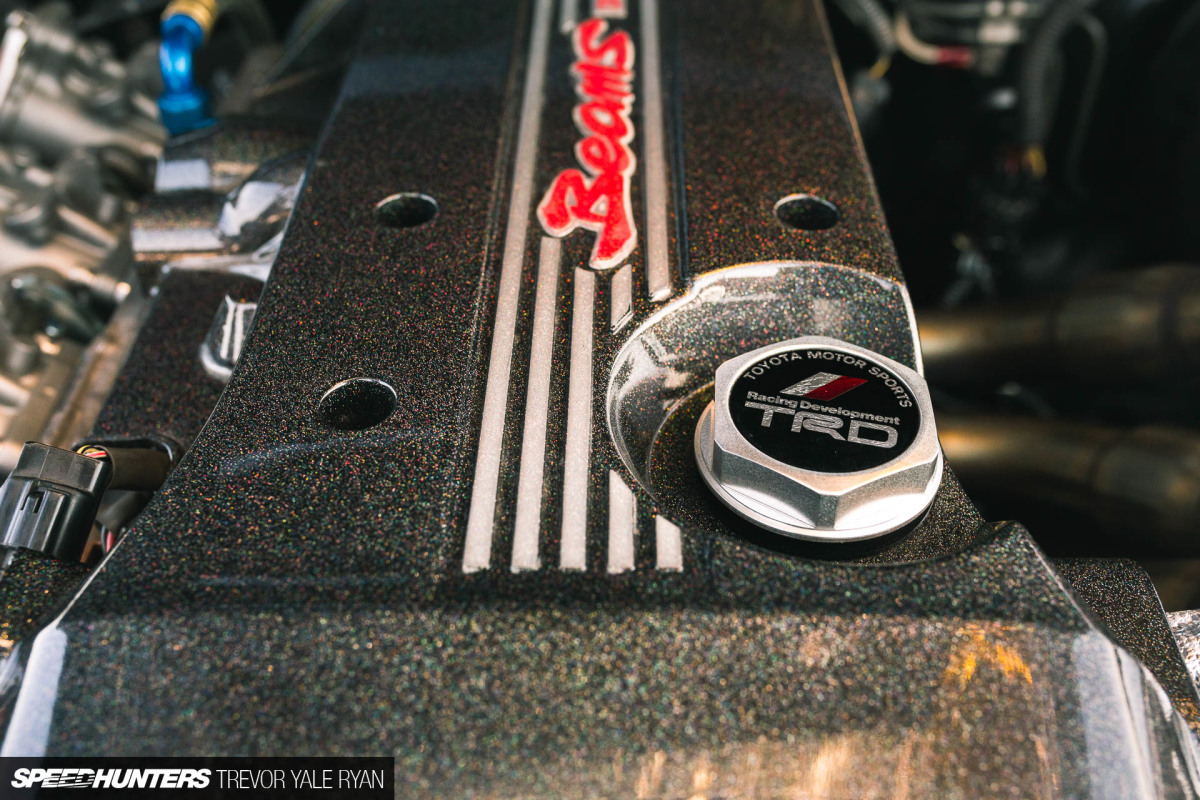 An SQ Engineering intake manifold with ITBs running velocity stacks is the party piece here, but the painted valve cover steals plenty of your attention when you're taking in the engine bay. Power is sent through a J160 6-speed gearbox through to a Kaaz 2-way LSD in the rear. With spent fuel travelling out a HyTech equal-length 4-2-1 header, the exhaust note is like no other.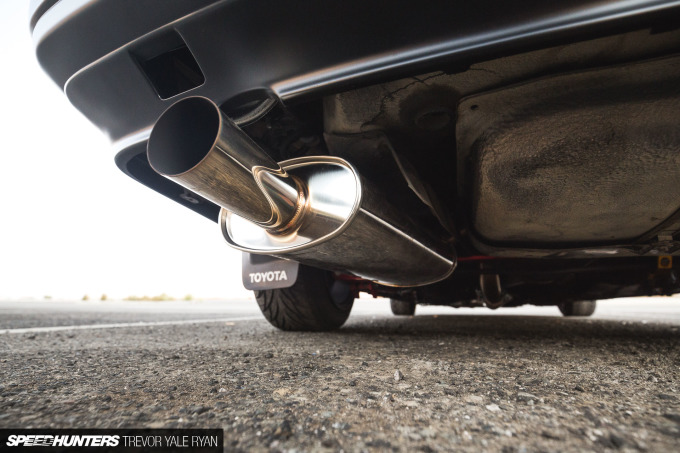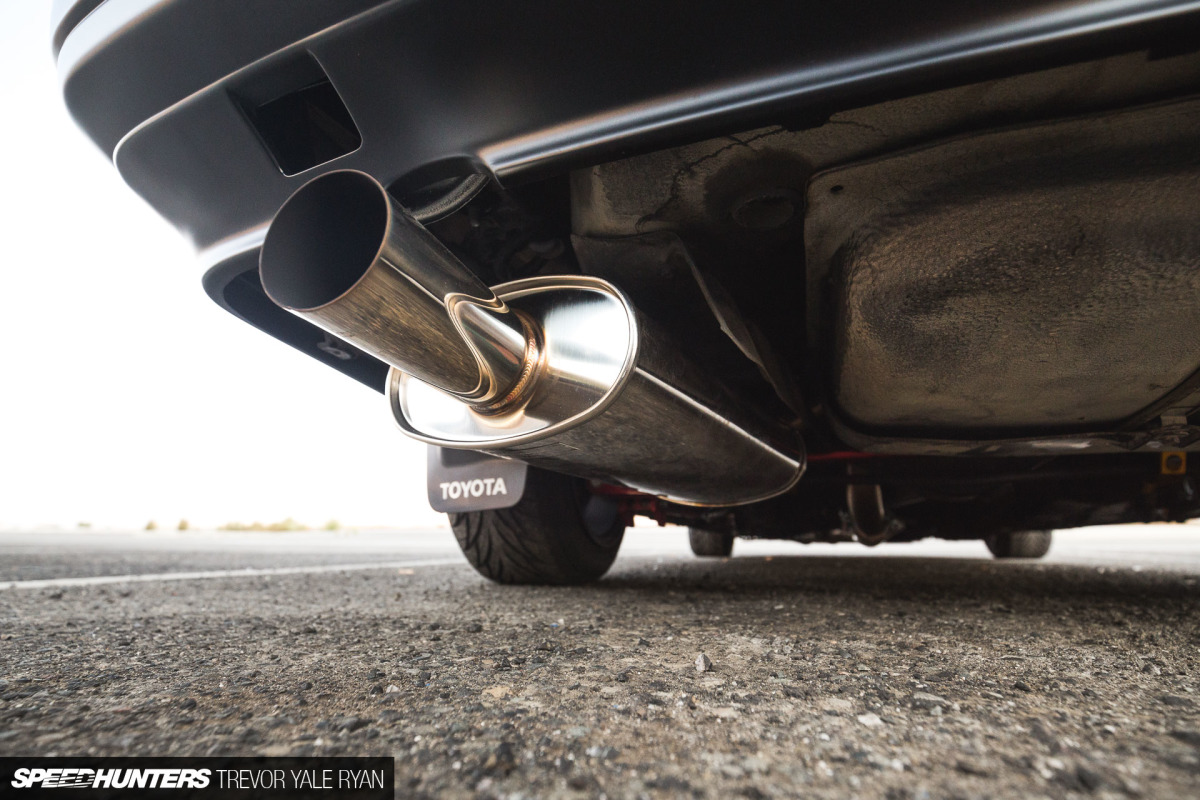 If you're a skimmer, skim back up to the top and have a listen through the Brave/RS-Harada 60mm cat-back exhaust. Just that listen alone should be clear that no expense has been spared when it comes to this 86.
Inside & Out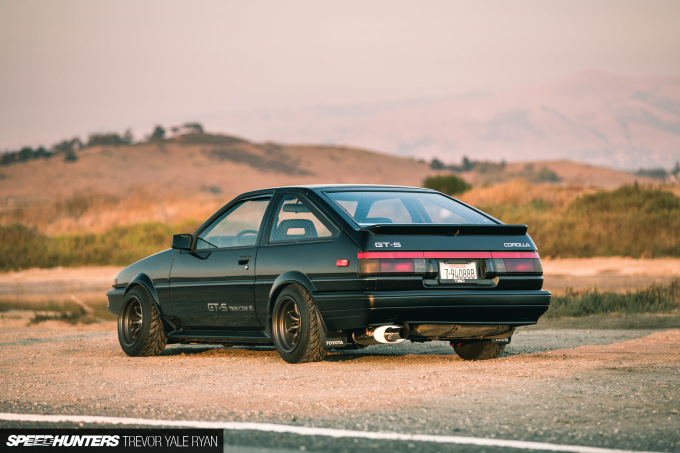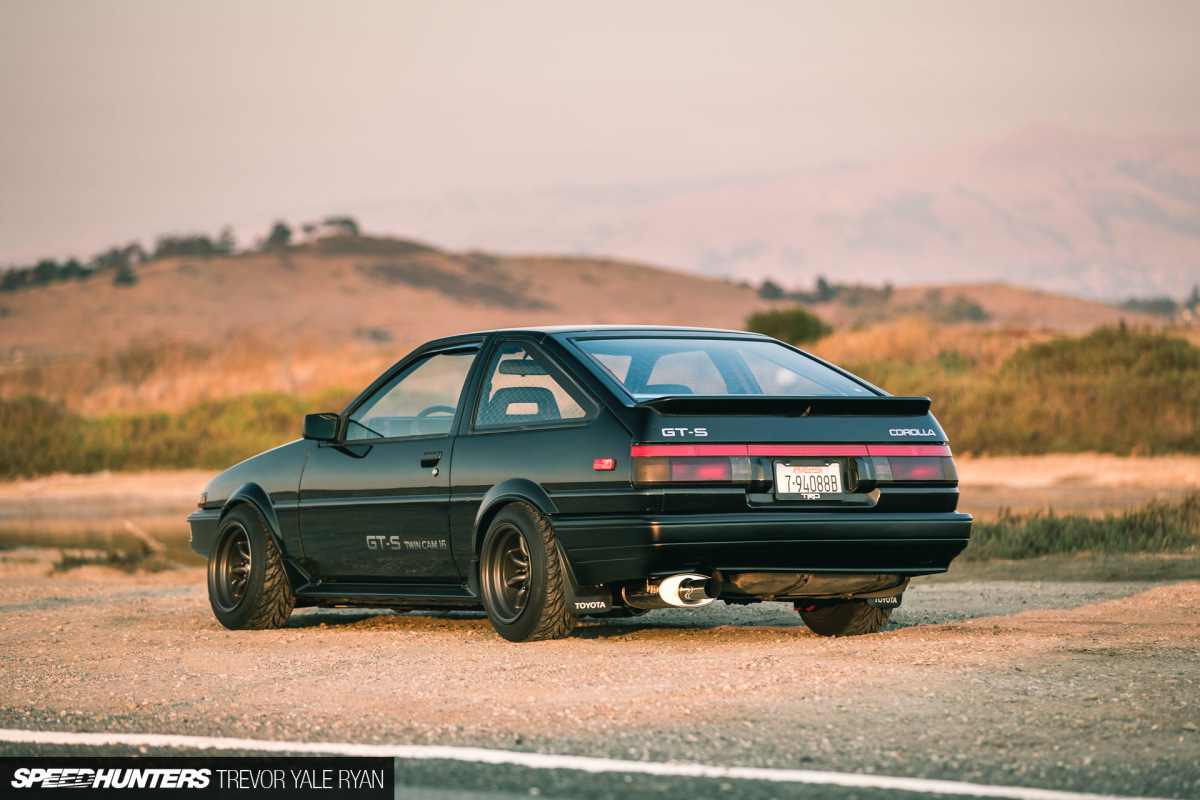 While much of the work that's been done just can't be seen, plenty of it can.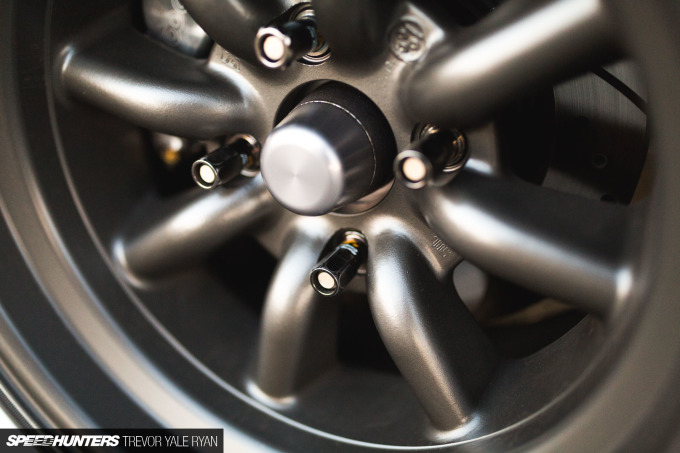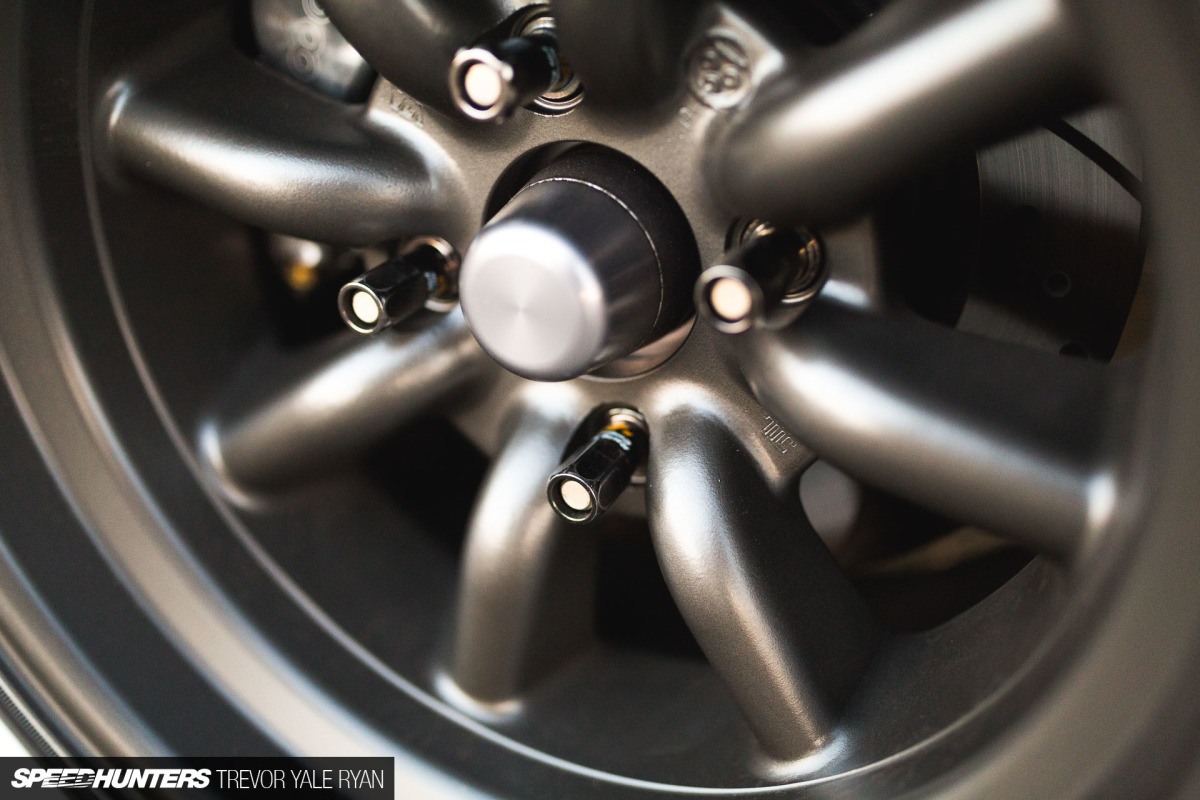 Classic 14-inch RS Watanabe wheels are ultimately attached to Fortune Auto 500 coilovers, which give the car its amazingly tight feel from behind the wheel. With Fortune Auto radial bearings and roll center adjusters, it's not a halfway lowering job, either. Far from it; there's also T3 lower control arms, tension rods, rear sway bar drop mounts, front knuckles, and rear 4-link and panhard bars in the mix.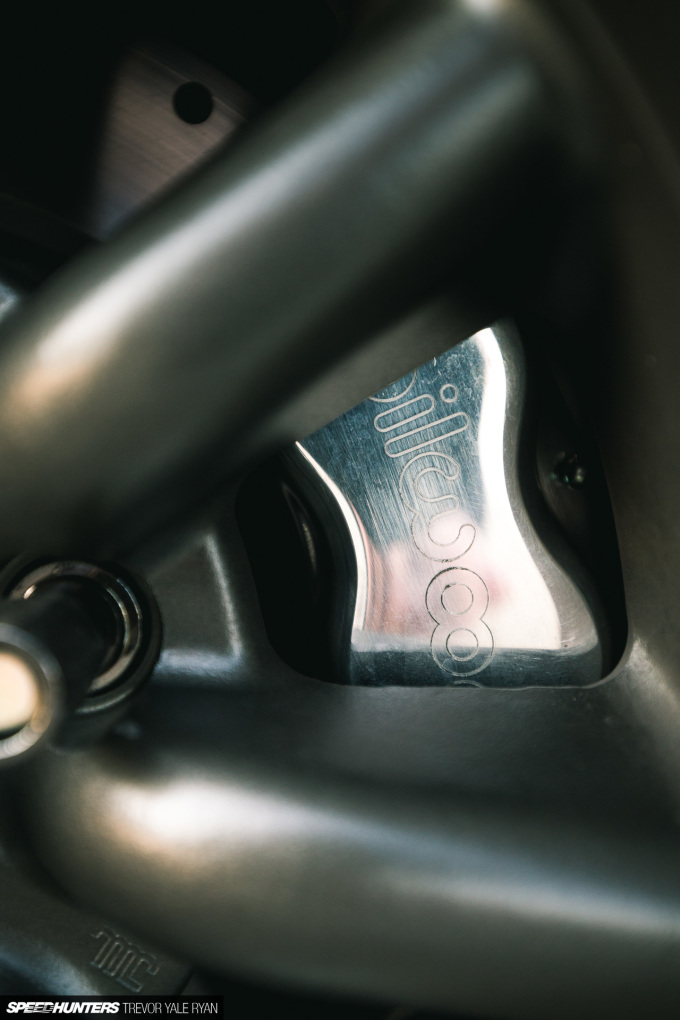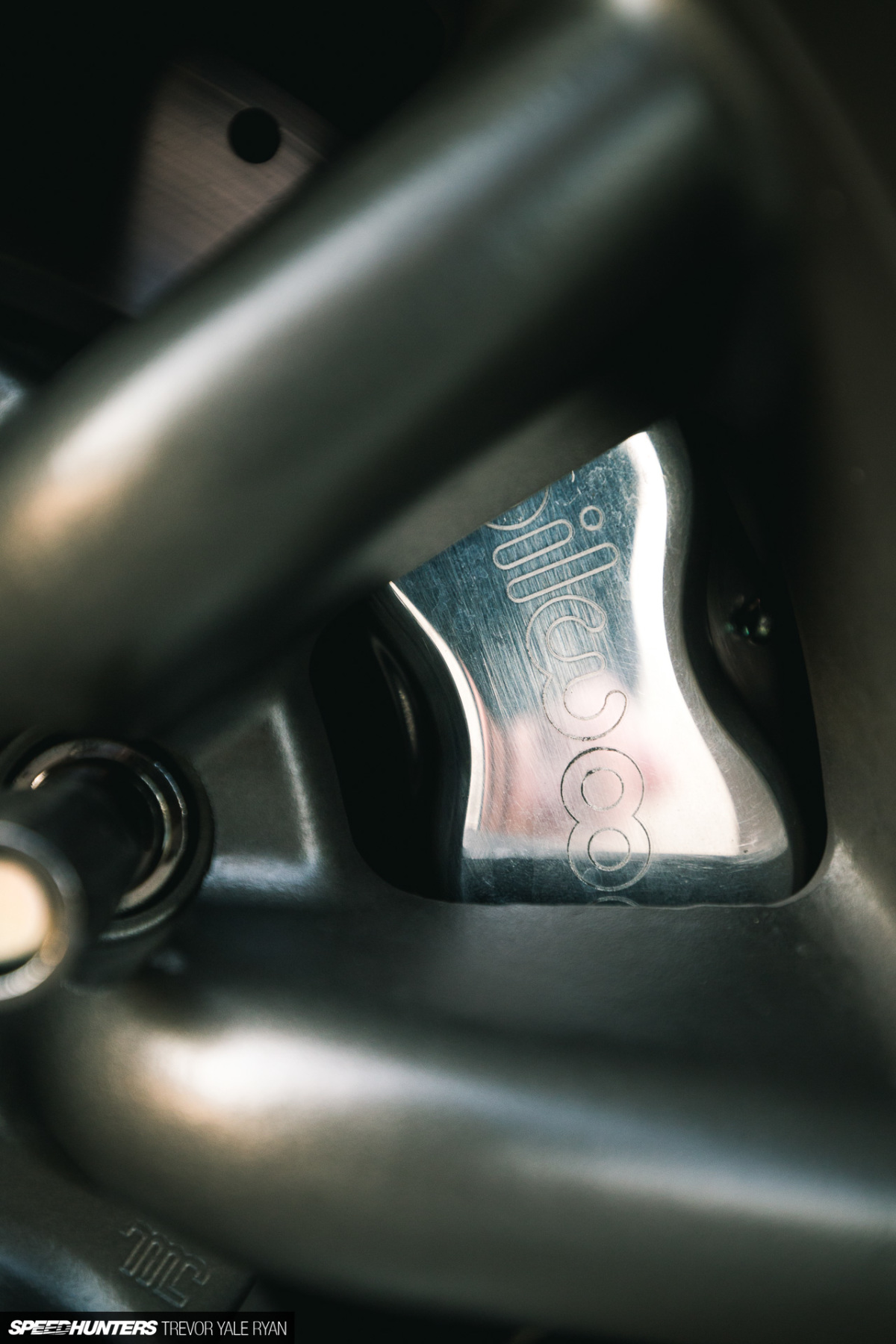 The extra pep from the BEAMS powerplant is more than matched with a Wilwood brake upgrade and stainless braided lines. Further aiding in the handling department are braces all around the chassis.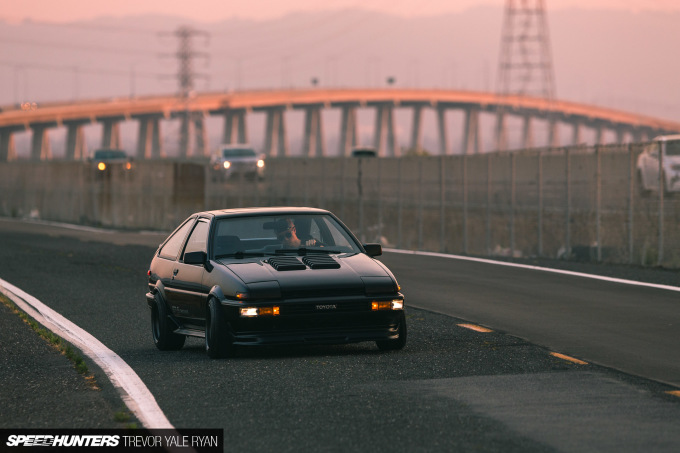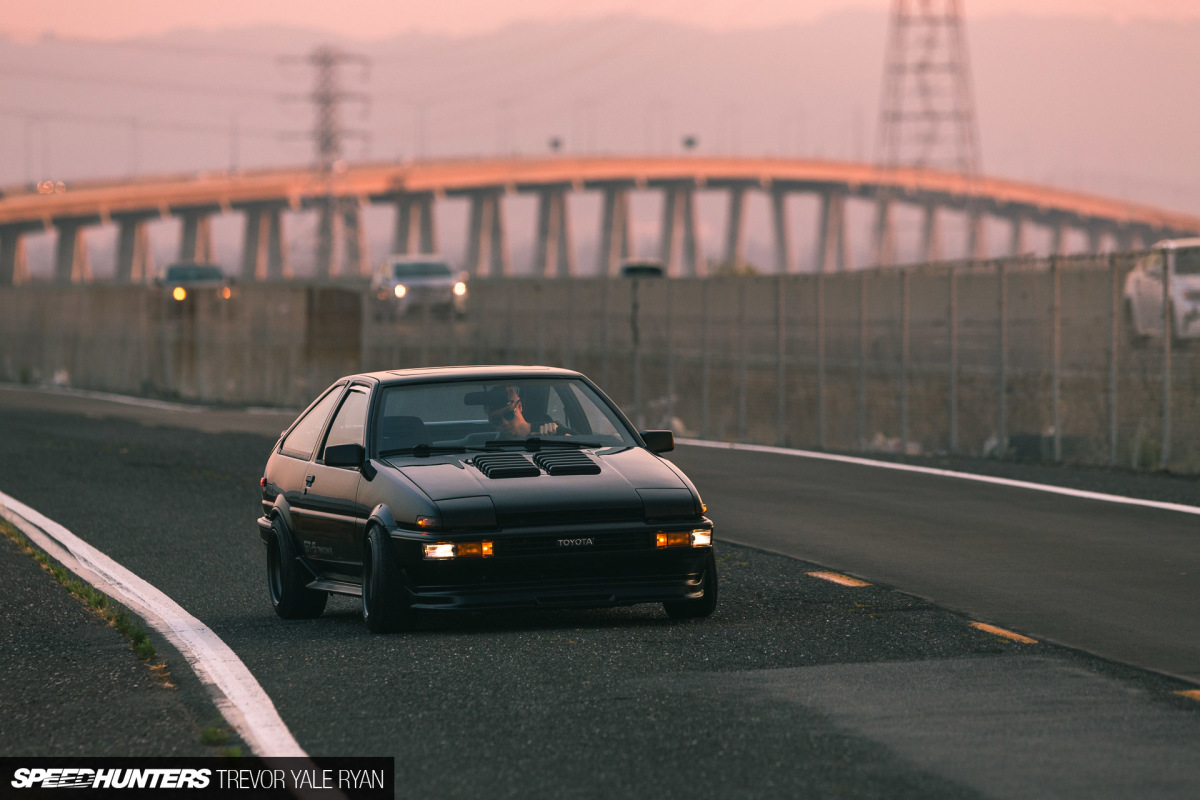 With enhanced and period correct aesthetics to match the car's incredible performance, Eric's GT-S is perhaps the most complete AE86 I've ever seen.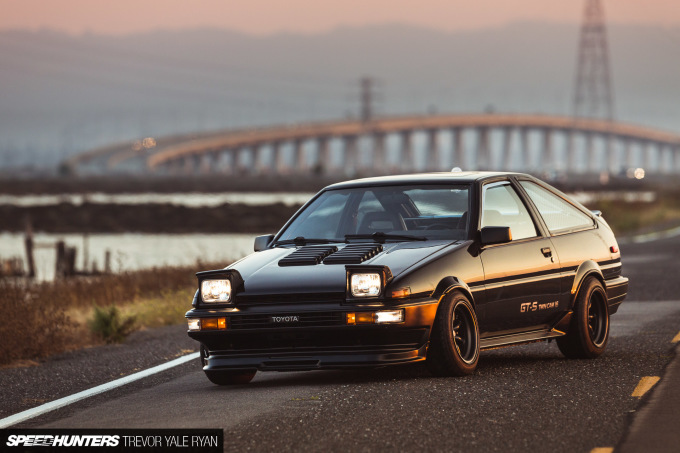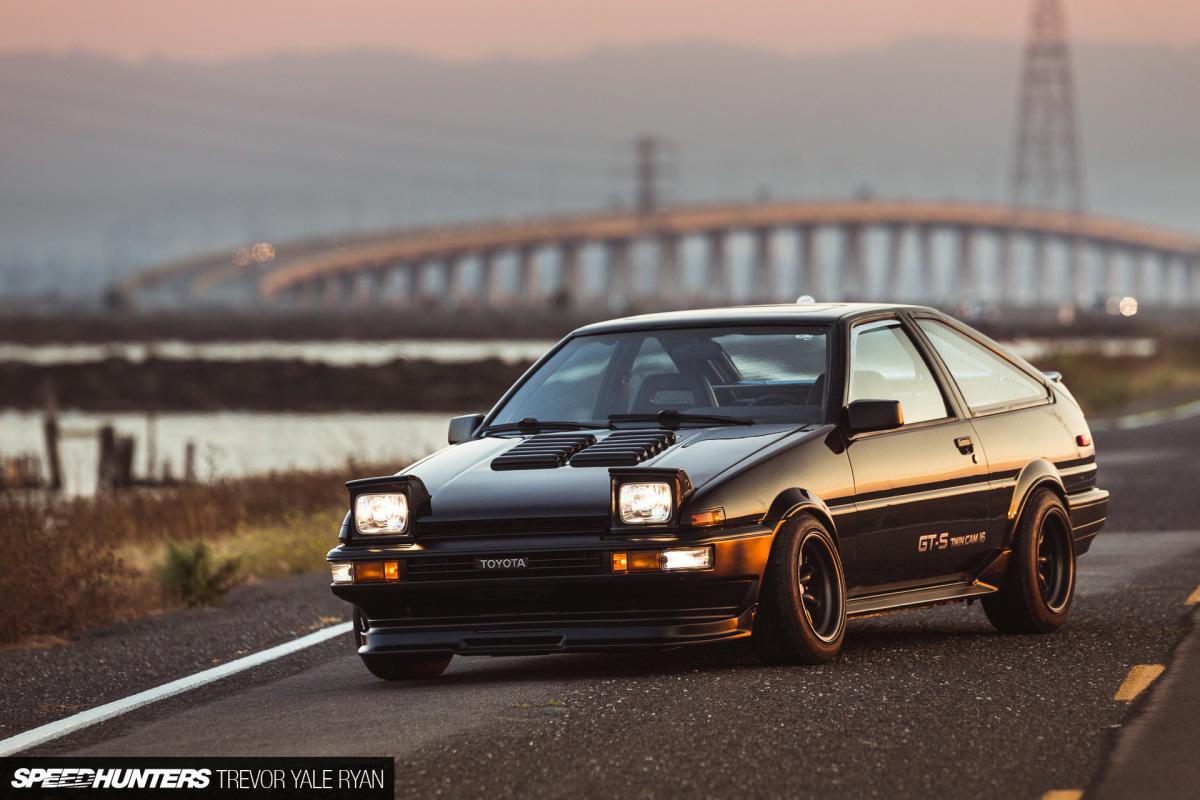 Actually, I can say this with complete confidence. When you add in the pop-ups, it's a bit of an overload.
Nostalgia Never Ends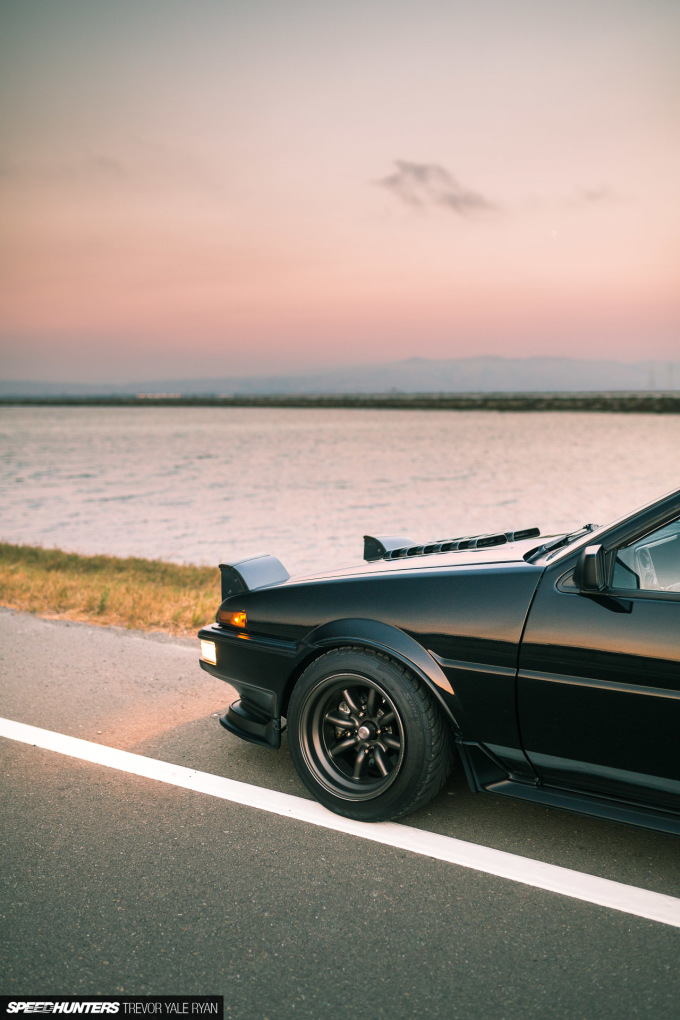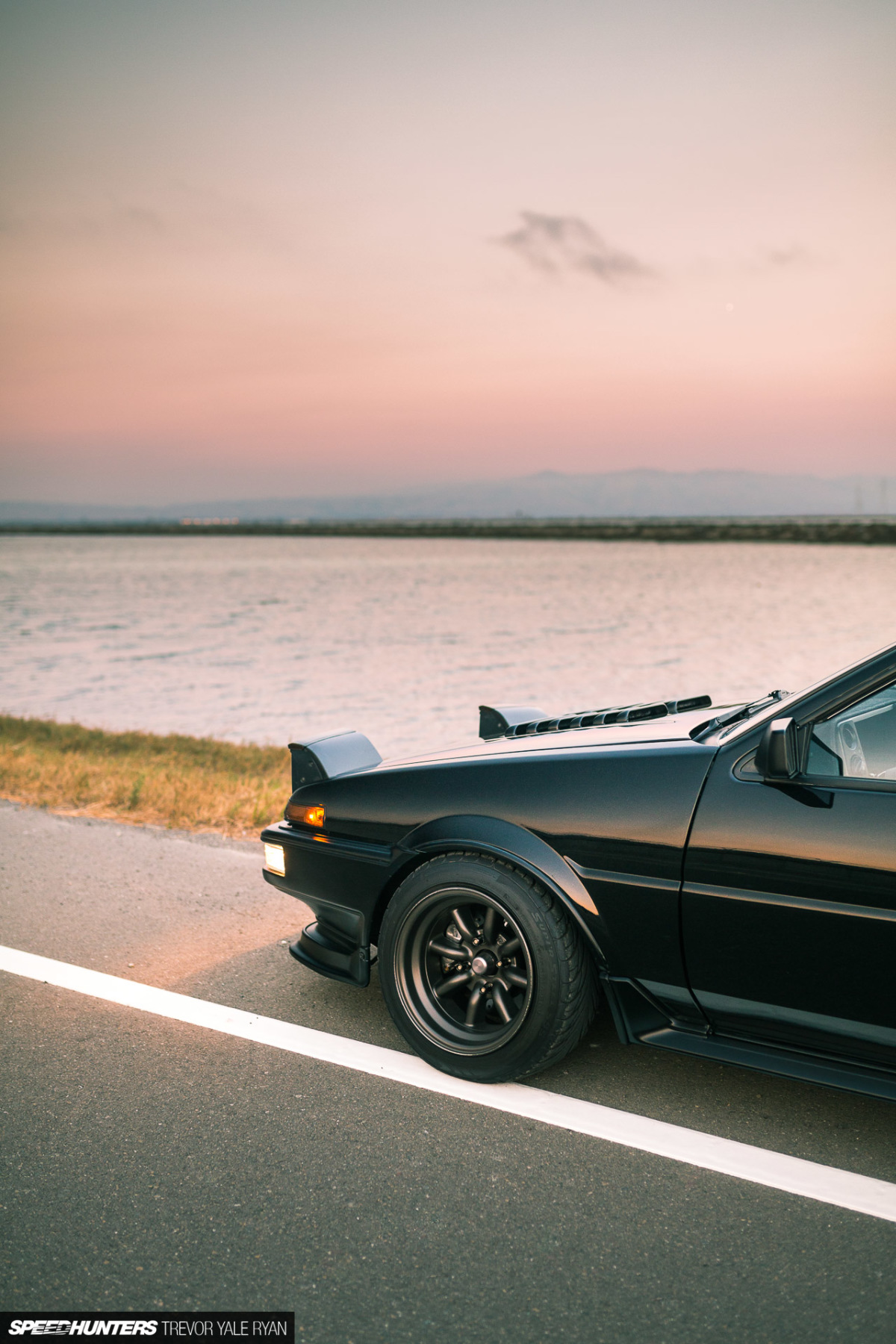 The nostalgia effect of the 86 is undeniable. It's the ultimate cutesy, affordable, boxy, Japanese people carrier of the 1980s.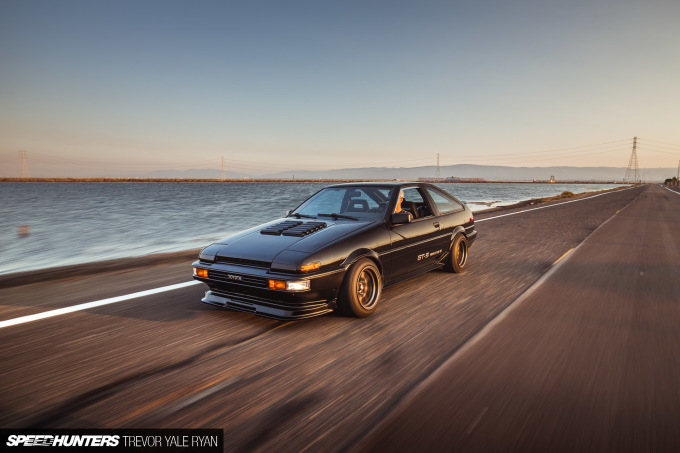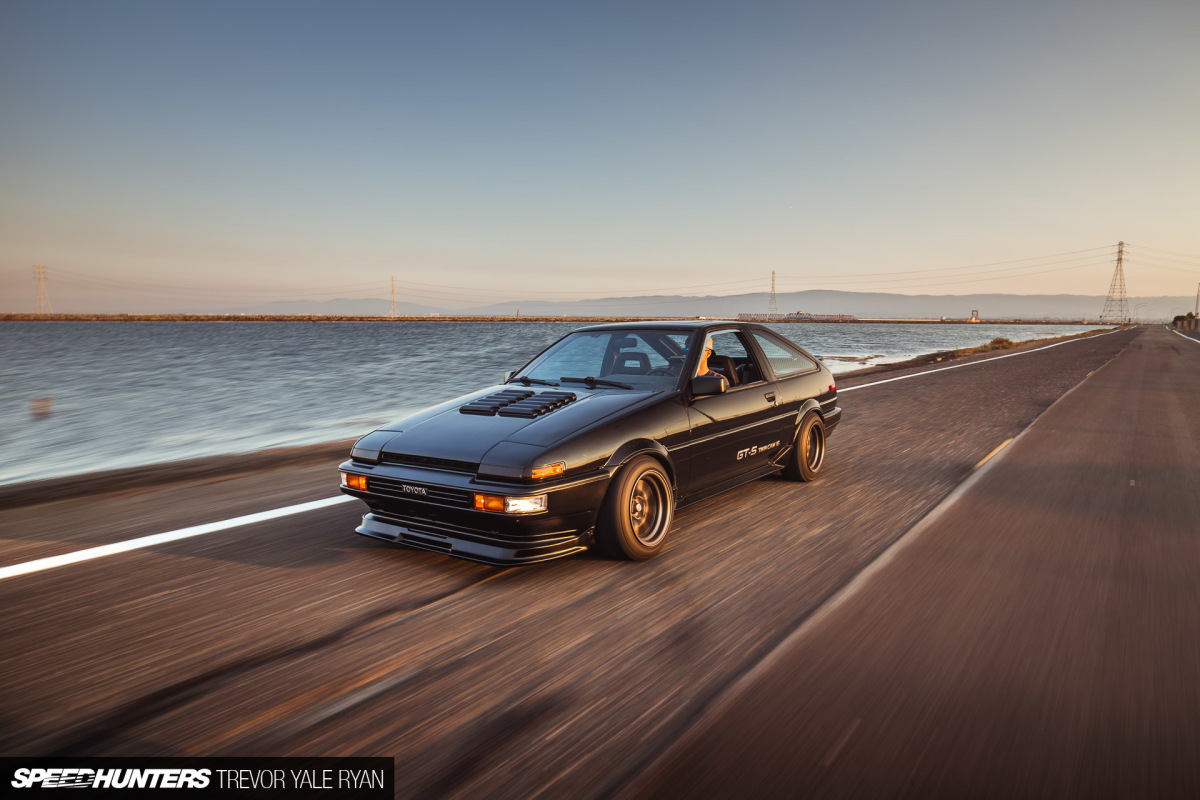 This example in particular, if I dare say, being the ultimate evolution of the most desirable version of the car offered in North America.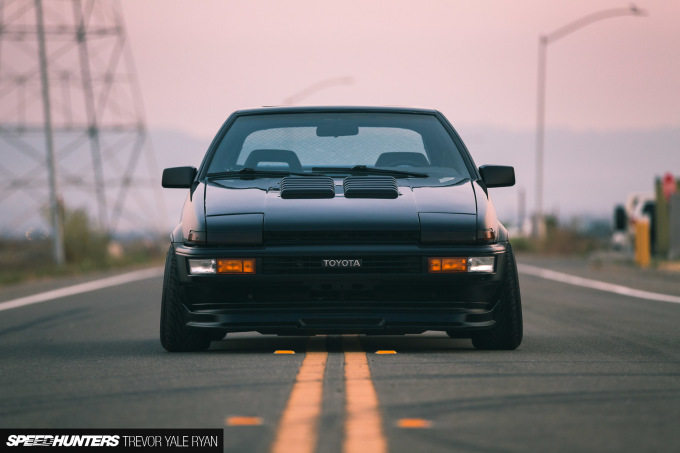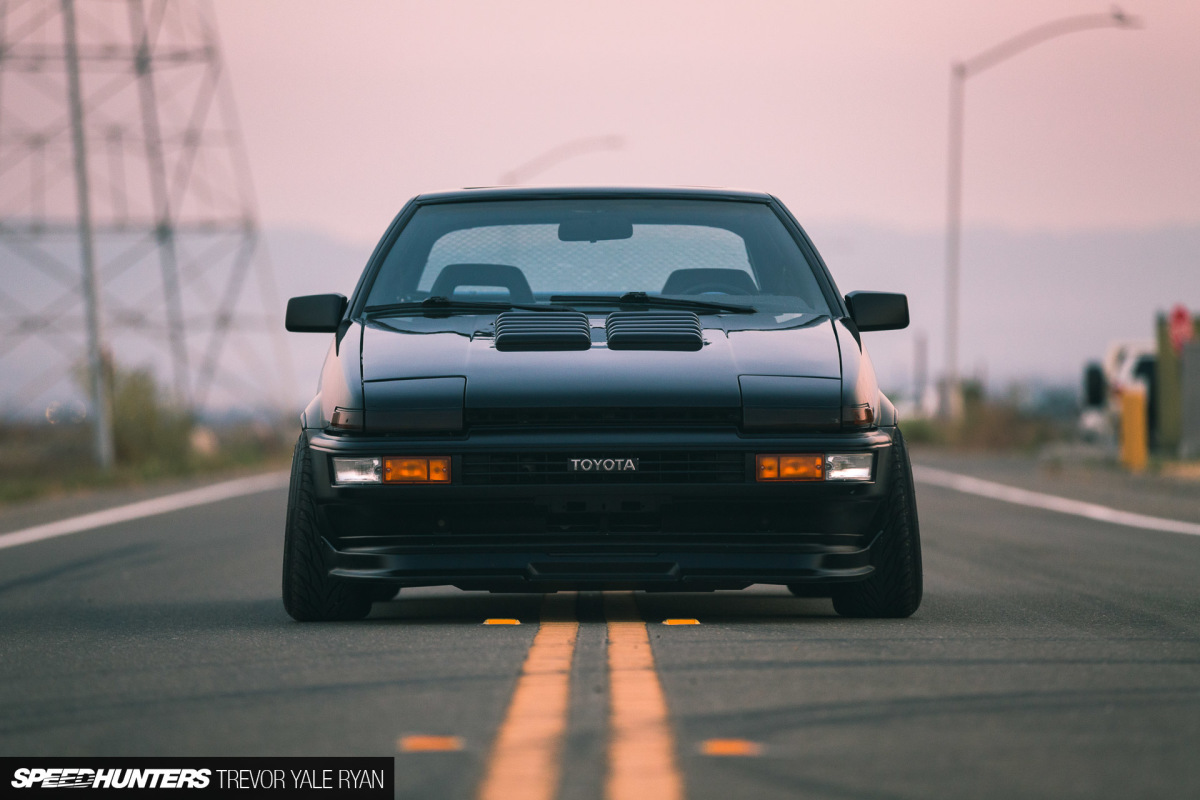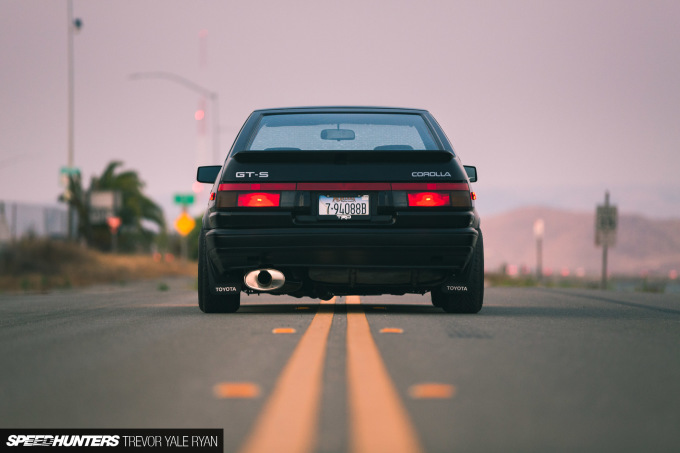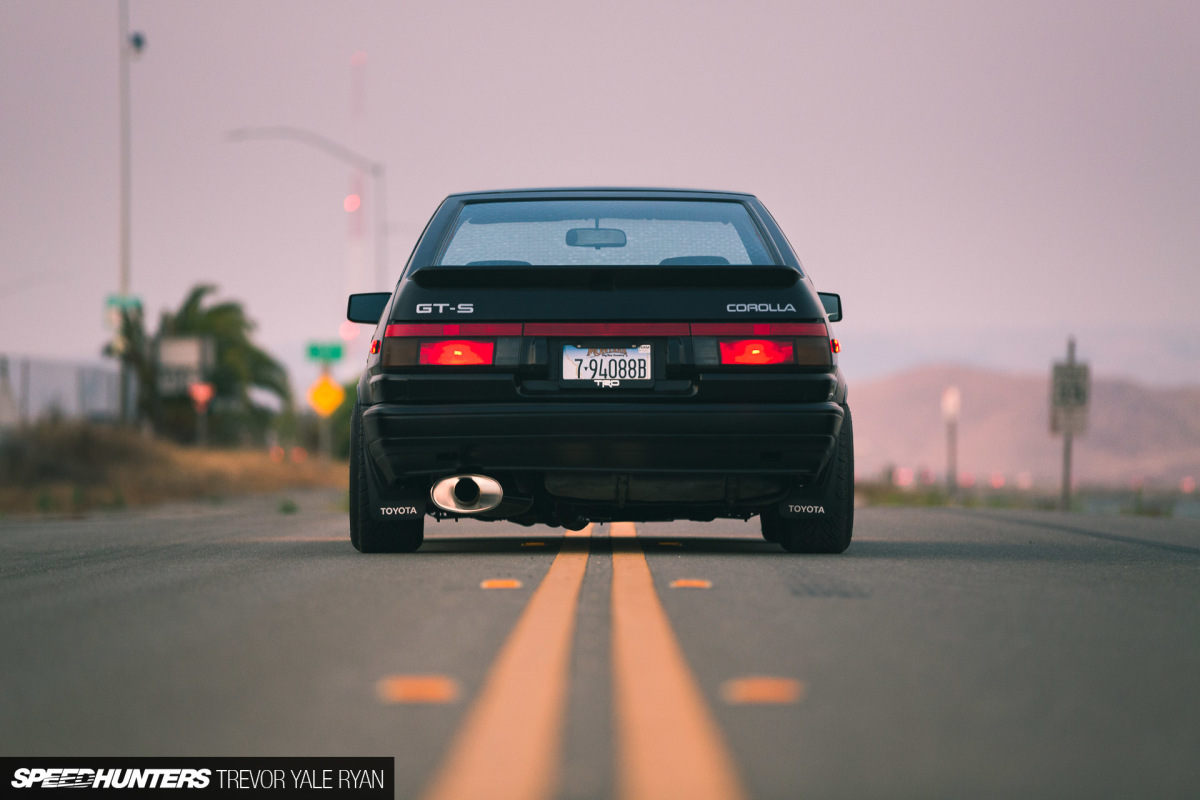 It's a timeless design that will never be properly replaced.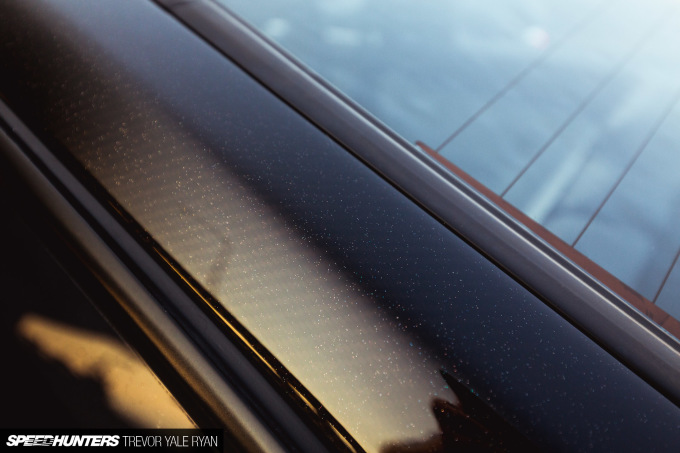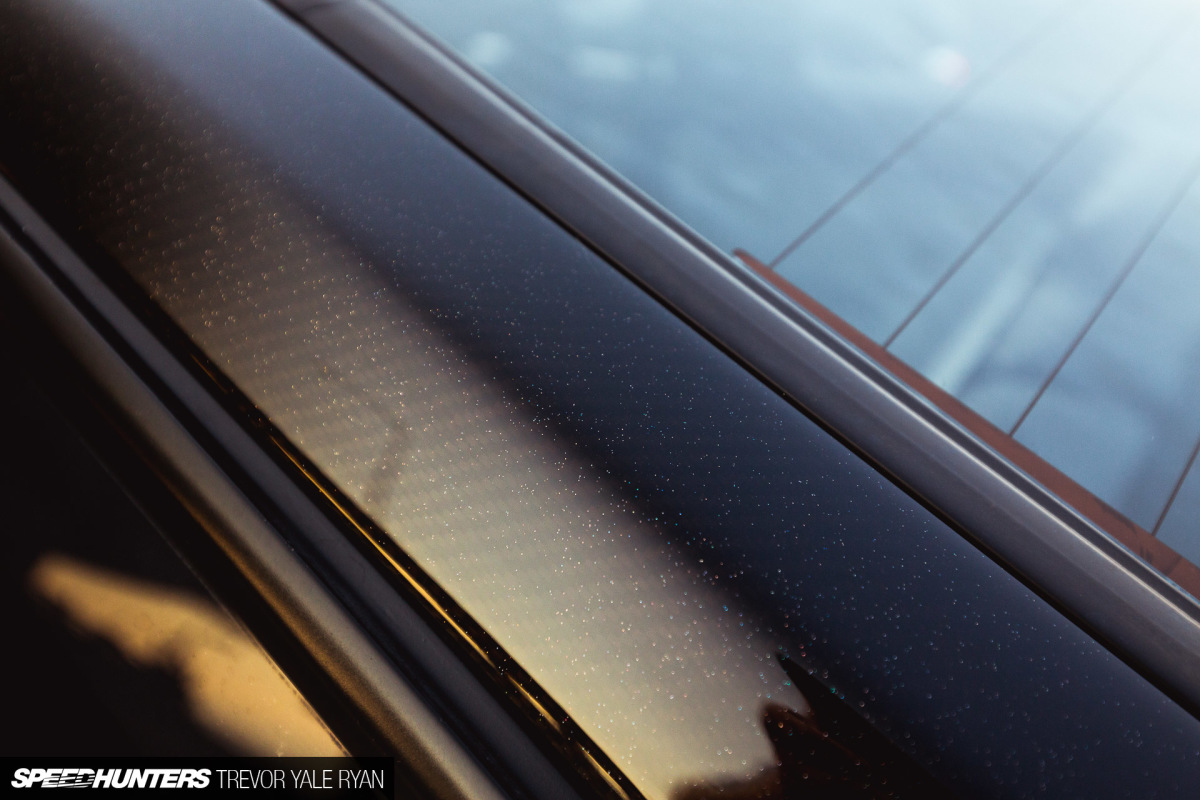 Adding exotic materials and aftermarket parts often crushes the simplistic appeal of these older cars, but by working with an end goal clearly in sight, Eric's struck a balance that feels just right.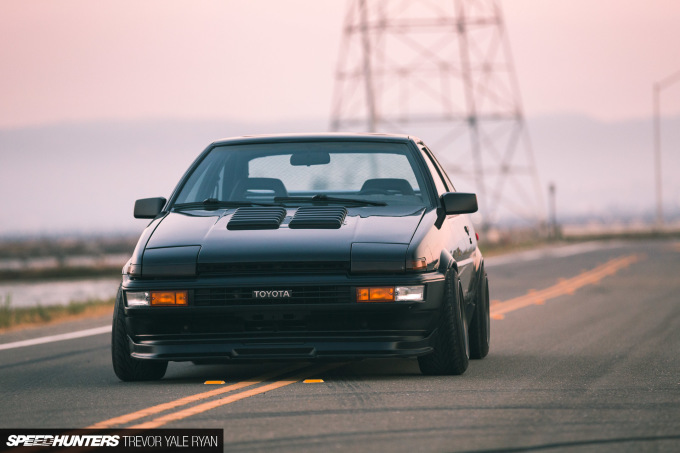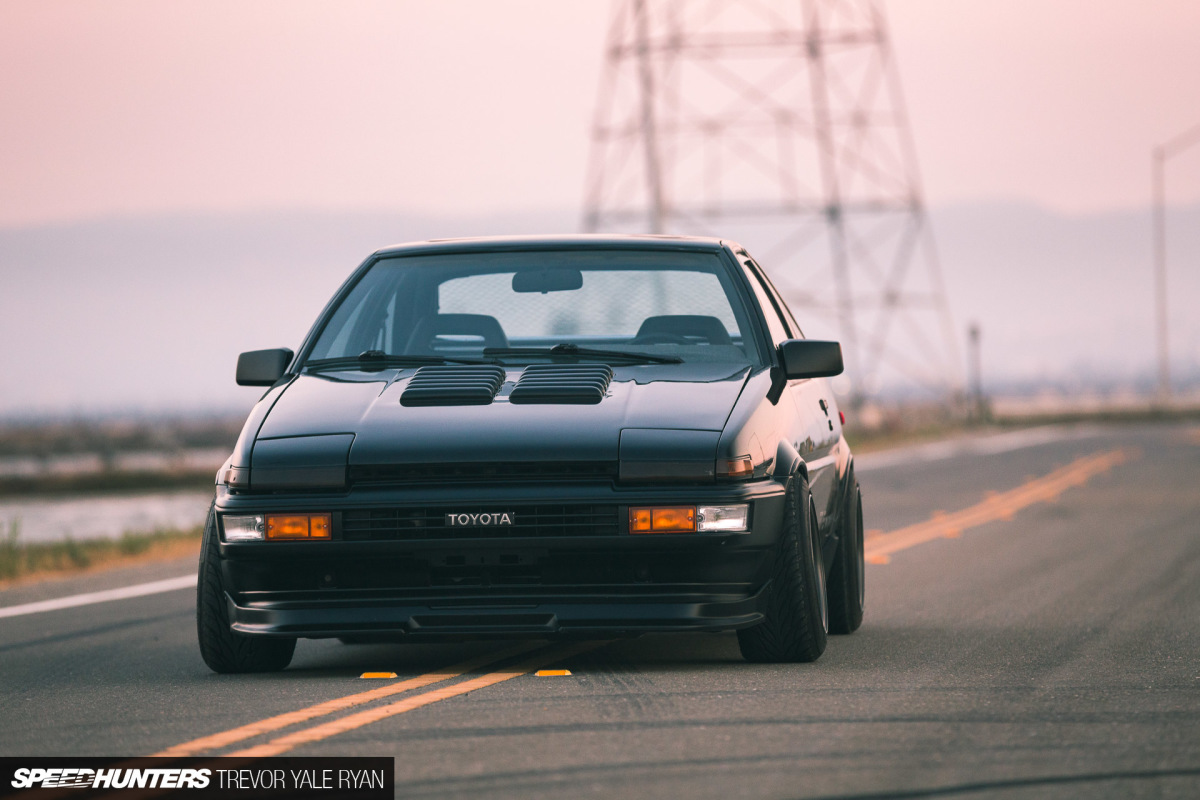 It's the car of the masses that was brushed aside and replaced before we realized how much we loved it. Eric's maintained the essence of the econobox while making it exponentially better.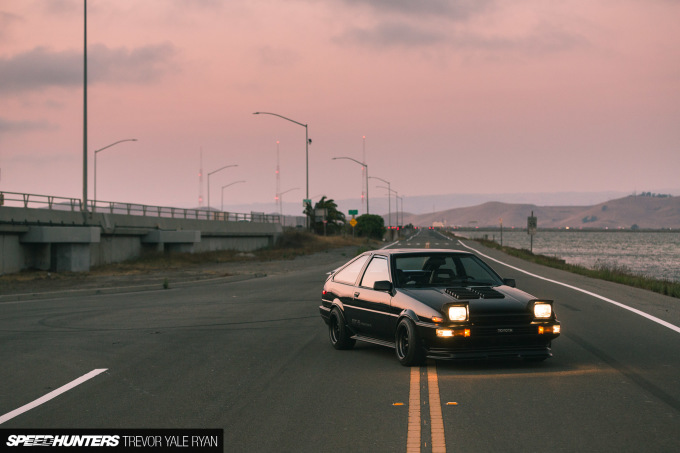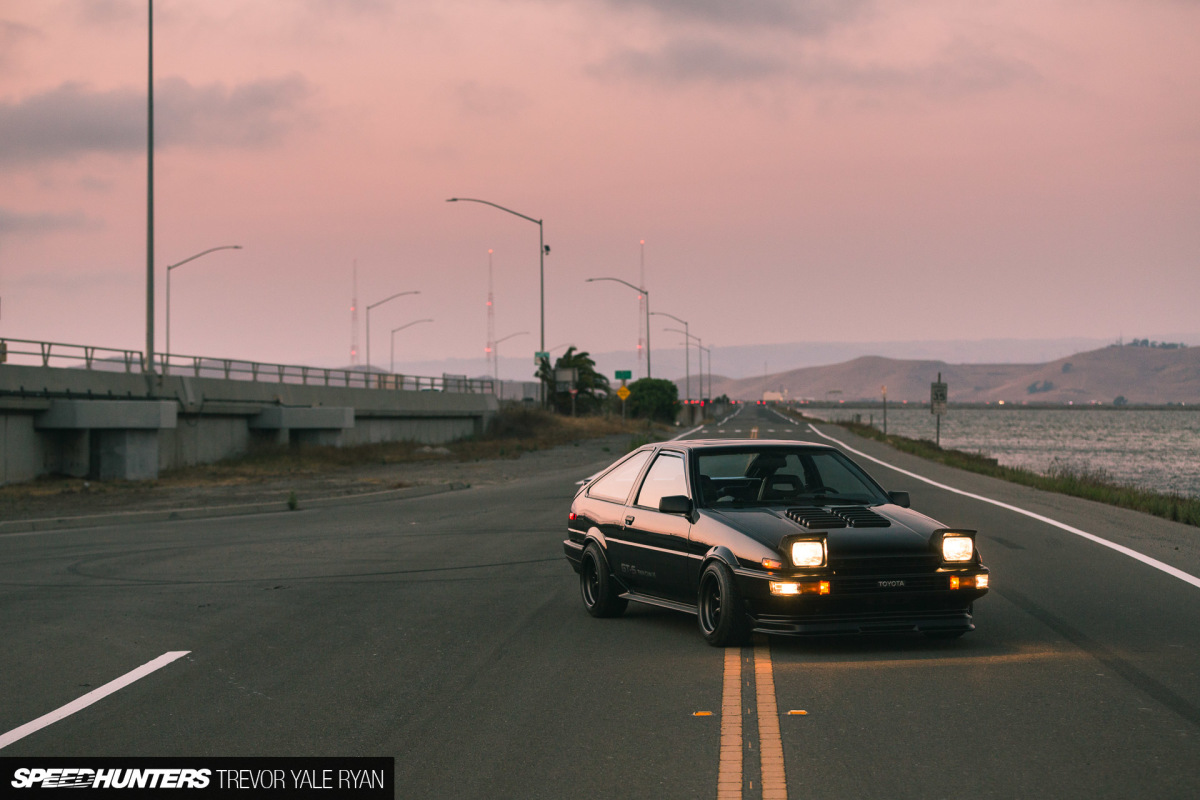 He says he's done building cars for now, but I don't quite believe him; I know Eric will feel the itch again soon. But, perhaps even more importantly, will selling this car come back to haunt him? It's the sort of thing you don't build twice.
A truly special Corolla created by an artist for no one in particular; instead built just to satisfy an unquenchable thirst. Wherever the car is now, I hope the downhill is treating it well.
Trevor Yale Ryan
Instagram: tyrphoto
TYRphoto.com
86 Photos I Say