Finding cars to spotlight at Gatebil Rudskogen is easy in one sense, and tricky in another.
On one hand you have lots to choose from, as there's just so much bonkers stuff on and off track all weekend. On the other, there's lots to choose from, and you don't have time to tick them all off. Also, Speedhunters has been very prominent at the event for a number of years, so finding the cars that we haven't already featured sometimes gets tricky. Plus there's the desire to bring you variety – it can't all be mega horsepower Audis, or mad turbocharged Volvos. With that goal in mind, I spotted this very cool Toyota Carina on the go-kart track section of the circuit, and thought it perfect to tick the 'variety' box.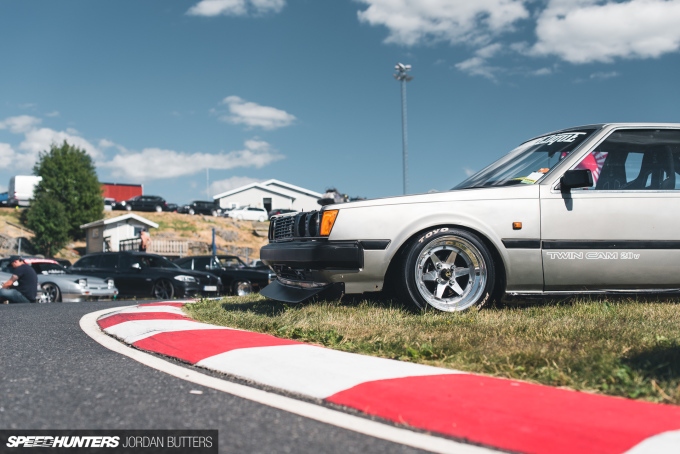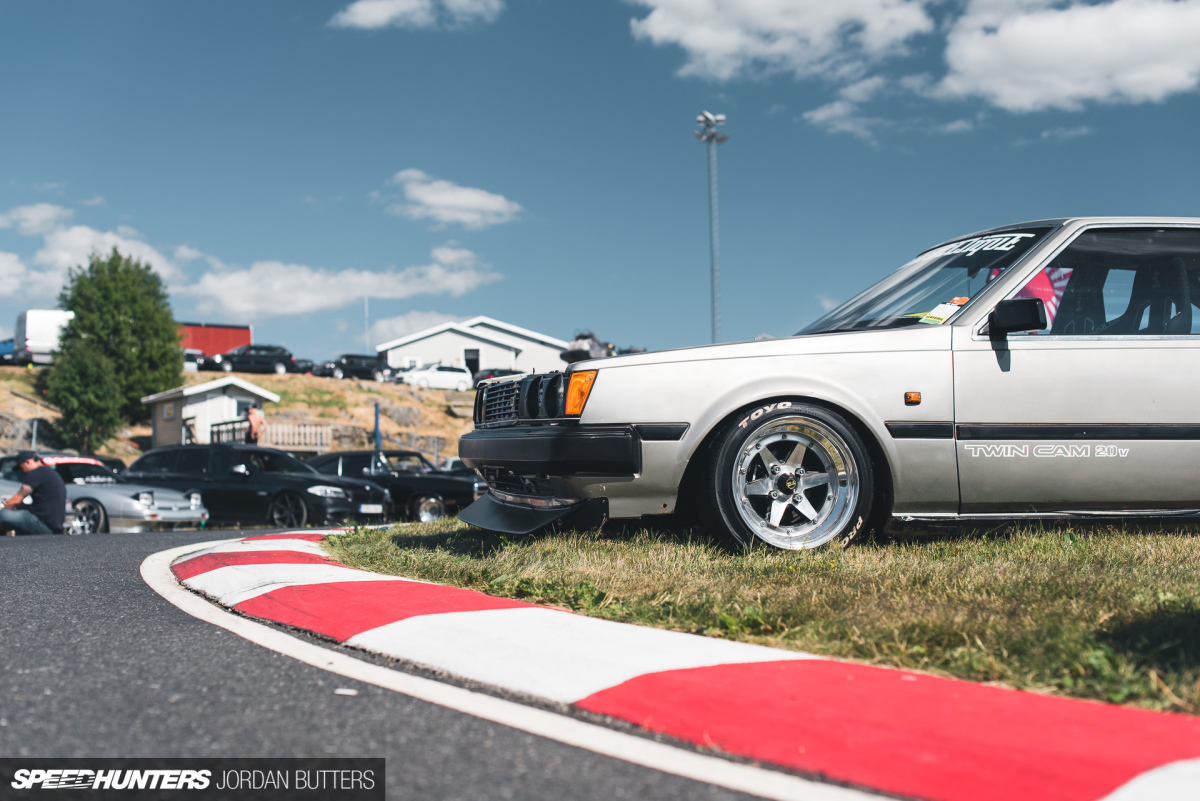 The story of this simple but charming Carina is probably a familiar one to you – Simen's project started in 2014 after he purchased the car from a dealer near his home town. After cutting the springs and buying some cool JDM wheels, he had fun driving it. Then he decided to improve upon what he'd started – BC coilovers designed for an AE86 followed and, after time passed, he had saved up enough to purchase and rebuild a 4AGE Blacktop, as found in the AE111 Corolla and newer 1996-on Carina in Japan.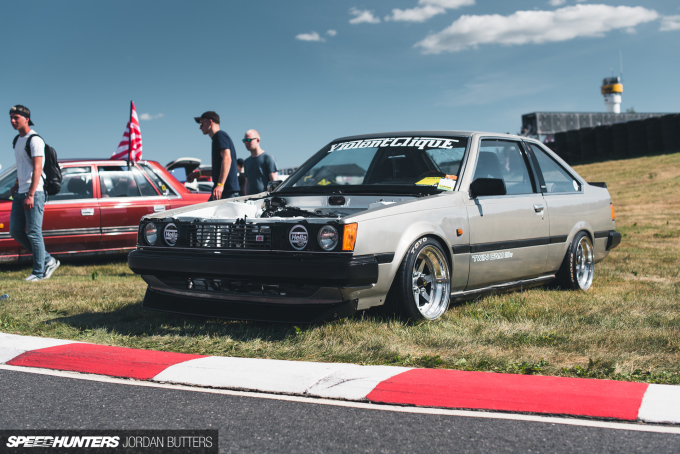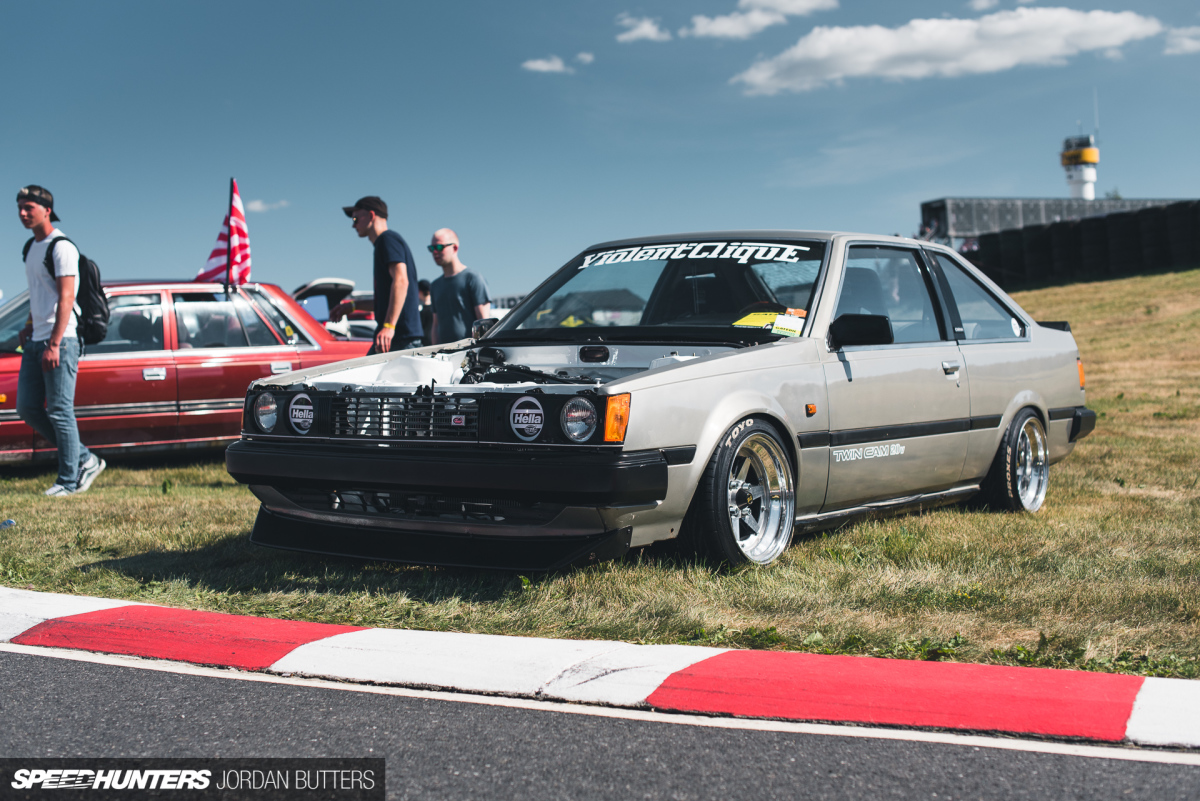 Before the engine went in, Simen rebuilt it with new gaskets and bearings. He also had to figure out how to make the front-wheel drive motor work with the Carina's rear-wheel drive configuration. He rebuilt the cooling system using a Battlegarage conversion, and converted to direct ignition using a Tweak'd kit, before using AE86 engine mounts and mating it to an AE86 gearbox.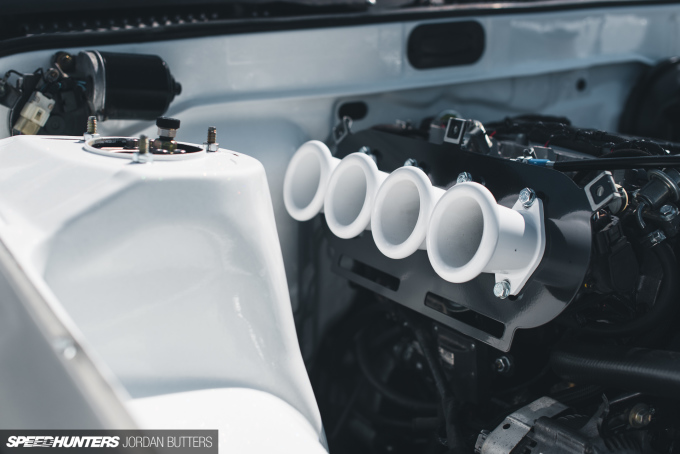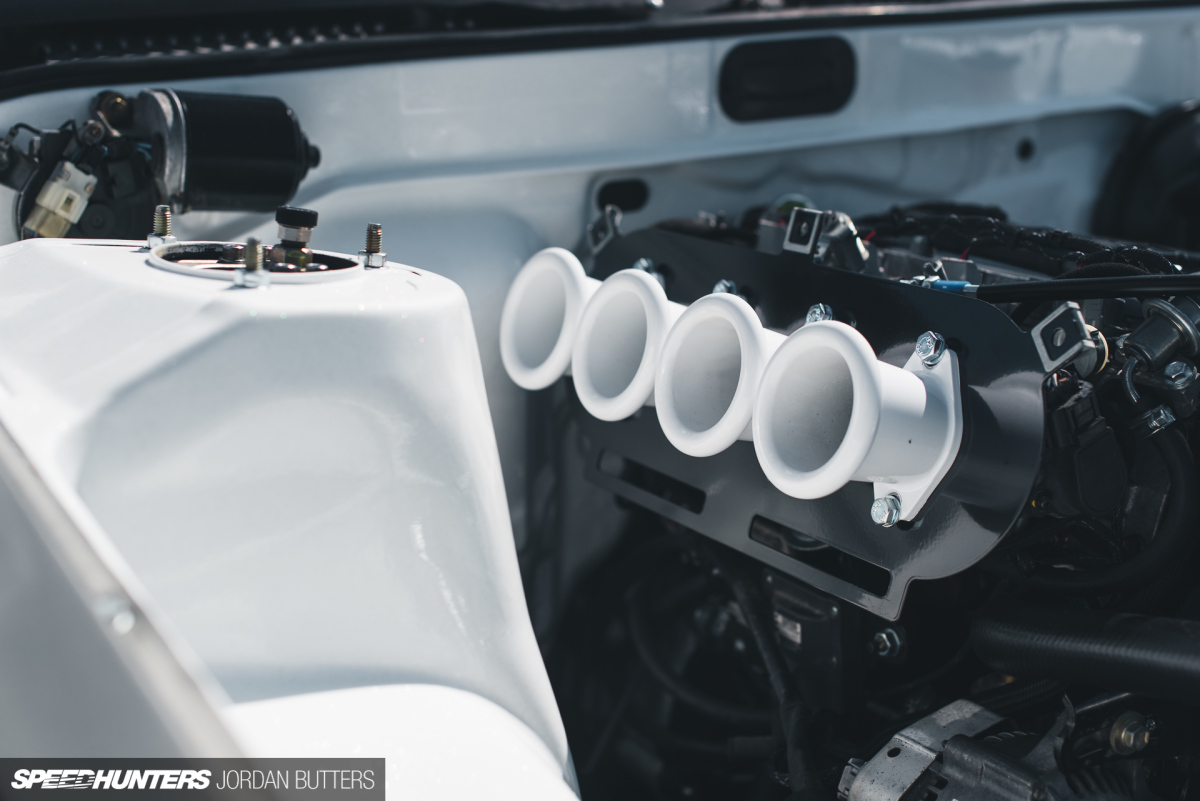 Next up were a set of borderline pornographic Techno Toy Tuning 75mm velocity stacks and adaptor plate, powder coated contrasting white-on-black. One thing led to another and a serious case of 'while I'm doing that, I may as well do this' set in. With the bay empty, he set about cleaning and overhauling the space, smoothing any unneeded holes and opting for a coat of Toyota 040 White with rainbow flakes for that extra sparkle.
A modified AE86 exhaust manifold handles business across the other side of the block, transferring exhaust gases into a custom 2.5-inch system, ending in a Simons rear box.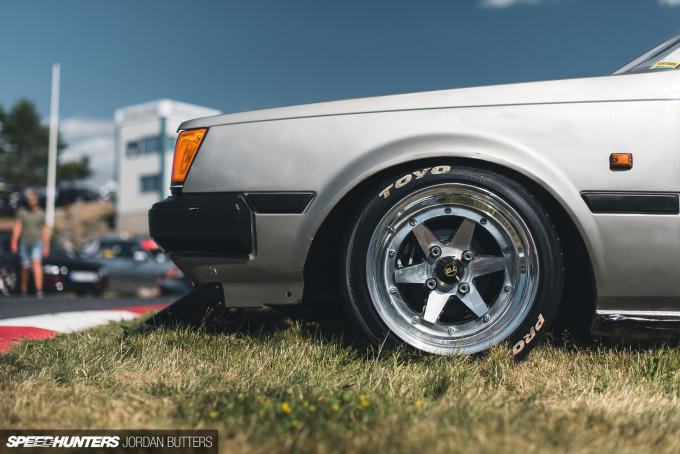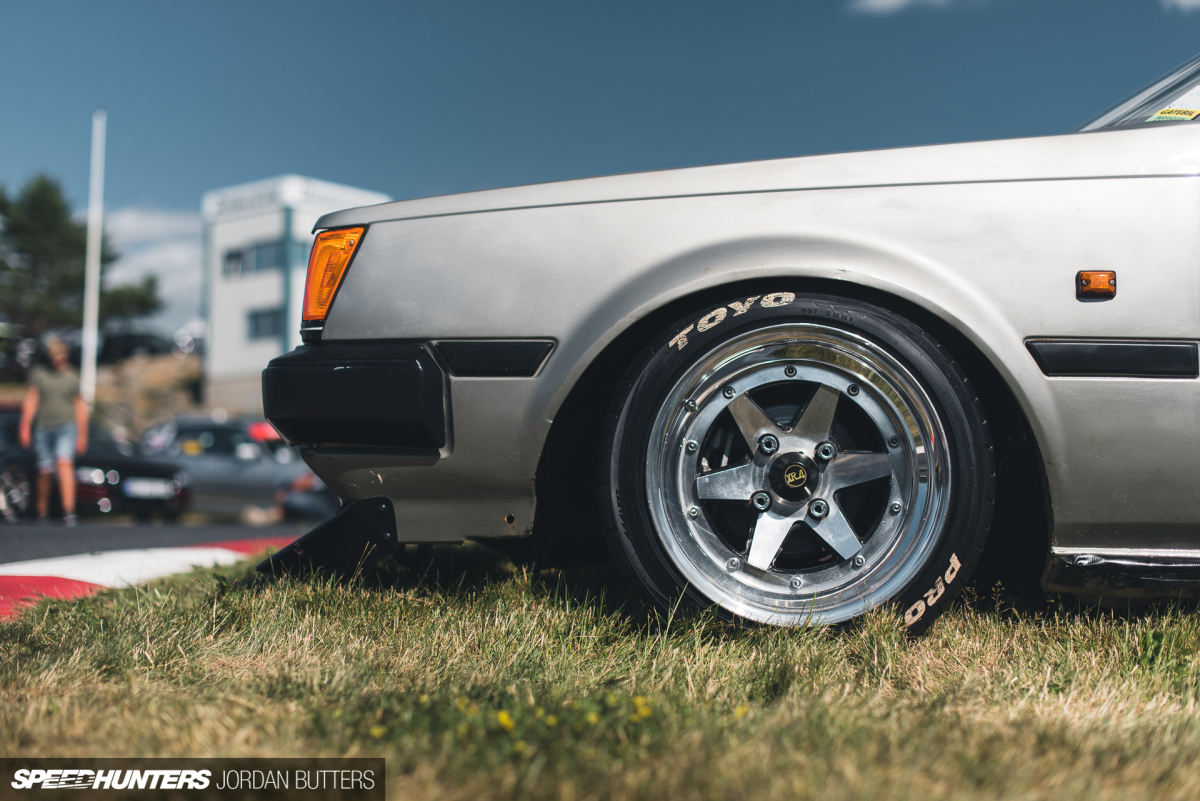 The wheels are SSR Longchamps XR4, measuring 15×8-inch ET-8 front and 15×9-inch ET-15 rear. A host of AE86-specific components underneath ensure that the handling is kept sweet.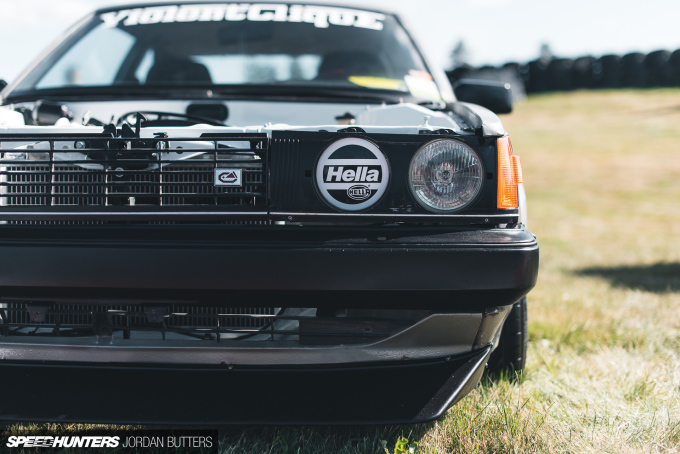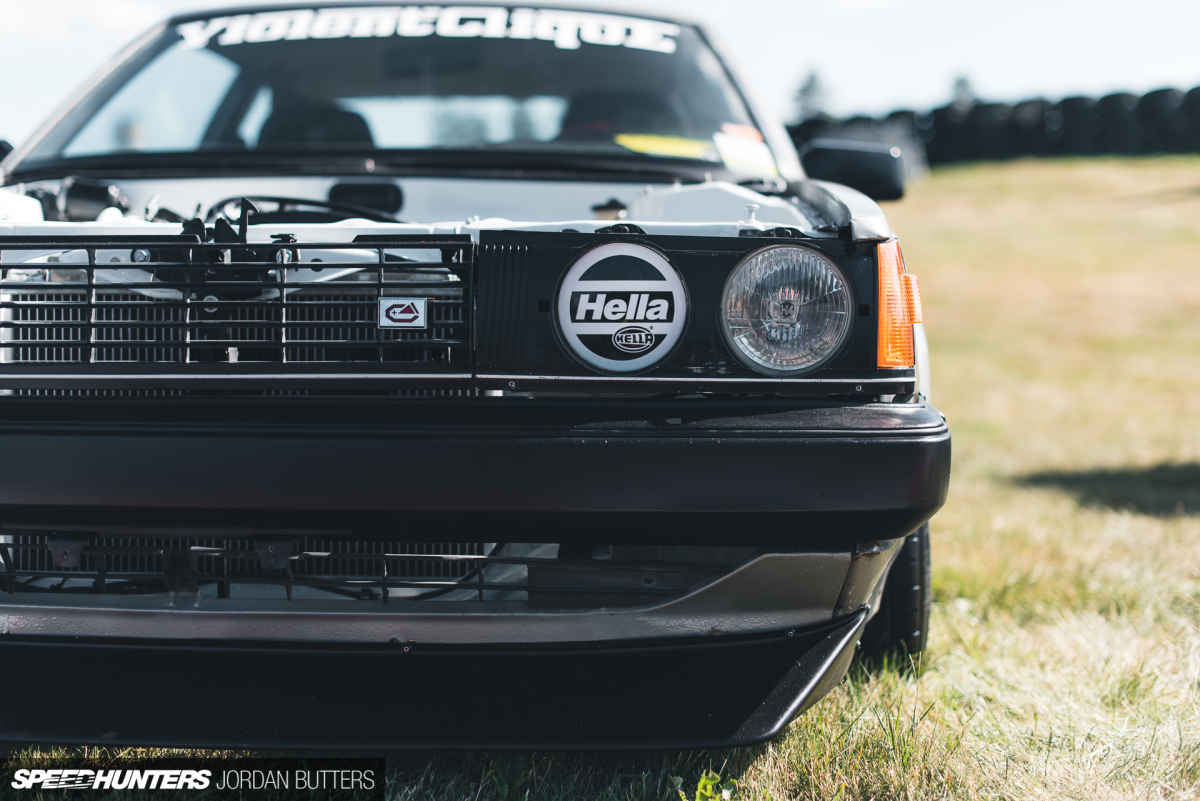 One thing I love about the retro Toyota world is the interchangeability of parts between models, and the geekery that comes with that. Only a true Toyota nerd would spot – and correctly identify – that the front end is from a KA67 Carina Wagon, and doesn't belong on this coupe model.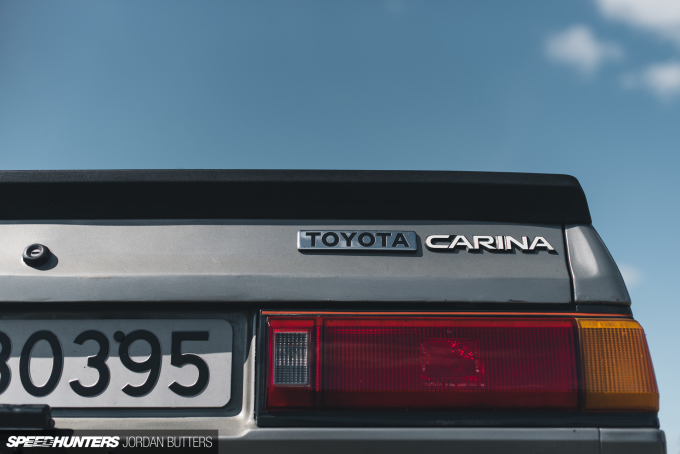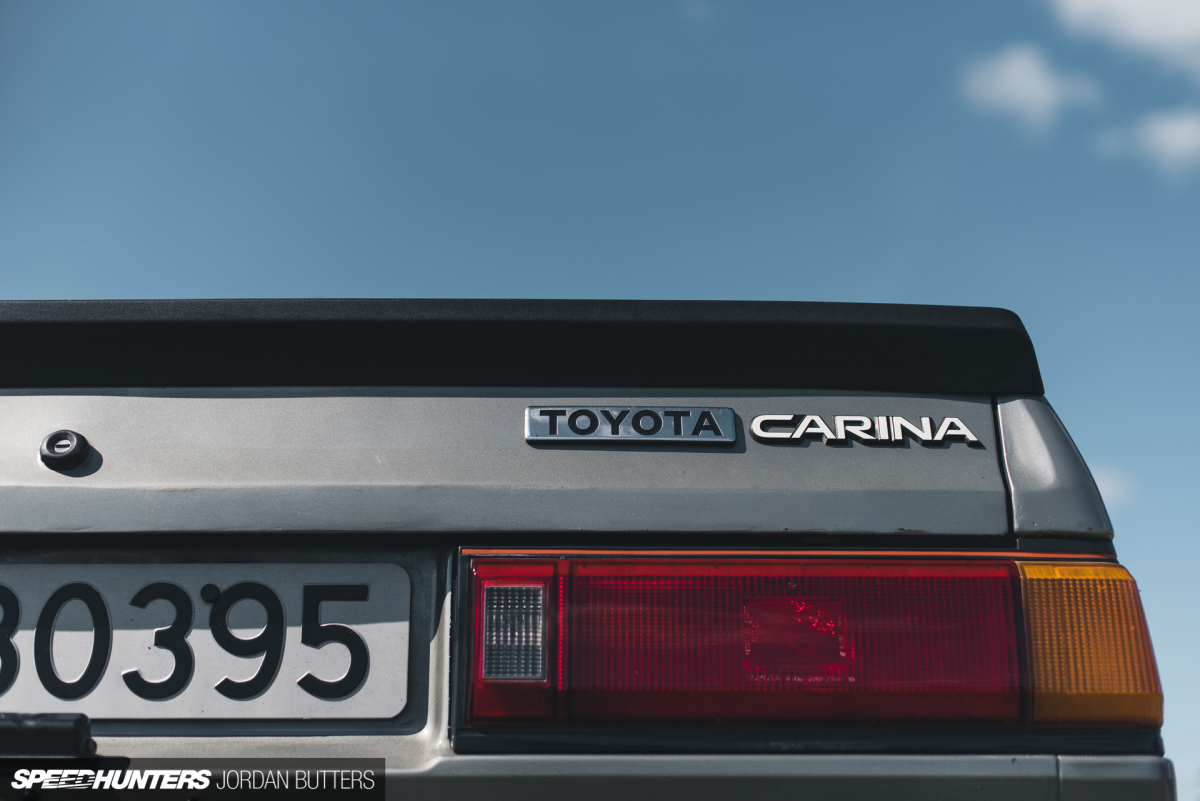 Or that the rear lights are from a Carina GT-R AA63, and the front lip is from a Cressida, only modified to fit the smaller chassis. Other small touches, like the Hella lamp covers and rare Foha Austria rear spoiler add to this Carina's very cool aesthetic.
Simen tells me that he's got lots more planned, such as a full cage, better brakes, a rear axle conversion and new paint, but for now he's enjoying thrashing around in this fun little Toyota. With around 165hp and similar torque on tap, it looks like it would be super fun to drive.
And it's pretty damn cool and stylish to boot. Very much approved.
Jordan Butters
Instagram: jordanbutters
jordan@speedhunters.com