The Experience
The ultimate driving machine, paired with the character and charisma of a classic car. There's nothing quite like driving an old school BMW.
When I stopped by KoogleWerks last month I was too busy poking around the shop space to really give you a decent look at the duo that tackled the backroads. I don't think I could have found a better way to spend a lazy Sunday afternoon than cruising with this '71 1600 and '72 2002 pairing.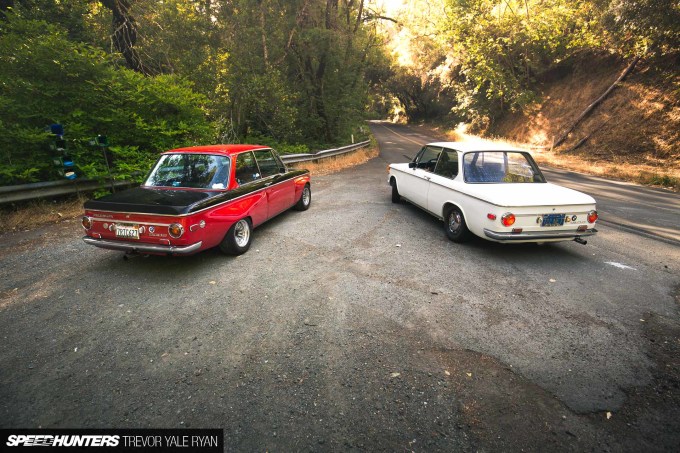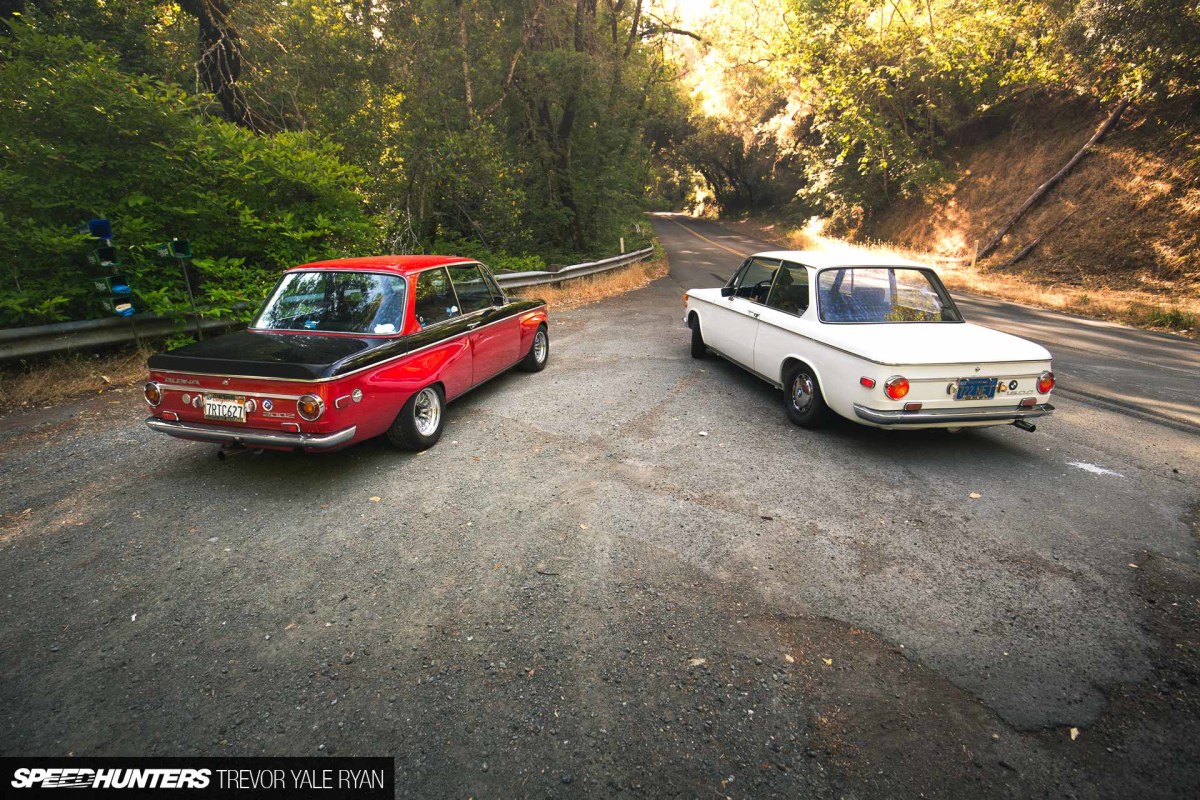 Our route, if you're local and wondering, took us from St. Helena Skate Park and north over Mount hood via St. Helena Road and on to Calistoga Road.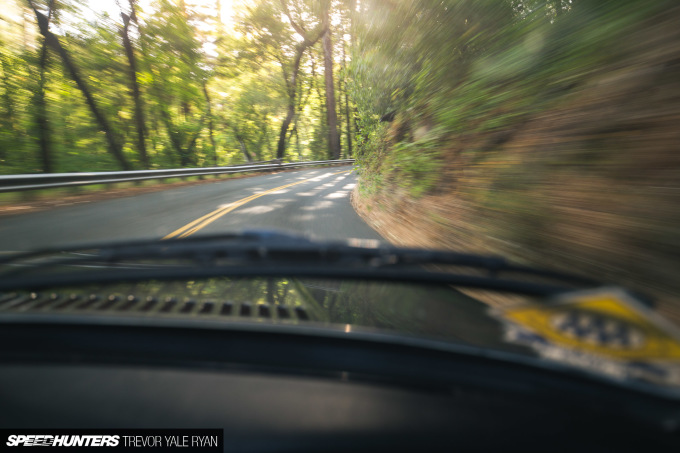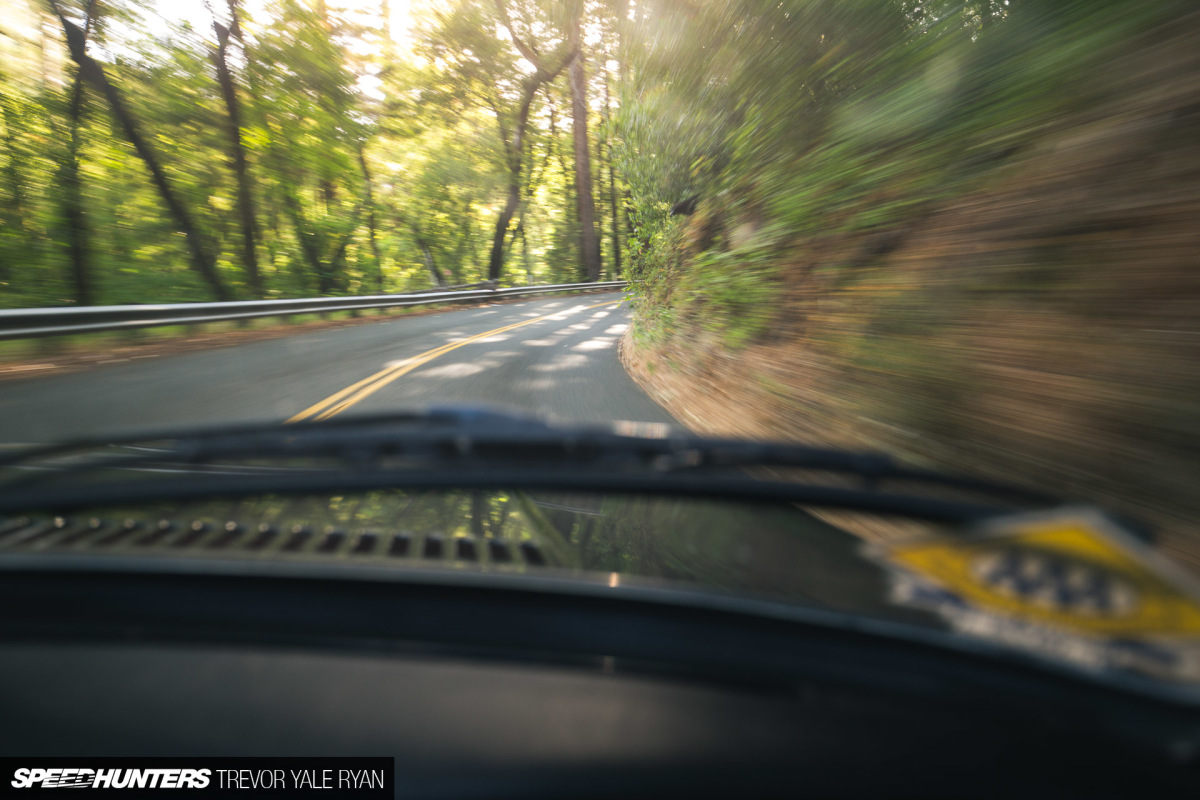 These tight, winding passes offer an excellent drive; one moment you're in the shade of a dense forest and the next you get a blast of sunshine along with an incredible view of Sonoma Valley.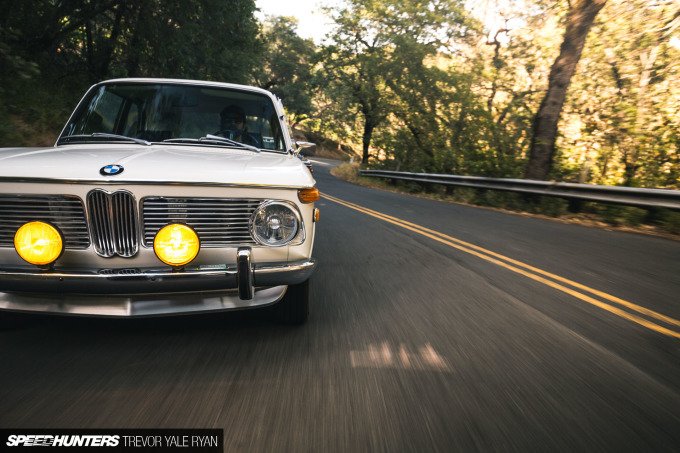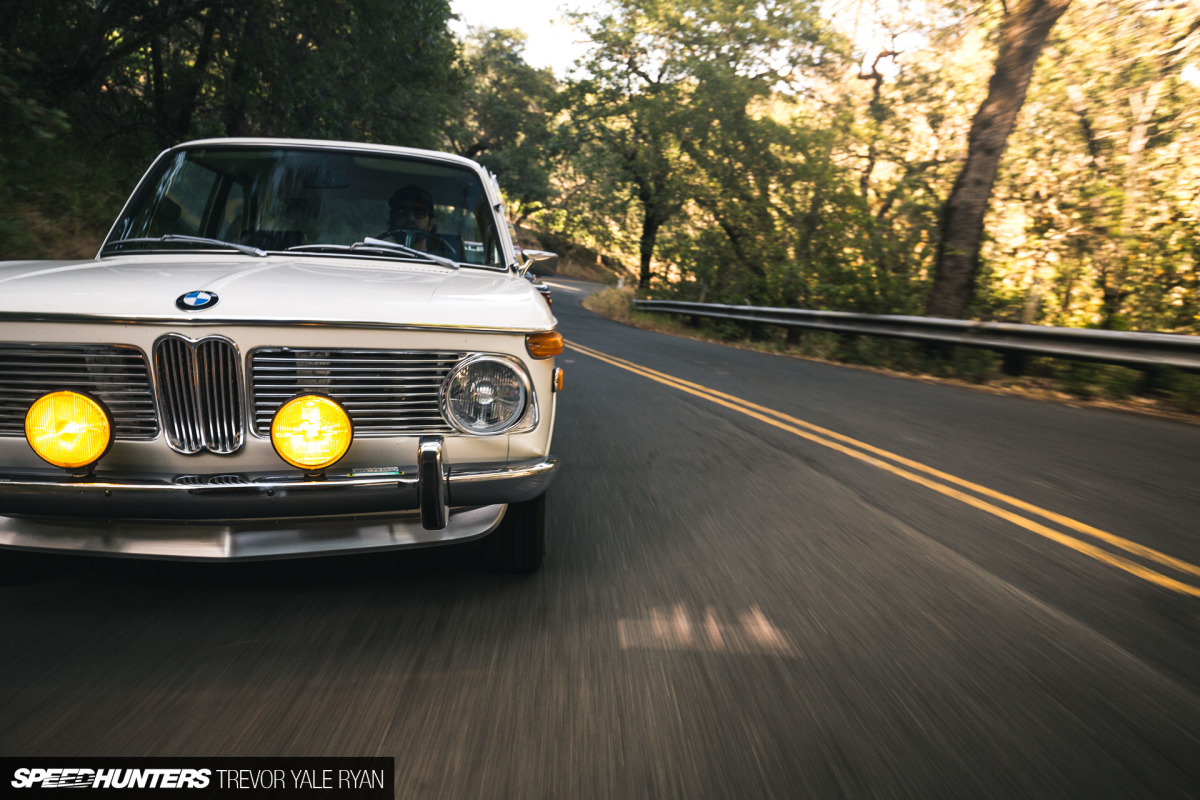 Best of all, you don't need tons of power to have a good time out here. Both BMWs had enough to keep pace with our '98 CR-V chase car anyway…
1573cc Of Fury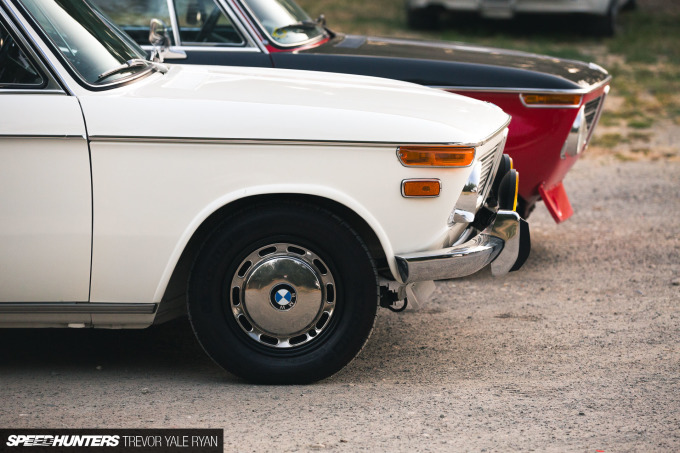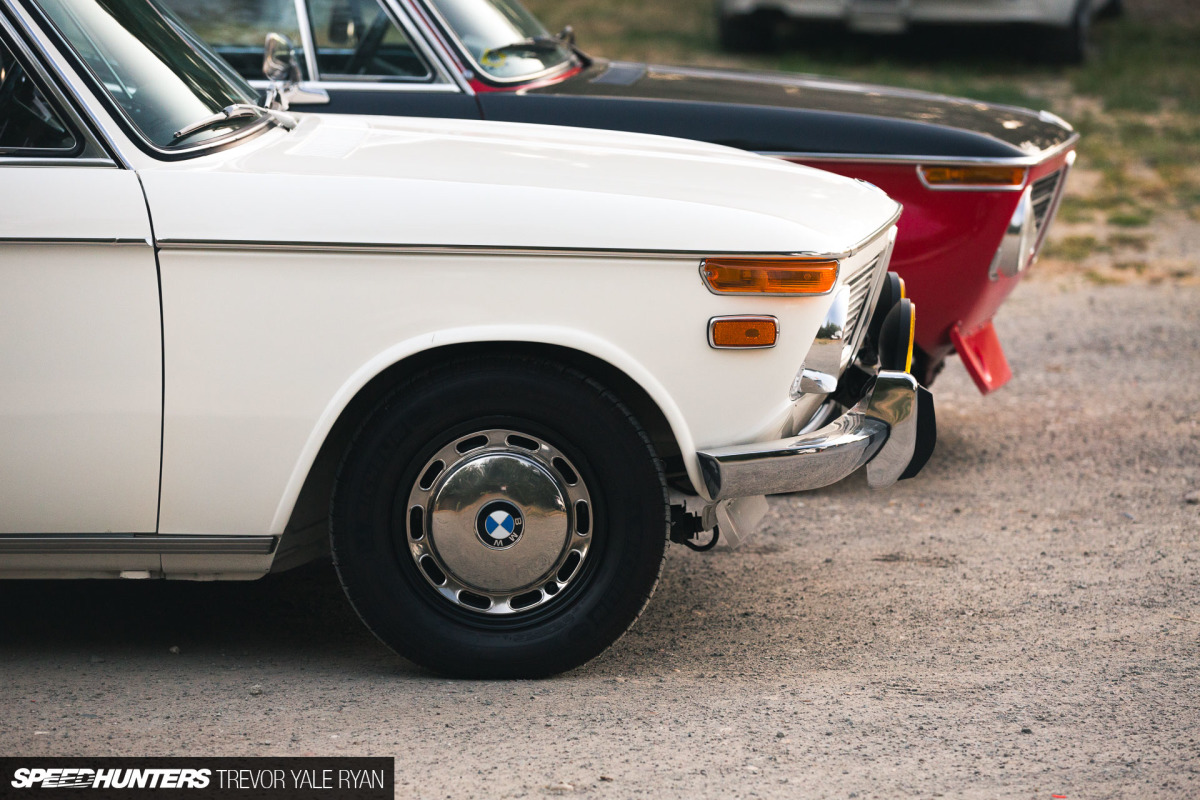 After arriving at KoogleWerks and properly satisfying my curiosity around the workshop, I turned my attention towards the old 02 series Bimmers.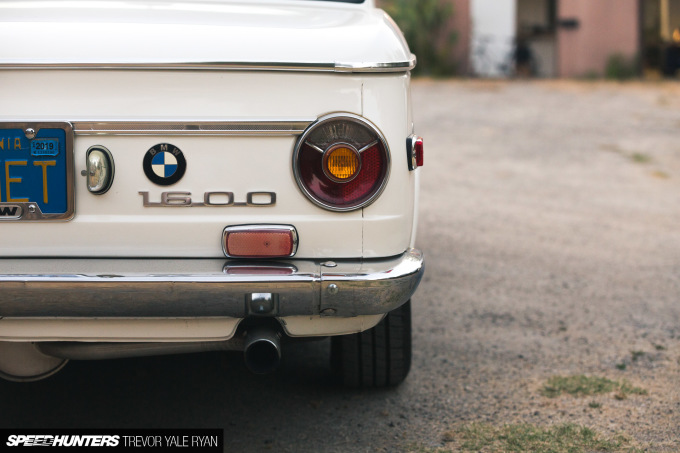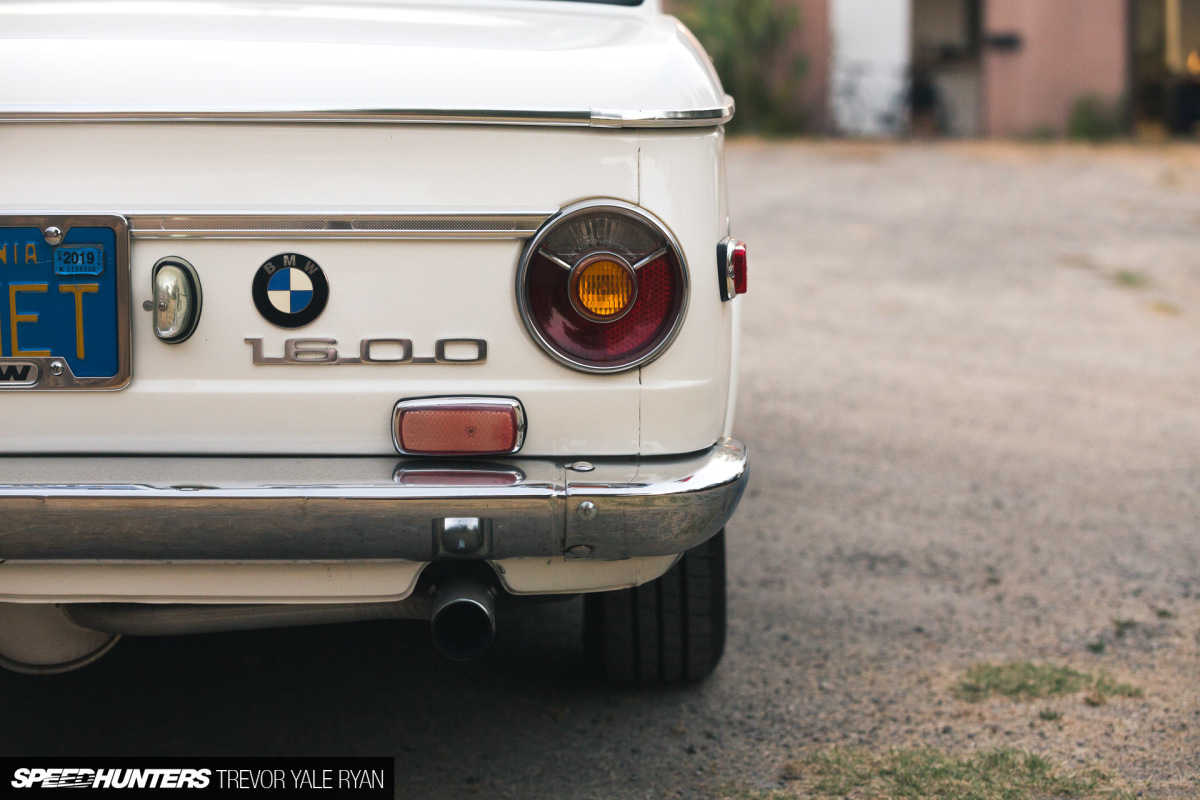 First up is Pierre's 1600 which is still, after 47 years, mostly stock.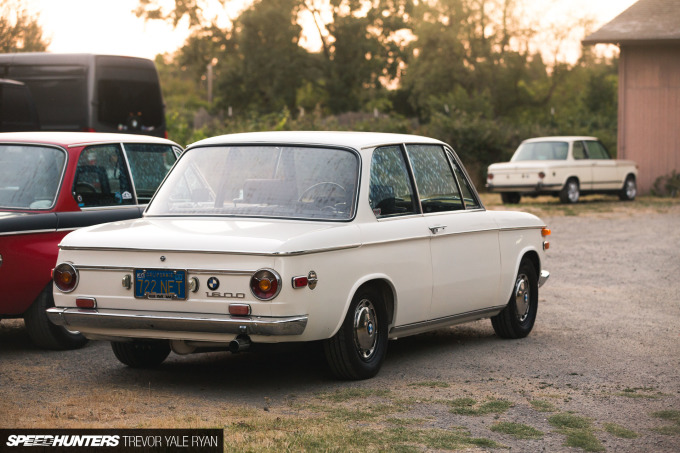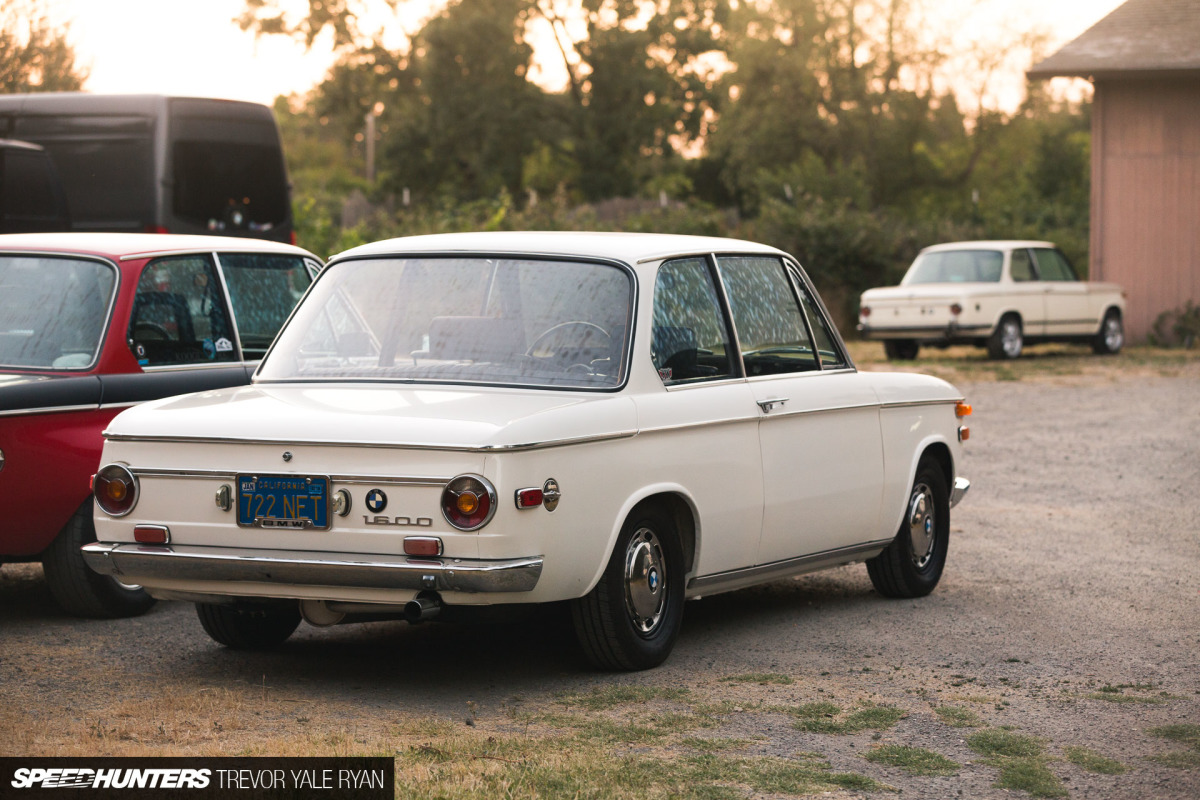 Rather than focusing on power for a performance kick, the suspension has been upgraded with Bilstein struts and H&R springs. While the feel and grip in the corners is greatly improved over the squishy stock setup, the car also looks a teensy bit aggressive sitting a touch lower.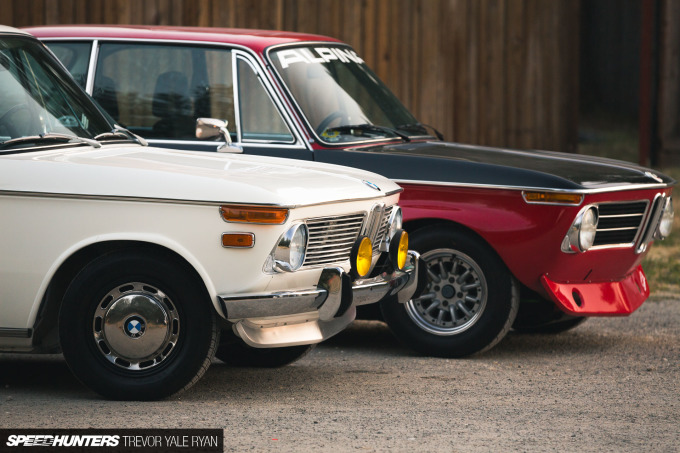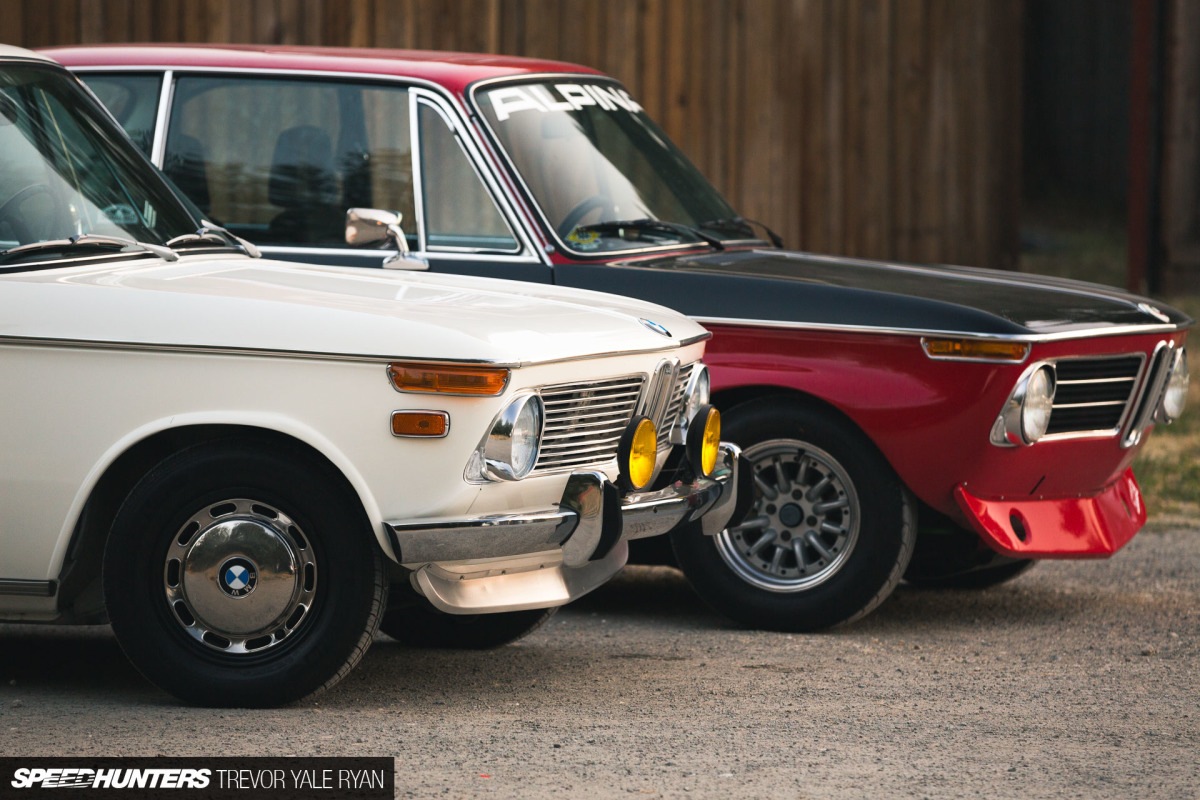 That is, if you can call a car on stock-width 13-inch wheels aggressive at all. Rounding off the functional aesthetics is a 'slim' aluminum KoogleWerks air dam which hasn't been matched to the 1600's paintwork.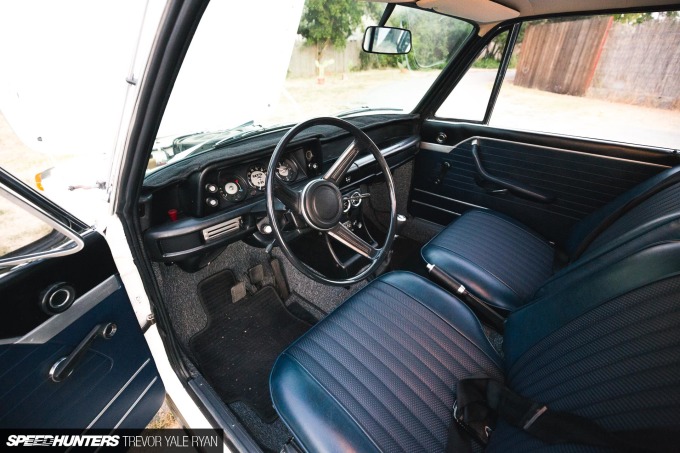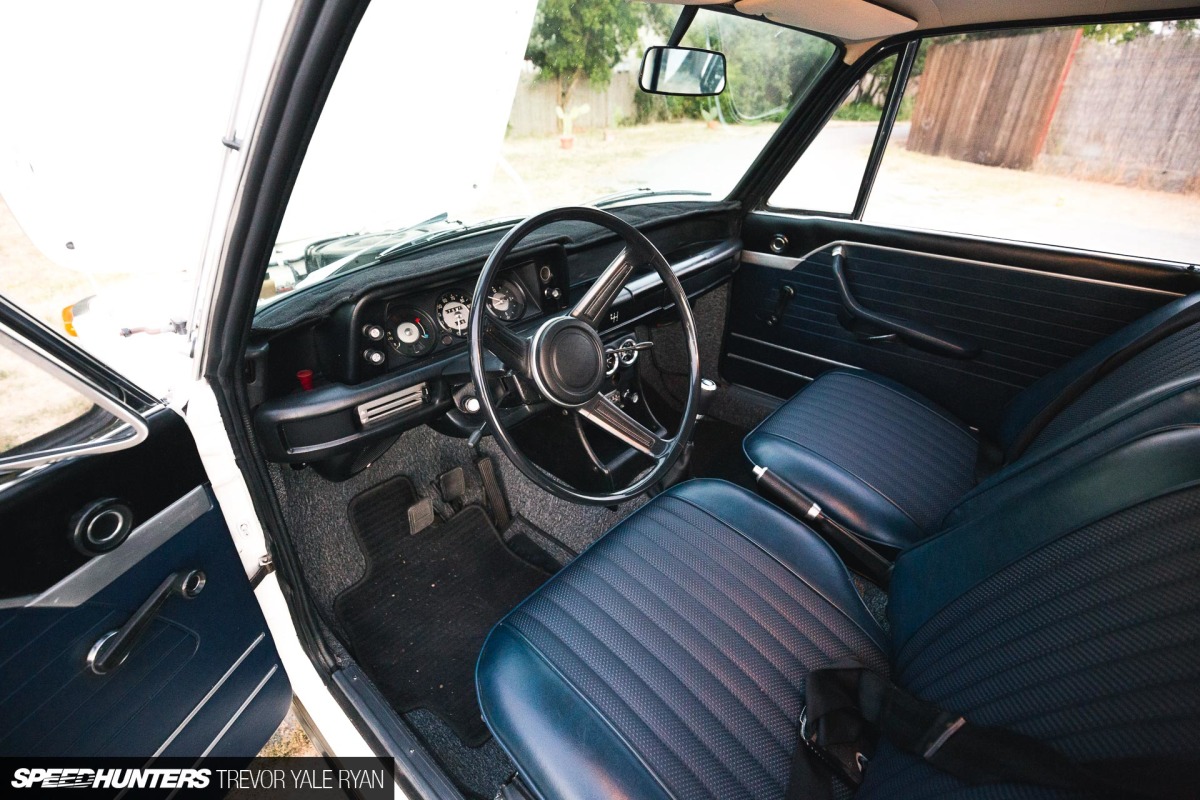 Opening the door, you won't find many major changes; everything is in great condition and almost entirely stock. The only real upgrades are subtle KoogleWerks touches like their shift kit which includes a handle, knob, and hand-stitched leather boot.
There are also bits like the console gauge and radio panel, as well as the under-dash speaker panels which you can't quite see. I'll be giving you a look at how all these parts are made in-house at KoogleWerks in a future story.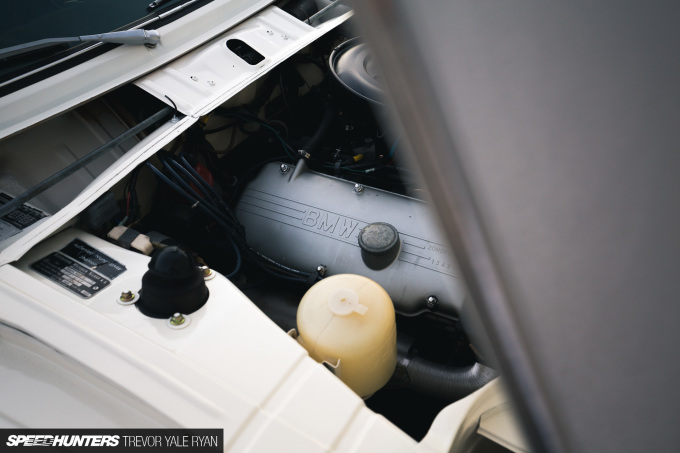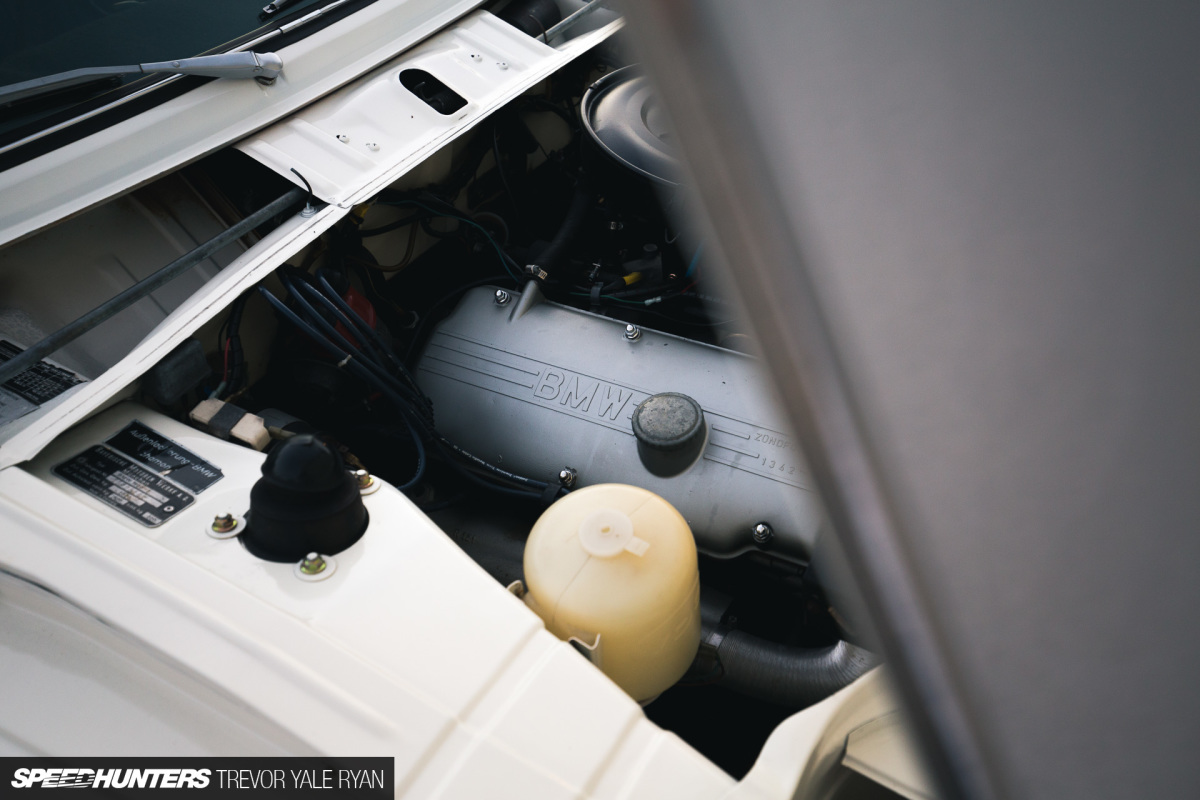 Popping the hood you're transported straight back to the early '70s.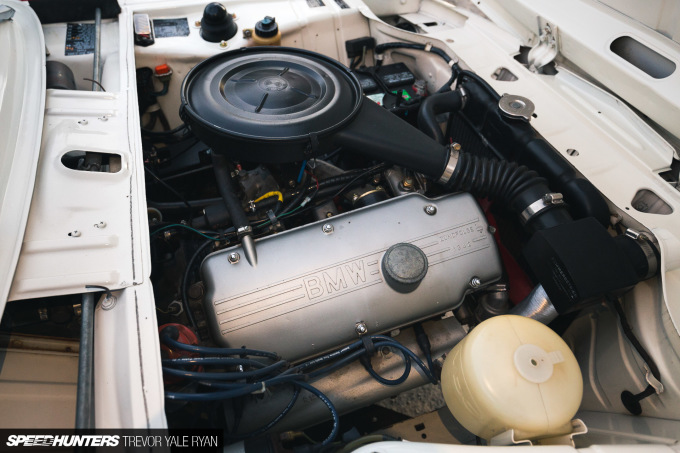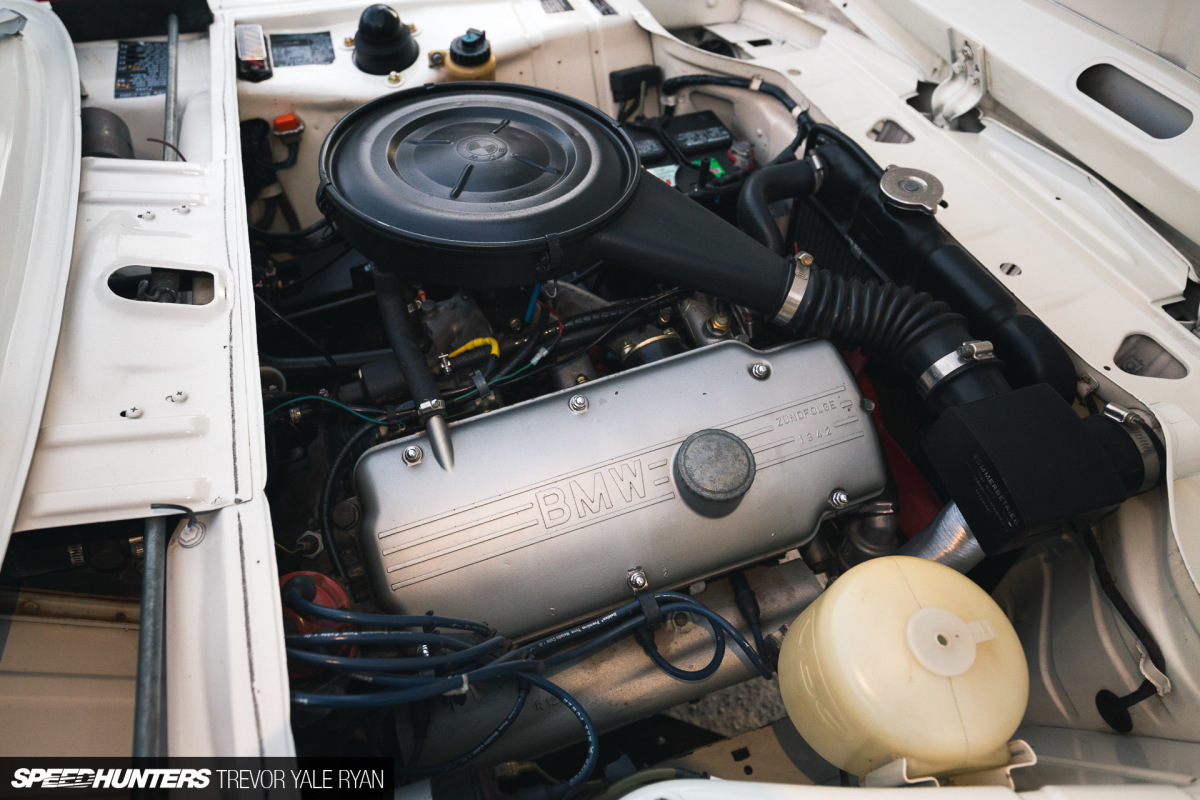 While nicely restored, the 1.6L M10 motor is almost exactly as it would have come from Munich.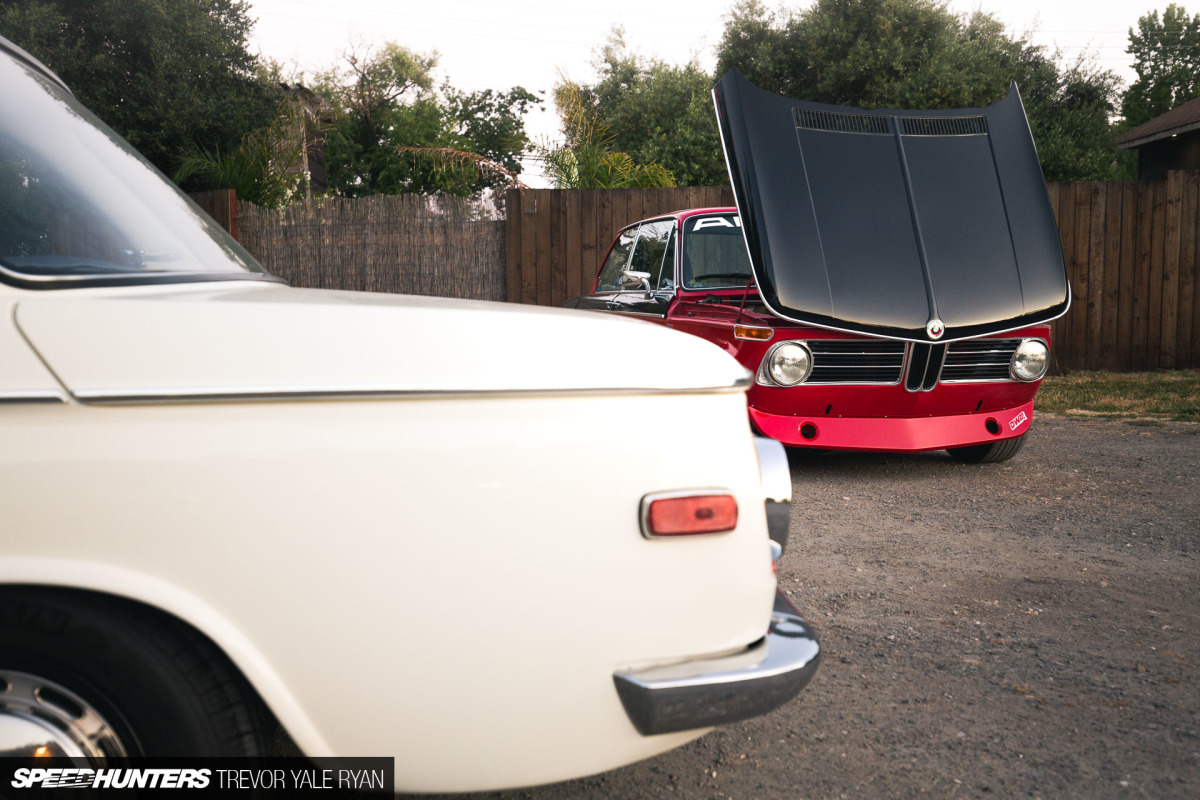 It just goes to show that there's so much more to the driving experience than horsepower. But what about that widebody 2002?
E30 Swapped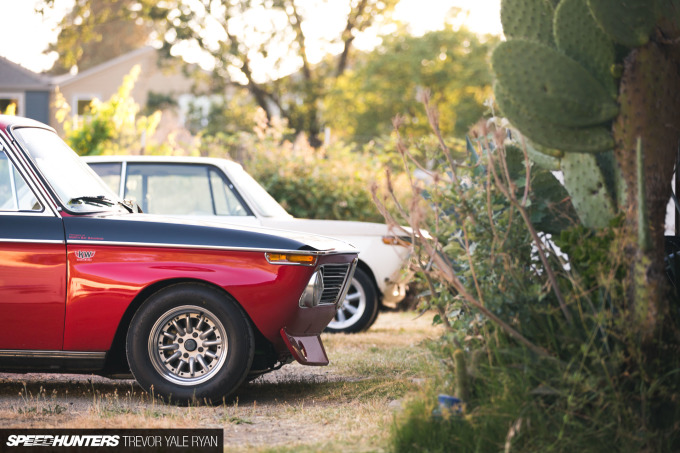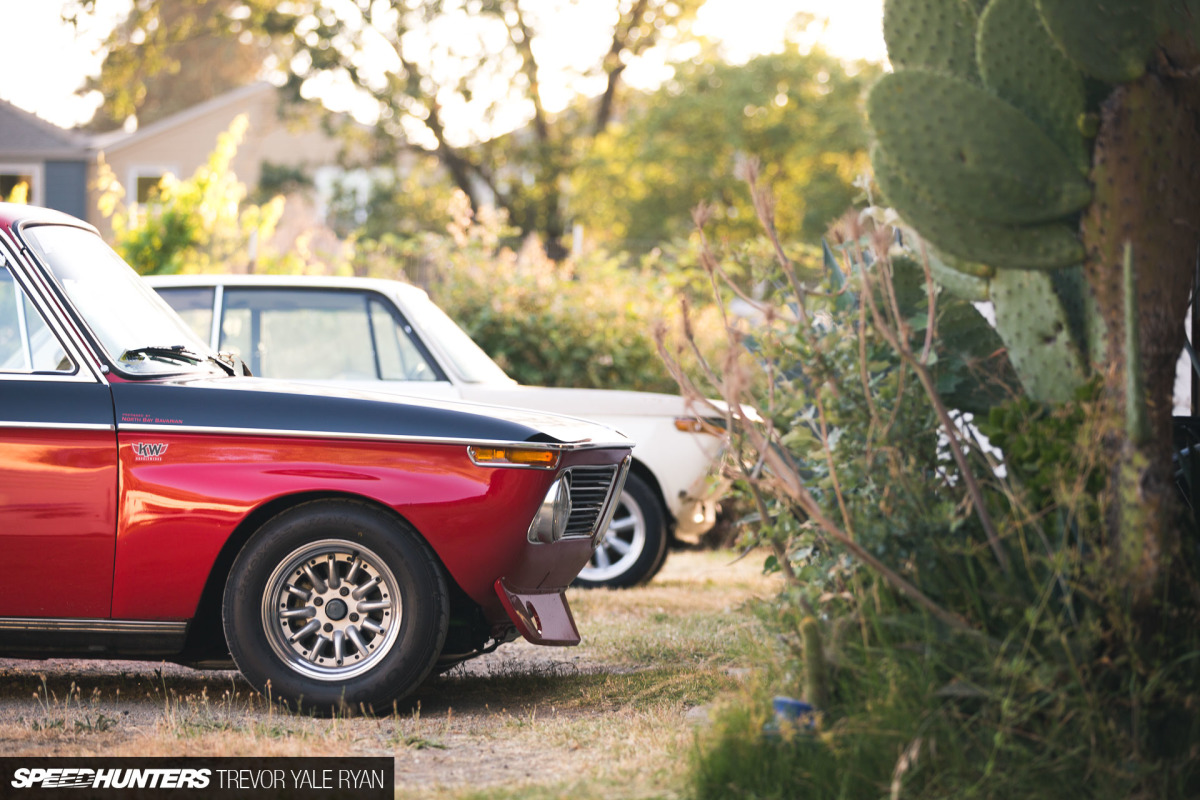 The '72 is owned by Forrest's good friend Rick, a BMW shop owner, mechanic, and race/rally driver. He's also the guy who originally got Forrest into working with the iconic BMW chassis.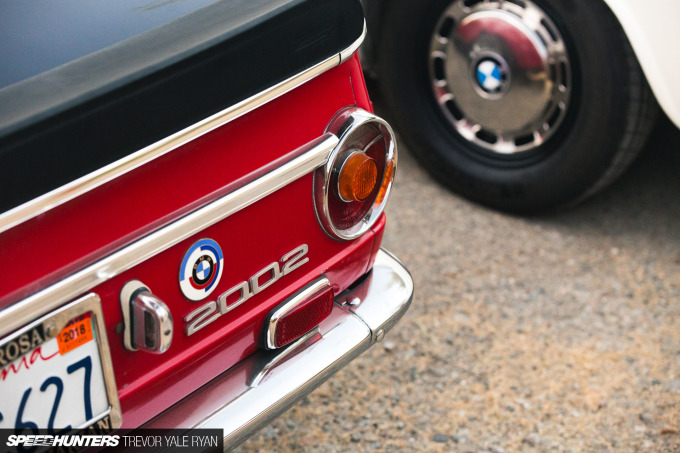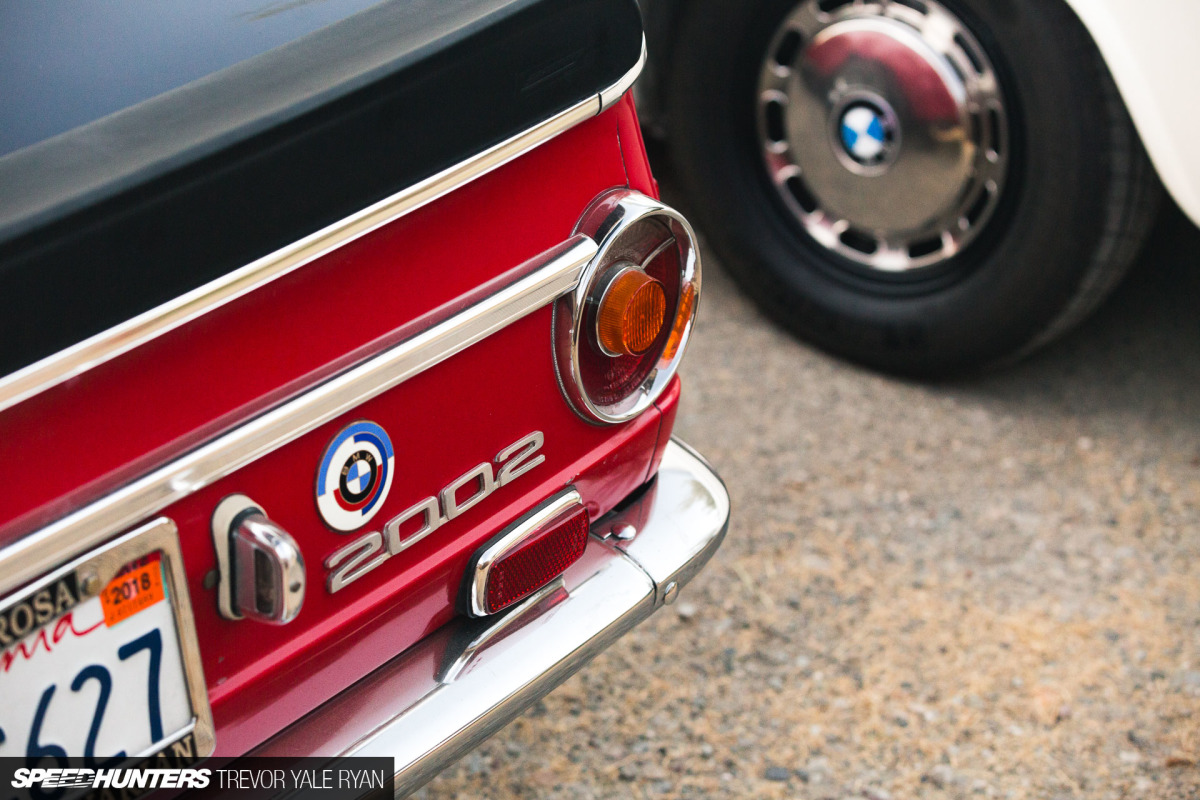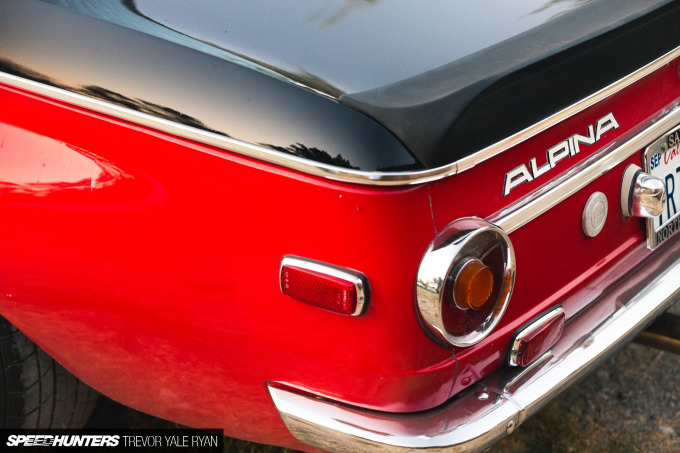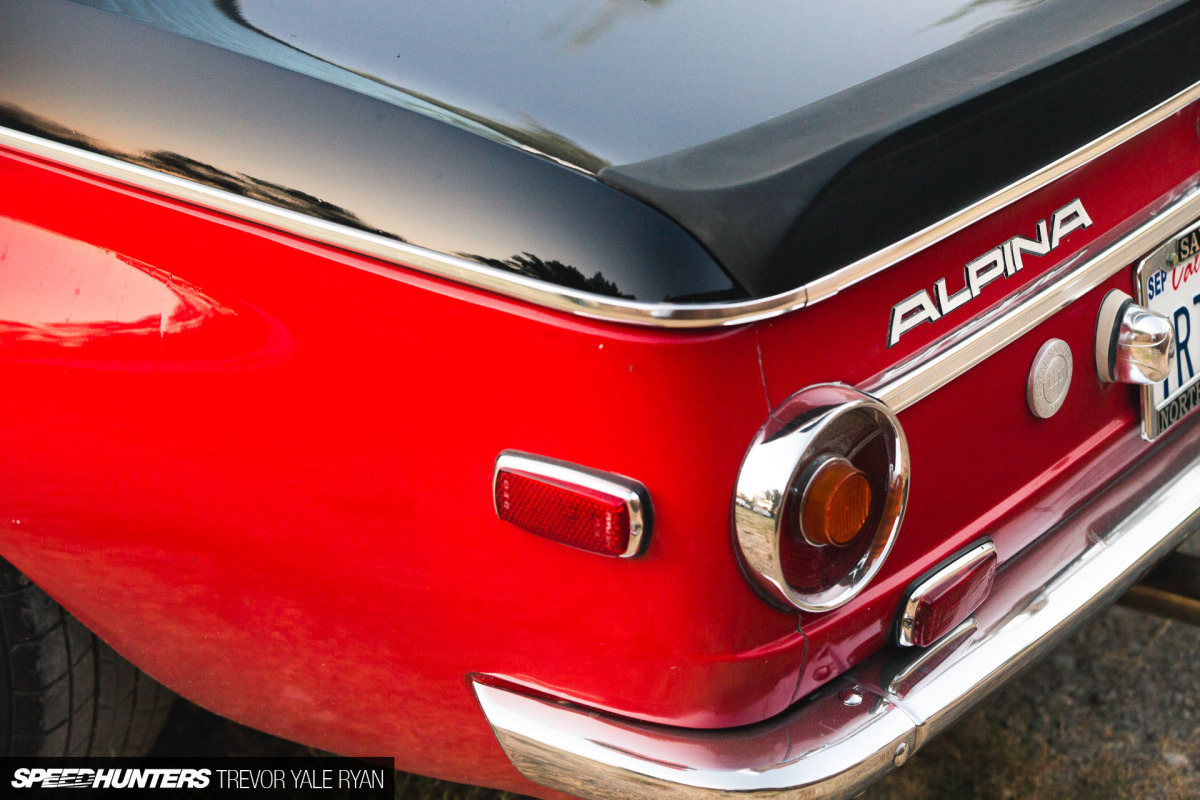 On the whole, the 2002 is much more aggressive than any other I've ever seen in person. Alpina 'pig cheek' flares were installed on the car in 1974, while the front lip is, of course, a KoogleWerks piece. Wearing Compomotive 13×7-inch wheels wrapped in Toyo RA1 rubber you can be sure it's plenty of fun around the twisty bits.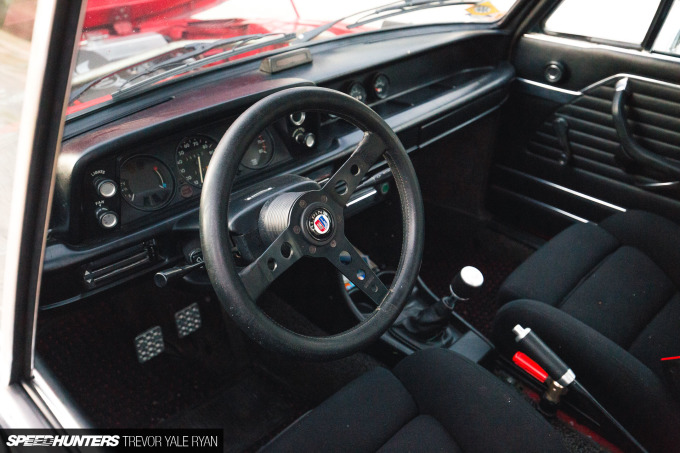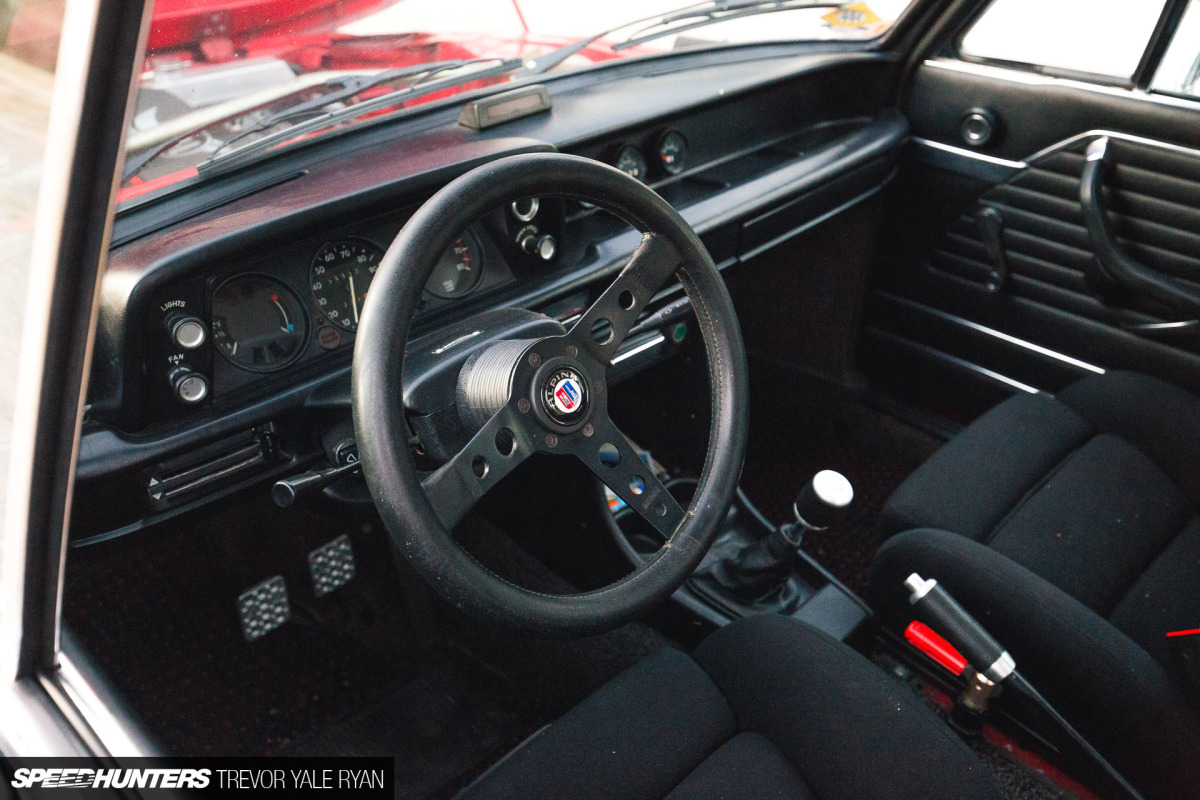 Peeking inside you'll see most of the same KoogleWerks touches found in Pierre's 1600.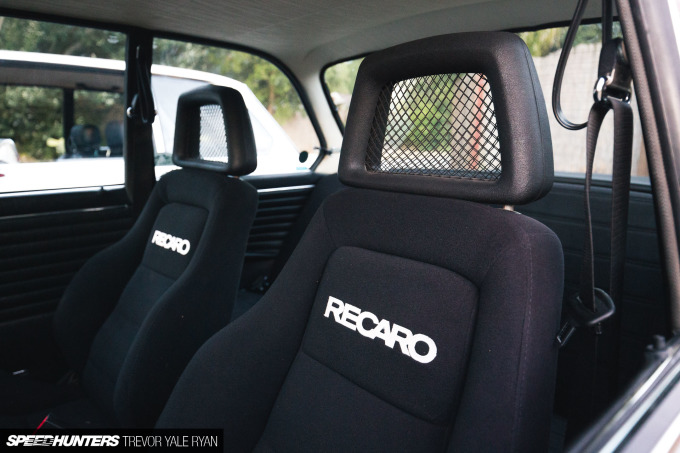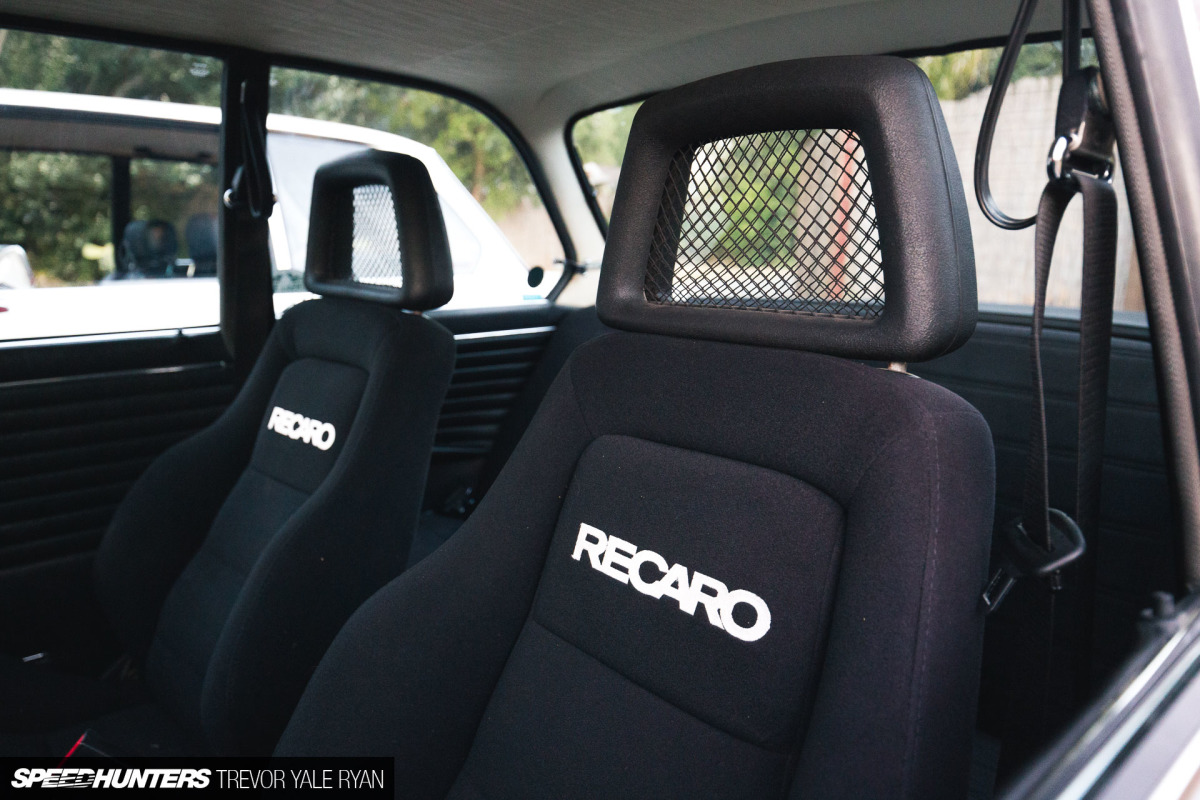 Also enhancing the driving experience are a pair of super-comfy, mesh headrest Recaro recliners. But it's under the hood that things have really been improved.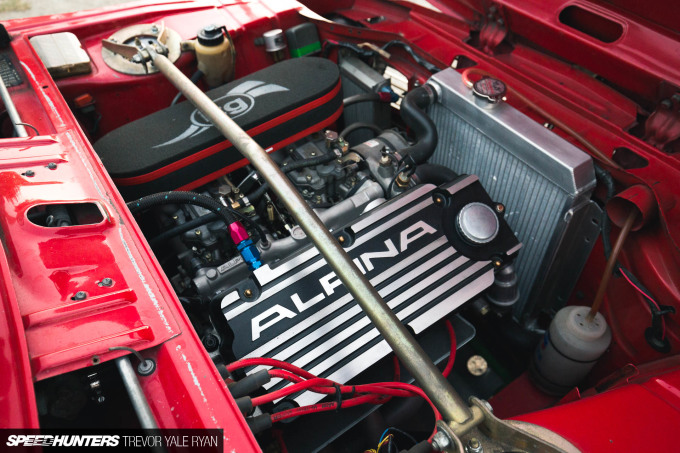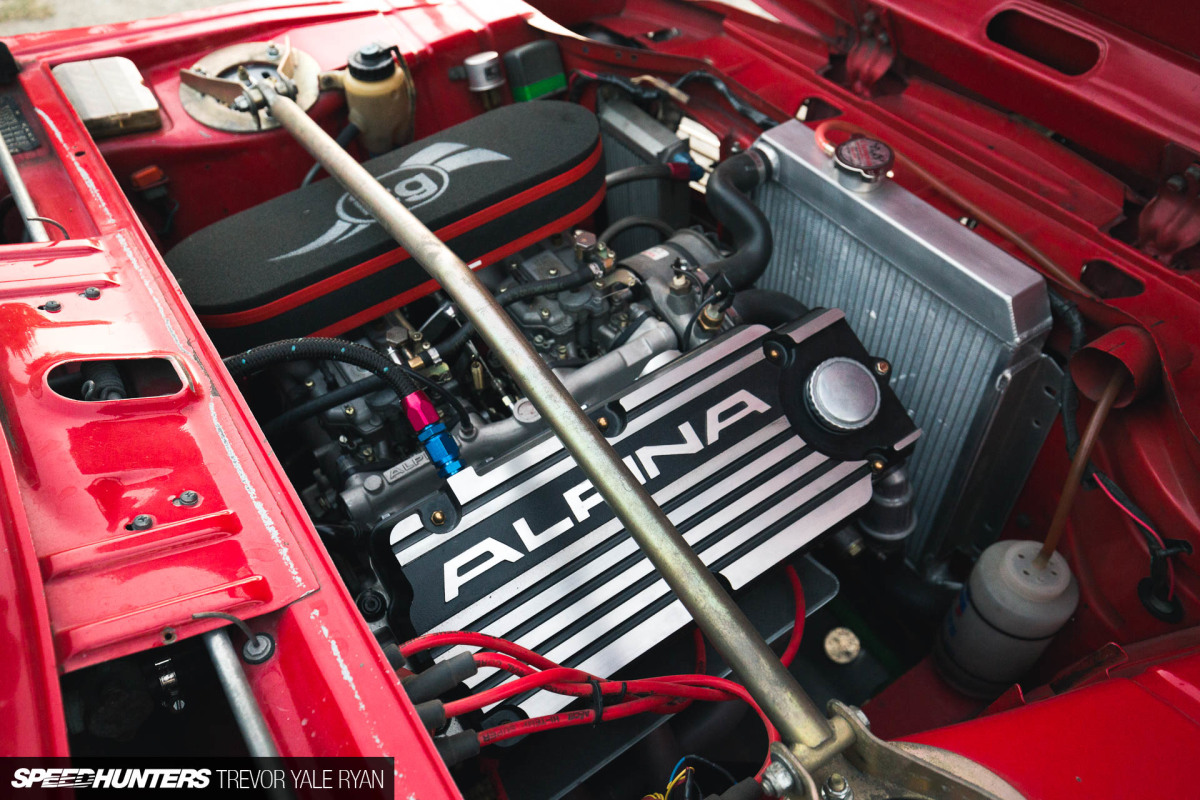 Here you'll find BMW's S14 inline-four, as found in the E30 M3. The 2.5L bottom end is completed with a highly modified M10 head featuring an upgraded cam and valves. Atop it all is a custom valve cover which, as you can see, proudly reads Alpina.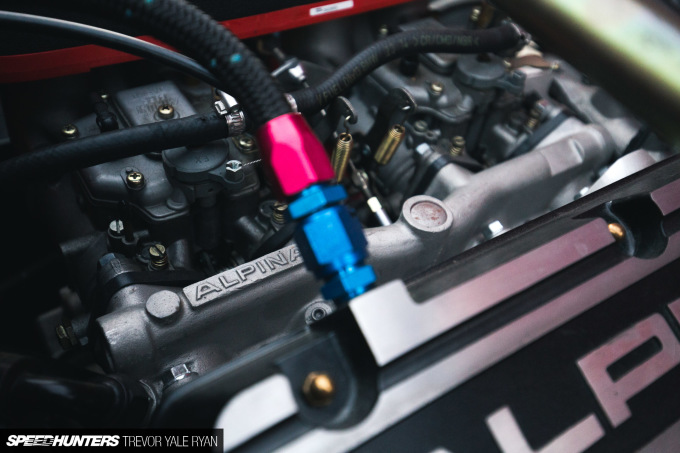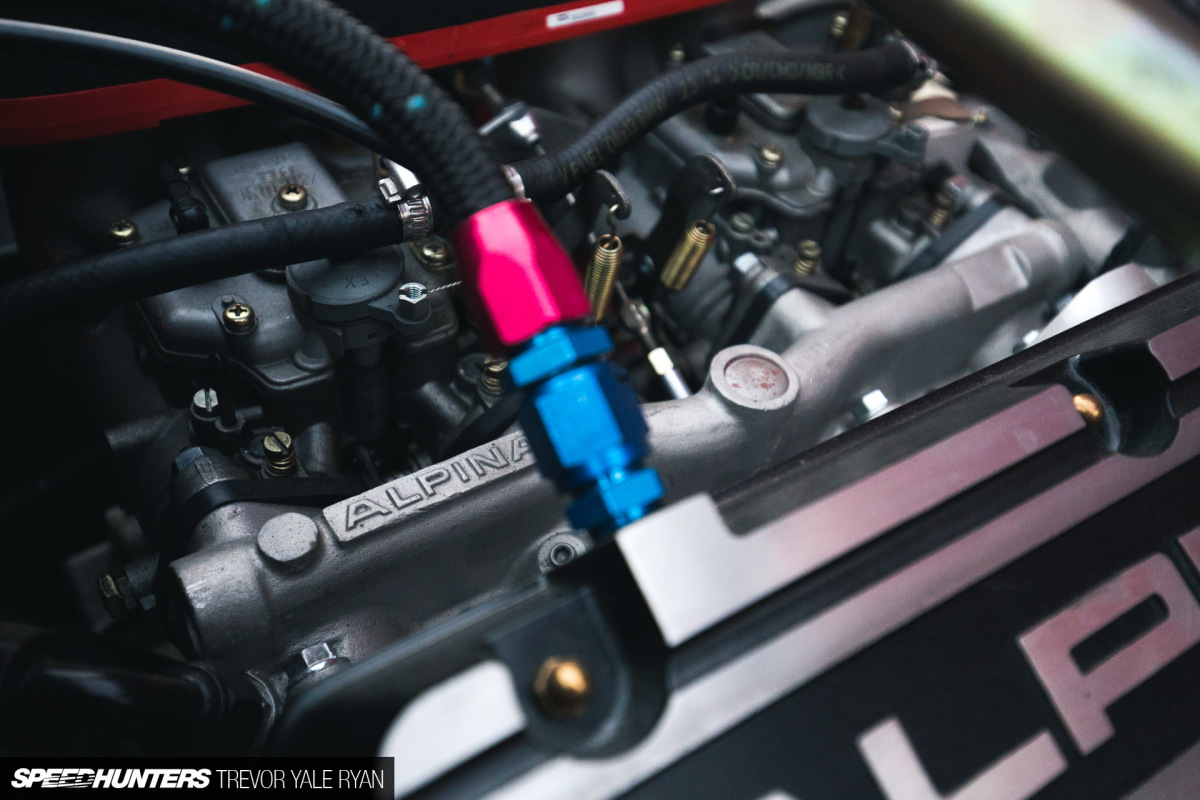 Equally as exciting as the S14 block snugged into the front of the 2002 are these 44mm side-draft Mikuni carburetors fastened to an Alpina intake manifold.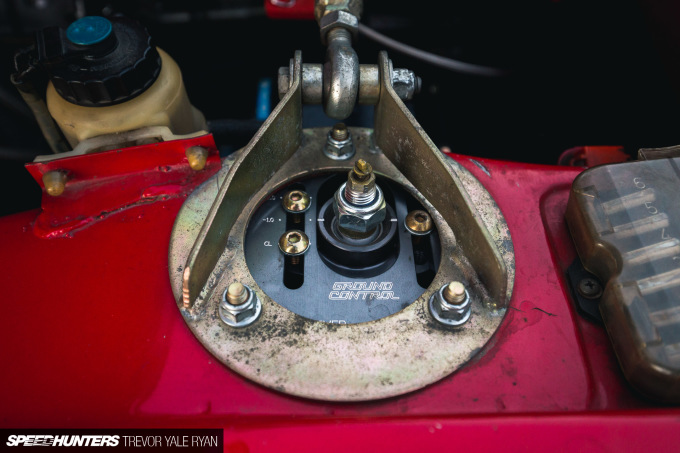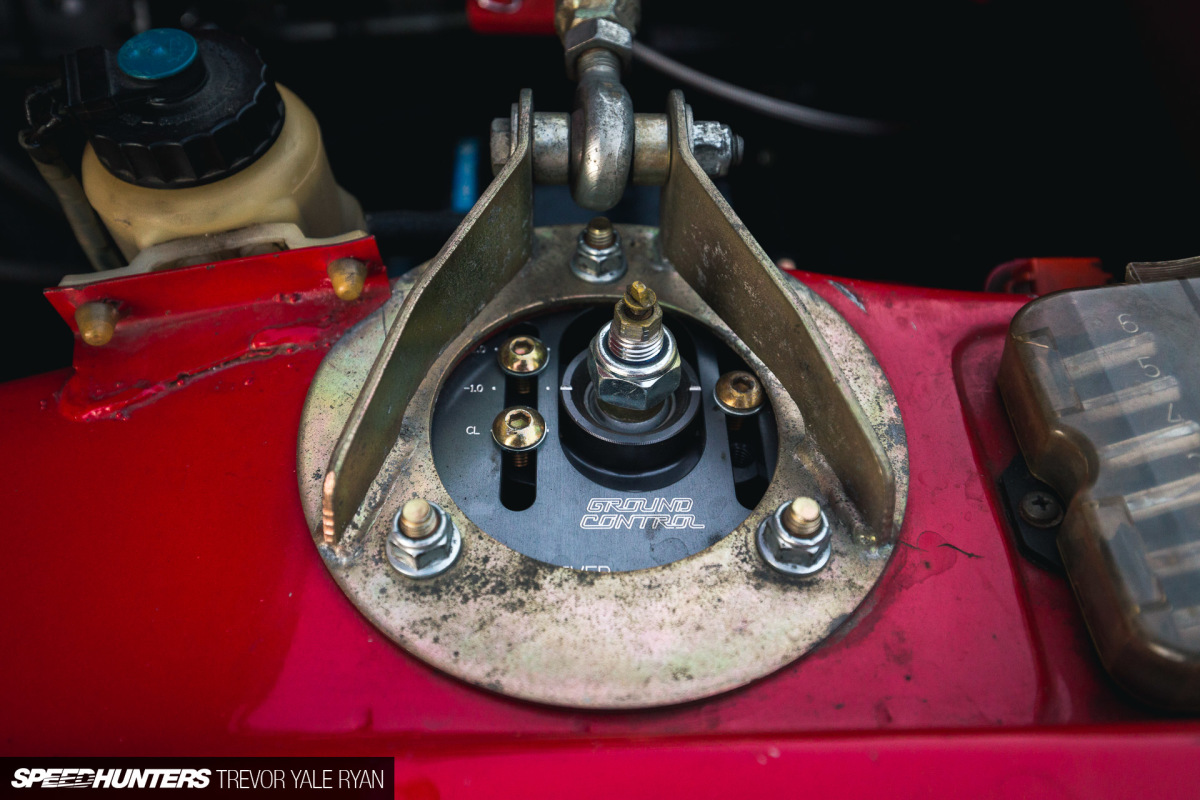 The suspension and steering has been reworked with Ground Control coilovers and camber plates as well as a quick-ratio steering box that replaces the sluggish stock unit.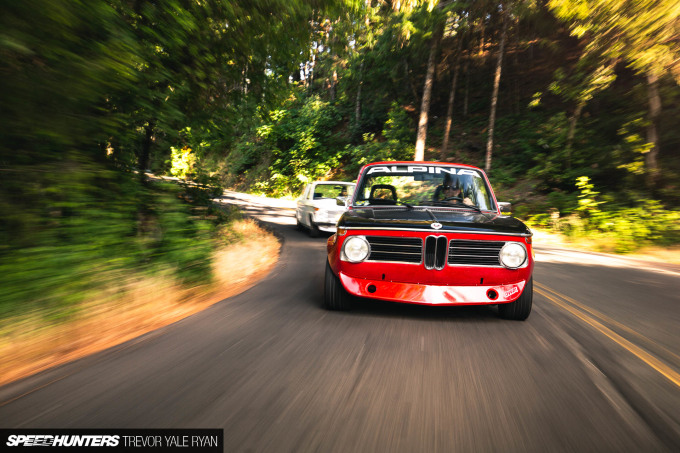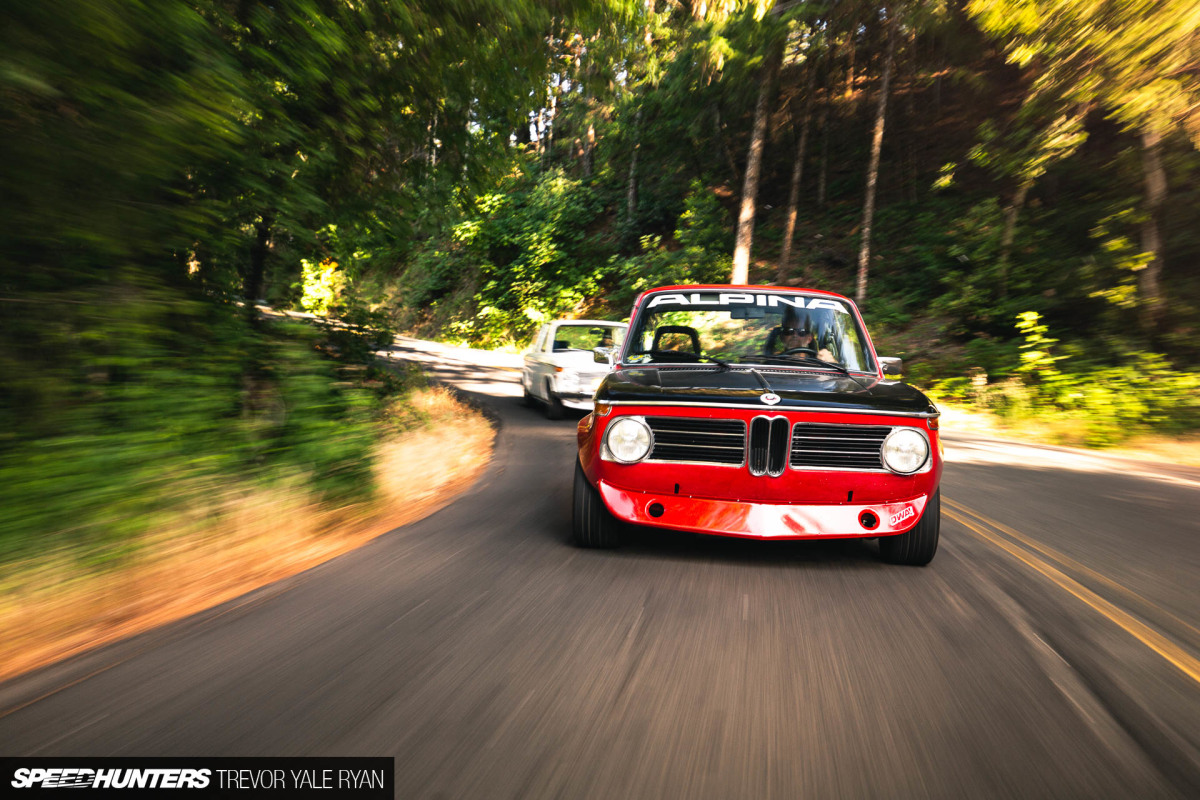 With oversized swaybars and extra chassis bracing throughout, the 2002 corners super flat. Stopping power has been upgraded as well with 2002 Turbo brakes, making it the perfect old school BMW canyon carver.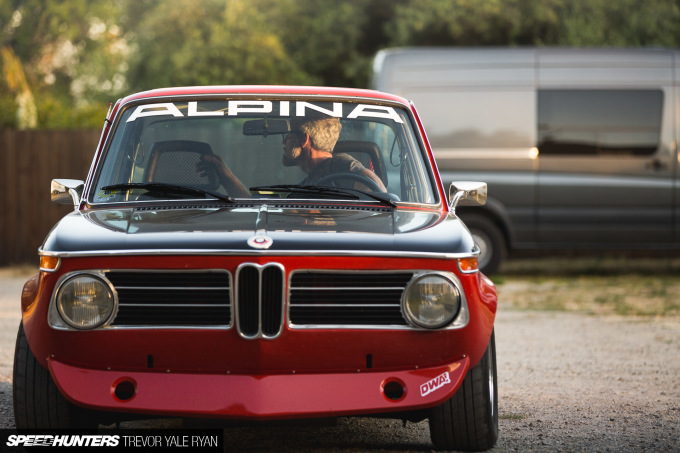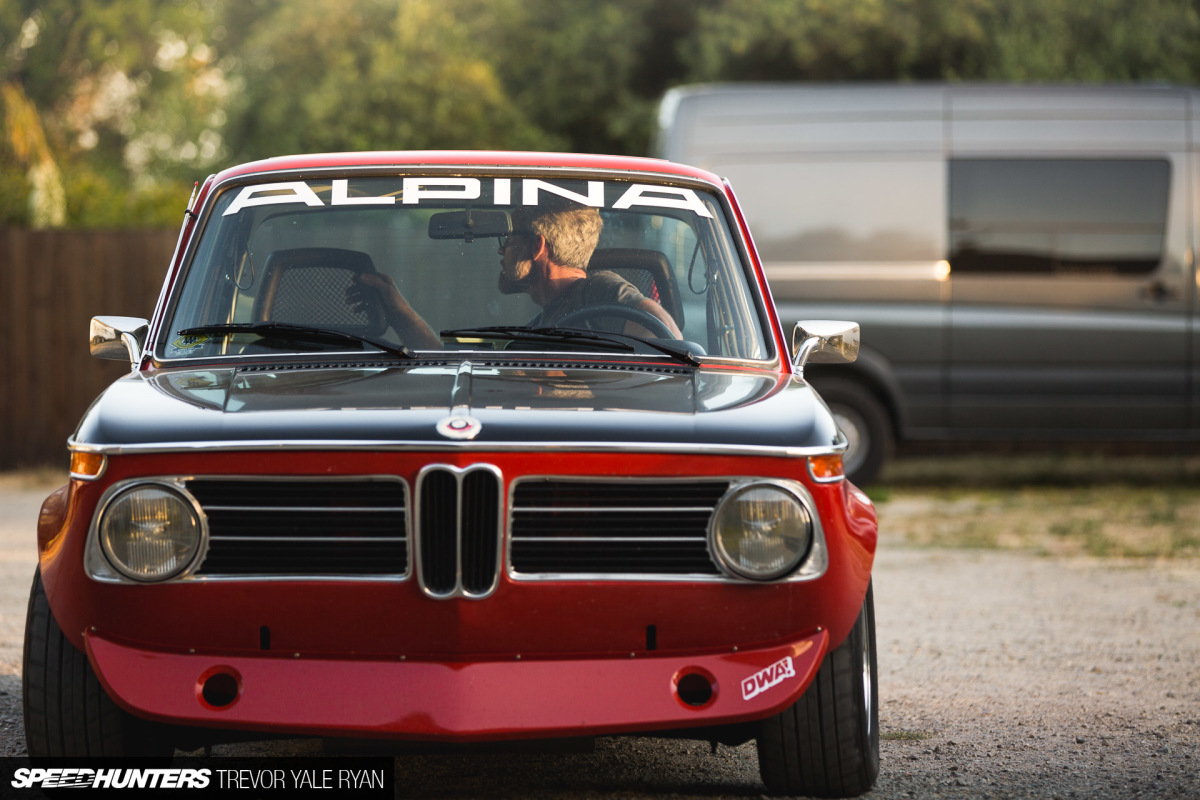 It's obvious that Forrest had a great time cruising Rick's 2002 through the backroads and it's a very complete and well thought-out build.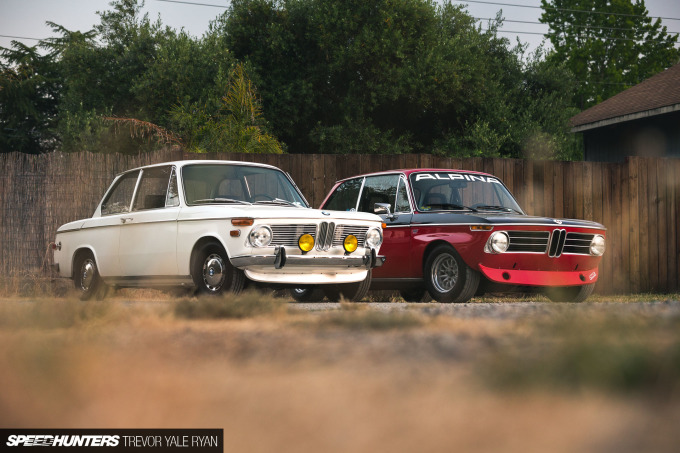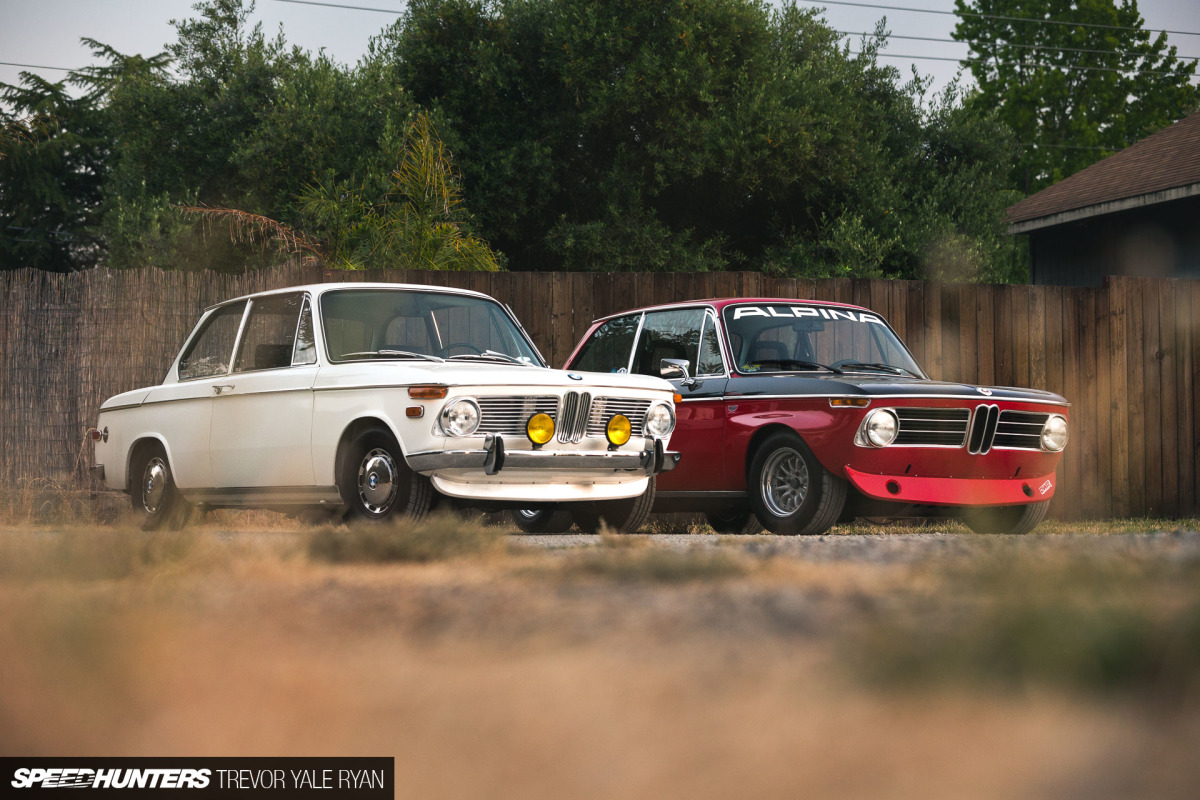 After years behind the wheel of a variety of '70s Japanese econo-boxes, Forrest says the 2002 is like a German-made Datsun 510 – only better. It's old enough to be a real classic, yet designed for comfort and reliability, even by today's standards. And with the right parts, as you can see, they can be set up to really rip.
Those are Forrest's words, not mine, but they sure as hell make me want a 2002.
Trevor Yale Ryan
Instagram: tyrphoto
TYRphoto.com