Skate
Ever since meeting Forrest Koogle some months back, I've been itching to check out his workshop, KoogleWerks, and take a closer look at the parts and cars he's been tinkering with. I'm endlessly fascinated by how things are made, and as a Speedhunter you sometimes need a change of pace.
Automotive and aftermarket design have historically been a painstakingly slow and deliberate process. But in more recent decades the industry has moved towards design by committee, cheaper materials, and outsourced labor to eke out every last penny they can in the process. All the while, some people continue to strive for more.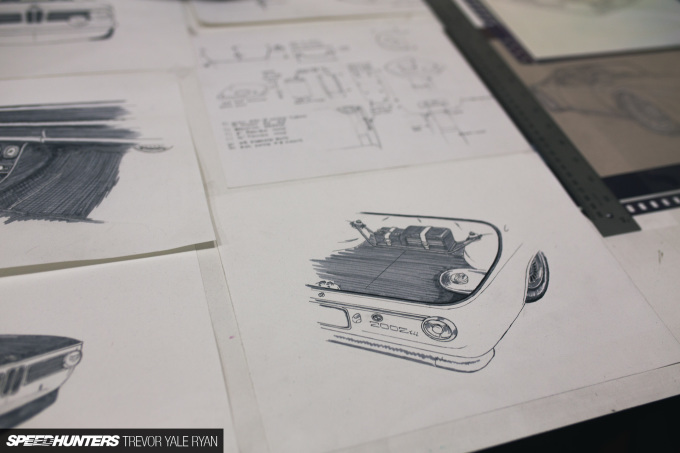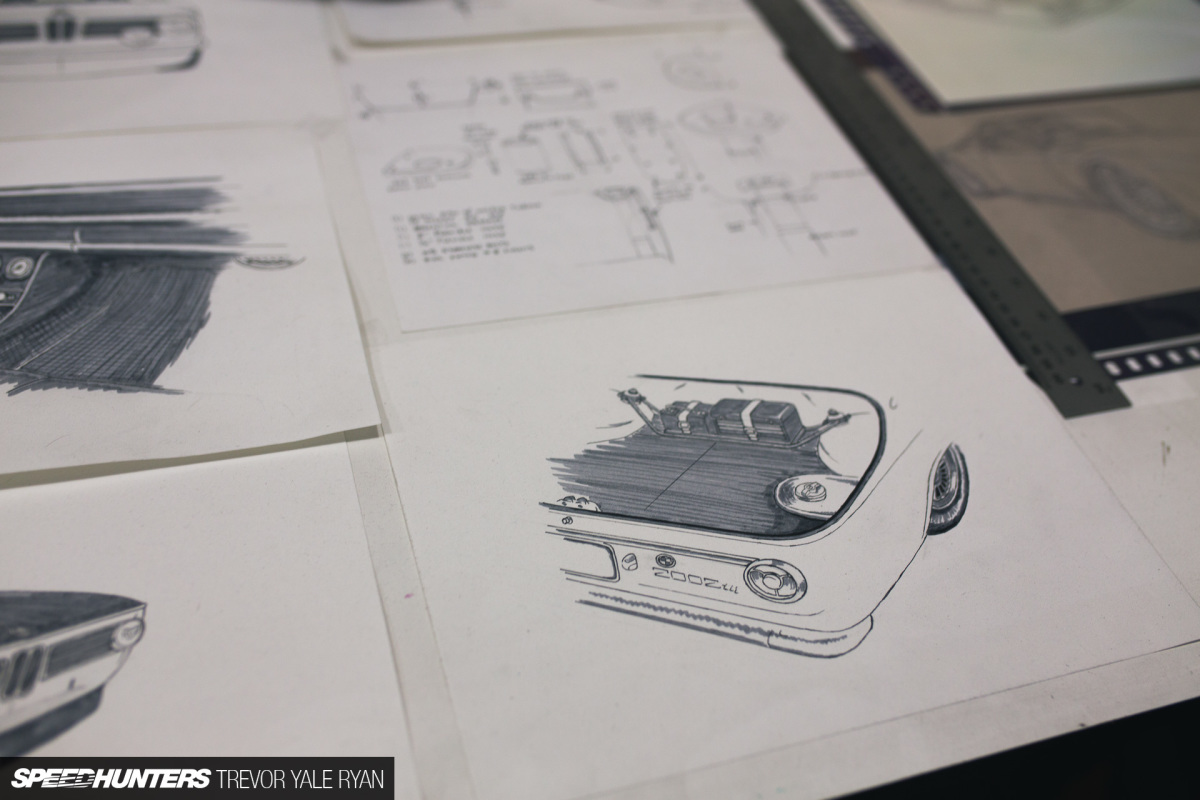 Forrest has always had a love for automobile design and after moving in, out, and around the industry for nearly his whole life, his passion project has completely taken off. Now he's busy at least five days a week fabricating parts for vintage BMWs using old school metal and plastic forming techniques that are more an art than anything else. But due to both of our demanding schedules, month after month passed without a proper poke around.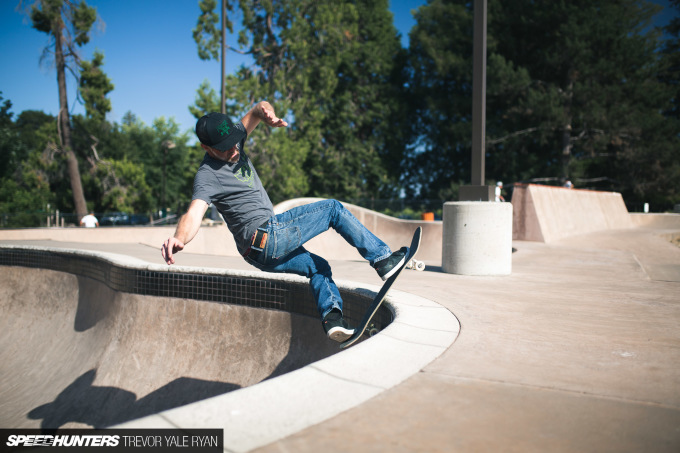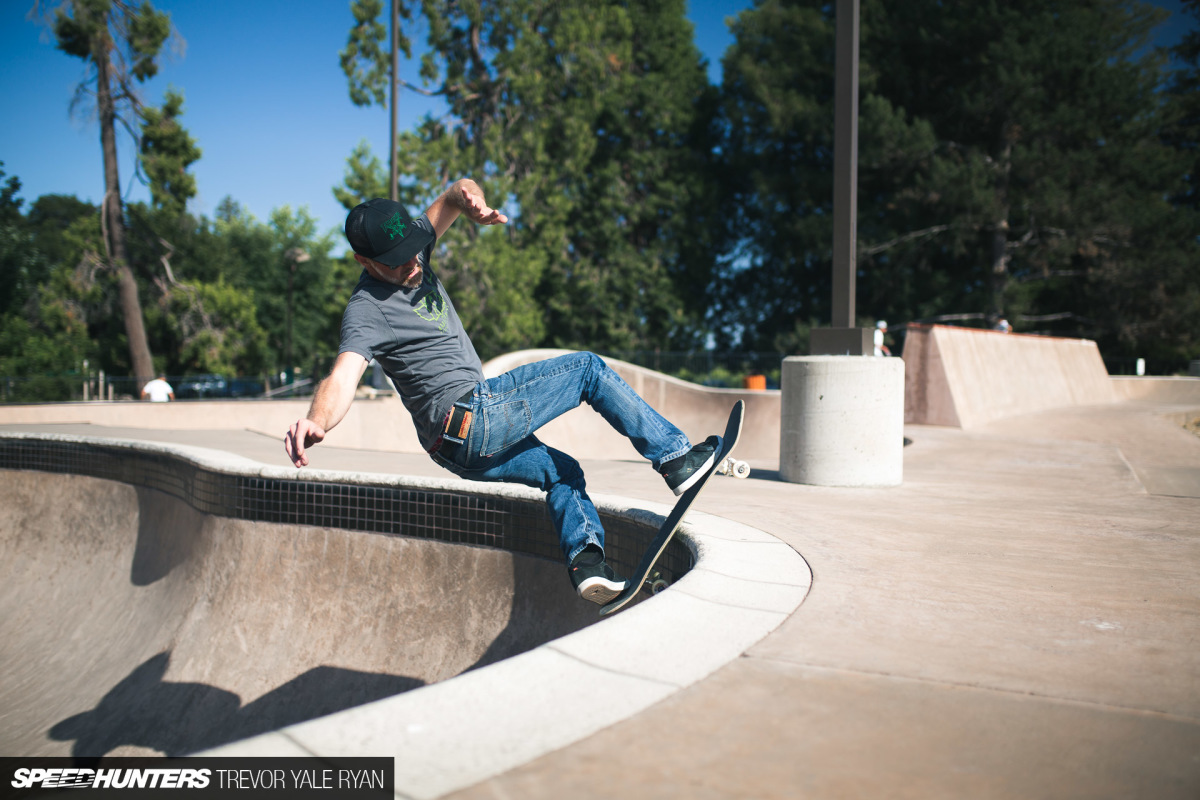 Until, finally, a mostly open Sunday afternoon came along for both of us. Forrest mentioned that on the rare free weekend he has he'll try to get some skate time in with his workshop apprentice, Pierre. Rather than upset tradition, as loose as it may be, I decided to come along for the ride.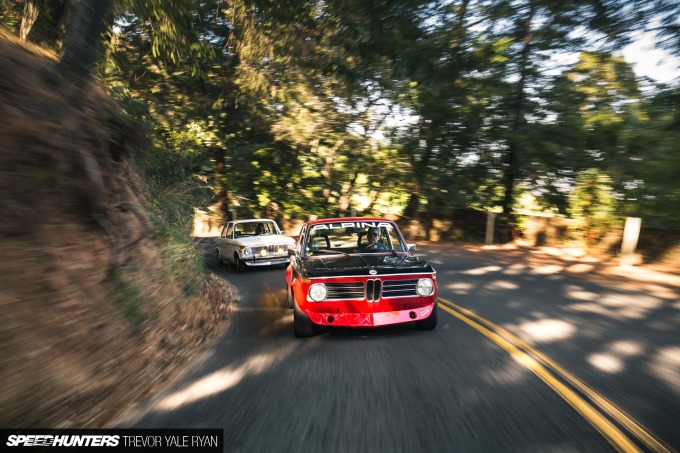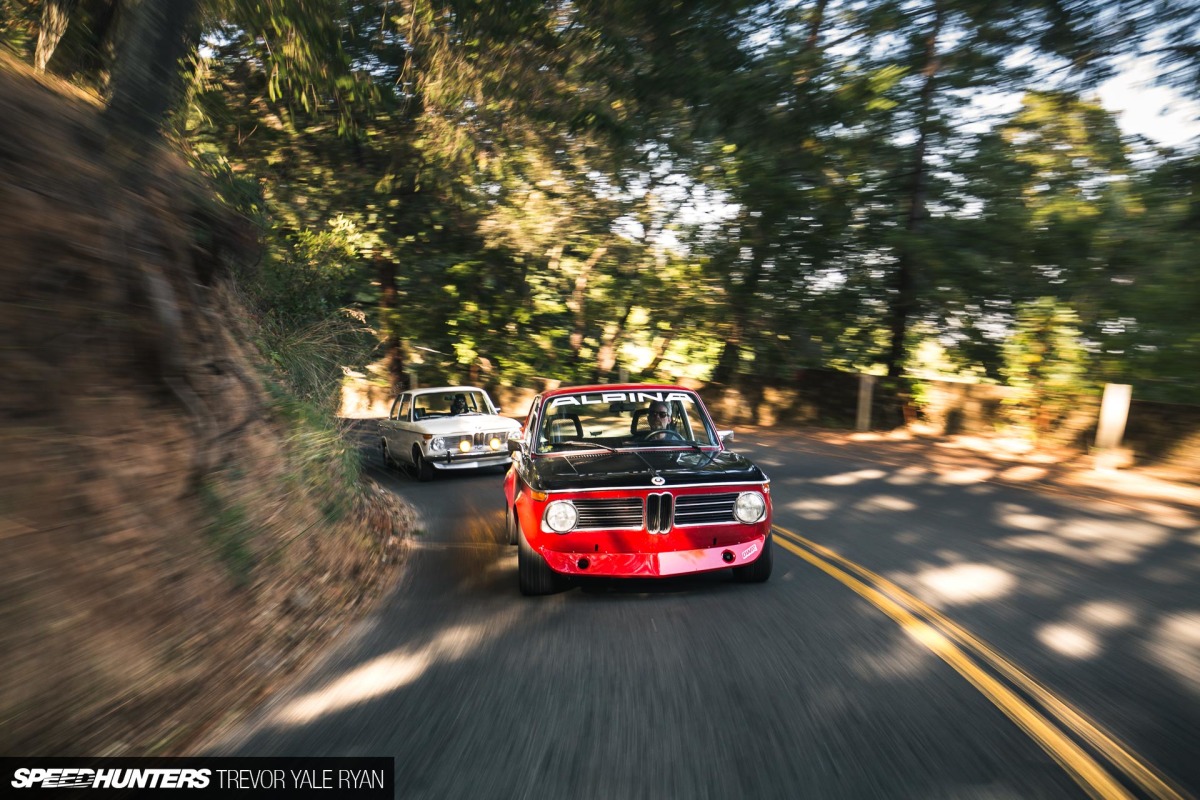 I was a bit worried with how the day would go and how this would translate into some Speedhunting, but I couldn't have asked for a better change of pace.
There's a certain gritty determinedness to skateboarding (and many other skills and hobbies, for that matter) which carries over so nicely to building cars and fabricating parts. Simply put, sometimes you fail.
Actually, most of the time you fail. You'll fail over and over and over again until you finally pull it off. And when you do succeed there's a certain satisfaction that comes with it, a satisfaction that nothing else can give you. There's nothing like practice and passion, and when these things come together there's no comparison when you look at the results.
Drive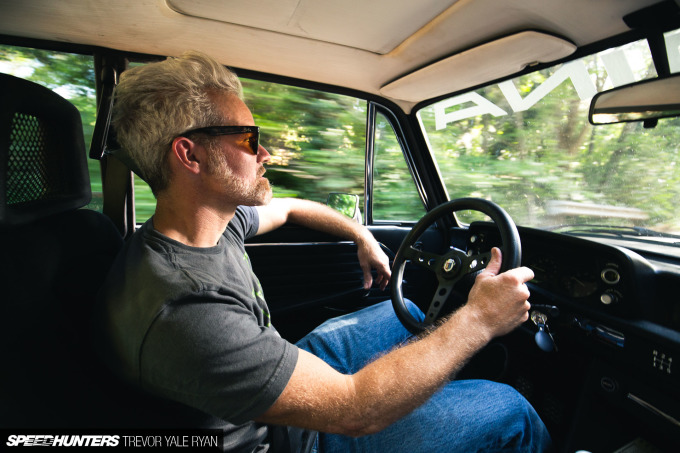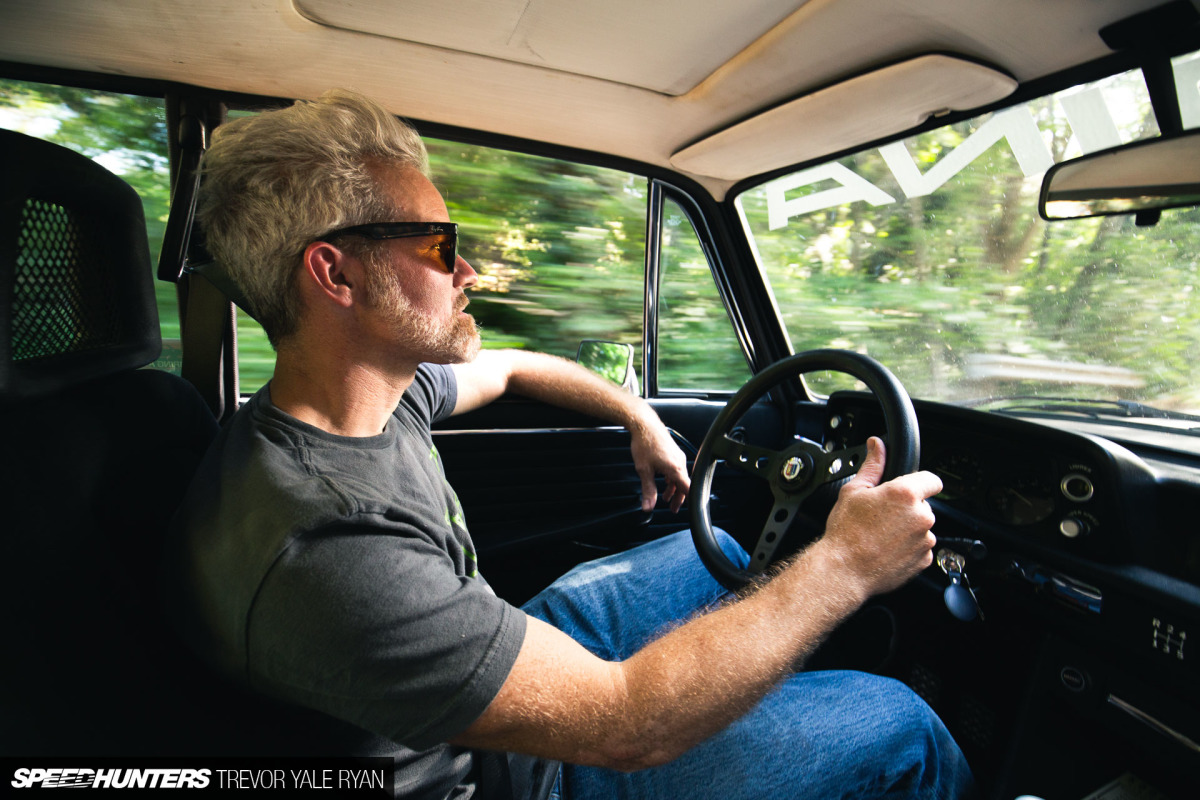 During the course of the afternoon I could have just sat down with Forrest and Pierre and hit them with fairly empty questions, like what camshafts they're running in their cars, but I knew I'd get a much better sense of who they are by actually hanging out and going for a drive with them.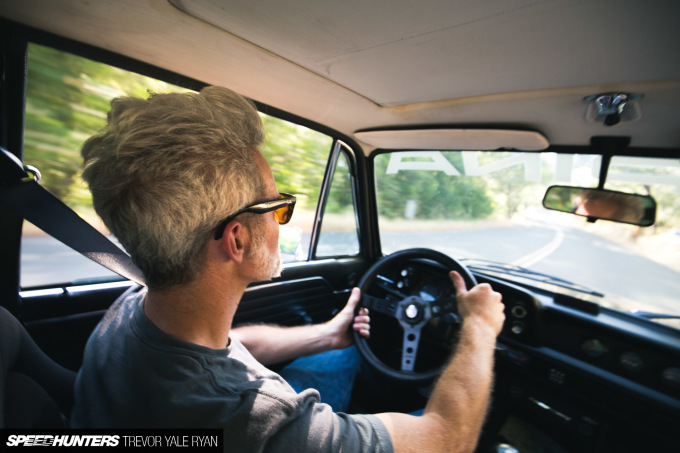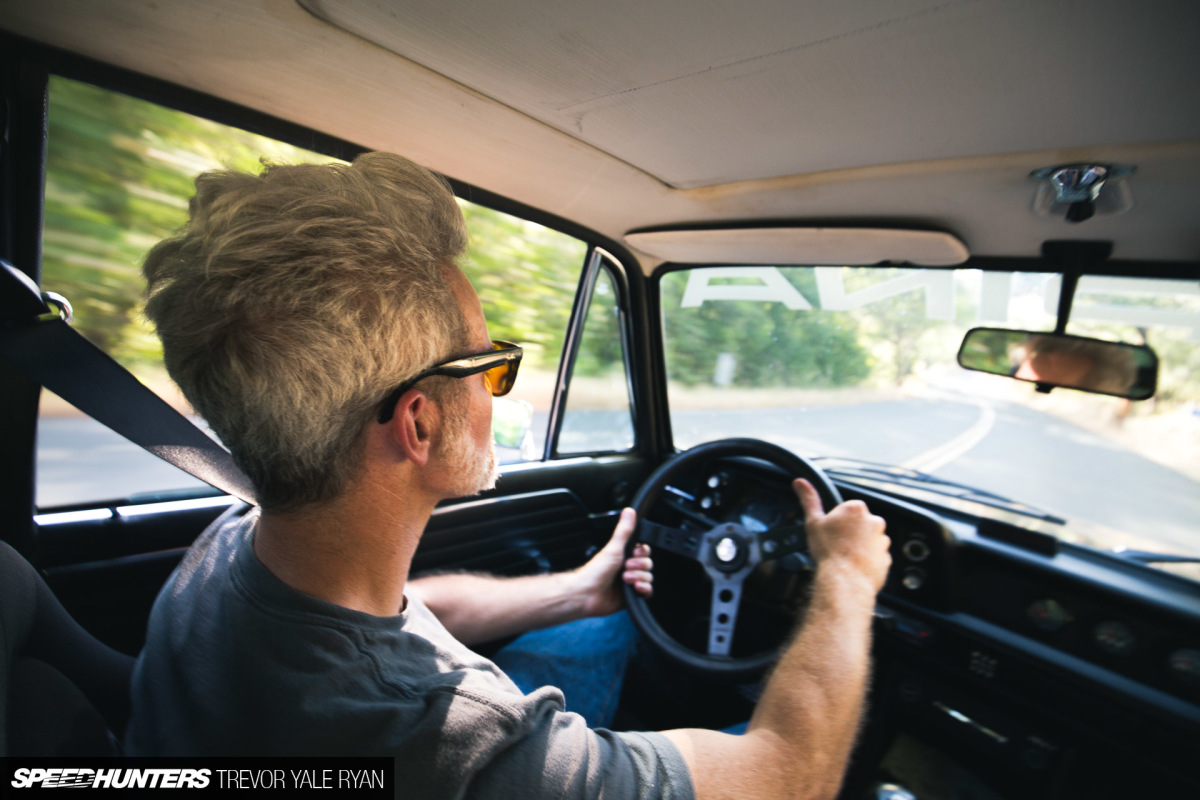 While cruising the mountain passes, Forrest said that he never imagined skateboarding would have anything to do with him selling parts for old BMWs. But sticking true to what he's always enjoyed has helped him to do just that.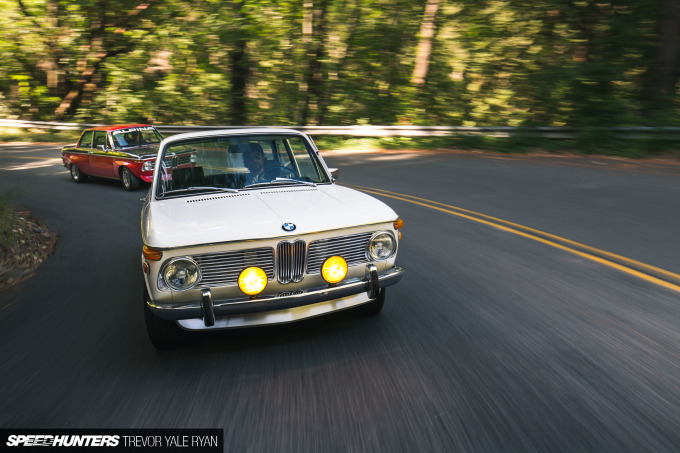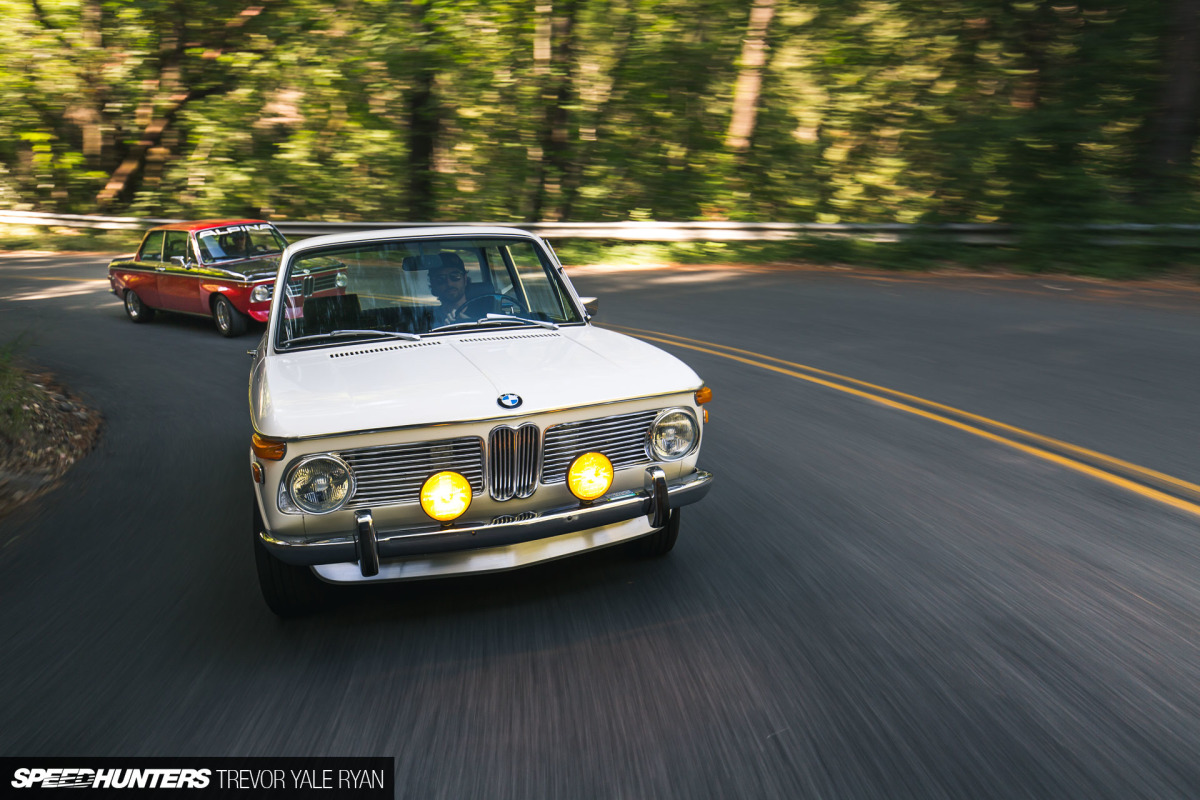 Forrest has been doing what he loves for a long time now and it shows. His meticulous attention to detail and longstanding love for doing things the old fashioned way is very much a proper 'car person' thing to me.
Starting as a gas pump attendant at 15 years old and skipping out of art school, Forrest worked his way up to become a fabricator, shop co-owner, and then a Porsche mechanic. But he admits that his heart just was never fully in these things.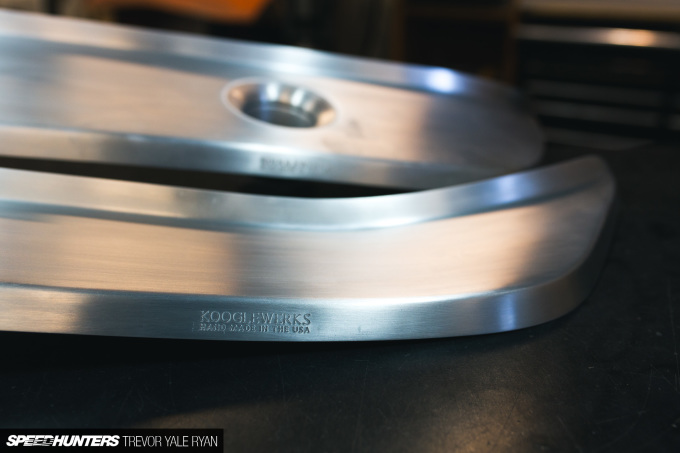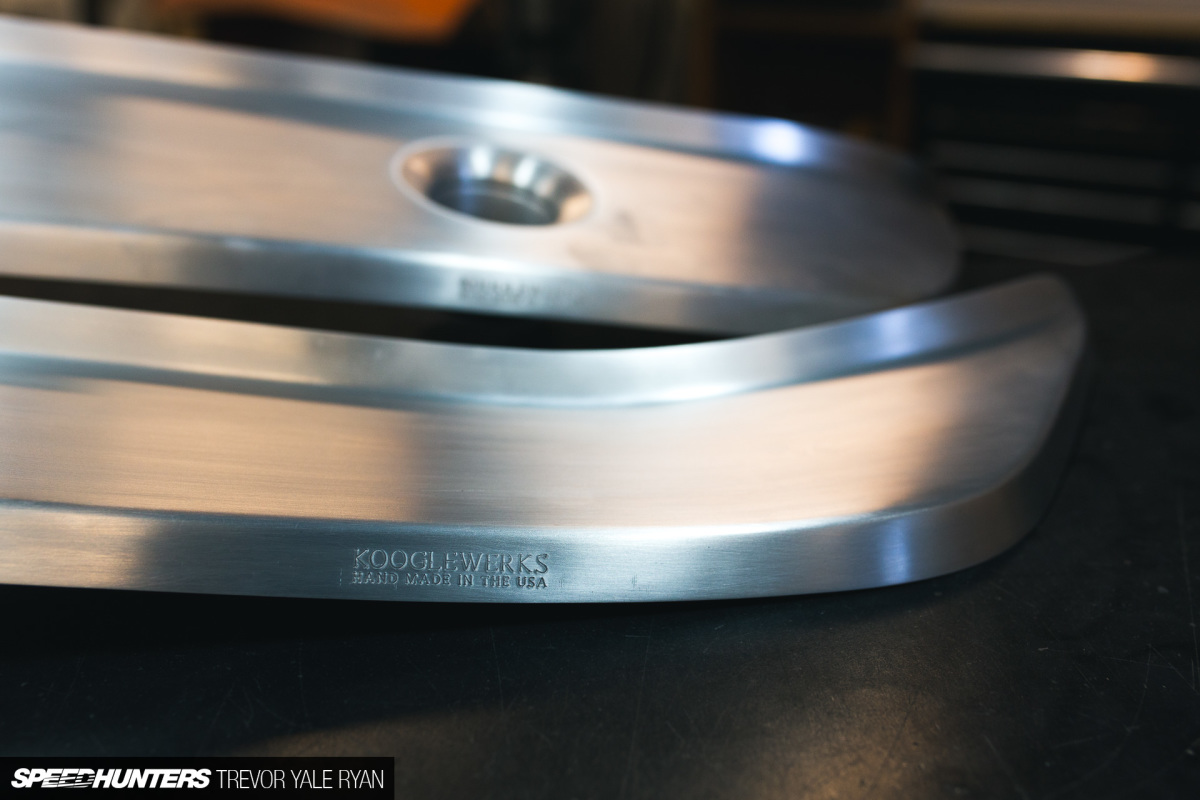 He always had the most fun actually designing and building things rather than wrenching on someone else's work. So, four years ago he returned to his roots with KoogleWerks. Cruising with Forrest and Pierre in some classic BMWs through Sonoma Valley to Forrest's backyard workshop, it's clear he's happy doing what he's doing now.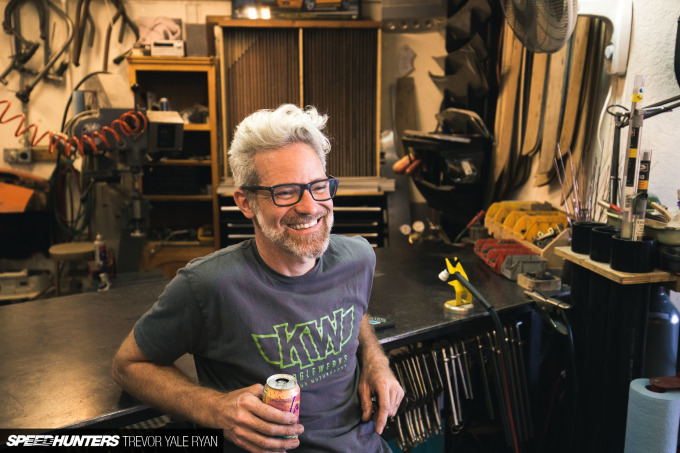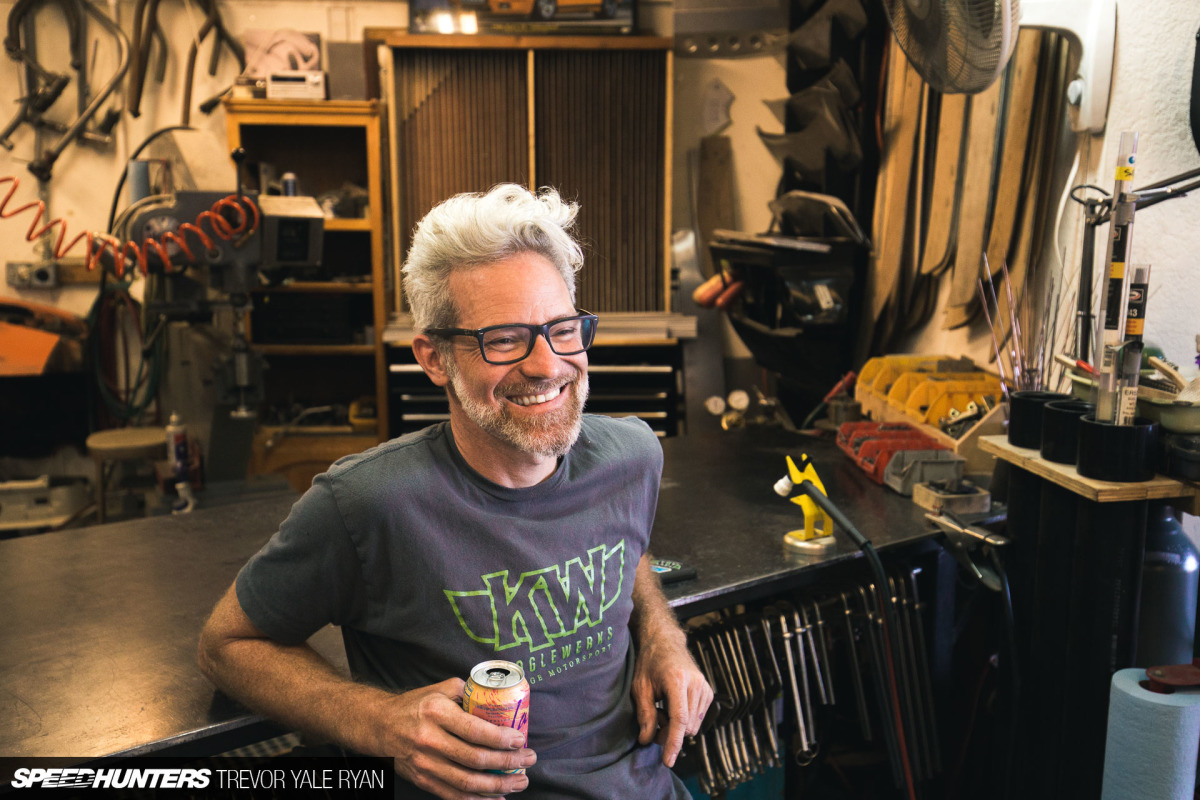 And this is what really matters. While Forrest has been asked many times if he'll start making parts for other makes, the answer has always been no. Forrest says he could offer more parts, but as he's already often working weekends as it is anything more and the magic would be gone.
He's comfortable keeping things small with just him, Pierre, and a handful of Bimmer parts at KoogleWerks. So, let's take a look around the shop space…
Work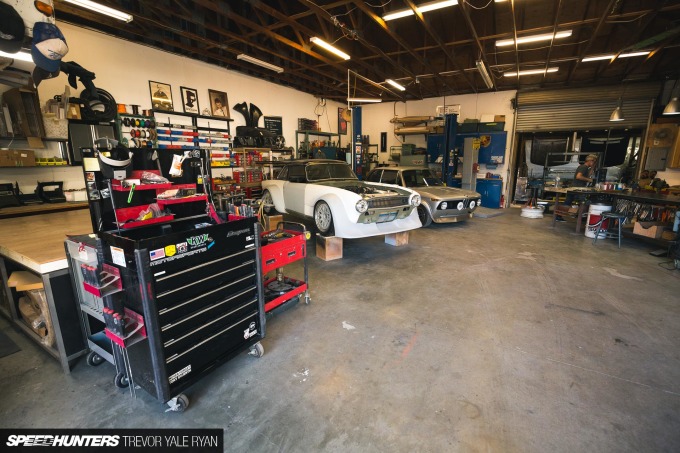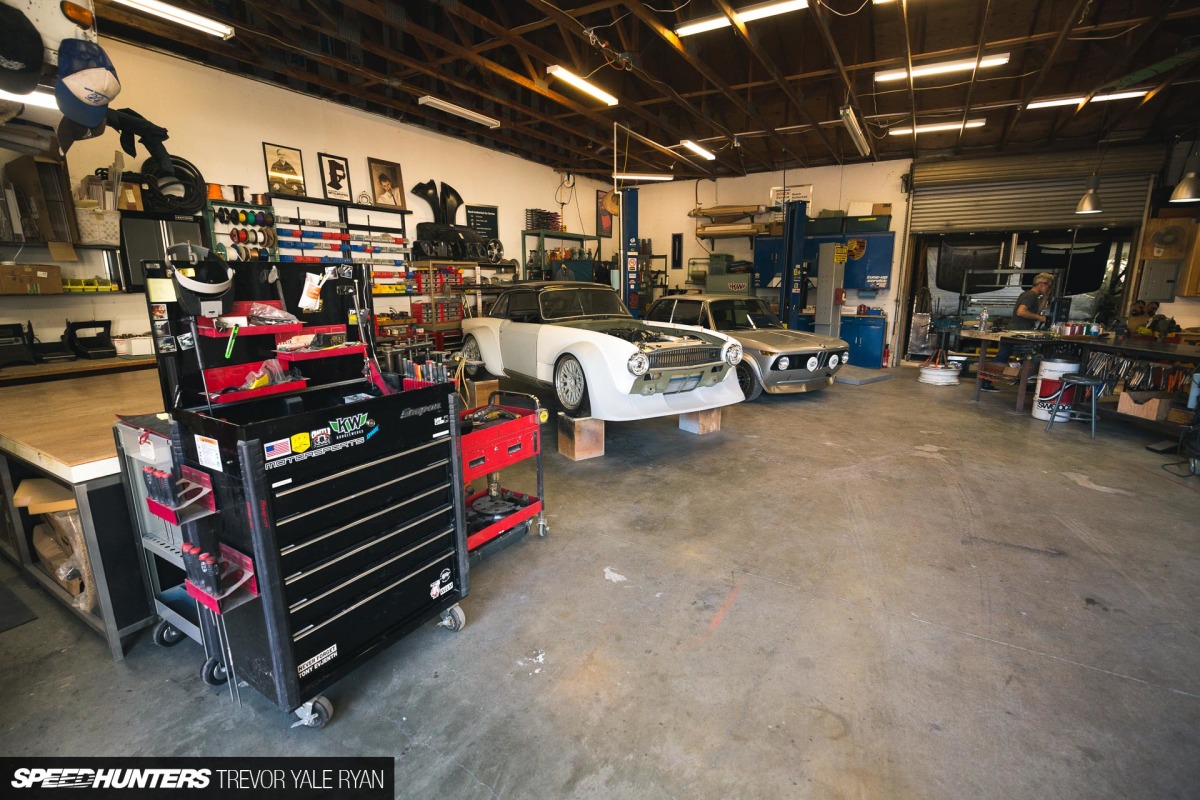 As the door rolled up my eyes got bigger and bigger, then locked on the same thing you're probably looking at now. I'll be taking a closer look at the Triumph TR6 in a future post; this place is just too stuffed full of cool things to deal with it all at once.
While a wide-angle lens has the tendency to create a lot of visual noise, don't be mislead; the work space was exceedingly tidy and organized and I don't think me stopping by with my camera had too big a part in this. A good shop is a shop where every tool has a home, and things looked very much in their place here.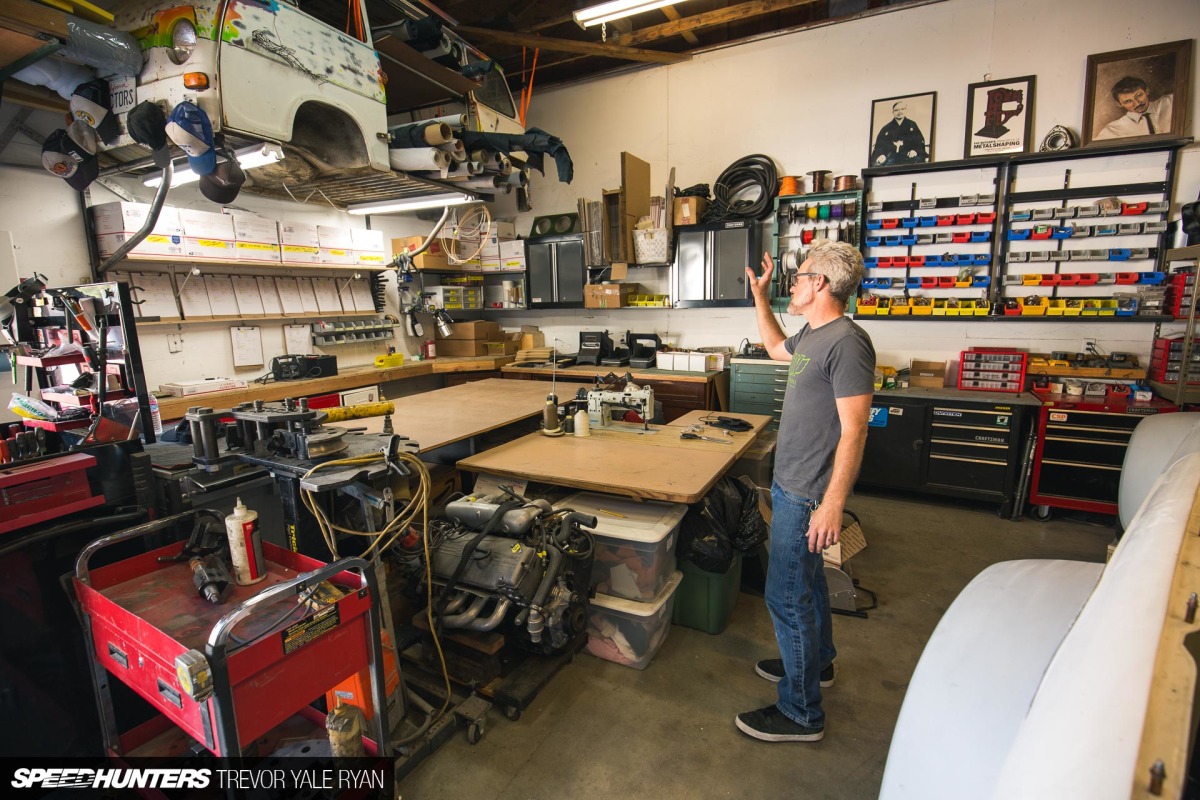 Immediately to the left, in the upholstery and sewing zone, a kei van is suspended from the ceiling.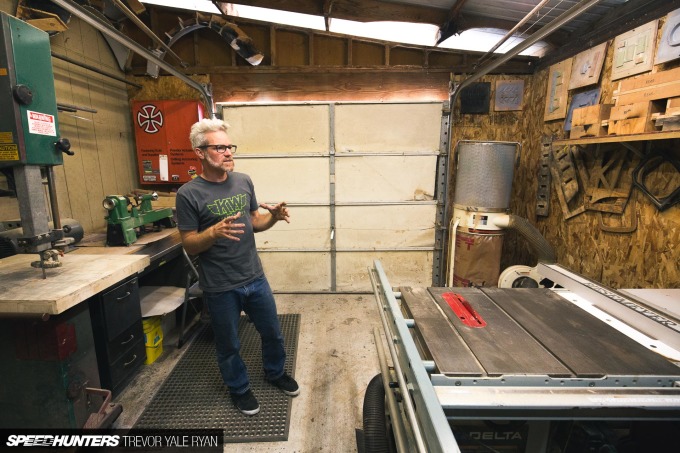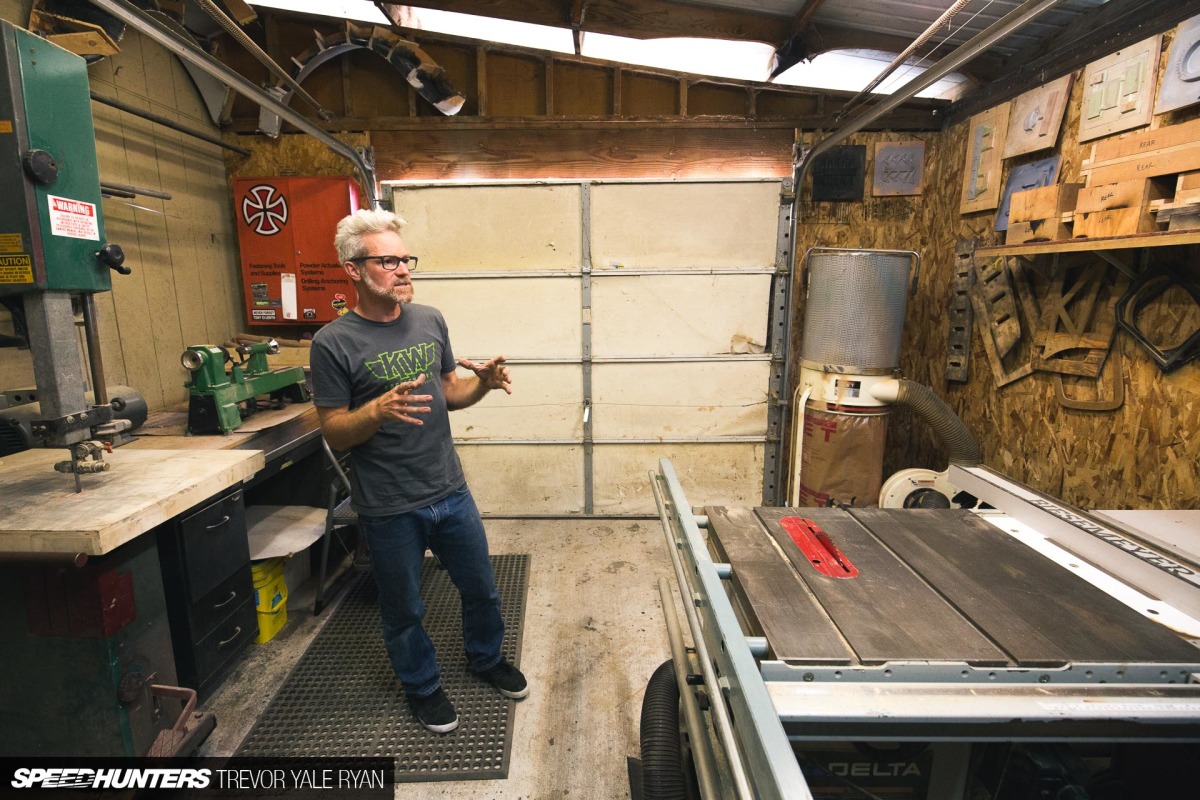 Continuing to the left and working your way to the back of the shop you'll find a table saw and some woodworking tools, as well as a metal pouring area. The fact that Forrest has the ability to cast parts here is completely awesome, if not a bit mind-blowing.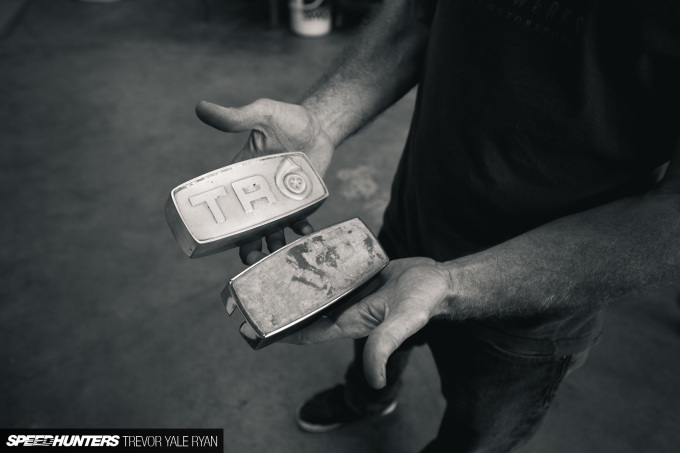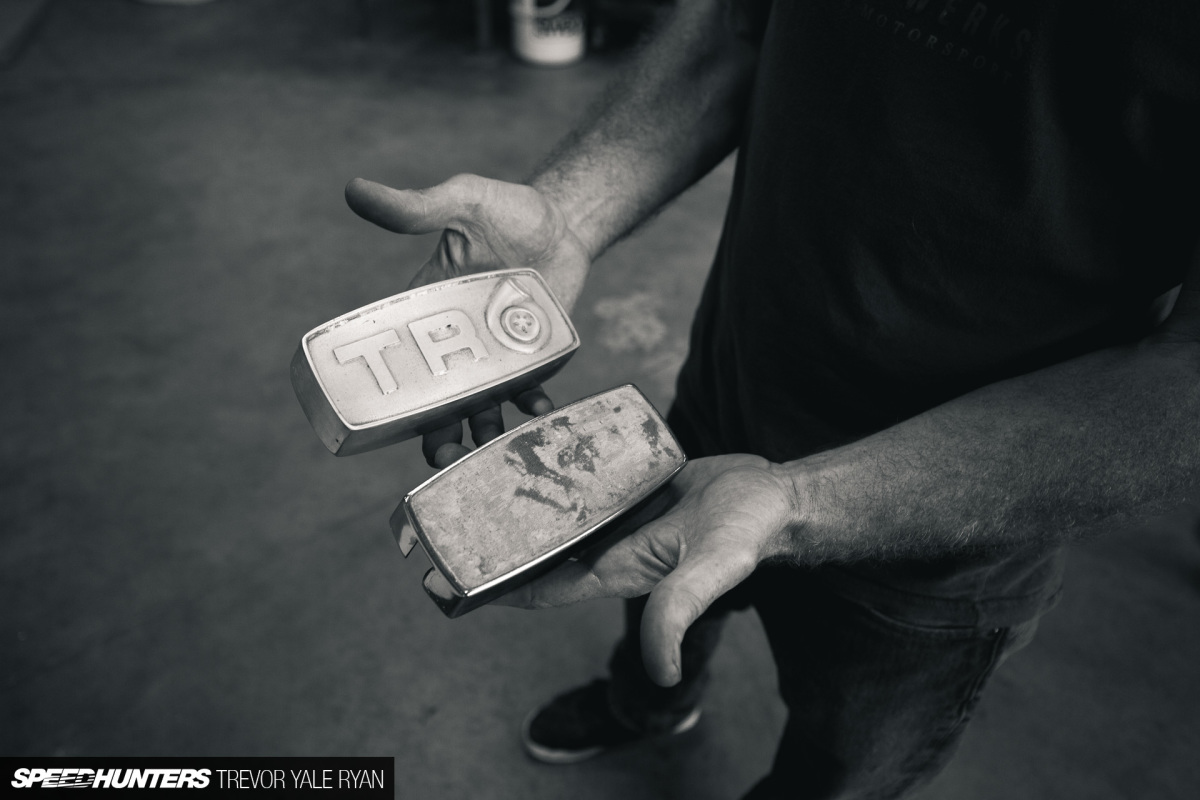 For small-scale part makers one of the most overlooked techniques is a simple, old fashioned casting. It takes lots of knowledge, design work, and prep labor, but if you know what you're doing you can make just about anything. And perhaps this one-off badge will give you an idea of what's going on under the hood of that Triumph.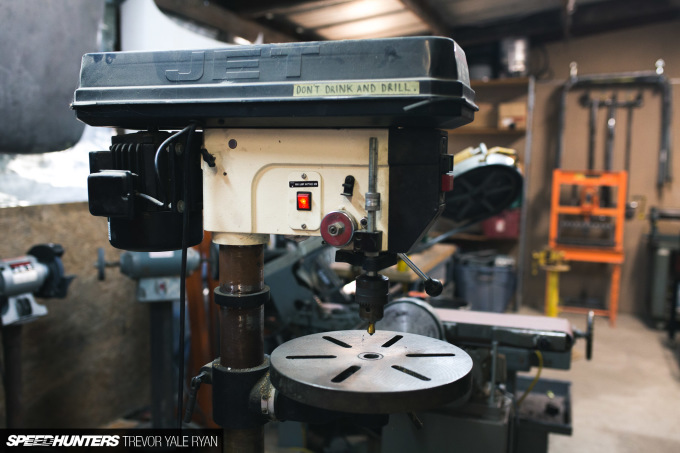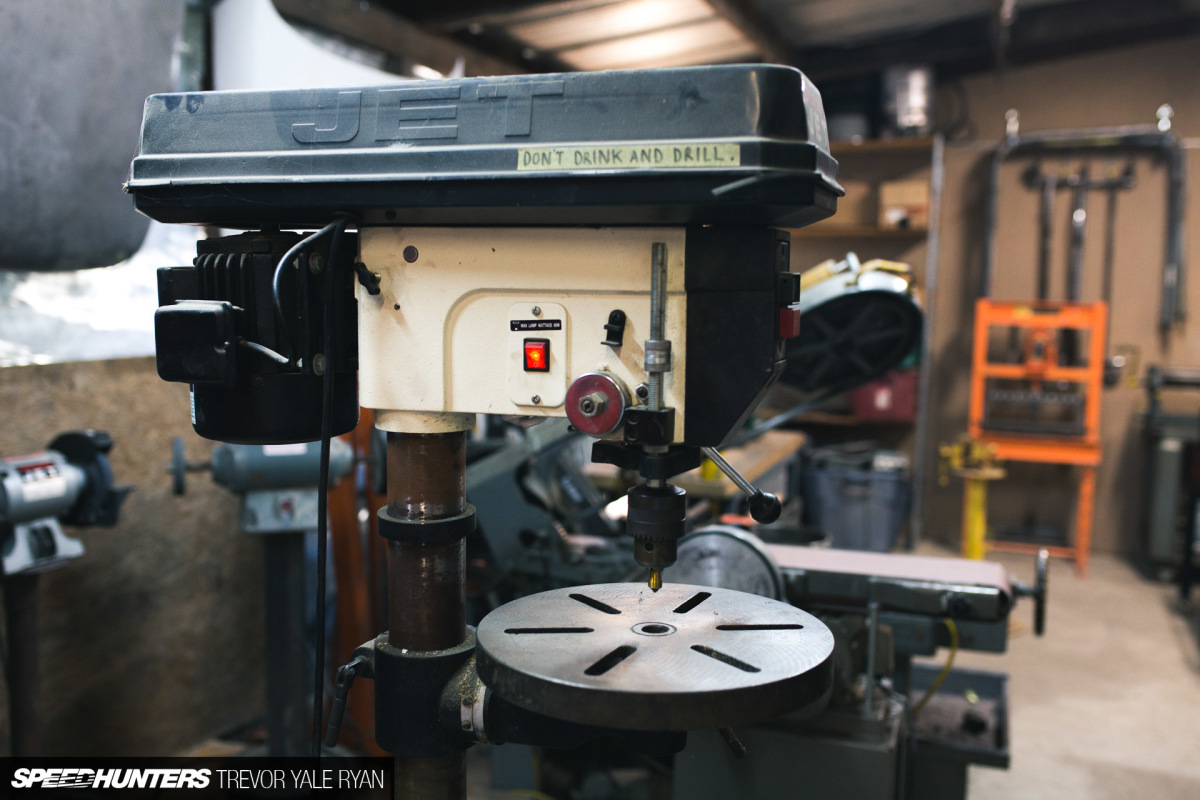 Continuing along the back of the space there's the sort of shop tools that you'd expect to see for wood and metal work.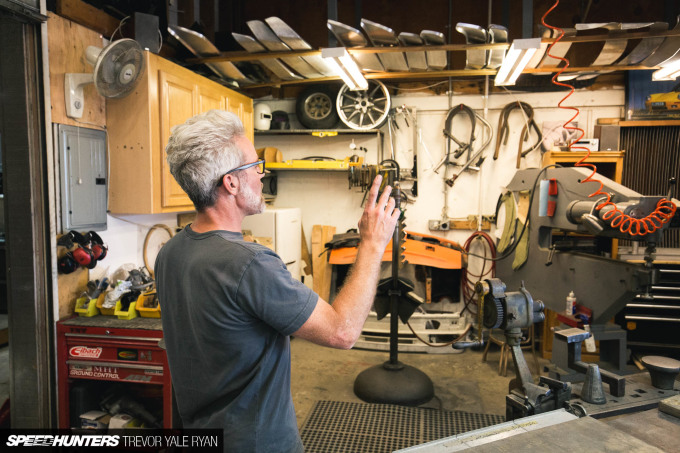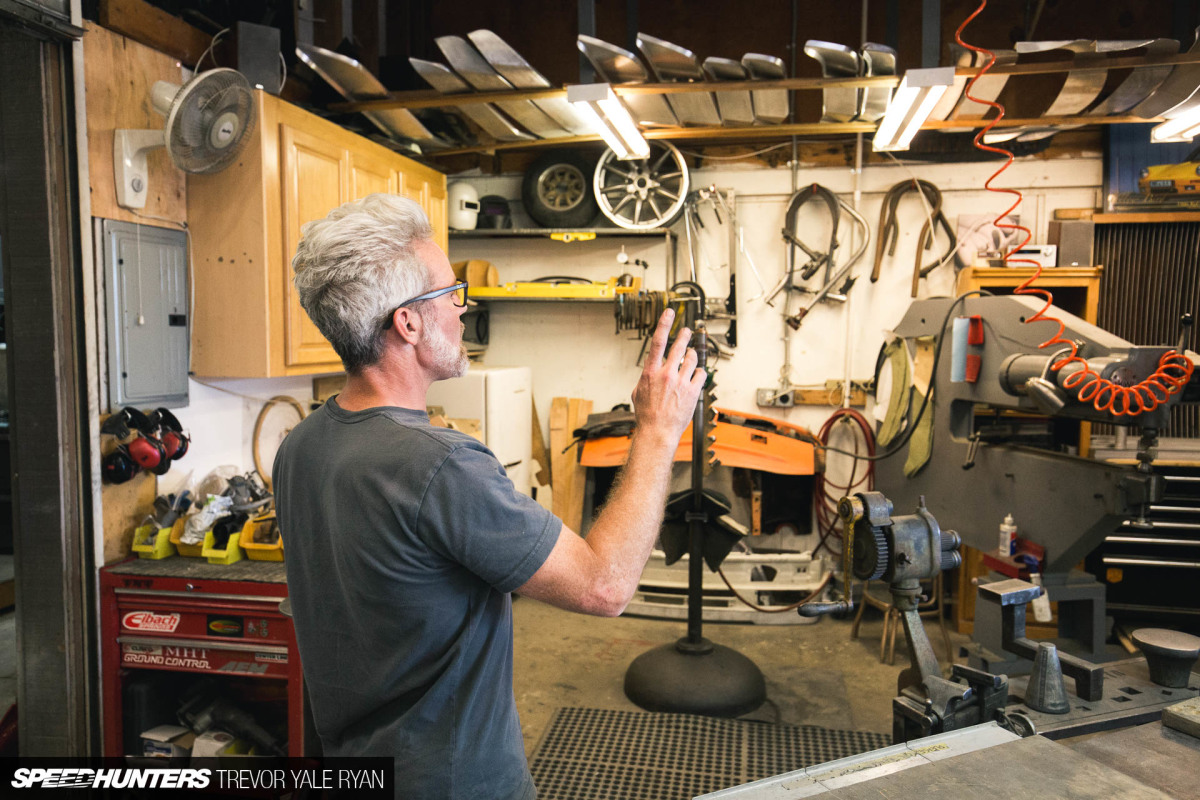 But it's back up front, now on the righthand side, where the magic really happens. This is where Forrest's beloved Pullmax and air-driven planishing hammer live.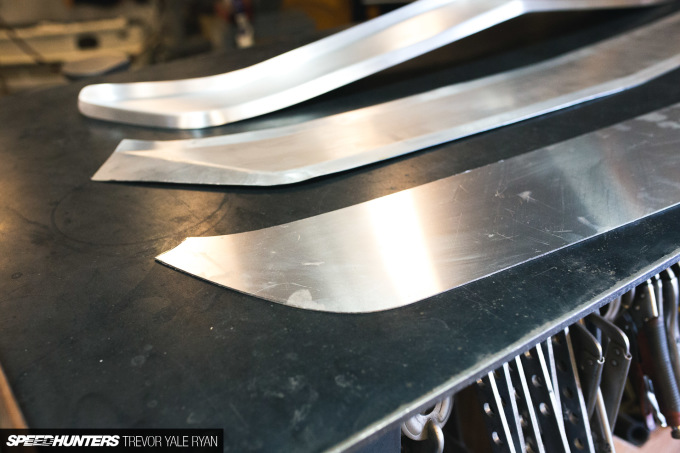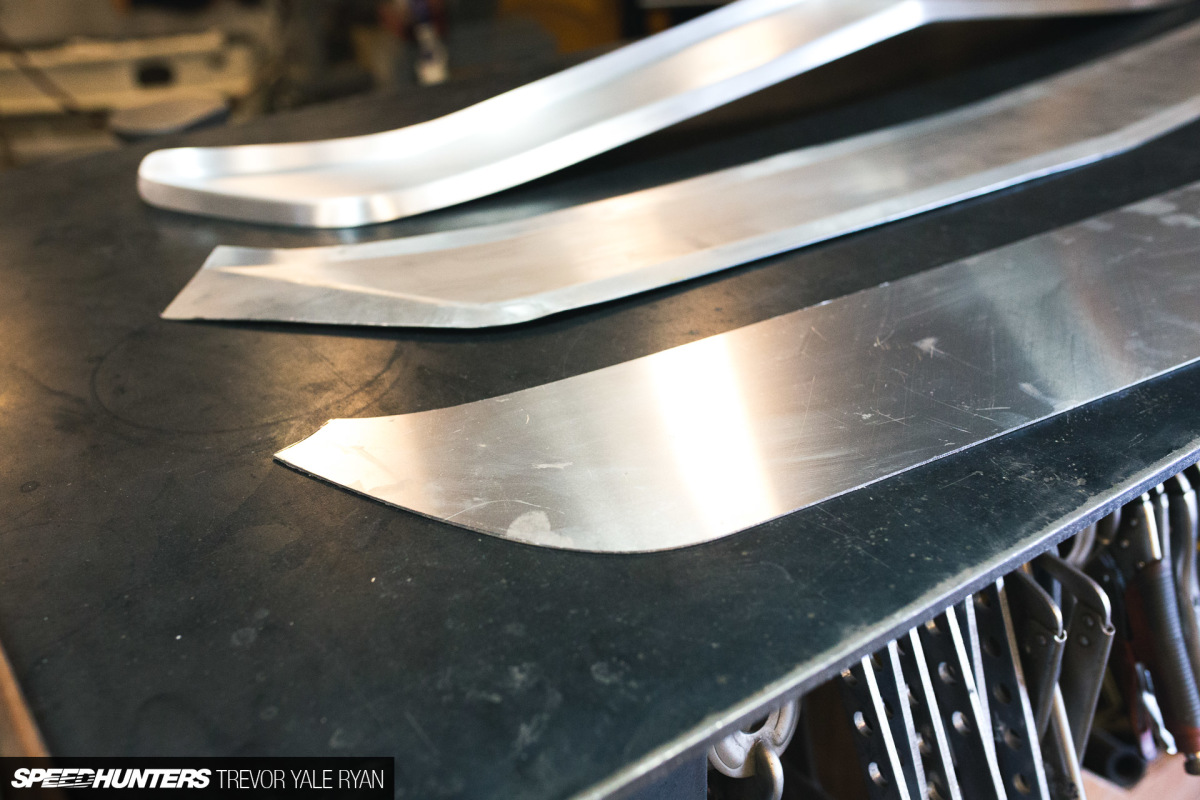 These old tools are the secret sauce that Forrest has been pouring over flat sheets of metal to turn them into works of art. It was actually the air dam on his friend Rick's car that caught my eye in the first place, and got Forrest and I talking.
Design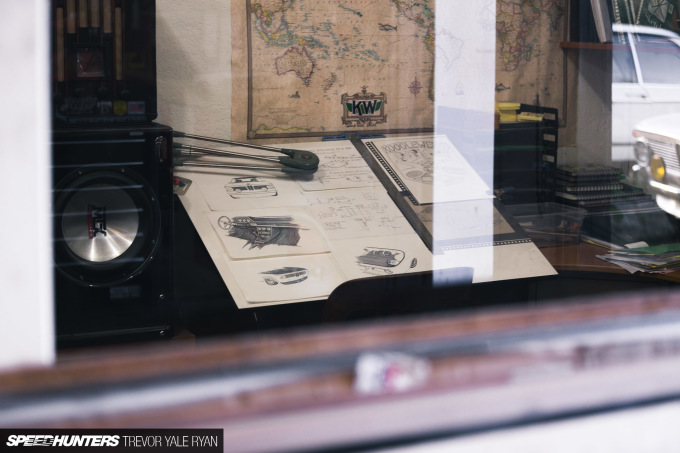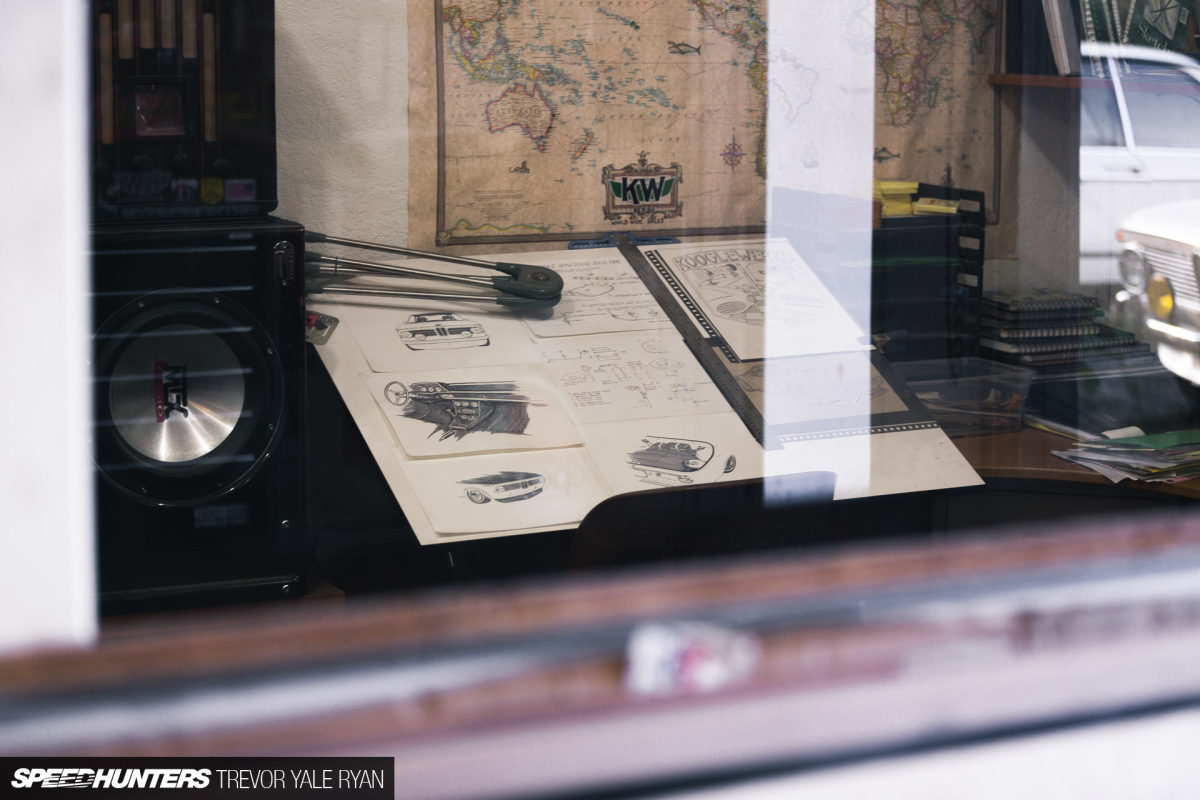 To look into this process we need to take a step back and head into Forrest's office.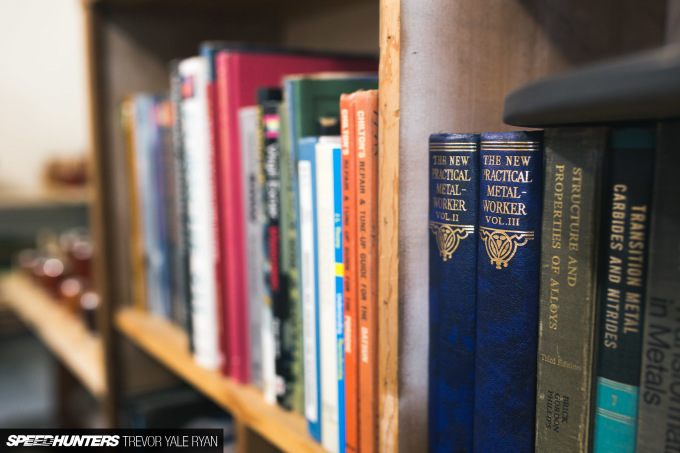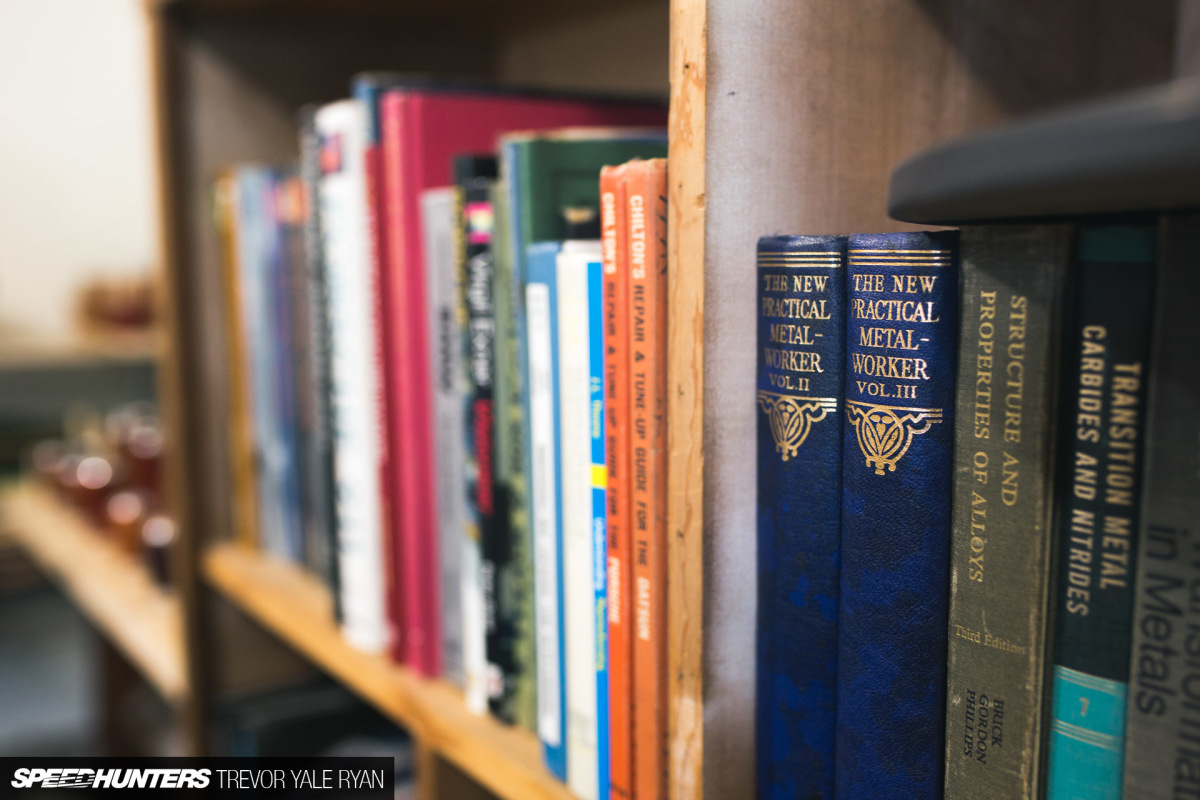 Here you'll find a library of amazing reading material that (surprise!) Forrest has actually read. In these books he's learned about various techniques and tons of tidbits of useful information. For example, how the grain structure of different metals reacts to different outside forces, temperatures, and processes.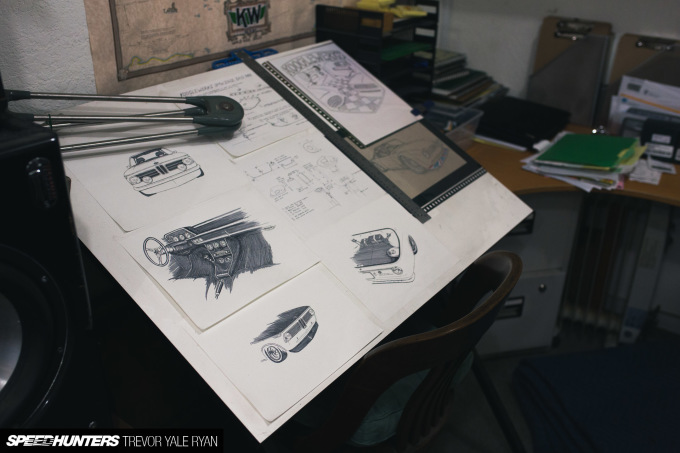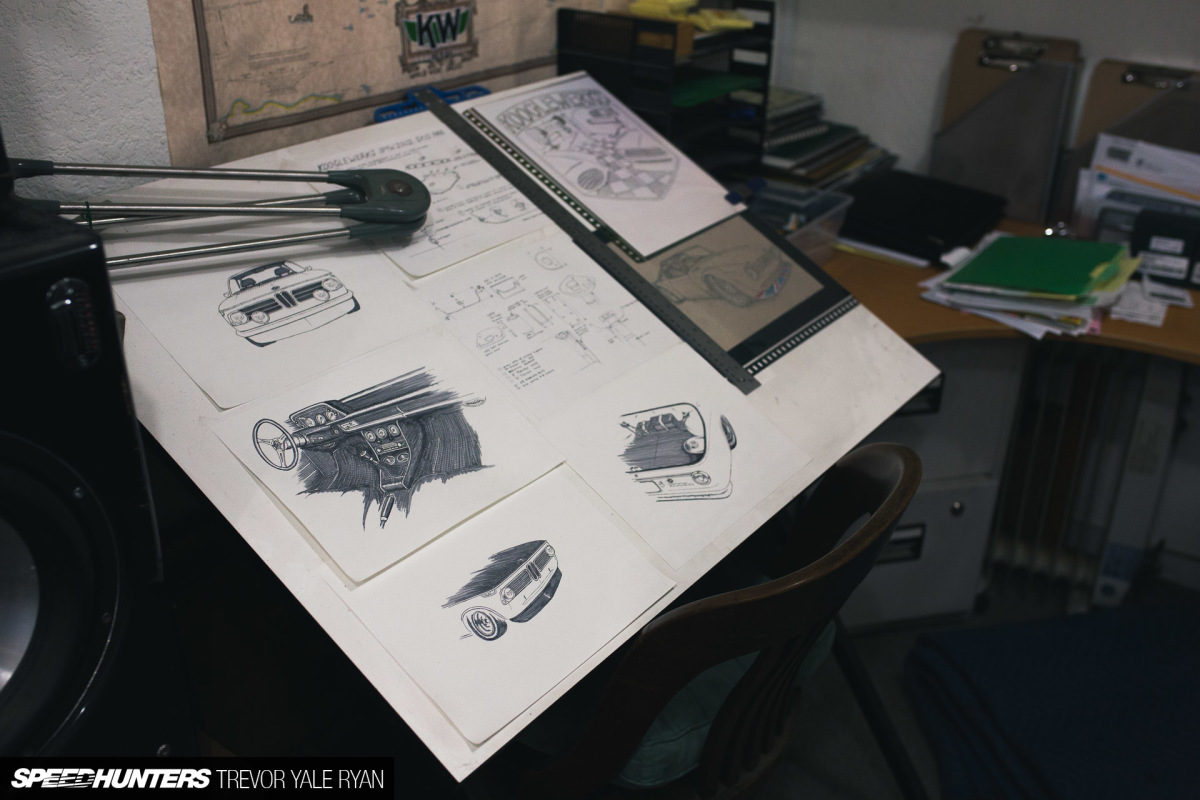 It becomes clear pretty quickly that this is a workshop that sees the whole picture. From design concepts to a molecular understanding of what's happening during the manufacturing process, Forrest has worked for years to master it all.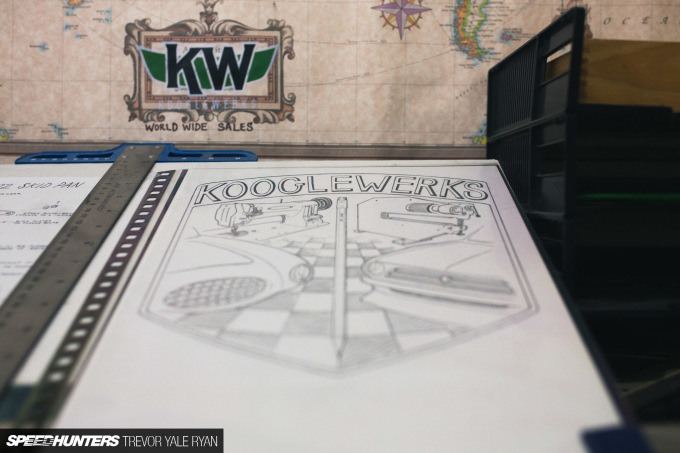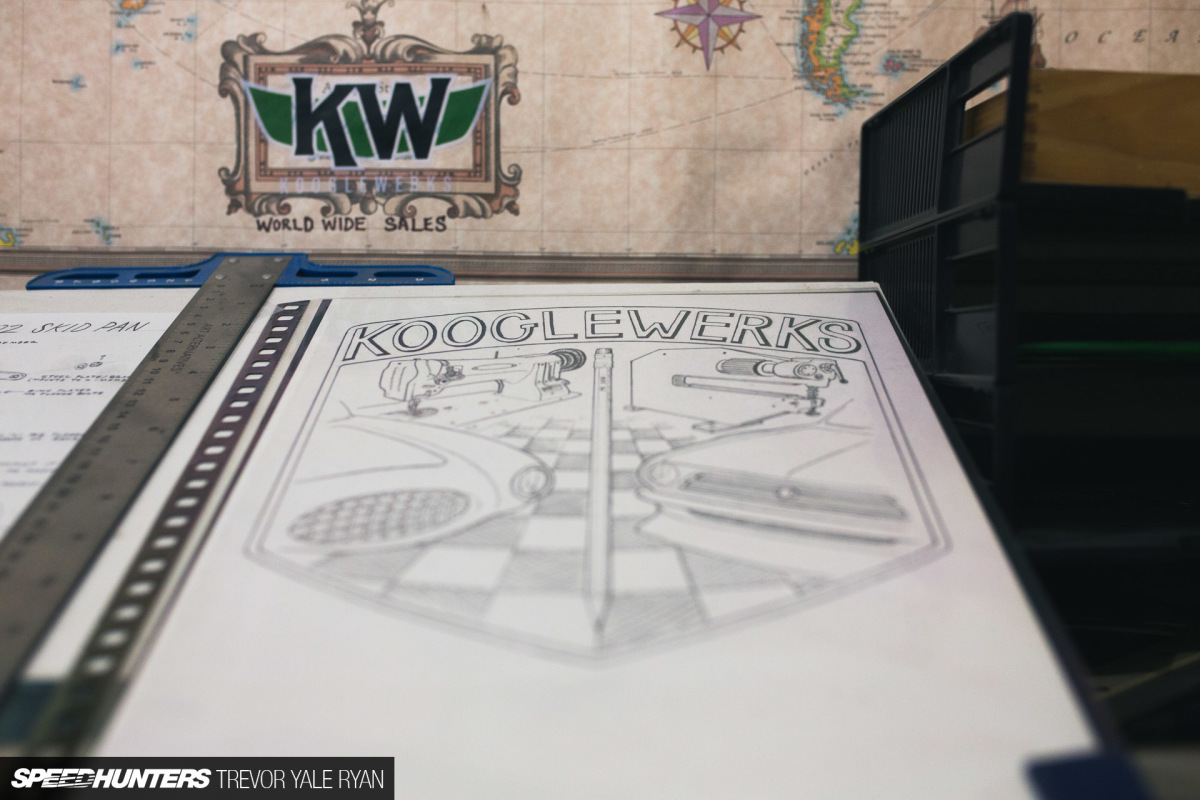 Alongside beautiful concept drawings you'll notice schematics for Forrest's trunk-mount fuel filler which he was using in the above photo at a gas station. Perhaps it's a bit nerdy, but this is exactly the sort of thing I'd like to have on my walls at home.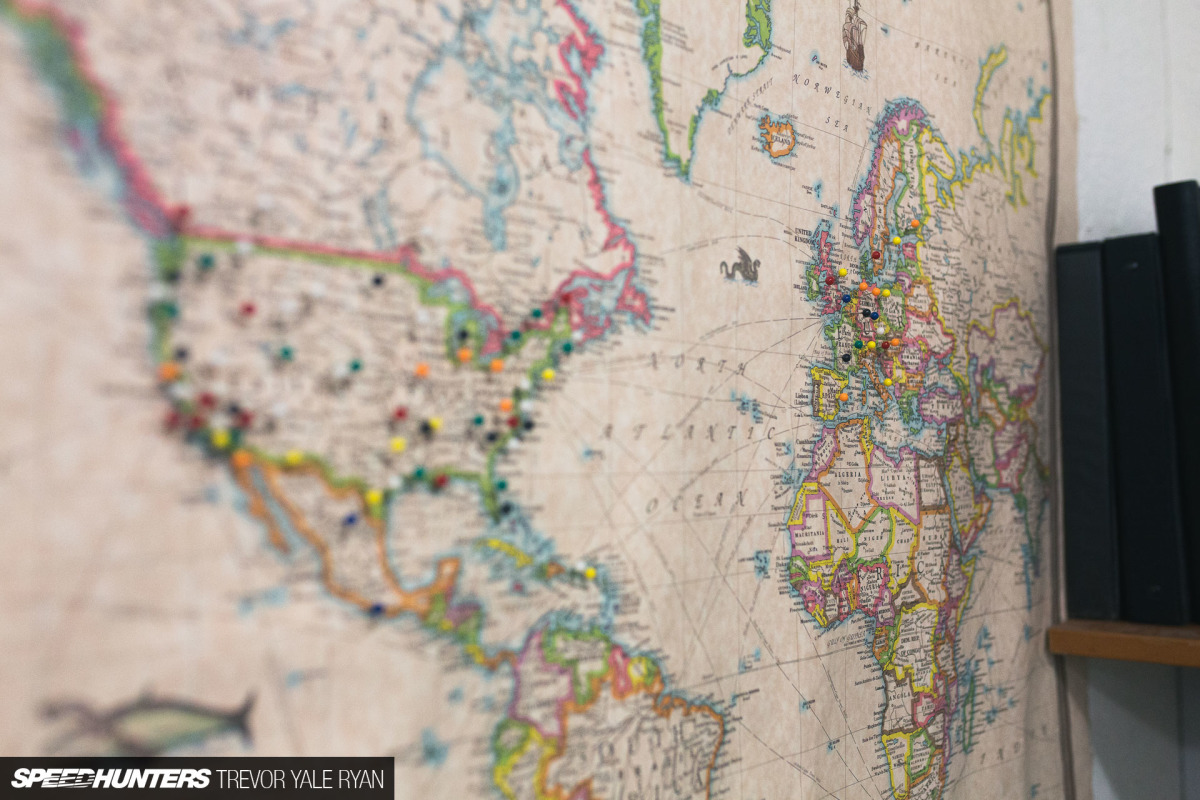 Above the drawing board is a thumb-tack map showing where Forrest and Pierre have shipped parts off to around the globe.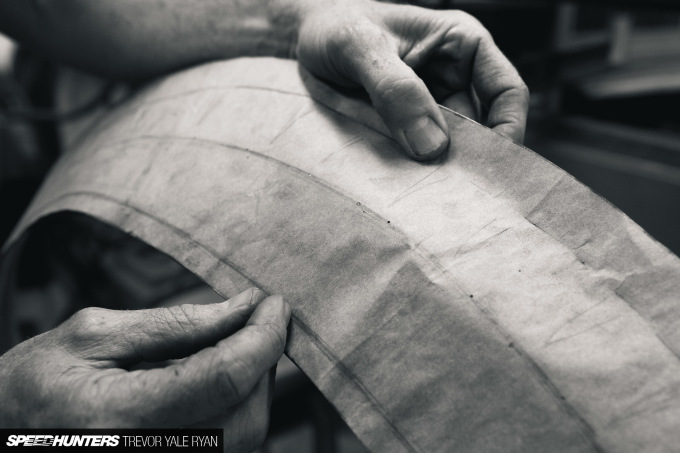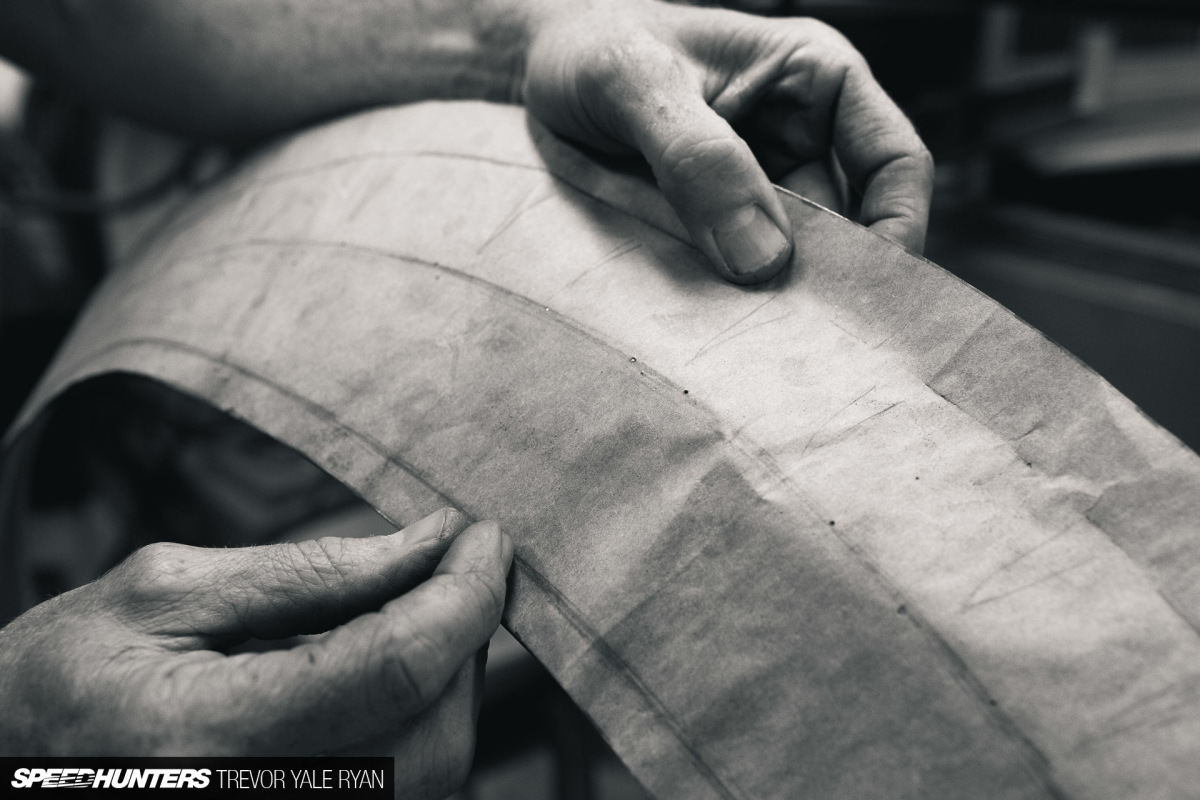 Going from 2D to 3D, Forrest does one more step in paper before transferring these lines over to a roughly-shaped sheet of metal.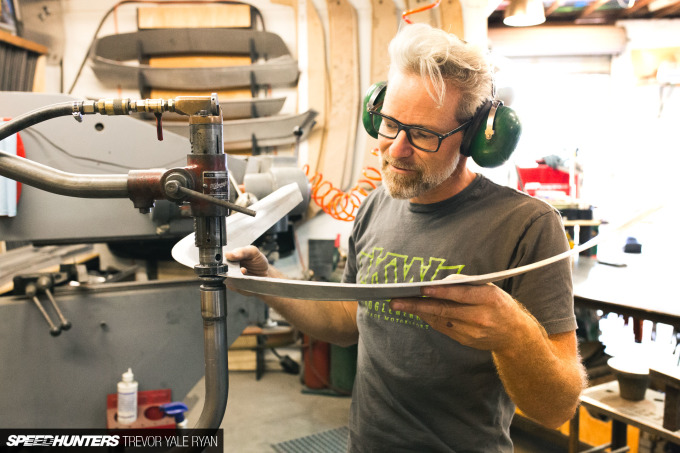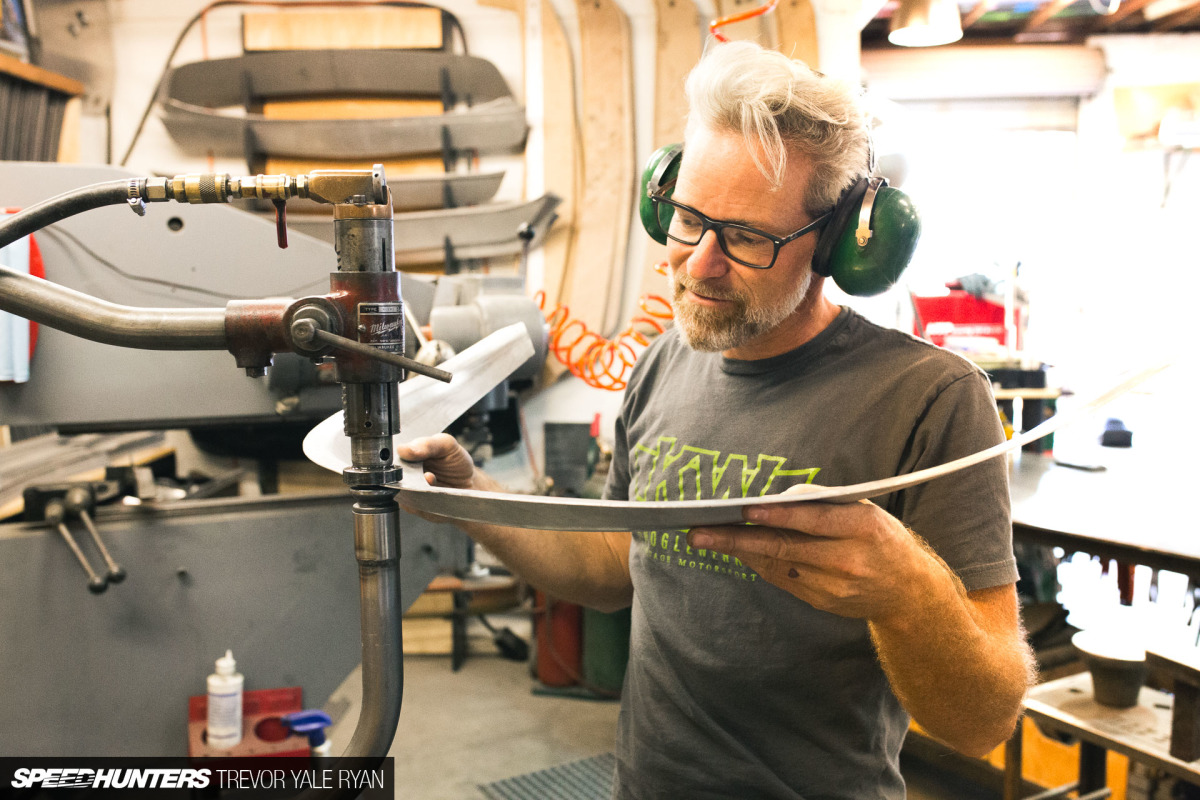 From here Forrest will hop on the planishing hammer to create whatever edge, curve, or lip that he desires. It's not a simple matter either, and over years of trial and error Forrest has made his own dies for different parts.
The other trick up Forrest's sleeve is his gigantic Pullmax machine. For such a big toy the business end is rather small, and to really understand what this thing does you're best suited to a quick YouTube search on your own time.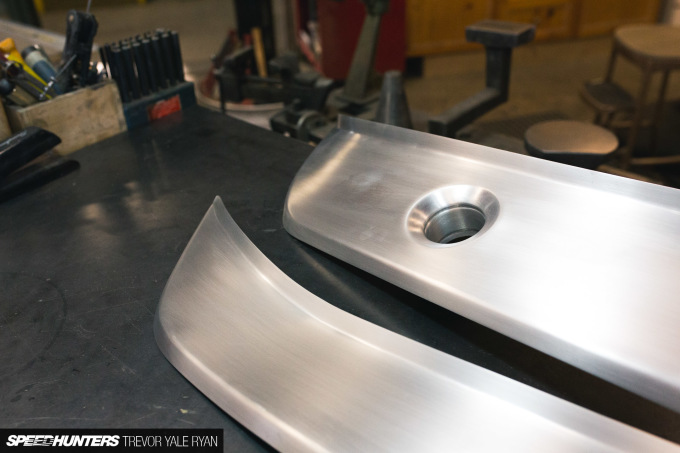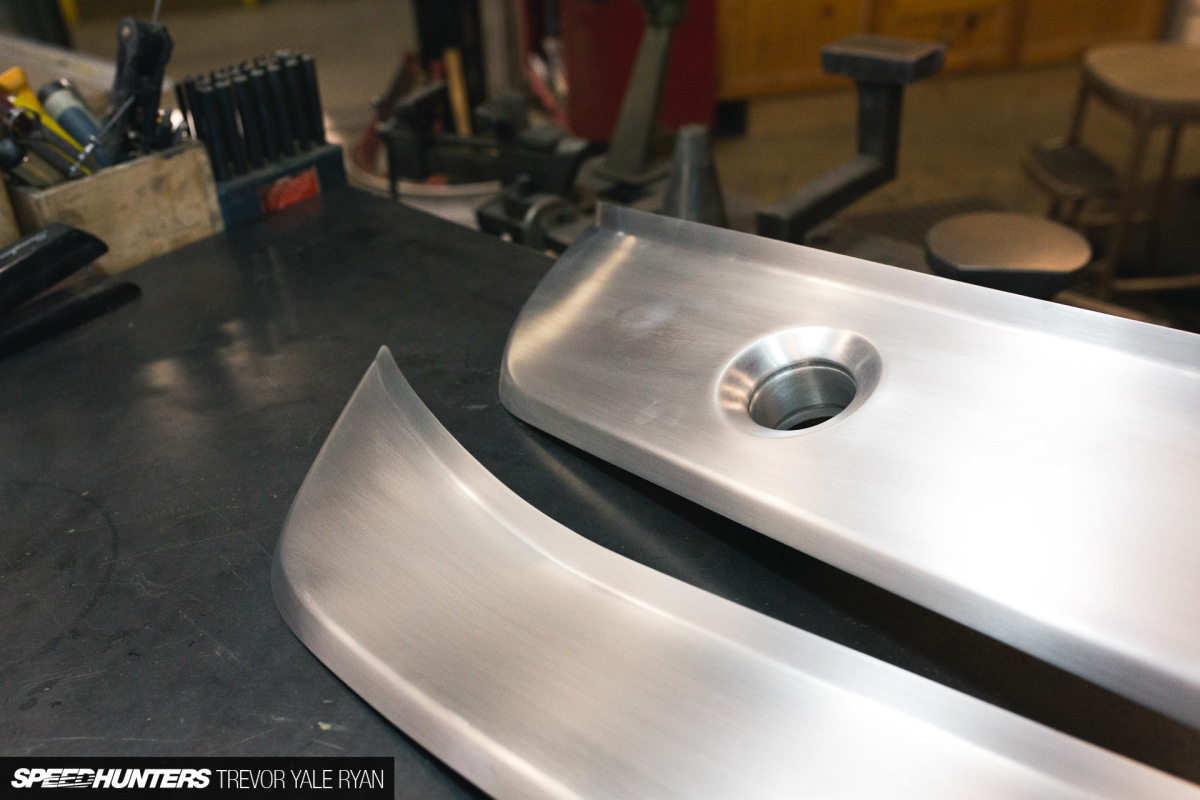 The results of these hand-forming techniques that have been around for decades upon decades are simply incredible. This is where a proper understanding of how your working material behaves is really important. Read your textbooks, kids!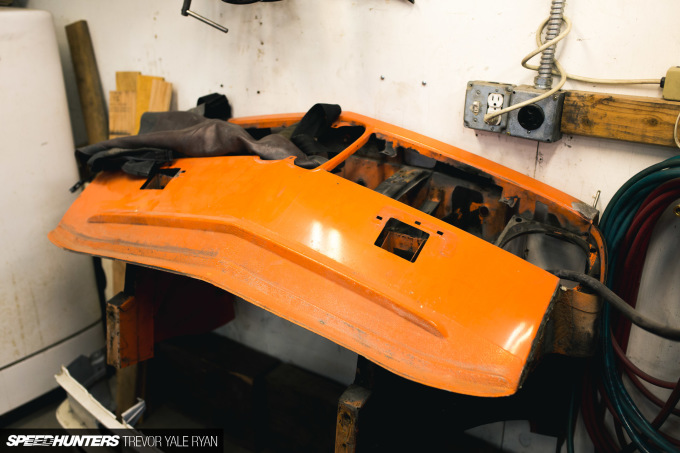 Throughout the process the air dam is checked on a 2002 front end that's known to be true, and then checked again before being sent out.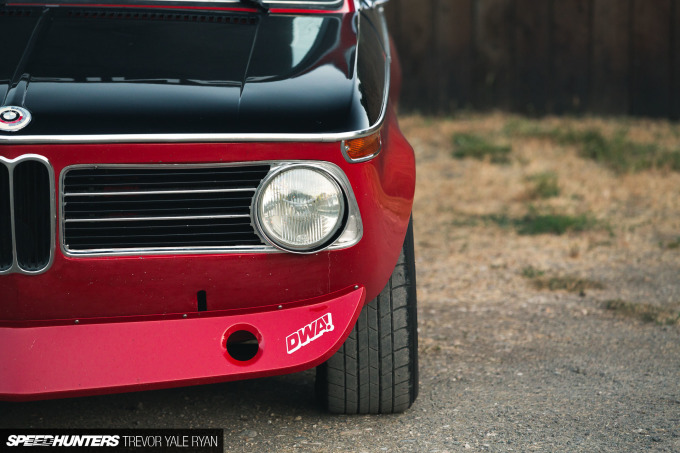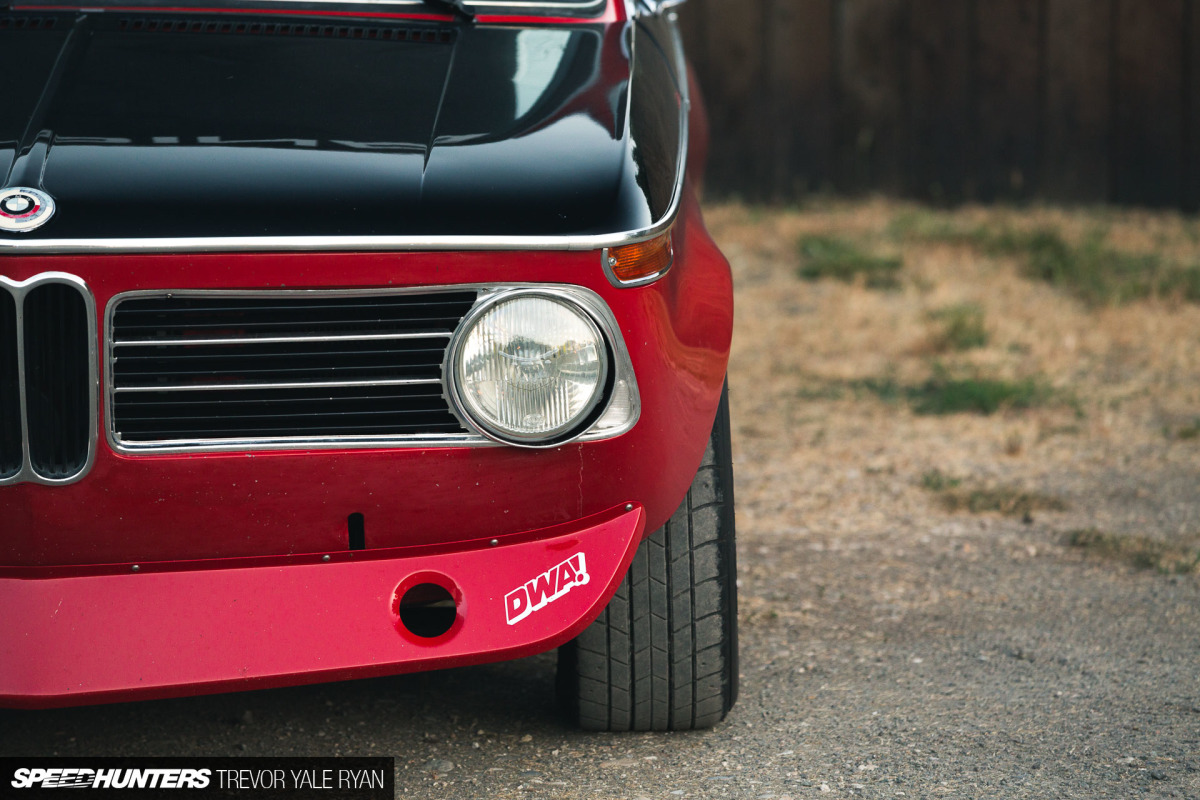 All painted up and polished down, here's the final result. But this is just a small part of what Forrest does; I haven't even touched on the other half of the shop…
The Dark Side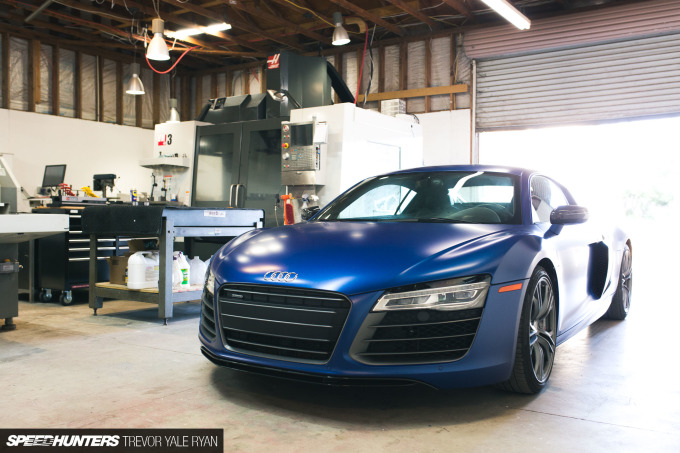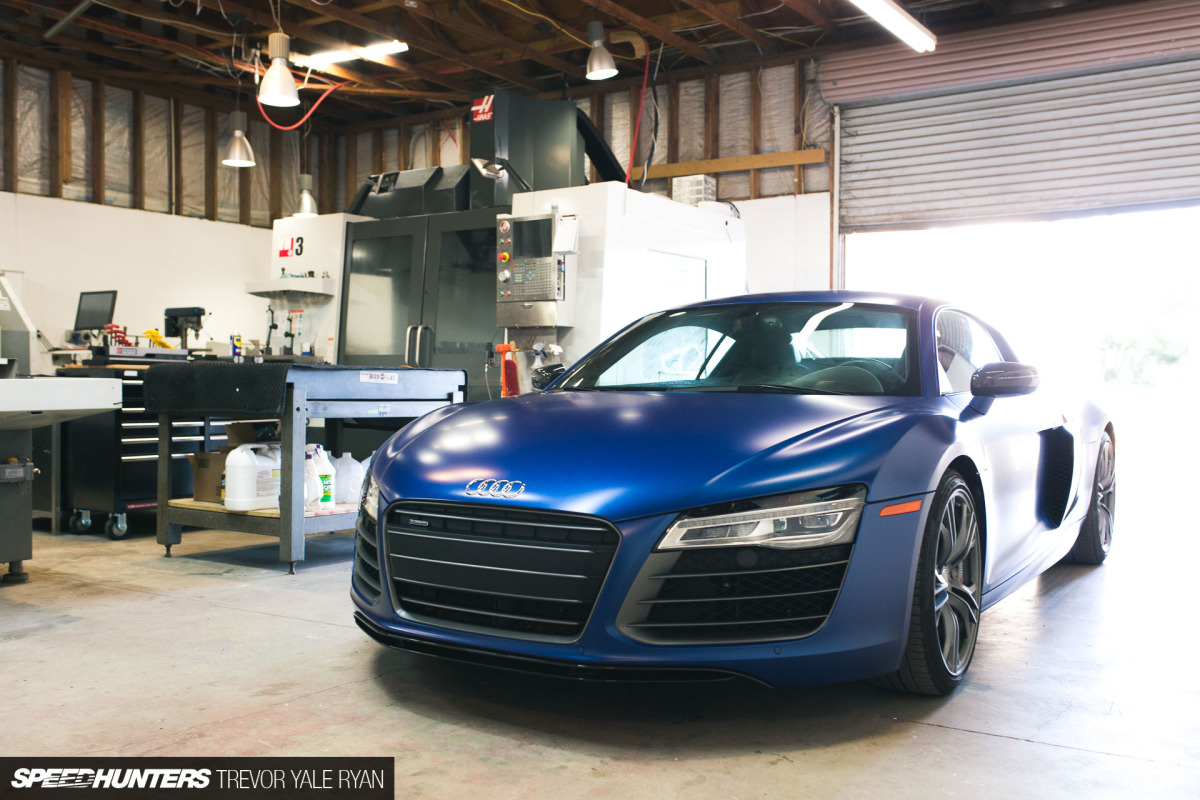 Over here, Forrest's buddy Jesse Hayes — a video game designer turned machinist and CAD model wizard — has a handful of high-end equipment just sort of hanging out with his V10 Audi R8. There are a few manual mills and lathes alongside his newest acquisition, a Haas VM3 CNC vertical mold machine which includes a 4th Axis table in case you need to get fancy.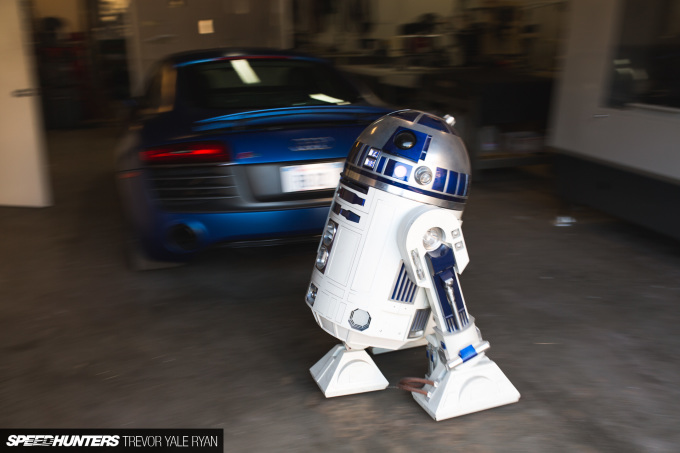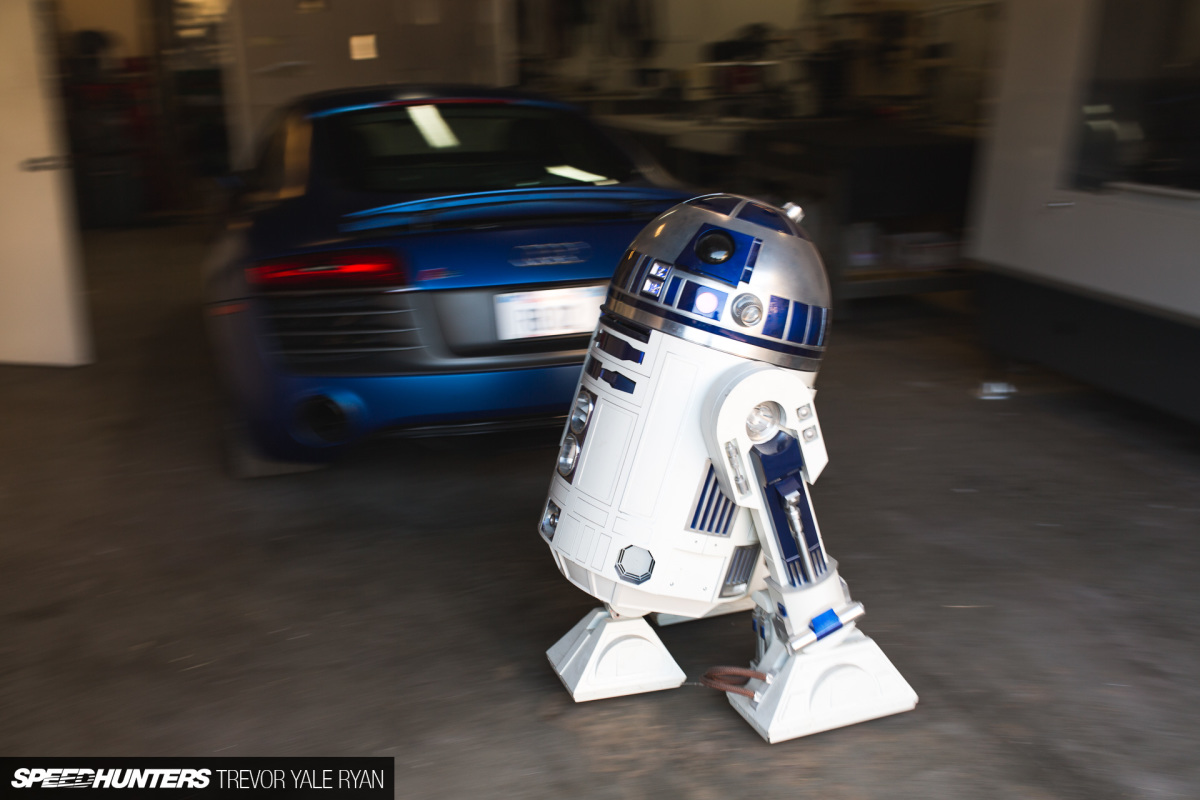 The plate on the Audi reads R8D2, which makes a lot more sense when you see that Jesse has actually built a fully functioning R2-D2 unit, complete with all the screeches and whirs, from the ground up. While Jesse and Forrest have worked on some small odds and ends together, I'm not entirely sure what their next big project they're planning will be. Whatever it is, I'll need to check it out.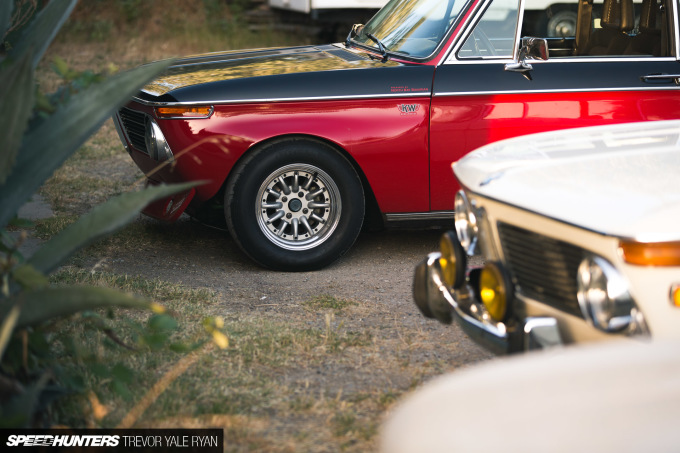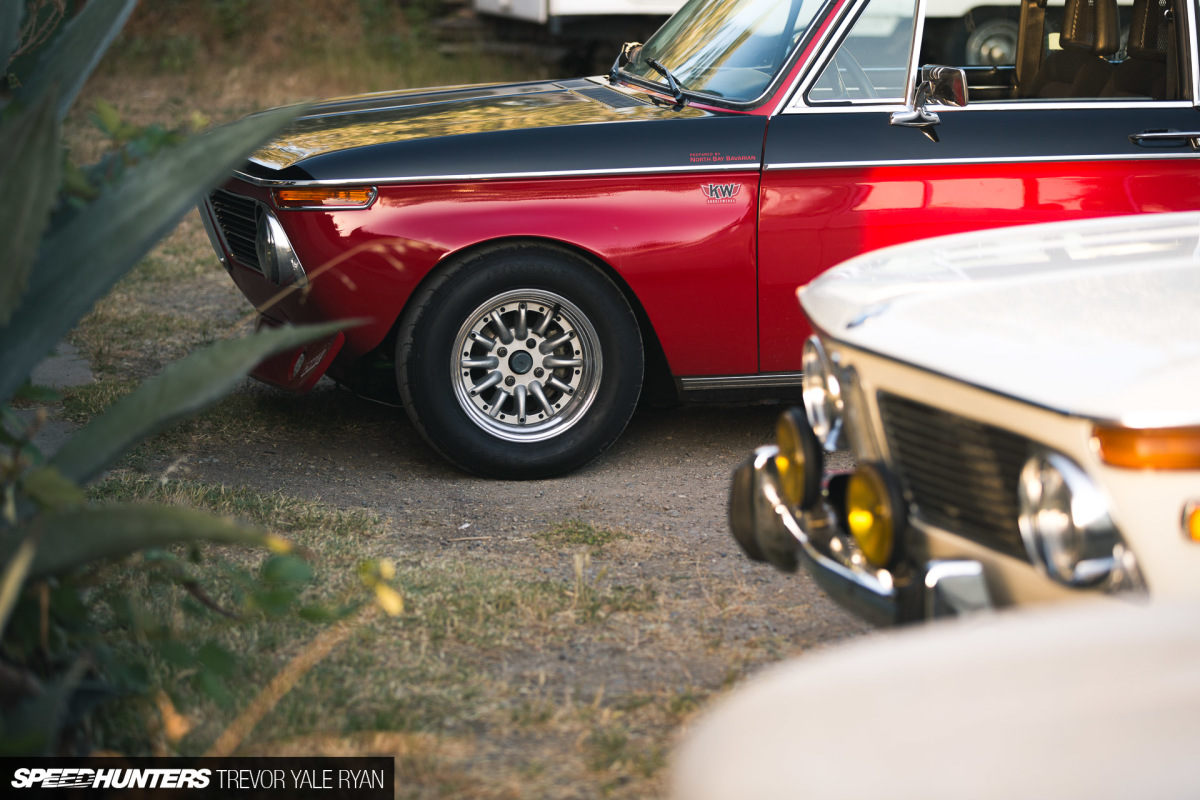 I'll also have to get back to this 2002 and 1600 duo that tackled the backroads; I promise I'll give you a closer look soon.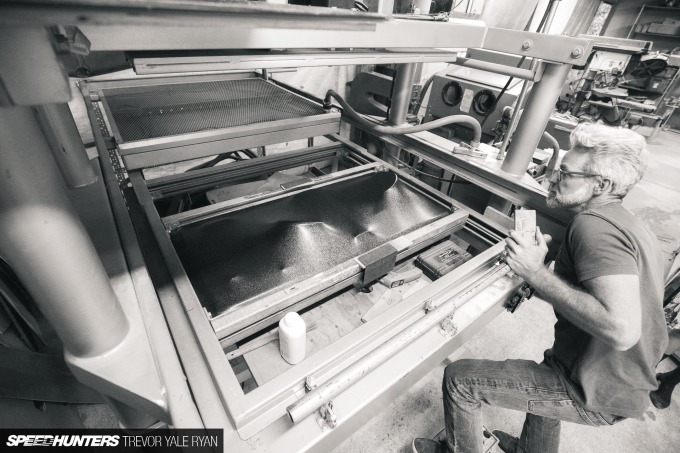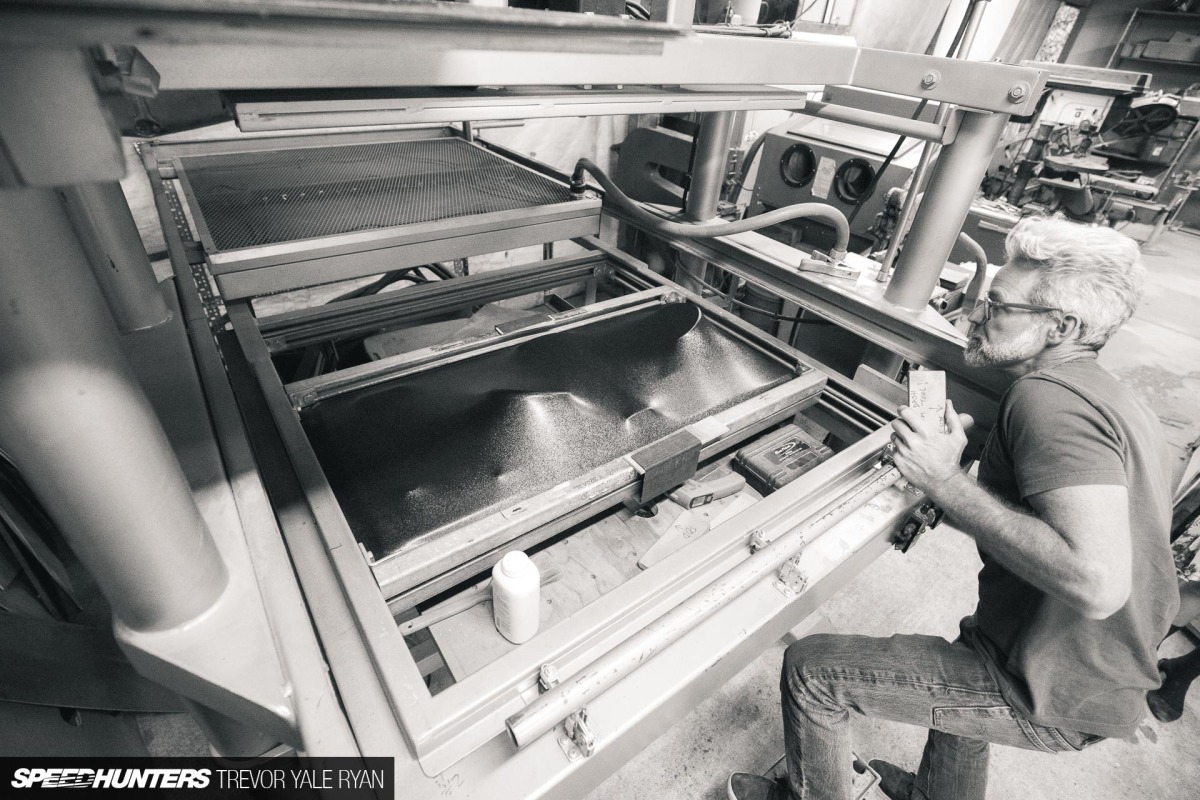 And, conveniently, I completely skipped over one of the major manufacturing techniques that Forrest uses at KoogleWerks, so I'll need to give you a walkthrough of this later on too.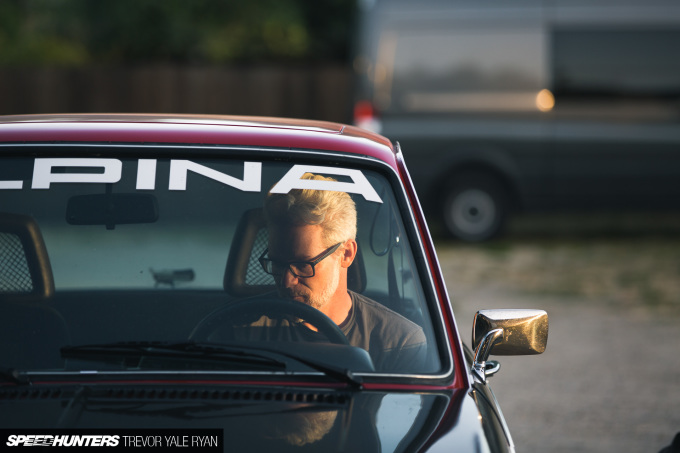 But for now, I hope you've enjoyed a lazy Sunday afternoon with Forrest, Pierre, and Jesse.
I know I did, and I'll be back soon.
Trevor Yale Ryan
Instagram: tyrphoto
TYRphoto.com
BMW related stories on Speedhunters
Lazy Sunday