After years of having 3 Series convertibles in the family – a pair of E46s first and then an E92 – it was Project Drop Top that really sparked my interest in how the Japanese look at BMW modifying. If I had to split it up, I'd say there are three main approaches taken.
Street tuned cars make up the biggest slice of the group, and by this I mean the more simple approach is taken, usually consisting of wheels, suspension and some basic performance mods like an exhaust and intake. Pretty much the way I've gone with my F33, and what shops like Studie are so good at.
Then there's my favorite, the track day specials. These are still street cars, but true performance-focused machines running race dampers, big brake kits, stripped interiors and everything you'd need to shave precious tenths off your lap time at Fuji or Tsukuba. These are the sort of cars you'd see come out of places like SunBeam, and are all about function.
Finally, we have group three, the stance crowd.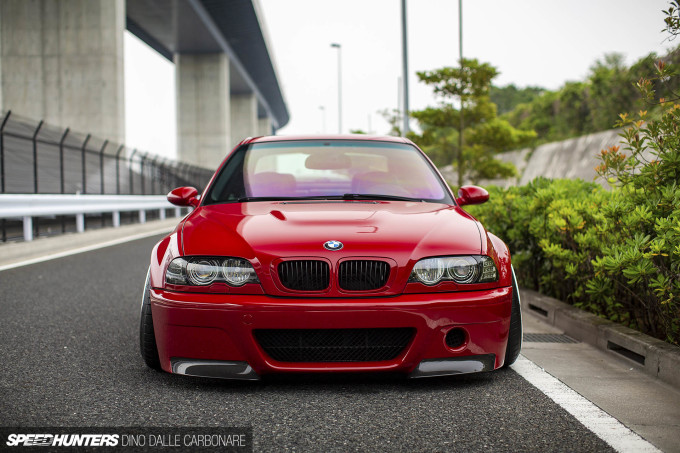 Admittedly, this is the one side of BMW modifying I've spent the least amount of time covering in Japan. Sure, we see the odd slammed Beemer at shows like Wekfest, where incidentally I first spotted this M3, but there's been a need to take a closer look. This is an approach that's grown considerably in Japan with BMWs and other German imports.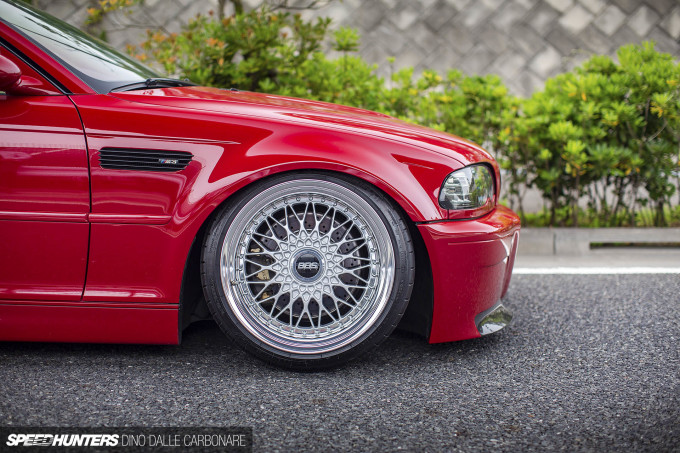 And Dai-san's CSL-inspired E46 is one of the best examples out there.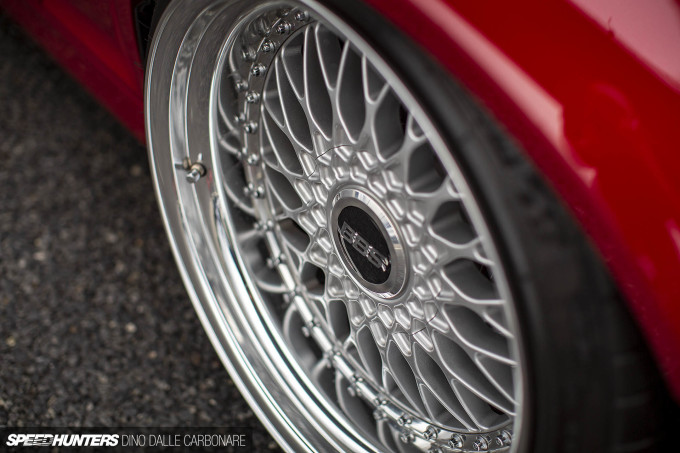 The car sits low on 326 Power coilovers that help maximise the effect the 18×9.5-inch (front) and 18×11.5-inch (rear) BBS Super RS wheels give. It's a simple matter of taking that loved old BBS mesh look which is so well suited for older cars, and making it work in a bigger size on a modern performance car.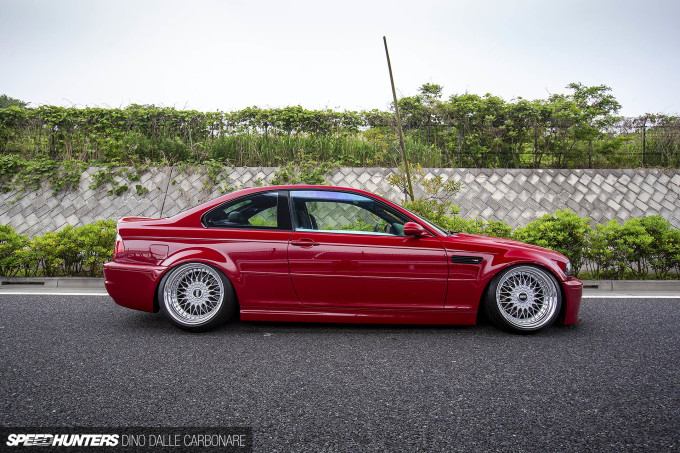 The static drop is quite aggressive, allowing the curvature of the blistered M3 fenders to swallow up the 18-inch rims beautifully.
The simple silver centers matched to a polished rim is also a nice choice, especially against the BMW's factory red paint.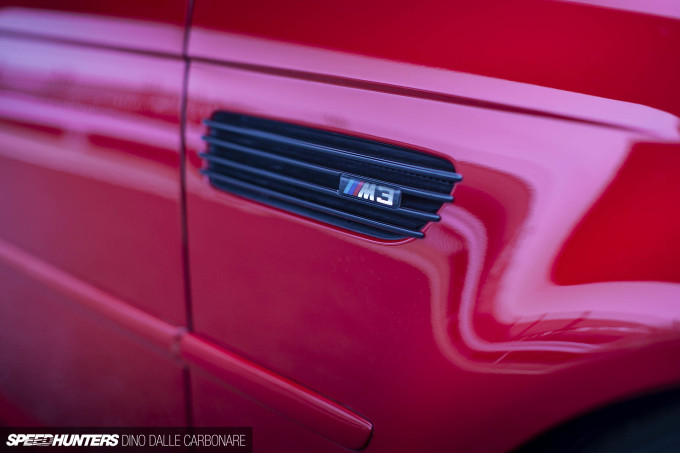 Aesthetic touches include a CSL front bumper complete with its asymmetrical intake that on a genuine CSL feeds a large carbon airbox. Dai's also had the side blinkers and door locks deleted.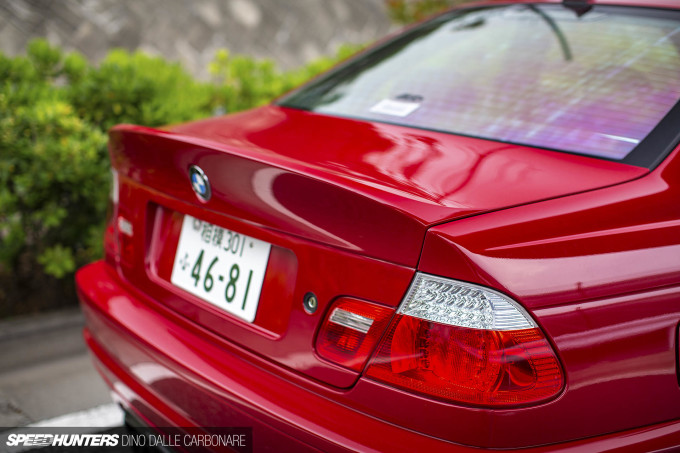 The CSL look is brought over to the rear thanks to the unmistakable trunk lid with integrated lip spoiler.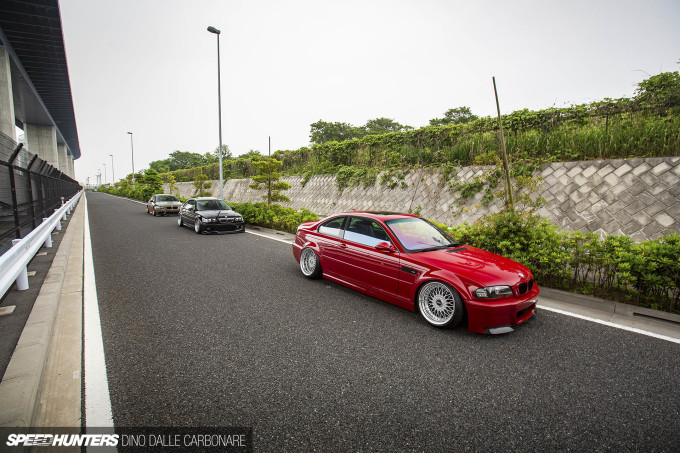 It's clean and simple.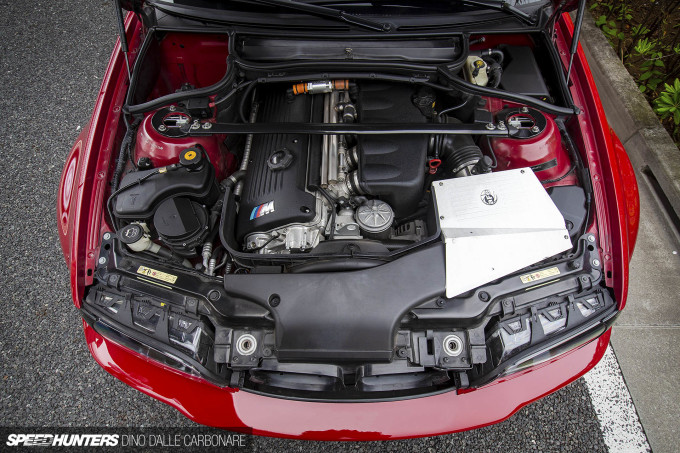 Under the hood, BMW's sonorous straight six has received just one upgrade. The aFe Power induction system includes a sectioned-off airbox that full takes advantage of air sourced from the bumper intake.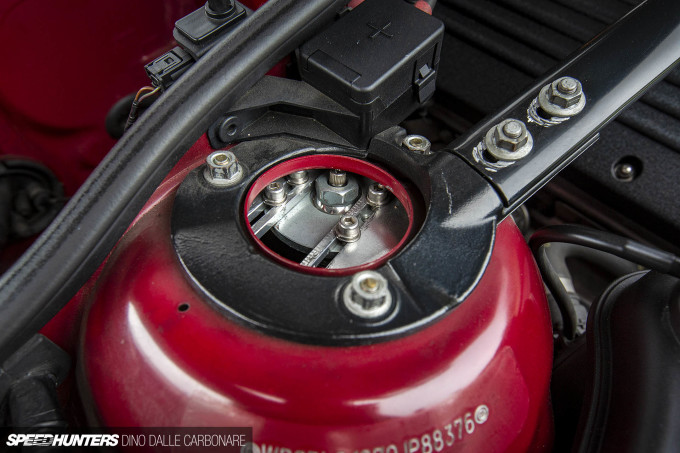 Negative camber? Check.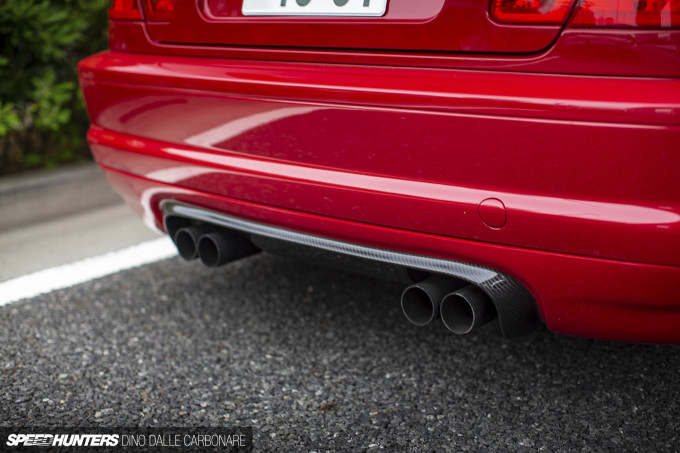 The stock M3 exhaust has been left well alone; Dai thinks it's just as loud as you'd want it to be, plus he loves the raspiness once the engine properly gets on cam.
Hit play to hear what it sounds like.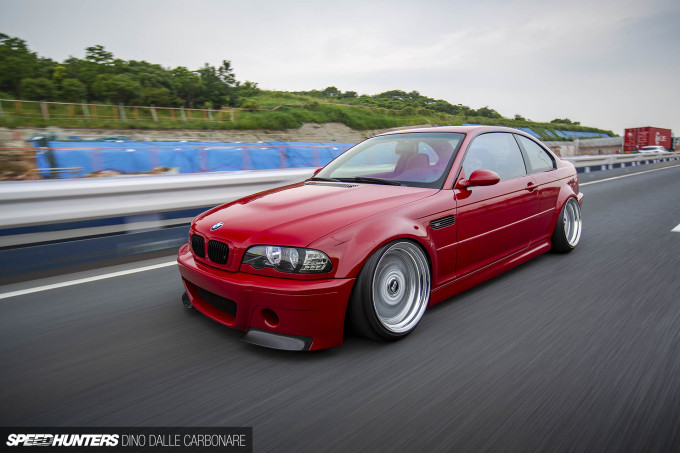 Despite the car looking like it hovers a few millimeters off the ground, Dai guarantees me that if you're careful you can get away with not scraping. On the smooth roads of Japan's capital city there are definitely no problems.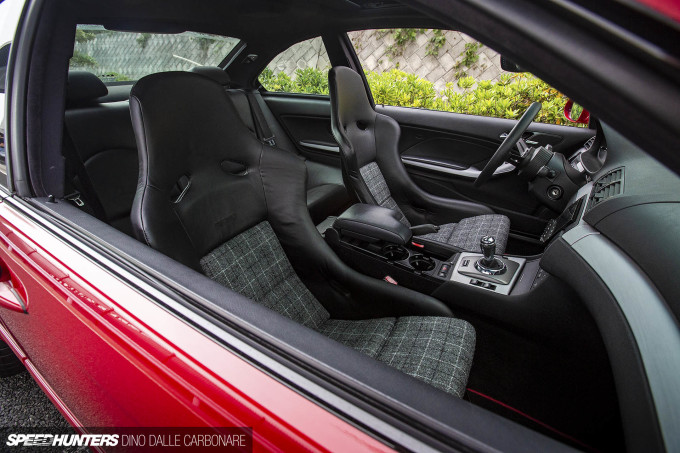 If you like the execution of the car thus far you will definitely fall for the cabin.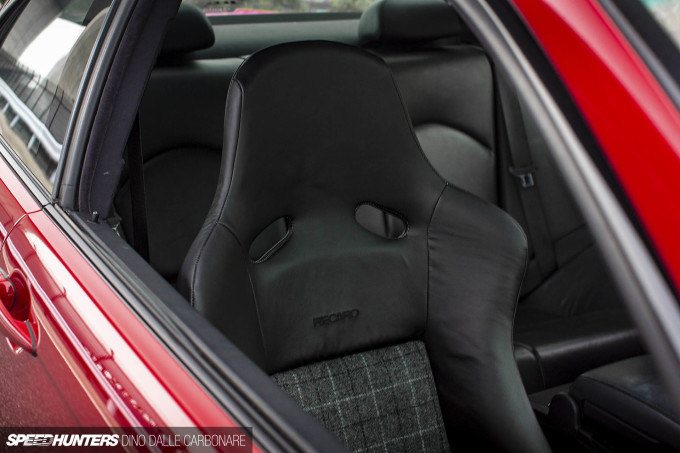 Again, the changes are minimal, starting off with a pair of Recaro Pole Position seats clad in leather and tartan fabric for their centers and backs.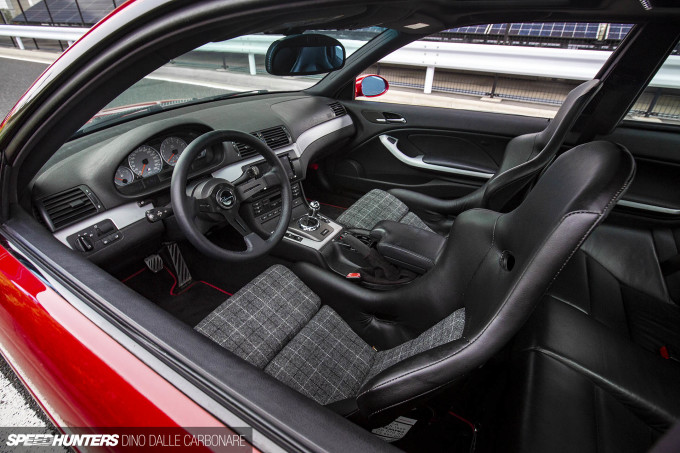 The fabric's pattern injects a little liveliness, but not too much that it breaks the fine monochromatic feel of the stock trim. In fact, the only color in the cabin seems to be the red piping on the aftermarket mats.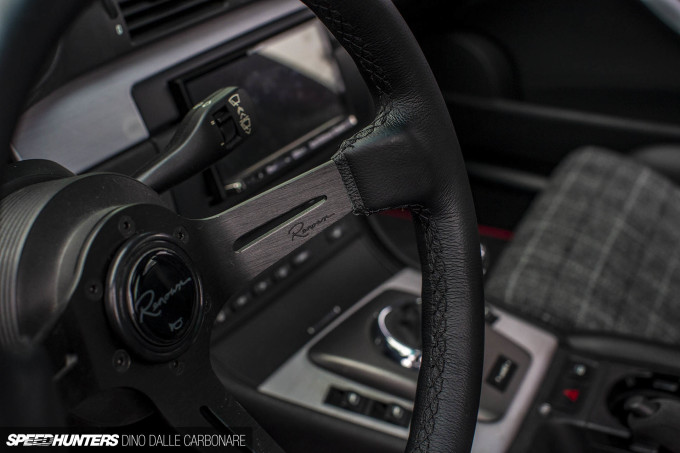 A Renown Chicane leather steering wheel was added, again the color kept in check through the use of black stitching.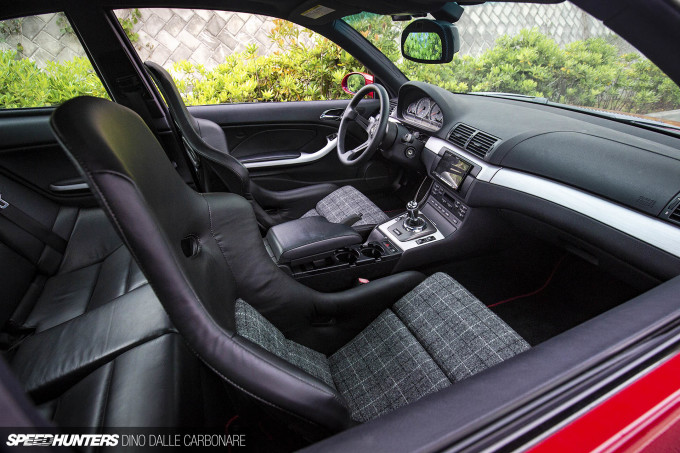 You've probably noticed by now that this is an SMG-equipped car, and according to Dai the single-clutch automated transmission has yet to show any signs of wear and tear. The E46 cabin still wins when it comes to layout and design; it's simple and driver focused.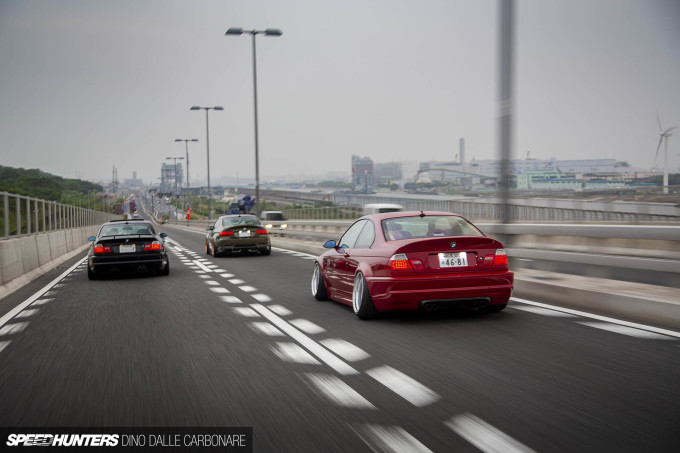 In the world of stance a static drop and a hint of negative camber gets you kudos as you're achieving the 'look' the hard way. Next up we'll take a look at the other E46, a car that manages a similar appearance but with a different approach.
Dino Dalle Carbonare
Instagram: speedhunters_dino
dino@speedhunters.com