Level 3 – Reception & Showroom
Set up in 1972, SunBeam on Kanpachi-dori in Tokyo has been catering to local cars guys and their performance vehicles for almost five decades. During this time it's stayed true to its original concept: providing the best knowledge and assistance when it comes to setting up cars for fast road and track use.
'Footwork' is one of those funny terms that the Japanese have coined to describe anything to do with the 'feet' of a car. Use your imagination and you can sort of understand where they are going with this: wheels and tires, brakes, suspension, sway bars, bushes – anything that has a direct impact on the way a car handles. This is what SunBeam has always specialized in and what they've built an exemplary reputation on, hence why there's always a waiting list to get a car worked on here.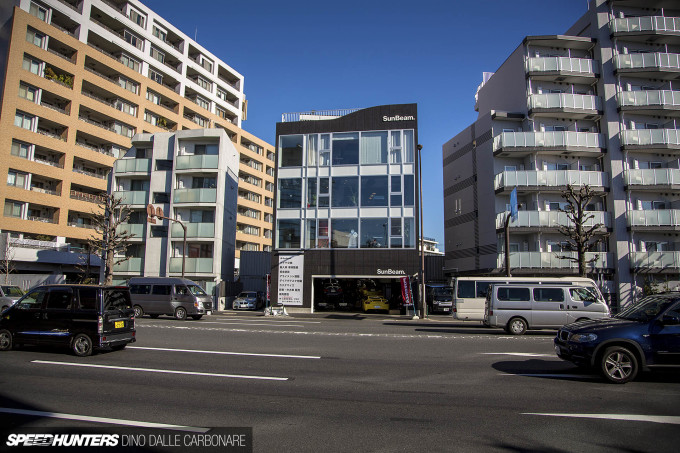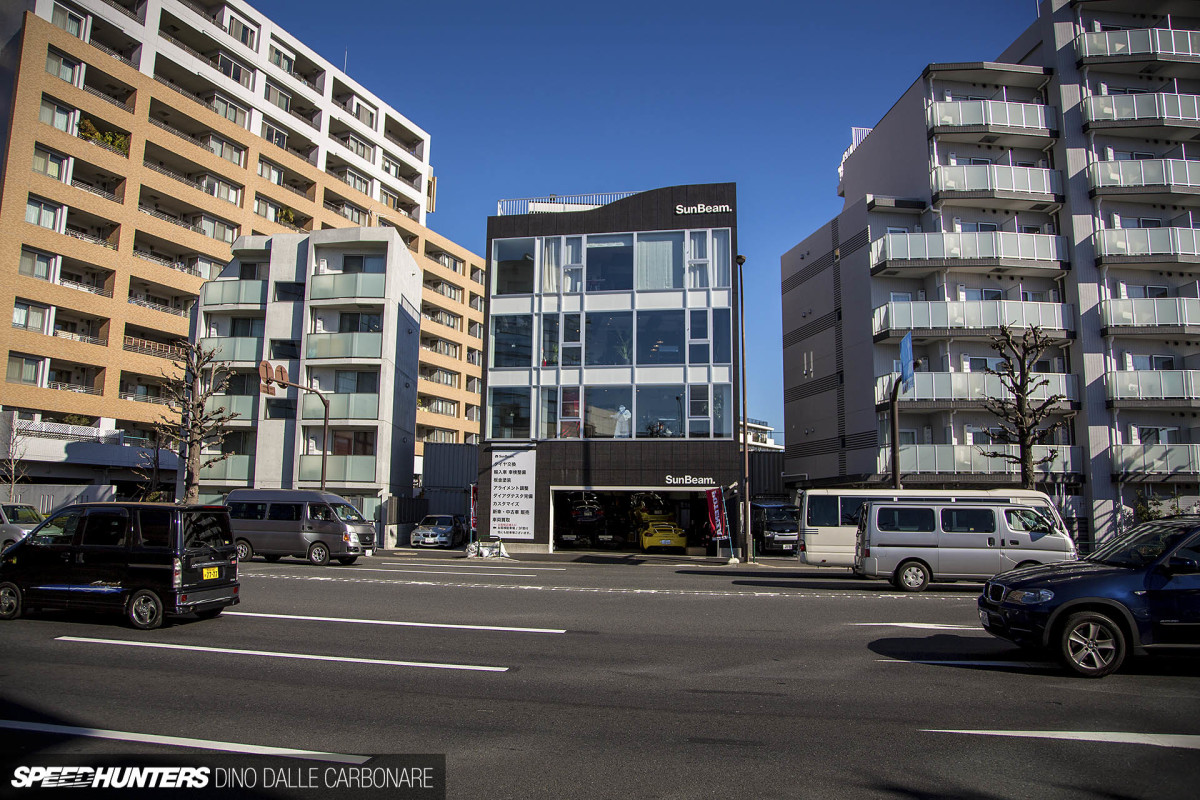 If you've been a long-time follower of Speedhunters you may remember me visiting SunBeam a couple of times in the past. It was never for a shop tour, but more to feature cars like the G-Force/Varis Mitsubishi Lancer Evolution X, which I shot behind their old shop back in 2010. That was the first Evo X to dip into the 57-second bracket at Tsukuba and a car that SunBeam lent their handling and braking expertise to.
I say old shop, because late last year they tore down their previous facility and spent 12 months building a completely new shop. And this being Tokyo, the only way to physically expand the business was to go up.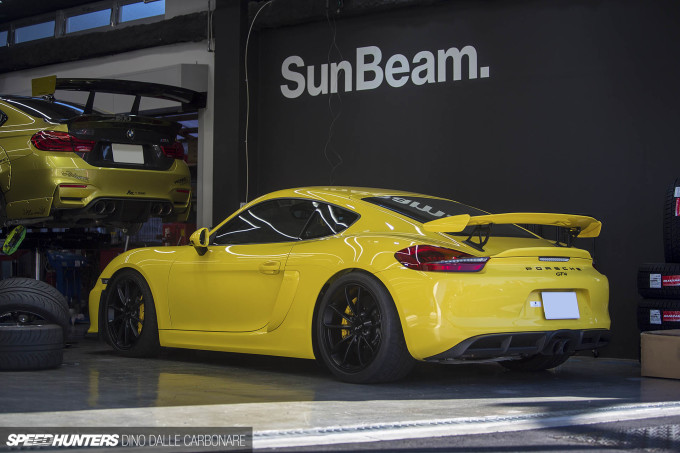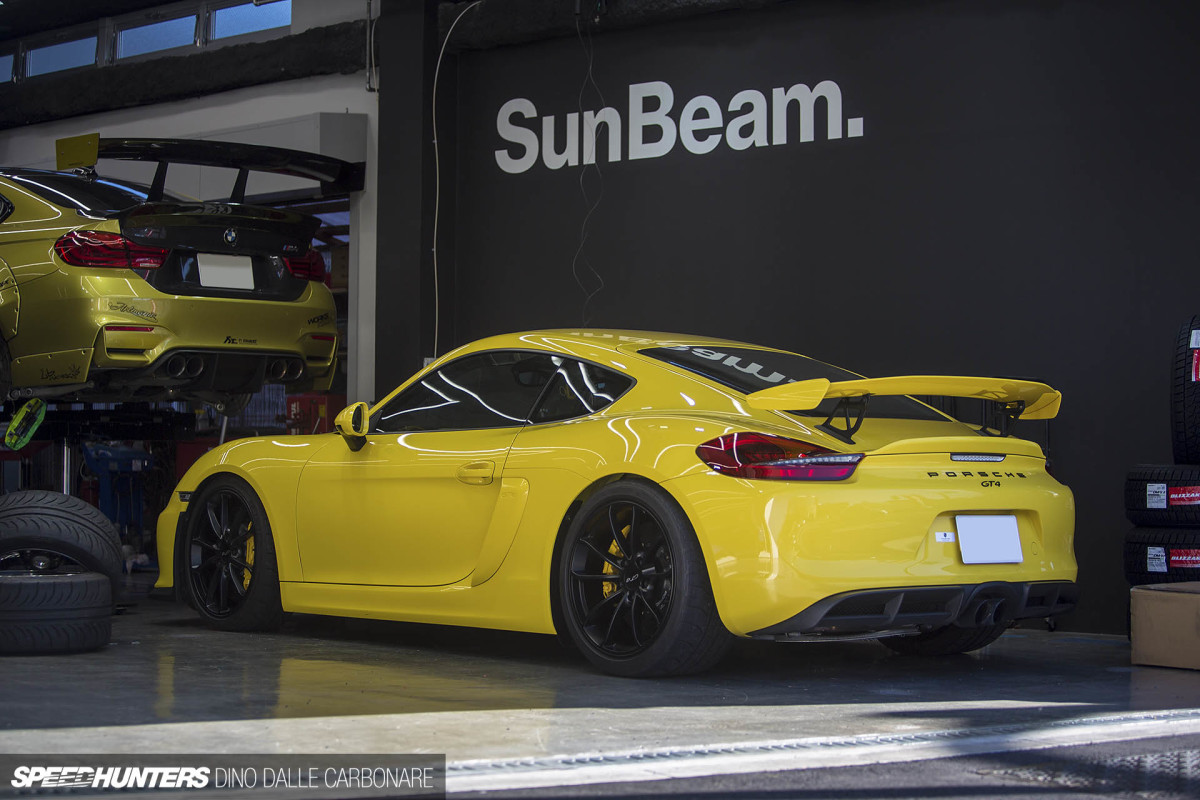 It was opened back in October and seeing I drive by quite often as it's rather close to my house, I'd been meaning to stop by and check it out. Recently, I got to do just that.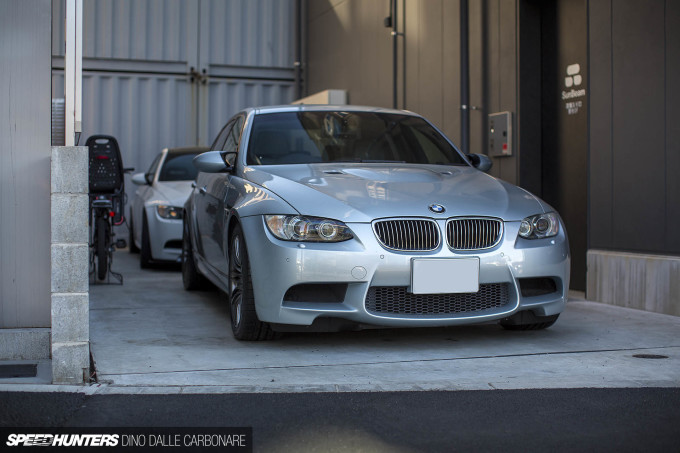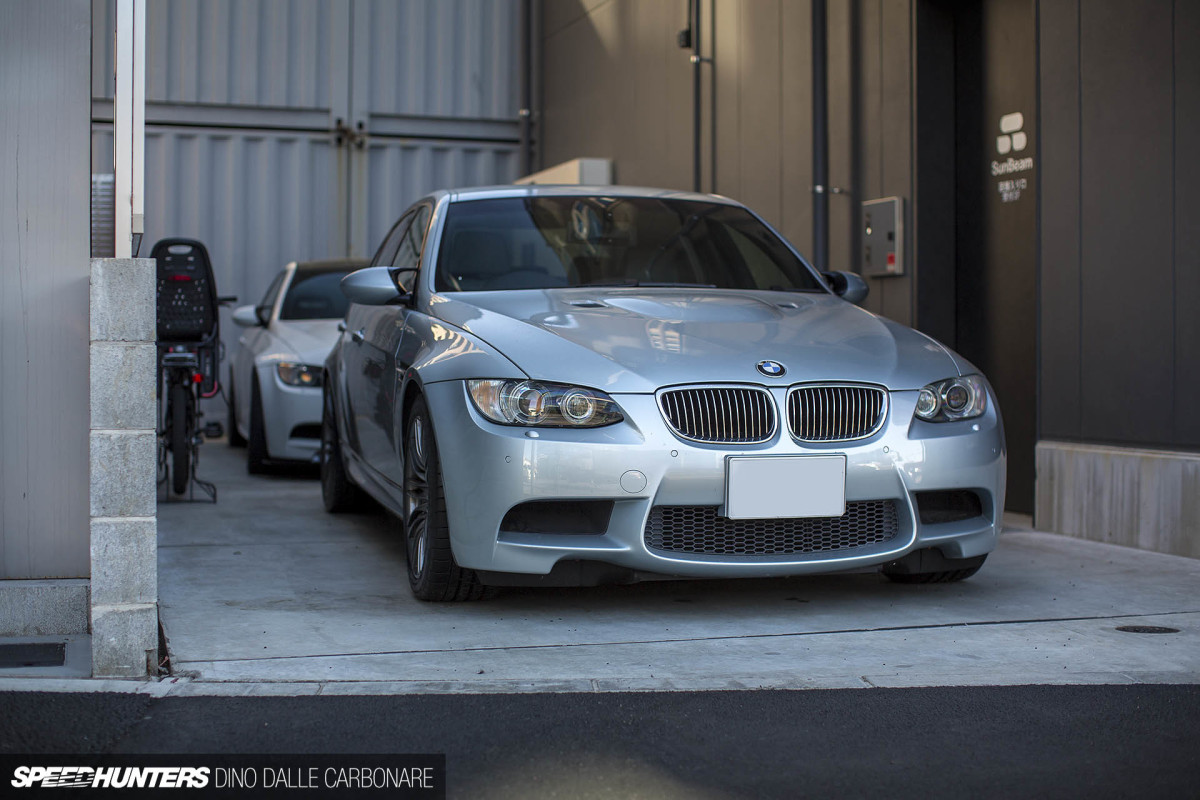 I must have woken up in a particularly energetic mood that day as despite it being 6°C, (43°F) I decided to cycle to SunBeam, something that took a good 25 minutes. I arrived on time with various muscles in my face frozen, parked up my electrically-assisted bike (another must-have in Tokyo) next to the two M3s sitting outside, and headed in.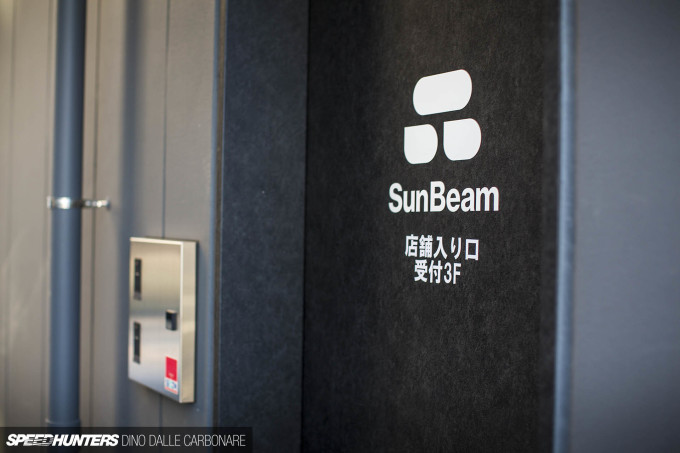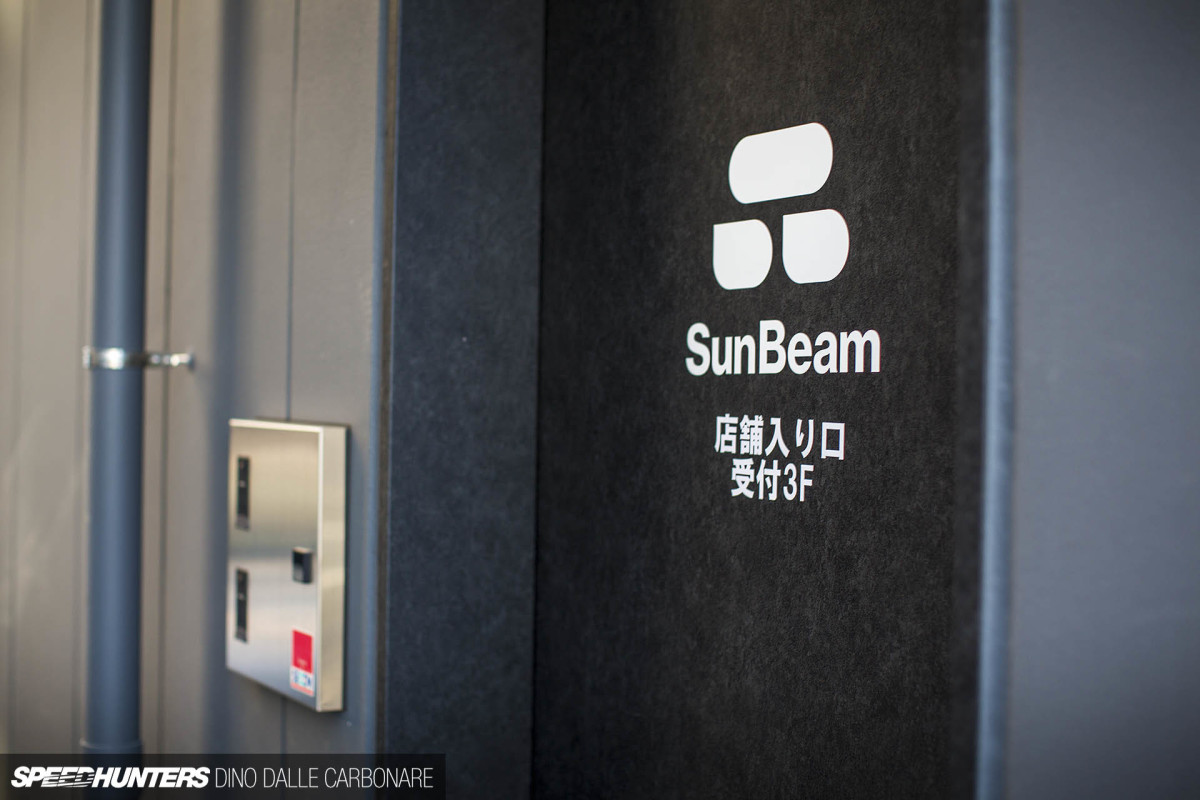 As it says on the front door, the main reception area is on the third floor so I've decided to present this shop tour in a reverse order of floors. Trust me, it will make sense as you scroll through the post.
There are actually four floors to the building, well five if you count the roof-top terrace, but the top two are residential.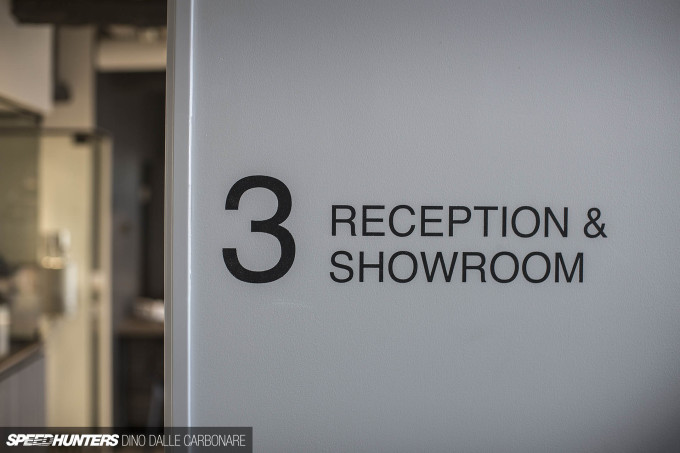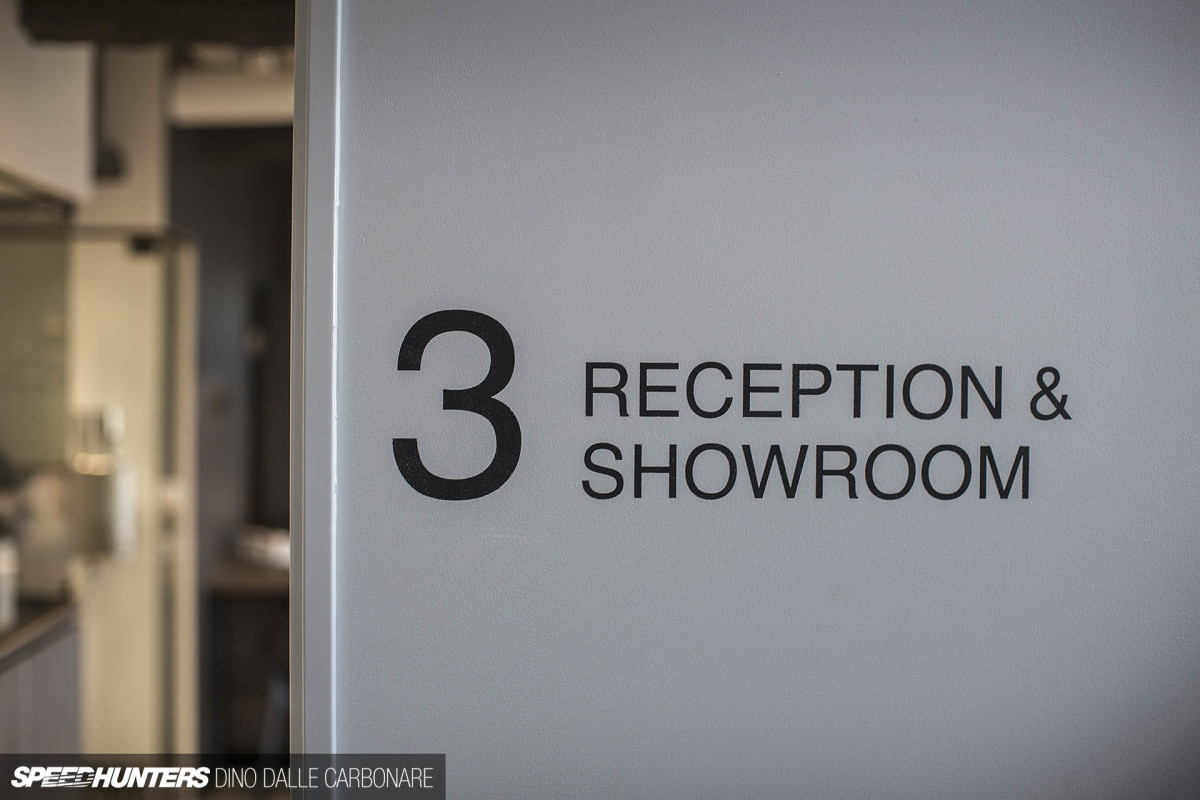 Once you step in you have the choice to either use the elevator to go up, or climb the stairs. I'm assuming the endorphins from the cycle over must have been pumping as I chose the latter option.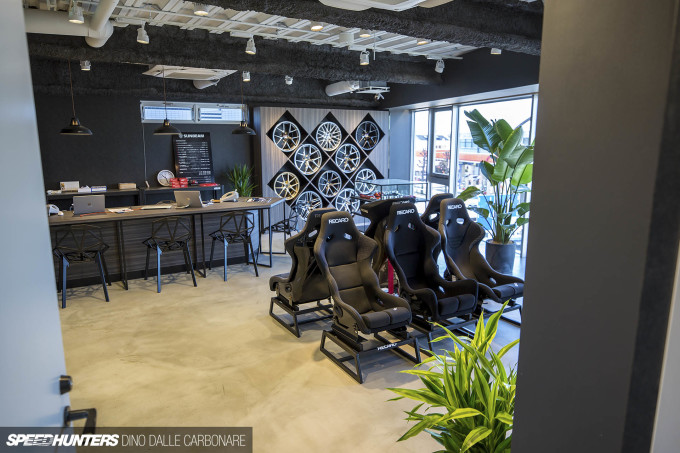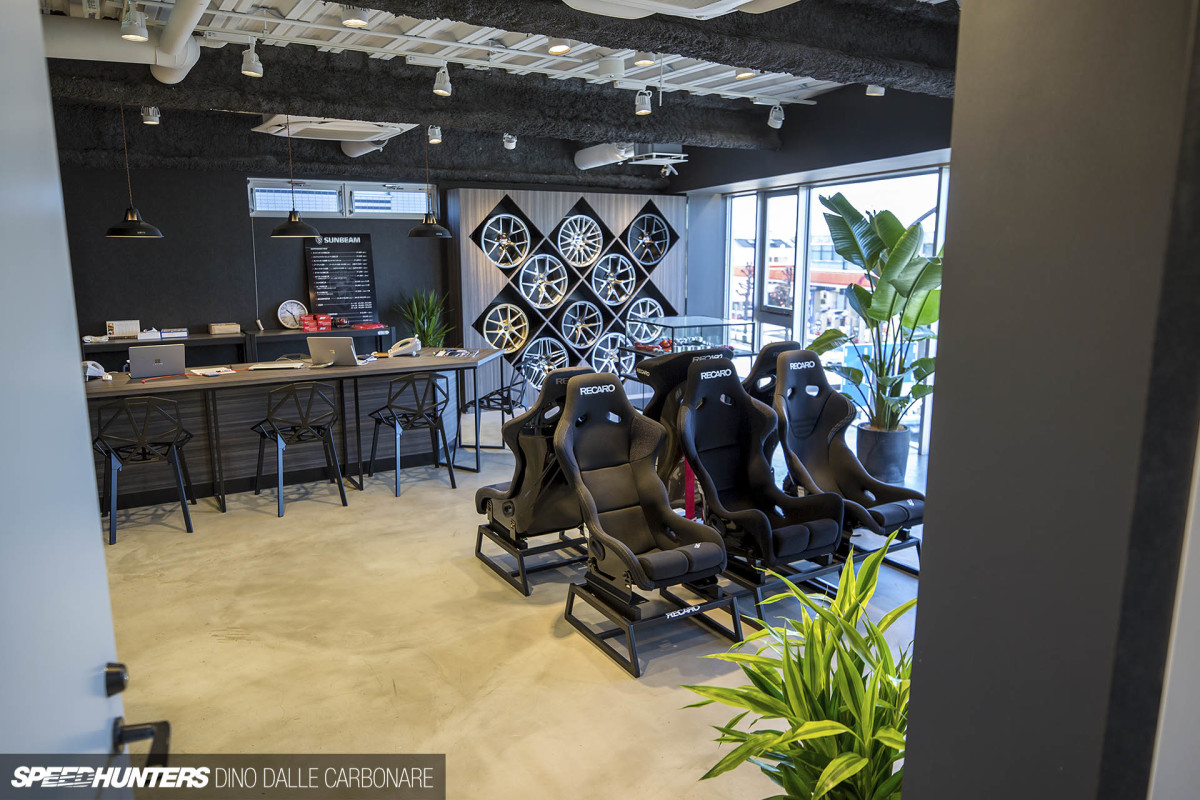 The reception area is very welcoming; it's minimalistic when it comes to the decor and matches in with the underlying architecture of the building with exposed cement-covered steel beams, light fixtures and A/C units.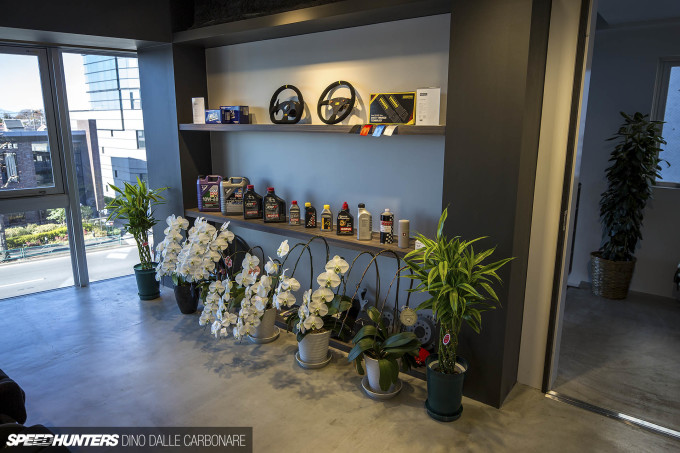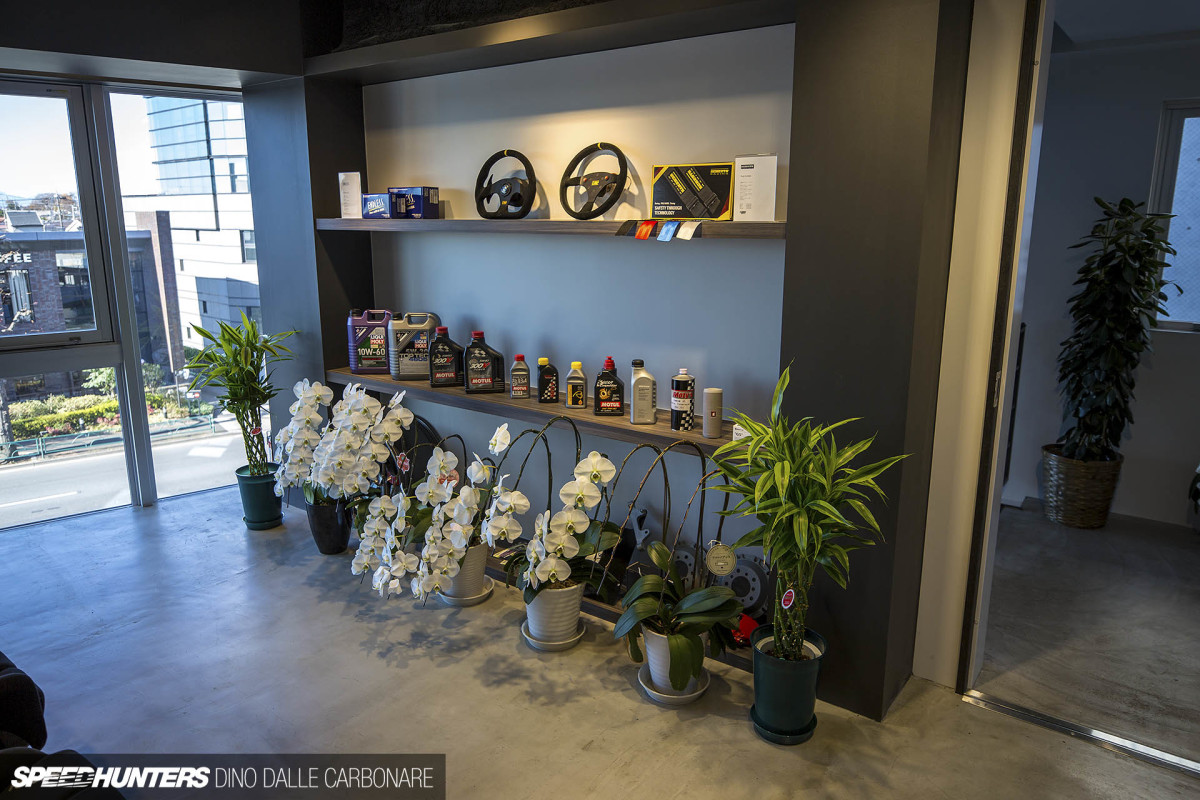 Seeing as the new shop has only been operational for just over two months, there were still many celebratory orchids sitting around. That's another Japanese thing; it's common to bring these expensive pots of flowers as a sign of respect and good luck for someone that opens a new business, or in this case refreshing an existing business. It's all part of Japan's gift-giving culture, something that's deeply rooted in Japanese society, and also a way for a business to show-off all the support they get from their loyal customers.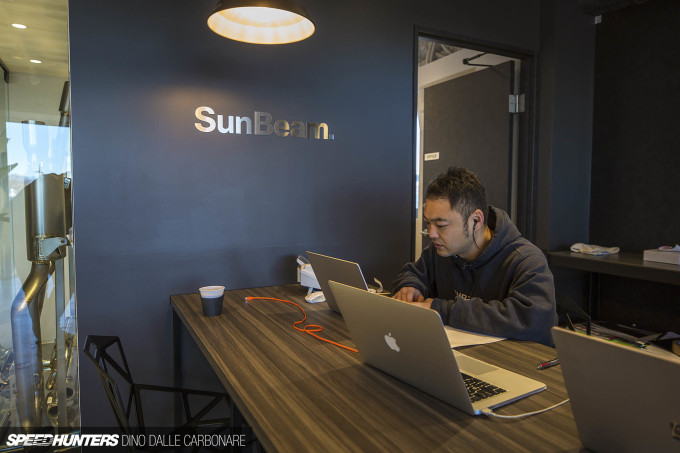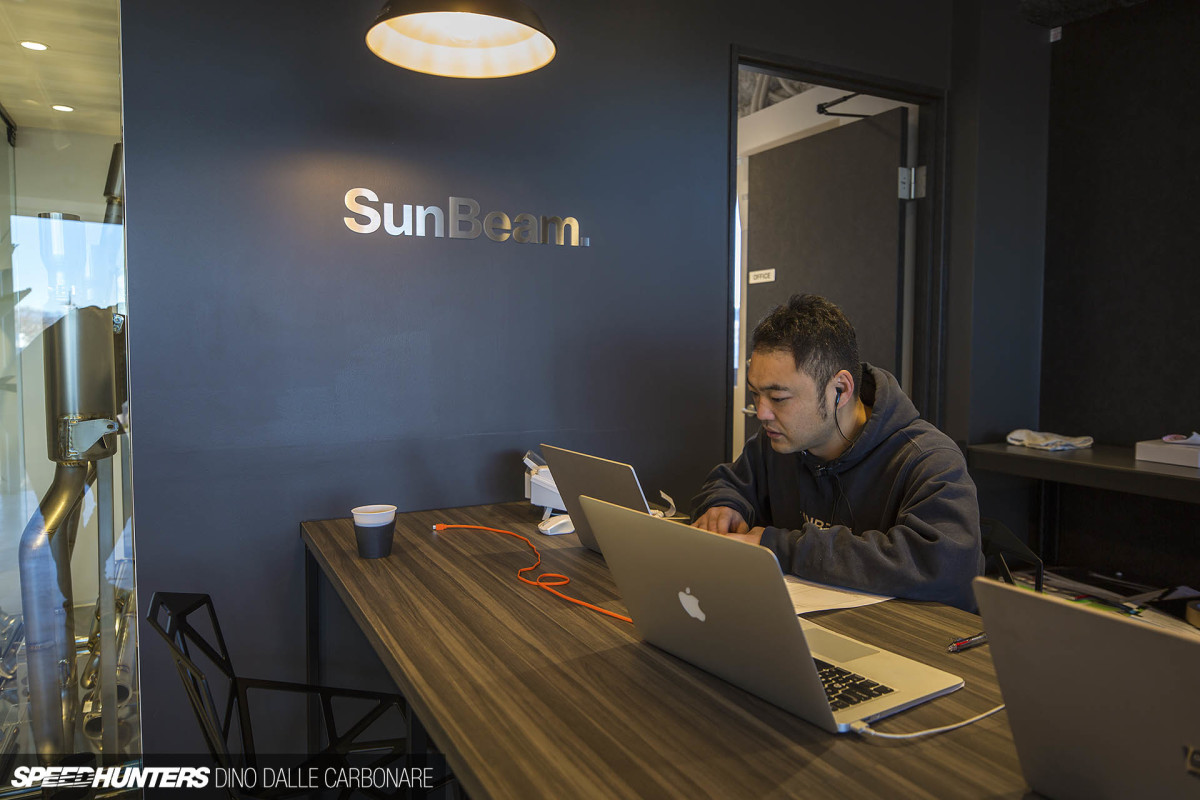 SunBeam is now onto its third generation of family management. The company actually started as a tire distributer in Shinjuku back in the 1940s, and was then moved to its current location by the son of the founder. It's now run by the Fukuda brothers – the grandkids. It's pretty cool to find a family business in the tuning and aftermarket industry, and unsurprisingly these guys still have customers from the '70s that continue to bring their cars in for work. Fukuda-san was busy setting up for the day of work ahead, so I let him get on with his tasks while I got stuck into mine.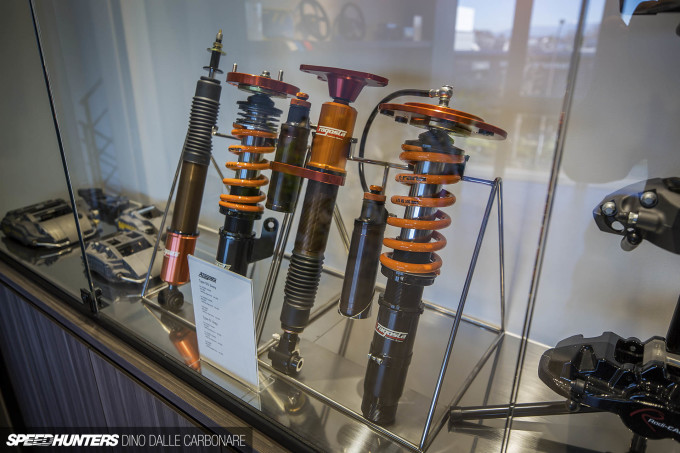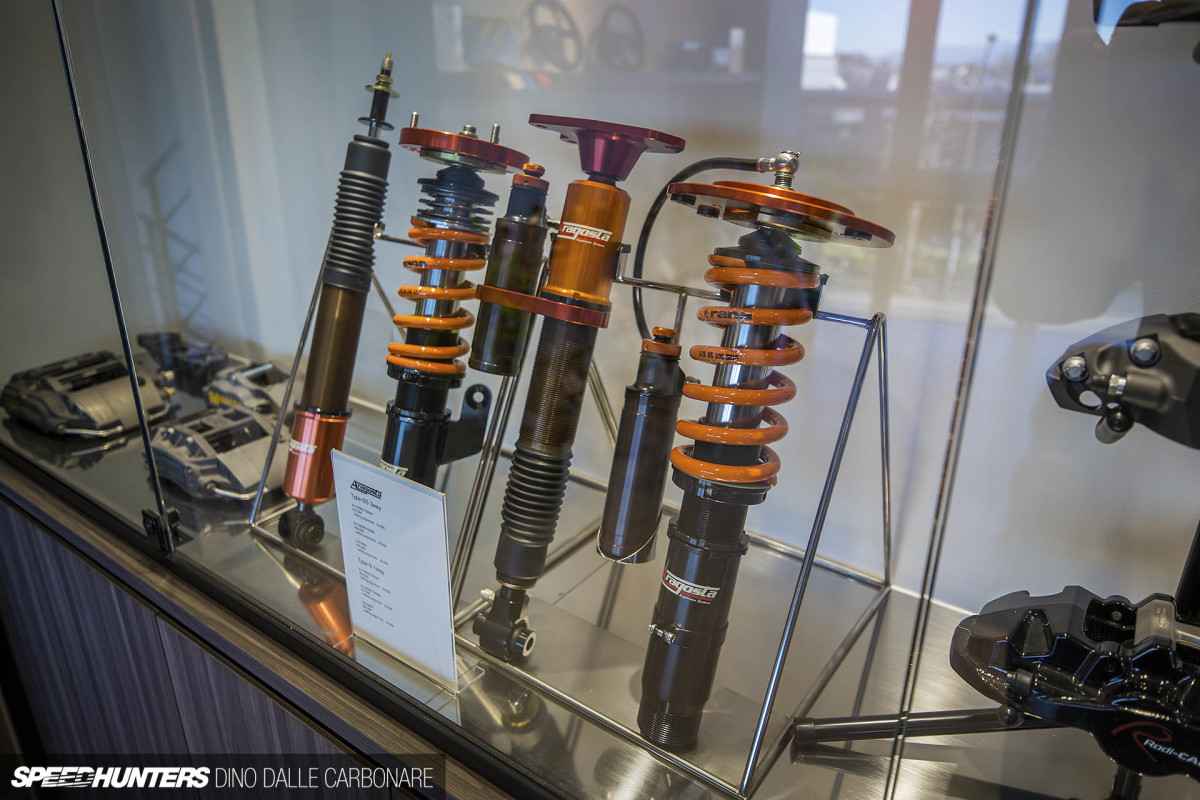 There are many display cabinets filled with appetizing upgrade parts, but since handling is what SunBeam is best known for it makes sense that the centerpiece is their 2-way flagship units which are a collaboration with Aragosta. They aren't a single-brand type of show though, and will happily source, fit and set up suspension solutions from KW, Bilstein, Koni, Sachs and others – anything their customers require. It's the same with brakes; they stock and fit best of everything from AP Racing and Brembo to domestic brands like Endless.
While they don't necessarily define themselves as a BMW-specific shop, it's just naturally happened with local BMW track day aficionados having flocked to SunBeam over the decades. So while they do work on all makes and models, the bulk of their business comes from setting up BMWs, hence why they've developed their own small line-up of parts that includes bushes, tension rods and billet pulleys.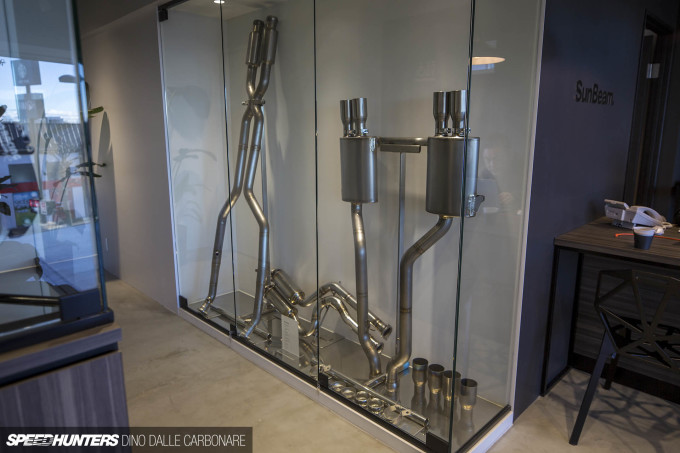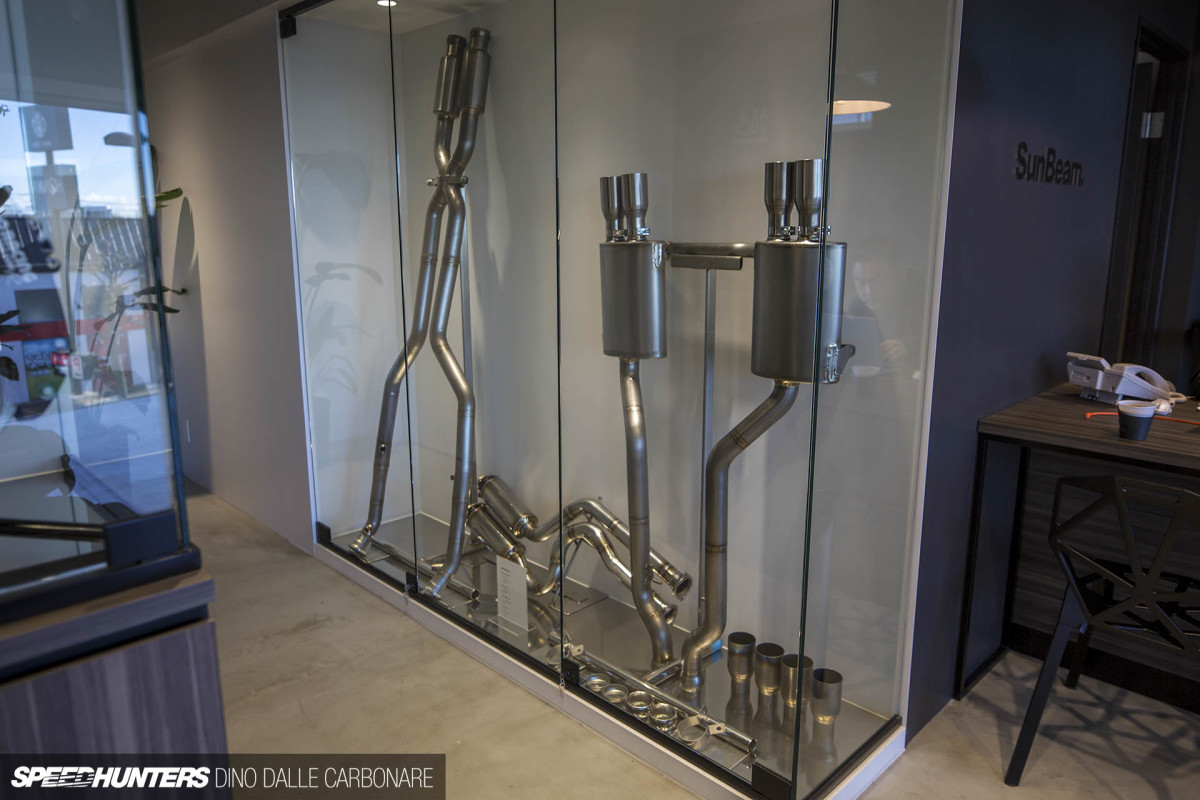 They've also just started making their own titanium exhaust system for the E92 M3, as they noticed that other aftermarket systems for the 4.0L V8 model were actually reducing power.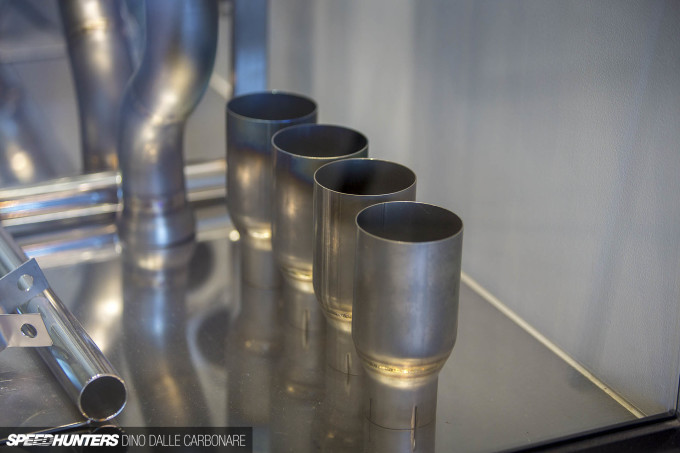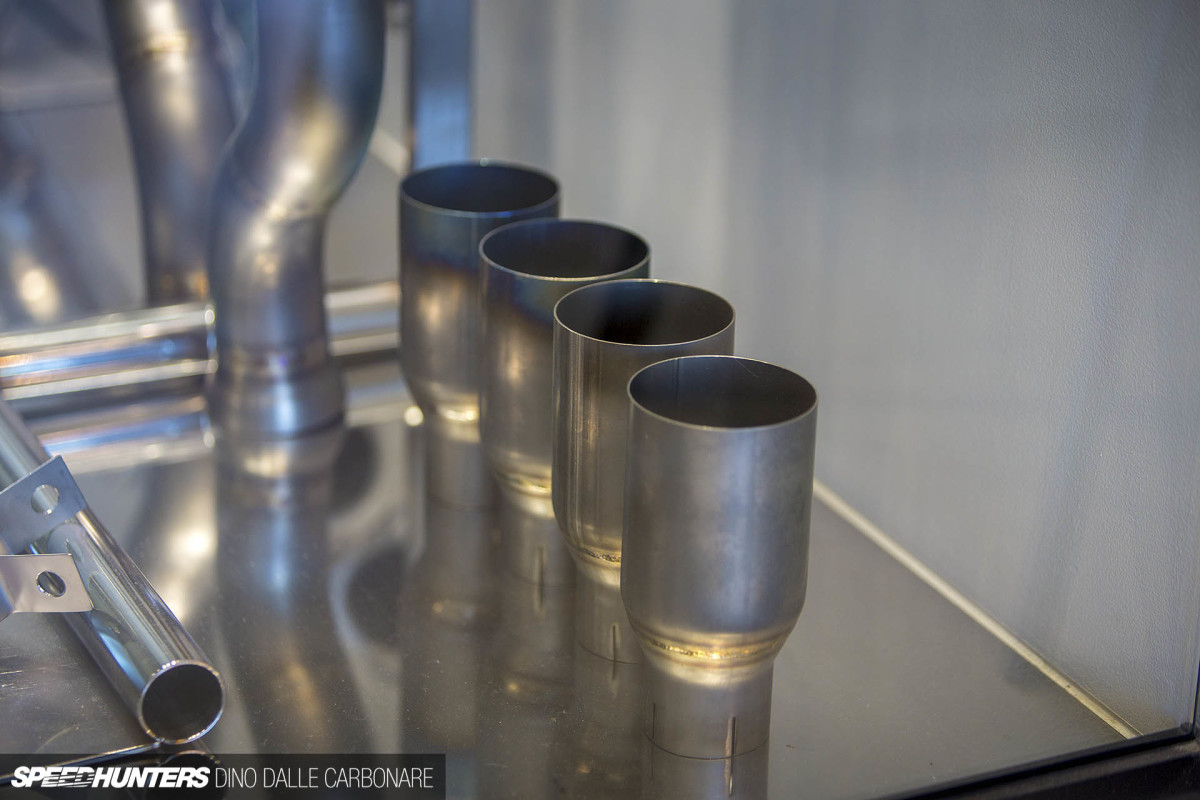 A lot of time was spent developing the exhaust, and the final outcome is a 20hp jump in power. Above you can see the various heat treatment finishes that can be applied to the tailpipes.
I wasn't at all surprised to find a BBS display in a shop that caters to European cars, but when it comes to wheels SunBeam may well be the place that started the whole RAYS Volk Racing TE37 thing on E46s, and then on with the later generations of M3s.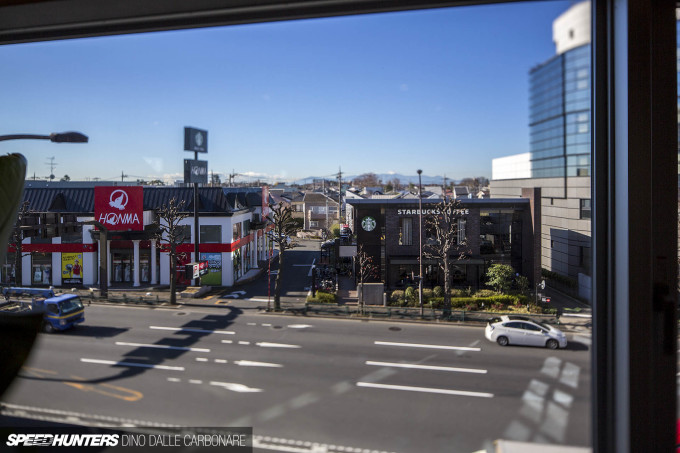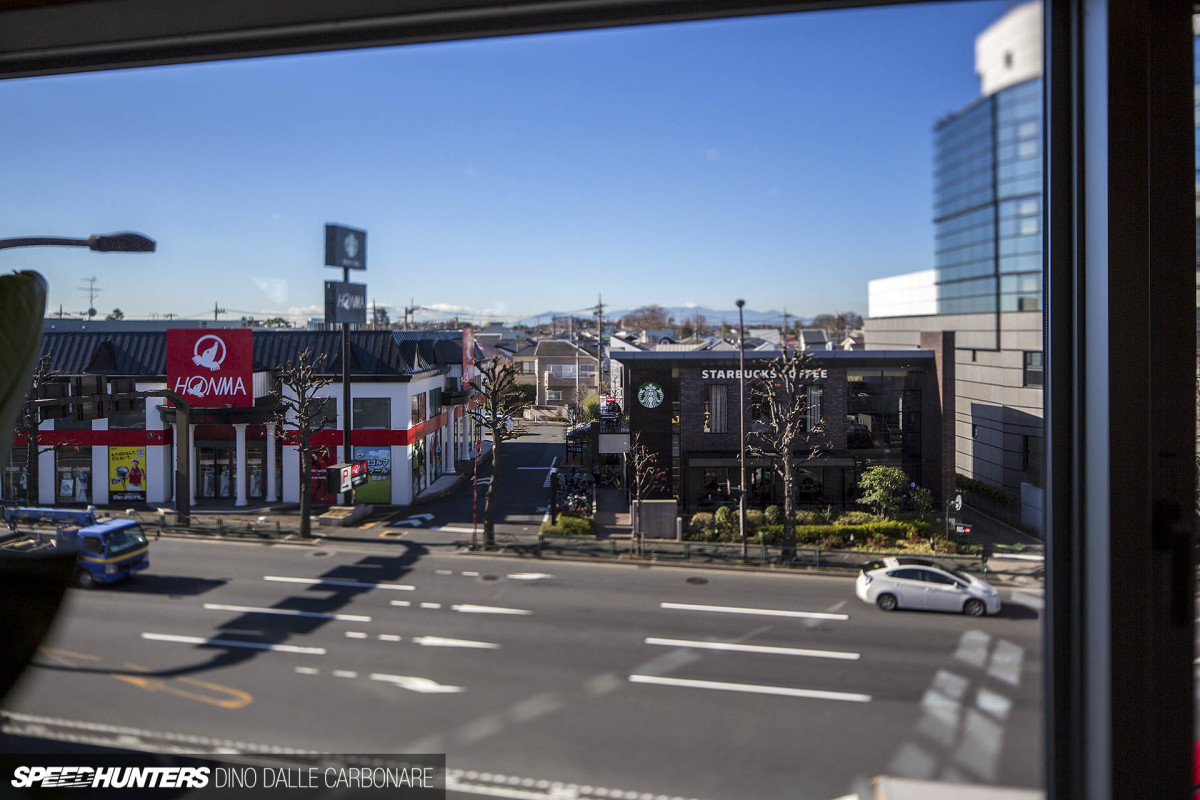 Having the reception area on the third floor allows for quite a nice view over Kanpachi-dori. In fact, from the opposite side of the street there are different construction regulations which prohibit buildings to be over two stories tall, which is why, on a clear winter's day like the one I visited on, you can easily see Mt. Fuji's snowy cap. Okay, maybe you'll have to squint a bit…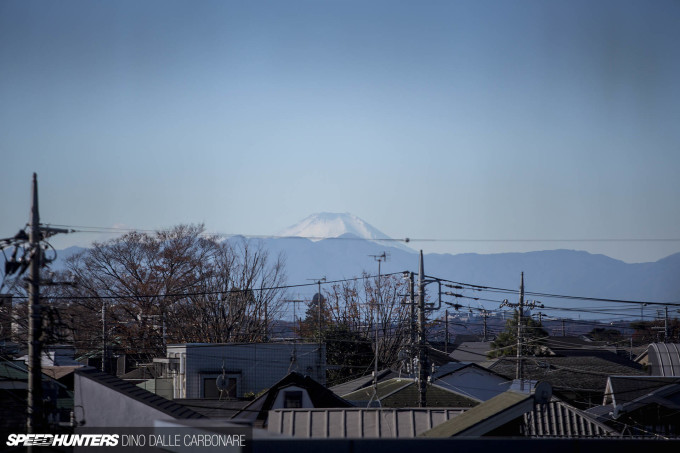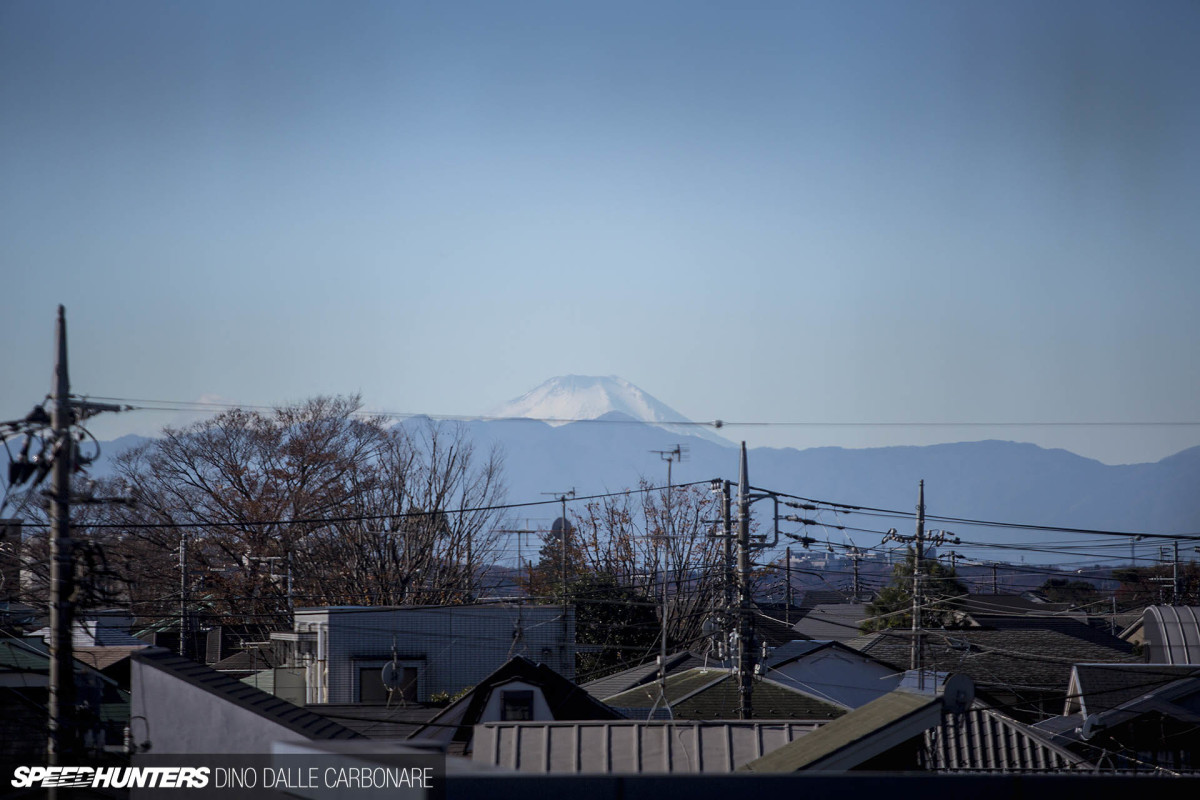 Or you could just check out this image taken with my 70-200mm lens.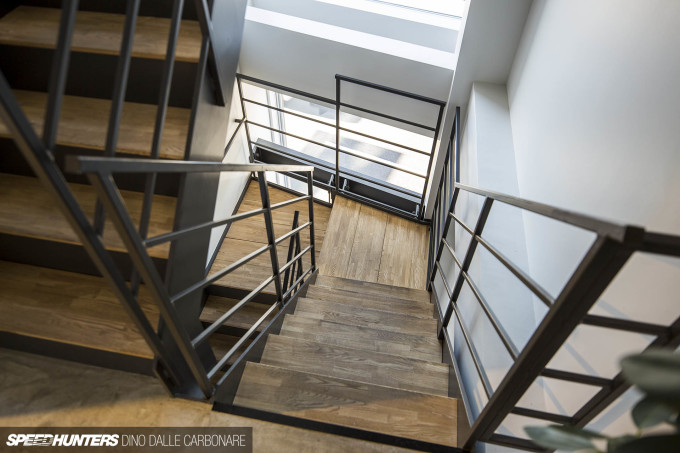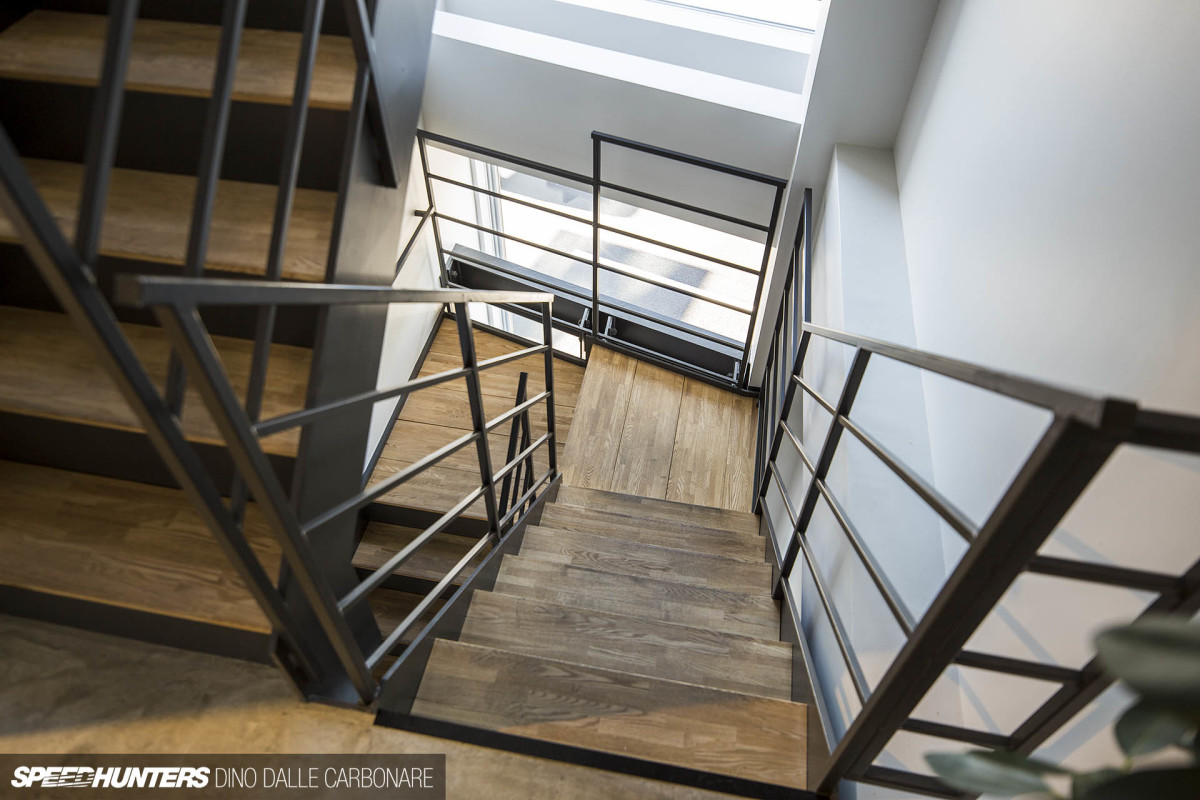 Done with the top floor of the SunBeam shop, it was down the stairs to the middle level.
Level 2 – Lounge & Workshop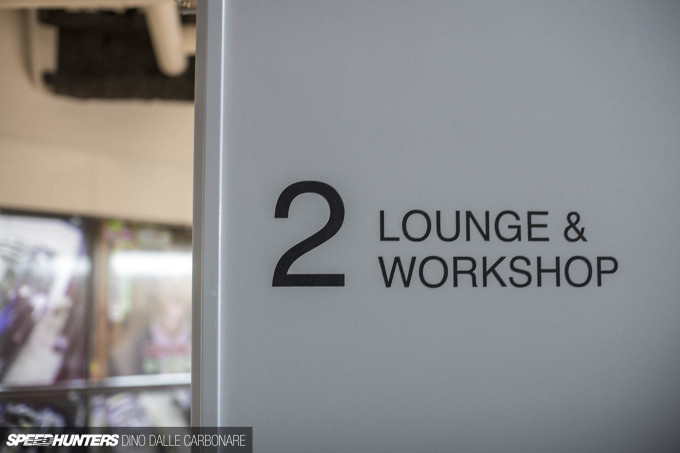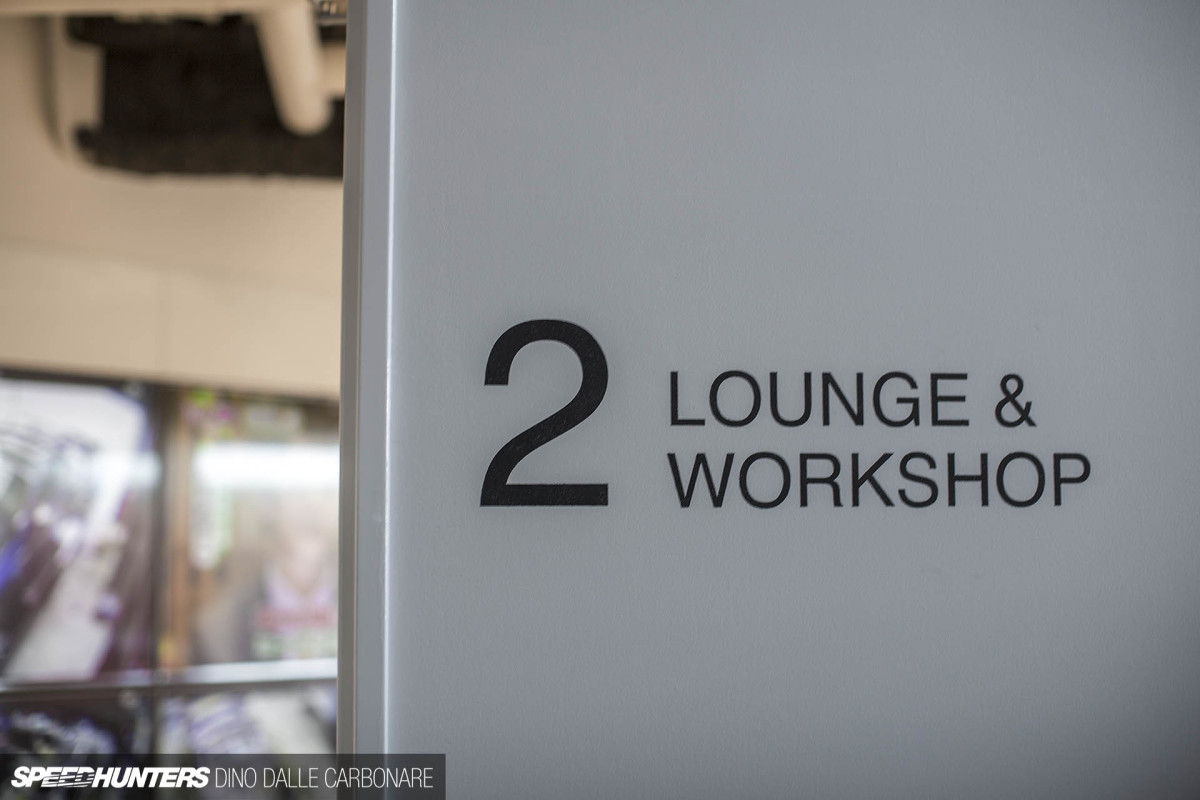 If you bring your car in for a tire change or an alignment or anything that would be dealt with in a relatively short period of time, this is the floor you hang out on.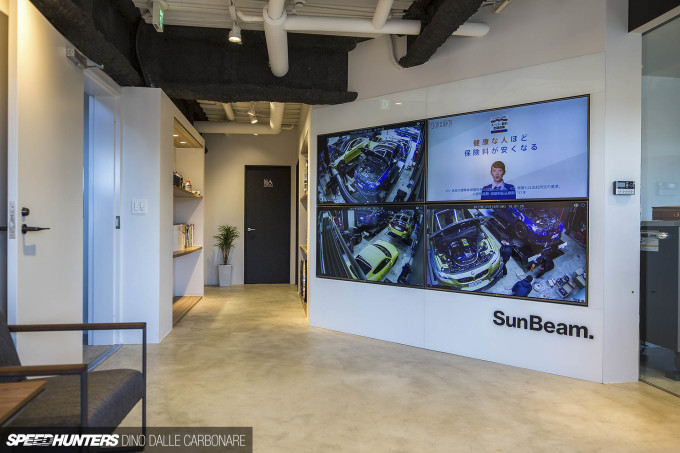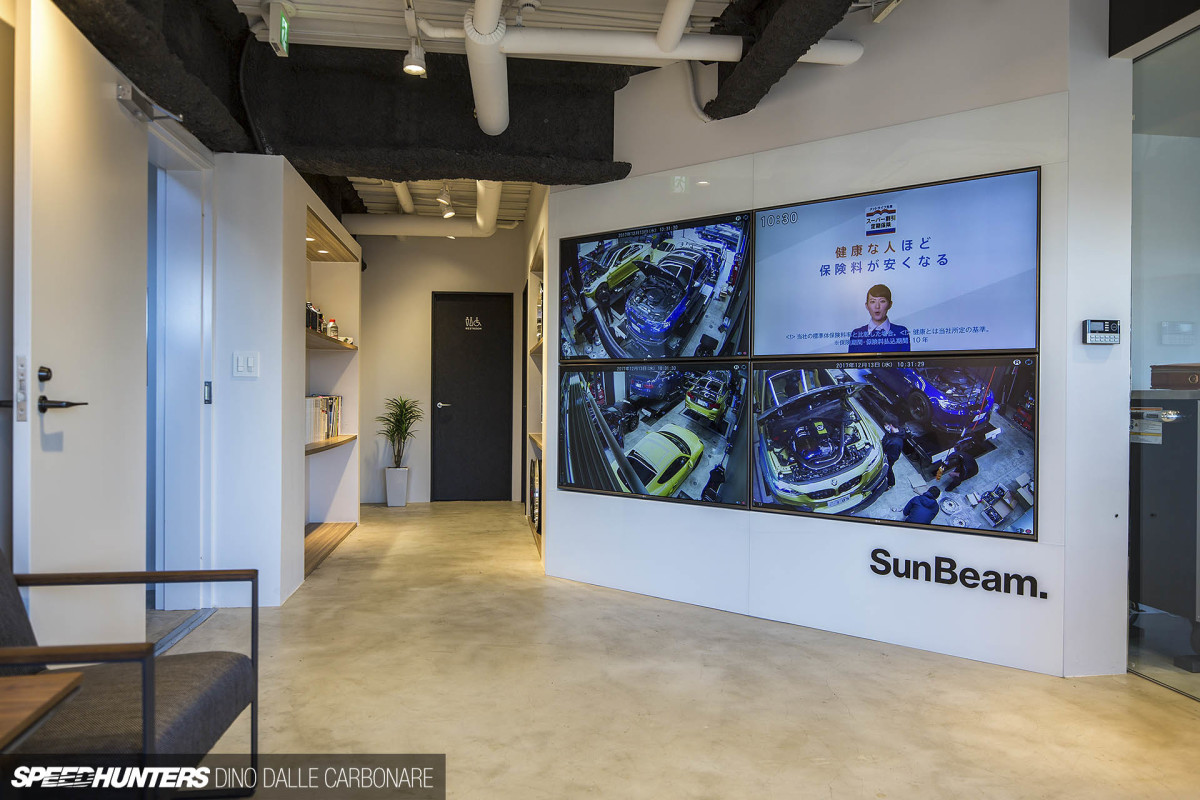 There's a nice open space with comfortable chairs for customers to sit in, and a drinks dispenser to quest your thirst with hot and cold beverages. Three screens show multiple angles of the workshop, while one other shows Japanese TV, which most of the time can be pretty brain-numbing.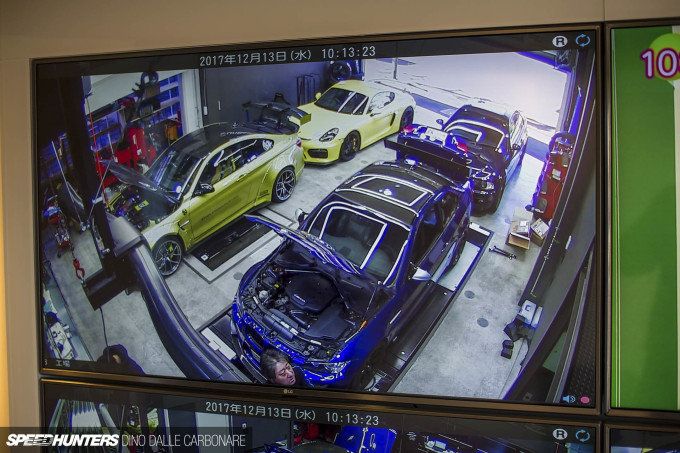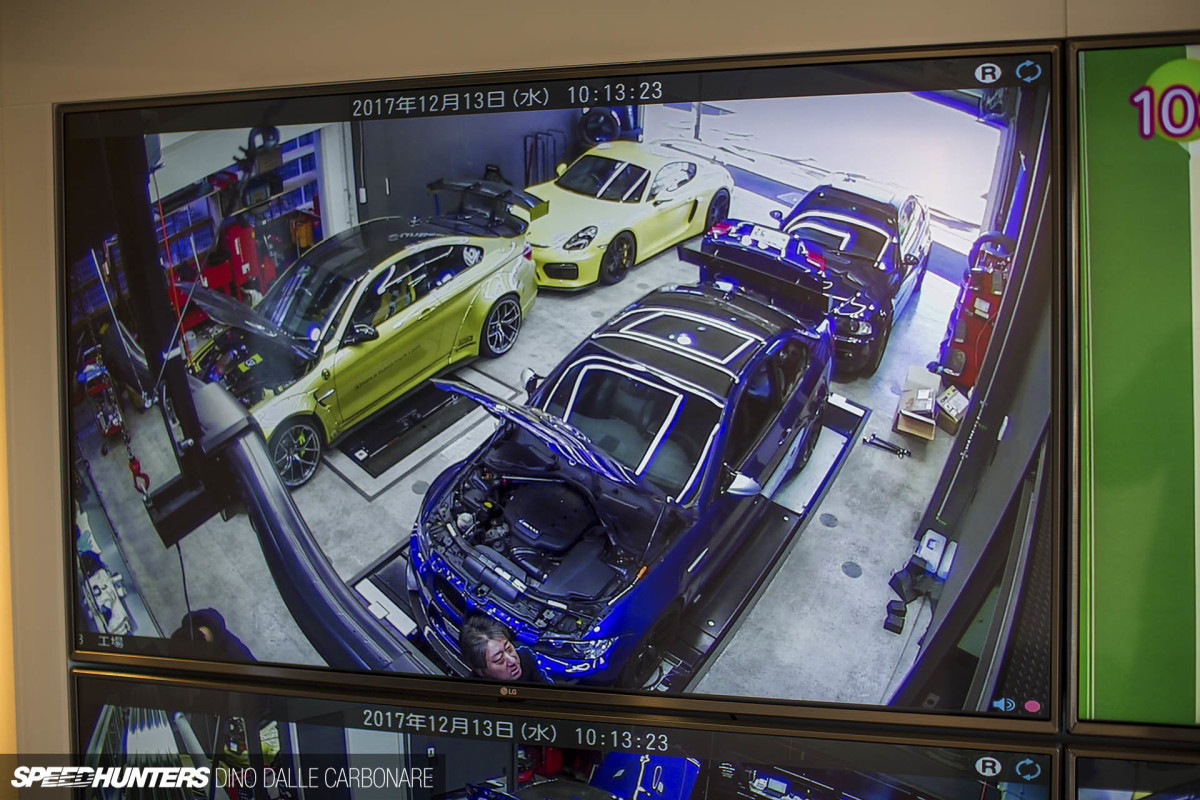 I'd much rather watch my car being worked on.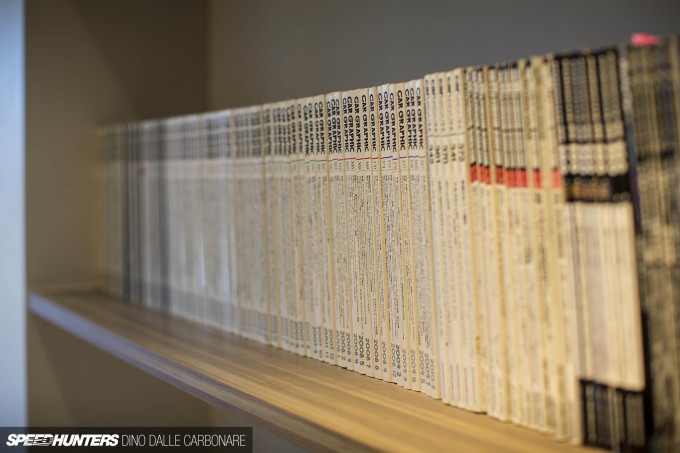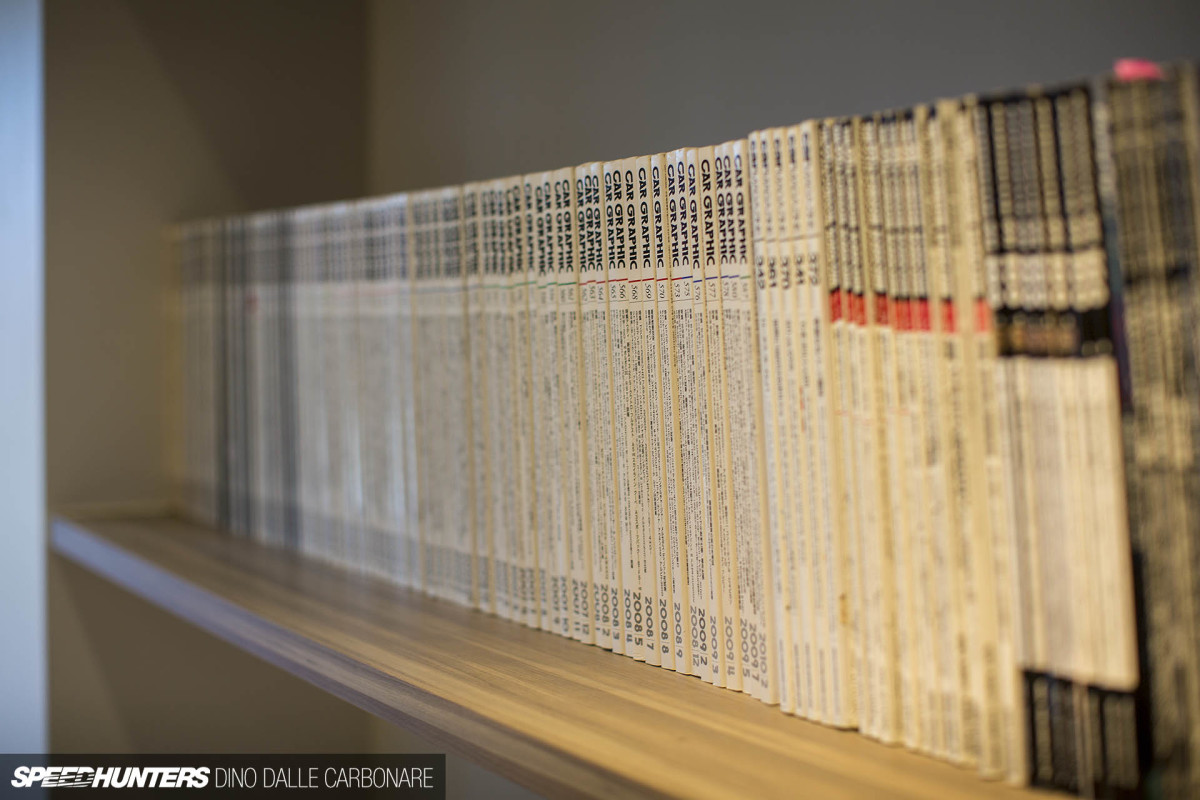 If you still aren't feeling particularly entertained there's a vast collection of Car Graphic magazines along with a few other publications and the parts-filled mooks, which are a mix between a magazine and a book.
Since you have some time on your hands while waiting for your car to be worked on you can always have a closer look at some of the popular RAYS and BBS wheels that SunBeam fit.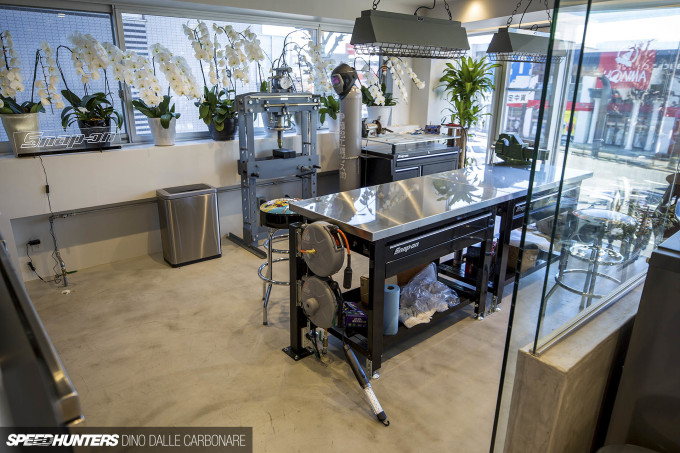 One section of this floor is cornered off by a glass partition and a keypad-operated sliding door.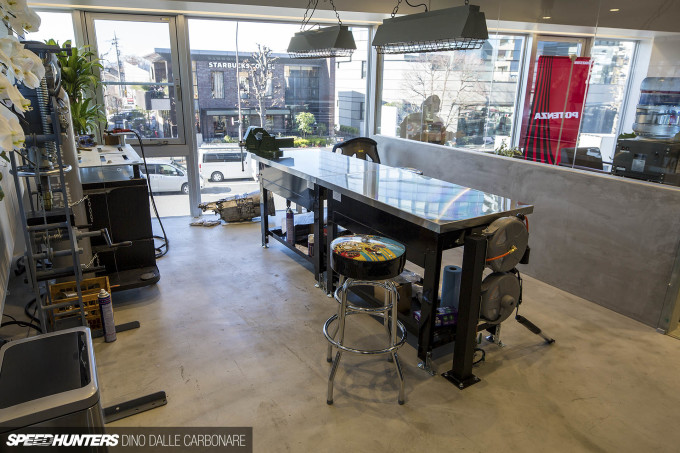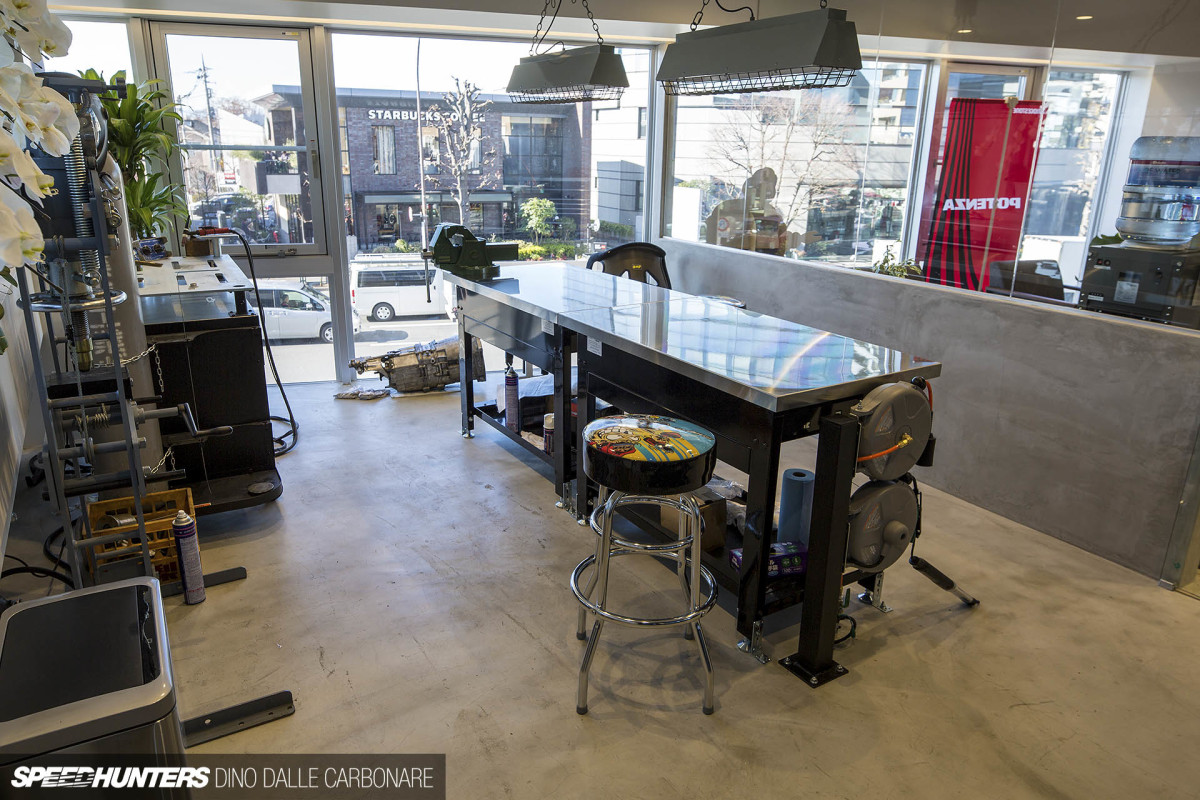 This is the workshop area where mechanics can do maintenance on coilovers, rebuild LSDs, and undertake any type of labour-intensive work that can't be done downstairs in the main garage area.
SunBeam have a lot of customers that go for bush upgrades, preferring urethane variants or billet ones outright, so having the ability to press out stock items and fit upgrades quickly and efficiently is important. There's also a small welding area for when a little fabrication work is needed, like modifying seat mounts or any other miscellaneous bits and bobs.
Snap-on was the tool preference for the new and improved SunBeam; they've been using them forever and sticking with them felt like the right choice given their impressive network in Japan and customer service. Quite often I see Snap-on vans doing the rounds at workshops, delivering tools or other products to customers.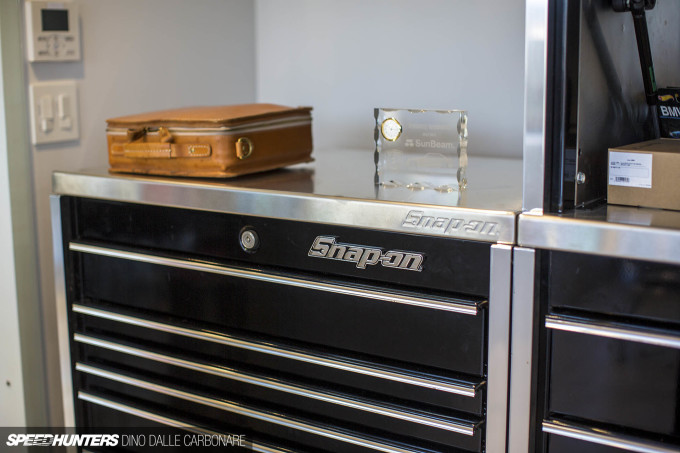 In this workshop area even the cabinets are from Snap-on.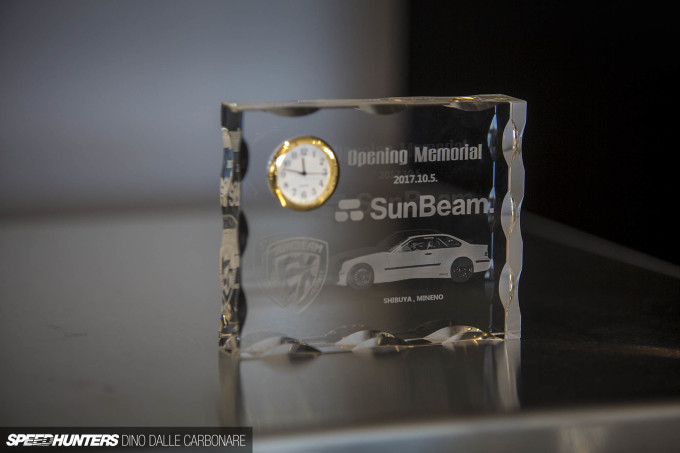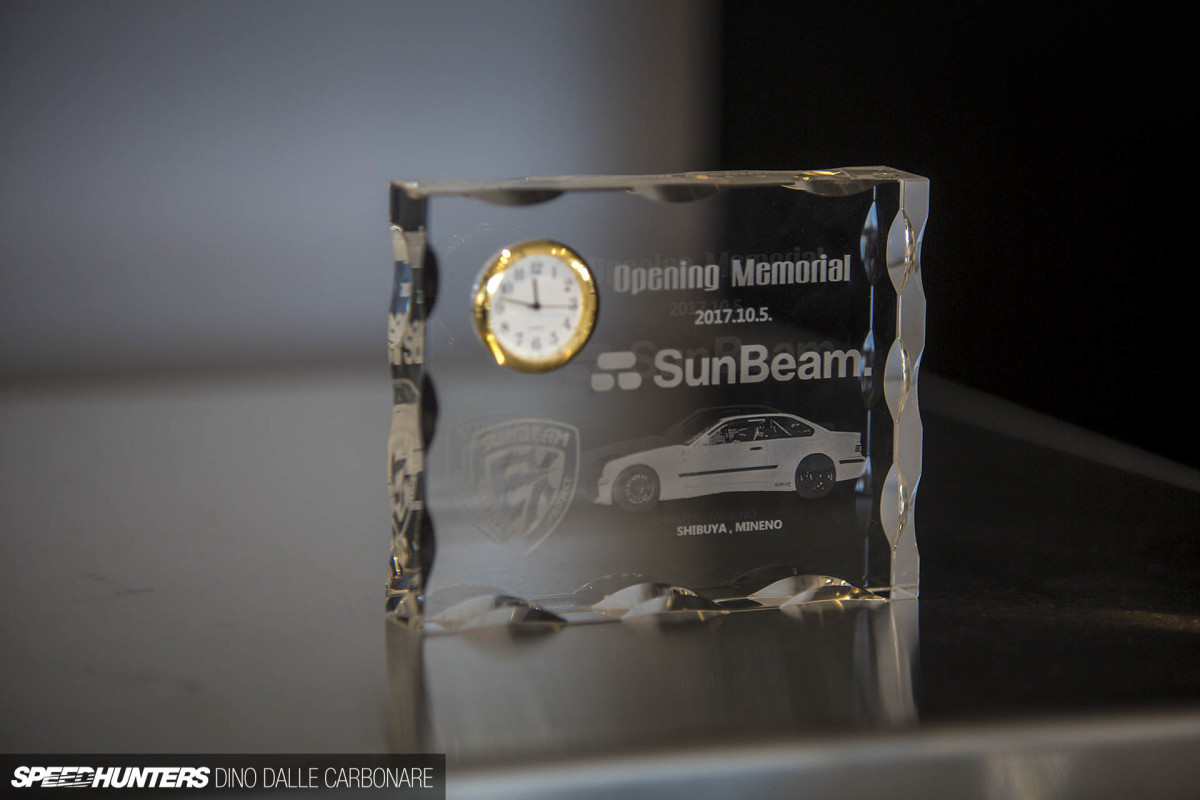 On top I spotted a little memento from the opening of the new shop.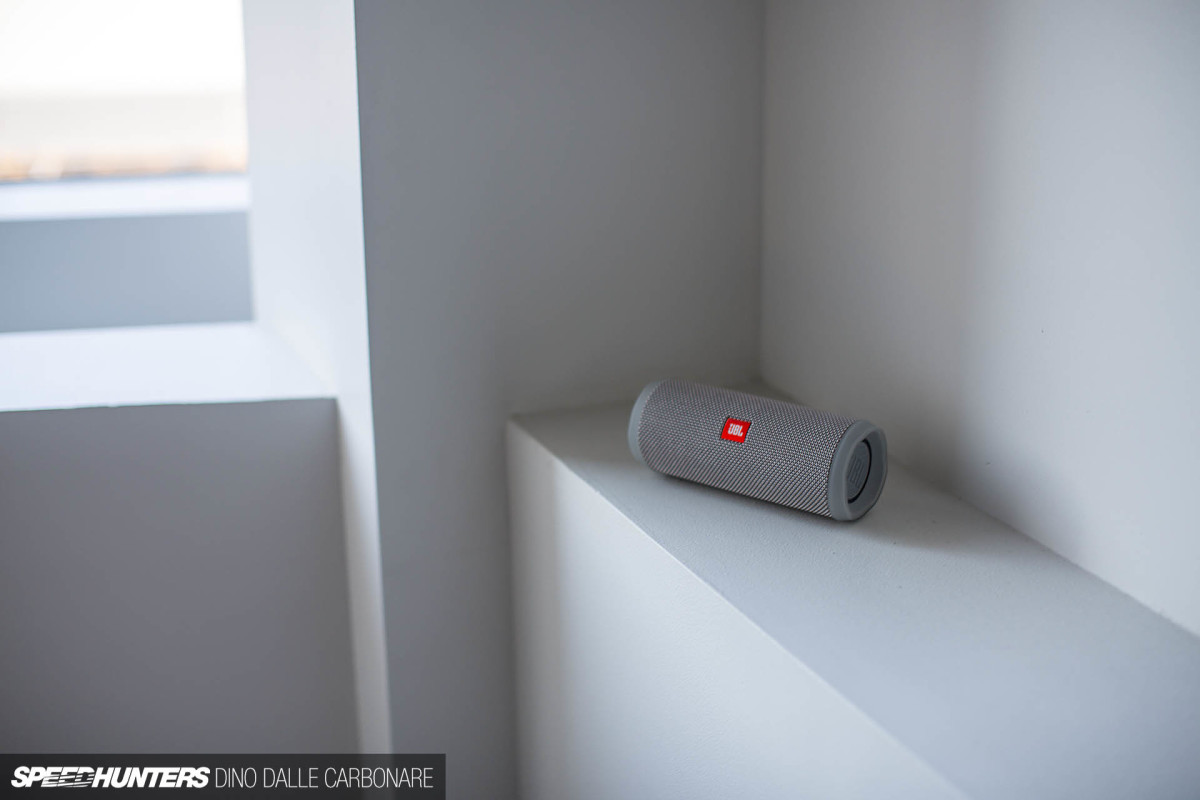 From there it was down to the ground level, and on the last flight of stairs I spotted a little wireless speaker pumping out tunes on a corner. It's just one of those little details you can't help but notice; no wires, cleanly presented and using Bluetooth connectivity to diffuse music throughout the workshop.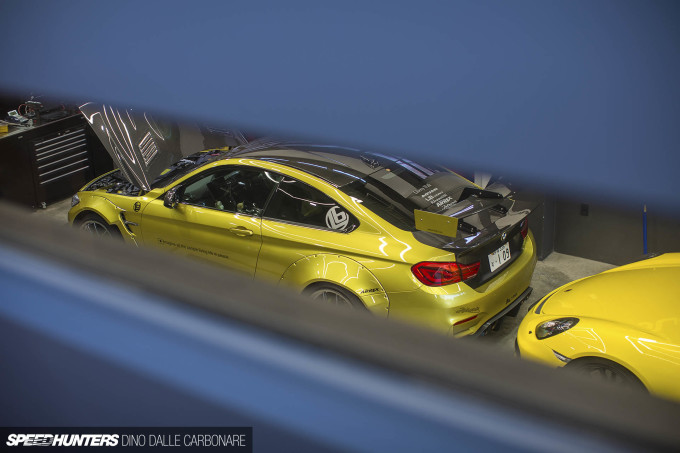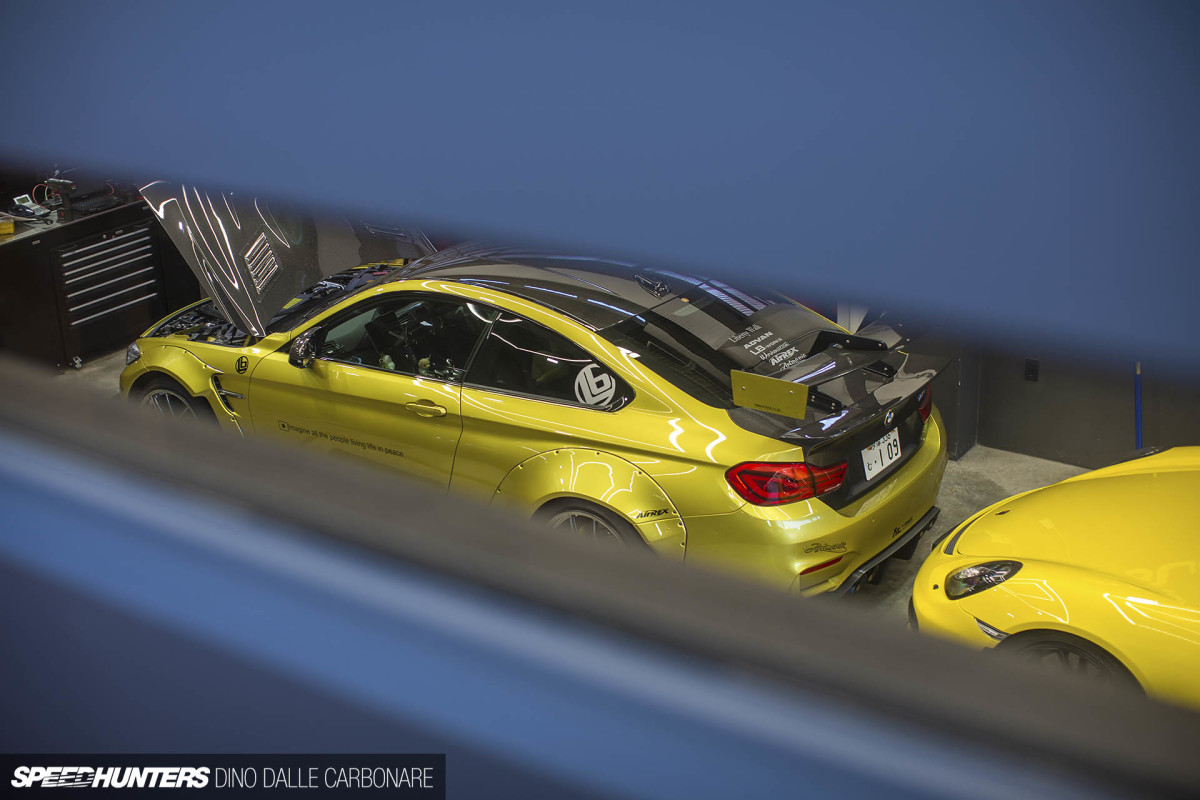 Another cool addition is a thin strip window that provides a glimpse into the garage.
Level 1 – Sunbeam Pit Area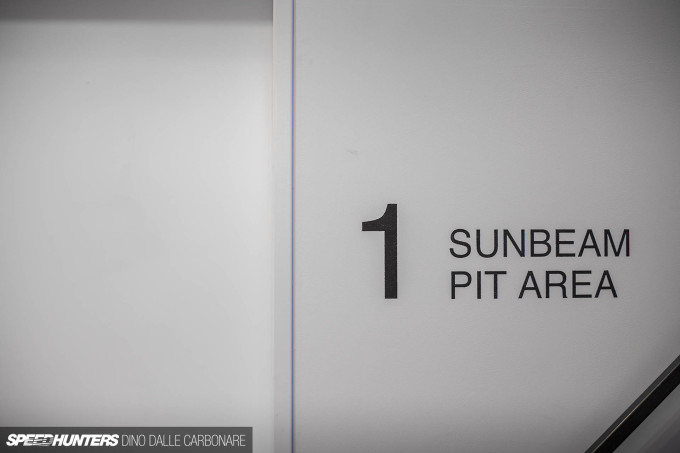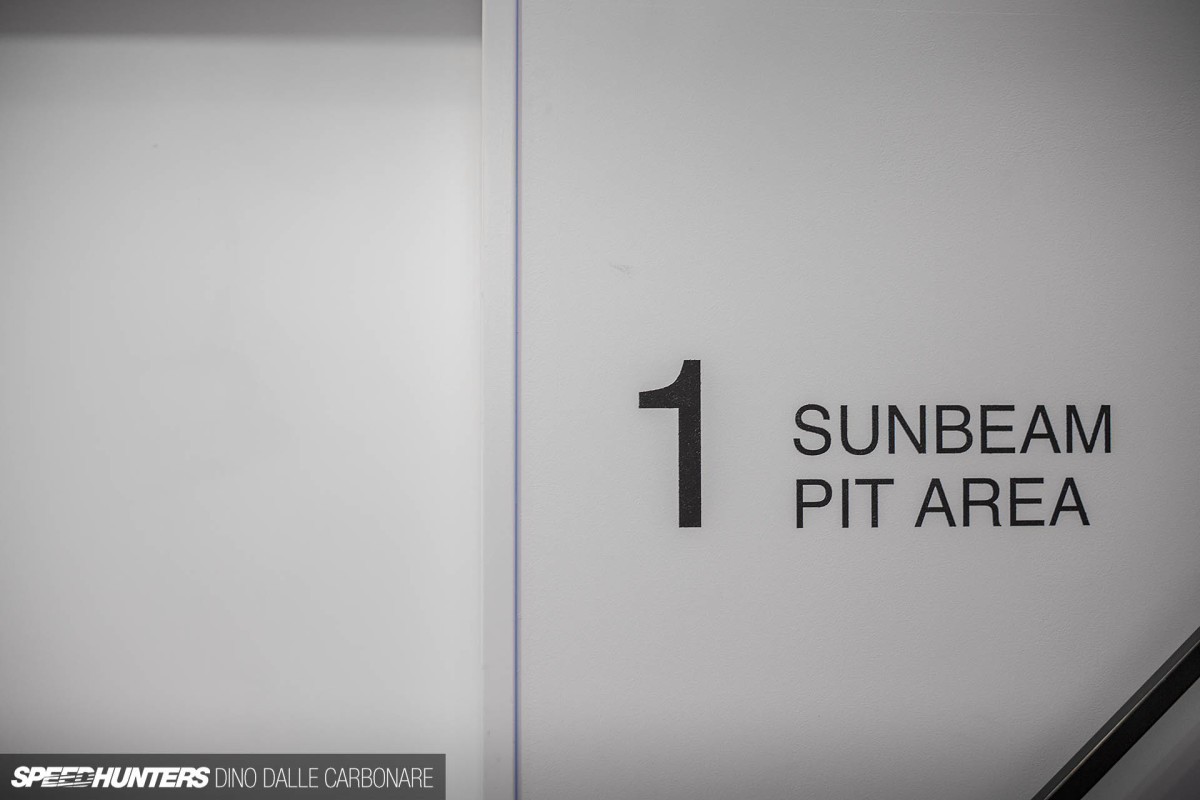 This is where all the magic happens.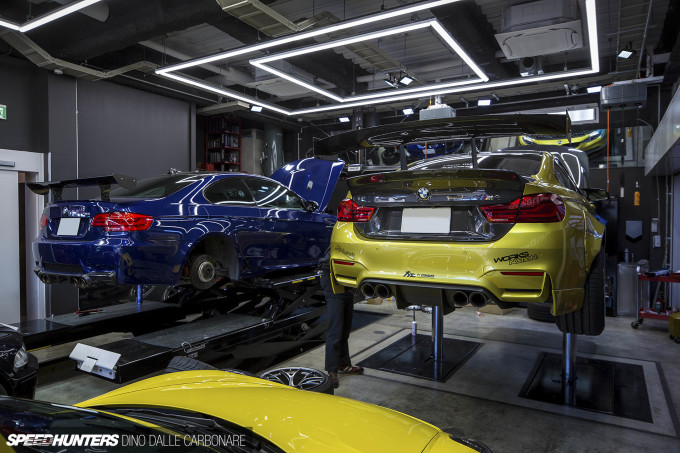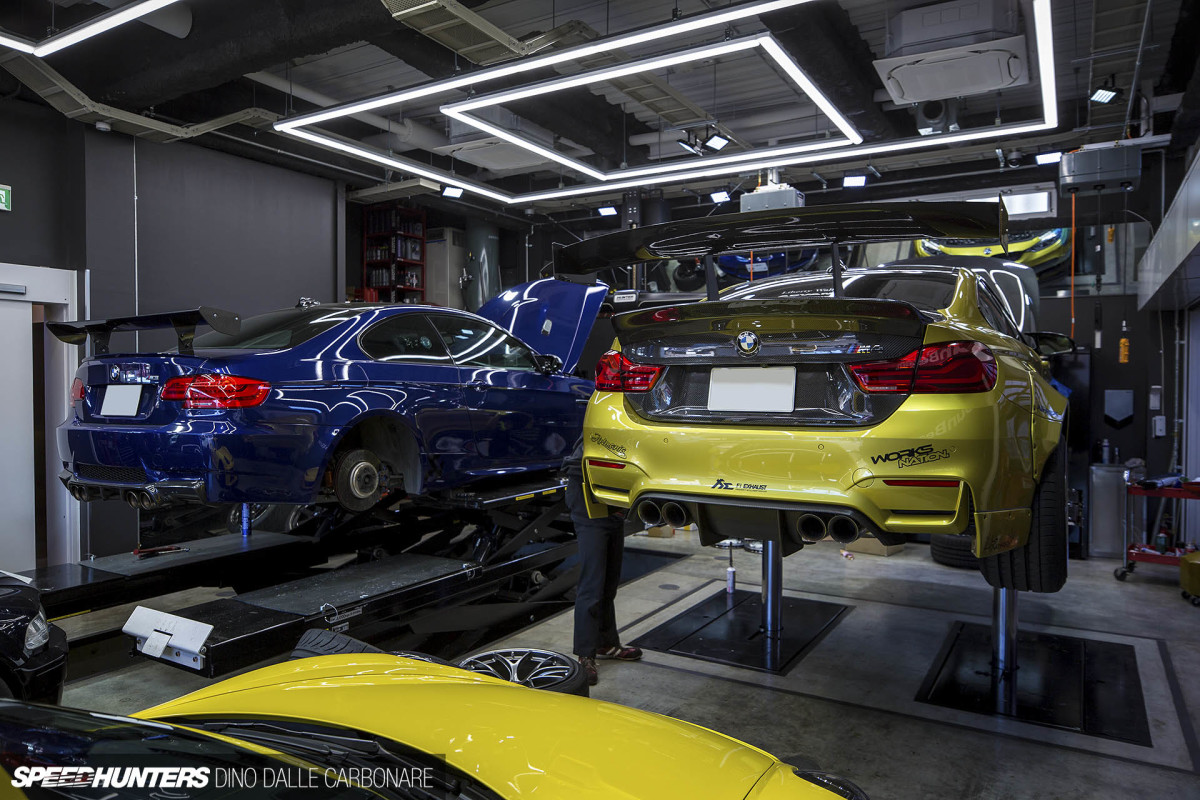 The main work area has two lifts, one of them being part of the alignment rig which gets a ton of use here. On the day of my visit there was a BMW E46 CSL, a BMW E92 M3, a Liberty-Walk kitted BMW F82 M4, and a Porsche Cayman GT4 all in for work.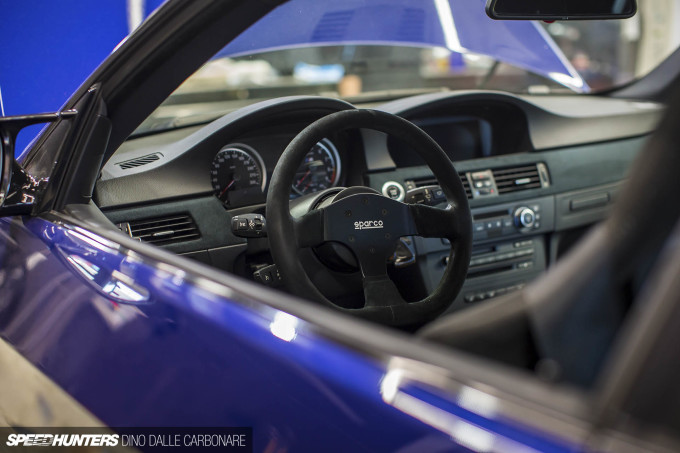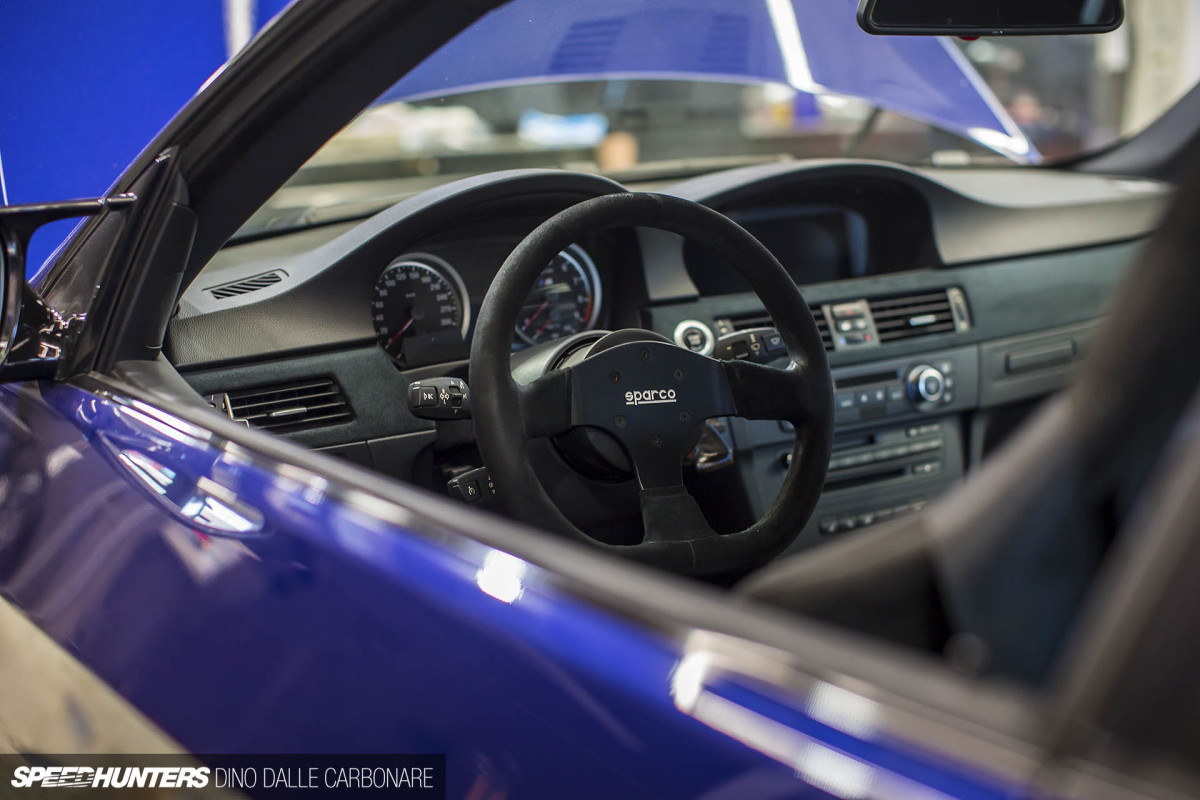 The E92 was in to have its Endless calipers checked along with a fluid and pad change.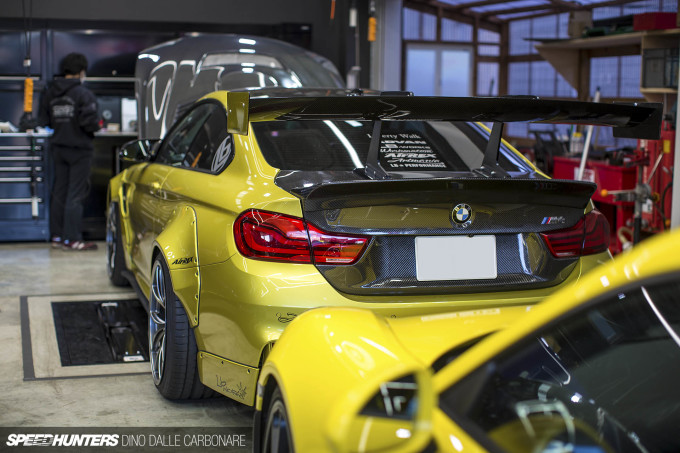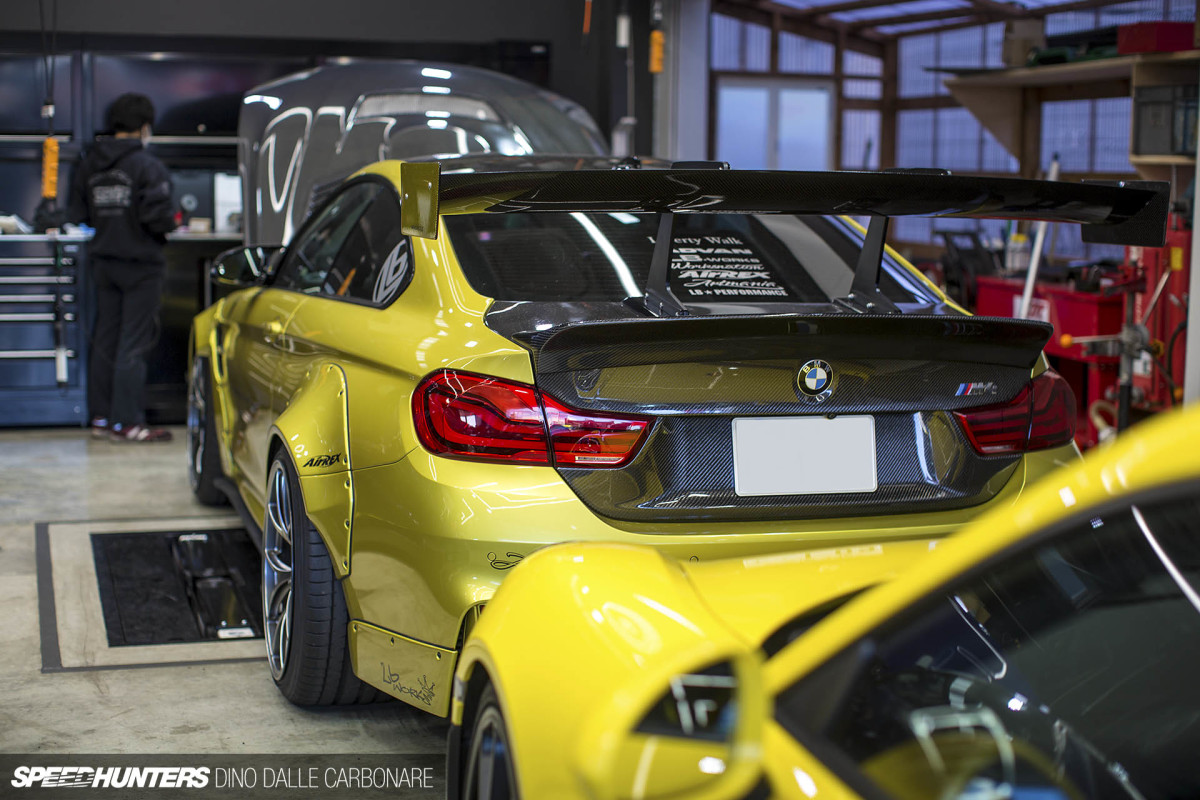 The M4 is a recent purchase form a customer who's been slowly converting it from an LBW demo car into something more geared towards driving. So in the last few months it's been fitted with adjustable coilovers and swapped over to a set of BBS rims.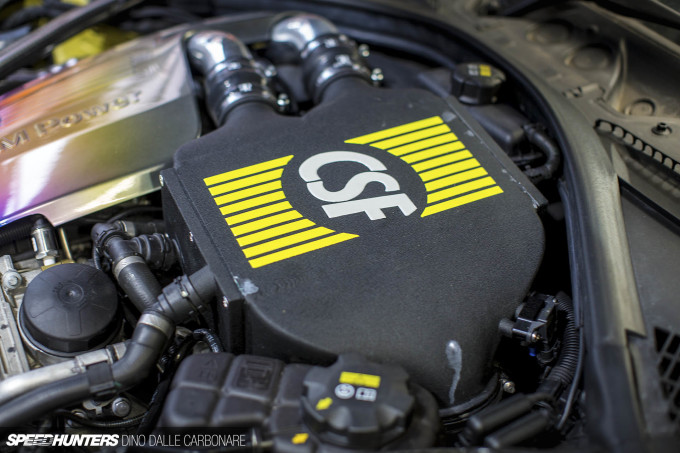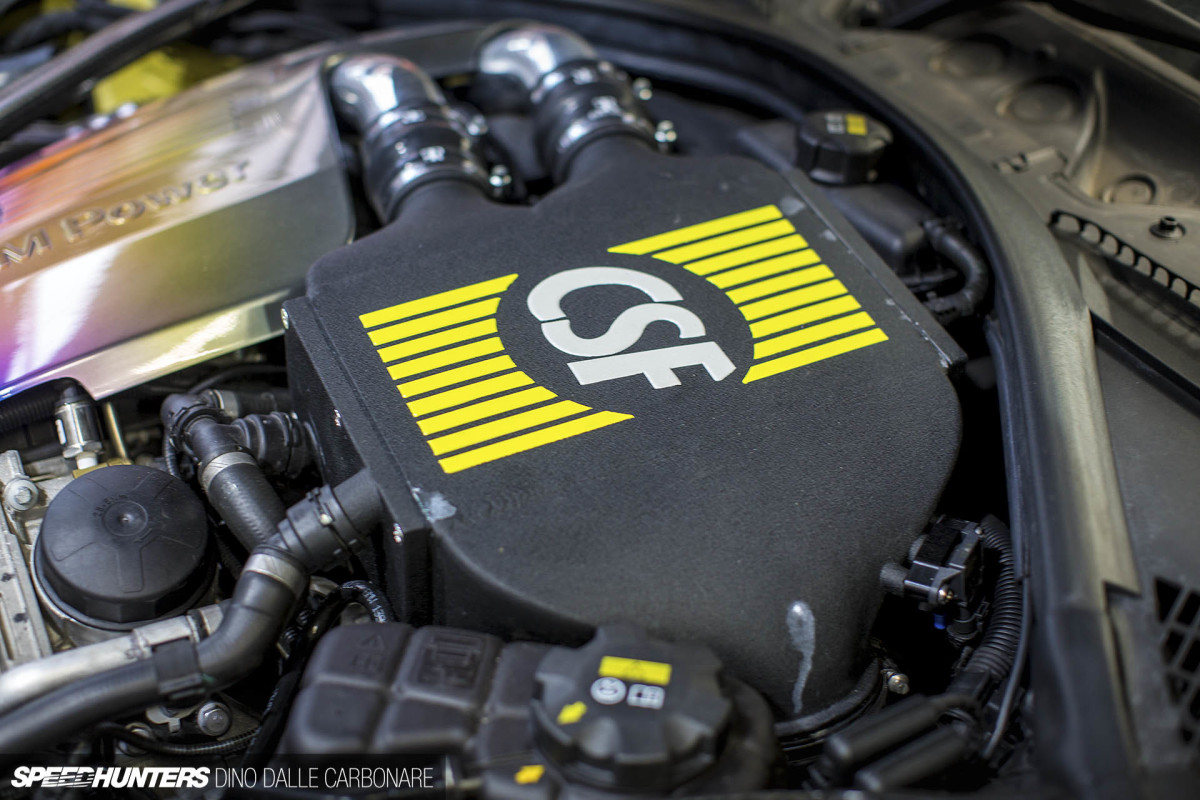 This was also the first M4 I've seen in Japan running CSF's F8x charge-cooler, which was unveiled at SEMA last year.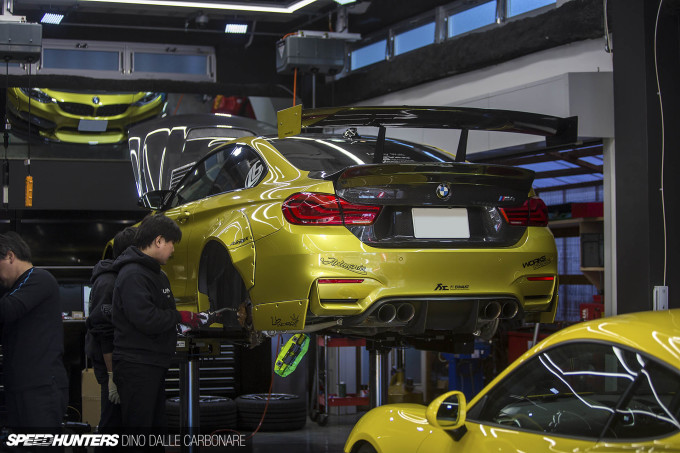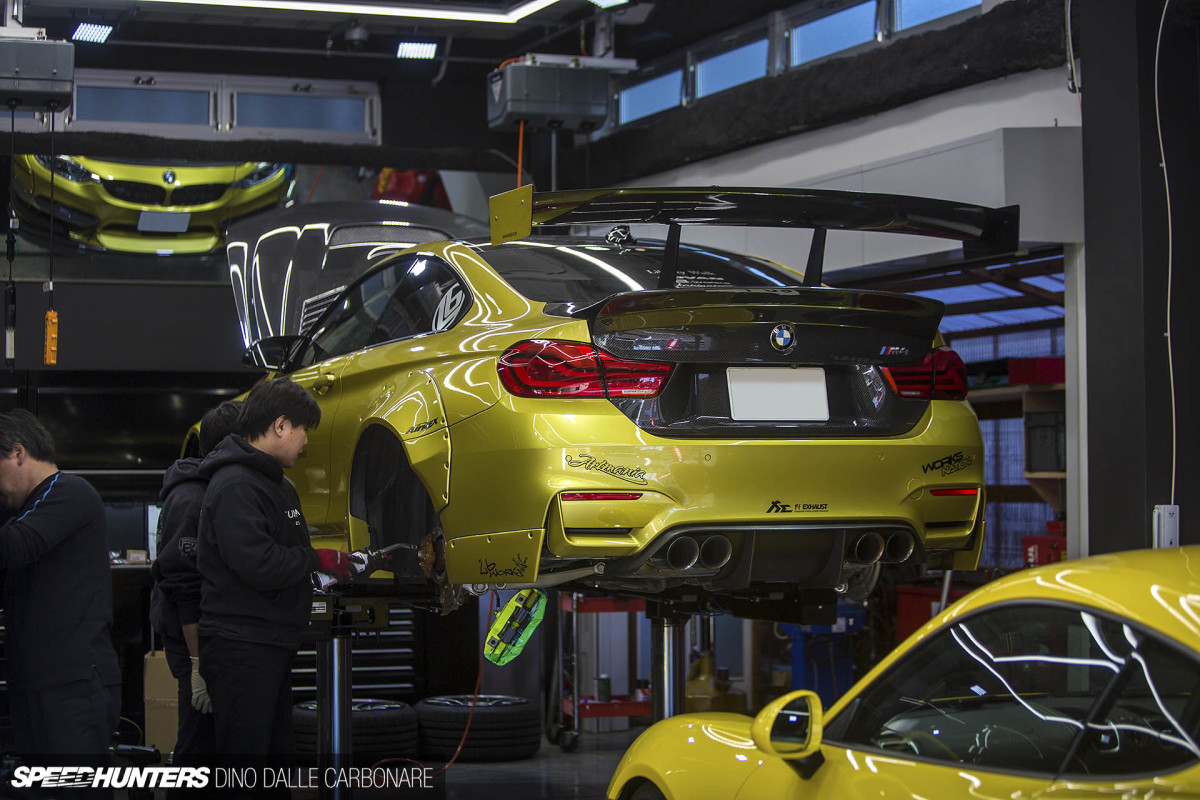 The M4 was at SunBeam to ditch some rather colorful calipers for a performance oriented brake setup.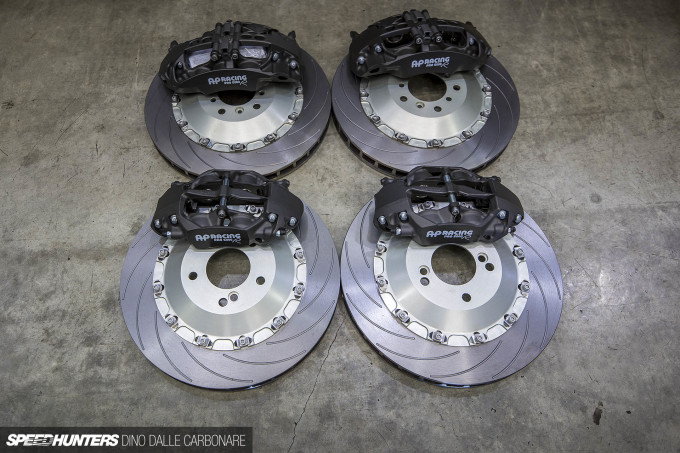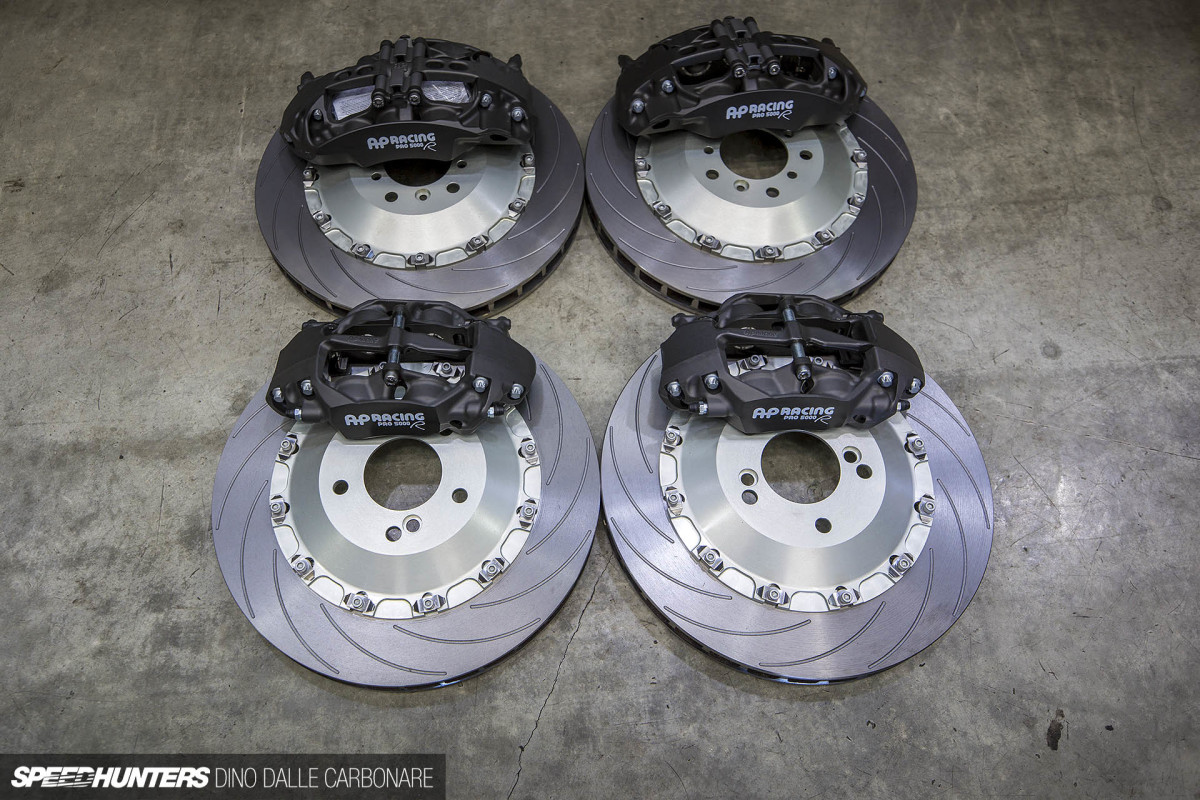 These AP Racing Pro 5000R calipers aren't of a monoblock design, but they offer a very good compromise between price and performance. Plus, seeing as the M4 is pushing 600hp, stopping power has become an important thing to address.
This corner of the shop is where wheels and tires are mated, balanced and checked before installation.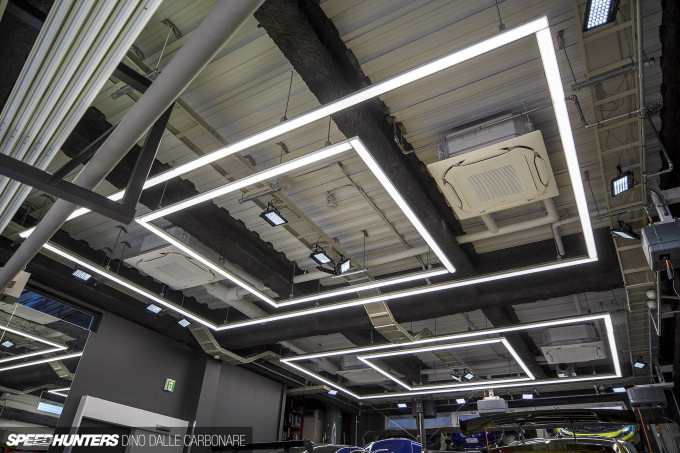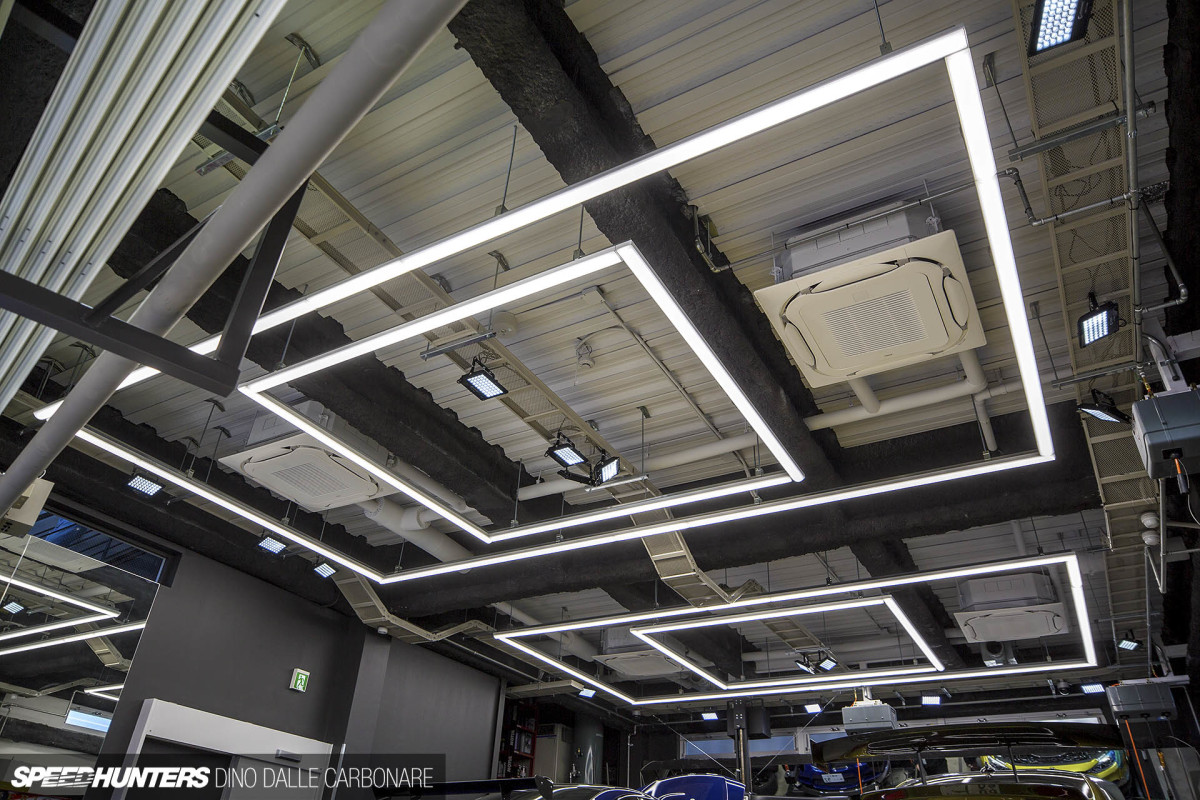 What really impressed me was the amazing diffusion of light. Us photographers always tend to notice boring things like this, but the LED strips arranged in a square within a square pattern diffused the perfectly white light beautifully.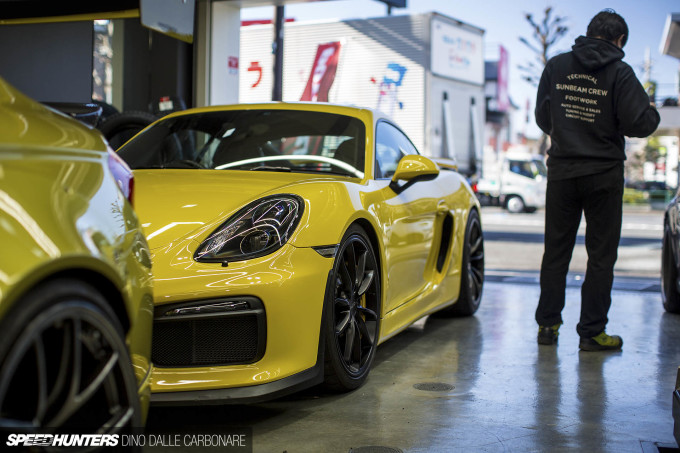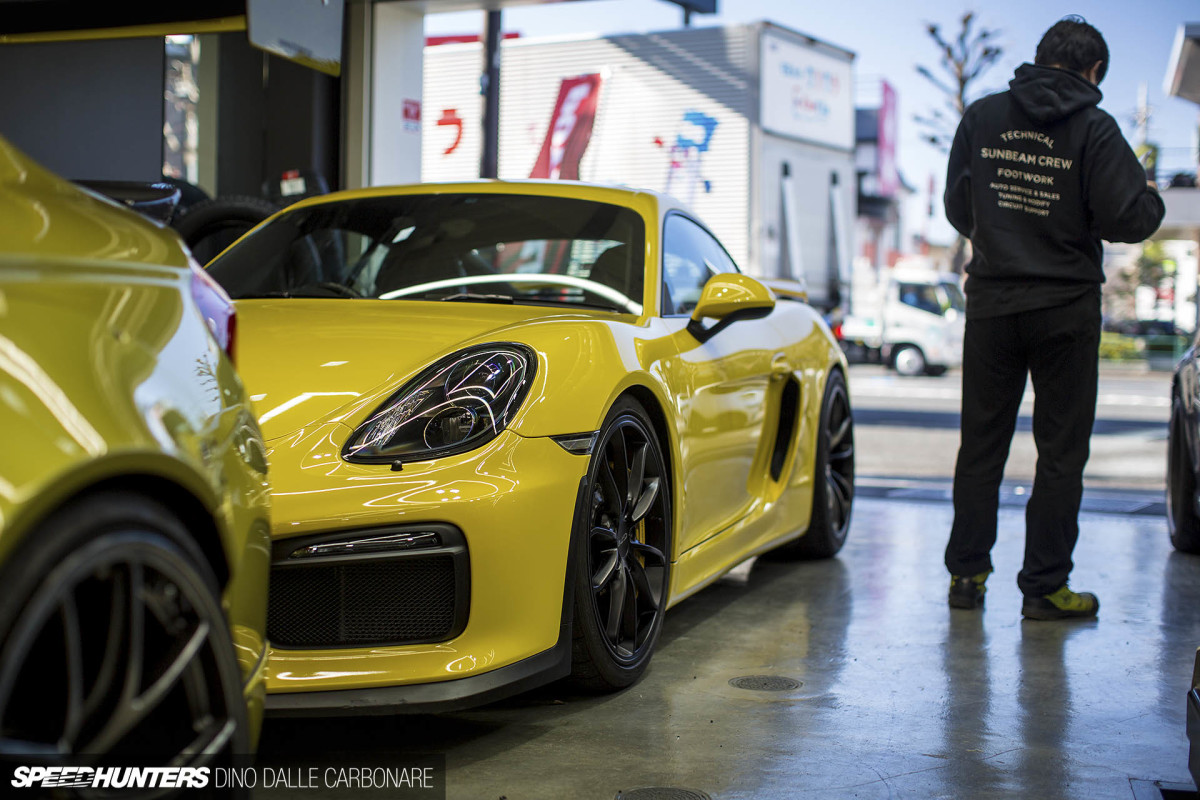 That pretty much sums up what SunBeam is all about: a shop with a great reputation that's been catering to the Japanese car scene for 45 years. Their central location and quick service have made them the shop to go to for Tokyoites with an affinity for fast driving.
Dino Dalle Carbonare
Instagram: speedhunters_dino
dino@speedhunters.com