20 Years Of Evolution
I'm a sucker for a good story, and behind every car we feature there's more often than not a unique tale waiting to be told.
This story one is of perseverance and total determination, that hidden need to achieve a goal you've set yourself. I really feel builds like this, because in my own little way I've been doing the same with Project GT-R ever since I picked it up in 1999. Akimura-san has been at it even longer than I have with his FD3S Mazda RX-7, a car that he's totally made his own by continuously adding custom pieces to it.
We've come across his FD countless times at meets like the big Daikoku gathering for 7's Day, and Akimura-san and I have always chatted about featuring it on Speedhunters. But as is often the case with a long-running build, there's always been something that needs to be cleaned up or finished. But finally the other day, I messaged Akimura-san and told him that we should feature it now given the great spring weather we've been having in Tokyo. This time, and to my surprise, I was greeted with a big "yes."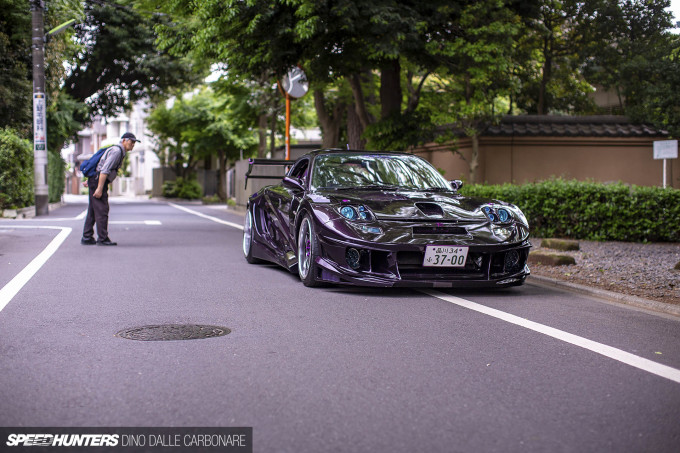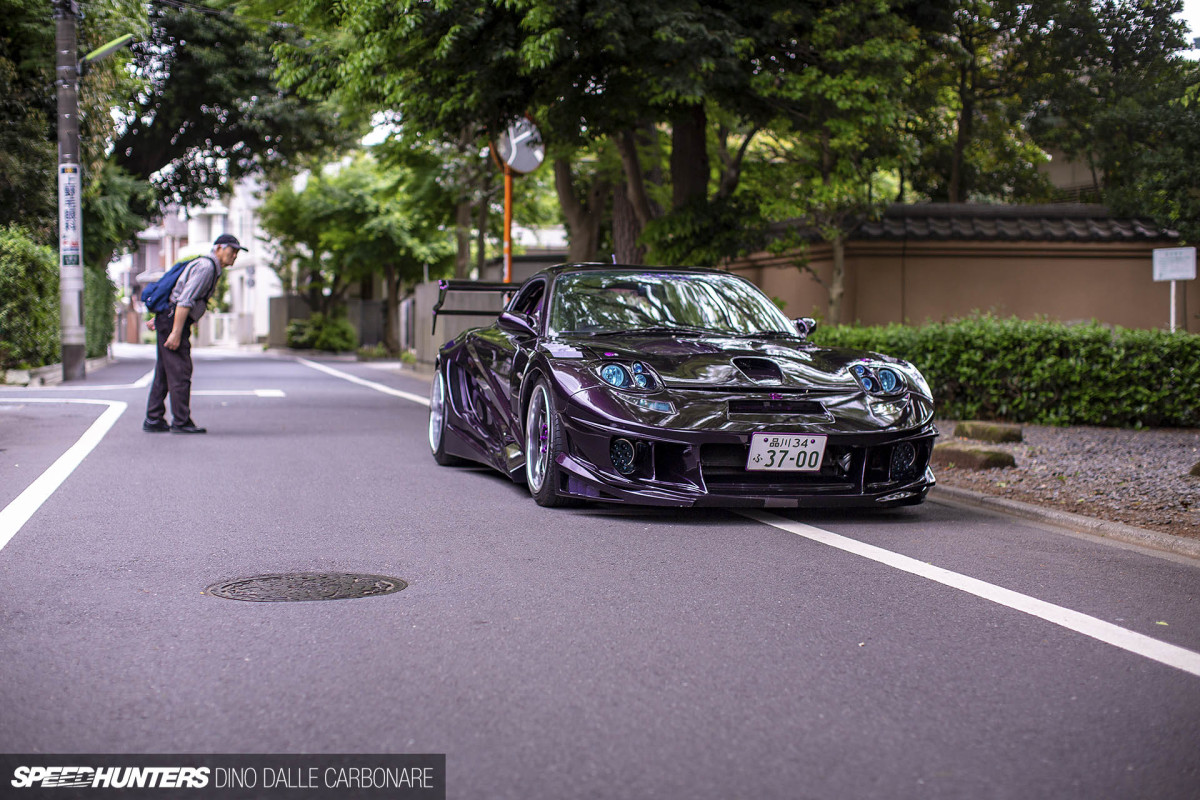 Of course there was a "but" too, Akimura-san telling me that he had a new custom hood coming for it next month. I told him it was his call, and he replied with a time and place to meet the following day.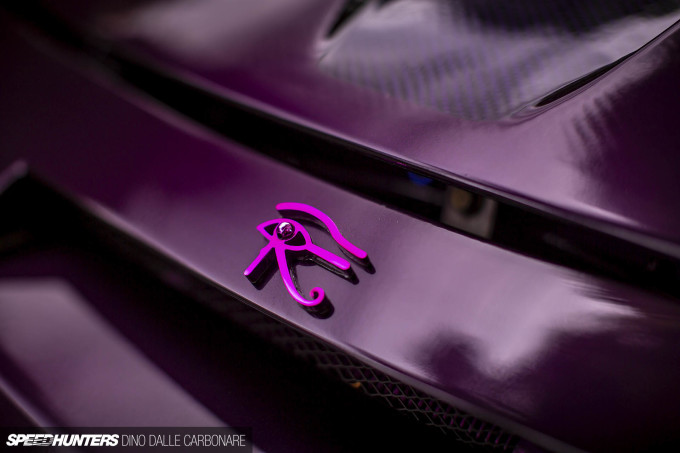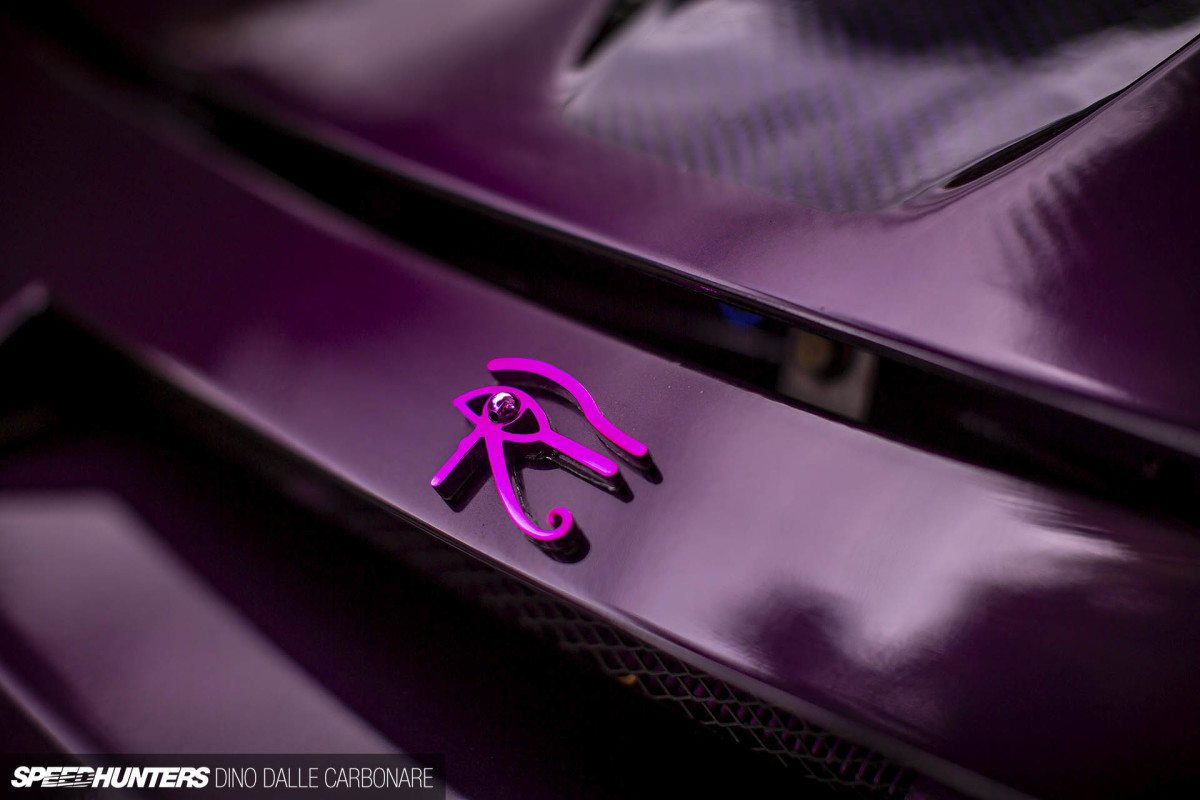 This RX-7 has some real history in the Japanese performance tuning world. It was originally built as a showpiece for a collaboration between Curve and Abflug. These are both old school JDM tuning industry names and I recall shooting quite a few cars that Amemiya-san of Curve had built. Curve was essentially a spin-off from Abflug where custom one-off bodywork – using Abflug aero as starting point – could be produced for customers who wanted something extra special.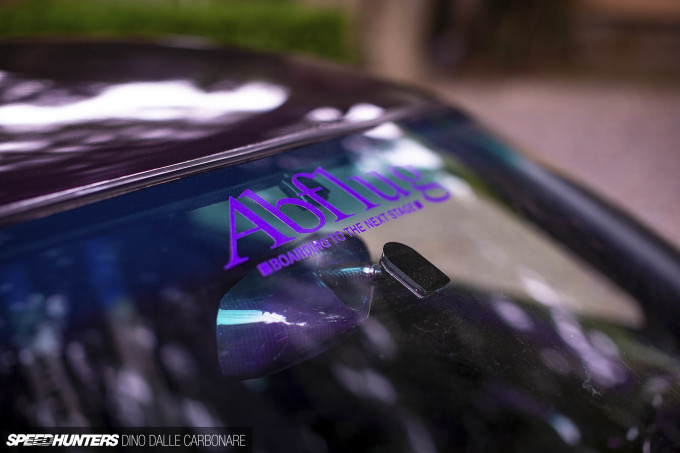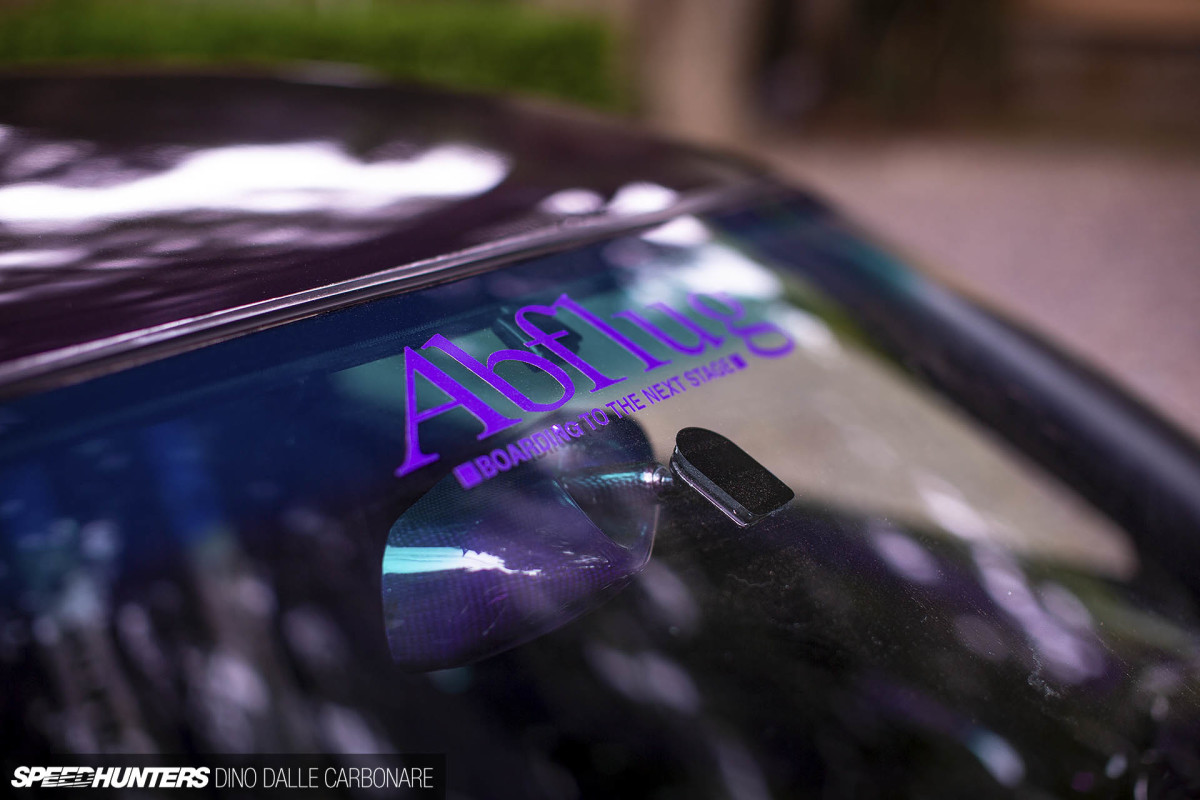 Curve is long gone now having been absorbed back into Abflug, but it's a name that for me brings back some great memories.
Since this RX-7 was first shown at the 2004 Tokyo Auto Salon is has been altered so much that it now runs Akimura's own emblem, something that he designed himself. The link to Abflug however is as true as ever, a fact reflected in the windscreen banner.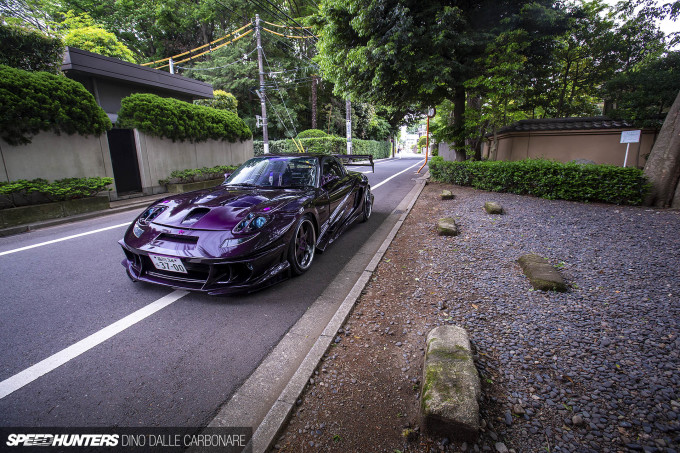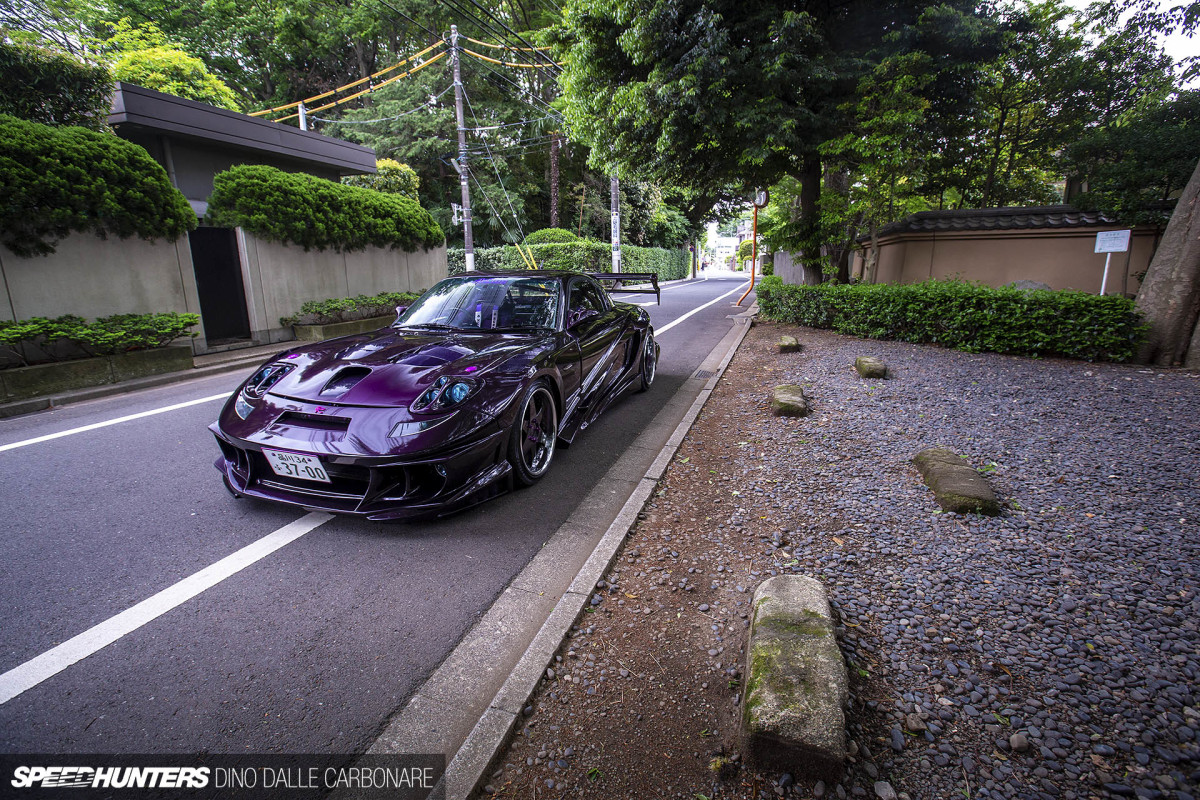 It's hard to figure out where to start, the wide-body aero itself or the color coordinating that Akimura-san has taken to the next level.
So what is the purple about, anyway? There's no complexity here, it was the color that was used for the car's TAS debut back in the day, based on a Nissan R33 GT-R Midnight Purple, but custom mixed a tad lighter. Not by much though; park the car in the shade and it literally disappears into a self-generated black hole.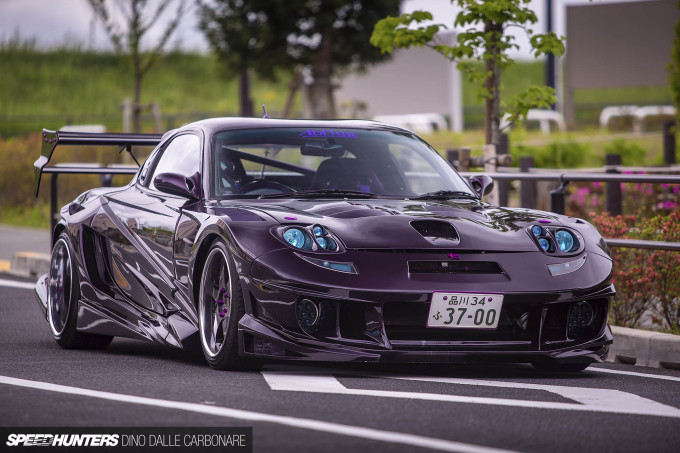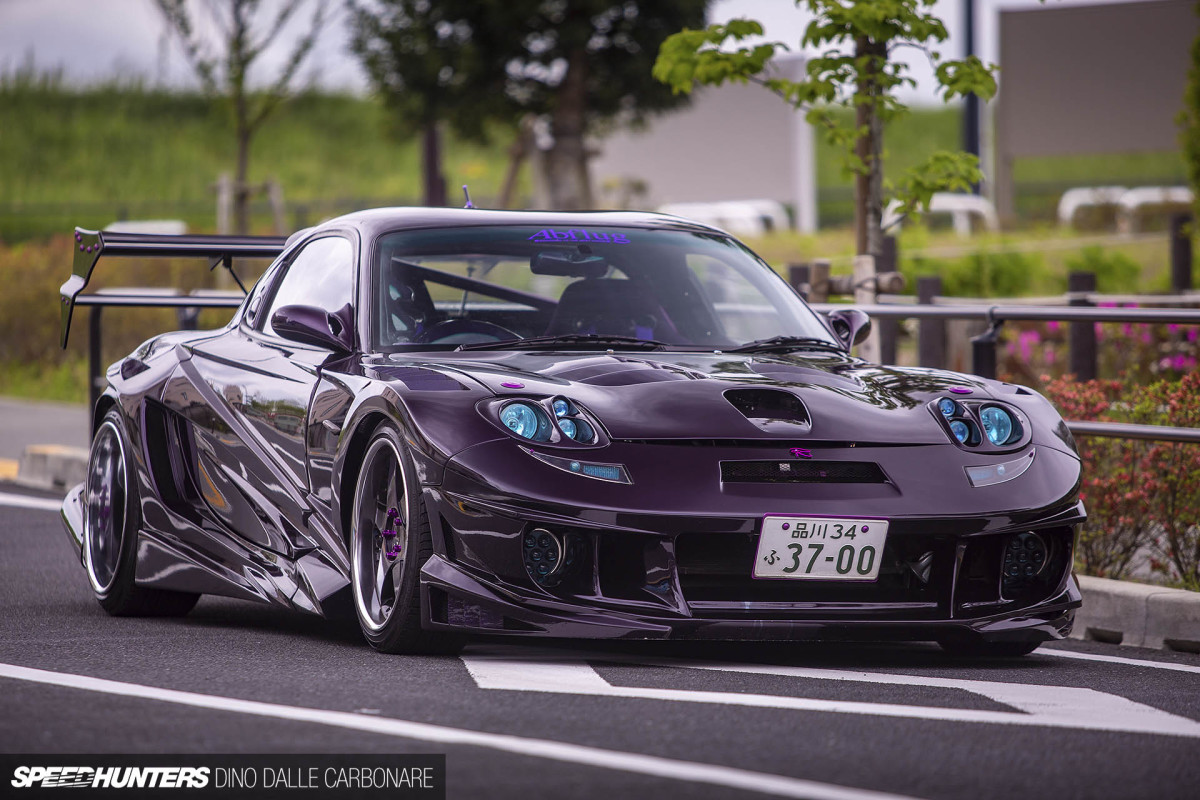 What began as a few highlights to visually spice up the exterior has been taken to the extreme. Now it's all about turning every single piece and detail of the car purple, be it a painted surface or a treated metal one.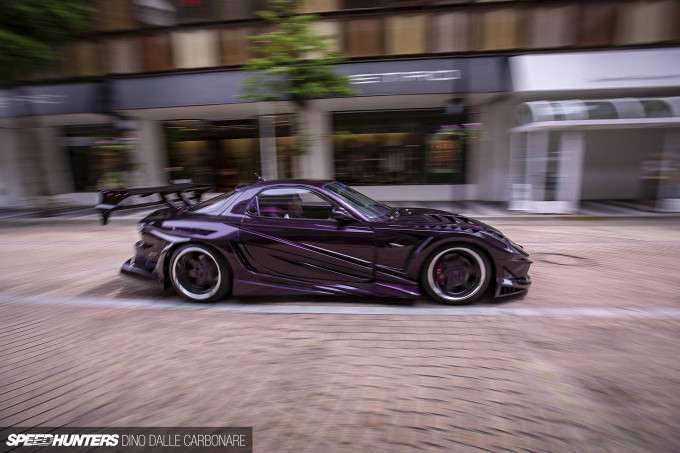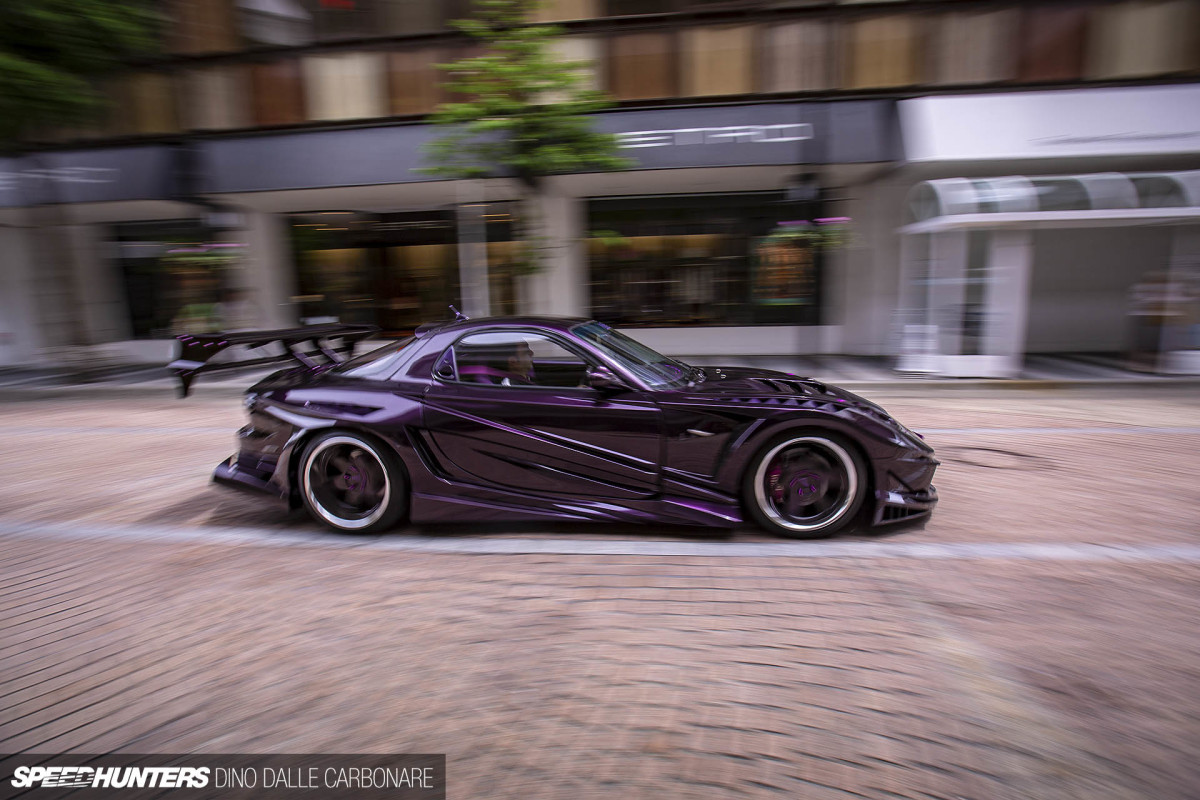 It's an exercise in persistence as the color has pretty much taken over every area of the car.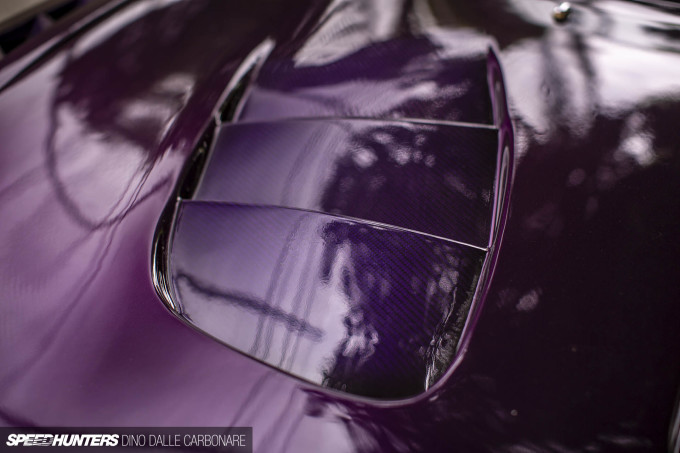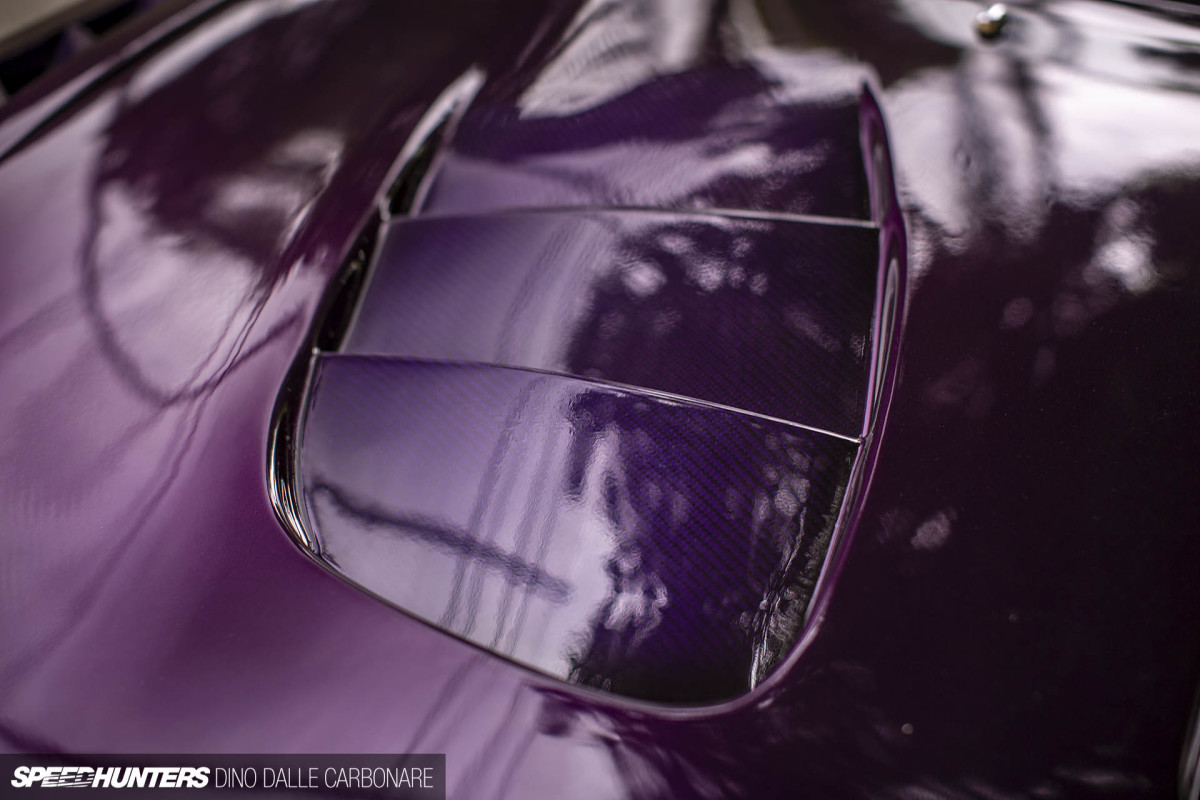 It stretches right into the way the car has been painted too. Some carbon fiber details, like the venting on the Seibon carbon hood, are semi-translucent purple so you can see the underlying composite weave.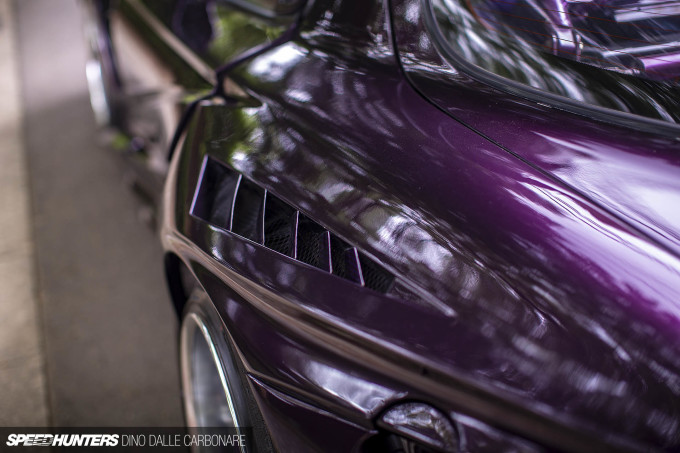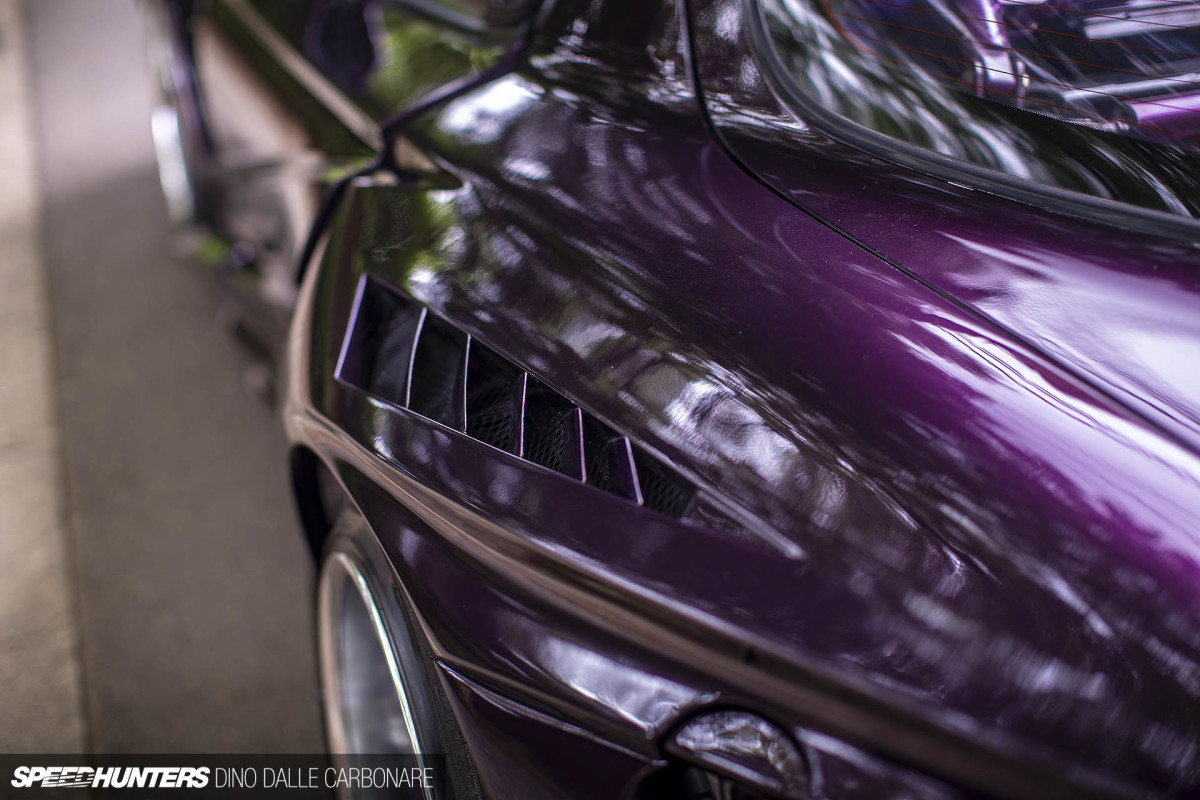 The recessed triangular detail on the Abflug front fenders ended up getting cut out and a series of carbon slats added for extra effect. That caused a bit of unbalance with the rear, so the massive rear guards got the same treatment. Of course, all of this carbon has been painted purple to match too.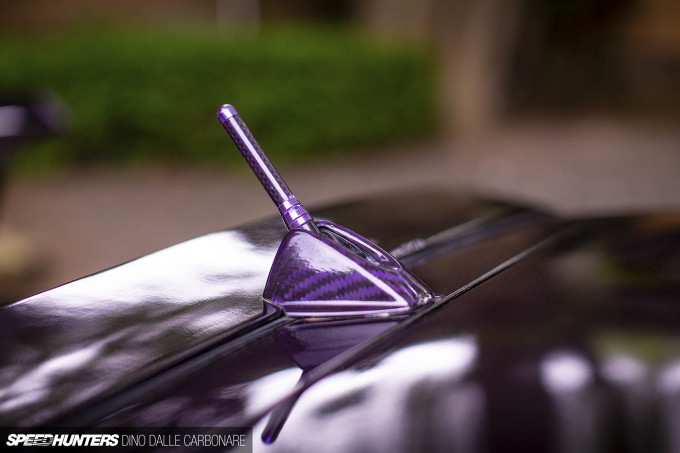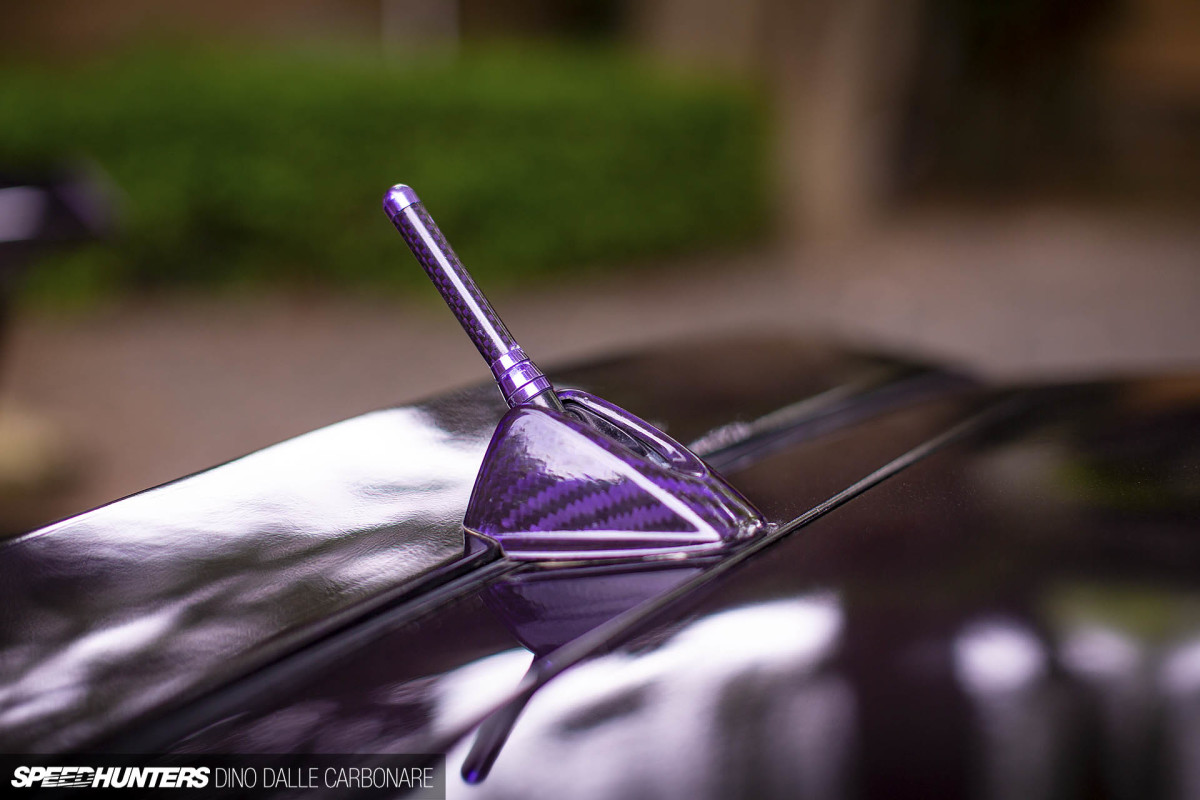 Purple antenna? Check.
Purple Haze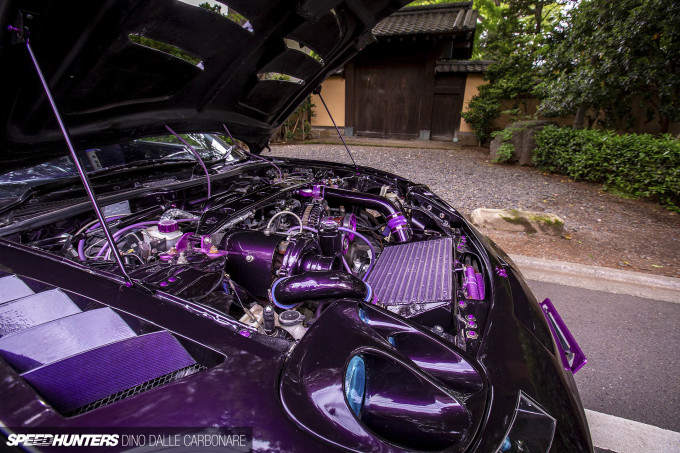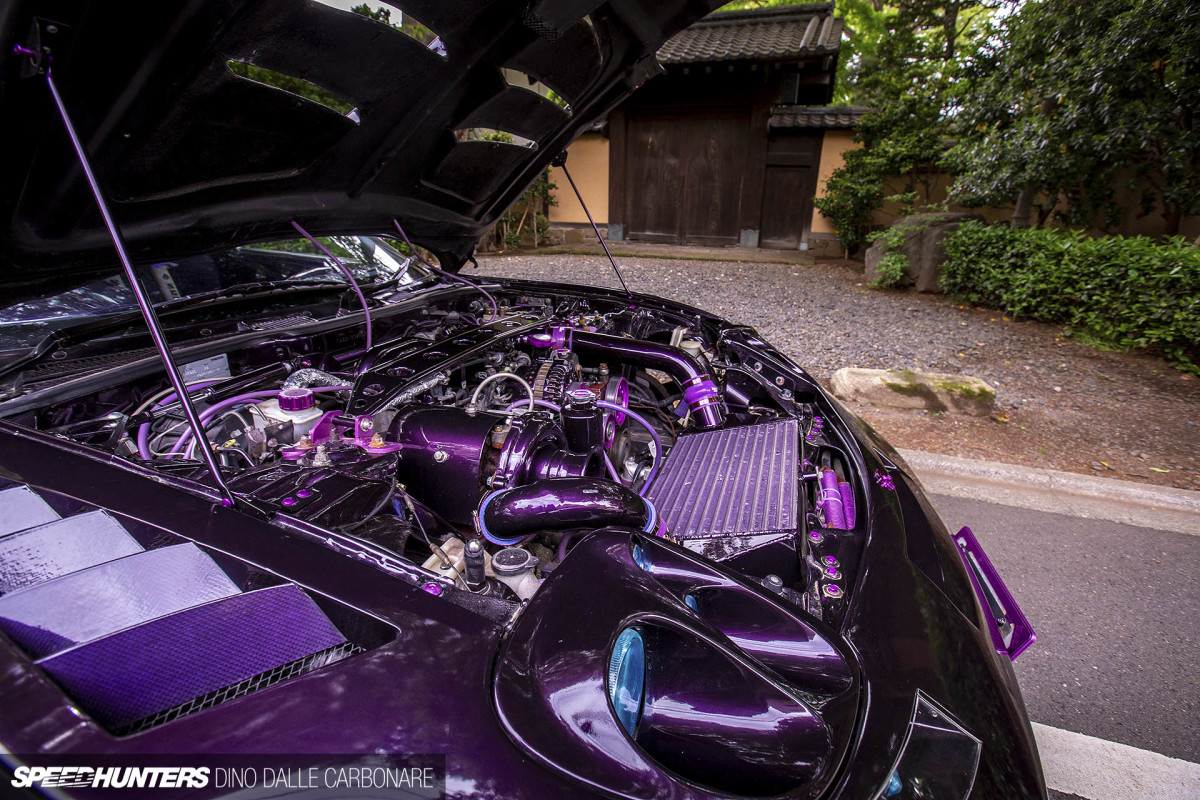 If you think the exterior has been well executed when it comes to the 'purple everything' approach, the level of dedication that's gone into the engine bay will surprise, or perhaps shock you.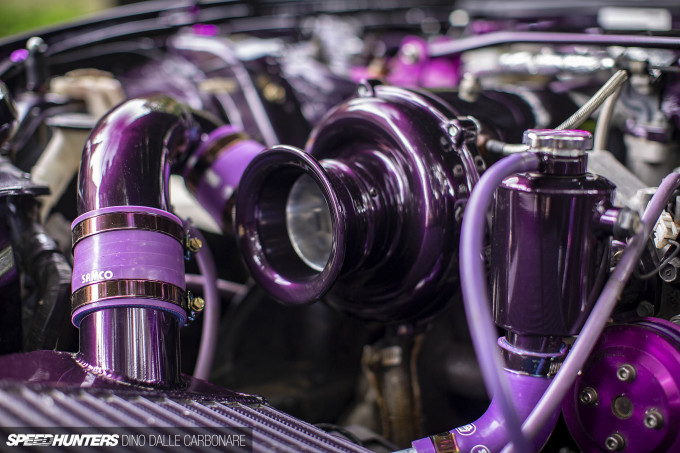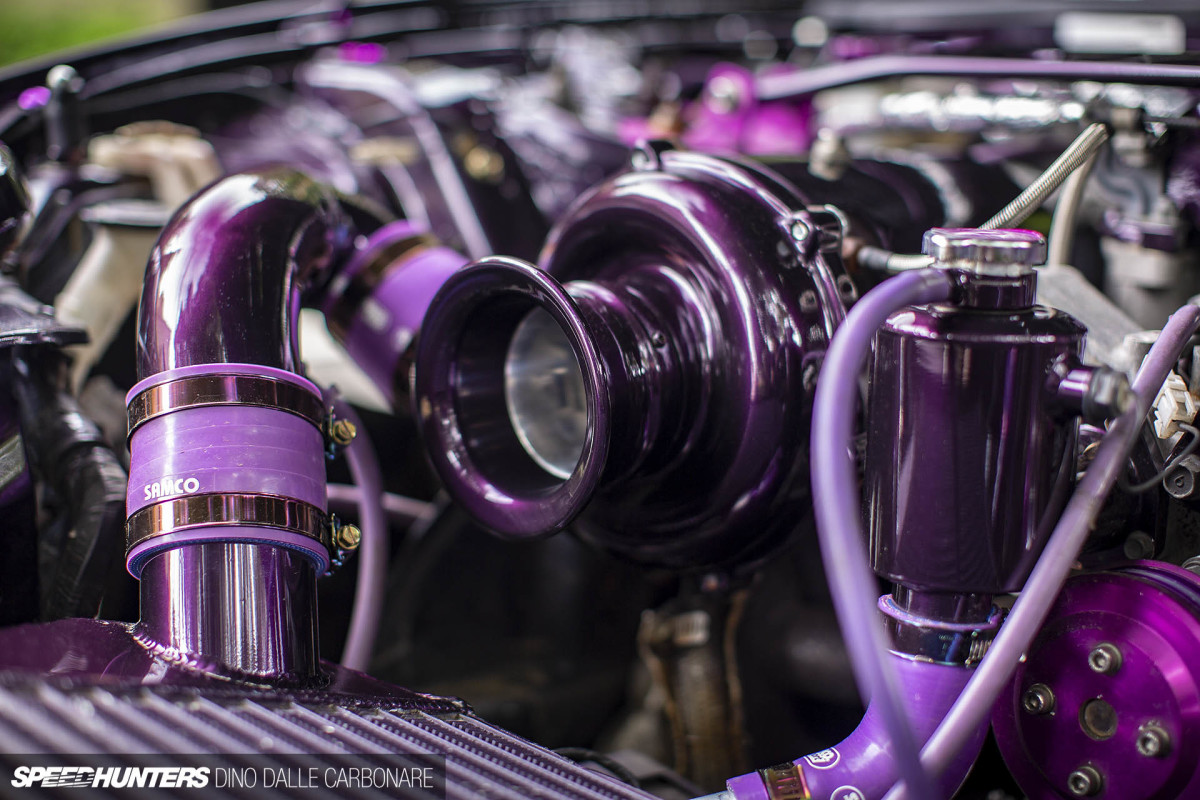 Pretty much everything that could be color-matched in purple has been, right down to the IHI high-mount turbo, the piping and intercooler. What couldn't be painted was replaced with purple anodized parts.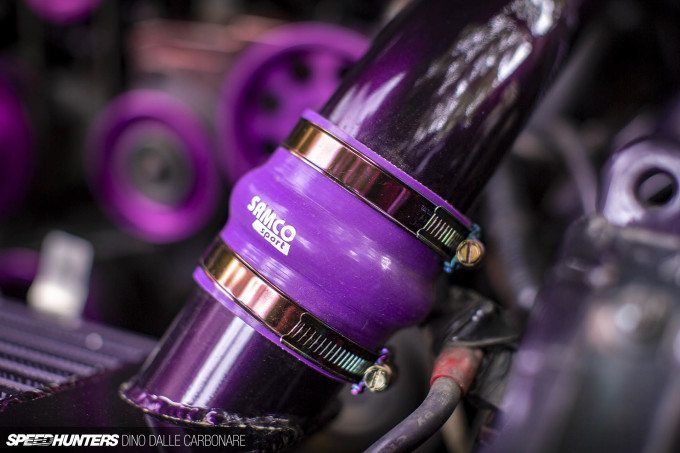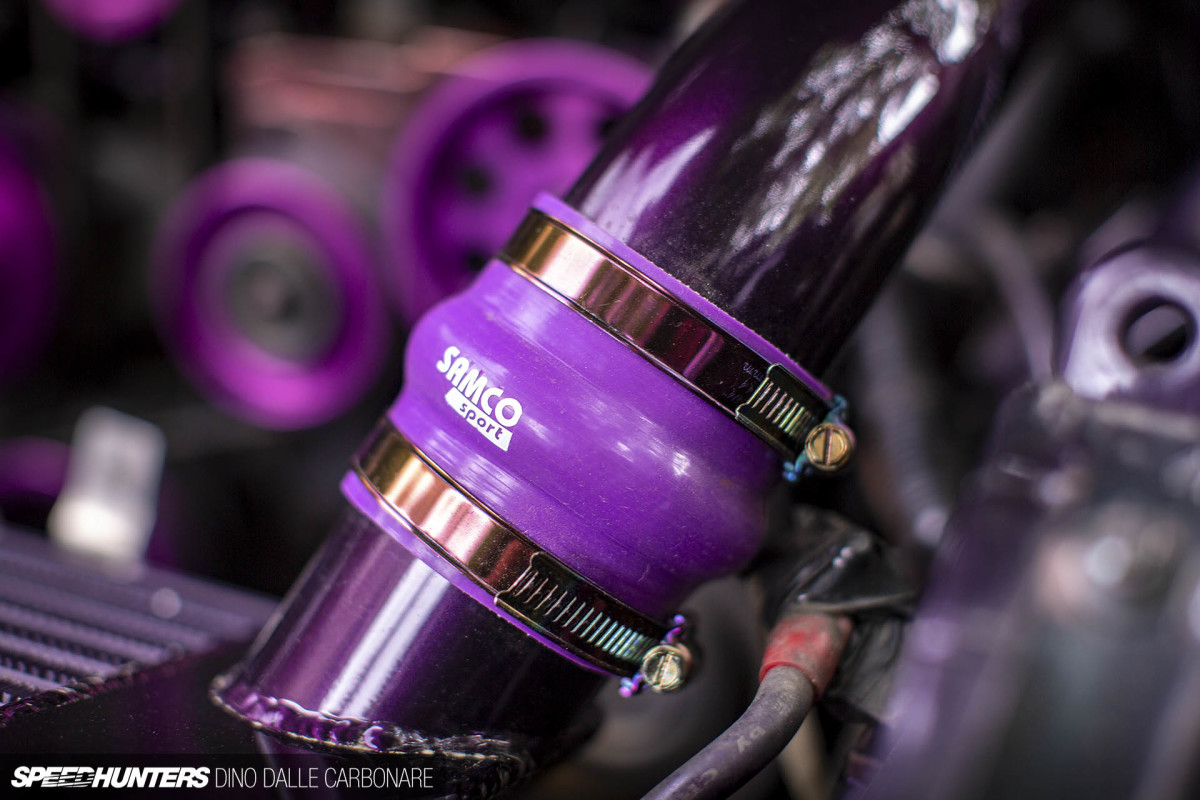 Akimura-san recently found a company down in Hiroshima that can create a purple-like coating even on things like hose clamps, which certainly makes things a lot more presentable than leaving the rough metal finish. When I was looking at these I thought I should mention Wiggins Clamps, but then I changed my mind in fear that I might spark off another bout of custom purple OCD-ness.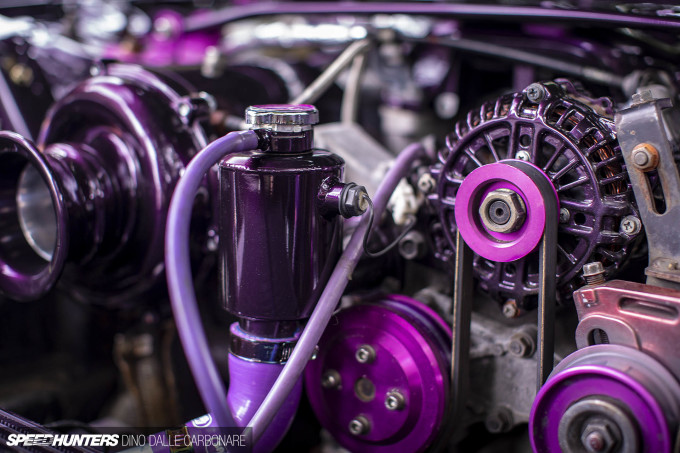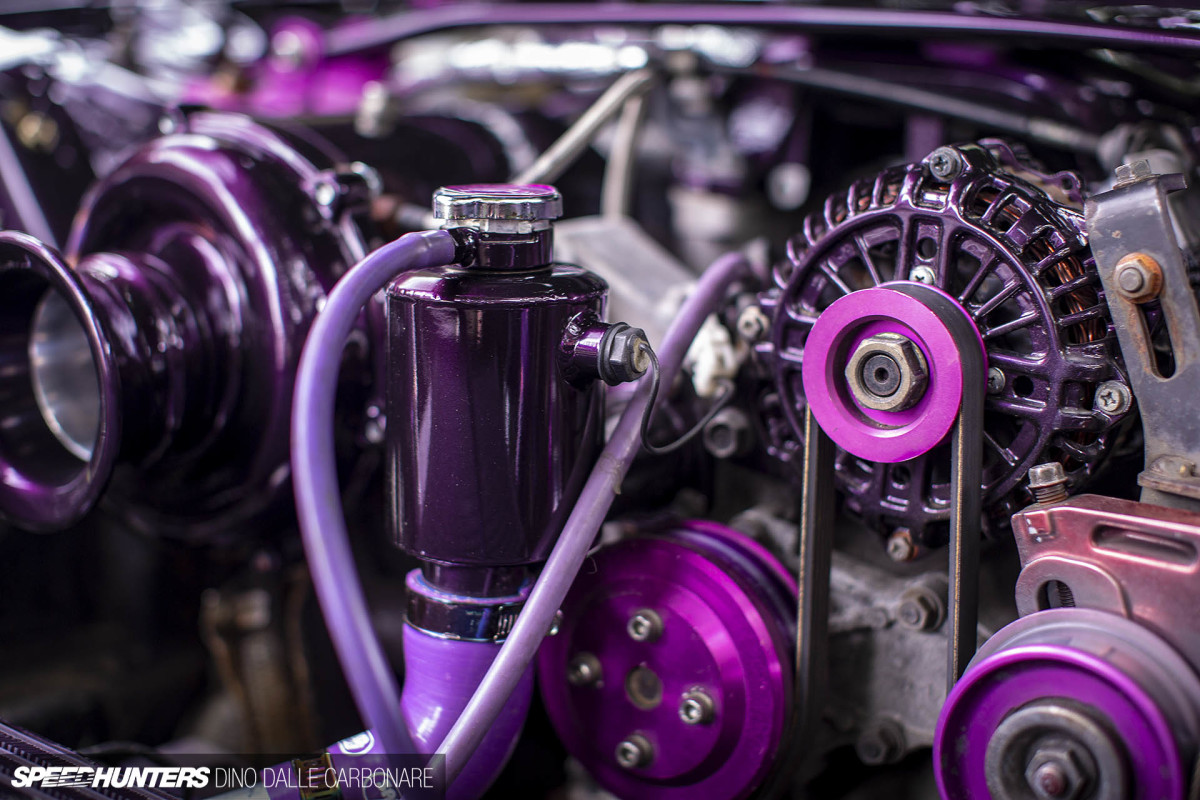 A 13B armed with a big turbo is always a great thing to see, but one of my biggest pet peeves when it comes to these engines is the positioning of the alternator. It's right there, the first thing you see when you lift the hood. But in this case at least the front cover has been color-matched and armed with a lightweight purple pulley.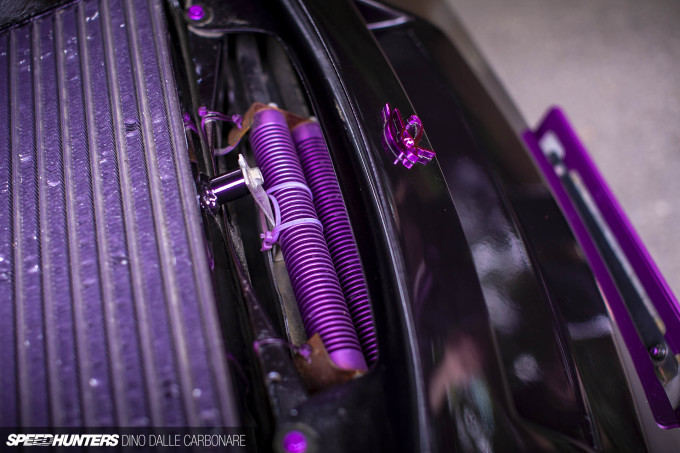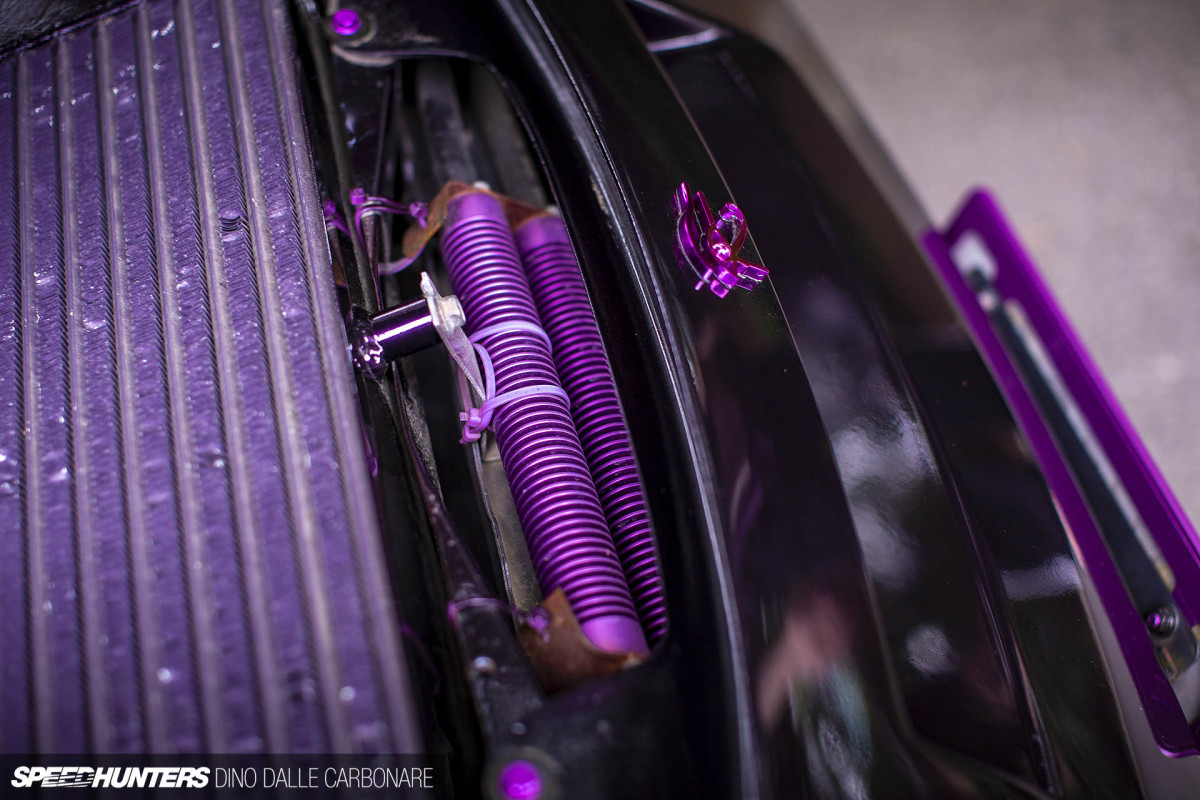 Sitting in front of the purple intercooler, which is positioned in a v-configuration with the radiator beneath (I don't think that was painted, but you never know!) is a purple core to cool the power steering fluid. Even the zip-ties, albeit faded, are purple.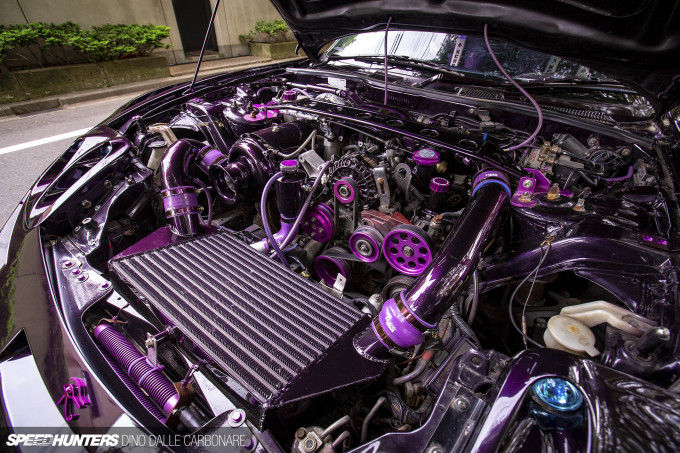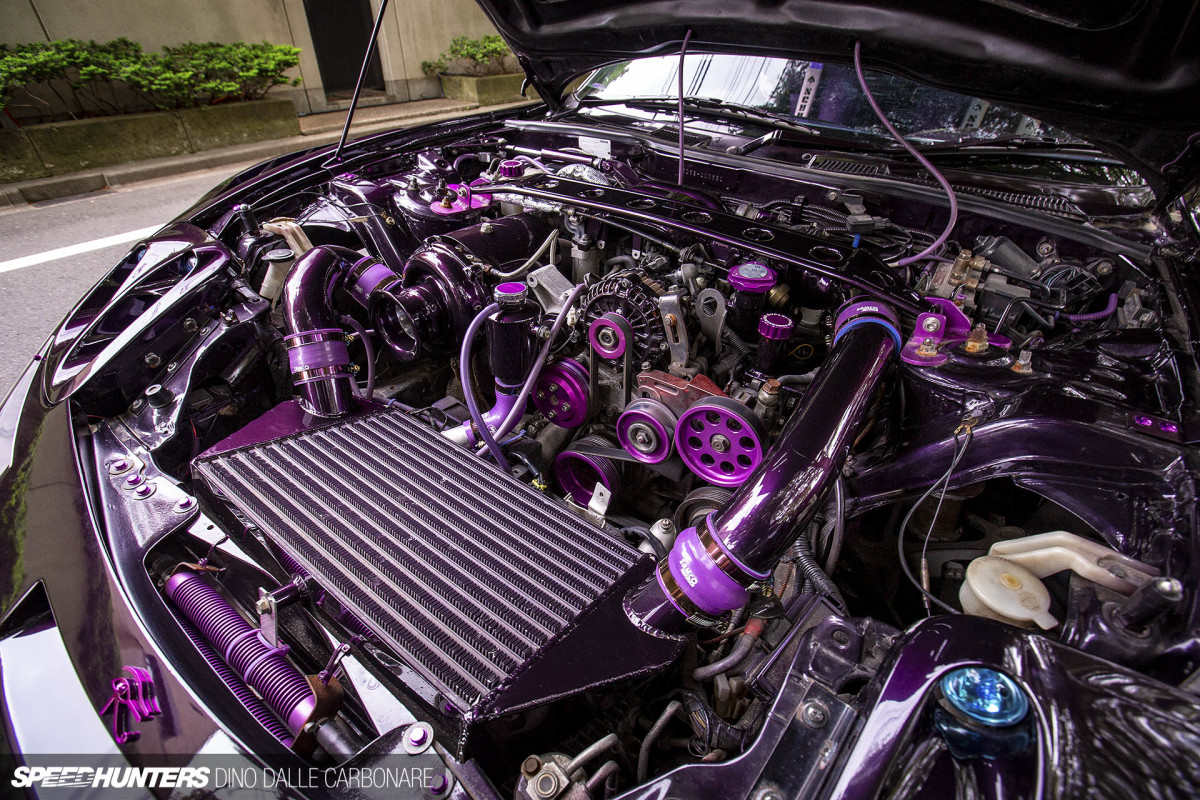 The great thing about Akimura-san's whole approach with his car is that he actually drives it. It's a show car for the street; he never misses a meet and is always using and working on it. Because of this he's never really jumped onto the whole high-power Wangan racer thing; his engine was originally built for the car's TAS debut by JIS and has been kept in that state of tune ever since, albeit with a more recent rebuild by R-Magic. But with 400hp or so on tap it's powerful enough.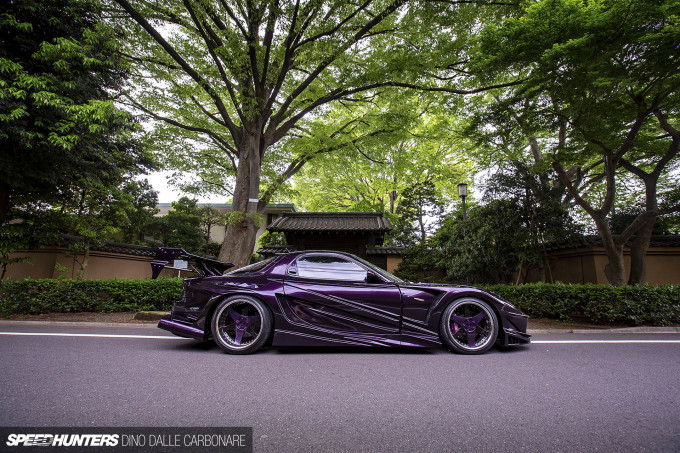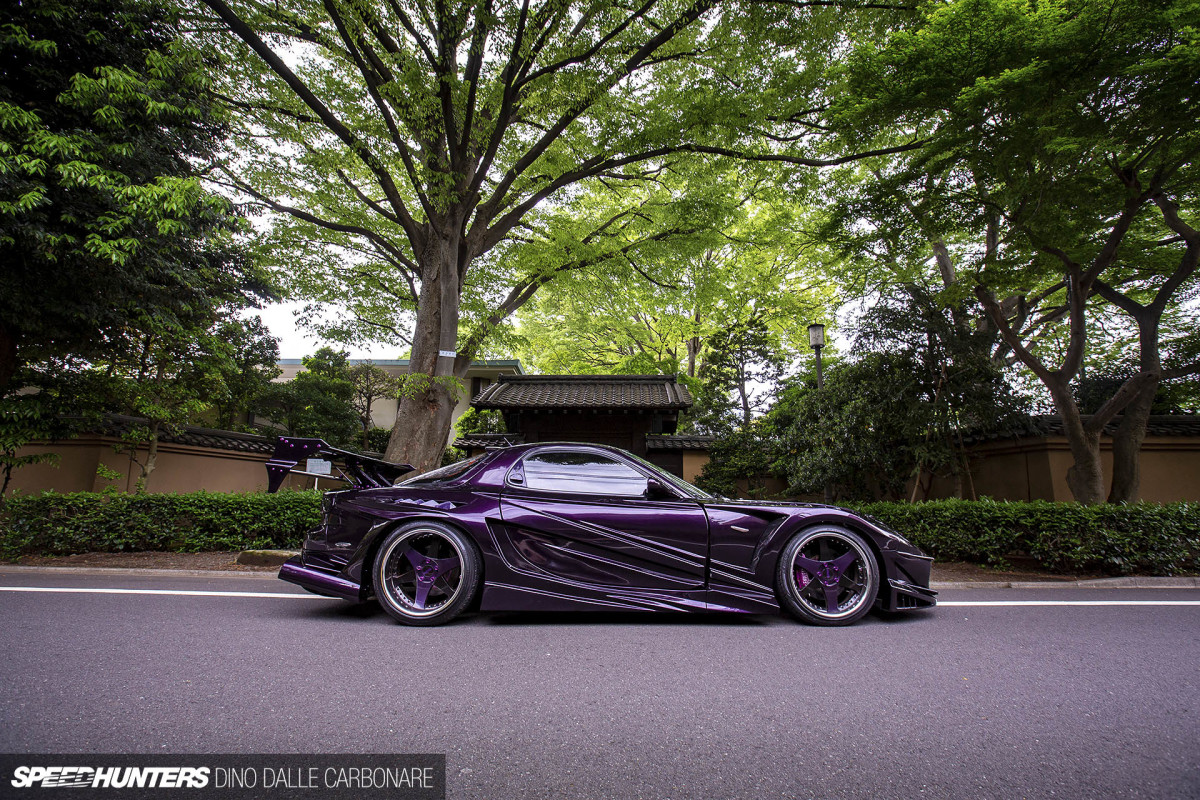 As a whole it's such a complex car, and I never really know what to make of it when I see it. It's like this instantly recognizable design from back in the day that's been tweaked and evolved over the years. It's not current in its styling, but then it doesn't have to be. In fact, you could look at it as a reminder of a great time in Japanese aftermarket tuning.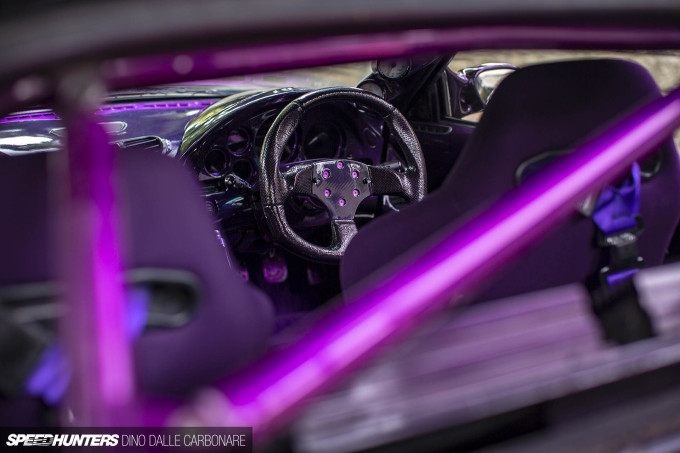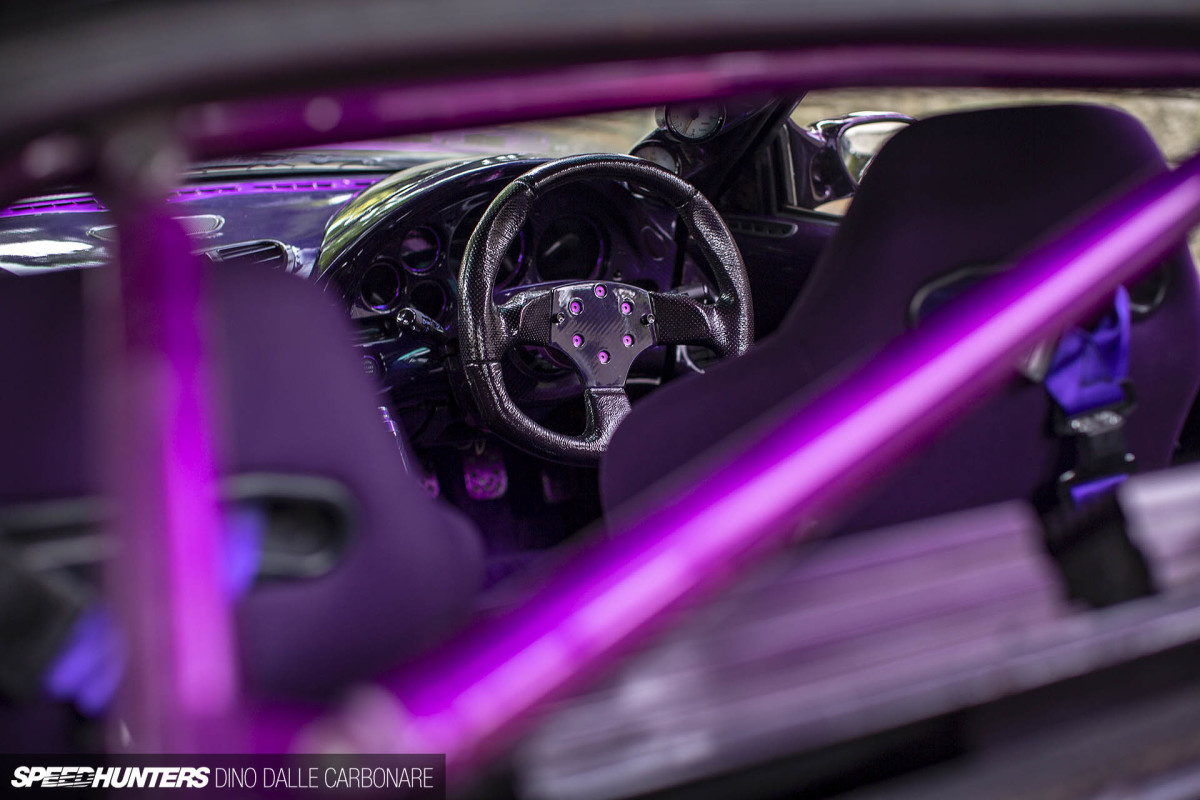 If you think the engine bay was wild, wait till you see the interior.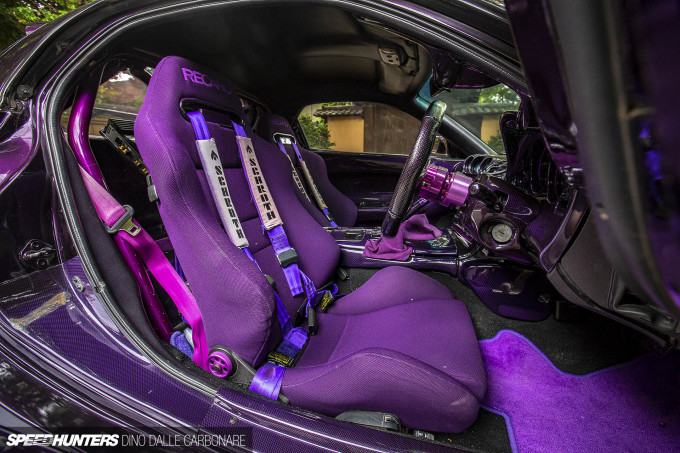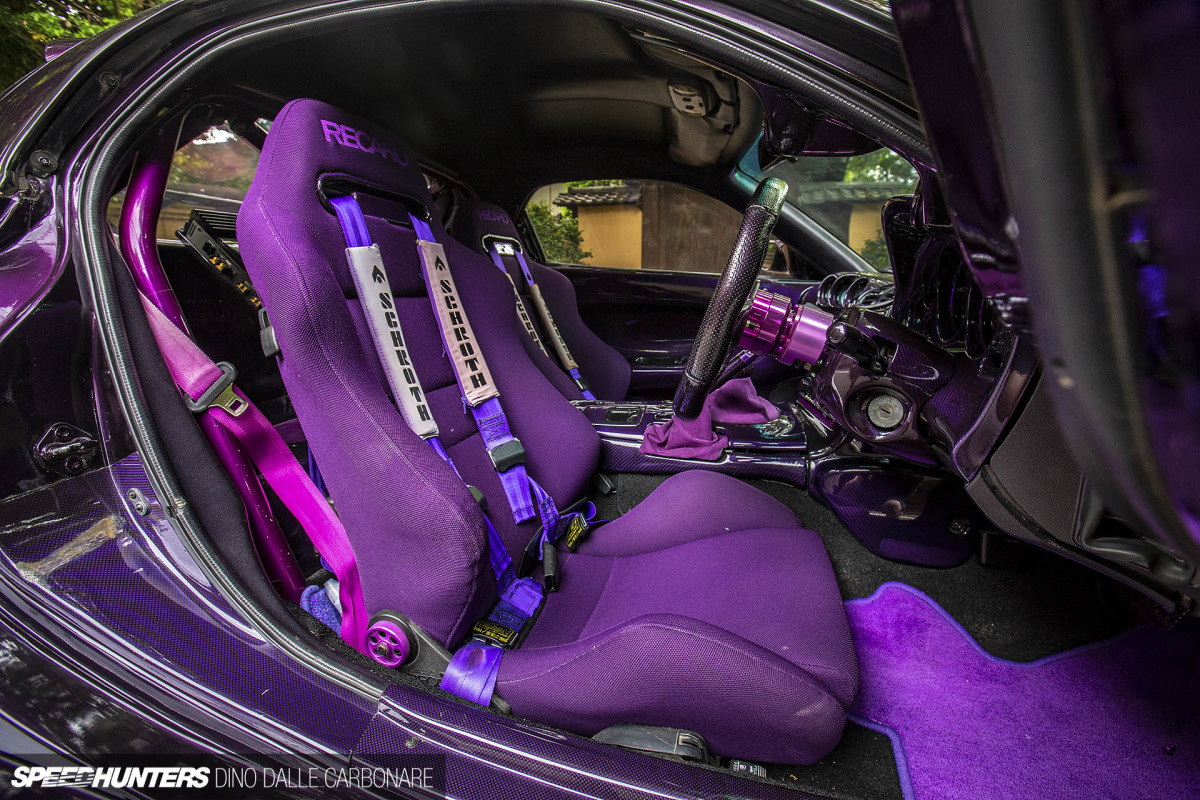 I didn't even know there were so many purple products out there! Recaro seats? Belts? Carpets? Snap-off boss?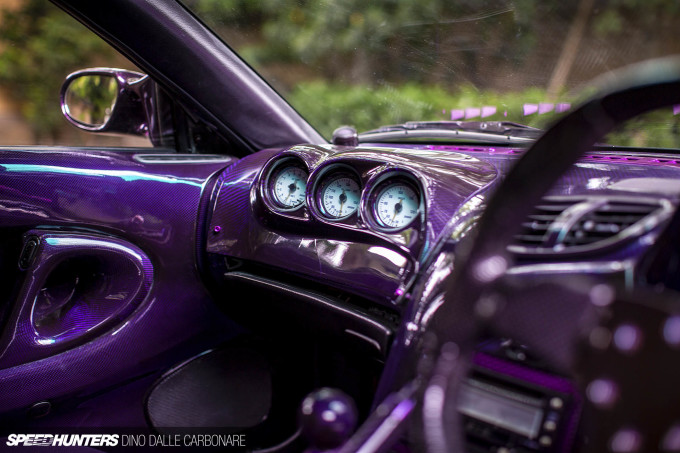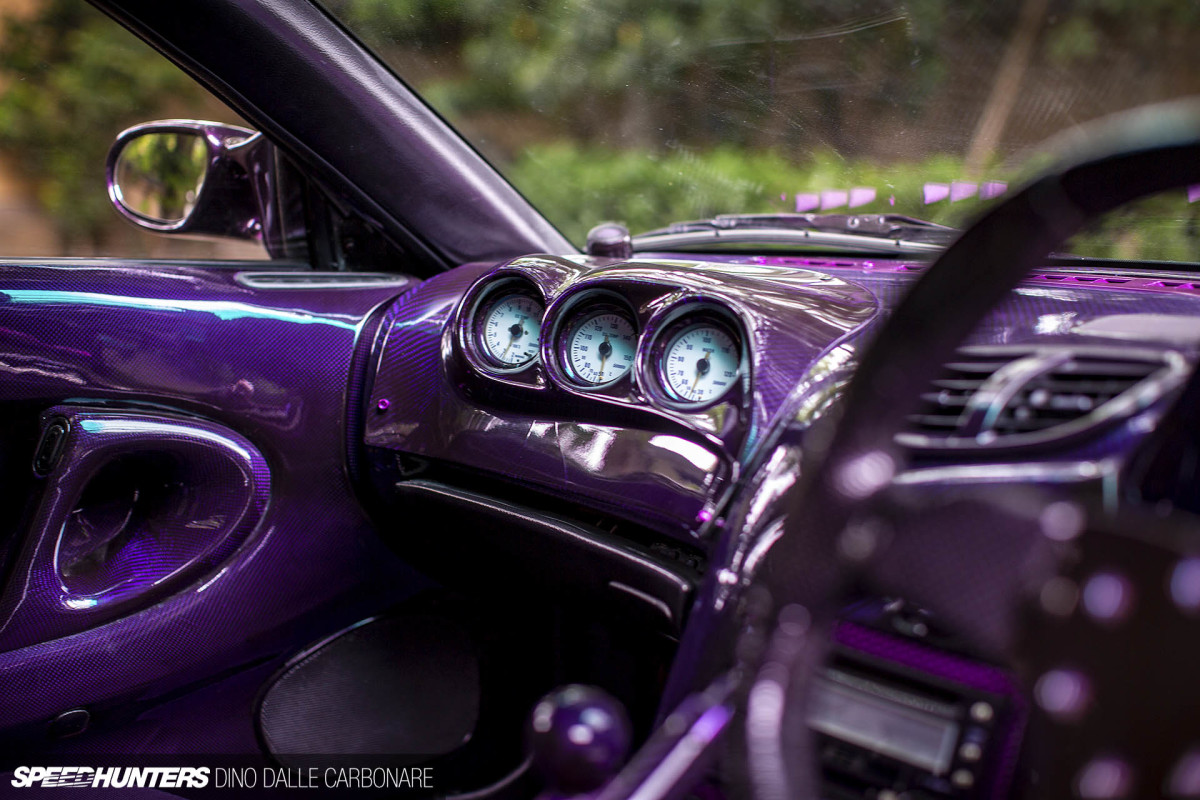 It almost looks like one of those images of a galaxy in outer space where there's an overriding purple haze. Everything you see had to special ordered or custom made, from the painted carbon trim to the purple fonts in the Blitz gauges.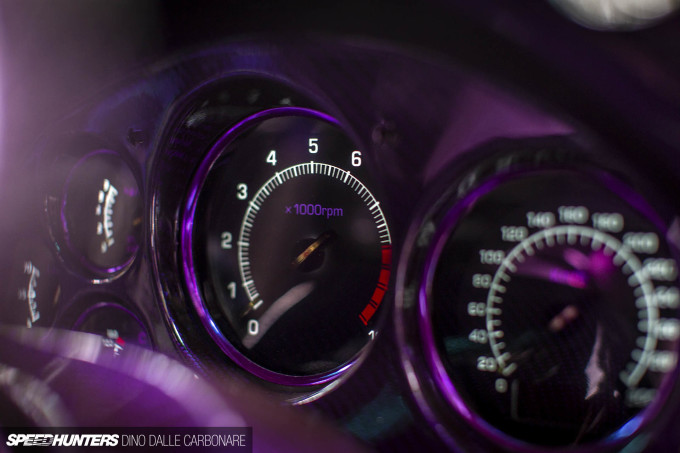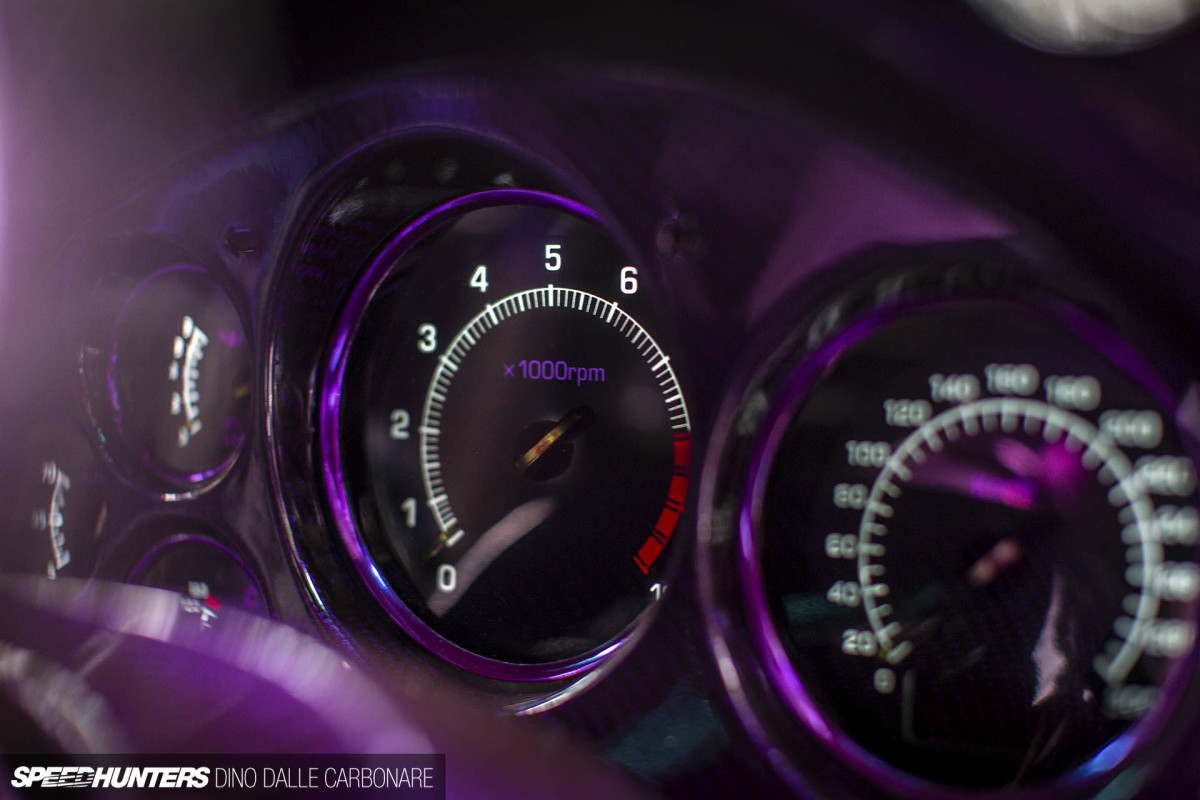 The main dash gets these really cool illuminated instruments. Did you spot the purple bezels?
Even the pedals weren't spared from purple anodizing.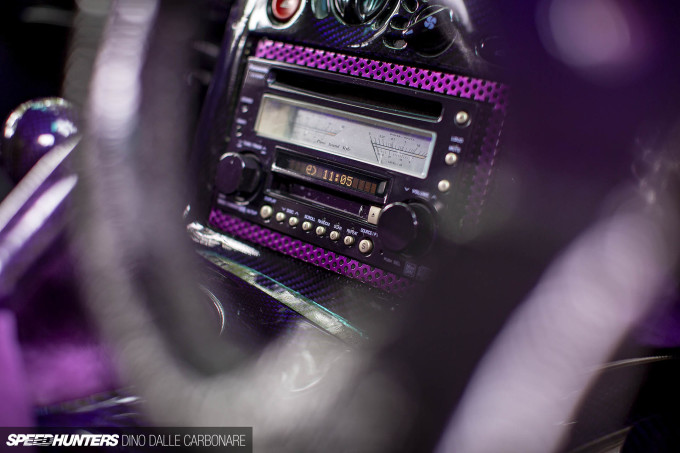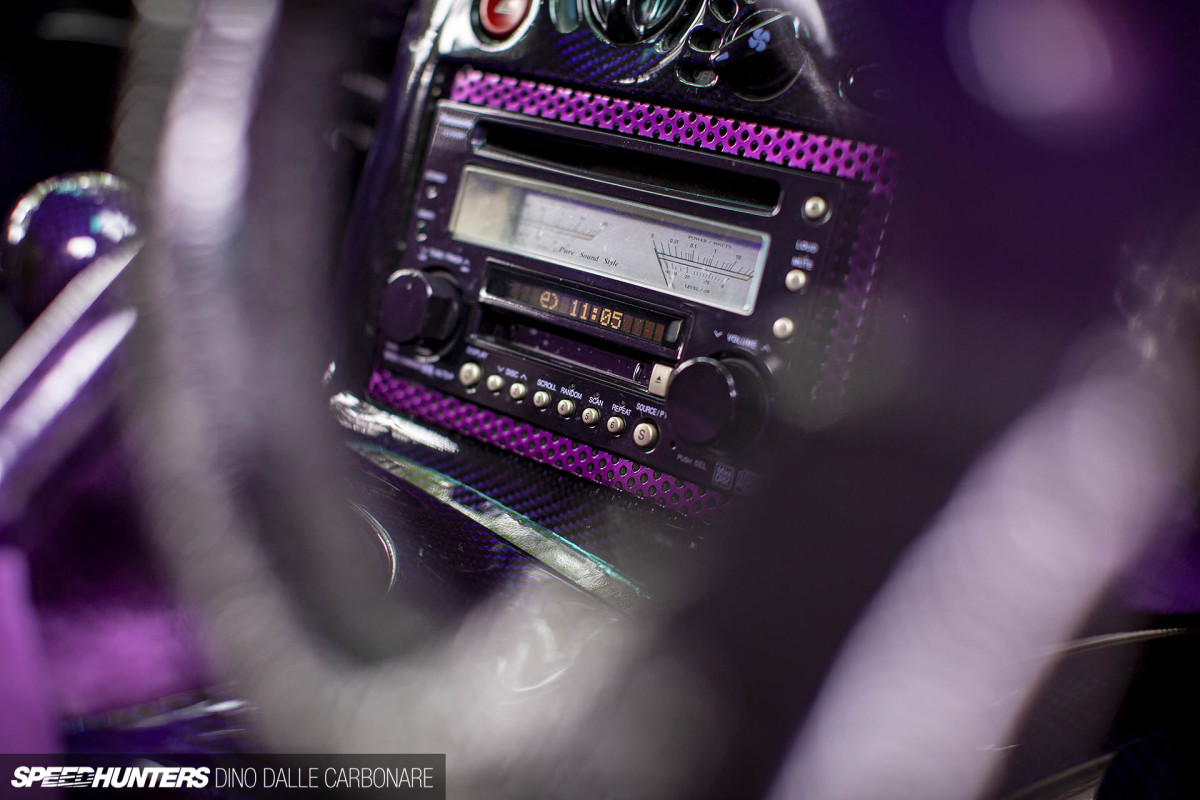 For its TAS build a lot of emphasis was placed on the audio setup which is built around a Panasonic double-DIN unit. I love how it's an MD/CD player, keeping the car very period correct. I have an MD player in Project GT-R too, although I think the last time I used it would have been over 10 years ago.
In the rear is a massive custom setup with lots of amps and even more speakers, and what to me looked like a pair of oversized energy drink cans. They're actually capacitors that ensure there's enough juice for when big peaks in power are needed, sort of like nitrous oxide for your audio system, I guess.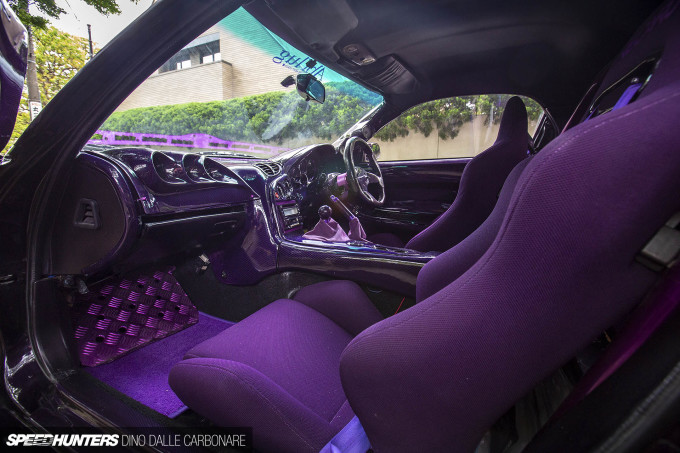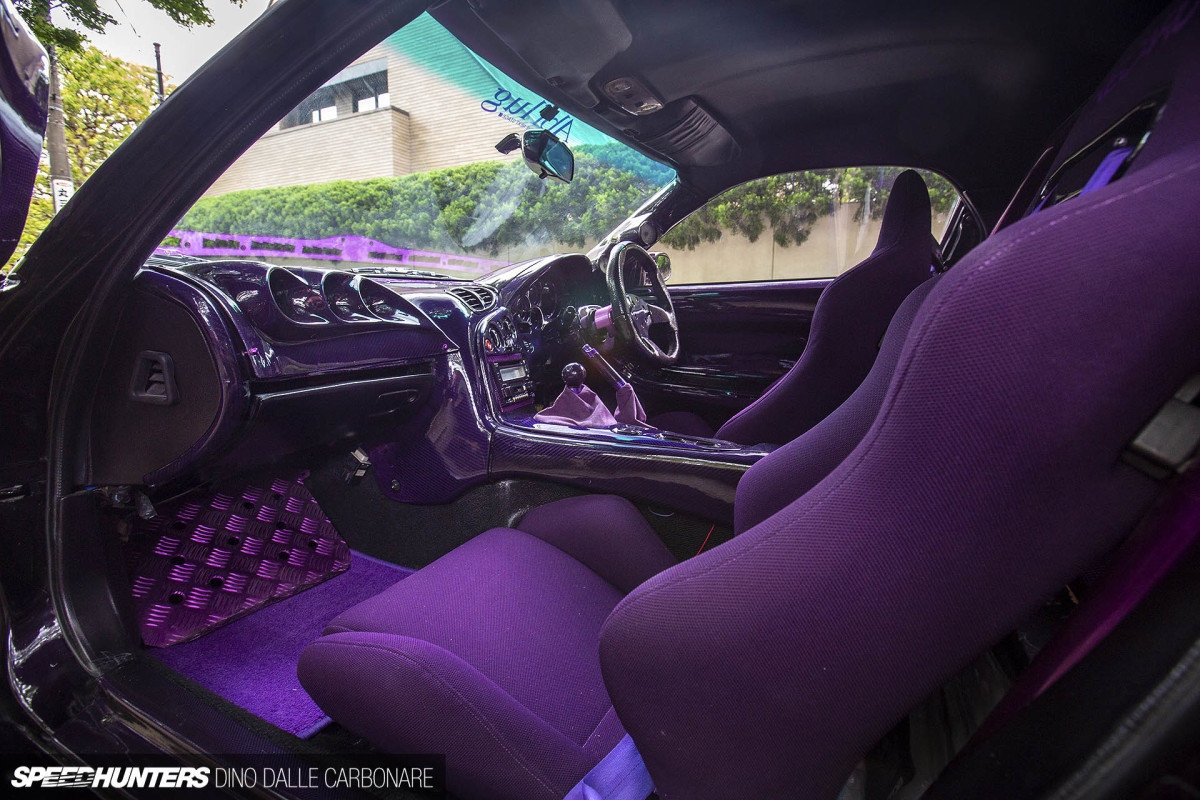 To the untrained eye the cabin must look very complete, but Akimura-san is always thinking of things to add and change out. It's like all project cars, a never-completed, continuously evolving expression of OCD-ness.
An FD Like No Other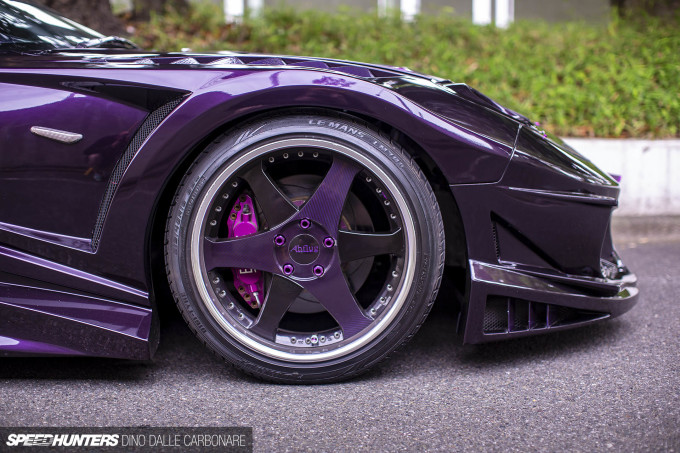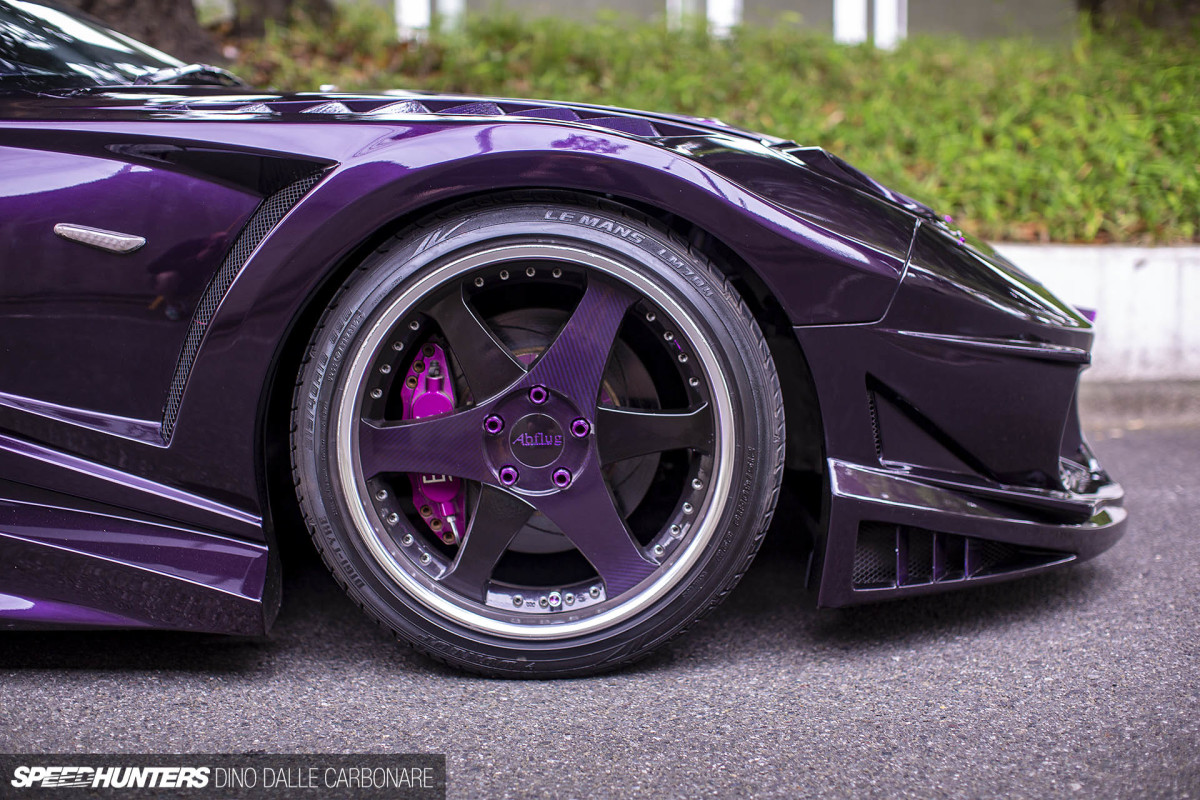 Over the years the car has worn a few sets of different wheels, but nothing could be a better fit than these six-spoke (or double three-spoke?) Abflug Prisms, which of course have been custom painted and custom purple-carbon wrapped.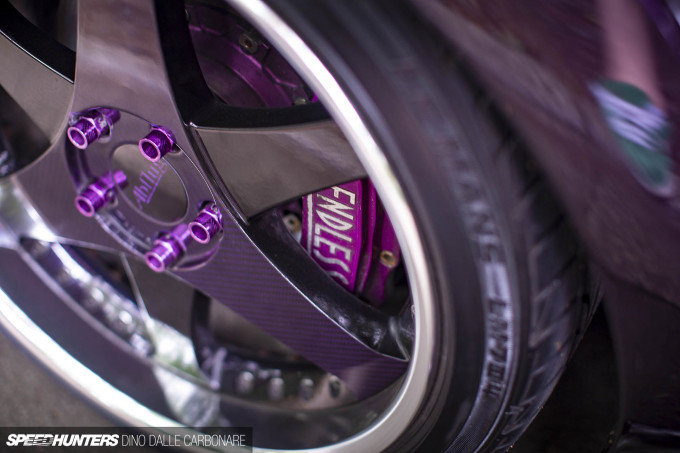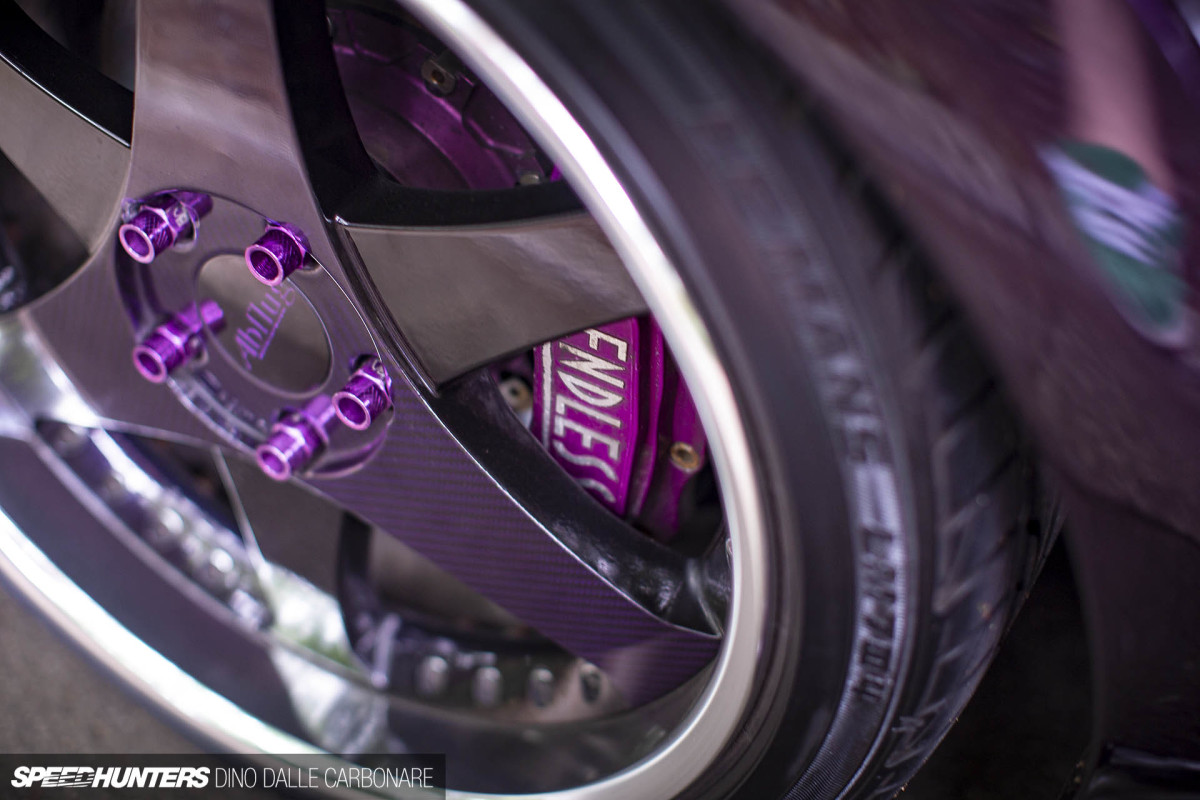 It's also hard to miss the custom-order Endless 6-pot brake setup, which naturally was specified with color-matched caliper brackets and rotor hats.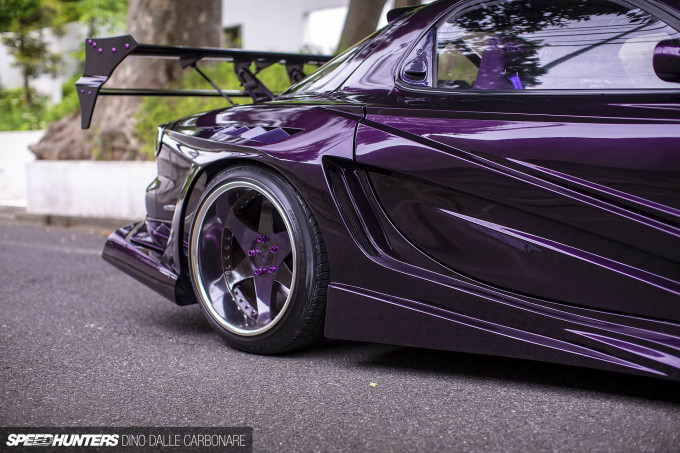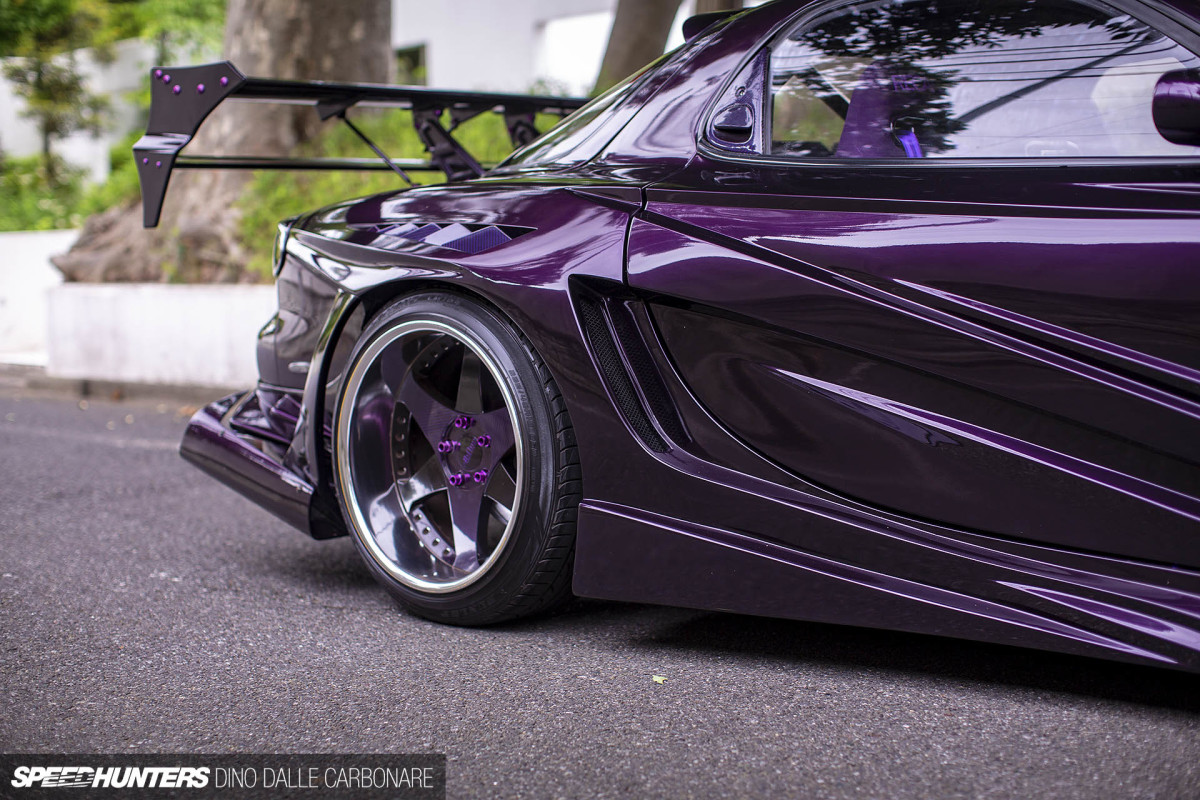 To fill out the massive pumped rear arches the wheels are 12-inches wide, and to set the ride height Abflug adjustable coilovers feature at each corner.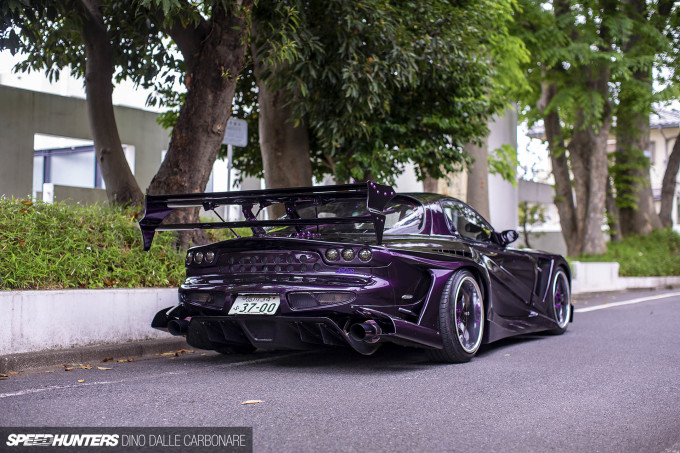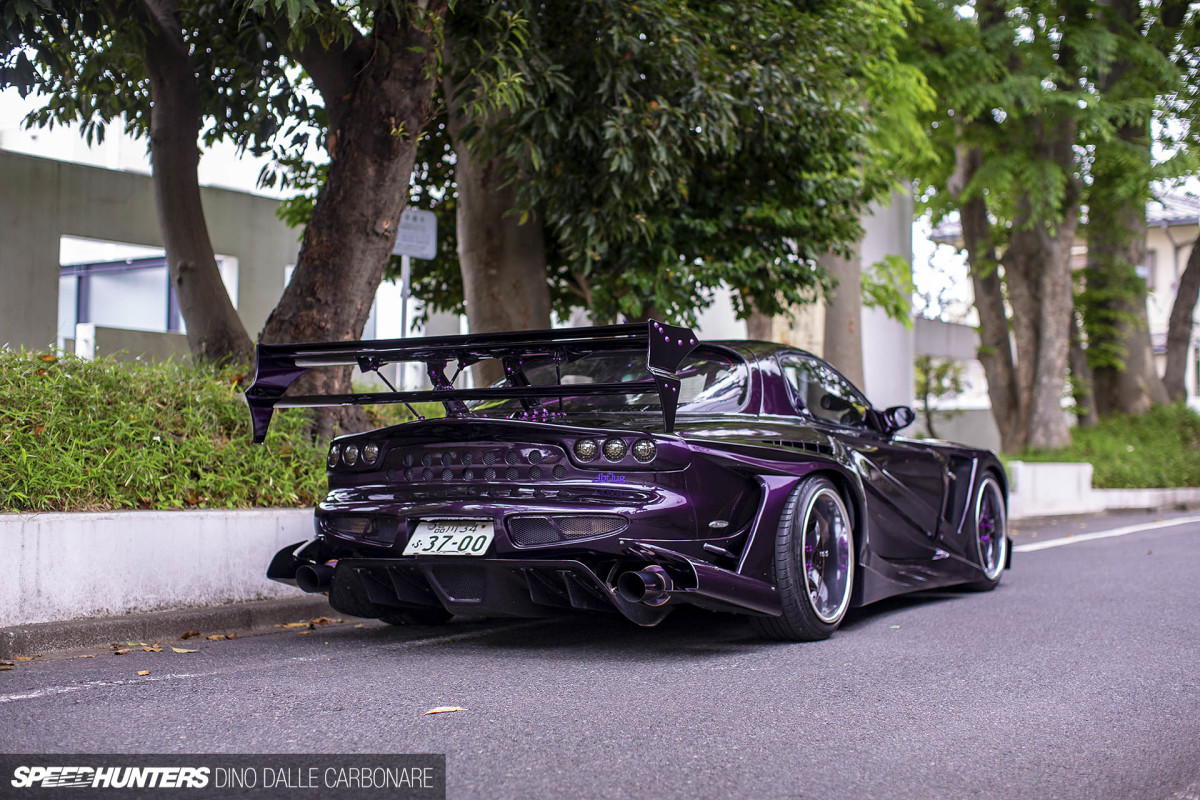 It's hard to know which end of the car looks wilder. There's so much happening right around it, but the rear view must scare small children.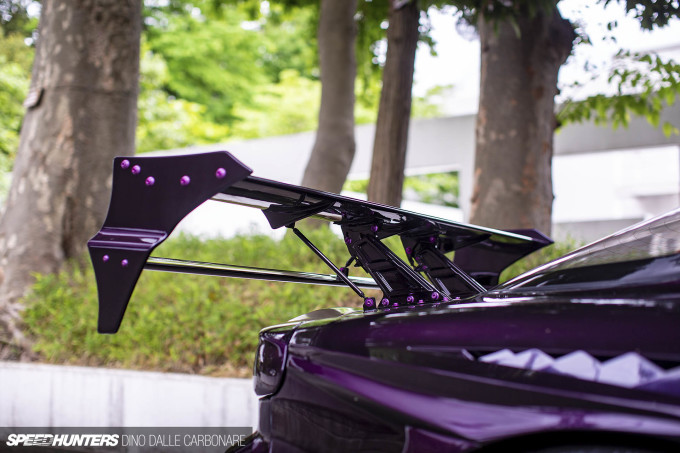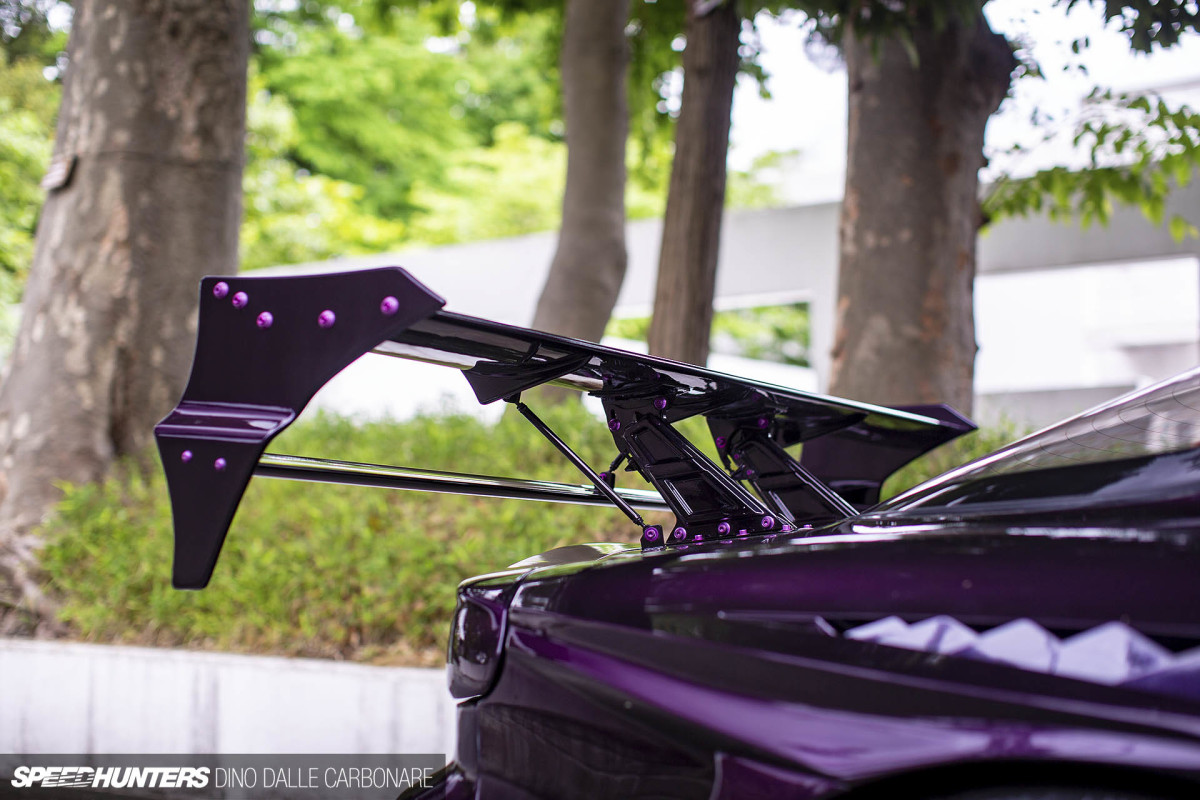 This is the third Abflug wing that's been fitted over the years, and with each change it gets bigger and wider. In fact, it's wider than the car itself, which means it needs to be removed every two years to allow the car to pass the dreaded shaken inspection.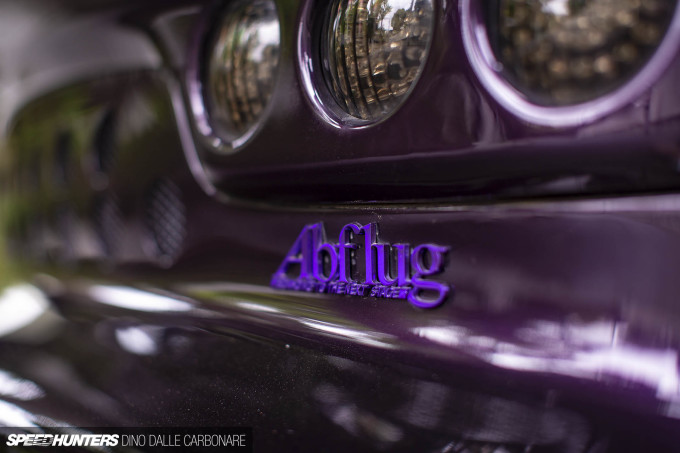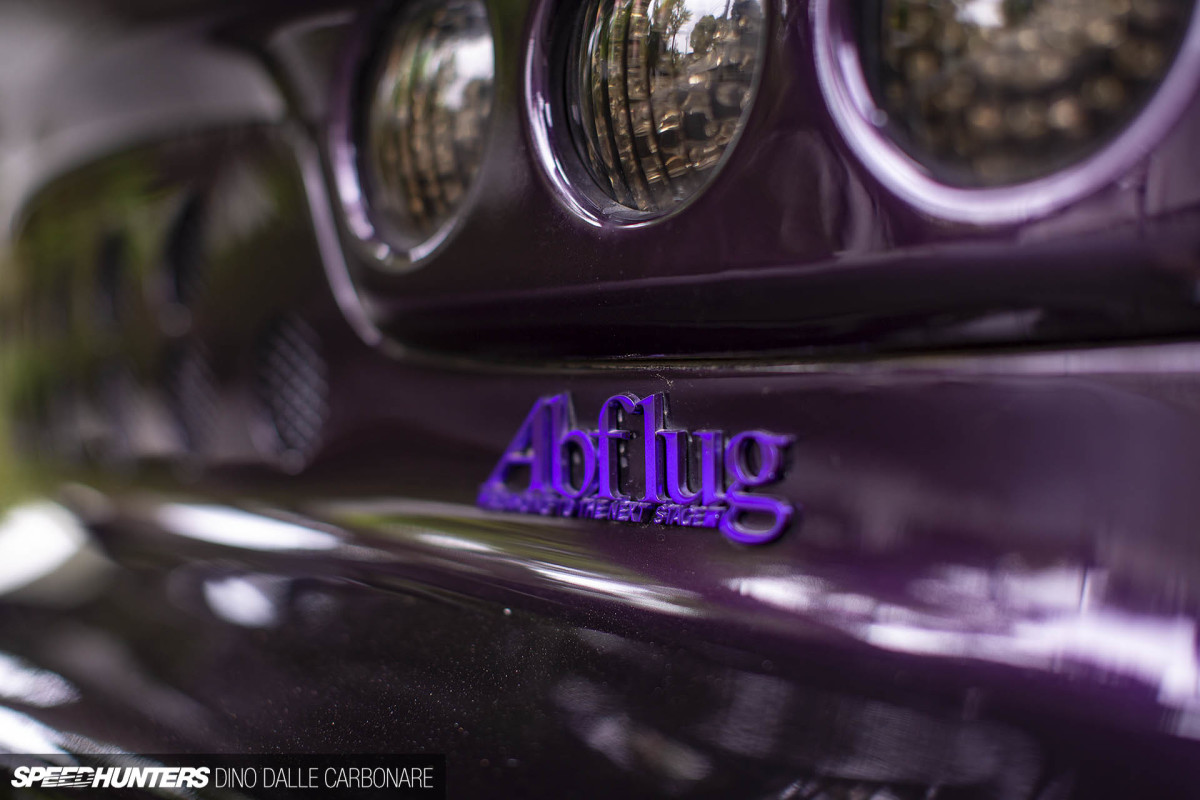 There's a lot of pride in showcasing the Abflug name, and Akimura-san's car is a rolling billboard for the company and the brand itself.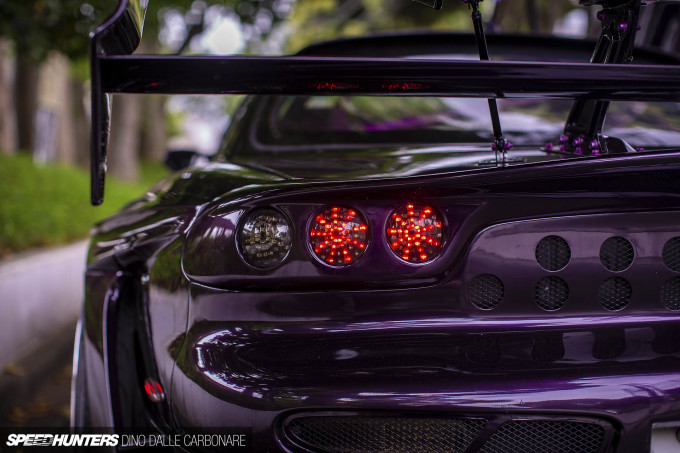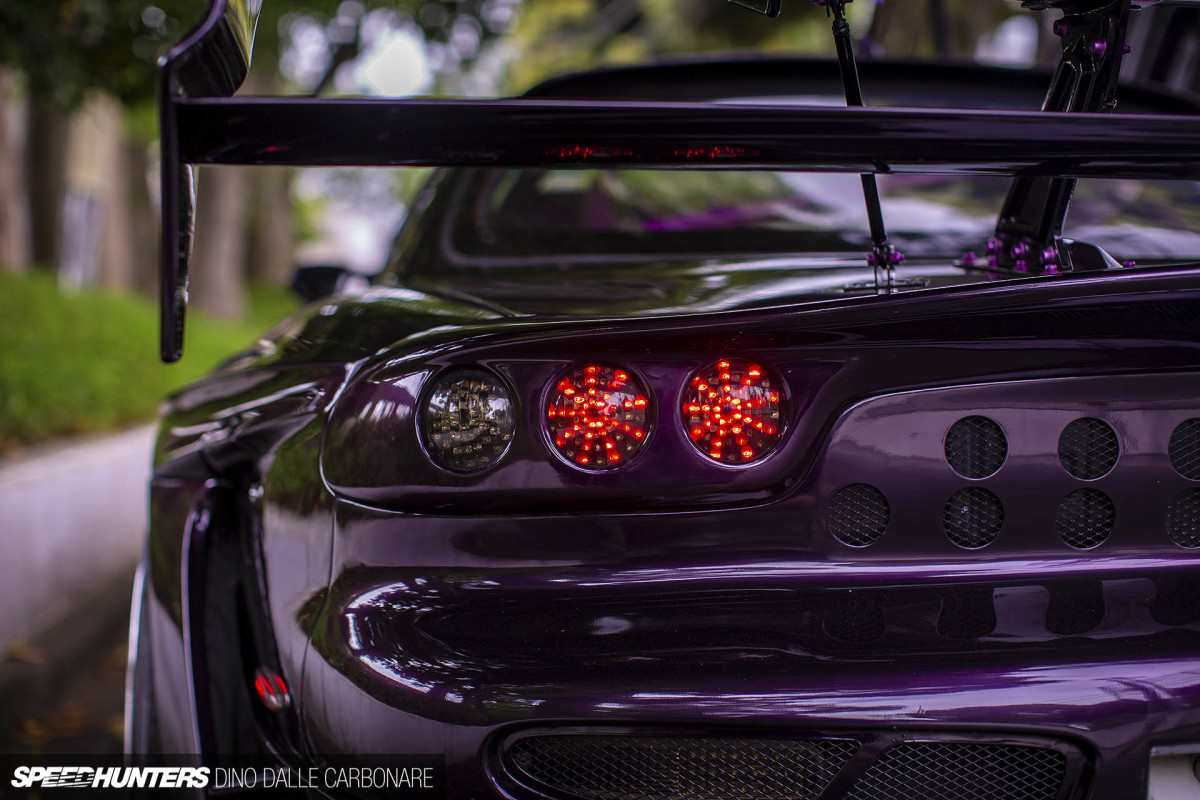 You probably spotted the contrasting blue lights on the Abflug fixed headlight conversion up front, and those are HIDs that turn a shade of purple when allowed to warm all the way up. The Quest Japan rears believe it or not are red.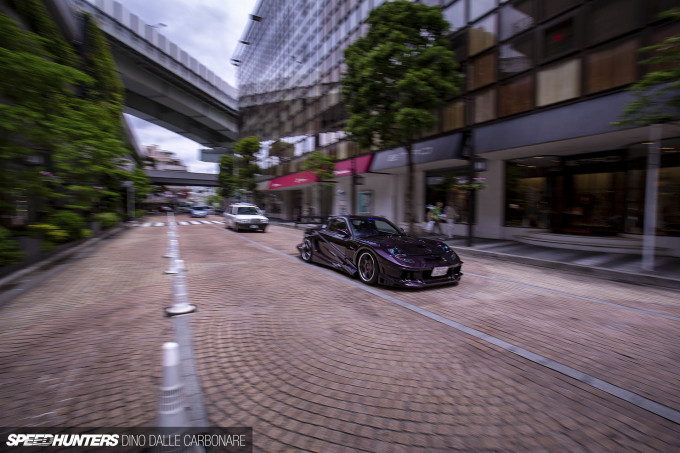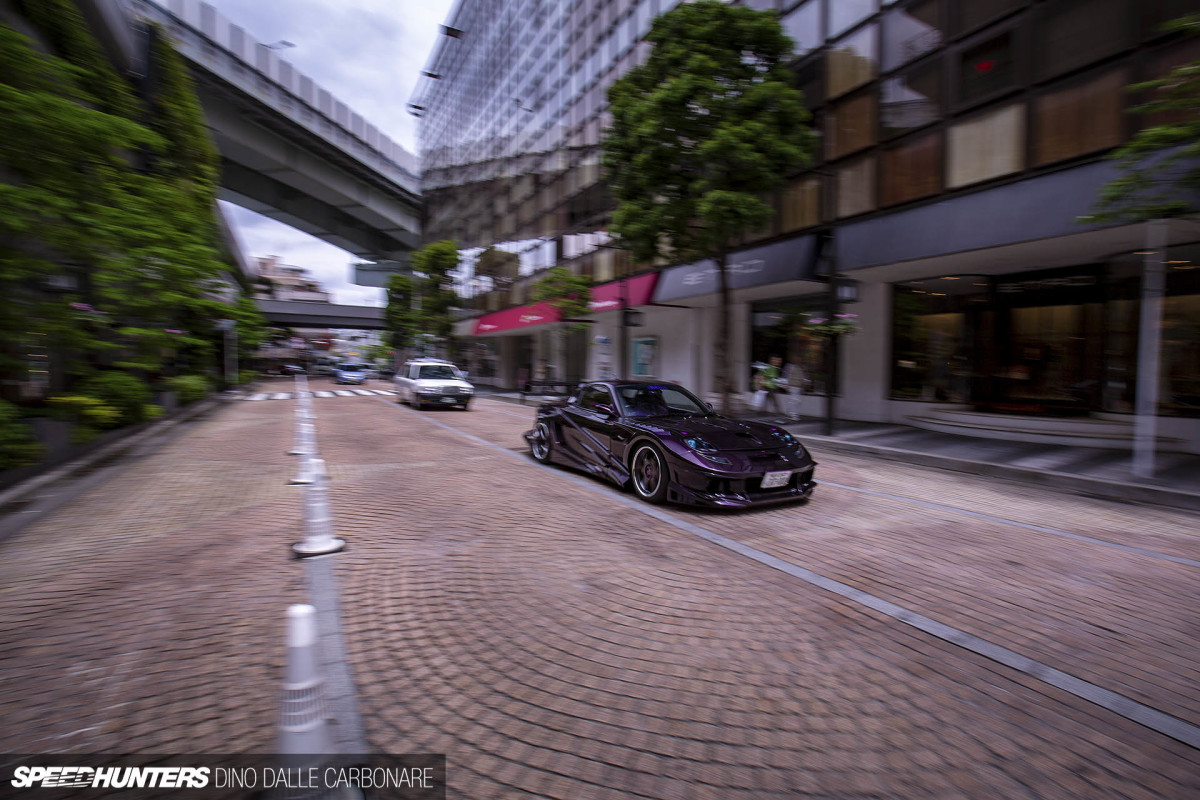 Akimura-san's RX-7 is a the epitome of a project car, an individual's take on what their vehicle should look like. It's unlike any FD we've ever seen, and it stands out because of it. Sure, it's not what every 7 owner would do with their car as many prefer to build for performance first and foremost, but it's got a style of its own, and has become well known in the local scene because of it.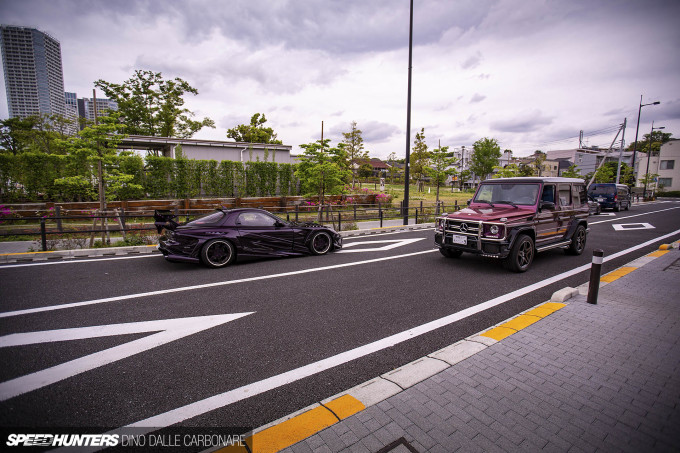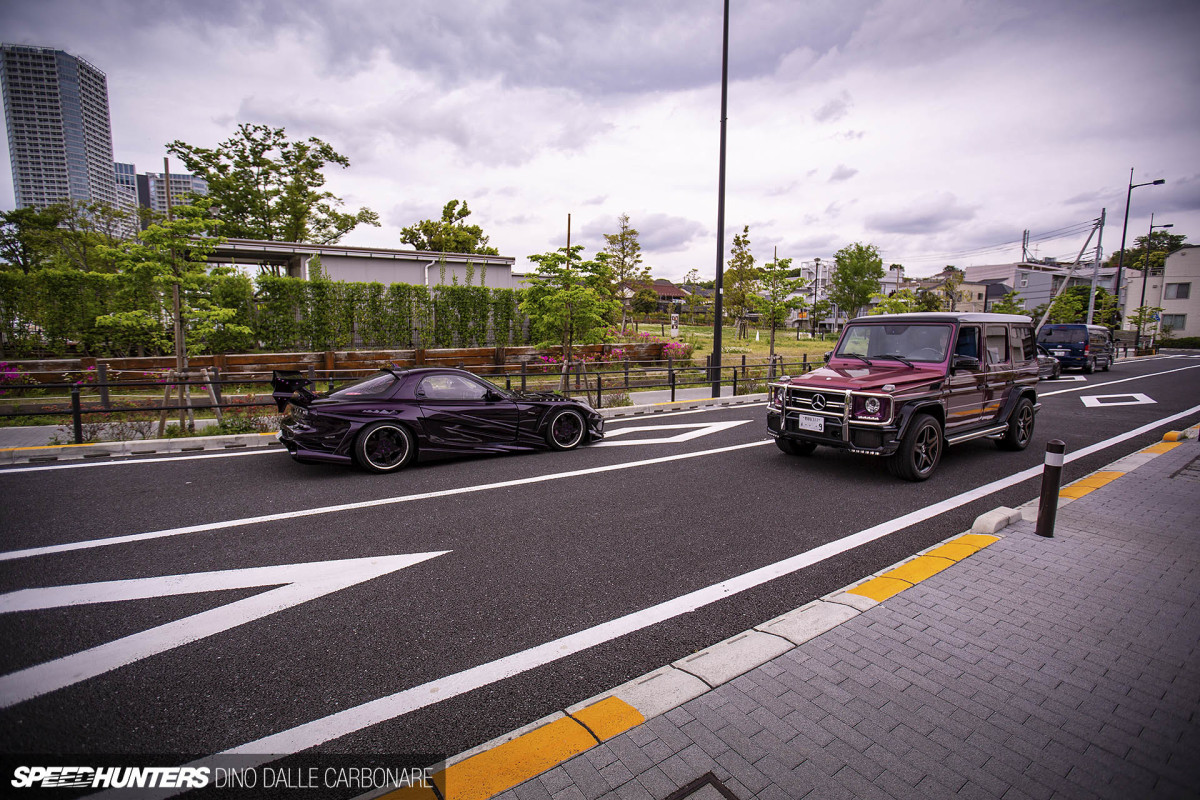 As we parked up in another location around Futakotamagawa, a trendy area in the southernmost part of Tokyo, this purple G63 rolled by. There was definitely a look of surprise on Akimura's face; it almost seemed like he had just thought of another idea. Maybe a tow truck to haul the FD around on?
Ever wondered what a 13B with a twin exhaust sounds like? Hit play and enjoy.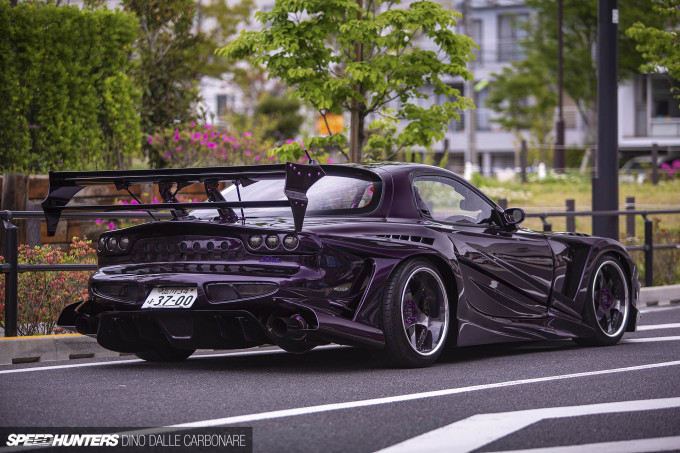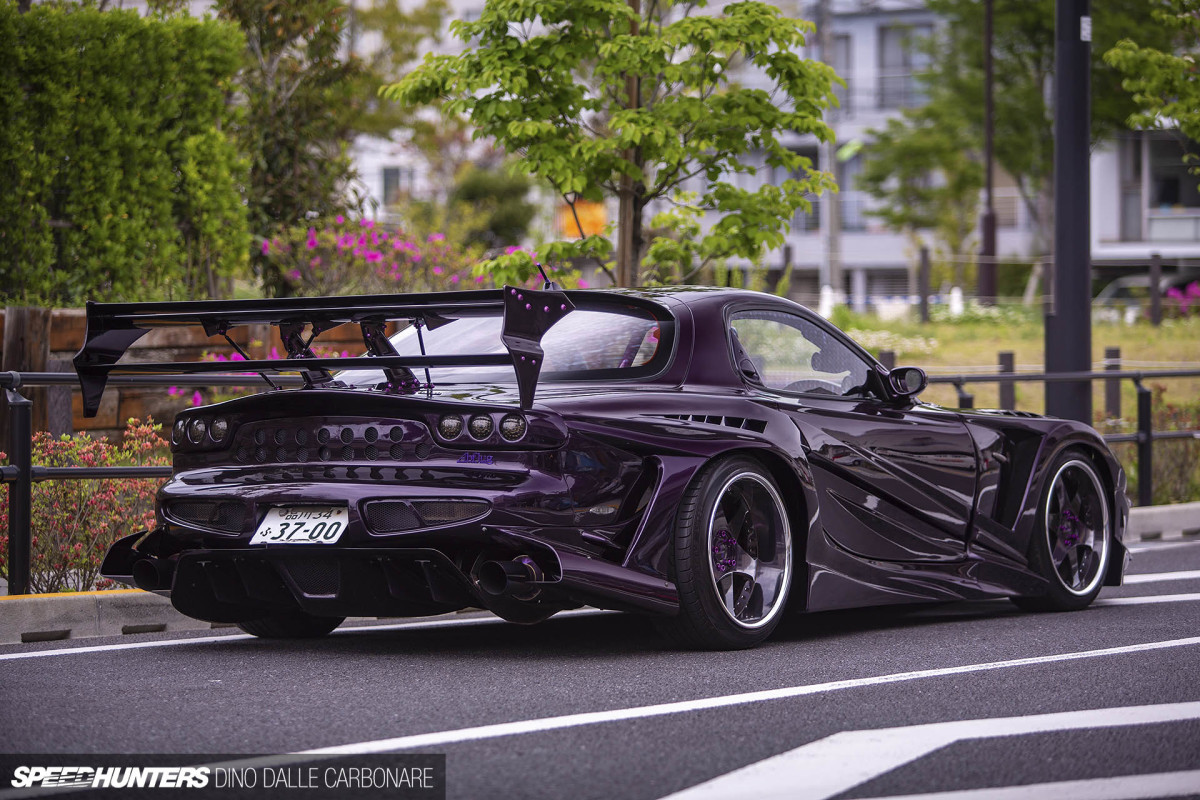 For me, this is another example of how special the FD3S is as tuner machine. It's easily transformed, seemingly immune to aging, and still brutally effective when measured up against today's crop of modern sports cars.
It makes you wonder how Mazda could ever top it, or what Akimura-san could possibly do next.
Dino Dalle Carbonare
Instagram: speedhunters_dino
dino@speedhunters.com