Preparation
We're very much a divided community, although not necessarily in a bad way.
Our world of car culture has only flourished courtesy of the internet; it has revealed things to us which we never could have even imagined otherwise. It has, however, also been responsible for the formation of sub-cultures within sub-cultures, the result of which has fragmented the overall automotive community.
I remember quite vividly joining my first automotive web forum. It was just a group of car guys and girls from all walks of life, with all manner of different tastes in cars. Regardless if you were a Japanese or Italian car fan, we were all under the one banner. Today, it's rare to find somewhere that caters for all areas of car culture, with most marques and models having their own specific user groups which rarely venture outside their own self-imposed confines.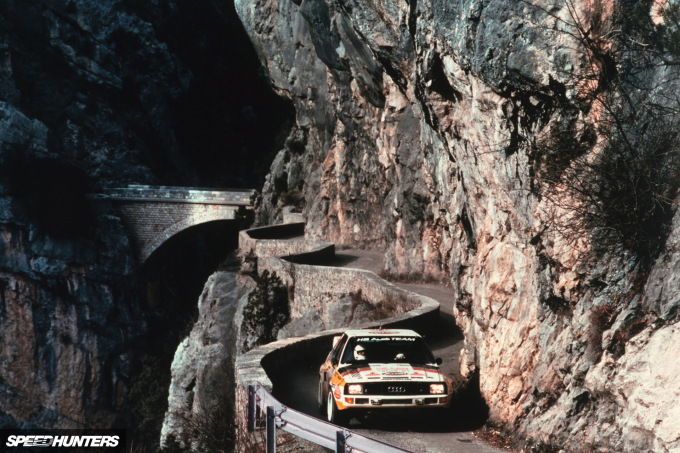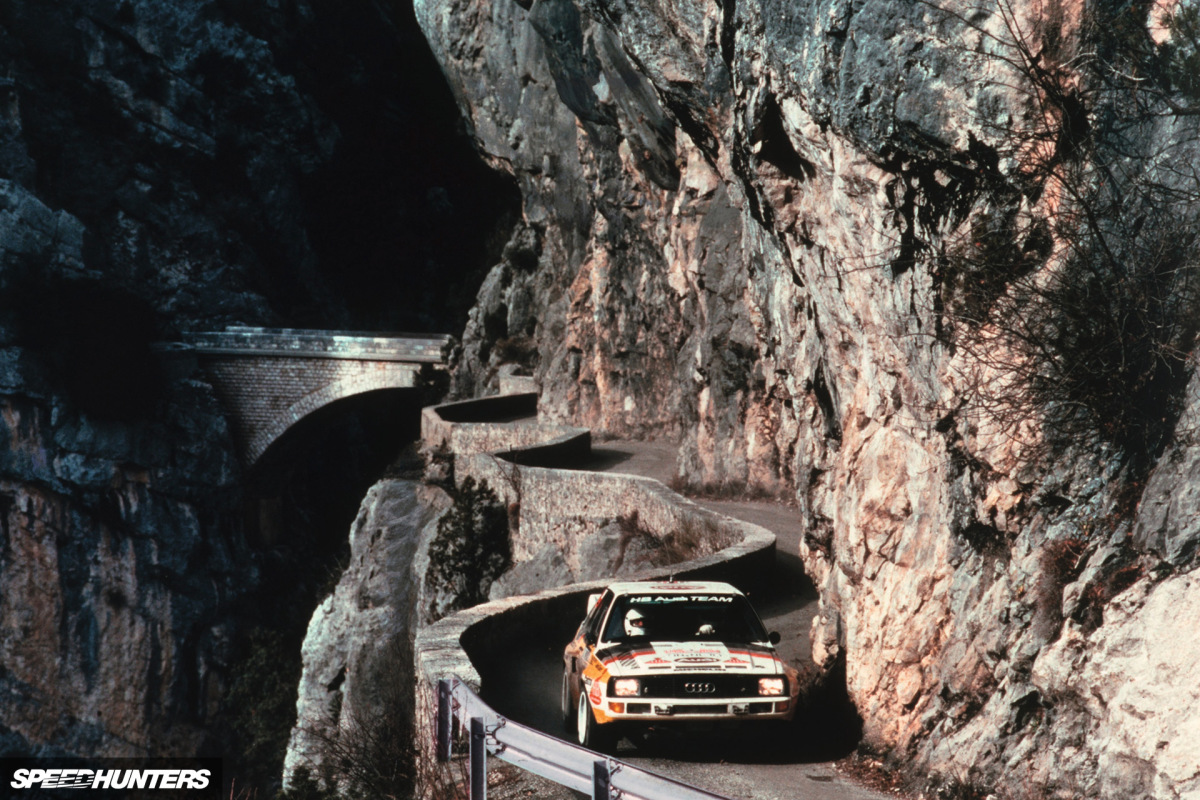 I think we argue a lot more now than we used to, or maybe the arguments are just easier to have or even be seen. We rarely agree on things anymore, and so many of us have forgotten how to respect our fellow enthusiasts. Some people want to go fast, and that's fine. Some want to go slow, and that's fine too. Ultimately, even as a whole, we're such a tiny community relative to the rest of the world. We're the outcasts of society and we should be united.
There does seem to be one thing that I've noticed which unites us more often than not, and that's Group B rallying.
Perhaps the most infamous era of motorsport, Group B was a free-for-all where health and safety were non-existent terms, and power and speed were all that mattered. Eventually the consequences of this carefree attitude caught up with the sport, and Group B would ultimately be outlawed after the death of Henri Toivonen and his co-driver Sergio Cresto in May of 1986 (although that season would continue, albeit without the works Audi team who withdrew from Group B after Toivonen's death.)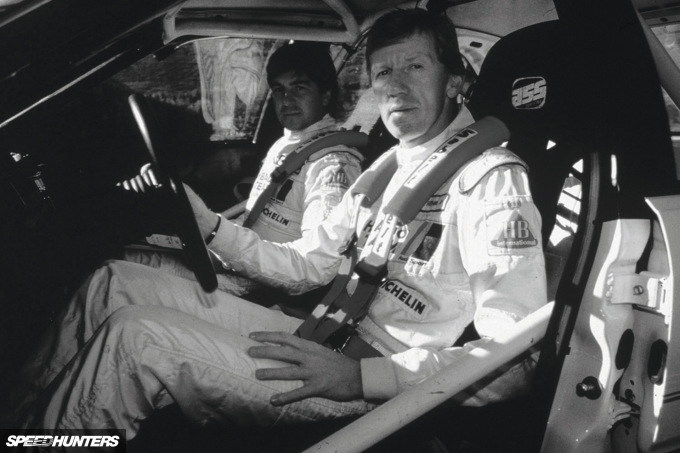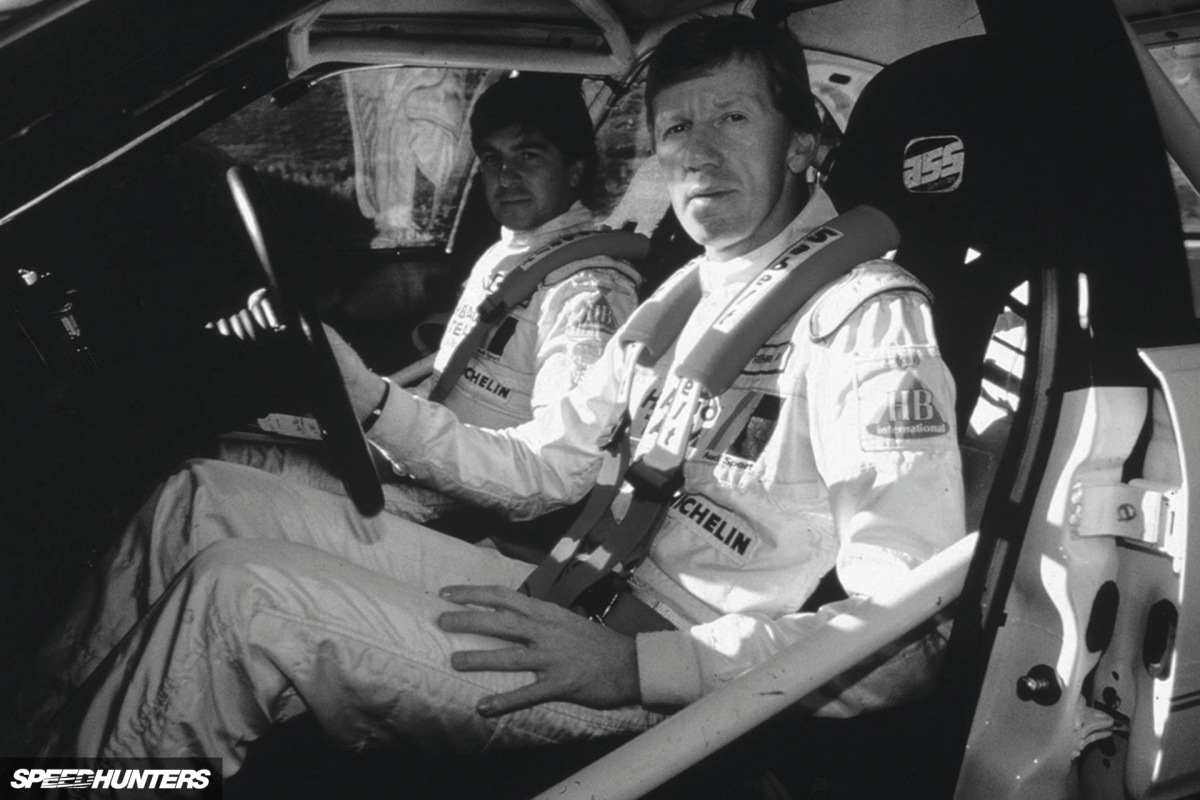 We've all seen the videos, read the stories and heard the sounds of the monster Group B rally cars. Lightweight, high-powered machines with – for the time – sophisticated aerodynamics. We know the drivers and we have our heroes and we've watched them part seas of spectators; we've seen them on and over the limit and we've witnessed the aftermath. For the most part, all of these things that we have seen and heard have been through grainy footage, with only very few of us having had the privilege to see this period in person.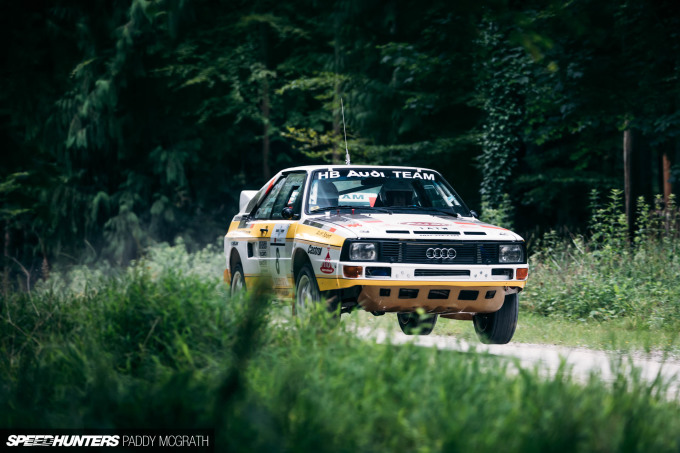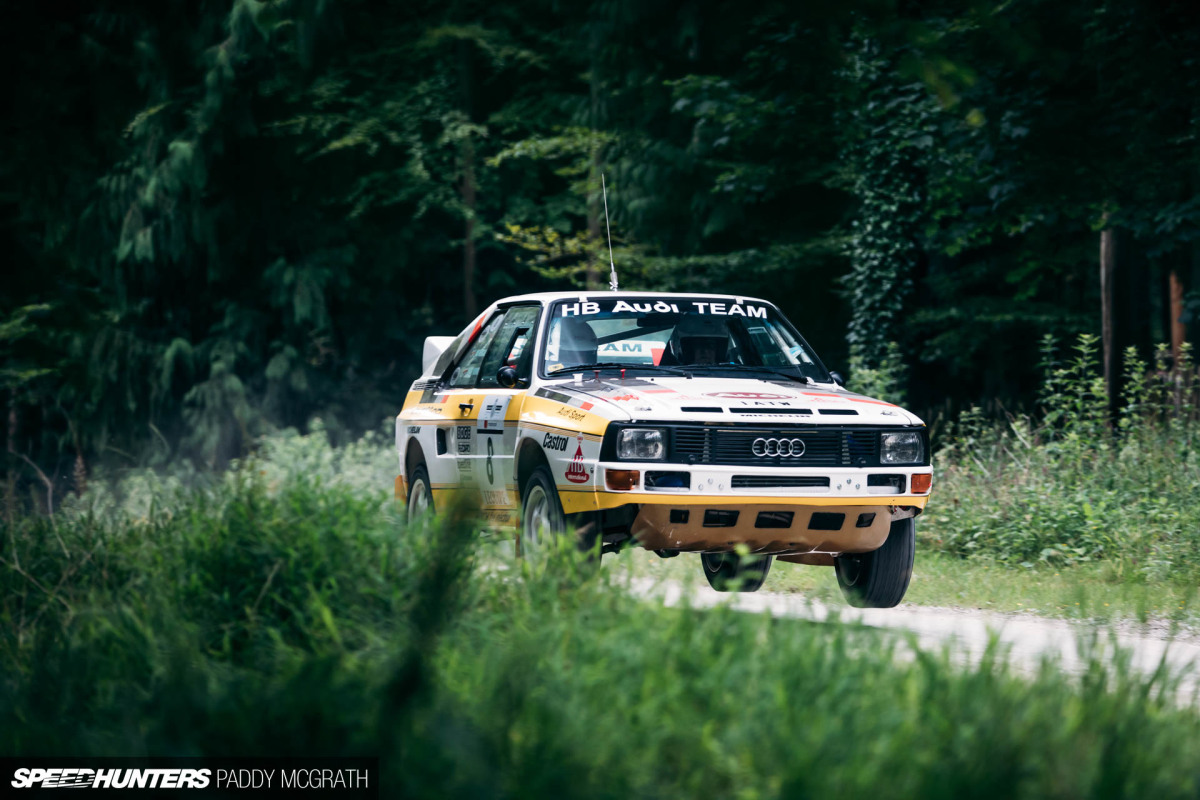 I was three months old when Henri Toivonen died, so needless to say I never got that proper Group B experience. Although I was raised on a diet of rallying, whether it was watching my father's old VHS tapes, or hearing him and my uncles recall tales of standing on the ditches in the early '80s watching the works cars on the Circuit of Ireland. The real Circuit, as they refer to it.
I've been lucky enough over the years to at least see some of the Group B weaponry; sometimes static, sometimes on '00' duties, and once last year in action at the Goodwood Festival of Speed. None of these will ever compare to the era itself, nor what this story will ultimately attempt to do, but they do give you just the smallest taste of an time which will never be repeated in our lifetimes.
In January of this year, I had what my girlfriend would describe as a 'notion'. I've accepted that I'll never experience Group B, but what if I could draw a connection between it and today? How would one even go about doing that? Nobody was going to loan me an ex-works car or even an homologation production car equivalent, but what about one of their descendants? Closing roads also wasn't an option, nor was a trip onto the continent to explore the likes of the Col de Turini or Ouninpohja. 
It then occurred to me why would I even want to go to Europe when some of the world's most famous rally stages are quite literally on my doorstep. But despite the infinite amount of information available online, there are some things which you won't find with Google searches.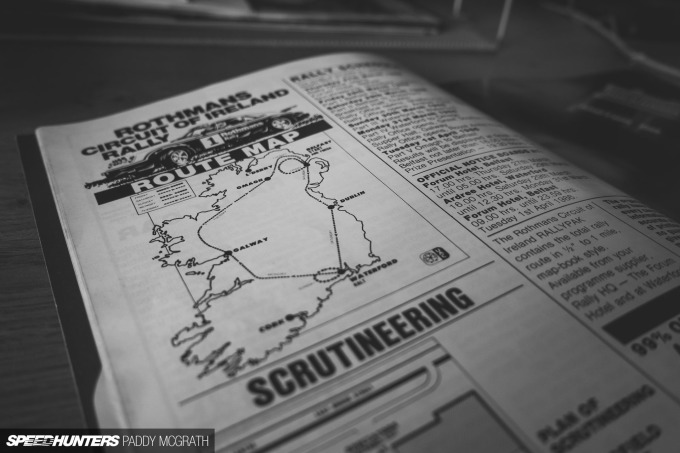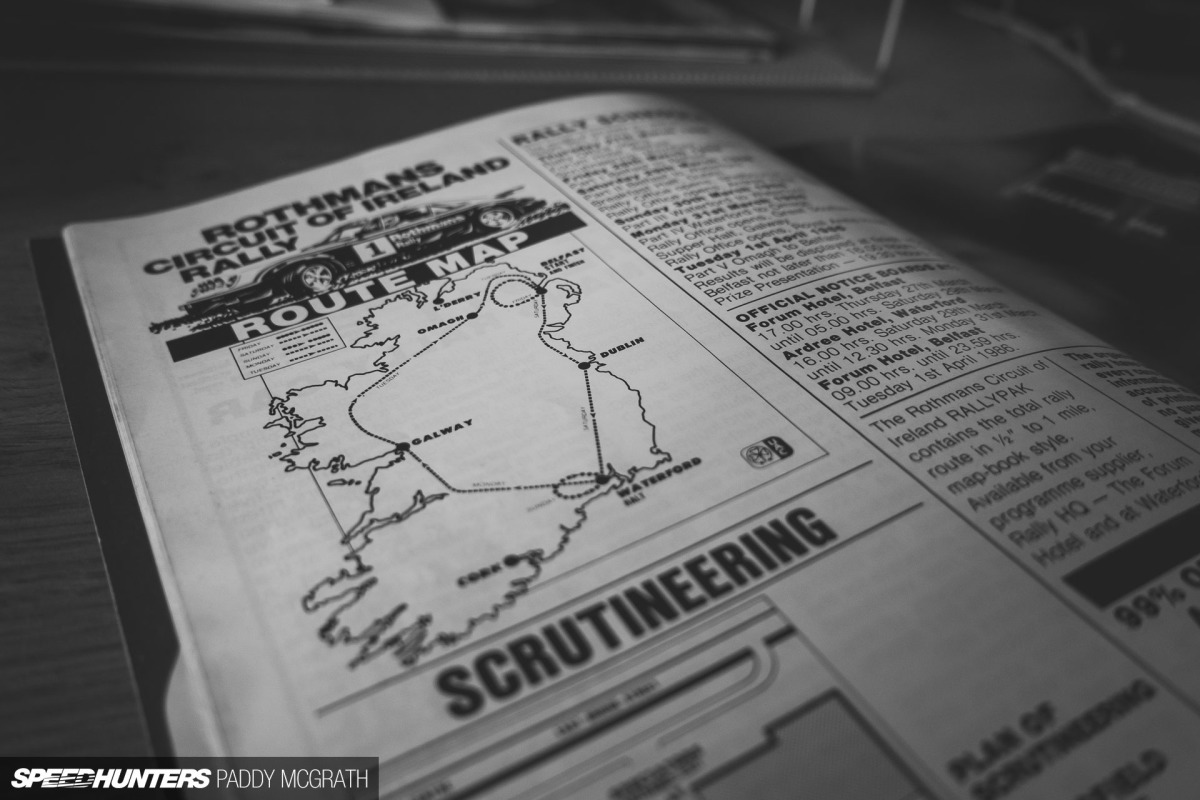 Phone calls and emails were made to speak with people who were there or knew someone who was. Original event programs were borrowed and route maps were studied. Copies of old recordings which somehow have ended up on DVD were scrutinised for details, locations and ideas.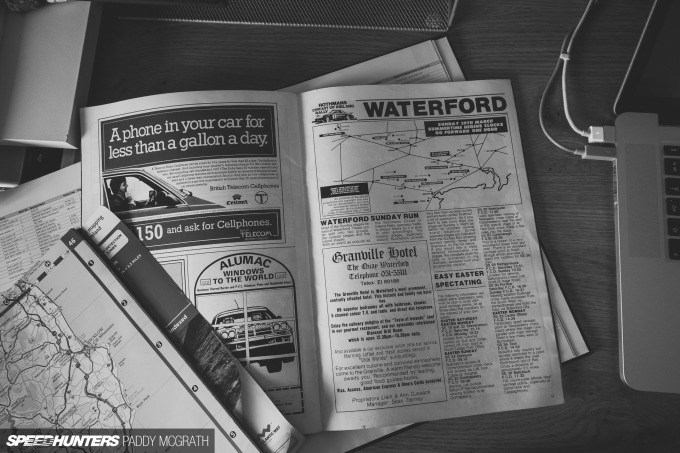 Maps were purchased, routes highlighted and a plan was put together. With everything almost in place, I put in a request to Audi Ireland to borrow their new RS3 saloon for the purpose of this story. I really don't think that there's another car on sale at the moment whose lineage can be better traced back to Group B. A five-cylinder, turbocharged, all-wheel drive car with 400hp and a direct descendant of the Sport quattro rally cars. It was the perfect car for this adventure.
Understandably, Audi are protective of its cars, especially the RS models, and even more so again in a small market like Ireland. In the interests of transparency, I do shoot some of Audi Ireland's new cars for press purposes, but even that was no guarantee of approval. My recent trip to Austria in a Ur-quattro was completely unrelated and actually happened after this story had taken place. This was a perfect example of waiting all day for a bus to come along, then two arriving at once.
Eventually, an email arrived and to my absolute surprise, they said yes. I would have two days in April to capture what I needed before returning the car. Despite the research, I had no idea what lay in front of me.
Sally Gap
The 1985 Rothmans Circuit of Ireland was a five-day event which started in Belfast, headed south to Dublin and onto Waterford before turning around and returning north to Belfast for the finish. A route which resided almost exclusively on the East Coast of Ireland and featured over 700kms or 430+miles of stages. Some 89 cars started, with only 49 cars finishing.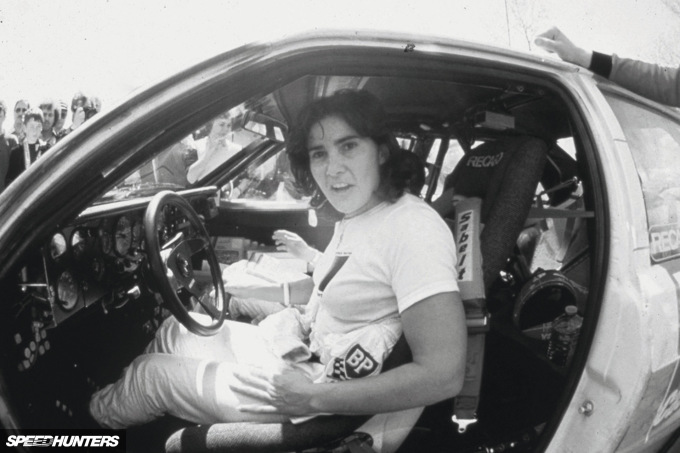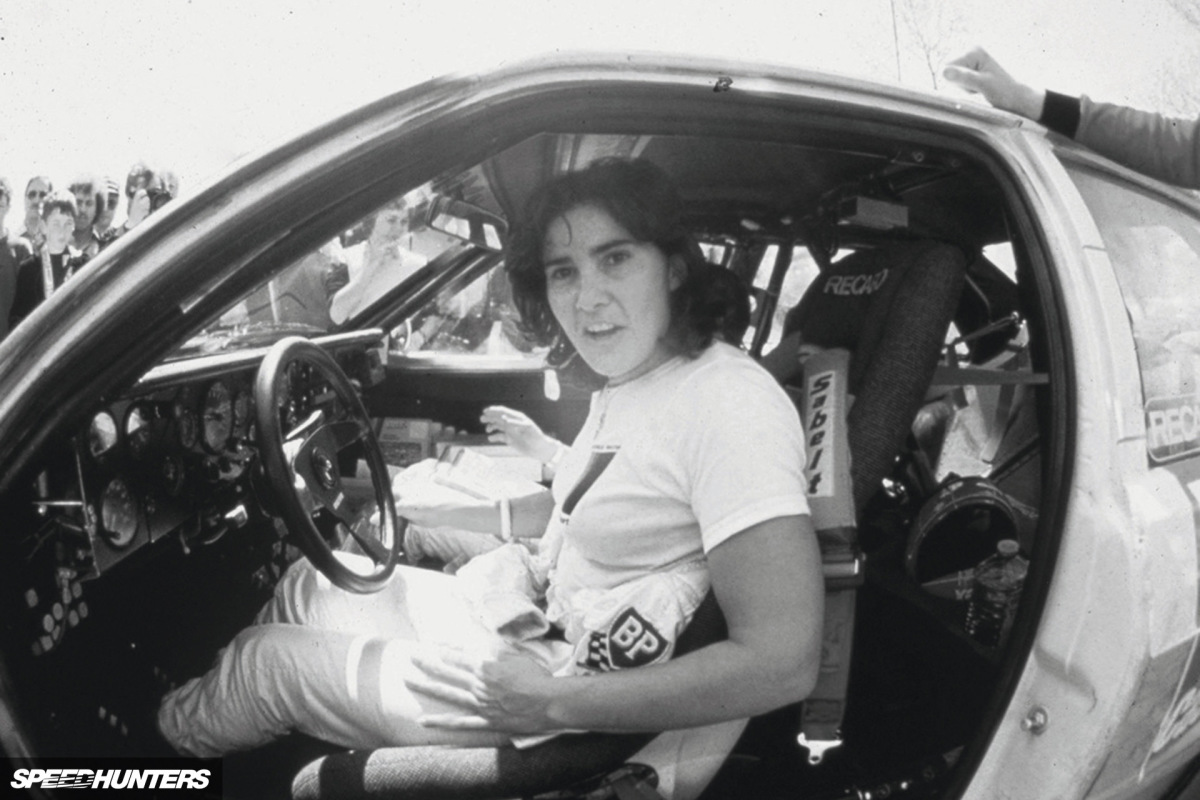 One of the headline entrants to this event was the first lady of rallying, Michelle Mouton. She would lead the field from Belfast in the #1 Audi Sport quattro S1, followed by the likes of Per Eklund, Billy Coleman, Jimmy McRae, Russell Brookes, Bertie Fisher, Malcolm Wilson and Penti Arikkala to name but a few of rallying's royalty.
Unfortunately for Michelle, a hydraulics failure would see that she wouldn't make it out of Northern Ireland in 1985. Which seemed like the perfect place for me to pick up the baton…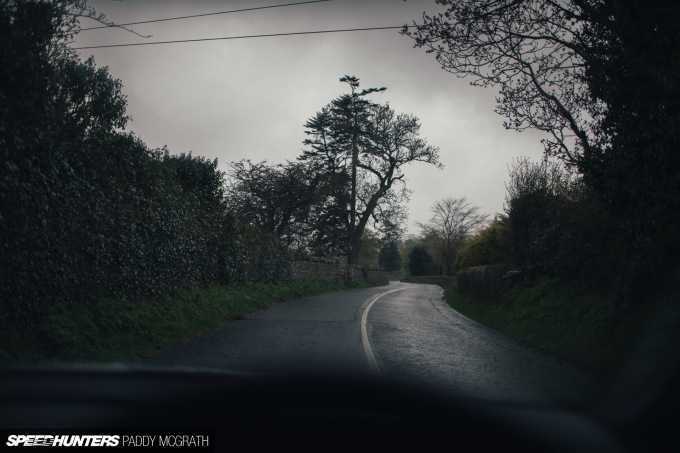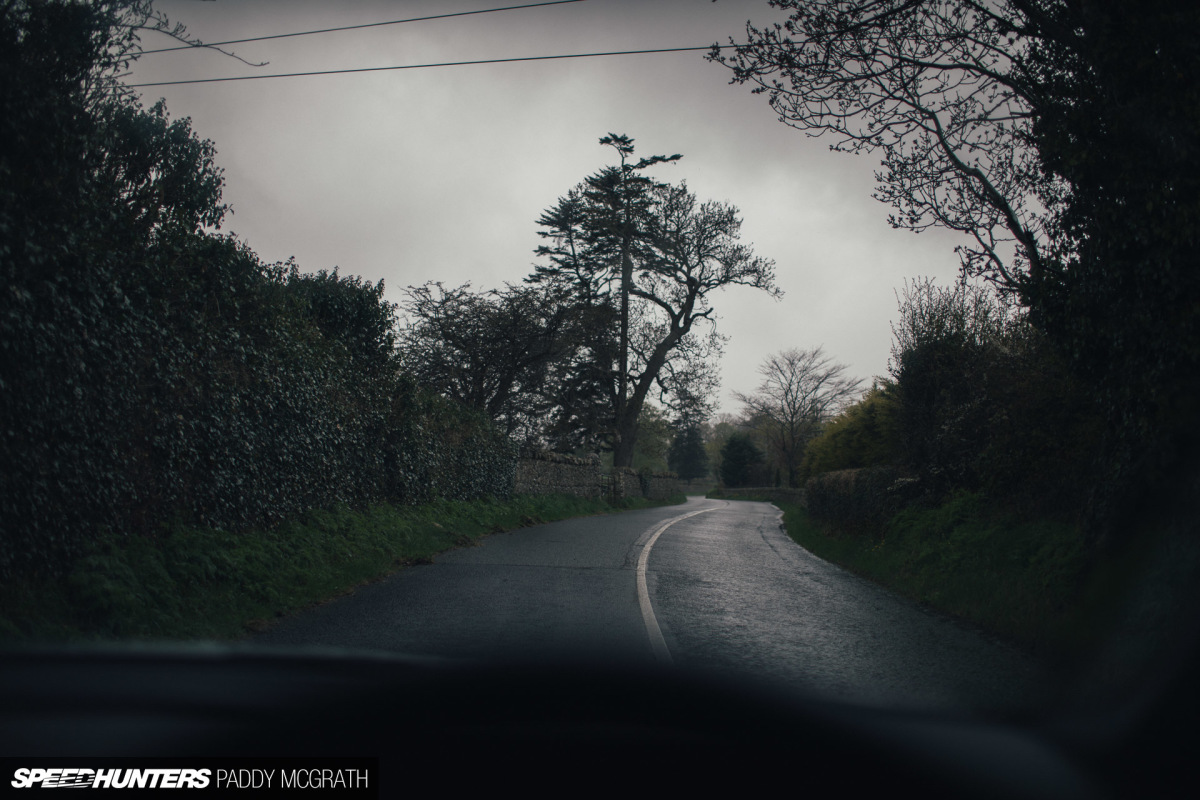 Lots of things have changed in Ireland since the 1980s, but the weather isn't one of them. Leaving the heart of Dublin, I made my way south and into the Wicklow Mountains. In the space of 30 minutes you go from the hustle of a European capital city to relative peace and isolation. It feels like a different world.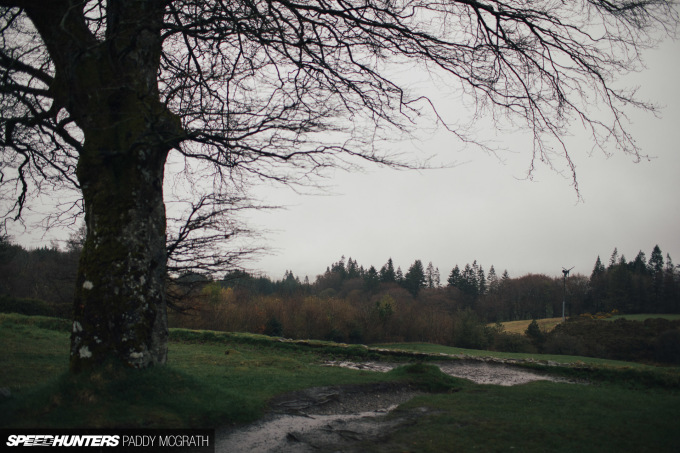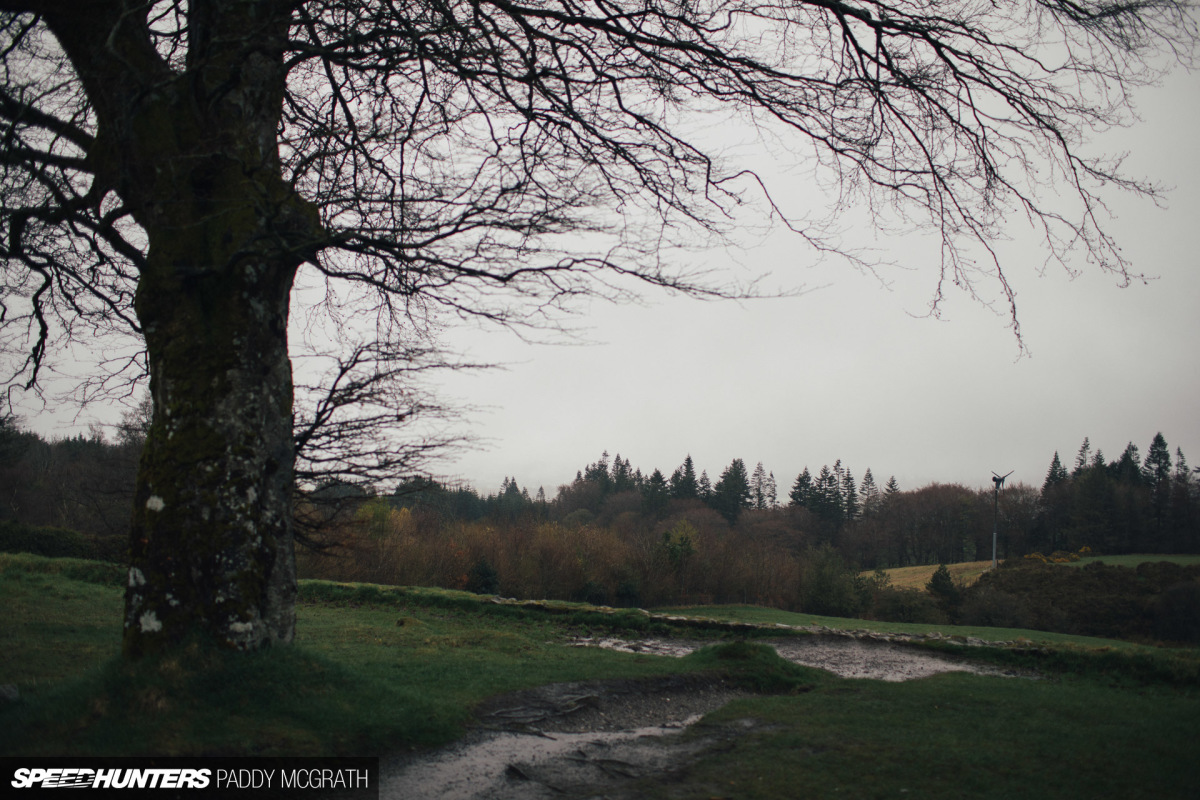 On a clear day the entire city of Dublin can be seen beyond that tree-line, which speaks volumes about the conditions as I headed for the 'start line' of my first stage of the day, and maybe one of the most famous of all Irish rally special stages: Sally Gap.
By the time the crews would have passed this point on the road section between stages, they would already have had five competitive special stages completed that morning in 1985, with five more to go as they made their way to and around Dublin on the second day of the event.
Killakee Road which leads into Military Road crosses the entirety of the Wicklow Mountains and was one the first purpose-built roads in Ireland. It was built for and by the British Army in the early 1800s to tackle and squash any rebels who were hiding there. It's now a popular route with motorists, tourists, cyclists and hillwalkers, although not on this particular day as it turned out.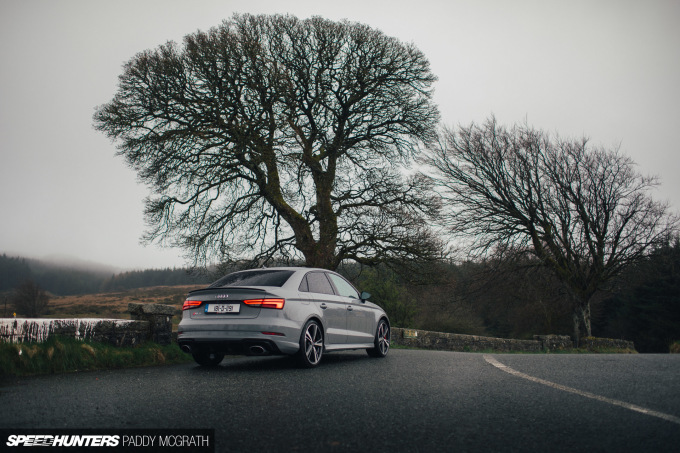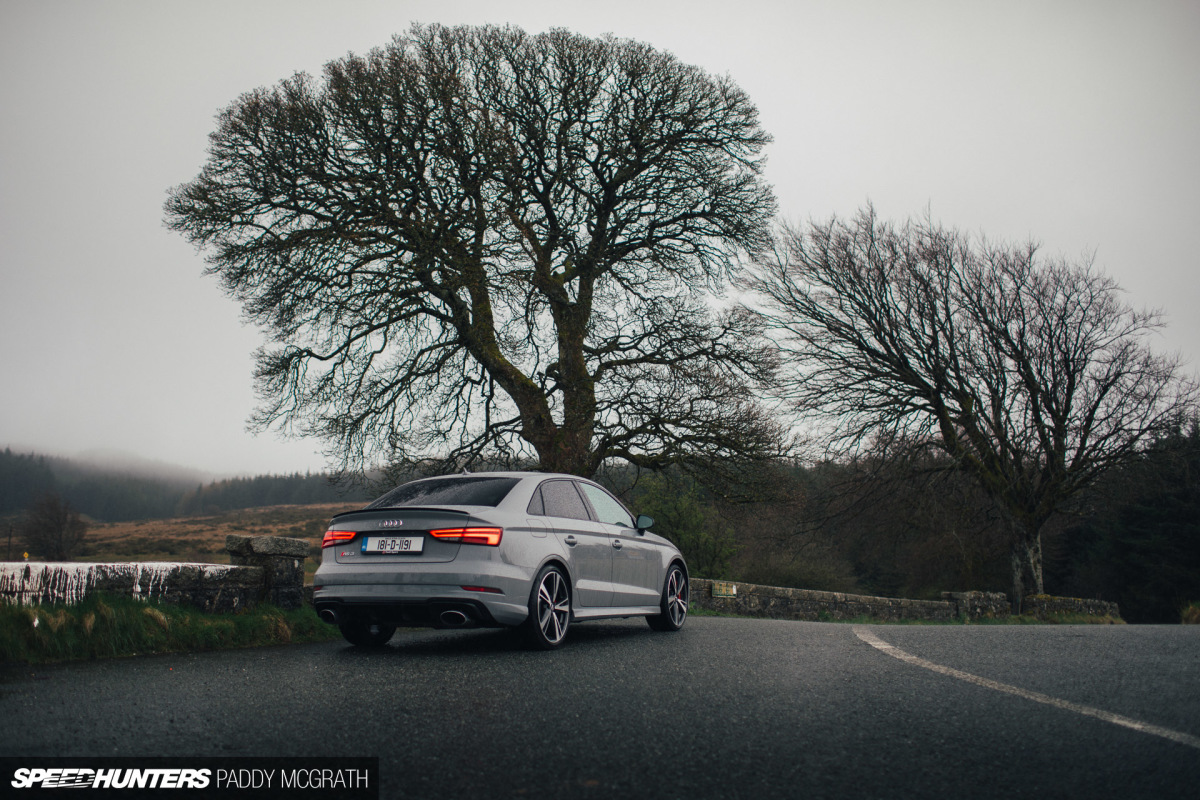 It's a road that wants to be driven, but too often you find that it's too busy to really enjoy, especially at weekends. While it was quiet on this Tuesday morning, there's no way of knowing that in advance so caution was deployed from behind the wheel of the RS3. I'll add now that the RS3's dimensions were perfect for what was coming.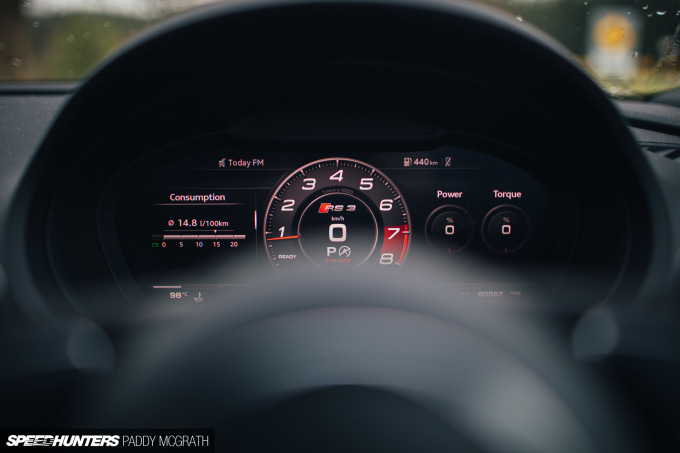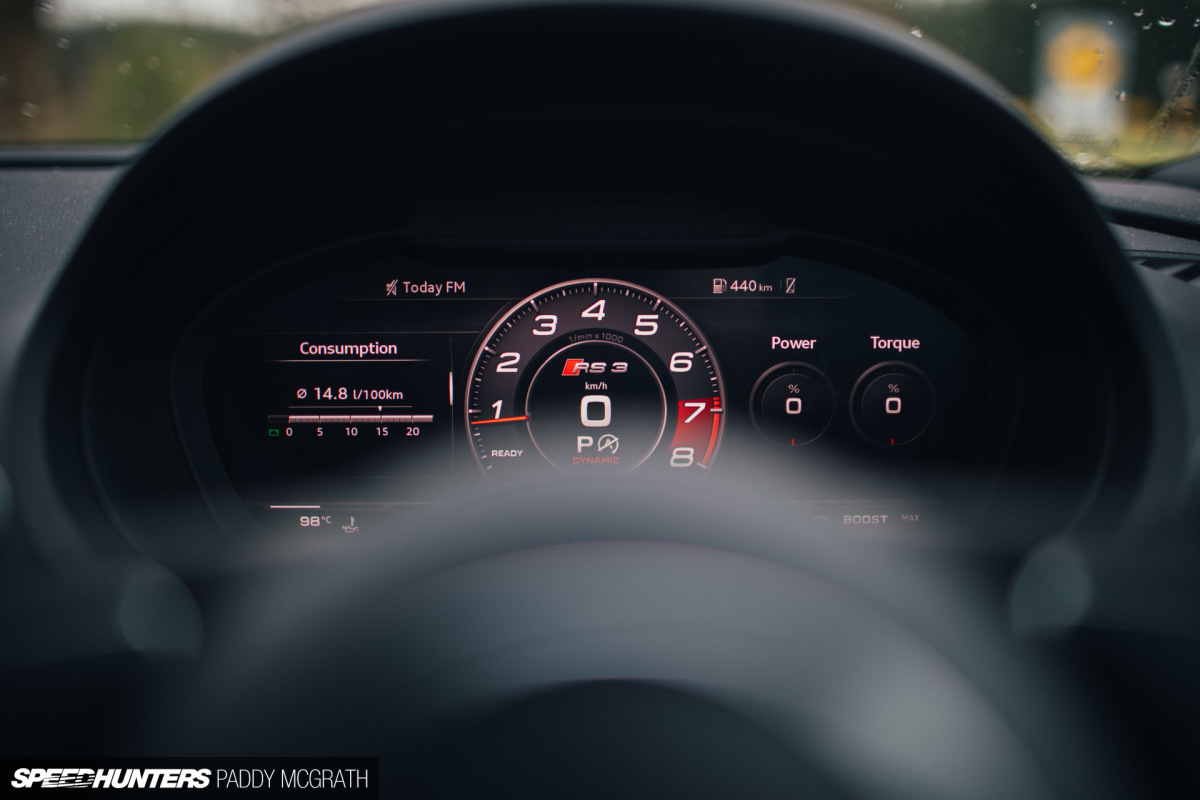 Despite being familiar with the route, it took some research to figure out an approximate starting point for the Sally Gap special stage. Depending on the year, there were a couple of variations used, which I'll try and point out along the way.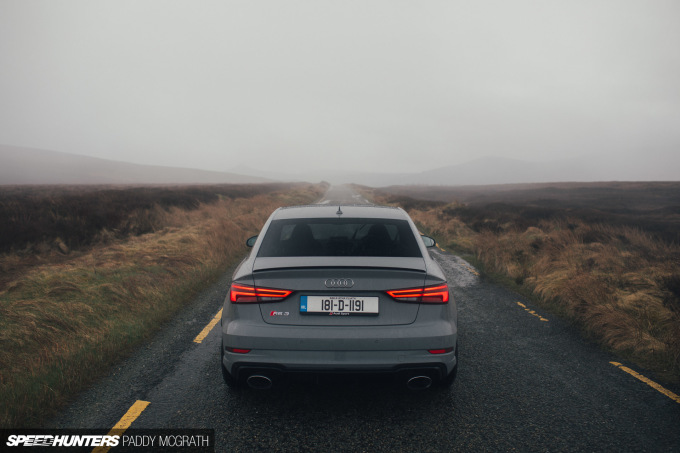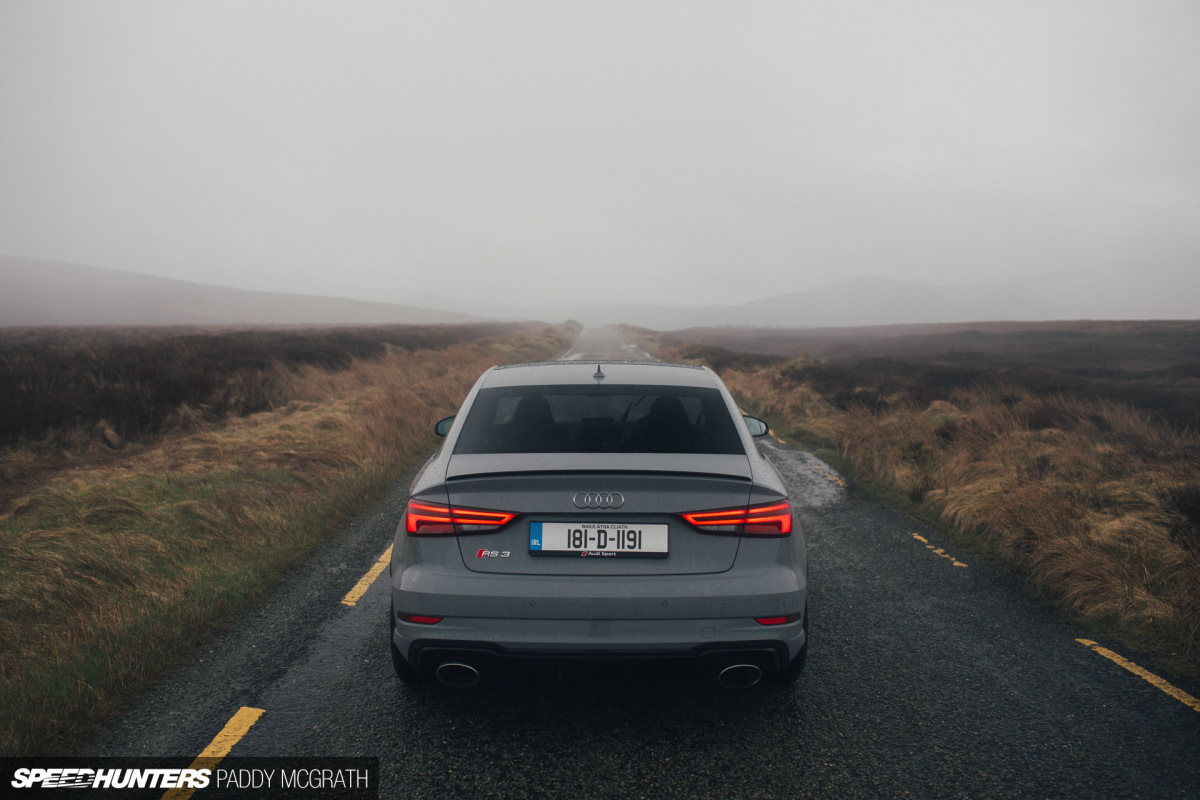 Not far from the point which overlooks Dublin itself is a relatively straight section of road which I believe was a traditional starting point. I used Rodney McComb's Ireland Stage by Stage book for a lot of the research in advance of this road trip, which details the various routes used across the country.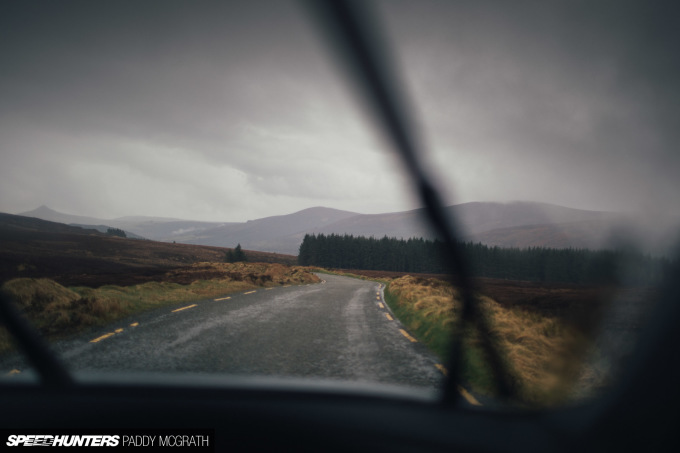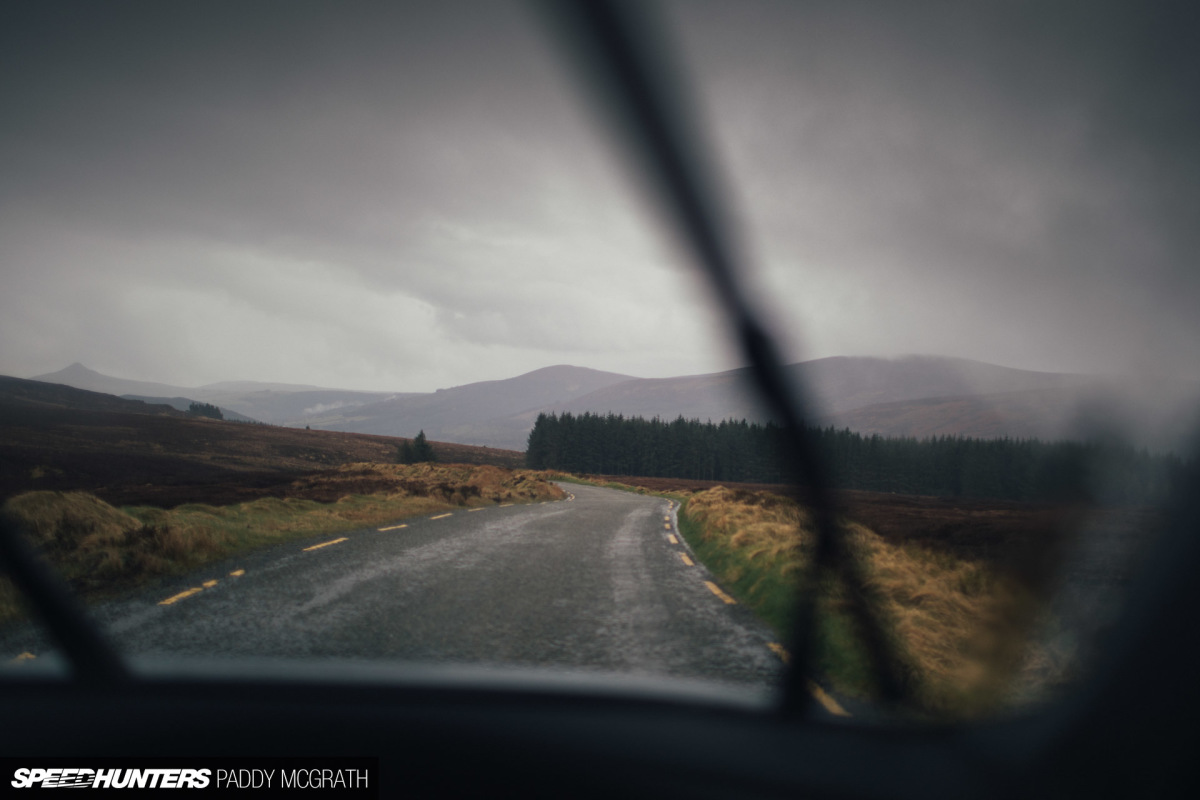 While it might not 100% have been the start point in 1985, it was for other years, although I think it's likely that it was. The straight, bumpy section of road begins by heading south before it tightens and follows the edge of a forest. It's slightly downhill, unsighted and off camber in places.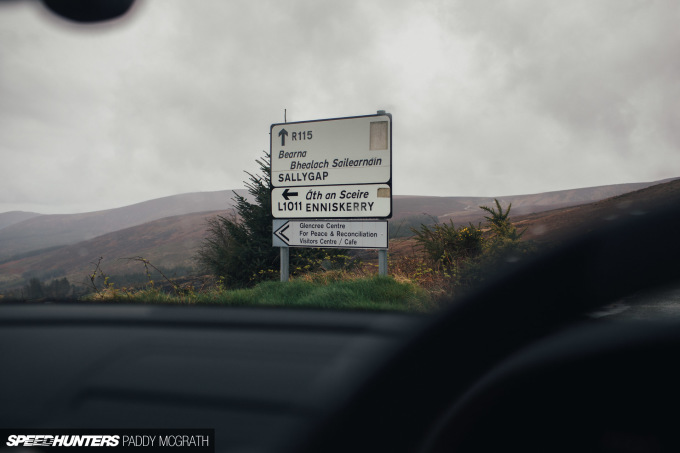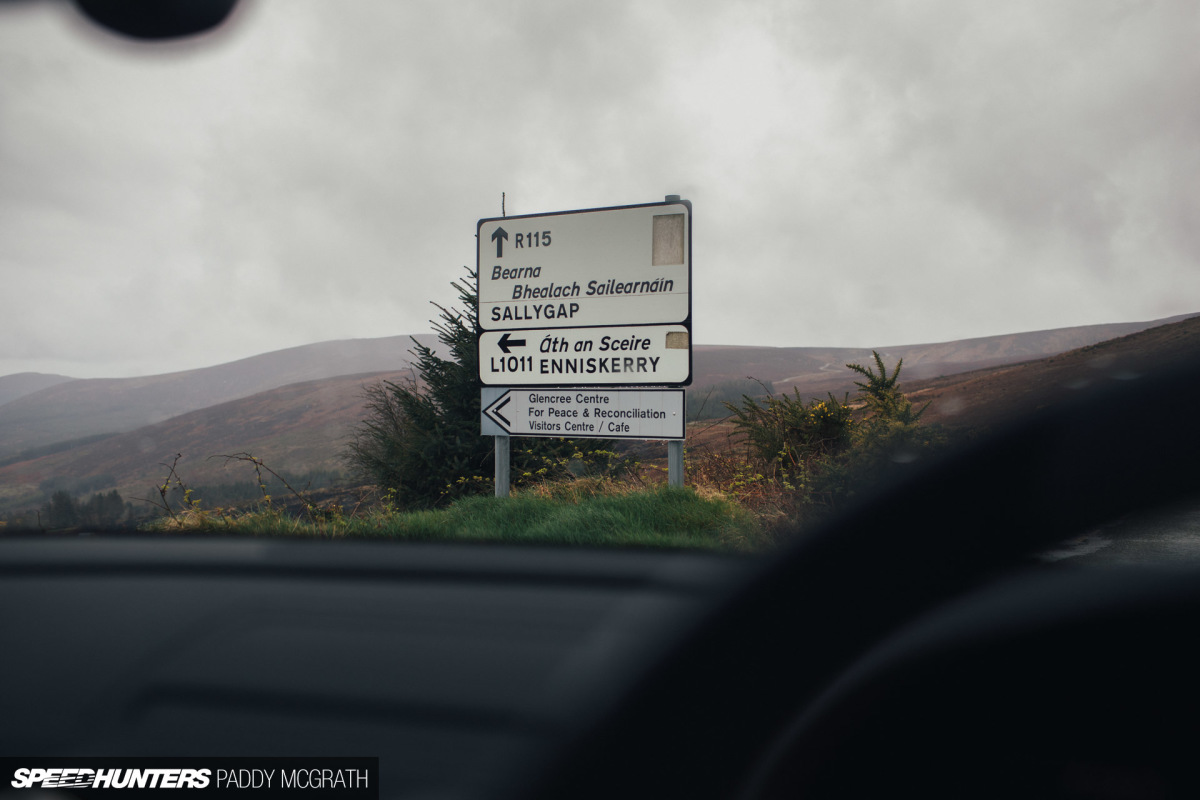 Not far from the start is a short straightaway, which features a sharp turn off the main road to the left. This leads into a loop which rejoins the original road just a couple of hundred yards further along.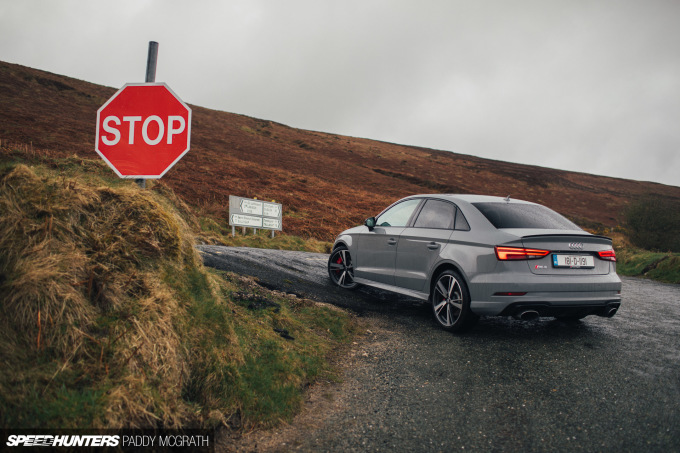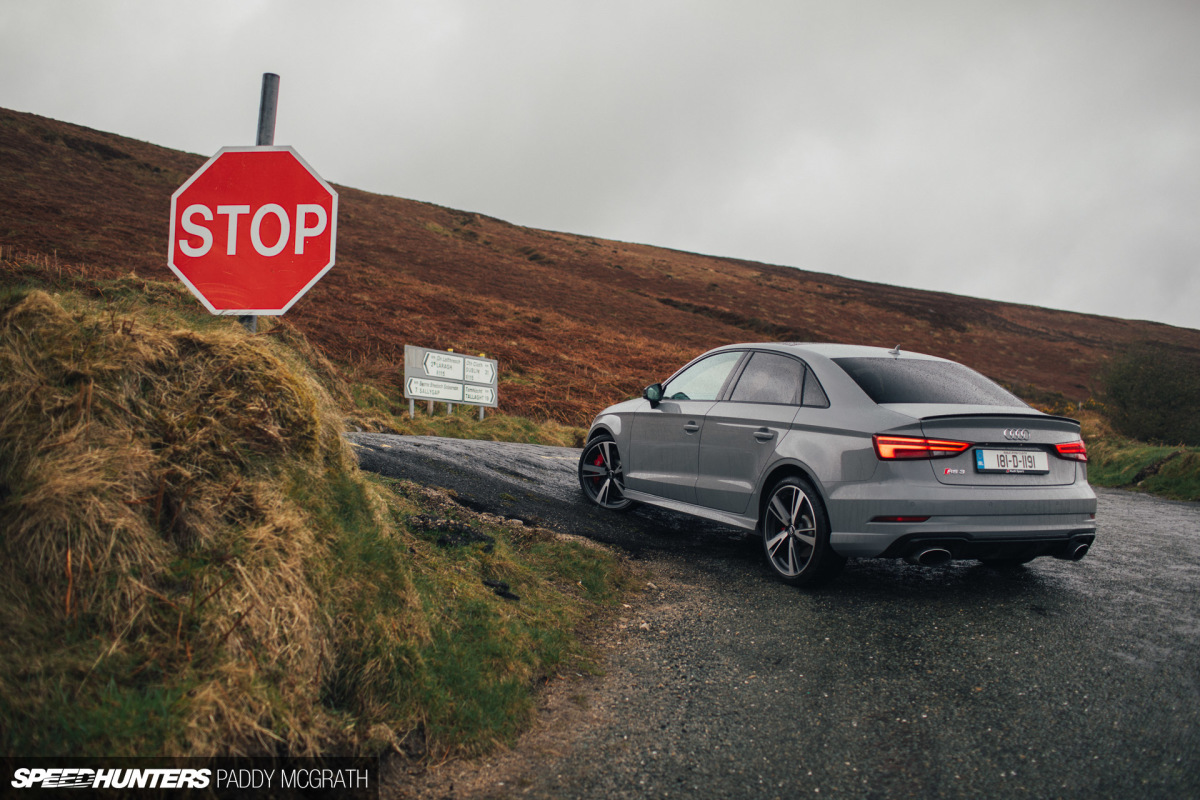 Rejoining Military Road is a sharp junction with a steep rise. This would have been treated as a tight hairpin left and one which I imagine would have caught out more than one driver as they arrived in from a relatively fast section.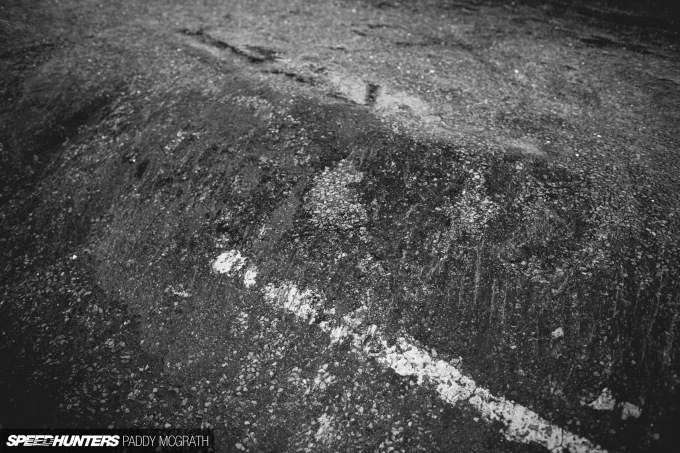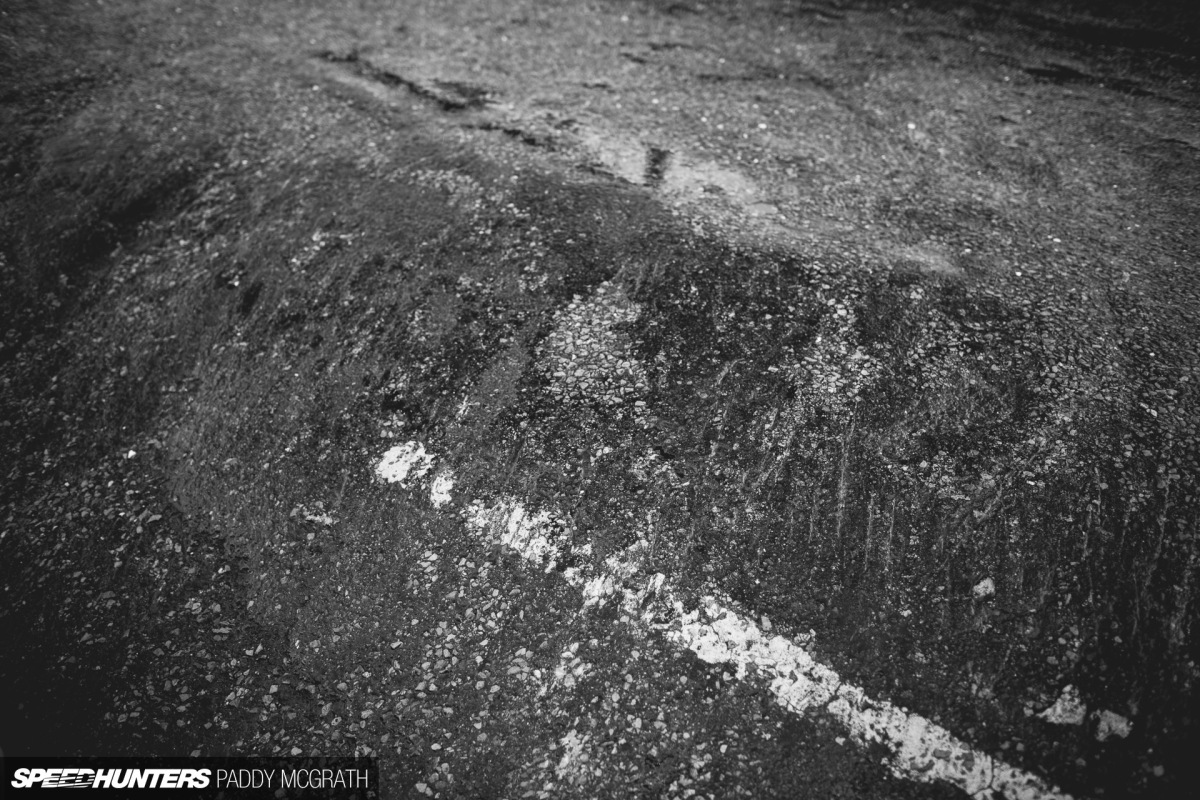 Even today, where both roads merge is marked with the imprints of sumps and subframes. It's a rise sharp enough that could easily beach the unaware driver.
For my route, I would continue south towards the village of Laragh, which I'm certain was the destination in 1985. It's from the crossroads that it gets significantly more difficult to traverse before it eventually improves again towards the end.
How much worse? Not horrific by any means, but certainly enough to continue the deployment of caution. The constant undulation in the road surface can easily catch you out, particularly when entering a braking area. I've no doubt that more than one competitor or even ordinary road user has enjoyed an unexpected excursion into the wilderness up here.
Remember that these are public roads in pretty poor weather, so I'm only driving to what the conditions allow. It wasn't the time to try be a hero, and case in point, that was a random speed bump just before the end. A piece of advice I was given when I first started driving here was to always be able to stop within the distance you can see. A piece of advice that I'm sure is transferable to anywhere in the world, and is probably obvious anywhere the driving education system doesn't suck.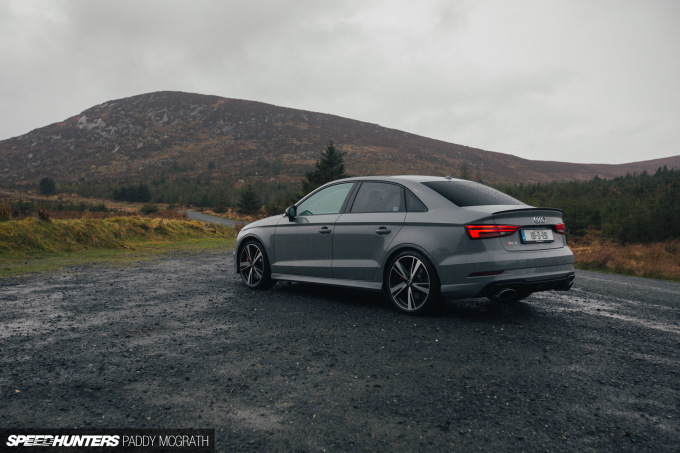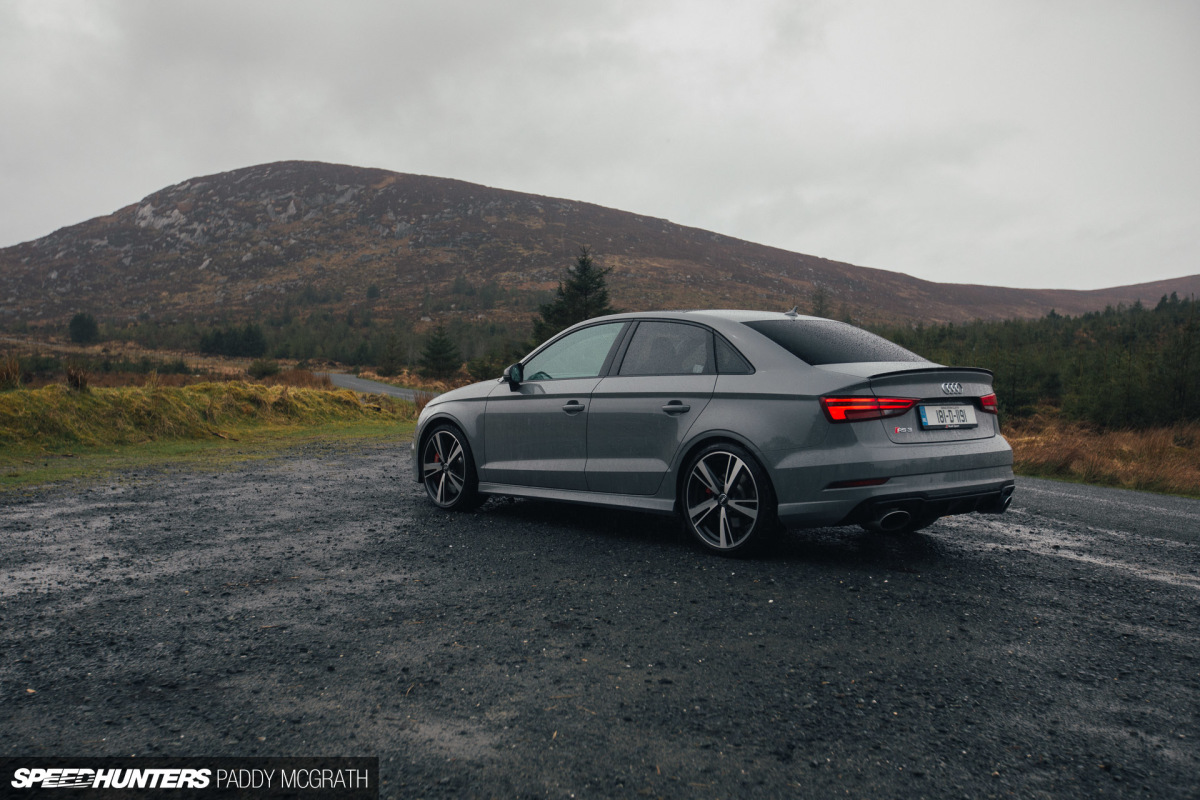 With the road slowly descending from the crossroads and the worst of the surfaces imperfections behind me, I pulled over for a couple of moments to pack my GoPro away and take some stills of the car in its environment before one last push to the end of the stage.
The scenery is often beautiful, but nearly always has the potential to be lethal. Often there's nothing more than a couple of stones on the edge of the road to save you from a significant tumble down into a valley or a sudden meeting with an immovable object.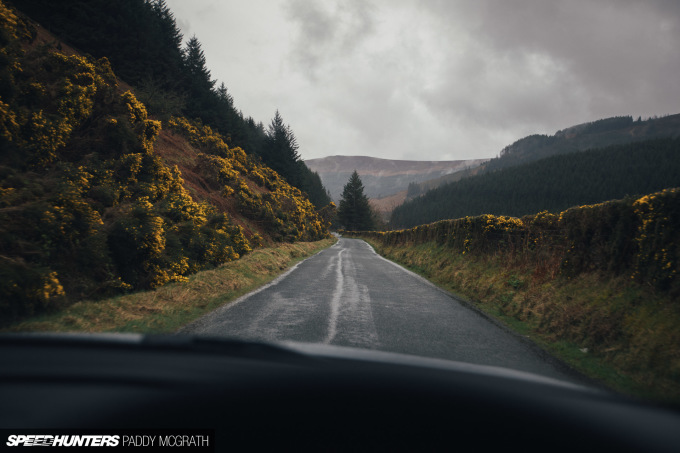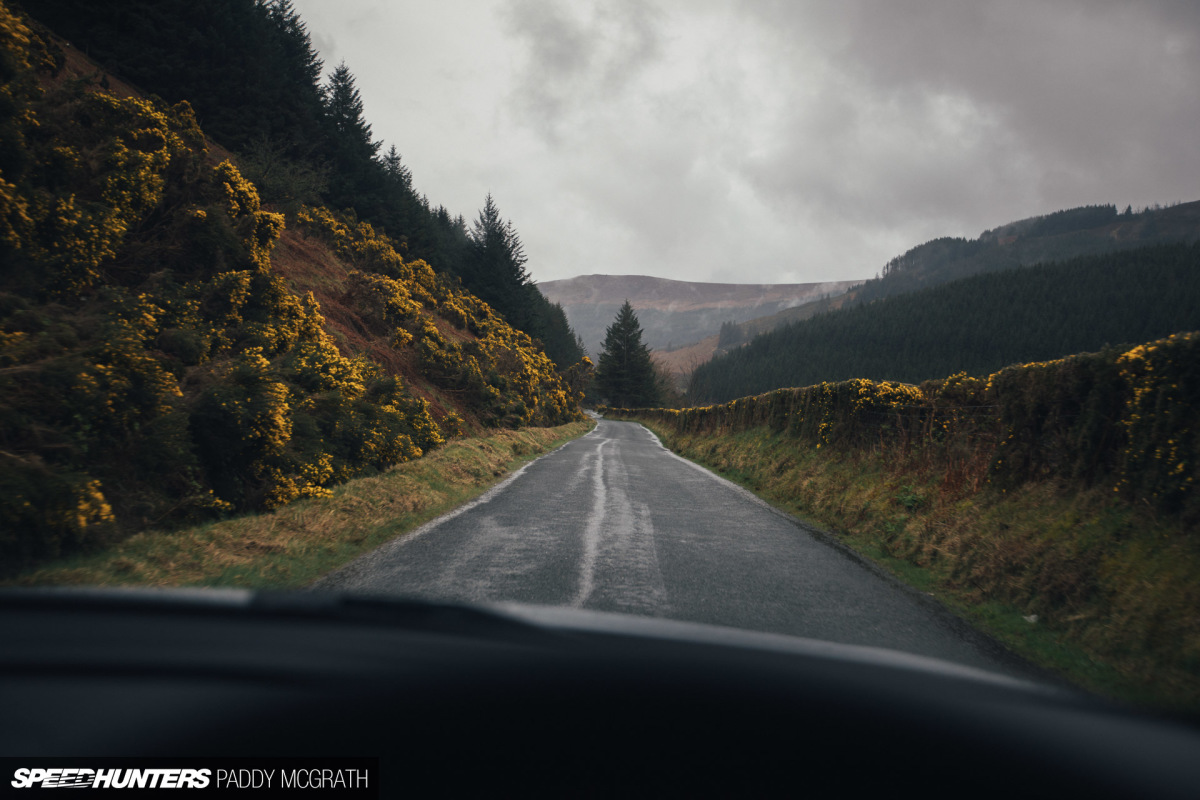 Once past this point, you start to rejoin civilisation as you enter the village of Laragh. Even this direct route across Sally Gap resulted in a total distance of 34kms (21 miles) from my approximate starting point, versus the official documented length of 32.5kms (20.1 miles) of SS16 Sally Gap on the 1985 Circuit of Ireland.
That was just one stage of the event, the fifth one of the day and with four more to run before nightfall.
From reading stories from other events, it would appear that Laragh village (itself right beside the famous Glendalough) was often used a place for a quick break before the start of the next stage. Some years, the drivers would have driven the stages through the darkness, arriving here just in time for breakfast before setting off again.
It gave me a few minutes to have a quick lunch, double-check my route for the next stage, and get ready to go again. Thankfully, this one wasn't a million miles away.
Aghavannagh
While Sally Gap is renowned within rallying circles, the next stage of Aghavannagh (pronounced Ock-ah-van-ah) is really only known within the Irish rallying community. It was also the first point at which I started to realise how quickly these stages are being lost and forgotten about.
Less than a mile from where I stopped for lunch, was where I've estimated the start of  SS17 Aghavannagh to have commenced from.
It's a discreet junction, although not one that's easily missed. From this point outside Laragh to Aghavannagh itself is 16kms or 10 miles, which is considerably shorter than the documented stage length of 28.5kms or 17.7 miles, so I knew it was going to be a much bigger challenge to trace this route.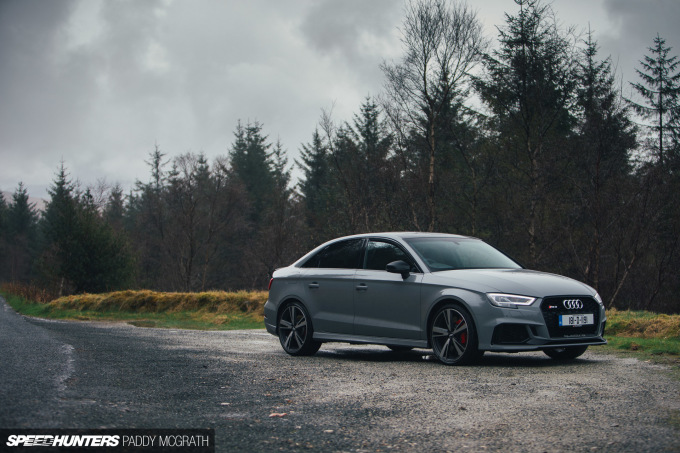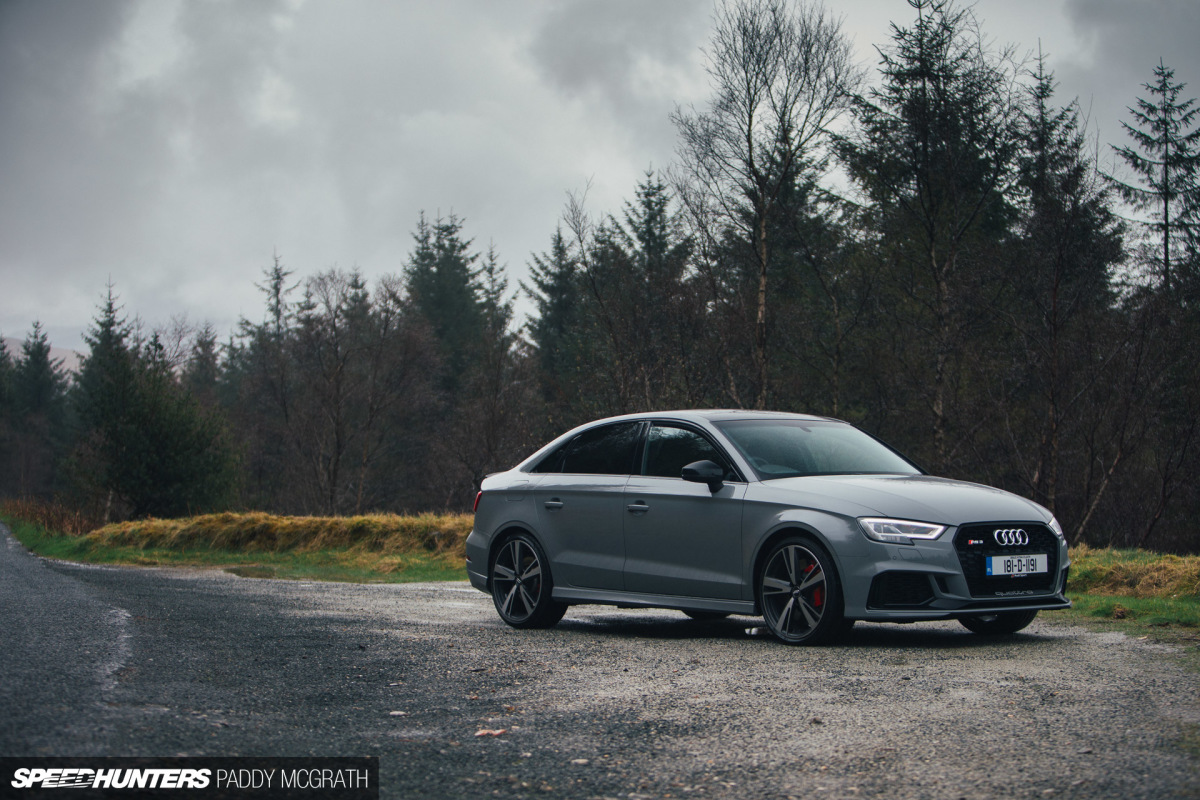 Under the canopy of trees, I started my blind ascent. I was surprised by the quality of the road; I was expecting the worst but it was fine, albeit with a few rough patches. It flowed nicely too, which was in contrast to the rough middle section of Sally Gap.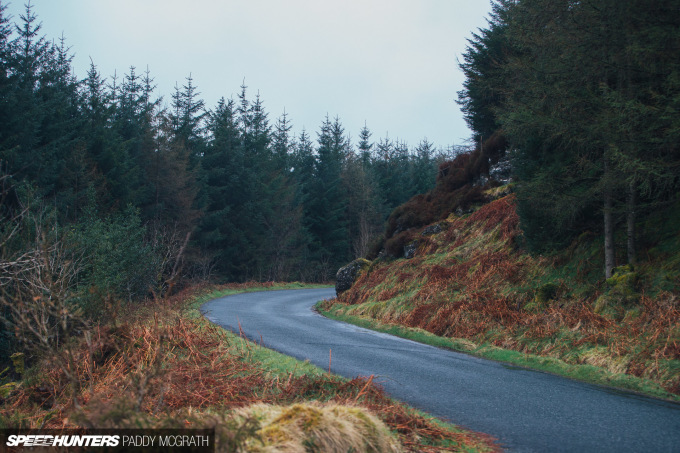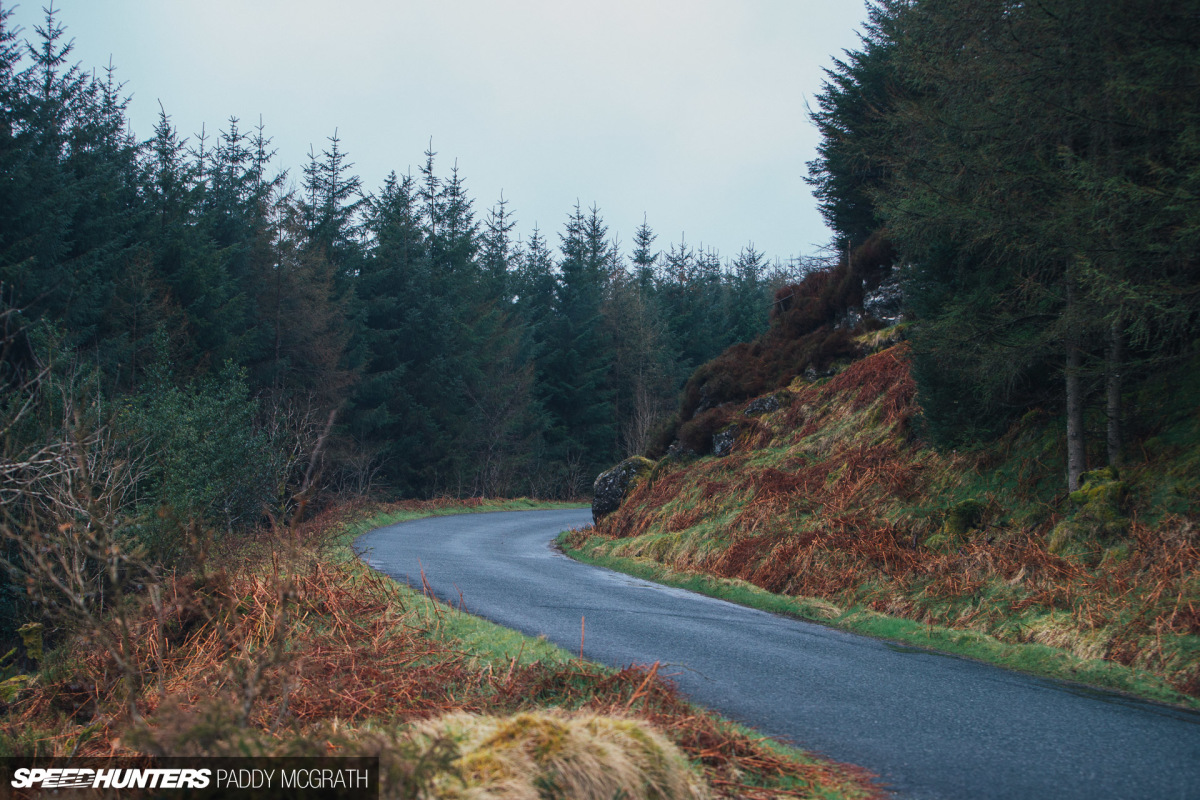 I stopped a couple of times along the route to try and take the 'stage' in. The complete silence and damp weather instantly recreated an atmosphere of anticipation which I remember clearly as a child. Sometimes for hours you would stare at the empty road, straining your ears to listen if a car was coming.
The only sound on this day would be created from the driver's seat of the RS3.
It was the first opportunity to really – and briefly – hear that 2.5-litre five cylinder in action. Approaching each corner with trepidation allowed a slightly more prolonged burst of acceleration on corner exit. Again, nothing crazy, but it should give you a better idea of the route when compared to just photographs alone.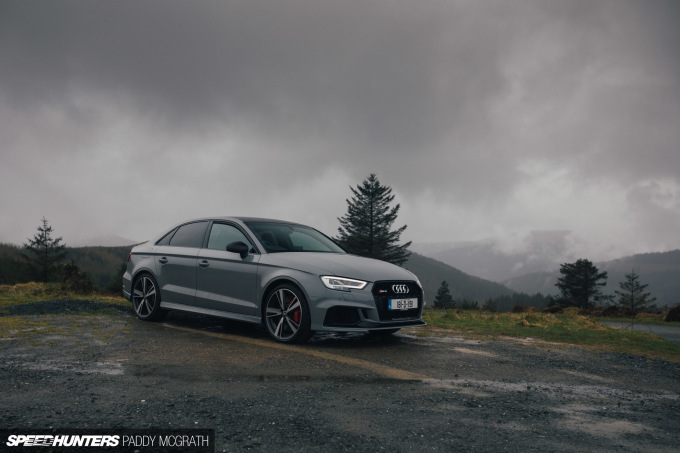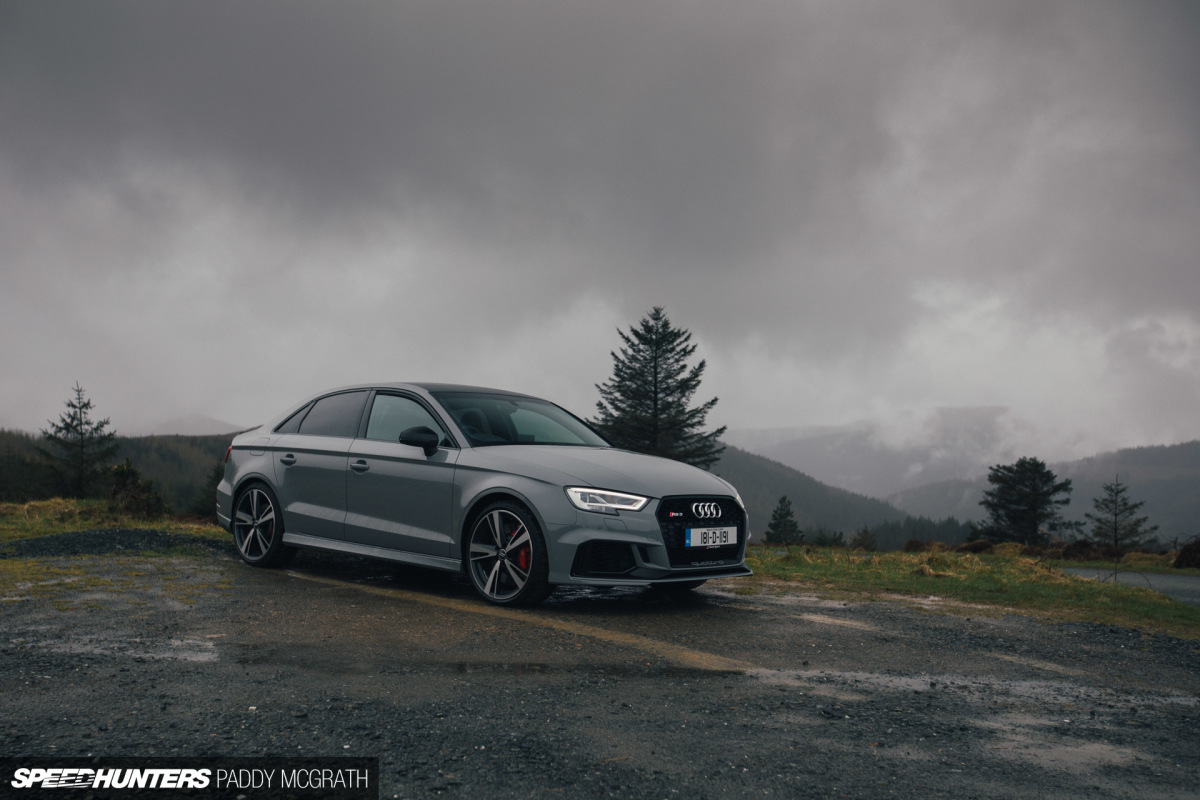 At this point I believe I was only behind the wheel of the car for no more than a few hours, but I was already starting to bond with it. As mentioned earlier, its size was perfect for these roads; it's not too small to feel nervous, but also not too big as to feel cumbersome. It's obviously a car that has benefited from a lot of modern technology, but it never feels really intrusive. I don't believe it will be offered with a manual gearbox, but it's worth remembering that Audi did deploy a double-clutch PDK in the S1 Evolution II towards the end of its life.
Jalopnik have an article about it, if you're interested.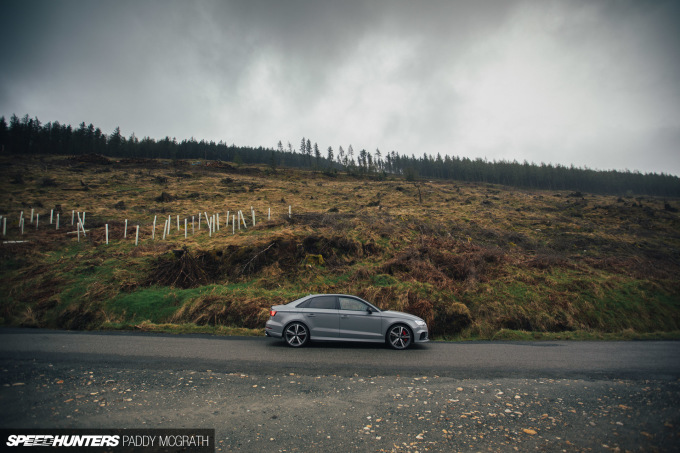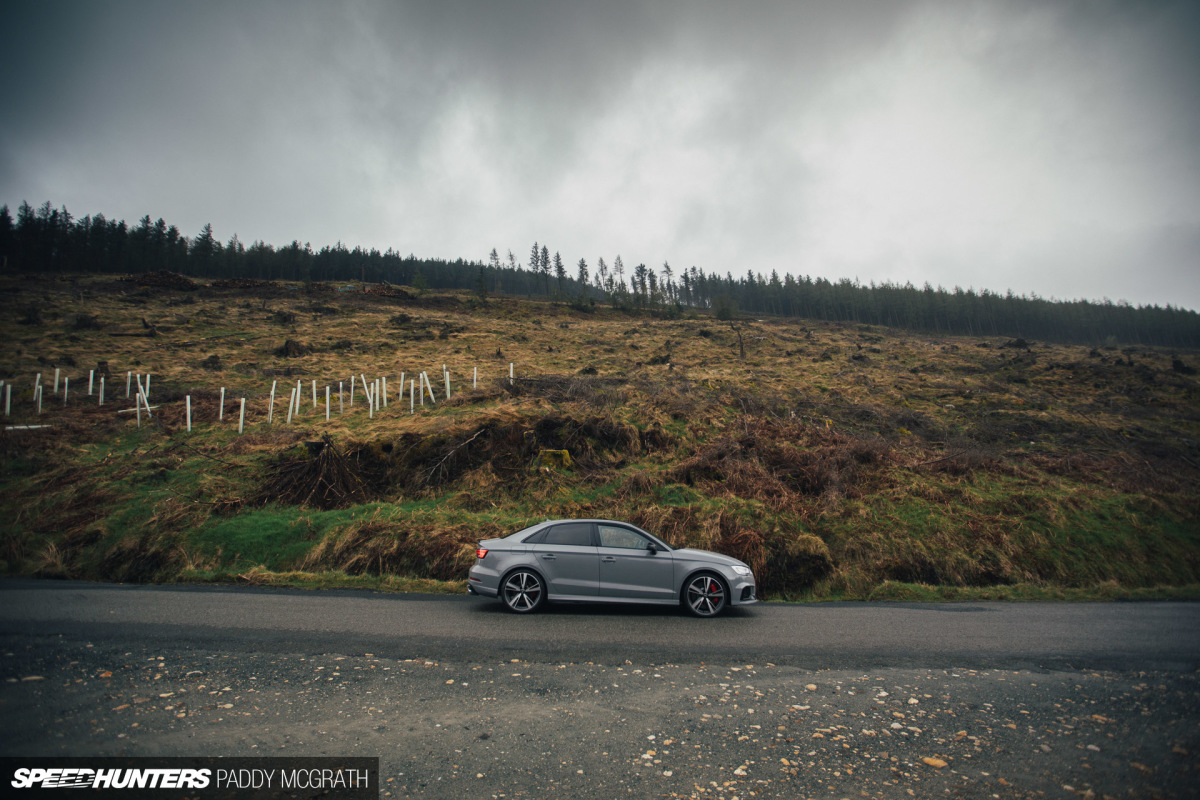 While that particular Group B gearbox design was borrowed from Porsche (hence the PDK acronym of Porsche Doppelkupplungsgetriebe) it has evolved, in this instance, into Audi's S-tronic double-clutch transmission. I think it suits the car and on these roads; the ability to manually shift gears without removing your hands from the wheel is a benefit, particularly on the rougher sections, along with the lightning fast gear shifts.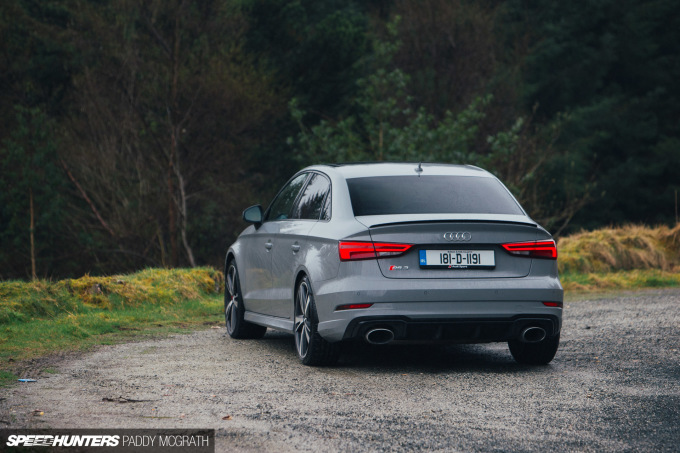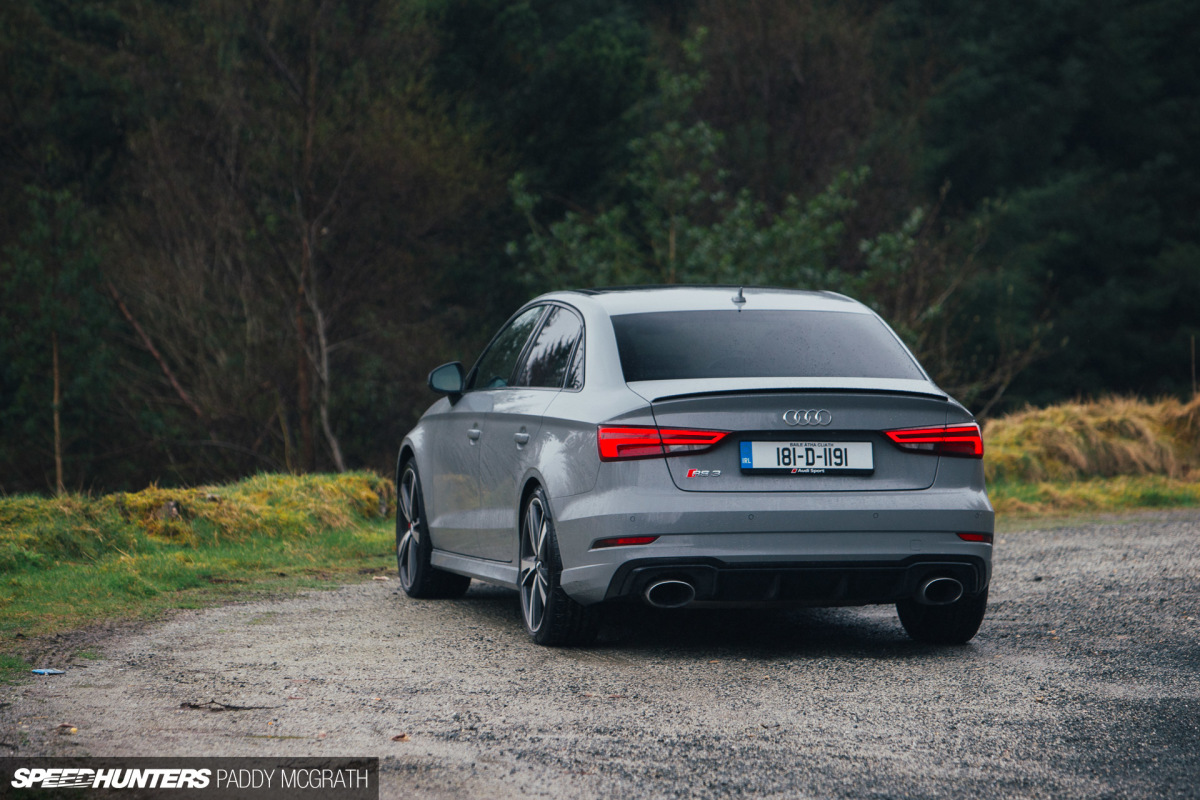 Truthfully, the RS3 probably wouldn't exist if it wasn't for Group B. While quattro wasn't invented specifically for the purpose of competing in motorsport, motorsport was chosen to prove the technology against other drivetrain types.
From its debut in 1981 on the Monte Carlo rally, Audi were at the fore of rallying until their withdrawal from Group B in May 1986. By then most of their rivals had also adopted all-wheel drive systems, and it has remained that way ever since. In six years Audi won 23 events and four world titles.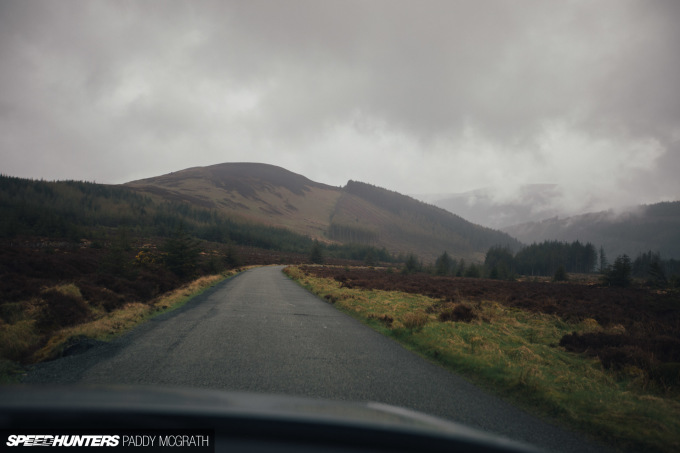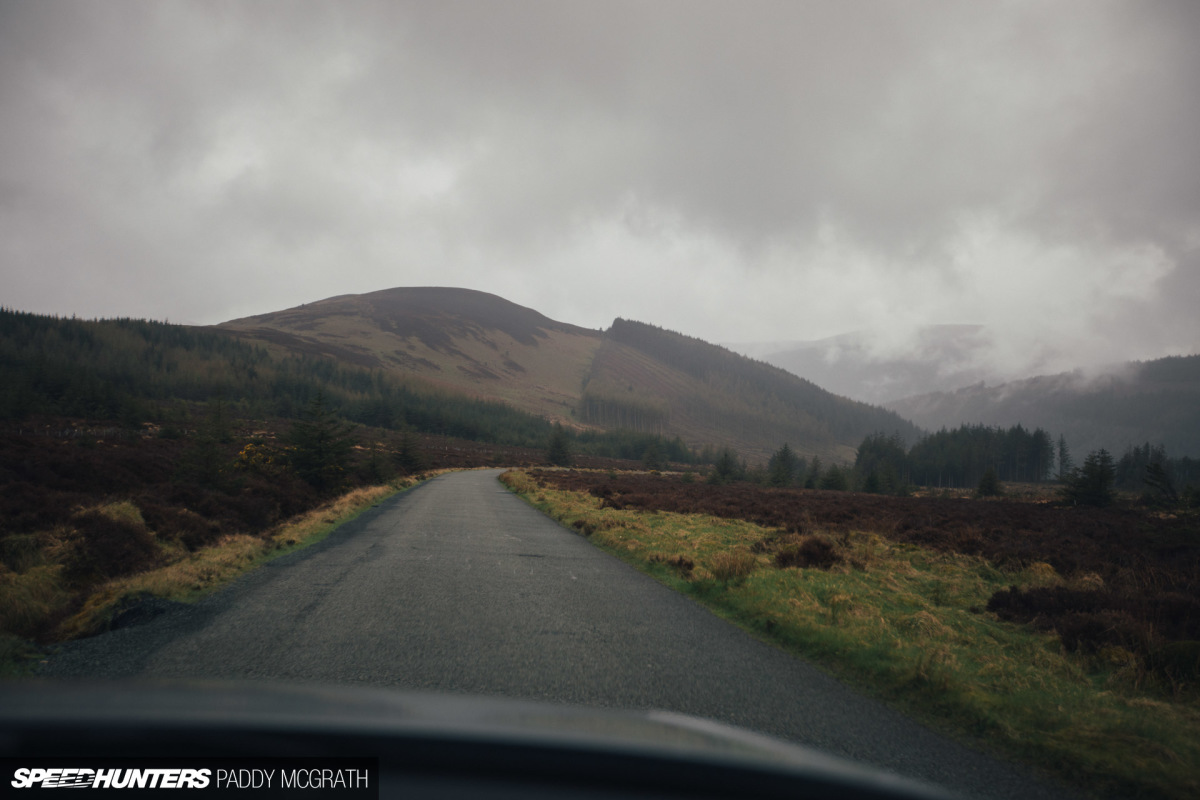 Prior to this, all-wheel drive was for off-road vehicles and tractors, not cars. Now? I can't imagine we'll ever see two-wheel drive cars at top level of world rallying again, and we're all well indoctrinated to the benefits of all-wheel drive in performance applications.
In case you might think this is a paid promotion for Audi, it's not. The introduction of quattro was a defining moment in motorsport. It's no wonder that they still lean on their heritage when it comes to producing and promoting their current performance range.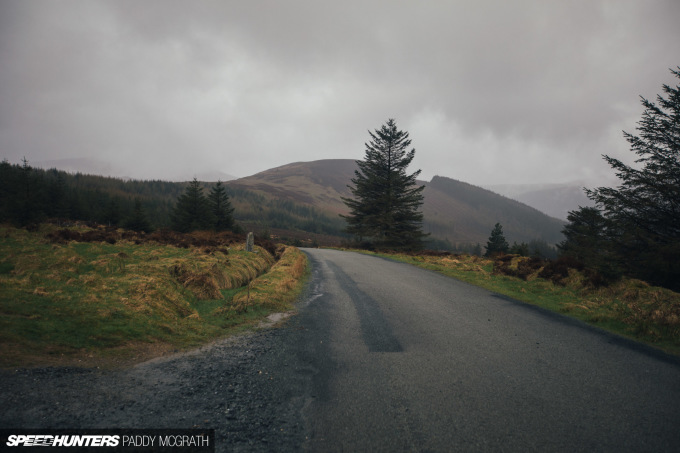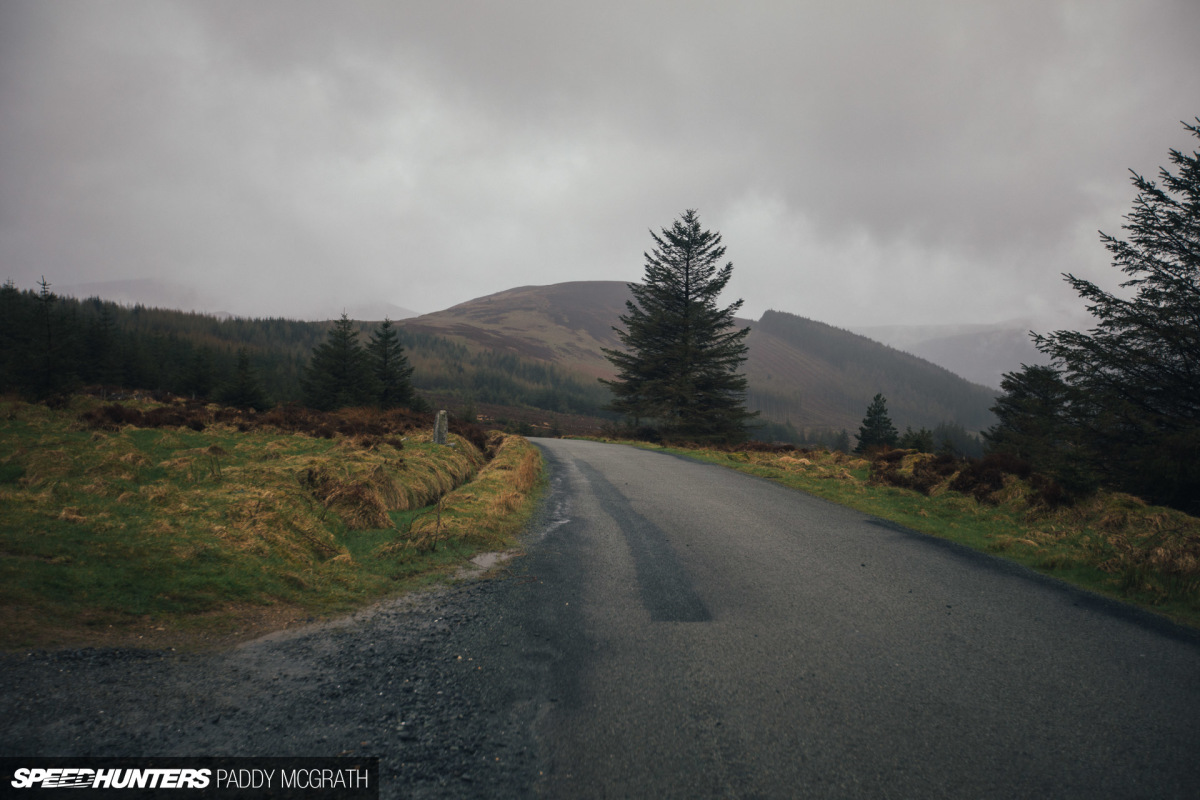 Even in these less than ideal conditions there were no moments of doubt in the car's abilities. It was clear pretty early on that the RS3 is more car than I am driver, although on these roads, a small wheel with a larger profile tyre would have been better suited.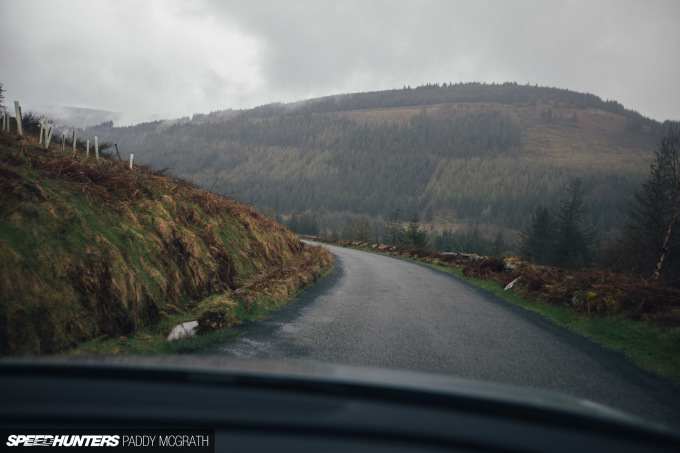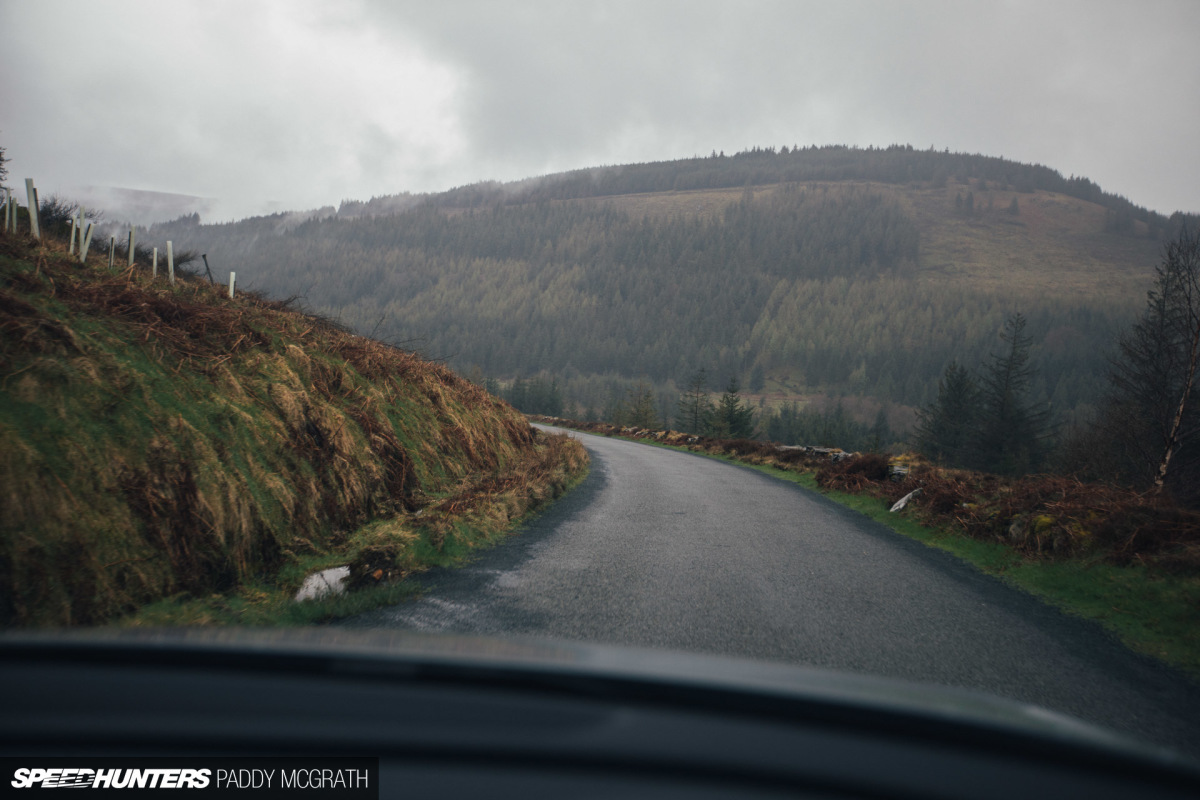 There was a clear point on this road where the descent begun. It stayed relatively open, before narrowing significantly as I reached the bottom.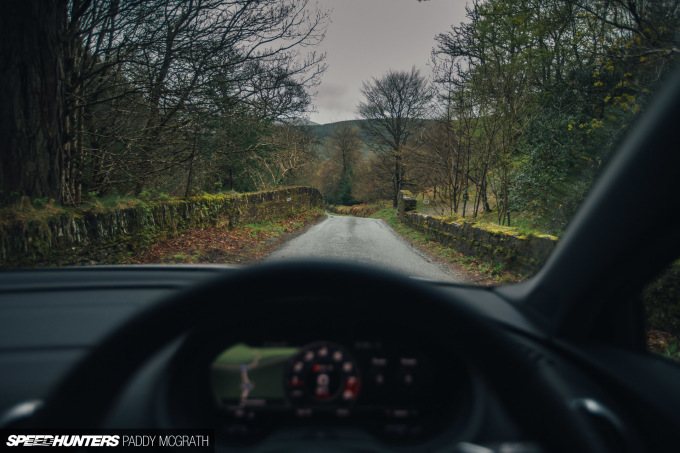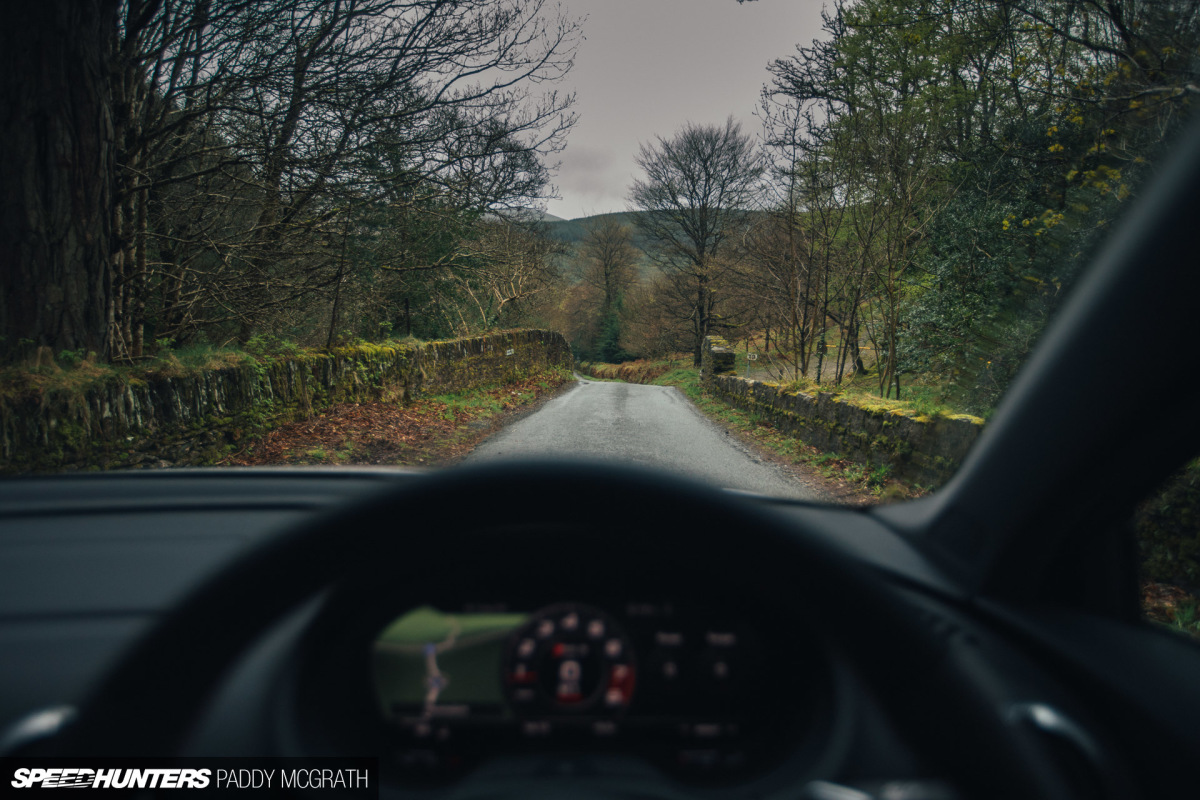 Can you imagine the clenching involved when approaching a small bridge with a deceptive left immediately after it at speed like this?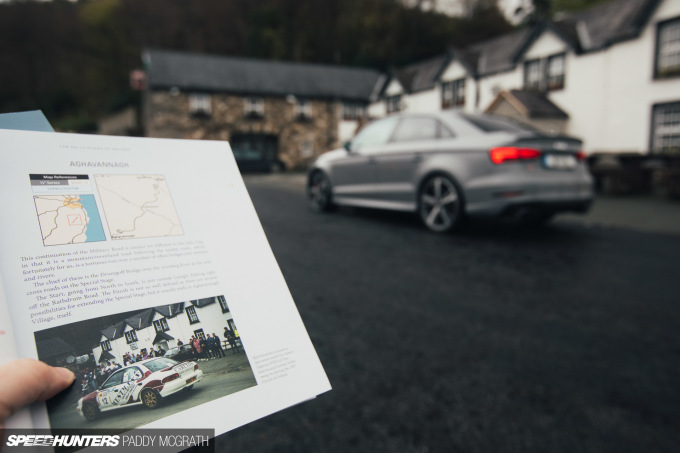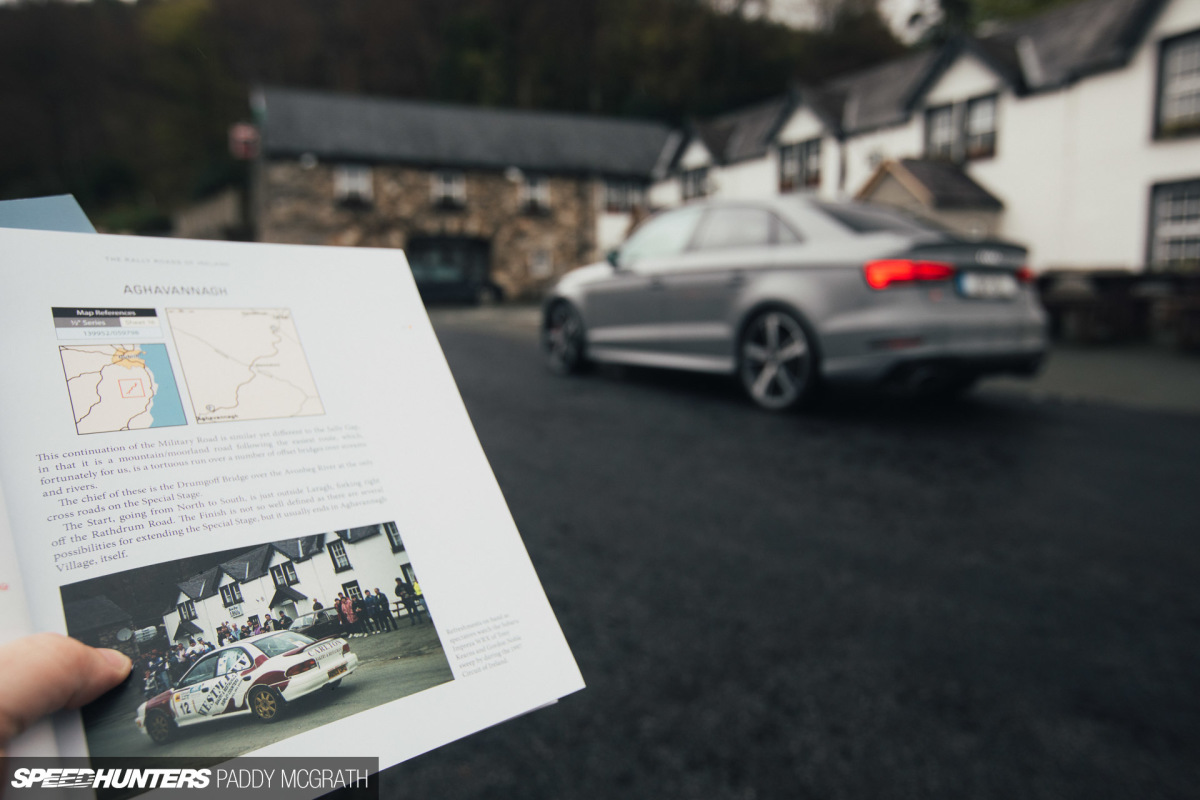 It was just after this bridge where I regained confidence that I was still on the right trail, as I pulled up outside the distinctive Glenmalure Lodge. I briefly spoke with one of the owners, who fondly recalled when the Circuit of Ireland used to pass their door.
Most people in Ireland are ignorant of motorsport, and generally don't care for it in any shape or form, despite the presence of Irish drivers in the World Rally Championship. However, those who have at some stage in their lives been touched by rallying always seem to widen their eyes and smile when they recall their own stories from years gone by, regardless if they're motoring enthusiasts or not. I guess that's the magic of the Circuit.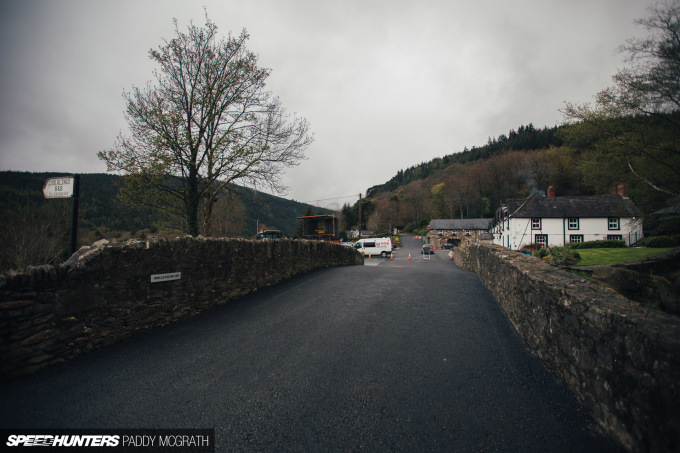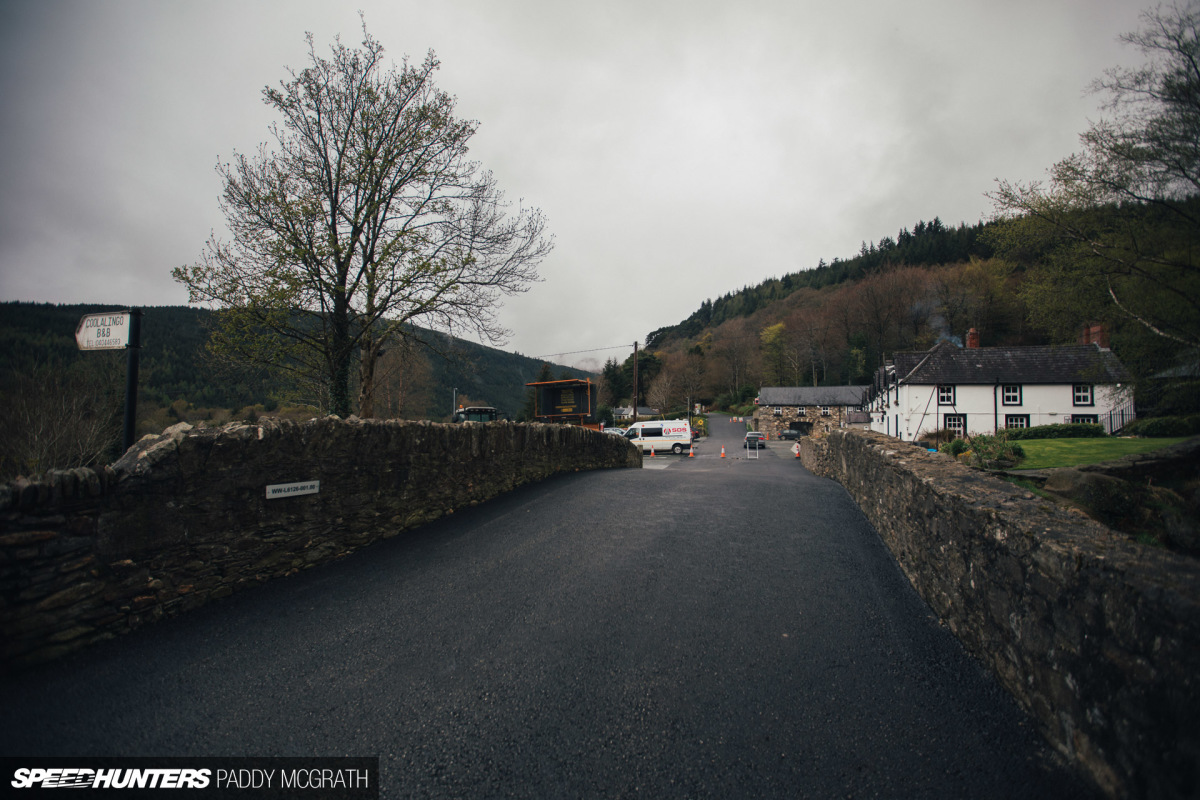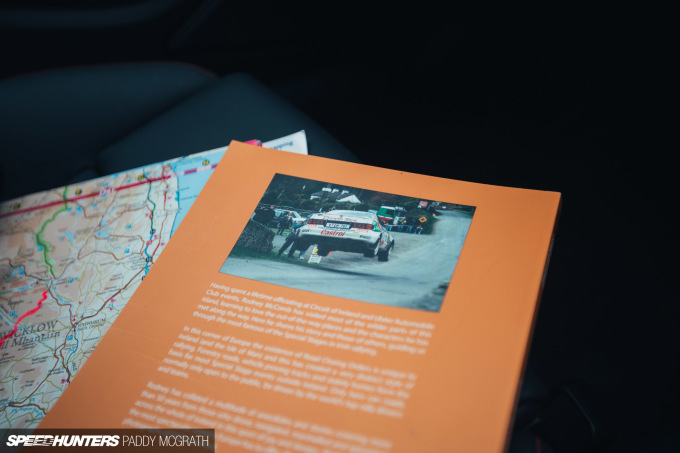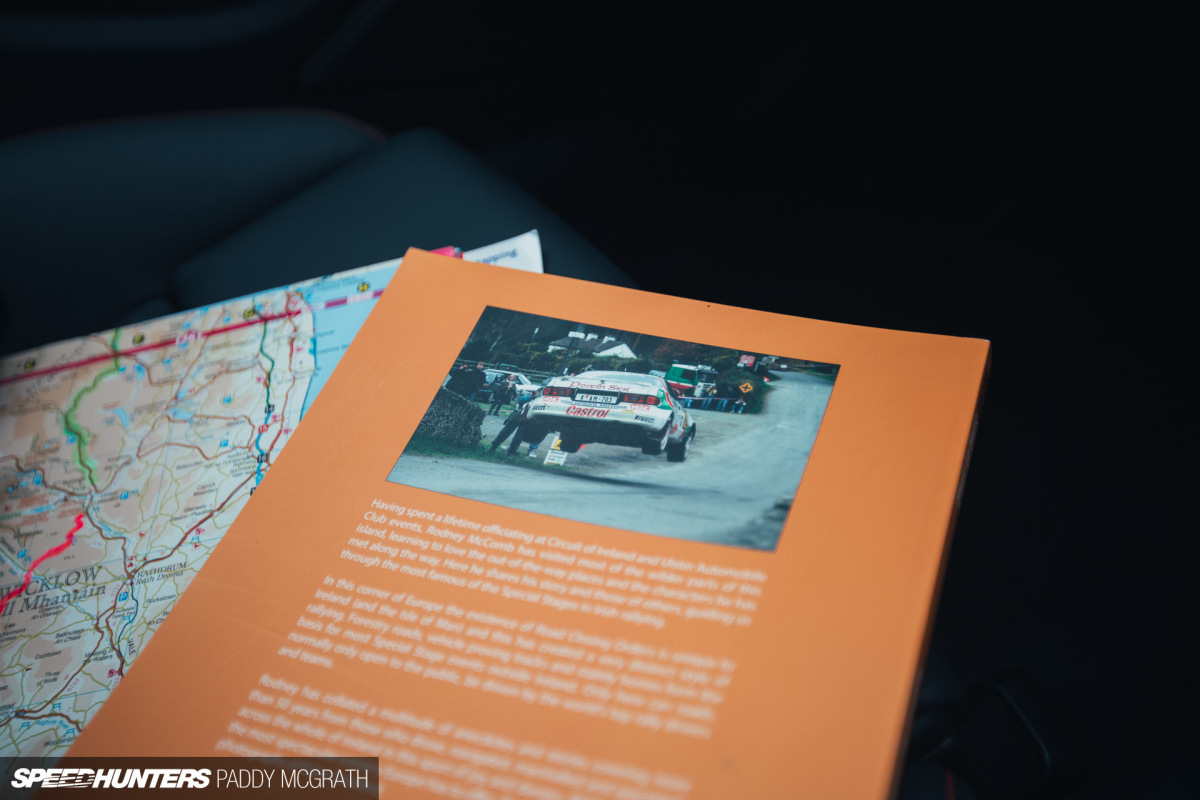 During our conversation, the owner pointed out the various routes that it would come past. More often than not, it would come down the same hill that I had but there were a few occasions where it ran right in front of the lodge. She even pointed to the (closed) humpback bridge beside the lodge and told me there was a famous photograph taken of a car in full flight coming over it.
That photo turned out to be the image on the back of the book on my passenger seat, which I never realised was the same location that I was stood at.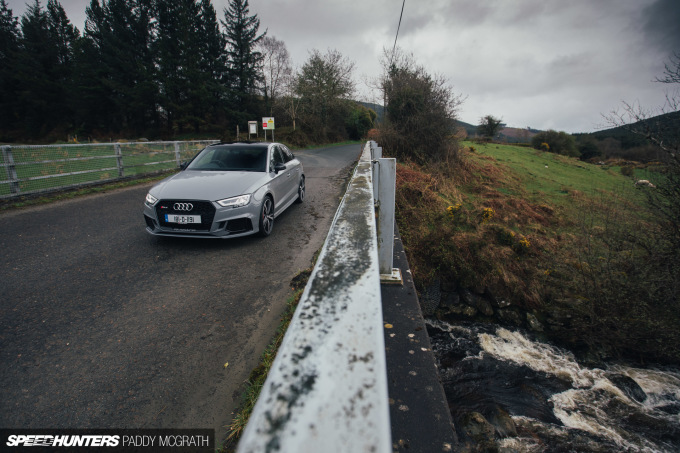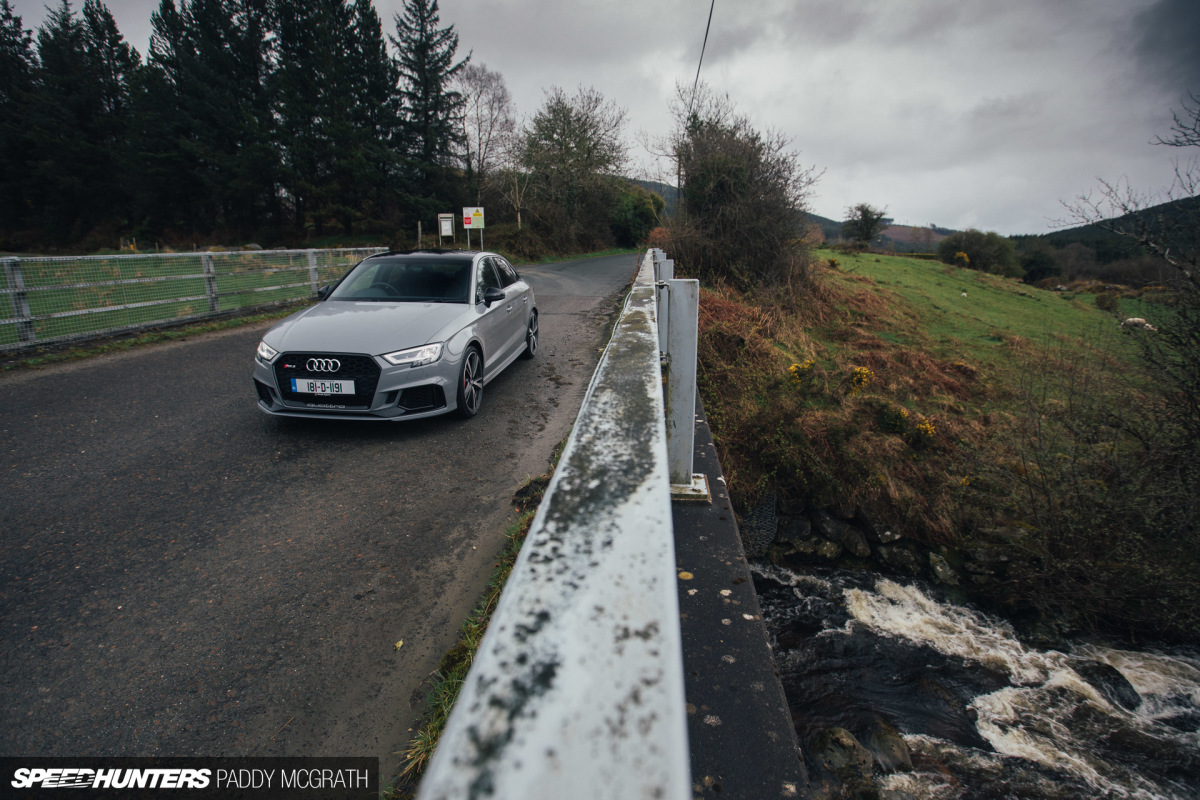 She pointed me in the right direction, and I continued my drive, albeit behind an unexpected pace car in the shape of hired Toyota Yaris piloted by polite, but terribly slow Americans.
Arriving into Aghavannagh itself – an area with a main road and some houses located sporadically at either side and little else – is where the trail went completely cold for me. I imagine that they might have travelled west from here towards the Wicklow town of Baltinglass before resuming their journey south for three more stages. I just couldn't figure out which route they took, and even today, I'm still unsure.
One thing was certain, I did know where they were heading.
Waterford
Located in the south-east of Ireland, Waterford is still a prime car culture location today, and I would say most of that is because of its history with the Circuit of Ireland. The rally captured the imagination of countless people during the years it passed through, who then handed down their passion for cars to the next generation, whom passed it along again.
I should know; this is where I was born, raised and was gifted my love of cars.
It's an industrial city with a population of around 50,000 people; a good city filled with good people. Growing up here, my memories are pretty much all car related. From local motorsport events with my father, to witnessing the explosion in Japanese imports here in the late '90s and early '00s. Current Citroën WRC driver Craig Breen is a proud Waterford man, as is Formula Drift veteran Dean 'Karnage' Kearney. Local motoring clubs put on some of the highlights of the Irish rallying season, while nurturing young talent.
It's a city that I'm proud to be from.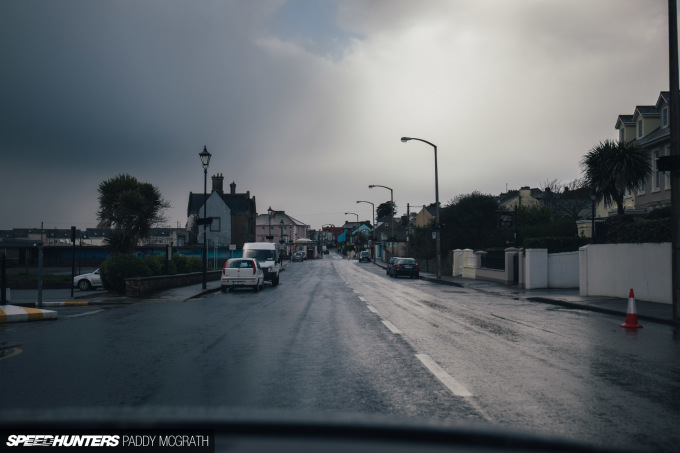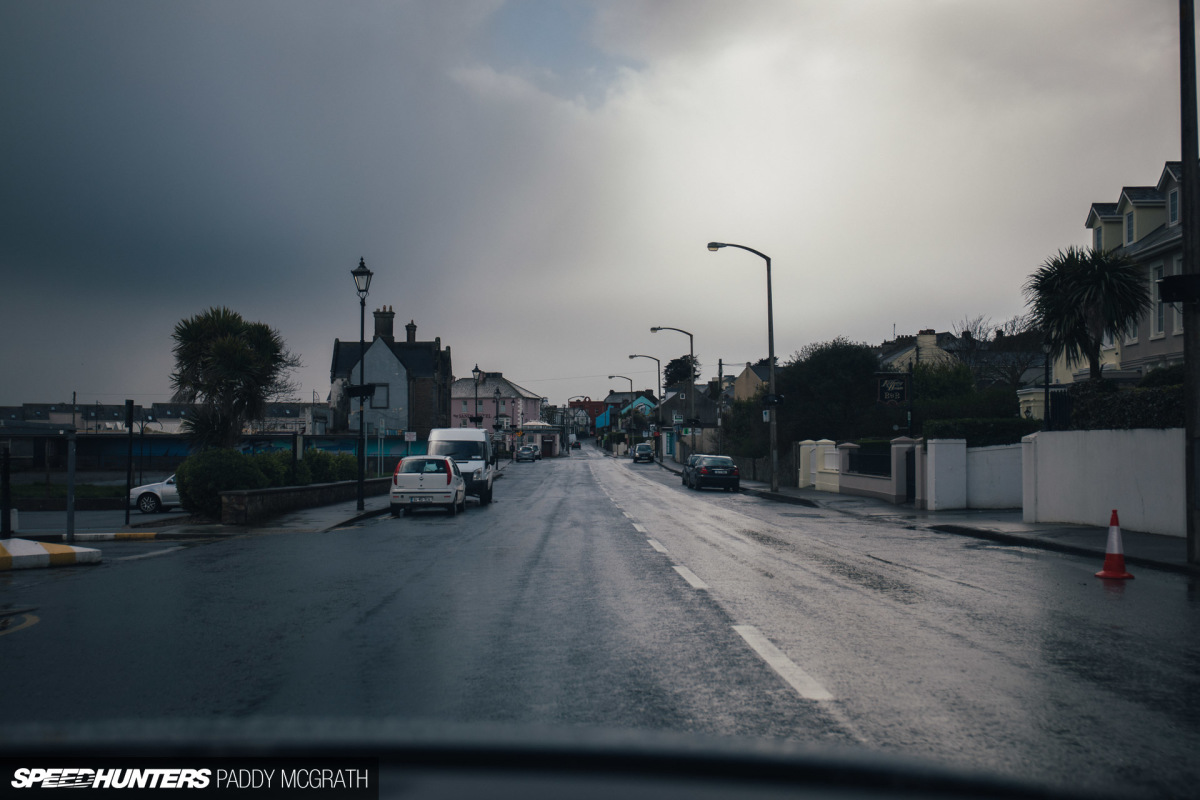 It's also where I needed to rely on local knowledge the most. No matter how hard I looked, I couldn't find a reputable stage map anywhere for the entire county of Waterford. I did have stage names and access to said local knowledge, which brought me to our first stop of the day – the seaside town of Tramore.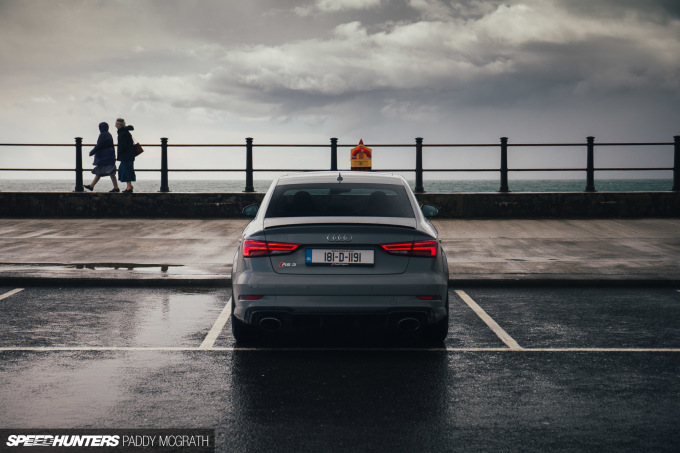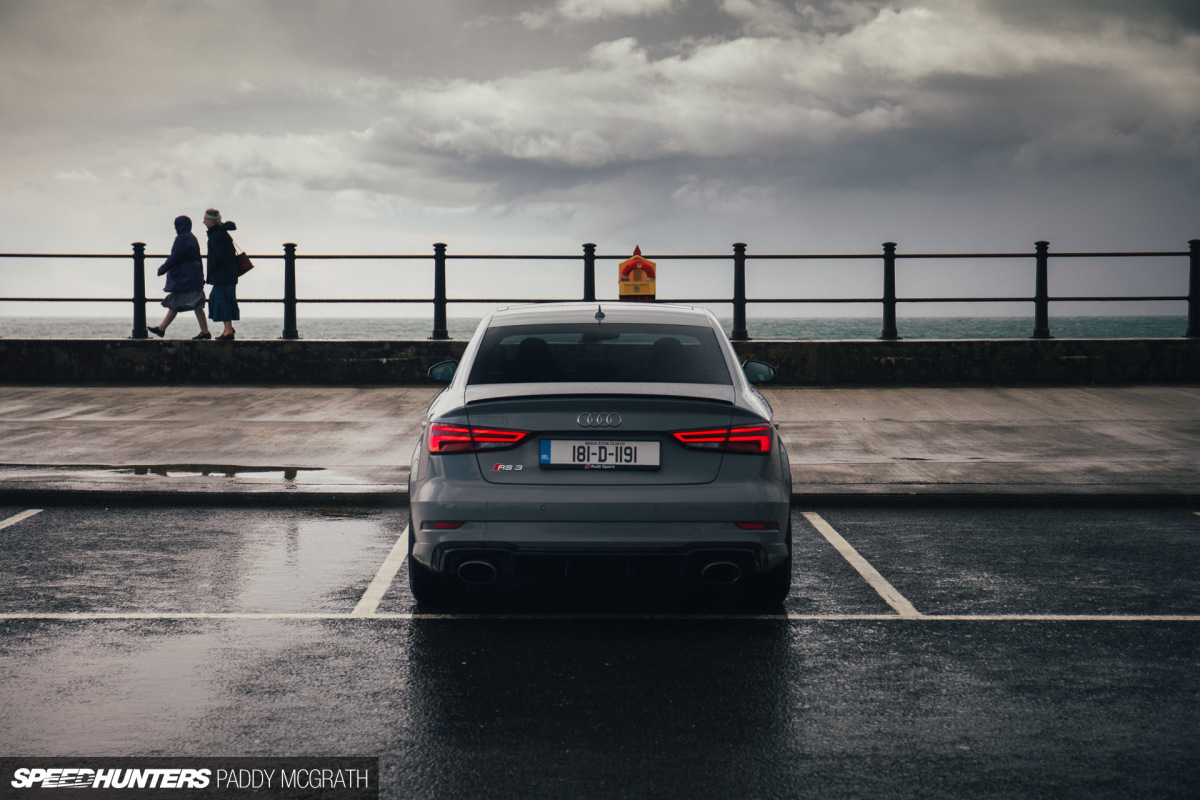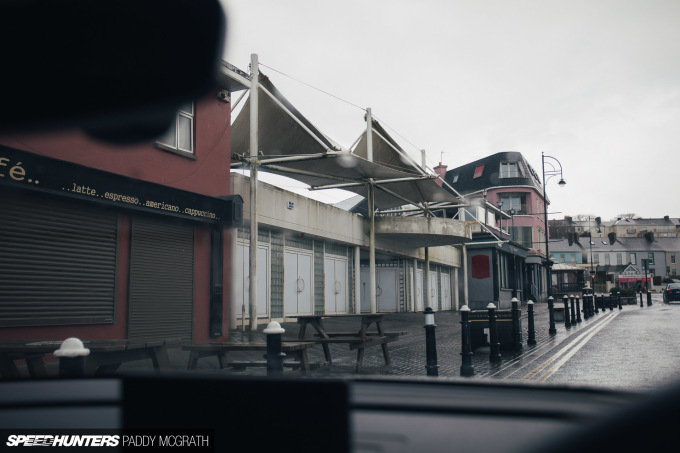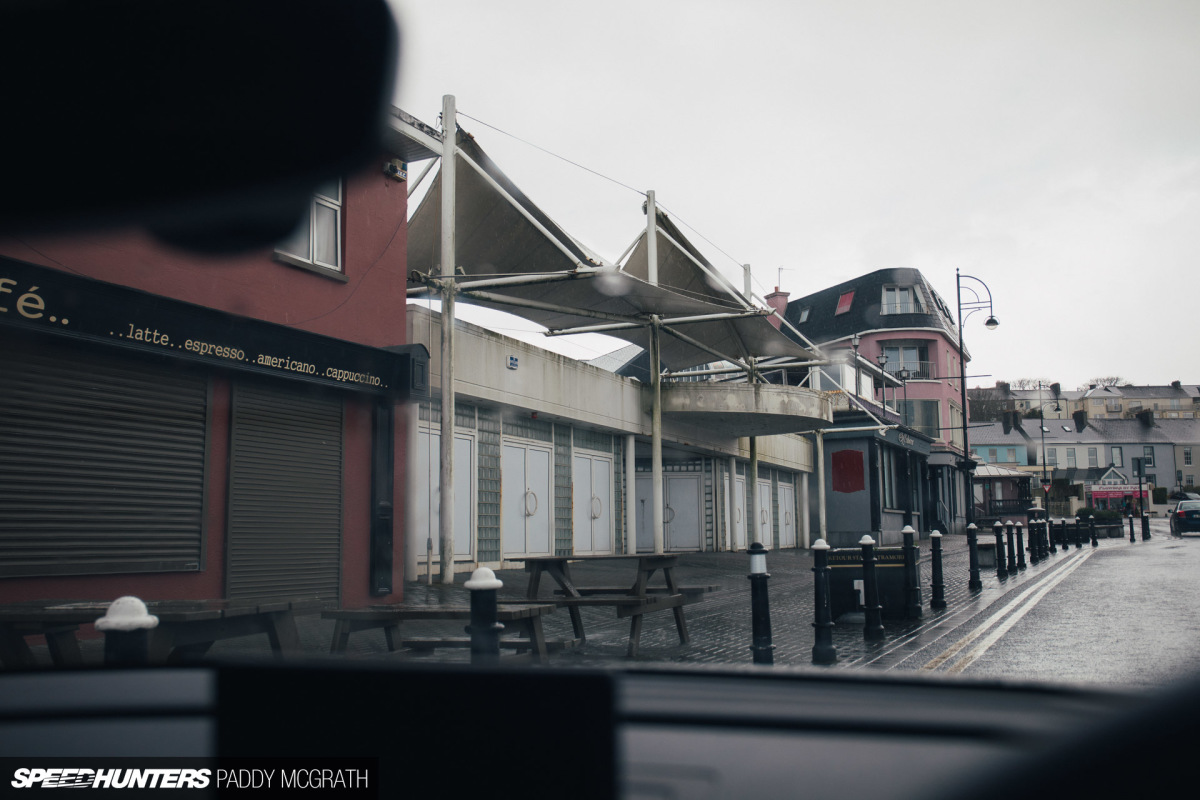 The weather was doing its usual thing here of giving us multiple conditions in a single day, but that's par for the course. Tramore is seaside resort and I spent many summer days as a kid on the amusement rides and attractions with friends. As I grew older, the local arcades started to interest me more, particularly during the period when arcade games were so much further ahead of the video games you played at home. It's shut down now, but that white building above was home to a four-player version of SEGA Rally and I spent countless hours and lots of money in that building.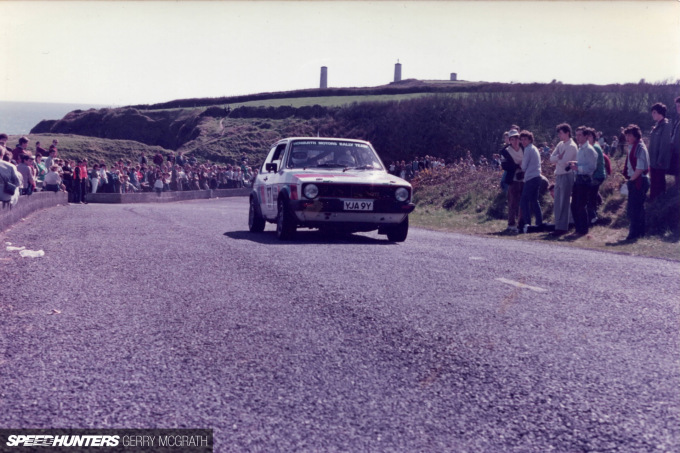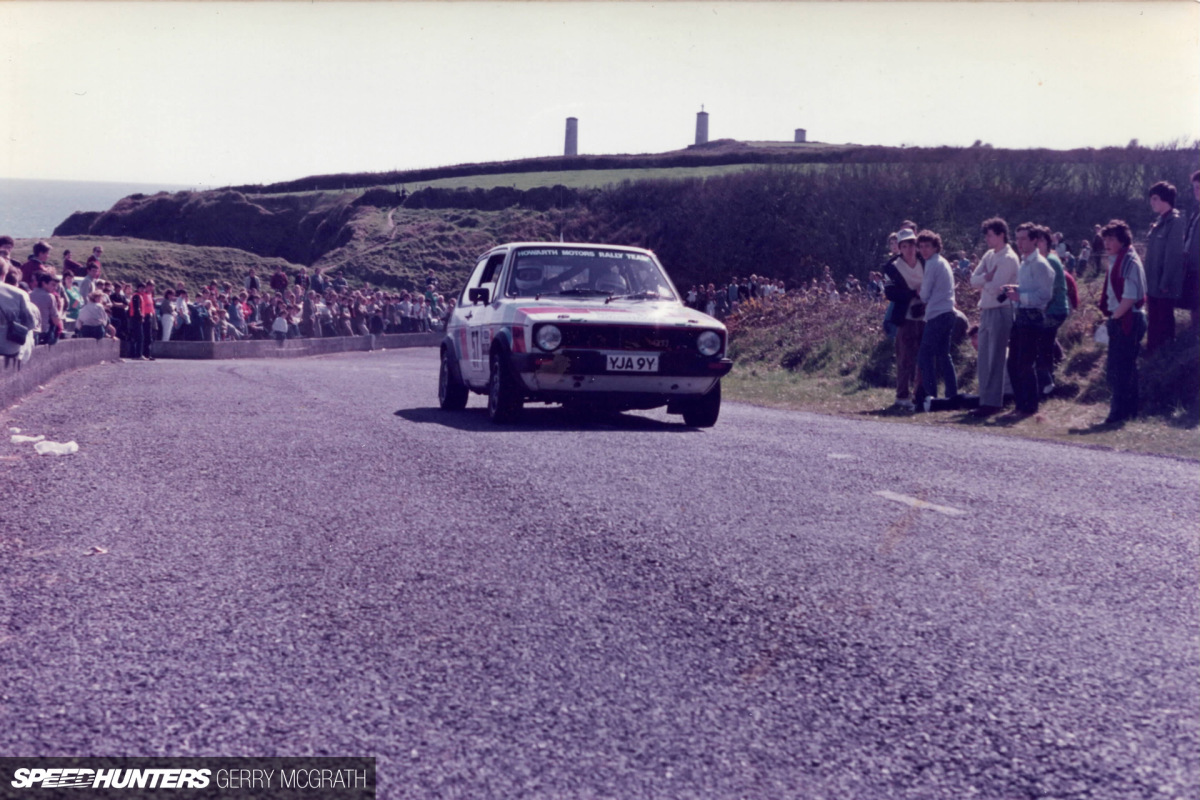 My dad used to photograph rallying during the '80s and early '90s on a Pentax MG, and I spent so much time either watching him shoot from a safer spot or going through his images afterwards. Unfortunately, over the years, people would borrow those photos or negatives and never return them, so his archives have severely dwindled as time has passed. Still, there was more than enough survivors to use as reference, along with his own memories of the time.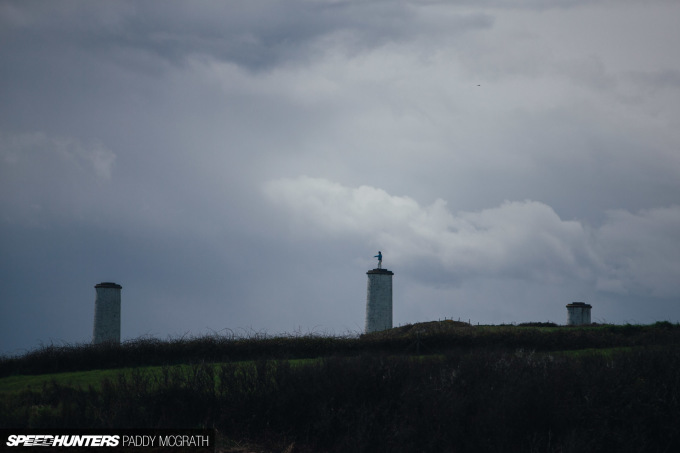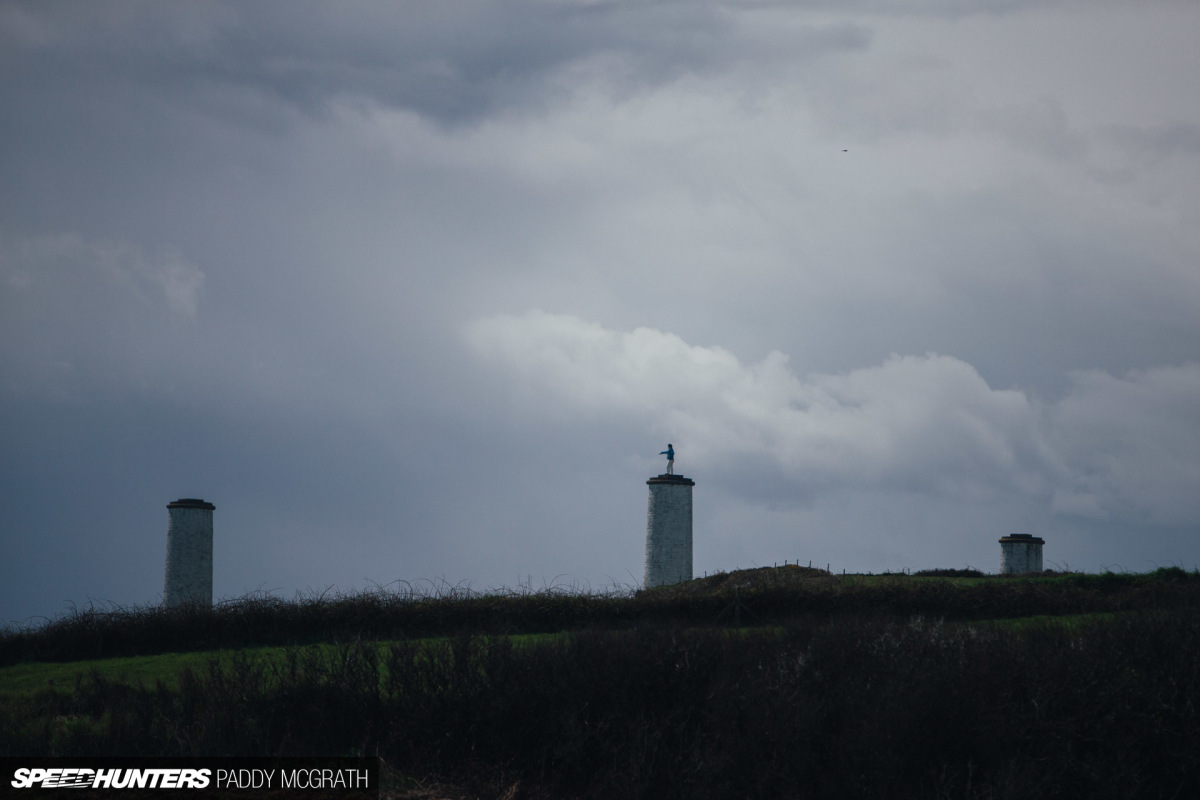 One of the first stages we sought was known as 'Metalman'. For locals, it's obvious enough where the route might be located as there's literally a giant man statue made of metal overlooking the ocean, and not many roads pass it.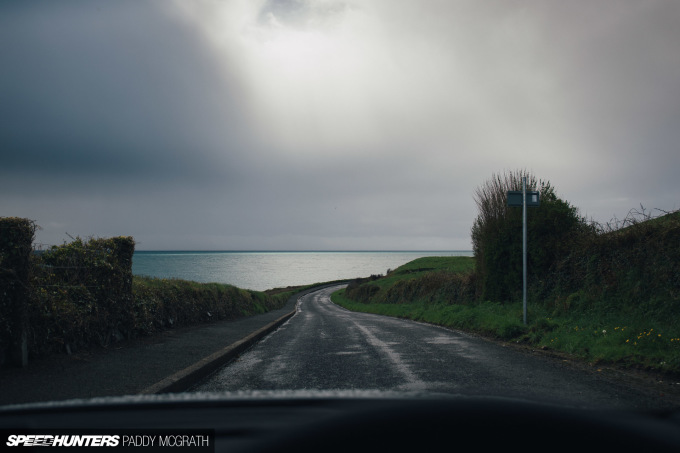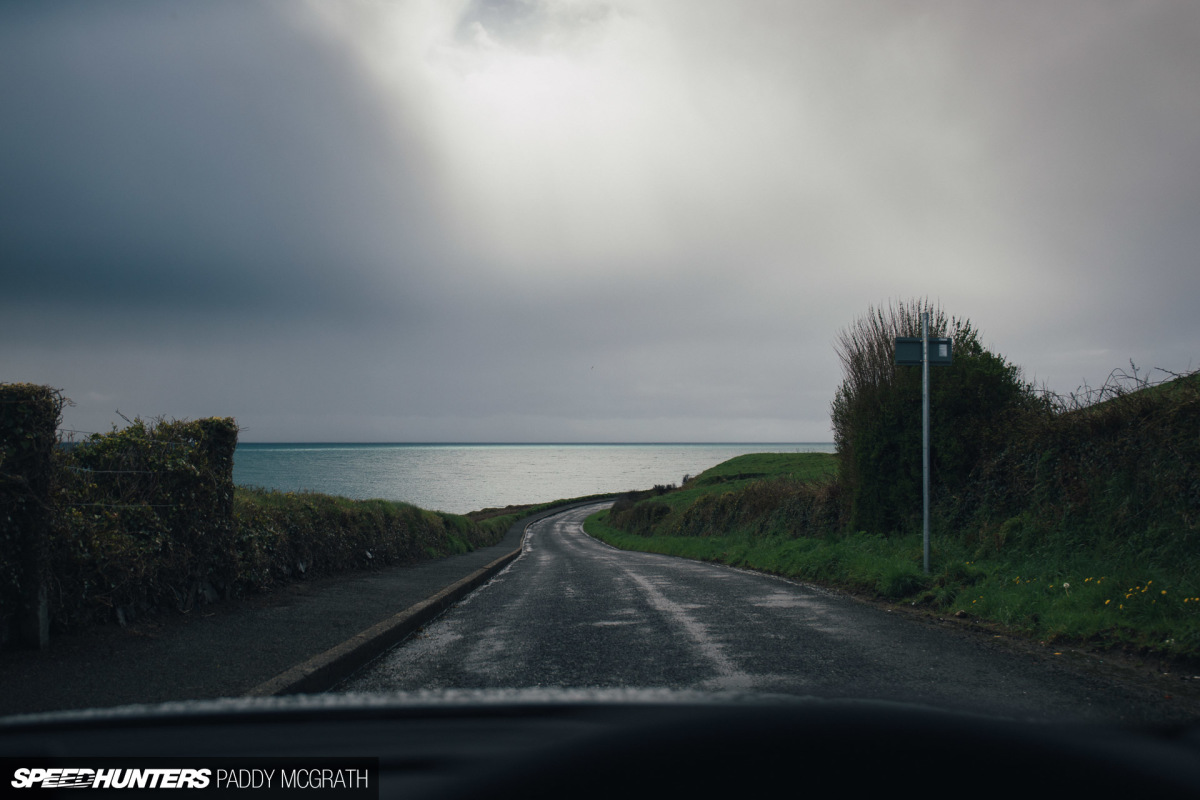 The route winds along the cliff edge which rises out of Tramore itself, although we were driving against the direction of the stage for the most part, except in cases where I needed to shoot the RS3 on the same road for comparison.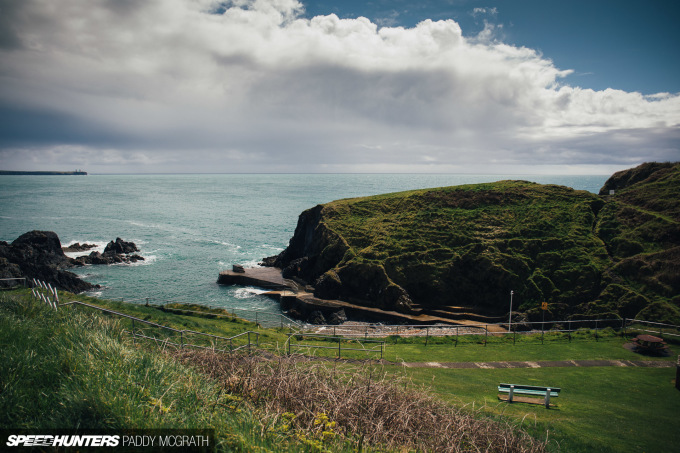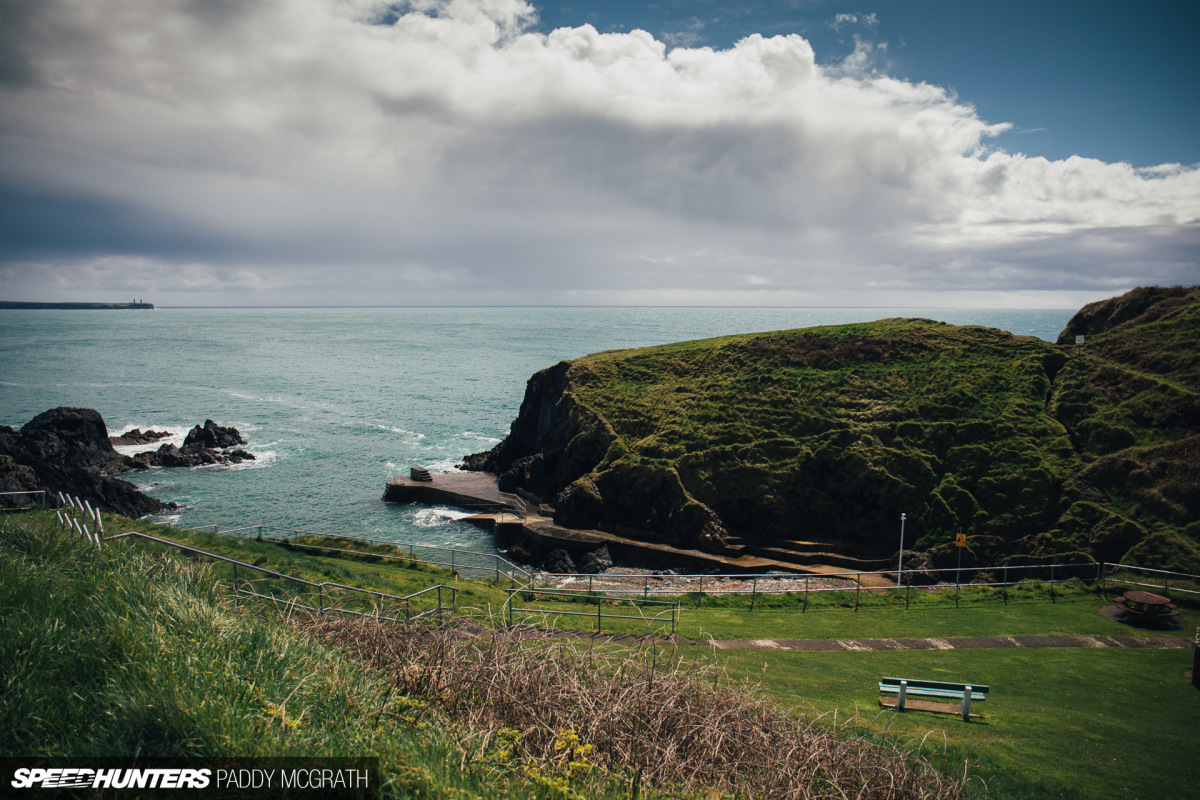 Like so many of these stages the views are often beautiful, but you know that no crew would have ever had time to take them in.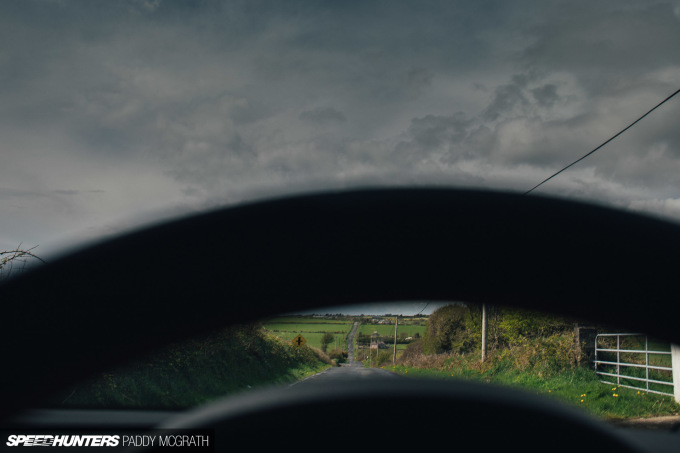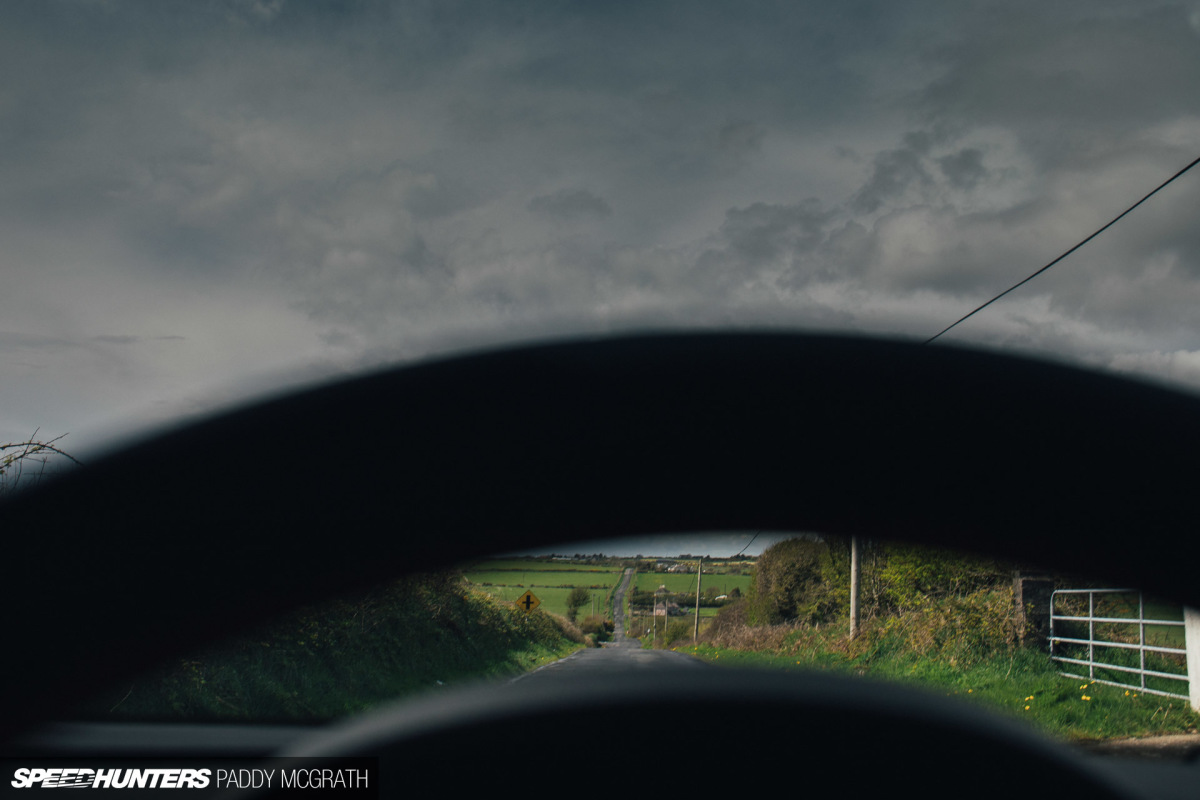 We were able to trace the road back quite a bit, before we dived off and back onto the main road and towards a stage that I had discovered on YouTube from the 1984 Circuit of Ireland. It's a small deviation from my '85 route, although it was a special stage used both years.
In this clip from '84, Henri Toivonen can be seen driving the Rothmans Porsche 911 SC/RS around the bay and up the hill on the Kilmurrin Cove stage at 7m2s, which was run as SS22 in 1985.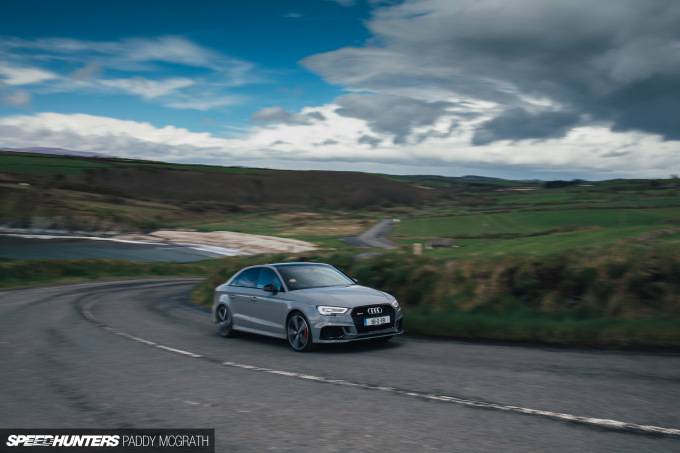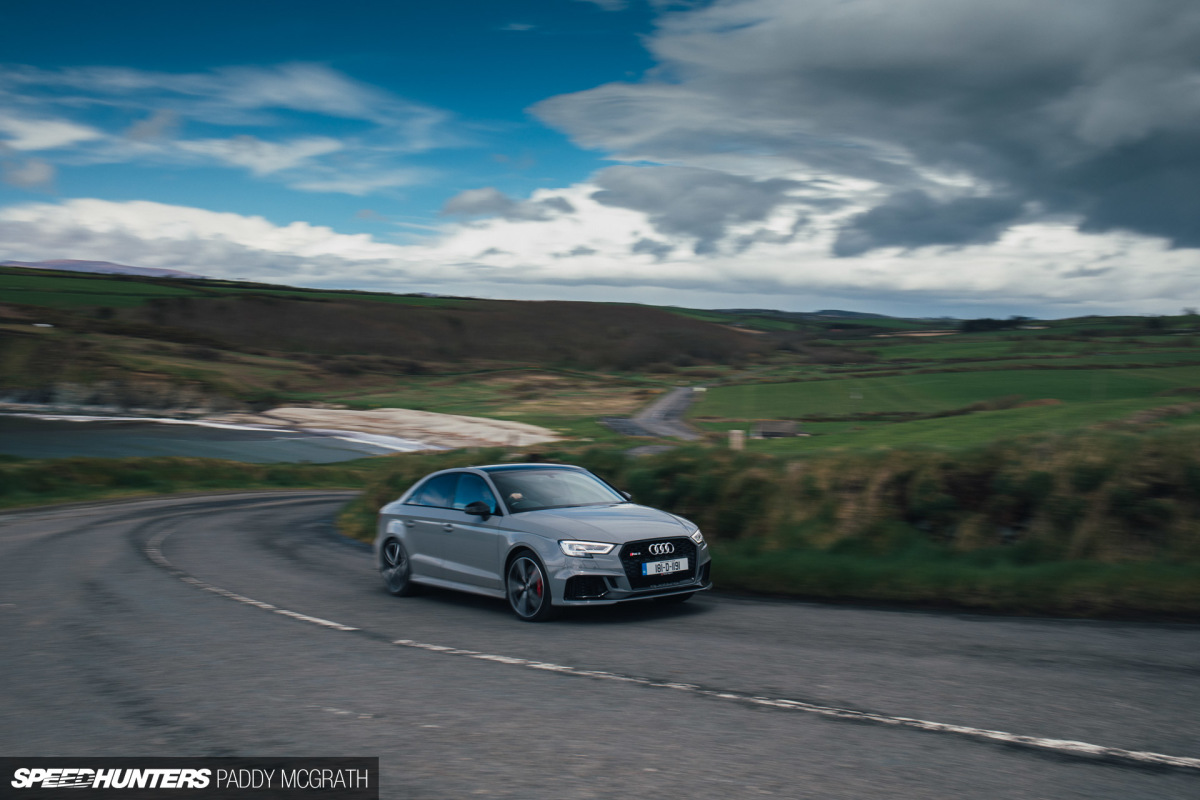 Camera technology has evolved considerably since the mid-1980s, but this was a particularly special spot on this journey. It's just a road, but it's a road with such incredible motorsport history and is poignant in some ways due to Toivonen's death just two years after the above video was captured.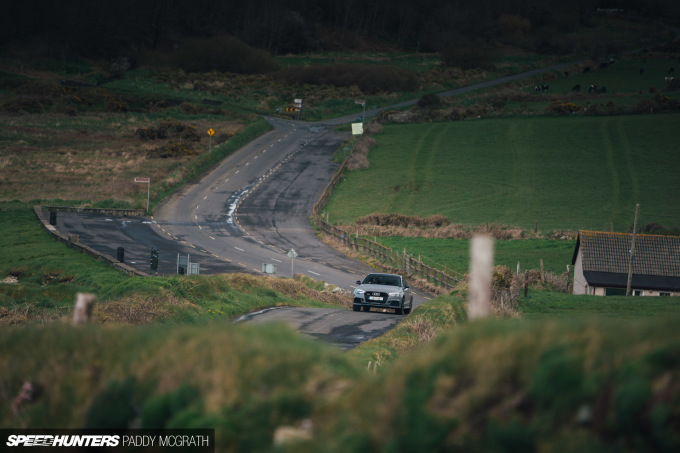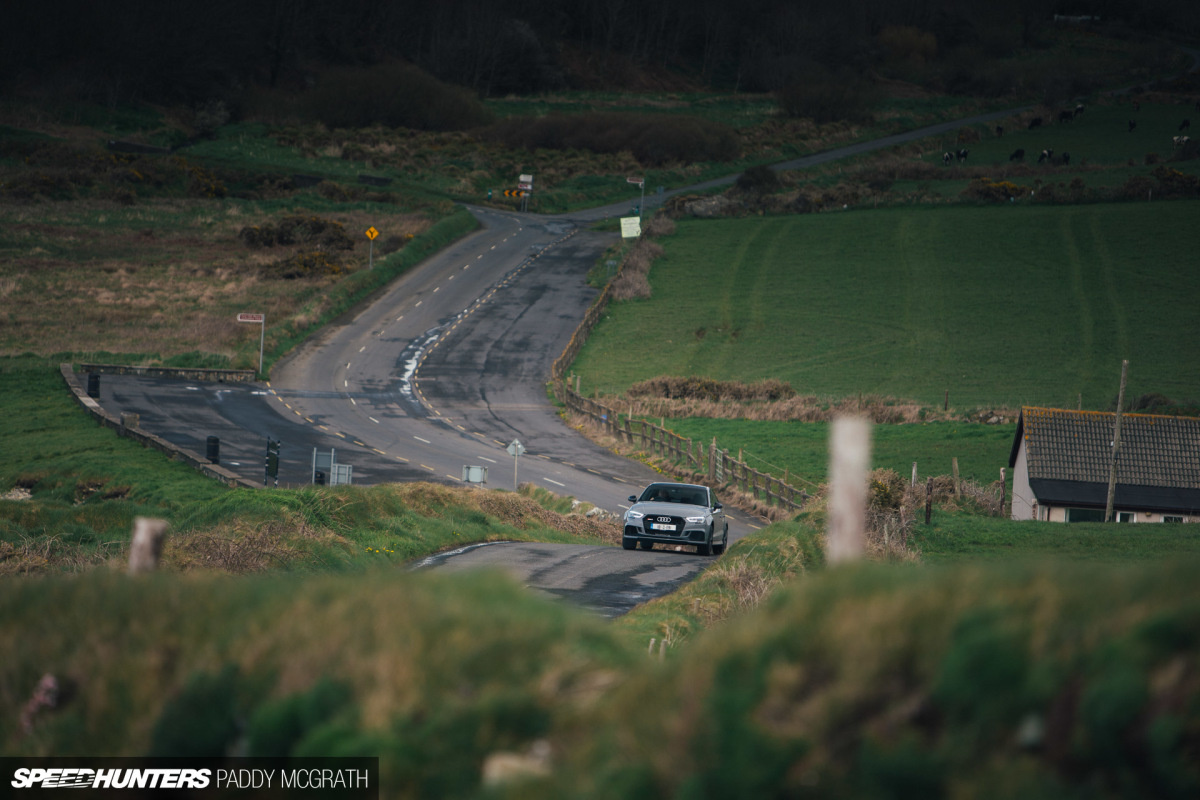 To see the ditches full of spectators in such a rural part of Ireland shows the draw that rallying had here. I understand why people refer to it as the real Circuit of Ireland. The COI does exist today, but is typically located in one part of the island, and usually in Northern Ireland.
As such, these old special stages are likely confined to the history books, maybe with the odd local event, but probably never with an event as prestigious as the real Circuit of old.
If there's one thing that I became acutely aware of on my own summarised circuit of Ireland journey it's that so much knowledge and information is being lost to time. Whatever about what's available online, there's so much more out there that's slowly fading away as a generation of genuine enthusiasts begin to leave us.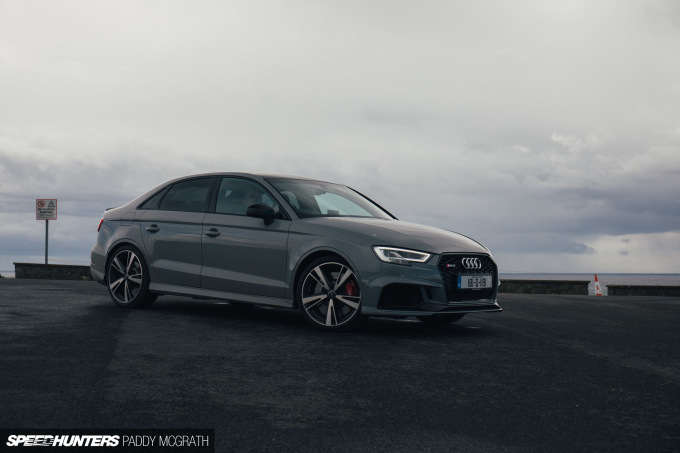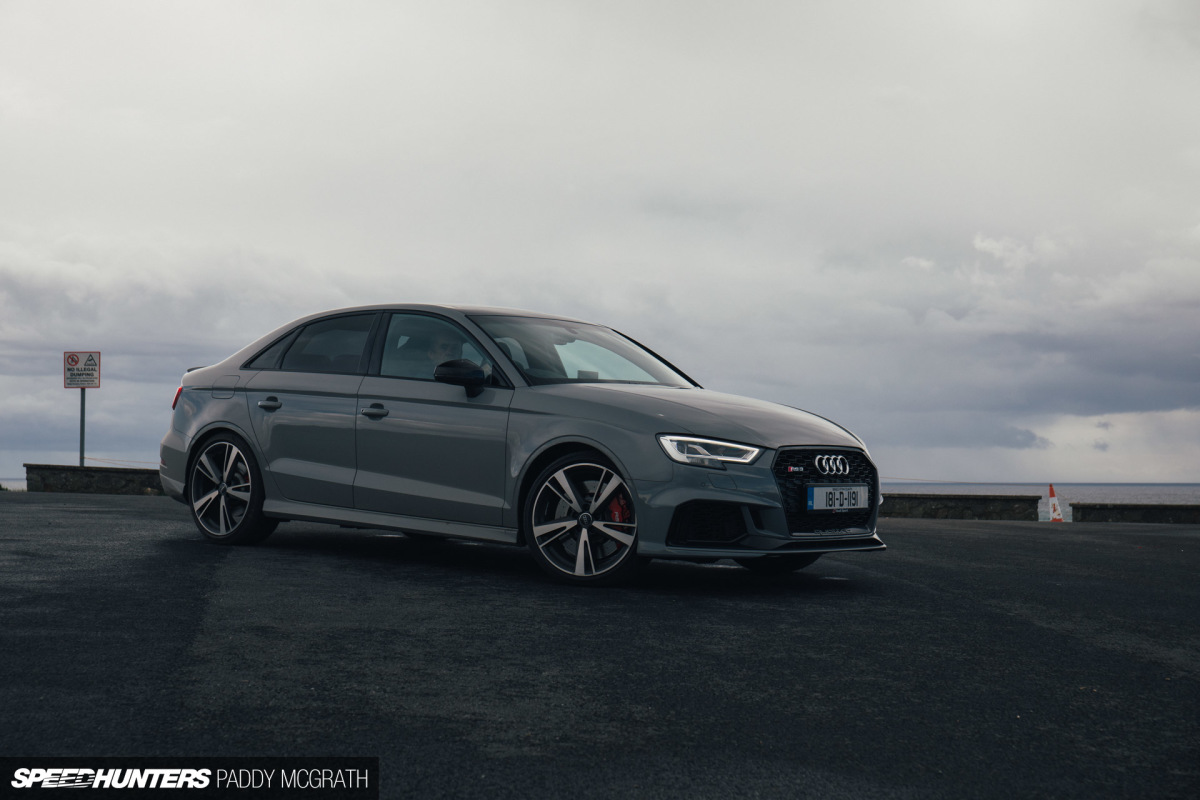 You might think 'so what' and 'who gives a f**k about some old roads,' but this is something that's transferable. This is what's being lost on my doorstep, that I care about, but what's being lost on yours, that you care about? What about the old skills and ways of doing things that are slowly vanishing from our world because we've invented machines that can do the job more efficiently, albeit with less soul?
Times are changing, there's no denying it. I genuinely worry that in our lifetimes autonomous cars are going to become mandatory and that we will no longer be able to make our own memories from behind the wheel. That days like these, which themselves herald back to another great era, will be outlawed.
Maybe it's about time we stopped dividing and sub-dividing our own automotive sub-cultures. Maybe it's time we started going back to the days where we looked out for each other and stand united against a world which seems intent on taking the joy of driving away from us.
Driving is maybe one of the last great freedoms that we have. I think there's a lesson to be learned from Group B in that we need to take care of what we have, before we lose it forever.
Paddy McGrath
Instagram: pmcgphotos
Twitter: pmcgphotos
paddy@speedhunters.com
A special thanks to Gerry McGrath, Paul 'Roundy' Power, Art McCarrick & Áine Smyth for their help in putting this story together.
Cutting Room Floor